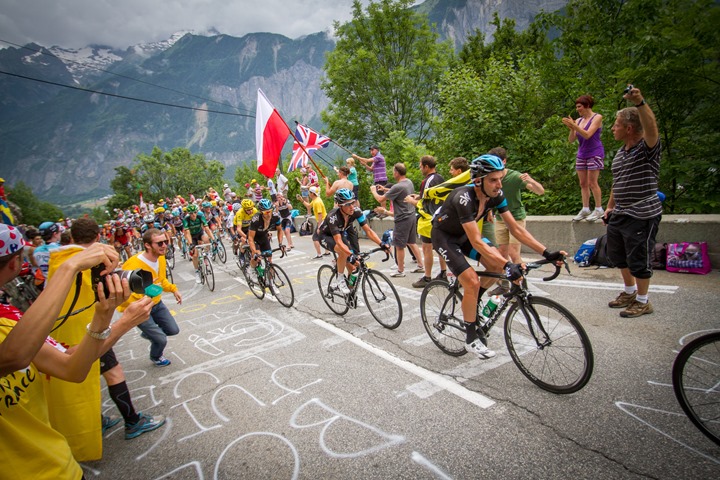 After spending the week wandering around France we got back late last night following an exciting day on the climb to Alpe d'Huez at the Tour de France yesterday. While I'll circle back over the next day or so with photos from the previous day at the Tour (the individual time trial), I wanted to share Alpe d'Huez first.
Getting there and up the mountain:
We had driven from the previous stage to just outside of Grenoble where we stayed with some friends for the night. Then Thursday morning (day of the stage) we drove about an hour to the town at the base of the climb. Or, as near it as we were going to get anyway – 2 miles away. From there, we began the walk to the base of the climb.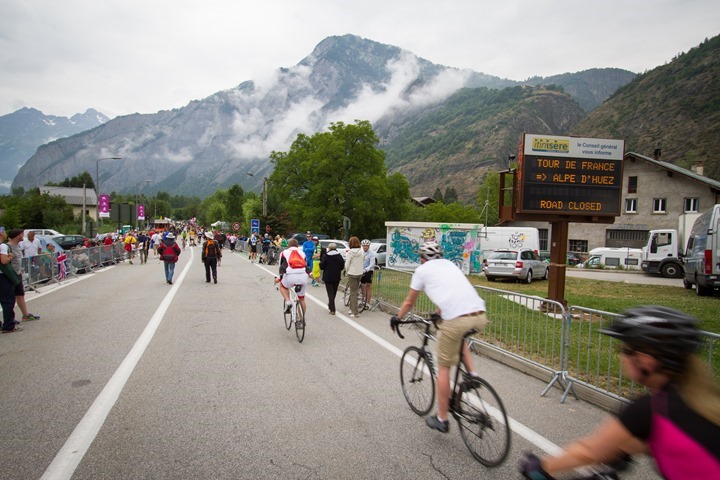 There were many cyclists. And by many, I mean thousands. Every road as far as Grenoble seemed packed with either individual bikes or groups making their way to the race (even on the highway). Without question, next year we'll bike up, as you can pretty much do that right up until the time the caravan (parade) comes by.
Along the way on the flats we saw some of the more famous cycling icons – happily standing to take endless photos.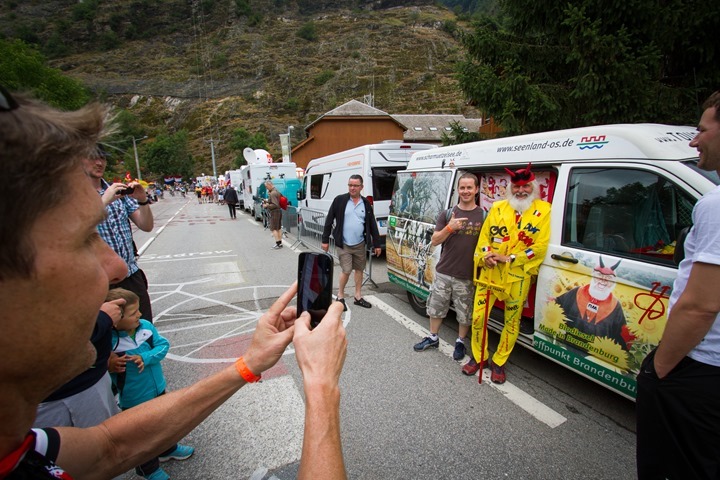 And then others working on their street paintings still (he was doing one half of the road at a time).
Shortly thereafter we began the climb, with a few thousands of our friends.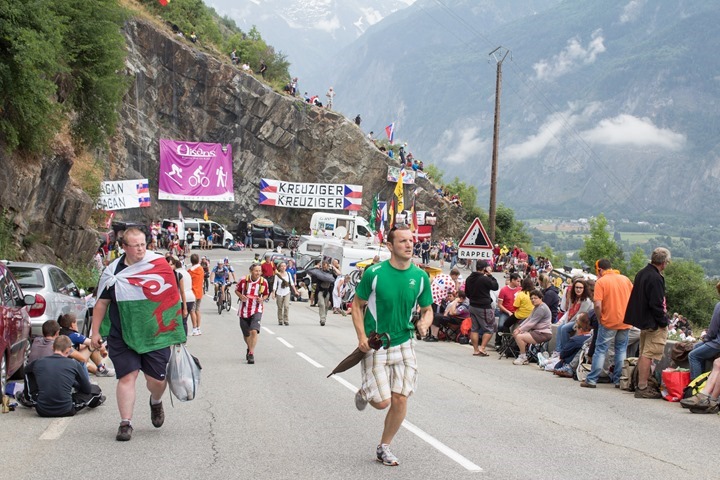 Each of the switchbacks has a signpost of a previous years winner on it. Here's one of them behind us (that's me, The Girl, and our two friends from DC that came over).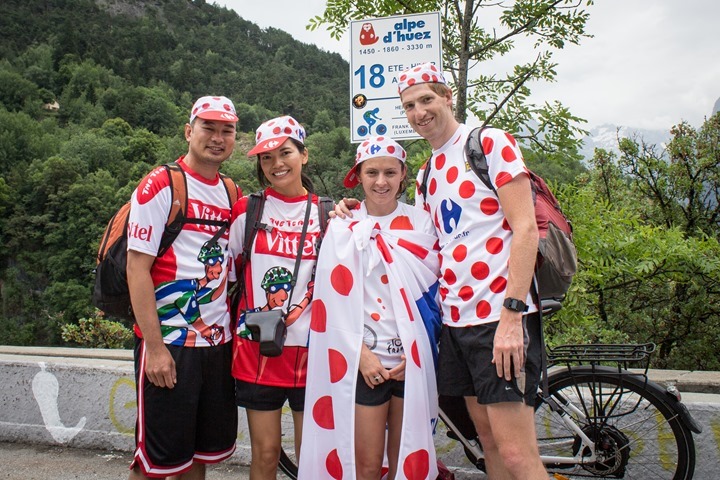 In addition, many of the different corners have long-standing groups/nationalities that occupy them.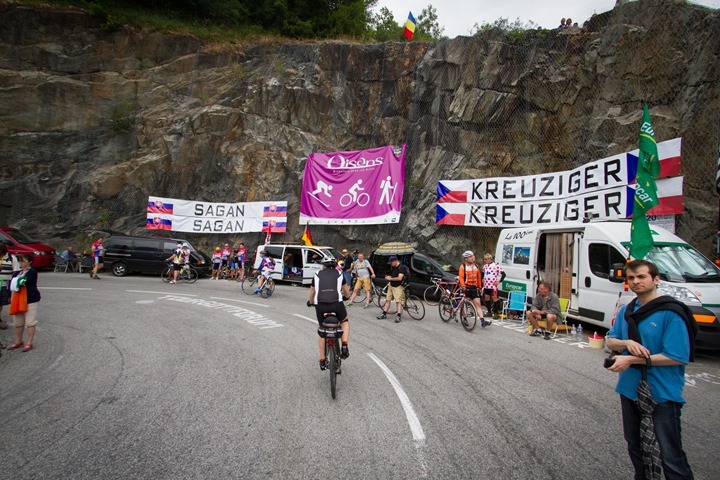 In fact, this year RV's started staking out spots the first week of July on Alpe d'Huez. Pretty crazy.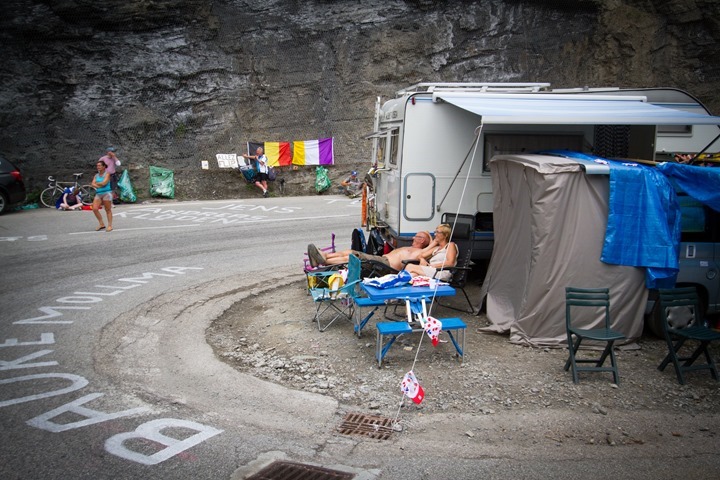 As noted, many folks bike up. Be it very athletic looking folks, to parents and kids…and everyone in between.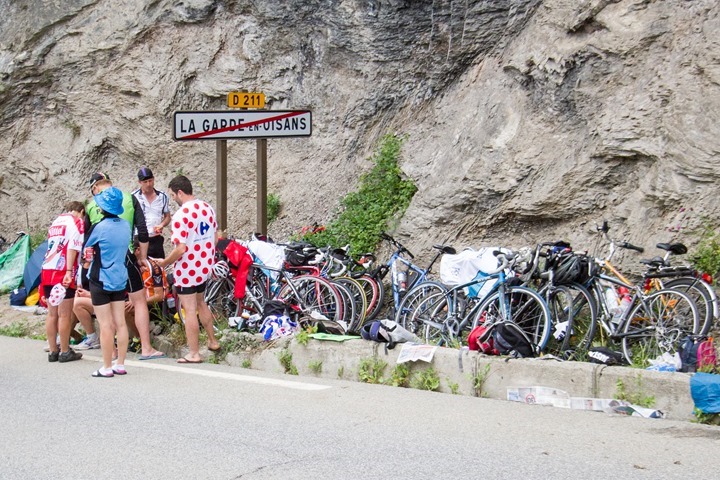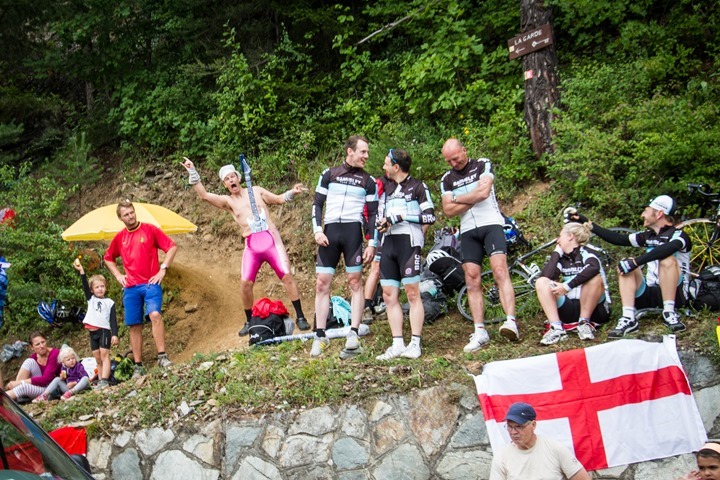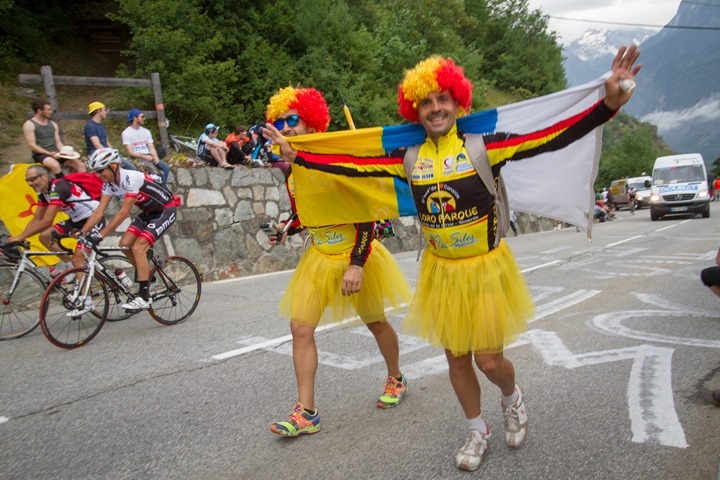 Or, in this case, blading up: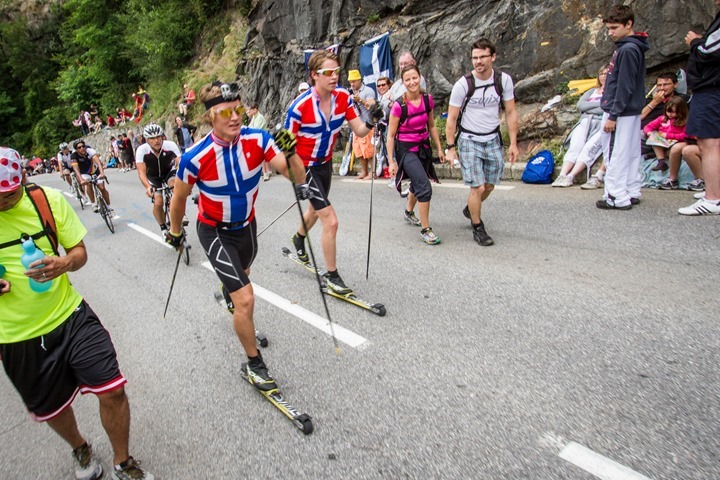 And then there's always the overachiever who bikes up on a single wheel of his two-wheeled bike: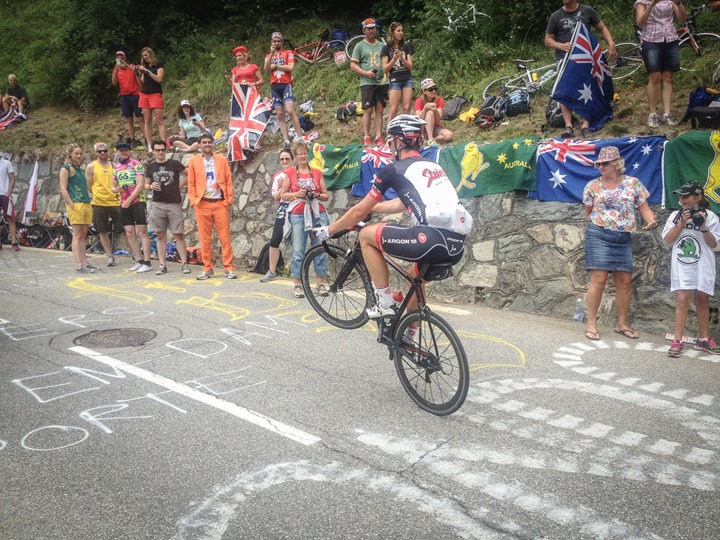 As we climbed, a brief group of vehicles with police escort came through, slightly confusing many – until we saw the massive pack of riders headed up together. It wasn't super-clear what their association was, but I'm guessing someone here can help fill in the gaps a bit.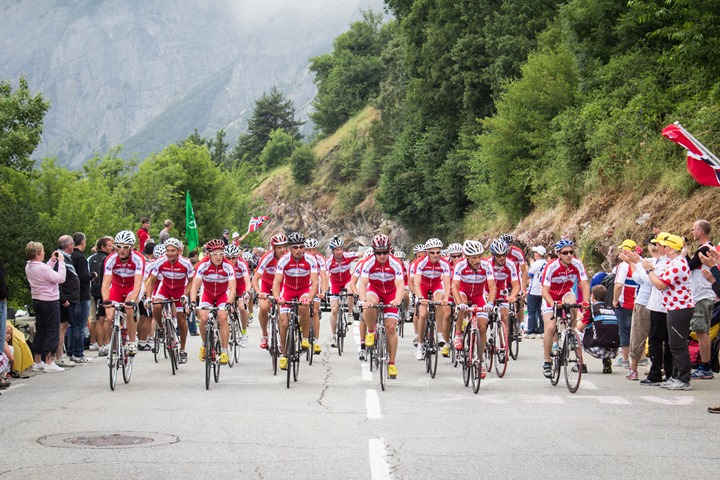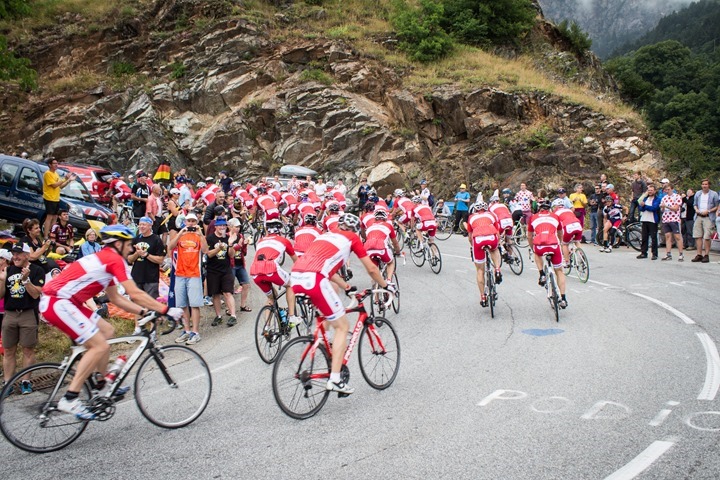 We eventually found our spot right where that two-wheeled bike was. It was mostly spurred on by finding an empty section along the barrier, giving us nice seats for the rest of the afternoon. Perfect!
As with just about everyone, you brought your own food up. In our case, that meant supplies for sandwiches: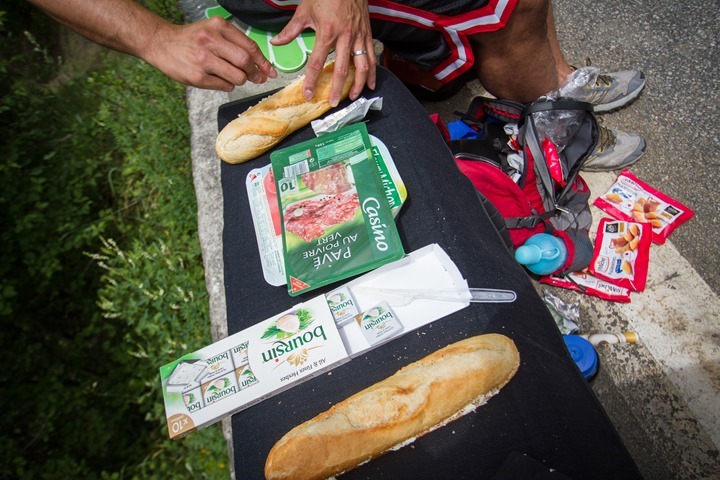 Additionally, we had managed to score a massive plastic bag of little sausages the day before at the time-trial stage, from one of the race sponsors. We're talking what would likely be a multi-month supply of sausages for the Brady Bunch.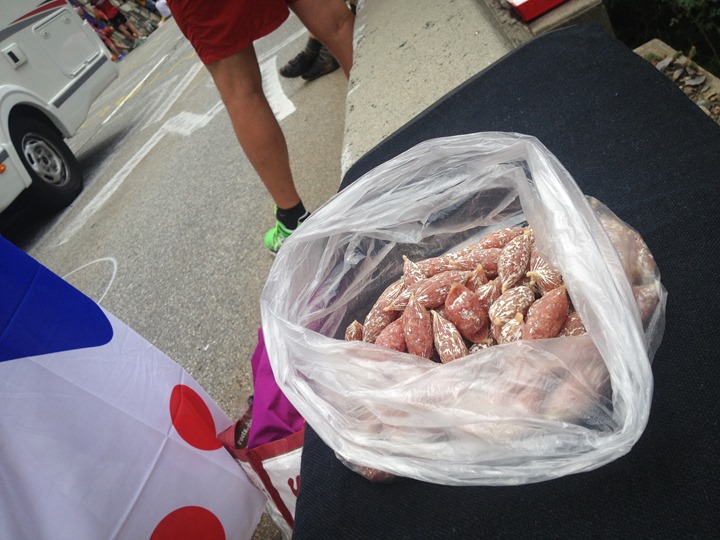 We also brought up a pie. Well, a tart really. Regrettably, it looked far better than it tasted.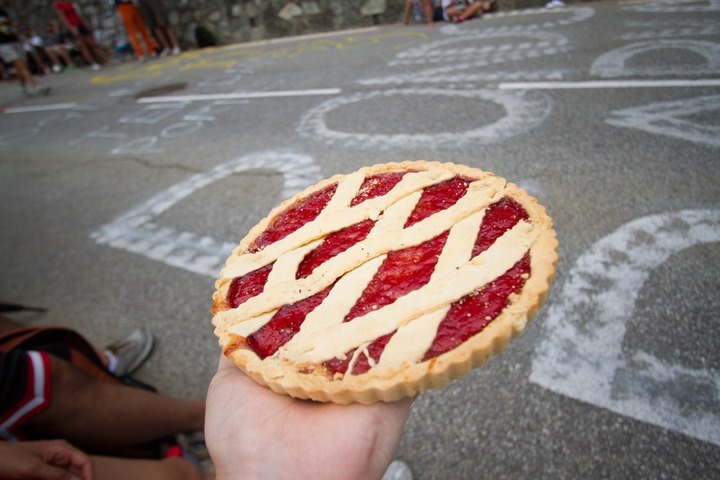 As we were sitting there watching the folks stream by we noticed that people kept coming out of the woods with cold beverages. They'd go in with nothing, and come out with full cups of beer.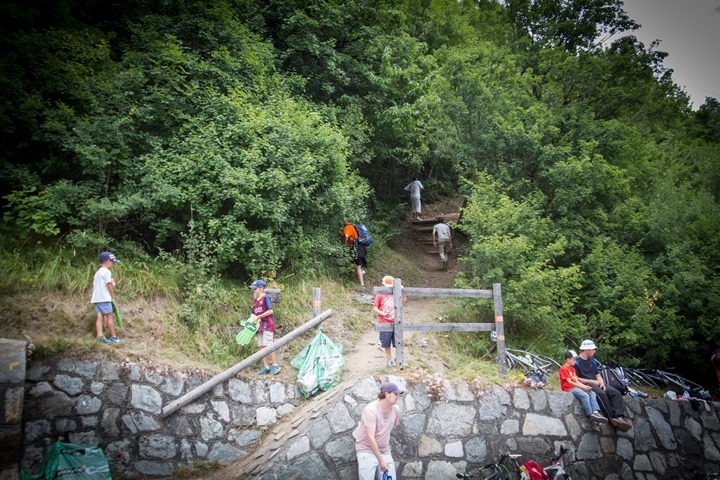 Kids would do the same with ice cream. So we sent out The Girl and one of our friends to investigate what was up in the trail. A short time later they came back, complete with the goods: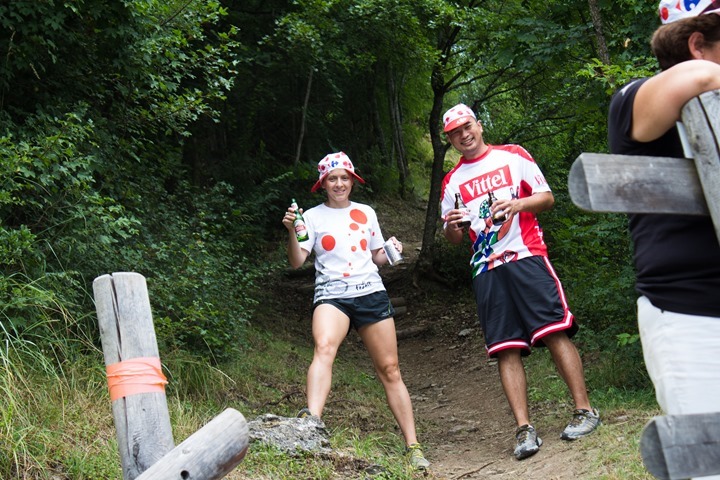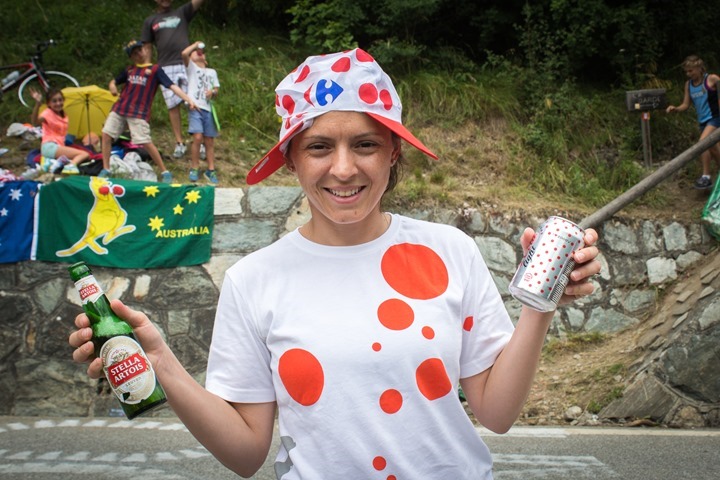 And that even included a King of the Mountain styled Diet Coke can!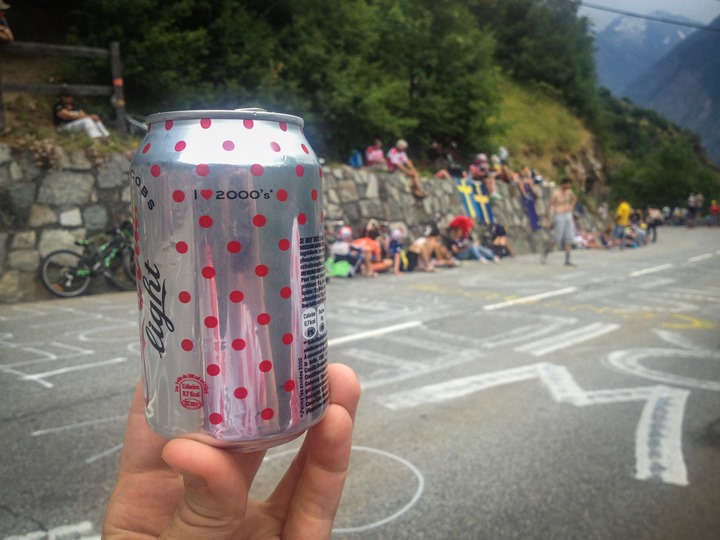 With that, it was time for the parade!
The Caravan and Parade:
As is the case on every stage, the caravan is a long sponsor parade that passes through ahead of the main field. Typically this occurs about an hour before the riders hit, depending on where you are on the course. While we had plenty of goods from the day before, they were throwing out slightly different stuff this day. Including many rain ponchos – given the forecasted thunderstorms.
Without question, The Girl is probably one of the most ferocious giveaway seekers out there.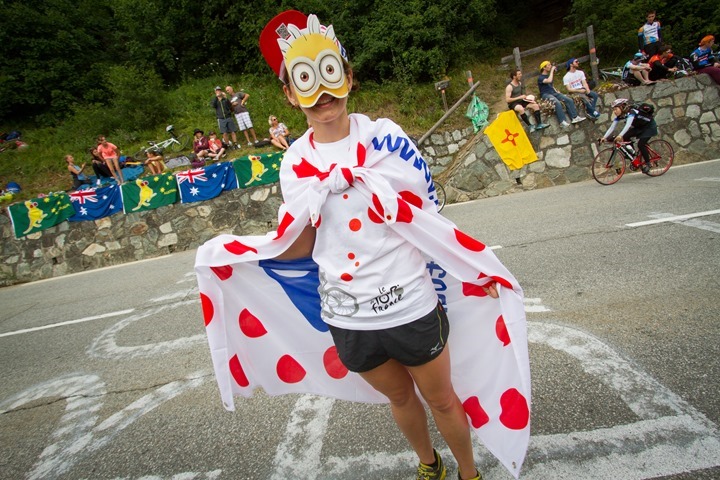 She'll track down just about everything, and take off running up the mountain if need be to get something (seriously, she ran off twice after vehicles upwards of a hundred meters to get a prized giveaway).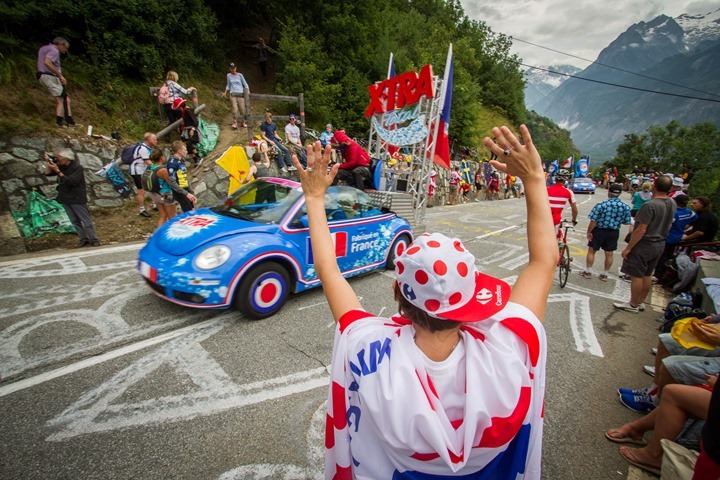 Thankfully, she didn't need to run after this little bag of Cheetos-like things.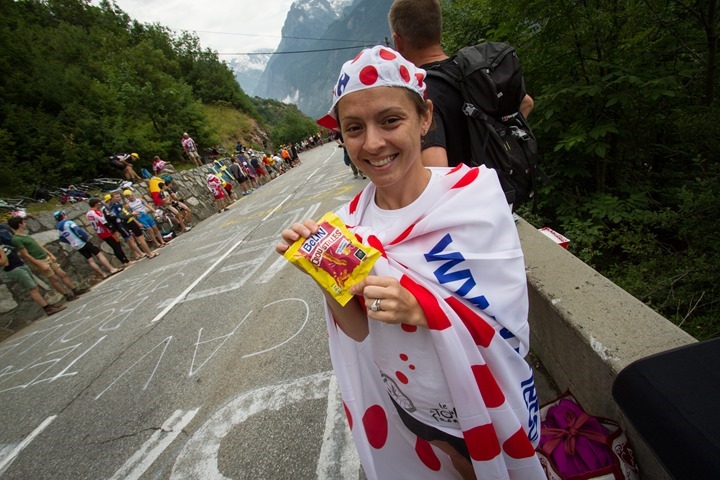 Here's a video clip of a bit of her grabs:
And here's a few more shots of the parade.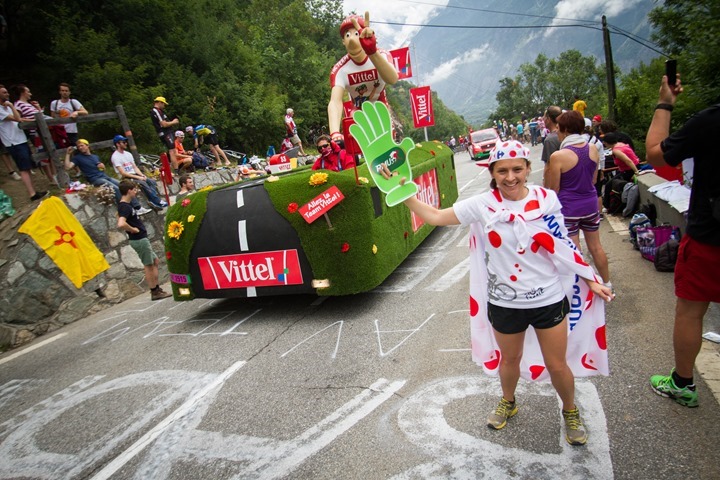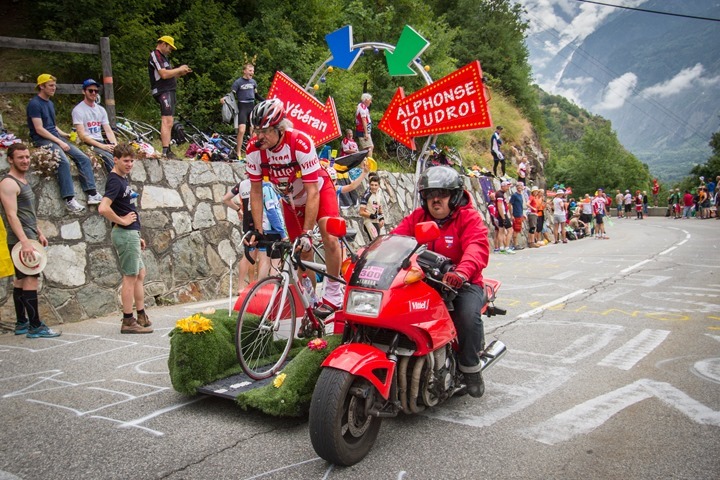 Following the parade it was a never ending stream of 'official' vehicles coming through. Everything from race officials to press to sponsors to team vehicles. At one point it was a full stop in front of us due to a bit of a traffic jam of them.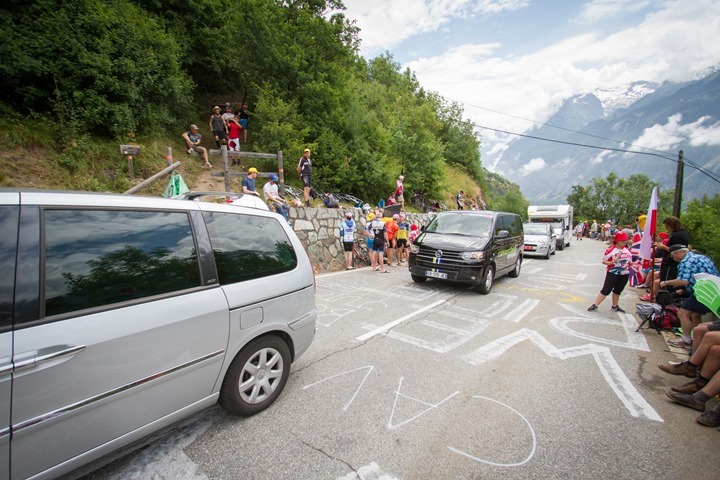 Soon it cleared again though. But hundreds, if not a thousand official race vehicles went by over the course of the day.
The Road Paintings:
As you see on TV quite clearly, the road paintings are everywhere. As we made our way up the hill folks were spray-painting items constantly – trying to dodge official vehicles still headed up.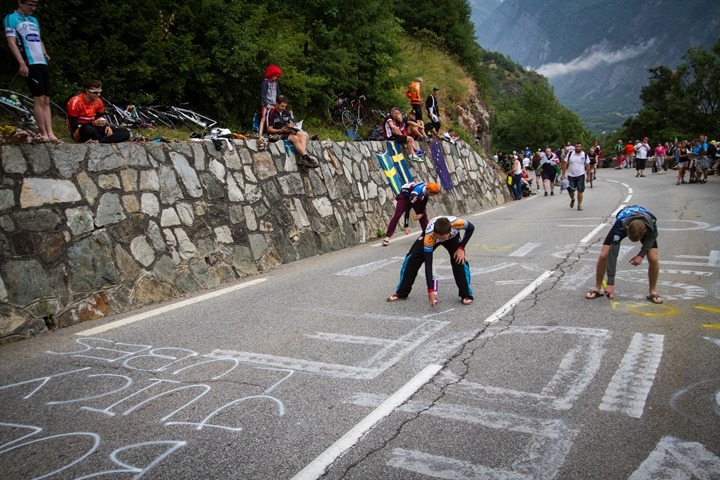 It was funny to watch as folks would misjudge distances on the road and then have to make mid-writing corrections.
In this case, one man was double-checking with a newspaper while spelling out a riders name to a spray-painter.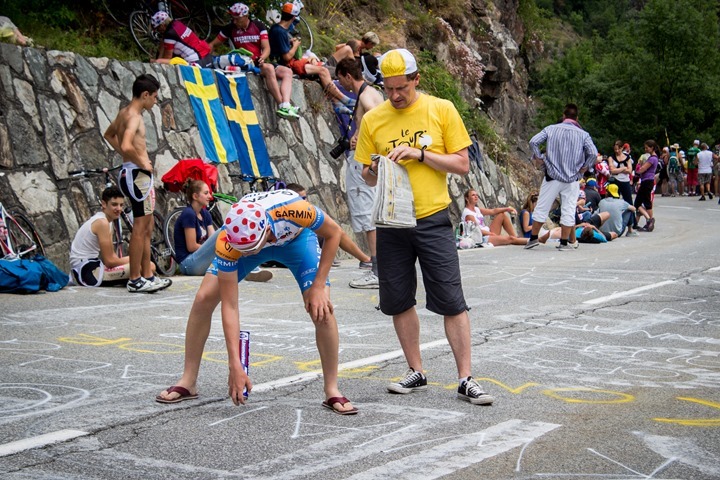 Thankfully, the official street-sweepers here didn't have their sweepers down!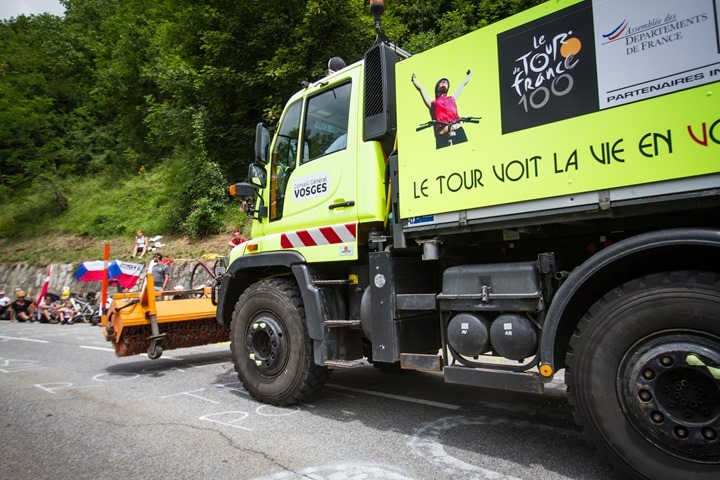 And then in between the two waves of racers, many went out to 'refresh' their paintings.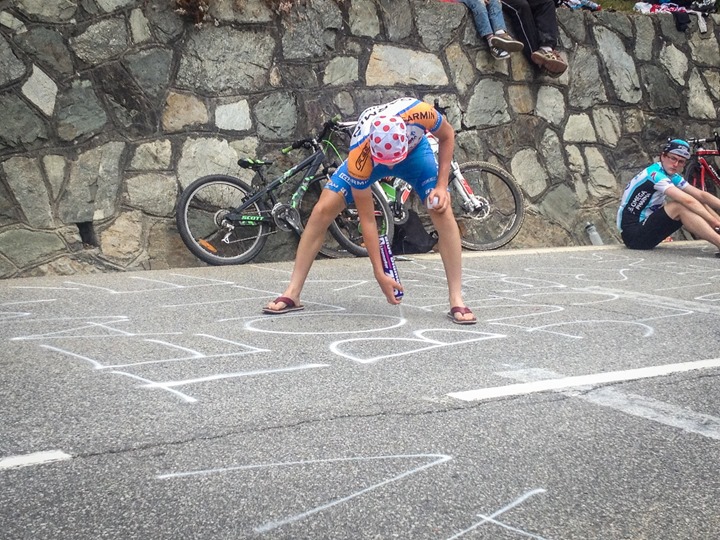 Speaking of those racers, I suppose it makes sense to talk about them…
The Race Comes Through:
After a few hours of waiting, we could finally hear the roar in the valley below, giving away the location of the leaders. Perhaps 5-10 minutes later we finally heard them on the switch-back directly in front of ours. It literally sounded like a stadium up there.
Then soon, the motorcycles just barely ahead of the leaders: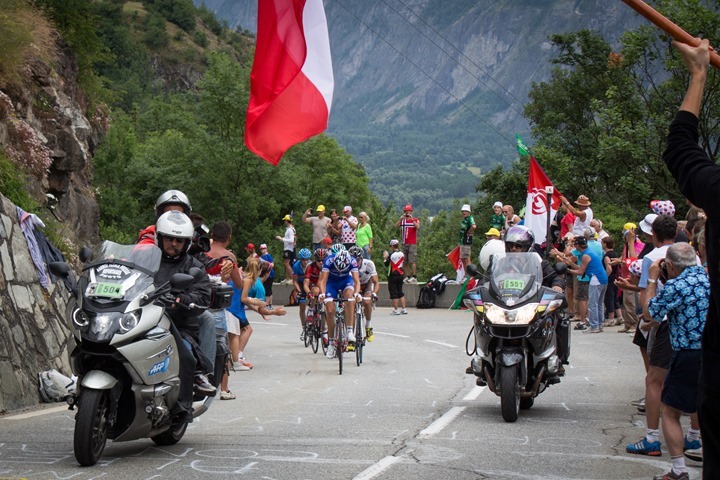 And in that same pack was the famous yellow timing motorcycle: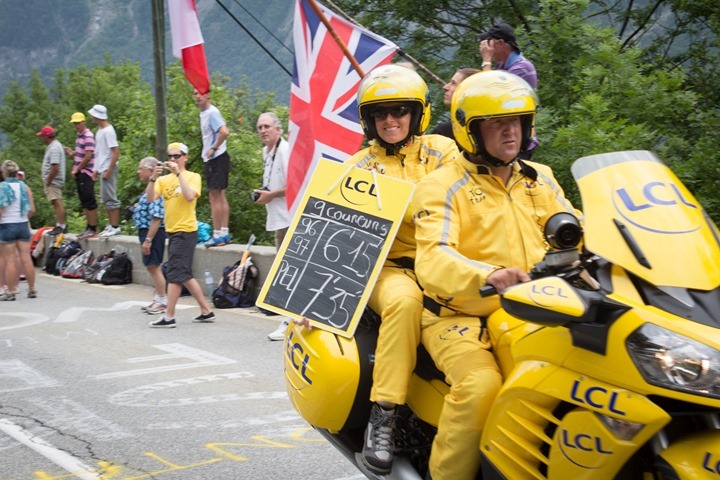 And of course, the leaders themselves!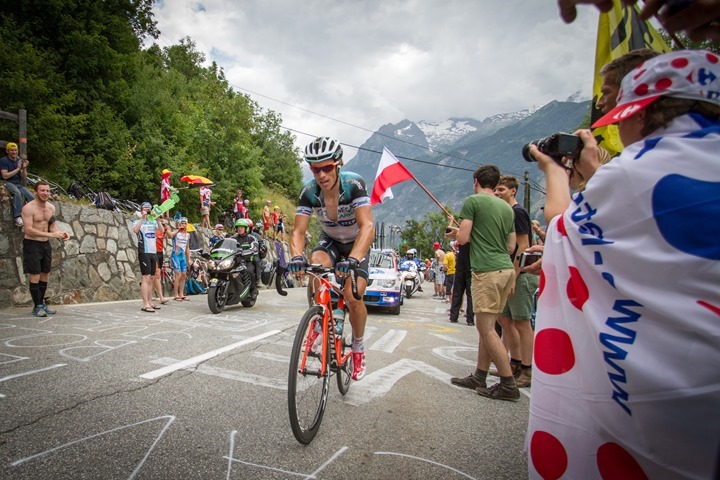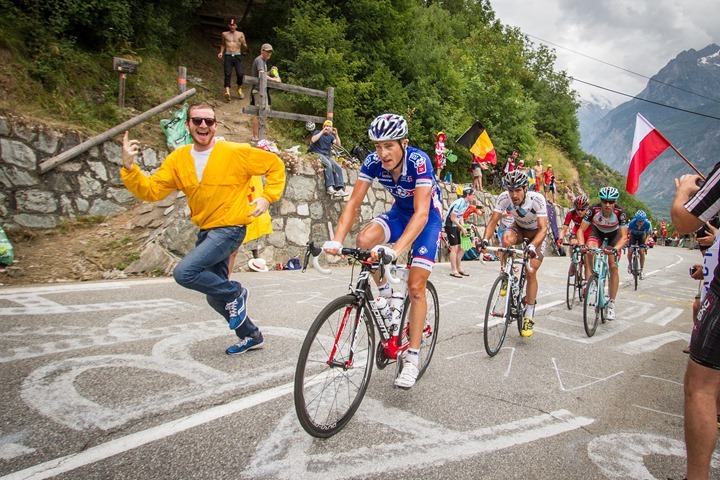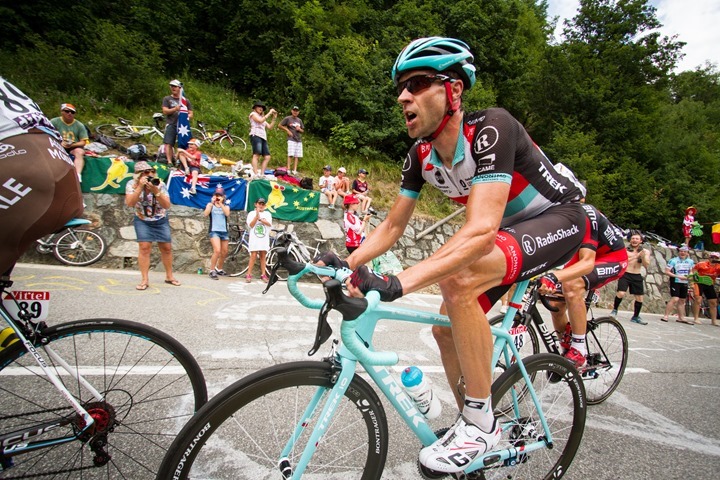 Right behind them, one of the Mavic neutral support vehicles. These provide support in the event team cars aren't nearby or able.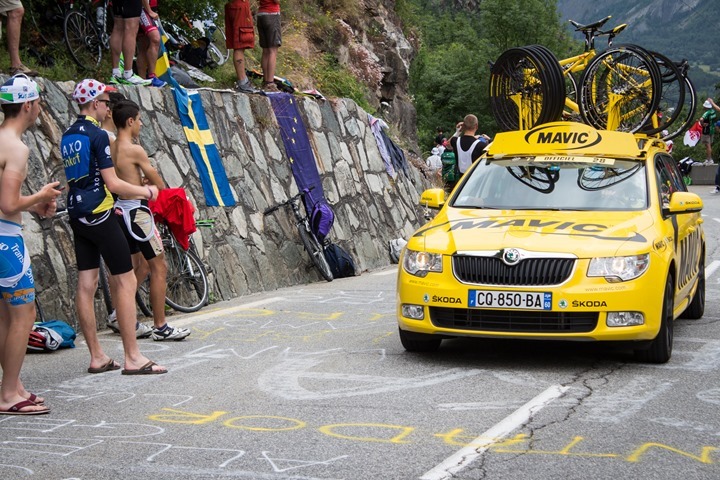 A few minutes later, the main packs came flying through.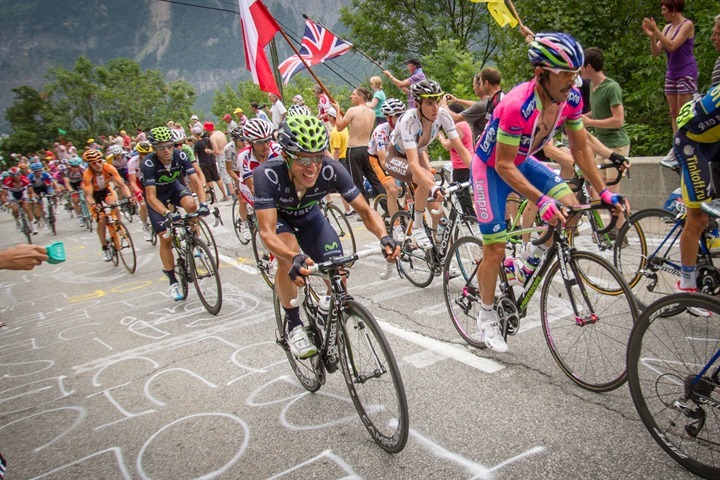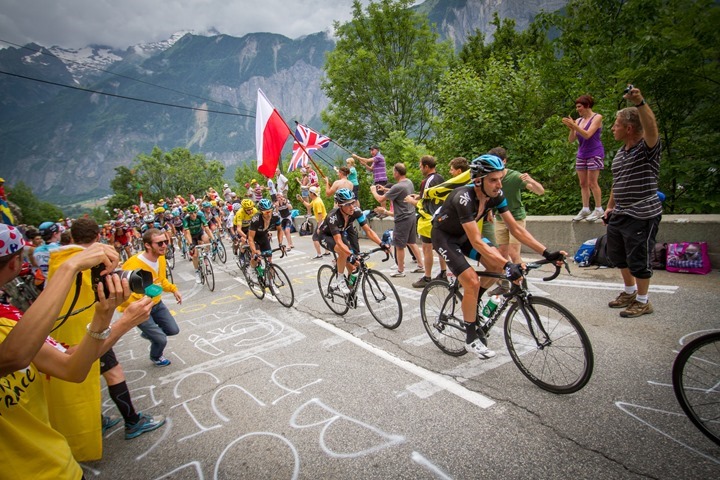 This year was unique (in celebration of the 100th anniversary of The Tour) in that they'd actually ascend Alpe d'Huez twice. After the first ascent they'd head back down the backside of the mountain (a fairly sketchy descent by any standard) and then come back up again the main road.
After the first pack of riders went by the first time the onslaught of team cars made their way thorough. A whole lot of money in bikes there!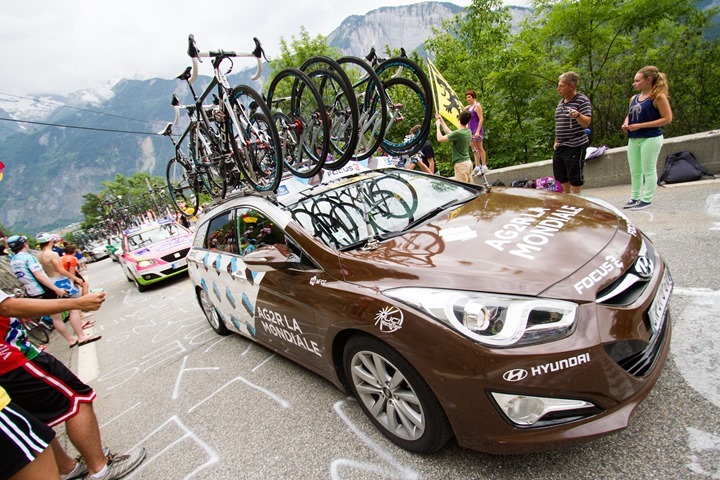 Ahead of a secondary pack was this guy, taking a bit of a 'sticky bottle' ride as it's called. Basically he'd pretend to be grabbing a bottle, but in actuality would be taking a lift. I saw him go a few hundred yards 'on the bottle' (he came into view on the bottle but let go a bit above me).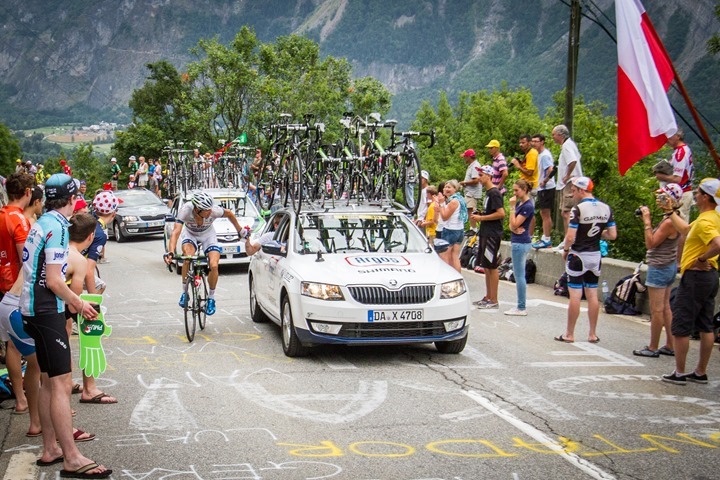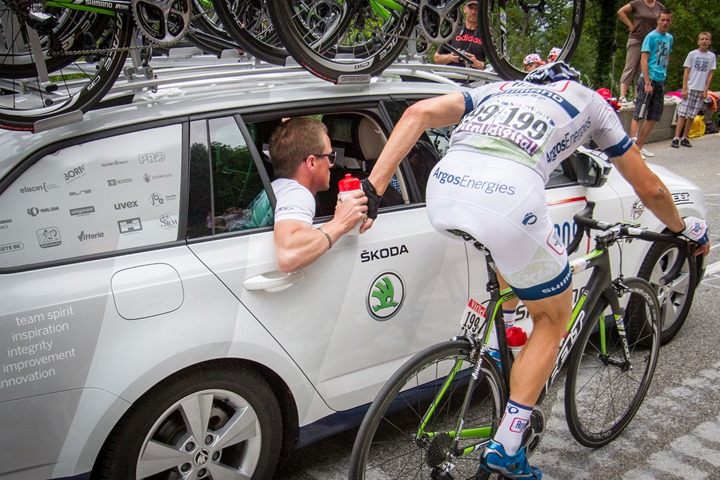 After he went by and another group it was a bit of quiet for about an hour before the riders would pass by again. During this time some folks moved around the course a bit. This would reveal new spectators to us, like the below: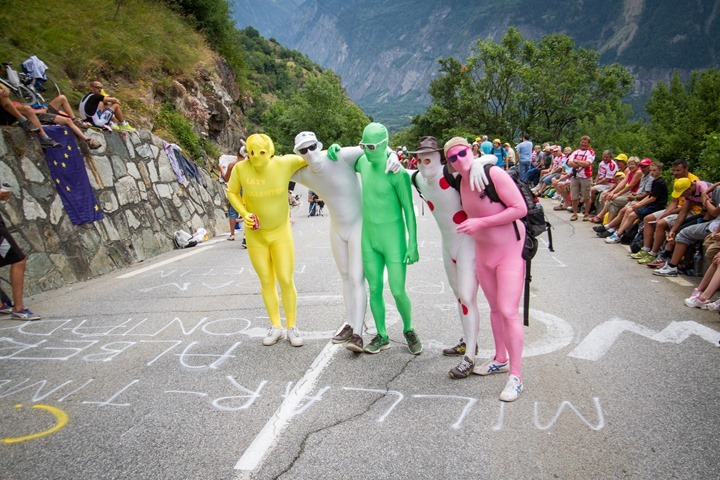 Before long, we heard the roar again in the valley and then soon the motorcycles coming up the road. And then, the time board.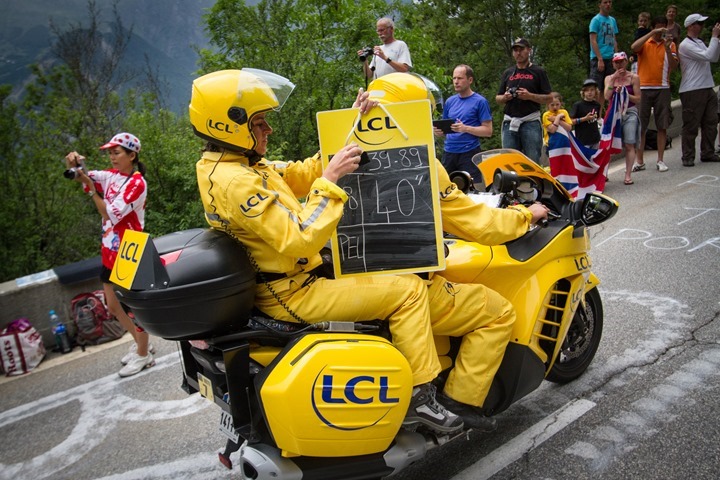 Directly behind her, were the leaders at the time: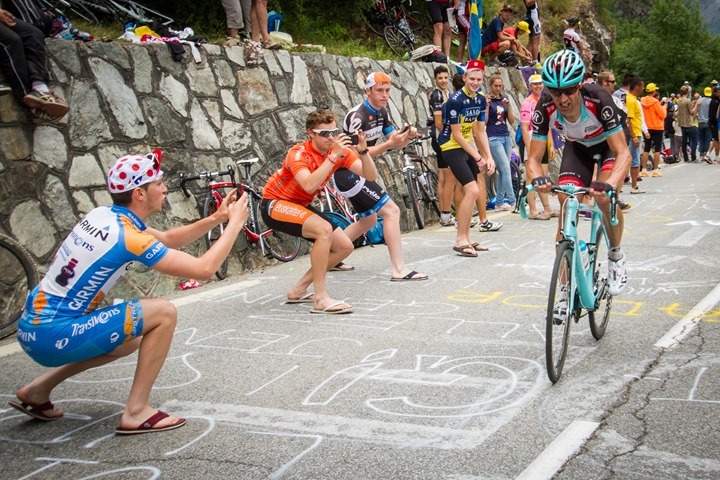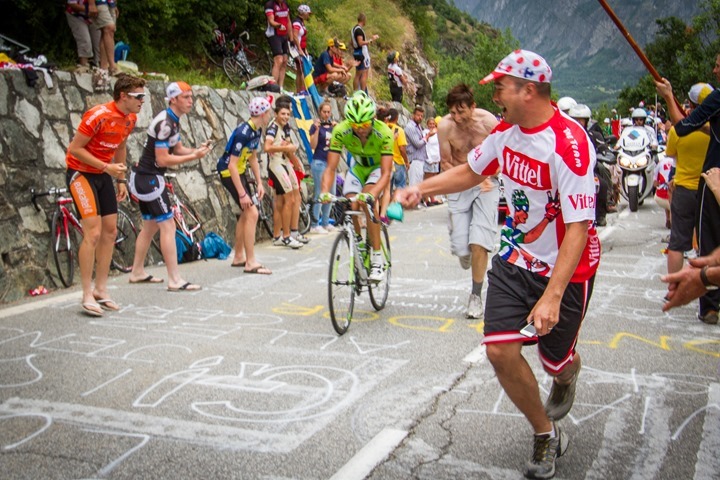 Followed shortly by the first major group.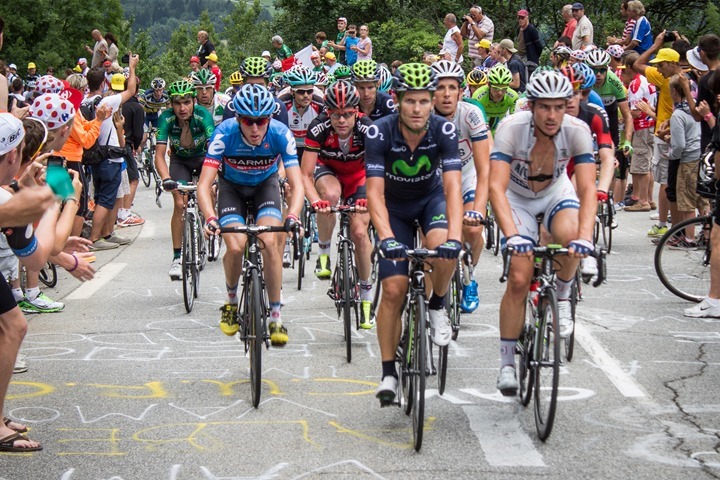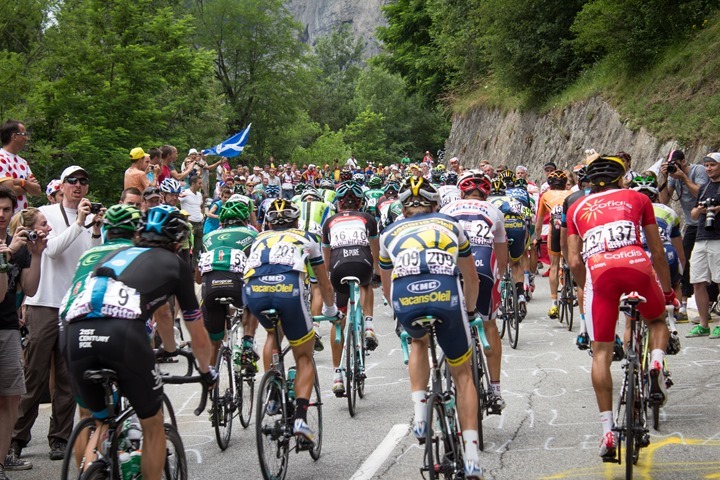 Then a break of team cars: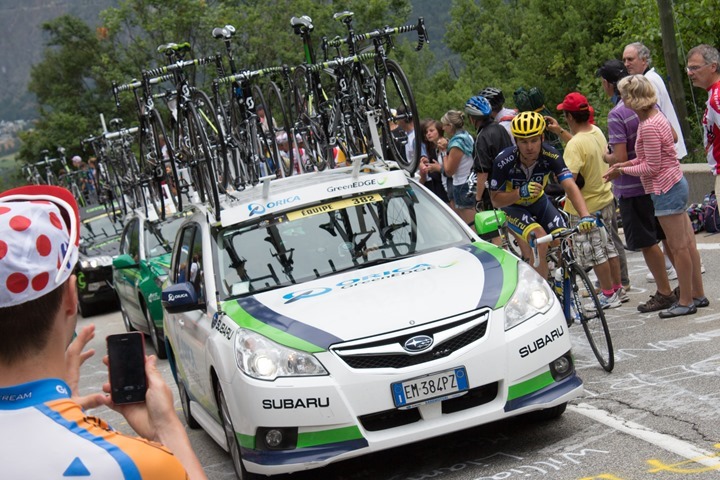 And then, the final major group of cyclists. It was clear how much more ragged the entire group looked on this second time around.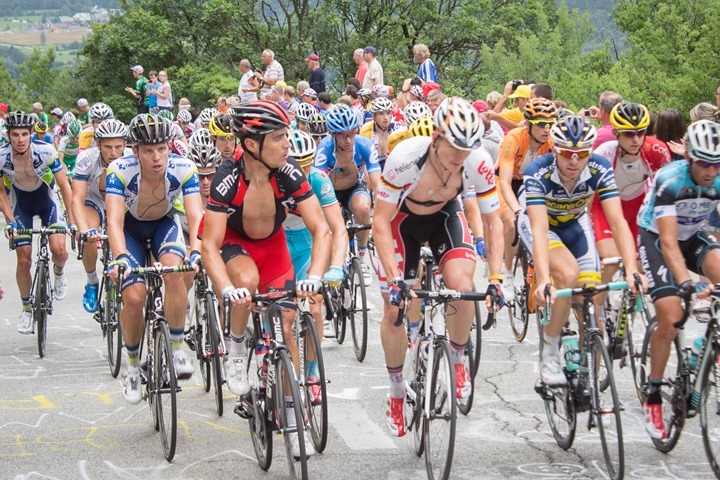 In between or after the racers came through, many made their way to RV's or tents to watch the race on tiny TV's.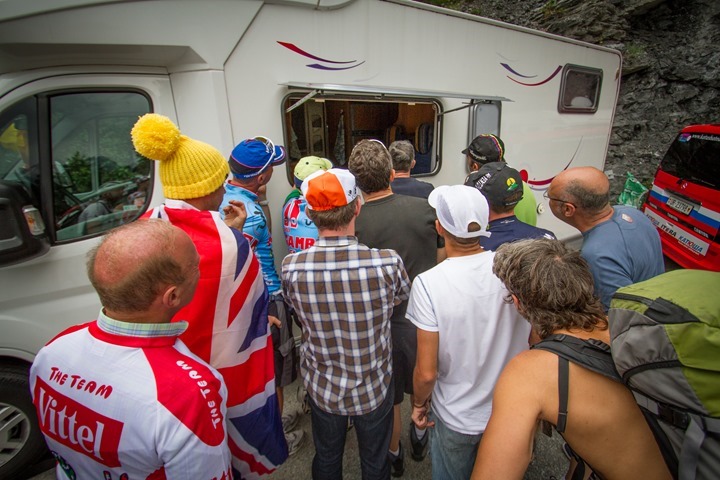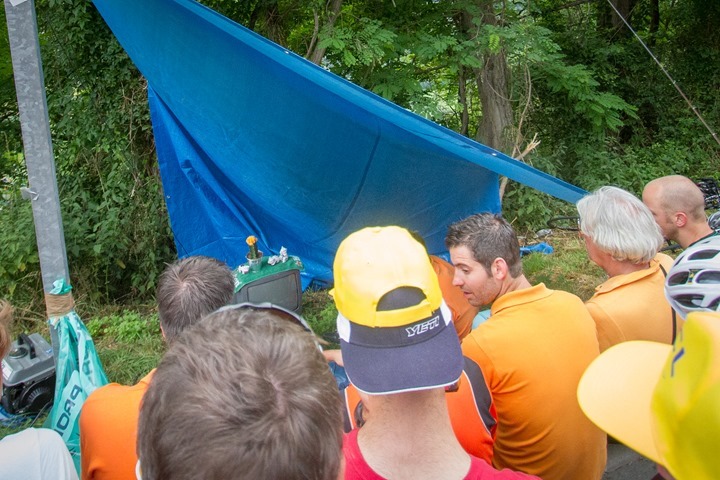 Or in this case, an iPad on a box: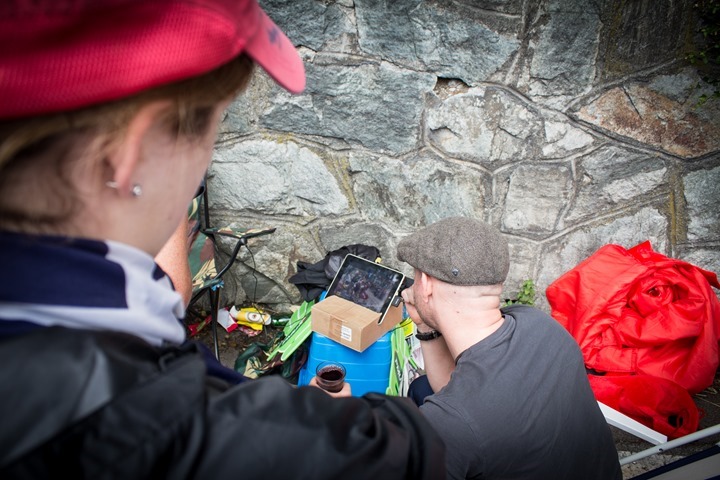 Obviously, I need to order one of those TV doohickeys for next year to be able to catch things live on the iPad. Brilliant!
Working our way back down and home:
Interestingly, many folks actually started heading down just after the leaders went by. Given that we were spending the whole day there, we wanted to get every last rider in. After the last rider went by (quite a ways after the leader), we began heading on down.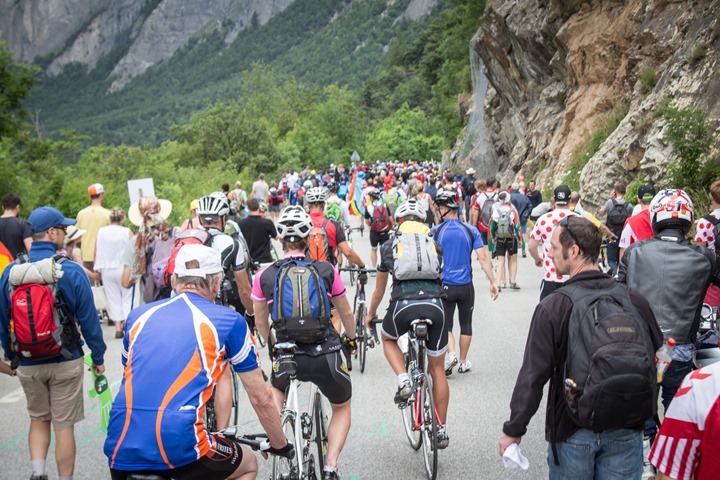 As we first started descending it was a mix of folks riding bikes with walkers, and the occasional motorbike. As a whole, it wasn't a terribly safe situation for either cyclists or pedestrians. And in fact, just about 5 minutes after we started down I watched as an early-20's cyclist clip his right pedal against a woman's leg doing about 15MPH, ejecting him from his bike, into the air and straight down on the top of his head. His bike continued to follow his trajectory, ultimately crashing to the ground with a synchronous moan from everyone around. Astoundingly, he and the woman were mostly OK. Had he not been wearing his helmet, I suspect things would have been significantly different.
At the next corner, police were stopping riders and making them walk down. In retrospect a simple system of walkers on the left, and riders on the right (or vice versa) would solve this problem.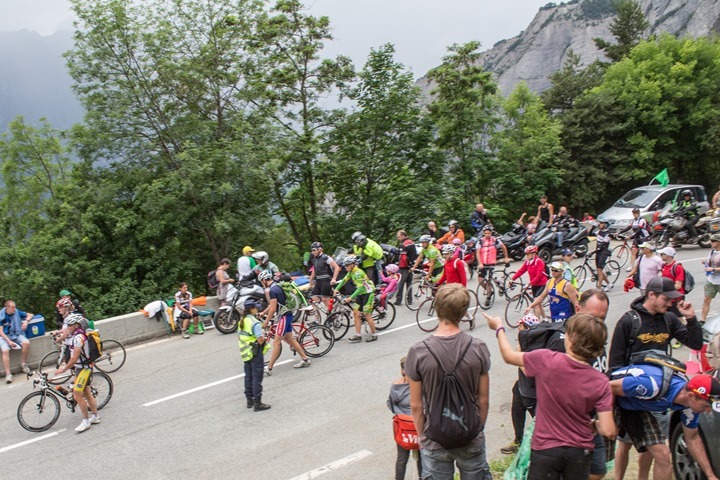 More walking, more downhill: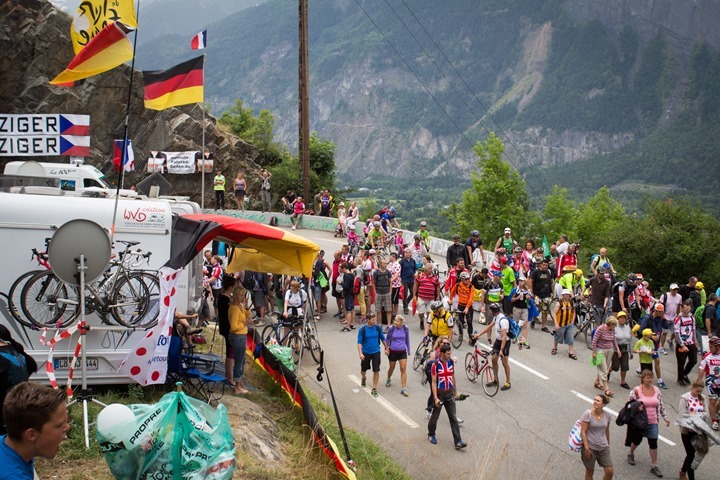 Even the smallest of riders were making their way down: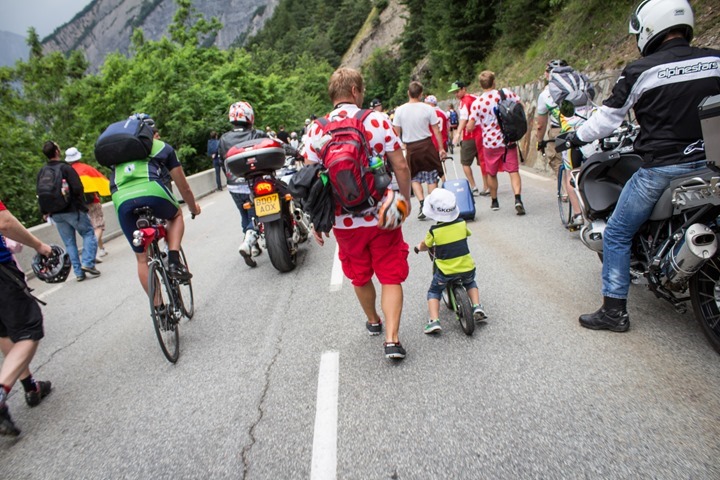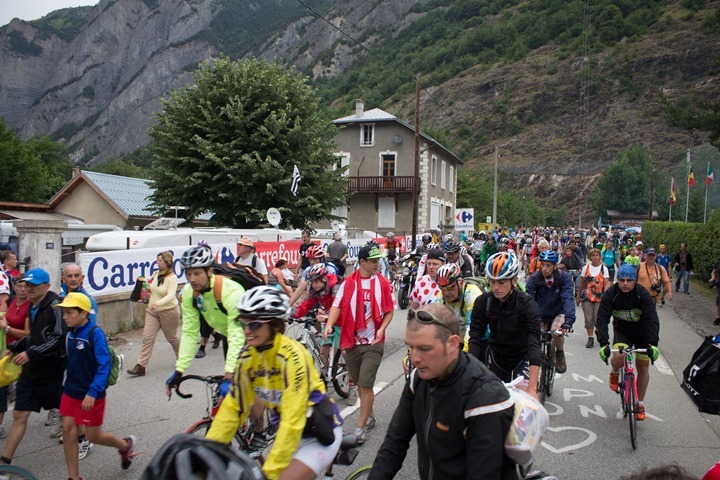 Eventually we hit the flats and slowly made our way mixed with cyclists, pedestrians, RV's, and official vehicles all mixed in.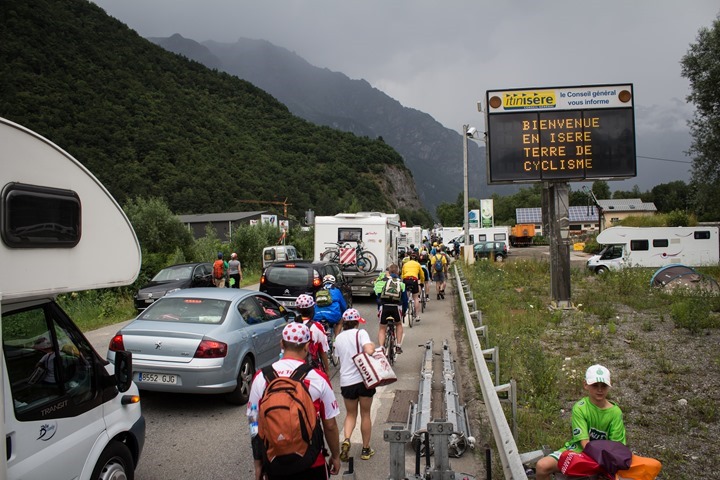 All in it took about an hour to get to the car. Which was roughly what we budgeted. Shortly after heading out, there was a bit of a merge of vehicles into the slow-moving stream of cars. Oddly enough putting me in between the famous LCL Lion and the Tour de France rider that leads the daily parade. Here's a photo I snapped while stopped stuck in traffic.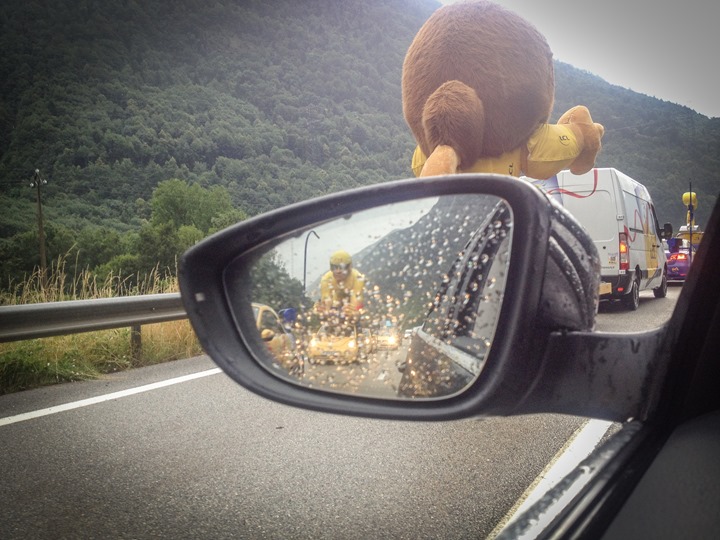 We'd remain in between these vehicles in mixed speed traffic for the next hour (it is basically one-lane out of the mountains). It wasn't until the highway we'd finally leave our lion friend behind.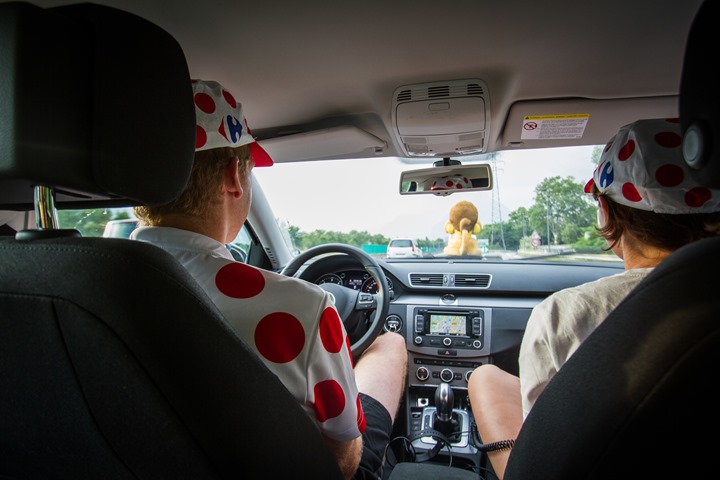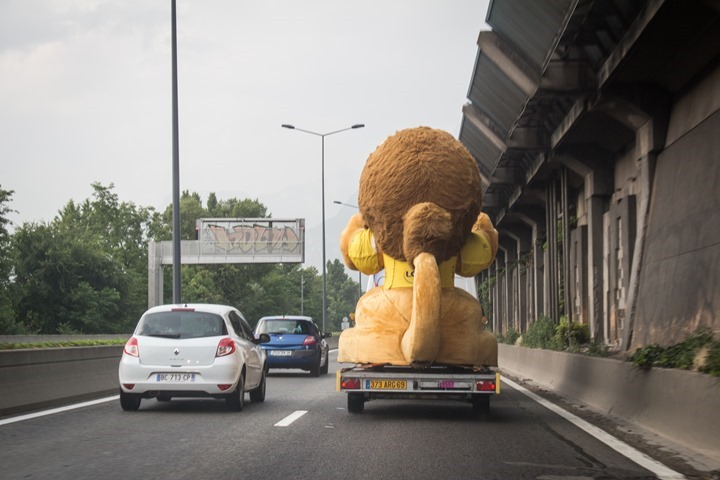 And once we hit the highway it was relatively quick back to Paris – another 5-6 hours, though slowed slightly by the occasional rough patch of thunderstorms or rain squalls. All in our trip was ~1,900 kilometers (~1,200 miles). An awesome trip for sure! Now, onto watch the finish in Paris on Sunday night!
Thanks for reading!
—
Note: If you're looking for more ways to keep busy this Friday, here's all my past Tour de France posts.