Yesterday was a rather long day.  It started at 5AM, leaving home in Paris and driving approximately three hours to the site of Stage 11 of the 2013 Tour de France.  This year that was an individual time trial consisting of a 33km route from Avranches to Mont-Saint Michel.  While you may not recognize the town names, most cycling fans have at some point in their lives seen the famous castle-like church on the island surrounded by water.  For more on that, see this older post from we went and checked it out back in May.  With my parents in town, it was a trio of us heading to Le Tour for the day.  The Girl had to work in the shop, but she'll catch some Tour action next week.
Once on the road we ended up actually driving to neither the start nor the finish, but a few kilometers down the course.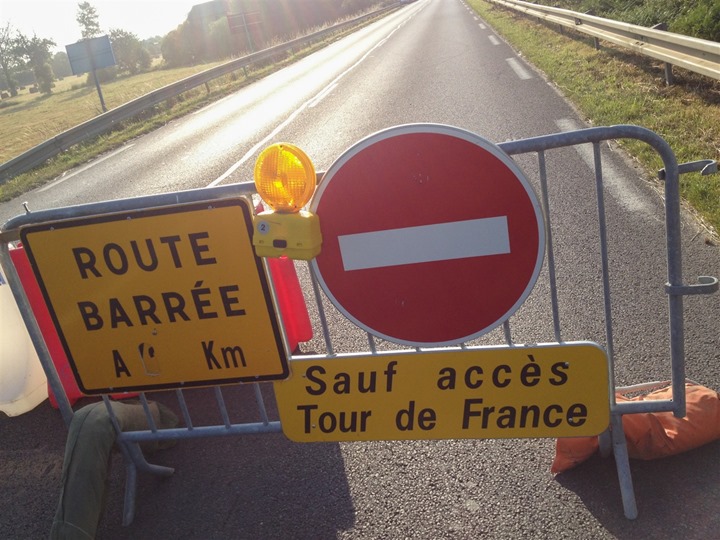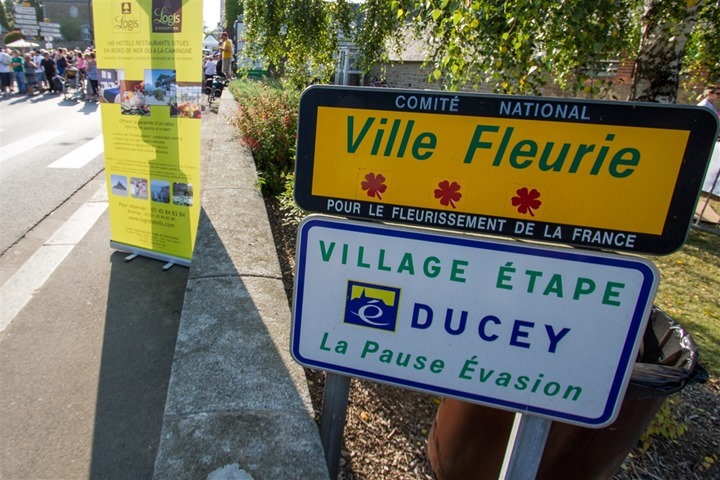 This was mostly a function of knowing it would be easiest to find an initial spot to watch the parade (or 'Caravan' as it's technically called).  Each day prior to the start of the race the parade follows the route of that day from start to finish.  It's essentially a bunch of sponsor floats throwing free goodies out at you.  My kind of parade!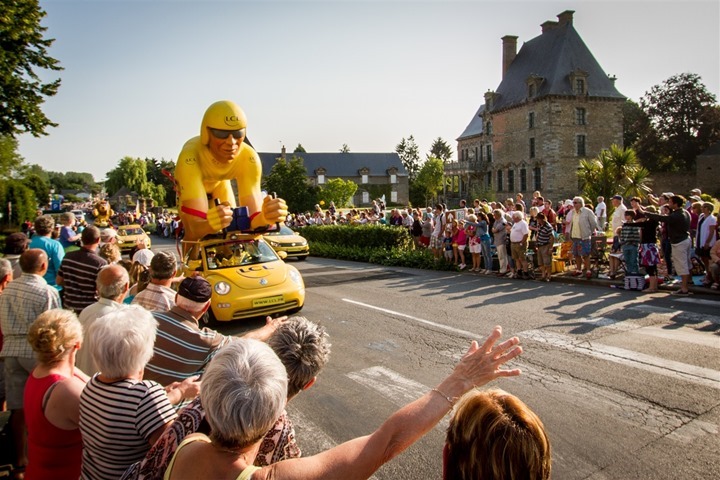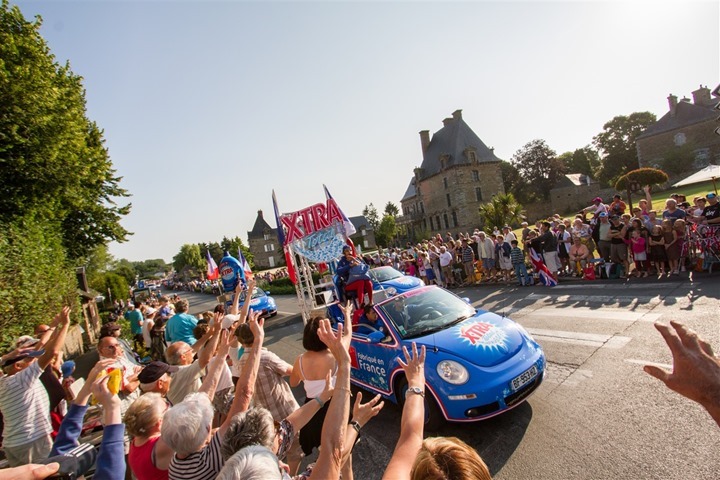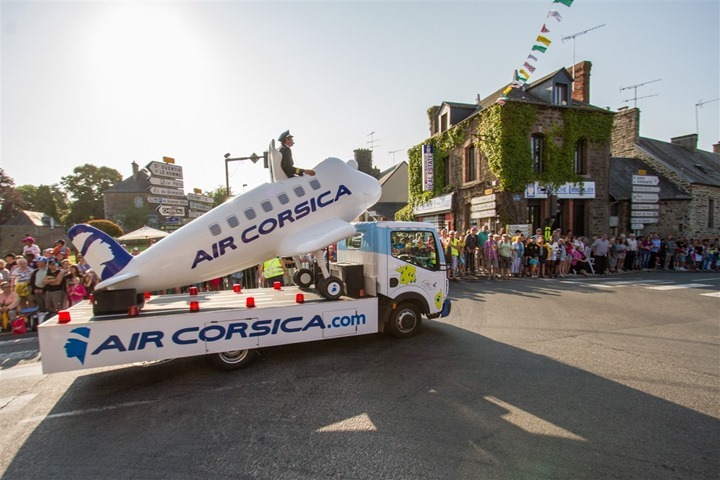 The vehicles go by rather quick (about 15-20MPH), so it's not your average hometown parade where things slowly creep along.  After all, unlike a typical parade being only 1-3 miles, this has to travel upwards of 150 miles in a given day.  There are also vendors that are selling some official gear as well pre-parade.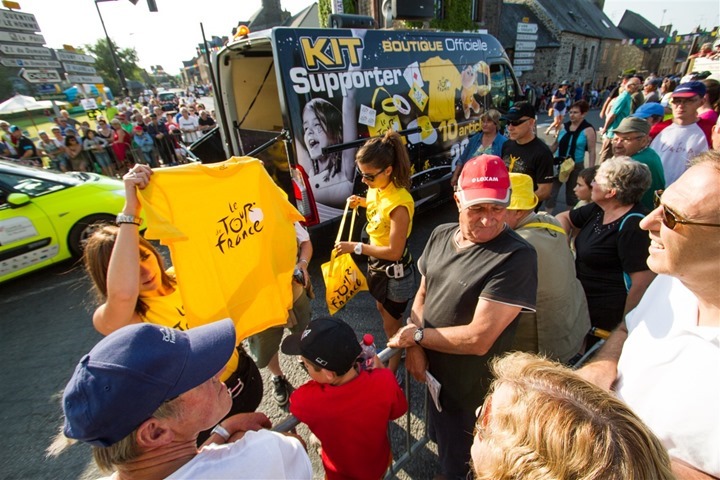 The most important thing being that I managed to snag one of the most coveted giveaways in the caravan – the King of the Mountain caps: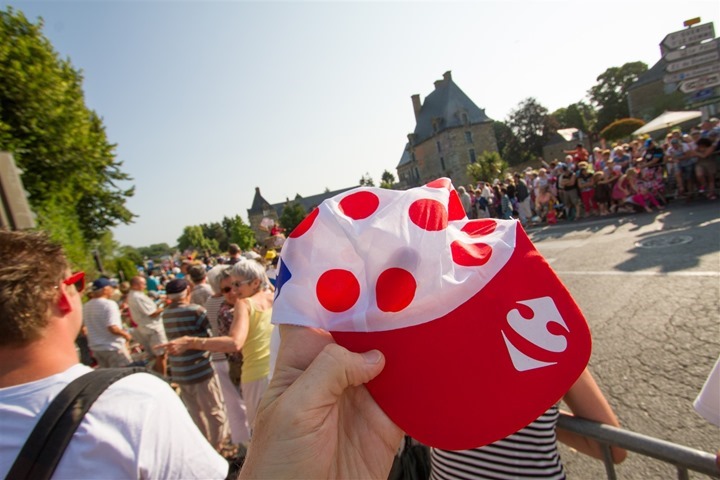 The whole parade takes about 45 minutes to finish passing by, so it's pretty long.
Once that was complete it became a priority to find breakfast.  Unfortunately, our attempts to locate a good boulangerie (bakery) seemed to come up dry. We found one option but it wasn't stellar (see, living in Paris is making us bakery snobs).  Instead, we found BBQ sausages being served in baguettes – which were brilliant.  Even more so since they only cost 2.50.  Yes, pure awesome.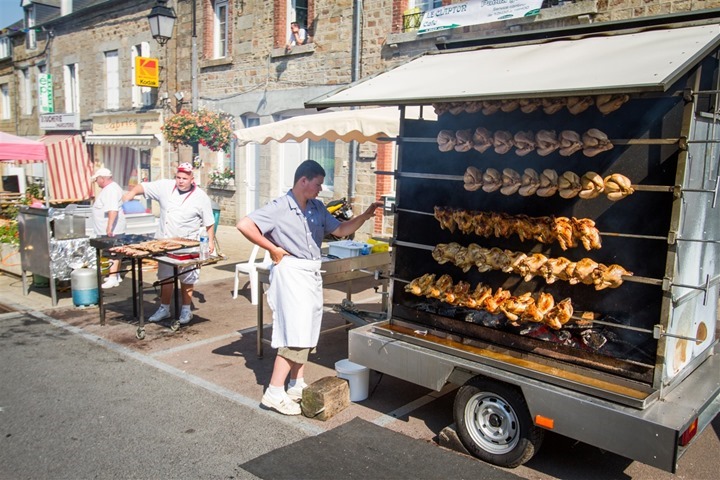 As we finished up our sausages a few teams were swinging through town pre-riding the course.  From a spectator standpoint it's cool just how many folks were able to bike around this stage, stopping in at various points along the route to check things out.  A very easy stage to do so, given the length of it.  Having your own bike on a TT stage makes for an awesome option of getting around.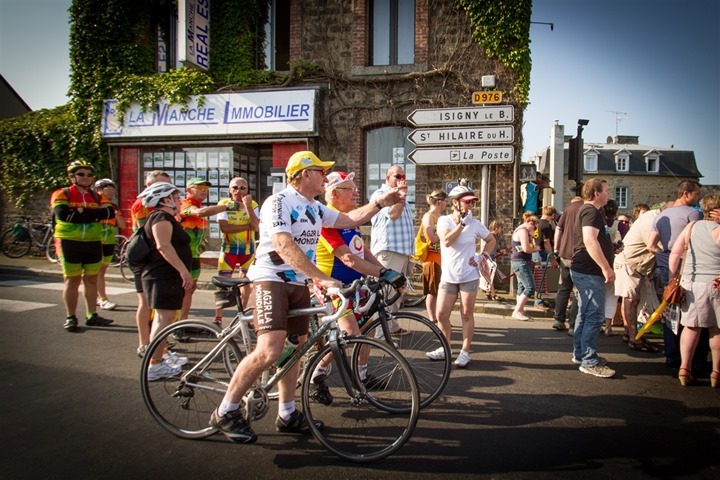 A short bit later, around 10:30AM the first few racers finally came through (about 20+ minutes late).  We watched on this 90 degree corner for a bit to see how things would shake out – but everyone was taking it pretty cautiously.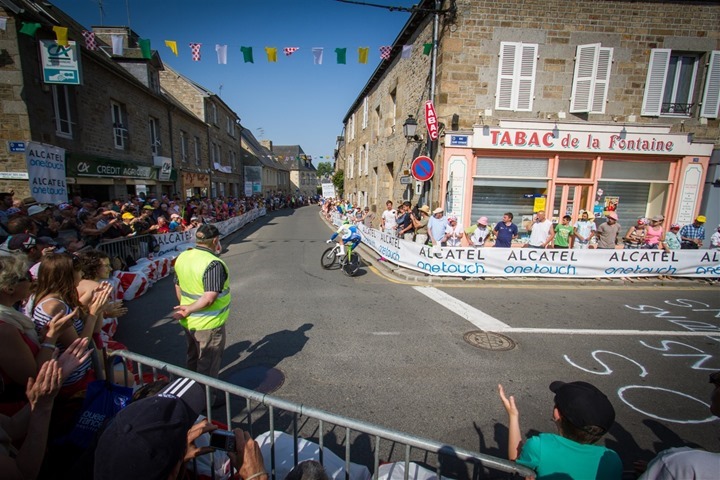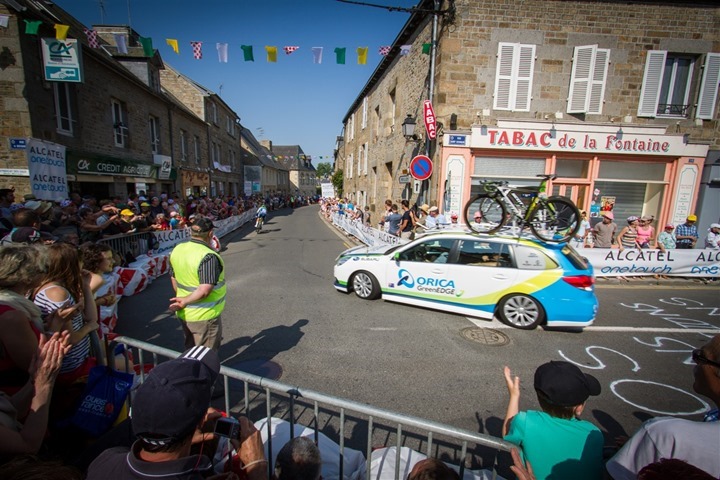 We spent about an hour more watching riders come through town here.  One after another, zipping by every two minutes.  Sometimes, it's really hard to appreciate the sheer speed of the riders until you're trying to take photos of them.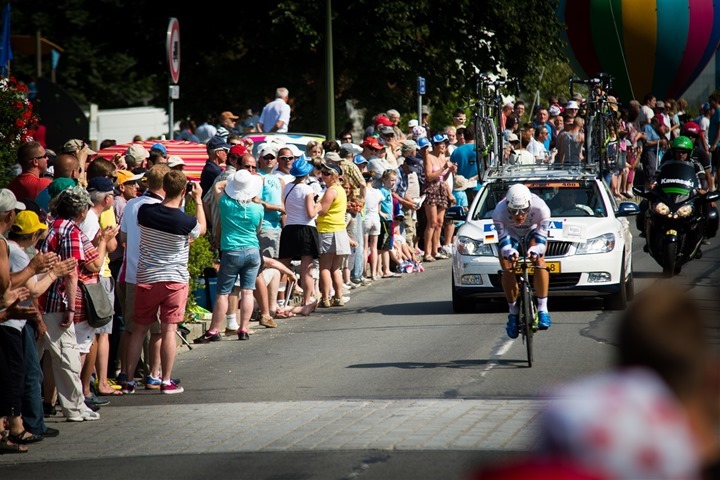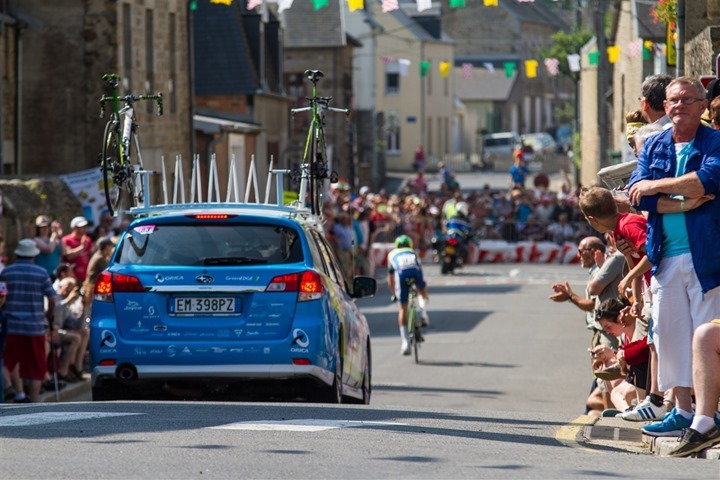 After our time in Ducey, we walked about a mile or so back to where we had parked our rental car in a cornfield, and then drove up to the start a couple of miles away.
The town was very easy to get in and out of, and it didn't take long to find the course: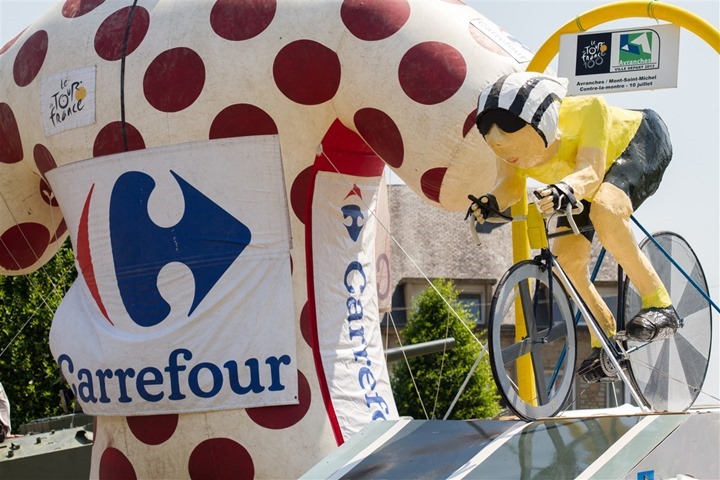 From there we worked our way down the 1KM or so stretch to the starting line, watching riders every few minutes.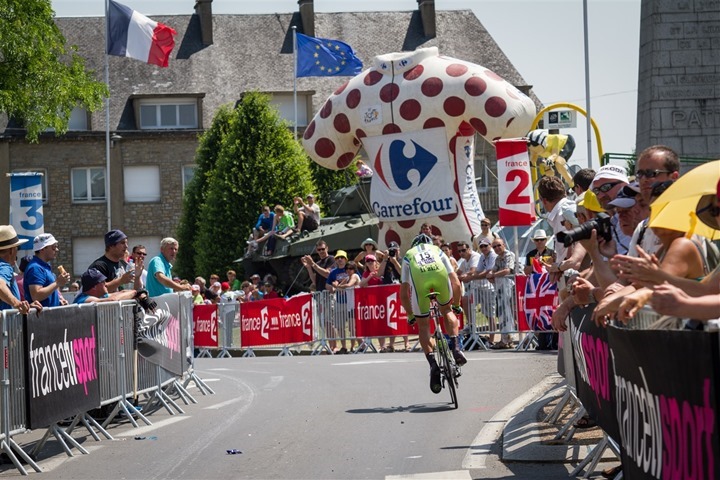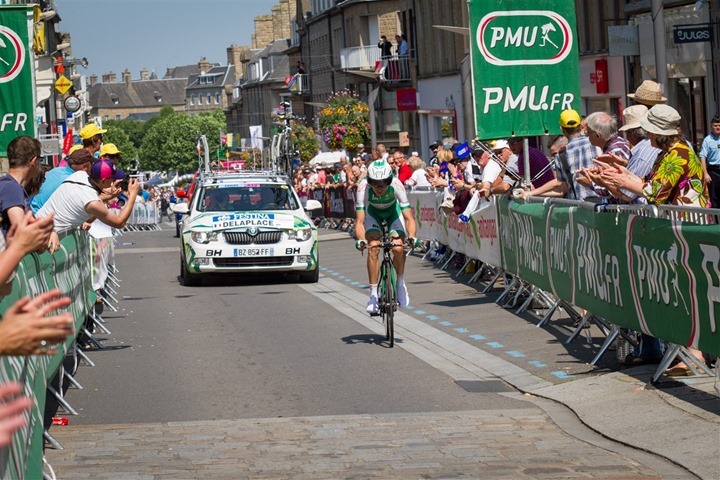 It was cool to watch a bit of the 'process' of them starting.  For example, leading every rider is a motorcycle police officer.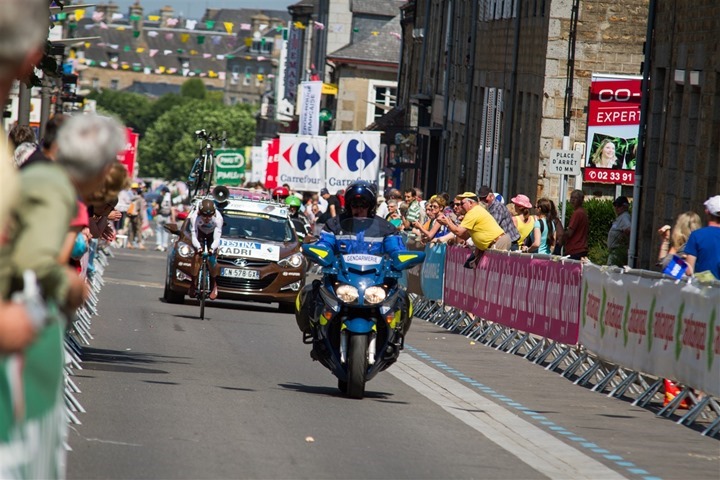 About 50 meters up the course from the starting line there was a peloton of police motorcycle officers waiting for their turn, queued up like taxi's at an airport.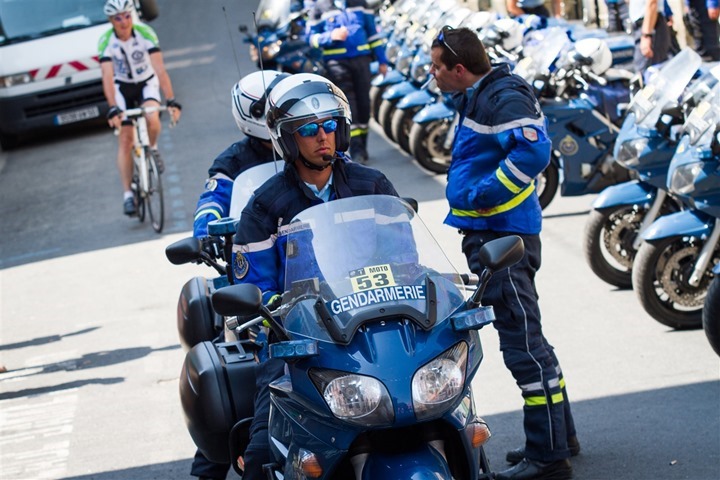 Then, as the previous rider and support vehicles went by the officer would pull out and wait just up ahead of the start area, waiting for 'his' rider to start.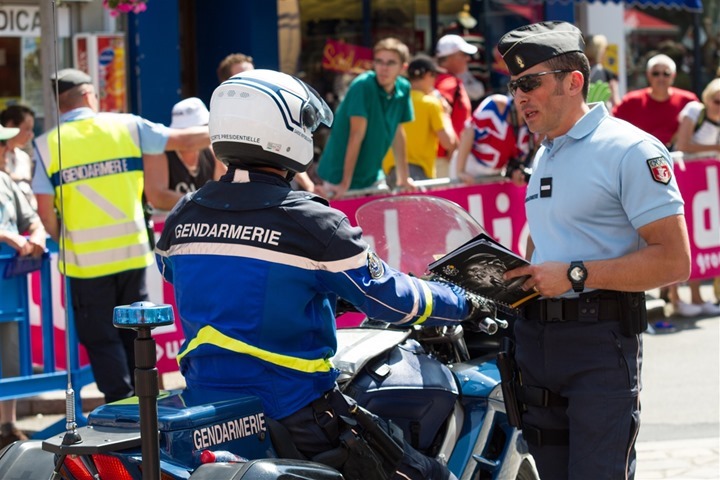 Another officer had a TdF playbook with all the start details.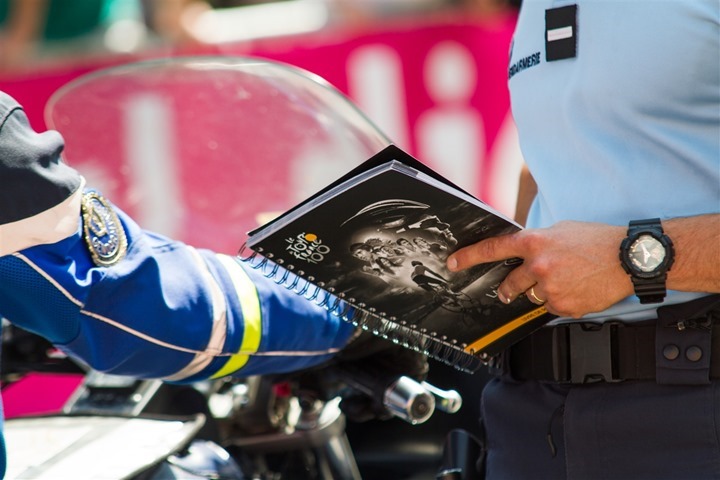 Meanwhile, down at the starting line itself a similar process was occurring with the support vehicles.  Each rider had 1-2 team support cars, plus potentially an official race vehicle and any media vehicles/motos.  These would wait off to the left of the starting ramp until the rider had left, at which point they'd race up after them.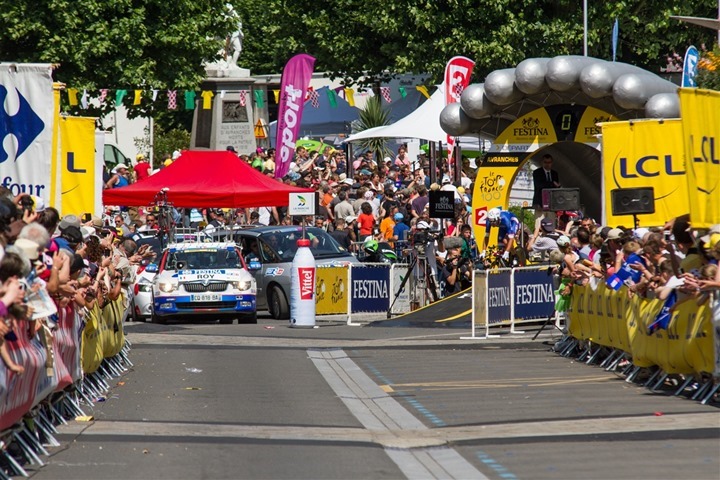 Behind that there was a long queue of waiting cars – each ultimately paired to a given rider.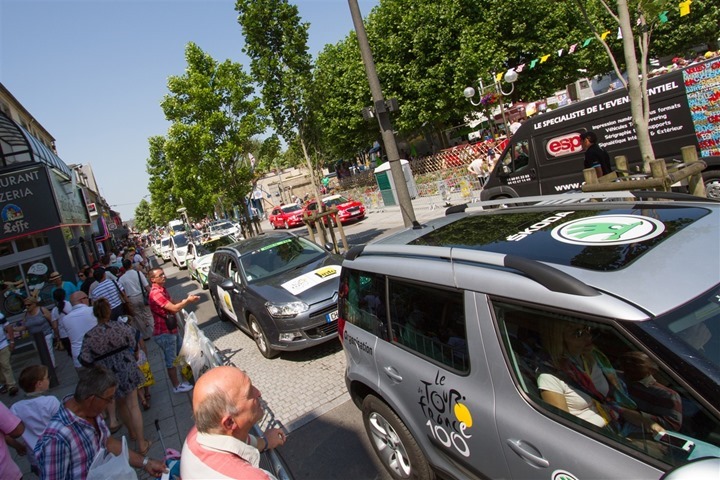 Further down there were neutral support vehicles – ostensibly for any rider that lacked a team vehicle.  Typically the neutral vehicles are seen during regular stages (not TT's), providing support to various breakaway groups.  In this case, they just sat around and looked pretty.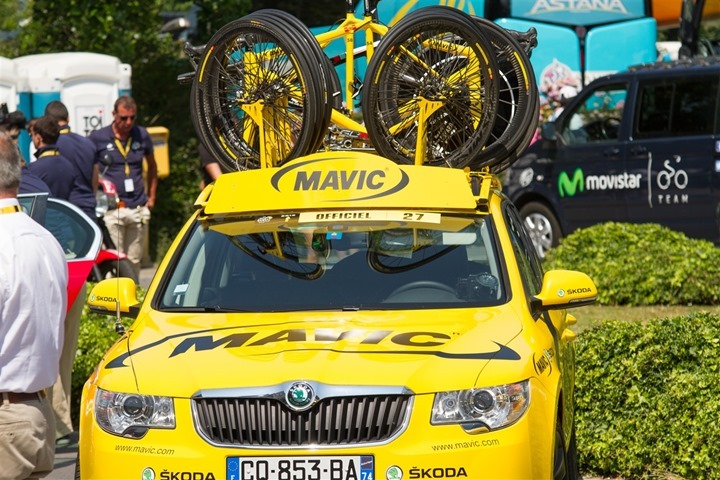 We watched a number of cyclists start, including Tony Martin (the stage winner).  Here's a good piece on his full day.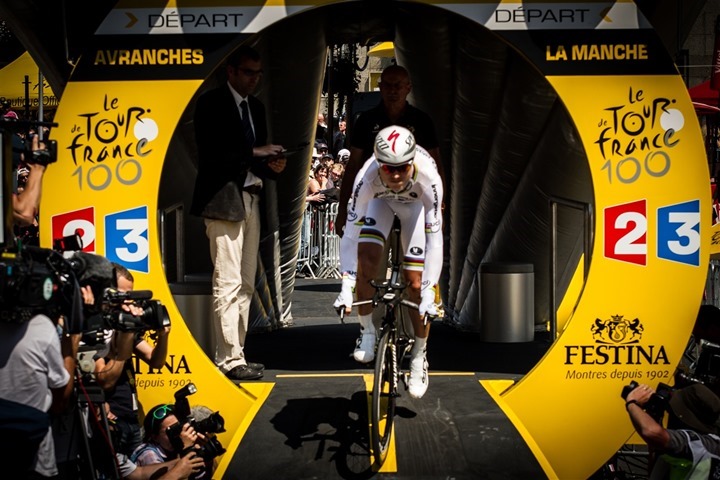 Back further behind the starting area were all the team buses and vans.  Unlike last year at the stages I went to, they weren't quite as easily accessible.  I'm reasonably confident though that was just a resultant of the space they were given for this particular stage, as some buses were closer to the edge, while others more on the inaccessible interior.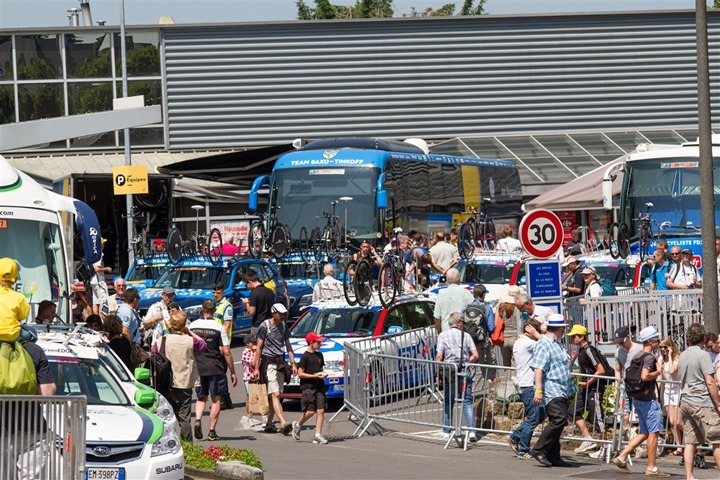 Still, it's always fun to watch guys warming up, checking on strategy or starting papers, or mechanics working on bikes.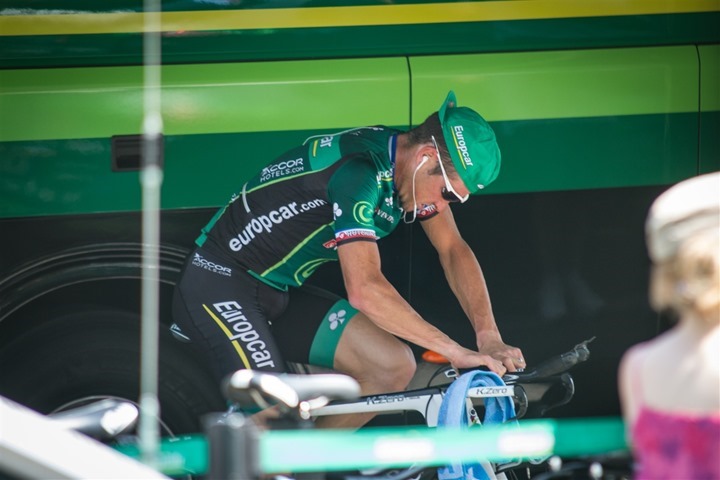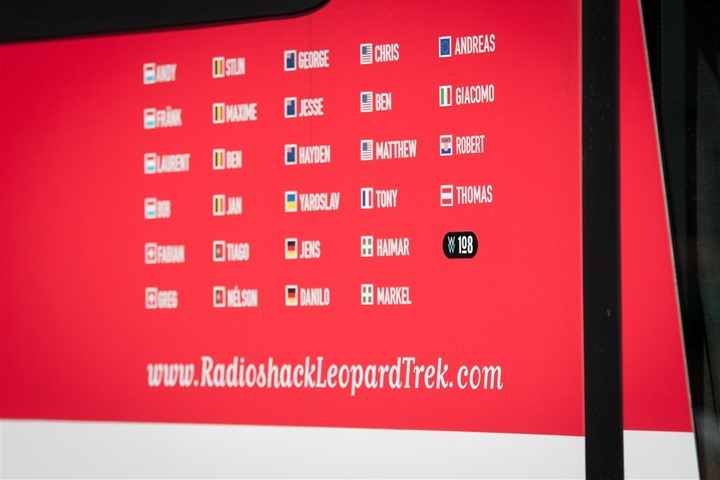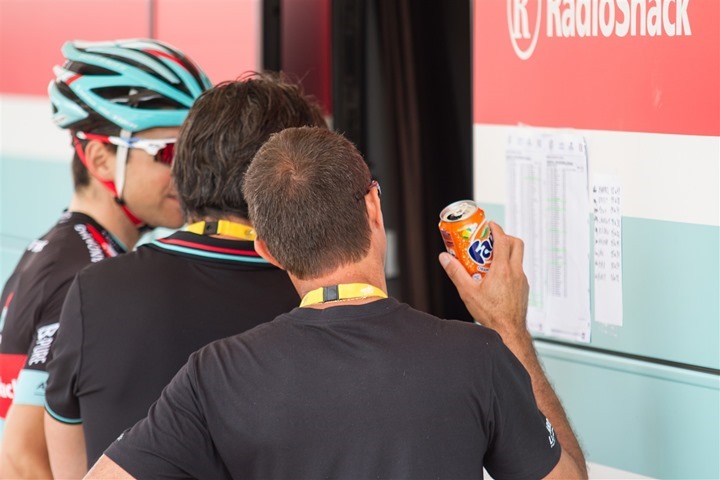 After spending a couple hours in the start area we got back in the car and headed down to the last few kilometers on the course.  As noted the course was 33km long (about 20 miles), and finished at Mont Saint-Michel, pictured below.  You can see them here racing across the fields before the final turn at the 3KM mark directly to the island.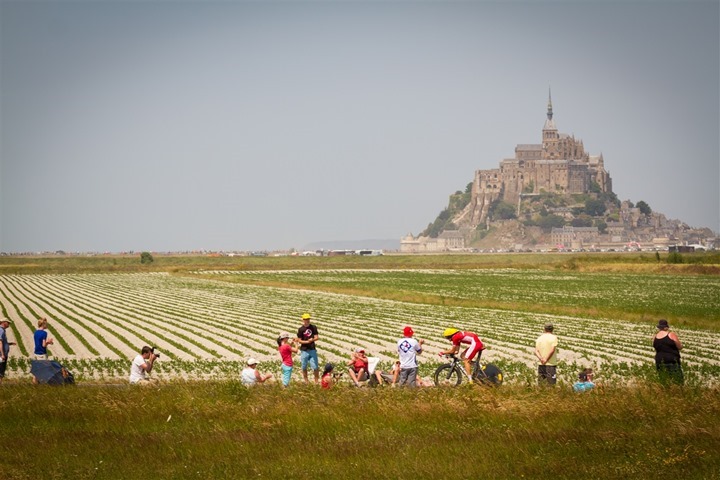 As is the case across much of the course, the whole race is a bit of a party.  Each time the racers would come by police officers would blow a whistle and the road would instantly clean itself up and make way for riders.  Then it was back to party time.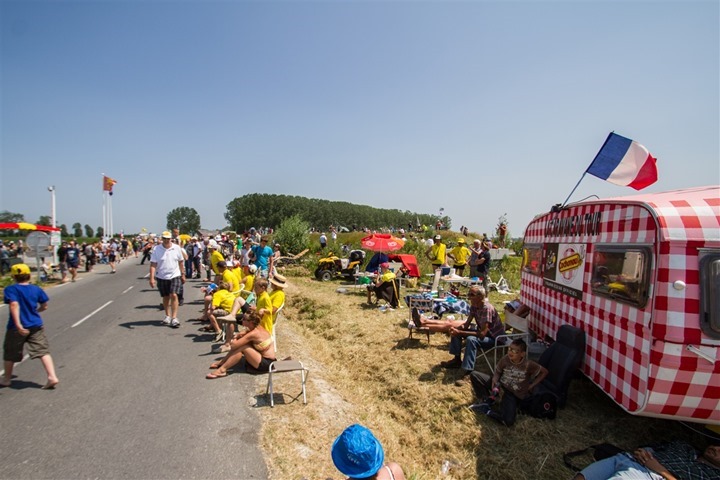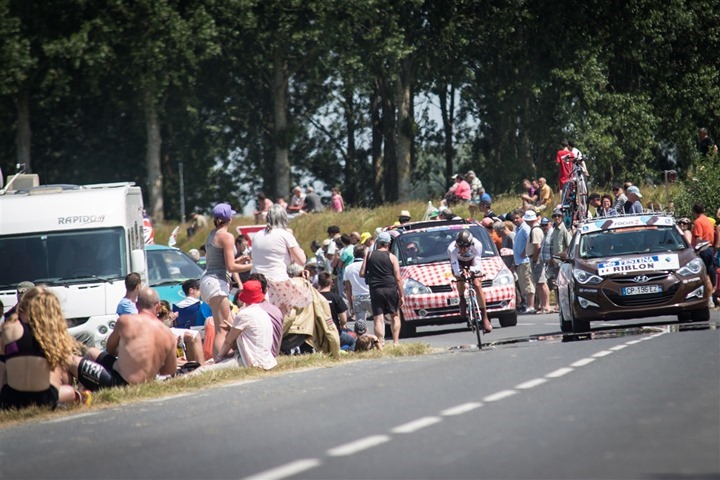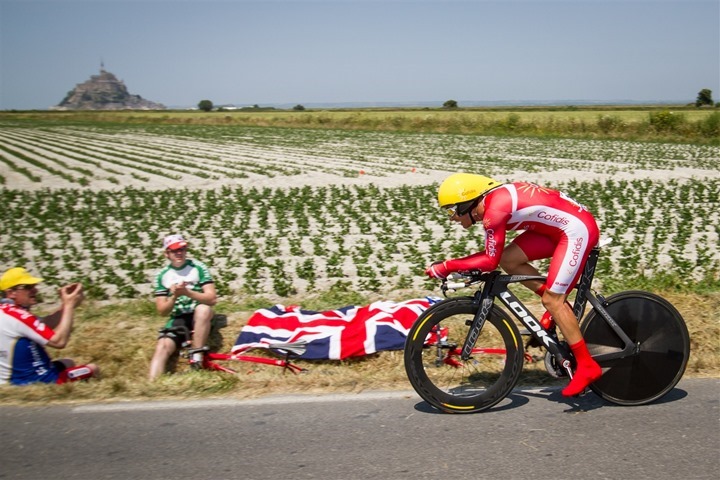 In this particular section the guys were just screaming by.  Unreal speed.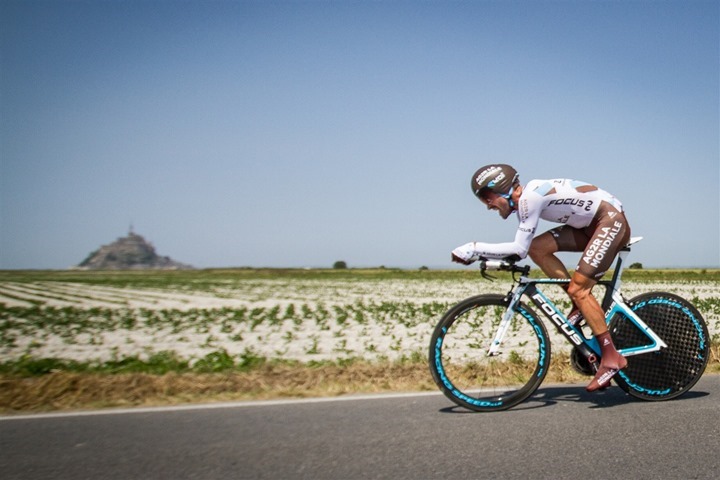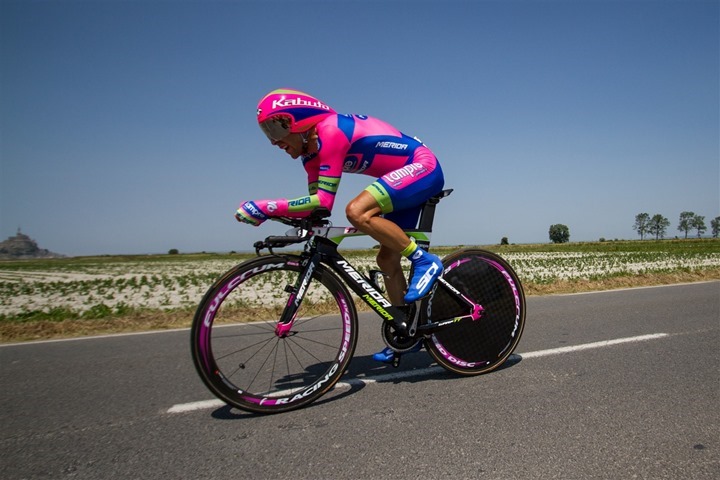 After they made the 3KM turn they quickly found the 2KM signage heading out onto the skinny road and bridge that leads to the church.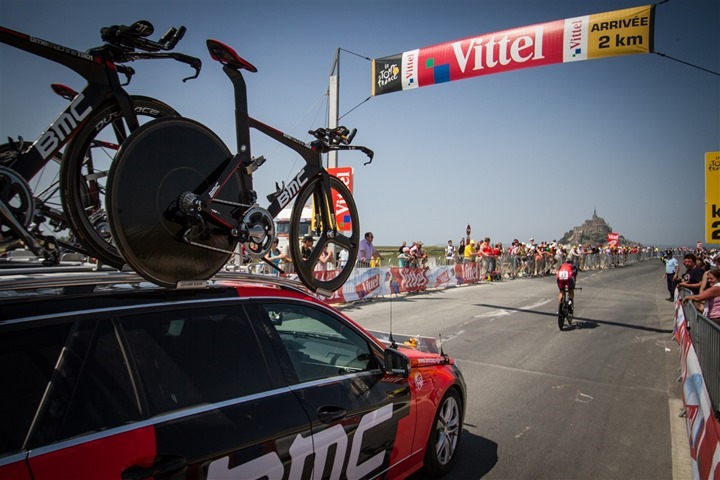 This section would definitely have been un-fun, primarily due to the brutal head wind whipping through there yesterday.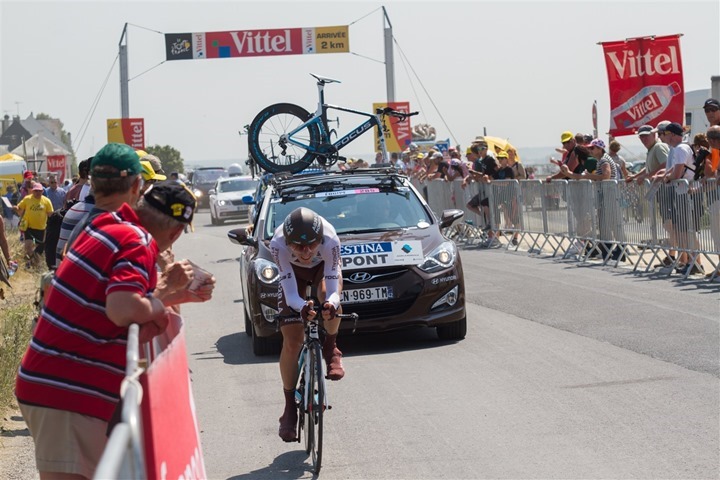 Just a few short minutes later they'd make one final turn right before the entrance to the village doors/gates and turn back on the course to the finish line.  You can see it with the large inflated structure.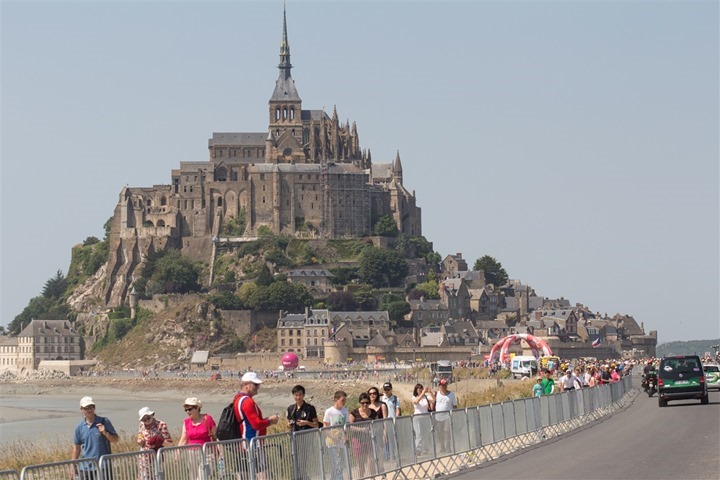 Once the racers finished, the team cars would rush back to the start area via a bit of an express route (different roads than the race), to get other racers on the team for their runs.  The whole process lasted from about 10:30AM until 5:30PM.  Once the vehicles were done for the day they'd end up in a giant temporary parking lot: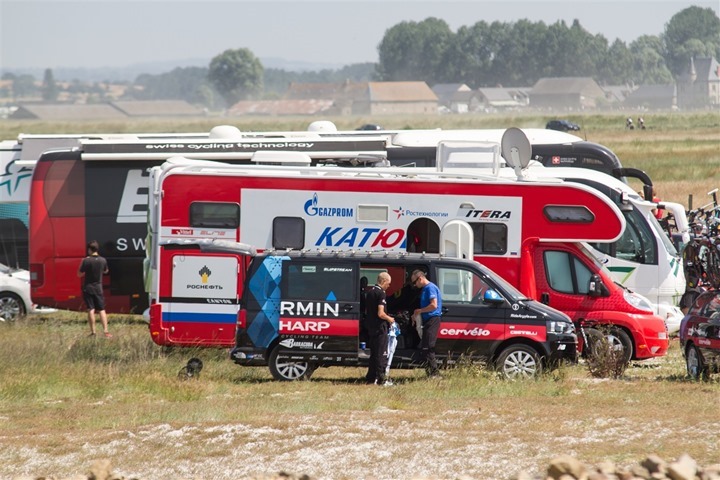 We were running a bit tight on time to get back to Paris (another 3-4hr drive), so had to leave then…but fear not, I'll be back next week with more TdF action as they hit the Alps and more of the finish area.
With that – thanks for reading!
Oh – and for those looking for some of my past Tour de France photo posts – here's a tag to all of them.
(Photography side note for those curious: Virtually all of the shots here were shot with a Canon 7D DLSR with either a Sigma 70-200mm lens (zoom) or a Canon 10-22mm lens (wide-angle) – any photos with the numbers 7800-8300 (hover over).  A handful were shot with the EOS-M (2300's), and a couple with the iPhone 4s (1800s).  I did not have a media pass, but simply was just like any other spectator.)