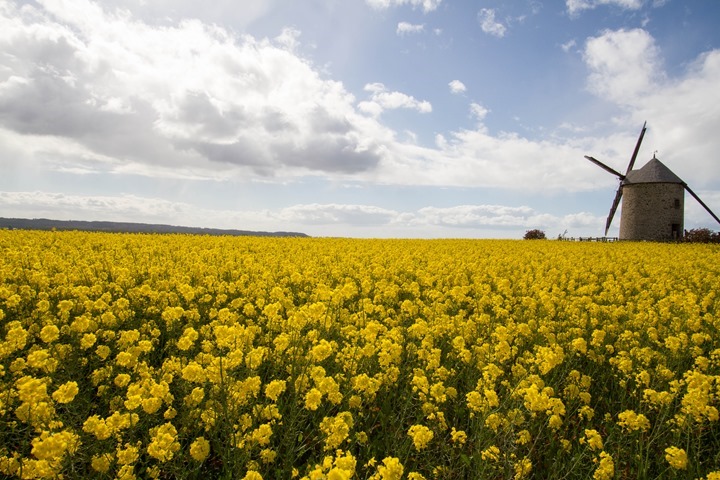 As I alluded to earlier in the week, The Girl and I headed out of town Sunday afternoon to enjoy a bit of a road trip. Things have been crazy busy the last few months with my work travel and for her with the cupcake shop, so now that she has employees – it's nice to be able to do a bit more enjoying of Europe. Oh, and it's finally warm out.
So Sunday afternoon after she baked a gazillion cupcakes we grabbed the rental car and headed out of town. We decided to rent a car instead of the train because it gave us more flexibility to take what we wanted (bikes), as well as go wherever we wanted. The train is great in Europe getting from Point A to Point B, but less ideal when you want to poke around at different places between Points A and B.
Our first stop would be Rennes, which was about 3ish or so hours outside of Paris by car. We got there just a bit before sunset and The Girl went off on a run around the city on some bike paths. I was going to accompany her via bike, but the bike vending machine wasn't really cooperating.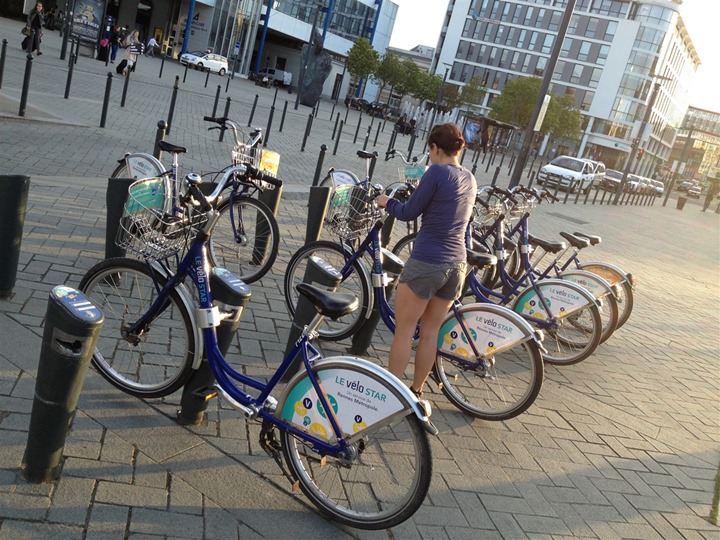 The next morning we spent a bit of time exploring the city, mostly on foot. As with almost everywhere we've seen in France, the French take great pride in any garden space they can create. Everything is always near-perfectly trimmed and in order.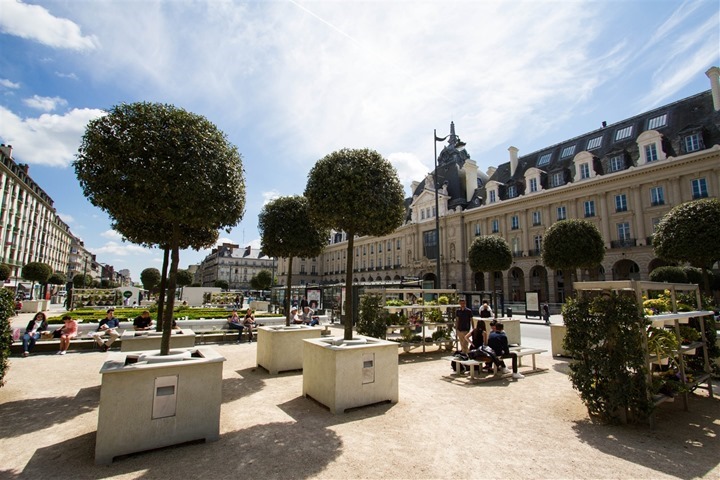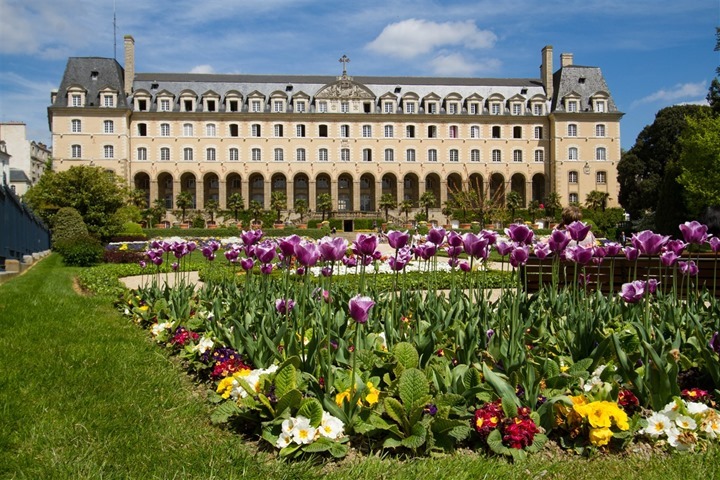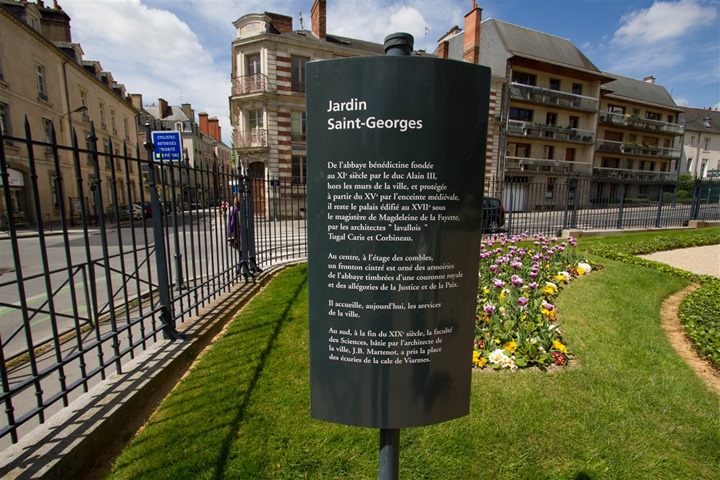 After wandering around a bit we found some food. Obviously, we're all about the food. Especially when the prices are nearly half that of Paris. Appetizers for 3€, and full entrees for 10€? Dang! Everything we saw food-wise for the rest of the trip was like this. Awesome!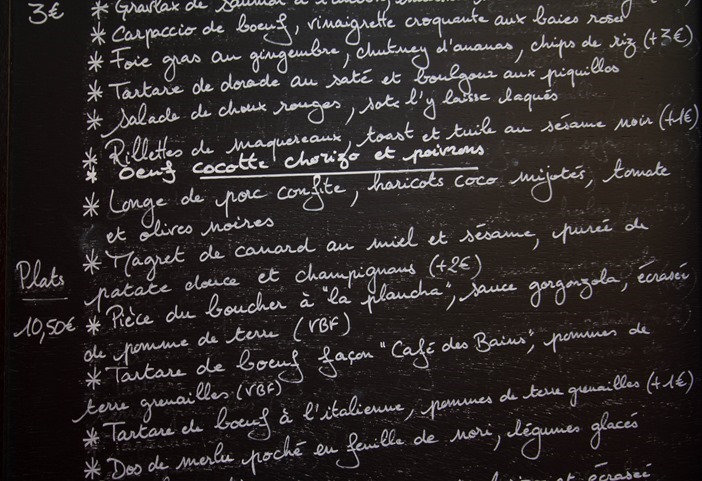 Unfortunately, it became clear that despite a well put together menu (and dish presentation), the food was definitely cooked the night before and microwaved. Not at all good. Never would have thought.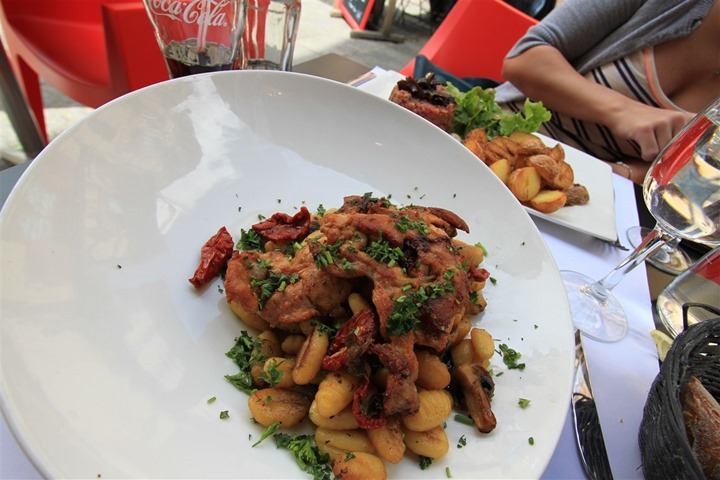 Don't worry, we made up for it later on with dessert.
After wrapping up in town, we got back in the car and headed towards the coast. It was about an hour or so away to Saint-Malo. The majority of the town is along a long sandy beach, with the old walled in town (like castle) off to the left of this photo.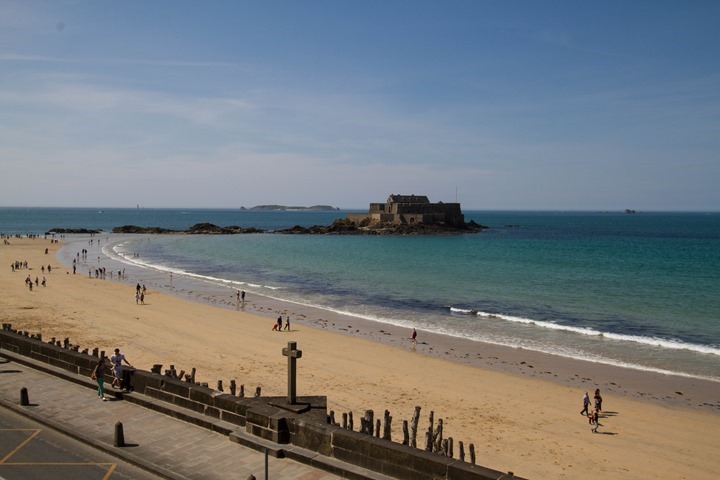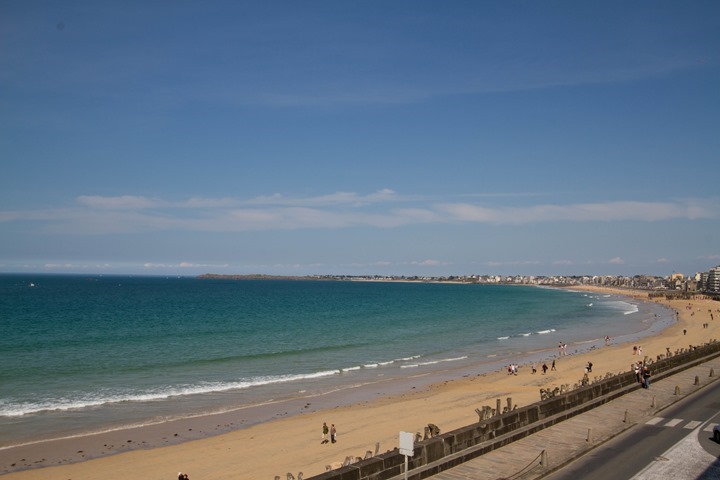 Yesterday's post covered all of my swim related endeavors there, which you'll want to check out to see more of that fort.
Despite being fairly windy on the main sections of the beach above, once you were protected by the old city's castle-like walls, it was just like summertime: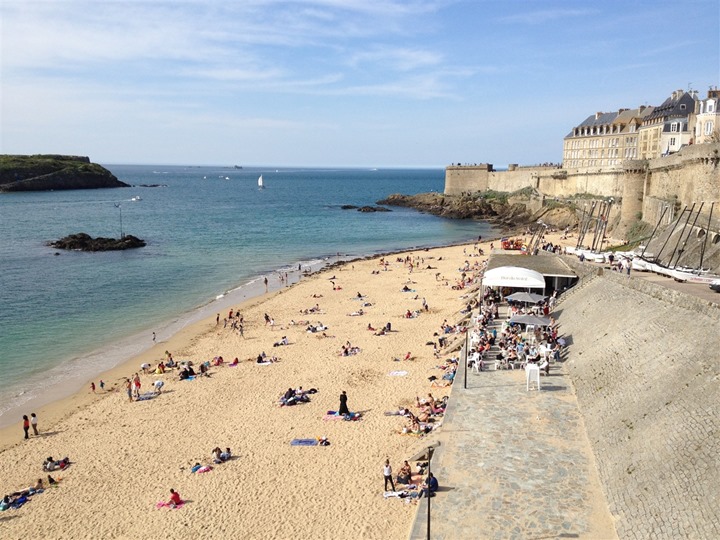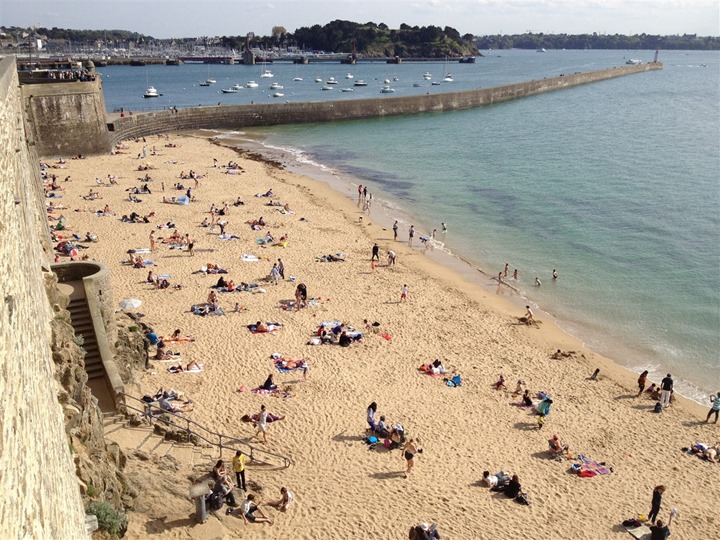 We hung out for a while on top of the castle walls and just enjoyed sitting in the sun. It was while I was sitting there that I noticed these stairs to nowhere out in the ocean (in front of the sailboat):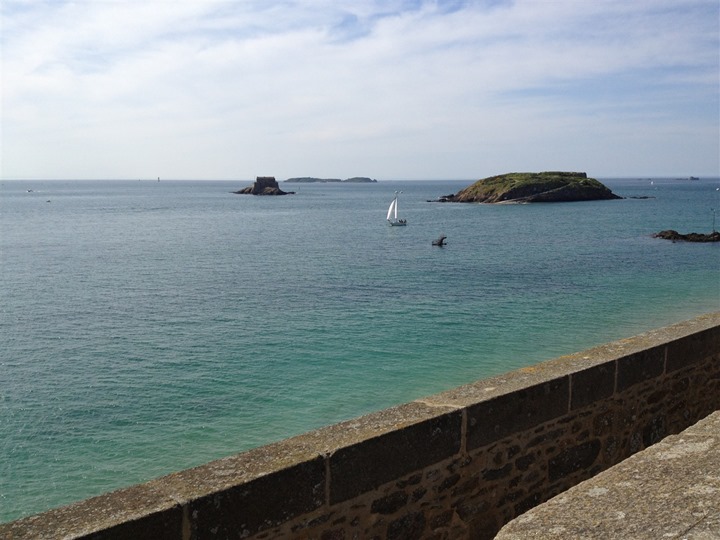 At this point, we'd really only seen high tide thus far. So I didn't realize how far the tide actually went out. The next day, upon returning – it was crazy. This is taken from the exact same spot: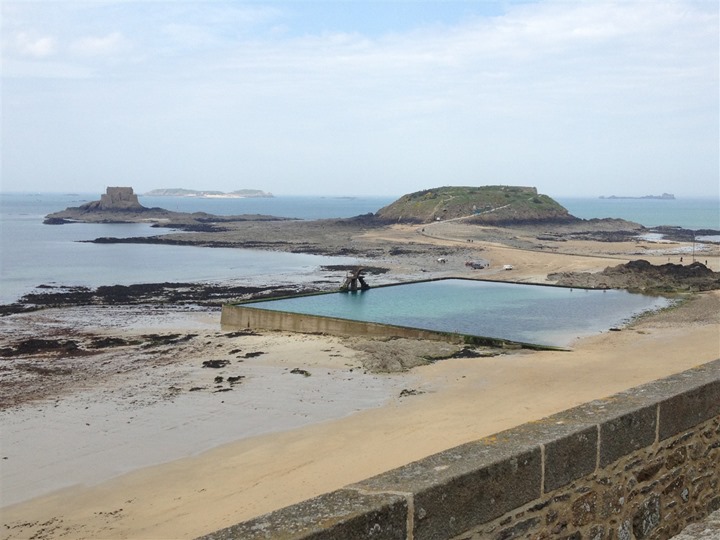 Holy cowbells! There's a swimming pool there! And a diving platform. It's crazy! And this isn't a small pool either. Look at the people. This is easily 100-200m across!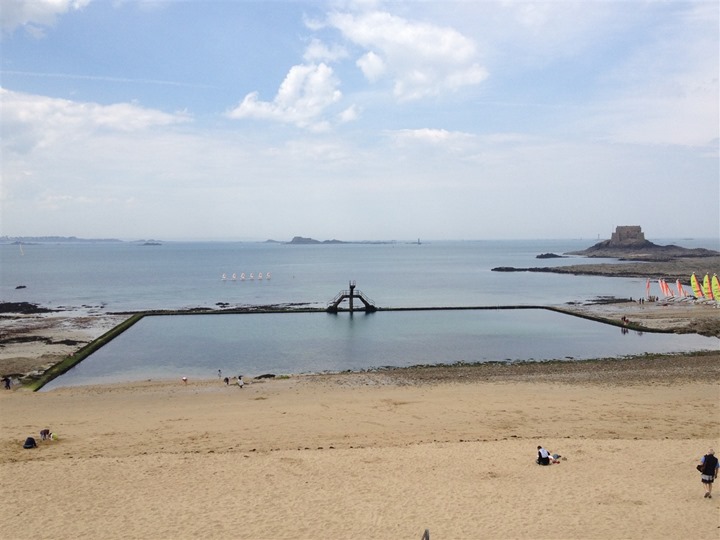 We headed out to explore the islands that weren't really islands anymore. At super-low tide (we were about an hour or so late), you can walk all the way out. You can kinda see the stone path below the water to the right.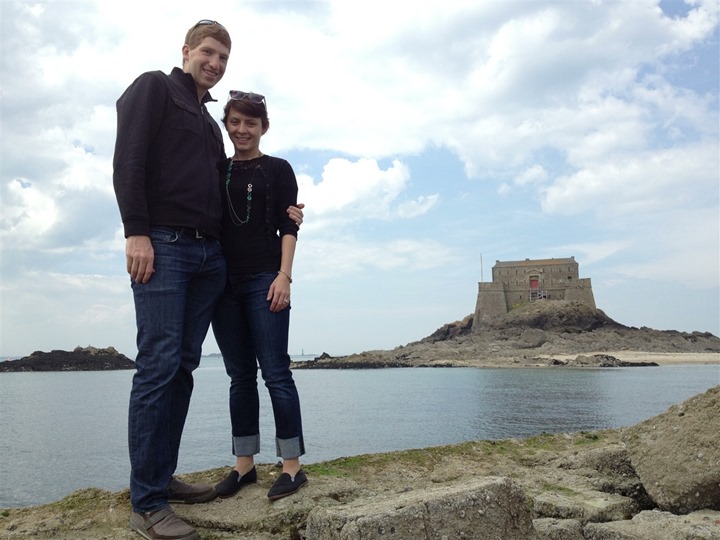 Instead, we just looked at the mussels. This area is known for them (as well as oysters up a bit further). I definitely had my fair share of them the next night. They don't cheap out on some portions of them here!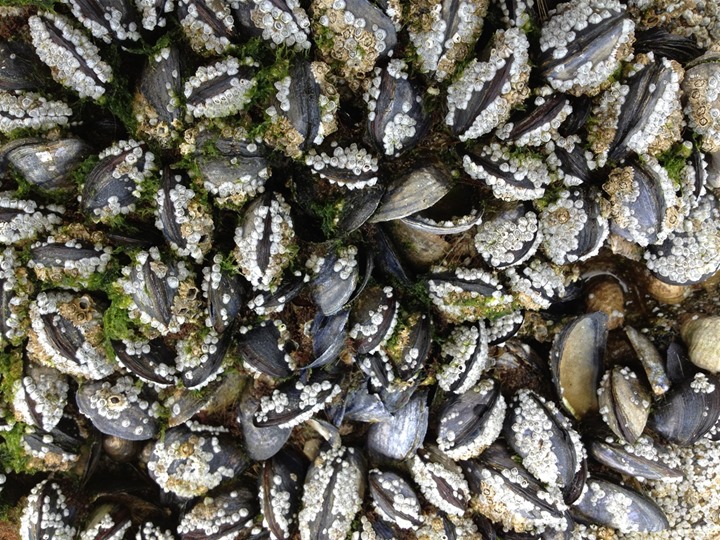 On the walk out to the island there was a sign warning you that once the water was within 10 meters of the walkway you needed to return pronto, due to the incoming tides. From on top of the hill, we were only a 2-3 minute jaunt back across. So we headed back out before the tide washed over and returned it to island status.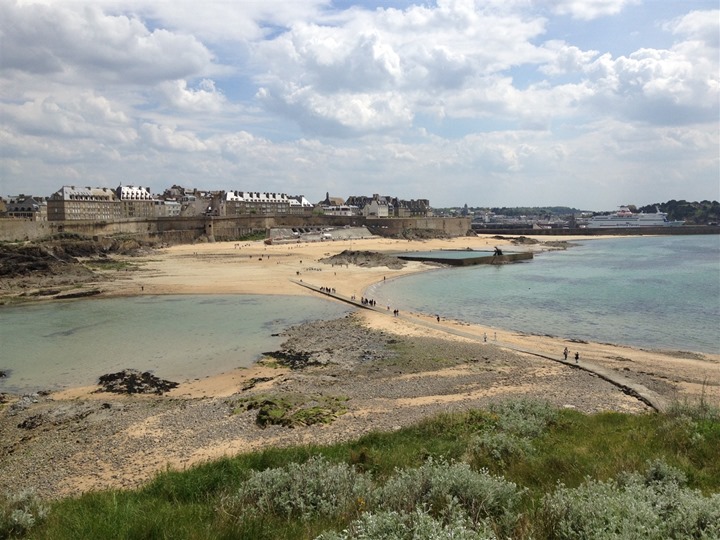 However, as we did so, people were still walking outwards onto the island. It became clear this was going to turn into an awesome spectating opportunity. And in particular, a great time-lapse video one. The tide was coming in very fast – such that it would only take about 5-10 more minutes from the above photo until the walk-way was covered.
So we scrambled up a big rock and I set my phone to take a 20 minute timelapse. Obviously, the goal was to watch as those ignoring the picture signs had to get rather wet coming back (including all the cold-water screaming like a little 4 year old girl that would accompany it).
Unfortunately, the time-lapse app crashed upon processing. But, that didn't diminish watching probably a hundred tourists get wet. Nor did it take away from watching as the remaining dozen or so had to be ferried back onto shore – where the boat captain made them jump in up to their knees (some wearing jeans). I thought that was fair punishment.
So, if you go visit here, be sure to check out the tide tables and then plan about 2 hours after high tide to watch the circus unfold.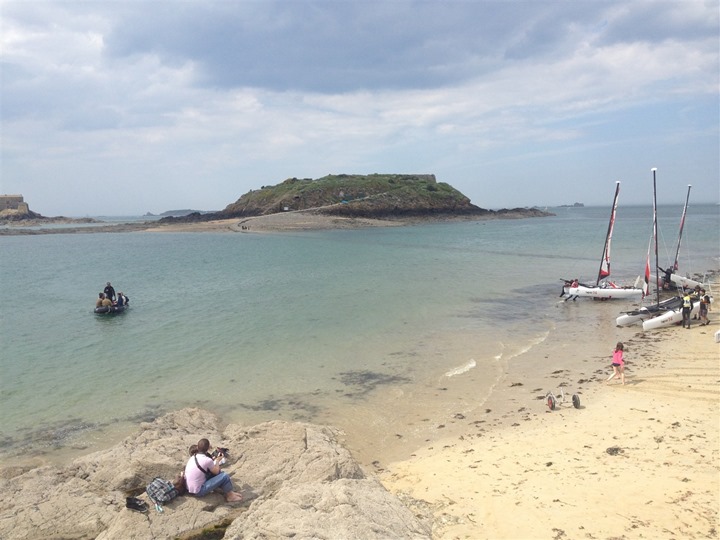 After all this, it was clear there was only one thing to do: Eat some ice cream. Or rather, a lot of ice cream.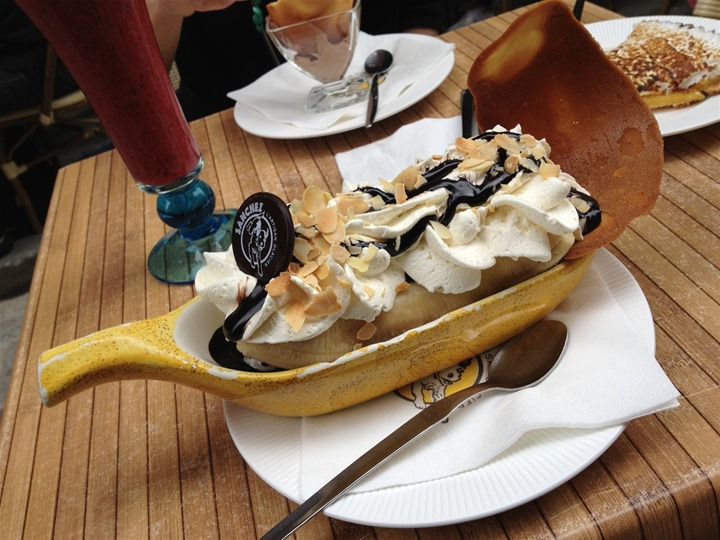 Don't worry, I didn't leave anything behind. And actually, on the scale of ice cream creations from this establishment – mine was somewhat tame. They had a 12-scoop version too! There was a cake place next door (with equally as impressive cakes). But we decided we were in more of an ice cream mood.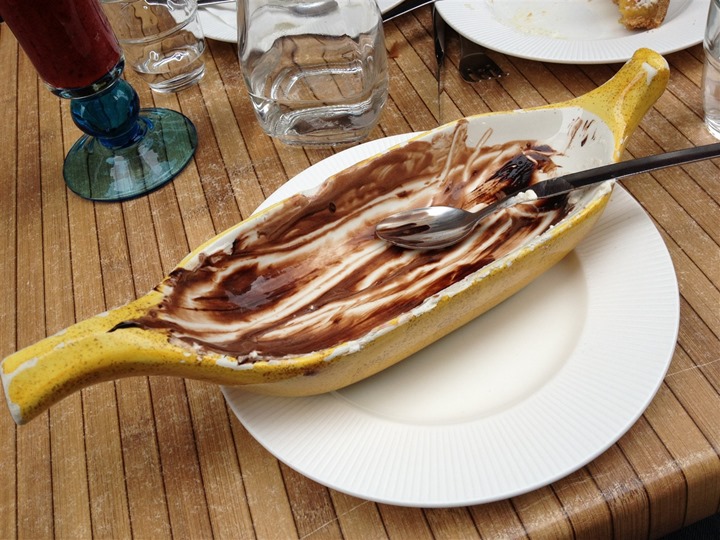 Actually, it was interesting. Normally in France portion sizes are small compared to American portion sizes. And we've grown used to that (it's probably a good thing!). But in Saint-Malo, everything was a big portion (yet still relatively inexpensive). I'm not 100% sure of the reasoning. However, the region has three high-speed ferry routes to the UK, which is just over an hour away by boat. Thus, the majority of the tourists here are from the UK.
We did find that when we went out of town a bit to a more local place to eat, portion sizes returned to French normalcy. On a totally unrelated note, our salt shaker that night was made by a French car company: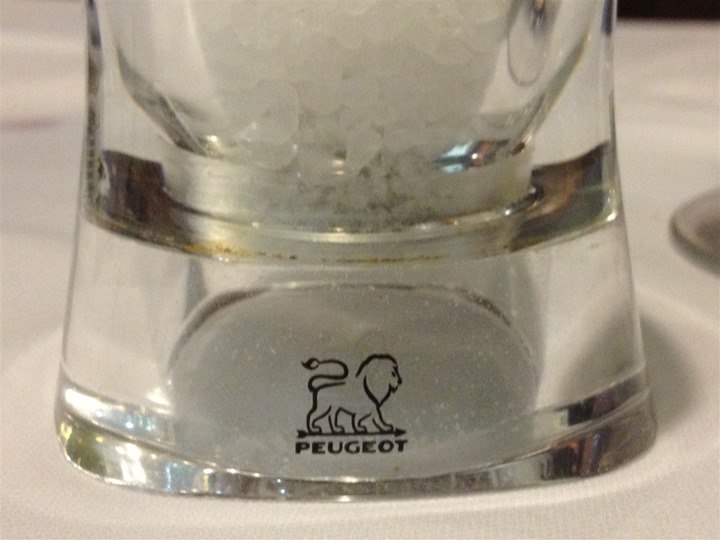 Given our ice cream, we headed out the next day for a bit of an easy ride/wander up the coast for a few hours. Not a workout, just a ride. Don't worry, we got in both runs and bikes on other days too – attempting to even things out (and Mr. Scale said they were even at the end of the trip, woot!).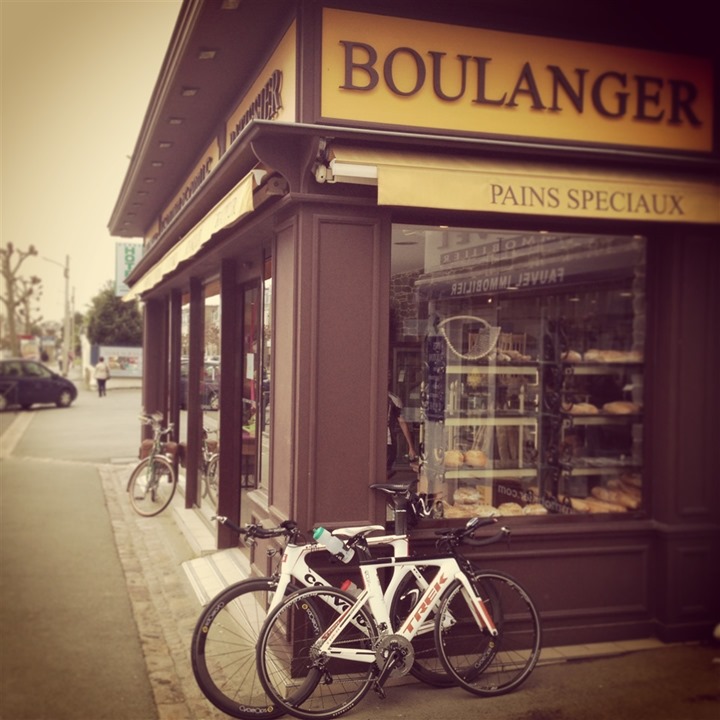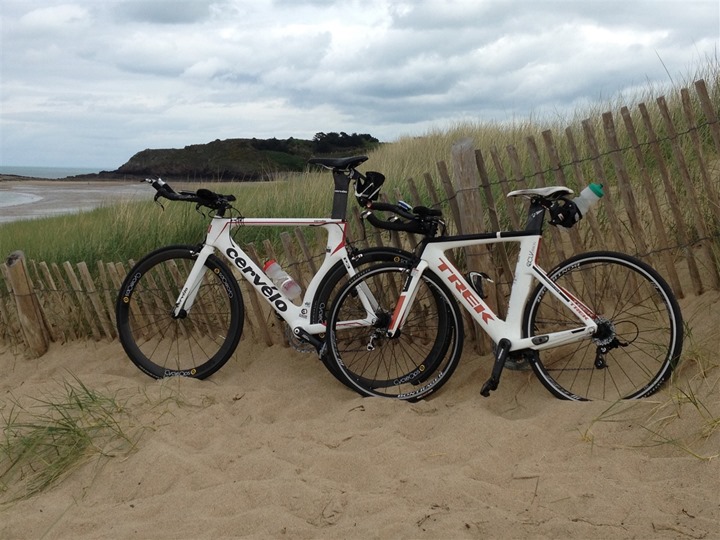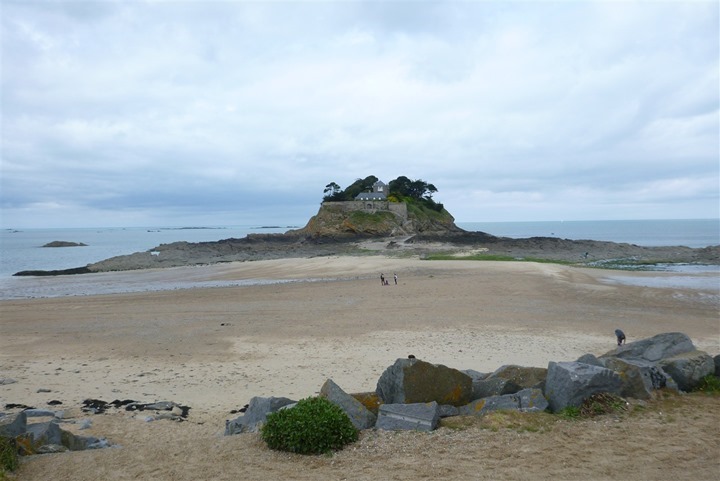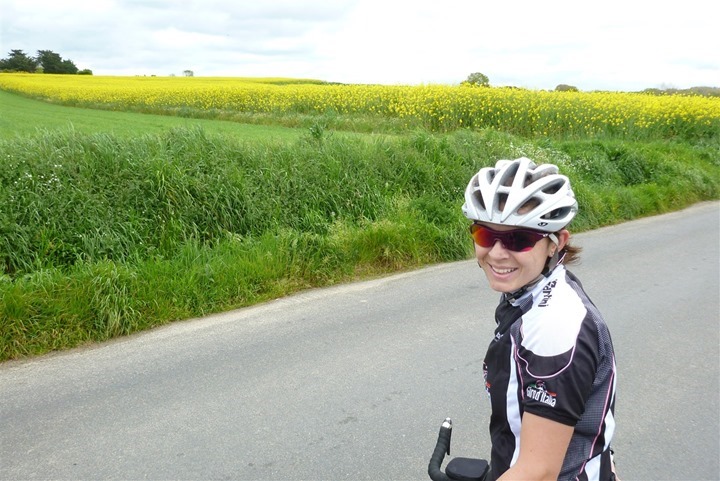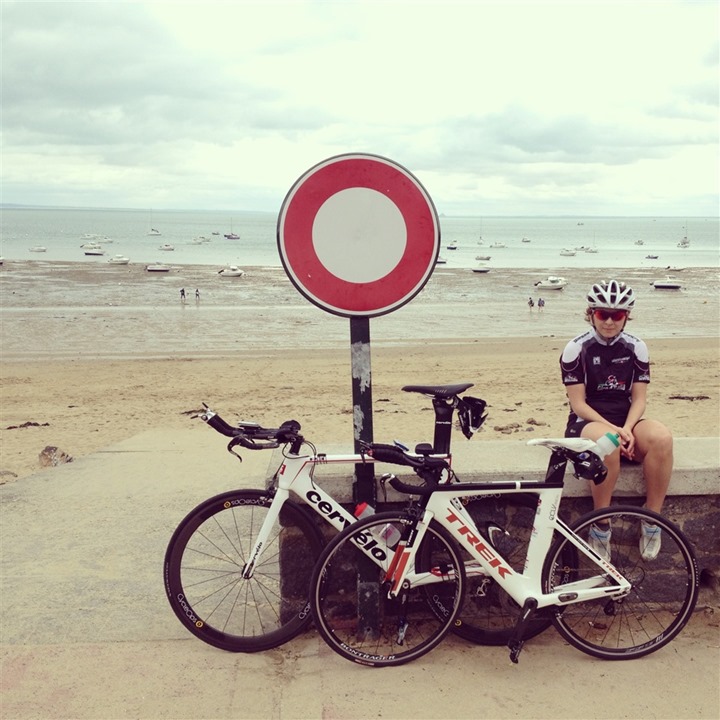 (Note below, big portions again – we split this salad)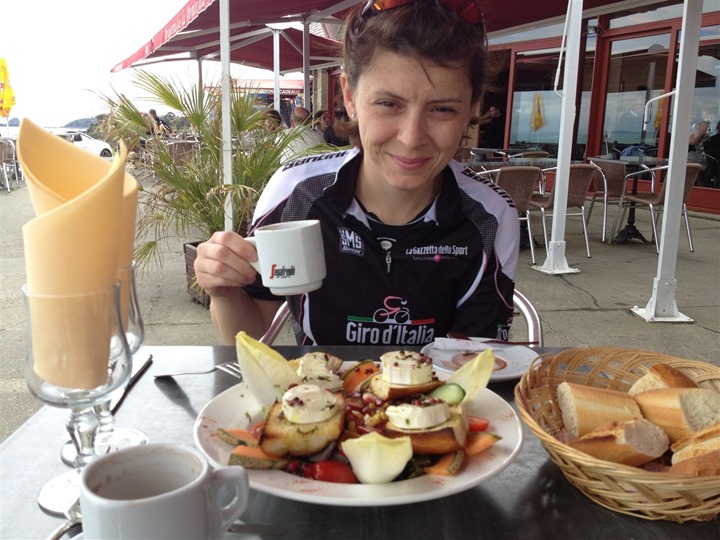 On Thursday we started working our way out of town. We ended up stopping in at a grocery store, mostly to try and pick up some stuff for the CupCakery. All of our grocery stores in Paris are the size of a 7-11 in the US. So this looked massive from the outside.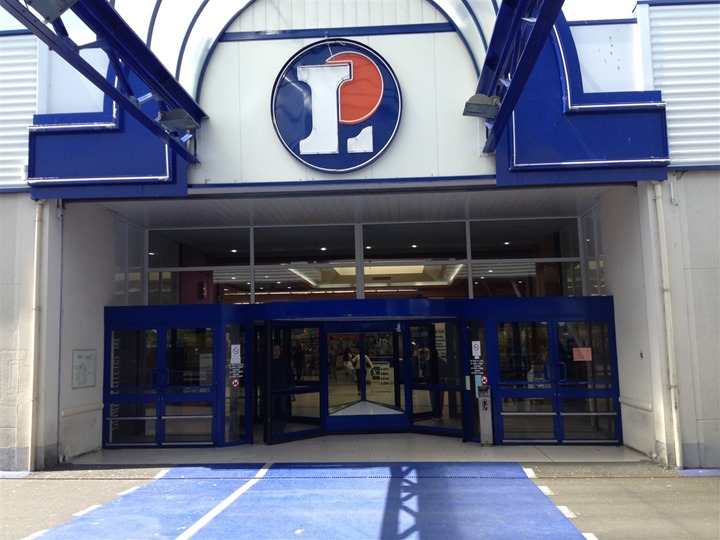 And indeed it was massive on the inside too. On par, if not bigger than a typical US Walmart, but half-grocery, half-not-grocery.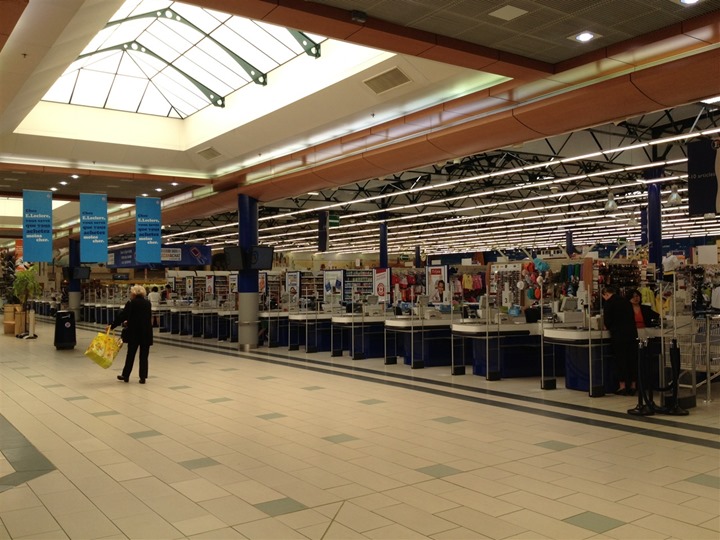 We picked up a few things, but I did marvel at the selection of mustard here (and I don't even like mustard!). Note the huge tubs at the bottom: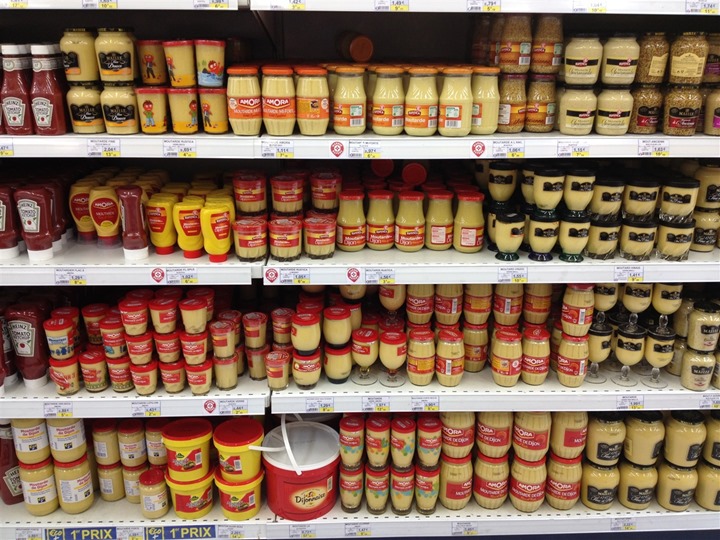 And, I also couldn't help but notice the Paris themed toilet seats. Fear not, this is not installed in our apartment.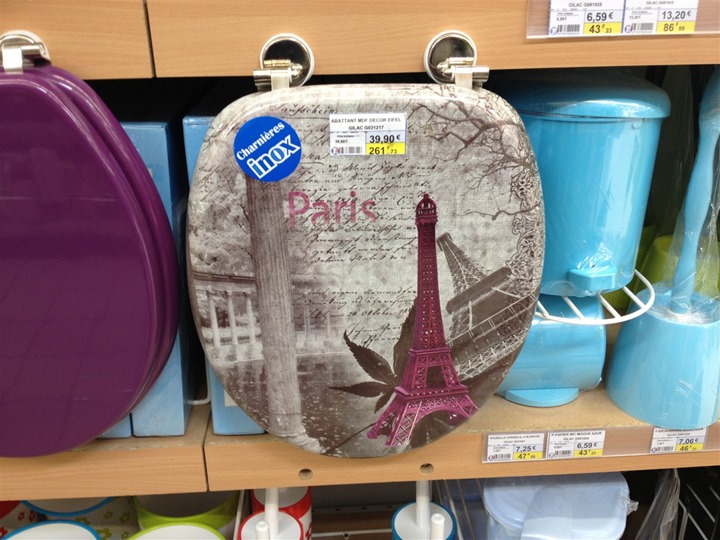 And then we have the Tour de France themed 'tubular'. Pay particular attention to the 14 recommended methods to wear it, including bank-robber biker style.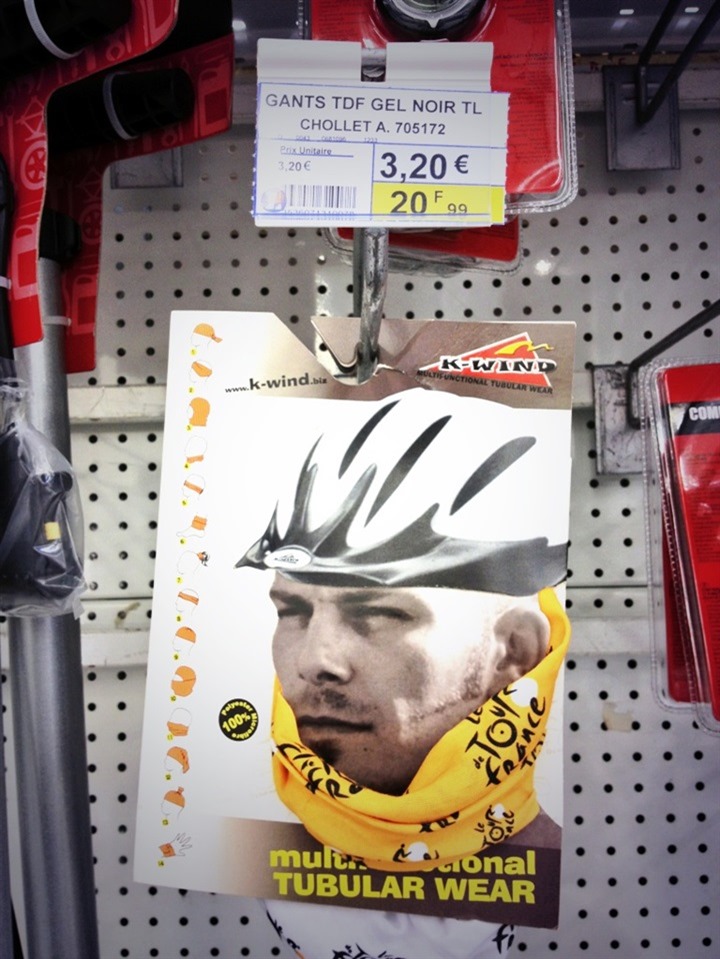 After leaving behind the bank-robber, we made our way to one of France's most famous sites – Mont Saint-Michel. The focal point of it being the church. For anyone who's ever watched the Tour de France on TV, this always seems to make the television promos.
Here it is, from the parking lot – several miles away still.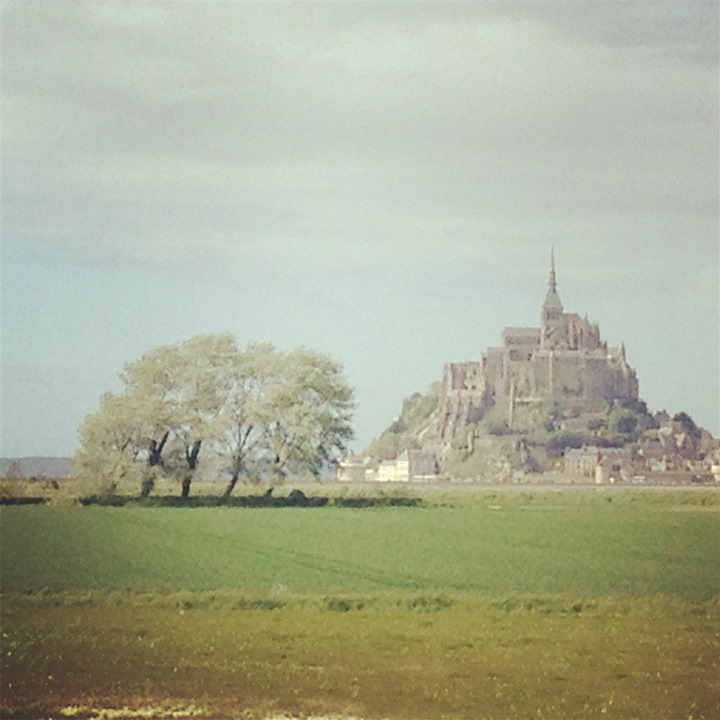 Wait, parking lot you say? Here, let me help illustrate: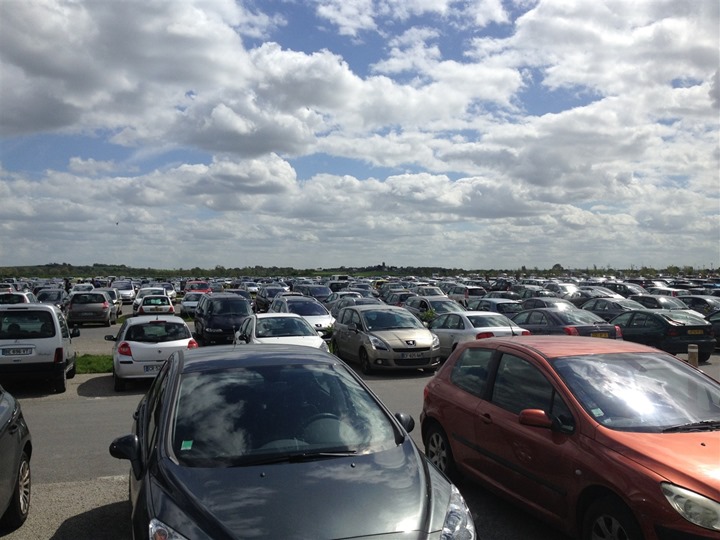 Oh, and that's only perhaps 25% of it. In effect, we had arrived at Disneyland and didn't know it. I guess I thought we'd just sorta drive up to the thing and walk across the tidal lands and enjoy a quiet afternoon in the walled island.
I was wrong.
Instead, we walked for a while, and then boarded a shuttle bus (which, btw, had two fronts and could drive forward or backwards).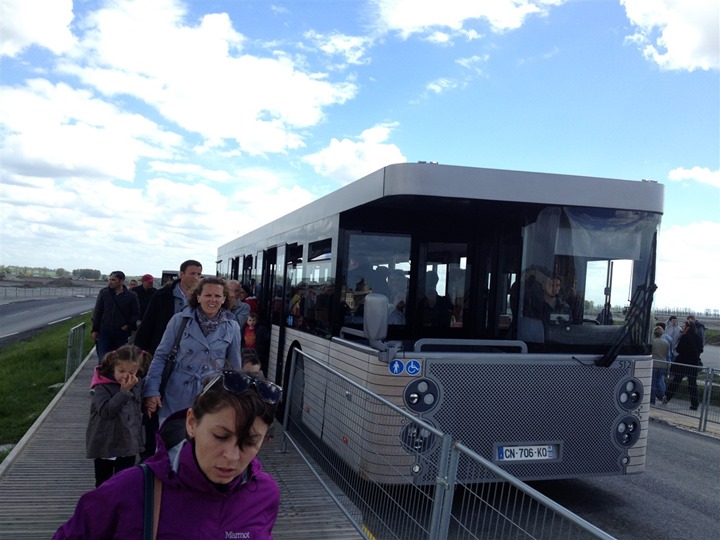 After getting off the bus, we joined a few dozen-thousand others marching to or from the castle.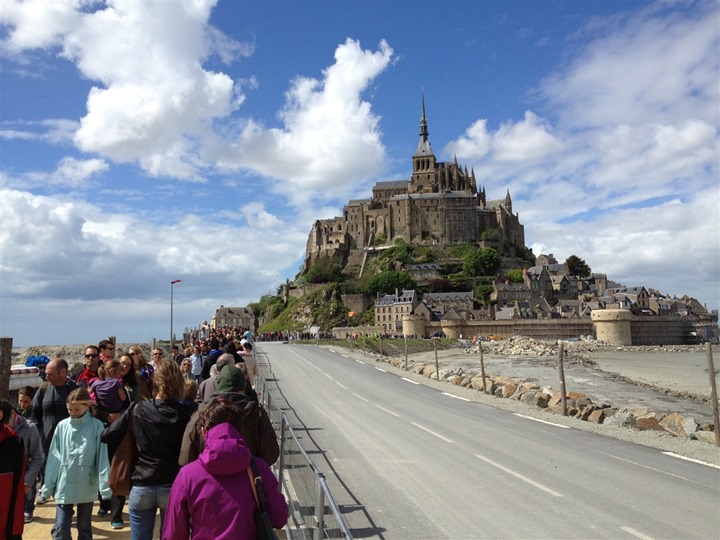 Now, the castle looking thing (well, technically a church) actually sits out in the middle of the tidal lands. So at high tide it's completely surrounded by water. Up until about two years ago, there was a large parking lot at the base of it, some of which would become submerged. Around then they started a project to completely return it to its original state – ultimately removing the road and the parking lot. Much of that is completed already (hence the massive parking lots back on land).
At this point they are building the elevated bridge platform that will connect the main visitor area (way off in the distance to the right). Once completed water will be able to freely flow under/around the bridge. Completion is scheduled for roughly spring of next year.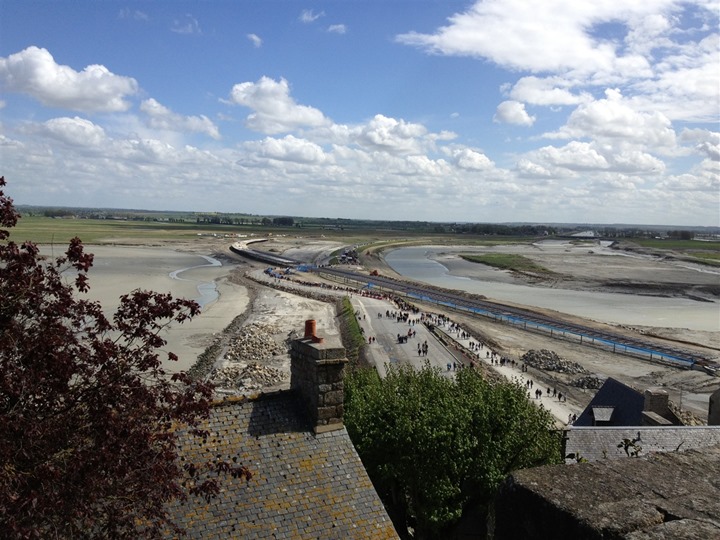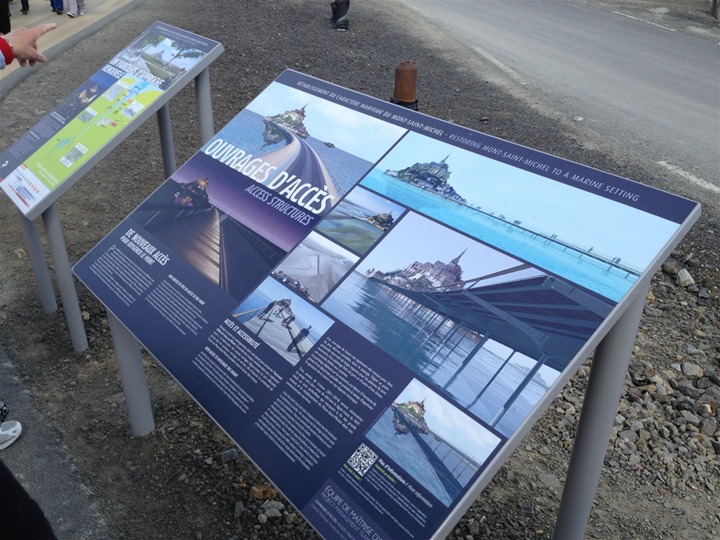 Once we stepped inside the walled island, it was crazy packed. There's tons of places to eat, and even about 8 small hotels on the island. A few thousands of tourists.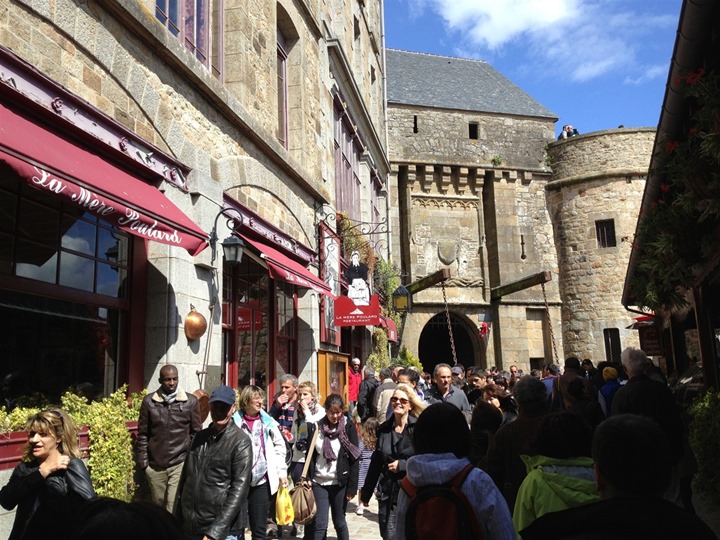 We wandered around a bit, but decided that we'd prefer to come back and really explore the place in the winter when nobody is around. One of the perks of living here is being able to explore when it's low-season.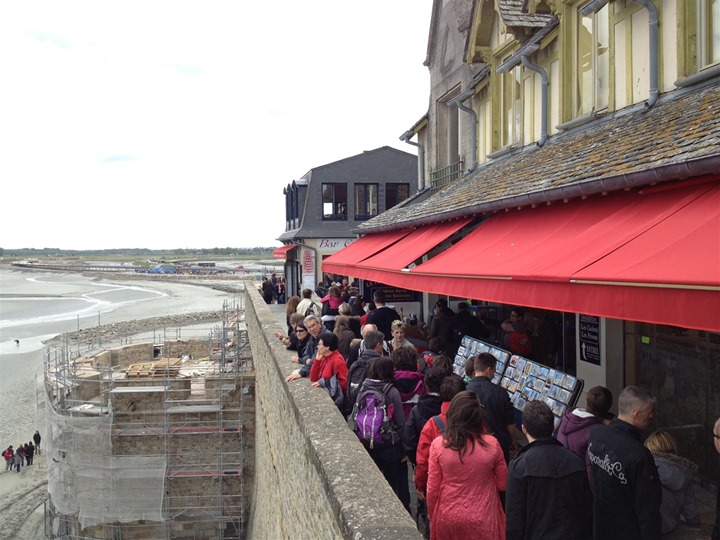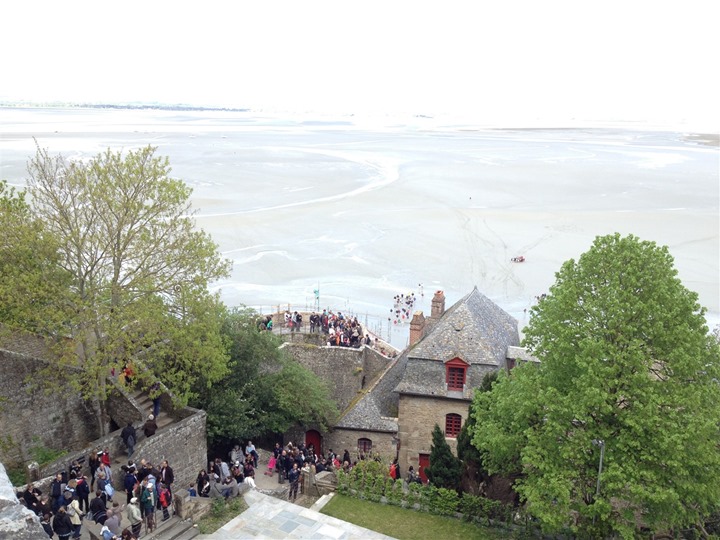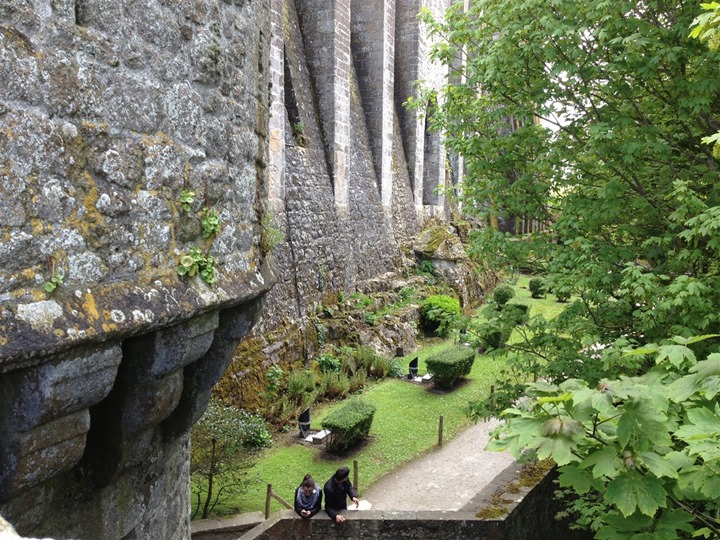 With our stay there complete, we got the car pointed towards Paris and started the drive back. About a mile later though we noticed a windmill amidst a bunch of bright yellow flowers. In fact, these fields of yellow flowers literally blanket the French countryside right now. I'd love to know what they are.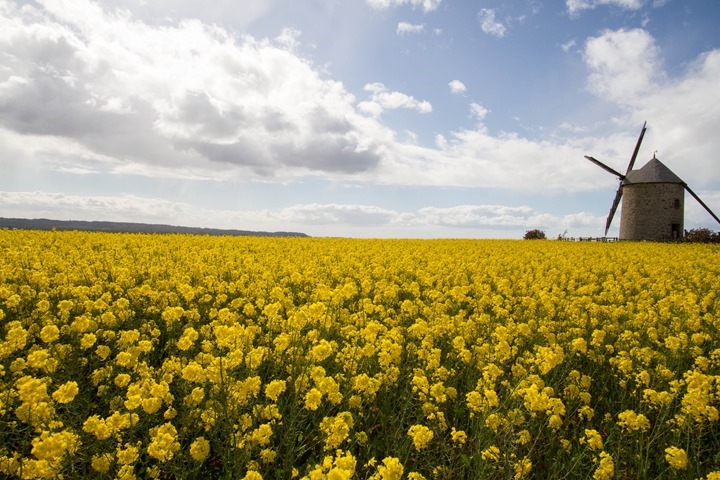 With that, road trip over and back home. Thanks for reading! And hope everyone is enjoying their weekends!