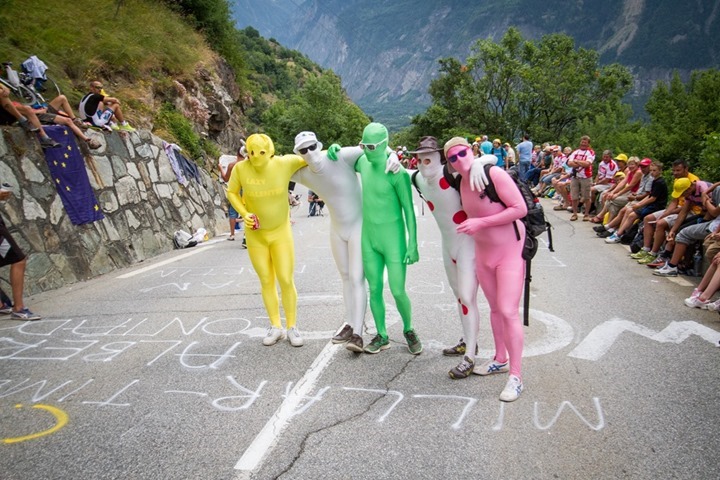 Tomorrow I'll be headed up to watch another few stages of the Tour de France (TdF).  Having lived in France now for three years and going on our 4th Tour de France, we've seen quite a few stages.  Usually 3-6 each year, so I'm probably in the ~15 stages realm.  Obviously there are those that have seen many more stages than I, and certainly those that have seen less.  But since I often get asked about tips for spectating Le Tour, I figured I'd just write them all down.
Given they are my tips, the opinions are based on my experiences.  No doubt others may have other tips & experiences – of which you're more than welcome to add in the comments!
I've broken this up into four basic sections:
The Best Stages to See: Ok, this is self-explanatory
Hotels & Logistics: Some of the non-exciting things required to see the TdF
Getting up Close With the Teams: This is how to see the riders and bikes off-course
Spectating a Stage: Once a stage is selected, how best to spectate
Watching the TdF Finish in Paris: Again, self-explanatory
For those not as familiar with the Tour de France timelines – the three-week long event typically goes from approximately the first weekend in July to three weeks later.  Sometimes it'll start the last weekend in June if there's some other conflicting event or driver.  The exact stages for the following year are always published in the Fall (i.e. Fall 2015 for the 2016 race), as part of a grand unveiling event that's globally broadcast on the interwebs.  That said, there are numerous sites that have rumors on which towns are being planned for the following year.
Finally, note that not all years actually start in France.  Many years (including this year and last year) started outside of France in neighboring countries.  The exact start location (the 'Grand Depart') 'is disclosed a year in advance though – so you'll at least have that as a clue.  And of course, the finish is ALWAYS in Paris.  The race route doesn't touch Paris until the end.
With that, let's dive into it!
The Best Stages to See: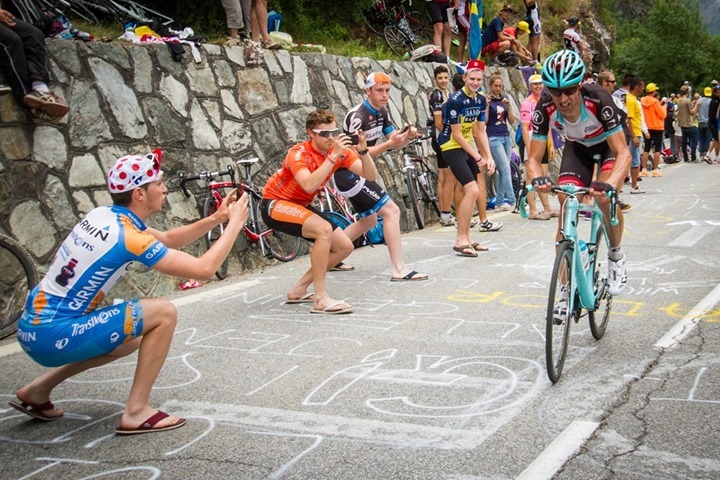 We often have friends over during the Tour de France period of July, and in many cases we time their vacations to specific stages.  Of course, it doesn't always work out that way, but usually we try and tweak things a day or two in either direction to get a 'better' stage.  Or, failing that – we tweak our own visits to stages to get a better stage.
In general, our top two stage types (outside the finale in Paris) are: Time trial stages, and major mountain stages.
Let me explain why.
See, the peloton is on average travelling between 40-44KPH (25-27MPH).  In many of the flatter stages where the peloton hasn't broken up yet, that means that you'll see approximately 5 seconds of cyclists go by.  In other words, you waited out in the searing sun for hours for 5 seconds.  Your return on investment is incredibly low.
Meanwhile, if you go with our favorite – the time trial stages – then you potentially get to see every single cyclist go by, one after another (for individual time trials, or in teams if a team time trial).  We did this our first year here in Paris and then two years ago too.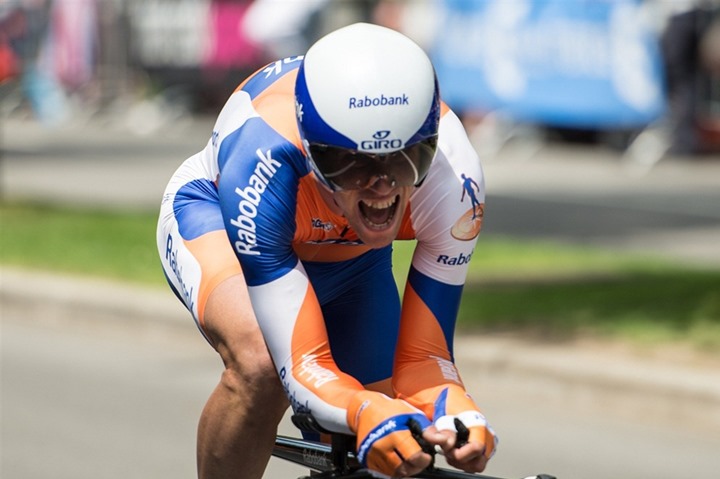 With the individual time trial the riders are separated by a handful of minutes each.  With usually in the ballpark of about 180-200 riders, this means that you get numerous hours of entertainment.  You plunk yourself down in a nice spot on the course with a picnic basket and enjoy the day away.  Best deal out there for free.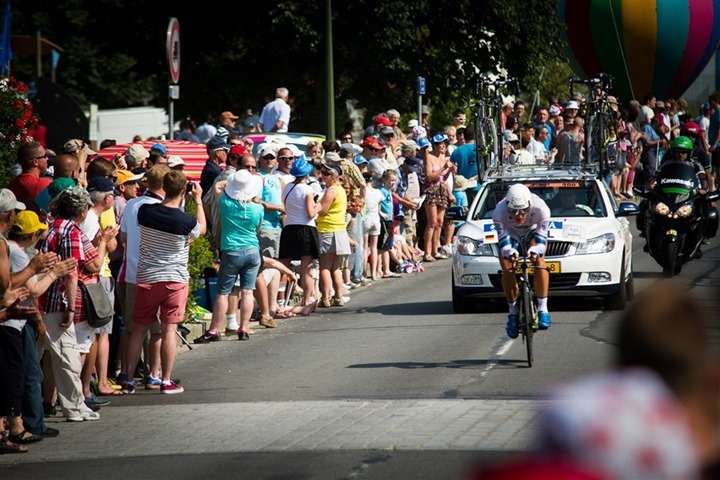 With a team time trial you'll of course get less passing by moments, but certainly far more than a flat-stage.
Our next favorite type of stage is a mountain stage – such as in the Alps or Pyrenees.  Every year the Tour will go through one or both of those areas.  It won't always hit the same passes each year (for example, Alpe d'Huez was skipped last year but is back on the plate for this year).  You'll generally want to aim for a stage that finishes at the top of one of the mountain passes, as that often indicates a harder climb.
Further, in such mountain-top finishes you'll usually see the peloton shattered a bit more – making for better spectating since the race will take longer to pass.
Also remember that there are 'days off' within the Tour, which are typically on a Monday (though not the first Monday following the starting weekend).  So be sure to take that into account with your plans.
Finally, failing all those there's the finish in Paris – but I talk about that later on in the final section.  Which isn't to say that you shouldn't go see a flat-stage, but just that I'd really choose any other stage.  If you're up for seeing a flat stage, then I'd pick going to the start or end of that stage over a random spot in the middle (unless it just happens to be nearby where you already are, or an area you otherwise wanted to see).
Hotels & Logistics: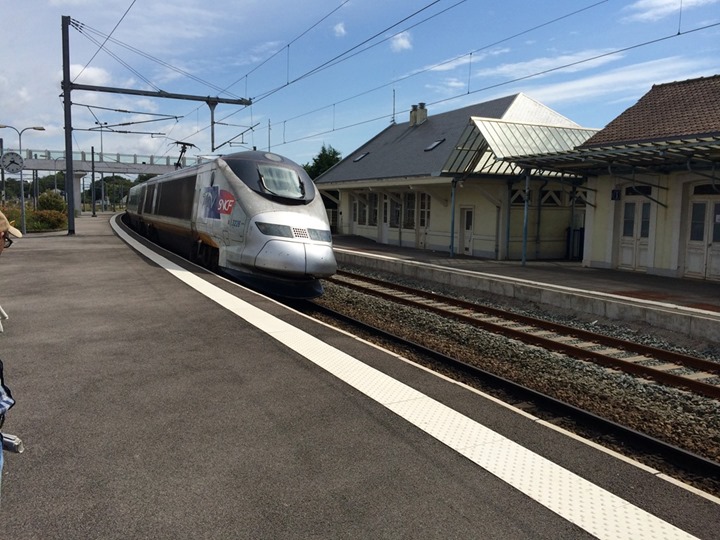 Now that we've covered picking a stage, let's take a brief detour on picking out hotels.  It should be noted that the Tour will basically have booked out all the 'good' accommodations a year in advance.  That's how most of the rumors about next years Tour stages get leaked.  These accommodations are for teams (riders/support/etc…), media, the massive Tour Caravan, Tour organizers, and anyone else officially involved with the event.  And that's before we even talk about all of the 3rd party companies doing Tour follow-me type rides/events/programs, which usually snatch up the rest.
So by time you get around to planning, that usually doesn't leave a whole lot of options within the start/finishing cities.  But honestly, that rarely matters.  In most cases we'll easily find hotels in cities 10-30KM away.  Since you're almost always outside any major cities, there's no traffic so it's a quick drive.  For example, for our hotel tomorrow night we just booked that three hours ago.  It's cheap and only about 10KM outside of town – a quick drive in the morning.
Speaking of which – most of the start/finish locations are in relatively small towns and cities you've never heard of.  In many cases the finish to a stage (such as today), will be the start for the stage tomorrow.  But in other cases the start/finish towns will be 5-20KM apart.  Each enough for a hotel at either spot, but not really walk-able.
For bookings we tend to use Booking.com and Hotels.com in France with great luck.  Expedia and Travelocity are just so-so here, for whatever reasons.
On the car front – it's unfortunately needed for most of the stages.  While you can get away with trains for some stages, the reality is that trains in rural France aren't quite what you think of as far as schedules go.  They're great for getting to/from a major city to a start/finish city – but not so great for getting between two relatively unknown small towns.
You can easily get rental cars though at any major train station.  So your best bet is to take one of the high speed trains to the nearest TGV station in that region, and then grab a car rental from there.
Getting up Close With the Teams: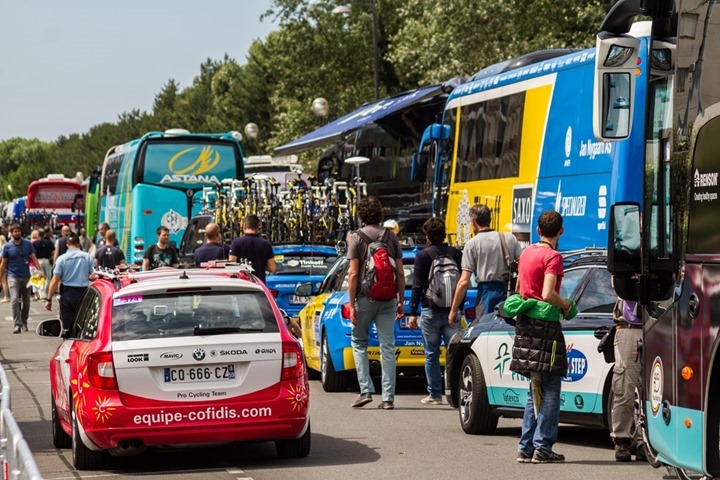 Now, let's assume you want to go and check out the riders, bikes, and team equipment up close and personal.  No problem!  There are two places you can do that: At the start, or at the finish, of each stage.
Both locations are where all of the team motorhomes (RV's) as well as team cars and of course the riders, will prepare for the day ahead (or wrap-up from the day completed).
In general, you'll get far more time to mingle at the start of the stage than the finish.
At the start of each stage about 2-4 hours beforehand the team motorhomes with the mechanics will arrive and start setting up.  Depending on the town layout this is mostly likely going to be on random streets that lead to the starting line.  Other times it may be around a big parking lot (if that exists, which it often doesn't inside old European towns).  You'll typically want old European streets over a parking lot, because a large parking lot will limit your visibility.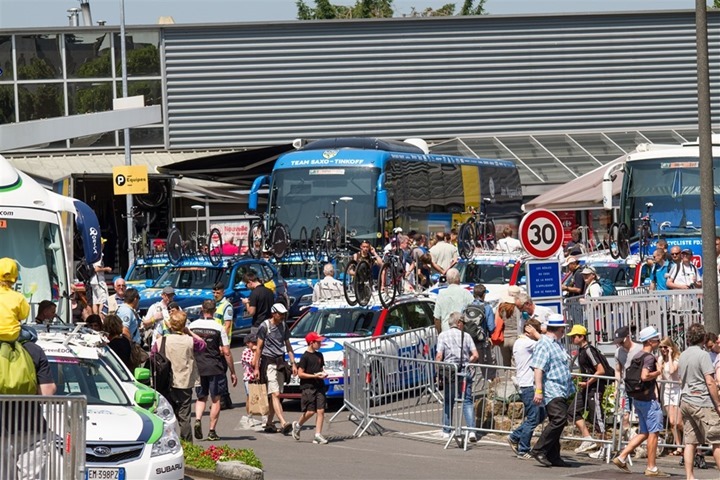 With a town street layout the teams will tape-off an area a meter or two away from the bikes, but otherwise you're free to get super up close and personal with it all.  Basically no different than being on the sidewalk and having the teams on the street itself.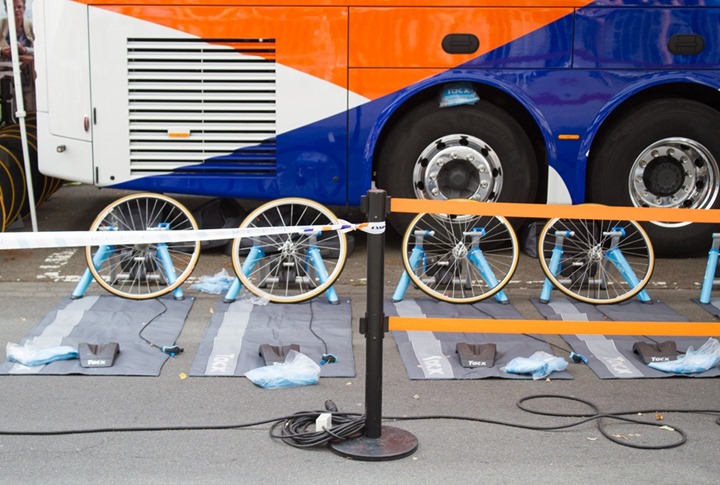 The bikes will be all laid out, and eventually about 60-90 minutes before the race starts the riders will also start showing up outside.  Sometimes they'll have ridden from the hotel (if a very short distance), and other times they'll take the team van/bus/cars in (and were already in the motorhome).  Really just depends on the town layout.
It's at this point that you'll often see kids attempt to get autographs.  For lesser known riders that's fairly easy, but for big-name riders and teams less so.  For example, Team Sky is about as locked down as you can get – with even installing extra screens/fencing to often block views.  The rest of the teams are pretty open/normal.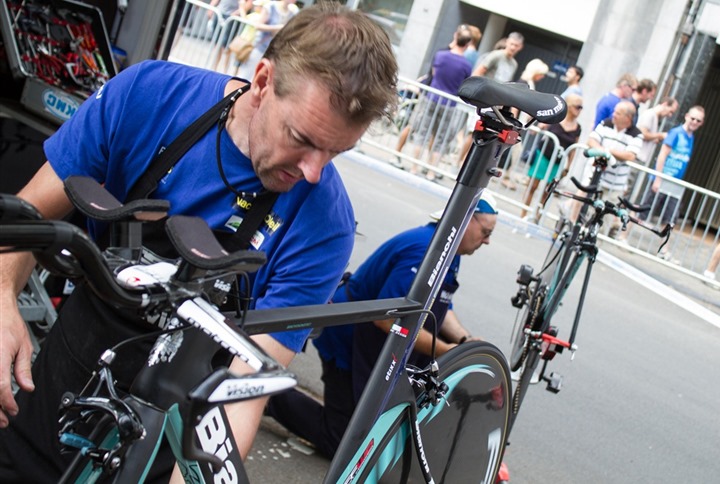 Next, just ahead of the starting time of the stage all of the riders will jump on their bike and individually ride over to near the starting line.  There is usually a stage there (as in an elevated platform with a podium of sorts).  Each rider must then check-in by themselves that day for that stage.  They must physically write their name down as checked-in.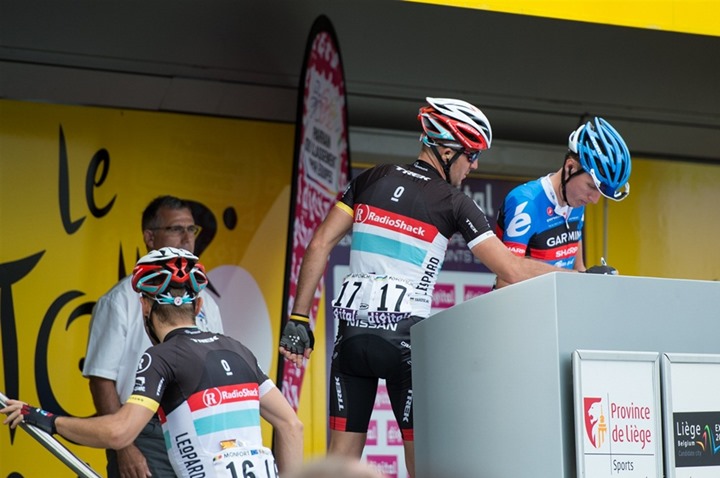 This is a GREAT opportunity to see all of the riders individually, especially if you're trying to get a photo of a specific rider or bike.
Now, when it comes to the end of the race instead – things happen super-quick.  As soon as the riders cross the line they're briefly questioned by credentialed media.  As part of that, they're usually whisked away by their team support crews.  There's very little time for interaction there.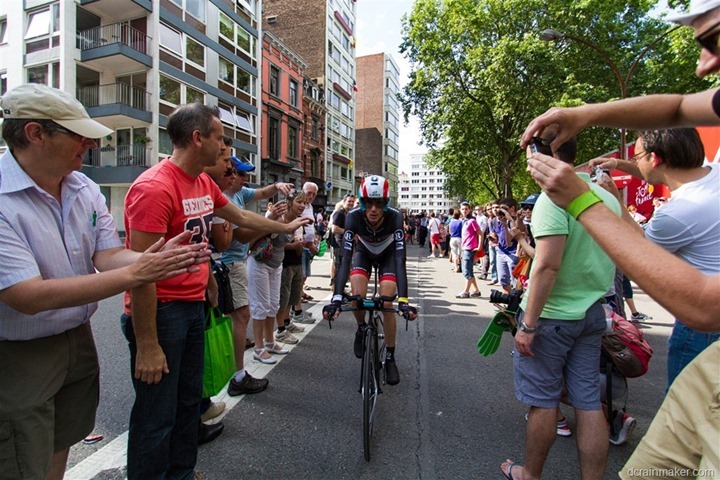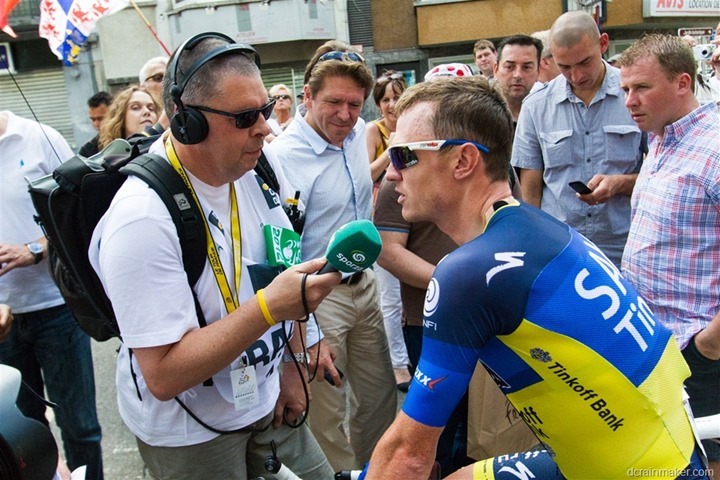 Then there's the awards.  The awards ceremony stage is often setup right next to or behind the finish line.  The entire awards ceremony happens incredibly quickly – sometimes even before the final racers that day cross the line.  This is largely due to ensuring TV coverage as soon as possible.  But it's also to get the riders back to recovering before the next day.
The Caravan: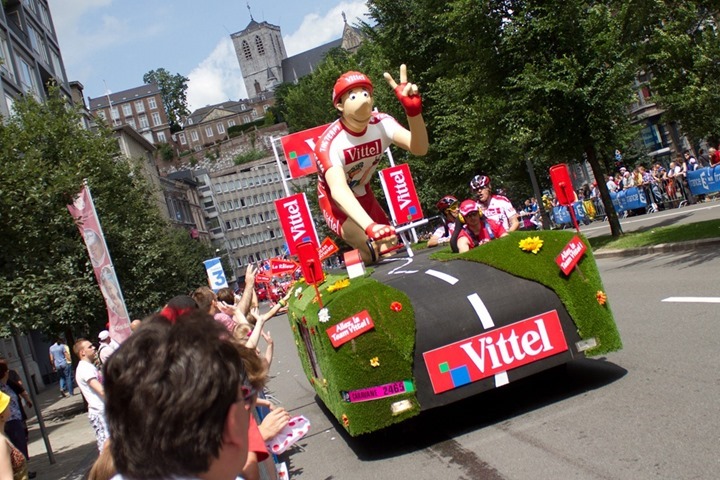 You know those red & white polka dot hats that you see people all over the course wearing?  You ever wonder where those come from?
The source: The Caravan
This is the massive parade of sorts that precedes the riders each day.  It's a multi-mile long string of vehicles and floats from all of the official Tour de France sponsors.  As part of that, they throw away a seemingly never-ending pile of swag out to spectators.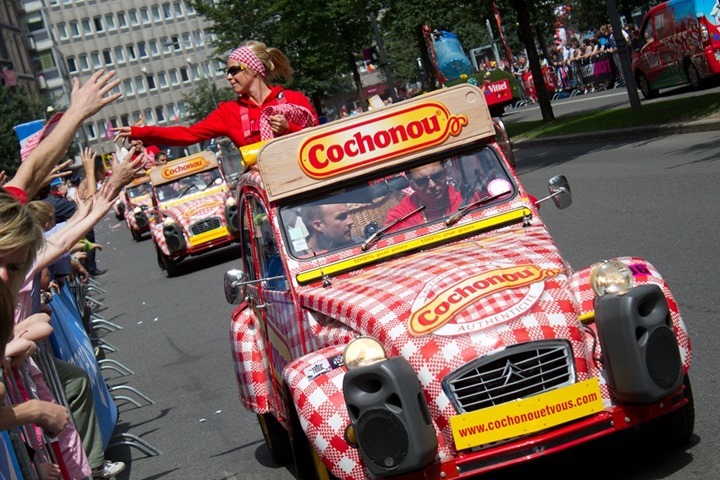 The Caravan has a separate time listing on the schedules (more on that later), but usually lasts between 30-45 minutes long passing by any one point.  They cover the exact route of the course that day, but just at a slower speed than the riders.  Thus, they start a number of hours beforehand.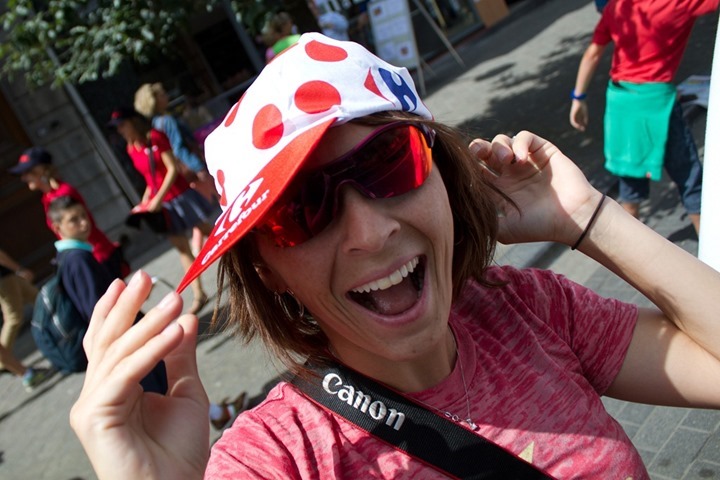 There are many tricks to getting swag – but probably the biggest is to wave a lot and not be near a vast pile of people.  Go for a walk – away from the crowds.  Seriously, you've got like 200KM of walkable ground on every day of the course.  Double that if you count both sides.  Just walk and find a nice wide hole and own it.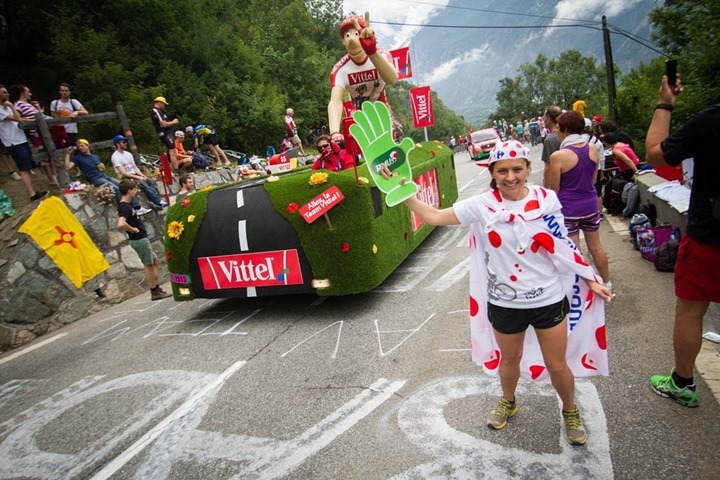 Definitely make time for the Caravan.  If you do it a few times you can generally get all the swag you'd ever want!
Spectating a Stage: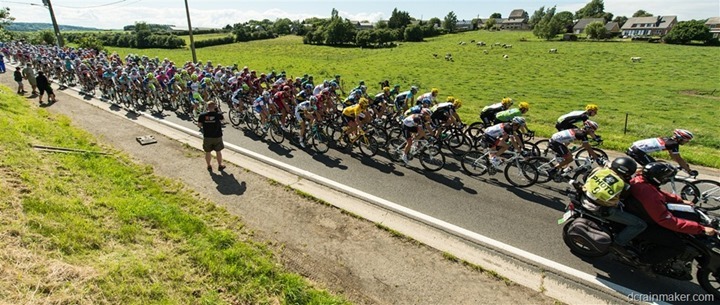 Ok, so you've selected a stage.  Now let's talk about the day-of spectating (assuming you aren't just going to the start or finish).
The first thing you'll need to know and have handy is the timetable for that stage.  Every stage has one, and they list the exact locations and time-splits for the day.  The website hasn't changed in years, and looks basically the same for each stage.  Here is an example of today's stage (actually, not all of it):
As you can see, this is showing you the estimated arrival times at all of these locations for two different groups.  It's also showing you the kilometers remaining.  Here's how to decode this:
Kilometers from finish: Straight-forward, but the reason you care about this is that ALL of the race broadcasts (TV/Internet/etc…) will list this constantly in real-time, allowing you to figure out how far away the race is.

Caravan: This is the massive parade.  They start 2-3 hours before the riders and drive at a reduced speed. On average it'll take 30-45 minutes for the entire caravan to pass any given point in the peloton.

44/42/40 KM/H: These are the three speeds of the peloton.  It can vary between these speeds, but err on the safe side and assume they'll ride fast that day.  That's the time you'll want to be at that particular point on the course.
Every stage has a full listing of all the spots on it. The Tour de France website also has a detailed map of these stages, allowing you to zoom in and figure out the exact streets.  This information won't usually show up until May or June though, so don't fret if the full details aren't shown online in May.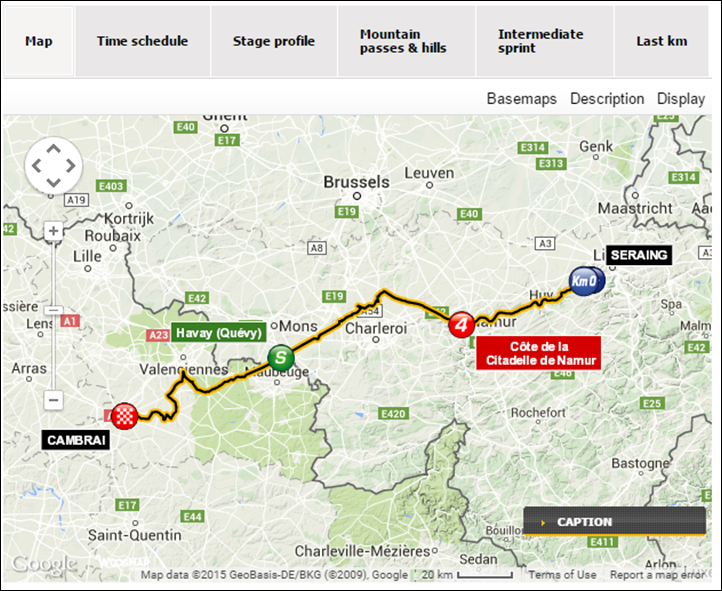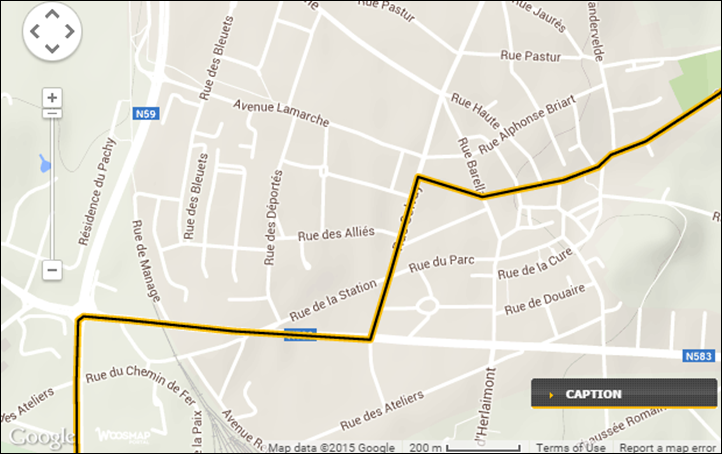 Now you've selected a spot and are ready to spectate, right?
Wait, what's that – you say you're going to try and catch the riders in two spots that day?
Nope, you're not.  Seriously, it won't work.
The ONLY time you can do that is if the route makes a huge lollipop or other non-straight routing scenario that 'buys you' time. The reason is that on most stages you won't be able to get your car anywhere near the route (usually the barriers are 1-2KM away).  Second, the peloton moves faster than most side roads speed limits in France.  Folks really underestimate just how fast the peloton moves.  Just look at the stage above – it's basically a straight line, definitely not a good stage for double-sightings.
In order to pull off this tactic you basically need to choose something very near the start, and then another spot very far away (hours) that has easily accessible highway speeds where you can 'gain time' on the peloton.  Otherwise, with all of the blockages, small roads, and slower speed limits it's really just not possible.
For example, the stage on Wednesday is actually really good for a double-sighting – especially if you have a bike to bridge that short gap of 2-4KM (note that the distance/time the riders have to travel between those two points is very short considering the speeds of travel).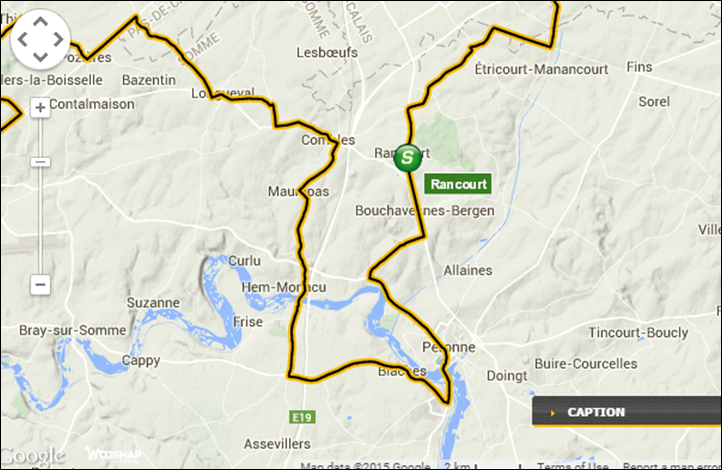 So after picking your spot you'll generally travel via car to as close as you can get.  In most cases the police will have setup barricades about 1-2KM away, and you'll have to walk from there.  It'll vary by location of course, but that's a good rule to go by when looking at time to walk to the course.
On the route itself, there are very rarely any barricades outside of the start/finish areas.  You'll sometimes see them in busier towns though, especially on tight turns.  But for the most part out in the country people just know to stay off the road itself.
Depending on what time you got there you'll see the caravan first, and then both after and before that you'll see a never ending stream of 'official' vehicles.  These come in the form of team vehicles, media cars, sponsor cars, and just about anything else with at least two wheels and the right sticker.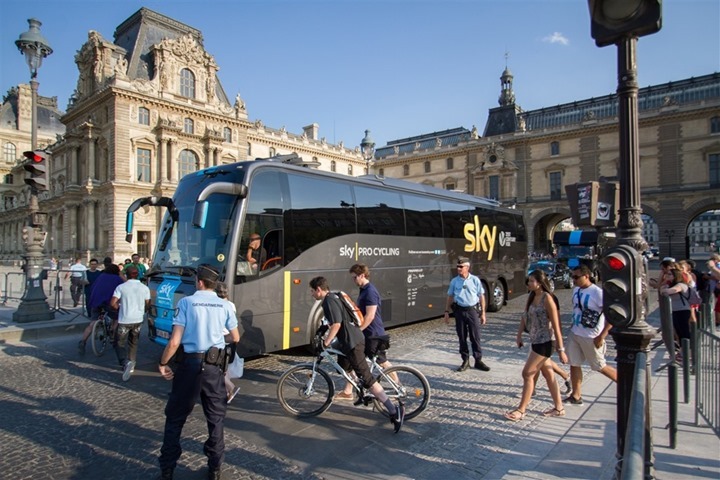 This stream of cars truly doesn't stop.  It basically extends across any time gap between the caravan and the racers.
You'll know the racers are nearby though once you start hearing helicopters.  Also, using the various apps online is the best bet for figuring out what kilometer marker the riders are at.  Then from there you can simply know how far they are from you assuming you know your kilometer marker.
The first cars you'll see are usually the bright red official cars – this tells you that the lead rider (or the peloton) is almost always directly behind them.

Next, you'll of course see those breakaway riders.
Then, if there are multiple breakaway groups, you'll often see yellow motorcycles with women on the back with time boards.  These tell the riders how big of a gap they have.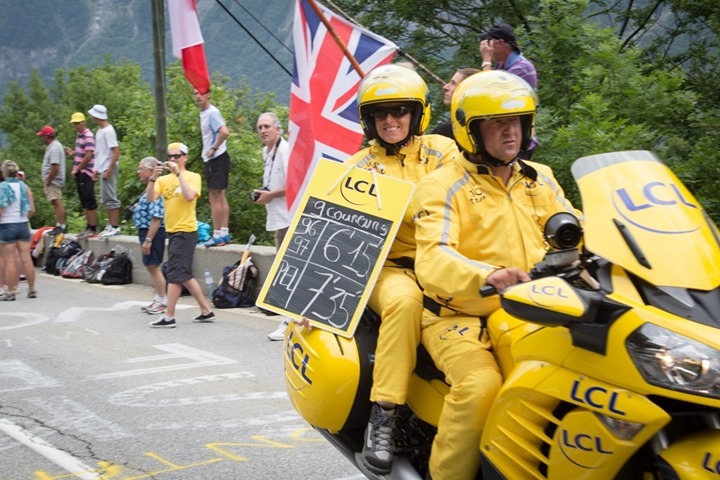 Finally, you'll get the peloton itself: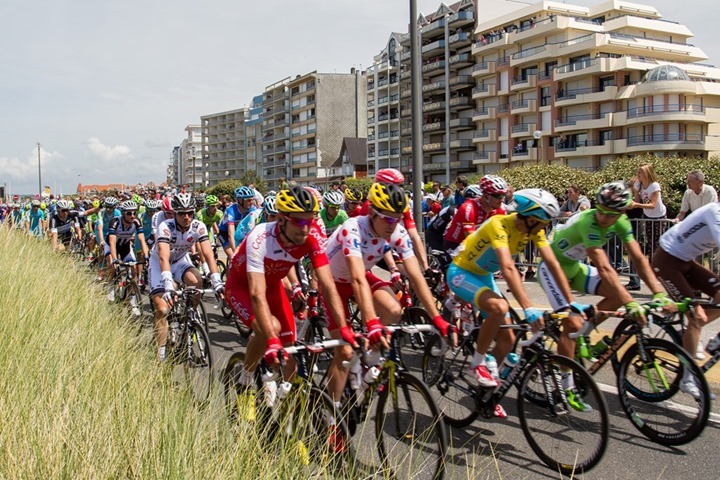 Once that goes by, there's another onslaught of cars – mostly team mechanic cars and team support cars.  These include spare bikes from each team, as well as usually PR related activities for each team.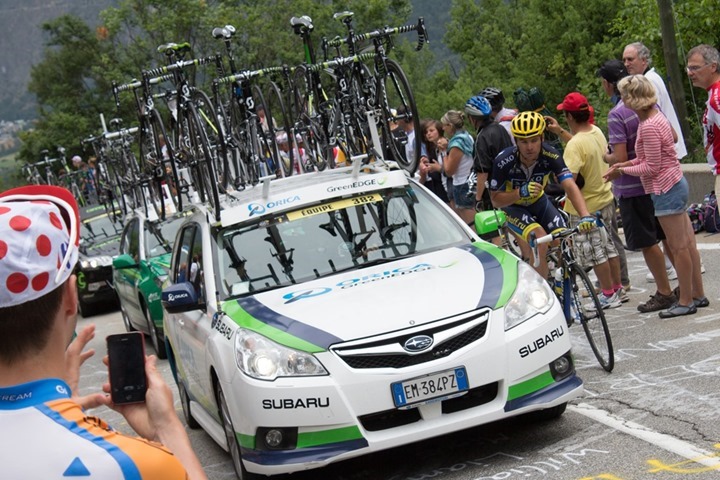 Once that whole mess passes (anywhere from 5-15 minutes), then the show is done for the day.  All in, the whole experience is at least a few hours.
Watching the TdF Finish in Paris: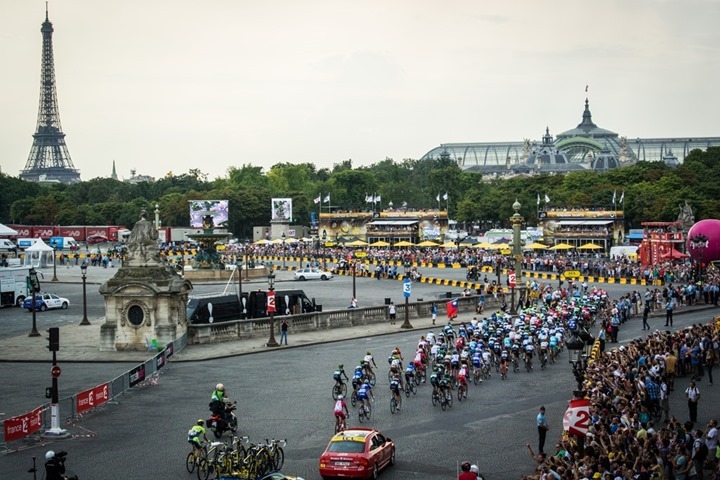 Finally – we've got perhaps the best stage out there – the finish in Paris.  This last stage always follows a fairly predictable route, with only the starting point of the day changing from within nearby towns.  The finishing line remains static year to year.
The first thing you need to know is that for the most part, the final stage in the TdF is mostly symbolic.  It's very rare that there are any changes in the leaders on the last day.  So in many ways it's more of a celebration than a race for the overall yellow jersey winner.
That said, there are still certainly titles up for grabs – including the stage winner and sometimes other jersey winners.  Almost all of that action though will happen within the Paris city limits on the loops themselves.
See, you can basically divide up the final stage into two chunks:
Chunk 1: Getting to the center of Paris
Chunk 2: The famed loops up/down the Champs-Élysées
The first chunk is essentially throwaway time.  It's when the teams get to enjoy the ride into Paris after weeks of hard work.  If you look at this year's route on the final day, it barely covers any ground at all – a mere 30KM of the most indirect route possible around the suburbs of Paris (my usual riding grounds):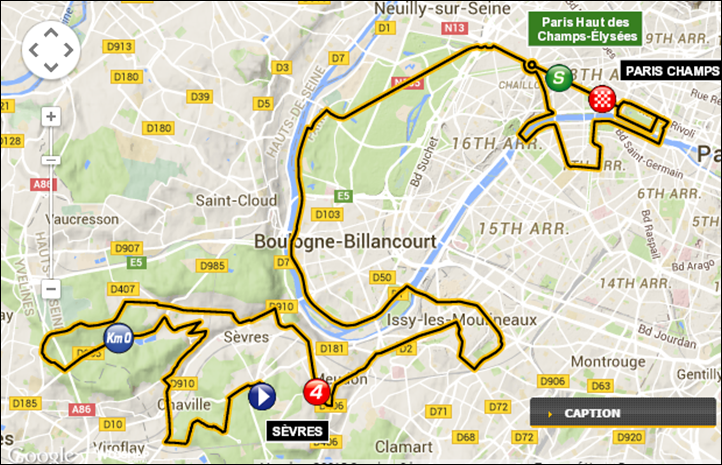 This year's route is actually somewhat unique in the way it enters Paris (which will make for some neat/unique photos near the Eiffel Tower unlike any past years I've seen photos of).  But there's one aspect that basically doesn't change, once they reach the big '2' I marked below. How they get to that point each year varies. Seen below, they came across the front of the pyramid. But in the last few years (2020-2023), they've been coming through the backside of the Louvre, cutting across the plaza next to the pyramid. With that, they've been locking down the area next to the pyramid a few hours prior. So I wouldn't wager everything on getting that shot – even media access has been incredibly limited to just a few spots.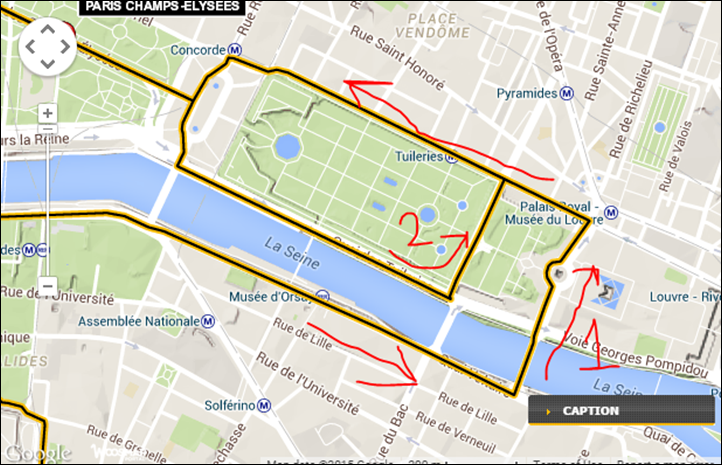 The way this works is that upon entry to the Louvre they pass the Pyramid once. Once they pass the pyramid and hang a left down Rivoli, they'll enter the final looping grounds (which they'll repeat 8 times).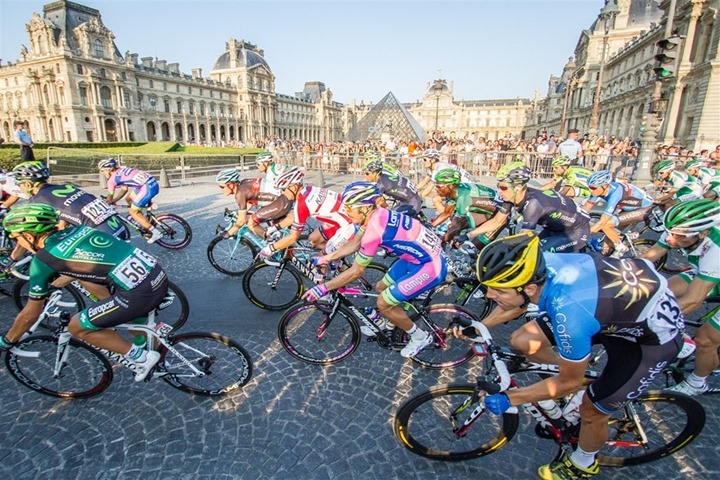 I've highlighted the loop section below in red.  The loop is done counter-clock-wise on the map below (basically in the direction of traffic as the streets would normally be used).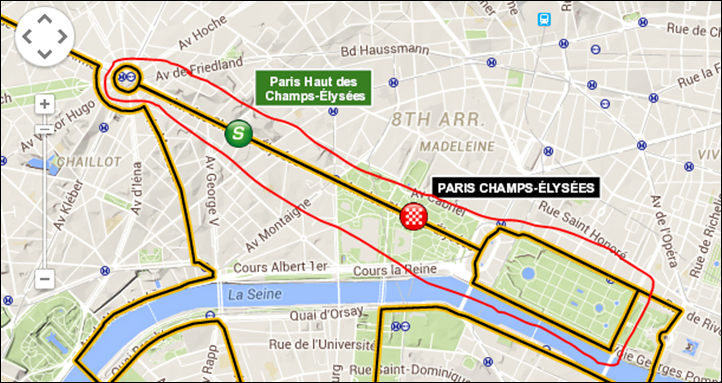 Usually by time they wrap-up the end of the first loop they've started to gain speed.  It's at this point that the race really gets on for those competing for any remaining notables.  Whereas for others that have secured a spot you'll see them playing it a bit safe.
So where's the best spot?  Well, it depends a bit.  My favorite is the Tuileries and Louvre.  That's because I can move around easily in that area and see the race from many different angles.  It also isn't all that crowded compared to the pave of the Champs-Élysées.  See, check out the below – it's one giant park you can move freely within:
(Update: In 2016 they blocked access to the Tuileries upper edges (near the river primarily) during the mens race.  The inner portion remained open, but you can't really see the race from there.  This has remained the case since, even until 2022.)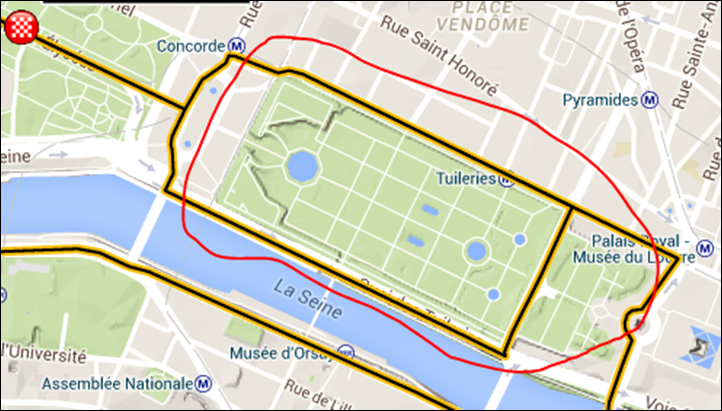 If you want to head up towards the Arc, that's definitely an option – just know that it's much more slow-going there, and most of the good spots are taken hours in advance.  Whereas with the Tuileries you can basically show up whenever you'd like to get a spot.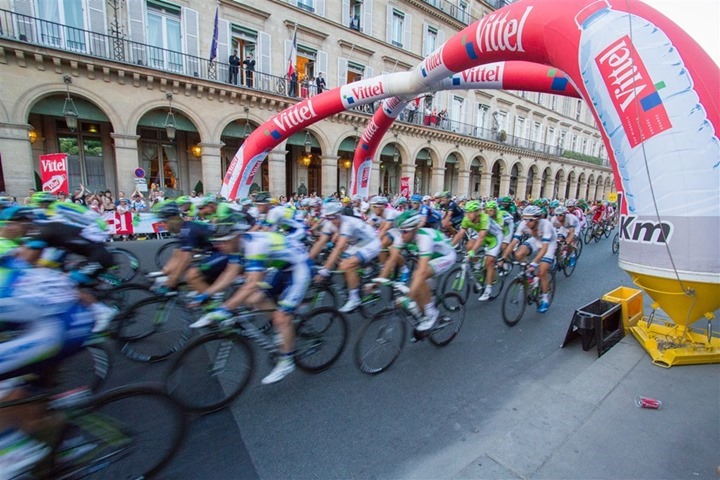 Also of note is that while the Caravan does go through Paris proper – there are no treats/giveaways given here.  The workers are basically in "I'm flippin' done mode!", and thus just waving to the crowd.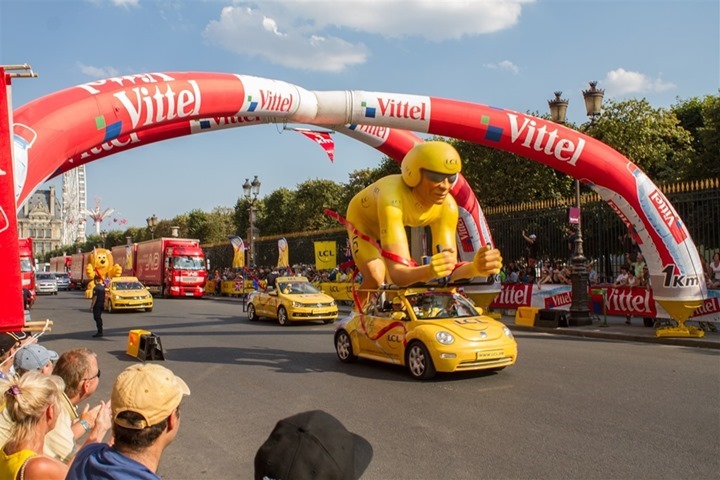 Lastly – if you're interested in riding the course on the final day, note that you can indeed do so.  The route is closed to cars, but open to cyclists.  It's best to start early though, as they start closing down the route about 2-3 hours before the caravan comes through (or in the case of this year, 2-3 hours before La Course starts).  But you'll definitely not be alone – many folks ride the route car-free.  Pretty awesome!
Oh – and lest I forget about that, they'll be doing La Course again this year.  That's the one-day women's race that occurs on the same final chunk as the men's course.  You can read all about it from my post last year.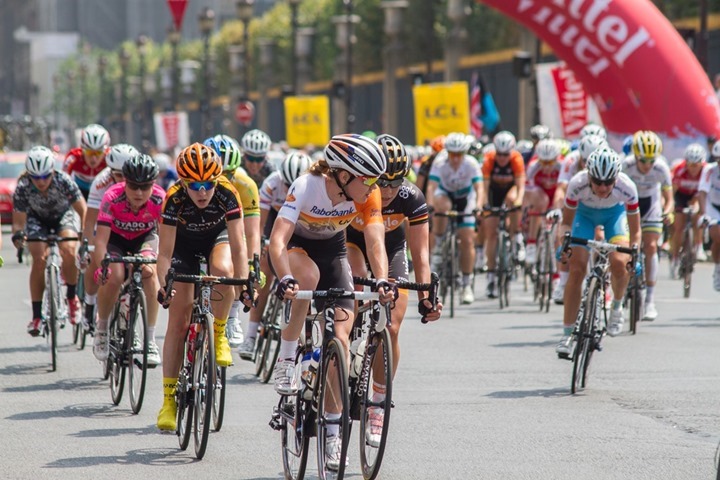 If you're in Paris that day – definitely go out and see that too!
—
With that – thanks for reading!  And definitely feel free to drop any questions down below, I'd be happy to try and answer them.