Just the mere act of being in Alpe d'Huez is effectively walking around on hallowed ground in the cycling world.  Aside from the cobblestone finish in Paris, there's pretty much no more famous stage in the cycling world than that of Alpe d'Huez.  It's one of the few mountain stages that even non-cycling folk know the name of.  And this past week, it was home to the Alpe d'Huez Triathlon, which is a week long series of races at all manner of distances – all of which include the famous 21-switchback climb as part of the triathlon course.  Living in France now, it was most definitely on my list of events to race.
In my case, I signed up for the short-course variant, which is roughly like a heavily modified Olympic distance triathlon.  So without further delay, let's dive into it!
Pre-Race: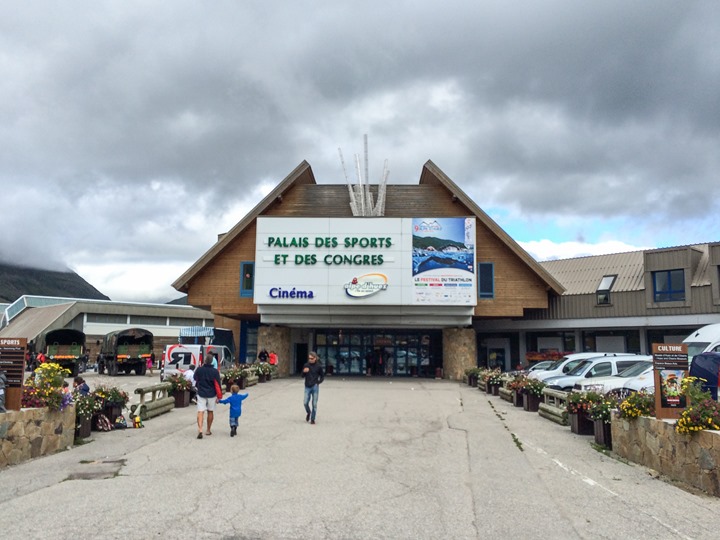 We arrived into town the night before the race, which meant that many finishers were still making their way to the finish line of the longer half-iron-ish distance race that started some 9-12 hours earlier.  Yes, the course is that brutal (for those not into tri's, most half-iron finishers are between 4 and 7 hours).
What was cool though was that the expo was outdoors and still rocking well into the night – so there were plenty of finishers and people around to cheer on incoming athletes.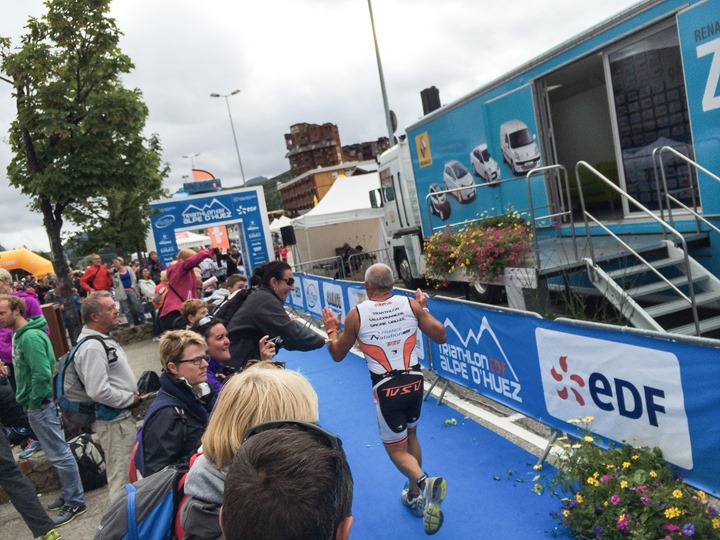 From there I executed on the fastest packet pickup ever, complete in all of 1-2 minutes.  Here's the loot from that: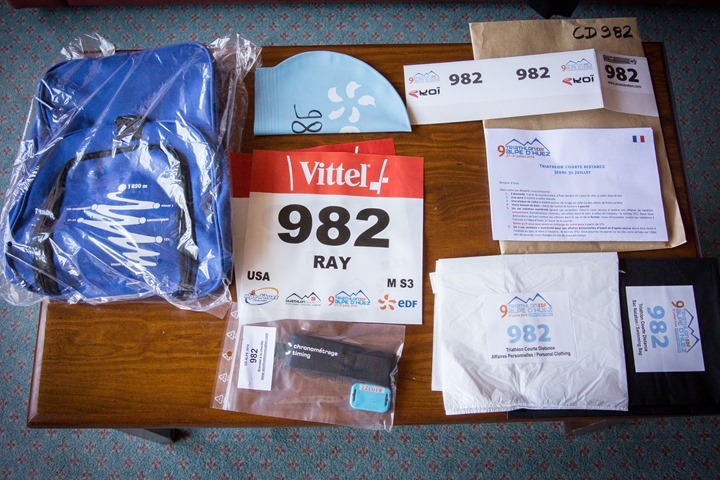 With that I was set until the next afternoon, when my race would begin.  Yes, I said afternoon.  The race actually didn't start till 2PM.  Which I completely loved.  I slept in, then went over and dropped off my run gear at the bike to run transition area.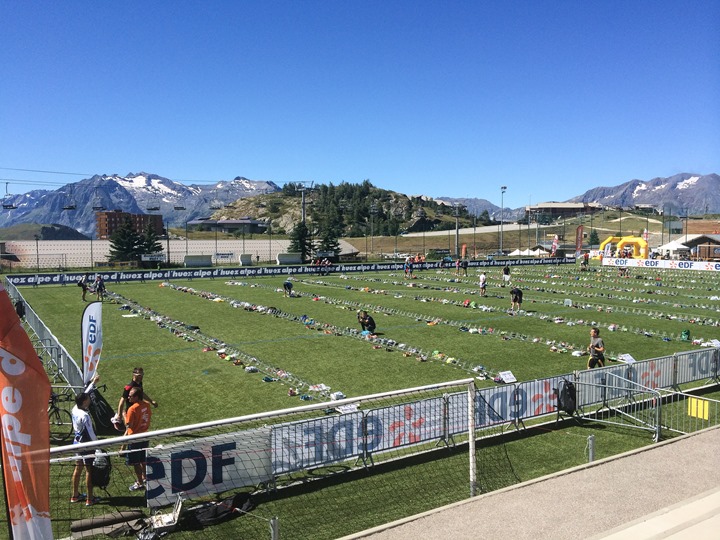 In my case, that was simply just a pair of shoes and a hat.  Keepin' it easy!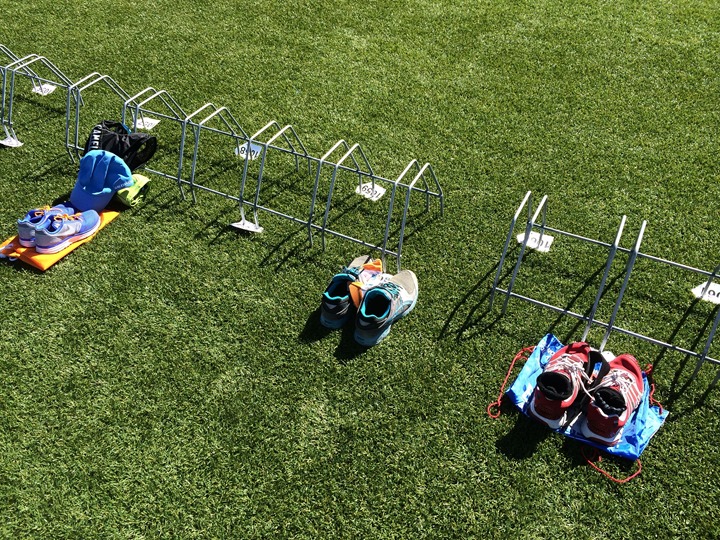 As a point to point race, you don't finish in the same spot that you start.  Thus you have two transition areas – one that's swim to bike, and one that's bike to run.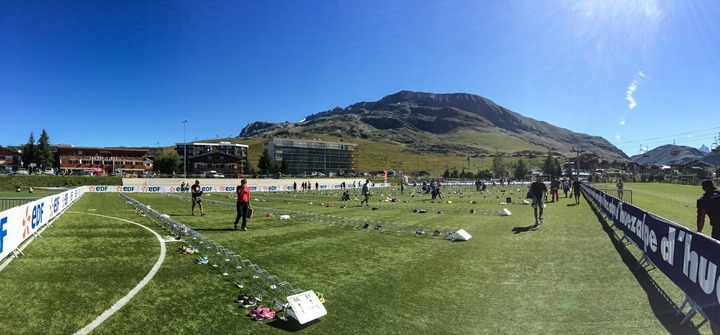 Given the bike course was approximately 30KM (20mi) long, that meant you had to get to the start.  And the best way to do that was actually to bike there.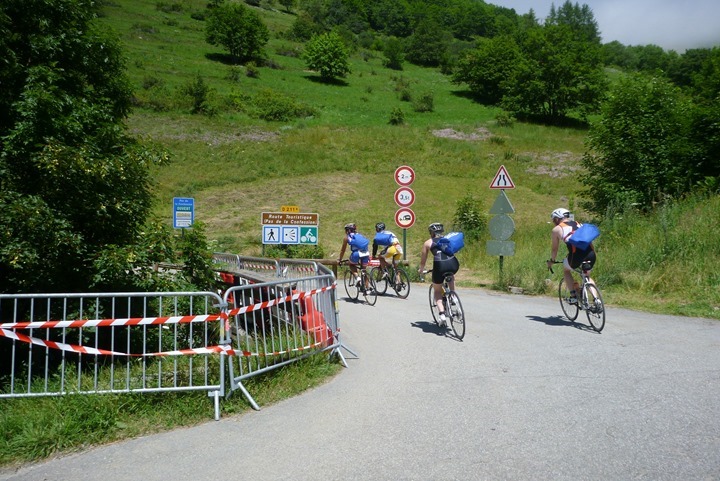 It turned out there's a second way down the mountain that puts you just above the lake, with only minimal actual riding (the rest just coasting).  I say 'minimal' because the guide said it was "95% downhill".  I think that was reasonably optimistic.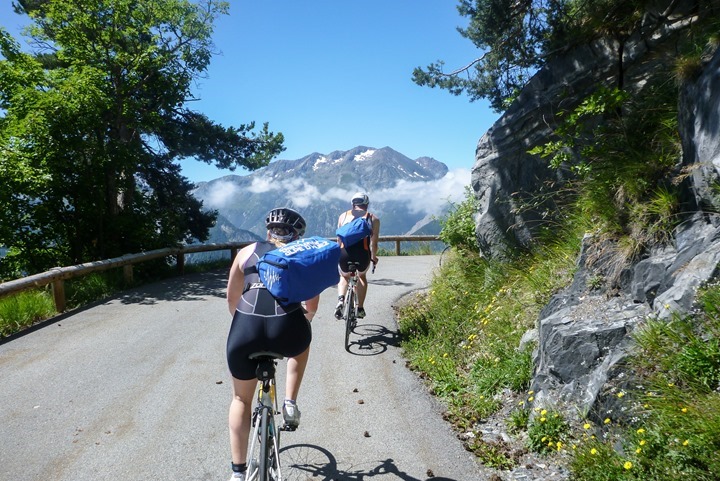 No worries, it made for a nice warm-up ride.  Took me about 50ish minutes to get down, complete with scenic drop-offs and mountains: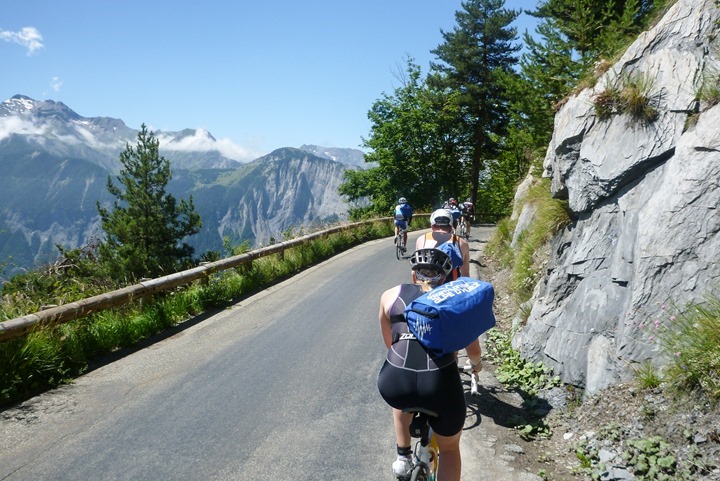 From there I joined the conga line of athletes crossing the same lake we'd swim in (at the far end of the lake):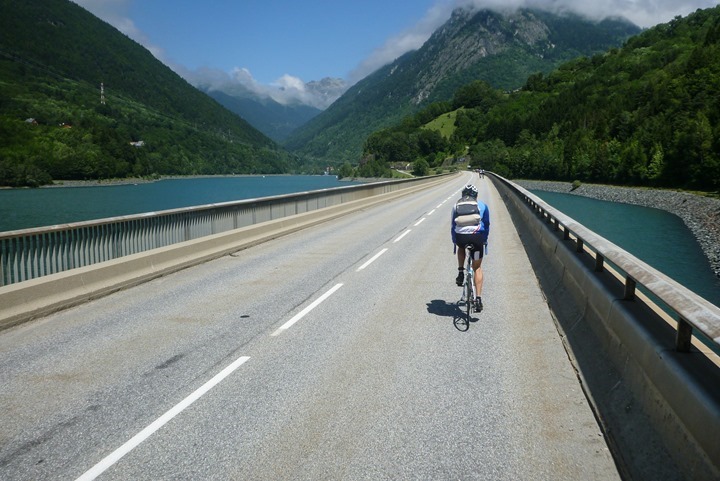 I then got my bike checked by the officials – just like in the US – before getting body marked and heading into transition.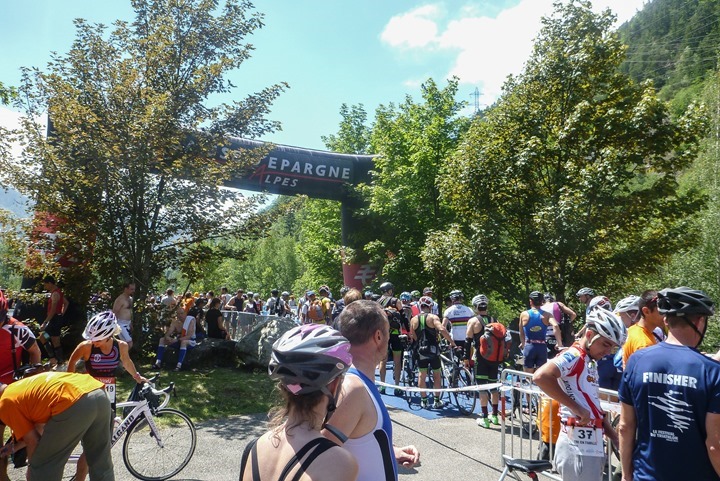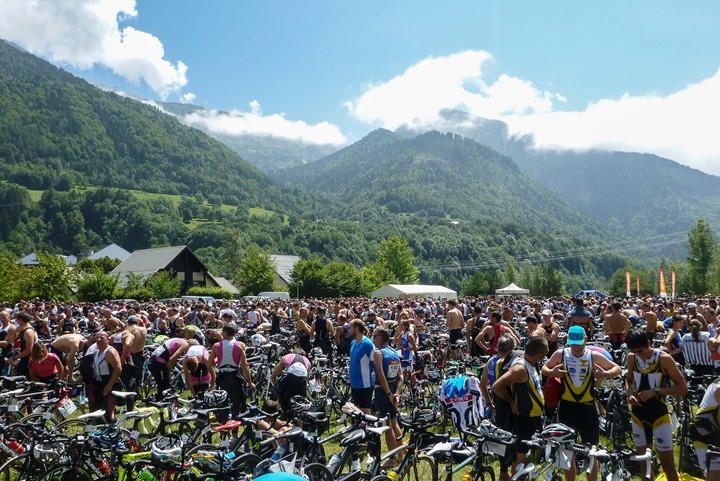 It took me only a couple minutes to get my bike racked and ready to roll: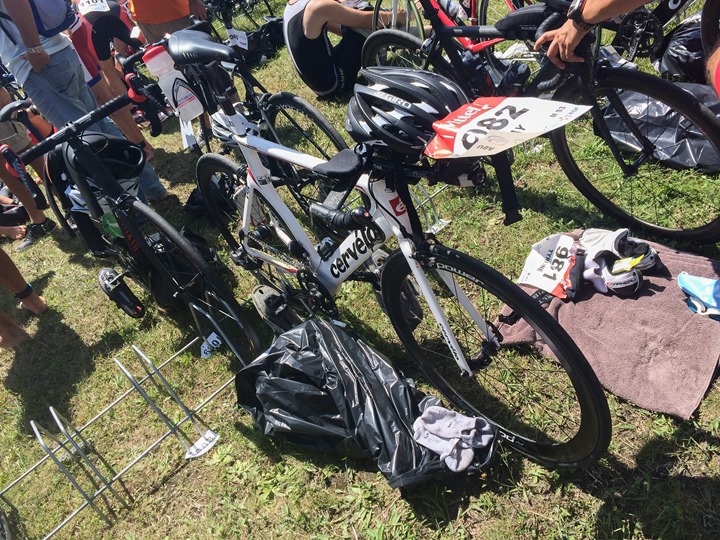 From there it was time for a race briefing over the PA system before the swim course was opened at about 1:45PM.
The Swim: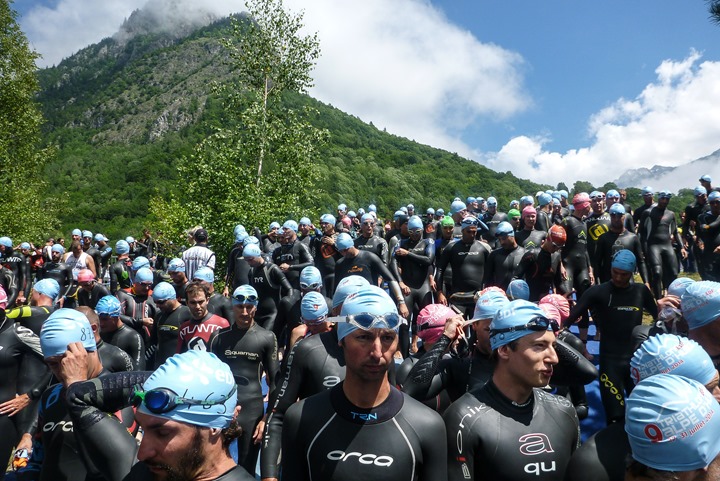 After they let open the gates down into the water, it was like watching zebras trying to cross the river in the great migration in Africa.  Nobody wanted to be in the water, and they knew only bad things came of it.  In this case because the water was a chilly 14°C/57°F.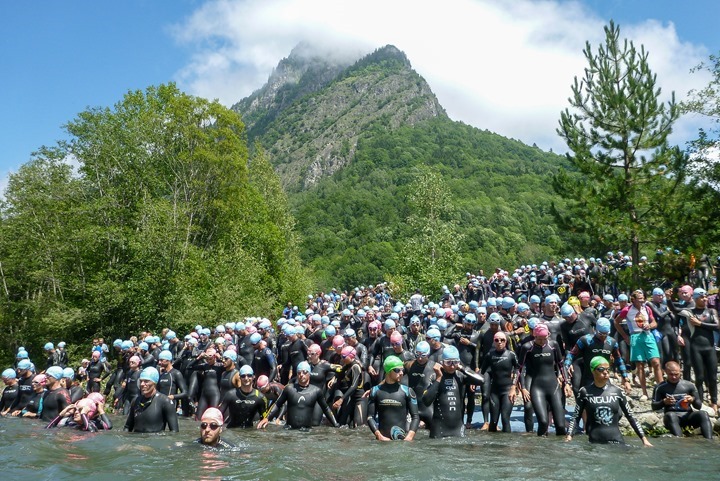 But most people did end up getting in, into a section of the lake that formed a bit of a cup.  Strangely however, people then swam to the other side and sat on the rocks like sea lions.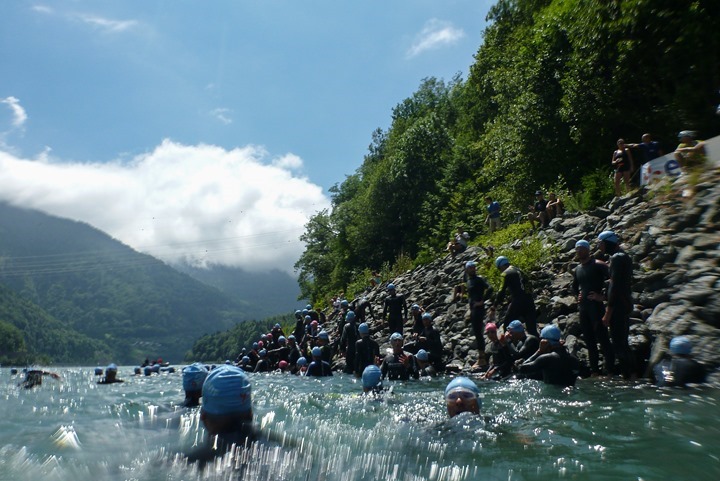 I'll give some free advice: From a swim performance and body acclimation standpoint that's about the worst thing you could do.
A major reason that events are letting participants into the water earlier these days – especially colder water – is to reduce swim deaths in triathlon.  By allowing you to properly warm-up, and allowing you to adjust to glacier water you not only will swim faster, but you'll likely reduce your chances of a swim-related medical incident.
So, I spent my 15 minutes pre-start bumbling around the water swimming short little bits here and there near the front of the (imaginary) start line.  Mostly ensuring my head was underwater and used to the temperatures.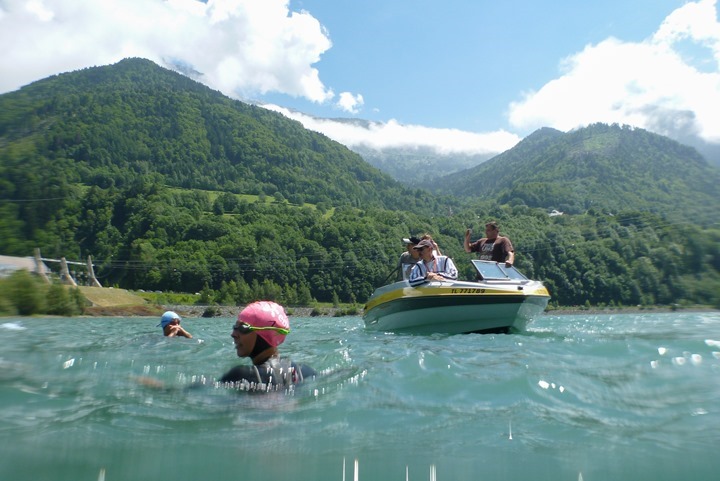 At a point completely unexpected by I'd guess 98.6% of the field, a canon of sorts went off and the swim began.  No count-down, no 1-minute warning…just 'go'.  Which, I should have remembered is also completely normal here in France.
On the bright side, I got some good photos of it since I was just floating taking pictures when the gun went off: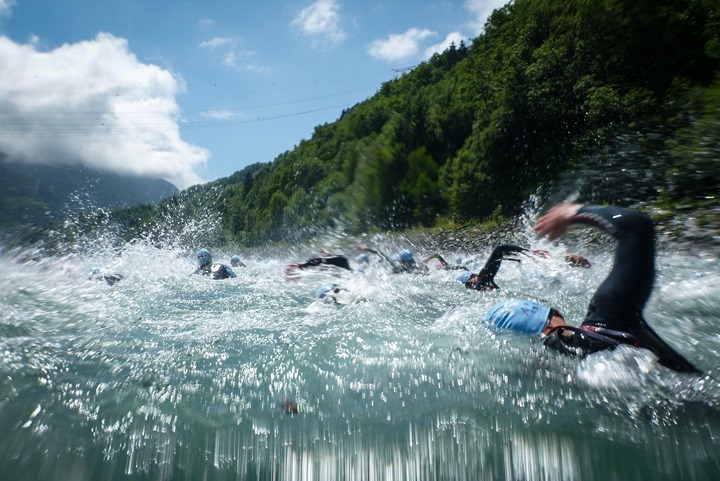 From there, I did indeed swim however.  Me and 1,300 other people in a giant mass start.  Yup – mass start I said, Ironman style.  I forgot how much fun these are, since very few events except full Ironman races do it that way these days.
For the most part the swim was fairly uneventful.  It was a bit of a triangle course jutting out into the lake.  Speaking of which, this is what the lake looked like from Alpe d'Huez itself, when I took this the next day: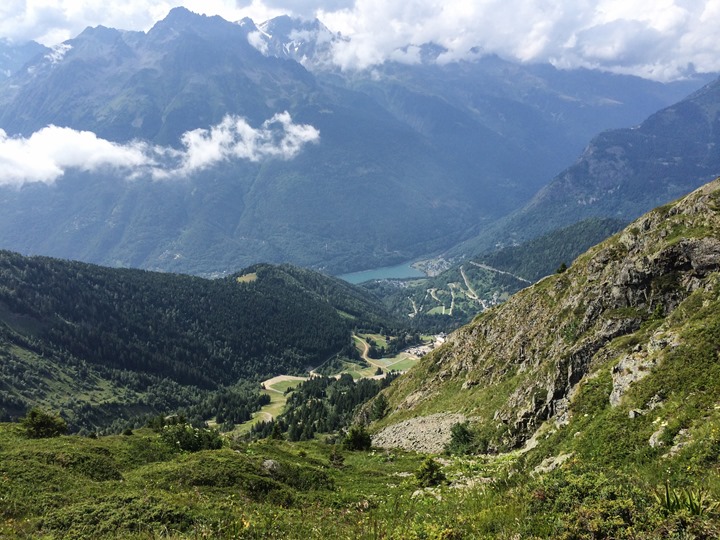 As is usually the case in mass start events, the turn buoys were a complete mess.  Though I was impressed that virtually everyone I saw did properly go around the buoy and not cut the corners.
The course was listed at 1,200m, and while it might have been a touch bit longer than that– it did illuminate that people outside of Paris swim far better than people inside of Paris.  This was evidenced last year in one of the Paris triathlons where I swam reasonably fast on the same low-swim-budget training that I was doing this year.  This is I suspect largely due to the poor pool situations in Paris (15-20 people in a lane at a time), unless you swim on a team.  So getting in sprints and/or hard and long sustained sets is tough.
No matter, I stumbled up off the rocks and into transition in about 23 minutes.  Certainly not my fastest, but given my current swim training efforts it's satisfactory.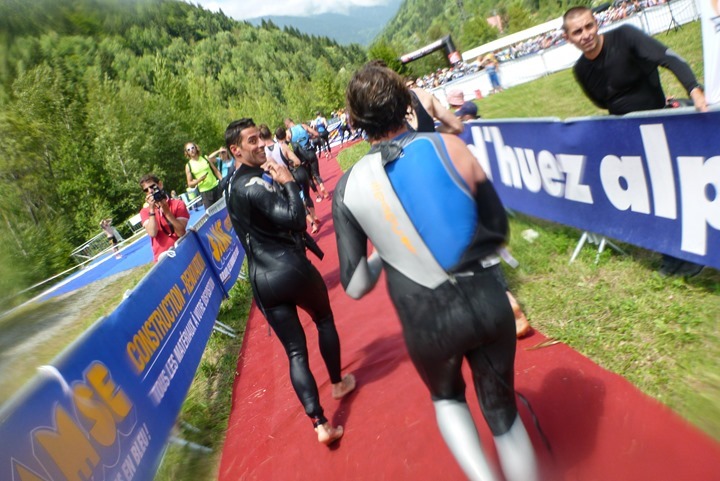 With that, time to find my bike.
The Bike:
With the swim behind me I arrived into transition and pulled off my wetsuit as I ran.  I arrived at my bike and completed removing the wetsuit.
It's at this juncture that I meant to put on my Scosche Rhythm+ optical heart rate armband.  Why didn't I just put it on before the swim?  Because I was stupid and forgot to put it on until after my wetsuit was already on.  No worries, it wouldn't be of any use during the swim and would only take me a few seconds in transition to put on.  So I put it on top of my bike computer so I'd see it.
And I did see it immediately after removing my  helmet.  But for some reason I instead decided to put on my race belt (logic fail).  And, as you might guess I realized this lack of strap about half a mile down the road upon leaving transition.  The strap was never found in lost and found.
On the bright side – I also had a Suunto Ambit3 and the new Bluetooth Smart strap on, so I still had heart rate data from that – just not on either Garmin (Fenix2 or Edge 1000). Sigh.
In any case, from there I headed on out of transition and got onto the bike.  Aside from an errant motorcycle driver who decided to walk out in front of me as I was mounting the bike, it all went smoothly.
(Preemptive note: Almost all the bike photos are simply snippets from a the VIRB action cam I had on the front of the bike, which automatically overlays my power/cadence/speed/elevation/etc data on it.)
The first 20K of the bike course is mostly all on the flats.  You quickly cross back over the same lake you swam in: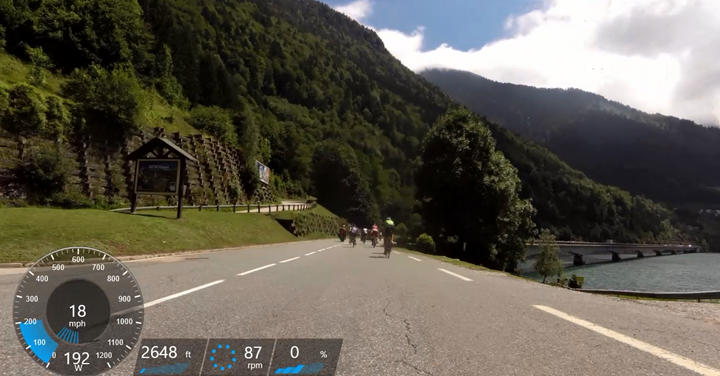 Then from here you zig-zag down the backside of the reservoir retaining wall before going through a small town: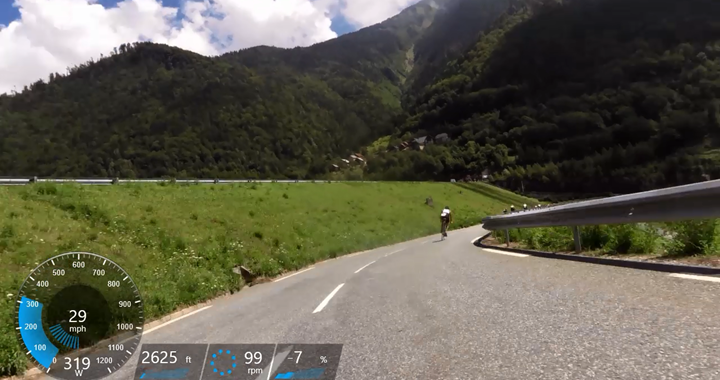 At which point you've got about 10-15KM of mostly flat ground to scream along.  I did fairly well here, keeping per race plans and in zone.  Here I was doing a fair bit of passing – in part likely because I was in aero position on a triathlon bike.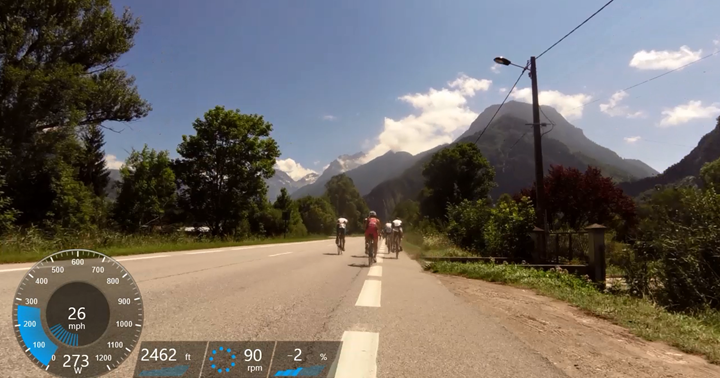 Speaking of which, some might ask why I used a triathlon bike instead of a road bike.  Well, the reason is simple: It's my primary bike.  While I do own a road bike, it's far heavier than my triathlon bike.  Second, it'd be an entirely different story if the race involved descending Alpe d'Huez, for which a triathlon bike would be less stable.  But for ascending only, I'm fit perfectly into my triathlon bike and it's the one I'm most comfortable in.  There really isn't any true logic behind the idea of 'needing' a road bike for a hilly course, beyond people saying that a road bike increases handling (true).  But again, there's no need for increased handling at 7MPH.
Speaking of which, the start to the climb of Alpe d'Huez: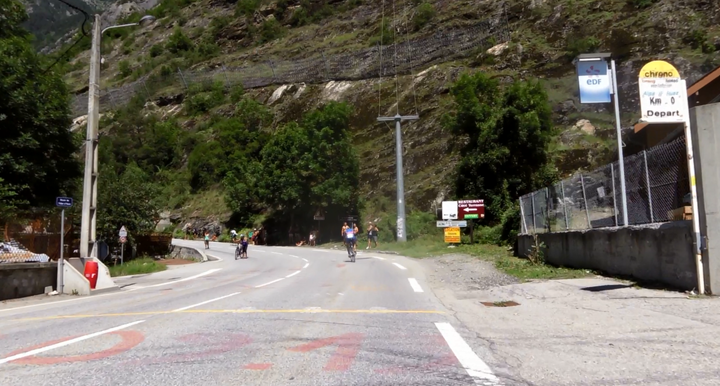 There are precisely 21 turns in the famed route up Alpe d'Huez, which gains some 3,605ft (1,099m) over the course of 13.8 very painful kilometers (8.6mi) with an average grade of 8.1% and a max grade of 13%.
I immediately put myself into the easiest gear I had and started spinning.  I immediately wished I had more easier gears to work with.  I was riding with a compact crank up front and a 12-25 in the back, which in doing some rudimentary gear math isn't quite ideal (though, I suck at gear math).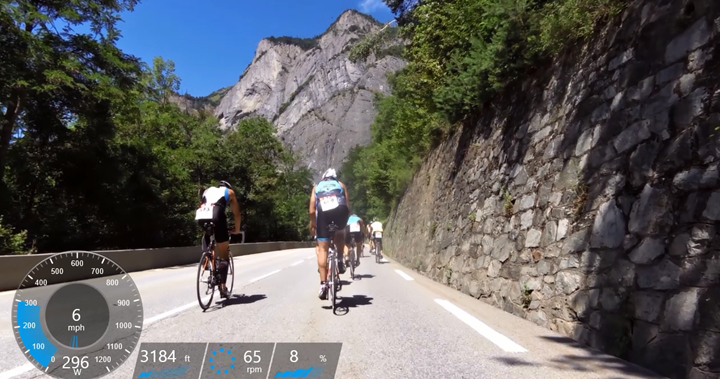 From there, it's pretty much just a slow march upwards for about 1 hour and 15 minutes.  My cadence a hilariously low 50RPM at some portions, especially later on.  I normally spin at about 90-100RPM.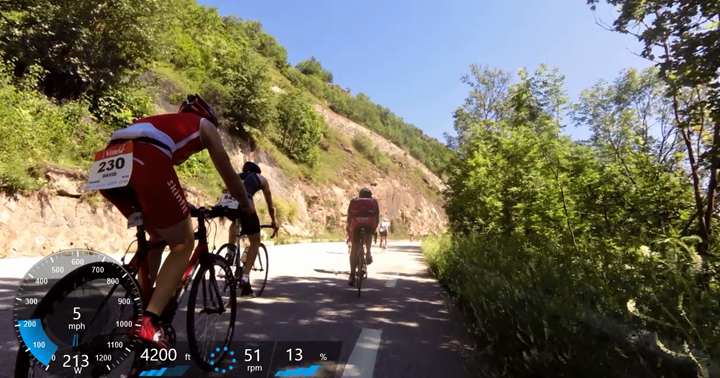 And, this is where you start to see the true impact of not being able to consistently train on terrain like this.  When I was living in DC I was able to train out in the mountains of the Appalachians almost every weekend, and after enough rides you get the hang of climbing well.  Everything from the grade to the impact of elevation.  Which is ultimately why there are different types of riders in a pro peloton – some great in the mountains and some not.
No matter, I just kept peddling away, past giant pink bunnies and all: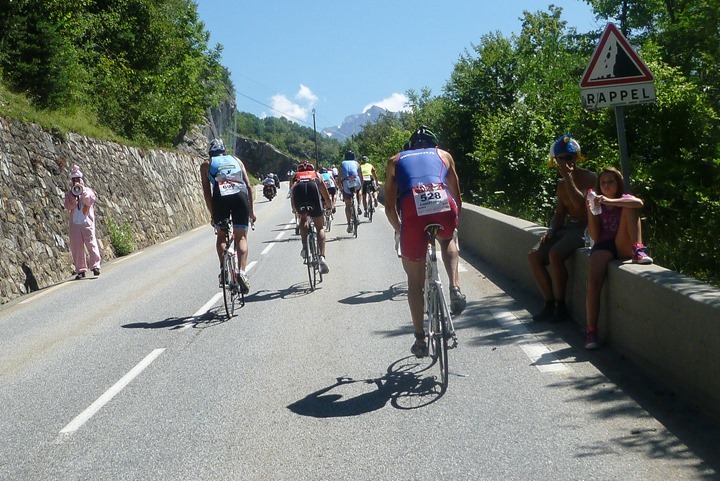 At the same point where The Girl and one of our friends hiked up to bring back beers for us last year while watching the Tour de France, there was an aide station.  I found it oddly appropriate: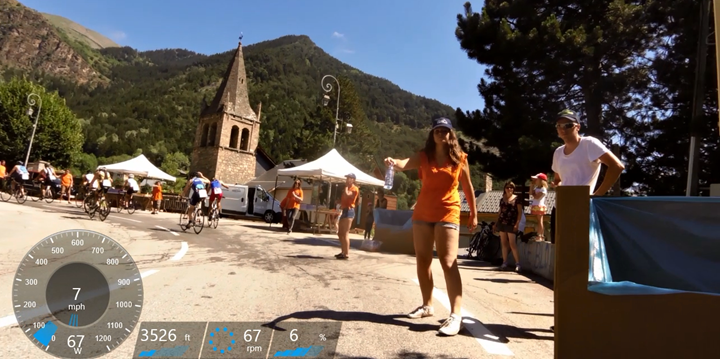 They had water, some sort of sport drink mix, and I think gels.  I just grabbed water and sport drink mix, as I had my own gels.  Some ways later around 70% of the way up there was another station.
As you hit each corner there was a sign post indicating how many turns were left, as well as a past Tour de France stage champion (for the Alpe d'Huez stage specifically).  In the below case, there were 15 turns left.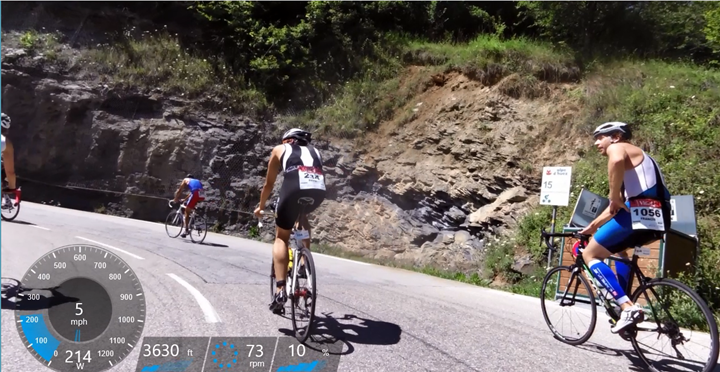 Note however that these bends are only for turns that make a complete 180° turn, and not for some of the other random/numerous bends in the road.  Thus, slightly deceiving.
It's cool in that the route does go through a few small villages along the way: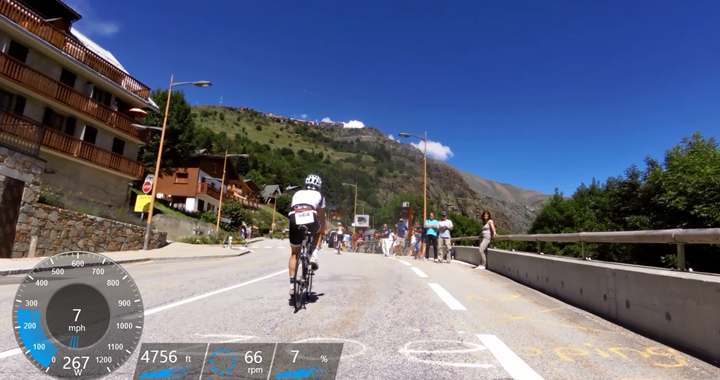 After lots of climbing I finally found The Girl – up just near the main village, cheering/photographing (she was far smarter than I, and decided against doing the race):
She actually then managed to run up between a switchback and catch me again…twice, amazingly enough.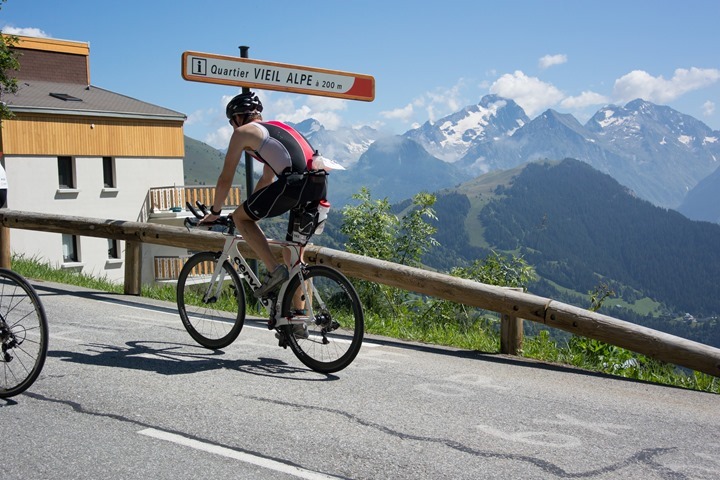 And, at this point she probably could have out-run me too.  Thankfully though, the bike was nearly over.  About 2 minutes later I'd wrap things up and pull up to the transition dismount line:
And then roll it on into transition: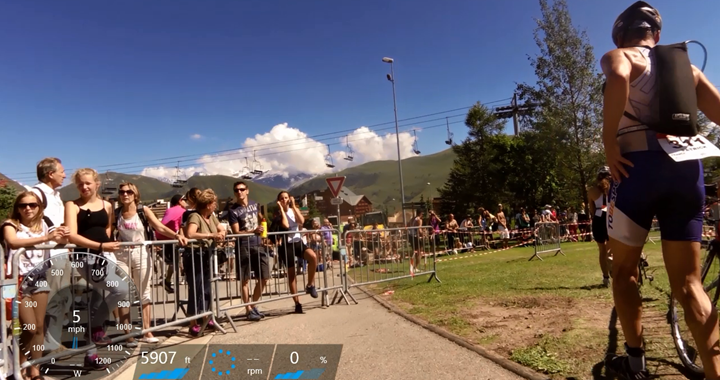 I will point out one interesting tidbit though: You actually don't complete the full official Alpe d'Huez Tour de France stage finish.  That goes on another 200m or so up the road (in distance, not elevation climb).  Why on earth the organizers just don't go up to that famous point and turn around back to transition is beyond me (and actually really disappointing).  But, as they say here in France: C'est la vie.
For fun – here's a condensed video of the entire bike course from the VIRB.  By 'condensed', I mean playing 8x fast, so it takes a wee bit less time to watch.
It's probably more interesting to skip around a bit though in the video.
The Run:
It's funny, about 1KM from the end of the bike course I thought to myself "Ya know…I'd be content with a 10/min/mile pace at this point – after all, that's not walking, right?".
I ditched all my bike stuff and started trotting out of transition.  I would have much preferred to walk to the aide station just at the outside edge of transition to get water – but everyone else was running and I got suckered into it (damn peer pressure!).
It's at this point that I realized that running actually felt surprisingly good.  Which would make it approximately the first athletic portion of the event that did feel great.
So, I kept running.
The run course is approximately as flat as the Rocky Mountains.  Or, in this case – the French Alps.  I had looked at the course profile beforehand, but then as I started running I couldn't remember if I had looked at it in meters or feet.  So instead of focusing on that I just simply ran.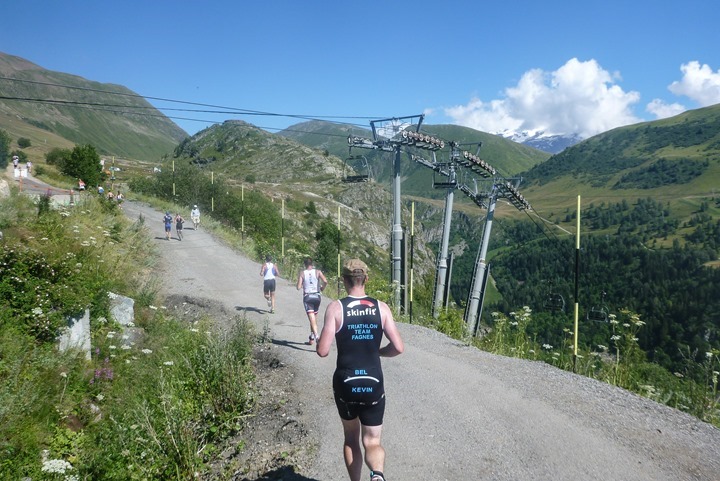 And this is where I passed a few hundred people.  Clearly, running is my strength, since I was only passed by a single person on the entire run.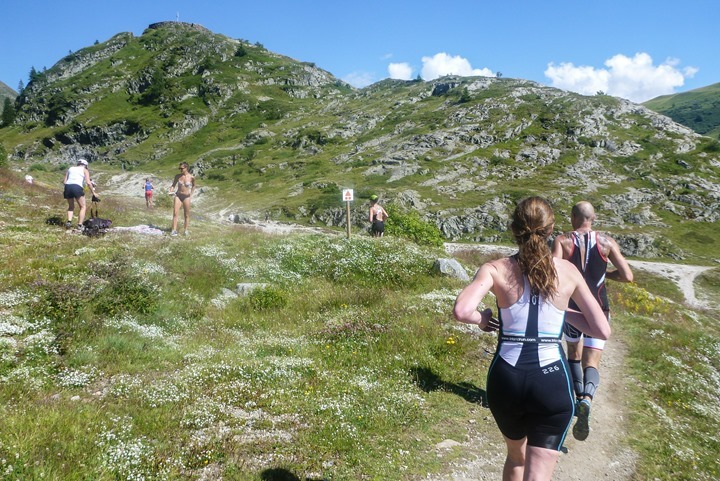 The run course was a partial out and back out into the edge of the ski area, slowly climbing up over the course of the first 3KM.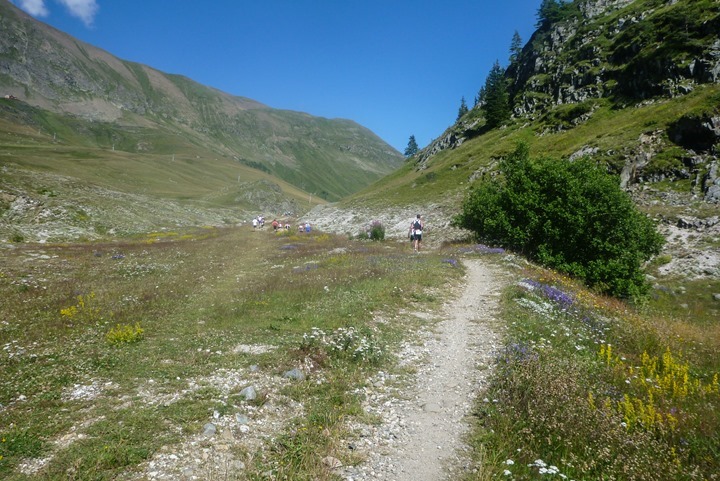 At this point you're above the treeline, and the path was all just rocks and dirt and a mix of trail run and older mountain roads.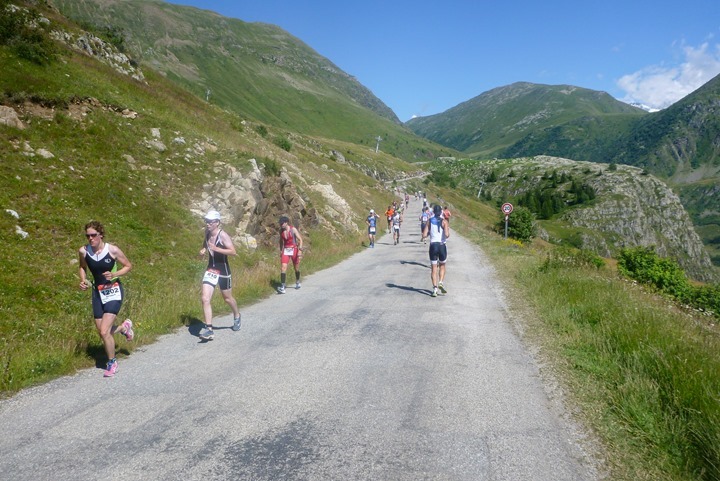 You reach the turnaround point at the 3.5KM-ish marker, which is one of the highest points on the course: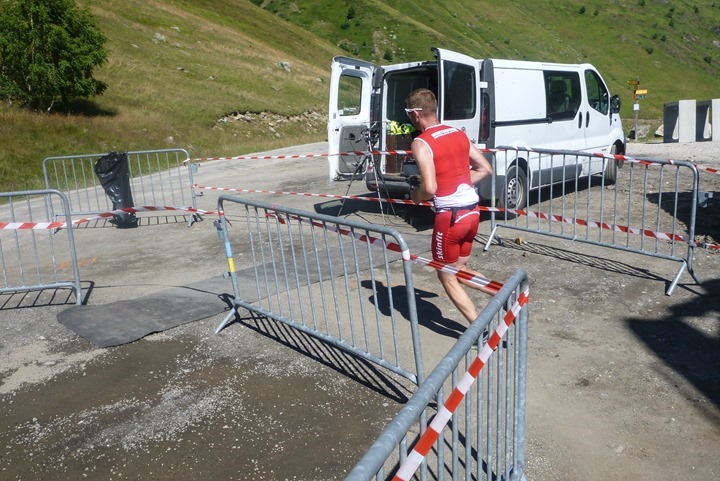 From here you zip back down a hill for about 800m before splitting away from the oncoming runners and climbing up again in elevation:
About 1KM of climbing later you hit the second major peak in the run, where you can see runners zig-zagging their way back up again.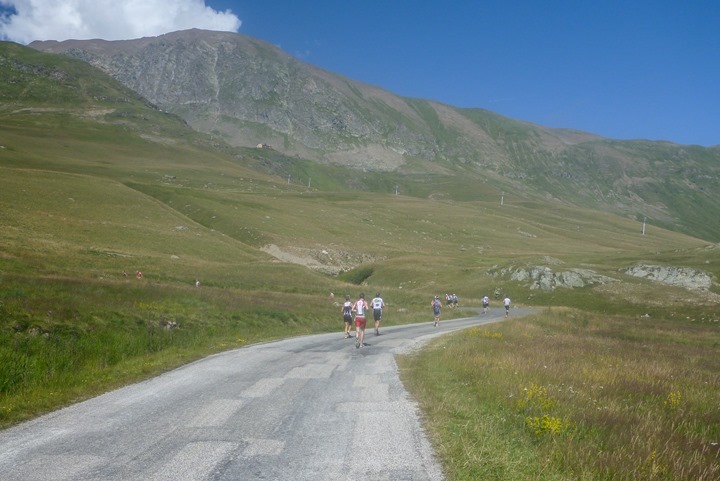 Just for those keeping score at home, here's the elevation profile of the run: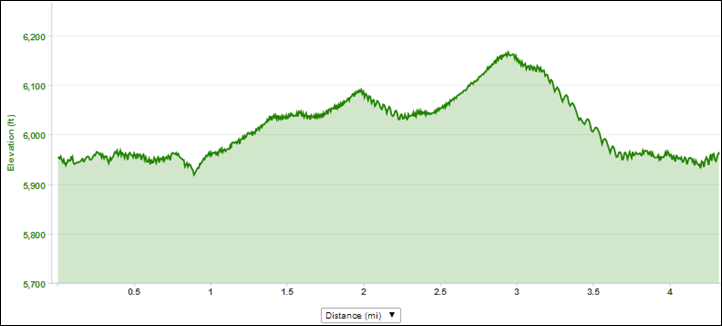 Once you hit the second peak, it's more or less just a easy 1-2KM back to the starting area, all downhill.  The perfect way to wrap things up.
I averaged about a 7:50/mile (4:52/km) pace on the run, which isn't too bad given all the climbing (548ft).  Not nearly as fast as I'd do in a normal Olympic distance triathlon (usually 6:30ish/mile, 4:00/km) – but, that'd also be on a reasonably flat run course with a reasonably flat bike course.  Clearly this had neither.
Here's me on the final turn into the finish (and the final little climb):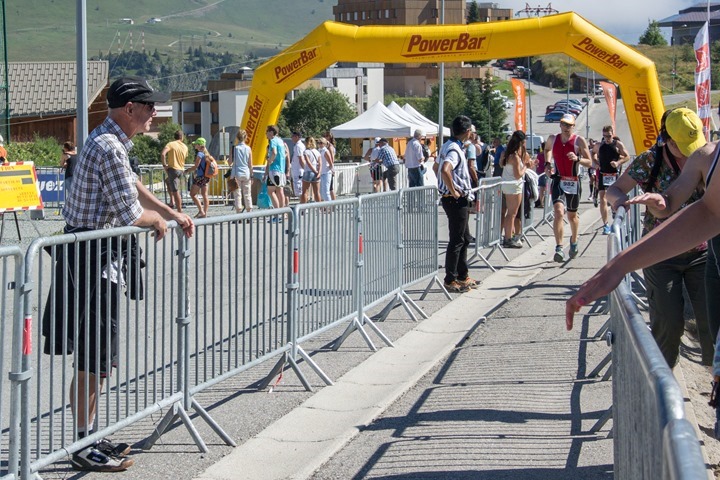 And then – the finish line itself (that's not me obviously, but someone a bit later after me):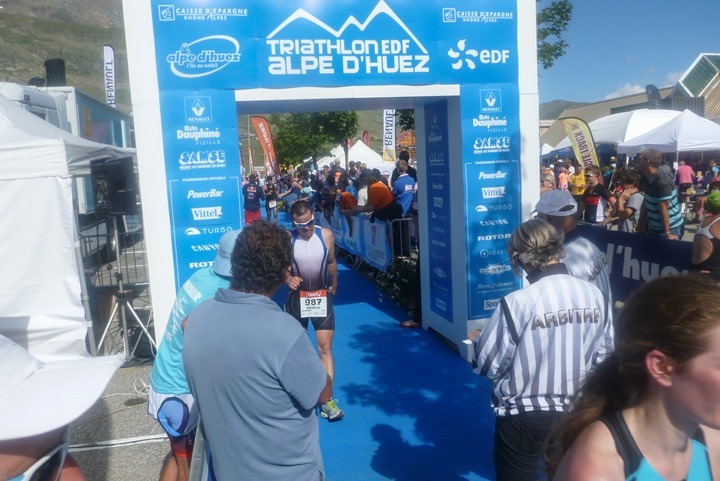 My final finishing splits were:
Swim (1,200m or so…): 24:10
T1: 3:59
Bike (30KM/18.64mi, including up Alpe d'Huez): 1:48:34
Alpe d'Huez Climb only: 1:21:39
T2: 1:20
Run (7.3KM/4.32mi trail run): 33:45
Total: 2:51:50
Post-race that had a wide variety of items – as has been the case in almost all my France races.  For example, watermelon, kiwi, banana, tomatoes and more: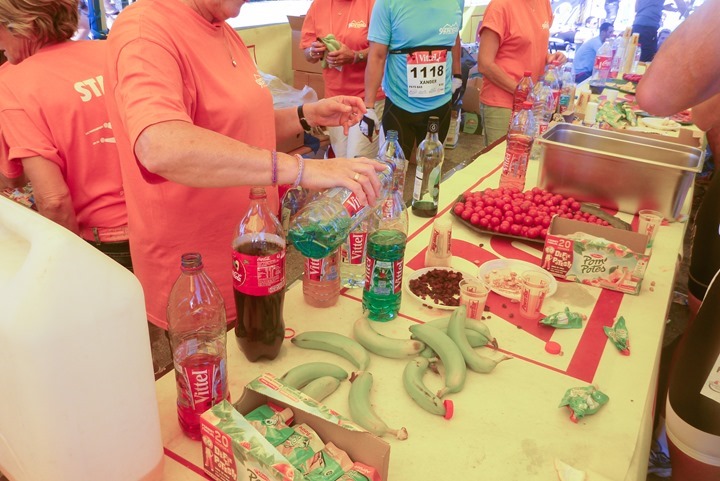 Oh, and a beer tap: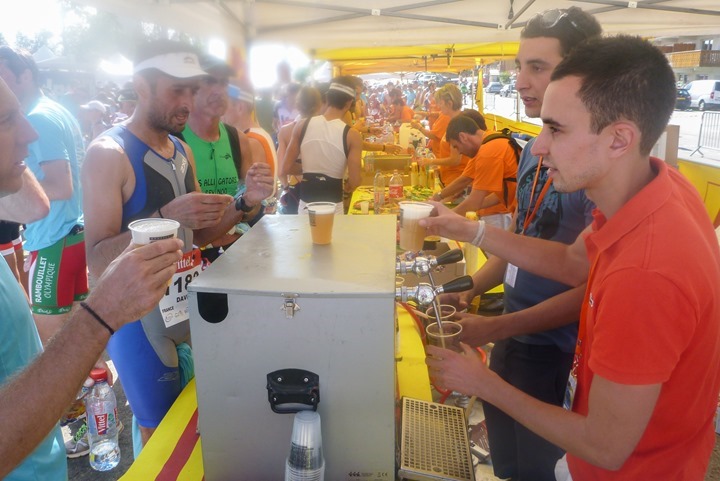 And of course, don't forget the chilled tubs for putting your legs in: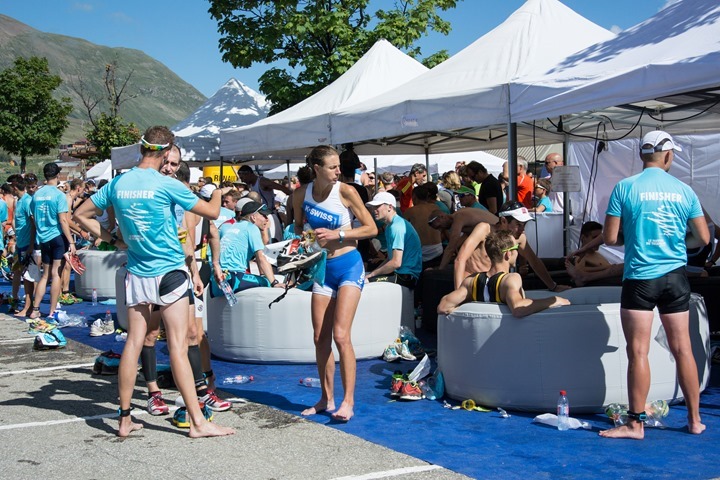 After catching my breath I chatted for a bit with a few DCR readers that had just finished as well.  Thanks for saying 'Hi!', as well as to those who stumbled into me over the course of the few days there (and on the course itself!).
Wrap-Up: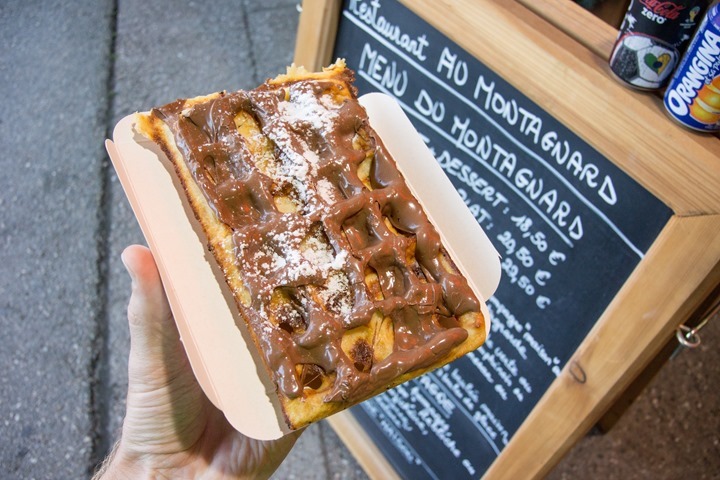 Afterwards I treated myself to a Nutella covered waffle, which seemed completely appropriate given the calorie expenditure over the previous few hours.
The Alpe d'Huez triathlon is definitely a bucket-list triathlon – sorta like the Escape from Alcatraz or the NYC Triathlon.  And, like those – I'd definitely come back and race it again.  I do think for the Alpe d'Huez triathlon I would however attempt to get in more climbing ahead of the race, and, I'd probably go with different gearing (not a different bike, just different gearing).
But the organizers are great and the atmosphere in the town for what is a full week-long triathlon series (races from Sunday till Thursday of varying distances) can in some ways rival that of an Ironman event leading up to the main race.  Plus, the atmosphere of being in Alpe d'Huez is hard to beat from a small town perspective, everything being fully walk-able and the race being at the center of it.
So with that – thanks for reading!  I've got a '5 Random Things I Did This Past Weekend' post for tomorrow, with how we spent the rest of our time enjoying the Alps for the next few days.  So lots of goodness still to come.
(For those curious on the photography side of this post, I used my little waterproof red camera in the swim & run shots, with only one photo above taken during the bike with it.  And all remaining photos taken from my point of view on the bike were merely snippets from the VIRB video.  Here's all the stuff I normally use.)