Suunto has finally delivered. With the new Suunto Vertical, the company appears to be heading down the right track towards having a more competitive hardware offering. The new Suunto Vertical GPS watch might appear from across the room as just a larger Suunto watch, but in reality it's significantly revamped inside. To begin, it's now got fully offline mapping – downloadable via WiFi (yup, it has WiFi too now) for anywhere in the world. Around the outside edge you'll notice the solar charging, giving you even more battery life. In fact, so much battery life it exceeds their rivals in virtually every category – even with full recording rates. Speaking of which, you'll also find new dual-frequency GPS/GNSS satellite connectivity, finally matching what their competitors have offered for higher GPS accuracy.
Of course, there's also a slate of smaller things too, like a flashlight mode (via the display), or the now every-second 24×7 HR recording rate. And everything else that was there before continues to be there. That includes their underwater snorkel/shallow diving support/tracking, and even a so-called mermaid mode. But we'll get into all that later.
As usual, I've been putting the Suunto Vertical through its paces. This includes swims, bikes, runs – even hiking all the way up an 8,000ft mountain nonstop from the sea. All in the pursuit of seeing what works well…and what still needs a bit more love and development.
Finally, note that Suunto sent over a media loaner to test out. As usual, this review is not sponsored (nor does any company get to preview anything I review), and I don't take any advertiser money from any companies I review. Once this unit goes back, I'll go out and buy my own for any future testing needs. If you found this review useful, you can use the links at the bottom, or consider becoming a DCR Supporter, which makes the site ad-free, while also getting access to a mostly weekly video series behind the scenes of the DCR Cave. And, of course, it makes you awesome.
What's New: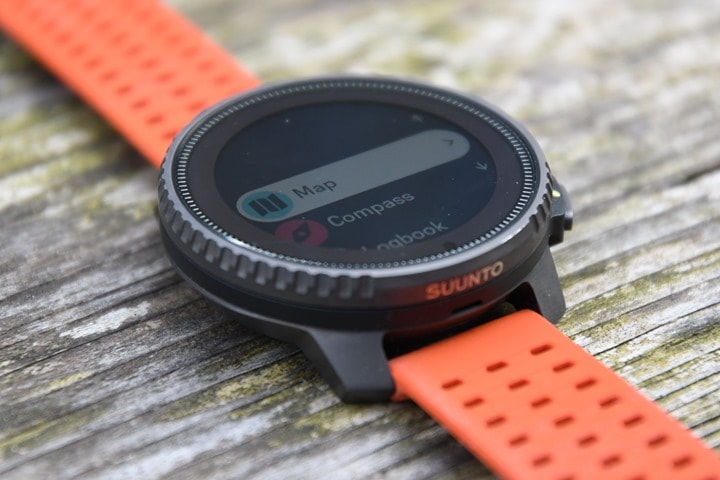 The Suunto Vertical is essentially the next version of the Suunto 9 Peak Pro, except now with a new name. That's a good thing in my opinion, as the naming variations on the numerical Suunto 9 scheme were just becoming overly complex (Suunto 9, Suunto 9 Baro, Suunto 9 Peak, Suunto 9 Peak Pro) – with no clear 'winner' or differentiation to most people.
The new Suunto Vertical line has just two core choices: Solar (with titanium), or no Solar (with stainless steel). Plus your choice from a slate of bands. There are no longer different case colors, rather, just the bands.
So, let's dive into everything that's new compared to the existing/previous Suunto 9 Peak Pro:
– Added offline shaded topographic maps, with three map types (Outdoor/High Contrast/Dark)
– Added WiFi for downloading maps, by country & region, free of charge
– Increased onboard storage to 32GB (roughly enough to hold all of Europe on it)
– Increased size of touchscreen from 1.2" to 1.4" (compared to Suunto 9 Peak Pro)
– Increased resolution from 240×240 to 280×280 (compared to Suunto 9 Peak Pro)
– Added Solar charging for the Solar/Titanium models
– Increased battery times substantially (see chart below)
– Added dual-frequency/multiband GNSS/GPS chipset & corresponding antenna
– Added new GPS recording rate mode: Low (in addition to Best, Good, OK)
– Added truly continuous 24×7 heart rate monitoring (previous was every 10 minutes)
– Added new on-device weather pages, including forecast, air quality, observations
– Added Strava Live Segments on-device (for Strava paid users)
– Added screen-based flashlight option
– Added new charging screen when charging, or map downloading screen when on charger
– Increased to two sport apps concurrently (3rd party/etc apps, note that guides are different than apps and cannot be concurrently combined)
– Military spec durability tests by 3rd party lab
– Watch is made in Finland with 100% renewable energy
– Watch is fully carbon-compensated for the entire life cycle of watch & future usage/charging, by planting trees on behalf of each watch
– Existing Suunto 9 Peak 22mm series straps/bands compatible with new Suunto Vertical
Pricing is as follows:
– Suunto Vertical base/Stainless steel: $629USD/599EUR/£560/$849CAD
– Suunto Vertical Solar/Titanium: $839USD/799EUR/£735/$1,099CAD
Then we've got the battery chart, showing massive battery gains:
And a few general spec things:
– Watch diameter: 49mm (Suunto 9 Peak Pro was 43mm, and Suunto 9 Baro was 50mm)
– Watch thickness: 13.6mm (Suunto 9 Peak Pro was 10.8mm, and Suunto 9 Baro was 15.5mm)
– Glass material: Sapphire crystal
– Case material: Glass fiber reinforced polyamide (aka: plastic)
– Strap material: Silicone
– Weight: Titanium is 74g (56g for case), and stainless steel is 86g (69g for case)
– Water resistance: 100m
Finally, the Suunto Vertical goes on sale from today, and will start shipping next Tuesday, May 16th, 2023.
In The Box: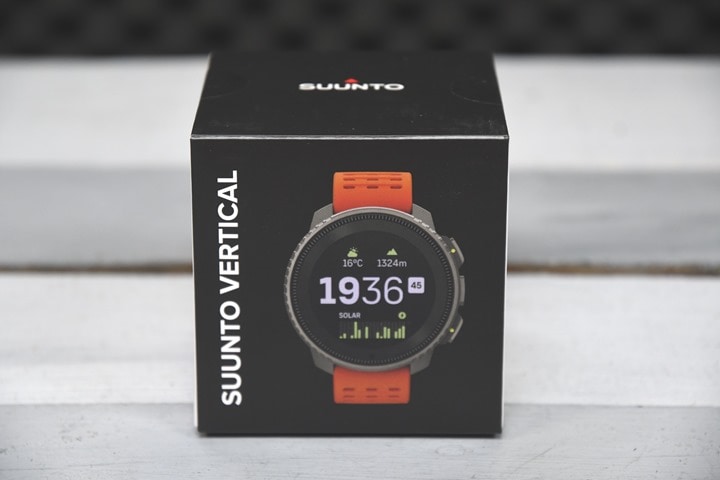 First up, cracking open the box. In this case, this is the solar edition: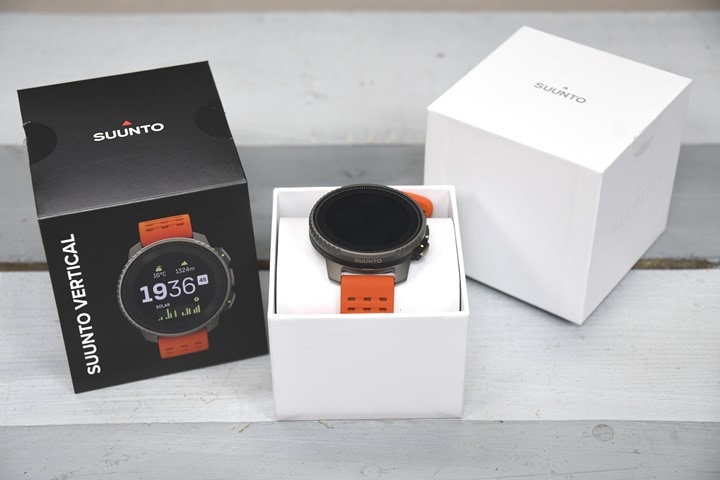 Inside you'll find the watch, and extra/longer strap, the USB-C charging dock, and a large pile of paper stuff you'll likely never read: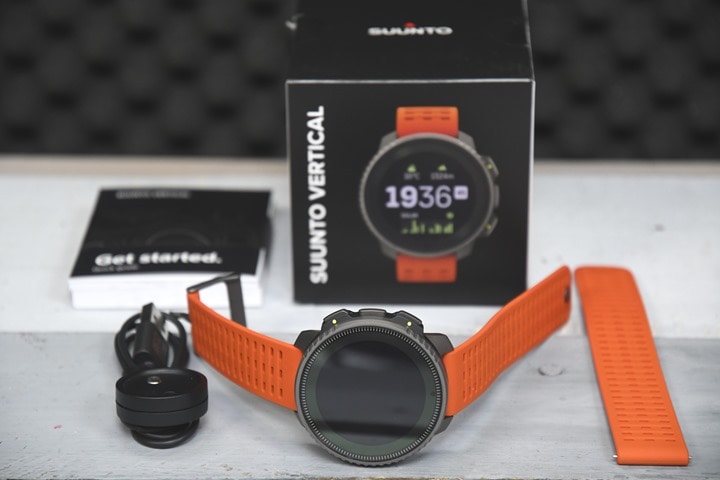 Here's a closer look at the magnetic USB charging cable, the same one used on other recent Suunto 9 Peak series units: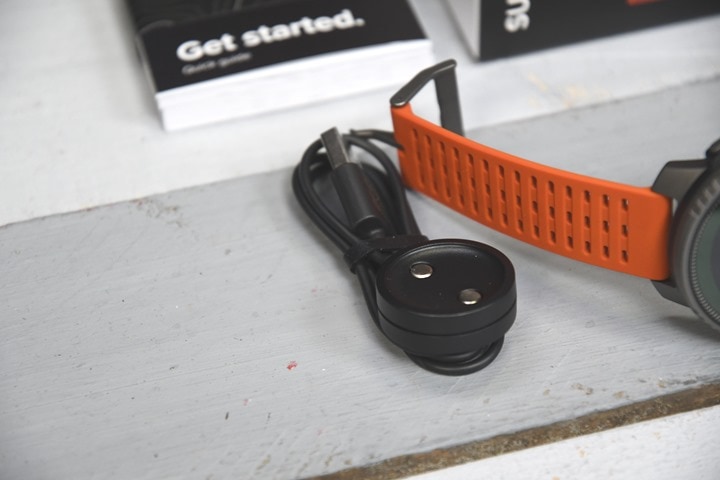 And the extra strap. It's the same as the primary strap, except longer. Specifically, when I measured the two straps (an imperfect science since it's including the body of watch and not perfectly flat) – the length of the S/M strapped with watch is approx 230mm, and with the M/L strap, it's approx 265mm (both of these are measured orange end to orange end, without including the buckle). My wrist is 195mm (ish), and on the small strap I have gazillions of length left.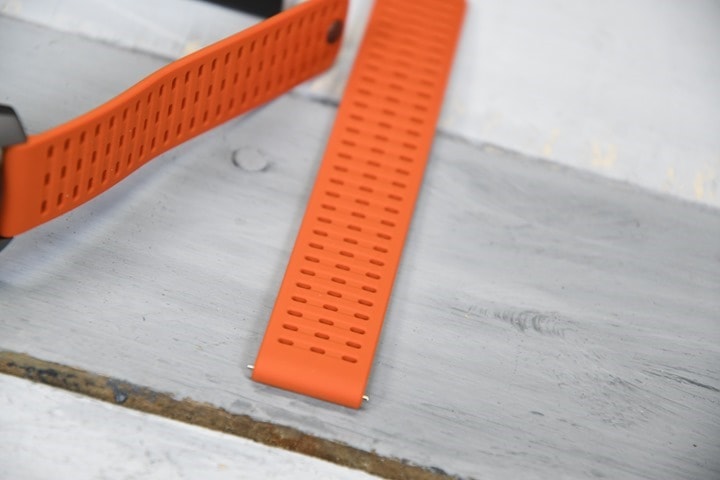 Looking at size comparisons, here's that too – left to right: Suunto 9 Peak Pro, Fenix 7 Solar, Suunto Vertical Solar, COROS Vertix 2, Amazfit T-Rex Ultra: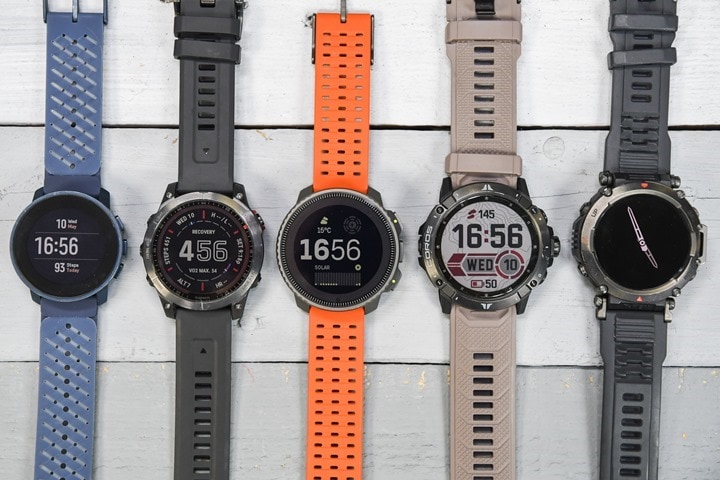 And the same set of watches from a side profile: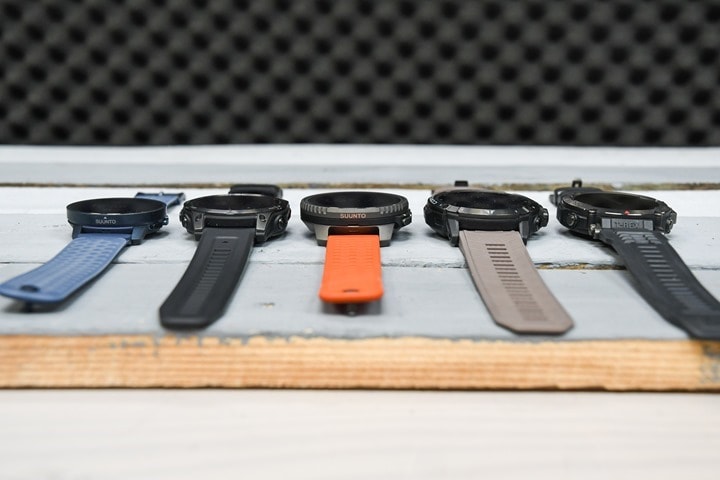 Finally, for lack of anywhere else to stick it, here's a quick comparison of four watches on the map pages, in terms of screen visibility and functionality (note the street/etc names on the Fenix 7 map). Left to right: COROS Vertix 2, Fenix 7, Suunto Vertical, Amazfit T-Rex Ultra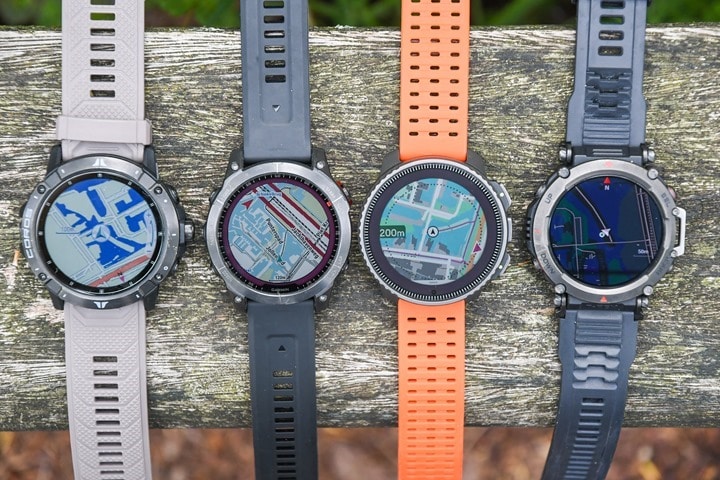 With that, let's get into usage details!
The Basics:
This first section of the review is all about the basic day-to-day usage of the watch. For the most part, if you're an existing Suunto user, you'll find this all pretty much the same as the Suunto 9 series. However, there has been some re-arranging of a few areas and slight updating of the user interface in a handful of spots – but ultimately, it'll be very familiar to existing Suunto users. But again, this section covers things like activity tracking, sleep tracking, the new flashlight feature, and more.
To begin, the watch has three buttons on the right side, along with the touchscreen for interaction. You can use either buttons or touch in most cases, though I tended to use buttons for most things (it's usually just quicker for me). From a button layout perspective, the upper button generally moves the menu up, the lower button down, and the middle button selects. You can also long-hold the middle button to get back to the watch face in almost all areas (except the Map app).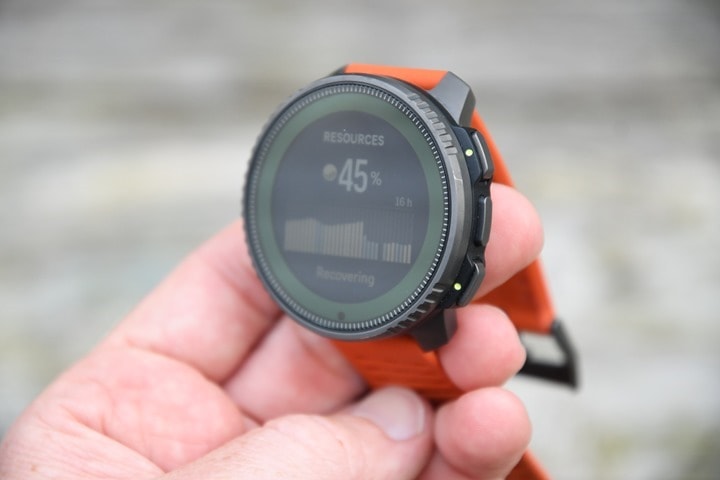 As I said in my Suunto 9 Peak Pro review, while I know Suunto has long had the three-button design on their touchscreen watches, I actually prefer the 5-button layout on the Suunto 5 Peak (non-touch), primarily for the back/escape feature. It's just a lot faster than a side swipe or long-holding. I do think the trend here is going to having usability parity between touch and buttons for sports-focused watches. So maybe down the road…but hey, that's a minor request.
On the touchscreen usability, it's been fine. I've had the 'pleasure' of rainy workouts, even a bit of snow, and it wasn't an issue using it or the maps with it. Nor any problems with tons of sweat. My singular complaint in this usage area is that the user interface still feels laggy and slow, as with past Suunto watches. You can see this in my videos up above, and it is really only noticeable when trying to move quickly through menus.
In any case, the buttons on the Suunto Vertical feel just fine, but don't have the audible 'click' of the Suunto 9 Peak Pro. I actually liked the click, but certainly understand not all people do. To each their own.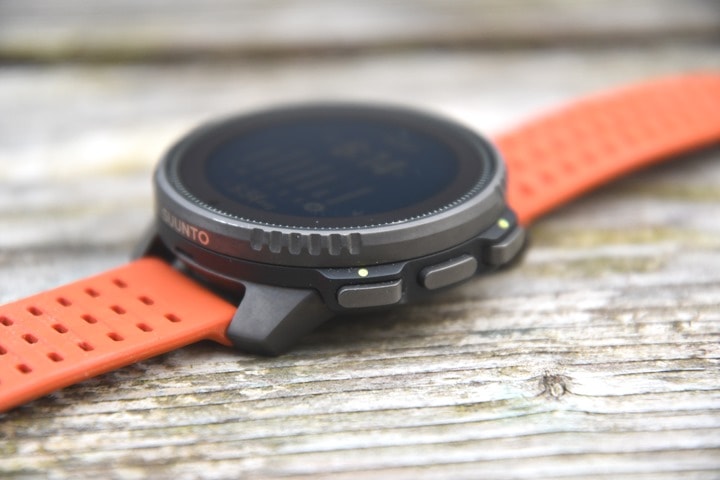 I do really like the case design of the Suunto Vertical though. They nailed it – especially the etching around the top. For those that like a bigger watch, this feels big, without feeling 'chunky' (such as some of the older Suunto units did). It strikes a good balance between the 'thinner' Suunto 9 Peak/Peak Pro units, and the original Suunto 9 units.
You can see the solar panel around the new larger display, but we'll talk about that later on. The new larger display is definitely more readable than those in the past. The new display is perfectly readable in both bright sunny and indoor dark conditions. Suunto says this is actually due to a number of changes:
1) They swapped out the display itself to a much newer and "next gen" MIP display from the same provider/supplier
2) They added an additional LED to light up the display better in dark environments
3) This also helps to saturate the colors better, getting rid of that half-dim look of the previous Suunto units
4) They also adjusted the default backlight brightness, changed the fonts, and colors to improve readability
Suunto says the software-focused changes (fonts/colors), they're also aiming to backport to earlier Suunto devices, hopefully improving the readability of those units too.
Further helping matters based on my testing, is the wrist-detection for backlight illumination in the dark is virtually instant, even with trivial moves like twisting my wrist while typing this on my keyboard. Here's the Suunto 9 Peak Pro (left) compared to Suunto Vertical (right):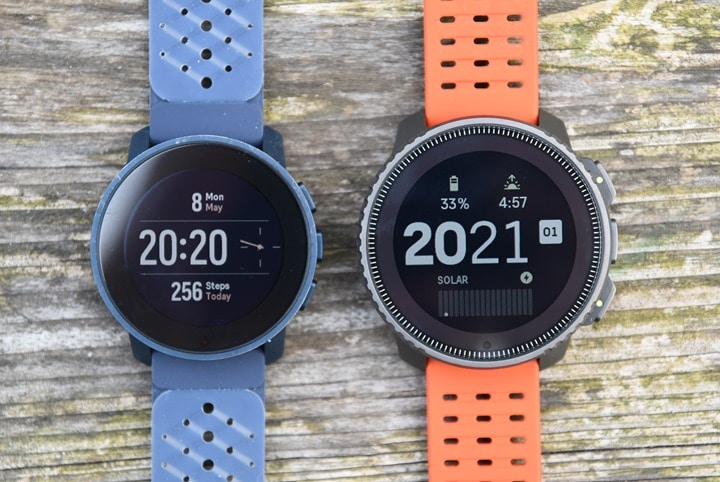 It seems like Suunto has listened to the feedback here on how dim and unreadable their display was on the previous units (such as the Suunto 9 Peak Pro). At no point during my testing of the Suunto Vertical did I have any display visibility complaints. Thus, woot!
On the backside of the unit you'll find the optical heart rate sensor and charging port, which magnetically aligns to the charging cable.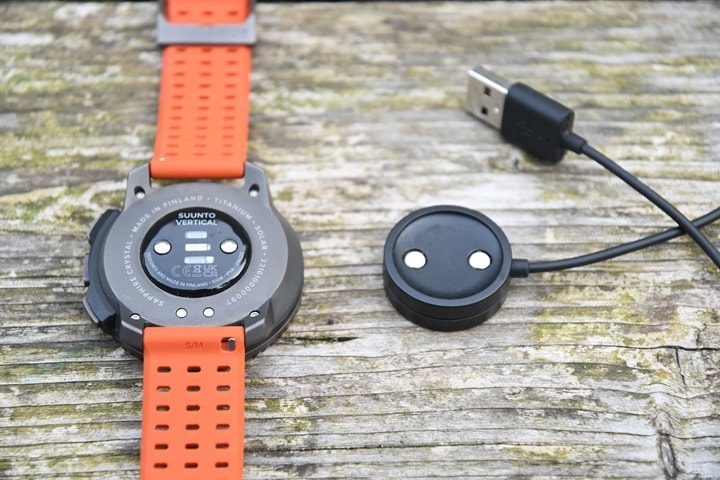 You've also got the removable straps, which are standard 22mm strap sizes. So you can continue to use 3rd party straps (standard 22mm ones), or previous Suunto 22mm straps as well.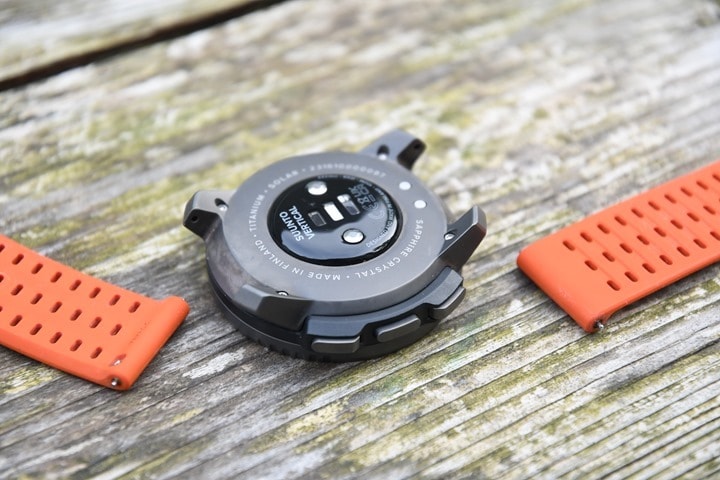 The optical heart rate sensor is still the same as the Suunto 9 Peak Pro, which was a new sensor last fall from LifeQ. However, with the Suunto Vertical, that sensor is now used for truly 24×7 optical heart rate readings, every second. Versus previously it was roughly once every 10 minutes. At present however, the data in the Suunto App itself is still showing in 10-minute blocks, but under the covers it's averaging that entire timespan of data now. Suunto says they're working to update the app graphs to show the higher data rates.
However, we've gotten ahead of ourselves. First up is the watch face. This features a new watch face (one unique for the Solar edition, and one for the base steel edition):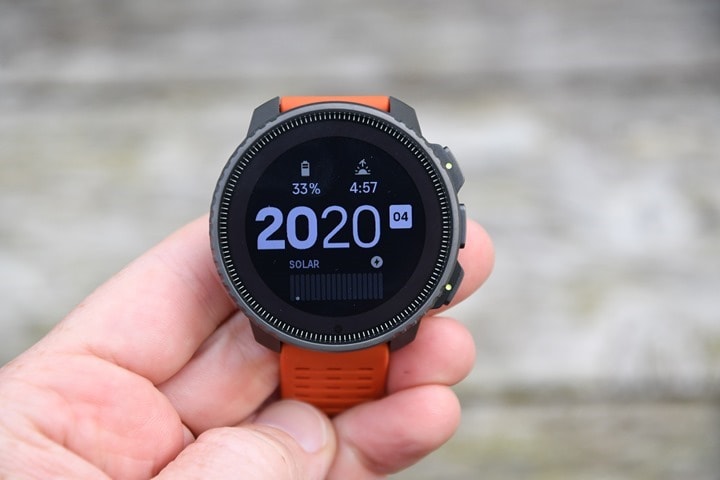 You can iterate between a few different watch faces. Additionally, you can tap to change the metrics displayed on the upper two data components, if you want to see something else – for example showing battery time instead of temperature, etc…
Next, if you swipe to the right (or press the middle button), you'll iterate through a series of widgets. The first is missed smartphone notifications, along with the date/time/battery/Bluetooth status: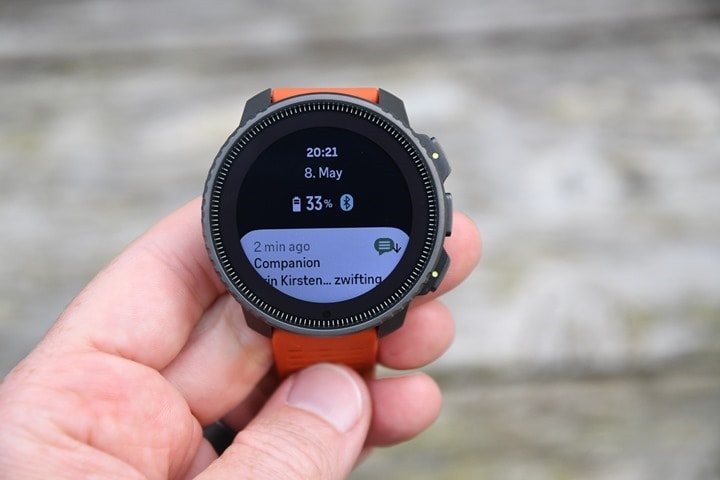 You can then continue to swipe through additional ones, including heart rate, Blood Oxygen, Sleep, Training, Steps, and so forth. However, what's unique here is that these can now be customized to turn on/off, if you don't want some of them shown. For example, if you never use the SpO2 (Blood Oxygen) one, you can just turn it off, so you don't have to waste time swiping through it.
For example, here's the steps (activity) one. At the high level, we see the steps and calories for today, but then I can swipe/press down to see the last 7 days of steps, the average calories for the last 7 days, along with the ability to customize settings for that widget:
The same general concept applies to sleep as well. First, last night's sleep hours, along with the 7-day chart. However, down below you'll find the exact details of last night's sleep.
I've had pretty good luck with it correctly hitting the sleep start/end times, even when going back to sleep close to waking up for the morning (e.g., hitting the snooze button a bunch).
All of this information is also synced to the Suunto App for access later on:
In addition to the widget for sleep, you'll also get a 'Good Morning' type message each morning when you wake up. This will show your sleep stats for last night. I appreciate that Suunto made some tweaks here for this Good Morning page to stay up longer. With some previous units/firmware versions it'd go away the first time you even thought about opening your eyes, and you'd never actually get to see it before it disappeared. However, now it seems to hang around for a while until you touch/interact/dismiss it.
In addition to the widgets, as noted above, you'll get smartphone notifications when connected to your smartphone. As with before, these work fine, and you can open them or dismiss them, but there isn't great emoji support (or, seemingly any) – with it missing emojis that enumerate correctly on both Garmin and Apple Watch units. On the Suunto they are just empty squares. Here's two text examples (with the actual message shown too):
Further, while there is music control, there's no music storage/playback on the watch. Instead, it's purely for controlling music sources on the phone.
I asked Suunto whether or not that 32GB could eventually be used for basic MP3 playback via Bluetooth, and they simply confirmed that the Bluetooth chipset inside is capable music playback.  Of course, whether or not they go that direction is anyone's guess. And to be honest, I'd guess that 90-95% of buyers in 2023 don't really want MP3 playback. They want streaming services like Spotify/etc (something that business-wise, there's no chance Suunto would be able to achieve/unlock), so time/effort spent on MP3 playback would likely be far better spent on other sports-focused features.
So – what about that flashlight? Well, there's no physical LED flashlight in the Suunto Vertical. However, there is now a dedicated flashlight feature in the menu, which turns the screen to bright white. To access it, you'll press down 8 times, then press again the center button, to confirm. A second or so later, it'll illuminate:
Once turned on, it'll easily illuminate a dark room, or stairwell. There's no problem at all with that – even though this photo doesn't do it justice, cause taking photos at night is mostly a fruitless endeavor. My only problem is pressing a button 9 times and the annoyance associated with that. With other watches, activating the flashlight is either a simple double-tap, or a long-hold for 1-second. At present, while well-meaning, I'd say the feature is unusable with all the buttons required. Not to mention that it automatically turns off after 30 seconds. Why?!? Huh?
This would all be easily resolved with a long-hold of perhaps the lower right button, and then just stay-on. Nobody is not-noticing the bright white blowtorch of illumination coming from their wrist and forgetting to turn it off.
Still, it sounds like Suunto is very open to that feedback, and this would be a relatively trivial change. Thus if so, it makes the flashlight function super useful.
Sports Usage: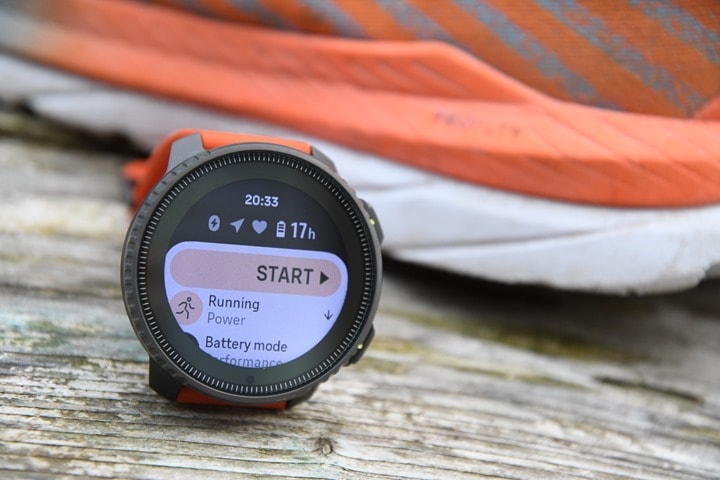 If you're buying a Suunto Vertical, it's almost certainly to use for sports recording. The Suunto Vertical supports a flotilla of sport modes, which you can also customize to varying degrees.
To begin a sport recording, you'll tap the upper right button. This will bring you to the sport listing, and notably, the most recent sport profile you used. You can iterate up/down in this list to find the exact sport you want: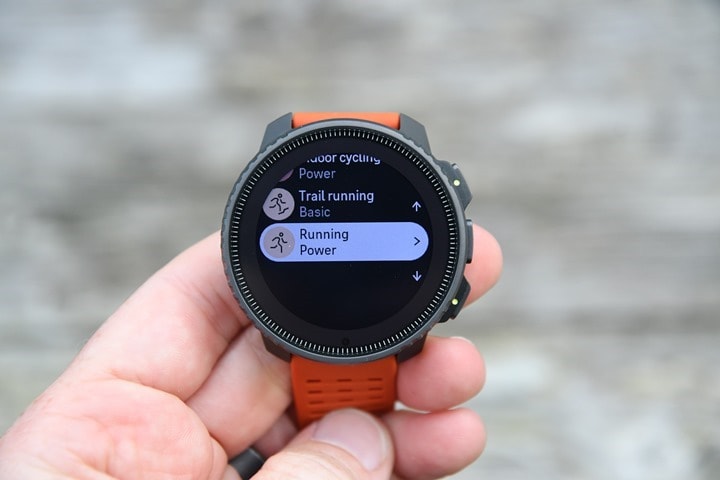 Once you select that sport mode (running in this case), you'll see further options. These include the battery settings/mode, whether you want to add navigation (such as a route), or which map type you want (more on that in the mapping section). Additionally, you can also add in SuuntoPlus apps or guides, as well as select an intensity zone or target for the activity. All of this is essentially the same as in the past.
SuuntoPlus Apps/Guides are small 3rd party apps that can add data fields/pages to your workout.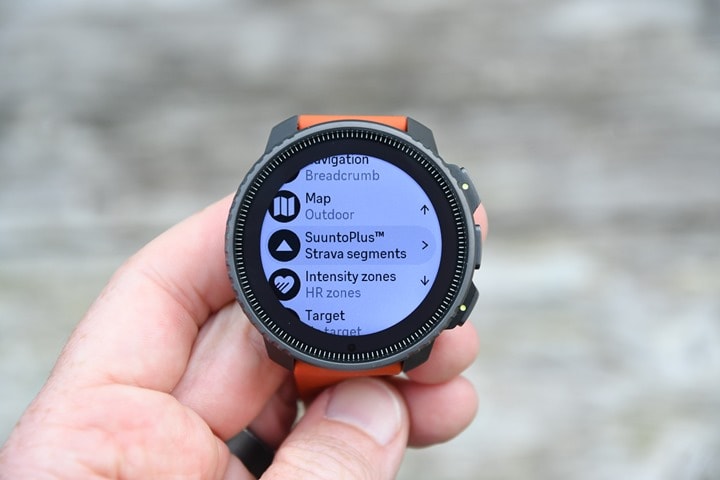 The one minor notable difference here is that you can now select either two 'Suunto Apps' concurrently, or a guide. But not one of each. Also notable is that Strava Segments has finally launched, albeit as a Suunto Guide, which makes it a bit less ideal since it takes up one of those slots and isn't just always-on like other units.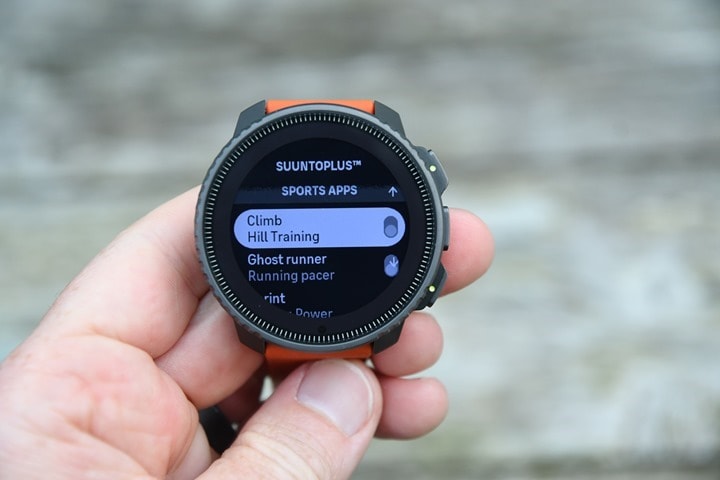 If you want to do a structured workout, you can create a Suunto Guide for that from within the Suunto app. This is where you arrive at the blend of 'cool' and 'annoying'. It's cool that Suunto has this relatively standard feature, but because it's in the form of a Suunto Guide (versus native, like every other watch), it takes up the 'slot' and is more cumbersome to use. Meaning you can't do a structured workout plus another Suunto Guide. As I've said the last few Suunto reviews, Suunto really needs to bake-in the structured workout feature (and frankly, almost all the other Suunto Guides/apps they've created, as just normal data pages/fields to add – like their competitors).
In terms of the new audio alerts, those come from your phone – either the speaker or Bluetooth-connected headphones. The alerts trigger upon each lap, and will first announce the lap #, followed by lap time, followed by lap average HR, and then finally the total duration. I used it with my phone (I don't tend to wear headphones on the regular during workouts), and could hear the announcements as long as my phone volume was up.
Anyways, once you've selected all your settings, off you go on your workout. You'll see your data pages automatically, and can tap to iterate through them:
You can see the one Suunto App I've got in here, the Hill Climb one, plus some pages using/showing route data (like the elevation profile and map):
Handily, running power is built-in to the Suunto Vertical (like other Suunto watches in the past year). Having tested Suunto running power side-by-side with other watches, it's all in the same ballpark. Remember that there is no standard for running power, and different companies do different things on how they calculate it (none of which are right, and none of which are wrong – as scientists themselves can't agree on how to define running power). This chart from last fall I did with the Suunto 9 Peak Pro shows that it basically aligns to the COROS running power most closely:

Some companies simply choose to align to what Stryd has done (COROS/Apple/Suunto), while others select different algorithms (Polar/Garmin). Suunto aimed for the Stryd camp, and thus says their data should align there (and it does).
Finally, once your workout is done, you'll see the stats for that particular workout. And then that same information is available via the Suunto App afterwards as well, except now with more details than could fit on the tiny screen:
As always, if you've got 3rd party apps like Strava or TrainingPeaks connected up, it'll sync immediately over to that as well. That also includes any of the some 200 different Suunto Partner apps that get data directly (assuming you've connected said app).
Note, in terms of native sensor support, the Suunto Vertical supports most of the common Bluetooth sport sensor types – such as heart rate, cycling power meter, cycling speed/cadence, and footpod. However, the sensor area isn't great overall. You can only pair one of a single type, you can't even see what it is that you paired (notable if you have multiple bikes, or people around you), and you can't name the sensors. It doesn't support ANT+ sensors, but that's less of an issue these days, as virtually all sensors are dual ANT+/Bluetooth Smart. It doesn't support smart trainers either (FTMS), though most smart trainers broadcast as a Bluetooth power meter concurrently.
While Suunto does support other non-standard 3rd party sensors like a heads-up display, that's only via the Suunto Apps/Guides, which can be rather limiting as Suunto has pushed many what-should-be-native features into Suunto apps/guides. And you have to remember to toggle/enable them every single workout – versus something that just automatically connects like a native sensor.
Now – just to briefly cover one quick semi-unique feature, which is Suunto's snorkel and mermaid modes, which track shallow diving using a depth gauge – up to a depth of 10 meters. That won't be deep enough for tracking scuba, or most serious freediving, but is enough for most people with just a snorkel. The tracking will loosely show a GPS plot, but more interestingly, a 'dive' plot of each dive down. Additionally, you'll see the dive stats on the watch itself too.
In my case, I had the 'pleasure' of testing this last week when my drone ended up wanting to join me in the ocean:
I executed two snorkel dive missions trying to find it (some 100m offshore). The first much longer one I didn't think to record. But the second one I did, and you can see it below, afterwards on the app:
It'll show the depth and length of each 'dive' down. And the totals from that. I wished I had recorded my first rescue mission, because I spent 45 minutes out there endlessly diving trying to find it. On my second rescue mission it was much shorter, only about 15 dive attempts. You'll notice though that the GPS track is pretty rough. The GPS doesn't work underwater, so in a typical snorkeling type scenario where your wrists are submerged, you won't get a GPS point recorded till your wrists are above water for at least a few seconds.
In any case, as with the Suunto 9 Peak Pro that introduced it, it's a cool little feature for casual vacation-type use. Or, in my case, emergency rescue of a drone. Which, yes, I did find. And yes, it even worked again a day later after rinsing with fresh water and letting dry out. Once. But hey – I got the SD card back at least!
Mapping & Navigation: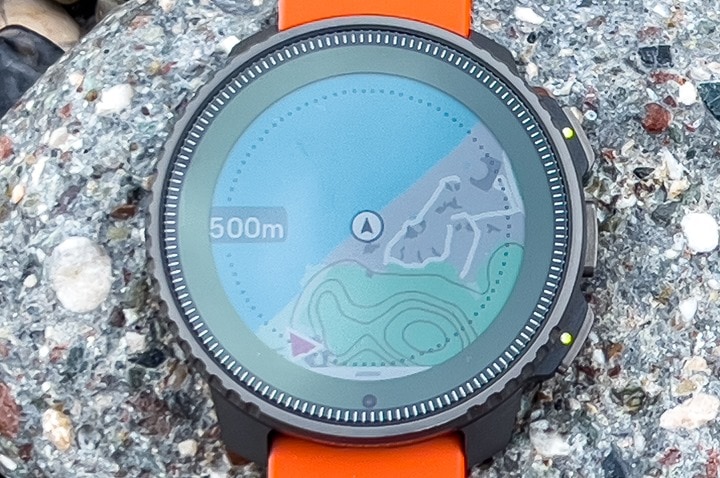 Finally, an endurance-focused Suunto device has mapping. Sure, the WearOS enabled Suunto 7 watch had maps – but hardly had the battery life to pull off much more than a pre-lunch day hike. Whereas the Suunto Vertical has both the maps, and battery life to last a staggeringly long time – a claim I even put to the test using navigation to trail run and hike to the top of an 8,000ft mountain – all the way from sea level.
To begin, let's talk about maps. The Suunto Vertical has 32GB of map storage, which allows you to download (free of charge) the map regions you want, using WiFi. When you download maps, you actually get three map flavors packaged together: Regular Outdoor, High Contrast, and Dark theme maps. All of which are topographic enabled, as well as show trails. For context, that amount of space will roughly hold all of Europe's maps on it. Though, you typically download much smaller regions.
Downloading maps is easy. You'll grab the Suunto smartphone app, and simply choose the regions you want. It's divided up by country first, and then named regions below that. I'd argue this is the *best* implementation of a region picker I've seen on any watch or cycling device, specifically because it previews exactly what sub-region you're downloading. Many other platforms just list names, which is fine if you live in that country – but mostly useless if you don't. I went to Turkey the last few weeks, and these names were mostly meaningless to me. However, the instantly rendered preview maps made it super easy to ensure I had coverage for the areas I wanted.
Here's an example for downloading the Alps region of France:
Downloading the maps then takes place via WiFi directly from the watch, once the watch is on a charger. It has to be on a charger, or it won't download. Additionally, it has to be a 'regular' WiFi access point (not a hotel one with a login screen). So do ensure you download maps before you leave for your trip, if your phone's cell phone plan doesn't have the WiFi hotspot capability.
That'd be my only complaint here. I wish they had a simple desktop app for also downloading these maps via USB cable, when travelling. For comparison, Garmin allows both USB & WiFi downloading. Though their problem is the map regions are massive (4-10GB), because it's basically the whole continent. Whereas Suunto allows you to download very small/specific regions, but is limited to just WiFi from the watch.
In any case, downloading maps should be efficient since they're small here. For again, random context, to download the Alps region of France, it's about 1GB, and took about 50 minutes via WiFi (I have incredibly fast WiFi, and the watch was only 2 meters from the nearest Google Nest access point). So I was a bit surprised it took so long.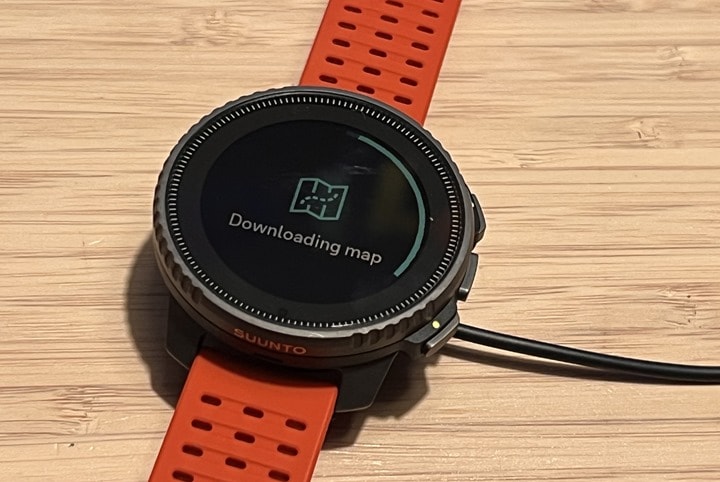 Note that when plugged in and downloading maps, you'll see this new (above) concurrent map download + charging screen. You can't see the current download % on the watch itself, but you can see it in real-time on the companion phone app (though, kinda buried a bit down in the exact map section). I'd love to see the progress bar show up on the watch itself.
Once maps are loaded, they'll be on your device till you delete them. Now, quickly let me just give an overview of the basic 'levels' of mapping/routing in devices today:
Breadcrumb trail only: This is when you don't have a background map, but just follow a little trail on a blank screen – this is what the Suunto devices had previously (exempting Suunto 7). It's also on the Polar devices.

Non-routable Maps: This is when you have a map displayed behind your route, which shows terrain/trails/lakes/water/mountains/etc… However, this isn't routable, so it doesn't actually *know* if you're on the 'Deer Lake Trail' – it just knows your on the breadcrumb track. If you stray too far from the trail, it'll give you an off-course warning, but it cannot smartly re-route you back. It just tells you via compass how to find the trail again. This is what the Suunto Vertical is, as well as all COROS devices.

Routable Maps: This is the 'highest' level, and is when the watch can actually route on the trails by itself, if needed. It knows you're on Deer Lake Trail, and the next trail coming up is Big Bear Trail. And it knows if you miss that turn, whether or not you need to turn-around, or can catch-up later on. This is what most of the higher-end Garmin devices are (any devices with mapping, like the Fenix/Epix series, or higher-end Forerunners).
Now, practically speaking – I've routed with all three types for years, and generally speaking, you'll get to your destination just fine. However, having maps (either routable or non-routable) is a massive boost in confidence, mostly when you need to make a decision at a fork in the trail. With breadcrumb routing and slight trail junctions, it's often just a bit of a guess or trial/error. But with maps, you can usually see terrain features (like a stream or hill) that make it easy to confirm.
And that's true with the Suunto Vertical. While it lacks routable maps, I haven't really found that to be an issue in real-world usage. I can only think of one time in the last few years where I've used on-demand trail routing while hiking (cycling is different) – where I needed an on-demand alternative route out of there. That was when the weather turned quickly, and we wanted to slice off a few hours of hiking and get back down to the valley from the top of a mountain. Point being, sure, it lacks the routing, but real-world, that's not a huge issue in 95% of scenarios.
So, let's look at navigating a route. In this case, I created the route on Strava, and then it auto-synced to my Suunto App account. From there, I toggled the 'Use in Watch' option. The Suunto Vertical only holds a certain number of routes in the watch, and while I'm pretty sure I was far below that, it required me to toggle some routes that weren't actually in my watch off, first, before I could add a new one. I suspect there's a minor bug somewhere – but it wasn't a big deal.
This route would be from the sea all the way to the top of the mountain, initially on local roads before going full trail the rest of the way. When I loaded it up on the watch, you can see the route details of the trail, including a breadcrumb look at things, though, no leveraging of the map here.
Now, out on the trail after a number of hours, you can see some of the stats. First, we've got the map page. Here you can see the map, my zoom level (100m), and the route (in blue). The red portion is where I've gone. You can clearly see the blue arrows indicating the direction I should be going in.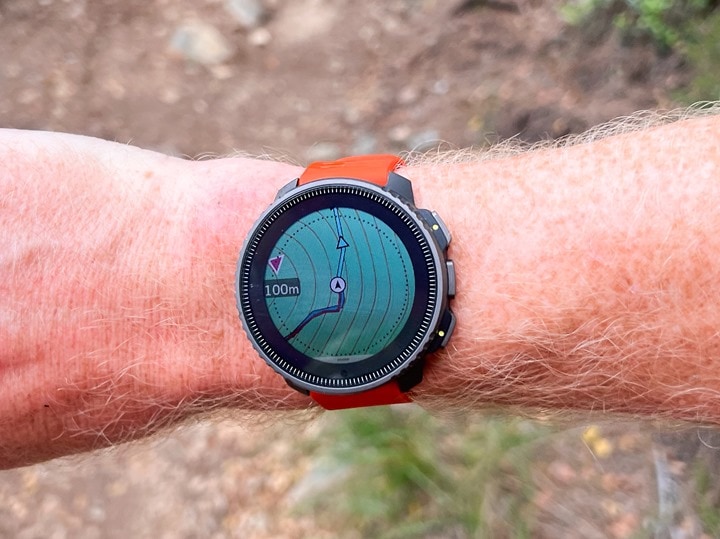 The map rotates based on orientation using the compass, and is instant (some watches have weird lag here, but this was frankly the most responsive UI thing the Suunto Vertical does).
Meanwhile, you can see on this elevation page where I am on the entire course/route, elevation-wise. So, in this case, you can see I've climbed 1,325m thus far, but still have 1,158m remaining of climbing. This page is actually the singular page I'd say is hard to see – both in real-life and in photos. The dark blue is just…not good. Pick any other color.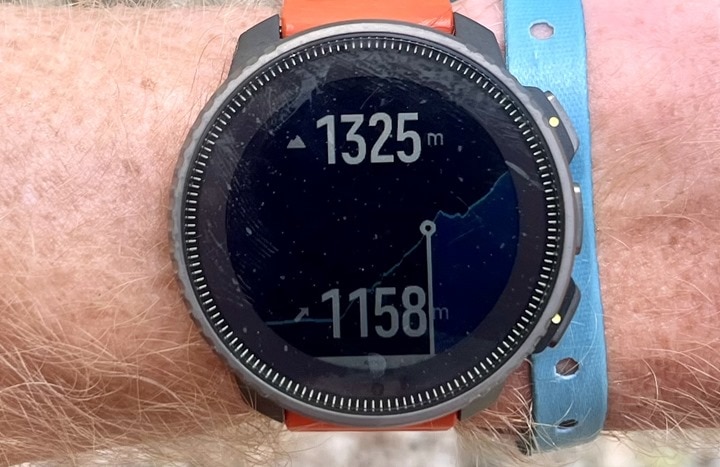 The core/key feature that Suunto is missing is anything like Garmin's ClimbPro, which automatically splits out the climbs remaining (useful when you have multiple climbs during a route), as well as descents, and where you stand on each one. While Suunto does have a small Suunto Climb App that can be used to provide some climb stats, it's just more general info than anything (showing normalized graded pass, current grade, ascent rate, and climb timer). As seen below on a different day: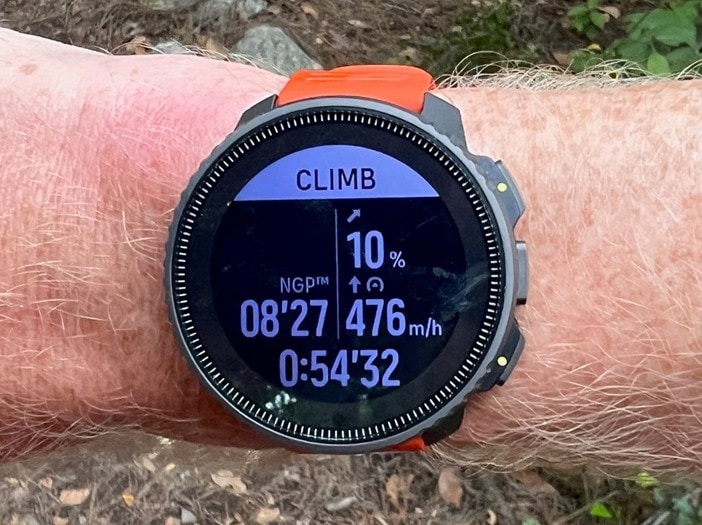 I've got distance shown here too on another page – 24.21KM with my heart rate at 69bpm, and the timer down below. Next to that is the kilometer lap page. All of which is next to my stupid required hotel wrist-band.
If you go far enough off-course, you'll get an off-course warning, but as noted before, it just shows you using the heading bug which direction is back to the route.
From a map perspective, you've got some usage options. First, you can use touch when you want to move around the map, as well as buttons. This is handy when the touch screen isn't super ideal (such as with gloves). For zooming, you can short-press the upper right button to zoom in, or long-press it to zoom out. Though somewhat oddly you can only zoom out to a max of 500m (whereas you can zoom down to a seemingly silly 25m). Here's some shots I took on a different day: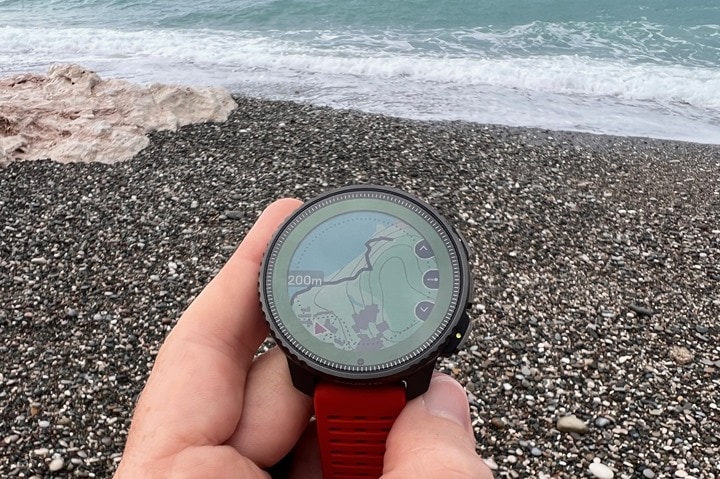 Additionally, you can use the controls to switch to both panning side to side, and moving the map up/down (also using buttons). All this works well, and enumerates fast enough.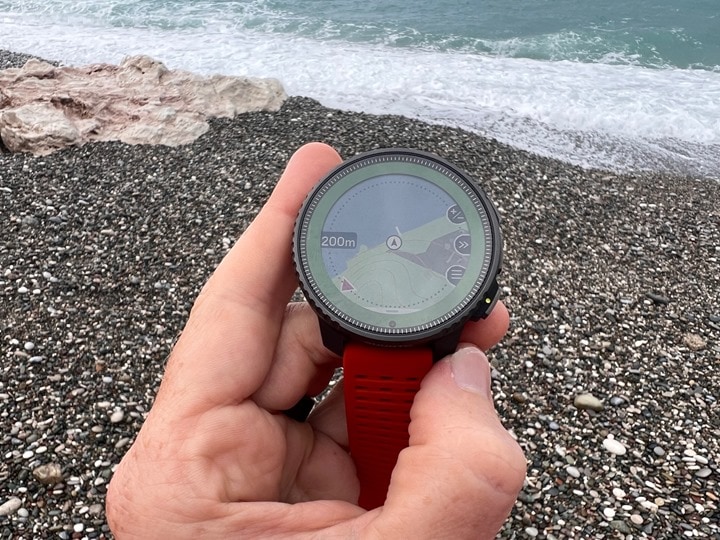 It's worthwhile noting that you don't need to start an activity to use the map. There's also the general 'Map' option, just like you'd use the Compass on the watch. Simply press down once from the watch face, and you'll see the Map option: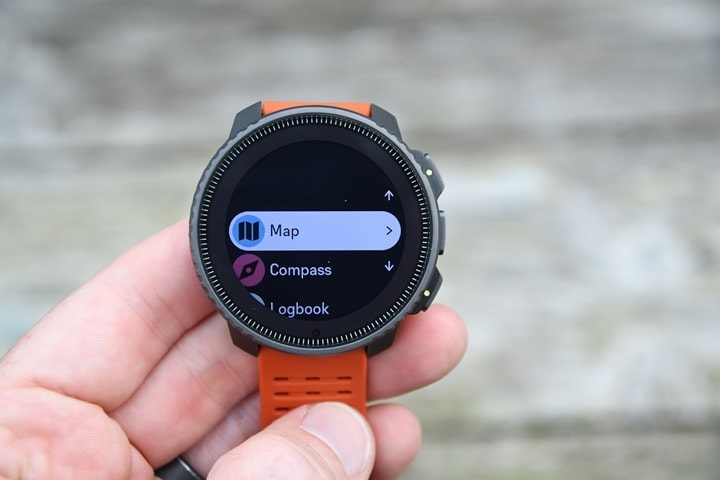 Within that, you can also change the map type (Outdoor/Default, High Contrast, and Dark Mode):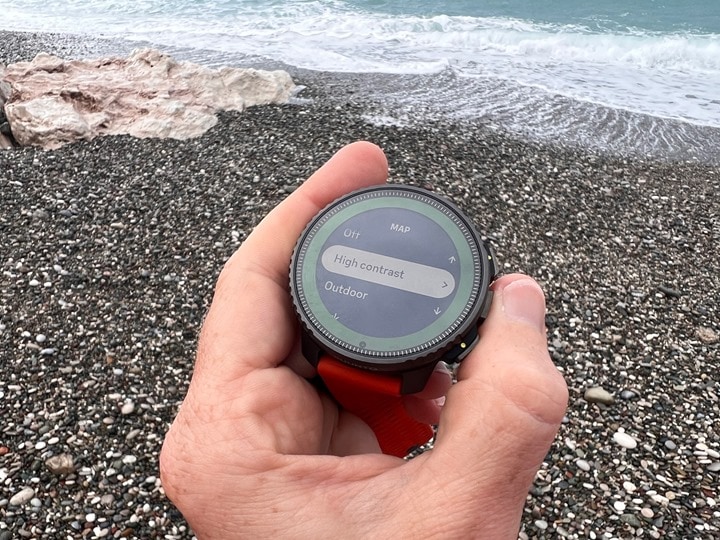 And you can then from there route to a POI, see your current location, load a route, do bearing navigation, or tweak navigation settings.
As for overall navigating with the Suunto Vertical, I've had no issues with it in that regard. I've used it now for a number of trail runs and hikes, virtually all of which were in trails/terrain I'd never been before – and some pretty off-the-beaten-path stuff at times. For my hike to the top of the mountain, I had one 6-hour stretch where I didn't see a single human. At times the trail entirely disappeared under rock slides, spring meadows, or snow, and I had no problems following the map as needed on the Suunto Vertical.
I also had with me on that hike a COROS Vertix 2, Garmin Epix, and Amazfit T-Rex Ultra. Compared to the COROS Vertix 2, the Suunto Vertical was mostly a wash in that regard, though I find the map zooming a bit easier on the COROS unit – but mostly negligibly so. The Amazfit T-Rex is fine, but the maps aren't anywhere near as good as Suunto or COROS. Garmin's maps are more detailed with trail names and such than any of them, but the main advantage for these hikes was Garmin's ClimbPro, showing distances/climb stats to the top. That was incredibly useful for big climbing hikes. But from a pure routing standpoint, it was negligible in differences since I had courses pre-loaded.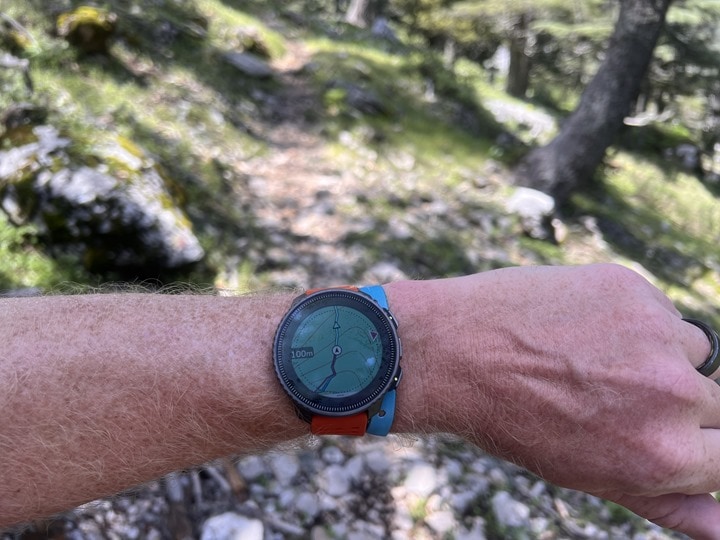 Point being, the addition of these maps here on the Suunto lineup is huge, and the breakout and clarity of regions when downloading is very much appreciated and very well done. In my mind it's pretty obvious that the next big feature Suunto needs to work on is a ClimbPro-like competitor (just as Wahoo and Hammerhead have done for their cycling computers to compete with Garmin there). To me, that'd be far more important than Suunto adding in on-demand routing via maps (and honesty, far easier for them to do).
But again, the fact that Suunto has these maps now is a big 'finally' moment.
Solar Features: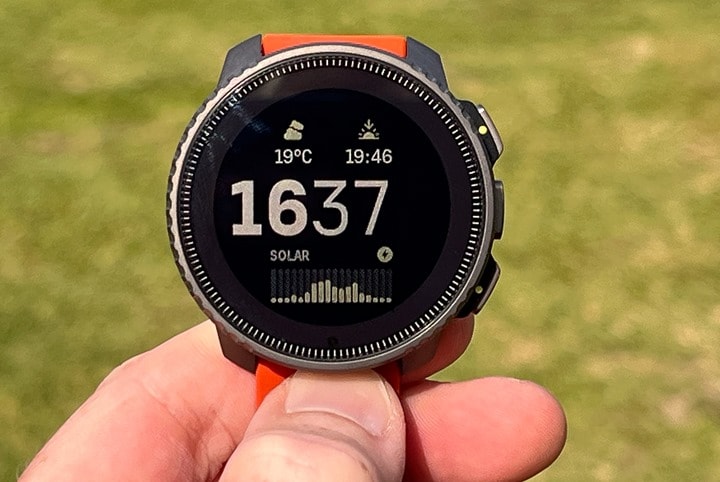 Perhaps the biggest new hardware change to the Suunto Vertical is the addition of solar power. Or rather, the gains from solar. This is only offered in the higher-end Titanium edition, called 'Solar'. The lower-end steel variant does not have solar panels on it.
Suunto is not the first, and probably not the last, company to add solar to their watches. We've seen the likes of Casio do it for years (and many other non-GPS watches), and then more recently, in the last few years, Garmin. The main appeal for adding solar is increased battery life. However, only certain players have really made use of that – namely Garmin and now Suunto. When Casio added solar to their GPS watch, the battery performance on GPS was so bad it just didn't matter. But with Garmin and Suunto, it's actually quite meaningful in some models.
First, let's look at the technology, then we'll look at whether or not it matters.
On the tech side, you can see the solar panel encircling the display. It's effectively taking up almost the entire bezel area. This measures about 3mm wide around the display. Depending on the light conditions, it'll have a black or reddish hue. Below, with bright direct sunlight and the right angle, it looks reddish. Indoors, or any other non-direct line, and it turns/appears black (like above).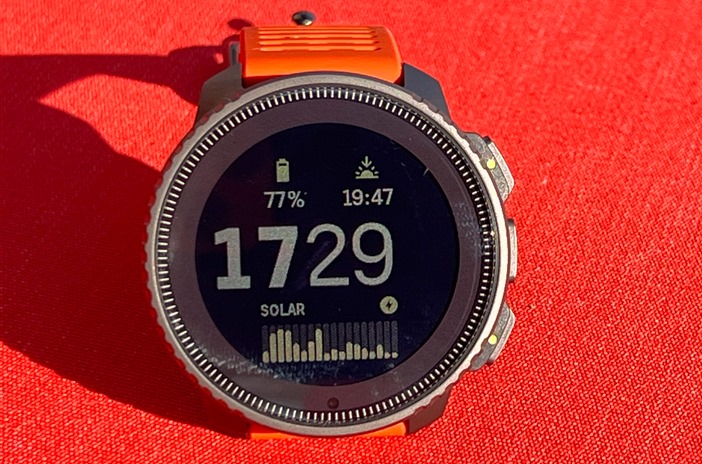 There is a bit of a difference here between Garmin and Suunto. In Suunto's case, they've gone with a wider solar panel section around the display, whereas Garmin has gone with a thinner one. However, Garmin also has a secondary panel above the display itself with a reduced photovoltaic level (thus while bigger, it also generates less because it has to remain invisible to you). There are pros and cons to both approaches.
With the Suunto Vertical, you'll see the solar harvesting gains on the watch face as well as a widget. On the watch face itself, there's those lines, each indicating a 10-minute time slice for the last few hours. Specifically, it's giving the average of that 10-minutes on a 0-100% chart. Where 100% level is defined as 50,000 lux (a way of measuring brightness). While the watch will accept more than 50k lux, it won't show it on the chart. This is the same as what Garmin does (and the same 50K lux benchmark).
Additionally, at the top, you'll see a small sun icon (depending on if you've tapped that area or not to toggle it). This is showing you live/real-time the sun conditions. Here it is on a not-so-sunny day in Amsterdam today: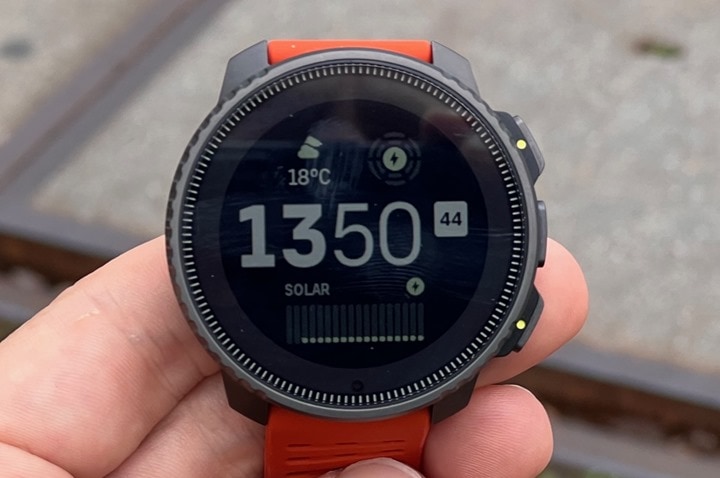 In addition, you can swipe or tap over a few times to go to a dedicated solar widget/page. That page shows things first in a bigger view: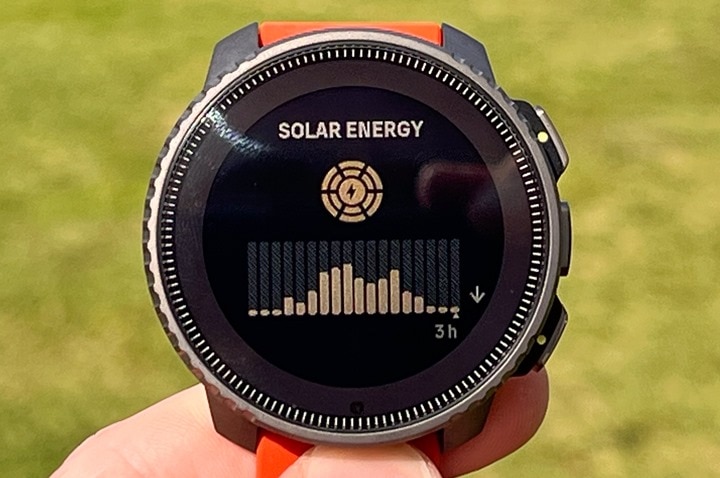 And then, if you press down, you can see the relative solar gains for the last 7 days. Unfortunately, each time I updated the firmware, it loses the historical knowledge, so you're only gonna see a few days here as the firmware has been updating pretty frequently lately.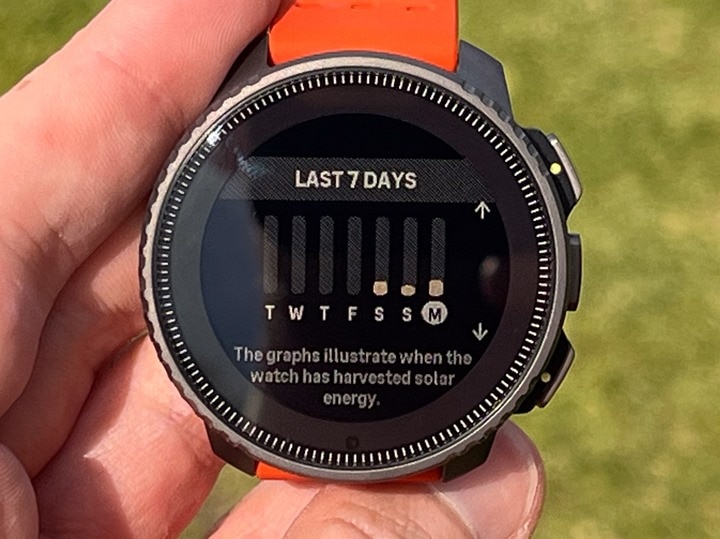 There isn't any way to see the Suunto Vertical solar gains in the app, or specifics in terms of exact battery life gains here. This is kinda like how it works on some of Garmin's watches (whereas others do show specific numbers). Garmin does save the relative values to their app though, although they didn't upon launch a few years ago. Hopefully Suunto can get that added here too, down the road.
Now, what about battery life gains? Well, here's the official Suunto chart showing the differences in battery gains: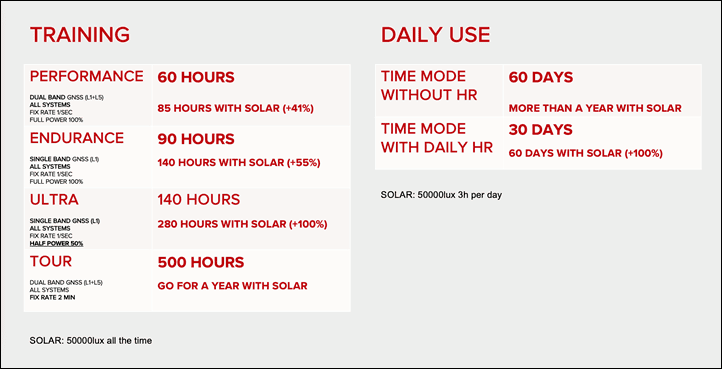 Again, keep in mind that all of this is based on 50K lux conditions. For context, even a sunny day in February in the Netherlands will usually float upwards of 70K lux. So that number isn't all that high by itself. However, that's assuming you've got at least 3 hours of 50K conditions (and your watch is facing the sun). The moment your wrist turns away from the sun, it goes down (likely to zero).
In terms of tracking battery stats, that's a bit tricky. In the case of other companies, they actually write the exact battery percentages to the .FIT file, but Suunto doesn't do that – so I can't plot and do math to figure out burn rates. Instead, I have to do it the old-fashioned (but imprecise) way of just looking at the battery % before and after a workout. In general, the longer the workout the better.
So, here's the before/after on that 8-hr hike to the top of the mountain, with navigation enabled (and on and off map usage), Bluetooth enabled to my phone, optical HR enabled, dual-frequency GNSS, one-second recording – the works.
Start at 8:36AM: 99%
Finish at 4:42PM: 89%
Thus, 10% over 8 hours with mixed clouds and sun, puts me on target for 80 hours of battery life – basically in the ballpark of the spec listed above!
Beyond that activity, I'm impressed with the battery life. I'm almost at 11 days of usage since I last charged, including 24×7 daily smartwatch usage, activity tracking, sleep tracking, and approximately 20-25 hours of outdoor GPS usage, then another pile of indoor non-GPS workouts. During that timeframe, the watch has gone from 98% down to 37%. Heck, and that even includes like 5 firmware updates in there too – which takes a bunch of power. Plus all my stupid photo/video taking of the screen and map (seriously, I took like 220 photos and videos during my workouts over the last few weeks).
During this period, I was in a sunny location, but not quite as much sun as you'd expect, due to being partly to mostly cloudy most days, and spending a fair bit of time in the water.
Finally, for geekery fun, Suunto says the unit will charge via solar, even if there is no battery left. Inversely, it will not charge indoors using just normal lights – it has to be from the real-life sun, none of this LED fakery.
GPS Accuracy (Dual-Frequency):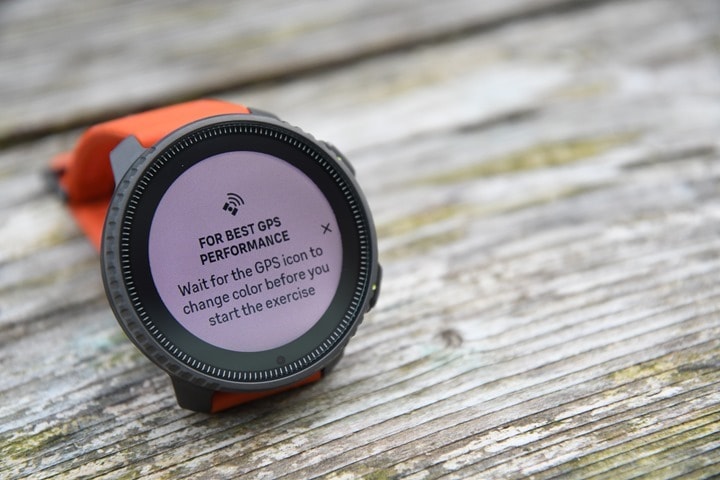 The Suunto Vertical contains dual-frequency (aka multiband) GNSS support. This means it's theoretically the 'holy grail' of GPS accuracy. The funny thing though is that the previous Suunto 9 Peak Pro actually has the exact same GNSS chipset. The only difference is that it lacked an antenna internally to utilize the dual-frequency components. Whereas the Suunto Vertical has that.
Of course, as I've demonstrated numerous times over the last nearly two years of new watches with dual-frequency GPS: Just because you have dual-frequency doesn't mean you'll make amazing GPS tracks. We've seen examples from COROS, Polar, Wahoo, and others that have been actually worse in some cases than older non-dual frequency units.
Finally – note that you should *never* compare files from different days – at least from a valid review comparison perspective. Not only are weather conditions usually different – as well as the precise path you took, but so is far more critically, the exact number of satellites available over you at that point and time. These differ actually quite substantially – especially when looking at harder conditions in cities or mountains, so comparing one result from today with another file from four weeks ago can yield vastly different results. Further, using a file from a unit one year ago is even more weird, since it would skip all of the updates/upgrades to have a true/fair comparison. All of my GPS tests, ever, compare files taken concurrently on that exact activity date/time – with the most recent firmware available on that date/time.
You can see a fun comparison over the Western Europe region of just a two-hour time shift of these sets of satellites which would impact visibility around buildings at different angles (sometimes slightly, sometimes massively, depending on the exact scenario):
Even more so, compare this looking at a timeframe of total available satellites at a given position, from 3PM to 2AM, a huge swing from 41 satellites down to 29 satellites. Of course, since the orbits are on a cycle, sometimes it's 10AM that's best, another day 6PM, another day 3AM, and so on. This is just for today.

All of which ignores atmospheric conditions that makes comparing files from different dates/times…well…non-comparable. Even in a mere 1 hour timespan, that block of red virtually disappears from being over that region. It's fundamentally why all of my comparisons are always head-to-head on a given date/time/route. Yes, it means more work for me, but it means usable comparative reference data for you.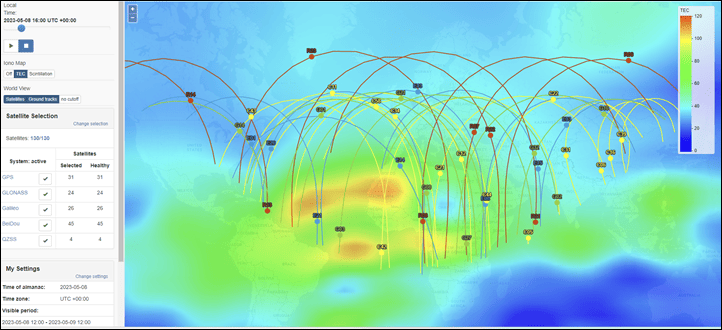 The point isn't that you should 'accept' bad performance, but rather, that you can't compare files from different days/times – other than just for fun/curiosity. The conditions and available satellites (for better or worse) are different. That said, you should expect good performance across the board from any device in 2023.
In any case, I've been testing the Suunto Vertical on rides, runs, hikes, openwater swims, and more. This has been compared against a wide assortment of units from Garmin, COROS, Apple, Wahoo, Hammerhead, and Amazfit. This includes everything from more casual neighborhood type runs, to deep mountain territory with huge cliff overhangs.
So, let's get right into it – first though, a straightforward outdoor road ride: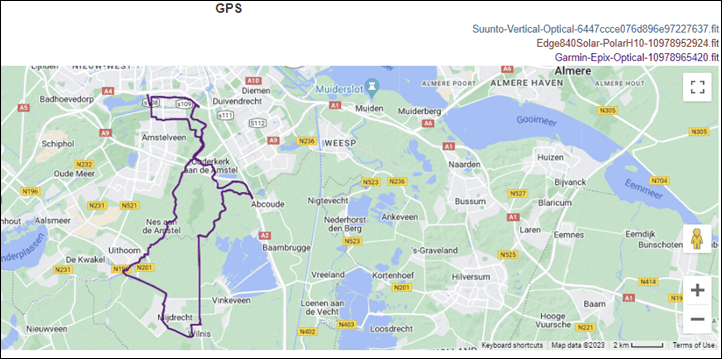 Frankly, this ride is boring. It's perfect. I mean, the ride itself is nice – one I've done countless times. It starts off going under some big buildings, then alongside them, before a blend of tunnels, bridges, and finally open country roads.
All of which were perfect from all units.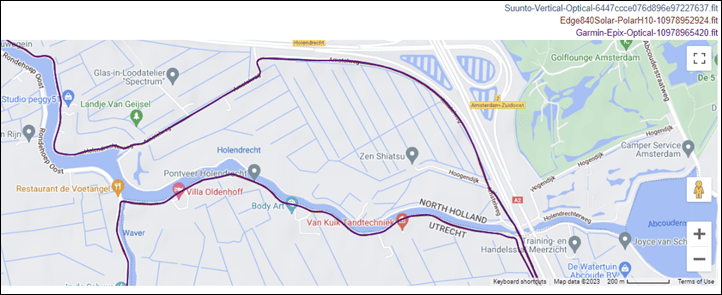 So let's modestly increase difficulty, this time onto a mostly road run, but with a bit more tree and building cover. At a high level, the units appear to be aligned well: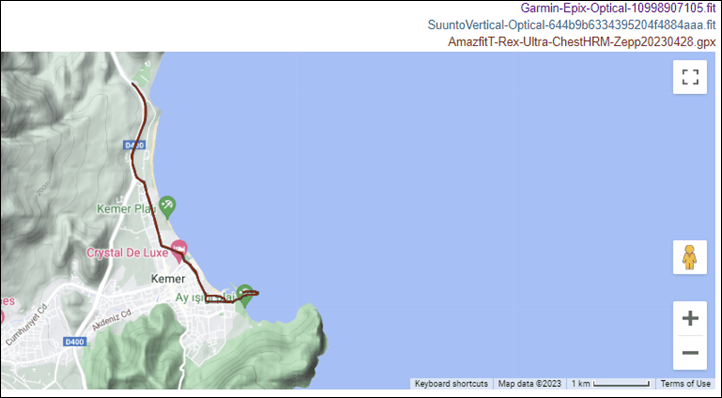 However, once we zoom in we see the Amazfit T-Rex Ultra has me playing in traffic. Fast, highway traffic. While I was running along the highway, I was not out in the middle of it. Both the Suunto and Garmin nailed this.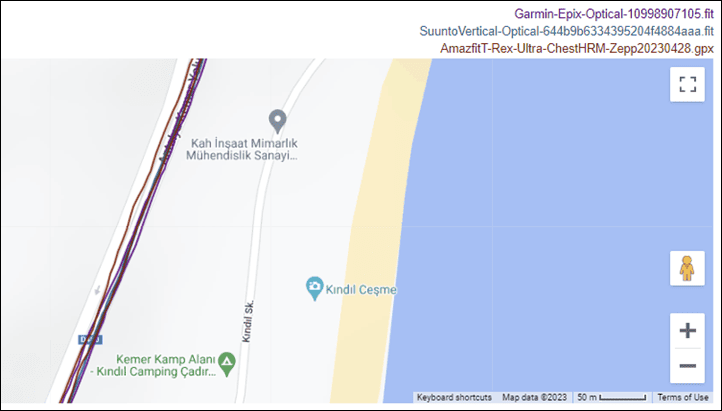 From there, in town, we see a few quirks on the T-Rex, and one minor wrong-side-of-street quirk from the Suunto.

Doing an out and back on the peninsula results in good Suunto/Garmin tracks, and some slightly offset (inwards) Amazfit tracks. You get what you pay for.

Now let's escalate to a trail run loop. First, on some roads to get to the mountain, and then up into the relatively dense woods.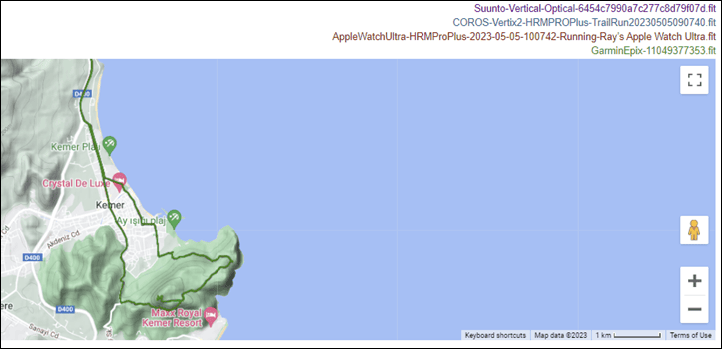 As we start the initial (painful) climb, all the units seem pretty closely aligned:

However, as I round the backside of the mountain, we see some initial separation from the units, but in particular, the COROS Vertix 2: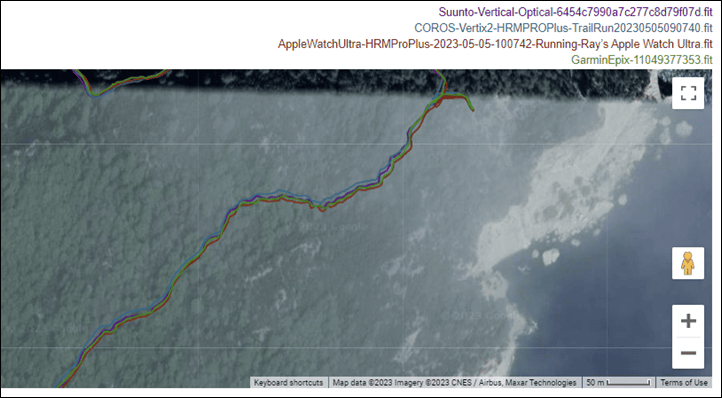 This is confirmed a few minutes later as the Vertix 2 splices off more. This is consistent with my data from the last nearly 2 years – it's never quite as crispy as Garmin is. Suunto, meanwhile, is right alongside Garmin here.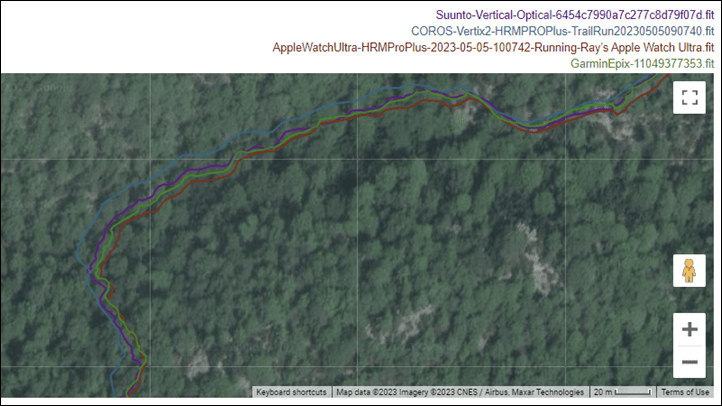 After reaching the summit, I head back down, and all the units snap back together for this very fast-paced trail run descending back to town:

Looking at the elevation plots, here's how those handled:

In all my elevation tests, I let GPS handle auto-calibration, and a unit has to get it right by itself. In this case, I had calibrated the Suunto a day prior near the beach. Albeit, it still drifted downwards slightly, and was below actual starting elevation slightly. You can see the COROS was substantially below sea-level despite starting a few meters above sea level. The Garmin and Apple Watch Ultra were in the rough ballpark of about 5-8m starting elevation.
And then, here's the distance totals at the end. I don't usually show distance totals, as you can be wrong 100% of the time and still get the right end distance (especially in trails), but hey, I'm feeling generous at the moment – so here's that table:

So let's take a look at that long deep-mountain 8-hour trail run and hike. I agree, the line is hard to see, it's most easily seen by looking for the green line where I made the red arrows.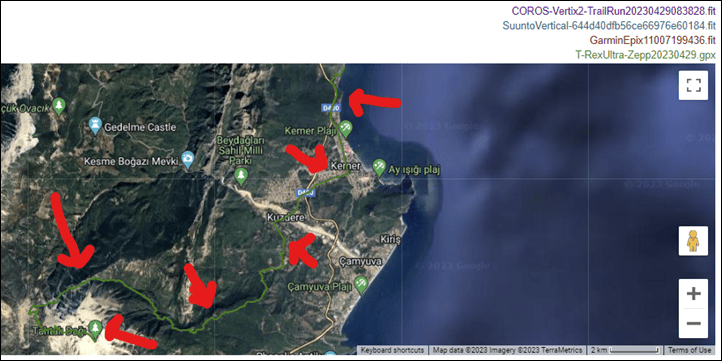 I'm going to skip the lower portions, and instead just dig into the upper portions. I'll note that the Amazfit T-Rex and COROS were looped onto the backpack, rather than wrists/hands. In general, it probably helped them, because they'd been on the back facing the sky the entire time. But hey, I just want to be clear one way or another. Of course, as seen below (and as usual) – sometimes you just can't give enough assistance to the T-Rex Ultra.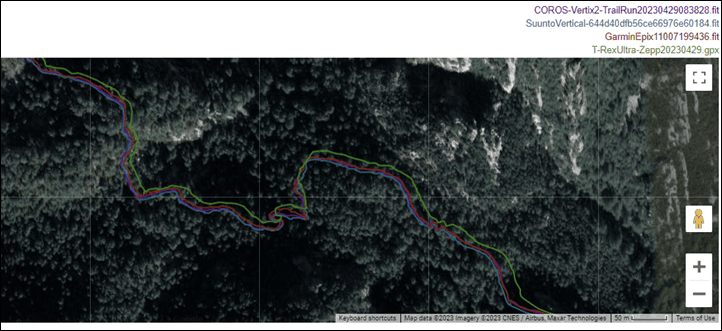 However, as I ascended, all the units did very well:

This section here might look flat per the map, but in reality, those are huge rock slides against massive cliffs. So GPS signal was rough here:

Meanwhile, as I approached the summit, all continued well:

Looking at the elevation plots, they look super similar at a high level:

So, the question is – how close to the final elevation did the four units get? Here's what it says the elevation is at the top: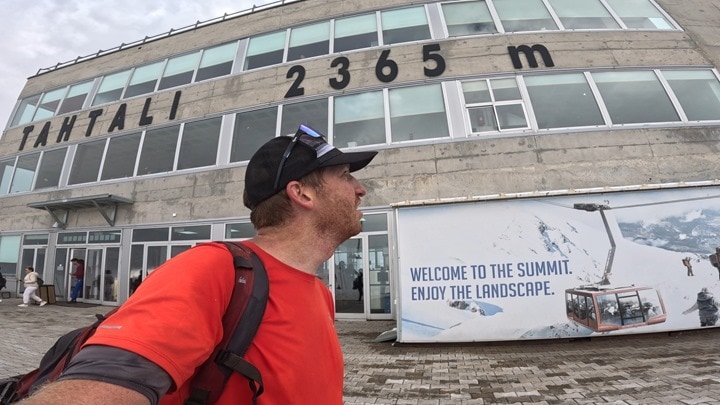 And then here's the elevation listed when I hit stop at the top, according to the files:
COROS Vertix 2: 2,353m
Suunto Vertical: 2,355.9m
Garmin Epix: 2356.2m
Amazfit T-Rex Ultra: 2354.15m
Holy frozen snowballs (mostly my balls at that point) – I've never seen elevation values that close before. Ever. Period.
Now, we move on to openwater swimming. I've done a lot of openwater swimming with the Suunto Vertical – and frankly, none of it is good. In fact, it's all horrifically bad. On present firmware, the unit has yet to complete a single one of nearly half a dozen openwater swims without failing halfway through. Essentially, if I tread water for even a very short timeframe (such as waiting for my swim buddy), then it'll lose GPS permanently for the rest of the swim. You can see the giant straight-line it draws here:
And again: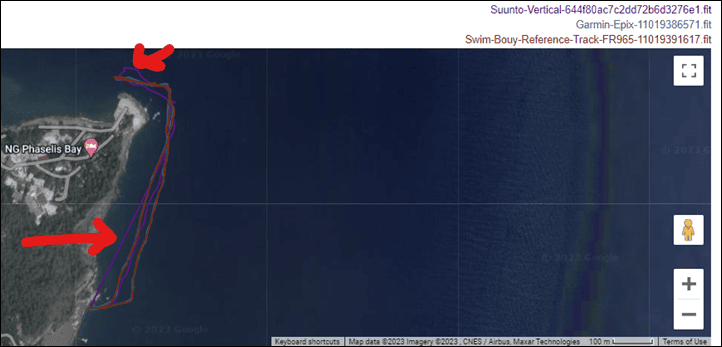 And again, and again.
This is a long-standing problem on Suunto watches that I've seen (easily) for years in openwater swims. However, this time Suunto seems to be taking my frustrations seriously. After the first three or so failed openwater swims, they sent me daily pre-beta test GPS chipset firmware versions to see if it'd resolve the issue. On the 3rd test firmware, I finally got to the end of the swim successfully. However, the GPS track was still very very bad.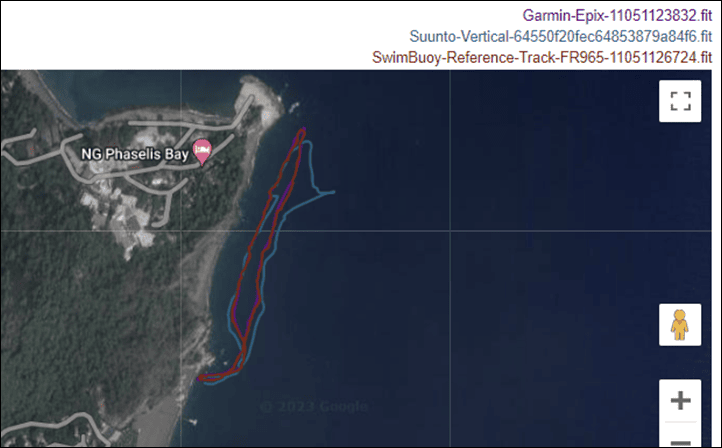 But, at least it got to the finish line. Suunto believes they now know what was causing the premature GPS terminations, and have fixed that. However, the 'cost' of fixing that was now having to re-do the filtering and other algorithms for openwater swimming. Historically speaking, it takes companies a long time to nail that bit. But Suunto also has more experience than new entrants here.
It sounds like the earliest likelihood for a fix for openwater swimming is summer sometime. I'll update if/when this gets addressed.
In any case, excluding the openwater swims – the GPS tracks being laid down by the Suunto Vertical in the default settings are virtually indistinguishable from Garmin's dual-frequency capable watches (all the Garmin units in this review were in Auto-Select/SatIQ mode). Most reviewers have agreed that Garmin is basically putting out the best GPS tracks out there today on their dual-frequency units, followed by the Apple Watch Ultra, and then a bit of a ways down the line is the COROS units. But it's awesome to see Suunto matching Garmin on dry land. Hopefully they can do the same in the openwater swim realm. And of course, I realize that for those that don't swim – that particular element won't matter at all.
(Note: All of the charts in these accuracy sections were created using the DCR Analyzer tool.  It allows you to compare power meters/trainers, heart rate, cadence, speed/pace, GPS tracks, and plenty more. You can use it as well, more details here.)
Heart Rate Accuracy: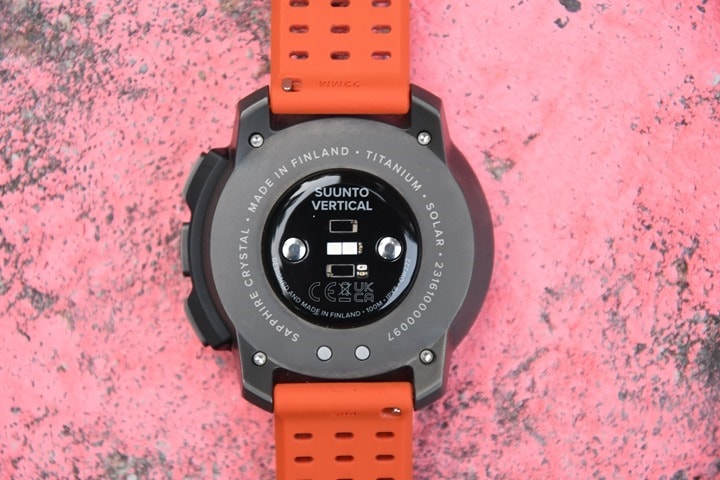 Before we move on to the test results, note that optical HR sensor accuracy is rather varied from individual to individual.  Aspects such as skin color, hair density, and position can impact accuracy.  Position and how the band is worn, are *the most important* pieces.  A unit with an optical HR sensor should be snug.  It doesn't need to leave marks, but you shouldn't be able to slide a finger under the band (at least during workouts).  You can wear it a tiny bit looser the rest of the day.
Meanwhile, for HR accuracy testing, I'm typically wearing a chest strap (either the Polar H10 or the Garmin HRM-PRO Plus), as well as another optical HR sensor watch on the bicep (often the Whoop 4.0 band). Note that the numbers you see in the upper right corner of the charts below are *not* the averages, but rather just the exact point my mouse is sitting over.  Note all this data is analyzed using the DCR Analyzer, details here.
First up, we'll look at a 2-hour ride outdoors. As we can see, when compared to a Polar H10 chest strap, and a Garmin Epix optical HR sensor, things were…umm…not off to a good start with the Suunto Vertical. To say it failed here would be the mild understatement of the day.

So, let's give it another day (or, lots of days).
Here's a more steady-state run – nothing crazy this time. Here we can see it nails it nicely, no problems:

Thus, let's increase pain again. This time with some tough climbs and downhill running. Overall – very good. A few minor bobbles at one point on a very intense section, but very good overall – and especially notable even during the downhill running sections (around the 1:10 marker):

So again, another painful run. This time though, it seemed to trip itself up at the very beginning and very end – for no clear obvious reason. The only similarities those sections shared was the actual terrain (the highway) – and perhaps a stable but pushed pace. But I have no idea why it lost the plot there, but then nailed the much harder climbing sections in the middle:

So, let's try again back indoors. This time on an indoor trainer ride with VO2Max intervals mixed in. This is compared to a Polar H10 chest strap and Garmin Epix optical HR sensor.

As you can see, it's clearly having a rough go of life in the first 10 minutes of warm-up, though it does manage to stick the landing for the 5xintervals section (minus perhaps a bit of wobble).
Finally, note that I don't evaluate any optical HR sensors during openwater swimming. It's just far too random and nebulous from a technology perspective these days, with the companies themselves outright admitting it's a lottery if the optical HR sensor will work underwater during workouts.
Wrap-Up:
The Suunto Vertical watch is finally the Suunto watch that should stop the bleeding, not just to Garmin, but also COROS. In particular, it'll likely give any existing Suunto user pause to see where the hardware goes. Suunto has put forth a very accurate GPS watch on land, with good and clear mapping. Add to that the good usability of the Suunto app – especially for planning and managing routes. Plus all the 3rd party integrations with the Suunto API & apps.
I love the way Suunto did the map downloads. While the downloads aren't exactly fast, the ease of use in getting the regions you want using the app is something other companies should look at. Likewise, Suunto should also look at how other companies are using WiFi – especially for things like firmware updates, or even general data sync. The Suunto Vertical's 32GB of storage will give Suunto room and flexibility to do lots of interesting things on-watch with that storage. For example, we could see them add heat maps, just like they did on the Suunto 7 watch faces, or with the Hammerhead Karoo 2 partnership.
Of course, Suunto still has a very real-world challenge with features when compared to Garmin, and in particular European pricing. For a hiking/outdoors/ultra type focused watch that the Suunto Vertical is (especially with the namesake), it lacks a meaningful competitor to Garmin's ClimbPro, one of the best mountain/vertical type features out there. We've seen other competitors, including Wahoo & Hammerhead, add their own variants of that in the cycling realm, and if I was Suunto, I'd be making that the highest priority of features to implement. And most notably, as I've said elsewhere, it needs to be a native feature – not another Suunto App/Guide.
Still, I'm excited to see where this all might go. Suunto has spent a lot of time on the Suunto app/platform side in the last few years, and that's certainly much appreciated. But with finally having a good hardware base to work from, it's time to pivot to focusing on watch features to take advantage of that hardware and bring back that previous Suunto mojo. Making the hardware as good as they did was the hard part, now comes the (relatively) easy part: Adding in new software features to match.
With that – thanks for reading!
Found This Post Useful? Support The Site!
Hopefully you found this review useful. At the end of the day, I'm an athlete just like you looking for the most detail possible on a new purchase – so my review is written from the standpoint of how I used the device. The reviews generally take a lot of hours to put together, so it's a fair bit of work (and labor of love). As you probably noticed by looking below, I also take time to answer all the questions posted in the comments – and there's quite a bit of detail in there as well.
If you're shopping for the Suunto Vertical Solar (Titanium) or any other accessory items, please consider using the affiliate links below! As an Amazon Associate I earn from qualifying purchases. It doesn't cost you anything extra, but your purchases help support this website a lot. Even more, if you shop with TPC (The Pro's Closet), you'll save $40 on purchases over $200 with coupon code DCRAIN40! The Pro's Closet has been a long-time partner of the site here - including sponsoring videos like my cargo bike race, as well as just being an awesome Colorado-based company full of good humans. Check them out with the links below and the DCRAIN40 coupon!
And of course – you can always sign-up to be a DCR Supporter! That gets you an ad-free DCR, access to the DCR Quarantine Corner video series packed with behind the scenes tidbits...and it also makes you awesome. And being awesome is what it's all about!
Thanks for reading! And as always, feel free to post comments or questions in the comments section below, I'll be happy to try and answer them as quickly as possible. And lastly, if you felt this review was useful – I always appreciate feedback in the comments below. Thanks!