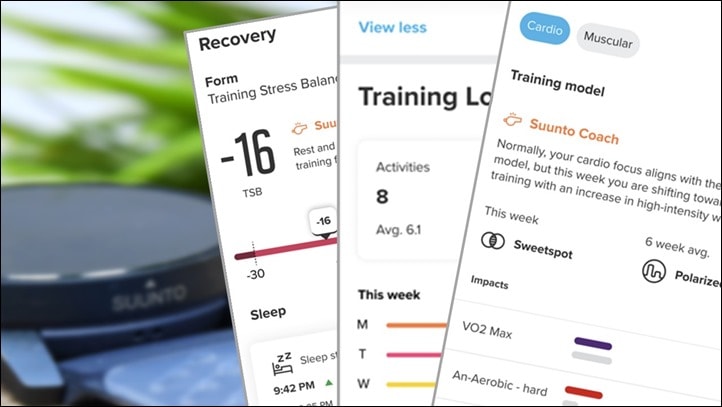 Suunto is joining the fray of companies releasing major software updates over the last two weeks, with a suite of updates on their smartphone app that are available for all Suunto App-capable watches. The first part of this update changes the way the existing Suunto Coach feature works by now taking into account "hundreds of different parameters" to give more specific guidance. Meanwhile, for athletes that don't care/need the Suunto Coach, they've also expanded their training load/recovery analytics – adding data sets that focus on training zones, recovery time, and how your training load/recovery/sleep is trending compared to the past 6 weeks.
Let's just do a quick run-through of things. All of this stuff is on the tab at the bottom with the chart icon.
First up, is the revamped Suunto Coach. The 'Suunto Coach' type moniker has been around in various incarnations over the years, but this time it's expanding to include what Suunto describes as hundreds of different data inputs. This includes everything from looking at your sleep levels, to your training load itself, to the breakouts of sport types within that load – for example, seeing that you might have a higher running volume this week compared to normal – putting you at a higher risk for injury. Or, that your post-workout survey (where it asks you how the workout felt), might have been less positive than normal (obviously, the solution for that is ice cream). Or even that it's noticed a specific increase (or decrease) in the zones for your training volume.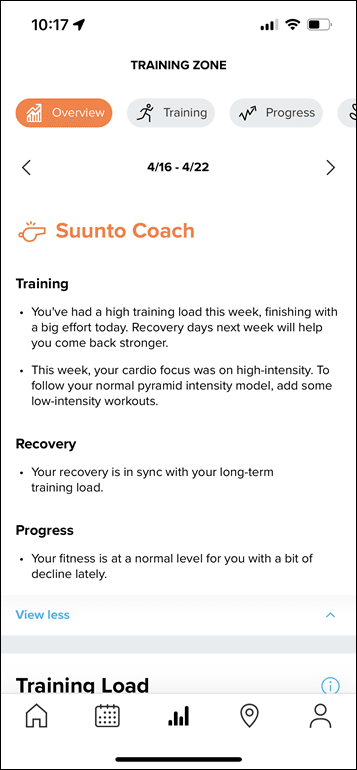 For some of these items, Suunto Coach will give you very specific feedback. For example, if it detects lower sleep volume, it might say "A good night's rest supports overall health". However, Suunto says they won't outright tell you that you've got poor sleep habits unless it falls below an exceptionally low threshold. Likewise, if you've got far too much intensity in a given week, Suunto will nudge you to more gradually increase the intensity next time.
However, at this stage Suunto isn't trying to give you specific training guidance, because they don't know what your training goals (or approach) are. In talking with them, they want to try and walk a bit of a tightrope of using algorithms to learn from your specific history and give you feedback relative to that, rather than applying other coaching/training methodologies.
It'll be interesting to see if they can stick the landing on that. Arguably, the people that need that more specific guidance are the ones that are going to use this feature the most (whereas others that don't need that guidance are likely coached or have deeper knowledge already). So trying to avoid stepping on toes (feelings) could be tricky.
Next, you've got a slate of new Training Zone trending bits. In fact, that's a lot of what's been added here – the ability to see how things compare to previous 6-week chunks. Suunto selected 6-weeks as their ideal reference timeframe, versus either a 4-week or 12-week trend that other companies use. To me, 6-weeks is perfectly fine. Each week though is compared to the full/complete set of the reference period. For example, as you start the week, you'll see your current total for that week, compared to your normal total for the entire week (against that trailing 6-week period) – such as this Training Load one here. At left, a block I did back a few weeks ago of purely cycling. At right, a slightly more balanced triathlon block from one of the Suunto triathletes. Note the coloration of sport types
Likewise, you'll see the same for 'Training Intensity', in various categories, including Heart Rate, Pace, Running Power, and Cycling Power.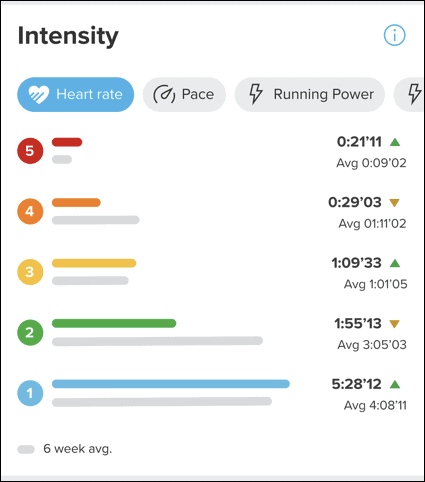 The above chart is actually kinda interesting though. In my case, I've been riding a lot the last 6 weeks with the Hammerhead Karoo 2 cycling GPS. That unit syncs all my rides into the Suunto platform due to a partnership the two have around heat maps. However, this does not at present include intensity levels for these different components. So, in this case, those are excluded, except for workouts I've done with a Suunto device (like the trainer workout above on that week).
Next, with Training Volume, you'll see the breakout by sport types. This is likely most useful for triathletes, to be able to see their swim/bike/run breakouts. I like the fact that they collapse the different types of running into a single running category. For example, treadmill run and trail running are considered all just 'running'.
Next, there's tracking of Cardio and Muscular training load. In this chart it'll categorize the impacts of your training load automatically, as part of the Suunto Coach components – then it'll look to classify your training model – such as polarized base training, or Sweetspot. Again, like before, this won't include the Hammerhead Karoo data – which is kinda too bad, since I'd imagine it shouldn't be too hard to account for that since it's all one sport (cycling). Hopefully down the road that'll change.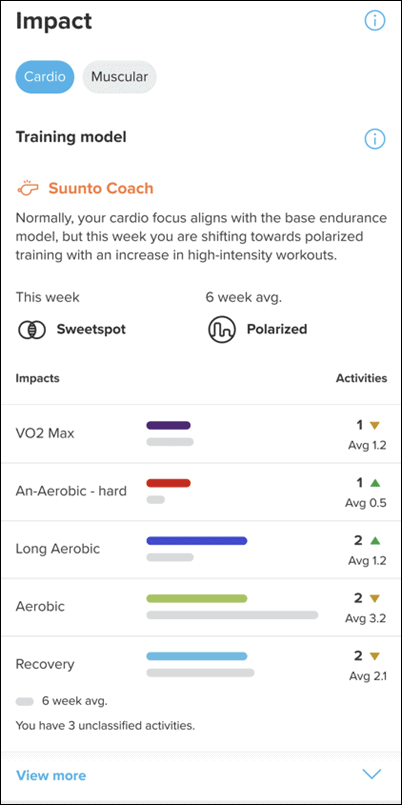 In any case, the cardio impact breakouts are based on the intensity, duration, and load. Whereas the muscle impacts are based on sport type.
Finally, we get into three different recovery-focused areas. The first is a look at TSB (Training Stress Balance) trending, again, in relation to your historical norms. Then there's a look at the time you started sleep, alongside your duration. Suunto noted that they made a conscious decision here to include the time you fell asleep because they said that for most people, its more effective to remind them that usually going to be earlier results in more sleep (as most people tend to be blocked from sleeping in later due to work/etc commitments). It's a subtle shift, but actually somewhat unique in the watch realm.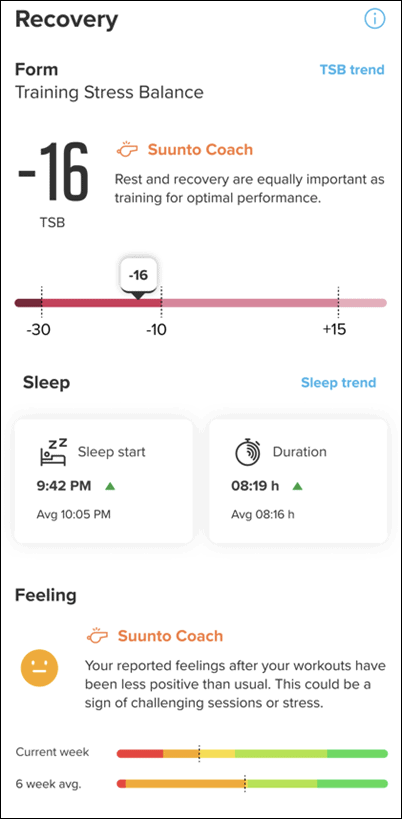 Next, there's the 'Feeling' change/shifts. After each workout you complete on your watch, it'll ask how you felt. Suunto will trend these over time. Suunto noted this is specifically different than their competitors, which ask how hard/easy the workout felt. Whereas Suunto is asking did you feel good/bad. They said that this helps to separate out workout intensity-driven comments, and instead focus on something most athletes do actually get right: Whether or not they felt good about the workout afterwards. From there, they'll trend both the current week, and the six-week average.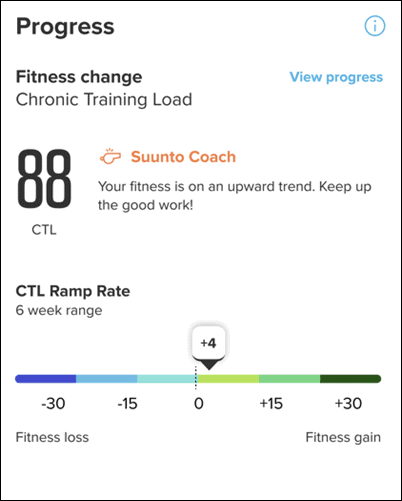 And then finally, there's the CTL (Chronic Training Load) section, with similar trending there:
Ultimately, this is a nice suite of changes – clearly aimed at the start of the race season for many endurance sports athletes. Certainly, a number of athletes may have this information already displayed somewhere else. But having it handy in the app, front and center, will be beneficial for those that aren't paying for or using other 3rd party platforms. Plus, it's nice to see this available for all existing Suunto App watches – no matter how old, as long as it uploads into the app, versus only some small set of just-released watches/devices like we see with some other companies.
Oh – and note that full roll-out of these new features may take up to a week for all users to start seeing them, via the updated app.
With that – thanks for reading!