A long time ago, in a galaxy far, far away, there was the Polar Pacer watch. This was an era before GPS, before optical HR, and before countless other metrics that we didn't even know would exist someday. Back then, it was time to party like it was…err…1990. Because that's about when the original Polar Pacer came out. However, fast-forward many years and Polar is reviving the brand with two new watches: The Polar Pacer & Polar Pacer Pro. This post is about the Polar Pacer Pro, whereas the less expensive Polar Pacer will arrive in a few months.
So what is the Polar Pacer Pro? Well, in a nutshell, it's basically a Polar Vantage M2, but with almost all the features of the GRIT X series. So it adds a barometric altimeter, Hill Splitter, Running Power, Muscle Load, Strava Live Segments, and courses/routing. Thus, while Polar is branding and marketing this heavily as a running watch, practically speaking, it's a full multisport watch.
The Polar Pacer Pro also has a new display, faster processor, and more memory. You won't notice/care about the memory, but the processor is noticeably faster in some cases. And the display is better, albeit definitely not groundbreaking. And despite rumors to the contrary, it's not an AMOLED/LCD display (like the Polar Unite or Polar Ignite), but a less flashy MIPS display like you'd see on a Garmin Forerunner or Fenix series (among many other watches).
As usual, this watch is a media loaner, and it'll go back to Polar shortly. This review is not sponsored (nor does any company get to preview anything I review), and I don't take any advertiser money from any companies I review. And as regular readers know, if something is crap, I'm gonna tell it brutally like it is – no matter the brand. Once this unit goes back, I'll go out and get my own for any future testing needs. If you found this review useful, you can use the links at the bottom, or consider becoming a DCR Supporter which makes the site ad-free, while also getting access to a mostly weekly video series behind the scenes of the DCR Cave. And of course, it makes you awesome.
With that, let's dig into the newness.
What's New: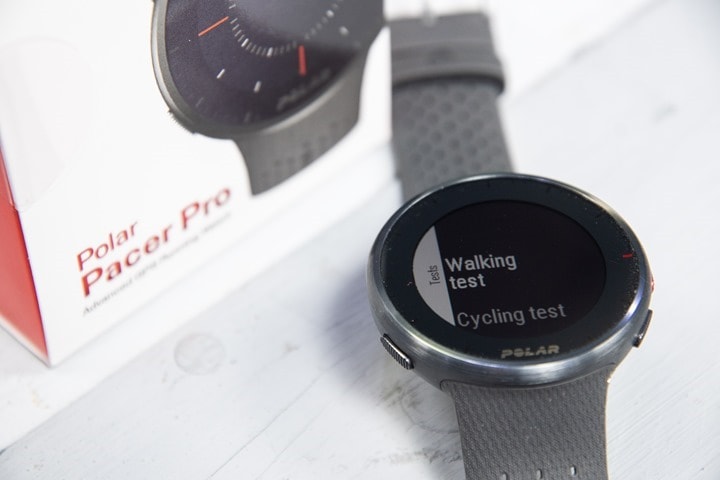 The Polar Pacer Pro is largely about shifting higher-end features down-level to a sub-$300 price point. So in effect, almost nothing is 'new to Polar' here (except the walking test). Which is frankly how most brands are doing it these days (including Garmin). But more on that later.
Given that the last time there was a Polar Pacer product was 30 years ago, I'm going to skip 30 years of smartwatch improvements (as fun as that'd be). Instead, I'm going to use the Polar Vantage M2, which is also priced at $299. While one might try and argue the Polar M430, that's five years old and well past stinky. No, the Vantage M2 is the right comparison. So, here's how it differs:
– Added barometric altimeter
– Added faster processor, more memory
– Added new clearer screen/display
– Added wrist-based running power (no accessories required)
– Added Hill Splitter (hill repeat counter)
– Added route navigation
– Added Strava Live Segments
– Added Performance Tests (Walking, Running, Cycling)
– Added Polar SHIFT strap accessory compatibility
– Added Compass during activity/workout
– Added Smartphone notifications during workout
– Increased GPS battery life to 35hrs from 30hrs
– Increased waterproofing spec to 50m from 30m on Vantage M2
If I've got everything roughly straight in my head, the key differences the M2 doesn't have that this does is a barometric altimeter, running power, performance tests, longer battery life, SHIFT compatibility, Hill Splitter, Strava Live Segments, and then Route Navigation.
So at this point, you can see that the Pacer Pro basically sideswipes any reason to buy the Polar Vantage M2. There's literally no logical reason you'd buy that watch at the same price (both are currently $299). I've gotta wonder if this is Polar quietly killing off the Polar Vantage M lineup (note officially, they say they aren't). Especially since the base Polar Pacer basically has almost all the same features as the M2, but at $100 less.
Either way, M2's fate aside – what matters here is features vs not. And there's absolutely zero reason to buy the Polar Vantage M2 at this juncture (and Polar confirmed the Pacer Pro has every feature the Vantage M2 does).
Now, how does it differ from the upcoming (May-timeframe) $199 Polar Pacer edition? Well, according to Polar, these are the differences:
– No Barometric Altimeter
– No Hill Splitter
– No Running Power
– No Route Navigation
In other words, it's basically a Vantage M2. Actually, it has more features than that since it has the Running Performance test. In any event, I don't have one of those watches yet, so I can't make any opinions beyond the specs listed above.
Finally, what does the Polar Pacer Pro lack compared to the more expensive Grit X or Polar Vantage V2 (both of which are identical feature-wise these days, only differing in bezel/material differences)? Ask and you shall receive:
– No Leg Recovery Test
– No Orthostatic Test
– No Recovery Pro
– No Touchscreen
– No Trackback navigation
– No Outdoor Dashboards (Altimeter, Coordinates, Compass, Daylight times)
– No Audio Alerts
– Differences to design/materials
Got all that? Good. Let's get into the box.
In the Box: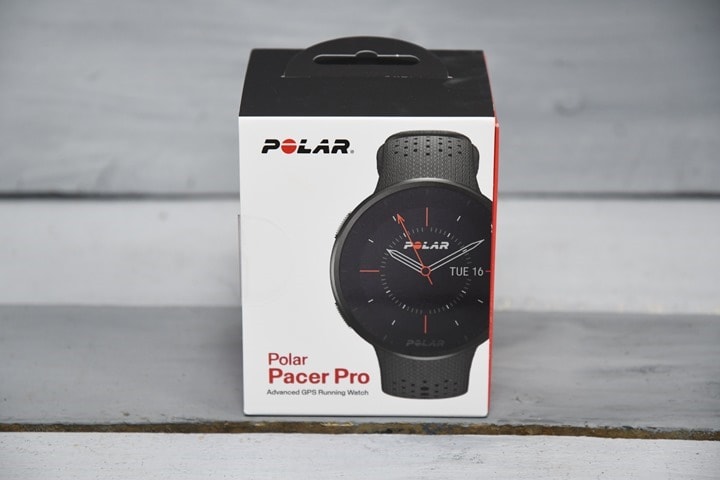 First up, we've got the box – or rather, the box contents.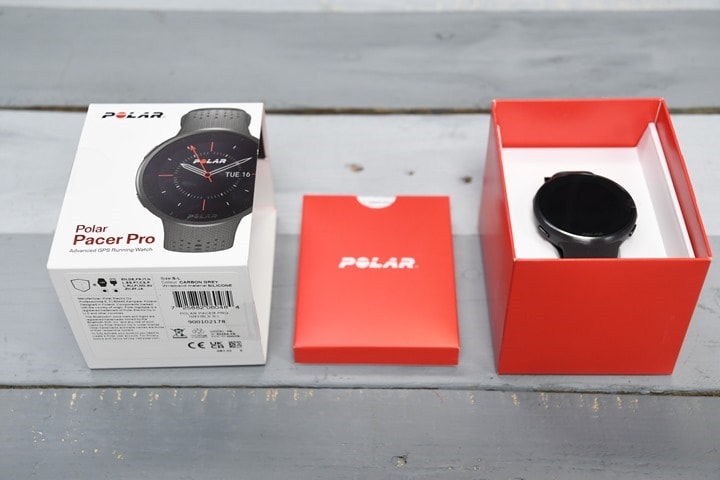 Inside you'll find the watch, a charging cable, paper pile, and strap adapters for the SHIFT straps (those were previously announced last fall).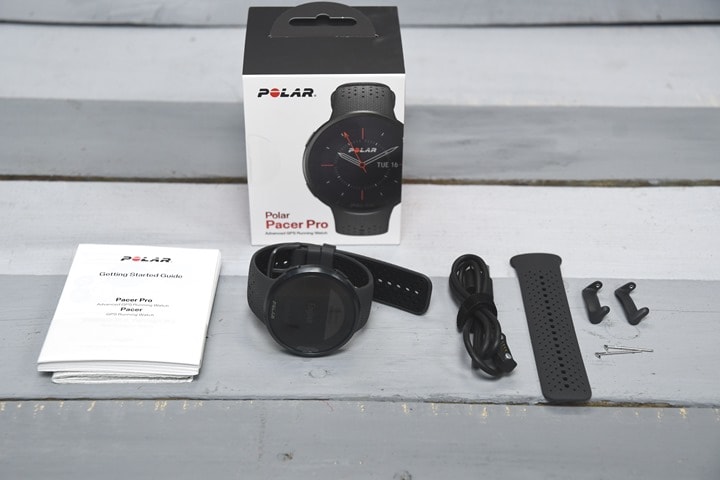 I'll have more than enough shots of the watch itself in this review, so here's a quick one before I potentially get this dirty or scraped up or something.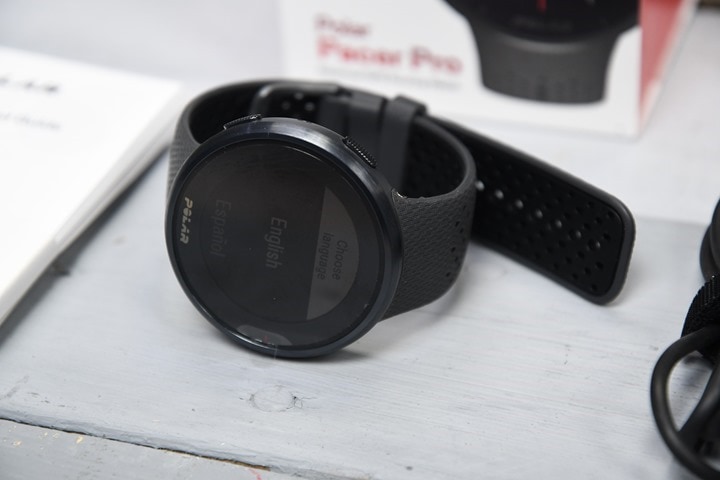 Then we've got the charging cable. This is, unfortunately, new. It looks very similar to the Unite series charging cables, except that those are slightly rounded, so the two aren't compatible.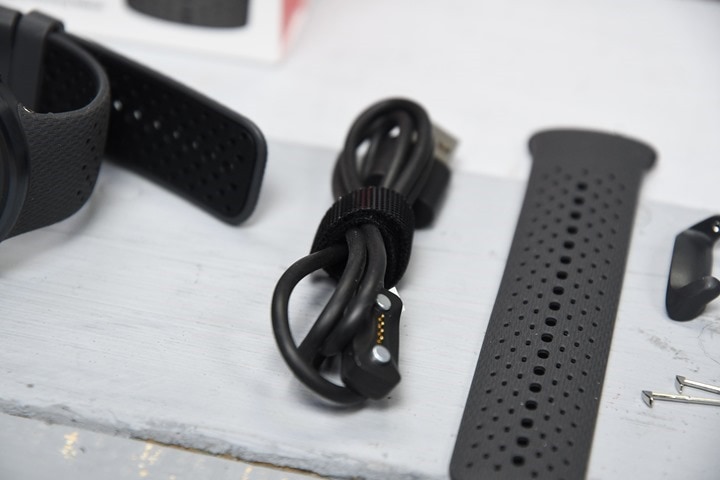 It's not awesome. While the existing Polar Vantage series charging connector/cable isn't necessarily the best connector on the market, it's pretty solid and doesn't draw any meaningful annoyance. Whereas this connector seems to constantly fail to either stay attached when I move something around on my desk, or, doesn't 'click' right into place – making me constantly double-check alignment. Again, this isn't a huge deal, but it's a clear step back.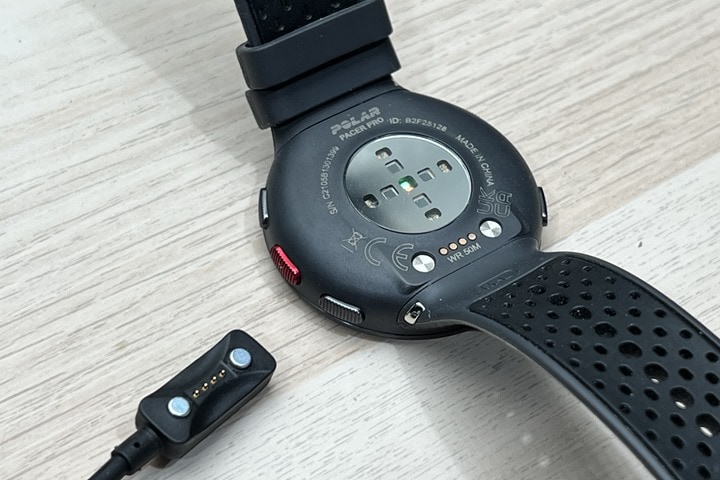 Oh, and there's that small pile of paper guides. You won't need that either by the time you're done with this review. It basically tells you to wash your wrist and watch every once in a while or you'll die from dysentery like the Oregon Trail. Also, if you do something stupid like 32×800 repeats on the track, you might die too – in which case it's definitely your fault (even if you use Polar Flow to create the workout).
Anyways, here's how it compares to the Polar Vantage M2 (left), Pacer Pro (center), and Grit X Pro (Right):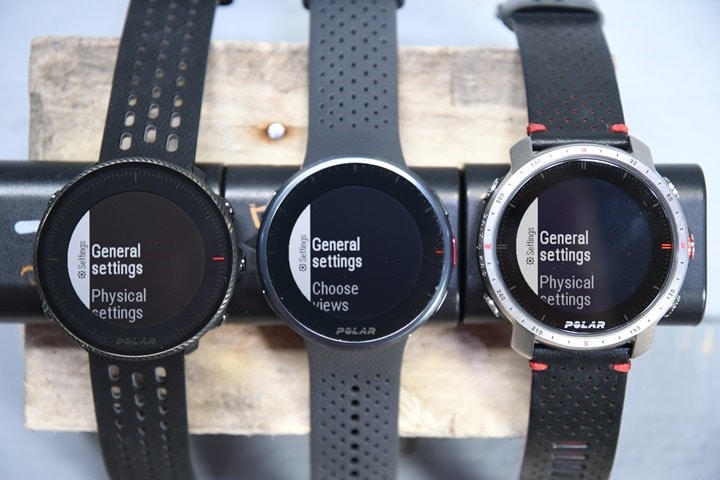 Above is straight-on, but you can see the display differences more easily at-angle, where the newer display is crisper and the blacks are darker/sharper. Taking comparative display photos is always tough, because the camera is essentially exposing properly for only one watch at a time.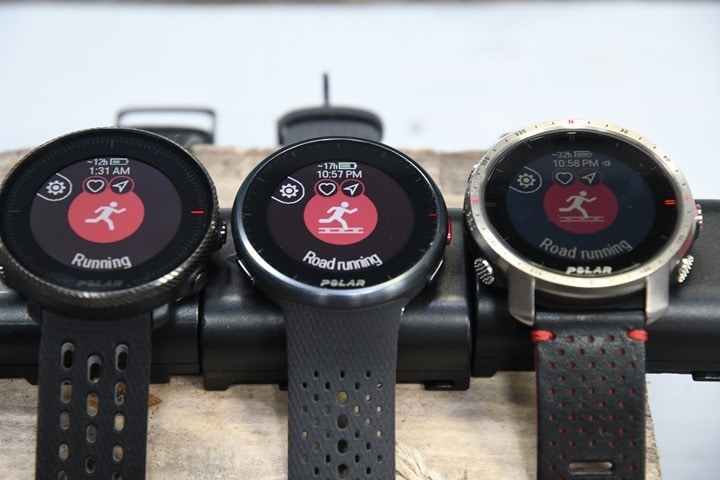 Got all that? Good, let's get to using it.
Basics: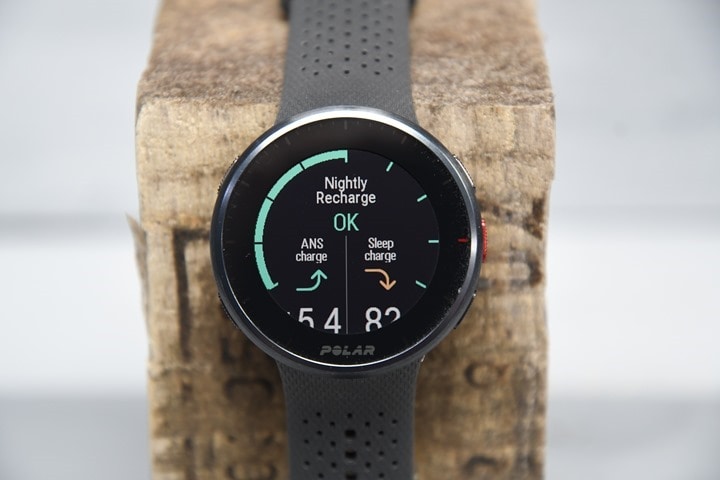 This section is all about the basic usability, things like step/activity tracking, sleep tracking, and basic usability of the watch. By and large, nothing in this section has changed on this watch in many years of Polar watches. You can pick and choose any one to compare it to, and this stuff has basically remained stagnant (more on that at the end of the review).
To begin, the Polar Pacer Pro has five buttons to navigate all the functions (no touchscreen). Generally speaking, the left side has the back button (bottom left) and lock/menu button (upper left), while the right side has an up/down option and the middle is your confirmation/enter button.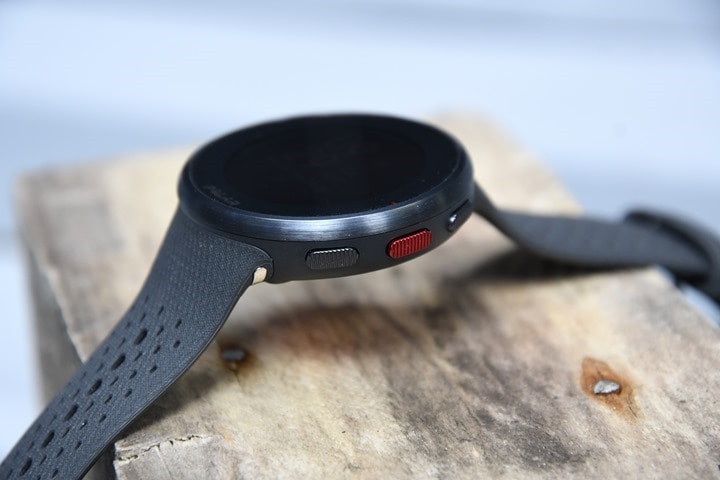 Arguably the biggest upgrade on the Pacer Pro is the new MIPS display. This provides more clarity than any of Polar's current Vantage series watches. This display isn't AMOLED/OLED/LCD (like the Ignite/Unite), but akin to what you'd see on other brands
I had no problems at all viewing it outside in direct sun, nor at sunset on an overcast day, without a backlight on. There is backlight though of course, which seems a bit more 'clean' looking than the Polar Vantage M2, meaning there isn't as much white-light from under the black areas as there was on that unit. Overall, this isn't a massive change for Polar, but more of an incremental one. This is kinda like the processor change – it's not massive. And in fact, the first day I was using it, it seemed really quick. But it seems to have slowed slightly since then, to basically be the same in most situations as the Grit X Pro or Vantage M2. Only a few times will it be quicker.
Meanwhile, flipping it over you've got the optical heart rate sensor. As is tradition with Polar watches, every single watch seems to have a different optical HR sensor. This time they've gone back to the Ignite sensor, seemingly ditching the Polar Vantage V2/Grit X series sensor (probably a good idea based on the performance I see there). The sensor is used for both workouts as well as 24×7 tracking of heart rate.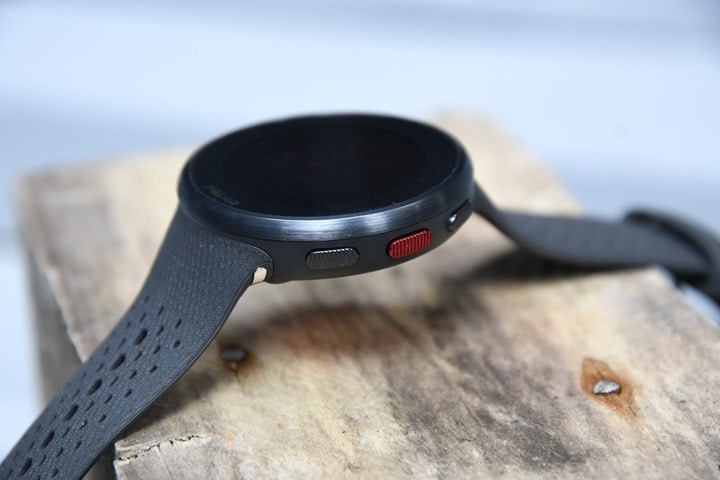 This also includes the tracking of sleep metrics, like breathing rate. Note that during a workout it goes into a higher power mode for more accurate HR measurement there. I point that out because if you don't put it (like any other watch) into workout mode, you won't get accurate heart rate measurements during high-intensity workouts.
On the strap side, the unit comes out of the box with a not-quickly-removable-strap. However, in the box was the Polar Shift adapter, which basically gives you a standard watch strap mount to connect your own straps to: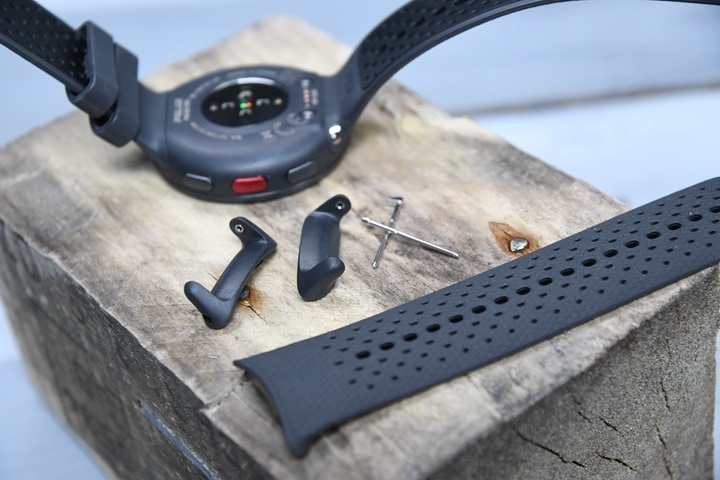 Ok, back to the watch face, and you've got so-called 'Dashboards'. These are basically different widget pages that display consolidated information about areas like steps, sleep, workout history, training, and more (such as weather, music controls, etc…). The way Polar designs their dashboards, is that the main date/time screen can be seen at all times on them, but you can iterate what's shown along the bottom as a 'preview' of more detailed information about that dashboard page (e.g. steps/workouts/heart-rate/etc…). Here's the weather page example: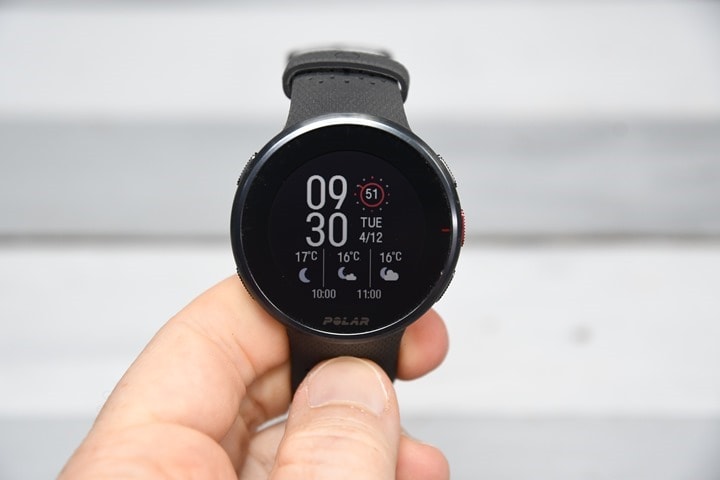 And then I can tap that to get more detailed weather information: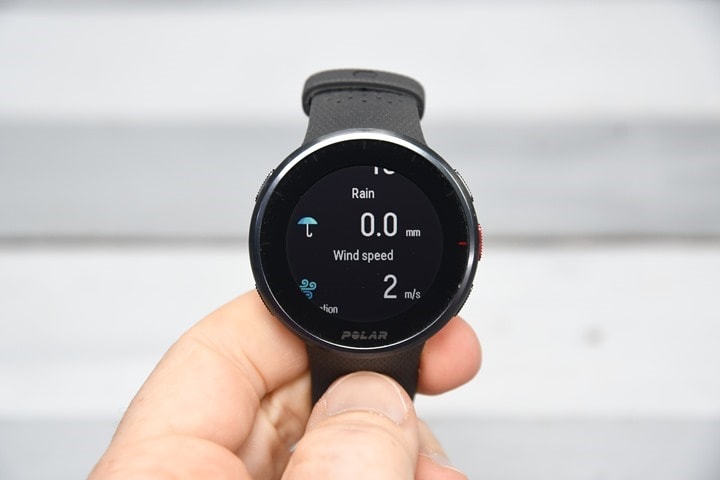 The same is true for steps. And once I crack open the steps page, I can get more information about the step count for the day:
Of course, all of this information is then synced to the Polar Flow smartphone app (as well as the Polar Flow web platform). This happens via Bluetooth on your phone, or a USB cable on your computer.
The pattern is largely the same for the other data sets, like heart rate. In this case, you'll see your max heart rate as well as both daytime and sleep minimums. In this case, I suffered through the running test a few hours ago: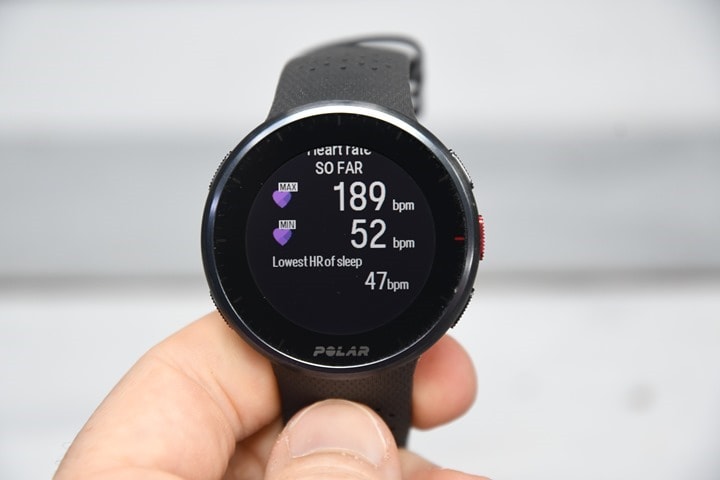 And again, you'll find all this up on Polar Flow too: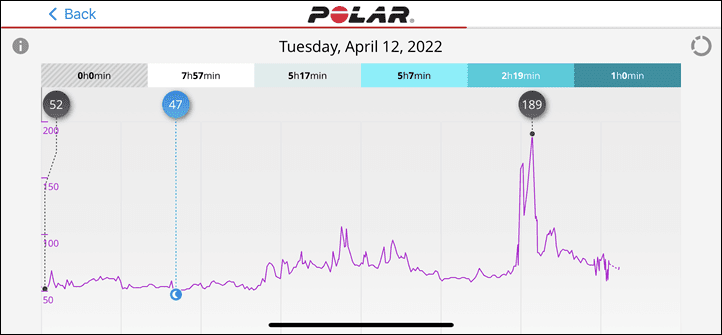 One area that's a bit different though is the sleep pages. At first glance, it seems similar, but as you dig deeper into it you'll get a slew of sleep information. This includes both the Sleep Plus Stages and Nightly Recharge. The first piece covers aspects like what time you went to bed/woke-up, and then your estimated sleep phases. Whereas the Nightly Recharge looks at how recovered you were that night. Note that nightly recharge takes three days' worth of data before it starts showing the goods, and that the longer you wear the watch (at night) the better/more accurate it becomes.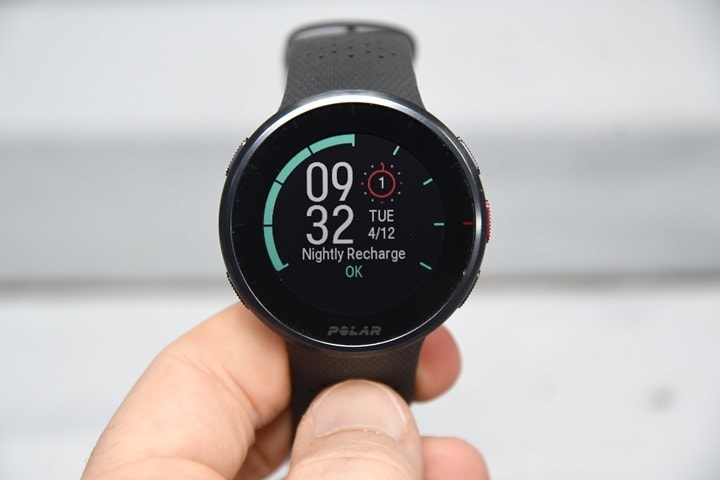 As you open the main dashboard page you'll get a flood of sleep-related data to dig into:
And all of this is also more easily viewed in the Polar Flow app too:
In terms of sleep accuracy, the Polar Pacer Pro correctly identified the time I fell asleep and the time I woke up, as well as any time I was awake. It also guesstimated at my sleep stages. As I've talked about numerous times, sleep phases/stages is at best, in a clinical setting highly wishy-washy, and that's with full medical equipment and a trained team doing the analysis. Thus, it's not something I put much faith in at the wearable level, nor do I have any means to accurately test this on a day-to-day basis.
Beyond that, there are a few other dashboards, and you can tweak which pages are shown within the settings, to either include or skip dashboard pages as you scroll through.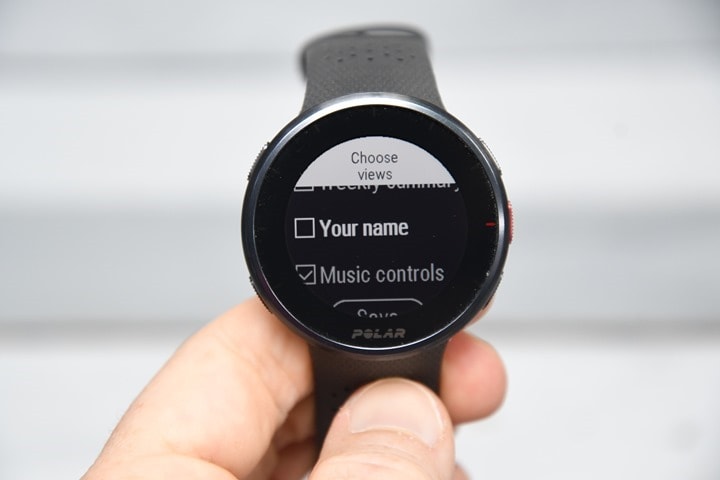 In terms of some quick smartwatch basics, you'll see text messages show up automatically, assuming you've got it paired up and in-range of your smartphone: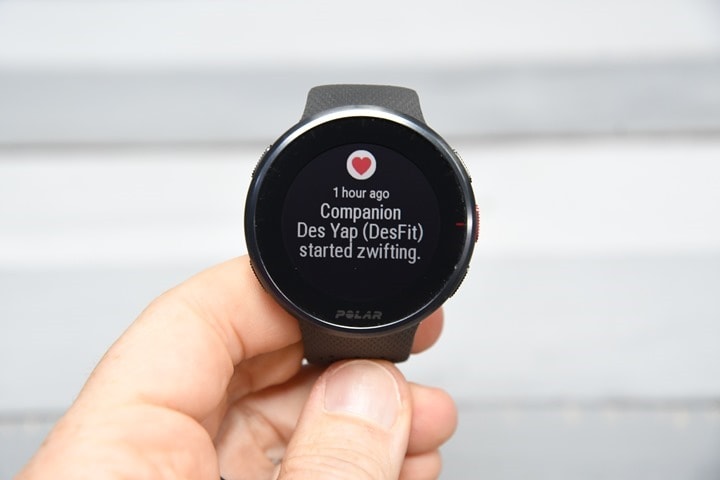 And while the watch doesn't have any music storage on it, you can control the music on your phone. You'll see that it does pull the correct icon for the app it's controlling, so you can see the Spotify icon shown there. I can skip/rewind/pause/play on the main screen, as well as tap the volume icon to increase volume.
And again, just to be super-clear here, there's no music storage on the Polar Pacer Pro itself, it's merely controlling music on your phone.
With all those basics covered, let's dig into the sporting side of the unit.
Sports Usage: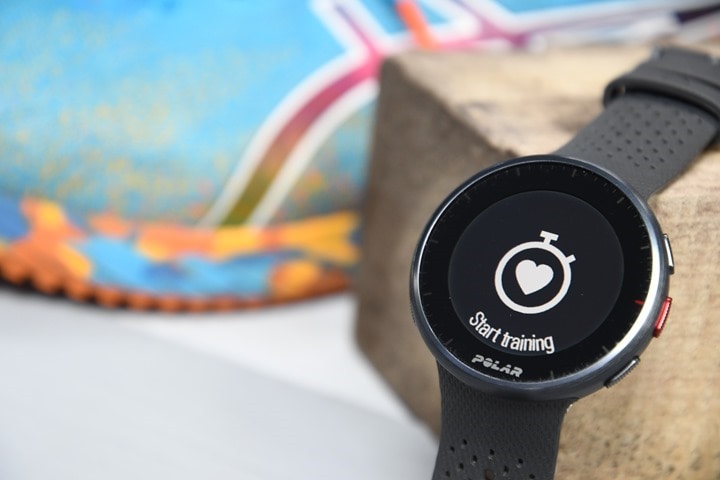 The Polar Pacer Pro is by far the most capable sports watch Polar has ever made at this price point (or, anywhere near it). It's only missing a handful of less critical features from their higher-end $400-$500 GPS watch lineup. In this section, I'll dig into how all the sports-focused features work, since undoubtedly if you're buying this watch, it's for the sports aspects.
First up, to choose a sport, you'll either long-hold the red button, or press the lower-left button and choose to start training (or, start a test – more on that later). Once you've done that, you'll be shown your sport profiles, and it'll start searching for heart rate, and GPS (if an outdoor activity).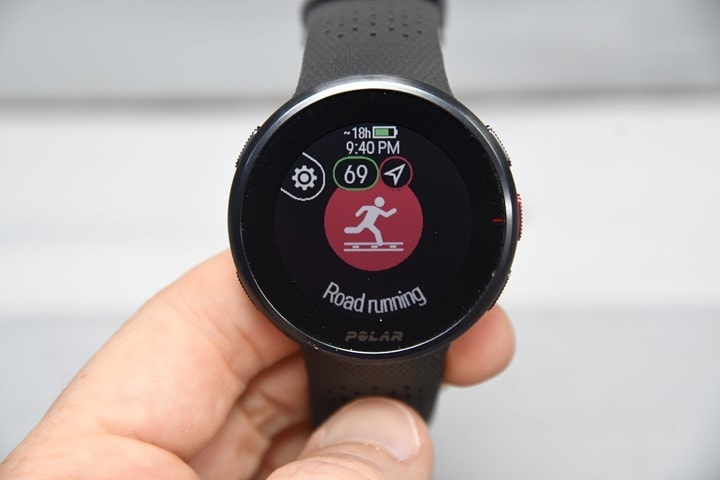 The Polar Pacer Pro can store up to 20 sport profiles on it, with each of these profiles having customized calorie burn, data fields, and other settings (like auto lap). These sport profiles are configured on Polar Flow, which is accessible from your smartphone app or the website itself. There's a boatload of profiles to choose from, though for the most part many can be pretty similar. The main differences tend to be customized calorie burn to that given activity.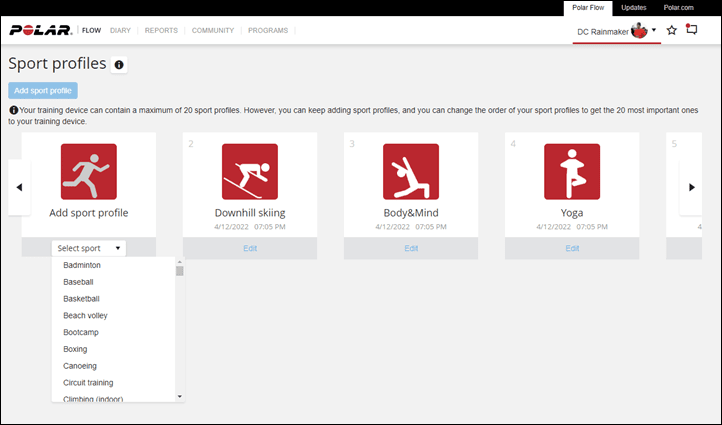 As noted though, this is where you can customize data fields and other settings, for example making a custom profile for trail running with data pages that are unique, versus another profile for road running.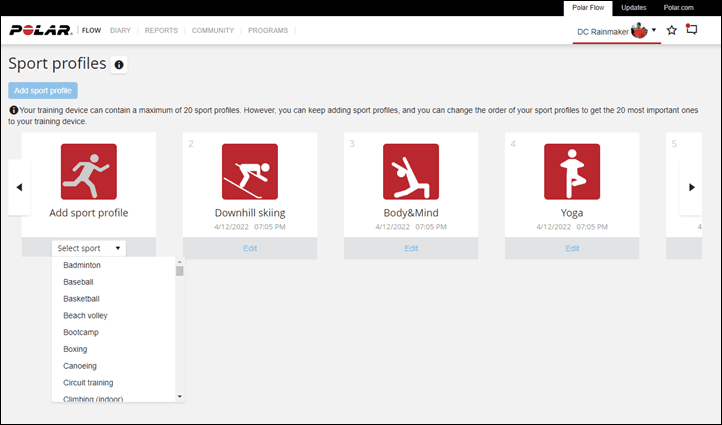 Once you've got that all settled, you'll long-hold the bottom left button to sync it back to the watch. The sync takes perhaps a minute most of the time, from a smartphone. It's a bit faster if doing it on a computer via USB cable.
Back on the watch, you'll see the icons turn green when it has GPS and heart rate lock. You'll always want to wait for those before starting. In most cases, you'll get heart rate lock in 1-5 seconds, and I've been getting GPS lock in 10-15 seconds (zero problems there). If you decide to depart the platform before those lock, you'll generally have poor results for much of your workout, since it'll struggle to find lock. If you've got any paired sensors (like a Bluetooth Smart cycling cadence sensor or power meter, or a Bluetooth Smart heart rate strap), it'll show a blue icon for those.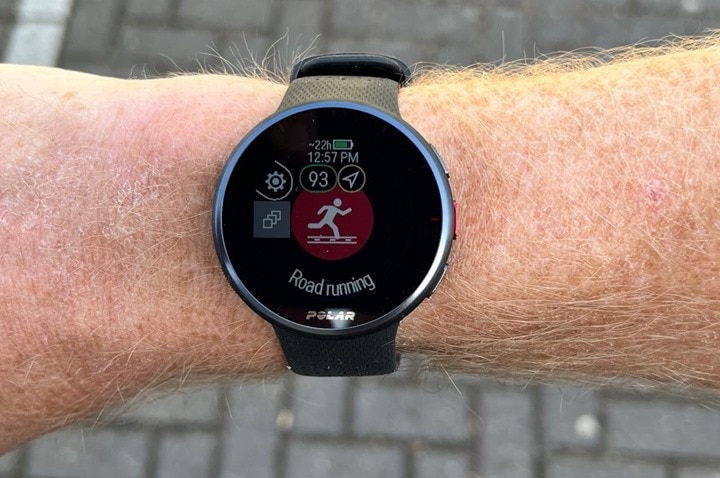 As for sensor types it supports, it's the same as before, they are:
– Bluetooth Smart Heart Rate Straps
– Bluetooth Smart Cycling Power Meters
– Bluetooth Smart Cycling Cadence & Speed Sensors
– Bluetooth Smart Running Footpods
– Bluetooth Smart Running Power Meters
Now the Polar Pacer Pro doesn't require any running power meter accessories to get running power, it does it internally like the Polar Vantage V & Grit X series has. However, for cycling, you will need an external power meter. I tried connecting it to a pair of Garmin Rally pedals and a pair of PowerTap P2 pedals, and neither worked. This is par for the course with Polar and power meter support. I don't really know what to say here, this hasn't changed in years. Polar used to be really good on Bluetooth accessory compatibility, but these days it's like they just don't care anymore.
To pair sensors, you'll head to the general settings menu, and then sensors from there. Note that if you have a Polar heart rate strap already in your Polar Flow account, they actually automatically pre-pair them to your watch. Meaning, if you've got a Polar H10, it'll actually automatically stick the sensor details into the watch when you turn it on. Again, the blue pairing icon on the start screen is your indicator that it's using that instead of the optical sensor.
For all my testing I used the optical HR sensor on the back of the unit (since I already know the external Polar H10 chest strap works perfectly fine). So with that set, let's head out for a simple run first. As you're running you'll see your data fields shown on the watch, and you can iterate through the data pages to see other configured pages.
While I lack many hills, I did get to poke briefly at Hill Splitter, which was added to the Polar Grit X two years ago. That's a hill-repeat counter of sorts that automatically detects climbing up a hill, and shows you stats for that specific climb.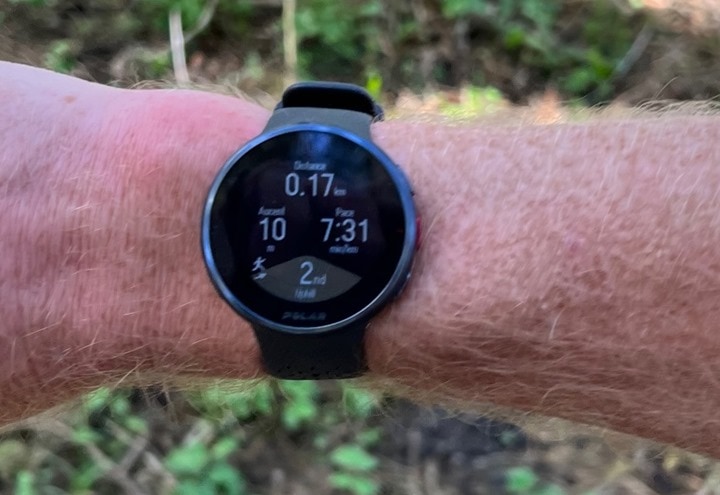 This is substantially different than something like Garmin's ClimbPro, in that ClimbPro is predictive and based on a planned route (showing you distance/height till top of climb). Whereas Polar's Hill Splitter is all about what you've done on this current climb. So Garmin is better for going on a 50KM trail run in the Alps with a planned route, whereas Polar's is better for a Tuesday night hill repeat session in your neighborhood.
Even if you load a route up on the Polar Pacer Pro, it won't give you that per-climb guidance. However, it will give you turn-by-turn guidance if that route comes from Komoot. If you want more details on how that works, see my detailed navigation section in the Polar Grit X Pro review, as the functionality is the same here.
Now, in the event you loaded up a structured workout (which you can create on Polar Flow), then it'll show the specific targets for those as well. I did a set of 800 repeats this past weekend with it, whereby it guided me through each workout stage, including both work and recovery sections. In this case, I did a workout with running power targets for each chunk. Polar running power hasn't changed any in the last few years, but it's great to see it included at this price point built-in.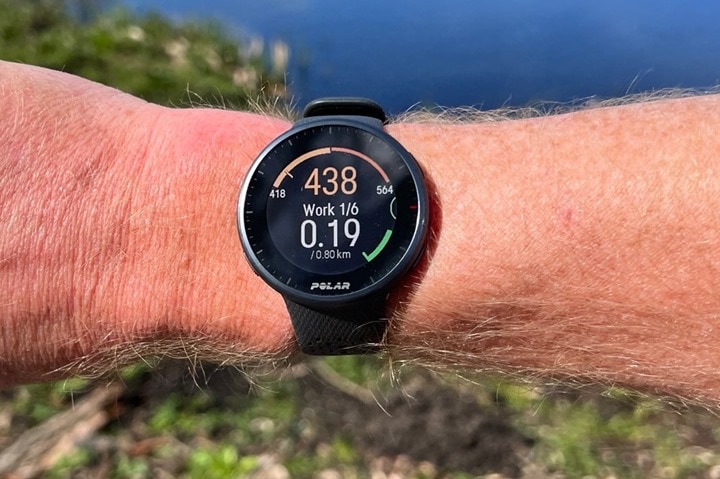 In this case, it automatically iterated from section to section, effectively pressing the lap button for me. But in non-guided workouts, you can press the lap button to create a lap manually, or you can do auto laps based on the sport profile settings (which can, and likely will, differ between sports). Polar also supports concurrent automatic and manual laps, in case you want to do different analysis later on.
Post-run, you'll get a summary of your work on the watch itself, here's a gallery of that:
And then all of this is synced to Polar Flow as well as 3rd party sites like Strava or TrainingPeaks.
During my workouts I had zero issues in terms of display visibility or button responsiveness. For pacing stability, that was a bit iffier. So, this is a good time to look at one of the two Polar Performance tests I did and why that matters, which were the walking test and then the running test.
First up is the new walking test. The theory behind this is that the Polar Pacer Pro can determine your VO2Max from just walking for 15 minutes. Though, as I'd find out, you have to walk really darn fast to keep the watch happy. First up, you'll warm-up for 5 minutes:
Then, it asks you to speed-up to keep your heart rate above 121bpm (or, at least 121bpm in my case). And you'll stay at that for 10 minutes. I'd point out that for more fit individuals, you might find this challenging. In fact, so did Polar. For the entire test duration, every few seconds it was yelling at me not to run. I wasn't running (not even close), but, apparently my fast walking speed made it think I was. But keeping my HR high enough was tricky.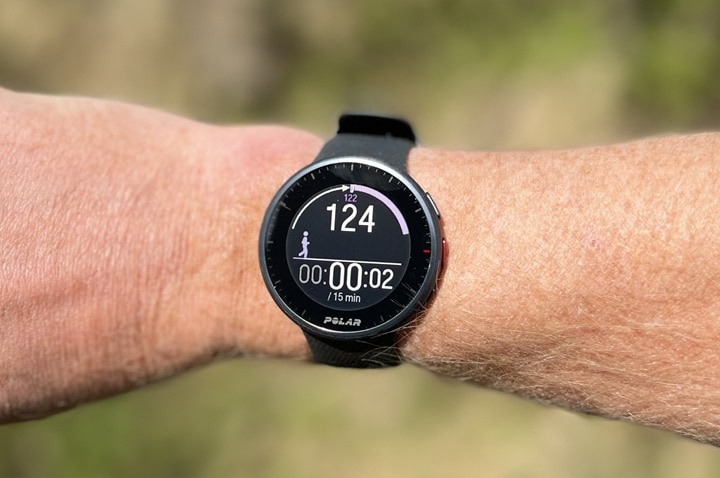 At the end of the test, it said my VO2Max was 48. Generally speaking, when I test (either lab or on other watches), I float in the 58-61 range. So, this was substantially lower than that. Massively lower.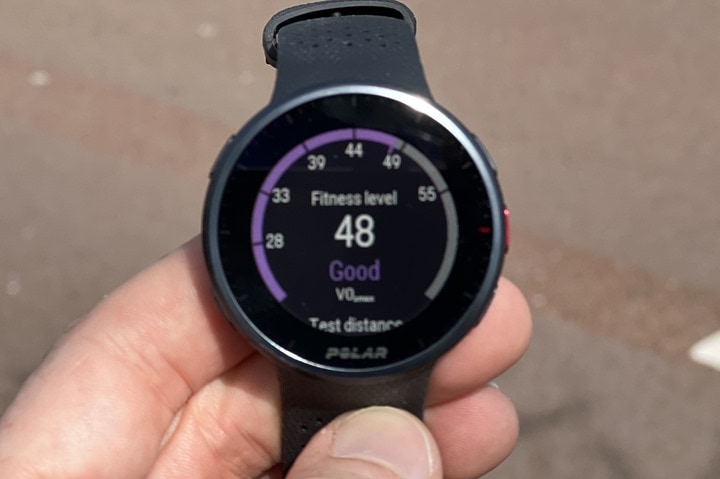 So, the next day I went out and did the Polar Running Test. I figured on this I'd probably test a little bit lower than normal, since this has been my 4th consecutive day of running, but that's fine. The Running Test starts off with a 10-minute warm-up, and then resets back to a painfully slow 20-30 minute build from fast walking up all the way up to dying while running. It's basically a ramp test, whereby you fail when you can't maintain the requested pace any longer. One issue I'd note is that with the GPS wobble, I saw instant-pace responsiveness that was a bit weird at times. That mattered in the run test, because as I'd make long/lazy turns on the path (not 90° angles), the pace might drop (or rise) significantly, which in turn upset the run test app that would warn me if I spent too much time out of zone. It reset once actually, and I had to start again early on in the first test. But the second test went fine.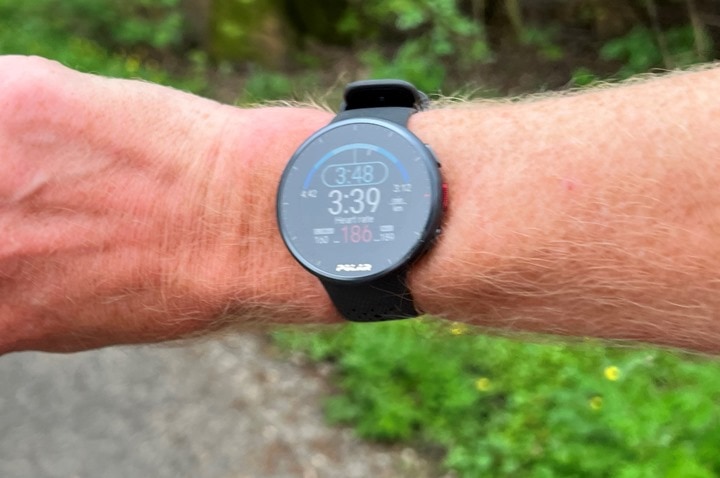 In this test, I scored 56, which is about where I figured I'd be on slightly sore legs. Fresh legs/recovery would probably have put me at 58 or so.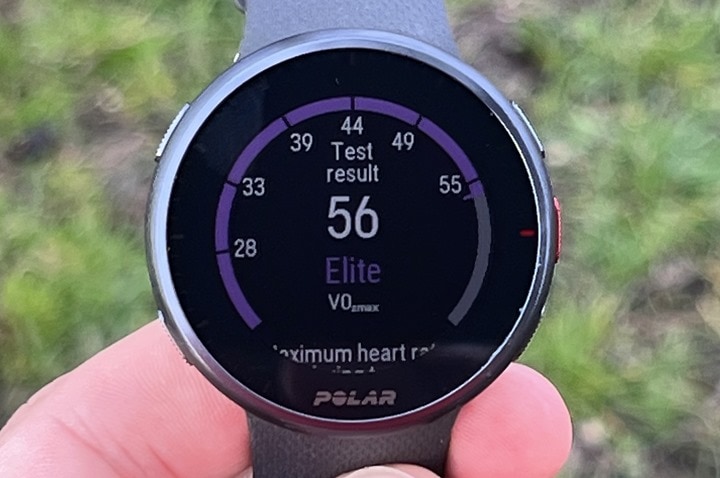 Either way, this is hugely different than the 48 from the new walking test.  I asked Polar about the discrepancy on my walking test, but didn't receive any answer as to why there was such a discrepancy. It's an odd miss for a company that generally gets physio-type sports metrics/testing right.
After your workout you can review all of this information – both tests and regular workouts – on Polar Flow. In the case of regular workouts, those will also sync over to any 3rd party connected platforms you've set up like Strava or TrainingPeaks. And of course, you can just view the details right in the Polar Flow app itself:
As for the tests, those too show up in a dedicated section for suffering (testing):
And after all that, you can go back to your dashboards and get suggestions from FitSpark for stretching or other supportive workouts: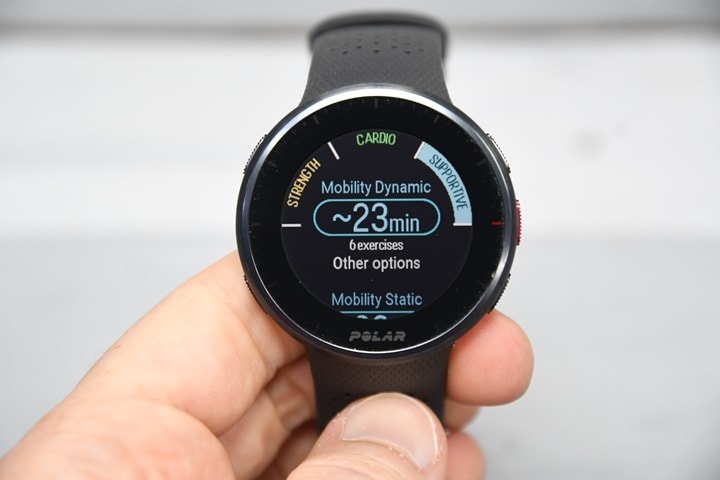 Each day it'll give you a suggested cardio workout, and then after you've completed that (or any other workout), it'll give you a supportive or strength workout. These aren't tied to a specific training plan (like building towards a marathon), but rather, aimed at giving you a 'Workout of the day' concept. And doing so in a way that doesn't get you injured.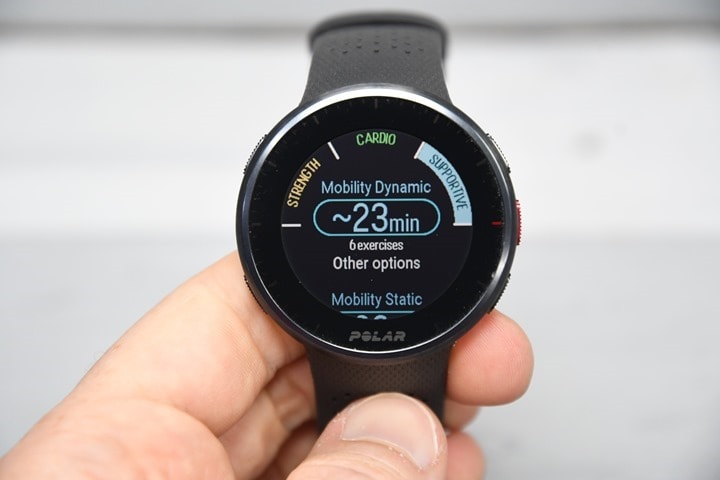 Depending on the type of workout you choose it'll give you the specific steps and guidance in the watch itself. There are cardio-focused running workouts with different intensities. And then there are core type workouts too, and for those, it'll give you the specific moves to do, along with animations and text for each one: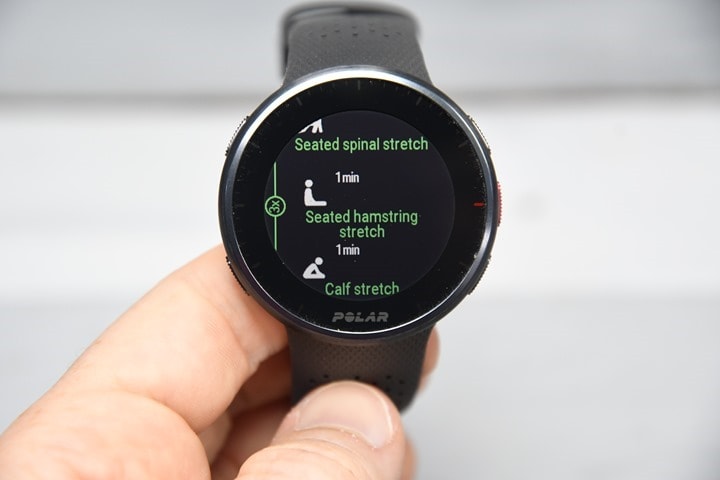 Again, if you're on a structured training plan towards a specific-season race, this frankly isn't for you. Instead, it's for folks who don't have a specific training plan, but just want to keep active in an endurance-sports-focused manner. The watch won't mess around, it'll throw down solid workout suggestions, so don't think you're just gonna get a bunch of 30-minute easy-peasy stretching workouts.
Meanwhile, if you're on a structured training plan, then you'll probably be using the Cardio Load status portions. But first, you've got the Weekly Training dashboard, which shows you your training load each week (in my case, resetting yesterday), inclusive of the exact HR zone breakdowns.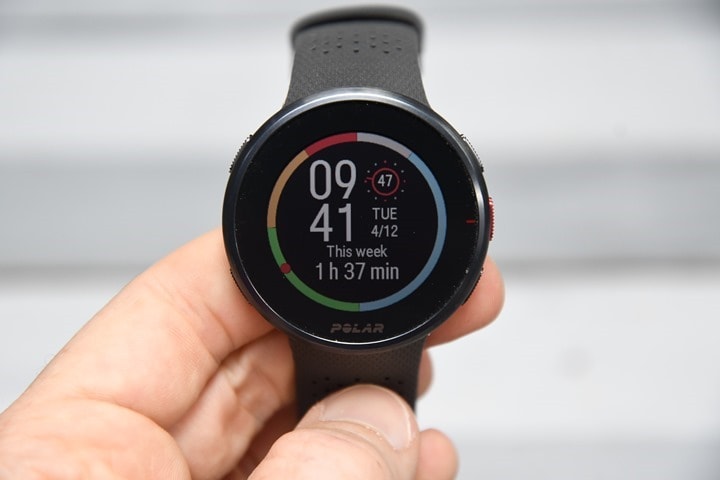 However, in concert with that is the actual Cardio Load dashboard. This shows you whether or not your training is productive. On the main dashboard page you'll see a quick overview, and then once you dig into it, you'll get the exact details of what it thinks about your workout habits: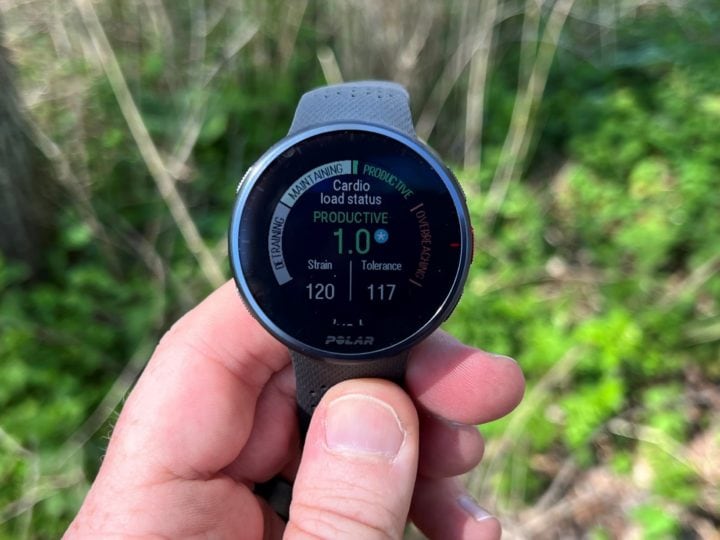 Note that the core difference here to the Polar Vantage V/Grit series is that those also have Recovery Pro tracking, whereas the Polar Pacer Pro doesn't have that. Still, it'll give you general guidance about whether you have too much load or too little load, which can be used as a proxy for recovery thoughts.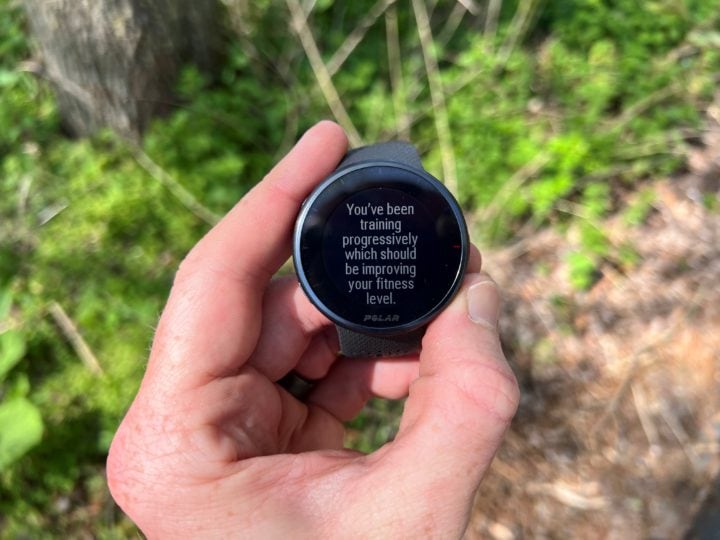 Meanwhile, the full Recovery Pro on the higher-end units does require a chest strap at least three times a week to get the full Orthostatic test and associated recovery data. Still, you can use the Nightly Recharge data on the Vantage M2 (as discussed earlier in the basics section) as a pretty good proxy for recovery.
GPS & HR Accuracy Testing: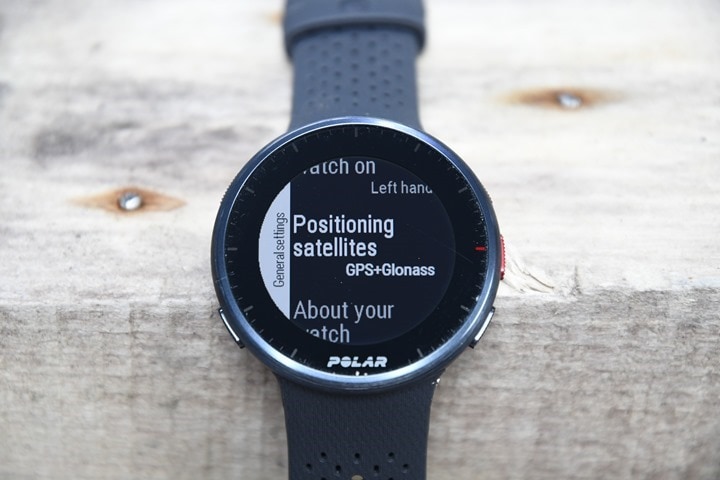 There's likely no topic that stirs as much discussion and passion as GPS accuracy.  A watch could fall apart and give you dire electrical shocks while doing so, but if it shows you on the wrong side of the road?  Oh hell no, bring on the fury of the internet!
GPS accuracy can be looked at in a number of different ways, but I prefer to look at it using a number of devices in real-world scenarios across a vast number of activities.  I use 2-6 other devices at once, trying to get a clear picture of how a given set of devices handles conditions on a certain day.  Conditions include everything from tree/building cover to weather.
Over the years, I've continued to tweak my GPS testing methodology.  For example, I don't place two units next to each other on my wrists, as that can impact signal. But often I'll simply carry other units by the straps, or attach them to the shoulder straps of my hydration backpack.  Wearing multiple watches on the same wrist is well known to impact optical HR accuracy. In the case of the Polar Pacer Pro, Polar confirmed the GPS chipset is the same as found in the Vantage M2 series (which, is basically the same as all their recent watches – based on Sony).
Meanwhile, for HR accuracy testing I'm typically wearing a chest strap (usually the Garmin HRM-PRO, or Polar H10) as well as another optical HR sensor watch on the bicep (lately the Whoop 4.0 band and/or Polar Verity Sense). Note that the numbers you see in the upper right corner are *not* the averages, but rather just the exact point my mouse is sitting over.  Note all this data is analyzed using the DCR Analyzer, details here.
We'll start off with relatively easy workouts, before getting into more complex workouts. First up is a steady-state run, which wasn't in super-complex GPS conditions. This is compared to a Polar H10 chest strap, and a Garmin Descent G1 watch on the other wrist (basically an Instinct 2 Solar but for diving). Here's that HR data set:

This is actually a textbook-perfect case of when optical HR can do better than chest straps in early spring/fall conditions. In those cases you're often wearing lighter clothing, and thus sweat less early on. So you see here the Polar H10 was actually wrong for the first few mins, but the optical HR sensors were correct (both Garmin and Polar). Within a few minutes all three converged. You do however see a few drops/spikes from the Polar Pacer Pro though about 1/3rd of the way through the workout. Though, these only lasted a few seconds, and then went away.
On the GPS side of that workout, at a high level things look fine.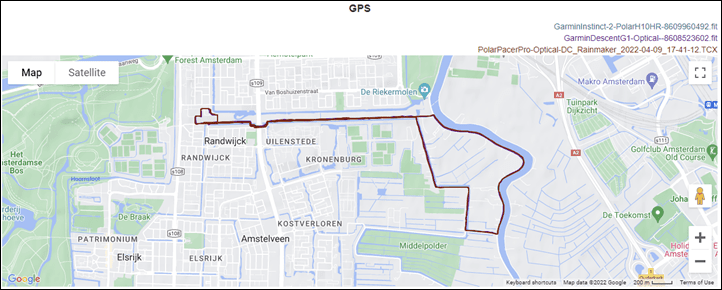 However, as you zoom in, none of the units did particularly well for the underpass, including both approach and exit of it. For this section, the Garmin Descent G1 was offset more than the others.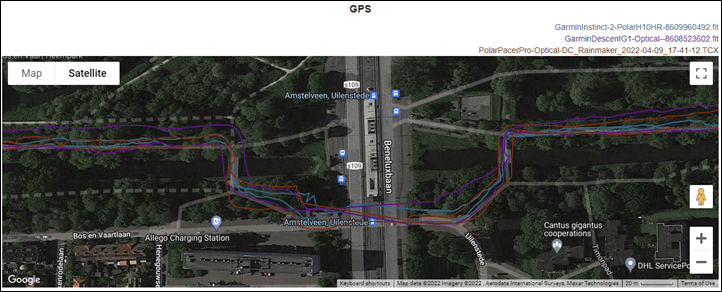 However, a minute or so later, we'd see me swimming in the canal from the Polar Pacer Pro. This should have been easy pickings for GPS here, since it's a straight path with virtually no meaningful tree cover this time of year. Again, this isn't bad, it's just meh.

Next we've got an interval run, with 800s tossed into it, as well as being both in the trees and the open. This was compared against the same set of watches and HR straps, except, I added the Whoop 4.0 band to the mix as well. As you can see, the Polar Pacer Pro optical HR nailed this one. Whereas the Garmin Descent G1 had some substantial issues at the peaks of each interval (what's odd is that it seemed to track the initial ramp of each interval where sensors fail). There were a few very minor nitpicky bobbles from the Polar Pacer Pro, but again, you can't even notice them unless you really squint and look close. Solid job here.

On the GPS side for this set, I was largely in the woods (or under tree cover). And again, at a high level things look OK – albeit you can see hints of trouble brewing down below: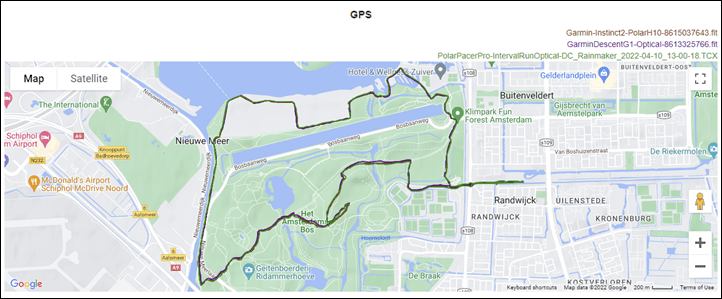 None of the units had major failures here, but again both the Polar Pacer Pro and Descent G1 just wobbled a bit off-track, usually by upwards of 15-25 meters. Below you can see that in the lower-left section it was the Polar missing the turn, whereas in the mid-section it was the Garmin being offset.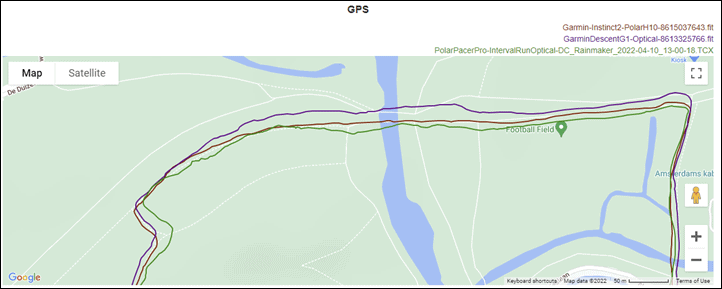 And then here in deeper woods, both the Descent G1 and Polar Pacer units were offset from the track. Albeit, the Garmin Instinct 2 did stay on-trail, which is notable because in theory the Descent G1 and Instinct 2 are the same watch under the covers.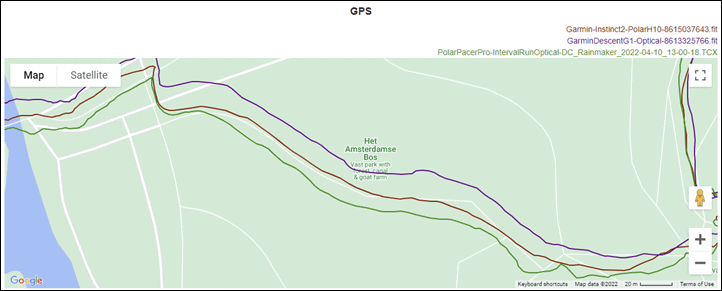 Next, we've got the running test I did. In theory this should be a relatively easy optical heart rate test, since the rate of change is exceptionally low (ok, painfully low). It's usually rate of change that impacts optical HR the most (so a sudden sprint for example). And indeed, this was pretty much spot-on with the Garmin HRM-PRO chest strap. The Whoop had some bobbles during the ramp portion for a minute or two, but otherwise they all matched.

Again GPS-wise I was mostly in the woods here, albeit on largely straight paths.

As with before, we see some off-track issues from the Polar Pacer Pro, such as this section below in the lower right where it gets really wobbly as I'm walking (almost instantly at the exact spot I transition from hard run to cool-down, it goes askew). And then stays offset through most of the way across the wetlands.

In this other section, we see both the Apple Watch Series 7 and Polar Pacer Pro trade turns in being offset, though, the Instinct seems to nail this section. The Apple Watch's failures are largely the age-old Mario Kart cornering it does every once in a while (exhibited here at low-speed turns). Whereas the Pacer Pro's issues were just being offset from the track. Though, the majority of the workout was largely correct.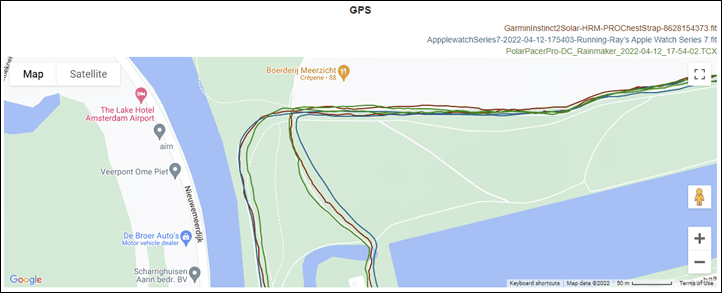 Lastly, we've got an indoor cycling workout on a Peloton Bike. This wasn't a super intense workout, but is nonetheless a good test to double-check. This is compared to the Descent G1's optical HR, and the Polar H10 chest strap (paired to the bike). In this set, it trends well enough, however, you see about half a dozen HR spikes throughout. This is something I've seen on other recent Polar watches with a slightly different optical HR sensor (Vantage & Grit X series), though haven't seen it much on the other datasets from the Polar Pacer Pro. Again, it's minor here, but does stick out when it happens.

Ok, so overall aside from a few minor issues, the optical heart rate on the Polar Pacer Pro did well for me in my testing, and again seems to mirror my sentiment that the recent Vantage M2 & Grit X Pro sensors aren't quite as dependable as the sensor used here and originally in the Polar Ignite 2. In these cases, it's performed quite well, even across demanding intervals.
As for GPS, it's a solid 'meh'. It did better than the Garmin Descent G1 (dive-focused watch), but generally was beaten slightly by the Garmin Instinct 2. It didn't have any massive errors, but just wasn't write-home-great either. I worry that for a device positioned to compete for the next 1-2 years, it might have challenges doing so as other vendors implement dual-frequency GPS at the mid-range tiers. I think you can get by without dual-frequency as long as your regular GNSS performance is fine, and this is right on the line of 'fine'. Again, not bad, just not great.
(Note: All of the charts in these accuracy sections were created using the DCR Analyzer tool.  It allows you to compare power meters/trainers, heart rate, cadence, speed/pace, GPS tracks, and plenty more. You can use it as well for your own gadget comparisons, more details here.)
Wrap-Up: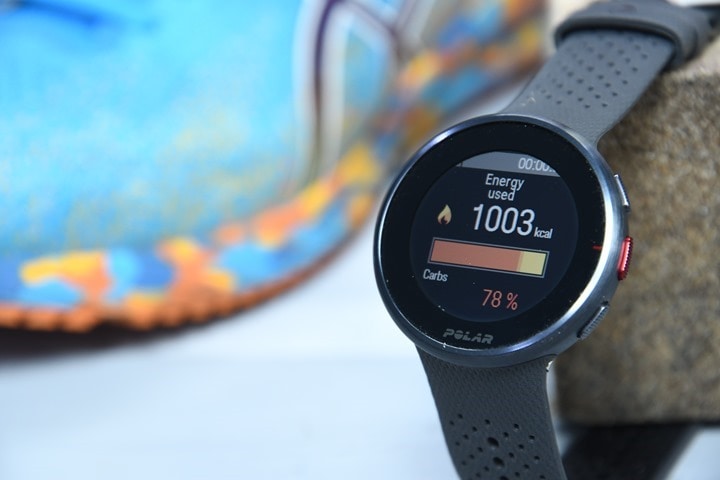 The Polar Pacer Pro is a conflicting watch to me. From a usability standpoint, it largely works well and does exactly what it says it's going to do. If I compare it to existing higher-end Polar watches, they basically just gave you almost no reason to buy their higher-end units – with only a few features missing. And the display is definitely more readable – which is good. The part that leaves me conflicted is that in many ways I feel like this is mostly just re-arranging the (features) chairs on the deck. Exempting the new walk test that clearly didn't work, there's nothing new from Polar here. And I worry, not enough movement to excite potential buyers away from the competition.
What makes this even more conflicting is that in the grand scheme of things, Garmin & COROS also do the same in terms of taking higher-end features and shifting them downstream to cheaper watches. Except the fundamental (and massive) difference is the speed at which that happens. Polar is essentially taking features from 4-7 years ago and shifting them down-level. Whereas when Garmin iterates to the sub-$300 level, it's taking features from 1-2 years ago and making them available. If we look at this watch purely from a running standpoint (which is how Polar explicitly markets it) – it has a very challenging time competing with the $199-$299 competition including Garmin & COROS (especially in Garmin's case with PacePro, or COROS's case with the $199 pricing). And I only expect that gap to significantly widen over the course of 2022.
The more I think about it, I think Polar's mistake was actually trying to revive the Polar Pacer branding for this watch and billing it as a "Runner's Watch". Yes, it works good for runners, but from a runner's standpoint, it's just not competitive to the other options. Instead, where it is incredibly competitive is as a triathlete/multisport watch. It's a very very very good deal there, and while COROS is much cheaper at $199, COROS can't hold a candle to Polar's performance tracking and daily activity aspects (or even the Polar Flow app/platform).
I don't know how to tie all that up into a nifty bow to complete this review in a single satisfying paragraph, other than to say that sometimes it's not about the technology or the features, but how you frame the intentions. And in this case, no matter how good the tech is, it's framed for the wrong audience. But if you're a triathlete, it's a hidden gem.
With that – thanks for reading!
Found This Post Useful? Support The Site!
Hopefully you found this review useful. At the end of the day, I'm an athlete just like you looking for the most detail possible on a new purchase – so my review is written from the standpoint of how I used the device. The reviews generally take a lot of hours to put together, so it's a fair bit of work (and labor of love). As you probably noticed by looking below, I also take time to answer all the questions posted in the comments – and there's quite a bit of detail in there as well.
If you're shopping for the Polar Pacer Pro or any other accessory items, please consider using the affiliate links below! As an Amazon Associate I earn from qualifying purchases. It doesn't cost you anything extra, but your purchases help support this website a lot. Even more, if you shop with TPC (The Pro's Closet), you'll save $40 on purchases over $200 with coupon code DCRAIN40! The Pro's Closet has been a long-time partner of the site here - including sponsoring videos like my cargo bike race, as well as just being an awesome Colorado-based company full of good humans. Check them out with the links below and the DCRAIN40 coupon!
Here's a few other variants or sibling products that are worth considering:
And finally, here's a handy list of accessories that work well with this unit (and some that I showed in the review). Given the unit pairs with just about any Bluetooth Smart sport sensors, you can use just about anything though.
And of course – you can always sign-up to be a DCR Supporter! That gets you an ad-free DCR, access to the DCR Quarantine Corner video series packed with behind the scenes tidbits...and it also makes you awesome. And being awesome is what it's all about!
Thanks for reading! And as always, feel free to post comments or questions in the comments section below, I'll be happy to try and answer them as quickly as possible. And lastly, if you felt this review was useful – I always appreciate feedback in the comments below. Thanks!