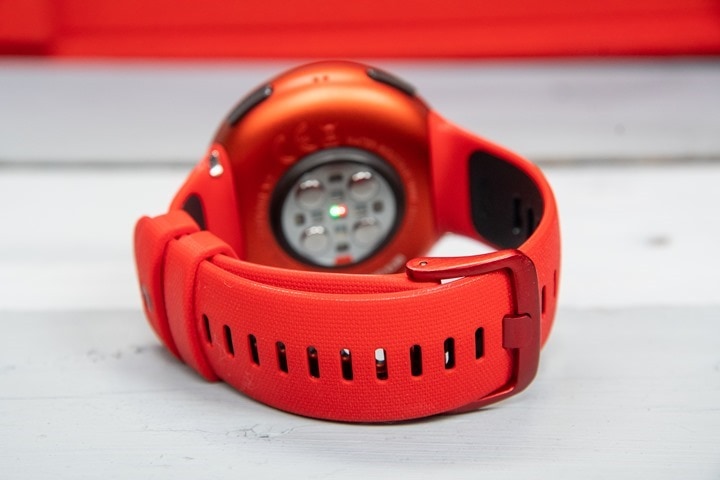 In addition to today's new Polar Grit X Pro & Pro Titan models that Polar announced, they also announced two additional Polar Vantage V2 models – the SHIFT & Red editions. Further, these models, as well as existing Vantage V2 models, get a firmware update that takes the new features introduced on the Grit X Pro today and adds them to the entire Vantage V2 family.
Meanwhile, the existing GRIT X gets many, albeit not all, of the new Grit X Pro features. And finally, the Unite gets a slate of features promised earlier in the year.
Got all that? No? Good, that's the point of this post – so you can keep reading then. Efficiency will be the name of the game here.
Vantage V2 SHIFT: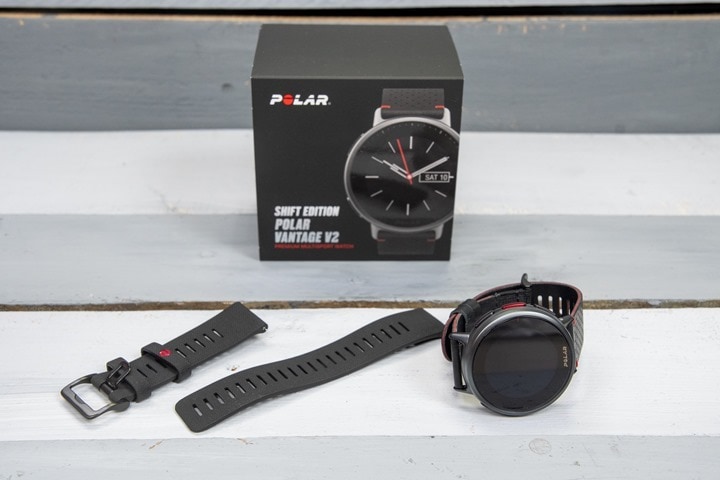 First up is the new Vantage V2 SHIFT model. This is the same internally (software and hardware) as the existing Vantage V2 that came out almost exactly a year ago. However, now you can swap any 22mm band onto it. This SHIFT version though comes with the leather band, as well as the sport band.
Best I can tell it's the same band (including red accents) that come with the Grit X Pro Titan. Here's a little gallery of it all:
And again, this is the same unit as the existing Vantage V2 internally, but with the new software update expected to release to all Vantage V2 owners as of October 20th.
The price on this one is $549, and there are actually three different SHIFT color options:

However, interestingly, Polar is also making an adapter bundle available for existing Vantage V2 owners that want to get the removable/standard strap option. Previously you could change the Polar Vantage V2 straps out, but only for other proprietary straps. This now means you can use any 22mm strap you want. There's approximately one gazillion of them on Amazon.
Here's what Polar had to say about that bundle:
"The all-new SHIFT™ Edition Bundle is available for all existing Polar Vantage V2 owners. The parts included in the bundle allow Polar Vantage V2 users to update their current watch into a SHIFT™ Edition and seamlessly swap out their current wristbands for any other 22mm Polar wristband. These wristband options include the stylish perforated leather wristband and the premium FKM wristband"
I don't see that listed quite yet on Polar's site, but I'm guessing this will show up on October 20th as well. The price will be $49USD.
Vantage V2 Red: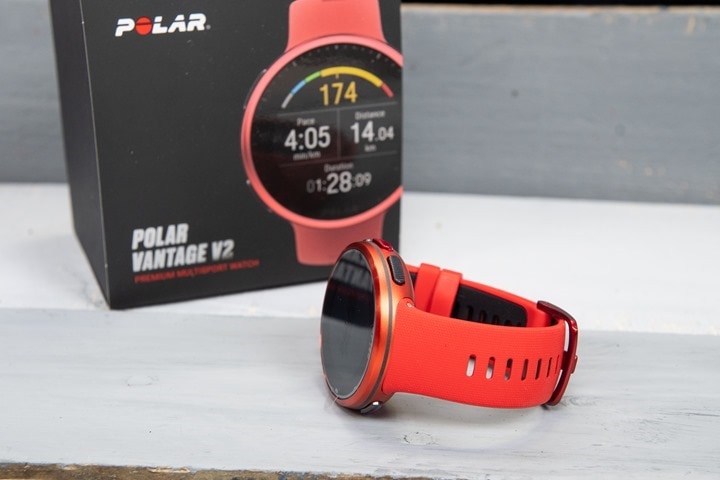 Meanwhile, we've got one of my favorites – the Vantage V2 Red edition. Now, to be clear, this isn't technically a PRODUCT(RED) unit. It's just a red unit (the difference being PRODUCT(RED) units benefit that charity).
Here's a gallery of that:
Again, same hardware as previously Vantage V2 – just very very red.
Also, you can see this unit is also pre-loaded with the new Vantage V2 firmware coming on October 20th, which now includes all the new GRIT X PRO features, such as the compass/altimeter watch face. Watch as my iPhone struggles to render this photo correctly. I suppose the sunburst and flaming red colorway threw it for a loop.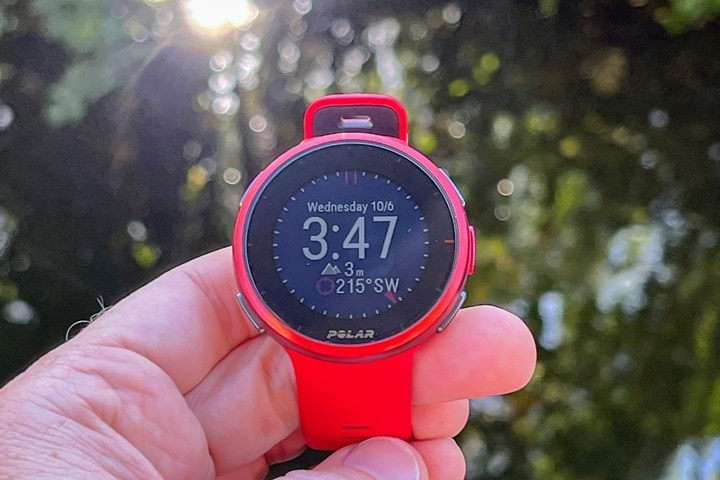 The pricing on this is $499USD (same as regular Vantage V2) and is slated to show up for sale on October 20th.
Unite, Vantage V2, Grit X Firmware Updates:
Finally, there's three different firmware updates in play here. We've got the Polar Unite firmware that actually dropped a bit over a week ago. Then there's the Vantage V2 firmware coming October 20th. And finally, a Grit X (original) firmware coming by end of year.
Here's what's in each one. First up is the Polar Unite firmware update:
HR sensor mode
Weekly training summary
New watch face styles and colors
Energy sources summary
User selectable watch faces
Customizable Quick settings menu
Activity Goal reached animation
Current distance and exercise time displayed in Pause mode
Other minor updates and bug fixes
Then there's the slated Polar Vantage V2 firmware update (officially firmware version 3.0), coming on October 20th. While Polar has the official list below, know that it's actually a lot more than that – as there's tons of nuanced features of the Grit X Pro that come into this, such as zooming on maps and such.
Adds new sunrise/sunset/daylight/etc dashboard
Adds new altimeter/compass/GPS coordinates dashboard
Adds new Route selection profile page (with map, elevation profile, hydration/nutrition reminders in one spot)
Adds new in-workout route elevation profile page
Adds further 'back to start' routing options including reverse route, beeline, and traditional track back
Adds ability to load route mid-workout
Adds ability to change brightness setting
Adds HR sharing
Adds Music Controls
Adds Backlight brightness setting
Again, it's totally likely the above major features list misses some of the nuance of the massive list of tiny Grit X Pro features, but in short – everything there is coming in the Vantage V2 (so if you see it anywhere, it should be on the V2 as well by October 20th).
And finally, here's the original Polar Grit X firmware update list, as slated for 'by end of year'. This list is longer because I went back and forth with Polar getting a complete list of exactly everything that's coming (and what's not). Whereas for the Vantage V2 firmware update it was basically "everything on the Polar Grit X Pro".
Adding Music controls
Adding Running performance test
Adding Possibility to change route during the training session
Adding HR Sharing/Broadcasting mode
Adding Weekly-summary watch face view
Adding Power based training targets
Adding ZonePointer for power and speed zones
Adding Last lap details to training views
Adding Ability to turn off your watch
Adding Ability to perform a factory reset on the watch
Adding "Your name" watch face view
Adding Ability to manually skip a phase during phased session
Adding See the distance covered and time elapsed when pausing a session
Adding Silence a phone call from the watch
Adding Fully customizable quick settings menu which conveniently gives you access to flight mode, do not disturb, alarm, and the countdown timer by swiping down from the top of the display in time view.
Oh, and because I forgot to mention it – the Unite model got a new teal and red color options (two different ones) – both $149USD.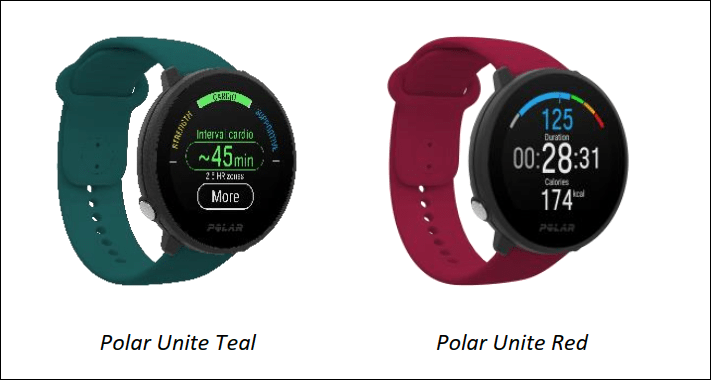 There ya go, that's it. See, neat and tidy!
Thanks for reading!
Found This Post Useful? Support The Site!
At the end of the day, I'm an athlete just like you looking for the most detail possible on a new purchase. These posts generally take a lot of time to put together, so if you're shopping for the Polar Vantage V2 or any other accessory items, please consider using the affiliate links below! As an Amazon Associate I earn from qualifying purchases. It doesn't cost you anything extra, but your purchases help support this website a lot. Even more, if you shop with TPC (The Pro's Closet), you'll save $40 on purchases over $200 with coupon code DCRAIN40! The Pro's Closet has been a long-time partner of the site here - including sponsoring videos like my cargo bike race, as well as just being an awesome Colorado-based company full of good humans. Check them out with the links below and the DCRAIN40 coupon!
And of course – you can always sign-up to be a DCR Supporter! That gets you an ad-free DCR, access to the DCR Quarantine Corner video series packed with behind the scenes tidbits...and it also makes you awesome. And being awesome is what it's all about!