Polar has announced a handful of new watches today, but the main headliner is the new Polar Grit X Pro. It technically comes in two flavors – the base Grit X Pro which includes not only a new look, but a pile of new software features. And then the Grit X Pro Titan, which includes all those same new features and new look – but also a lower weight and leather strap.
Within the new software features, Polar has added new dashboards that appeal to the outdoors realm, including a daylight dashboard, as well as an altimeter & compass dashboard. They've also added a new route profile page, as well as TrackBack feature. Beyond that, the company has pulled in virtually all of the features of the Polar Vantage V2 that it introduced last fall, plus new features added from the Polar Ignite 2 this past spring – including heart rate sharing/broadcasting.
Note that Polar sent over a Polar Grit X Pro Titan media loaner, which I've been using for a bit to put through its paces. Once this review is done, I'll get it boxed back up and sent back to them. After which I'll likely go out and buy my own for future use/comparisons. If you found this review useful, you can use the links at the bottom, or consider becoming a DCR Supporter which makes the site ad-free, while also getting access to a mostly weekly video series behind the scenes of the DCR Cave. And of course, it makes you awesome.
With that, let's get into it.
What's New:
The Polar Grit X Pro & Grit X Pro Titan add a number of new features compared to the original Grit X. Most of these features are ones that Polar has introduced on other watches over the past year, primarily from the Vantage V2 last fall. However, others were introduced this past spring on the Polar Ignite 2 (such as Heart Rate broadcasting). Still, there are some brand-new features not yet seen on other Polar devices. Virtually all of these new ones get added to the Vantage V2 on October 20th in a firmware update. Meanwhile, the original Polar Grit X will get most of these features at the end of the year (see the end of this section for the full list).
Here's what's new in the Grit X Pro compared to the original Grit X:
Adds new sunrise/sunset/daylight/etc dashboard
Adds new altimeter/compass/GPS coordinates dashboard
Adds new route selection profile page (with map, elevation profile, hydration/nutrition reminders in one spot)
Adds new in-workout route elevation profile page
Adds further 'back to start' routing options including reverse route, beeline, and traditional track back
Adds HR broadcasting (HR sharing)
Adds Power ZonePointer
Adds Orthostatic Test
Adds Leg Recovery Test
Adds Cycling Test
Adds Running Test
Adds Dashboard View Customization
Adds Music Controls
Adds Recovery Pro (Training Load Pro was already there previously)
Adds new backlight settings
Adds Zoom in/out on route trail (breadcrumb)
Adds compass etching around bezel
Added ability to use Galileo & QZSS satellite systems
Changed to new Sapphire glass for better durability
Polar Grit X Pro Titan only: New 12% lighter case than Grit X Pro, new titanium case
Polar Grit X Pro Titan only: Added leather strap (also includes secondary FKM rubber strap)
Polar confirmed the optical HR sensor, GPS, and display all remain the same as the Grit X.
Price for the Grit X Pro rises to $499 (from $429)
Price for the Grit X Pro Titan is $599
Battery life remains identical to the original Grit X at 100hrs of GPS, or 7 days standby.
Regular Polar watchers will note that almost all of these were around new Polar watches over the past year. The entirely new features from this list are:
Adds new sunrise/sunset/daylight/etc dashboard
Adds new altimeter/compass/GPS coordinates dashboard
Adds new Route selection profile page (with map, elevation profile,
hydration/nutrition reminders in one spot)
Adds new in-workout route elevation profile page
Adds further 'back to start' routing options including reverse route, beeline, and traditional track back
Adds ability to load route mid-workout
Adds ability to change brightness setting
Polar uses the term 'Dashboard' where other companies might use widget. Either way, it's basically a view from the main watch page that doesn't require starting a sport. Here is the new sunrise/sunset/daylight dashboard. First the main page, and then the details section:
And then here's the new altimeter/compass dashboard, as well as details section which includes a historical view as well as quick-access ability to calibrate both compass and altimeter. Additionally, it'll show your exact GPS coordinates quickly:
Then there's the new route selection page. This appears when you choose a route breadcrumb, it'll now give you a map and elevation profile, from Komoot routes. Additionally, there's a handy option right there to add hydration/nutrition reminders (whereas in the past you had to do so separately).
And then during a route/workout you've got a new elevation profile page, showing the full route and profile and your position on it: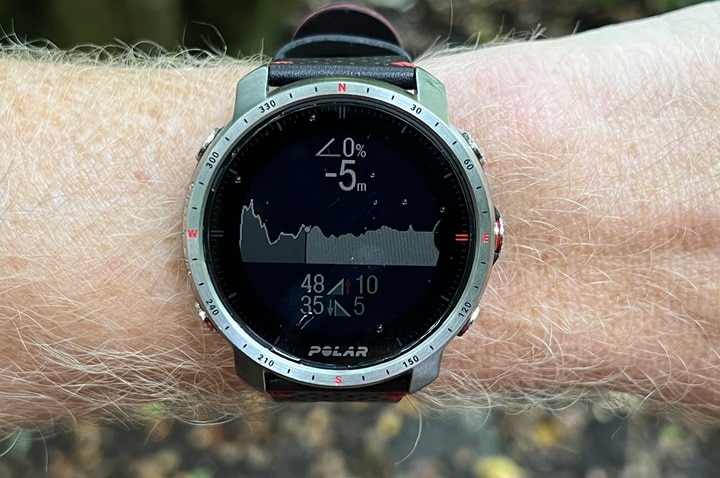 In Routing, there's additional mid-route options on how to handle going back to the start. You've now got three options in total: You can reverse the route (as planned), you can track back (ignoring the planned route and following what you actually did), or you can go via 'beeline'. Note that these are sorta split between different menu sections – but nonetheless all there. Plus, you can now add/change a route entirely mid-workout/activity.
With that, we'll cover the remainder of the newish features throughout the rest of the review.
And finally, for lack of anywhere also to stick it, here's a quick summary from Polar, on their original Grit X update plans, slated for the end of this year (2021):
Adding Music controls
Adding Running performance test
Adding Possibility to change route during the training session
Adding HR Sharing/Broadcasting mode
Adding Weekly-summary watch face view
Adding Power based training targets
Adding ZonePointer for power and speed zones
Adding Last lap details to training views
Adding Ability to turn off your watch
Adding Ability to perform a factory reset on the watch
Adding "Your name" watch face view
Adding Ability to manually skip a phase during phased session
Adding See the distance covered and time elapsed when pausing a session
Adding Silence a phone call from the watch
Adding Fully customizable quick settings menu which conveniently gives you access to flight mode, do not disturb, alarm, and the countdown timer by swiping down from the top of the display in time view.
Phew. So basically, the original Grit X isn't getting the cycling and running test, leg recovery test, orthostatic test, and the new reverse route features. Nor the elevation profile aspects pre/mid-route, or the Recovery Pro pieces from the V2. And finally, not the daylight or compass dashboards.
Ok, let's get into the review.
The Basics: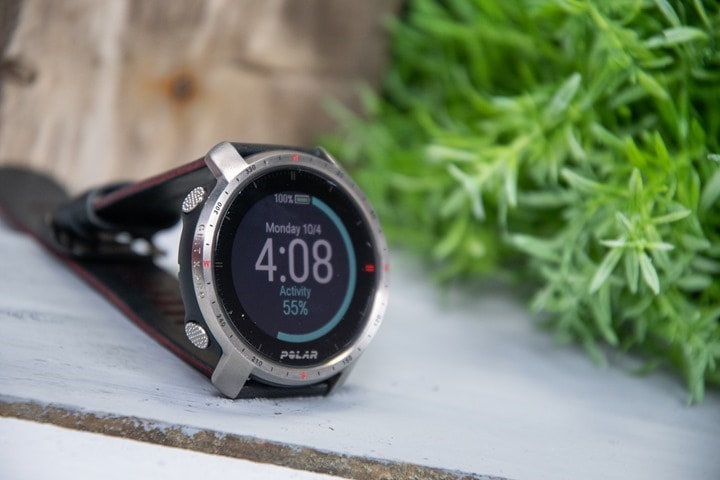 To begin, the Polar Grit X Pro includes both a touch screen as well as dedicated buttons. With a watch designed for more rugged outdoor use, I appreciate not being forced into using the touchscreen – and in fact, rarely did so. For mid-interval workouts or anything else involving wetness, using the buttons was efficient and quick. Each of the buttons had both good feel, as well as the very slight haptic vibration from inside the watch when pressed (as a confirmation you did indeed press the button).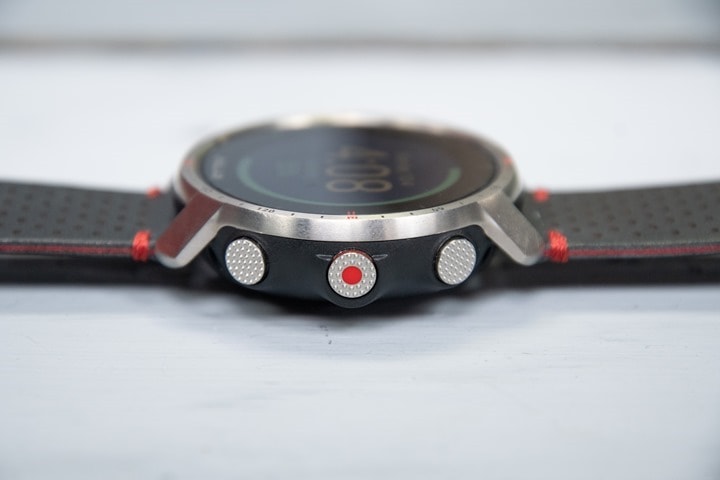 The button grip material remains the same from the original Grit X, however the buttons are now silver. This makes them easier to visually spot, whereas the original Grit X had the buttons the same as the case color on the black edition.
In any event, as noted you can swipe with the touchscreen. It's fine, but nothing to write home about. As with the original Grit X and Vantage V2, operations still seem a bit laggy in some cases. For example, in my workout yesterday, it took three seconds each time I pressed the lap button until the actual lap banner confirmation came up. That's a heck of a long time in an interval workout to not be sure whether or not the interval 'took'.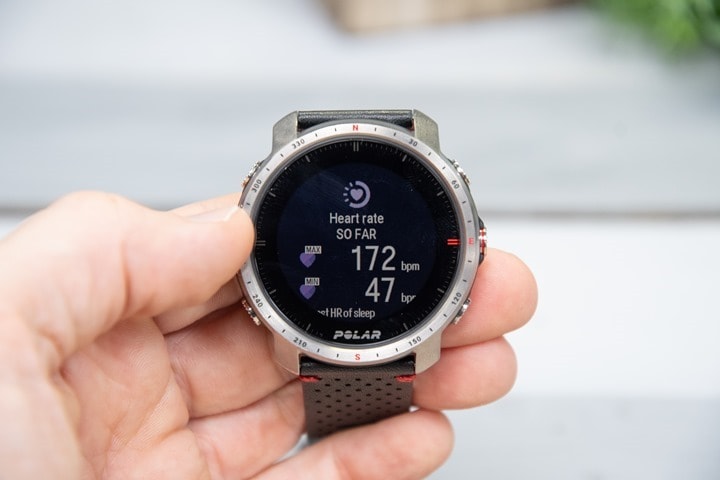 In terms of bands, the Grit X series uses 22mm bands. With the Grit X Pro Titan, you'll get both a leather band, as well as a rubber band. So I'd run with the rubber one, and then use the leather one for daily wear. Or sometimes I'd just leave the rubber one on, because I was too lazy to switch it. The watch uses a simple quick-release mounting system, so it only takes about 2-5 seconds per side to swap. Here's a little gallery of the straps:
Flipping the watch over you've got Polar's optical sensor, officially known as the Precision Prime sensor. This arrangement is identical to that of the Grit X and Vantage V2, and is seen as an evolution of the original Vantage V Precision Prime sensor arrangement. With the original Vantage V there were 9 LED's (5 green, 4 red, + 1 unused yellow). But the Vantage V2/Grit X/Grit X Pro there's now 10 LED's used (5 red, 4 orange/yellow, 1 green). Typically speaking, the different color LED's handle different skin colors better. But more on accuracy later on.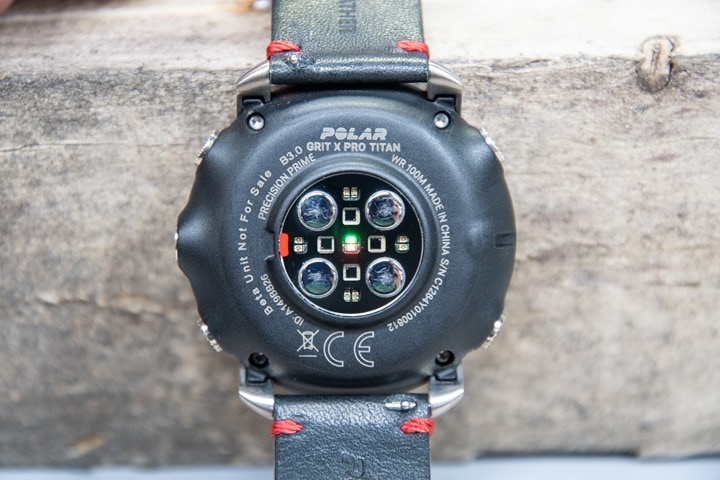 Back on the display of the watch, it's the same as the original Grit X. The main difference though outside of sport mode is that you've got new dashboard pages, and you can customize which dashboard pages are enabled. That's done by pressing the lower left button, and then going into 'Watch face views'. Here there's a list of which ones you have enabled/disabled:
The watch face views have various information on the main page, with more detailed information when you tap into it. For example, here's the activity one, both the main view, and then the deeper view. Each of the main views for all dashboard pages is meant to operate as the main watch face, so you still get the time/date/etc…
All of this information is then accessible from Polar Flow on their smartphone apps, as well as online via the Polar Flow website.
For example, here's the heart rate one, showing my heart rate details for the day – including workouts: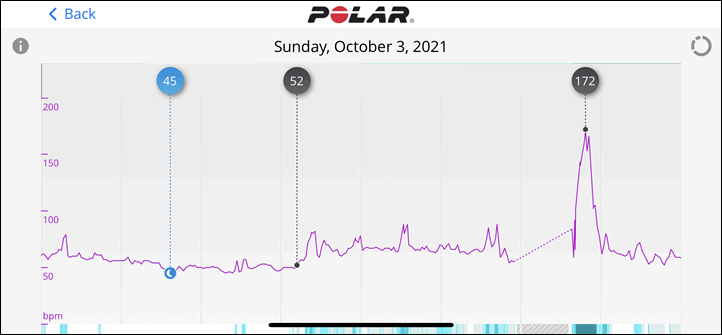 You can see this within the Heart Rate dashboard view on the watch too: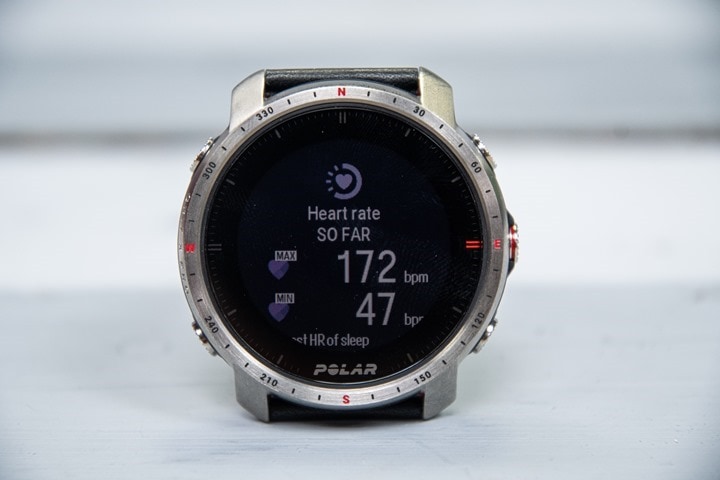 Same goes for sleep:
And then sleep details up on Polar Flow. In general I found it did a pretty good job of picking up my exact sleep times, as well as sleep disturbances. I don't have any method of validating sleep phases though, so I can't speak to that particular component. Albeit, some of the text in this section, namely the red text can be tough to read.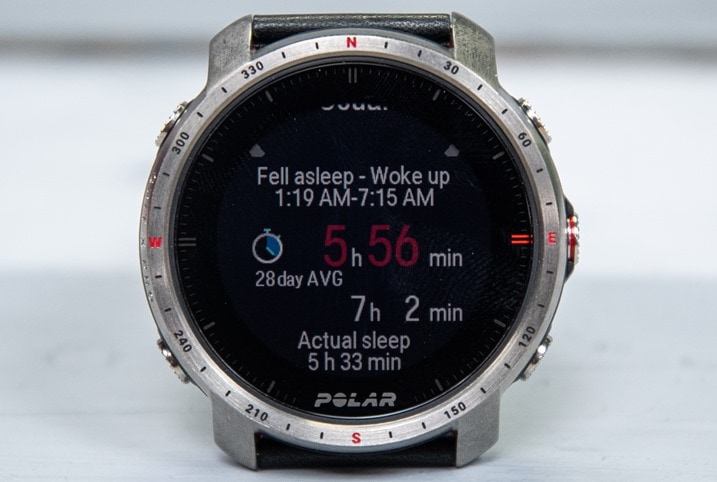 I outlined the new dashboards in the 'What's New' section (the daylight one and baro/compass one), so I won't rehash those here. Beyond that, there's also a few more including the weekly training summary, Training Load Pro, Last Workout, and Weather.
At the bottom of each one there will be a red dot for any smartphone notifications. As with most smartwatches, these notifications are fairly basic. It simply shows the message content, and you can clear the message, which also clears it from your phone. But you can't respond to it (such as for text messages).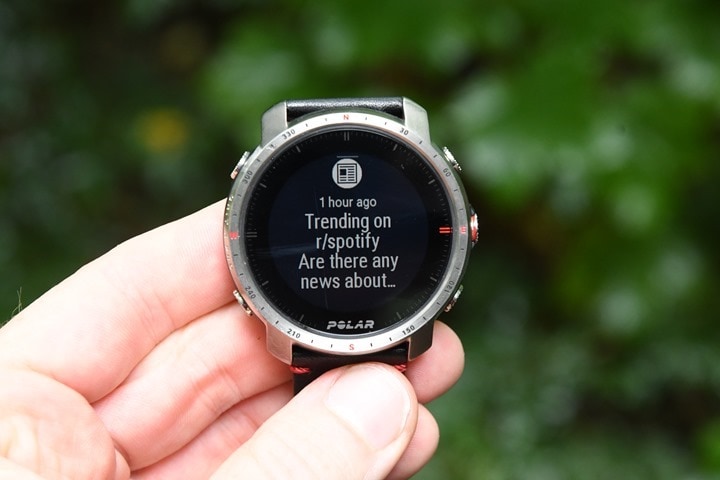 You can toggle whether or not you want to receive notifications, as well as a slew of other features within the settings menu. The settings menu also controls changing the recovery mode from Nightly Recharge to Recovery Pro, (more on that in the sports section). You can also pair sensors in here, plus disable features like the 24×7 heart rate tracking (if you're trying to eke out every last bit of battery life).
Lastly, there's the newish music control feature.
This allows you to control music on your phone. You'll access this by swiping up from the bottom of the screen. You'll need to have a music app open on your phone for this to work. The Polar Grit X Pro series *NOT* have any music storage on it. So it's *ONLY* controlling music already on your phone.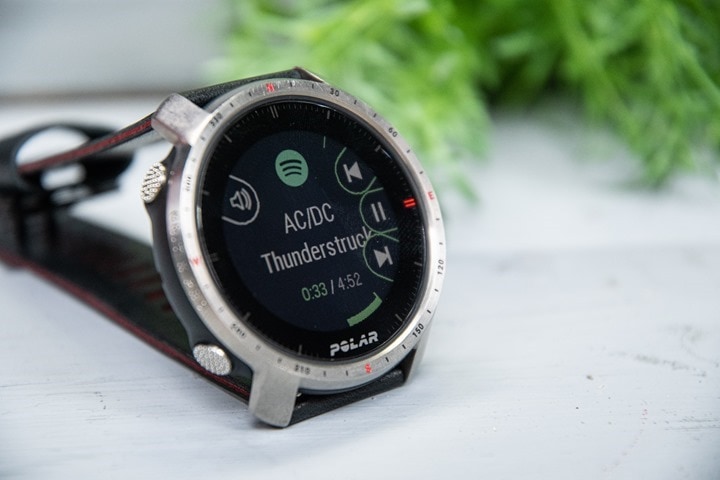 I appreciate that it does pull the correct music service icon. So for example, you can see I'm playing Spotify, and it shows that icon. Versus if I crack open YouTube it'll show that. Technically speaking it's not straight music control, but really 'media control', so it'll play/skip/etc any media service that's playing on your phone (or at least the iPhone).
I can skip/rewind/pause/play on the main screen, as well as tap the volume icon to increase volume: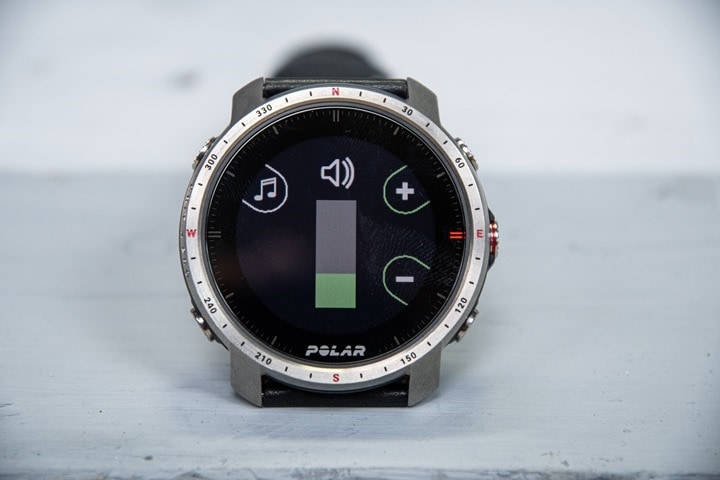 There's no other options beyond that, such as selecting songs or such. It's just iterating through what you have – pretty similar to what buttons on a pair of headphones would do.
And just for the sake of semi-related clarity, there's no NFC payments on the Polar Grit X Pro. I don't believe there's any hardware in there, and as with the Polar Vantage V2, it'd be incredibly difficult for them to implement contactless payments without having a partner of some sort doing the leg work (which would take years), and I'm not aware of any mainstream/widespread partners that aren't already tied up in exclusivity agreements with other wearable companies. This is unfortunately a case where the financial industry has made it challenging for any new or smaller companies to play in this space, due to the way payment processors work. In any case, if you're looking at this watch, you're likely doing so more for the sport features than the ability to tap for payments at Dunkin Donuts (as amazing as that is).
In terms of battery life, Polar has a claim of up to 100hrs in the longest GPS modes, but for most people you'll be using the standard GPS mode which is 40 hours. Polar also claims 7 days of standby battery life. In my case I was using GLONASS GPS at about an hour or so per day and the battery burn per activity seemed normal with what I'd expect (in other words, nothing crazy). Same goes for regular wear.
So with that, let's talk sports.
Sports Features: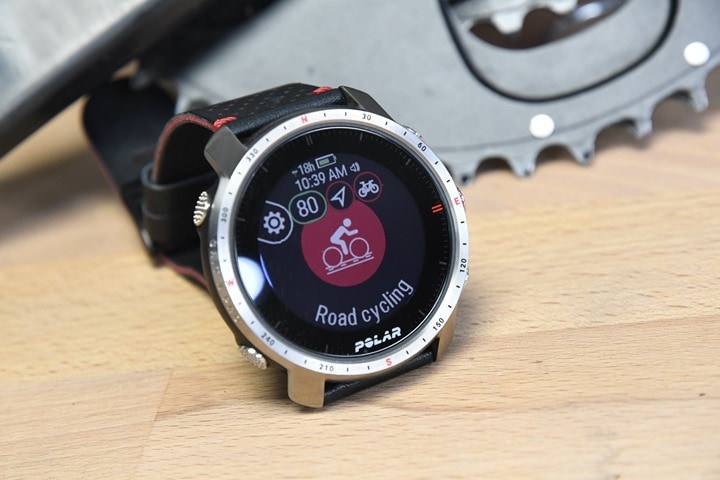 I suppose if I was into saving time, I'd just copy and paste my Polar Vantage V2 review into this sports section and call it done. As by and large, it's virtually identical. Essentially, Polar has taken the upper-end sports and recovery features of the Vantage V2 and stuffed it into the Grit X Pro. However, that wouldn't cover everything, as the Grit X Pro now adds a handful of new features around routing and navigation. So while I briefly touch on those in this section, most of those are instead in the next section dedicated to routing newness.
To start a sport/workout on the Grit X Pro, you'll tap the lower left button, which opens up the sports menu. You can store up to 20 sports here, each with its own set of customizations – like data fields or automatic lap preferences.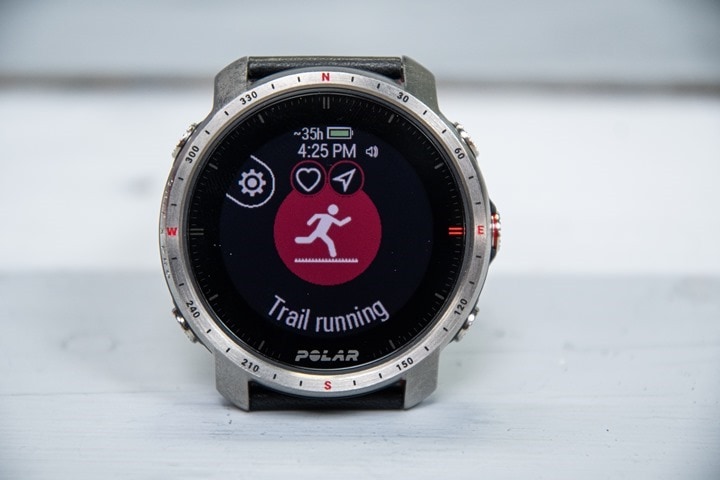 Polar has some 100 different sport profiles you can choose from. Most of these focus more on calorie burn specifics than capturing exact movements. So for example, practically speaking there's no technical differences between the Road Running and Trail Running profiles. But it allows you to better categorize your workouts, and perhaps have different preferences for each.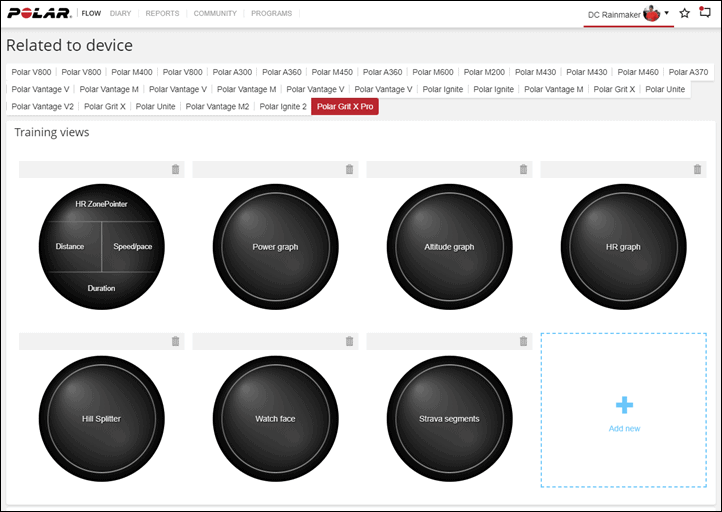 Here's a look at the different data page fields options. You can also change things like GPS recording rates and the altimeter. This can be useful if you need to conserve battery for really long activities (as in, more than 30-40 hours). Otherwise, I'd strongly recommend you stick with the 1-second recording rate as any other recording rate will significantly reduce the accuracy of the GPS tracks.
All of this can then be synced with the watch via either Bluetooth Smart or USB to your computer. So throughout the day it'll sync via Bluetooth, whereas if you were to plug it in to charge, and that cable happened to be plugged into your computer – then it'll sync that way.
With that all settled, back on the watch you'll see your heart rate and GPS status displayed on a given sport profile. If you've selected an indoor profile (like spinning), then it won't utilize GPS. Similarly, if you've got any sensors it'll automatically connect to ones you've paired up previously – such as a heart rate strap.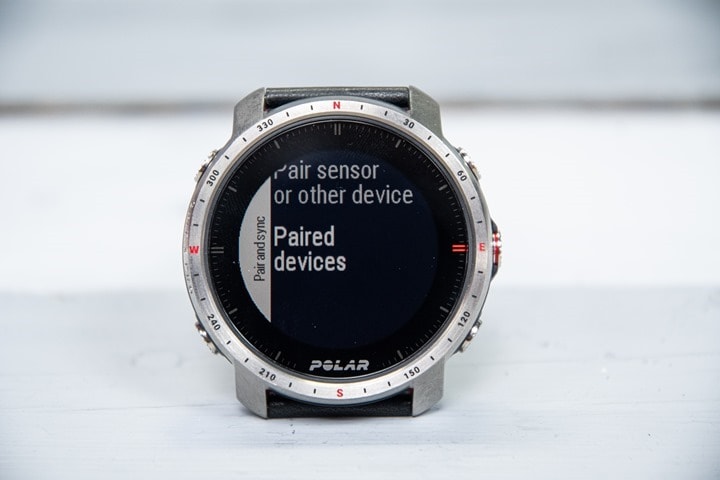 The Grit X Pro supports the same sensor types as the original Grit X, and the Vantage series. These are:
– Bluetooth Smart Heart Rate Straps
– Bluetooth Smart Cycling Power Meters
– Bluetooth Smart Cycling Cadence & Speed Sensors
– Bluetooth Smart Running Footpods
– Bluetooth Smart Running Power Meters (it also includes a built-in one)
From a cycling power meter standpoint, it's more iffy unfortunately. I wasn't able to pair to a Peloton DFC Bluetooth Smart power broadcaster (every other watch I've used had no problems here), nor was I able to pair properly to a PowerTap P1 or P2 power meters (it only saw the left pedal, and then failed to pair with either). On trainers, I was able to pair to a Wahoo KICKR 2020/V5 properly.  There's no support for ANT+ in the Polar wearables. Though you can pair multiple types of sensors to the watch easily via the sensors menu. So you can effectively save multiple bikes' sensor configurations, or multiple heart rate straps, etc…
Meanwhile, the upper right settings icon on the sport profile allows you to select routes, add timers, and load favorited (structured) workouts. It's also where you can toggle the settings to get upwards of 100 hours of GPS battery life.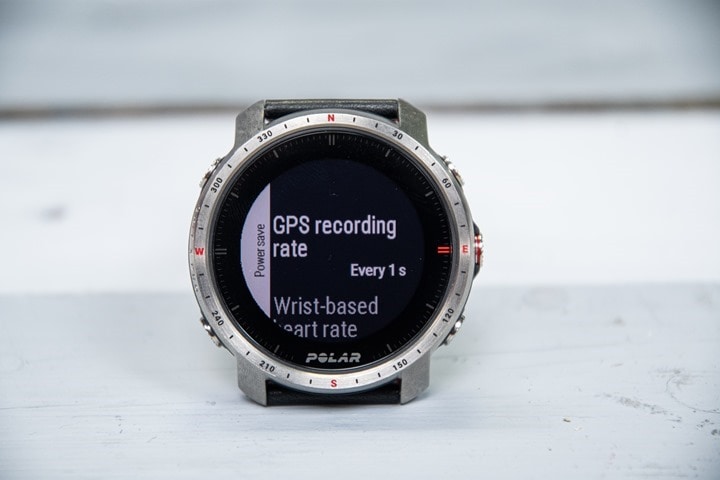 With that, we can go ahead and load up the route and/or start our workout (we'll talk about routing in the next section). You'll now see your data pages and data fields as you've configured them for that sport profile. If using GPS outdoors you'll get speed/pace and distance, as well as any altimeter-related details like elevation/ascent/descent. Essentially all the usual bits you'd expect from any GPS watch over the last decade or so. Here's a few looks at those data pages.
In terms of visibility, the Polar Grit X Pro is 'fine'. Not incredibly clear, but not bad either. Just sorta the middle of the road. I've now run through a fugly hard rain/hail storm, run at night, and mid-day, all without any issues in visibility for my eyes. Though, my eyesight is pretty good. For rest-of-day usage, the screen is always-on, so it doesn't shut off to save battery life like some fancier display watches do. Ultimately, Polar is saving screen brightness/brilliance for battery life. The idea being you don't need to charge this watch every day, but can go a week or so before a charge. That *IS* a core reason people buy these over watches with fancier displays.
Back into our workout, with the Grit X Pro you'll get running power natively from the wrist, just as with the original Vantage V series (and the original Grit X). It uses the accelerometer in the watch on your wrist to make those calculations. That has its pros and cons as I've outlined previously. So that'll show up automatically as a data field, as well as later in your workout data files (shown as wattage below –496w in one of my tempo workout intervals):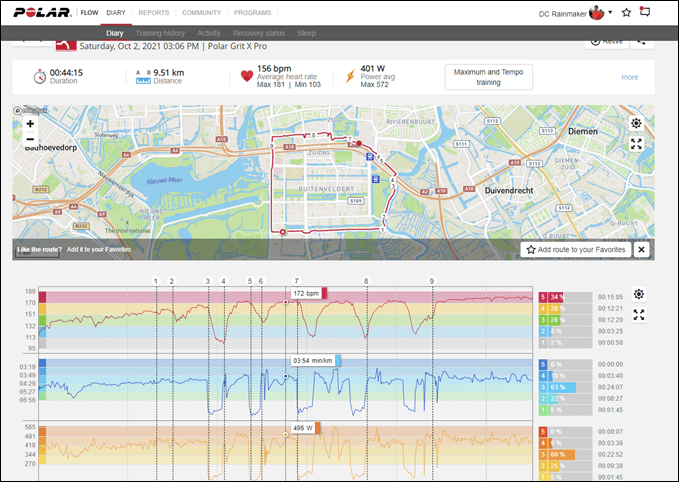 If you're running/riding in a location with hills involved, you can utilize the Hill Splitter feature. This feature tracks each rep of a hill, without any pre-planning required. So it'll automatically detect when you ascend or descend a hill, and then track the distance and time of that climb/descent. It'll also count the reps of ascent/descent, which then is summarized on both the watch and app afterwards.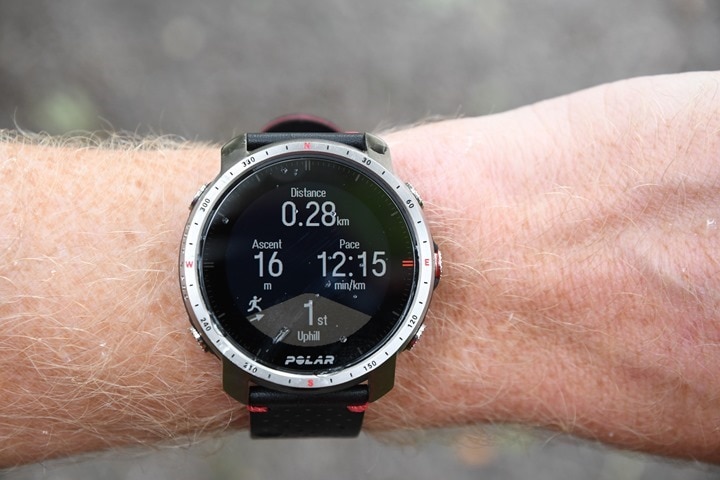 As you start going up a climb, once you hit around the 8-10m of elevation gain marker, it'll trigger an ascent, and the screen changes to the below screen which shows how far you've run/ridden/hiked up that climb, as well as the duration. And of course, you see which number hill this is (e.g. 1st ascent). Note that Hill Splitter does NOT reference any saved course/route data. It's purely off the cuff style hill counting. That has its pros and cons. It's great for impromptu weeknight training sessions where you just pick a hill and start doing repeats without creating/loading a course. Inversely, it's not terribly useful in the Alps or something where you've got massive climbs and want to know how much ascent is left – it won't tell you that. Nor does it leverage any of the new elevation profile bits.
If you're looking for even more depth on Hill Splitter, check out my full, dive into all the pros and cons and nuances of Hill Splitter here in my original Polar Grit X review with an entire section dedicated to it.
Now, once you're done with a workout/activity, you'll get a slate of metrics on the watch itself, here's a quick gallery of those:
After which it'll sync to Polar Flow via phone/USB, where you can view the same workout there as well. It can also be configured to automatically be synced to various Polar Flow partners, like Strava or TrainingPeaks, depending on how you've got your account set up.
Now one of the core reasons to buy a higher-end watch like this is to balance training load with recovery, and Polar has a slate of features aimed at that.  The original Grit X already had Polar's Training Load Pro and FitSpark features, but they're fairly important, so I'll dive into them here as well – even if briefly.
Polar's FitSpark is essentially a virtual coach that has no overarching fitness/seasonal goal in mind, except to give you a custom workout of the day…every day. But the biggest and most important takeaway is that it looks at your nightly recharge scores and underlying sleep data to determine whether or not you should be doing anything at all. Polar will look at that sleep data and give you a go/no-go type guidance, and then depending on what your greater training data looks like, will also give you specific workouts to do.
Remember, this isn't tied to a plan. Meaning, you're not tied to some 10KM race plan. This is basically saying 'Yo, I know a scary amount about you, here's four options for workouts today. Pick one.' Oh, right, yes, it gives you options. Numerous options. Pick your poison: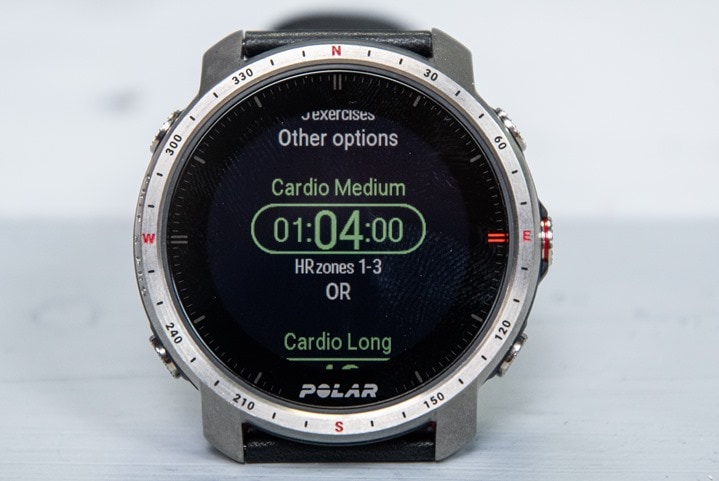 And then, for each of those options, it'll give you the specific steps and guidance in the watch itself. There are cardio-focused running workouts with different intensities. And then there are core type workouts too, and for those, it'll give you the specific moves to do, along with animations and text for each one:
But let's say you choose the cardio workout, go run an hour or so, and then finish up. At that point, the watch gives you new suggestions. Specifically ones around active recovery such as stretching and related core workouts that'll help and support that initial workout.
Again, keep in mind the goal of this function isn't to be an endurance trail running coach. It'll suck at that. Instead, the goal is actually more applicable to date: To keep you fit and push you slightly with mostly varied workouts across disciplines (such as flexibility and strength).
Now that's different than Polar's Training Load Pro, which is designed to be more on the endurance athlete side. This dashboard will show your Cardio Load Status, which shows you whether you've got too much or too little load. You can see this from the watch face, and then dive into it to get more details:
Strain is a metric showing the average daily load from the past 7 days. Whereas Tolerance shows your average daily load from the past 28 days. So basically you can look at those two values and see the ratio as part of the number above it, such that it keeps things in check. Go too high, and you're prone to injury. Too low, and you're not going to make gains. In the middle, and life is grand.
You can also view this on the Polar Flow app:
Now, when it comes to Recovery Tracking, you've got a binary choice between using 'Nightly Recharge', which is mostly focused on sleep tracking, or using Recovery Pro. You have to select one. By default, it's Nightly Recharge, but you can change it in the settings: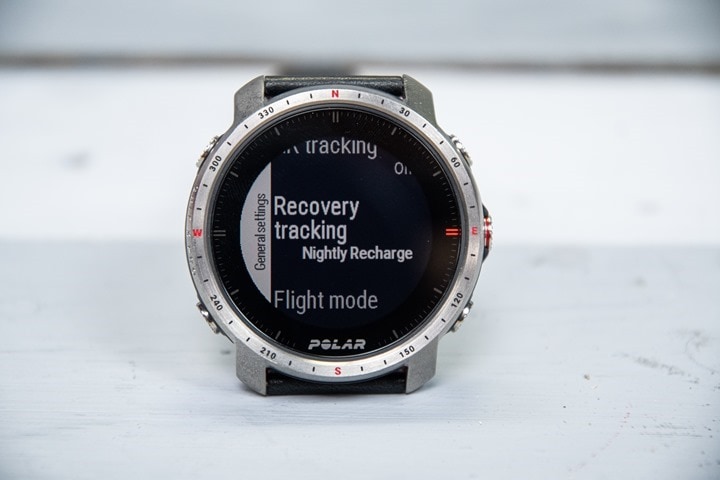 However, selecting Recovery Pro means that you'll need to break out that chest strap at least three mornings per week and do the Orthostatic test. The chest strap is required for more accurate HRV related data that's used for making the recovery determinations. Somewhat handily, you can even specify exactly which mornings it'll prompt you to do this.
In my case, I just used the Nightly Recharge function – though that too will require at least three days of activity before it starts giving you results. So just keep that in mind.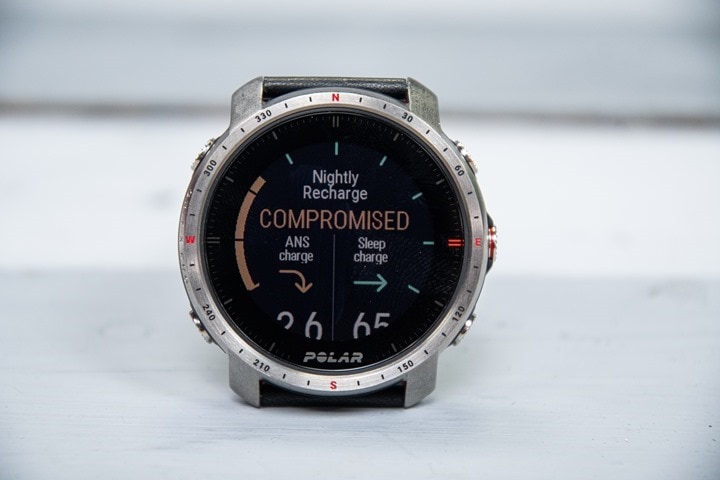 Next in the 'are you ready' section are the additional tests. And one of the new features of the Polar Grit X Pro is the addition of far more testing options. Polar introduced this new suite of tests back on the Vantage V2, and we've seen the Grit X Pro adopt all these. Essentially this allows you to do a Cycling FTP test, a Running VO2Max test, a Leg Recovery Test, and an Orthostatic Test. Previously you could only do a generic 'Fitness Test' (which you can still do). All these tests are accessed via the lower left menu:
Now I previously did all these tests as part of my Vantage V2 review, so I'll refer you to that deep-dive section there where I iterate through how all of them work (and suffer through them). But ultimately, it'll re-iterate the same thing I said (except, swapping out 2021 for 2020). In 2021, most platforms can do this sort of testing automatically based on your existing workouts. Sure, if you need a one-off test – then go forth. But assuming you're putting in the mileage, then most training platforms can relatively easily take your existing cycling/running data and determine your VO2Max and FTP. In fact, Polar's own platform estimates VO2Max after your workouts anyway. This tries to be slightly more accurate.
Now the leg recovery test is indeed something that's standalone and more valuable, as there's not much out there that's going to determine that purely from training data. As leg recovery is far more heavily tied to proper hydration/nutrition recovery, than straight heart-rate driven recovery. And further, the leg jump test data is actually fed into Polar's FitSpark feature, which then can use it to determine which workouts it'll give to you next.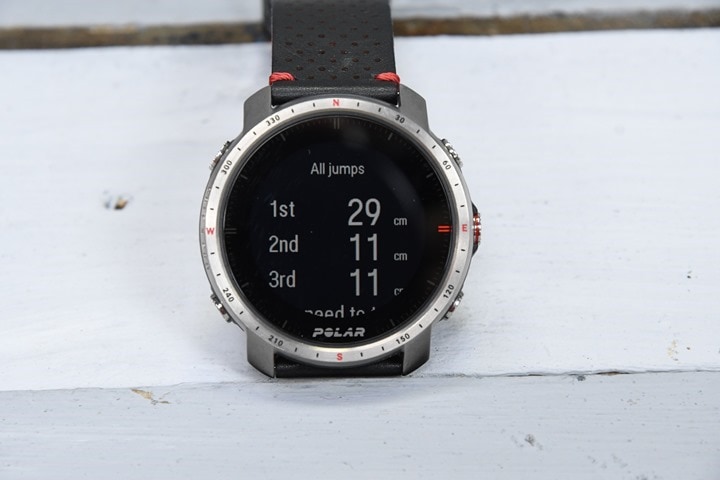 Finally, rounding home there's the newish HR sharing (re-broadcasting) feature. I first tried this out on the Polar Ignite 2 this past spring, and Polar committed to bringing it to the Polar Grit X and Vantage V2 by the end of the year (which it's doing). And of course, the Grit X Pro gets it out of the gate. This feature allows you to broadcast your heart rate over Bluetooth Smart to other apps/devices, like Zwift or a bike computer.
To pair this up you'll choose a sport mode and then select the upper left button to see HR Sharing: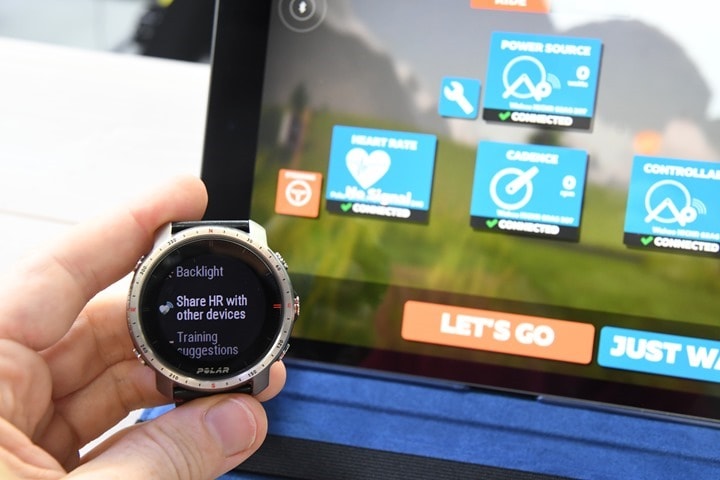 From there it'll go into a broadcast mode where it'll show up on other devices as accessible/pairable. So now on the other device, you'll select the Polar Grit X Pro.
Then hopefully, it'll 'lock' the pairing. Just as back this past spring, I found this a bit finicky. Most other devices don't do a 'pairing', but just broadcast (because as the history of the world has shown, pairing can be finicky). Still, once I did the open/close dance a few times, it'd stick.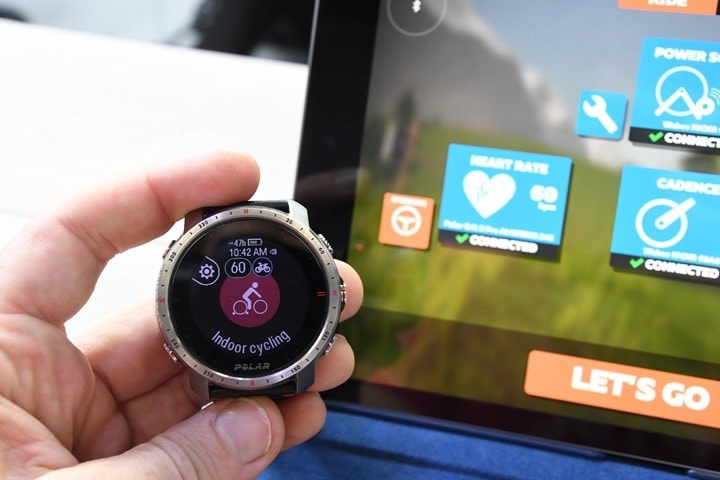 And from there on, it'll broadcast (share) my HR. In my case, I broadcast it in Zwift.
I thought it was mildly interesting that the first 3 minutes actually showed slightly different values, and then it locked on identical for the rest of this. I have no logical explanation for this – I never touched the settings after pairing, and in fact this is a *BRAND NEW* iPad on its first day of life that's never been paired with any other sensor, so this is literally the only sensor it knows its short existence. Below is a chart showing the internal Polar Grit X Pro recorded value, versus what Zwift showed/recorded for my ride. It appears Zwift lagged slightly during the two main portions of the ride where I significantly shifted heart rate. I don't know if this is a Zwift issue, or a Polar issue.

Of course, my Zwift session last night highlighted Polar's true problem here for cyclists: Lack of ANT+ support. Or, if they want to blame-shift, lack of pretty much any other trainer company supporting dual Bluetooth Smart connections. But mostly, this is Polar's fault.
In my case, I was riding on the Tacx NEO 2 smart trainer at home. That trainer supports a single Bluetooth Smart connection (only the Wahoo KICKR 2018/2020/CORE support dual connections). As such, that single Bluetooth Smart connection was already being used by my iPad for running Zwift. But fear not – I've got another power meter on that bike! I've got a pair of PowerTap P2 pedals.
So I tried that next. Except that didn't work. Because Polar doesn't support that for reasons that don't really make much sense. It's a pretty standard issue implementation of the Bluetooth Smart power meter profile. Thus, I was out of power meters it could pair to, and couldn't get my power data into my workout. And this is hardly a new problem, there's numerous power meters I have that Polar won't connect to over Bluetooth Smart for unknown reasons.
Don't get me wrong – I'm super happy that Polar added the HR sharing feature, but given Polar's hardware undoubtedly supports ANT+ under the covers (due to the chipsets they're using), they really need to support it on these high-end watches. I totally get it that ANT+ has a limited future, but that doesn't change the reality of today's landscape of hardware in the smart trainer realm. There are dozens of units of smart trainers and smart bikes, and only a couple of them (literally) support dual-Bluetooth channels. Just my two cents.
With that, let's talk routing.
New Routing Features: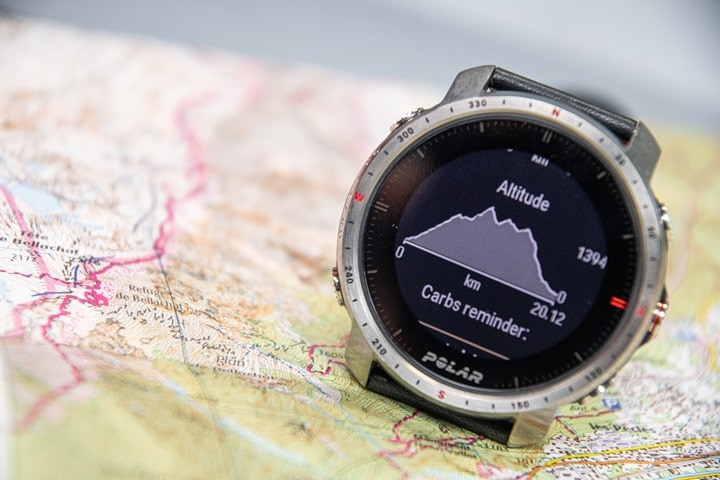 With the Grit X Pro, Polar has tweaked the way routing works on the Polar Grit X Pro as well as Vantage V2 series. While I could probably have rolled this into the sports section, things were getting a bit unwieldy in duration there. So instead, I've spun it out into this more dedicated section.
To start on routes, those sync in from Polar Flow (as with before). This is where you can either create routes directly on Polar Flow, or pull them in from Komoot. Unfortunately, Strava Routes aren't supported at this time (nor any other platform). Within your account you'll need to toggle which routes you want synced to your watch.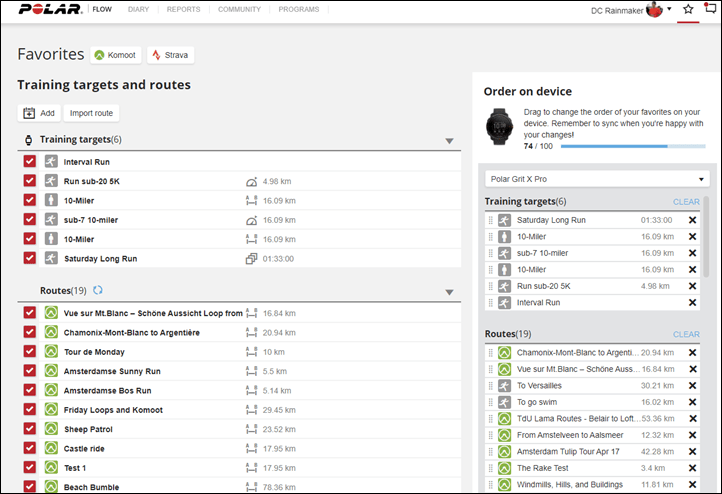 It's in this space that you can sync Strava Live Segments as well. Note that you can store up to 100 'things' on the Polar Grit X Pro, meaning a combination of up to 100 Routes, Segments, or Structured Workouts.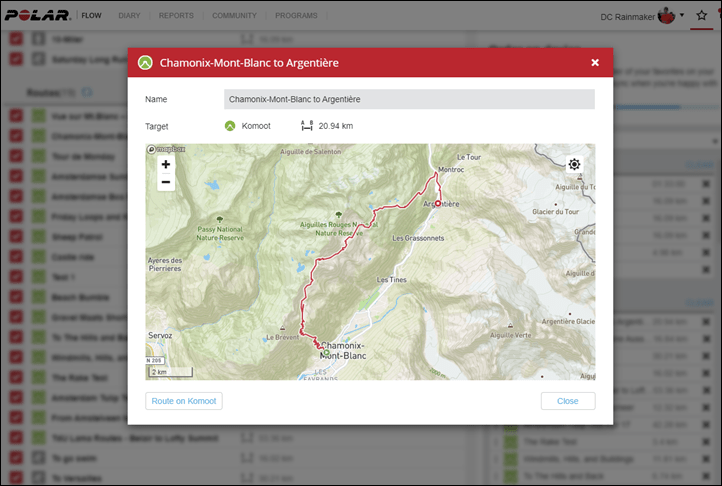 As noted earlier, you'll access the routes and workouts from within the sports menu, and then the upper left button to access the settings icon. And this is where you'll find the first of the new features, the ability to see the route map and elevation profile. First though, you'll choose to open a route like normal: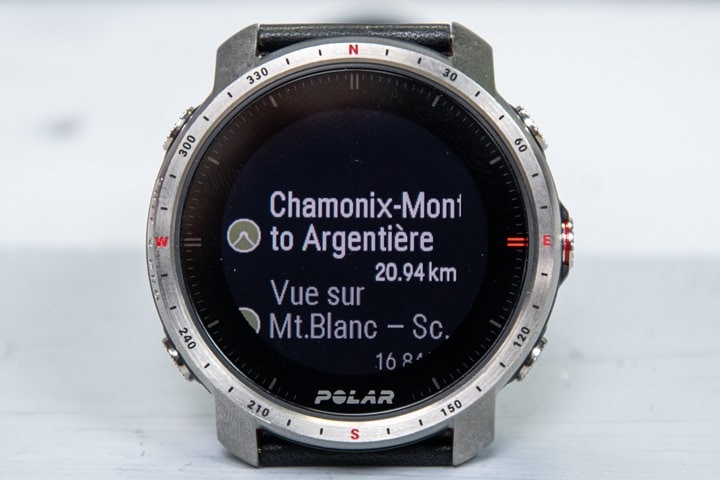 Then from there, it'll take a few extra seconds to open the route up, but will show a little breadcrumb trail along with the scale along the bottom (the distance of the route is shown up above):
If you swipe/scroll down, you'll then see the elevation profile displayed: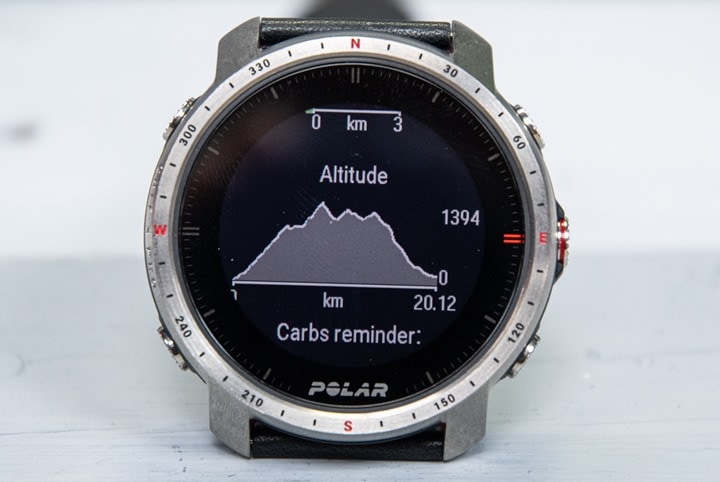 Unfortunately it won't show you any stats about that elevation profile in terms of total estimated ascent or descent – which seem like kinda important features on such a page. Still, it's a good start.
At the bottom of that page they've consolidated the ability to add hydration/nutrition alerts. Previously you had to dip into the menus again to add these. Now it's all part of the route workflow.
With that, we'll get started on a workout by pressing start. Now, in the workout you've got a new elevation profile data page. The numbers at the bottom in green are the total ascent and descent remaining/expected on the route, whereas the numbers in white are your current ascent/descent.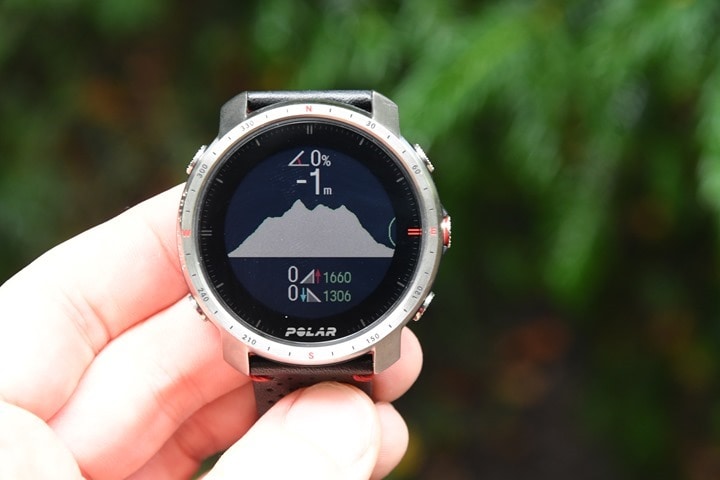 From that data page you can calibrate the altitude (useful if you come along a sign-post on a mountainside with the known elevation). As noted above, this page won't show you exact climbs within the route like other platforms, but just gives you the overall route profile. In theory it'll show you your position along the route, and portions completed, like so: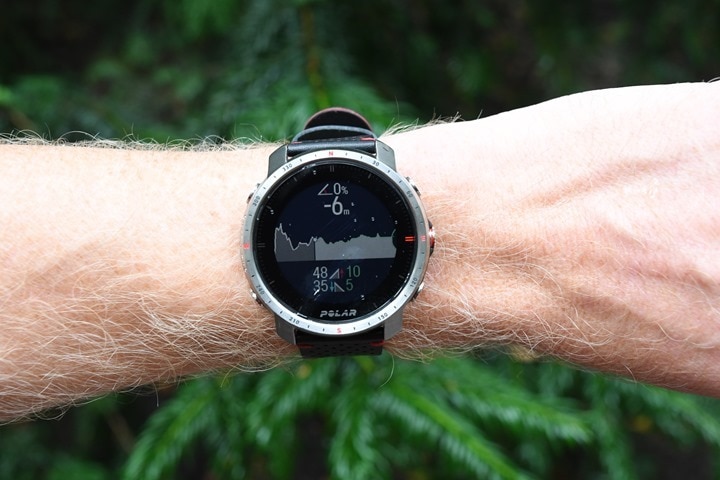 However, in practice I've found it iffy if it actually does that. On some routes it didn't, and others did (such as when I reversed route). Hopefully that's just a minor rendering bug that they can sort out. You can see below how on this route, it didn't at all, despite being halfway through this route and on-course: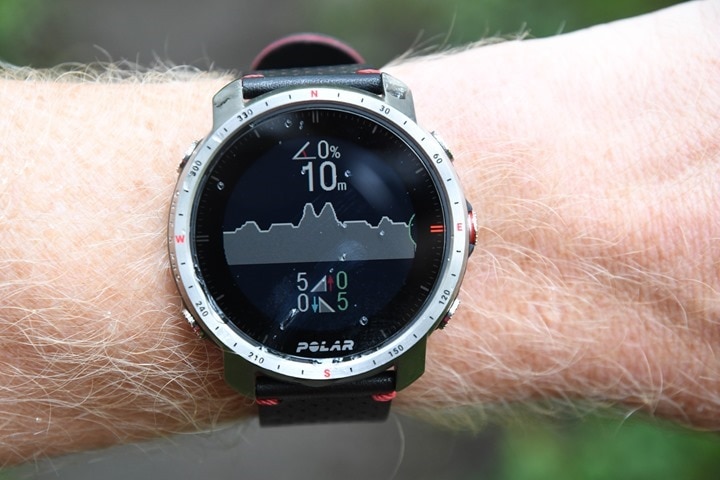 In any case, the newness doesn't end here. If you switch to the breadcrumb trail page, you'll notice you've now got a new option to reverse the route, allowing you to track back towards the start. So start from the breadcrumb trail as before (there are no underlying maps here, just a dot of trails and notifications for when to turn)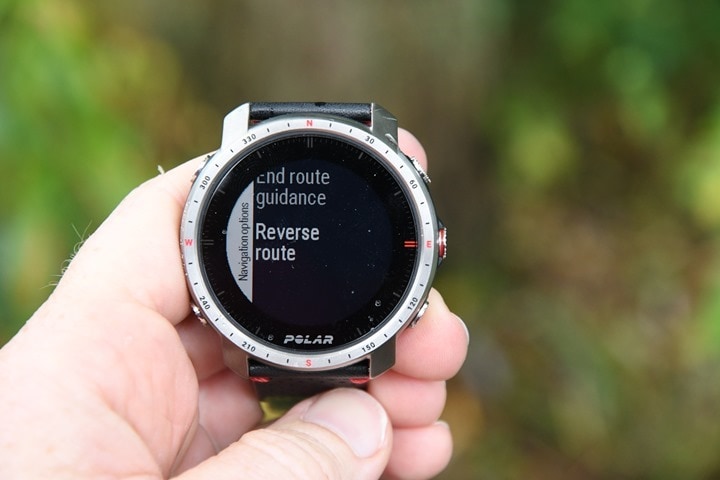 Now you see one option above, but technically speaking, there are now three 'get me back' type options, they are:
Reverse Route (middle right button): This will reverse the planned route (irrespective of what you actually did)
Back to start – Beeline (pause, then upper left button): As the bee (or crow) flies, straight back to start
Back to start – Track back (pause, then upper left button): This will follow your actual hiked/etc route back, including any errors you made
Here you can see the other two options up in the paused menu: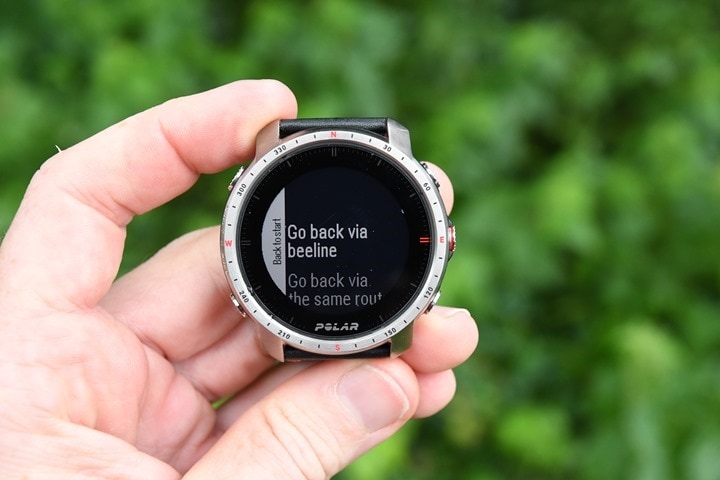 In addition, Polar has introduced one last option here, which is to actually change out the route entirely mid-workout. Previously you couldn't do this. To do this you'll pause, and then tap the upper left button, and then choose a different route. This allows you to start that route from the beginning or a mid-point.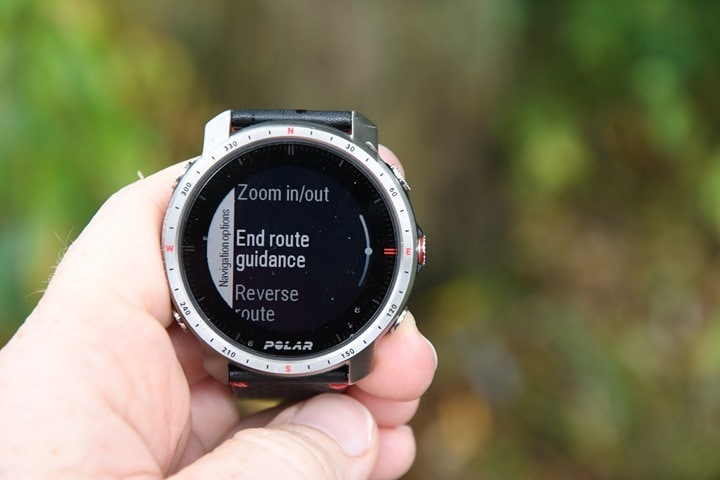 In the past I've routinely made backup/secondary routes for longer hikes and changed the route mid-hike.  In fact just last month I did this hiking a ridgeline in Chamonix. I had our planned longer route on the ridgeline, but then the weather turned and it wasn't likely going to be safe to be on that ridgeline as long as we needed to be to complete that planned route. But anticipating this (or, just us being tired), I had created some shorter variants that took us down lower into the trees earlier. That's where changing a route mid-activity is useful.
In that particular case on that day, the secondary options I had created still weren't aggressive enough (we needed to descend *THEN*, not another 30-45 minutes later which is what I planned for my backup routes), but the concept is still valid/useful.
In any event, I think all these changes that Polar has made are a great example of just how challenging it is to make a watch in this space. These are all examples of features that are "must haves" for some folks, but "don't care at all" for others. And the only way to increase market share in a space like this is checking off these types of features. I'm glad to see Polar is recognizing that and executing on it.
(And again, these new features will all come to the Polar Vantage V2 in a firmware update, currently slated for October 20th.)
GPS & HR Accuracy: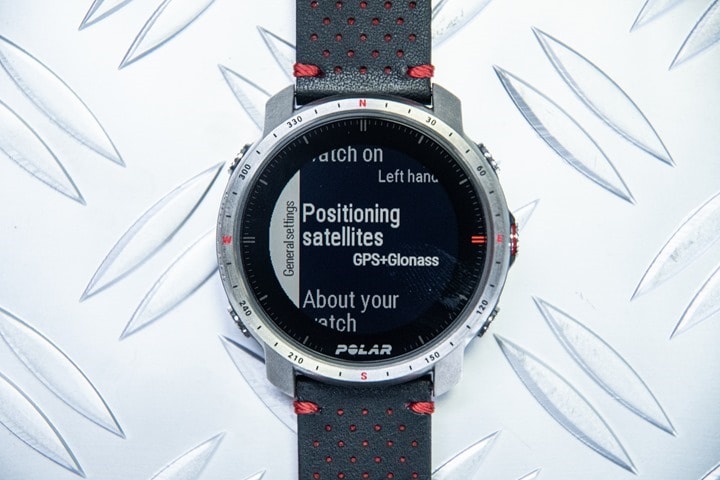 There's likely no topic that stirs as much discussion and passion as GPS accuracy.  A watch could fall apart and give you dire electrical shocks while doing so, but if it shows you on the wrong side of the road?  Oh hell no, bring on the fury of the internet!
GPS accuracy can be looked at in a number of different ways, but I prefer to look at it using a number of devices in real-world scenarios across a vast number of activities.  I use 2-6 other devices at once, trying to get a clear picture of how a given set of devices handles conditions on a certain day.  Conditions include everything from tree/building cover to weather.
Over the years, I've continued to tweak my GPS testing methodology.  For example, I don't place two units next to each other on my wrists, as that can impact signal. But often I'll simply carry other units by the straps, or attach them to the shoulder straps of my hydration backpack.  Wearing multiple watches on the same wrist is well known to impact optical HR accuracy.
Meanwhile, for HR accuracy testing I'm typically wearing a chest strap (usually the Garmin HRM-PRO, Wahoo TICKR, or Polar H10) as well as another optical HR sensor watch on the bicep (lately the Whoop band and/or Polar Verity Sense). Note that the numbers you see in the upper right corner are *not* the averages, but rather just the exact point my mouse is sitting over.  Note all this data is analyzed using the DCR Analyzer, details here.
To begin, we'll start with an interval/tempo run I did this past weekend. This had an initial warm-up, followed by a small pile of 800's with 90-seconds recovery. Then from there I did a sustained 10-minute tempo section at 5KM race pace. Here's the data set, so let's look at the heart rate first:

You can see the Polar Grit X Pro's optical HR sensor in green there, and how during the warm-up it struggled a bit. While the overall trend was in the right direction, there were two times it clearly lost the plot fairly substantially. Once I got into the 4×800's, it was mostly good, save between interval #1 and #2, where it seemed to miss the recovery. Finally, during the sustained tempo portion of this workout, it was perfectly fine.
Looking at the GPS tracks for this workout, at a high level, it and the other watches all seemed to do fine, including through sections that had both tall buildings, large highway overpasses, and some tree sections.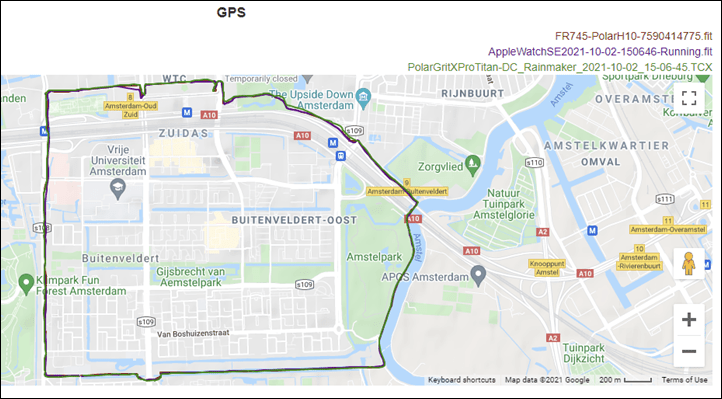 However, there were a few occasions where the Polar Grit X Pro GPS track was a bit offset in mostly minor ways, such as this portion here:
None of these sections were major fails, more minor GPS offsets for shorter periods of time.
Here's another running workout, this one with shorter intervals of higher intensity. It's also exclusively done in the woods, partially on trails. More on the GPS bits in a second.

You'll notice that during the warm-up the GRIT X Pro is perfectly fine here, and for most of the intervals it holds on correctly. Keeping in mind these 45-60 second long intervals are tricky for any HR sensor, but especially optical HR sensors. Still, after the first short one, it largely keeps track, save the middle one where it entirely missed it:

On the GPS side of things, as noted, this was mostly in the forest. And on the whole, like with the first run above, it was largely the same as the other units, including a COROS Vertix 2 and a Garmin FR745.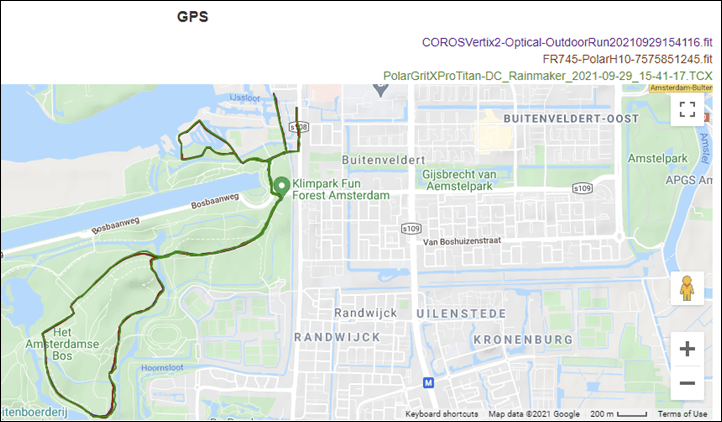 Still, as with before, there were sporadic cases where the GRIT X Pro just meandered a bit off by itself. Like it needed some brief alone time: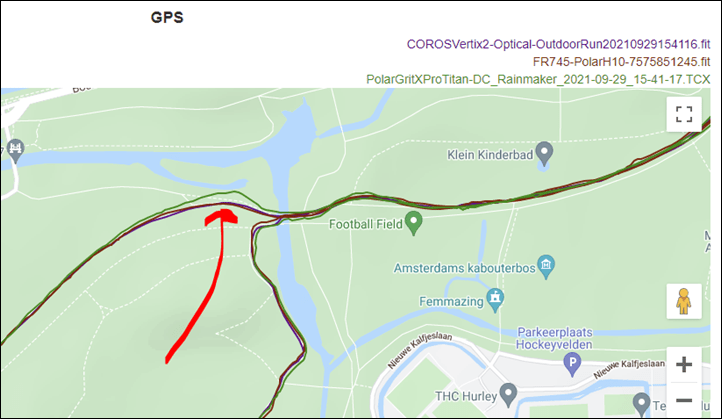 None of these were drastic of course, but certainly notable as a pattern: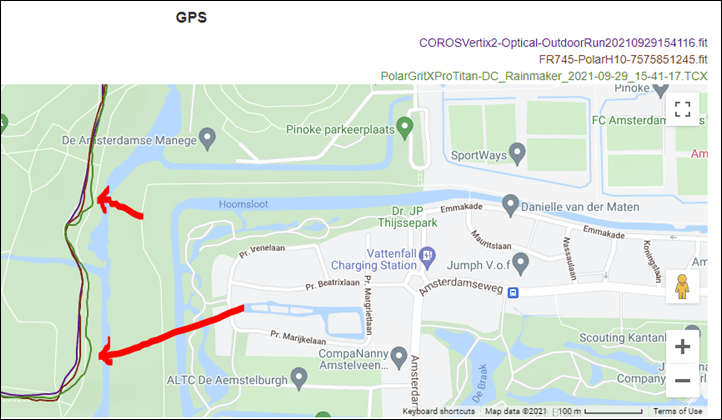 And then one final run here, an increasing tempo run on relatively straightforward terrain/conditions. First up, the heart rate side.

In general, pretty good here from the GRIT X Pro. You see some minor variability though, just like I saw on the original Grit X and the Vantage V2, which share the same HR sensor. By variability, you see around the 22-minute marker and a bit after that how it just wobbles slightly. It's not major, but is notable.
Also notable is the first time I've ever seen the Apple Watch SE completely lose the plot from the beginning – that's a crazy solid fail there.
On the flip side, looking at GPS, no real issues here. All the units agreed pretty happily, including again a number of large highway underpasses and a few tall buildings.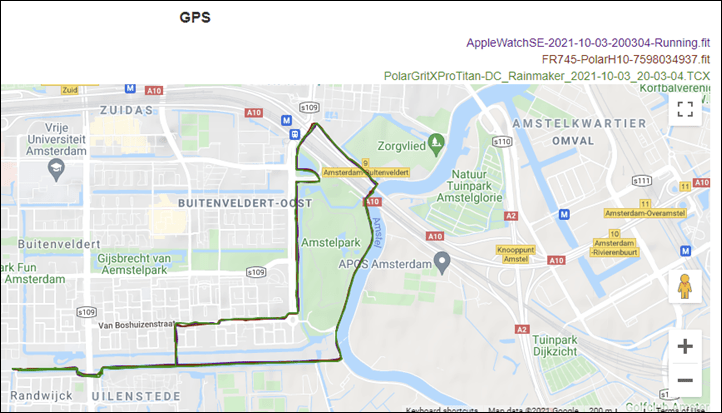 You can see in both these sections of larger tunnels/underpasses, we had no problems in terms of any wonky GPS or anything. Nice and clean.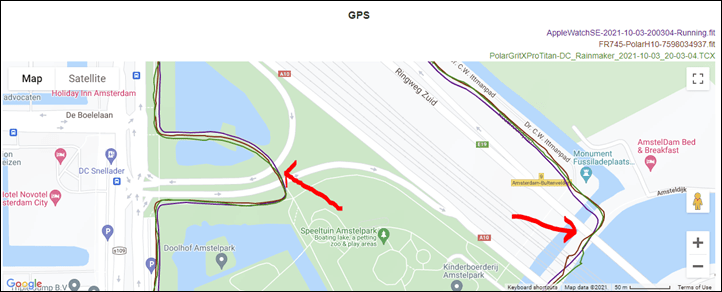 Next, taking things indoors we've got a Zwift workout from the other night. This is compared against the Polar H10 chest strap, a Whoop 3.0 band, and an Apple Watch SE. In this case, the optical reading of the Grit X Pro was spot-on with everyone else I trust. Though, as noted earlier, there was a very slight discrepancy in what was transmitted from the Grit X Pro to Zwift using the HR sharing feature (only at the beginning and end).
But again, in terms of accuracy of the recorded data on the watch, it was spot on.
And then we've got another indoor workout, this time on the Peloton Bike, and it too was pretty close. However, again we see those little HR wobbles of the yellow line which indicate a bit more variability than I'd have liked – especially given how 'easy' indoor bike trainer workouts should be for optical sensors (as there's no road vibrations to contend with).

Finally, note that my travel these last few weeks didn't include any mountain spots – so from an elevation testing perspective, it's not something I could do with extensive rigor. Instead, welcome to the flats of Amsterdam. However I would note that in this simple bake-off between the COROS Vertix 2, the Garmin FR745, and the Polar Grit X Pro, they were relatively similar in terms of trends, but were offset from reality. In this case, I let each watch figure out my current elevation using its own internal methods (which is pretty much using GPS first, as you'd normally do unless you knew the exact starting elevation).
My actual elevation for this route matched the FR745 one, which is basically hovering between 0m and slightly below sea level (again, Amsterdam). The Grit X was offset about 25m high, and the COROS Vertix 2 offset about 70m high.

Overall, I'd say GPS and HR accuracy are mostly good – but with some minor caveats. For the GPS side, it occasionally drifts off, though does usually correct itself within a few hundred meters. Whereas on the HR side, in some intervals it'll lose the plot, but also usually corrects itself. Unlike some other watches I've reviewed recently, it doesn't lose it forever. It always finds its way back to goodness in relatively short order.
The other important thing is that if you don't find the minor heart rate variances acceptable, you can easily pair a chest strap to it to increase the accuracy.
(Note: All of the charts in these accuracy sections were created using the DCR Analyzer tool.  It allows you to compare power meters/trainers, heart rate, cadence, speed/pace, GPS tracks, and plenty more. You can use it as well for your own gadget comparisons, more details here.)
Product Comparison:
I've added the Polar Grit X Pro into the product comparison database, allowing you to compare it against other products that I've reviewed in the past.  For the purposes of below I've compared it against the COROS Vertix 2, Garmin Fenix 6, and Suunto 9 Peak  –  which are the ones most people will be comparing it against from a sports/fitness standpoint. One could argue perhaps the COROS APEX Pro instead of Vertix 2, but I suspect most people will compare it to the Vertix 2. As always, if you want to compare it against other products, you can always make your own charts in the product database.
Function/Feature

Polar Grit X Pro
COROS Vertix 2
Garmin Fenix 6 Series
Suunto 9 Peak
Copyright DC Rainmaker - Updated November 25th, 2022 @ 3:56 am New Window
Price
$499/$599
$699
$549-$1,149
$569
Product Announcement Date
Oct 6th, 2021
Aug 17th, 2021
Aug 29th, 2019
May 25th, 2021
Actual Availability/Shipping Date
Oct 2021
Aug 2021
Aug 29th, 2019
June 19th, 2021
GPS Recording Functionality
Yes
Yes
Yes (with Galileo too)
Yes
Data Transfer
USB, BLUETOOTH SMART
Bluetooth Smart (smartphone)
USB/Bluetooth Smart/WiFi on Pro only
USB & Bluetooth Smart
Waterproofing
Yes - 100m
100m
Yes - 100m
Yes - 100m
Battery Life (GPS)
Up to 100 hours
140hrs, up to 240hrs UltraMax
25hrs to 148hrs (depends on model)
Up to 170 Hours
Recording Interval
1s
1-second
1S or Smart
Variable
Dual-Frequency GNSS
No
Yes
No
No
Alerts
Vibrate/Sound/Visual
Audio/Visual/Vibration
Vibrate/Sound/Visual
Sound/Visual/Vibrate
Display Type
MIPS
Backlight Greatness
Great
Great
Great
Great
Ability to download custom apps to unit/device
No
No
YEs
No
Acts as daily activity monitor (steps, etc...)
Yes
Yes
Yes
Yes

Voice Integration

Polar Grit X Pro
COROS Vertix 2
Garmin Fenix 6 Series
Suunto 9 Peak
Has Mic/Speaker
No
Can make/receive calls
No
Voice Assistant
No

Music

Polar Grit X Pro
COROS Vertix 2
Garmin Fenix 6 Series
Suunto 9 Peak
Can control phone music
Yes
No
Yes
No
Has music storage and playback
No
Yes
Yes (Pro Only)
No
Streaming Services
No
No (MP3 files only)
iHeartRadio, Spotify, Deezer, Amazon (Pro Only)
No

Payments

Polar Grit X Pro
COROS Vertix 2
Garmin Fenix 6 Series
Suunto 9 Peak
Contactless-NFC Payments
No
No
Yes
No

Connectivity

Polar Grit X Pro
COROS Vertix 2
Garmin Fenix 6 Series
Suunto 9 Peak
Bluetooth Smart to Phone Uploading
Yes
Yes
Yes
Yes
Phone Notifications to unit (i.e. texts/calls/etc...)
Yes
Yes
Yes
Yes
Live Tracking (streaming location to website)
No
No
Yes
No
Group tracking
No
No
Yes
No
Emergency/SOS Message Notification (from watch to contacts)
No
No
Yes (via phone)
No
Built-in cellular chip (no phone required)
No
No
No
No

Cycling

Polar Grit X Pro
COROS Vertix 2
Garmin Fenix 6 Series
Suunto 9 Peak
Designed for cycling
Yes
Yes
Yes
Yes
Power Meter Capable
Yes
Yes
Yes
Yes
Power Meter Configuration/Calibration Options
Yes
No
Yes
Yes
Power Meter TSS/NP/IF
No
NP only
Yes
Yes
Speed/Cadence Sensor Capable
Yes
Yes
Yes
Yes
Strava segments live on device
Yes
No
Yes
No
Crash detection
No
No
Yes
No

Running

Polar Grit X Pro
COROS Vertix 2
Garmin Fenix 6 Series
Suunto 9 Peak
Designed for running
Yes
Yes
Yes
Yes
Footpod Capable (For treadmills)
Yes
Yes
Yes
Yes
Running Dynamics (vertical oscillation, ground contact time, etc...)
No
Yes
WITH RD POD, HRM-TRI OR HRM-RUN (NOT VIA OPTICAL HR)
No
Running Power
Yes (built-in)
Yes (Built-in)
With extra sensor
With extra sensor
VO2Max Estimation
Yes
Yes
YEs
Yes
Race Predictor
No
Yes
Yes, plus PacePro
No
Recovery Advisor
No
Yes
Yes
Yes
Run/Walk Mode
No
No
Yes
No
Track Recognition Mode
No
Yes
Yes
No

Swimming

Polar Grit X Pro
COROS Vertix 2
Garmin Fenix 6 Series
Suunto 9 Peak
Designed for swimming
Yes
Yes
Yes
Yes
Openwater swimming mode
Yes
Yes
YEs
Yes
Lap/Indoor Distance Tracking
Yes
Yes
Yes
Yes
Record HR underwater
Yes
Yes
Yes
Yes
Openwater Metrics (Stroke/etc.)
Yes
Yes
Yes
Yes
Indoor Metrics (Stroke/etc.)
Yes
Yes
YEs
Yes
Indoor Drill Mode
No
No
Yes
No
Indoor auto-pause feature
Yes
-
No (it'll show rest time afterwards though)
No
Change pool size
Yes
Yes
YEs
Yes
Indoor Min/Max Pool Lengths
20M/Y to 250 m/y
15y/m-300y/m
14M/15Y TO 150Y/M
15m/y to 1,200m/y
Ability to customize data fields
Yes
Yes
Yes
yes
Captures per length data - indoors
Yes
Yes
Yes
Indoor Alerts
N/A
Yes
Yes
No

Triathlon

Polar Grit X Pro
COROS Vertix 2
Garmin Fenix 6 Series
Suunto 9 Peak
Designed for triathlon
Yes
Yes
Yes
Yes
Multisport mode
Yes
Yes
Yes
Yes

Workouts

Polar Grit X Pro
COROS Vertix 2
Garmin Fenix 6 Series
Suunto 9 Peak
Create/Follow custom workouts
Yes
Yes
Yes
No
On-unit interval Feature
Yes
Yes
YEs
Yes
Training Calendar Functionality
Yes
Yes
Yes
Yes

Functions

Polar Grit X Pro
COROS Vertix 2
Garmin Fenix 6 Series
Suunto 9 Peak
Auto Start/Stop
Yes
Yes
No
Virtual Partner Feature
No (but can give out of zone alerts)
No
YEs
No
Virtual Racer Feature
No
No
Yes
No
Records PR's - Personal Records (diff than history)
No
No
Yes
No
Tidal Tables (Tide Information)
No
No
No
No
Weather Display (live data)
Yes
No
Yes
No

Navigate

Polar Grit X Pro
COROS Vertix 2
Garmin Fenix 6 Series
Suunto 9 Peak
Follow GPS Track (Courses/Waypoints)
Yes
Yes
Yes
Yes
Markers/Waypoint Direction
No
Yes
Yes
Yes
Routable/Visual Maps (like car GPS)
No
Maps but not routable
Yes (Pro Only)
No
Back to start
Yes
Reverse course
Yes
Yes
Impromptu Round Trip Route Creation
No
No
Yes (Pro Only)
No
Download courses/routes from phone to unit
Yes
Yes
Yes
Yes

Sensors

Polar Grit X Pro
COROS Vertix 2
Garmin Fenix 6 Series
Suunto 9 Peak
Altimeter Type
Barometric
Barometric
Barometric
Barometric
Compass Type
Magnetic
Magnetic
Magnetic
Magnetic
Optical Heart Rate Sensor internally
Yes
Yes
Yes
Yes
SpO2 (aka Pulse Oximetry)
No
Yes
Yes
Yes
ECG Functionality
No
No
No
No
Heart Rate Strap Compatible
Yes
Yes
Yes
Yes
ANT+ Heart Rate Strap Capable
No
No
Yes
No
ANT+ Speed/Cadence Capable
No
No
Yes
No
ANT+ Footpod Capable
No
No
Yes
No
ANT+ Power Meter Capable
No
No
Yes
No
ANT+ Lighting Control
No
No
Yes
No
ANT+ Bike Radar Integration
No
No
Yes
No
ANT+ Trainer Control (FE-C)
No
FTMS (Bluetooth) only
Yes
No
ANT+ Remote Control
No
No
No (can control VIRB though)
No
ANT+ eBike Compatibility
No
No
No
No
ANT+ Gear Shifting (i.e. SRAM ETAP)
No
No
Yes
No
Shimano Di2 Shifting
No
No
Yes
No
Bluetooth Smart HR Strap Capable
Yes
Yes
Yes
Yes
Bluetooth Smart Speed/Cadence Capable
Yes
Yes
Yes
YEs
Bluetooth Smart Footpod Capable
Yes
Yes
Yes
Yes
Bluetooth Smart Power Meter Capable
Yes
Yes
YEs
Yes
Temp Recording (internal sensor)
Yes
Yes
Yes
Yes
Temp Recording (external sensor)
No
No
Yes
No

Software

Polar Grit X Pro
COROS Vertix 2
Garmin Fenix 6 Series
Suunto 9 Peak
PC Application
Polar Flowsync - Windows/Mac
No
Garmin Express
PC/Mac
Web Application
Polar Flow
No
Garmin Connect
Suunto Movescount
Phone App
iOS/Android
iOS/Android
iOS/Android/Windows Phone
iOS /Android
Ability to Export Settings
No
No
No
No

Purchase

Polar Grit X Pro
COROS Vertix 2
Garmin Fenix 6 Series
Suunto 9 Peak
Amazon
Link
Link
Link
Link
Backcountry.com
Link
Link
Link
Link
Chain Reaction Cycles
Link
Link
Link
Link
Competitive Cyclist
Link
Link
Link
Link
REI
Link
Link
Link
Link
Wiggle
Link
Link
Link
Link

DCRainmaker

Polar Grit X Pro
COROS Vertix 2
Garmin Fenix 6 Series
Suunto 9 Peak
Review Link
Link
Link
Link
Link
And again – don't forget you can make your own product comparison charts comparing any products using the product comparison database.
Summary: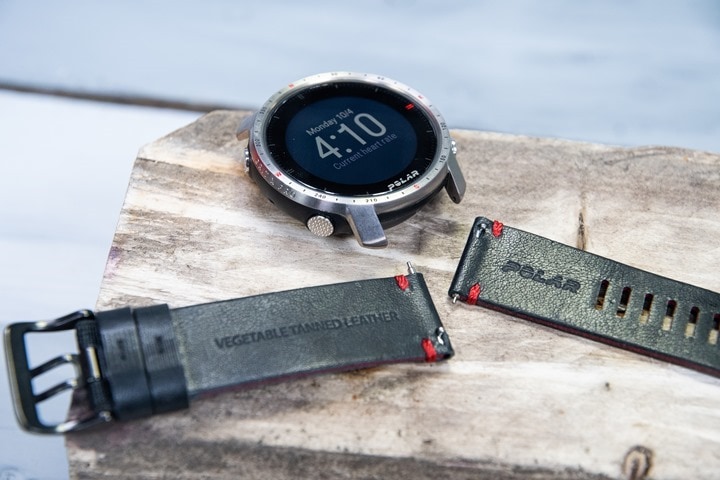 The Grit X Pro is a modest upgrade from the original Grit X, almost seemingly aimed at allowing Polar to offer a nicer and more adventurous looking watch with all the features of the Vantage V2, but that doesn't carry the plastic Vantage V2 looks. This transition shouldn't be surprising, after all, we've seen it play out at every other sports watch manufacturer including COROS and Garmin, and to a lesser degree Suunto and even Wahoo. Suunto already had most of those looks, so it was more about going on a diet there. In that respect, I think Polar succeeded. While the original Grit X took the crown as my favorite looking Polar wearable, the Grit X Pro Titan easily edges it out. It not only looks more premium, but now matches that feature-wise too.
The challenge of course, as is always the case in this price range (upwards of $599), is our competitors. At this price point, you're battling not just COROS and their Vertix 2, but you're battling Garmin's Fenix 6 base pricing at $549. This is effectively the exact same situation that played out 45 days ago for COROS and their Vertix 2 pricing. Which then gets into the argument of whether or not premium materials make up for a lack of comparative features. That's a tough argument to make, and ultimately comes down to the individual.
I've gotta believe Polar is probably aiming more here for their existing Polar customers, which wanted not just the more premium looks of the Grit X series, but simply wanted all the advanced training and recovery features of the Vantage V2. So in that sense, Polar pulled that off. No longer does a Polar customer have to decide whether or not they want good looks, or good features. It's now in one watch with everything. Which frankly, is the way it should be. It's a really nice looking watch that, as I did last week, fit in perfectly fine in a suit in a high-end restaurant. Yet a few hours earlier was throwing down intervals on trails.
Like many watches, the small iterative updates between versions might make some impatient – but in this case, I think the Grit X Pro might be more about trying to fill in the most critical competitive gaps in the hiking/routing/endurance sports realms, while also removing the dilemma consumers previously had with Polar between picking a nice watch or a more feature-rich watch. Now those are one and the same.
With that, thanks for reading!
Found This Post Useful? Support The Site!
Hopefully you found this review useful. At the end of the day, I'm an athlete just like you looking for the most detail possible on a new purchase – so my review is written from the standpoint of how I used the device. The reviews generally take a lot of hours to put together, so it's a fair bit of work (and labor of love). As you probably noticed by looking below, I also take time to answer all the questions posted in the comments – and there's quite a bit of detail in there as well.
If you're shopping for the Polar Grit X Pro or any other accessory items, please consider using the affiliate links below! As an Amazon Associate I earn from qualifying purchases. It doesn't cost you anything extra, but your purchases help support this website a lot. Even more, if you use Backcountry.com or Competitive Cyclist with coupon code DCRAINMAKER, first time users save 15% on applicable products! Or, with TPC (The Pro's Closet), you'll save $40 on purchases over $200 with coupon code DCRAIN40!
And finally, here's a handy list of accessories that work well with this unit (and some that I showed in the review). Given the unit pairs with just about any Bluetooth Smart sport sensors, you can use just about anything though.
And of course – you can always sign-up to be a DCR Supporter! That gets you an ad-free DCR, access to the DCR Quarantine Corner video series packed with behind the scenes tidbits...and it also makes you awesome. And being awesome is what it's all about!
Thanks for reading! And as always, feel free to post comments or questions in the comments section below, I'll be happy to try and answer them as quickly as possible. And lastly, if you felt this review was useful – I always appreciate feedback in the comments below. Thanks!