Way back in December, I started using a tiny red box with my original Peloton Bike. That little red box did exactly one thing: Broadcast my power, cadence, and speed over Bluetooth Smart to 3rd party apps and watches – such as Zwift or a Garmin watch. The DFC unit from Intelligenate is meant to be a set it and forget it type of thing. You simply connect it to your Peloton Bike, and it'll re-broadcast your power and cadence numbers to anything you want. This is notable because neither the Peloton Bike nor Bike+ have built-in data broadcasting of your power or cadence.
For many families that have a Peloton Bike, this means you couldn't use it with platforms like Zwift or TrainerRoad, without installing 3rd party power meter pedals – which obviously significantly increases the cost of the bike. Sure, you could load those apps onto the bike, but you couldn't actually access that power data. But…now you can.
I've been using this device for some four months now, and frankly it's one of the only flawlessly perfect devices I've ever tested. It just works. That said, keep in mind the unit I'm testing is technically a prototype, and also slightly different than the final product (which has more ports, notably USB-C ports for the Peloton Bike+).
Now, we'll keep this post quick, since…well…it should be quick – it's not complicated.
How it works: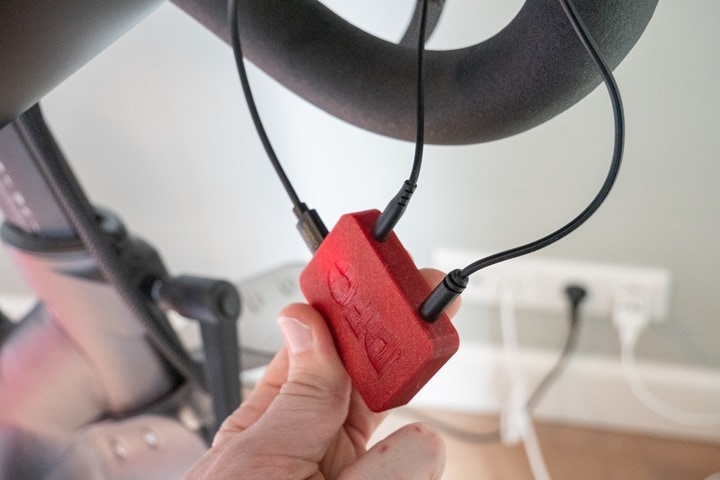 DFC stands for "Data Fitness Connector", and the little red box is smaller than a deck of cards. Essentially, the box acts as a middleman, quietly listening to the power data transmitted from the Peloton Bike's sensor up to the display. Normally this is connected via a simple 3.5mm cable that you plug straight into your display. However, the DFC comes with an extra cable, so you plug your original cable into the red DFC box, and then from there you plug the DFC box into the display. Next, connect the USB cable to your Peloton's USB port. This is merely for providing power, just like charging your phone.
And with that – you're done. What's important about this is that there's no software to install, or anything changed software-wise (or even hardware-wise) on your Peloton Bike. It's effectively just like plugging headphones in. Behind the scenes, the DFC box is decoding the power and cadence signals normally sent from the bike to the display, and simply re-broadcasting it out over Bluetooth Smart using the standard Bluetooth Smart power meter profile. This means you can then easily connect it to apps and devices. By using the USB port on the back of the device, you don't have to worry about battery life, since it remains forever charged.
So, with everything plugged in you'll be able to search for a Bluetooth power meter and find it. For example, here it is connected on a Garmin FR745: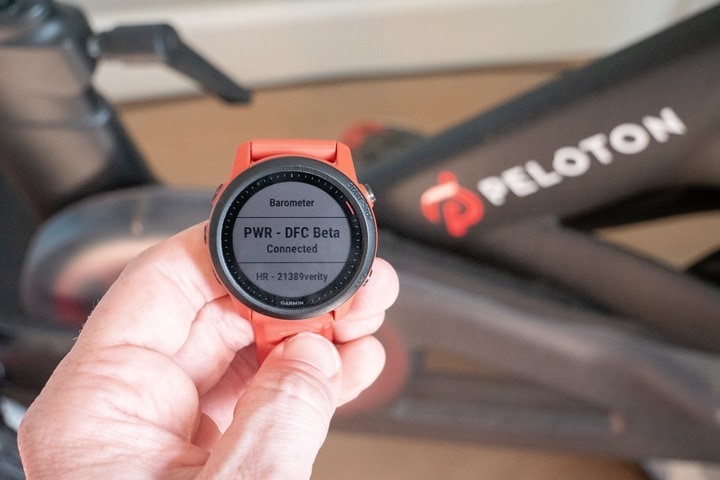 And here's the data streaming. From a user standpoint, this is identical to any other bike power meter. It's all the same. Simply start your indoor ride on your Garmin/Polar/Wahoo/Suunto/whatever just as you would for any other trainer ride.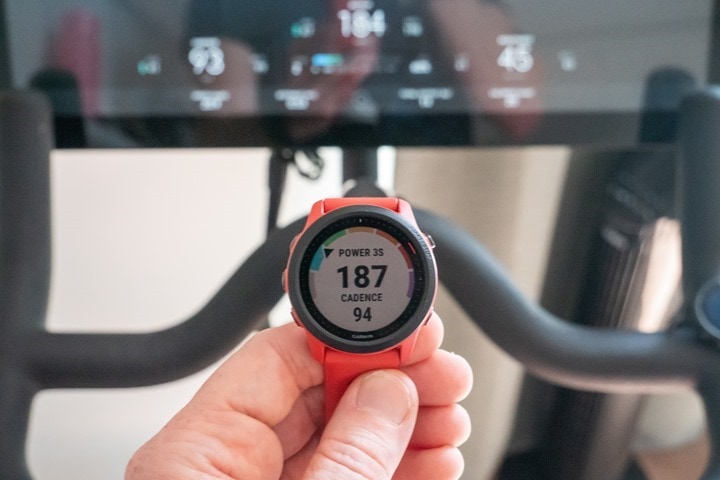 And here's Zwift on my iPhone connected to it: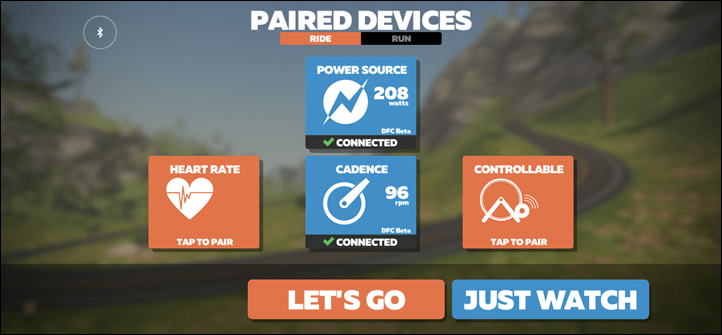 It broadcasts the same data as Peloton itself, though you'll see very slight 1-3w differences in some cases. Below isn't actually one of those cases, as my watch is set to 3-second smoothing and the Peloton Bike isn't.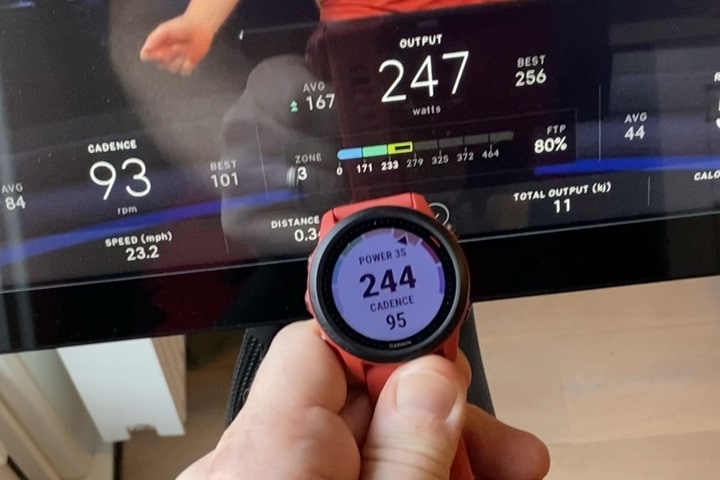 But looking at the data itself, I recorded a workout both within the Peloton Bike and on my Garmin, and you can see, the data is virtually the same, save some very slight second to second differences by a watt or two:

This includes both power and cadence data, and speed too, though most cycling training apps will discard/ignore the speed (such as in Zwift or TrainerRoad).  The system supports two concurrent Bluetooth connections, thus you could pair it up to an app like TrainerRoad while concurrently saving the data to your watch.
For Garmin and Polar users, this is notable from a training load standpoint, as previously there wasn't a way to get power data from a Peloton Bike to your watch for training load and recovery perspectives. And I know, some of you think that "no serious cyclist" would ever use a Peloton Bike, but the reality is the opposite. Far too often people overthink training platforms. As long as you're applying load (a stimulus) in an organized and structured way, you're going to get faster. It's really that simple. Peloton has power zone based training too. You do whatever makes you happy, as long as you're pedaling it's all good.
Now, whether or not the Peloton Bike itself is accurate is a different story. In all my testing comparing the Peloton Bike (original) data to power meter pedals, it tends to read high, usually in the 5-7% range. You can technically try and re-calibrate it, but I haven't found that to fix anything (and honestly, I've also done calibration runs that make it far worse – and without power meter pedals on the bike you wouldn't know which way you made it).
Whereas, the Peloton Bike+ I've found to be exceptionally accurate – on par and actually better accuracy-wise than many of the high-end smart bikes that a typical Zwifter or TrainerRoad user would have in their arsenal. Unfortunately, at this time the DFC isn't compatible with the Peloton Bike+. That said, they did add USB-C ports and other bits in there to potentially make it compatible down the road. But I wouldn't buy it today until that happens. Whereas if you have a regular Peloton Bike, it's fully compatible there.
Geeky Stuff: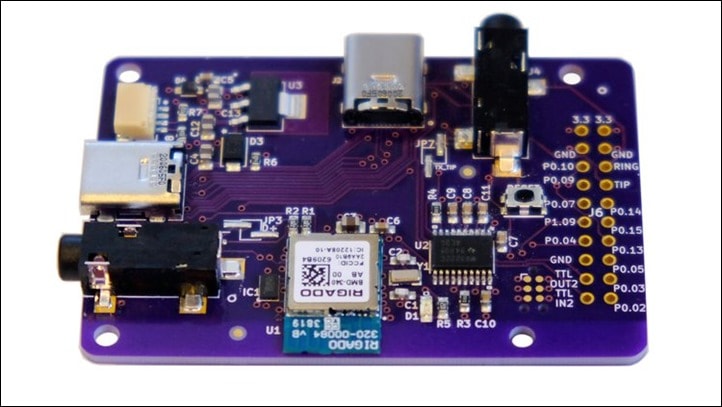 For those that are a bit more geeky, the company has done quite a bit to allow 3rd parties to expand upon it. So, for historical sake, here's the tech specs from the company's listing:
Built around the Nordic NRF52840

ARM Cortex-M4 32-bit processor
2.4 GHz Bluetooth 5 transceiver

11 exposed GPIO pins in a breadboard- and IDC-compatible layout

4 analog or digital pins
7 digital-only pins

16 M-Bit QSPI external flash memory
Two channels of bi-directional RS-232-to-TTL/CMOS conversion via MAX3222 IC
I²C JST connector compatible with SparkFun's Qwiic or Adafruit STEMMA QT Connect System
SWD connections on the front and back of the board via Tag Connect footprints
20 V max to 3.3 V voltage regulator
Two 3.5 mm stereo jacks connected to one another and to the RS-232 driver/receiver IC.

An off-by-default jumper allows the transmission of RS-232 data through the jacks

Two USB Type-C connectors that allow DFC to be placed in-line with a USB cable operating at up to 20 V

This experimental, use-at-your-own-risk configuration allows you to branch off signals present in the USB cable—such as those used by the Peloton Bike+—and connect them to the processor
Configurable routes via jumper headers and solder pads for USB D+/- and SBU1/2
The idea being that down the road this can be expanded both by the company itself, as well as 3rd parties.
Notably, this unit doesn't have ANT+ enabled at this point, though, the NRF52 chipset from Nordic that they are using would allow that upgrade if they wanted to. It's a software upgrade that the company would need to pay for (perhaps they already did).
Practically speaking, all Garmin devices from roughly 2017ish and beyond have supported Bluetooth Smart power meters. So any Fenix 5 or above, as well as Garmin FR935 or above supports it. And all Polar and Suunto devices support Bluetooth power meters. Still, ANT+ is useful and often preferred in desktop computers for Zwift and other 3rd party apps, plus of course older watches and bike computers.
Wrap-Up:
Frequent readers know that I really like devices that 'just work', and this one takes the cake on that. I haven't had to touch it since hooking it up back in December, and it just works every time – always there, always ready. My watch automatically connects to it when I start pedaling, and I need only start a workout on the watch. I'm not sure what else I could ask for.
The unit is priced at $109, which seems pretty fair given the alternative is buying power meter pedals from roughly $500+ (and more if you want total power ones). Certainly, using the Peloton Bike data stream isn't as accurate as buying a set of power meter pedals for other apps, so that's one consideration. For those worried this will somehow lead to an explosion of inaccurate data on Zwift, the accuracy level here is really no different than most wheel-on trainers I've tested over the years (which spec +/- 5%, but are often closer to 5-10%, especially in sprints).
The company is taking orders on their crowd funding site now, for delivery in early August. Given the shortage and long backlogs for computer chipsets right now, they (like every other tech company) have identified that as a risk. The other risk is that Peloton could update the data stream on their bikes to specifically break this. The DFC unit is software upgradeable in the event something changes. That said, I'd be extremely skeptical if Peloton actually has the ability to do this on the original Peloton Bike. It definitely would have this capability on the Bike+, but having taken apart the original Bike, the sensor system is only connected by an analog 3.5mm cable, which is highly unlikely to allow firmware updates. Further, that would be a massive risk for Peloton to upgrade that component on 1.5 million bikes merely to 'break' a few boxes out there.
Thus, given the fact that it's working great for me today on the original Bike, I went ahead and placed a pre-order for that already. In the event they work out Bike+ compatibility, then I'll buy another one for my Bike+ too.
With that – thanks for reading!