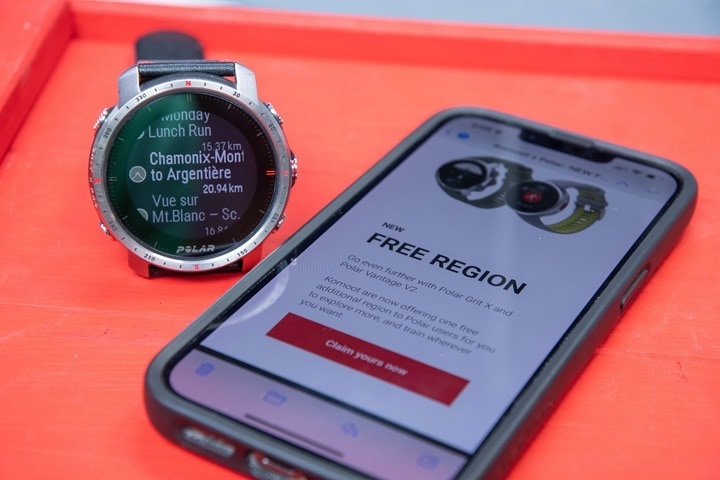 This will seem like an oddly timed post, but, it'll make sense in a second. Maybe even more sense than my absurdly long title.
Way back in October, before that entire Black Friday & Holiday sale craziness, Polar launched the Polar Grit X Pro GPS watch. A few days later, Polar and Komoot did a marketing thing where they gave all owners of the Polar Grit X or Polar Vantage V2 Series, a free voucher for a free Komoot region download via an e-mail you likely ignored. Basically, if you had a watch that supported Komoot course turn by turn features at that time, you got an e-mail. Technically the Grit X Pro of course supported it, but I don't think it was actively shipping the same days the e-mail went out.
Anyways, assuming you were part of the chosen group, you got an e-mail for a free region code. No funky strings attached, just use the code in the e-mail and you can redeem it.
For those not familiar, the way Komoot (a navigation and route planning site) works is that for certain functions like syncing a route to your watch/device or having offline access on your phone, you can either buy a specific region of the world (like a country or portion of a country), or, you can buy the whole world for a flat-rate. Being the inefficient person I am, I've been buying specific regions I need over time, which is demonstrably a bad financial choice for me, but a good one for Komoot.
Thus while I was planning some routes last night on Komoot, I was reminded once again that I forgot to post about this….four to five months later.
So why bother? Well, the simple answer is maybe you'll still be able to salvage that old e-mail from your spam/clutter/junk folders, and get yourself that free code. The e-mail was sent from Polar, and specifically from their newsletter@polar.com e-mail address, with the title Komoot X Polar: NEW FREE REGION. Here's a copy of the e-mail I received, back on October 12th.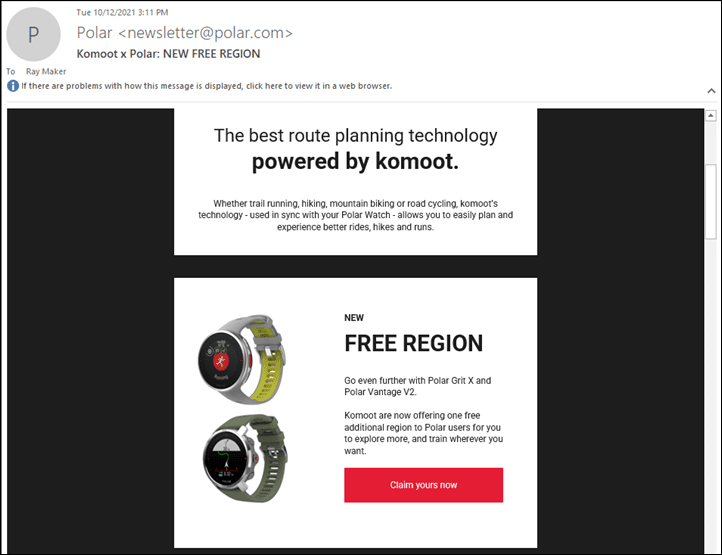 And here's the first of two pieces of good news: That code does not expire. Well, I mean, technically it expires…in 2030 according to Komoot. So by then you'll be on the Polar Grit X 7G or something. So, as long as you manage to actually find this e-mail, you're golden.
Assuming you do find it – see that giant red button above? Do what you always do in life with giant red buttons: Press it.
I mean, obviously not the actual one on this post, but the one you'll find in your e-mail  (if you press on the one in this post, you'll get a surprise).
This gets us to the second piece of good news: You can actually put it in your Komoot account for later usage (so you don't lose it again). Thus just add it to your Komoot account now, and then later you'll be able to redeem it for whatever region you want.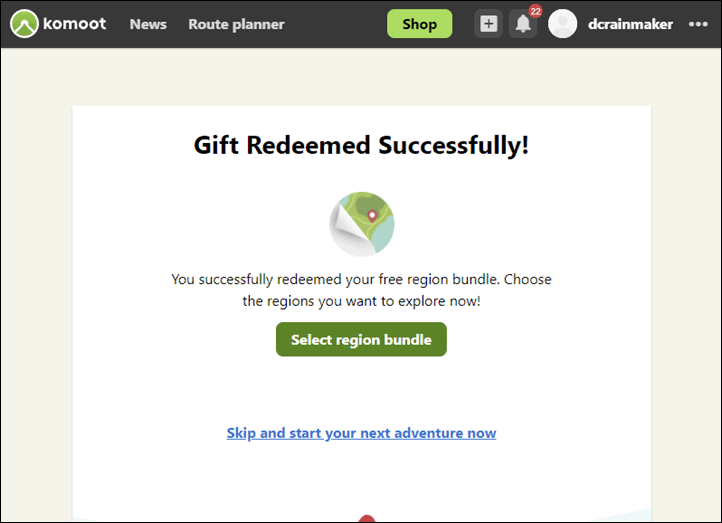 With that, my public service announcement is done for the day. Oh, and the second reason this post happened today, aside from me remembering last night? I needed a nice quick post since I'm cooking on plenty of other things coming up shortly – albeit that does actually include stalking people's past rides/hikes on Komoot/Strava Heatmaps, trying to find the most scenic routes, which is more addicting than scrolling through Instagram. Also, you know I'm on Instagram, right? Now might be a good time to follow if not.
As for my usage of the different sites, it depends on what I'm doing. I find Komoot ideal for finding real-world photos of the specific routes, to see if it passes the sanity test. I find Strava's heatmaps ideal as well for determining where people are going the most (or, sometimes the least). Sometimes I'll then spot-check my thinking against things like Suunto's heatmaps or RideWithGPS or AllTrails, but usually I'm able to figure out what I'm doing with Strava & Komoot. In terms of route building, if I'm using a pre-built route from Komoot, then I'll basically leave it as-is and sync that to my devices. Whereas if I'm building a route by hand that was 'inspired by' something on Komoot or Strava, I'll tend to build it on Strava, since I've got more heatmap data there to work with in making trail-turn-level decisions. So in summary, for longer/crazier routes I tend to scope things out in Komoot for visual viability, and then do my construction in Strava for final route creation.
Go forth, and thanks for reading!