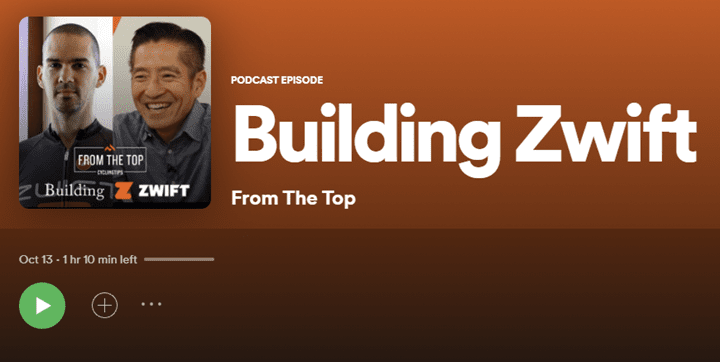 CyclingTips today published a great 'From the Top' podcast episode about the history of Zwift, talking to both Jon Mayfield and Eric Min. Those two, being two of the co-founders of the platform, with Jon bringing the initial development/technical side – and Eric bringing the financial/business side. The roughly 70-minute long episode takes you from Jon buying his first road bike, onwards to realizing how much basic "dumb trainers" sucked a decade ago, and then deciding to fix it forever. Wade Wallace of Cycling Tips did a great job weaving together the two sides of the interview (done separately) to form one cohesive picture. You can listen here on Spotify, or Apple (or anywhere else for that matter).
However, the historical story of Zwift is not what caught my attention. Not because it isn't interesting, but because I'm personally pretty familiar with the story. I met Eric and Jon back in 2014 at Eurobike for a first look and ride on the platform. They had rented what was essentially a glorified coat closet inside the Eurobike convention halls. Actually, I think it was legitimately a coat closet – not kidding. Both Eric and I looked like the teenagers we apparently were (seriously, go look at the post).
What caught my attention was a short back and forth discussion on Zwift's hardware ambitions, to ultimately build smart trainers and smart bikes. I've written frequently about this over the last couple of years. From Zwift's first job posting advertisements, to Zwift detailing it on CNBC, layoffs to make room for hardware teams, and various other things along the way. Thus, when Zwift says hardware – I'm all ears.
Within the episode, there's a few chunks dedicated to talking about their hardware ambitions with Zwift's CEO, Eric Min. It's no secret that Zwift has struggled with getting their hardware off the ground, and Eric confirms that, saying:
"The microchips is the biggest issue with supply chains. We have the auto industry chasing the same components as we are. It's just a problem for everyone. It's causing delays for everyone, including us. But it doesn't change our strategy.

We believe that we have to be manufacturing hardware in order to grow our business. It's not to take business away from our partners, I just don't think they'll make enough. That's the problem. We're just trying to grow the pie.

It's going to take as long as it takes. Supply chains, logistics costs – all of this is a real thorn in our business plans. But it's the world we live in at the moment, and there's not much we can do about it other than just persevere and work as hard as we can to get the products we have in mind to market. It's definitely taking longer than we expected."
The discussion then dives deeper for a bit on that, before interviewer Wade Wallace circles back to asking Eric about how Zwift "walks the tightrope" of trying to build hardware that will compete with the very partners they are 100% dependent on. Eric responds that a good example they see is Google and Android, where Google builds Android (the platform), and yet still competes with Samsung and countless others with phones.
And indeed, this is a reasonably good analogy. Of course, all analogies have flaws when poked too hard – but at a high level, this is a reasonably good example. From there, he expands on why this is required for their hardware partners:
"Think of that as a model for us. We want to help augment the supply that we think we need to grow the market. And we also want to set a reference for our partners, to force them to, [pauses] not force…encourage…them to innovate"
The challenge here of course, is that at present, Zwift simply isn't reference leader for these hardware innovations. In fact, in every scenario, it's their hardware partners that are waiting on Zwift, not the other way around. For example:
A) Elite Sterzo Smart (in-game steering): This device sat waiting on Zwift nearly a year from initial Eurobike announcement and when Zwift had units, before introduction.

B) Wahoo Direct Connect Wired Connectivity: We're now 10 months since this was released, with still no sign of integration from Zwift – despite almost all competitor platforms supporting it.

C) Steering in smart bikes: This was nearly 6 months after Zwift rolled out steering, until the industry's top-end bike was able to go live with it, despite having it ready for months. This readiness was mirrored by virtually every other smart bike company that had to wait on Zwift.

D) Lack of any trainer certification program: While Zwift 'certifies' hardware, in reality, there's actually no testing of the hardware against any known standards. It's merely a sticker, based on whether the hardware meets a spec sheet listing.
There are of course countless more examples, some older vintage, and some still waiting on people's desks in Zwift HQ. Albeit, there are some more recent cases where Zwift has been relatively speedy. For example, the recent Elite Rizer (steering + climbing) was implemented the same day it went live to consumers, this past August.
Now it did seem like slightly later in the conversation Eric admits Zwift might be the roadblock. While talking about a slightly different aspect of Zwift, he noted that:
"I would like to see more people innovating within our platform. And I think part of that is just…we're not making that particularly easy for people to do that."
And again, there's numerous exchanges and details in this interview that are worth listening to, even for people that think they know most of the Zwift story. Eric discusses which companies he sees as competitors (and which ones not). He talks about the major chain name-brand hotel that wanted to be put into Zwift, as well as how the investment rounds worked, and what COVID did to their product plans (and how they handled it).
Unrelated to the hardware, as you listen to the episode, it's clear that as much as Jon loves what he's created, it's hard for him to reconcile a billion-dollar valuation with the old days of an agile start-up company, noting that he "never had the aspirations for it to be so big".
And you can hear how he still desires to scratch some of those startup itches, beyond what Zwift aims to do, saying "I kinda wish that next person would build that next experience…it doesn't have to be a threat to Peloton or other big companies, Zwift, I suppose."
There are countless great sections of the interview from a detail standpoint, but listening to Jon talk in the last 10 minutes or so about the impact Zwift made on him (the person who created it), and inversely, what interests him now, is interesting. I suspect it's something that many founders struggle with as their babies grow far larger and more successful than they could dream of.
With that, thanks for reading – and go give the episode a listen, either on Spotify, or Apple. Plus wherever else podcasts are found.