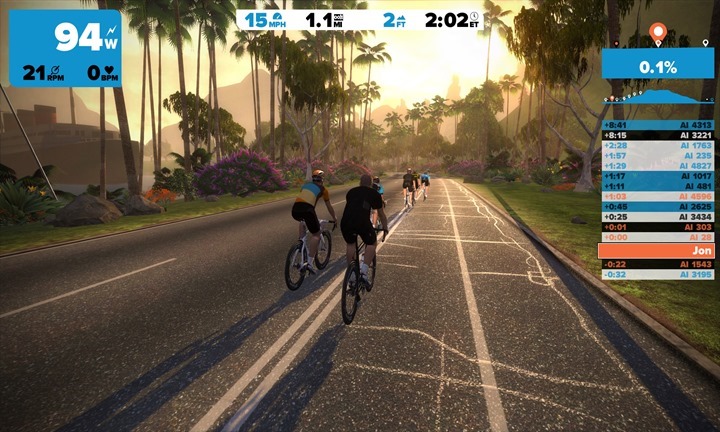 Today, startup company Zwift formally announced their product plans for their ultra high graphic training application, aimed at keeping cyclists entertained during their time sitting going nowhere on a trainer.  As you can see pretty much immediately, the graphic aspects of the platform are quite a bit beyond most traditional bike trainer apps today (rather more in line with gaming in the rest of computer industry).
I had a chance to test out the system a bit back at Eurobike, while at the same time there now are a number of media folks trying it out this evening/afternoon/morning (in three concurrent locations: London, NYC, LA) in larger group sessions.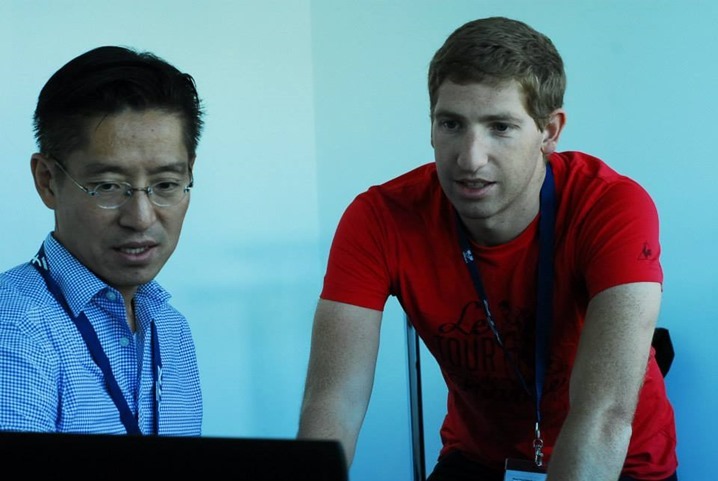 The platform starts with taking your existing computer, which they say can be anything bought roughly in the last three years.  In my case they had a computer setup for me when I arrived to test it, but soon they'll open up the beta and I'll be able to try it on a few computers around here that are more 'normal' to see how performance and visuals really look.
The app is designed to be cross-platform, so it'll work across both Windows and Mac.  Outside of the computing requirements, you're going to need a trainer and an ANT+ adapter.
Starting with the trainer, you can use just about any regular trainer as long as you have a speed sensor, and then you can also use a resistance controlled trainer.  On top of regular trainers they'll apply a virtual power curve, which helps to 'equal out' the different trainer types.  This is similar to what TrainerRoad does with their Virtual Power.  For my specific test they were using the Wahoo KICKR to automatically control the resistance on the trainer.  They also support doing the same for the CompuTrainer and plan to support the PowerBeam Pro.
As for the ANT+ adapter, most people with desktop computers will just get a regular USB adapter, which many might have from previous Garmin Forerunner products.  Otherwise they cost about $20-$40US to pickup.  Trainer software companies like TrainerRoad, Tacx, BKOOL, PerfPro, Peripedal and many others are using the same technology and adapters to connect their apps to ANT+ devices today.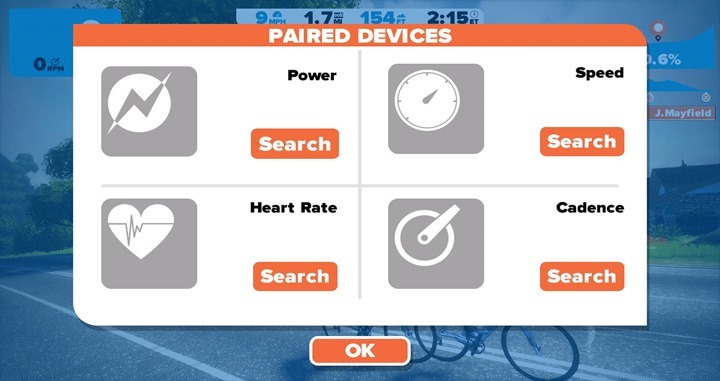 Finally, you're going to need a bike.  What type of bike you choose is entirely up to you.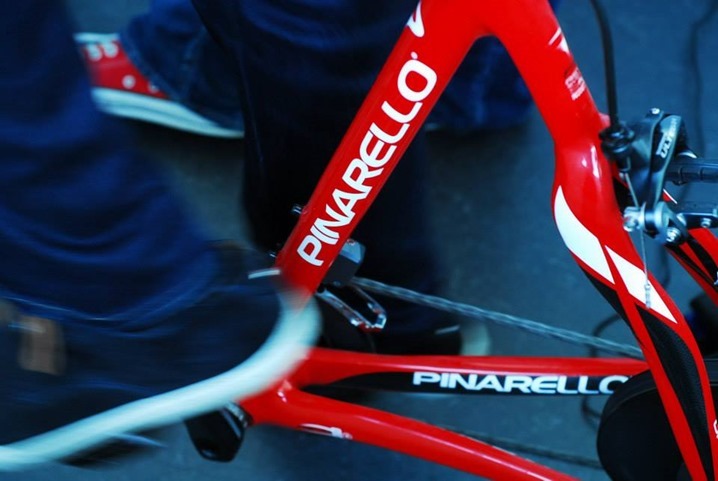 The platform is designed as a 'massive multi-player' game, which is an industry term for an online game that's designed to scale to huge numbers.  Or, at least the platform is designed to scale to such numbers.  So this isn't so much a case of just 2-3 people riding together on a ride, but potentially hundreds thousands of people concurrently on the platform.  With maybe dozens or hundreds in a given ride/world.
These folks can then race together online in specific online worlds, or maps.  These maps don't yet at this point represent exact real life locations, but rather more imaginary things.  Sorta like Myst…but with bikes. Yes, I just called out Myst and brought you back to 1993 all in one fell swoop.  And yes again, it was really that long ago.  We're both old now.
The goal of the platform is twofold.  The first is to potentially mirror that of specific events, such as a Grand Fondo.  They want to enable people to race online concurrently with a real event, or, perhaps ahead of an event in a training ride fashion.  They see being able to partner with event organizers to offer this as an added option for participants.  Or, for those that can't be there in person – such as military members serving abroad.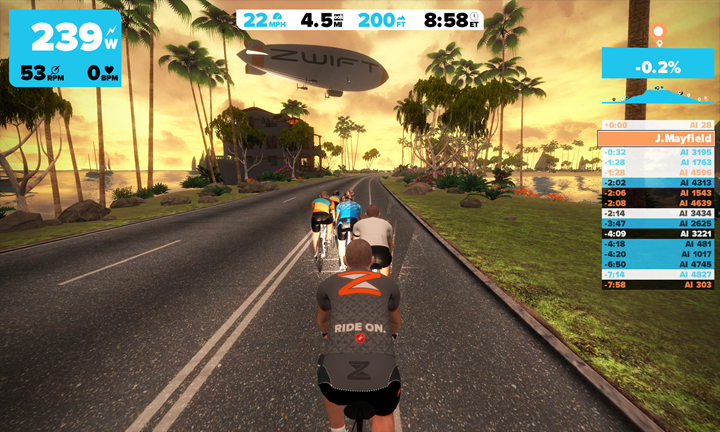 The second is to enable you or friends to arrange races to compete in.  Be it one-off night races or entire series spread out over multiple sessions.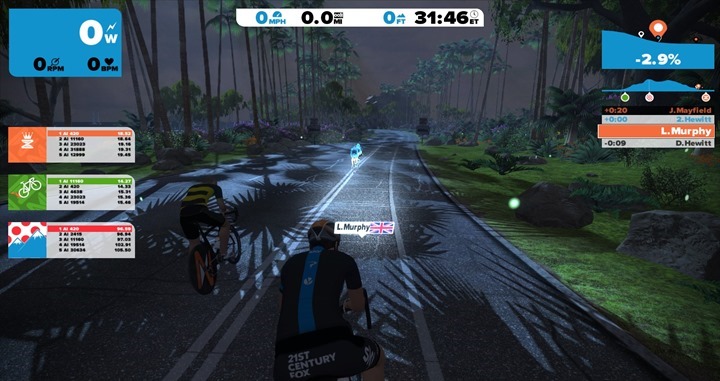 In addition to partnering with race companies, they're also looking to partner with bike industry brands, that would allow you to 'unlock' products that you may have purchased in real life.  For example, if you ride a Cervelo bike, I could potentially unlock the exact same white/red P3C Cervelo bike that I ride in real life.  Or, perhaps they'll partner with the Parisian Velib bike share system and I can rock my Velib instead.
And it extends beyond equipment to teams.  They'd like to enable local teams with a minimum sign-up number (say 10 people) to get free online jersey's in the Zwift, effectively cultivating more users.  Those teams might then carry out and schedule training at set times on a given day…all virtually.
They also see themselves hosting pro riders in an online game.  Somewhat like a Reddit AMA (Ask Me Anything), a pro rider could join a ride just like they might join a local group ride.  You could potentially communicate with the rider (that part is a bit fuzzy as far as what will be there at launch), but otherwise ride with them virtually.  These could be events that are free, or potentially sponsored by some company, or maybe for pay/unlocking.
Of course, core to the Zwift platform is gamification – the idea of taking something that might otherwise be boring (sitting on a trainer) and turning into not just entertainment, but a game with levels, achievements and some carrot to keep you playing (and paying).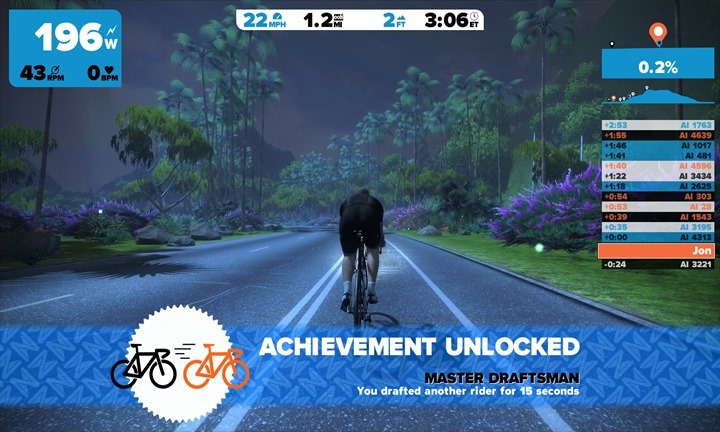 During my ride on the platform at Eurobike, it was genuinely impressive how real everything felt.  I'll be the first to note I'm not exactly of the trainer entertainment variety.  I'm more of a 'give me a workout and let me just follow it' type of person.
But still, I was impressed.  Their use of their 'Zengine' graphics engine did an astounding job in mimicking the little details that actually make things feel real.  Stuff like scrapes/scratches on the roadway, the sound of someone passing you on disc wheels, and if you stop – even the birds.  There's interactions between defined sprint efforts – which then take you out of the saddle, and then visually do the same on the screen.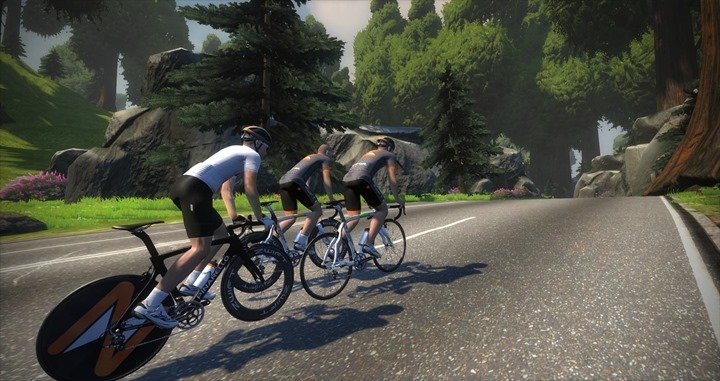 The same is true of coasting down hills, especially if you have a resistance controlled trainer.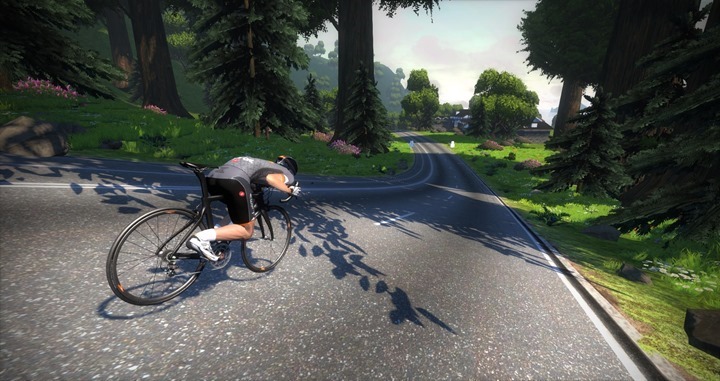 I'll have to wait to see how much I really like said virtual worlds for sitting on a trainer grinding through a real workout with other people, rather than just toying around with the system.  Perhaps I'll do a live DCR Zwift hangout of sorts.
For those that aren't into riding with random strangers (in a bicycle sense, get your mind out of the gutter), they'll be introducing a workout mode (seen below).  This allows you to create workout segments and targets, and then effectively get rewarded for getting as close to the workout target as possible.
This is a subtle but really important distinction when you look at other workout/trainer platforms.  Those platforms use more of a 'stick' approach (rather than carrot) in trying to get you to hit a target.  Perhaps they beep, buzz, or flash for missing a goal.  In the case of Zwift though, it actively rewards you for getting as close to a target as possible.  So if you have a 300w target for a given interval, your goal should be 300w, not 293w or 308w.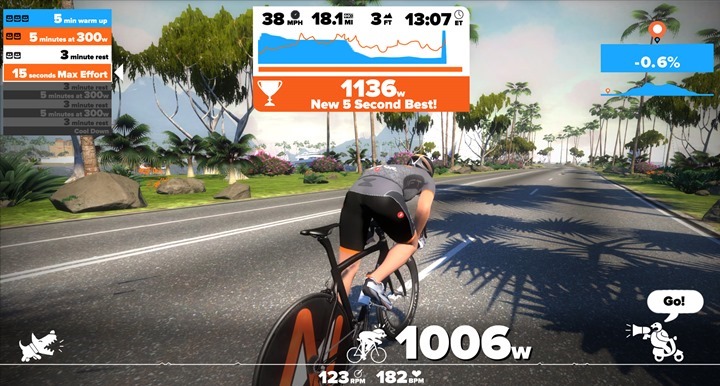 And it's at this juncture that you begin to see how this platform differs from past 'gaming' type ventures that are in the field.
Part of that is driven by the graphics, but a key part of that is also driven by more of a Silicon Valley mindset (and accompanied funding) that simply doesn't exist in much of the rest of the trainer world.  Most of the other companies in the field have built their empires (or, small castles) via slow grassroots efforts that may take years or decades (such as CompuTrainer).  Even the 'quickest' and likely most heavily followed of them, TrainerRoad, is still about 3 years old now – despite feeling much younger (here's the first post I did on them before they launched).
Zwift is taking things from a much different, and potentially much more high profile connected approach.  They've got not only top developers onboard, but also the high end funding and connections behind it (both in Silicon Valley and on Pro Tour teams).  They're launching this evening with three major events at Rapha locations in London, New York City, and San Francisco (all concurrently).  I don't remember the last time that's ever really happened in the cycling world.  It's more Apple-like than anything.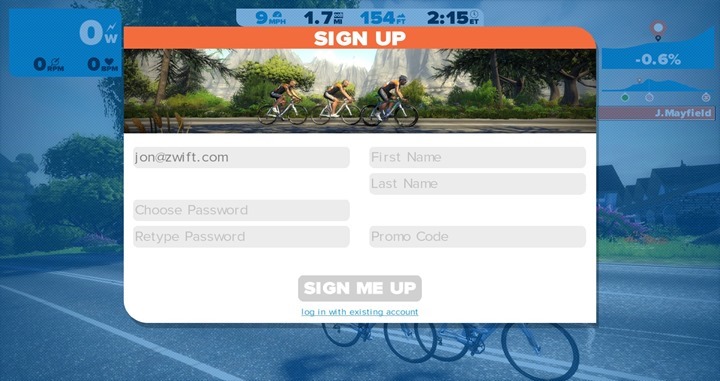 Of course, as any Silicon Valley tech company can tell you – at the end of the day you have to produce a product/service that people don't just want…but crave.  So the question over the next few months as they open it up to 1,000 beta users is whether or not those beta users crave coming back to the platform when it launches for real in early 2015 for $10/month, or find that the stunning 3D worlds wear off over time.  I can certainly say I'm interested to see how things shake out, perhaps as part of that it'll drive other software and hardware innovations in the sports technology sector.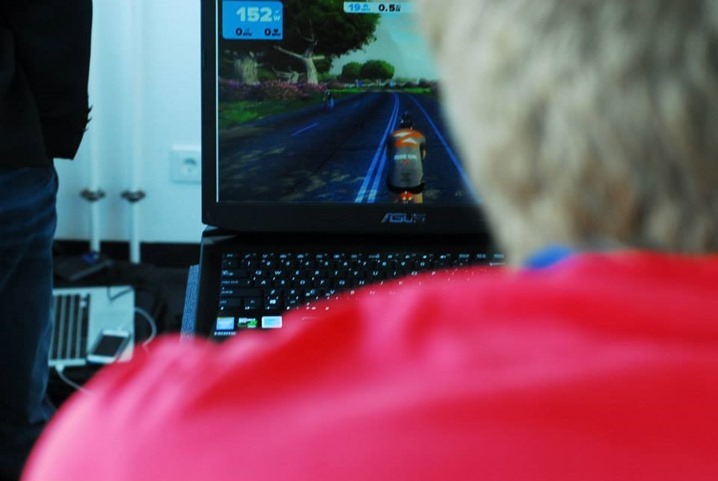 With that – thanks for reading! Feel free to drop questions below and I can try and get them answered.
Update: I've added a gallery below of all of the images that were released.  Enjoy!