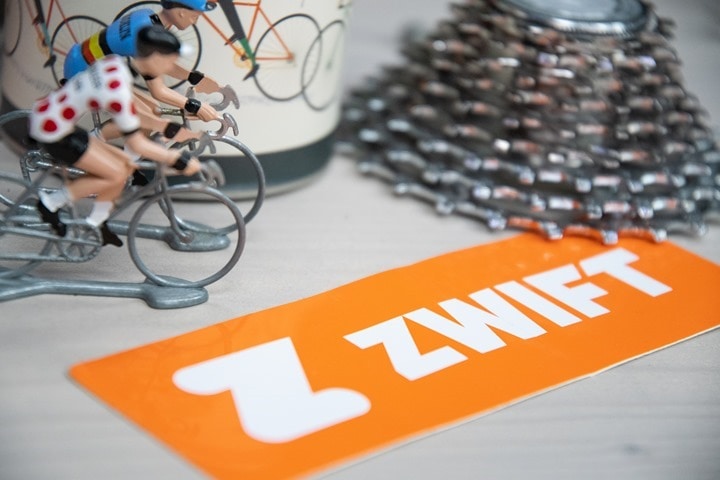 Zwift has been busy as of late, with a slew of various announcements…and in some cases non-announcements. I'm going to roll all of these together like an elaborate Instagram-worthy sushi roll, packed with things that probably don't go together. None of these will be crazy-long in-depth, just a few paragraphs each, some of my thoughts, and links where applicable. Here's the quick index though of what's in this post:
1) Zwift Trainer Certification Stoppages
2) Full-screen mode gets easier access
3) Zwift ends so-called 'Zwift Experience Dealer' bike shop program
4) Steering rollout delayed
5) ZwiftHub joins Zwift Insider
Like I said, lots of stuff, so let's just get started.
Trainer Certification Stoppages: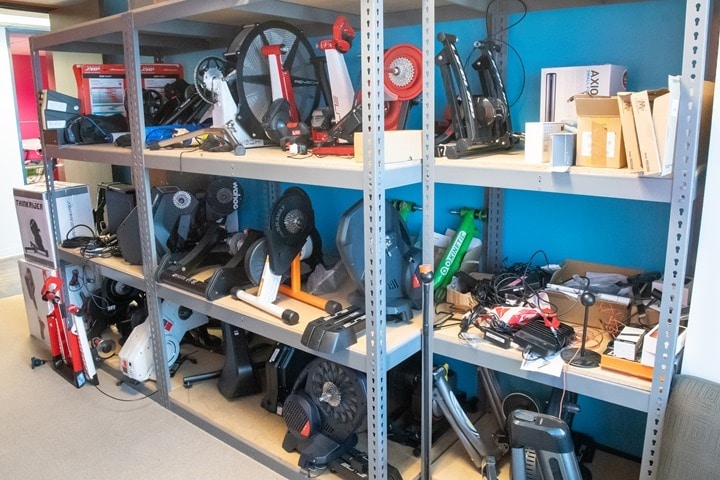 While readers such as yourself probably look at reviews of trainers from trusted review sources to decide whether or not a given trainer model is compatible with Zwift, many users don't. They instead look at Zwift's compatibility charts. These charts have essentially two levels: Probably compatible and special orange logo compatible. As I'll illustrate in a second, this is purely a paper exercise, and an eyebrow-raising one at best.
However, for the past year, these certifications basically haven't happened. That meant that the newer trainers coming in haven't appeared on the list. In fact, as of yesterday that included numerous units like the Elite Tuo, JetBlack Volt, Wattbike ATOM 2020, and Tacx Boost. Among basically every other unit out there released in the last 12 months.
In talking to a few companies, they said that Zwift has stopped certifications, so, I asked Zwift. And it turns out, that's basically the case. They said:
"The certification program involved a lot of lab testing however, since COVID, the offices have been closed and access for QA testing has been restricted, creating delays in the program. As restrictions are starting to ease, we are hoping to be able to clear through the backlog this summer.

We are also looking to change the program slightly. The intention is that trainers will fall into one of two buckets based on expected Zwift user experience – essentially those trainers that will work with Zwift (i.e are compatible) and those that deliver a great Zwift experience. It's similar to the Zwift Certified stamp of old, but the aim is to make that more clearly defined.

The latest list of supported trainers can be accessed via the support pages here and the team are looking at a refresh of trainers at the moment – https://support.zwift.com/en_us/supported-trainers-BkPlq7gr."
While it's noted delays were created, I can't find any trainers that were added to the list in the last year.  Shortly after pointing out the Elite Tuo specifically, it was added to the list. However, others remain missing. But more importantly, the list itself is basically a hot mess.
Here's an example of the differences on their compatibility charts, using Saris as an example first. In this case, the *ONLY* difference between the H1 and H2 is the paint color. No kidding. They changed from the CycleOps logo to the Saris logo and went from yellow/black to black/silver. They run the same firmware. So, why are they different certification levels?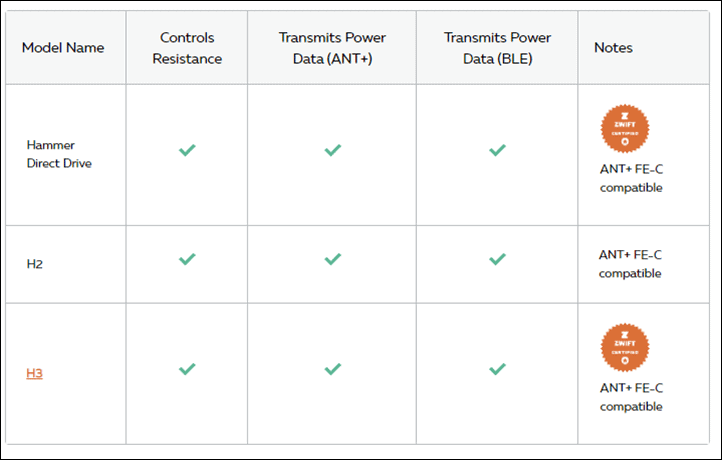 Or, the Wahoo chart. Why is the Wahoo KICKR (should be all uppercase, btw), somehow consolidated into a single entry but the H1/H2/H3 above aren't? I mean, let's be honest, the Saris trainers are legit the exact same trainer, with the H3 simply using a quieter belt. The Wahoo KICKR's span nearly a decade, with five distinct models and substantially different technologies between them.
Here's the thing, obviously, I like compatibility lists. I want more of them. But I also want them to be real.
As it stands right now, the Zwift trainer compatibility list and specifically the Zwift Certified Logo is actually just the manufacturer sending the specs to Zwift, and then getting a logo back without actual real-world testing. Instead, it's more of a spec/paper checkoff than a test of functionality (and even that, as the Saris H1/H2/H3 illustrates, doesn't hold water).
To Zwift's response, what they're aiming for sounds like it might actually solve that – if they're willing to test trainers and also willing to deny big-name trainer companies a logo when it's not good. The Tacx NEO 2T certainly shouldn't have been certified for the first 2-3 months of its existence, it was horribly unstable accuracy-wise. Just as the Wahoo KICKR V5/2020 shouldn't have been certified based on its substantial overshooting accuracy issues, until that was fixed 6 months later.
At the same time, if the goal is to have a two-tiered program of:
1) Yes this works
2) But this one is really good because it meets XYZ requirements
Then that program needs clear, defined requirements for each level, and needs those requirements published somewhere. And most importantly, not be a 'Pay for Play' type situation that Zwift seems to be favoring lately. That'll help manufacturers make better hardware, and let consumers make better choices on what's an OK experience versus a great one. And ultimately, that'll drive more Zwift subscribers – which is, I think, what Zwift actually wants.
Steering Hardware Rollout Delays: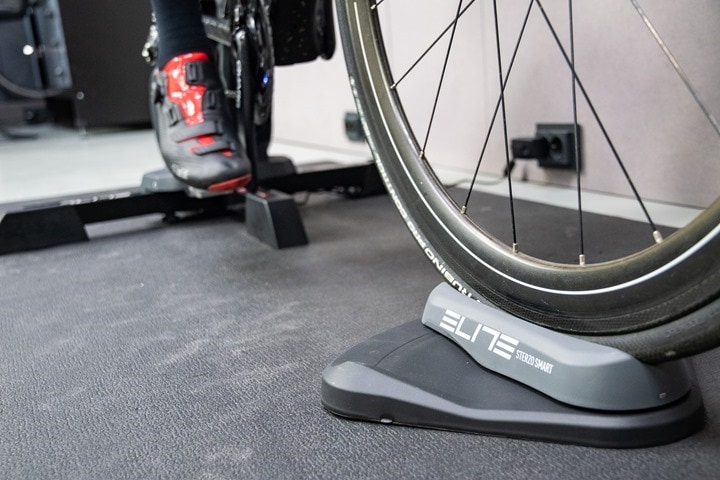 Akin to the first one, steering expansion has also been essentially delayed to the point of being paused. Zwift disagrees with my terminology of 'on hold', but when it's been 4 months since the last device…I think we can certify this as paused. Especially since these companies are just waiting for a simple sign-off.
As you may remember, last summer Elite launched the Sterzo Smart. That little plate sat under your front wheel and allowed you to steer in-game. Some people love it, some don't care. That's fine, to each their own. Ultimately though, it's a feature Zwift specifically went to hardware manufacturers asking them to build hardware for. And they did – all of them did. But now Zwift has them all hanging out waiting for nothing. Elite's Sterzo Smart exclusivity period only ran through April 2021, and only for non-smart bike solutions.
But that leaves companies like Stages, who have been ready to support steering since last summer. Or TrueKinetix, with their bike – still waiting on Zwift. Or JetBlack, who literally showed/announced a steering device (JetBlack Turn) at Eurobike 2019 the same days Elite did, and Zwift has told them they won't test their product "this year" (2021), due to COVID delays. Mind you, this means you as a consumer have less choice in products, and this still ignores the licensing fees and exclusivity agreements that Zwift wants each of these companies to pay for you to use your smart bikes or accessories with steering.
So here too I asked Zwift why things were delayed. After all, this isn't super hard. Send out units to Zwift employees and use them. If entities like myself, GPLAMA, Zwift Insider, and others can do detailed tests and reviews of steering devices, then certainly Zwift can spend a few minutes to bless a device after a ride or two.
"This has also been delayed by office restrictions and the resulting limited lab QA time. Like the certification program, we are starting to work through this backlog – both for smart bikes and other third-party steering devices. The program is not on hold.

Over the next year, we are looking to add over 300 people to the headcount. We are currently in the process of recruiting new team members who will be able to bolster our third-party hardware support function who are responsible for general bug resolution, functional integration (e.g. steering) and hardware integration. We are also recruiting a number of short-term contractors to help us clear through the backlogs outlined above."
The second paragraph is great news for companies out there. All of which have complained, quite loudly, that they can't get the time of day from Zwift – despite the fact that without their hardware (trainers), Zwift doesn't exist today. So I'm hopeful that there will indeed be a dedicated team for 3rd party support. A company like Wahoo or Tacx (or smaller ones like JetBlack or Minoura) should have a dedicated person at Zwift responsible for answering their e-mails and ensuring hardware is seamlessly incorporated. They shouldn't have to wait months for a simple e-mail answer.
But that still doesn't solve today, and as you'll see in my next in-depth review – some companies are simply saying 'eff it' and using the reverse-engineered steering protocol in their products, because after months of trying to get Zwift's attention – they've given up. And ultimately, this is a good reason why we have open standards – because it's good for consumers, and good for the industry at large.
Zwift Experience Dealer Program Ends: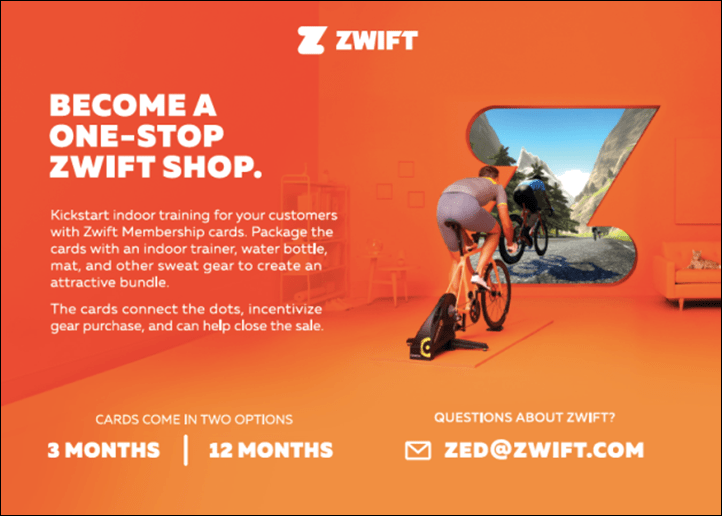 Remember when you could walk into a bike shop and casually browse things, perhaps jump on a trainer and give a bike a whirl? Yeah, it's been a while for many places.
Well, back when you could do that, local bike shops could apply to Zwift to be part of their Zwift Experience Dealer (ZED) program that essentially helped to make a packaged retail spot in their store that highlighted Zwift, alongside specific hardware. So you might have had a setup that highlighted the Wahoo KICKR + KICKR CLIMB + Wahoo Headwind fan + a Wahoo trainer mat, all with Zwift subscription cards right there. Depending on the region, local bike shops could sell bundles, inclusive of Zwift, to consumers. It was designed as a one-stop shop.
The local bike shop also got Zwift accounts to use for demo purposes, and so on. The idea being to simplify selling trainers while promoting Zwift. Back in September 2019, Zwift said they peaked at 2,000 dealers in the program. However, the program is now ending. Existing dealers can keep using their Zwift accounts through the end of the current subscription period, after which they'll have to pay for their own accounts. No new dealer applications are being accepted.
When asked, Zwift said that "the program simply did not prove to be scalable for the business. Instead, we are looking to streamline the program and work more closely with our third-party hardware partners."
I get that. Many dealers noted that the program was somewhat messy and inconsistent. Still, in the right hands – it highlighted Zwift. Undoubtedly, many shops will still continue to highlight Zwift at their trainer stations in their stores, even if they have to pay Zwift $15/month. But it also opens the door to companies like Wahoo and Tacx/Garmin to simply offer free accounts and better sweeteners for stores to highlight The SufferFest (owned by Wahoo) and Tacx Training App (owned by Tacx).
That probably won't change the opinions of people that already are aware of Zwift and have their friends on it, but instead, will more likely sway those without awareness of Zwift, who are just looking for an indoor training experience. Zwift has done the math here and figured it's probably not worth the hassle right now.
ZwiftHub Joins Zwift Insider:

Remember back a few weeks ago when ZwiftHub announced they were shutting the doors? Well, turns out they found a different set of doors to walk through. Instead of closing the site as planned at the end of this month, they'll be joining Zwift Insider, which seems like a pretty natural fit.
Zwift Insider has acquired ZwiftHub, and plans to migrate the platform and hosting over, keeping it up and running for good.
If you remember back when ZwiftHub made the announcement, Toby, the founder, basically noted that this fun side project had become something a wee bit bigger than that, including more extensive hosting costs and time dedicated to it. Thus, Zwift Insider has stepped in to save it. Zwift Insider is a community-focused site with boatloads of daily Zwift tips and tricks. They are independent from Zwift, though do receive some funding support from Zwift. They're an awesome resource though for the community, and I'm constantly double-checking how to do things from their articles.
Eric Schlange, founder of Zwift Insider, noted in their announcement:
"Toby did some very fine work with ZwiftHub, and we knew Zwifters were happily using it every day. So we contacted him and began discussing the possibility of taking over the site. And today we're happy to announce that we've reached an agreement wherein ZwiftHub will continue to thrive under the Zwift Insider umbrella and expand as Zwift adds new routes!
That's great news for folks. He goes on to say that Zwift has also helped to sponsor the migration of the ZwiftHub content to Zwift Insider – but that they are still looking for additional sponsors to support the ZwiftHub aspect specifically.
Zwift's Hide The Display Mode: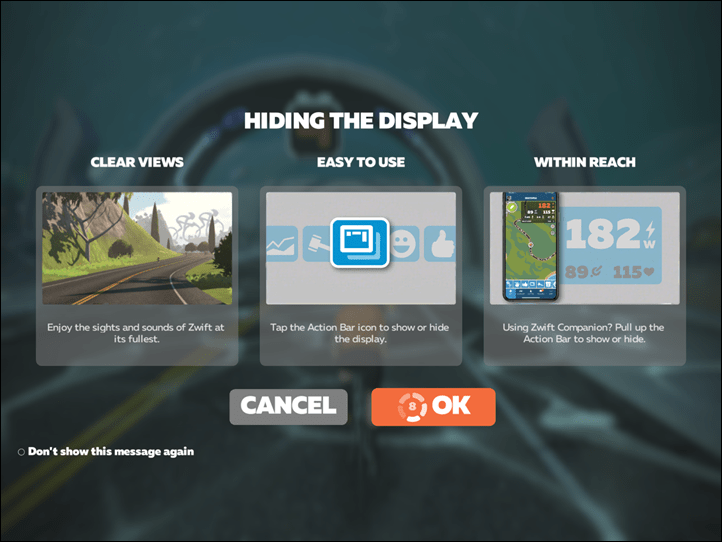 Finally, I suspect by now you've probably seen this as it came out last week – but I've been enjoying it the last few rides. Essentially, as part of the most recent update, Zwift now allows you to hide all the display metrics from the screen, leaving you with an entirely clean display – no data, just the Zwift world.
This could previously be done on PC/Mac through various means, including once a FutureWorks program, but now it's a simple tap from the Zwift Companion App, meaning you can toggle it quickly and easily from your bike. I'm finding it great for when I'm watching a TV show or such, and just have Zwift on a second display, and don't care about any of the metrics (usually just going by feel). It's great. If I need to check data or such, it's just one tap-away on the smartphone app.
GPLAMA has a good quick round-up on how it works here:
And with that, I'll leave you to your Thursday, and to toggle your display back and forth like a three-year-old. It never gets old.
Thanks for reading!