Over six months ago, when the Wahoo KICKR V5/2020 was released it contained one not insignificant flaw: It'd overshoot efforts, sometimes by hundreds of watts, when the flywheel speed was low. Meaning, typically when your speed was low and you accelerated, it'd register a false spike. It's something I outlined in both my in-depth review at the time (and video), as well as a caveat in my 2020 trainer recommendations guide.
Last week, as part of an almost Christmas Eve firmware drop, Wahoo issued a new firmware update for the KICKR V5/2020, aimed explicitly at fixing this issue.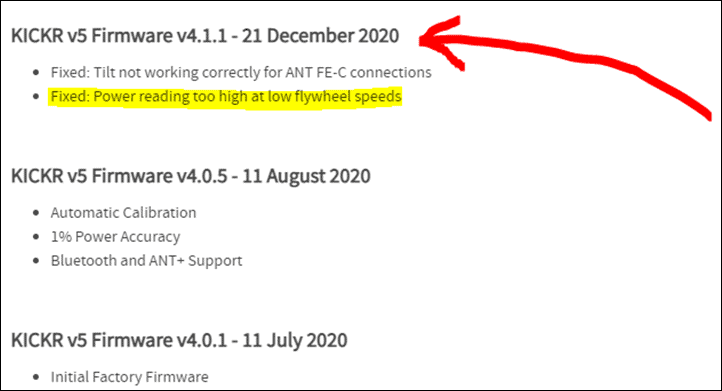 So the biggest question is simple: Does it fix it?
First, I wanted to test the update back to back on the same unit pre and post update. So, I loaded up Zwift on the flats, and then did a very simple test to cover four key areas, doing both moderate and significant accelerations and sprints within each set:
0:00-1:00: Big ring and top of cassette
1:00-2:30: Big ring and bottom of cassette
2:30-3:30: Small ring and bottom of cassette
3:30-4:30: Small ring and top of cassette
Super simple and basic test, but one which would first demonstrate the issue, and then – hopefully, the fix. Here's what that looked like:

Now, as you can see – they all look identical. Why? Well, because the flywheel speed (which, is basically my speed in this case), is too high on the flats for this issue to enumerate. Instead, it needs a slow flywheel speed, such as climbing, to show up.
So to rectify that, I loaded up Alpe du Zwift, which has a gradient of around 8-12% for the sections I used. Mind you, in my review I demonstrated this on far less sizable climbs of just a few percent, but using Alpe du Zwift made this much easier to demonstrate before/after.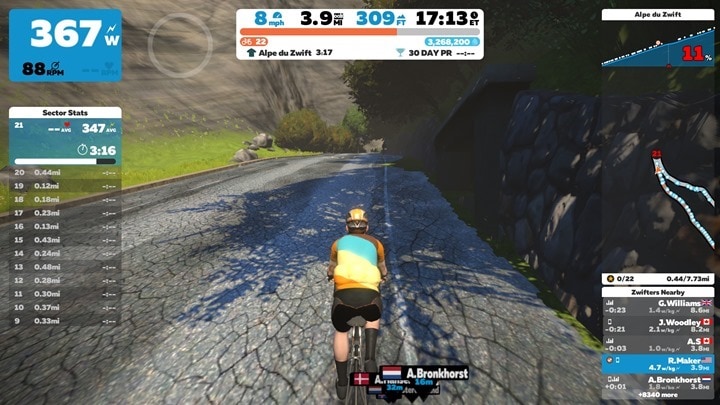 Now it's far easier to demonstrate where things went wrong. Here's the four sets again this time with fancy markers:

As you can easily see, the 1st and 3rd are basically fine, but the 2nd and 4th are problematic – especially the 4th one. For the 2nd one, as you might imagine, using the hardest (biggest) gearing to go up Alpe d'Huez is nearly impossible, so while you do see separation, it's not as horrible. But that 4th one – ouch! This is basically any acceleration while climbing, and we're talking closing in on 100w of being off:

Ok, so the issue demonstrated, let's get this puppy all updated with the new firmware update:
With that all set, I unplugged the KICKR and re-plugged back in (old habits to ensure the new firmware is definitely loaded), then reconnected to Zwift to continue my climb. Here's those results:

Now, as 'luck' would have it, I got into a 12% section when I needed to shift into the hardest gears, and quite frankly the torque was so strong that I couldn't get it where I wanted cleanly. Sure, I technically got there, but it was disastrously slow and sounded like my drivetrain was going to snap. Good news: It didn't.
In any case, by now you've noticed that the entire set is nice and crispy together – and most notably, so is that last set at the slowest flywheel speed. In other words, the firmware update very nicely fixed the issue, and now I can recommend the KICKR V5/2020 without any accuracy caveats. And hey, maybe we'll see that dongle for the new but unused wire connectivity port soon!
With that – thanks for reading!
Found This Post Useful? Support The Site!
At the end of the day, I'm an athlete just like you looking for the most detail possible on a new purchase. These posts generally take a lot of time to put together, so if you're shopping for the Wahoo KICKR V5/2020 or any other accessory items, please consider using the affiliate links below! As an Amazon Associate I earn from qualifying purchases. It doesn't cost you anything extra, but your purchases help support this website a lot. Even more, if you shop with TPC (The Pro's Closet), you'll save $40 on purchases over $200 with coupon code DCRAIN40! The Pro's Closet has been a long-time partner of the site here - including sponsoring videos like my cargo bike race, as well as just being an awesome Colorado-based company full of good humans. Check them out with the links below and the DCRAIN40 coupon!
And of course – you can always sign-up to be a DCR Supporter! That gets you an ad-free DCR, access to the DCR Quarantine Corner video series packed with behind the scenes tidbits...and it also makes you awesome. And being awesome is what it's all about!