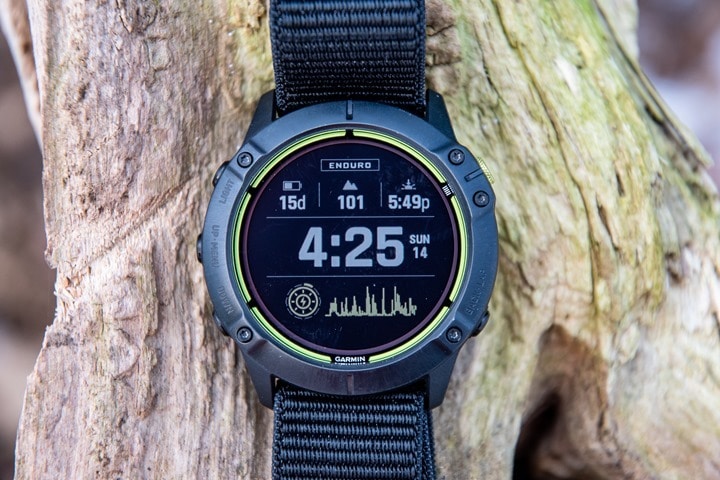 Let's just get this out of the way upfront: There's precisely one reason – and ONLY one reason to buy the Garmin Enduro: You want really long battery life, and are OK with that at the expense of any other feature. Be it GPS battery life or daily watch use battery life, there's no Garmin watch that goes as long as the Enduro. And Garmin is betting that you'll pay extra for that feature over and above a normal base Garmin Fenix 6 unit.
Which isn't to say the watch is bad – far from it. It's even got new features that Garmin has formally introduced here (yes, they're coming to existing watches, more on that in the next section). At first glance you might think this is merely another variant of the Fenix 6 series, and in many ways you'd be right. When the dust has settled this week – the Fenix 6 & Enduro watches will have virtually identical software.
But that hides what's actually happening under the covers. The Enduro's baseline battery claims start off at 80 hours of normal GPS-on time with solar enabled (and optical HR enabled too), but then soar up to 300 hours of GPS battery life in certain configurations. That kind of battery life wasn't just Garmin stuffing a bigger battery into it. Rather, Garmin says the Enduro is a new underlying platform – one that enables them to boast what I suspect is the longest GPS battery life of any device out there.
Beyond the battery though, it adds in Rest Timers and proper trail running VO2 max metrics, both focused on trail and ultra runners. These metrics are also now available for Fenix 6 and FR945 users too, thus giving credence to Garmin sometimes offering features to 'older' watches. Plus there's a lightly updated version of ClimbPro, which now tracks/displays descents, and can trigger alerts before the climb starts. But we'll dive into all that in a second.
First note that I've had this watch for a while now, putting it through its paces in all manner of workouts and winter meanderings – long and short. But once I'm done with this loaner device for this review, I'll box it up and send it back to Garmin. Just the way I roll. If you found this post useful, consider becoming a DCR Supporter which makes the site ad-free, while also getting access to a mostly weekly video series behind the scenes of the DCR Cave. And of course, it makes you awesome.
How Enduro Differs:
Now, I'm going to harp on the fact that this is feature-wise identical to a Fenix 6 base unit, except just with solar, a bigger battery, and a nylon strap. However, for those that haven't yet updated their firmware to get these new features on your Fenix 6, the Enduro more visibly introduces these new software features:
– Climb Pro 2.0 Descents: This adds descents to ClimbPro for non-cycling activities. So you'll now see the same per-climb data while going downhill too
– Climb Pro 2.0 Alerts: You can now set up an alert banner to notify you at the start of the climb, or a configurable distance prior to it
– Trail Run VO2Max: You'll now get more accurate VO2Max estimates for trail running specifically, versus previously these would often underreport
– Ultra Run Rest Timer: This allows you to track break durations at aide stations and see those in the analytics afterwards
And yes, the Fenix 6 & MARQ get those feature updates today in a firmware update (well, they were in public beta a few weeks ago too). Additionally, the Forerunner 945 & Forerunner 745 will also get all those updates. The Forerunner 245/245 Music will get the Trail Running VO2Max enhancements. The timing however on the Forerunner series is less clear, with Garmin saying likely more spring.
However, the real core difference of the Enduro is actually the battery life – clocking in at 70 hours of full GPS on-time without solar, and 80 hours if you've got some sunny solar time. Here's the official battery stats from Garmin on this:
Smartwatch mode: Up to 50 days/65 days with solar*
Battery Saver Watch Mode: Up to 130 days/1 year with solar*
GPS Workout Mode (with optical HR): Up to 70 hours/80 hours with solar**
Max Battery GPS Mode: Up to 200 hours/300 hours with solar**
Expedition GPS Activity: Up to 65 days/95 days with solar*
*Solar charging, assuming all-day wear with 3 hours per day outside in 50,000 lux conditions
**Solar charging, assuming use in 50,000 lux conditions
As a reminder of where some other watches currently stand, here's their official battery stats for normal GPS mode with 1-second recording modes (meaning, no reduction in recording or sampling rates):
Garmin Enduro with Solar GPS Workout Mode (with optical HR): 70/80 hours with solar
Garmin Fenix 6X Pro Solar GPS Workout Mode (with optical HR): 60/66 hours with solar
Suunto 9 Ultra Mode Profile: 25 hours
COROS Vertix UltraMax GPS mode: 60 hours
Polar Vantage V2 GPS Workout Mode: 40 hours
Casio HBD-1000 GPS Workout Mode: 14 hours
But the real kicker is the max battery modes that every company offers. With all these companies, they basically reduce the GPS track points to a handful per minute (varies between brands). Some, like Suunto, then try and draw/update the GPS track using other internal sensors, and it usually works fairly well.
Garmin Enduro with Solar Max Battery Mode: 200 hours/300 hours with solar
Garmin Fenix 6X Pro Solar Max Battery Mode: 120 hours/148 hours with solar
Suunto 9 GPS Workout Mode: 120 hours
COROS Vertix GPS Workout Mode: 150 hours
Polar Vantage V2 Power Saving Mode: 100 hours
Casio HBD-1000 Intermittent GPS Mode: 18 hours (for real, someone would ask if I didn't list it in this table again)
As you can see – it's a massive jump up. And that technically ignores Garmin's 'Expedition mode', which gets you 65 days of GPS track points, or 95 days with Solar. In the event you're very determined to cross the entirety of Africa by foot…without bringing along a portable battery pack.  But don't worry, we'll discuss some of these battery claims down below in that battery section.
First though, you need to decide whether you want to sacrifice non-battery features for battery life. Remember, this isn't a Fenix 6 Pro series watch, and as such, you lose all the following features:
– No Maps (nor Trendline/heatmap routing)
– No Music
– No WiFi sync
– No ClimbPro on the fly (since that requires maps), but you can do ClimbPro based on a course
– PacePro based on a round-trip course created on the watch itself (but otherwise PacePro works fine with downloaded courses, or ahead of time via the app)
And then you've finally gotta decide if you'll want to buy into this price point. The Enduro is $799 for the base model, or $899 for the lighter titanium one. Both are identical features-wise. Just paying for a different shell. And both include the nylon band.
Got all that? Good, let's get it unboxed.
Unboxing: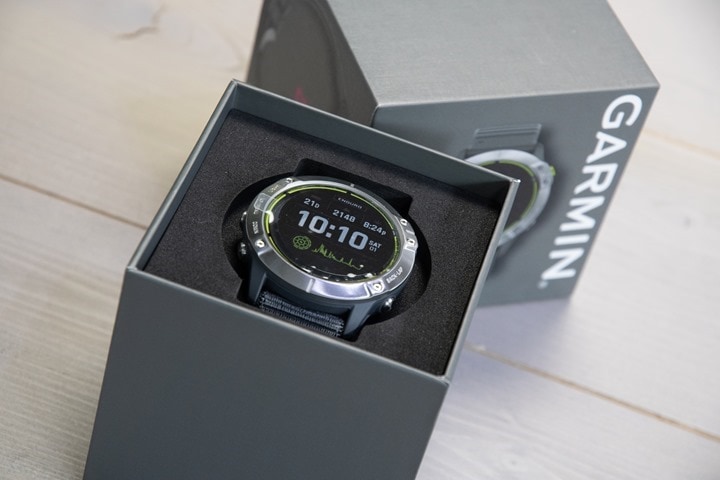 Now, I don't have a final box. More specifically, the imagery on the boxes I have isn't final. It's missing the watch face itself. For many companies, getting the final boxes printed is literally the last thing they do (in case last second specs/features/etc change). So, we'll just skip to what's inside, which is indeed final, and now on final firmware too.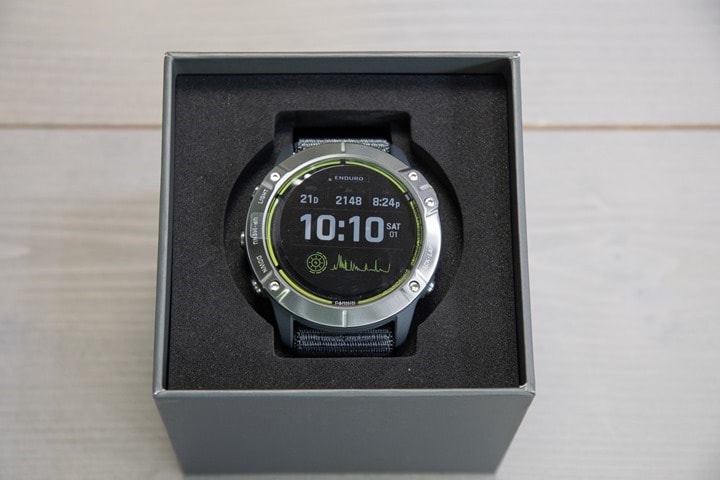 Inside the box you've got the watch, the standard Garmin charging cable everyone hates, and some paper manual stuff.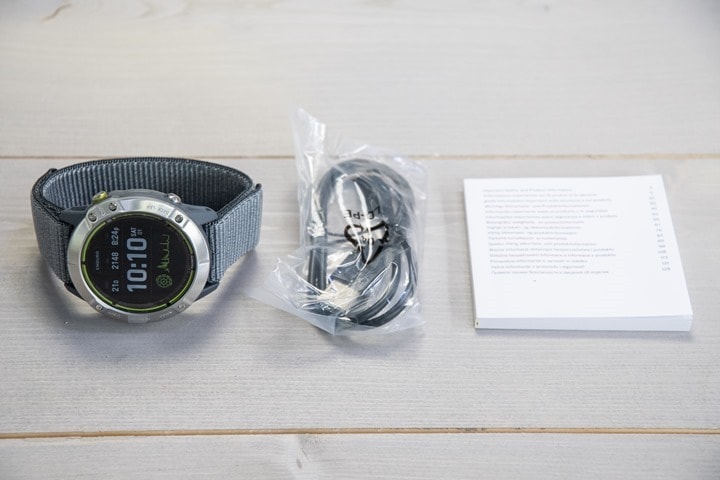 And then a closer look at that riveting cable you'll want to replace. Though, on the bright side, you won't have to use it anywhere near as often with the Enduro's battery life.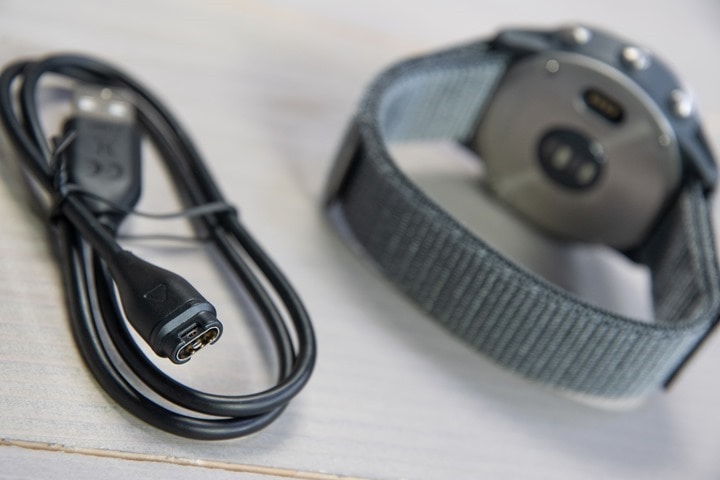 Followed by the paper pile: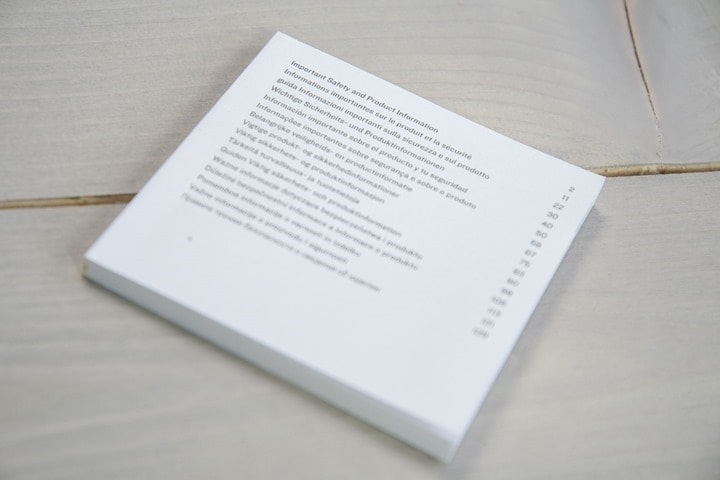 Now there's actually two variants here. The black one is the more expensive version (and lighter), which is the DLC coated titanium bezel ($899), whereas the silver one is stainless steel ($799).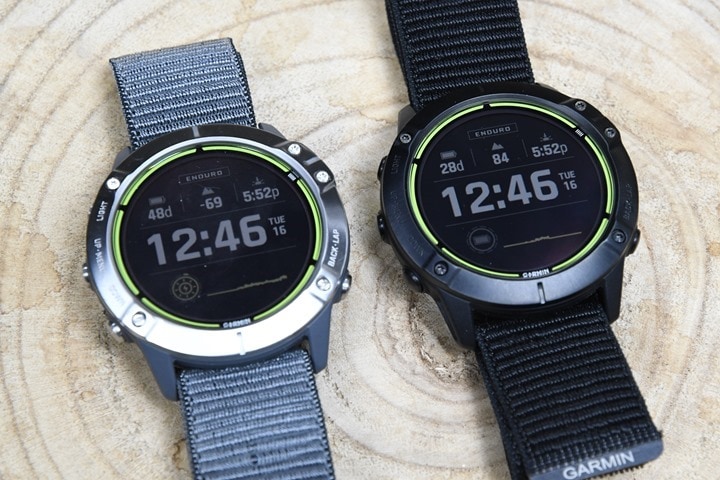 As you can see looking at the weights, they come in at 61g and 71g respectively. Unlike many of Garmin's Fenix 6 series watches where you actually pay more for a heavier watch with a heavier/fancier band, here you're paying more for a lighter unit.
Speaking of sizing, the Enduro watch is identical in sizing to the Fenix 6X Pro series units, best I can tell from both visual and measurement tool inspection it's the exact same shell. Here it is side by side with the Fenix 6X Pro Solar Titanium and a Garmin FR945: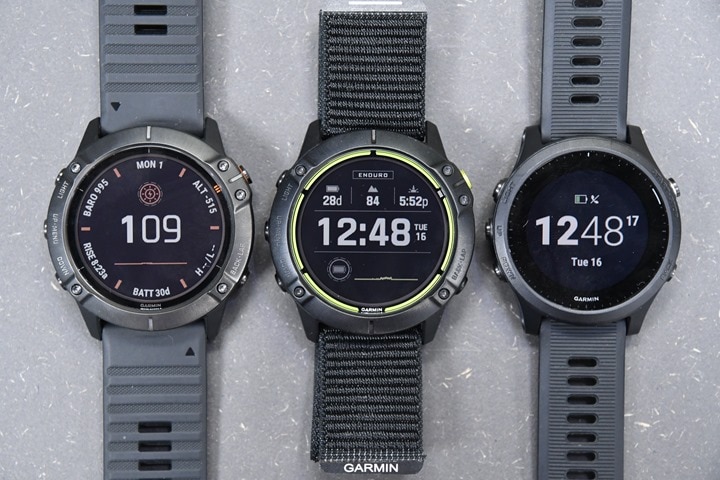 The weight of that watch is 83g. And of course, the 6X is Garmin's biggest watch width and thickness wise. So the Enduro is definitely a larger watch, but yet, despite that, it doesn't feel it, because the weight is so much less. The plastic FR945 comes in at 50g, so only about 11g less than the Enduro. Though, it's a significantly smaller watch.
Now, here's some side by side rolling pin comparison shots. Note that the angle to each watch is slightly different since they're all spaced out – thus reflections will vary slightly based mostly on pure luck. In the real world, there's no meaningful difference there on reflections specifically.
Left to right: Suunto 9, Polar Grit X, COROS Vertix, Garmin Enduro, Garmin Fenix 6X Pro Solar, Garmin Fenix 6 Pro Solar, Garmin FR945.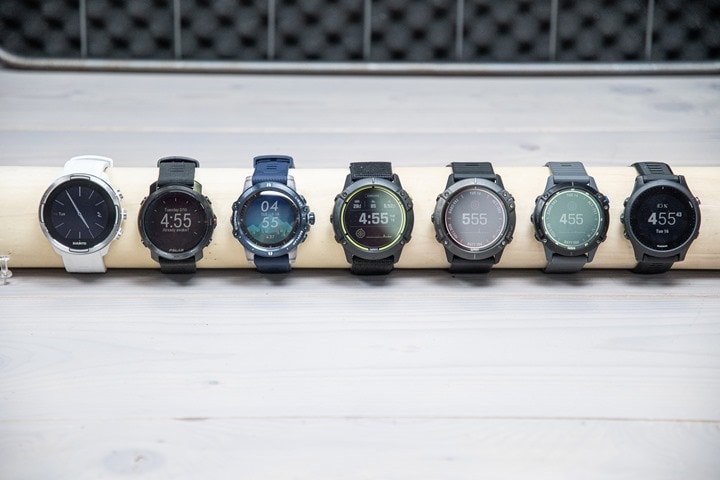 And again, the same set in the same order, this time showing the thickness. Note that technically speaking this is two rolling pins glued together, thus there's about a 1mm bump up at the centerline below the Enduro, from the left pin to the right pin.
To demonstrate that the Enduro & Fenix 6X Pro Solar are identical, here's the two laid flat on the table (Enduro left, Fenix 6X Pro Solar right):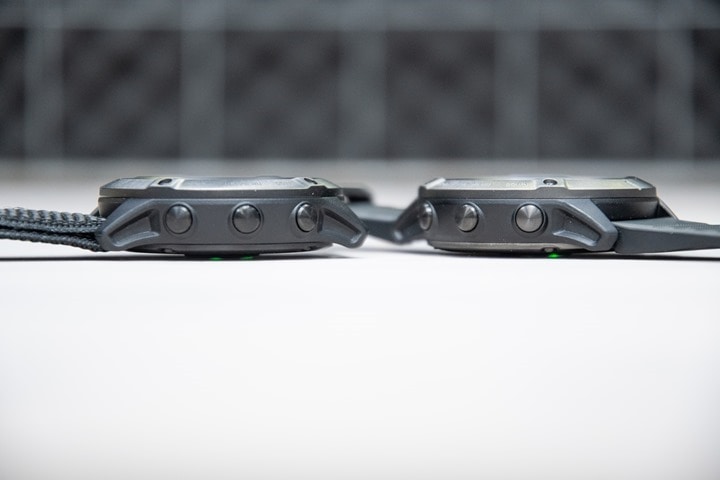 And then those same two again, with the Enduro strap merely undone on one side, otherwise the design of the loop strap would of course sit under the watch in a photo.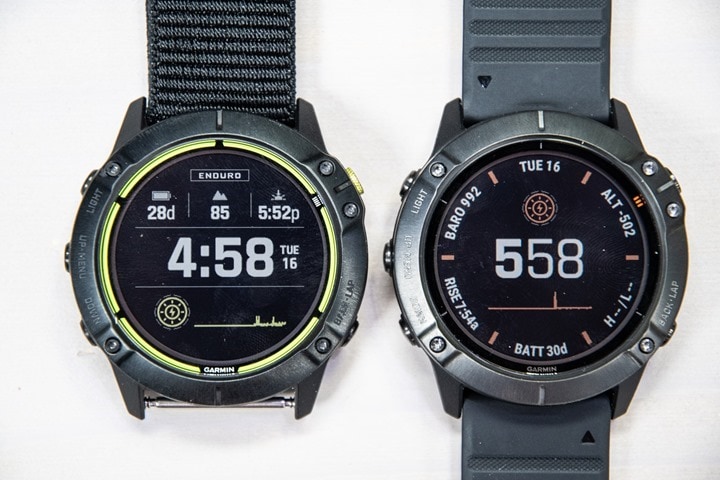 Ok, with all that set, let's dive into the watch itself.
The Basics:
If you want a complete user interface tour, simply whack the red play button above, and I talk through most of the Basics & Sports section in one go.
This first section is all about the non-sport aspects of the watch. Things like the user interface, daily activity, and sleep tracking, and all those related metrics. After this section we'll dig into all the sport stuff, then hit up battery life and solar bits, before eventually moving on to GPS & heart rate accuracy. Point being, if you're already very familiar with the Garmin watch realm, you can skip this section and head down to either the Sports & Battery/Solar sections. Though realistically everything new was probably already covered in the previous 'How it differs' section prior.
To begin, we've got the buttons to talk about. The Enduro watch has five buttons, and no touchscreen (just like the rest of the Garmin Fenix 6 series). Meanwhile, on the bottom, you'll find the Garmin Elevate optical HR sensor, which is used for both 24×7 heart rate readings, but also workout HR readings. In addition, it records SpO2 information.
Once all set up, you'll land on the watch face, listing Enduro at the top and the solar levels along the bottom. It'll also show the current battery days remaining and altitude + sunset/sunrise time. But this is all completely changeable, to either other stock watch faces, or custom Connect IQ ones.
The exact specifics shown on the screen can also be customized, such as changing out the elevation for steps, or any other metric you want.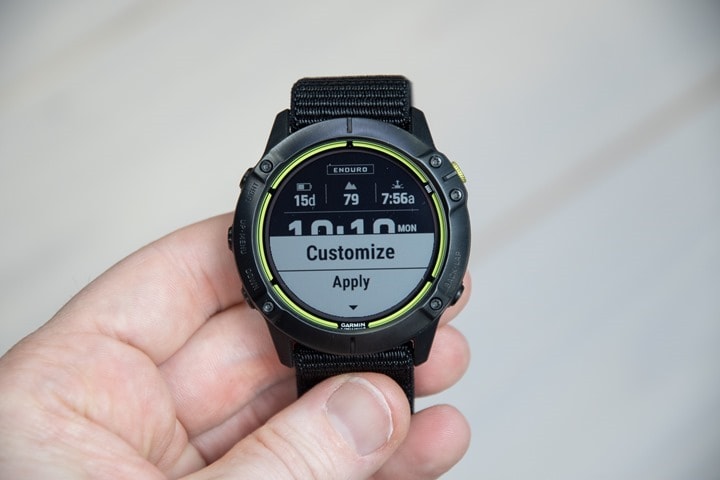 As you press down, you'll land yourself in the glanceable widgets. This was introduced in the Fenix 6 series, and essentially consolidates the full-page widgets into 1/3rd sized ones. But you can still select a given widget to expand it to full-screen and then get more details. Widgets are effectively mini-apps, and cover a broad range of data from weather to steps, training status to sleep, and music control on your phone (since Enduro doesn't have music on it). There's dozens of stock widgets from Garmin, and you can re-order them as you see fit.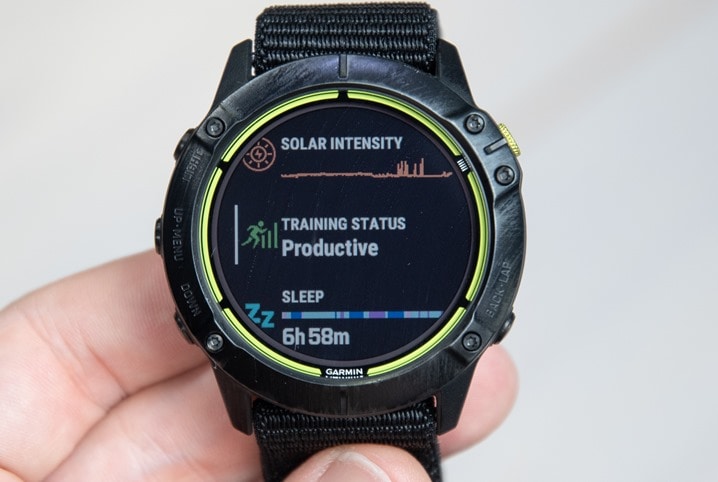 For example, we can select to highlight the sunset/sunrise widget, which then shows more data about sunrise/sunset times.
As I've said before – glanceable widgets are arguably one of my favorite Garmin features in the last few years. Or more specifically, most appreciated improvements. It's a minor thing that to new Garmin users they'd never think twice about, but for long-time users, you're like 'Duh, that makes so much more sense!'.
In any case, here's a smattering of data points from my widget roll. Right now it's the middle of winter with freezing rain, so long-sleeves and indoors time are limiting my usage of the solar and thus that little graph, except when I specifically wear it on the outside of my coat.
Of course, these widgets are surfacing tons of underlying daily activity data. Some of that's more common metrics – like steps or calories, whereas others can be more advanced, like respiration rate or PulseOx. Each of us value those metrics differently. And sometimes, you might be aiming to increase a given metric, while other times decrease it. For example – in the middle of a random day in winter, you may want to keep your step-count high. Whereas the day before starting a 50KM trail race, you'll want to keep that step-count as low as possible.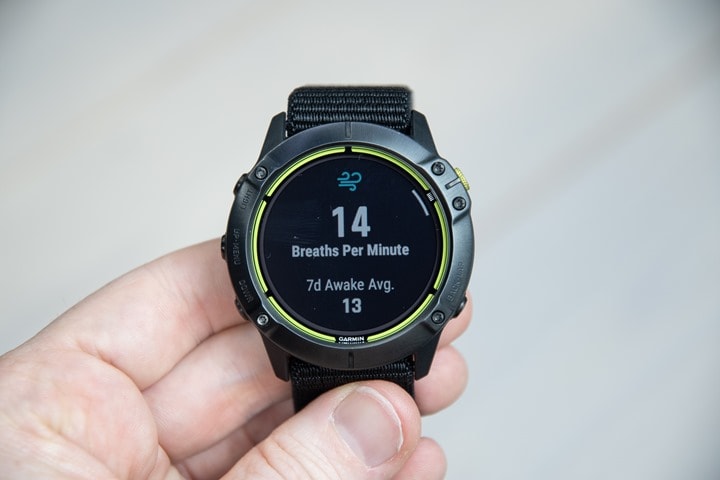 Up until 2020, I think most of us had little use for respiration data in day to day training. And frankly, for the training side of life, that probably hasn't changed much. However, since COVID-19 came onto the scene I've casually watched my respiration rate numbers. There's plenty of data showing a relationship there for a big spike in respiration rate, though that certainly doesn't mean you've got COVID. You can equally have some other terrible or non-terrible illness.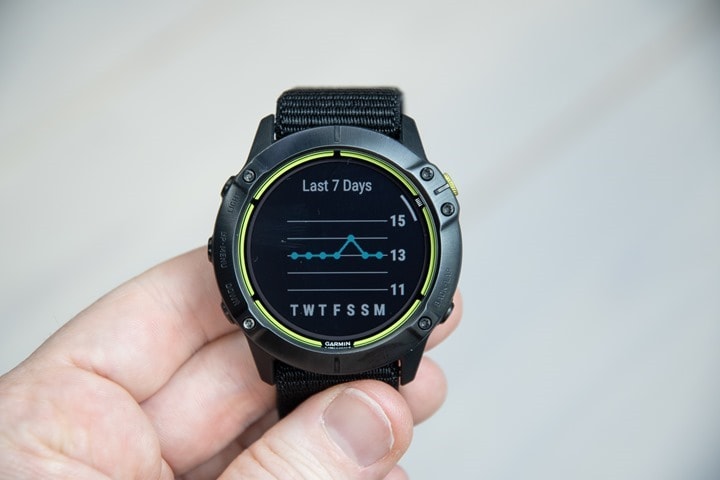 Similarly, I and many other athletes often track 24×7 HR as a good proxy for fatigue. When my resting HR spikes, that's usually an indicator for me that I'm about to get sick (about 1-2 days out), or, that I'm simply over-trained and under-slept. Point being, you can track that data here too in widgets: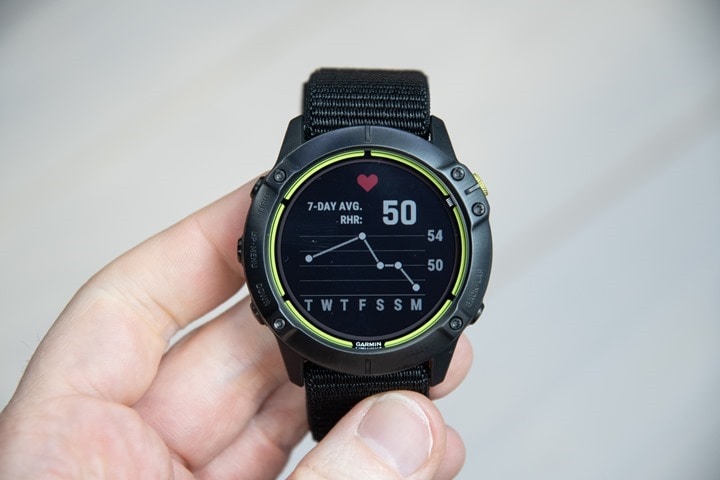 But all of this data is ultimately tracked in Garmin Connect and via Garmin Connect Mobile too (the smartphone app). For example, I can see my respiration rate and resting HR data. Or I can dive into the day by day metrics of these stats too – looking at how my heart rate ebbed and flowed throughout the day.
And then you can layer in aspects like stress or Body Battery. The Body Battery metric is similar to the old school Street Fighter game in terms of measuring how much energy it thinks you have. So in a theoretical perfect day, you wake up at 100%, and then over the course of the day aspects like stress, workouts, and activity decrease from that. Meanwhile, things like sitting on the couch watching a TV show can re-gain energy. Red Bull doesn't appear to have any impact one way or the other. This is viewable on both the watch and app.
While not perfect, I find it a surprisingly good proxy. For example, if my night's sleep is cut short, I won't get to 100% 'regeneration'. And a hard workout impacts it more than an easy workout. Same goes for a stressful day versus a relaxing day. Note that it does take a few weeks for these stats to stabilize, but once they do, most people over the last few years seem to find them a good approximation for things.
Next we've got sleep metrics. Now, the Enduro does include the newer Firstbeat driven advanced sleep metrics that were initially rolled out to the Fenix 6 last summer, and then got tangled up and stalled over the fall before they had planned to roll out to other Garmin watches. Garmin says they've largely untangled that situation (based on testing feedback from real users on the Fenix 6 rollout), and expect that to continue soonish to the previously planned watches, such as the FR945 and FR745.
In the meantime, Enduro starts off out of the gate with these metrics, which means you can check your sleep stats in the morning directly on the watch itself (versus other watches where you have to confer with the app).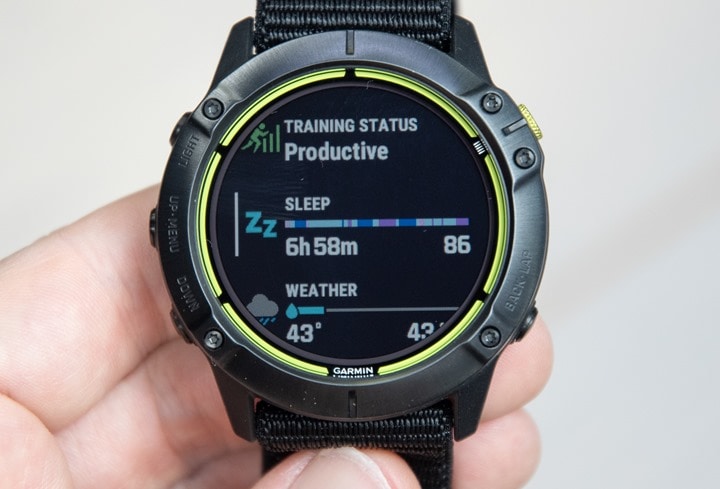 It's viewable both as a widget glance (above), but also a boatload more data once you tap to open it. Now, I can't validate things like sleep phases, and frankly, I don't tend to care too much about that. I'm mostly looking at the total sleep values, and in turn, what it thinks about the restoration aspects.
Remember the Enduro follows the Fenix 6 series updates, which means this new sleep section drives quite a bit more behind the scenes than just sleep stats. For example, the Daily Suggested workouts will be impacted if you get a poor night's sleep – even up to the point of canceling your planned workout. These are the workouts it suggests for running and cycling, based on your recent intensity, and adding slightly more intensity and/or duration with structured workouts in what is essentially a never-ending build phase. But more on that later.
In addition, on the Enduro you can enable PulseOx, for SpO2 measurement. There's two options here when enabled – one to only measure at sleep, and one to measure 24×7. Which in turn map to the two main purposes on how it's used, one is around sleep (as potentially an indicator of sleep or health-related issues), and two in high altitude environments as an indicator that something is about to go horribly wrong. Two totally different use cases (note: medical folks and such also monitor blood oxygen levels too for other reasons). For the first one – sleep – you can track your PulseOx readings each night. It's the red light that'll light up on the back of the watch. This data is then plotted on the watch and on GCM.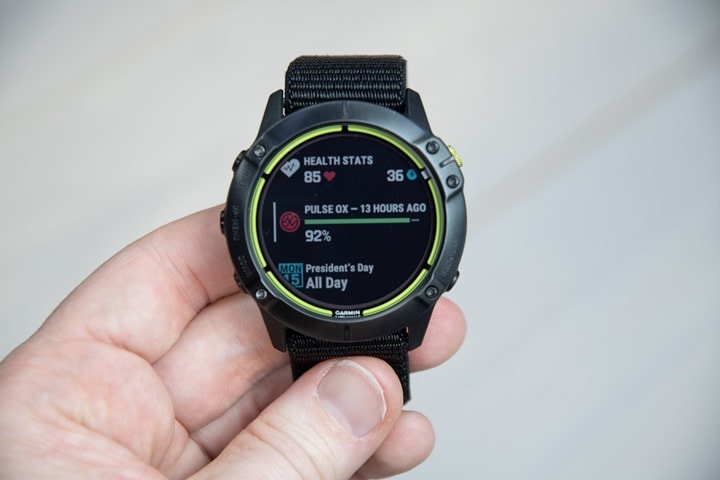 I'd caution though that enabling PulseOx for sleep alone is basically halving your battery. Seriously. It's a battery blowtorch. And in my testing, I don't find it super accurate during sleep. I do however find it fairly accurate if you follow a set testing protocol of sitting and being still, in which case it measures just fine and identical to certified medical devices I have. So, my suggestion is that you use it if you have a specific purpose for it, but otherwise don't destroy all that new battery life you got with a fancy red light.
Last but not least on the basic features we've got smartphone notifications. These are fairly basic compared to something like an Apple Watch, in that it just shows text and emoji, but not photos or the ability to respond (if on iOS).  You can simply clear them or cancel them (or open them to get more info). The inability for iOS users to respond to them is a limitation of Apple's, in not allowing 3rd party apps to respond to text messages specifically. They've kept that ability on iOS for Apple Watch, which does allow the watch to respond to texts. I don't expect Apple to change that.
With all the day to day basics covered, let's dive into the sports side.
Sports Usage: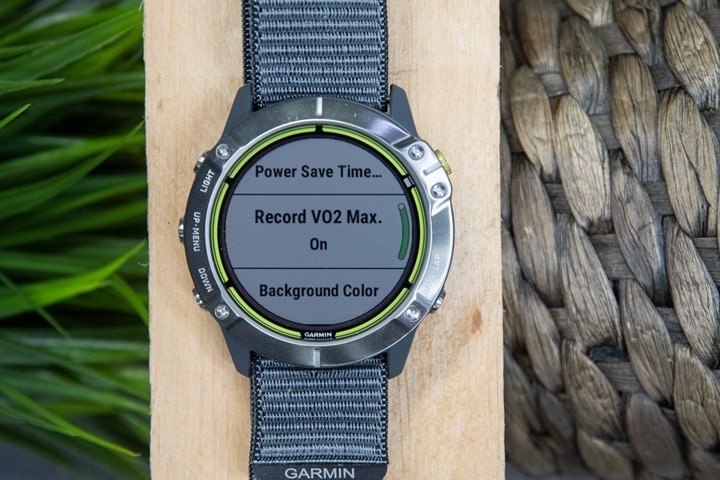 To get started with a workout you'll tap the upper right button, which accesses all the sport modes. There's tons of them (all the same as on the Fenix 6 series), but notably for Enduro, there are two that you care about – Trail Run & Ultra Run. The Ultra Run is the new one, and is the only sport mode that supports the new rest timer. Whereas both Trail Run & Ultra Run support the VO2Max enhancements (more on that in a second).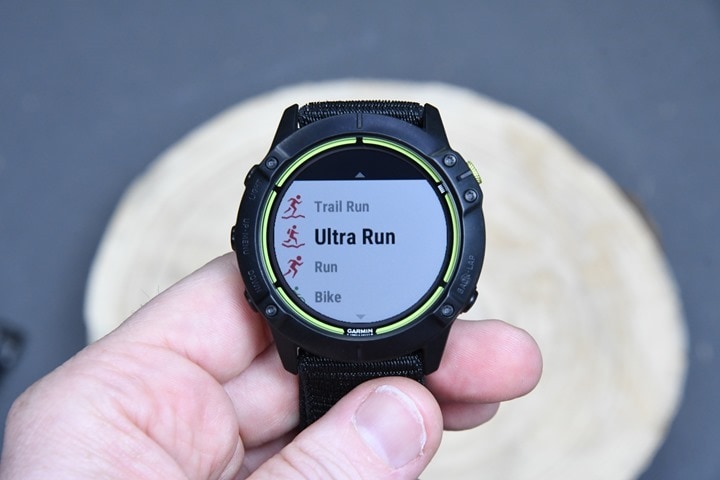 Going back to the sport modes, there's tons of them in there to choose from. Like, more sports that you never knew even existed. Here's the full list as of this very moment:
Trail Run, Ultra Run, Run, Hike, Bike, Bike Indoor, Open Water Swim, Triathlon, Golf, Navigate, Expedition, Track Me, Map, Multisport, Treadmill, Virtual Run, Indoor Track, Track Run (outdoors), Climb, MTB, Pool Swim, Ski, Snowboard, Backcountry Ski, XC Classic Ski, XC Skate Ski, SUP, Surf, Row, Row Indoor, TruSwing (Golf related), Project Waypoint, Walk, SwimRun, Kayak, Strength, Climb Indoor, Bouldering, Cardio, Yoga, Breathwork, Pilates, Floor Climb, Elliptical, Stair Stepper, Clocks, Boat, Tactical, Jumpmaster, HRV Stress, Other [Custom]
After you've spent half your allotted workout time trying to decide which sport to do, you'll select the sport and then it'll show you the status of GPS & heart rate acquisition (via the optical HR sensor). If you've got any sensors paired, then it'll connect to those at this point.
The Enduro supports all of the following both ANT+ & Bluetooth Smart standardized sensor types:
External Heart Rate (ANT+/Bluetooth Smart), Speed/Cadence (ANT+/Bluetooth Smart), Cycling Power Meters (ANT+/Bluetooth Smart), Footpods (ANT+/Bluetooth Smart), VIRB Action Camera (ANT+), Tempe temperature sensor (ANT+), Shimano Di2 (private-ANT), Cycling Gear Shifting (ANT+), Cycling Lights (ANT+), Cycling Radar (ANT+), Nacho Cheese Machines (Blue Cheese Smart), Extended Display (ANT+), RD Pod (ANT+), Muscle O2 (ANT+), Garmin inReach (ANT+), Garmin XERO Laser Locations, Garmin DogTrack, Smart Trainers (ANT+ FE-C)
Up top, you've got the current battery remaining based on that specific battery profile. So if that's not enough battery for what you need to do, you can tweak the settings to get the battery life you need.
Once you've found GPS and heart rate, you can go ahead and start the workout and be brought to your data pages. Like past Garmin watches, you still (for now) have to configure these on the watch itself and not via a smartphone app. The configurability mirrors that of the Fenix 6 series, which means you can configure up to 8 data fields per page (or as little as one), and there's no limit I know of as to how many data pages you can configure.
There's also a pile of default pages too, some with charts or graphs like heart rates or zones, or breadcrumb trails if navigating a course.
In fact, if we want to use the ClimbPro features, we'll need to load a course onto the watch. You can create courses on numerous platforms (Strava, Komoot, Garmin Connect itself, etc…). It's these courses that allow the Enduro watch to generate the climbs, using the known elevation data in the course.
For example, here's one of my favorite hiking/trail running routes down in Switzerland (basically the route of the upper portion of the Jungfrau Marathon in the Swiss Alps). Notably in that course, you can also see the climbs listed. So rather than someone simply saying 'The top is another 2,500ft of climbing', it divides it up into the actual ascents, as most mountain climbs tend to be a series of climbs with some small descents or flats along the way. But even more importantly, now with the new ClimbPro 2.0 you can see the descents too. Not big descents, since it's mostly a one-way course up, but descents nonetheless:
Previously it'd only track ascents, now it tracks both, segmenting out your planned course.
Further, the next new feature in this realm is ClimbPro alerts. Basically you can now set one of two alerts, either an alert at the start of the climb, or an alert prior to the climb, at a configurable distance ahead of it – for example, .25 miles or .50 kilometers (configurable in whichever system you use).
Now fast forward to being out on the course, and you can see how ClimbPro enumerates on my actual trail run mid-way through the biggest climb in all of Amsterdam…in the rain: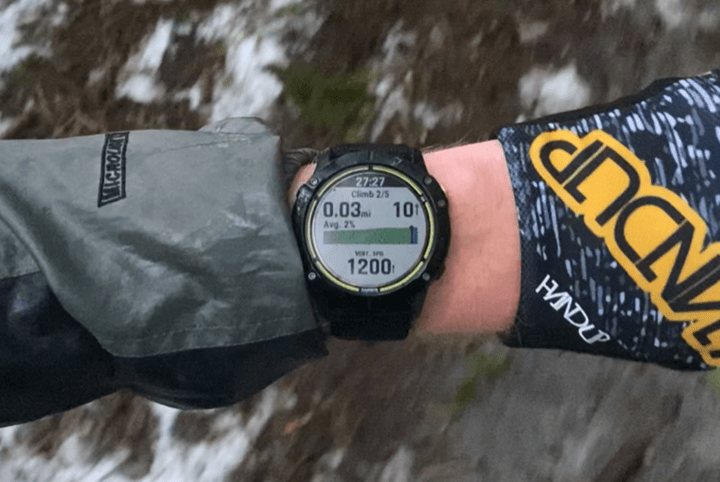 It shows me my current vertical ascent rate, the duration of the climb remaining, the average gradient of the climb remaining, as well as ascent remaining. Oh, and the climb number. The same is also true while descending. Except, by then it was dark, and my photo is hideous. I'll go out and take a prettier photo later today.
Now since you've got course enabled, you'll also get turn notifications. These will show up as you approach a turn, chirping to let you know of the direction of the turn. Ultimately though, this is just a breadcrumb trail. There's no underlying map here on this.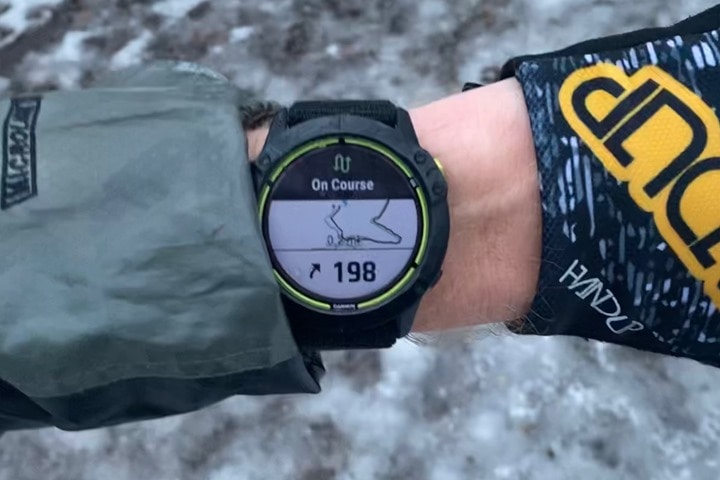 It will give you off-course warnings, which were in full effect on my run last night. For that run, I purposefully just plotted a semi-random route through the denser parts of the forest, with no particular regard for a logical direction of travel for 17km of trails. Then I made it my goal to follow this path per whatever directions the Enduro gave me…in the snow…also kinda dark.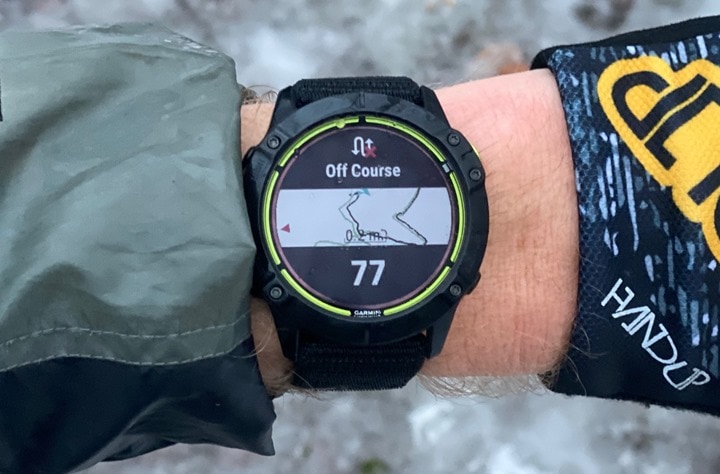 And frankly, this is where I'm not really sold on Enduro as a watch. See, I know this area well – but I purposefully pretended not to know it, and instead only follow the breadcrumb trail directions. Except, without underlying maps like you have on a Fenix 6 Pro or Forerunner 945, you lose a lot of context at intersections on which way is which. On those watches I can see lakes/ponds/terrain features that make it really quick and easy to figure out which way you're going. Heck, it'll even re-route you while screwing up.
Of course, plenty of people have been navigating without map data for years, but that doesn't mean it's not valuable. Given I'm certainly not going to be doing a 70-hour trail run anytime soon, I'll happily take a lesser battery life unit with maps, and top it off if I really needed to. And ironically, having that layer of snow over the trails at dusk helped to solidify that thinking even more. But to each their own.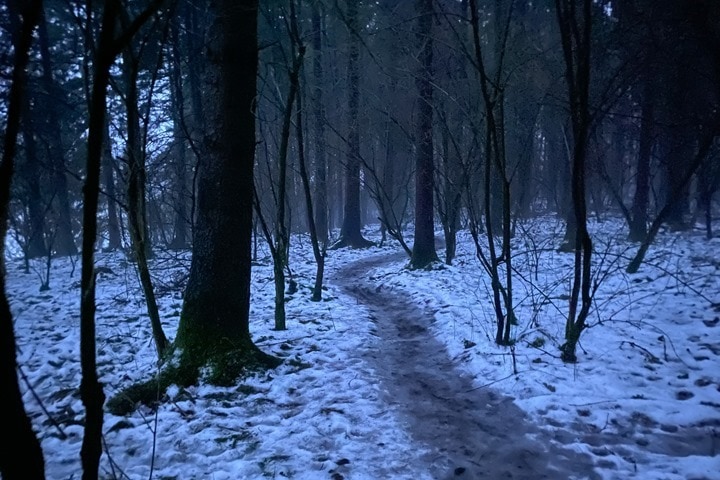 Moving along to other new features, there's the new rest timers. The way this works is that it repurposes your lap button as a rest timer. The idea being you can track how much time you spend at aid stations or resting, without using the pause functionality. That's because the rest timer still keeps GPS tracking running in the background – so if you forget to end the rest on the watch, your data is still all good.
When you hit that lap button in the Ultra Run mode, you'll see this black screen (versus the previously white-background screens):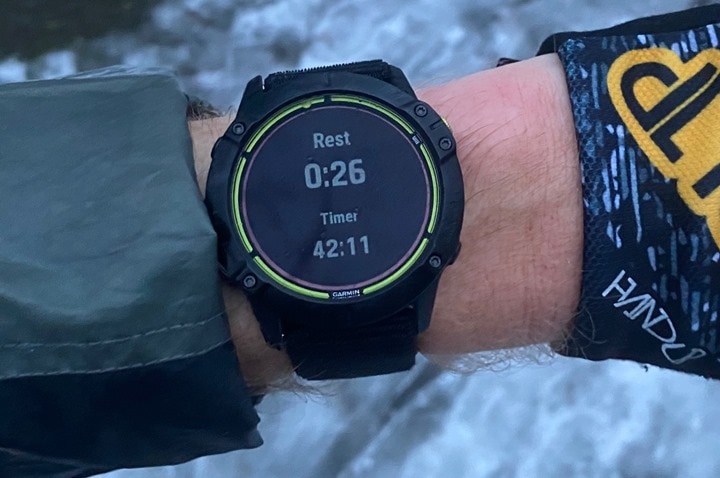 It simply shows your rest time for this stop.  You can set exactly what the lap button does in Ultra Run mode to be:
1) Lap + rest timer start
2) Just rest timer start
3) Just lap
Since I prefer to have auto-laps, I'd go with #2 above, so it's just controlling the rest timer. At the end of your run, you've got a new data tab on Garmin Connect, which shows you the rest information, both total and individual. And you can filter it however you see fit:

But again – it *never stops* the activity tracking/recording. It just simply makes markers in the file. That's the core difference from hitting pause, and then realizing later on you forgot to start it.
Speaking of wrapping things up – once you're done with the run, you'll get your summary screen as normal (and tons more data accessible within the detail pages):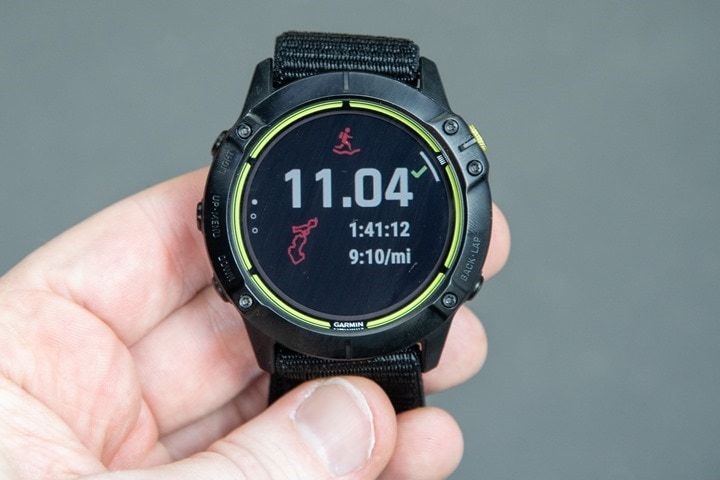 This allows you to dive into all your stats, including the updated VO2Max stat. Previous to this, your VO2Max on trail runs would generally be lower than it should be since it wouldn't account for the aerobic impact of having to deal with poor terrain that slows you down (but still takes an aerobic/HR toll). Now – before we disregard the value of VO2Max, the thing to remember here is that this data is driving other calculations – most notably Training Status. So if the VO2Max values are low/incorrect, then it drives the other values lower too.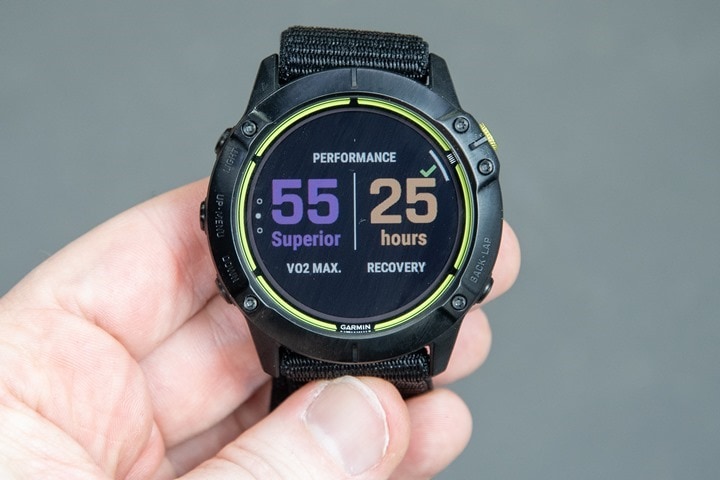 Before we talk training status, note that you can still toggle off the VO2Max recording for trail run and ultra run profiles if you want – it's in the settings of those profiles. Also note, this won't create a new 'trail running' VO2Max. Rather, it just feeds (now properly) into the general running VO2Max bucket.
I asked Garmin's Herman Bonner (who is/was part of their Firstbeat team until Garmin acquired them, which is the team that does the algorithms) to explain a bit more on the nuanced differences here and what exactly has changed:
"At the most basic level, the analysis used to calculate VO2max compares how fast you are running compared to how hard your body works to maintain that pace. Given that we are using heart rate as the key input to determine your effort, it's important to understand that there are times when your current HR accurately reflects your current speed and there are times when it does not.

So, there has always been a lot of filtering and prioritizing happening in the background to sort out things like uphill/downhill, stops/starts, intervals and naturally occurring changes in intensity, etc… all in pursuit of identifying when relationship between and internal and external workloads reflects your fitness level (VO2max) and when it doesn't. For all the obvious reasons, trail running adds a substantial layer of complexity to this problem. Changes in elevation have been incorporated into the analysis for many years now and that remains the case for trail running-based VO2max – but only to the degree to which it has been previously used.

The new element in the mix here is how accelerometer data is being used.  We are basically looking for and identifying patterns in how you are running to recognize when more energy than normal is being used to keep pace. In other words, it's about attributing the fact that your body is working harder due to the ruggedness and changes of the trail instead of simply assuming you're working harder than normal because of inadequate recovery or a drop in fitness. Without taking this perspective into account, your VO2 max would almost always be underestimated during trail runs. Getting a VO2max estimate from your trail runs is kind of neat but I think the ultimate value here is probably that it also means you are getting more data fed into things like Training Status. Perhaps it's worth noting that there isn't a separate "trail running VO2max analysis." The developments that make estimating VO2 max during trail runs possible are baked into the normal VO2 max calculation, making the whole shebang more robust.

From a user perspective, there is a setting that still allows a user to disable Trail Run VO2max calculations in the Trail Run profile.  A big benefit of the Trail Run profile in the past is that users could effectively use it to "screen out" trail runs so they wouldn't affect their VO2max, Training Status, etc.  If users still want to exercise caution with VO2max on trail runs (especially, say, if they are wearing a pack), they can use this setting to still "disqualify" a run from generating a VO2max so it doesn't mess with their other features."
Make sense? Good.
Now whether or not you get accurate numbers is an entirely different beast. In general, I find that when I do proper high-intensity workouts, my Garmin/Firstbeat numbers are where they should be from a tested standpoint. Versus, if I'm doing more mid-range/easy workouts, it'll tend to underreport it. This isn't terribly different than Polar, for example, but it's something to keep in mind.
The other point to keep in mind is his mention that you can still toggle off the setting to remove a run from your VO2Max stats if you think it'll dork with it. For example, his pack comment is a semi-subtle nod to some Fenix 6 testing I did two summers prior, where I was trail running/hiking up the side of the (steep) French alps with a gigantic backpack of camera & drone gear with tripods and all. Probably 25-30lbs of gear. As such, it was artificially increasing my intensity, which in turn also artificially decreases my VO2Max values.
Anyway, we're well past tangent territory here. Moving along to Training Stats.
All this data gets fed into the Training Status functionality/widget, which shows the direction your fitness level and load levels are trending.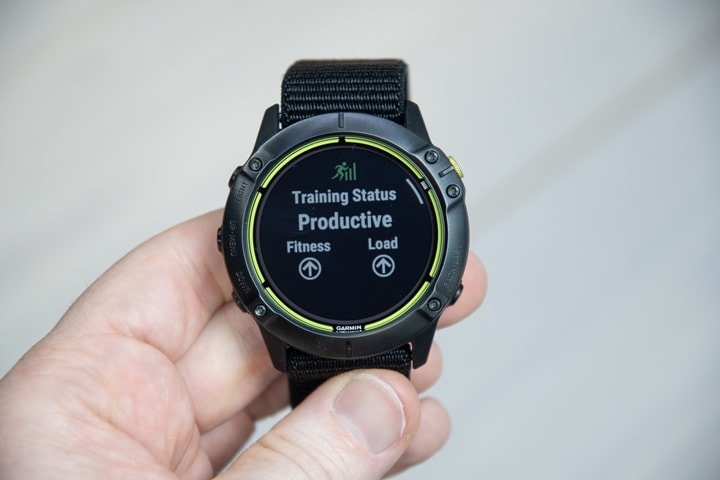 If we hit down (once past VO2Max) and you'll see the 7-day load listed. This is color-coded by the type of load that you've gathered, as well as the total load values: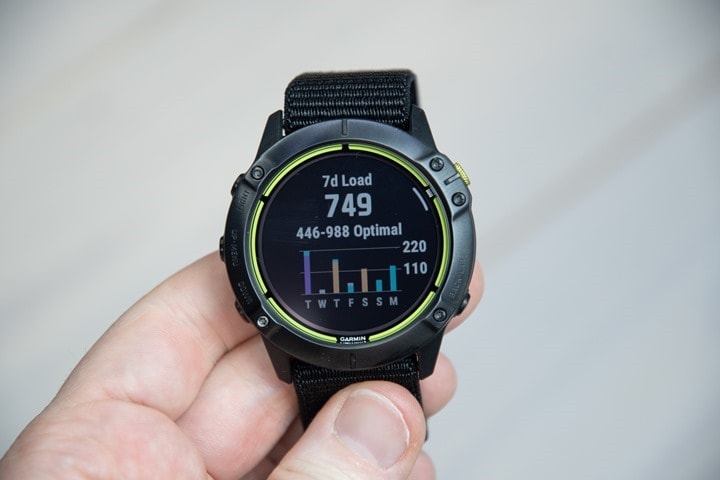 Tap down again and you've got your 4-week Load Focus. This basically consolidates all the training you've been doing into three specific buckets: Anaerobic, Aerobic High, and Aerobic Low, and then gives you specific target zones to be within (little pill boxes):
As you can see, I've filled up my 'High Aerobic' target. If I'm short in a given area, then it'll tell me what to do. Or, in my case, since I'm somehow not short in any areas, it'll tell me what my training has been doing lately in terms of benefit: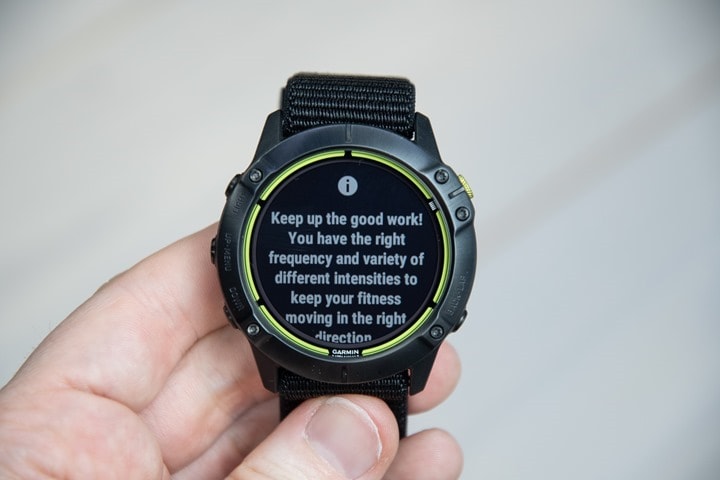 If I go down again, I'll get Recovery Time until my next hard workout: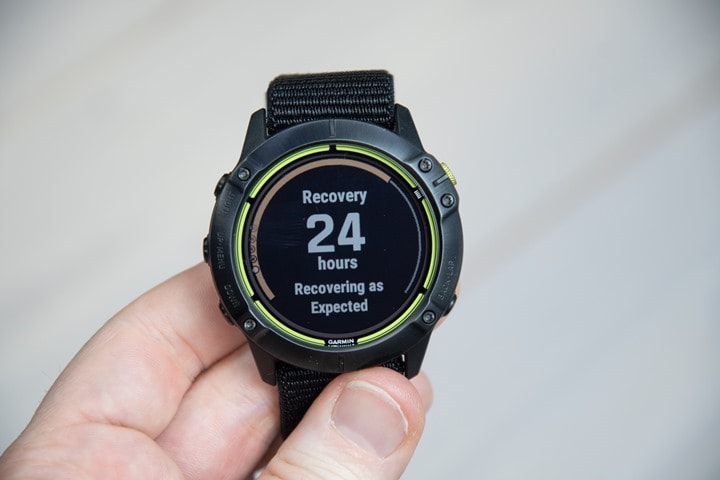 If I was somewhere with altitude or heat, I'd get either (or both) heat or altitude acclimation. The goal behind both altitude and heat acclimation metrics is to figure out whether or not you're acclimated to a given temperature or altitude. Obviously, both can significantly impact performance.
Unfortunately, I'm neither hot nor high right now. But you can read my past Garmin Fenix 6 review for how those pieces work.
All of this information is also accessible within the Training Status pages on your Garmin Connect mobile app too – allowing you to dig in much deeper and further back:
All of this then feeds into the suggested workout pieces for cycling and running. This works by offering you a new workout each day. The goal here is essentially to provide a training load stimulus, but also not to overdo it. For example, if you get poor sleep, it'll literally say to take a recovery day due to the poor sleep. If you've had too much intensity, it'll offer a recovery workout. It's reasonably impressive in my testing over the last 6-8 months in other Garmin devices they've first introduced it in.
Here you can see it offering me a structured workout for the bike, using my power meter. As you can see, this ain't no slouch of a workout.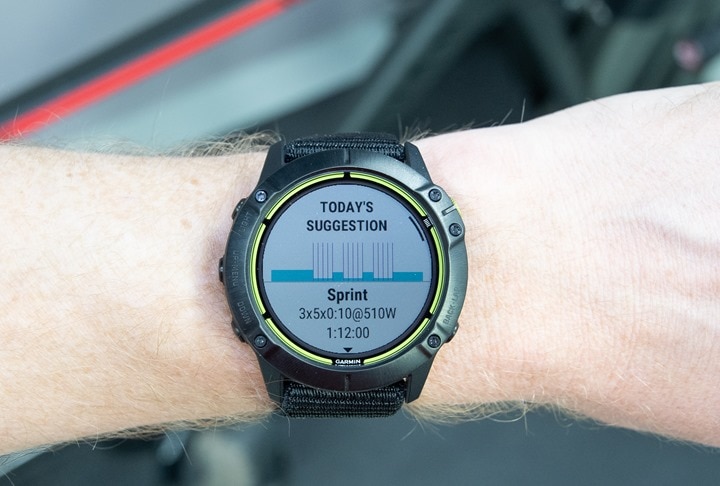 You can tap to get more information about the workout, and why specifically it's recommending this one to you. Additionally, it'll detail which areas it's targeting.
Once you've selected the workout, it'll iterate through like any other structured workout on the watch. Including the fact that afterward, on Garmin Connect, you'll get to see the targets overlaid on your actual data, so you can see what the goal was versus your execution.
Oh, and circling back to my workout we started 87 paragraphs ago, once done it'll save that to Garmin Connect, and then sync it off to various 3rd party sites (like Strava, TrainingPeaks, etc…). Or, you can just view it on Garmin Connect Mobile or the Garmin Connect site.
Finally, remember from before that the VO2Max updates for trail running will be accounted for in the Forerunner 245, 745, 945, Fenix 6, and MARQ series watches. With the rest timer and ClimbPro descent/alert updates coming to the FR745/945/MARQ/Fenix 6 units.
Solar & Battery: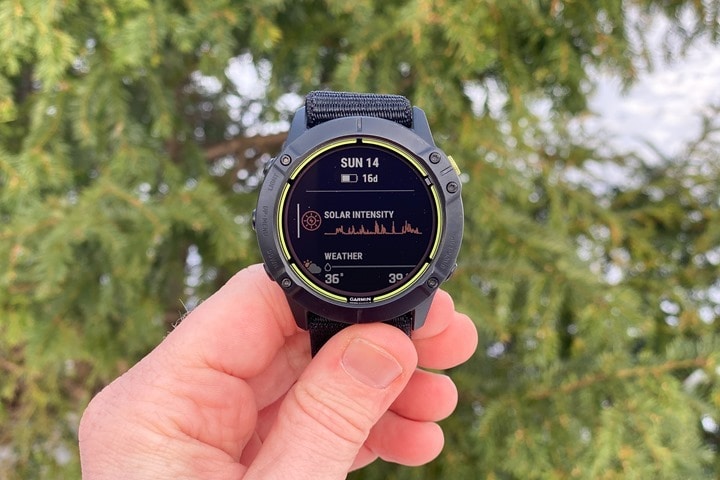 There's pretty much exactly one reason you're buying the Garmin Enduro: The battery life.
Seriously, there's no other reason to buy it except that. I mean, unless you *really* like that neon yellow inset trim color. But otherwise, you want to go long. And to its credit – it does deliver. Now first though, let's talk the official specs from Garmin on Enduro:
Smartwatch mode: Up to 50 days/65 days with solar*

Battery Saver Watch Mode: Up to 130 days/1 year with solar*

GPS Workout Mode (with optical HR): Up to 70 hours/80 hours with solar**

Max Battery GPS Mode: Up to 200 hours/300 hours with solar**

Expedition GPS Activity: Up to 65 days/95 days with solar*

*Solar charging, assuming all-day wear with 3 hours per day outside in 50,000 lux conditions
**Solar charging, assuming use in 50,000 lux conditions
For realz – it actually says 300 hours of GPS usage in the Max Battery mode, which is a blend of UltraTrac and other battery-saving measures like killing off the optical HR sensor and other accessories, among other things.
But focusing on the main GPS battery life claim, I was skeptical on this at first, namely because at first glance it looked basically like a slightly larger Fenix 6X to accommodate a bigger battery, and instead with a fabric strap. But in talking with Garmin, that's not entirely 100% true. And in particular, they noted one important tidbit during our conversations, saying:
"The Enduro is built on a different platform and larger battery. Combined, these are the features that lead to a longer battery life."
Which, explains why the battery burn rates I see are *so much* better than a typical Fenix 6, setting solar aside. Just wait till we get into the recorded burn rates – it's crazy – even better than their seemingly conservative published specs.
But first, let's do a quick refresher on Garmin's solar technology, which they call Power Glass. There's two components to it. To begin, you'll notice a very thin 1mm wide strip just on the inside of the bezel. This thin strip has 100% photovoltaic levels, meaning, it's receiving 100% of the sun's goodness and turning that into solar power.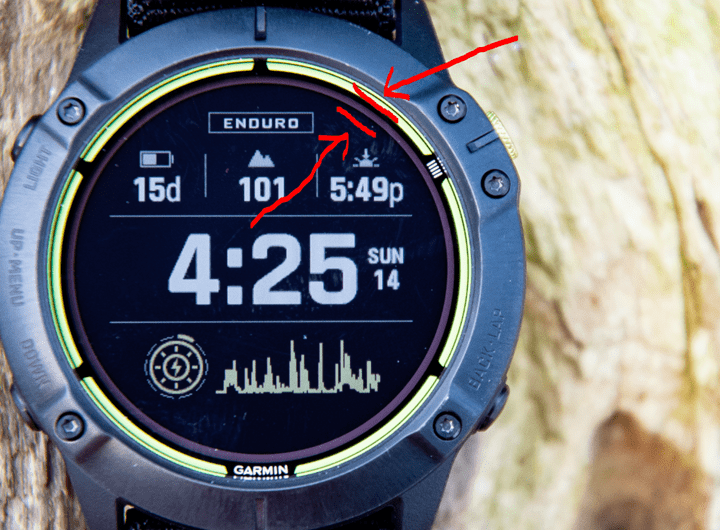 This thin edge is clearly visible in bright light, though you'd just assume it was a bezel design element. Inside without bright light, this strip almost disappears and blends into the bezel.
However, there's a second solar panel you can't see – despite being the entire display face. Under the display is another solar panel that has a 10% photovoltaic level. This panel is of course far larger than that of the thin bezel strip, but is also getting 10% of the sun's rays, due to the display blocking much of it. Importantly though, both panels are fully under a single sheet of Gorilla Glass (specifically Corning Gorilla Glass 3 with DX Coating). Meaning, you won't accidentally scratch the bezel solar panel any more than you'd normally scratch your watch face.
On the main watch face, you'll notice there's that little sun looking icon, along with a squiggly line. That's showing the current and historical solar intensity level. Around the edge of the little sun are 10 pieces, each indicating 10% of full intensity. So below it's at full intensity in the sun (versus above at 0% intensity).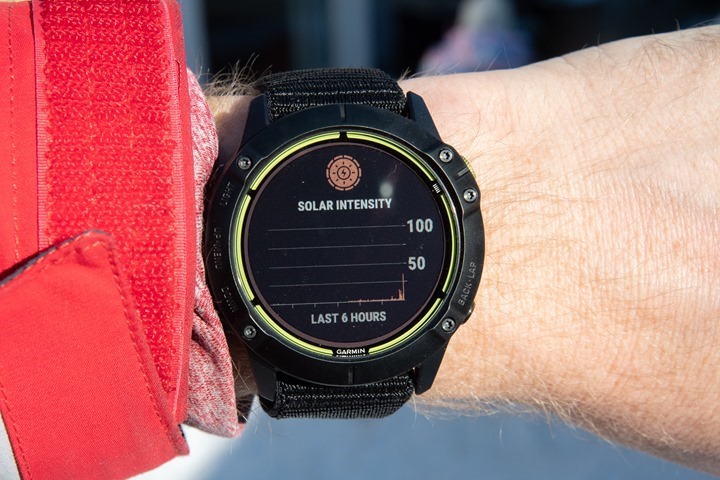 Now all their stats are based on 50,000 lux sun conditions. So…. what's 50,000 lux you ask? It's a pretty sunny day, though, not living in the Sahara desert in summer kinda sunny. Here's what Wikipedia says about it: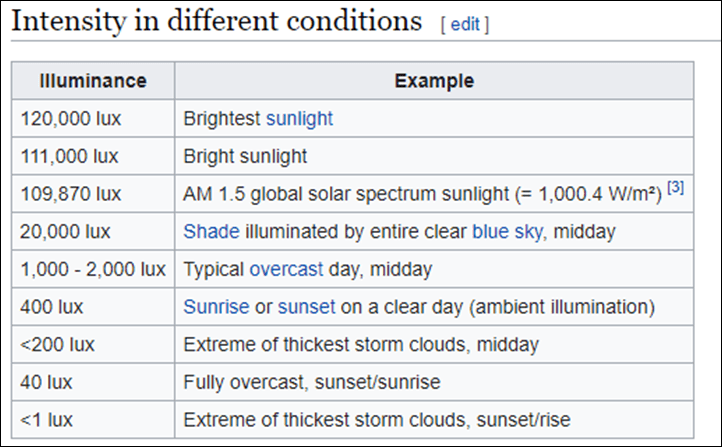 At this point, the goal for solar in the Enduro isn't to fully power the watch forever. Instead the main aim is providing incremental power. How much incremental power will depend on how much sun you've got. Garmin's sun assumption across all their watches is 3 hours per day of solar light at a pretty high intensity (full sun basically). That goes both ways though. If you're mid-summer and spending the day at the beach (or work outside), then you'll way overachieve here. Versus if it's mid-winter and you're indoors…then not so much.
Now in the case of the Instinct Solar released last summer, the panel is *FAR* larger, and thus you could actually quite likely pull off 'forever power' in the summer with limited GPS activities (easily with no GPS activities). But for the Enduro, the solar panel simply isn't big enough to do that.
In any case, despite it having been a blizzard the last few weeks here, with downright miserable weather (and no ability to travel to nicer spots, I've got a few longer workouts in to get some really fascinating battery burn stats. Almost most of them involve little amounts of sun, since it was either busy snowing, or busy keeping the watch under my coat (to optically measure HR).
To start, let's look at a 1hr 45min workout I did yesterday – ice skating on canals. In this workout I had full optical HR sensor enabled, and occasionally the unit had visibility to a bright sunny winter day, in between the crack of my jacket/gloves. Still, a battery burn rate here of 1.14% (equaling 87.7hrs) is well above spec.
By the way, these battery charts are with the DCR Analyzer. We plot battery life for devices that support writing it to the files, including Garmin, Wahoo, and Stages. That said, battery bun rates are an imperfect science. Companies do record these values into the .FIT file, and we read them. In general this doesn't work well for activities under about 60-75 mins, as the batteries often need some time to stabilize exactly how much capacity they have. Thus why I'm largely sticking to the longer activities.
Next, we've got last night's trail run. For this one I loaded a course onto the Enduro, and largely left the unit on the course/map data page (which constantly turns based on the compass direction – thus, it eats up more battery life). But, optical HR was enabled here, and GPS+GLONASS. So in this case, the battery burn rate is lower – at 1.89%/hour, equaling 52 hours.

Meanwhile, here's a shorter workout, and you can see why it's not quite as good to use as a reference point. That's because the way the battery logging works, it only records the value when the value changes. So there's nothing initially, and then it kicks in a few minutes later. In this case, it was a blend of between my coat and glove, so occasionally seeing sun, but mostly not. The burn rate here was 1.20%/hour, or spec'd for 83 hours.

Here's another with similar positioning and duration – and also identical battery burn rates across both devices, with the Enduro again being 1.20%/hour for 83 hours.

Now, let's dig into what's really possible here. This was a 4hr 47min ride (seriously), where I had the Enduro using an HRM-PRO chest strap, while a FR745 was also using the same HRM-PRO chest strap. They were both configured identically otherwise, including both units having phone notifications via Bluetooth Smart enabled for the duration (and I get a lot of notifications). The FR745 was on my handlebars, so it was more exposed to the cold temps (26°F/-3°C), while the Enduro was under my coat. Both were configured with GPS+GLONASS (which burns more battery than GPS alone).

Yes, that's for real – a 1.07% battery burn rate in that configuration – which would put it at 93 hours, but even then you could optimize that a bit more if you wanted to. For example, you could disable alerts, disable the backlight automatically turning on when I raised my wrist, switch to GPS only, and so on. And, to save you from doing the math – the FR745 is showing 14.4hrs, a bit lower than spec of 16, but again, in a non-optimized situation and exposed at cold temps, which hurts battery life.
So at this point, what's clear here is that this is very much indeed a different platform. Garmin says that the GPS chipset is the same as the Fenix 6 series, but includes new enhancements in concert with the underlying platform shifts to achieve these battery burn rates. Given Garmin is a company that heavily re-utilizes their watch hardware across multiple watches and segments, one has to wonder if this is less a recycled Fenix 6, and in reality, more a sneak peek of what's to come.
GPS & HR Accuracy: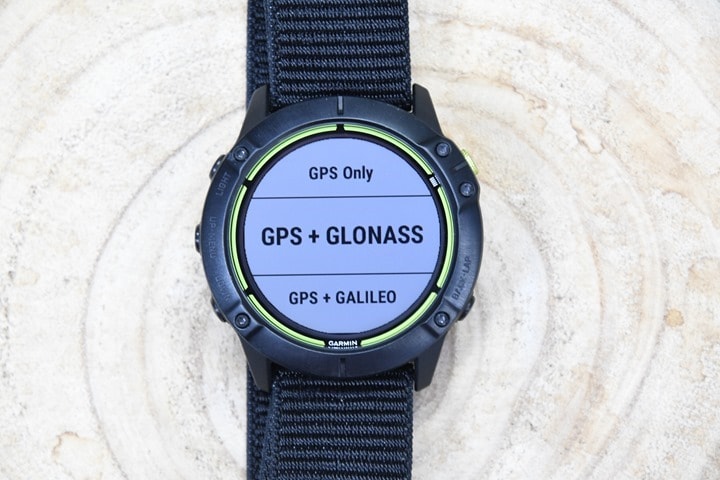 There's likely no topic that stirs as much discussion and passion as GPS or heart rate accuracy.  A watch could fall apart and give you dire electrical shocks while doing so, but if it shows you on the wrong side of the road?  Oh hell no, bring on the fury of the internet!
GPS accuracy can be looked at in a number of different ways, but I prefer to look at it using a number of devices in real-world scenarios across a vast number of activities.  I use 2-6 other devices at once, trying to get a clear picture of how a given set of devices handles conditions on a certain day.  Conditions include everything from tree/building cover to weather.
Over the years, I've continued to tweak my GPS testing methodology.  For example, I don't place two units next to each other on my wrists, as that can impact signal. If I do so, I'll put a thin fabric spacer of about 1"/3cm between them (I didn't do that on any of my Enduro activities however, all workouts only had a single device per wrist).  But often I'll simply carry other units by the straps, or attach them to the shoulder straps of my hydration backpack.  Plus, wearing multiple watches on the same wrist is well known to impact optical HR accuracy.
Meanwhile, for HR accuracy testing I'm typically wearing a chest strap (either the Polar H10 or the Garmin HRM-PRO) as well as another optical HR sensor watch on the bicep (mostly a blend of the Polar OH1 Plus & Polar Verity Sense, as well as the Scosche Rhythm+ 2.0, with a few Mio Pod and Whoop 3.0 band sessions tossed in for fun). Note that the numbers you see in the upper right corner are *not* the averages, but rather just the exact point my mouse is sitting over.  Note all this data is analyzed using the DCR Analyzer, details here.
First up we've got a bit of a city run. Don't worry, we'll get into the trails in a second – but in general, cities are more challenging for GPS accuracy than all but the most rugged of trails. Here it is compared against a COROS Vertix, Polar Grit X, and a Garmin FR745. That data set is here: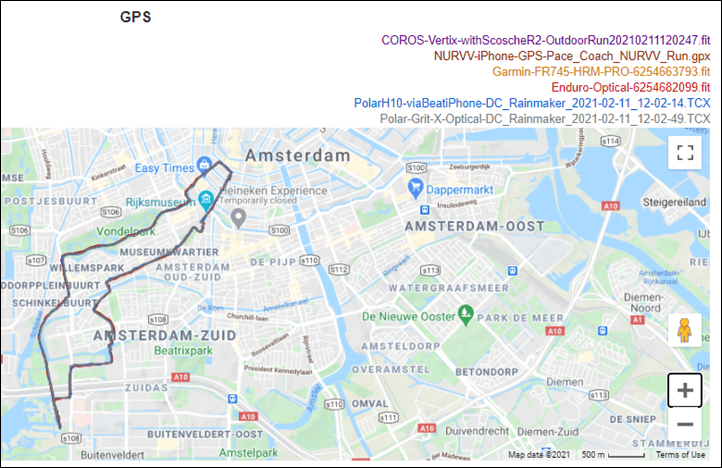 As you can see, from a high level, they look virtually identical. However, let's dig into the park areas a bit more first. And it's here we see the first slight bit of offset from the Enduro, somewhat interestingly matching the iPhone GPS track.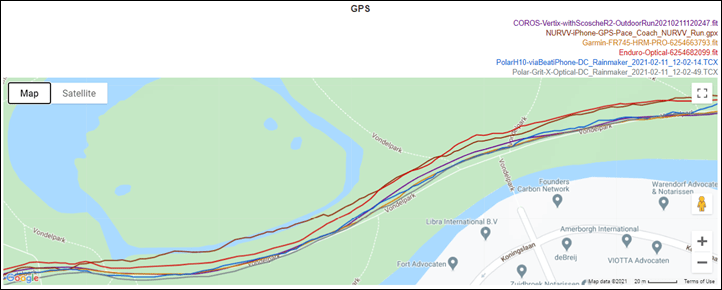 Though it does seem to recover a short bit later, being all within a cluster:

And once we hit some of the tighter canals, it's essentially a wash: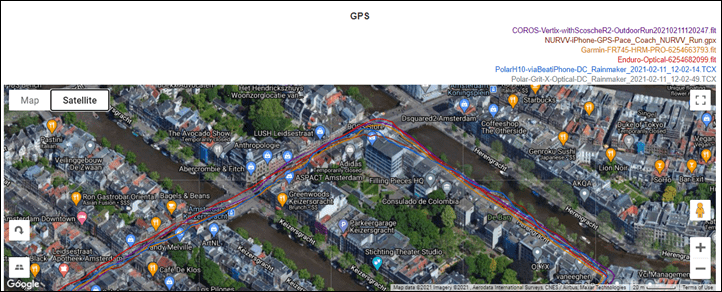 The same is true later in the run too: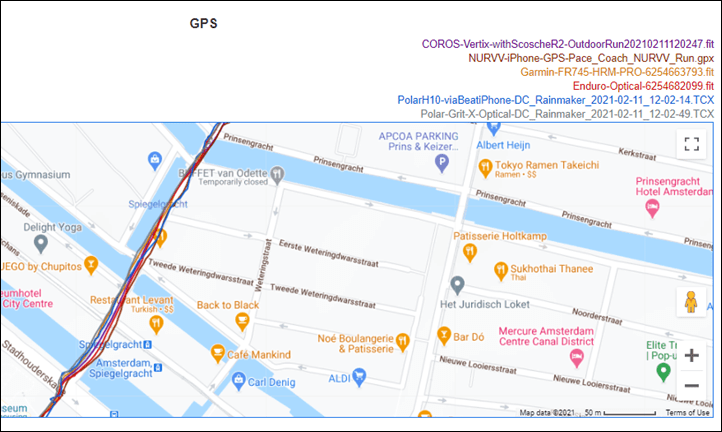 And it correctly handles loss of GPS and recovery signal when it goes under the gigantic museum building too (whereas the iPhone interestingly did not):
The rest of that run was boringly fine – with all the units basically a wash. And in fact, the same is largely true for the optical HR on this mostly steady-state run. There's two little moments where it's imperfect, but otherwise it was the same as the chest straps and other optical HR sensors. While the Polar Grit X did perform worse on this particular run – you can see the larger dip there around the mid-point.

So let's increase the complexity here. Let's do an interval workout…in the cold, with wrists mostly exposed. So the worst possible situation for optical HR. Here on my left wrist I had the Enduro, while on my right wrist I had the COROS Vertix. I also had a chest strap and some other optical HR sensors. And you can see for the warm-up, build, and then 800's, the Enduro (and Vertix) are both essentially flawless. Spot on!

Whereas I then do 200m sprints, and that's where the Enduro (in red) struggled a little bit on the first one, and then a lot-bit on the 4th one. The COROS Vertix (in brown) struggled on all the ones except the first.

And then from a GPS track standpoint, I used the newer track running mode. This was the first time this unit had been to this track, so I did two loops first, to get it to recognize the track. Whereas the FR745 has been here many times, as has the COROS Vertix. You can see the COROS Vertix still incorrectly recognized this track, whereas the Garmin Enduro was very very close, but realistically probably needs one more session to nail it. The FR745 knew and loved this track, and was perfect (the more times it does the track, the better it gets).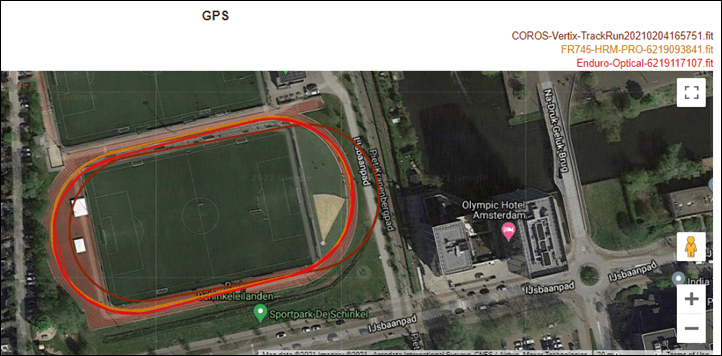 Speaking of circles. Here's another interval workout – this time around a stadium. The track was filled with snow, so I made a make-shift track around the entire stadium, which is super challenging from GPS since I'm running alongside a gigantic building. Yet both the Enduro and FR745 seemed to nail it. The Apple Watch SE using my iPhone's GPS really struggled.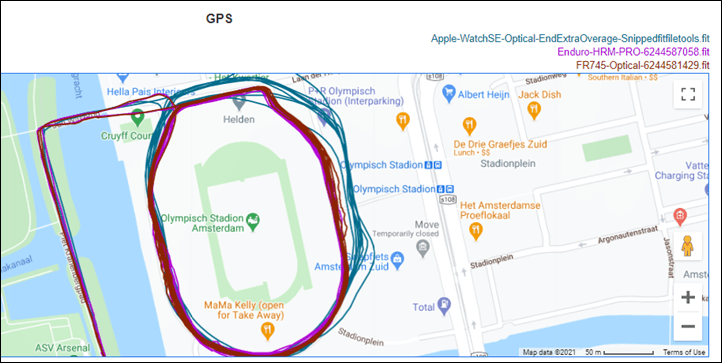 Next, let's dive into an 18km trail run from last night. This is compared against a COROS Vertix, a Polar Grit X, and an FR945 – as well as a Polar Verity Sense optical sensor and a HRM-PRO chest strap. Here's that data set: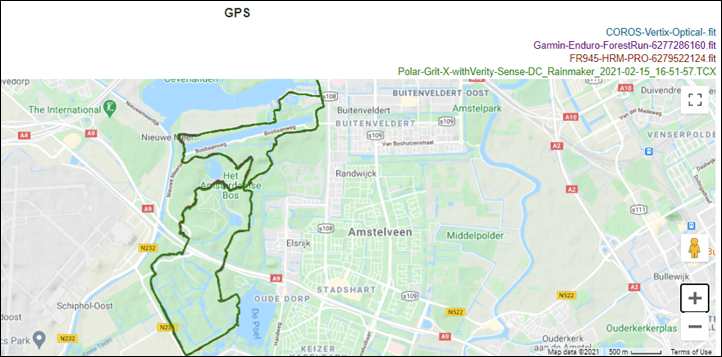 So at a high level, things look sorta close – but we see some colors dipping. But let's zoom into some of the deeper forest sections here. And you can see, nobody is really that hot here. Literally from one section to the next each of the four watches took turns meandering off the trail. Not significant amounts, but maybe 5-8 meters offset. The weather was dense fog with rain, so perhaps that contributed.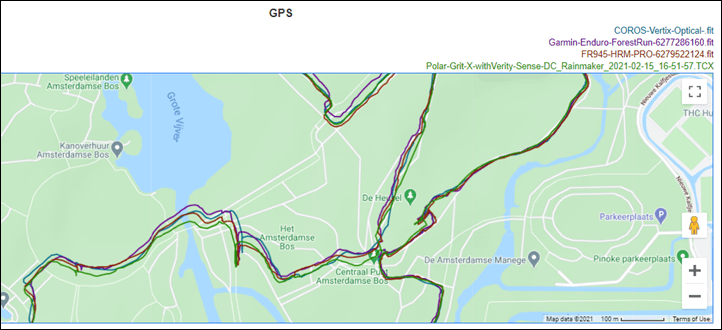 In fact, it was almost as if the watches needed to stabilize a bit. As the run went on, the accuracy notably improved, to the point where all units were basically identical and properly on the trail: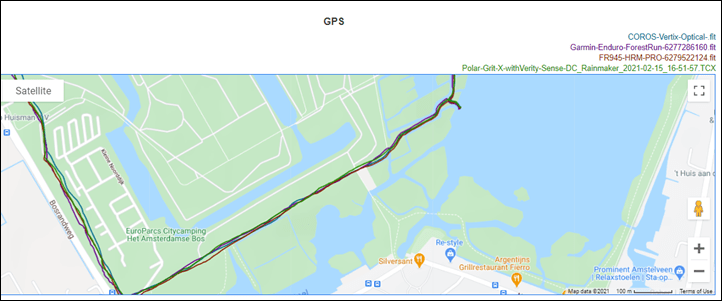 There's no meaningful differences here, and all units are on-point: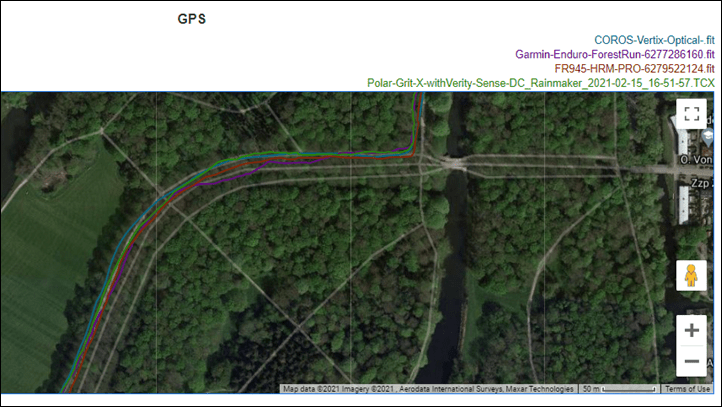 In this section here I doubled back up a skinny trail, and the Grit X was having none of that, but all the other units basically plotted within a meter or two of where I went: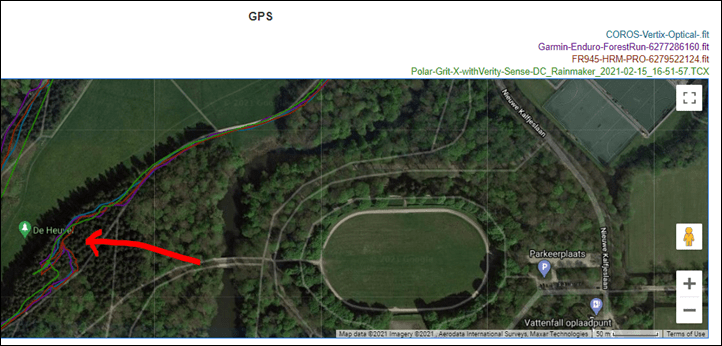 Switching back to the heart rate plot here – we do see a few solid variances, namely out of the gate – it's like it didn't quite get the HR lock it wanted to for some reason. There were two points later on. It's plausible in those two later points I was filming (as I filmed a lot during this run), which would impact the optical HR. Given the optical HR has been fine for all my much harder runs, I'm going to guess those later spikes were due to that. Though, the first spike isn't good (but goes away shortly).

And lastly, we've got a gigantic circle around the countryside with some occasional tree-cover while riding in heavy snow – and this too is basically perfect, compared against the COROS Vertix and FR745:

From a GPS accuracy standpoint, this is super boring as all three units are perfect the entire five hours. Which honestly isn't surprising.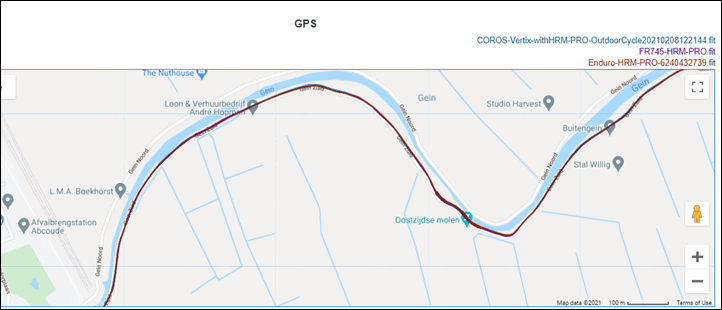 Overall, the accuracy seems mostly good. Though, there does seem to be a few cases where early-run GPS signal isn't as strong or well locked at mid to later on. Though, to be fair, I saw that across a number of units on those runs – so it wasn't just limited to the Enduro.
Ultimately, I don't think the GPS accuracy is any different than what I'm seeing on any of the other units (good or bad) in this category, be it from COROS, Suunto, Polar, or Wahoo. After all, they're all using the exact same GPS chipset. So it's really down to any individual customizations/tweaks from a given manufacturer.
(Note: All of the charts in these accuracy portions were created using the DCR Analyzer tool.  It allows you to compare power meters/trainers, heart rate, cadence, speed/pace, GPS tracks and plenty more. You can use it as well for your own gadget comparisons, more details here.)
Product Comparison Tool:
I've added the Garmin Enduro into the product comparison tool. For the chart below I've compared it against the Garmin Fenix 6 Solar, the Polar Vantage V2, and the COROS Vertix. I wanted to add in the Suunto 9, but it got a bit busy (and it's a year older than everything else). Of course, you can make your own charts here in the product comparison calculator.
And again, don't forget you can make your own product comparison charts here with all the products in the database.
Summary: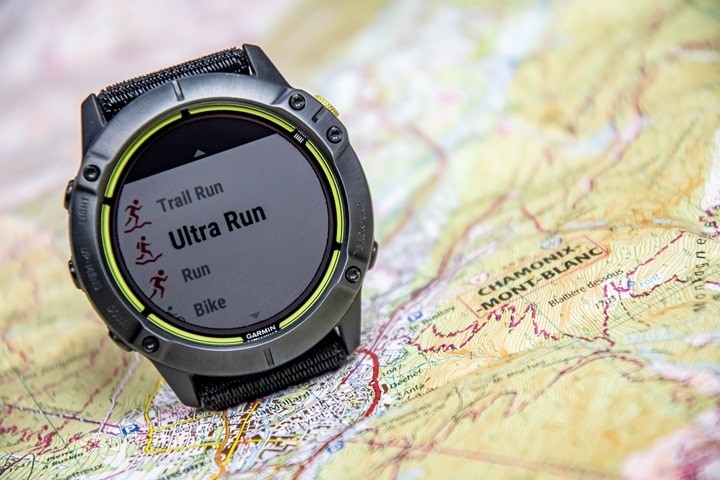 One has to look at the Garmin Enduro from two perspectives. The first is from the obvious battery-life perspective. Best I know, there's no other GPS sports watch out there that gets anywhere near these numbers for GPS-on time, either in a full configuration or a reduced tracking configuration (not from COROS, Casio, Suunto, or Polar, or anyone else). And certainly not in the ultra-low battery modes – 300 hours is insane. That is a significant jump for GPS battery life in the marketplace. Of course, most people will probably never use that. But this does at least reduce how often you have to charge it even if you aren't doing an ultra. Plus, it gives you more padding for when you do forget to charge.
In fact, for perspective, I've literally never re-charged the Enduro since starting this review cycle last month. I briefly connected it for a few seconds to grab some files off it once, but otherwise it's just chugging away. Granted, being in the middle of a lot of snow I've got slightly less GPS outside time than normal, but not substantially so. Averaging 8-10hrs/week outside with GPS activities, since I've also been recording various bike commutes too.
But all that's somewhat besides my main point – which is the same point I started off this post with: If you don't care about battery life, then likely Enduro makes little sense for you. You're paying more for less features than a Fenix 6 Pro. The nylon strap is very nice, but, you can get plenty of those today from 3rd party resellers, or soon even Garmin themselves – since the Enduro strap is the same size as the Fenix 6X strap.
The good news is that this battery life doesn't appear to have come at the expense of either GPS or heart rate accuracy, as those remain mostly quite good in my testing and in-line with the other units I was testing (though, also including their collective ability to struggle on one run early-on), and while I did see a couple of HR oddities on one run, I mostly didn't see those on repeated interval workouts.
Still, setting aside the battery life on Enduro specifically – I think what's the most interesting thing to me is the tweaked underlying platform. This seems to represent the first major jump for Garmin in that realm since the MARQ/FR945/Fenix 6 sweep kicked off that generation of devices two years ago this March. And to me – whatever's inside probably signals the start of the next generation of devices, all of which would be up for refresh this year following a typical Garmin refresh cycle. Whether or not that happens given COVID, who knows. But, if Enduro's battery life is a hint at what's to come – it may indeed be an interesting year for watches.
With that – thanks for reading!