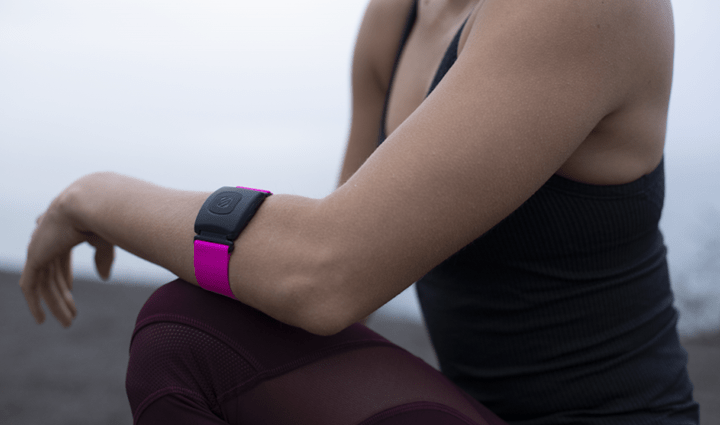 On any normal year, today would be the kickoff to new announcements at the annual Consumer Electronics Show – CES. But this year, it's being held virtually. Which essentially means a whole slew of people don't have to drag themselves around Las Vegas sleepless for a week trying to keep up with all the news. Myself included.
Yet, we still get the goods. Or at least, some of the goods: New sports tech products!
The first one in the hopper is an announcement from Scosche of their new Rhythm+ 2.0 optical HR armband. The unit is somewhere in transit between California and the Netherlands, and hopefully I'll be able to give you some hands-on testing feedback later this week, likely pitted up against a few of the more popular options. But till then, here's what's new.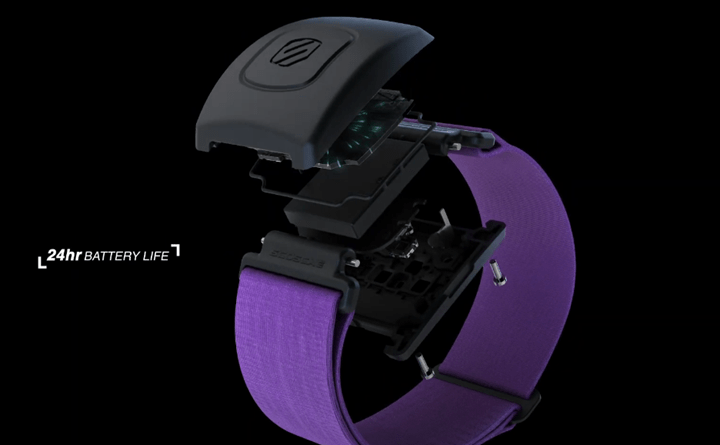 The Rhythm+ 2.0 builds on their two existing Rhythm optical HR sensors (the Rhythm+ way back in 2014 and then the Rhythm24 three years ago in 2018), with some modest updates around battery life and an updated sensor. Think of it more as evolutionary than revolutionary. Here's the topline specs:
Battery life: 24 hours
Connectivity: Dual ANT+ & Bluetooth Smart
Optical HR Sensors: Custom Valencell PerformTek sensor with two green and one yellow LED
Waterproofing: IP68, so good to three meters of depth
Armband: Removable clasp system (versus Velcro on original)
Pricing & Availability: $79 and next month (February 2021)
For those that have been long-time followers of the site, you'll know that for many years the original Scosche Rhythm+ was my favorite optical HR sensor, and in many ways one of the best optical HR sensors ever made. It's sorta-successor, the Rhythm24, a few years later never really made me as happy. That was primarily due to the accuracy not being as good in my testing, as well as the increased cost for features that didn't work well initially (a long time actually).
Whereas the Rhythm+ 2.0 aims to go back to the roots of just being a dual ANT+/Bluetooth Smart optical HR sensor that works well without all the features you'll probably never use on the Rhythm24 (like NFC or HR zones or cycling cadence). Here's a sheet they have that compares all the features. It was for other purposes, hence the Amazon tidbits/reviews aspect of it. Also, all the images in this post are from Scosche's PR kit.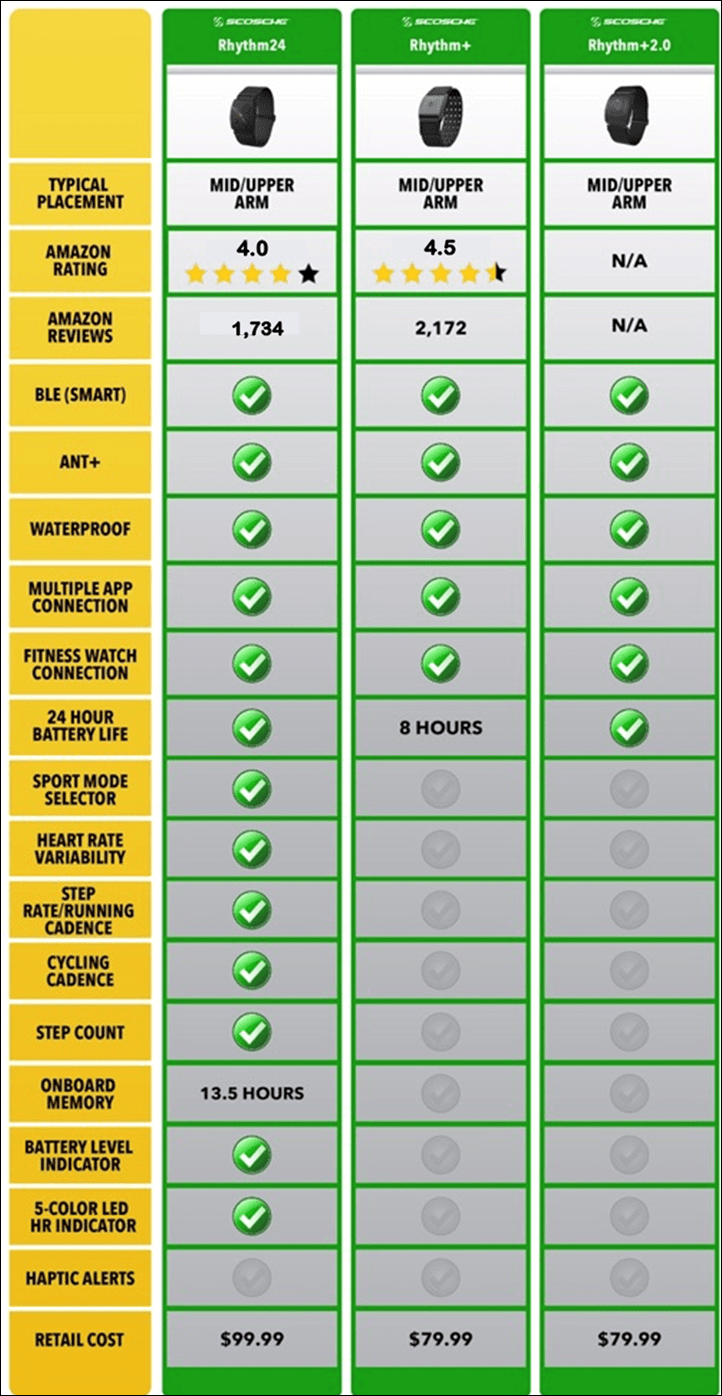 The Rhythm+ 2.0 uses a custom Valencell integration of their optical sensor, which is basically one of the two ways that Valencell works. You can buy one of their off the shelf offerings that you just slap into a unit. Or, you can do some custom integration work for any number of reasons (perhaps size, battery consumption, features, etc…). Generally speaking, I see good accuracy levels with Valencell integrations/packages, but ultimately, we'll have to see how it holds once FedEx drops it into my delivery box and I get out onto the road with it.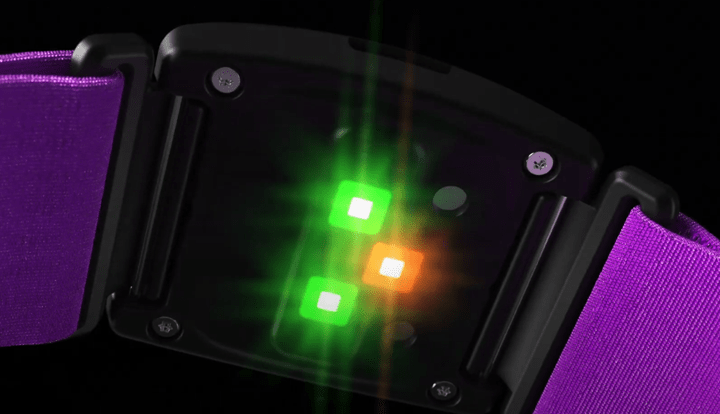 As you see above, it includes dual green LEDs and a single yellow LED. Companies typically use different color LEDs to penetrate different skin tones and depths better. Which doesn't always mean it works out – but generally speaking some of the most accurate on-device results I see are from blended colors like this.
Of course, one thing that helps something like the Scosche Rhythm+ 2.0 or even the Polar OH1 is simply the placement – being on your arm (in any number of locations). It's FAR easier to get accurate optical HR data in places other than your wrist (such as a watch would). There's no close-up bones to deal with on the remainder of your arm (compared to the wrist bone right below the skin near where you wear a watch), which means better readings.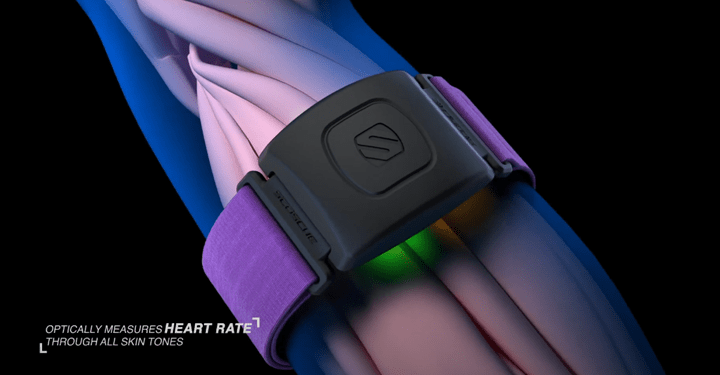 The Rhythm+ 2.0 has five different color strap options, and assuming it's like the previous ones, you'll be able to order extra straps in different colors if you want, enough to vary your workouts on five different days.
Fun tidbit: I'm curious to see which color band they sent me this time around. For the Rhythm24 unit they had handed over a purple strap, and a lot of people thought that was the only color, and actually didn't buy it purely based on that. Seriously. I'm not kidding.

Interestingly, the company also has a charging case in addition to the charging clip that you normally get. This charging case is both a carrying case and a charger thingamajig. I don't have any photos of it, but kinda a cool concept that'll be useful for travel once we get to do that again.  One of my complaints of the original Scosche Rhythm+ was that I'd often find it got turned on in my luggage. The Rhythm24 largely solved that, but still, I like the idea here.
With that – stay tuned for some hands-on testing, hopefully later this week or next week at worst. Never know what gets tangled up in customs these days! Plus, probably time for a refresh of this arm-band shootout post!
Oh, and stay tuned for a few other CES2021 tidbits. I wouldn't expect huge news this week, merely because there's little motivation for any of the big companies to make announcements this week that'll get buried in the news cycle. Since there are no reporters roving the halls of the Las Vegas convention floors, there's no chance of snagging a random reporter in hopes of increased coverage. Plus, the big companies were shifting announcements away from CES anyway.
Ok, I'm distracted – more to come!