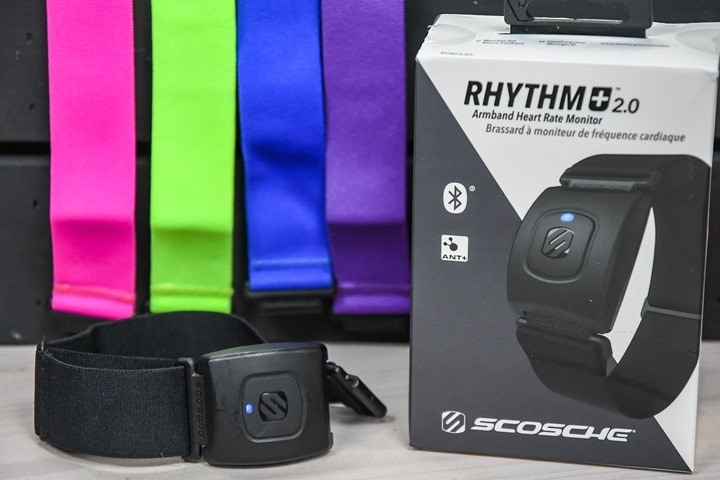 Back in January, Scosche announced the new Rhythm+ 2.0 optical HR sensor. This would be the next iteration from their original Rhythm+ released way back in 2014 – arguably the optical HR sensor band that started the trend of optical HR armbands. Then in 2018 they released the Rhythm24, a more feature-laden product. That unit essentially added offline recording, NFC connectivity, and a pile of other features.
But the Rhythm+ 2.0 (which I'll mostly abbreviate to R2) is much more simplistic, like the original Rhythm was. It broadcasts your heart rate over ANT+ & Bluetooth Smart, shows your zones…and…well…that's about it. But that's ultimately all most people want a heart rate sensor for – and of course, doing so accurately.
From a consumer standpoint the Rhythm+ 2.0 edition only changes three main things from the original: It increases the battery life from 8 hours to 24 hours, it changes the button so it doesn't accidentally get turned on very easily, and it has a better strap that's not Velcro. Under the covers the unit also changes the sensor too, going with a much newer Valencell version than the original.
I've got a bit more than two months' worth of data on the Scosche Rhythm+ 2.0, comparing it against many of the sensors you're likely to be choosing from, including the Polar Verity Sense, Polar OH1 Plus, mioPOD, and a slate of chest straps. Plus watches and more. I've got plenty of data and also basic usage tidbits.
Now, if you want all the details in one tidy video, simply hit the Play button below:
Note that once I'm done with the Scosche R2, I'll send it and the umpteen units they sent me, back to Scosche. That's just how I roll. If you found this post useful, consider becoming a DCR Supporter which makes the site ad-free, while also getting access to a mostly weekly video series behind the scenes of the DCR Cave. And of course, it makes you awesome.
Unboxing:
I could probably spend half a day unboxing Scosche Rhythm+ 2.0 bands. In an effort to ensure I had every color available, the company sent me not one, but two copies of every color. Plus, more interestingly, the two boxed variants of the Rhythm+ 2.0. And a charging case or two. More on both of those in a second.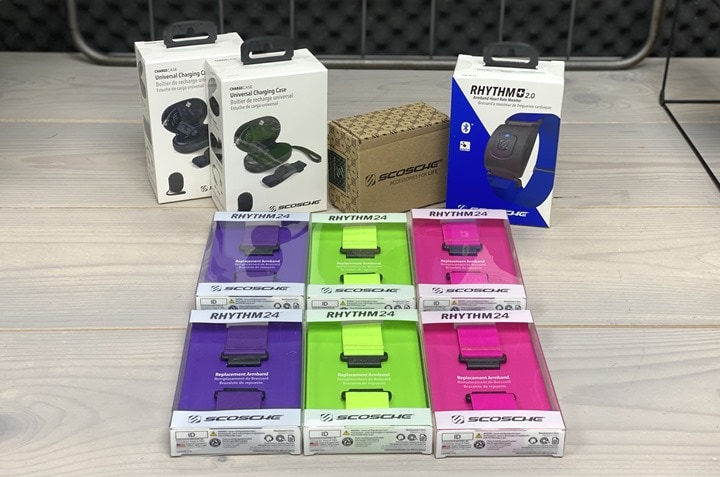 Notably, there are actually two different boxed versions of the Scosche Rhythm+ 2.0. One for retail stores, and one for Amazon. For Amazon, the box is roughly half the size. That saves on shipping (both cost and environmental aspects), and also saves on shelf space at Amazon, since Amazon charges companies based on the size of the item too. Whereas in a retail setting, you get the more descriptive one.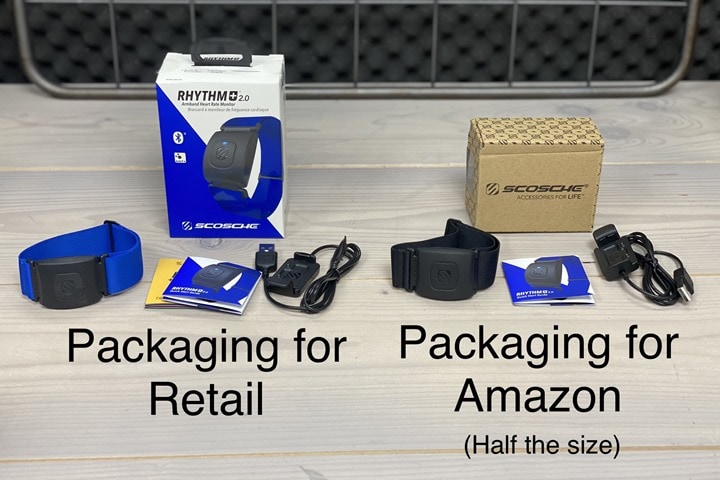 Here's a close-up of the retail one: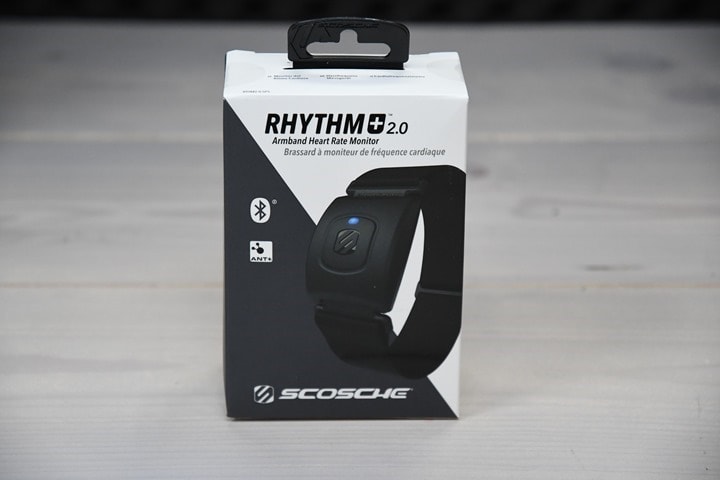 Inside you've got the strap/pod, a USB charging cable, a paper quick start guide, and then a little yellow brochure of other Scosche products.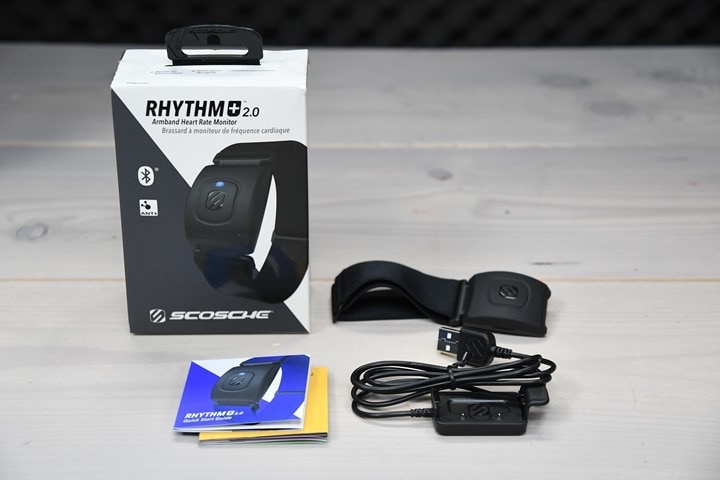 Here's the charging cable, which snaps onto the unit, meaning you could make it into a lasso if you wanted, and it'll stay put.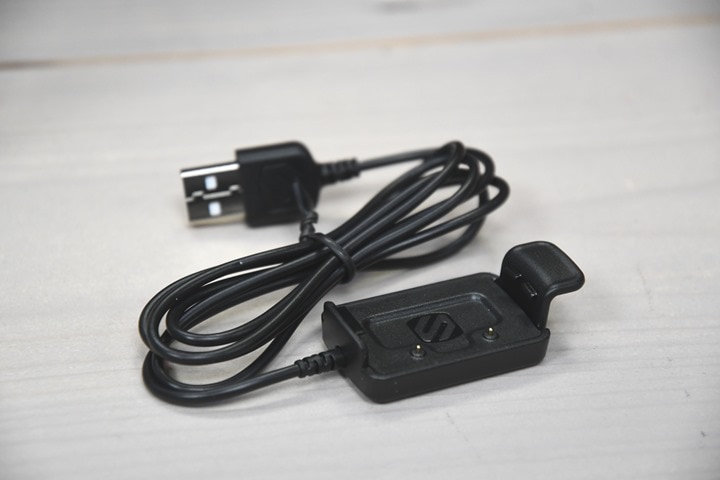 Then there's the quick start guide: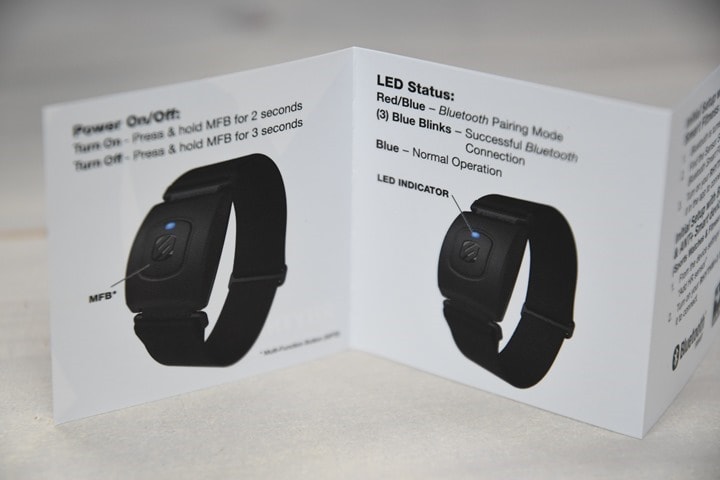 As for the pod, you're gonna see plenty of photos of that, but one thing of note here is to be sure to remove the small protective film. If you leave that there, you'll get accuracy issues: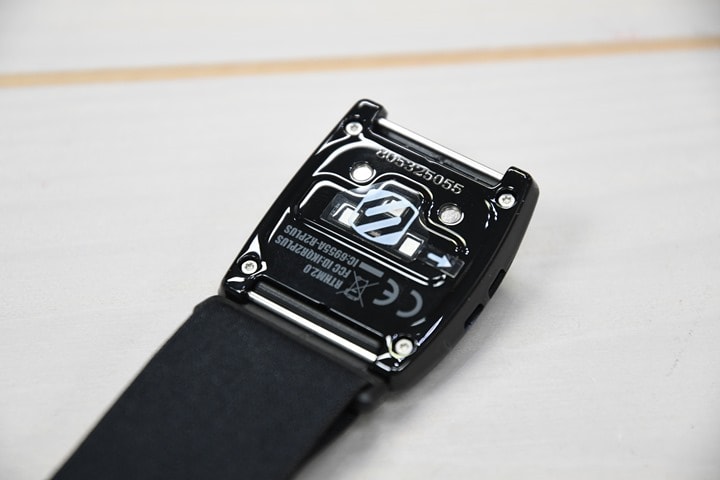 And the contents of the Amazon one are the same.
Then there's the slate of straps to choose from. Material is the same, colors are (obviously) different. Notably, there's also a grey band that's offered specifically on Amazon.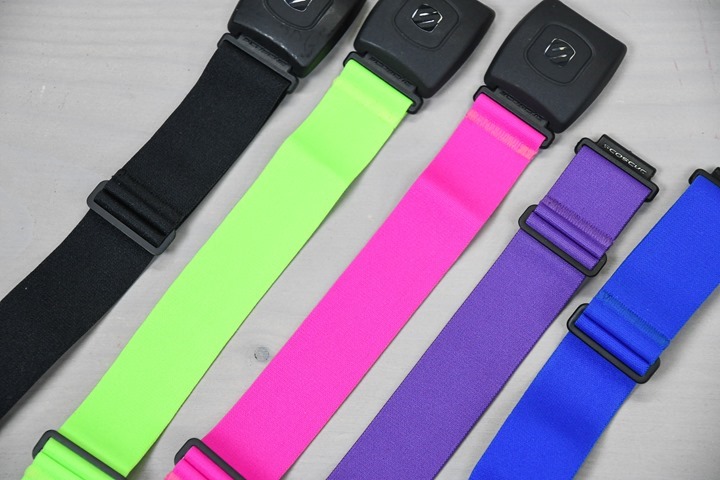 Finally, there's also this new charging case accessory you can buy extra (it's $29, but on sale for $24). Basically it's an 860mAh USB battery pack built into the side of a small case. It charges via USB-C, but has a 'normal' USB port inside, so you can plug in the Scosche to it while travelling:
I'm kinda surprised – I actually like it. Namely I find it a handy way to charge not just the Scosche R2, but anything else small – such as a watch or other HR sensor, while in transit. For example, sometimes early in the morning over breakfast, I'll realize a watch/sensor I need isn't charged yet – something that I might need for a workout/test once I get to the office. This has been handy to just stick the watch/sensor in there to charge, zip it up, and then throw it in my bag. I know the charging attachment won't fall off, nice and secure in there. By the time I finish doing the morning bike commute/ and two-school drop-off with the kids, everything is charged. Plus, points for USB-C charging port on the outside (but 'normal' USB on the inside).
The Basics:
The Scosche R2 is a rather simple device in the grand scheme of things. At its core, you charge it, press the button to broadcast your heart rate via ANT+ & Bluetooth Smart, and then turn it off and charge it again at some point down the road. Rinse (literally), and repeat. While there's no storage on it like the Rhythm 24 for saving workouts, it can display heart rate zones. So we'll get into that too.
To begin, the band has been changed on the R2 to match that of the Scosche 24. However, they've changed the plastic a bit to hopefully eliminate any clasp snap issues. While those were rare, they did happen to some people that were traced to specific sunscreens causing the plastic to become brittle and crack. I haven't ever had it happen to me, but figured it's worth mentioning that they've noted they've fixed that.
In any event, the strap length adjusts via the middle piece: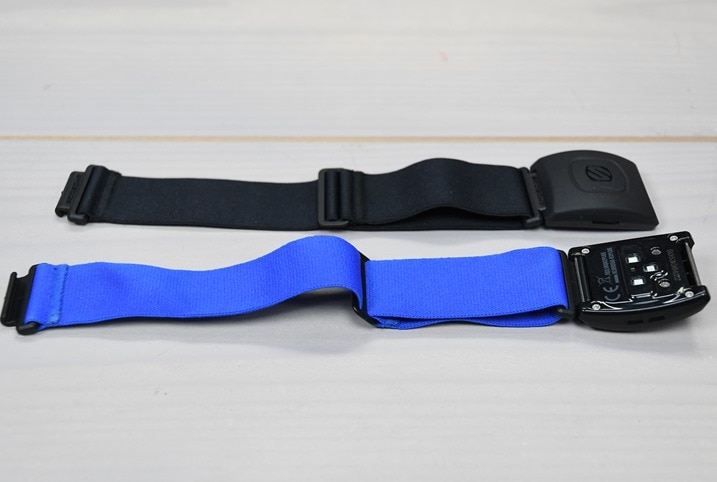 Then the band attaches to the metal pole of the pod itself: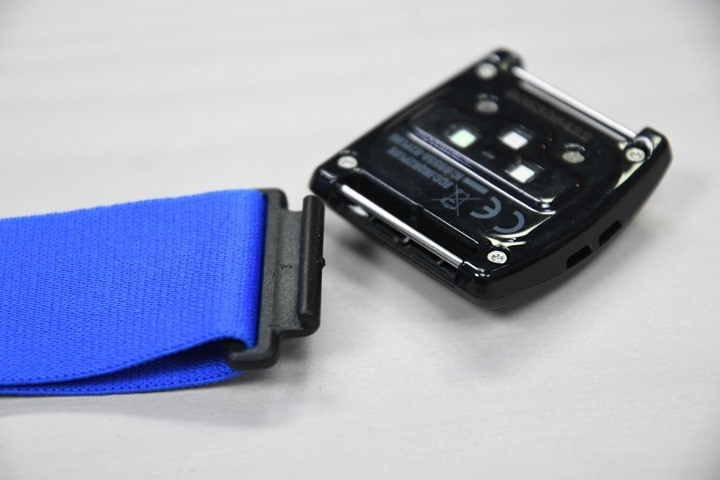 On the underside of the Scosche R2 is the optical sensor from Valencell, the same company Scosche tapped for their previous sensors. They generally make strong stuff, especially when in a band design (whereas they can struggle a bit more in a wrist-based product like a watch). You'll see three LEDs, two green and one yellow. Then next to that are the photodiodes that measure that light as it reaches the blood capillaries in your arm: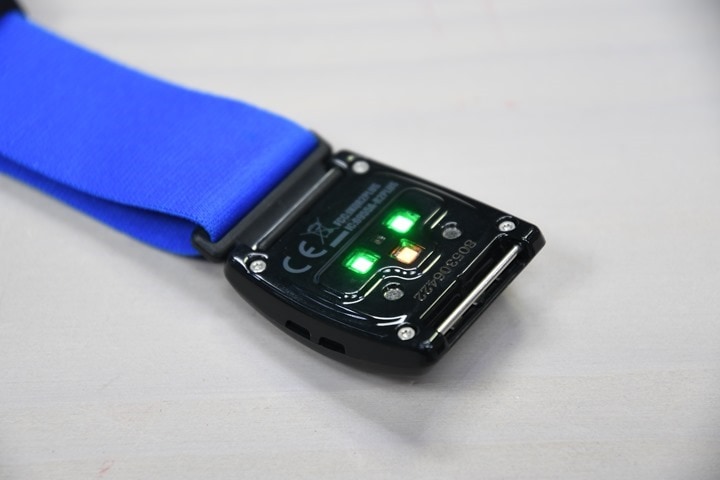 The way optical HR sensors work is by measuring the light from these LEDs. Thus, the arch-nemesis of any optical heart rate sensor is other light – such as daylight. That, in turn, happens if you wear it loosely, which is the secondary enemy of optical HR sensor accuracy: bounce. But as long as you wear it snug, you're fine. It doesn't need to be crazy gorilla tight or anything, but it shouldn't move around.
According to Scosche, you can place the unit in any one of three recommended locations: upper forearm, biceps, or triceps. I tend to wear mine mostly on the biceps or triceps, since I can usually hide that below a cycling jersey or t-shirt.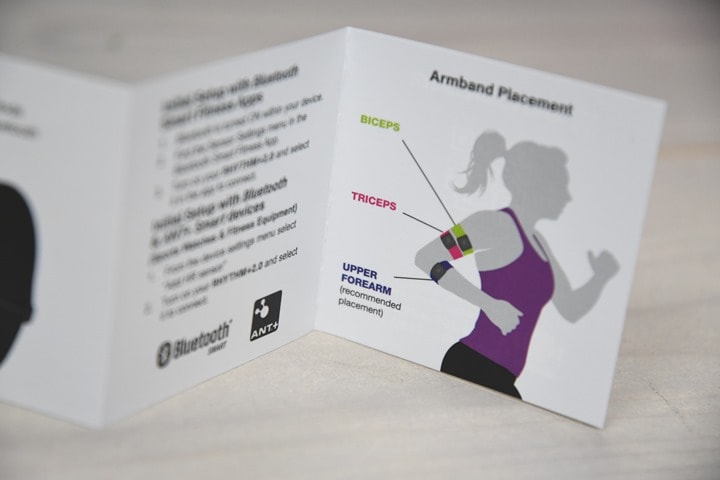 Ok, with it placed on my arm, I simply hold the button a few seconds to turn it on. That illuminates the LEDs on the underside, and then also a small colored LED atop the unit indicating it's on. Because of the overall width of the Scosche, it's virtually impossible to get accidentally flipped over (unlike the Polar OH1 Plus, which they largely fixed with the Verity Sense).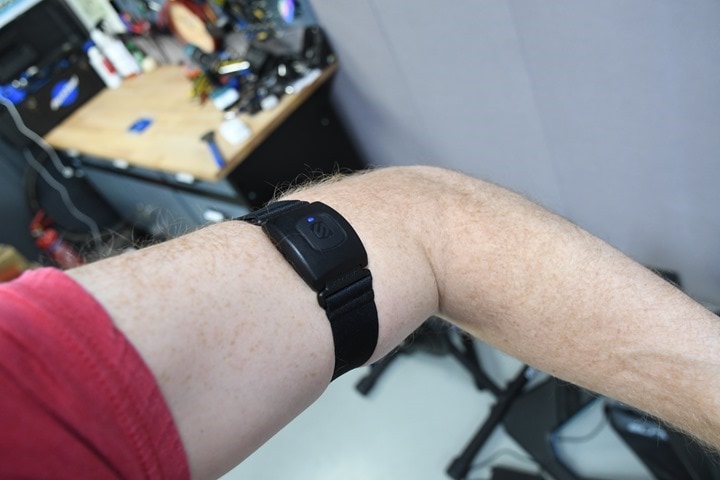 At this point, it's findable via ANT+ & Bluetooth Smart, ready for you to pair another device. Ultimately, the point of a sensor like this is to replace a heart rate strap – in turn broadcasting to something else, like an app/watch/bike computer. People tend to use optical armbands such as the Scosche because they're more comfortable than chest straps – often especially for women.
I've been using the Scosche R2 with a wide assortment of devices. These have included outings paired to a Garmin Edge 830/1030, Garmin Forerunner 945, COROS Vertix, Peloton Bike & Bike+, Strava App, and more. Ultimately it perfectly followed all the ANT+ & Bluetooth Smart standards, so if there's an app or device it doesn't work with, frankly, that app or device is probably the issue. The ANT+/BLE code here is undoubtedly the same code as on the original Scosche, and there's no issues there, pairing-wise. Note that they claim a 100ft range for the wireless signal, I didn't have any reason to be that far from my watches/apps/devices, but I never had any dropout issues.
Here's an example paired up to a Garmin Edge 1030 Plus: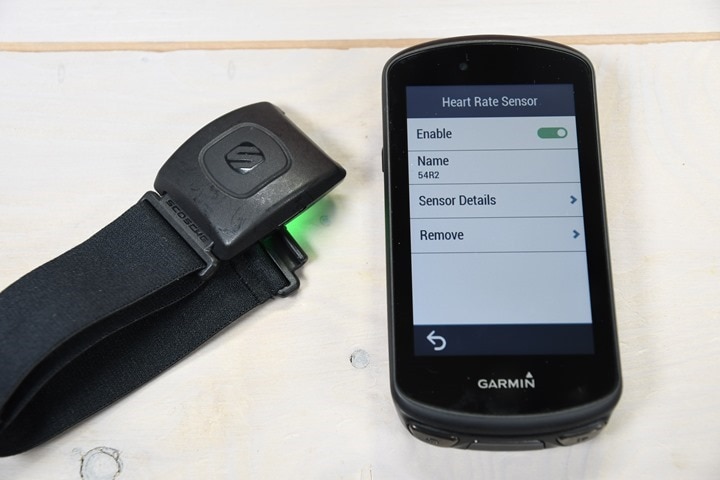 Then here it is paired to a Peloton Bike+. Note you'll see both the ANT+ & Bluetooth sides here, so the ANT+ ID is 54, and then I've just tapped to pair it to the Bluetooth side (R+2.0 6422).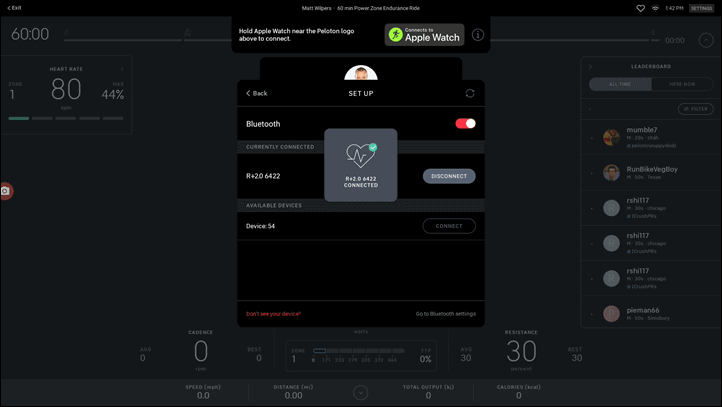 The Bluetooth ID matches the last four digits imprinted on the back of the unit: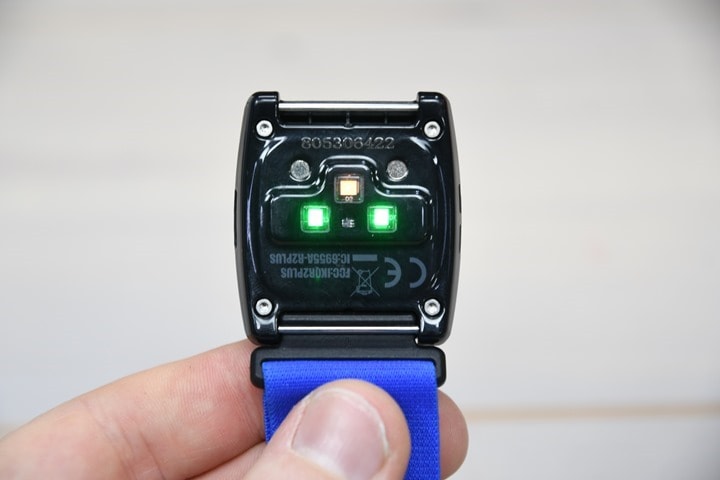 And here to the Strava iOS app:
Note however that while the Scosche R2 has unlimited concurrent ANT+ connections, it can only be actively paired to a single Bluetooth Smart device at a time. Meaning, you can't pair it to both your Zwift Apple TV setup via Bluetooth Smart while also paired to your Suunto watch via Bluetooth Smart. However, you can always concurrently pair ANT+ & Bluetooth Smart. So since every Garmin/Peloton/Wahoo/Stages/Hammerhead/etc device supports ANT+ & Bluetooth Smart, you can always simply use ANT+ first, as I do.
Speaking of pairing and apps, you can download the Scosche Rhythm Sync app from the iOS/Android app stores, which lets you update the firmware and check your heart rate zones (but you can't change them with the Scosche R2), as well as check the battery level. After downloading the app, have it search for sensors nearby (remember to turn it on first):
If there's a software update available, you can update that too. I suspect these will be few and far between, but in the odd event there's some compatibility issue (as was the case initially when the R1 released or some really old Garmin watches, some 7 years ago), then they could address that.
Ultimately though, think of the app for the R2 variant as more of a utility app than a download/record type app (whereas for the R24 edition, it does download). You likely won't ever use the utility app beyond firmware updates.
The main point of the R2 is to broadcast to other apps, so once you're done with your workout you'll simply hold the top button down for a few seconds to turn it back off again. And with that, you're done.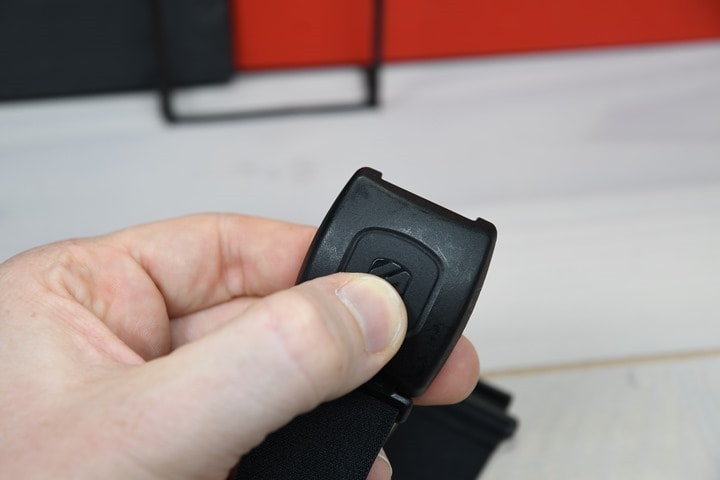 The battery life is claimed at 24 hours, and seems to be trending toward that – though I haven't done any 24-hour activities, and since it doesn't broadcast HRV, it's less valuable as a 24×7 type tool. The previous unit had an 8-hour battery life claim, and my testing puts this well beyond that.
Heart Rate Accuracy: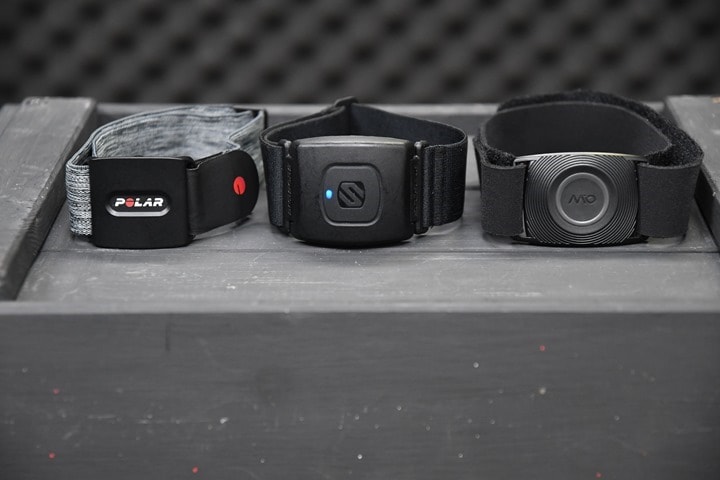 For each test, I'm wearing additional devices, usually 3-4 in total, which capture data from other sensors.  This sometimes included a second strap, usually the Polar H10 chest strap or the Garmin HRM-PRO, as well as usually two optical sensor watches on the wrists, and then some other armband optical HR sensors. Note that the numbers you see in the upper right corner are *not* the averages, but rather just the exact point my mouse is sitting over.  Note all this data is analyzed using the DCR Analyzer, details here.
In my testing, I'm simply using the strap throughout my usual workouts.  Those workouts include a wide variety of intensities and conditions, making them great for accuracy testing.  I have a blend of interval and steady-state workouts on both running and cycling in here, both indoors and outdoors.
Ok, we're gonna briefly look at this first boring set, a steady-state run, and then we'll get into more exciting stuff. This set has a boatload of sensors, including both a Garmin HRM-PRO & Polar H10 chest strap (separated), a Polar OH1 Plus optical sensor, the Whoop band, a Polar Grit X watch (optical HR sensor), Garmin Enduro watch (optical HR sensor), and of course the Scosche R2, which was paired to a COROS Vertix. Here's that data set:

Now, I'm going to save you trying to decode that Skittles bag of rainbow colors, and just simplify it. The Scosche R2 was virtually identical to the chest straps, and essentially spot-on. As was the Polar OH1 sensor – all the same here. So rather than beat that horse a bit, let's increase the complexity.
This time with an interval run. These were a pile of 60-second repeats at sub-5K race pace with 30-seconds of recovery. It's a fun way to test optical HR sensors. And by fun, I mean incredibly difficult. This was compared to a mioPOD, Polar Verity Sense, Garmin HRM-PRO, and Garmin Enduro. Arguably, this is one of the more impressive sets I've seen in a long time for optical HR sensor testing:

Things start off very good. You see a slight bobble from the Polar Verity Sense early on, but that's because I thought I had turned it on, but didn't. So I had started running a minute or so before it tried to get lock. Fair enough, that's on me. After it locks, it's largely fine. Let's look at the first main interval set:

You can see above that all the units are very very close. The exception being a burp from the mioPOD on the first interval, and a tiny 1-2 second blip on the 2nd one from Polar & mioPOD again of a few bpm off. But otherwise, it's very clean.
And again, the last set is almost identical – super clean minus a single second blip on the interval from the mioPOD:

So, let's shift interval types – this time over to an indoor trainer workout. Here you can see these 30×30's, also a beastly difficult test for optical HR sensors. But then followed by some longer duration intervals. Similar cast of characters here on the HR sensor front, got the Scosche R2 of course, but also the Whoop, Polar Verity Sense, mioPOD, and then the Polar H10 chest strap and Garmin Enduro wrist-based watch optical sensor. Here's that data set:

The Garmin Enduro got a slightly late start – about 30 seconds off the line, and you can clearly see the impact of that for the first minute as it catches up. After that, it's mostly OK though. Again, a good reason to always start your watches before you start increasing intensity. The Whoop in blue…it's just doing Whoop best – lost and underwhelmed.
Let's zoom in on some of the intervals though, to get a closer look at things:

From a Scosche/Mio/Polar Verity Sense/H10 chest strap standpoint, they're virtually identical. There's very few times where they aren't, except the slightest of lag, often on recoveries, of perhaps a second or two.
So then, looking at the longer intervals, as we'd expect, things are quite stable and close-knit there. I mean, minus Whoop of course. It's always astounded me just how bad that sensor is. An indoor trainer ride, steady-state at a moderate intensity is the gravy train of easy things to nail. And yet it can't even manage that.

Next is a Zwift ride. This one wasn't too crazy, just a nice mostly steady ride. Here it is compared to an Apple Watch SE optical sensor, Garmin FR745 optical sensor, Polar OH1 Plus Whoop, and Polar H10 chest strap. Here's that data:

You can pretty easily/clearly see it's essentially spot-on the entire time. There's no variances there from the Scosche.
However, at the very end I throw down a nice sprint to go out on, so let's look at that:

You can see that the Polar H10 leads the way on responsiveness, which makes sense being a chest strap. After that, we've got the Scosche R2 & Apple Watch SE, and then a little bit later the Polar OH1 Plus, followed by the FR745 (wrist-based) sensor. And eventually the Whoop…sorta.
Next, let's head outside for a road ride – which tends to be the most challenging for optical sensors, due to the vibrations off the road. Though, the further you move up your arm (placement of the sensor), the easier it is for said sensors to get accurate readings. Meaning, wrist is hardest, forearm gets a bit easier, and upper arm is easiest.
Anyway, here's that data set compared against a Polar Verity Sense, mioPOD, Whoop Band, Garmin HRM-PRO, and a Garmin Enduro watch (optical):

Now, at a high level it appears the Scosche R2 and Polar Verity Sense are very close to each other, and both of those are very close to the HRM-PRO chest strap. The mioPOD starts off identical to those, but then in this export appears to flat-line. In reality, it tracked just fine, but the export file from the app (or, out of HealthKit) is wonky. Unfortunately, the Mio app is mostly a dumpster fire when it comes to getting data out of it.
Wait, did someone say Dumpster Fire? To which Whoop answers: Hold my beer!
As you can see with that heavily drunk green line above, the Whoop strap does what the Whoop strap does best: Not be accurate.
So, let's focus on the Scosche R2/Polar Verity Sense/HRM-PRO comparison here, and in particular, I want to look at a set of 4 sprints I did, one earlier on and then again later. Here's the first set:

Now, what we see here is that for each of these sprints, the HRM-PRO quickly picks up the change in intensity, that's then followed by the Scosche R2 about 2-4 seconds delayed, and then the Polar Verity Sense about 1 second after that. You'll also notice the wrist-based Garmin Enduro optical HR sensor delayed even further – pretty much missing the kick on these 15-20 second sprints. The Whoop also is delayed (less than Enduro), but doesn't really rally as much. Here's a closer look at that:

And this is a perfect example of what I typically see for wrist-based (e.g. the Garmin Enduro) optical HR sensors outside cycling, especially in winter as I am now. They struggle there on sprints. If you scroll back up, you'll see that for the steady-state portions it was fine. But these very intense 15-20 second sprints just aren't ideal there. However, the Scosche does just fine, minus the few-second delay we see on optical HR sensors.
This played out again for the later set of sprints. The Scosche/Polar/chest strap all played the parts identical to above. And the Garmin Enduro wrist-based sensor gave the old college try, but mostly missed it. Whoop decided it just wanted to sit off to the side and continue its Tour de Drunk.

Note that for this outdoor test the placement was on my upper arm. That's where I tend to wear optical HR sensors like this, partially because I then hide it under the edge of my jersey, and partially because I've been doing this about 7-8 years and know that's by far the best placement for accuracy.
Ok, with that – overall the sensor is perfectly accurate for seemingly everything I've thrown at it. Sure, you will get a few-second delay in some circumstances, namely short bursty intervals. But the peak heart rate values remain the same in those situations – so from a post-workout analytics standpoint, there's little impact.
(Note: All of the charts in these accuracy portions were created using the DCR Analyzer tool.  It allows you to compare power meters/trainers, heart rate, cadence, speed/pace, GPS tracks and plenty more. You can use it as well for your own gadget comparisons, more details here.)
Product Comparisons:
I've added the Scosche Rhythm+ 2.0 to the product comparison database, allowing you to compare it to various other heart rate sensors – both chest strap and optical bands. Now, within the optical HR band category, there's basically two classes of optical HR bands: Those that can remember stuff, and those that can't. In other words, which ones have workout storage:
No workout storage:
– Scosche Rhythm+ 2.0 (and earlier original edition)
– Wahoo TICKR FIT
With workout storage:
– Scosche Rhythm24
– Polar OH1/OH1 Plus
– Polar Verity Sense
– mioPOD
– Whoop (not main purpose, but hey…)
Most of the ones with workout storage also have other party tricks like heart rate zone display, or added sport tracking information like swimming or port detection, or even HRV features. Point being, it's not just workout recording, but often other random things. That said, the prices aren't all that different in some cases, so, I've tried to mix and match what I think makes the most sense below. But you can use the database to make your own comparison charts.
And again, you can use the database to make your own comparison charts. Oh – and yes, I'm gonna pop-out a review of the mioPOD here shortly. As any astute person will have noticed, it's been in all my workouts the last month or two. My two-second mioPOD review would be that it mostly works fine, but seems to occasionally struggle accuracy-wise. I find the app both disappointing (it doesn't always seem to record my workouts) and promising all at once (training load and related). And given it's been out for some 15 or so months, the changes have basically stopped there app-wise. At $99, it's the most expensive of the options.
Summary: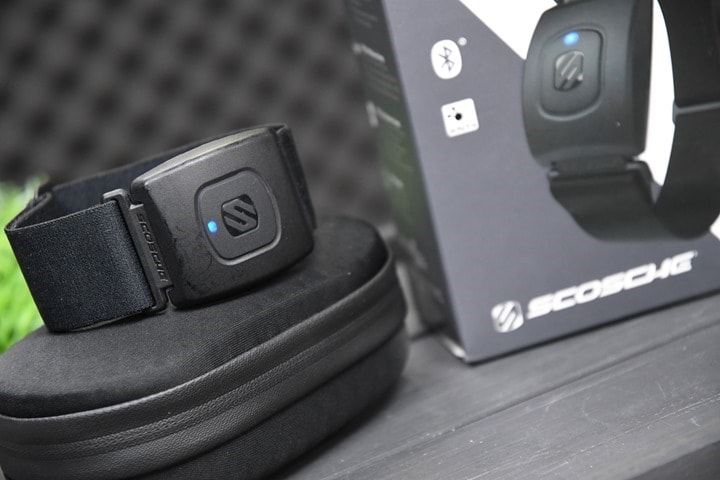 Sometimes, if something ain't broke – don't fix it. And in many ways, that's basically the Scosche Rhythm+ 2.0. They took the three things people complained about: Battery life, button accidentally turning on, and strap – and fixed them. They borrowed the button and strap from the Rhythm24, and arguably, the battery life too – also 24 hours. But beyond that, it's very similar to before. They tweaked the sensor with a more recent custom build than the off-the-shelf build of 7 years ago – which leads to the higher battery life.
And as my testing showed, the minor changes in the optical sensor package made no difference to accuracy – it seems just as solid as before with the original. And I haven't had any issues with the battery button turning on in my backpack or during transit.
There are very few downsides to this product, though, I'm a tiny bit surprised that they didn't go with a dual Bluetooth Smart capable chipset, akin to what we see in most newer heart rate sensors these days from Garmin/Wahoo/Polar. It's unlikely to be something that impacts a huge portion of the population, but given the costs to do so are pretty minor, I'd have hoped to see it. [Update: As of Nov 4th, 2021, Scosche has added via firmware update not just dual-concurrent Bluetooth channels, but three channels! Details here.]
Price-wise, it maintains the same $79 price – which matches Wahoo and their TICKR FIT optical armband. In the case of that band, I never had great accuracy with it, but perhaps I'll pull it out of the bin and see if things have improved in the last few years with firmware updates. That unit claims a bit higher battery (30 hours), for those that might need it. Both units have the same ANT+/Bluetooth Smart connectivity.
In any event, the R2 is a solid option for someone that just wants a low-fuss offering. Turn it on, it gives you heart rate…turn it off, it's done. Simple and easy device that's comfortable to wear – and arguably most importantly: It's accurate.
Found This Post Useful? Support The Site!
Hopefully you found this review useful. At the end of the day, I'm an athlete just like you looking for the most detail possible on a new purchase – so my review is written from the standpoint of how I used the device. The reviews generally take a lot of hours to put together, so it's a fair bit of work (and labor of love). As you probably noticed by looking below, I also take time to answer all the questions posted in the comments – and there's quite a bit of detail in there as well.
If you're shopping for the Scosche RHYTHM+ 2.0 or any other accessory items, please consider using the affiliate links below! As an Amazon Associate I earn from qualifying purchases. It doesn't cost you anything extra, but your purchases help support this website a lot. Even more, if you use Backcountry.com or Competitive Cyclist with coupon code DCRAINMAKER, first time users save 15% on applicable products!
Here's a few other variants or sibling products that are worth considering:
And of course – you can always sign-up to be a DCR Supporter! That gets you an ad-free DCR, access to the DCR Quarantine Corner video series packed with behind the scenes tidbits...and it also makes you awesome. And being awesome is what it's all about!
Thanks for reading! And as always, feel free to post comments or questions in the comments section below, I'll be happy to try and answer them as quickly as possible. And lastly, if you felt this review was useful – I always appreciate feedback in the comments below. Thanks!