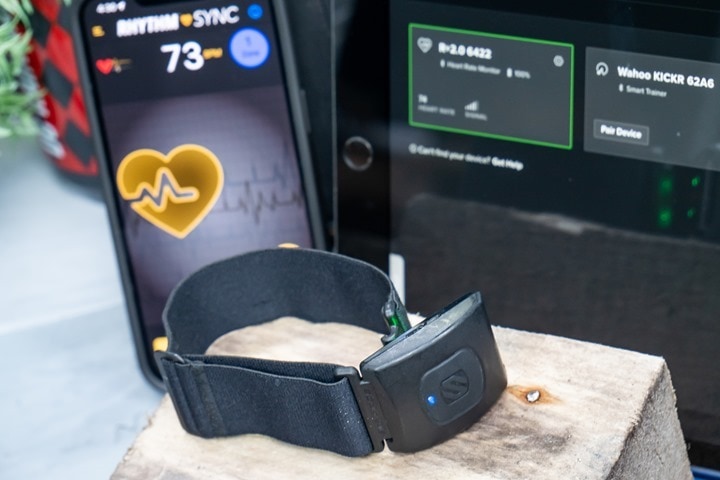 Scosche has released a firmware update today that enables multiple concurrent Bluetooth connections for their Scosche Rhythm+ 2.0 armband optical heart rate sensor. Previously it allowed unlimited ANT+ connections, but only a single Bluetooth Smart connection. With today's update, it now allows up to three concurrent Bluetooth Smart connections. This makes it only the second company to offer an armband with multiple Bluetooth Smart connections, the other being Polar and their Verity Sense (which has two concurrent Bluetooth channels). So effectively, they one-up Polar here on multiple channels, though I'd struggle to think of many people that need three channels (aside from perhaps…me).
From my in-depth review, this was literally the single technical caveat I had at the time with the Rhythm+ 2.0 – so, that's now resolved.
The main reason why someone would want dual Bluetooth Smart channels is if you use a watch or app that doesn't support ANT+, and wanted to use this heart rate sensor. For example, let's say you wanted to Zwift or such on an Apple TV or iOS device (which don't support ANT+), but you also had a Polar or Suunto watch (which also don't support ANT+). Previously, only one of those devices would be able to connect to the Scosche, versus now, all of them could.
Dual connections for Bluetooth Smart certainly aren't new. We've seen Polar, Garmin, and Wahoo all add it. Though, nobody has added three concurrent Bluetooth Smart connections to an optical HR band to my knowledge (and Wahoo's TICKR FIT armband only supports one sensor, meanwhile, Garmin has never made an armband sensor for some odd reason). Whereas all Garmin/Wahoo/Polar's recent chest straps support multiple Bluetooth Smart connections.
As a funny aside, I asked Scosche why they made the change, and their answer roughly mirrored what Wahoo said years ago when they added dual connections to their KICKR: They were tired of troubleshooting users not being able to find their HR sensor because some other app was holding the single connection. This solves that support issue.
How it works:
Getting it updated only takes about a minute. Simply grab your strap (as always, ensure it's got plenty of juice), and then go into the Scosche app. Of course, since you haven't updated it yet, be sure no other app/device is connected to it. It should automatically offer the upgrade, but if not, simply tap the menu and select to update it. It took me under a minute:
With that, you're done. To test this, I used three different devices to show my HR concurrently. My iPhone running the Scosche app, my iPad running TrainerRoad, and an Apple TV running Zwift – all showing my heart rate concurrently via Bluetooth Smart. First, here's the iPad & iPhone:
And here's the Apple TV: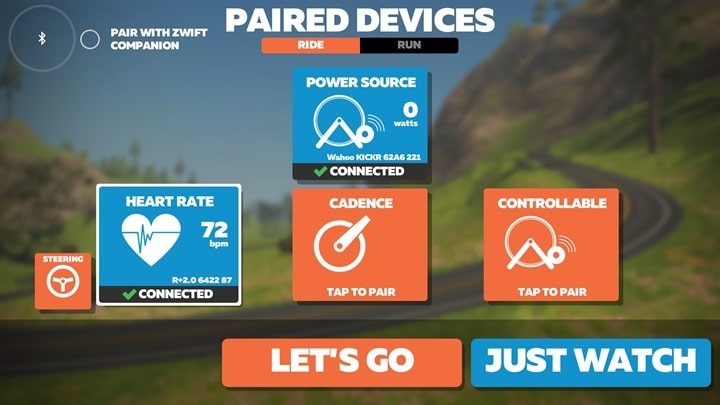 And of course, I could still have unlimited devices connected via ANT+, in the event I was…well…just doing another Thursday in the DCR Cave.
Generally speaking, I wouldn't expect any meaningful battery hit here. Basically Scosche is simply unlocking bits of the chipset that already existed in their product, just like Wahoo did with their trainers back a few years ago. No new hardware required.
With that – go forth and update! And…thanks for reading!
Found This Post Useful? Support The Site!
At the end of the day, I'm an athlete just like you looking for the most detail possible on a new purchase. These posts generally take a lot of time to put together, so if you're shopping for the Scosche RHYTHM+ 2.0 or any other accessory items, please consider using the affiliate links below! As an Amazon Associate I earn from qualifying purchases. It doesn't cost you anything extra, but your purchases help support this website a lot. Even more, if you use Backcountry.com or Competitive Cyclist with coupon code DCRAINMAKER, first time users save 15% on applicable products!
And of course – you can always sign-up to be a DCR Supporter! That gets you an ad-free DCR, access to the DCR Quarantine Corner video series packed with behind the scenes tidbits...and it also makes you awesome. And being awesome is what it's all about!