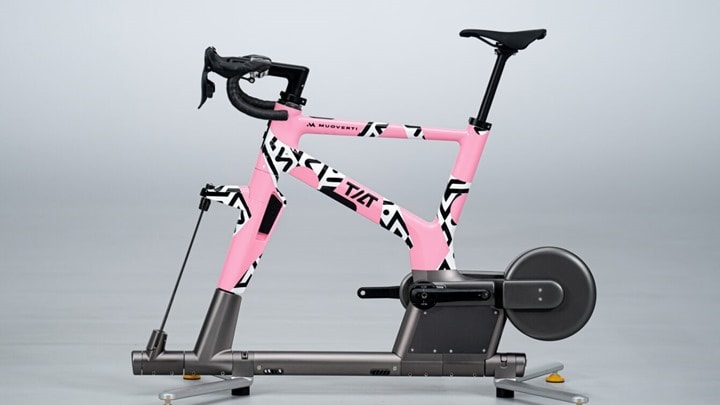 Muoverti managed to capture the excitement of cycling news sites everywhere this afternoon, announcing their upcoming Muoverti Tiltbike indoor smart bike that kinda looks like a real bike, while also apparently being able to lean fully (and theoretically without tipping over). All while claiming to be fully compatible with everything from Zwift to an Xbox. While pricing hasn't been announced yet, they say they'll be 'competitive' with the upper end of the smart bike range. Today, that's essentially referring to the Wahoo KICKR Bike, which is priced at $3,500USD.
But before we get too far ahead of ourselves, let's dig into the (very thin) tech specs, and then look at the (very long) journey ahead for the company.
The Tech Specs:
Now, before we talk about the timeline reality check, let's talk about the claimed specs. However, I'd say their 89-second video is worth a watch, if not for the technical info, then just for the videography.
Ok, so let's start with the frame. The company says it's adjustable from a size 49cm to a 64cm frame, which is pretty good. You can see on the front handlebar that they've got two adjustment points there. One for forward/back, and one for up/down.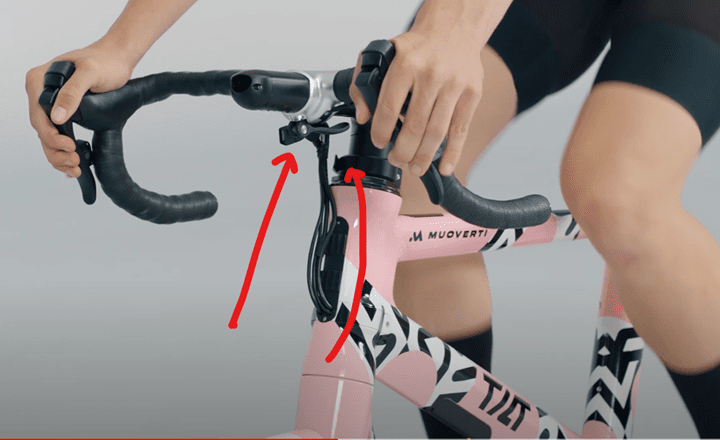 Meanwhile, on the back near the seatpost you can see up/down adjustability, and then a rear seatpost (with slight adjustability built into that). This would mean that you've got a bit less forward/back adjustability on the seat itself than most smart bikes, which slide along a horizontal axis quite a bit more to allow greater fit options.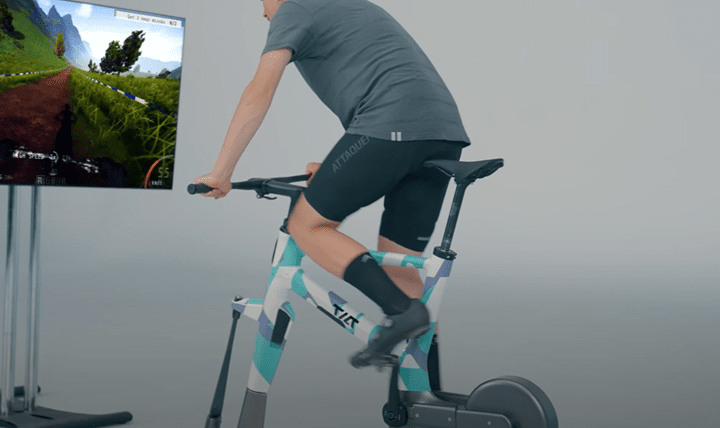 Looking at the imagery, you can see there's a small adjustable bit near the crank arms to allow different crank lengths – in what appears to be 165/167.5/170/172.5/175mm.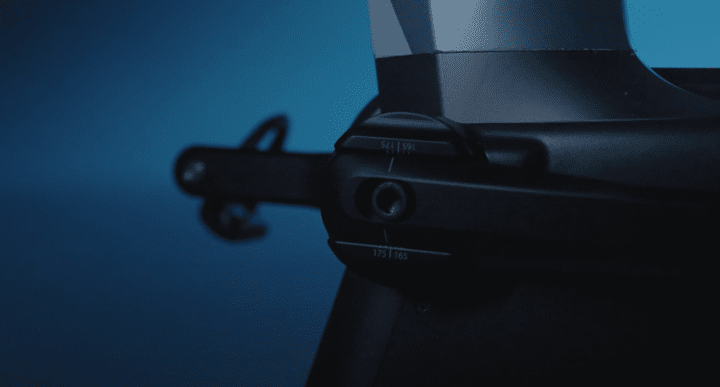 Tacx, Wahoo, and Stages all have gone with a bear-paw design that allows multiple crank arm lengths on a single crank arm. Whereas Wattbike has gone with a simple static crank arm length (that's not changeable).
To cover larger differences in rider sizes, the company says the 'bike portion' of the frame itself is designed to be easily swapped, such as for another rider of a different size.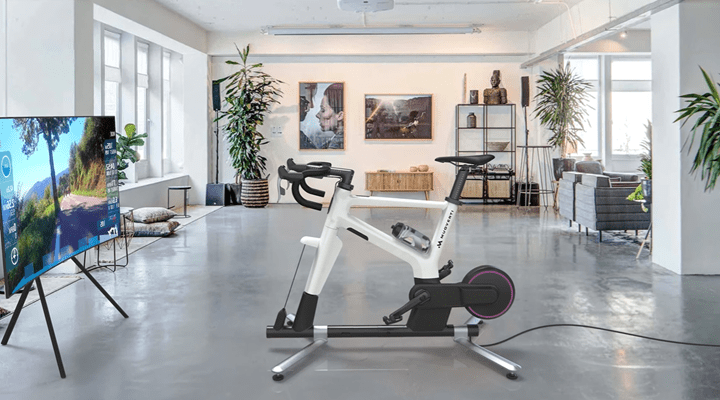 Seriously, I love their frame designs (well, not the white one, but all the other ones). This *LOOKS* like it fits in a proper cycling pain cave, and immediately puts all other indoor smart bike designs to hang their heads in shame. So good.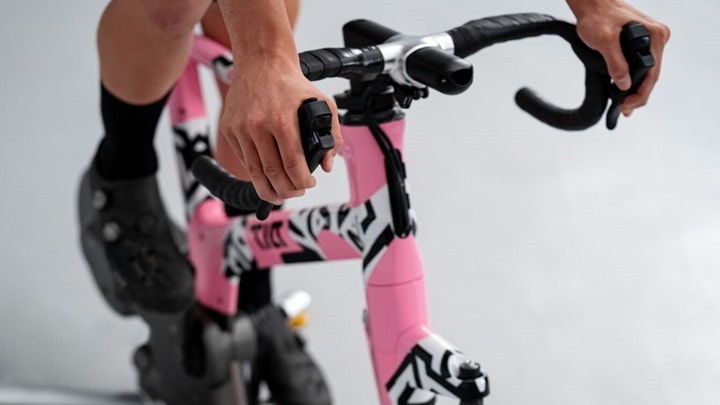 In fact, you can also swap out the handlebars, you can see an MTB configuration here: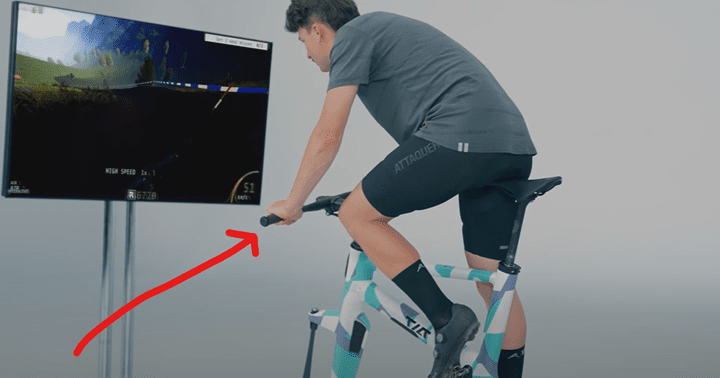 The company talks a lot about controls, to integrate with apps like Zwift that don't support them. For example, you'll see the front handlebar has brakes: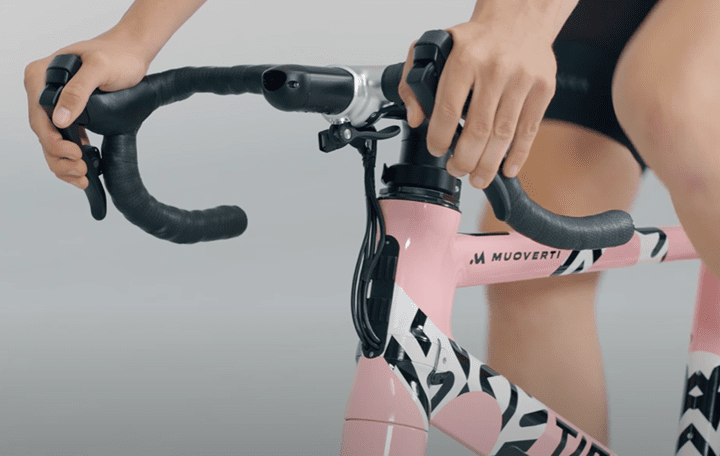 And it also has a small joystick for navigation, seen on the front edges of the left and right handlebar: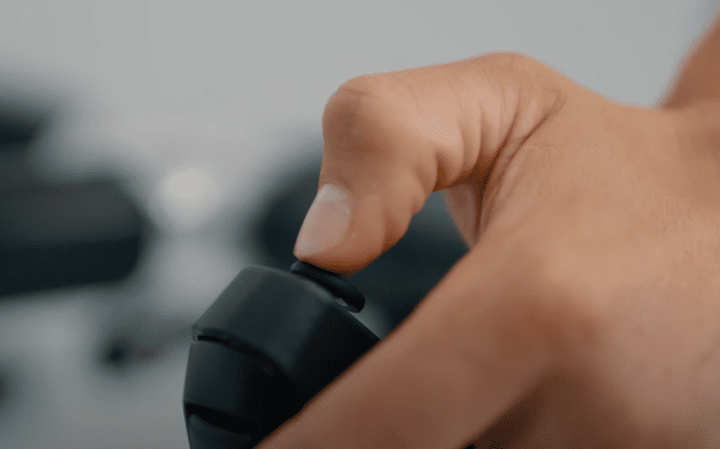 Again, these are things that could be amazing, but it's going to require platforms (again, like Zwift, but also that could be Rouvy or Bkool) to actually do something with this stuff.
Of course, the namesake of the bike itself is its tilting capabilities, allowing you to lean into the corners, and with compatible games, actually control what your avatar is doing (you can see this in the video).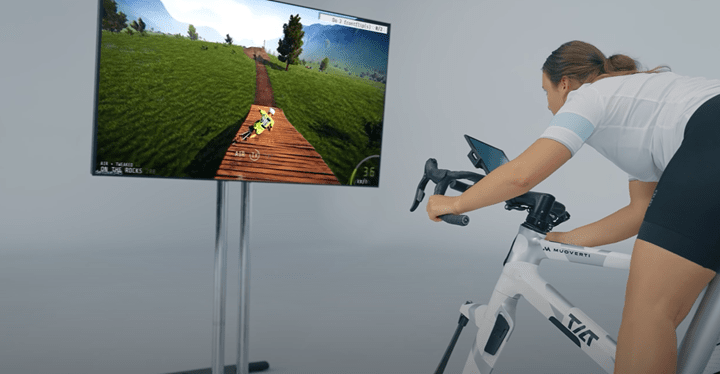 Here's a more clear shot though of what they're going after: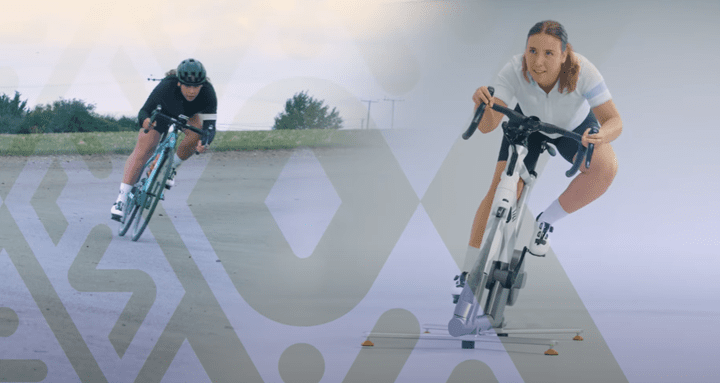 In the video, the tilt range looks pretty cool, though, I'll pretty much guarantee you they extend the base/platform out a bit wider than that. I suspect it'll be trivial to tip that over with a tall rider.
If you look at the midpoint of the downtube, you'll see some status light there. That's an interesting locale for electronics, rather than the back of the bike near the flywheel where most other companies place it. Some companies do internal routing within the frame (as Muoverti does as well). In this case, since Muoverti says that the frame portion is replaceable/swappable, so perhaps this could allow for electronic upgrades more easily down the road.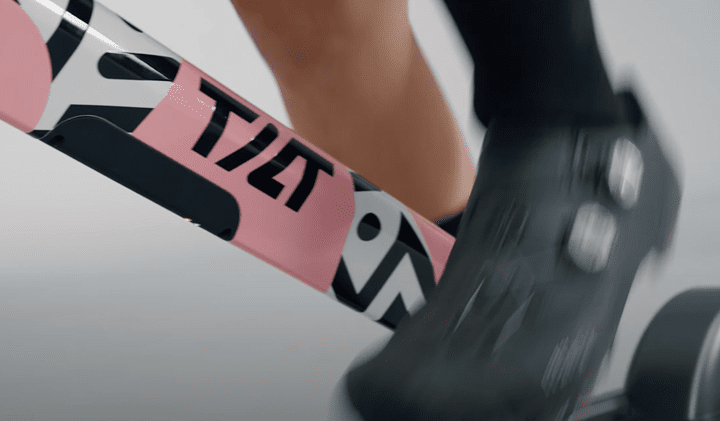 In terms of transmission, the company hasn't outlined exactly what it's transmitting, but invariably it'll be ANT+ & Bluetooth Smart – and probably ANT+ FE-C and Bluetooth Smart FTMS. In their promotional bits they show someone riding Zwift, but it's unclear if the bike is at the production level to be transmitting data itself.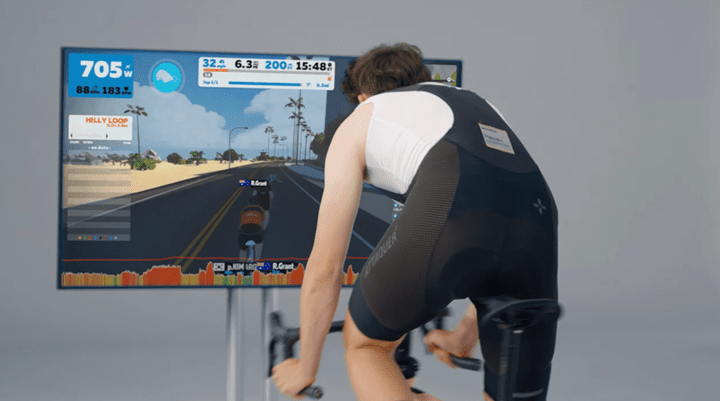 I noticed that in one of their 'everybody at a party riding the bike' video snippets, the bike in those scenes is equipped with Garmin's Vector/Rally power meter pedals, which could be used for comparative testing. Or it could simply be used to power Zwift. I've seen smart bike/trainer companies in the past do events with power meter pedals for trainers/bikes that aren't actually working yet.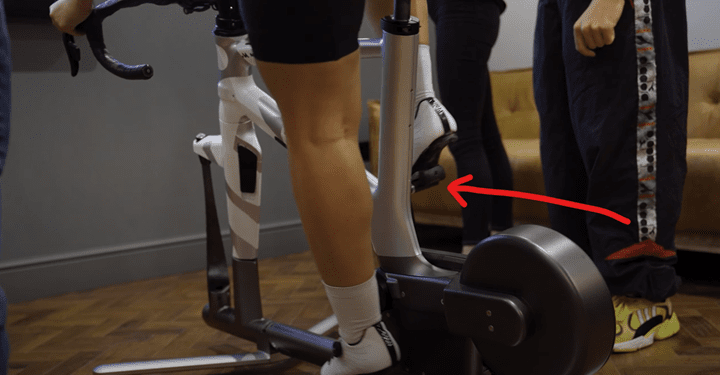 And of course, as par for the course for any upcoming cycling startup – they've got their former pro rider with quotables saying how game-changing it is. In their case, it's former pro cyclist and Australian Olympian Simon Gerrans – who seems like a nice guy based on his Instagram feed. Though, historically speaking, I'd point out in my experience, the more established sports tech companies don't tend to actually use quotes from former pro riders. Not sure why.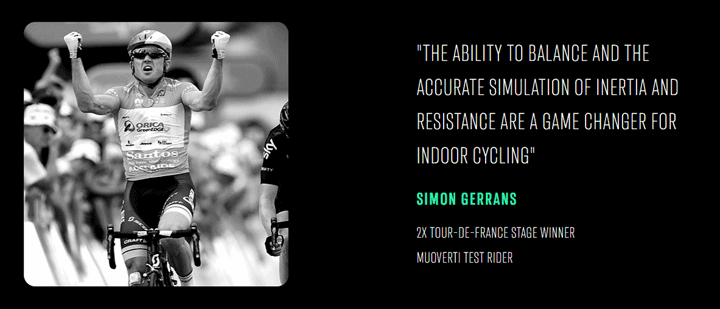 What's semi-notable about his quote however is Muoverti is using an electromagnetic resistance control system at the rear, akin to what Wahoo uses in their KICKR Bike and what Tacx uses in their Tacx NEO series (including their NEO Bike) – as well as more recently the Wattbike ATOM 2020. This is tricky stuff to get right, not just for inertia, but also ERG stability. All of these companies took quite some time after release to really nail those bits down (and some still haven't got it right). But none of it is new.
But electromagnetic resistance is unquestionably where any smart bike should be going, and its benefits are huge. This includes being totally silent, but also far greater control over the experience. However, they say they've also got a power meter in there somewhere, including tracking for left/right balance. It's not clear if that power meter is in the crank arms, or if they're doing estimated balance via any number of methods. They also claim torque effectiveness and pedal smoothness. Given they know the names of those terms, I'm assuming they know the ANT+ power meter spec they come from, and thus, that bodes well for consumers.
The Timeline: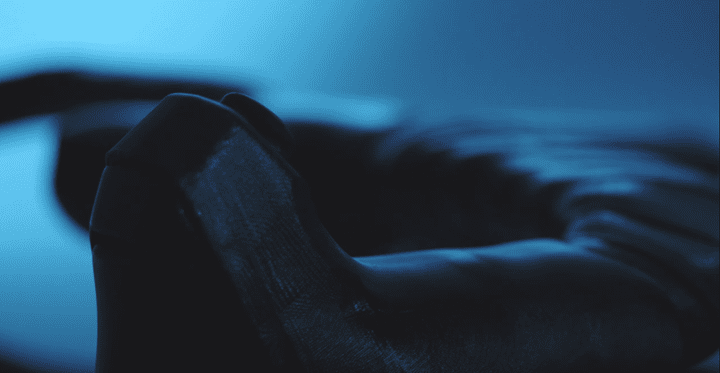 Of course, the biggest red flag on the Jarvis Island infield is simply the timelines. At present, they're claiming availability in "Fall 2022", which, for those calendar-challenged folks is one year from now. Any time a company is talking about timelines one year from now, that means that they don't really know with any precision. It could mean they're being conservative, or perhaps they're being aggressive. Either way, they don't actually know. They're just hopeful. And there's nothing wrong with hope – it's what ultimately moves the industry forward. New ideas and new concepts are great for consumer innovation – even when we can't have them today.
But I wouldn't hold my money out for it specifically. My bet is we won't see it till probably Spring 2023. Just taking a swag using roughly a decade's worth of doing this, combined with a few spoonfuls of supply chain hell that companies are going through right now. The fact that the handlebars shown above are 3D printed tells me they're still quite far out from going through manufacturer line prototypes, which will invariably take them another year or so to tweak (assuming they match the rough timelines of their competitors).
Building a true indoor smart bike is hard – really hard. It's taken the likes of established indoor trainer companies like Wahoo, Tacx, Stages, and Wattbike multiple years of being actively in production and shipping to sort out the issues. One only needs to read the comments section of any of my smart bike reviews to see that people are still finding issues with some new off-the-line indoor bikes. Stages is generally the most mature here production-wise, because they've been doing it for a decade or so for gyms and such. The others are all in various states of tweaking, either firmware or hardware. As I said in my reviews for all those bikes – the indoor smart bike market is really for early adopters at this point, with many bikes having quirky caveats (along with expensive price tags).
This weekend, starting today, the company plans to show the bike at Rouleur Live in London. I don't know if that's on the show floor and ridable, or if that's behind a rope in a glass case or something. I'd love to hear from folks if it's rideable, in terms of feel. I also know that earlier this year (January), they were trying to raise funds. Obviously, it sounds like they were successful there to some degree.
One has to wonder, with Zwift's smart bike program running into challenges (despite having access to $500m in recent investor funding), how Muoverti will fare, with undoubtedly far less funding. Certainly, Zwift would have heard of the earlier fund-raising of Muoverti earlier this year – as for the price it would have been an easy pickup if they felt the technology was mature enough to invest or acquire in.
In any case, I think the bike looks awesome. And if there's anything I know about cyclists, it's that looks matter most. Hopefully it'll have the right tech under the hood once it's ready to release. At which point, I'll be happy to review it.
With that – thanks for reading!