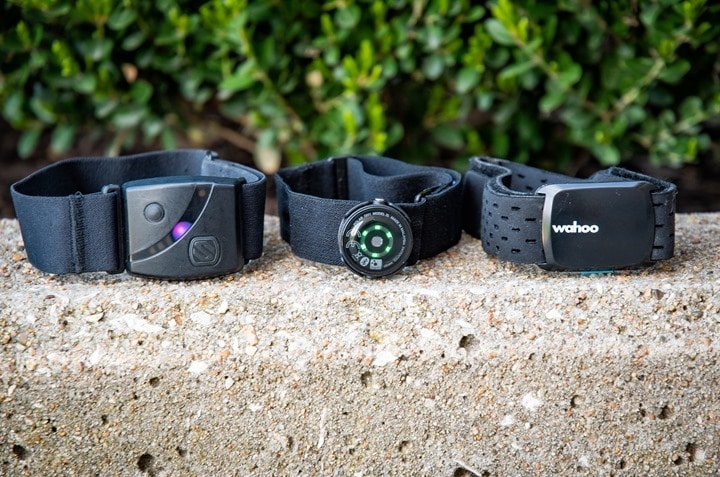 The last few weeks, well…months really, I've been spending an excessive amount of time wearing optical HR sensor straps. It mostly started back in January as I was preparing my Polar Vantage M and COROS APEX reviews, with the optical HR sensors having workout recording on-board, it became an easy way for me to gather additional HR data plots to compare against.
Then came my Polar OH1 Plus review, so I was doing some side by side comparisons then. And some day I'll get around to spending a few hours to pull together all my thoughts on the Scosche Rhythm24 into a standalone review.  But until then, I think this post should probably give you the clarity and detail you need to make a decision.
Anyway – the reason I like armband optical HR sensors such as the three compared here – is that they tend to be very accurate. That's primarily because it's an incredibly good place to measure your heart rate. Unlike your wrist, there's usually a bit more 'flab' and 'chunk' for really good quality readings. Additionally, your upper arm tends to absorb the vibrations that your wrists don't in certain applications, like riding. Further, for indoor hand-driven workouts (like weights), again, your wrist being strained also can produce issues with optical HR sensors like those in a watch. But upper arm? Very rarely an issue here, even when under strain in the gym.
Finally – not only that, but optical HR straps in this position aren't susceptible to dryness issues that conventional chest straps are (such as in cooler/dryer fall or early spring weather). So, it was shootout time!
I don't expect any further major player straps in this market anytime soon. So this list is what we've got to work with for the foreseeable future, certainly for this summer. As such, if you're looking to get into this market – now's the time. Let's dive into it!
(Preemptive note: Anytime I say Polar OH1, you can interchangeably say Polar OH1 Plus. They're identical once the Spring 2019 firmware update is applied to the Polar OH1. The only difference is the Polar OH1 Plus now includes two swim clips in the box, which you can also contact Polar customer service to get sent to you for a few bucks if you want.)
The Hardware and Battery:
We'll start with the hardware. While each of the three are fairly similar, there are some minor nuances to the hardware of each. And no better place to begin than the size. So, suspect lineup below: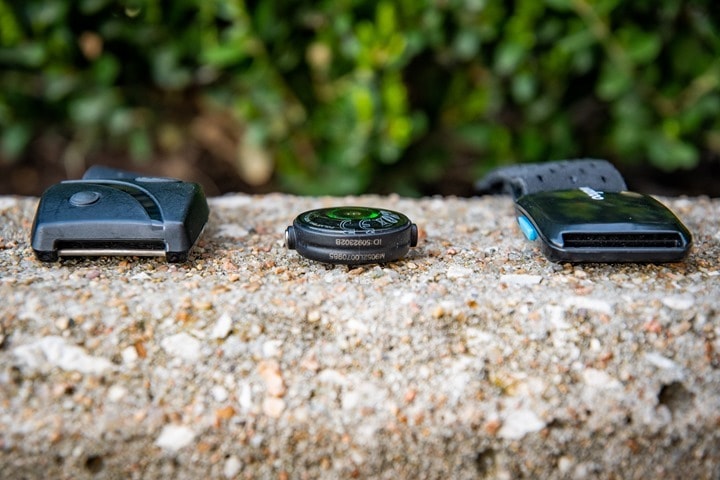 For the above two photos I removed the Polar strap from the pod, because of the fact that the Polar strap can't detach, so it bunches up like a wedgie in the photo, making it look a gazillion times bigger than it actually is.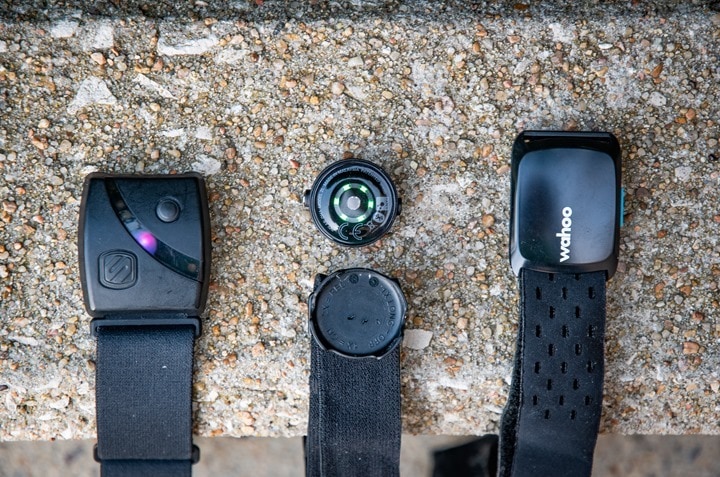 From a strap standpoint, there are some differences. While all straps are adjustable in size, only the Wahoo and Scosche straps have clips. Whereas the Polar one is permanently sewed closed in a loop.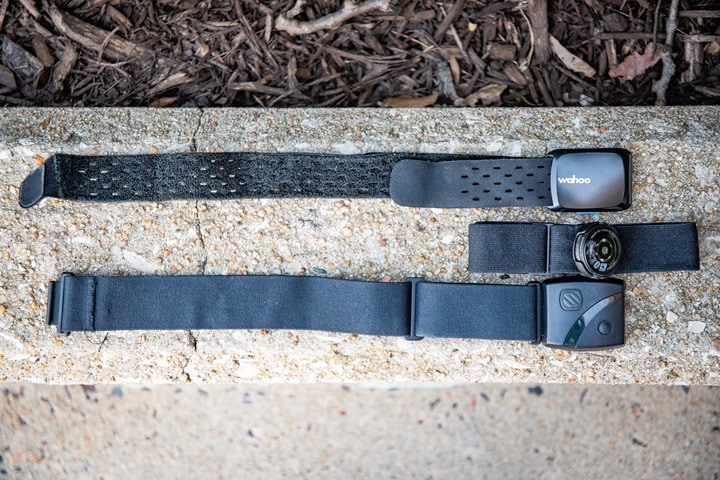 Frankly, it doesn't really matter, because even in the case of the Wahoo and Scosche ones you're going to want to clip them before you put them on your arm, else, you'll have to figure out how to clip a two-part strap one-handed. It's doable, but it's also likely you'll fail and then snap the other end of the strap into your face. At which point your friends will (rightfully) make fun of you.
When it comes to charging, there are three different chargers at play here. The Scosche charger uses a clip-style design, allowing you to charge it swinging around attached to the bottom of a ceiling fan if you wanted to – it won't go anywhere. The Polar charger is effectively a clunky AF USB stick. The charger is the USB stick, so you plug it directly into a USB port and it both syncs and charges. And finally, the Wahoo charger uses two small contact points on a not-so-strong magnetic base. It works fine, but you wouldn't be able to stash it in a backpack to charge and assume it'd stay put on the charger (whereas the Scosche you would).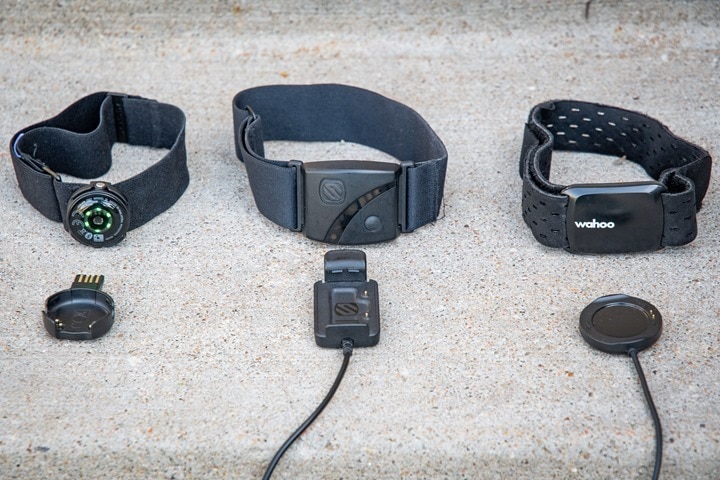 My preference here is the Scosche charger, merely because it's nice and sturdy. However, the Polar does win points for being tiny (even if you lose it). On the downside, I find that for many of my USB chargers, the Polar doesn't fit kindly next to other devices being charged. It's too chubby, and ends up blocking ports.
In fact, it's actually the battery that's probably the single biggest differentiator between them. Here are those official specs:
Polar OH1/OH1 Plus: 12 hours
Scosche Rhythm24: 24 hours
Wahoo TICKR FIT: 30+ hours
I don't tend to do single workouts that last to the exhaustion of any of these battery claims. That requires a lot more cookies than I could possibly eat in one sitting. Instead, I use the devices over multiple workouts – and then I tend to charge them roughly once per week. That does seem to work for me just fine.
Workout Usage and Transmission: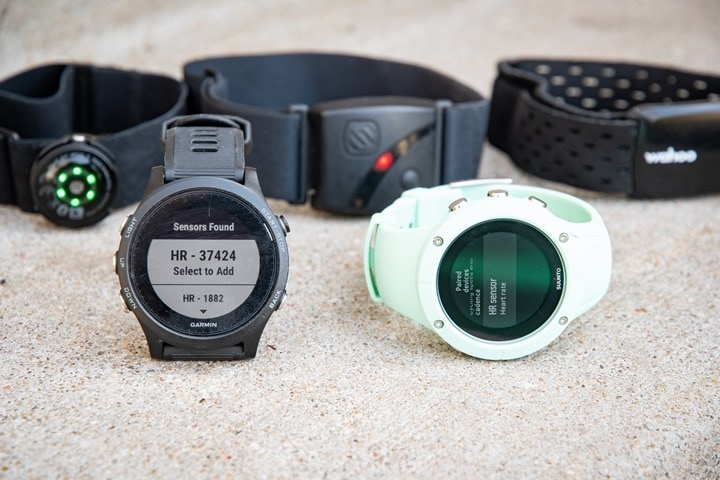 So, let's quickly walk through using each one. Starting with the Polar, you'll slide it on your arm. In doing so you'll encounter really the only hiccup of the Polar OH1: It easily flips over (tumbles if you will). Due to its tiny size, you need to be sure that the optical HR sensor is pointed down on your arm. This is easy enough when you've got something short-sleeved on. But it's trickier if it's winter and you've got multiple layers on. Same goes for a wetsuit.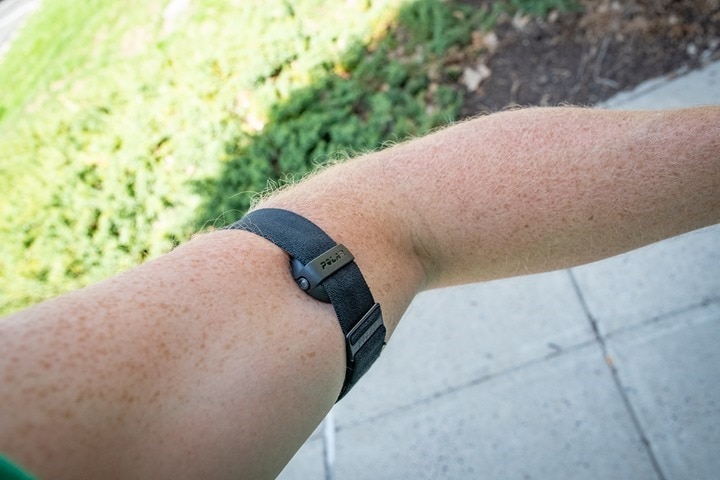 Once it's on, then you'll press the small button on the one side, and the light on the other side illuminates. At this point it's measuring and transmitting over ANT+ & Bluetooth Smart. You can now pair it to any device you'd like on either protocol. Depending on what you're connecting to, it'll give you different LED colors. Same goes for battery status and so forth. If you're doing a recorded workout (more on that in the next section), you'll get a double-flash once you double-press the button to start it.
You can use the Polar OH1 with either Polar Flow or Polar Beat apps. Polar Flow is more about data and history, whereas Polar Beat is about real-time usage/monitoring. In that respect Polar Flow isn't super different than the hundreds of other fitness apps out there that support Bluetooth Smart heart rate straps (yes, it's different in other software features, but not for the purposes of this unit). No matter the app or device you're using with it, at this point the Polar OH1 is doing its thing and you can do your workout. It doesn't have any sport-specific modes during the workout, but you can change them afterwards if you used the offline functionality.
Next, is the Scosche Rhythm24. With this you'll likely want to use the clasp to close it before sliding it onto your arm. After which you'll power it on via a long-hold of the big button. It'll illuminate the optical HR sensor arrangement on the bottom and start your heart rate transmitting on both ANT+ & Bluetooth Smart.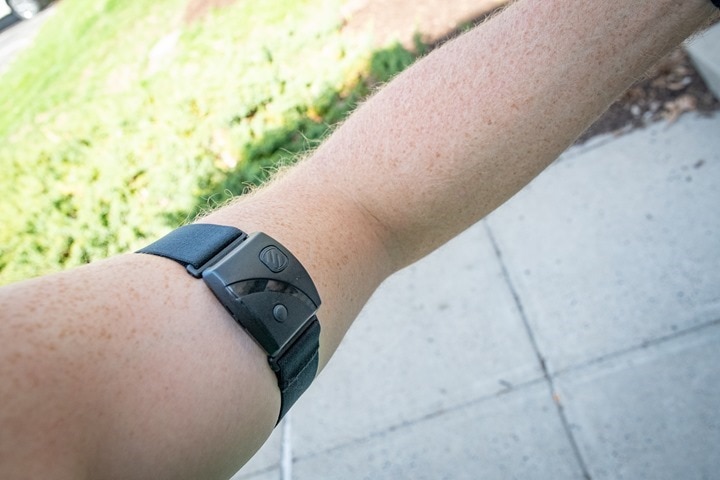 However, in addition to heart rate, the unit can transmit both as a running footpod and a cycling cadence sensor. It does this depending on how you've configured it in the smartphone app. This is unique to the Scosche Rhythm24, and not found in the Polar or Wahoo products. You can pair these transmissions with either smartphone apps or watches. For example, on a Garmin Forerunner 935, you can see the footpod pairing: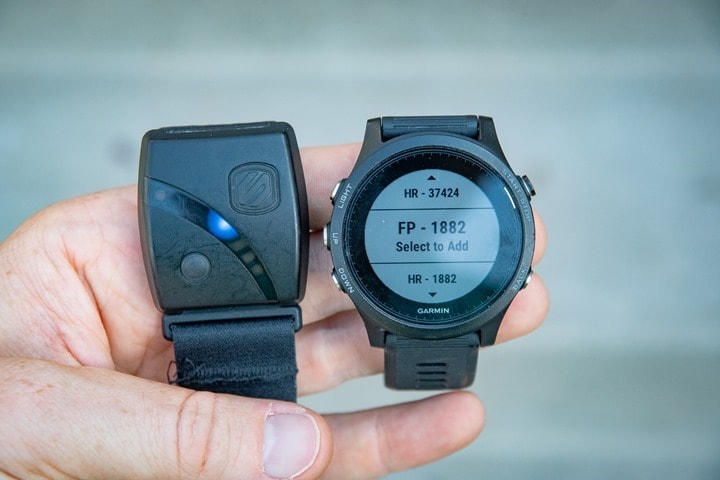 And within the app, you can see changing the modes and zones – as well as clearly see the battery level:
The Scosche Rhythm24 also has an offline recording mode that you can activate via holding the smaller button down. But more on that in the next section. In addition, the Scosche can display zone information using 5 LED colors.  Because the Scosche supports the concept of multiple sport profiles/types, you can even configure a triathlon or duathlon mode. This allows you to iterate from one sport to the next by double-pressing the larger button.
Finally, the Scosche Rhythm24 is unique in recording HRV (heart rate variability) data. No other optical HR sensor on the market transmits this information in a confirmed way. You can configure this within the app:
Note that while Scosche advertises a swimming mode, and has long said they'd integrate it with Garmin devices for offline swim syncing – in practice, it doesn't yet work. Yes, you can record a swim – but that's no different than recording a Jazzercise class. It's just another sport, it doesn't record swim strokes or the like. And as of present, it doesn't allow you to sync it to your Garmin watch. Further, because both Bluetooth Smart and ANT+ only go about 2-3cm underwater, unless the strap is directly next to the watch, you won't get any live HR data underwater.
There's no question in my mind that the Scosche Rhythm24 is the most full-featured of the three. That's not really debatable. A more logical question is whether or not you'd use all those features, and if they fit what you need.
Finally, there's the Wahoo TICKR FIT. It's the most simplistic of the three. Like the Scosche, it's easiest to close the clasp before sliding onto your arm. Wahoo generally recommends placing it on the lower portion of your arm (right below the elbow), though they aren't opposed to placing it elsewhere: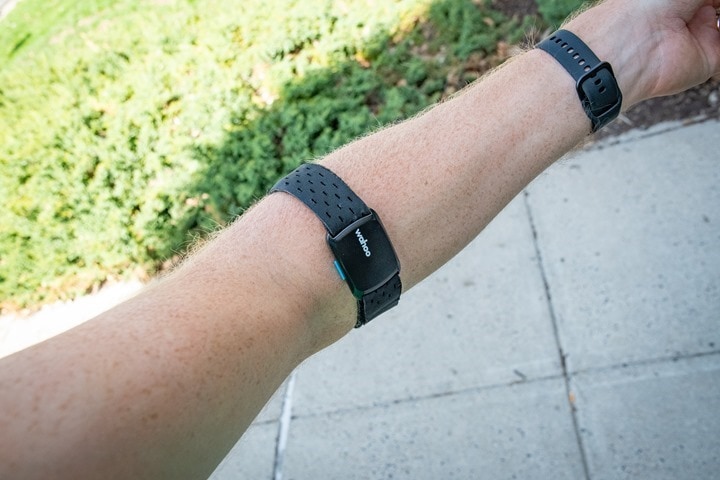 Once that's done you'll press the singular button to power it on. It'll now start transmitting in ANT+ & Bluetooth Smart concurrently, just like the others. So you can simply pair it to your watch, app, or bike computer and you're off and running like any other heart rate sensor. I go into this in full detail in my Wahoo TICKR FIT review. It has no offline saving capability, nor any sort of zones or other fancy modes/transmissions. It just transmits your heart rate like a common heart rate strap. Simple, but effective. Once done, simply power it off.
To briefly recap on transmissions/protocols, here's what each strap does:
Polar OH1/OH1 Plus: ANT+ Heart Rate, Bluetooth Smart Heart Rate
Scosche Rhythm24: ANT+ Heart Rate, Bluetooth Smart Heart Rate, ANT+ Footpod, ANT+ Cadence Sensor, Bluetooth Smart Cadence Sensor
Wahoo TICKR FIT: ANT+ Heart Rate, Bluetooth Smart Heart Rate
And last but not least, all three units support wireless firmware updates via their respective smartphone app (as well as via desktop with the USB charging clip in the case of Polar's OH1).
Offline Functionality:
Both the Polar and Scosche units contain the ability to save workout data to their internal memory. The Wahoo TICKR FIT lacks that capability (though interestingly, Wahoo's TICKR X chest strap does have that function).
However, while both Polar and Scosche have the function, their usability is dramatically different. In the case of Polar, they see this device as really no different than any of their other watches. So from an app sync perspective, it's just a watch. That's good news for you, because their mobile and desktop app platforms support it just like workouts from a watch.
To use the feature you'll simply tap the button on the side of the Polar OH1 twice, and then the light on the other side double-blinks. Anytime it's double-blinking, it's recording. If it's doing something other than double-blinking, it's not recording. Clear-cut enough (cough, once you read the LED portion of the manual). To end the workout, you just power it off. Donezo.
Afterwards you simply open up the Polar Flow mobile app on your smartphone and it magically syncs the workout in the background to Polar Flow. Alternatively, you can plug it into your desktop computer and it'll use the charging port to sync via USB to Polar Flow.
As seen above, you can then analyze the workout just like that from one of their $500 GPS watches. It's all identical. Same goes for syncing that data to 3rd party platforms like Strava, or exporting it out to .TCX file from their Polar Flow website.  There's a 200 hour limit of storage on the device before you need to sync. I've never run out of space. The overall theme for this should be 'it just works'.
At the other side of the ring is the Scosche system. In many ways, getting things started there is fairly similar. You simply hold the smaller of the two buttons down to enable recording mode. When a triple-set of LED's light up orange, it's recording. Simple enough. The easiest way to end the recording, like the Polar, is to simply shut it off.
It should be noted that you can configure triathlon mode and iterate through the different sports using the larger button, so you'll get sport-specific broadcasted information like running/cycling cadence.
Afterwards, to download the workout you'll open up the Scosche app on your smartphone. There's no desktop option here. Then, you'll manually connect to the Scosche Rhythm24 from within the app and go to the sync option. From there it'll enumerate a list of workouts and you can select one to download. After which, you can manually select to share.
This sounds reasonable enough while writing it, but I find it's full of caveats. First off, if you save a file to the app, it's actually not accessible unless the Scosche device is powered on and within range. So you can't download the files, and then open them after downloading them unless the device is handy. Second – the biggest issue – is that the internal member is limited to roughly 6 hours of recording. After that point, it'll simply stop recording new workouts. You'll think you're capturing it, only to find out you're actually not capturing it.
From a platform standpoint, the Scosche24 does however allow you to e-mail workout files directly from the app, but it doesn't have any sort of analysis of those files. So you *have* to use a 3rd party platform/app to view the workout data.
This may sound like I'm being overly negative on the Scosche offline capability, but I think I've been bit too many times by it not recording a workout because I'm once again out of storage space that I'm just annoyed by it now. This is compounded by the fact that the saved workouts aren't simply automatically transferred to your phone like Polar does (thus potentially freeing storage space). I think if Scosche solved that issue, it'd lessen the impact of the lack of storage internally.
Still, on the flip side, at least both companies do have options for internal recording of workouts – something Wahoo lacks entirely.
Heart Rate Sensor Accuracy: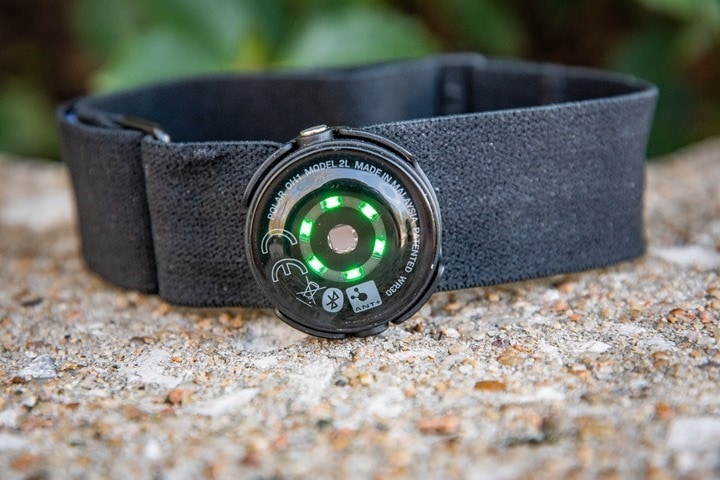 I've done excessive testing of all three sensors over the last few years. You'll find their data in more reviews than I could possibly count. Hundreds of data sets across all three devices.  Including most data sets where I'm using two or more of these devices in comparison to chest straps and other watches. However, for the last week or so, I thought it'd be interesting to do some direct threesome testing.
No, disappointingly not that kinda threesome action – despite all the straps involved.
Instead, all three sensors on the exact same workout, along with reference data from chest straps and optical HR sensors. Unfortunately (spoiler alert), this turned out to be a relatively boring exercise. Simply put, all three sensors were near perfectly identical. Seriously.
For example, here's a short interval run I did last week. This included 400m repeats, followed by 30-second sprints. Given the shorter duration of this workout, it'd be easy to trick these sensors into stumbling. The data set is here:

Wait, WTF? Where's the Scosche data set? Oh, that's right, it decided to record nothing. Actually, that's not entirely true, it recorded a file with a flat-line for my speed. No HR. Sigh.
Anyway, as you can see – boring. The one thing you do notice however is the very slight delay on the optical HR sensors, with perhaps there being an extra 1-3 seconds on the Polar. Maybe it's that extra 1-3 seconds that makes the Polar more accurate, at the slight expense of a delay that you frankly wouldn't know about unless you had a secondary reference strap.
Switching to cycling, here's an indoor ride with all three on them:

Wait – where's the Polar OH1? !#%$&#$* me!
Welcome to my world. Apparently I didn't press that button correctly and I have nothing. Eff me. I give up on threesomes, it's just not working out for me.
Now, if we step back a little more broadly to my couple years worth of test data that I can look at, I'd give these rough overviews:
– The Polar OH1/OH1 Plus is the most accurate: I'd argue that it, alongside the Apple Watch Series 4, are the most accurate optical HR sensors on the market. Period. I've only seen one stumble in recent memory of the Polar OH1 (just a week or two ago on a ride). But otherwise, it's really really good.
– The Scosche Rhythm24 is very good: But it can stumble slightly in some cycling situations (outdoors). For whatever reason, I feel that the Scosche Rhythm24's optical HR sensor might be a slight step back from the original Rhythm+ sensor. I know it's supposed to be better, but my gut feeling is something changed ever so slightly here. Don't get me wrong, it's still really good – but I'm not sure it's as good. This may be how they're getting significantly more battery life (which often can mean reducing power to the LED's to get more battery life). Inversely, I have seen really good gym workout results here – even with arm-related movements. This is something that Valencell (the company behind Scosche's sensor package) has spent enormous time on, and oft played up (for good reason).
– The Wahoo TICKR FIT does well, but can stumble here and there. It certainly does better than most optical HR sensors on watches, but if I were to assign an 'A-' rating to the Polar unit on accuracy, and a B- to the Scosche Rhythm24 (again for accuracy only), I'd put the TICKR-Fit in the 'B' range. I think there are just a tiny bit fewer cases where I see stumbles in data compared to the Scosche.
Phew, got all that? Good. If not, you can pick any watch or heart rate strap/sensor review I've done over the last two years and you'll find 1-3 of these products used in every data set I've done.  It's a mind-boggling 648 data sets as of this writing.
(Note: All of the charts in these accuracy sections were created using the DCR Analyzer tool.  It allows you to compare power meters/trainers, heart rate, cadence, speed/pace, GPS tracks and plenty more. You can use it as well for your own gadget comparisons, more details here.)
Features Comparison:
I've compiled all the units into a single comprehensive table allowing you to compare features side by side. Again, for the purposes of below, I just listed the OH1 Plus, but the original OH1 is identical once the ANT+ firmware update releases here shortly.
Also, if you want to compare other heart rate sensors, you can do that in the full product comparison tool here.
Function/Feature

Wahoo TICKR FIT
Polar OH1 Plus
Scosche Rhythm 24
Copyright DC Rainmaker - Updated November 26th, 2021 @ 4:49 am New Window
Price
$79
$79
$99
Product Announce Date
Jan 3rd, 2018
Mar 20th, 2019
Jan 9th, 2018
Product Availability Date
Jan 3rd, 2018
Mar 22nd, 2019
Late April 2018
Measurement Type
Optical
Optical
Optical
Typical Placement
Mid/Upper Arm
Upper Arm
Mid/Upper Arm
Battery Life
30 hours
12 hours
24 hours+
Battery Type
USB rechargeable
USB Rechargeable
USB rechargeable
NFC Capable
No
No
Yes

HR Transmission

Wahoo TICKR FIT
Polar OH1 Plus
Scosche Rhythm 24
ANT+
Yes
Yes (with firmware update)
Yes
Bluetooth Smart
Yes
Yes
Yes
Dual concurrent ANT+/BLE
Yes
Yes
Yes
Analog for gym equipment
No
No
No
Usable HR data underwater
Depends: If on same wrist, YMMV.
DEPENDS: IF ON SAME WRIST, YMMV.
Depends: If on same wrist, YMMV.
Bridging ANT+ to Bluetooth Smart
No
No
No
Can record activity in memory
No
Yes
Yes

Additional Data

Wahoo TICKR FIT
Polar OH1 Plus
Scosche Rhythm 24
Run Pace
No
No
Yes
Run Cadence
No
No
YEs
Run Economy/Metrics
No
No
No
Cycling Cadence
No
No
Yes
Cycling Power Meter Estimation
No
No
No
Valid HRV/RR data
No
No
At rest only
Configurable Sport Modes
No
No
Yes
Displays HR Zones
No
No
Yes
Requires Bluetooth Smart Phone for Configuration
No
No
Yes
Firmware Updateable
Yes
Yes
Yes

App

Wahoo TICKR FIT
Polar OH1 Plus
Scosche Rhythm 24
Can show workout afterwards
N/A (No recording)
Yes
No
Can sync files/workout to 3rd party
N/A (No recording)
Yes
Yes
More Info
Link
Link
Link

Purchase

Wahoo TICKR FIT
Polar OH1 Plus
Scosche Rhythm 24
Amazon
Link
Link
Link
Backcountry.com
Link
Link
Link
Chain Reaction Cycles
Link
Link
Link
Competitive Cyclist
Link
Link
Link
REI
Link
Link
Link
Wiggle
Link
Link
Link
Again, don't forget you can mix and match and make your own product comparison chart – including with other heart rate sensors (chest strap or otherwise) in the product comparison tool here.
Final Thoughts: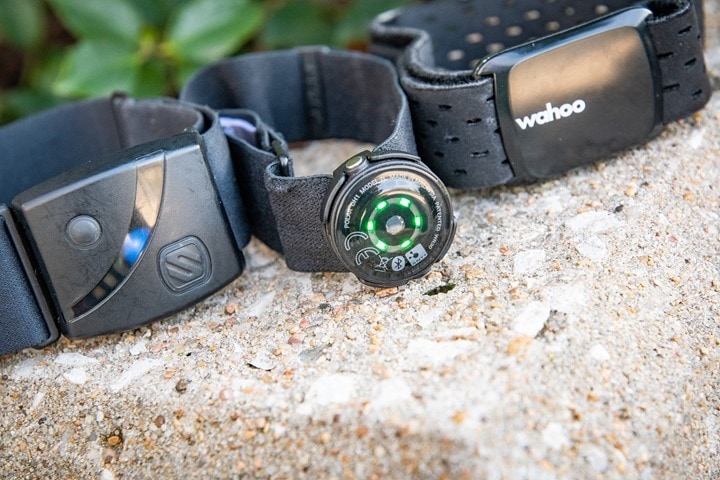 I'm not really going to declare a one-size fits all winner here, as I think different folks have different requirements. However, within different buckets, there are some different leaders. For example – if you want to record workouts offline, it's hard to beat the Polar OH1 (plus or non-plus). The synchronization pieces on that just work exceedingly well, no matter what device or platform you're on. Inversely, if you want broadcasting of cadence for running/cycling, the Scosche is the best bet. Whereas if you're looking to go for a really long time, it's hard to beat the battery on the Wahoo at 30+ hours.
Additionally, while not covered in this particular post, the original Scosche Rhythm+ is still in many ways the bar that many devices in this category are measured against. Yes, it's a bit older – but it has just as many features as the Wahoo TICKR FIT, and typically costs less (especially on sale). It lacks the battery though of the TICKR FIT, and of course lacks the offline recording of the newer Scosche Rhythm+ or Polar OH1. But accuracy wise? Really really good.
Finally – since some will ask, what will I – as DCR – be using? Simple: The Polar OH1/OH1 Plus. With the ANT+ firmware update, this basically solves every box I need personally. Especially with the dependability of the saved data offload compared to the Scosche. For me in what I do, I'm loving lately the ability to record the data as a backup, and instantly sync it. If they added Dropbox sync support, I'd start sending Valentine's cards to people in Finland. And now with ANT+ on the Polar, it allows me to quickly glance at HR on the slew of ANT+ specific devices I use for testing. The TICKR-FIT is fine, but I really want the offline caching features. The only downside for me of the Polar OH1 is how easily it can get overturned, primarily in a swim related setting when used under a wetsuit, or, also in cold-weather running/cycling with long-sleeves. The reduced 12-hour battery of the OH1 compared to the 24-30 hours of battery life of the others isn't an issue for me specifically.
With that – hope this helps – and would love to hear your experiences below!
Found This Post Useful? Support The Site!
Hopefully you found this review useful. At the end of the day, I'm an athlete just like you looking for the most detail possible on a new purchase – so my review is written from the standpoint of how I used the device. The reviews generally take a lot of hours to put together, so it's a fair bit of work (and labor of love). As you probably noticed by looking below, I also take time to answer all the questions posted in the comments – and there's quite a bit of detail in there as well.
If you're shopping for the Polar OH1 Plus, Scosche Rhythm 24 or Wahoo TICKR FIT or any other accessory items, please consider using the affiliate links below! As an Amazon Associate I earn from qualifying purchases. It doesn't cost you anything extra, but your purchases help support this website a lot. Even more, if you use Backcountry.com or Competitive Cyclist with coupon code DCRAINMAKER, first time users save 15% on applicable products!
And of course – you can always sign-up to be a DCR Supporter! That gets you an ad-free DCR, access to the DCR Quarantine Corner video series packed with behind the scenes tidbits...and it also makes you awesome. And being awesome is what it's all about!
Thanks for reading! And as always, feel free to post comments or questions in the comments section below, I'll be happy to try and answer them as quickly as possible. And lastly, if you felt this review was useful – I always appreciate feedback in the comments below. Thanks!