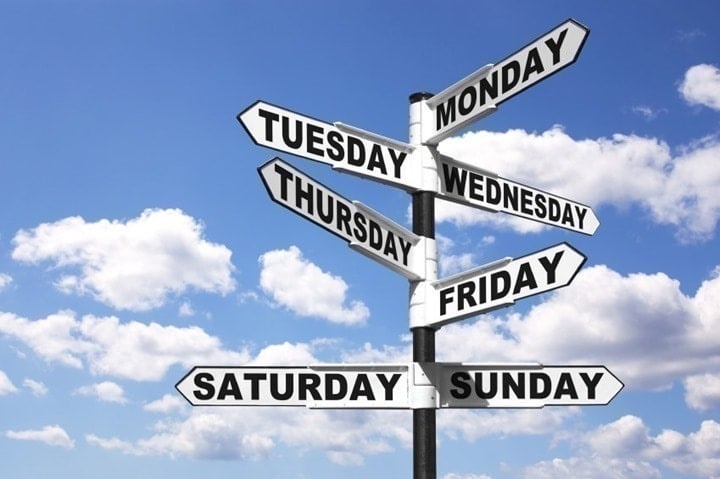 The Week in Review is a collection of both all the goodness I've written during the past week around the internet, as well as a small pile of links I found interesting – generally endurance sports related. I've often wondered what to do with all of the coolness that people write, and while I share a lot of it on Twitter and Facebook, this is a better forum for sending it on to y'all. Most times these different streams don't overlap, so be on the lookout at all these places for good stuff!
So with that, let's get into the action!
Sports Tech Deals of Note:
Ok, not much left this week. Sorta a lull. But hey, if ya need a GoPro Hero 8 Black or AirPods, it's still on sale!
| | Product | Sale Price | Amazon | Clever Training | Other site | Sale Notes |
| --- | --- | --- | --- | --- | --- | --- |
| | Apple Watch Series 6 - 40mm | $15 off | Amazon | N/A | | It's not the biggest deal ever...but hey, it's a deal (and the only deal!). |
| | Apple Watch Series 6 - 44mm | $15 off | Amazon | N/A | | It's not the biggest deal ever...but hey, it's a deal (and the only deal!). |
| | Apple iPad - Latest Model 8th Gen (32GB) | $30 off (10% off) | Amazon | | | I use my iPad primarily for TrainerRoad as well as Zwift when not with a larger display. I also occasionally use it for other apps, namely The SufferFest - but I pretty much test every smart trainer app on it. This is the latest iPad that was just announced barely two weeks ago, so not too bad to see it on sale already (US AMAZON DEAL ONLY). |
| | Garmin Vivoactive 4 - 31% off | $239 | N/A | N/A | Backcountry | ⚡ This is by *FAR* the lowest price I've seen for the Garmin Vivoactive 4. A very solid deal. My guess here is that they're just trying to offload some inventory, as I don't expect a replacement given Garmin just announced it's Venu SQ (and typically Garmin would concurrently announce the Venu/Vivoactive series at the same time). This unit has music (with Spotify), and an always-on screen. This is $61 lower than any price I've seen. |
| | Wahoo KICKR + CLIMB Bundle - $200 off! | $1,599 | N/A | Clever Training | Competitive Cyclist | This is a simple bundle of the Wahoo KICKR 2018 + the KICKR CLIMB, for $1,599 (versus the normal cost of $1,799). |
DCRAINMAKER.COM Posts in the Past Week:
Here's all the goodness that ended up on the main page this past week:
Tuesday: Wahoo KICKR V5 (2020) Smart Trainer In-Depth Review
Thursday: Hands-on: CORE's New Skin/Body Temp Sensor with Garmin/Wahoo integration
Ok, a bit of a quieter week. This week might be semi-quiet as well as I prep things for the 7-10 days ahead – but next week will definitely make up for it.
YouTube Videos This Past Week:
Here's what hit the tubes over on the You of Tube, definitely don't forget to subscribe there to get notified of videos the second they hit!
Stuff I Found Interesting Around The Interwebs:
Here's a not-so-small smattering of all the random things that I stumbled on while doing my civic duty to find the end of the Internet (and in this case, some of these are from the past few weeks to clear out the backlog):
1) Quick Page to see all Zwift Steering Events: In the approximately 72 hours after steering launched, Zwift changed how and what events steering would be available on….about 3.5 times. Making it darn near impossible to figure out exactly which events you could use it on. But, if you were among the thousands that bought a Sterzo, you now have a handy option via the Zwift Hacks site to filter all events with (or without) steering enabled.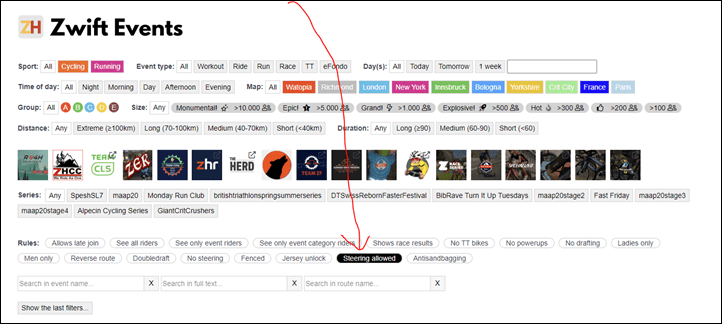 2) Unbricking a bike with Raspberry Pi to run Zwift: Last year Flywheel got sued by Peloton for stealing code. They lost, and ultimately killed the bike platform. While not ideal at all, Peloton offered customers a swap to a Peloton bike for free (which, is a pretty sweet deal). In any event, if you had one of those Flywheel bikes, they quickly became clothes hangers. However, this developer unbricked it and made it work with Zwift. Mind you, this is definitely not an 'Easy Button' project, but it is super cool.
3) Photographer turns masks into mini lap pool: Yup, this is pretty awesome.
4) Google Maps gets back on Apple Watch (and updated Carplay) support: While I'm 100% a Google Maps user, I don't tend to use it on my Apple Watch. Still, this is great for those that do.
5) Apple watchOS 7 rolls out public beta with sleep tracking: Remember the sleep tracking I previewed back in June? Now you can give it a whirl too on your regular Apple Watch. As usual, reminder – it's technically beta. Your watch could be fine, or it could do something horrible. It probably won't, but this is 2020 after all. I'll probably give it a whirl in the coming days and see what's changed.
6) Apple Health Plus Subscription Service Coming? Sounds like some sort of paid platform is on the way to Apple. It'll be interesting to see what exactly they come up with. Rumors seem to point to instructional related, which might make sense. Though, I don't see any threat to Peloton unless there's some unknown hardware partnership.
7) Behind the Scenes on Garmin Instinct Commercial: I'm a bit of a camera geek, so it's always fun to see how things are shot/made. I presume this one was sometime this winter prior to the world ending. But still, it's interesting.
Sports Tech Device Firmware Updates This Week:
Each week I quickly highlight some of the new firmware, app, software, and website service updates that I see go out. If you're a sports technology company and release an update – shoot me a quick note (just one-liners are perfect, or Tweet it at me is even better) and I'll make mention of it here. If I don't know about it, I won't be able to post about it. Sound good?  Oh – and if you want to get a head start on things, this page is a great resource for watching Garmin and a few other firmware updates.
Garmin Edge 520, Edge 520 Plus, 820, 1000, and Edge Explore 820 firmware updates: There's virtually no information on all these, except 'stability improvements'.
Garmin Edge 530 & 830 BETA firmware update: Two bug fixes related to CIQ & Di2.
Garmin Instinct & Instinct Solar BETA Firmware Update: Minor bug fixes.
Garmin Vivoactive 3 Music & VA3 Music LTE Firmware Update: Golf bug fix & CIQ bug fix.
Garmin Venu Firmware update: A bunch of bug fixes.
Hammerhead Karoo Firmware Update: This revamps the pairing menu, notably adding in a nice pretty ANT+ Logo (among other things).
—
Thanks for reading!
https://www.kickstarter.com/projects/711258243/ghost-pacer-your-personal-holographic-workout-partner/description