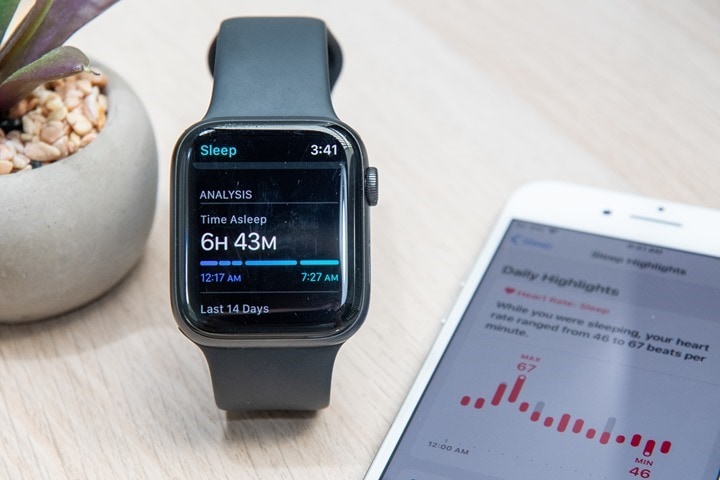 While I had other reviews to finish writing this week, I got distracted spending half my afternoon getting an older phone reset and loaded up with the first iOS14 developer beta, to then allow my Apple Watch Series 5 to get updated with the latest watchOS 7 developer beta. All in the pursuit of tracking sleep. Now, this update won't land on your watch till likely September. And it's also likely we'll see numerous tweaks before then. But still, the general framework of what Apple is going for here related to sleep is ready to start poking at.
Of course, not settled with merely having a single watch track my sleep last night, I threw down all the sleep things. In total, the following devices were being Big Brother:
A) Apple Watch Series 5 (with watch OS 7 beta installed)
B) Garmin Fenix 6 Pro (with new sleep beta installed)
C) Withings Aura Sleep under-mattress sensor
D) Whoop 3.0 band
(I also had a Beddit 3.5 sensor, but that failed to gather data last night)
If you wanted sleep data – I'm gonna give it to ya! Note that all devices were positioned/configured as such not to interfere with each other. For the watches there were one per wrist, and for the Whoop band it was using the bicep band instead.
Got all that? Good, let's go.
Oh, wait, here's this whole thing condensed into a video too:
Ok, now we're ready for more text.
[Oh, some nitpicker's corner items – I specifically used a clean and completely reset iPhone with a clean and completely reset Apple Watch on what is actually a clean/new Apple ID. There were zero apps installed on the iOS14 iPhone aside from factory defaults, thus no ancillary data went into that pot except for the Apple Watch with watchOS 7.]
Getting The Watch Ready to Sleep:
Now, as it stands today, actually getting the Apple Watch to track sleep is a rather long affair. Unlike Fitbit, Garmin, Samsung, and well…every other wearable ever – the Apple Watch won't actually track sleep by simply wearing it and heading to sleep. Instead, you need to fully detail your night's intentions to the parents, as if you were a teenage boy about to take a girl out to the prom.
So, assuming you got everything all updated on both your phone and watch, then you need to open the 'Sleep' app on your watch. This is what tells the watch that you want to do sleep things on both the watch and the phone. It does seem you can do some of this via the Watch configuration app, but you can't do all of it. More on that in a second.
On the Apple Watch, you'll open the Sleep app, and the first thing it'll ask is for your sleep goal. This is basically telling it how many hours you want to sleep each night:
[Note from the future: I think you can technically skip the sleep schedule/goals bit, but the Apple Watch Sleep UI flow very strongly pushes you through these steps, at least until you've set it up once – then you can go back and delete it. More on that in a second.]
It's on this same page you can configure an alarm or not: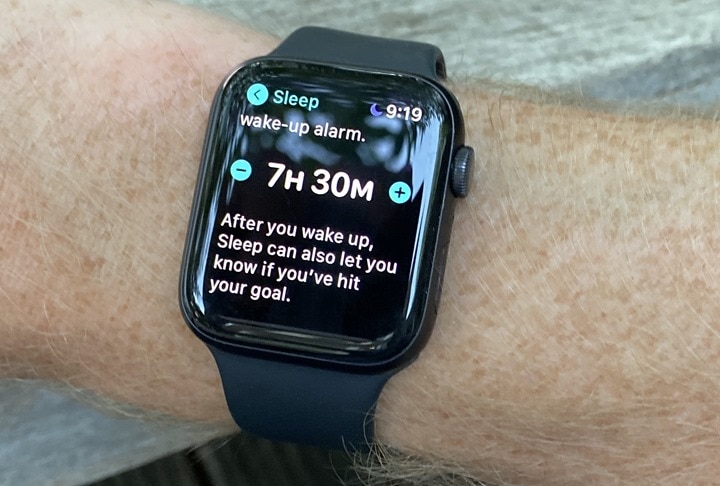 Next, is the toggle to actually enable sleep tracking. This is the part that basically keeps track of how much you sleep each night: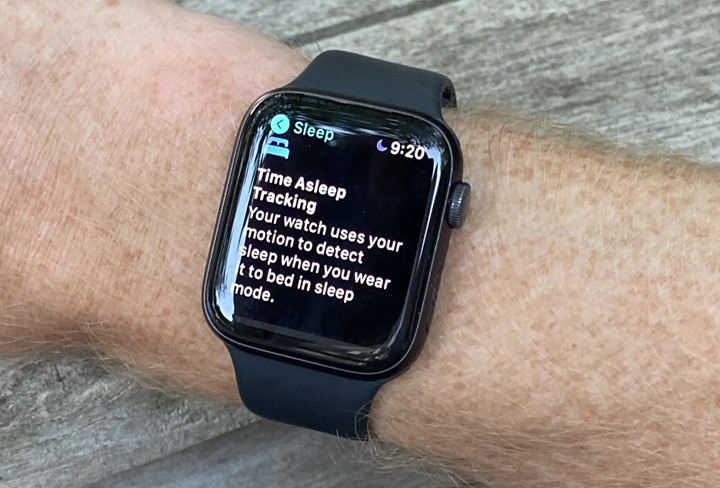 After that, you'll toggle the Sleep Mode on the watch. This piece turns off the watch display unless tapped. So the previous setting enables data tracking, and this setting turns off the display as well as automatically enabling Do Not Disturb based on your planned sleep time.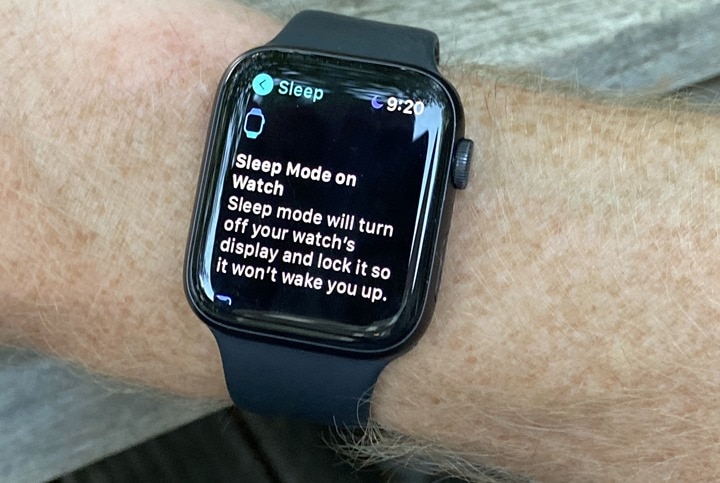 Then it'll prompt for 'Wind Down'. This is the piece that'll turn on Do Not Disturb ahead of what would normally be your Do Not Disturb time. So, like a pre-DND game time. Most of the Wind Down aspects actually happen on your phone. In this setting, you're configuring the exact time duration, effectively a count-down.
After that you can toggle whether to enable Charge Reminders or not, which, will remind you whether or not your watch has enough juice to match your planned sleep: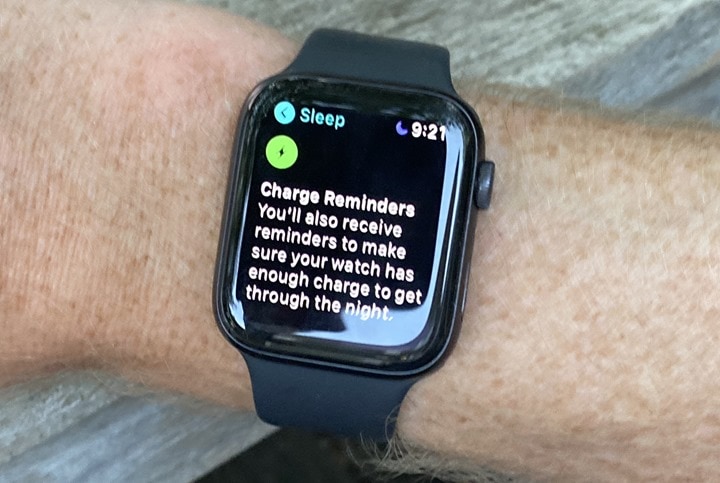 Finally, four years later, you'll get a summary of everything you just did. Assuming all parties agree to this legal document, you're ready to go to sleep. Between taking these photos and 15 minutes later I'd ultimately end up changing the bedtime to 11:45PM instead.
Honestly, I'm exhausted from all this configuration. My simple man's view here would be that for all of the machine learning sleep magic that Apple talked about in their keynote, this should just be on by default and tracking by default. After all, if it's doing its job properly it shouldn't cost any added battery life (just like it doesn't for any other wearable on the market for the last decade). Most wearables do ask for a 'Do not disturb' window, but Apple already knows that anyway from your phone. So it should carry that over.
Note interestingly, if you go into your phone's Watch app, and then to apps, and then to Sleep, you'll find these settings pages. However, this is *AFTER* I had already configured it via the watch. Also, there's no obvious method I can find to configure the 'Wind Down' period from the phone. Though I suspect it's just a matter of me finding that treasure somewhere. Point being, it's plausible you could be able to skip all the shenanigans above and then just quickly swipe to enable these settings here.
But again – that's the point of this 3-month beta period – to hopefully account for this feedback and figure out how to tweak the experience. And Apple does have a good history of doing exactly that. We often see substantial changes in the first 2-3 weeks especially of the developer betas after WWDC. Anyways, let's go to sleep.
Now You Sleep:
Well actually…you almost sleep. Since we're here, we'll talk about what happens as you approach bedtime. In my case, I had configured a DND (Do Not Disturb) and sleep time of 11:45PM. So, starting at 11:14PM (yes, 11:14PM), my iPhone notified me that it was about to start the bedtime Wind Down period: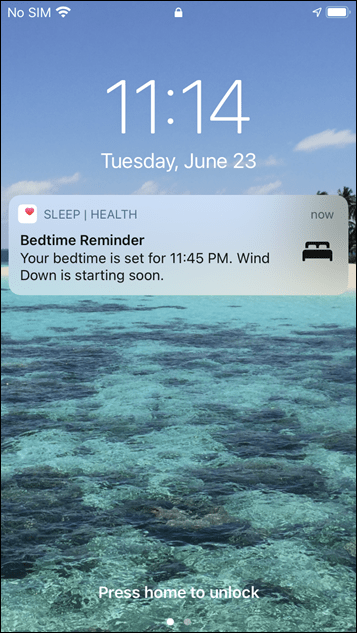 Then, at 11:15PM, my phone went into the Wind Down lock screen, first showing 'Good Evening', and setting DND (at left below). I didn't have an alarm configured. Notably, this isn't actually your normal lock screen. This is atop the lock screen. If you press 'Dismiss', then you see your normal lock screen, which is also darkened and notes that it's in the Wind Down Period (at right below):
This is an interesting design choice. It's basically Apple's way of telling you 'For the love of god, stop playing with your phone', by having a two-part lock screen. There's plenty of data out there that shows that screen-time as you approach bed time doesn't help you sleep. So by having the dual-gates, they're hoping you'll pause an extra second.
Next, I puttered around cleaning up a few final things, brushing teeth, etc… and making it to the bed. At 11:45PM (my designed sleep time), the Wind Down screen overlay changed to 'Sleep Well'. Again, double-lock screen here still in effect (at right), notice how now it says 'While Sleeping' as opposed to 'During Wind Down'. It'll continue this way until morning.
Meanwhile, over on my watch, nothing special happened during the Wind Down period. Do not disturb was enabled automatically 30 mins out, but it didn't have any unique watch-face or such. Instead, at the 11:45PM marker the screen shut off. If I tapped a button, then the screen turned back on again to a dim overlay with just the time: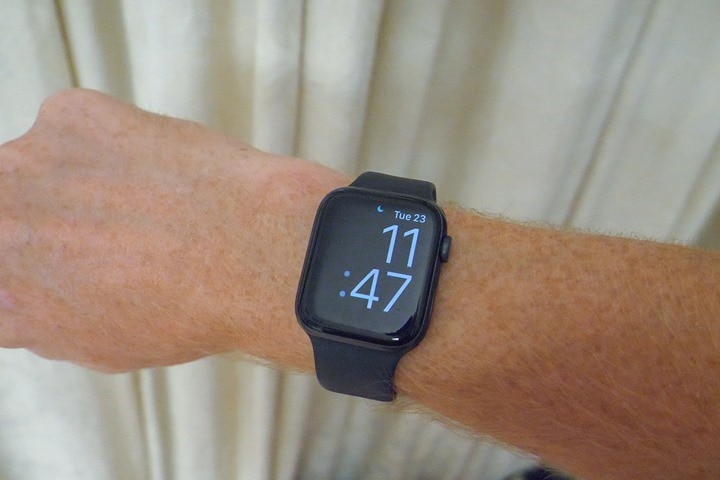 Then, it too stayed this way until I woke up.
I took a screenshot at 12:10AM as I turned off my phone, and fell asleep about 5 mins later.
[Sleeping time]
Fast forward a number of hours and it's 7:29AM to the sound of a hungry baby. I got the baby and went out to the kitchen with her to make a bottle. At this point the Apple Watch gave me a 'Good Morning' message, showing my battery stats and weather for the day. It did NOT show sleep at this point.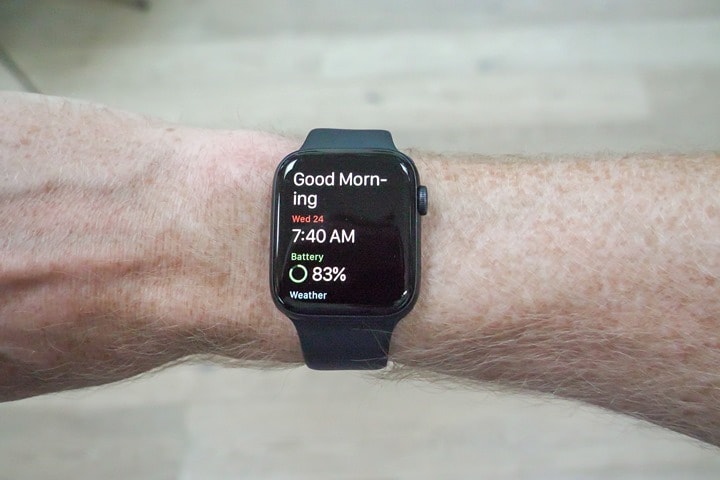 I then went about finishing her bottle prep, feeding her, and getting her settled to play. Still though, even as 8:00AM passed, the Apple Watch didn't show any sleep data on the watch itself. It was just empty: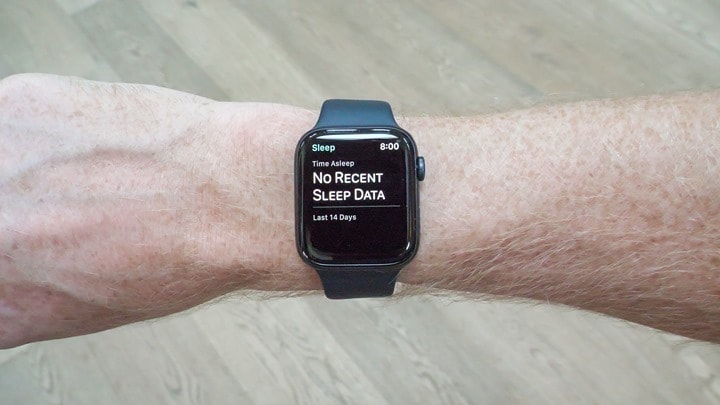 It did however show 'Time in Bed' data on the iPhone in Apple Health. But that data is exactly as it says "Time in Bed", not "Time Asleep". It was a bit early on the 'Time in Bed'. While I did initially get to bed at 11:17PM, I also got up a few times including to take the watch photo (in the kitchen) at 11:46PM. Either way, I'll assume the spirit of what it says was correct:
Geek side note though – this data actually comes from the iPhone. If you dig deep into the Apple Health records, you'll see this entry is *not* from the Apple Watch, but from your phone, basically looking at when you put it down. That's listed under 'Source' = Ray's iPhone'.
Finally, at 8:12AM – some 45 mins after I got up, I was able to see my sleep data on the Apple Watch itself: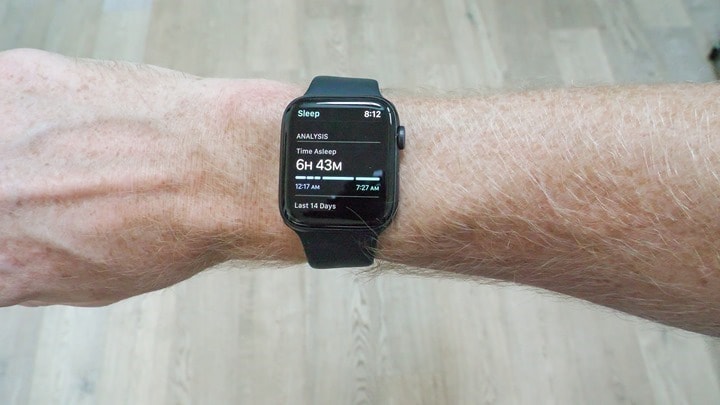 There's nothing to tap there on that section to get extra data. However, if I had slept for numerous days, then I'd see sleep trending data too. Interestingly though during that 41 minute period, Apple appears to be doing the processing. I had poked through Apple Health data earlier in that timeframe, and the only data showing was the Time in Bed data, not any added sleep data. But, now after 8:10AM, I then got added actual 'Time Asleep' data in Apple Health.
And in fact, it then corrects it to my actual time I woke up – a very close 7:27AM. In fact, I'd even agree that 7:27AM is probably slightly more correct than 7:29AM. I no doubt pondered for a minute or so whether baby was in fact going to be upset if I waited longer (the answer, yes). And as for the time that I fell asleep – that too was super close. I had guessed about 12:14-12:15AM for when I actually feel asleep – it says 12:17AM. I'm good with that.
Above you can see some coloring of the sleep data. This indicates the sleep blocks (not phases). And in fact, if you backtrack a bit in Apple Health and then dive into the specific sleep records recorded by the Apple Watch, you can see these chunks:
While I don't have any recollections of waking up at 1:10AM, 1:51AM, or 2:26AM – I did wake up at 5:18AM to go to the bathroom. And then fell asleep about 2-3 mins later. It's also notable that you see the 'Date added to Health' shows at 8:08AM. Meaning, it took the watch about 40 mins before it posted the night's sleep results.
That in and of itself isn't super unusual. For example, Whoop typically takes 10-20 mins (sometimes longer) before it shows sleep. Garmin is about the same with the newer firmware. Inversely, Polar is much much faster, and usually knows as soon as you start interacting with the watch that you're up.
Other added data bits, it records your heart rate (BPM) all night long roughly every 5 mins. And then it recorded two HRV samples at 12:58AM and 4:42AM, as seen below: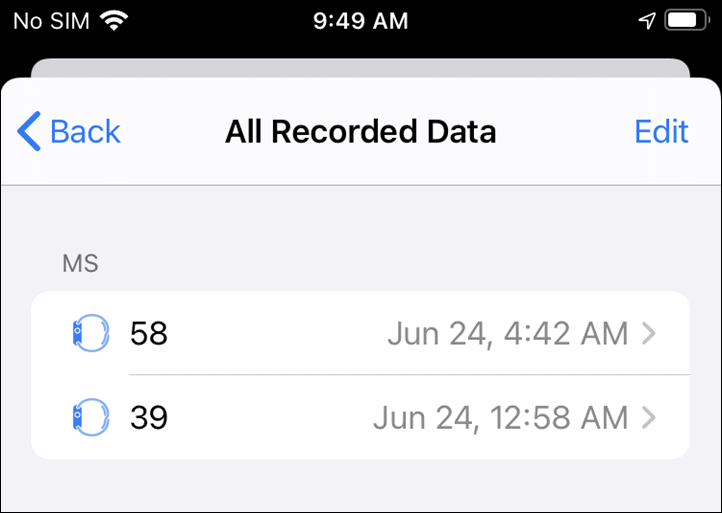 It also recorded environmental sound levels every 30 mins. Note that I suspect things like rubbing the watch against sheets is incredibly loud to the mic, so I'd take that with a grain of salt. Also, these are specifically from the Apple Watch, not my phone.
There's no other sleep-related data or body metrics from the Apple Watch at this time. I know there have been hopes or rumors about other metrics, but as of today and this specific build, that's what's there.
Comparison of data:
So how did Apple do compared to everyone else? Well, let's keep in mind this is a mere single night. As anyone with a wearable can tell you – you can easily have bad nights on otherwise good devices. Just as you can have the random good night on bad devices.
Here's a comparison of the different sensors I had. Notables listed below:
Apple Watch Sleep Comparison
| Data Metric | My Reality | Apple Watch Series 5 | Garmin Fenix 6 Pro | Whoop 3.0 | Withings Aura Sleep |
| --- | --- | --- | --- | --- | --- |
| Time to Bed (start time) | 11:17 PM | 11:17 PM (via iPhone) | N/A | 12:12 AM | 11:24 PM |
| Feel Asleep (start time) | ~12:15 AM | 12:17 AM | 12:16 AM | 12:12 AM | 12:16 AM |
| Interruptions/Awake Time | 3-5 mins | 27 mins* | 54 mins | 44 mins | 50 mins |
| Morning Wake Up Time | 7:27-7:29 AM | 7:27 AM | 7:27 AM | 7:29 AM | 7:23 AM |
| Average Sleep Respiration | - | N/A | 13 brpm | 14.5 brpm | Not captured |
| Nightly HRV Values | - | 2 Values taken | Not exposed | 1 Value taken | Not captured |
| Average Sleep HR | - | Not calculated | Not calculated | Not calculated | 51 |
| Sleep Score | Damn good | None | 78 - 'Fair' | 65% - 'Falling Behind' | TBD |
| Sleep Phase/Stages | - | No | Yes | Yes | Yes |
| Total Sleep Time | 7hrs 13 mins | 6hr 43 mins | 6hr 17 mins | 6hr 51 mins | 7hr 3mins |
A couple of random notes:
– The Apple Watch doesn't list 'Awake Time' directly like most wearables/sleep systems, so you have to do some quick math. Doing the math backwards, it would mean 27 mins of awake time based on specifying 6hr 43mins sleep time between 12:17AM and 7:27AM
– All the other devices specify an actual 'Awake' time, so I used that. I agree, the math doesn't always work in those cases. I just wrote what it showed.
– For HRV values, Whoop and Apple Watch do record them. Whoop shows a single value, the Apple Watch recorded two values. Garmin does track HRV values at night (it's how they get Body Battery), but doesn't explicitly list HRV values in the app anywhere.
– For Sleep Scores, each company does their own magic. Note that for Whoop I used the 'Sleep Performance' score, and not the recovery score. For this night the recovery score in Whoop showed 49 , which is basically a body recovery score upon HRV. Garmin does the same thing with HRV. Withings Sleep score comes from mixing sleep stages. However, for last night the Withings for some odd reason didn't calculate a sleep score yet. So, maybe later?
– For average sleep heart rate, all companies track heart rate constantly throughout the night. And all of them showed the values. And some of them showed max/min. But Withings had a metric that showed the average for sleep explicitly.
– For respiration rates, I used them as-is when shown.
Phew, got all that? Good.
I had hoped to show you data from both the Beddit 3.5 sensor and the Emfit QS sleep system sensor. But both were upset about different things. The Beddit sensor appears to be having some sort of Bluetooth or power problem. And the Emfit QS sensor looks like it needs to be reset. I'll have to troubleshoot those in time for later this summer with a more final Apple Watch sleep tracking version.
Wrap-Up: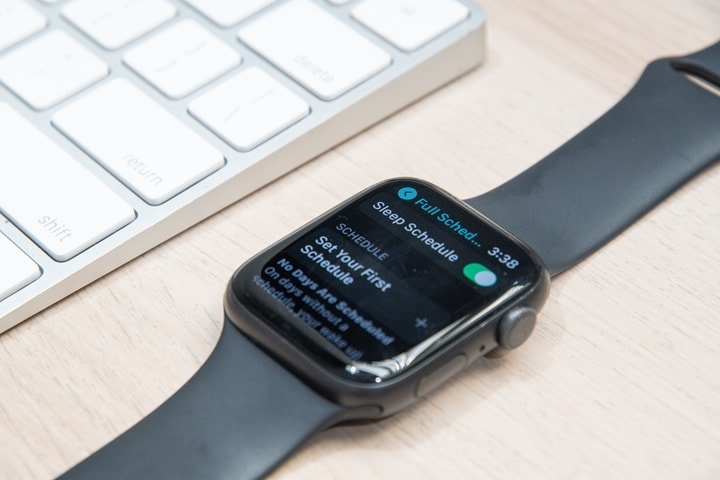 Like every other sleep tracking device I used last night, the Apple Watch easily nailed the time I fell asleep (+/- 2 mins) and the time I woke up (+/- 2 mins also). Every device varied on how much they thought I was awake at various points night, and the Apple Watch doesn't explicitly list that metric, so my math-based 27 minutes for the Apple Watch isn't really comparing…err…apples to Apples.
For heart rate data points, the values look believable and in line with all the other units. Nobody was out in left field here for any point during the night. The two HRV values are also believable, but hard to compare against the Whoop which was taken at an unknown time during the night.
Ultimately though, what Apple is doing here is super basic. On one hand, every wearable company big and small is doing more and doing better with sleep data than Apple. Heck, even Apple's own Beddit gives more information. On the flip side, Apple appears to be taking a 'just the facts' approach. Which is mostly how they've done things around health and fitness monitoring to date. Apple's activity app (now called 'Fitness') has never been the pinnacle of athletic or fitness details. The rings interface and associated logic is very good at getting people to be active (which is great), but that doesn't imply that how people can look at all that data later is anywhere near the levels of Fitbit or others.
We'll have to see where Apple takes things. While Apple seems to be trying to nudge people towards the 'Health' app, I'm not really sure that massive repository is the best place to show sleep trends (just like it's not for daily activity, and why Apple has the Fitness app now). I'd even argue that the sleep data from your Apple Watch specifically should go into the Fitness app, since that's where all your other daily activity metrics are.
Either way, it'll be interesting to see where Apple takes this. Both between now and September, and then beyond that.
With that – thanks for reading!