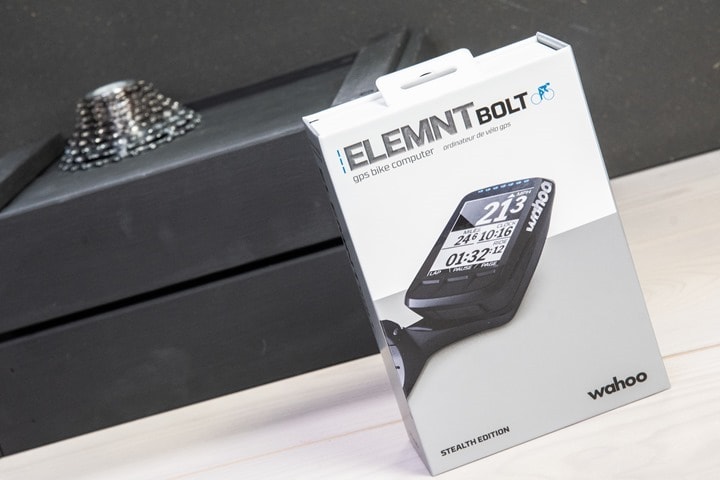 Today Wahoo announced a new color edition of their popular Wahoo BOLT GPS bike computer, called 'Stealth', which is black. No, this isn't a successor of the existing Wahoo BOLT, just simply a new colored case. It's a pattern Wahoo has actually done almost every spring since announcement. Two years ago there was the red and yellow variants. Then last year was the blue and pink variants. And this year, orange is the new black. Err…wait, black is the new black.
However, it's not all form over function. The company is also releasing ANT+ LEV support, which in English means e-bike support for those bikes that support the ANT+ LEV standard. So things like the Specialized Turbo Levo, and some Giant e-bikes. Oh, and that's going to all other ELEMNT/BOLT/ROAM computers too.
Finally, while technically not having anything to do with this launch, last week Specialized quietly pushed out an update that now offloads the GPS tasks from the phone to Wahoo, thus saving battery life on your phone. Here, let's dive into all the details.
The Stealth BOLT:
This is frankly a pretty straightforward section. Mostly, you just wanna see pictures of the new BOLT, which, is totally understandable. Here ya go, some pictures of the box: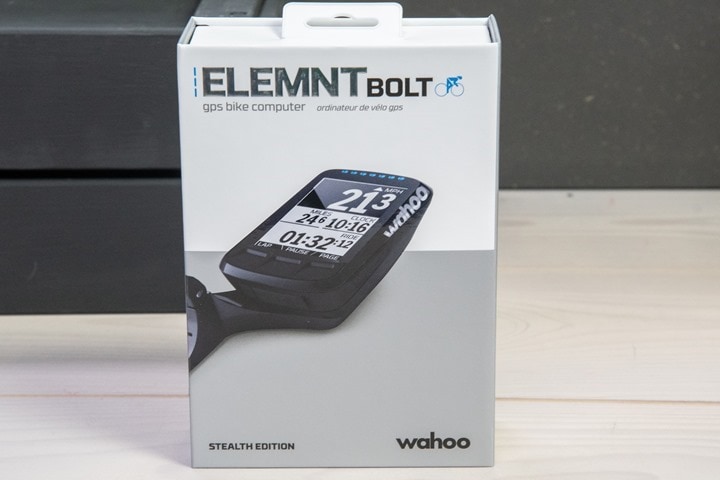 And then, some pictures of the box opened. Like a bad striptease:
Also, the box notes this: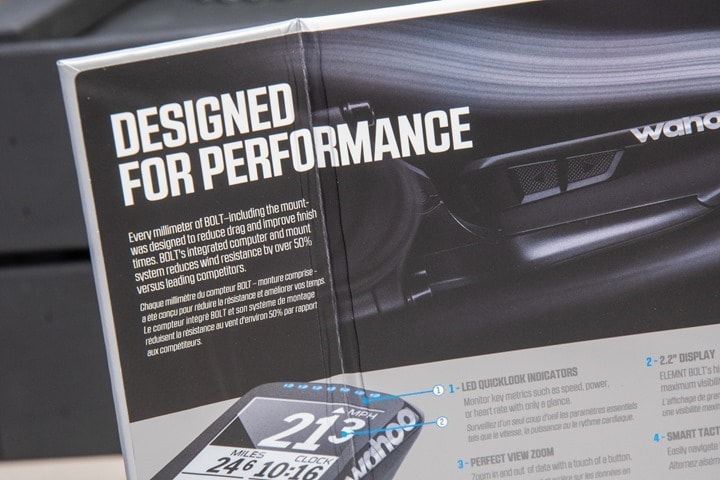 I'd note this.
Next, pictures of the unit next to the box:
In my hands:
And finally, on my actual bike:
Speaking of which, this isn't just all photos. I actually went for a ride with it yesterday. Yup, out into the glorious sun, warmth, and still weather of the Netherlands. Oh, wait. It was sorta cold, windy, and definitely not sunny.
In any event, GPS tracks and all that worked exactly as expected. No issues there, it matched perfectly with the Stages Dash L50, Garmin Edge 830, and Apple Watch Series 5. All the same.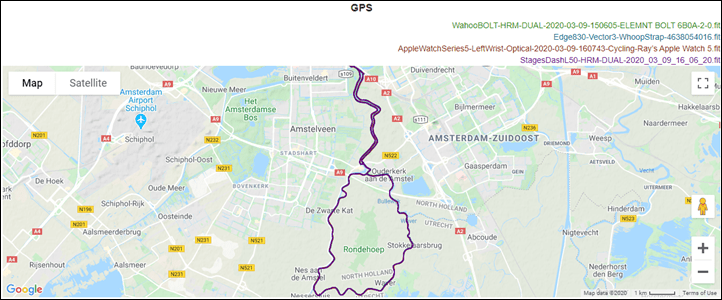 Again – it's the same as any other BOLT, just stealthy black. Or something like that.
Finally, as part of this, the new retail price of the BOLT is $229USD. It doesn't matter which color you have. And, the units are in-stock today as well.
E-Bike Support: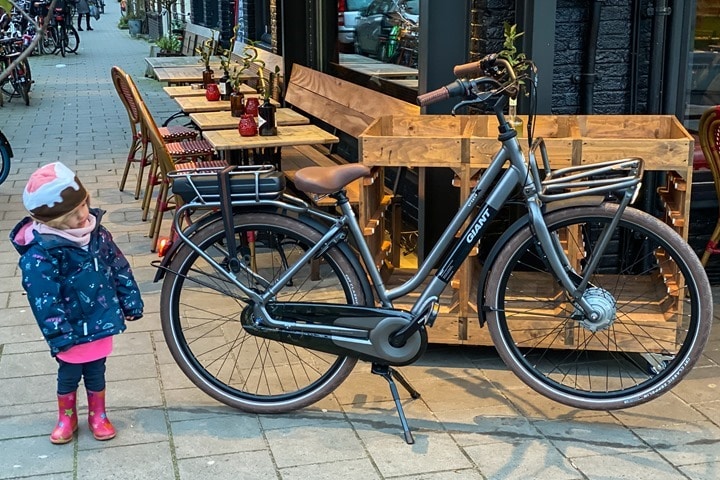 As part of today's announcement, the Wahoo BOLT now supports the ANT+ LEV standard, which is what some e-bike companies use to transmit data over ANT+ to cycling head units. Data includes remaining battery, e-bike power mode (e.g. eco, sport, turbo, etc…), charge count, and miles. All of this data is now displayed on the Wahoo BOLT, as well as the Wahoo ELEMNT and ROAM (via firmware update today).
At present, the Specialized Turbo Levo supports this, as well as "select Giant e-Bike models", with 'select' being the key part here. Ironically enough, we just bought a new Giant e-Bike last week, though, despite all of my poking and prodding, it doesn't seem to pair up to the BOLT (or the Giant E-Bike app, or a Garmin that supports e-Bikes).
[According to Giant's site, this model actually should support/work just fine, though clearly I'm either not doing something right following Giant's near non-existent instructions for it, or Giant's site is wrong. In one spot it says "all 2019 e-bikes support the RideControl app", yet in another it says you need the RideControl One. Either way, no pretty photos for you.]
Still, despite not having pretty photos of my own, Wahoo has included some screenshots of what it does look like if you have the right bike paired up to it:
And here's what it looks like within the sensor menu:
I'll be honest, I'm sure there's a market here – but I'm just not sure how big a market it really is for this specific feature in a Wahoo GPS head unit. In other words, high performance GPS bike computers (versus more simplistic bike computers).
[Just to be clear: Obviously e-bikes are popular, we just bought one last week, and we already have another e-cargo bike. No debating that.]
The reason I say that is that Garmin has had ANT+ LEV (E-Bike) integration in their head units for years. Like, more years than I can possibly count. And you know how many people have asked me about it in post comments or YouTube videos? Approximately zero.
Actually, I think it's literally zero.
Ever.
I literally have googled more questions myself trying to get this to work, then ever asked of me. Maybe most people just give up, like me.
Some people have asked about the Specialized Turbo Levo, mostly cause I did a post (and video) about it when it came out. But almost all those questions (years ago) were about the then CIQ app, or the crazy cost of the bike.
Still, I'm sure it's valuable for someone. I just wonder what other features might have been more valuable for everyone.
Specialized ANGi Update: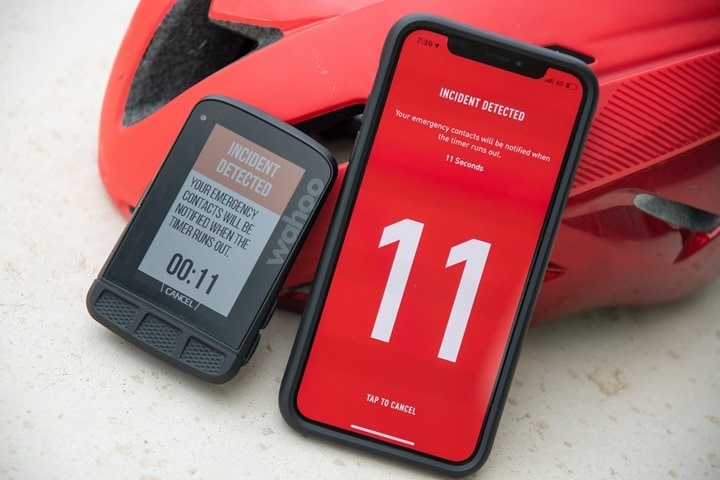 Finally, a quick note that Specialized and Wahoo have tightened their ANGi integrations a bit more in the last week. As you may remember, ANGi is the Specialized helmet sensor that detects a crash and notifies your peeps. Also, the app integration does live tracking and ride alerts and stuffs. I talk about all that in my previous post.  However, the past week has brought some notable updates.
First up, is that last week Specialized released the Android app for ANGi that supports the Wahoo integrations. Previously, it did not. So, if you're an Android dude or dudette, and also a Specialized ANGi dude or dudette, you're in luck.
And then more interestingly – last week on iOS they introduced GPS offloading from the Specialized ANGi app to the Wahoo BOLT/ROAM/ELEMNT. As you may remember, the ANGi app was basically doing double-duty on GPS. The app itself was pulling from the GPS on your phone (thus burning battery), while also connected to the Wahoo GPS bike computer for notices. That meant that you basically had two things doing GPS with no tangible benefit. Now however, with the latest version of the iOS app, the Specialized ANGi app will utilize GPS from Wahoo (since it has to do it anyway). This will save your phone a boatload of battery life.
Specialized says that their Android app will be updated this month to do the same.
–
With that – go forth and be Stealth on your e-bike and red ANGi helmet. Nobody will see ya coming!
Thanks for reading!

Found This Post Useful? Support The Site!
Hopefully you found this review useful. At the end of the day, I'm an athlete just like you looking for the most detail possible on a new purchase – so my review is written from the standpoint of how I used the device. The reviews generally take a lot of hours to put together, so it's a fair bit of work (and labor of love). As you probably noticed by looking below, I also take time to answer all the questions posted in the comments – and there's quite a bit of detail in there as well.
If you're shopping for the Wahoo ELEMNT BOLT or any other accessory items, please consider using the affiliate links below! As an Amazon Associate I earn from qualifying purchases. It doesn't cost you anything extra, but your purchases help support this website a lot. Even more, if you use Backcountry.com or Competitive Cyclist with coupon code DCRAINMAKER, first time users save 15% on applicable products!
Here's a few other variants or sibling products that are worth considering:
And finally, here's a handy list of accessories that work well with this unit (and some that I showed in the review). Given the unit pairs with ANT+ & Bluetooth Smart sensors, you can use just about anything though.
And of course – you can always sign-up to be a DCR Supporter! That gets you an ad-free DCR, access to the DCR Quarantine Corner video series packed with behind the scenes tidbits...and it also makes you awesome. And being awesome is what it's all about!
Thanks for reading! And as always, feel free to post comments or questions in the comments section below, I'll be happy to try and answer them as quickly as possible. And lastly, if you felt this review was useful – I always appreciate feedback in the comments below. Thanks!