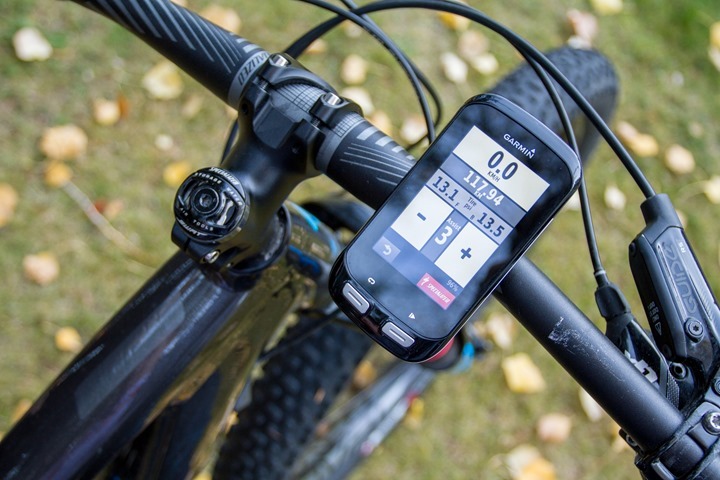 It's been precisely one year since Connect IQ was unveiled at the ANT+ Symposium.  This morning (at this year's edition of the conference), Garmin unveiled their next phase of the platform.
Since that unveiling last year, Garmin has rolled out four Connect IQ capable fitness devices: The Forerunner 920XT, Fenix 3, Epix, and Vivoactive.  These four devices will account for approximately one million Connect IQ capable devices by the end of 2015, by Garmin's estimates.  Pretty impressive numbers by any watch platform, and that's before they add the already shipped 500,000 Edge 520 & Edge 1000 units (combined total) that will join Connect IQ shortly.
While Garmin announced the platform last September, it wasn't actually until January that Connect IQ apps/etc became available.  Since then, there have been some 1,000 apps/widgets/etc created and published to the Connect IQ store, resulting in 1 million downloads to devices.  Interestingly, in talking with the Connect IQ folks, the Fenix3 users are the biggest users of Connect IQ apps today.
I've personally found it interesting just how many people use Connect IQ watch faces, especially on their FR920XT.  It seems like every person I've seen over the past few months in person has been using some crazy Connect IQ watch face on their FR920XT's – almost all of these watch faces rather data heavy.  Now, obviously Connect IQ isn't Apple's WatchOS.  As anyone who has used an Apple Watch can attest, they are (today) targeted at different segments.  Garmin squarely at the outdoor/fitness realm, and Apple's Watch more at the mainstream/business user.  Both are top of their game in their respective categories, but both less ideal when crossing into the opposite category.
Of course, in the fast paced world of wearables – you have to continually update your platform (as well as your devices).  Today's announcements talk to some of the immediate changes, as well as hint at what's coming down the road over the next year.
Edge Bike Units Get Connect IQ: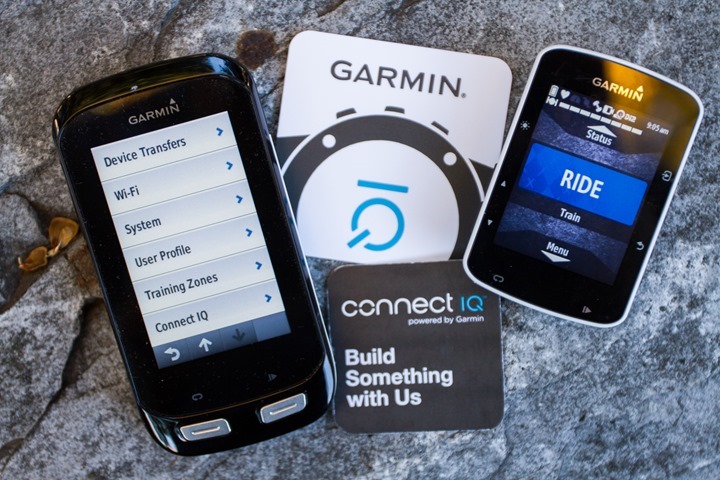 The biggest bit of news related to Connect IQ is undoubtedly that as of today, Connect IQ is now available (in beta) on the Edge series bike computers.  I had argued a year ago that putting such capabilities on a bike computer gives 3rd parties tremendous flexibility in creating app experiences that connect to their own hardware and software platforms.  Cycling tends to have the most sensors and hardware pieces out there, thus a more natural marriage.
The Edge series devices will get Connect IQ support in the following three ways:
– Apps
– Data Fields
– Widgets
You'll notice the only thing missing from how Connect IQ is supported on wearables is the watch faces functionality, which obviously doesn't make much sense here – so it's a logical exclusion.
The above three functions are utilized in the following ways:
– Apps: These effectively 'take over' the Edge device.  Like on the wearables front, the 'app' isn't running while in regular cycling mode – it is used instead of that mode.  I'll show you an example of that with the Specialized app in a moment.
– Data Fields: These allow folks to create data fields that can leverage either ANT/ANT+ sensor data, or just calculations.  An example of this is the Moxy data field (connects to Moxy device via ANT+), or custom data fields that show you how many beers you've earned during a ride.
– Widgets: These are a bit different than on the wearables front, wherein a widget is something you swipe to see information such as weather or sports scores.  On the Edge series, this will instead (likely) show up in the same status-bar that you'd use to see sensor or GPS status (i.e. swipe down on Edge 1000).  The exact implementation details are still being finalized here so I don't yet have any examples to show.
So how do the first two pieces look?  Well, I had the chance to try out both apps and data fields over the past few days.  Starting first with apps, I spent a short bit of time poking at an app Specialized put together to control their Specialized Turbo Levo E-Mountain Bike.  This app carries a number of functions within it, most notably: Status of electronic assist system, gearing, status of the motor, and tire pressure status.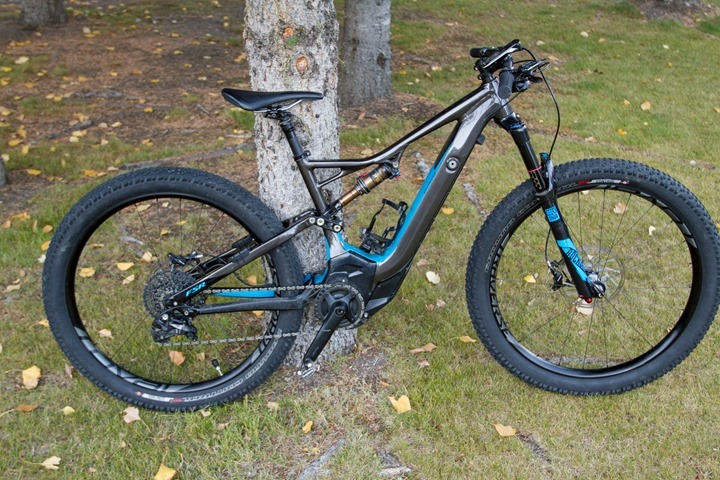 For electronic assist, the unit will display the current level on the Edge using Connect IQ.  The prototype app they've created allows you to swipe left/right through the different custom Specialized display pages.  Because this is 'an app', it means that you aren't in the regular cycling mode – but fully within the Specialized app: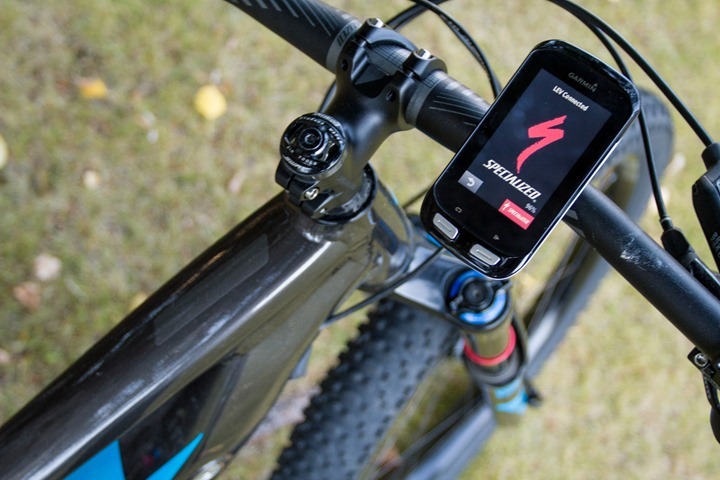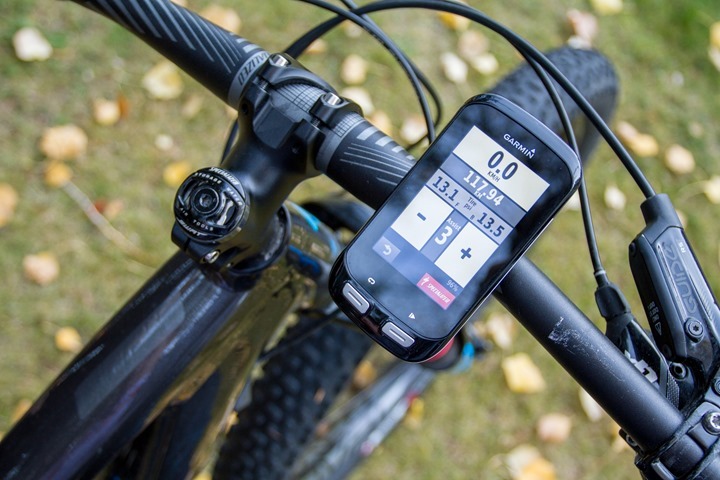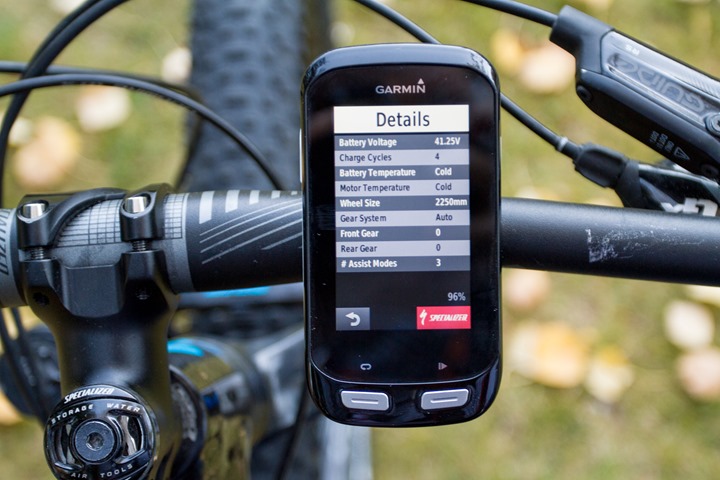 The bike is setup with Garmin's tire pressure sensors (aka TPMS), which have been previously targeted towards vehicles (motorcycles).  They use private-ANT to communicate with various Garmin devices (again today all non-cycling).  Here, Specialized took them and added an adapter to make them fit the mountain bike.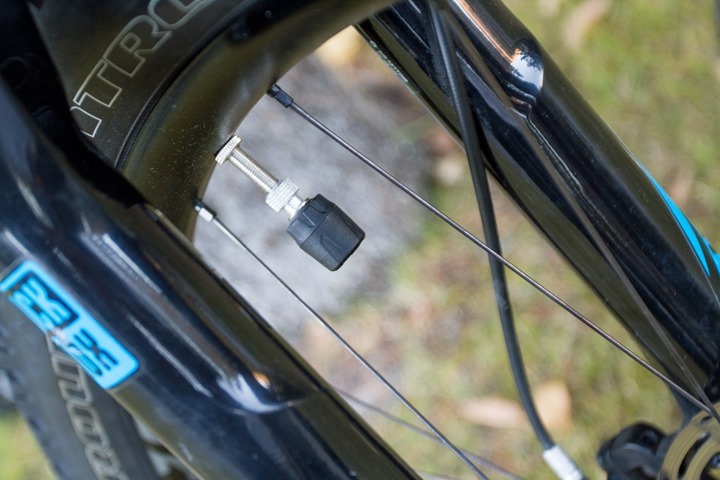 Both front (above), and back: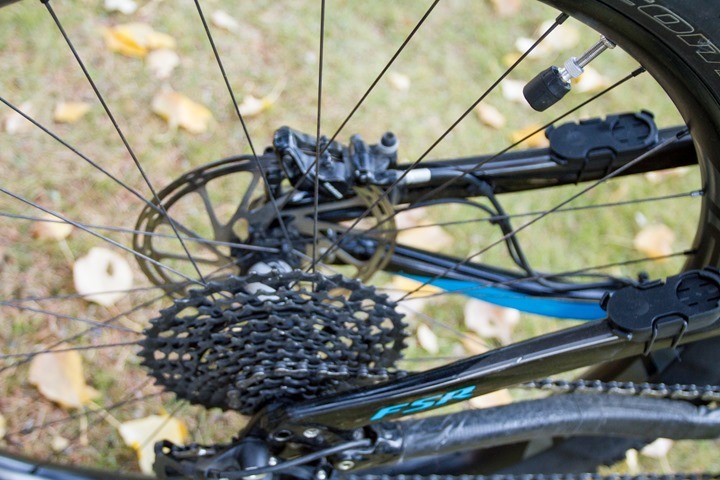 Here's a few screenshots, covering all four pages of the app:
(Update) For fun, I put together a quick video of how the app works while out riding around on the bike:
Now this is of course just one application, there are no doubt many potential application use cases in cycling.  In fact, I think some of the most interesting may actually be within indoor training when you're connected to a computer/tablet with a large TV/display away from the bike.  For example:
TrainerRoad: They could write a TrainerRoad app to allow you to control the TrainerRoad functions like pausing or increasing resistance directly from your Edge.

Zwift: They could port all of the functions seen on their mobile app (such as changing the view, interacting with others, or taking screenshots) and put it on the Edge.
Why would either want to do this?  Well, both could utilize mobile phone apps to do this (and already do).  But the challenge there is that you're having to interact with mostly non-waterproofed phones while you're dripping sweat.  With the Edge being far more resilient and waterproofed, it makes for a logical remote control.
But there's still other outdoor applications, for example – aero testing with something like Alphamantis, this would enable real-time aerodynamics information straight to the head unit.
Next up we've got data fields.  In this case, it's very similar to before whereby data fields can be created for wearable devices today.  It's just that now those devices include the Garmin Edge units.  I had a chance to try out the Moxy Muscle Oxygen sensor integration with the Edge 1000 over the last few days on the beta platform.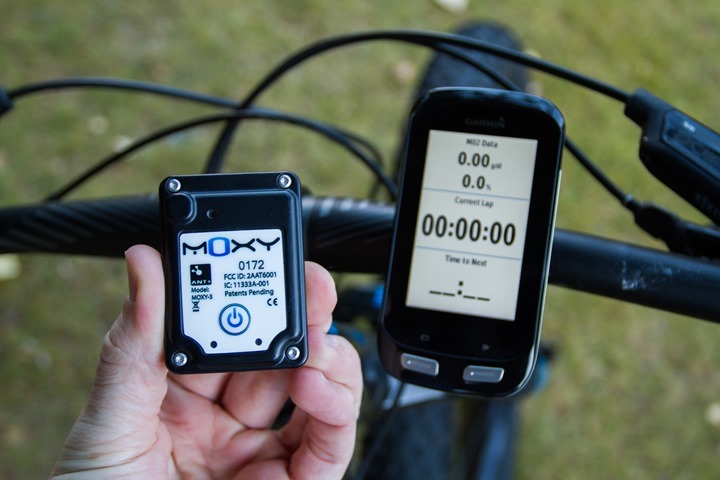 In this scenario, you'll select the Moxy data field just as you would any other data field on your head unit: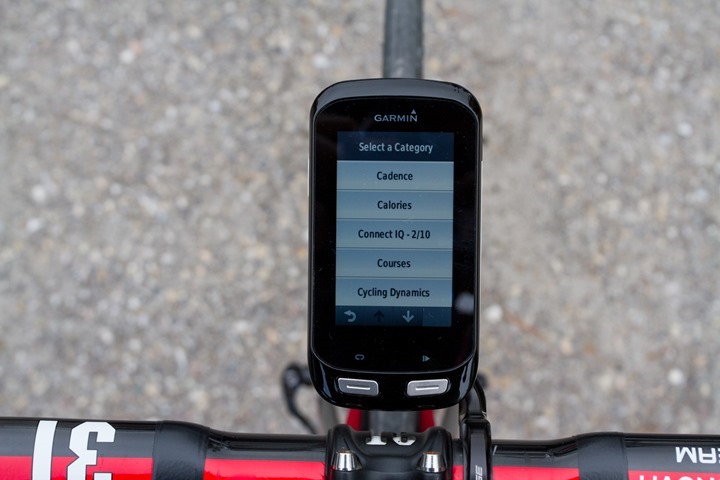 As  such, you'll  select 'Connect IQ' within the data fields: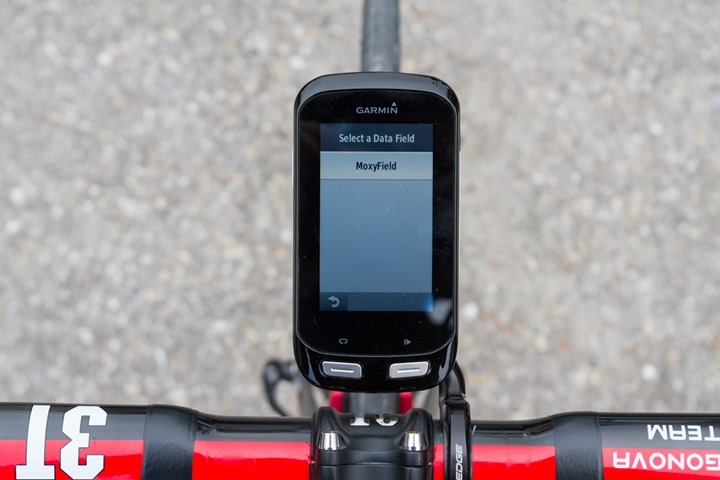 And then select the Moxy data field.  From there the data field will search for a nearby Moxy sensor.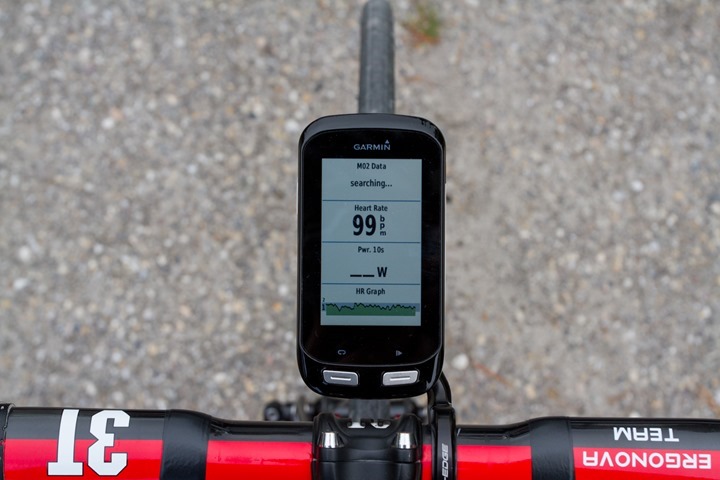 And ultimately, show you Muscle Oxygenation information: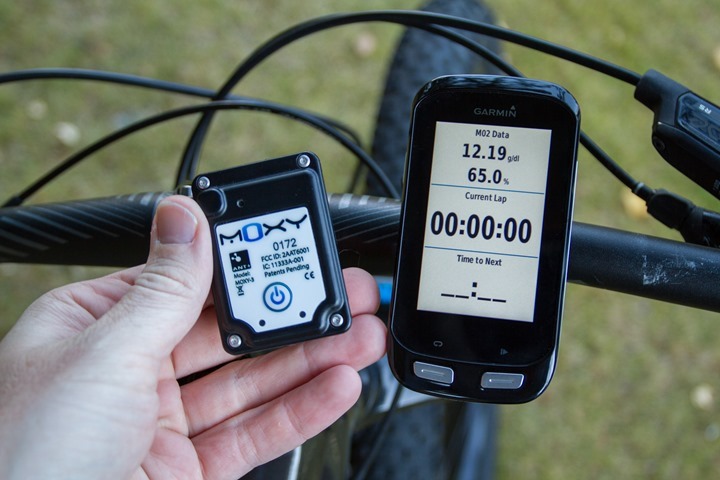 Now at this time this data isn't yet recorded into the .FIT file – but I'll cover the exact plans for that down the road here in a moment.  Still, it's pretty cool and a good example of how to use the platform.
New Connect IQ Functionality:
As noted above, the Edge series devices will get Connect IQ, starting today.  That comes in a few different chunks over the next few months, to a few different devices.  First, here's which devices will be supported:
Will get Connect IQ: Edge 520, Edge 1000, Edge 1000 Explore
Will NOT get Connect IQ: Edge 510, Edge 810, Edge 500, Edge 705, Edge 20, Edge 25, Edge 200, Edge Touring
As a general rule of thumb, the reasons older devices don't get Connect IQ is that they weren't designed with Connect IQ in mind and usually lack the hardware (processor primarily) required for it.  For example, the Edge 510 & Edge 810 came out some 20 months prior to Connect IQ even being announced.  Of course, there's likely also an element of the company trying to drive sales of new devices with newer features – which I suppose is no different than any other company such as Apple or Google.
For the Edge series devices, things will get rolled out in phases:
Today: Edge 1000 beta firmware released that supports Connect IQ Data fields
November: Edge 520 beta firmware released with Connect IQ
2016 Q1: Rolling out Connect IQ Widget & Connect IQ App support
When it comes to new technical functions, these are all part of what's referred to as Connect IQ Version 1.2.  Here's the geeky list of what's new in 1.2:
ANT Updates
– More generic ANT channels: This is one I'm most excited about – Connect IQ will be able to leverage all of the available ANT channels that aren't being used by an ANT+ device.  So for example, most current generation devices have 8 channels.  Also as an example, a heart rate strap would consume 1 channel.
– ANT Key Configuration
– Improved Performance
Watch APIs
– Accelerometer access: There's a pretty interesting demo that the ANT+ folks put together using the accelerometer on a Fenix3 to control Varia lights using hand signals.
– More performance metrics available for Connect IQ developers
– Alarms
Settings
Gives developers methods to configure options for the app user (colors, preferences, etc.)
– App Configuration
– Available for all app types
– User will be able to set configurations / settings on both Express and Garmin Connect Mobile
Connectivity Enhancements
– HTTP modes and headers
– Image Request
– More Reliability
Phew. Lots of stuff there, again, mostly technical focused.  And while they all sound like geeky things, these new functions enable actual real world scenarios (like the bike lights using hand signals).  There are more details available on the tech stuff, including downloading the SDK via their developer blog.
Going Forward: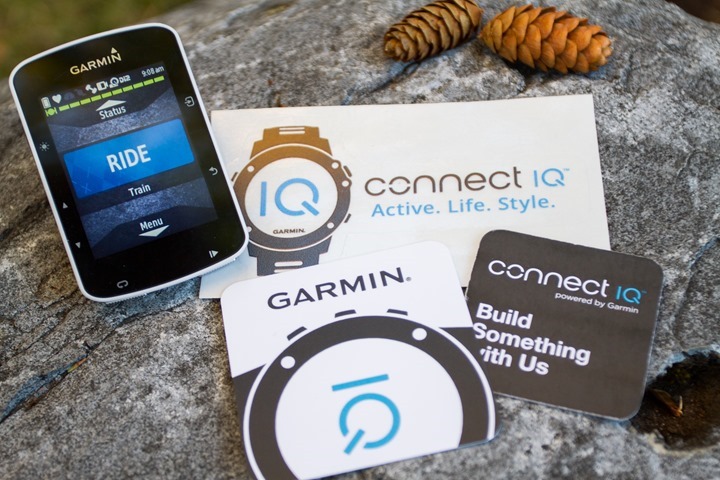 Some of the time I had talking with the Connect IQ guys was about the future, beyond today's announcements.  For example, one item I've long since nitpicked on is the lack of ability to actually record data into the .FIT file (your saved activity data from a workout).  This means that today you can't save the Moxy data, nor otherwise display that data after the fact.
To answer that, three specific things are coming down the road:
A) Logging data into the .FIT file on the device
B) Transmitting that data to Garmin Connect (using existing channels)
C) Displaying that data on Garmin Connect
All three are now planned by the end of Q1 2016.  Specifically, they're hoping to start making that available to developers in mid-Q1 2016 (i.e. your Valentine's Day present by Garmin).
There's still some elements they're working through there, especially on item 'C' above (displaying that data on Garmin Connect).  They are working through how specifically to allow developers to create a bit of a schema to ultimately specify how the data being recorded should be displayed.  For example, just having a digit (i.e. 70) means nothing to users.  Instead, you need to specify what the 70 means.  Is it 70bpm?  70 watts?  70 beers?  So there's an element there that they're hashing through.
The next piece we discussed is how the platform will be able to evolve over time, potentially beyond the capabilities of today's devices.  They noted that they aim to have apps support existing devices for 2 years post device release.  To be super clear, this DOES NOT mean Connect IQ stops working after 2 years on that device.  But rather, that new Connect IQ features rolled out because of hardware increases may not be available to older devices.
For example, let's say that down the road the FR940XT (yes, fictional to be clear) gets the graphical capabilities to stream Netflix while riding.  That functionality wouldn't be available to the existing FR920XT, simply because it couldn't physically do that from a display/processor standpoint.  Just like how on my iPhone 6 I can't get the Force Touch now found on the iPhone 6s that just started shipping.  The hardware just isn't there.
They envision Connect IQ having major versions.  Right now, we're in Connect IQ V1.  But at some point in 2016, they'll jump to Connect IQ V2.  New devices will invariably be available in 2016 that support new V2 features.  Meanwhile, some of those features might not be supported on V1 devices available today (i.e. the 920XT that rolled out a year ago).  They said they'll aim to make as many of those features available as possible, but there exists the reality that technology does move on.
It'll be up to individual developers as to how to support these new features and functions.  Apps will be capable of supporting multiple branches of Connect IQ (i.e. V1 & V2) concurrently, with it possible to enable/disable specific features within an app based on the Connect IQ level of the app.
To me, this seems logical – and I'm glad that Garmin is getting out front on this a little bit, clarifying some of their support policies.
In any event, the future of the platform aside, the potential of Connect IQ on the Edge series devices is definitely something I'm looking forward to.
Thanks for reading!