Well that was a busy week.  Phew!
I left Paris early Monday morning for the annual ANT+ Symposium, located about 75 minutes outside of Calgary (Alberta, Canada), in the Kananaskis Country area.  Basically, the mountains.
The Symposium is where the majority of sports technology companies come to collaborate for a few days and discuss upcoming protocol plans, but also just a lot of integration plans.  If you go to an event like Eurobike and Interbike – it's all about marketing and PR.  Whereas the ANT+ Symposium is all about the lead engineers and program owners from all the companies you know and love, discussing tech goodness for a week.
Of course, given everyone at the event is fairly athletic – there's many an opportunity to go out on rides and runs.  It's a bit of a revolving door of activity.  The event's held at a mountain lodge with nothing but gazillions of miles of hiking/riding trails around, adjacent to a ski area.
I was on the stage twice.  Once as part of a round-table session talking about the quantified self and data capture & interpretation, and then another presentation of my own, talking to launching a sports technology product.  Once I get the video I'll circle back next week with another post.
In the meantime, here's a look at an impressive slate of workouts.  Every activity I did had a specific purpose though, all of them trying to test something or other.  Usually a few somethings or others actually.
Monday – Iceberg Swim:
After 10+ hours of flying I landed in sunny Calgary.  I can't remember the last time I actually landed in this city during the day, I've historically always come in at night.
From there I drove up to Ghost Reservoir.  I had asked the ANT+ folks as to where I might be able to get in an openwater swim.  Their response seemed to indicate that I might be delusional, but did give me the suggestion of this nice big spot that was roughly along my route from the airport to the hotel.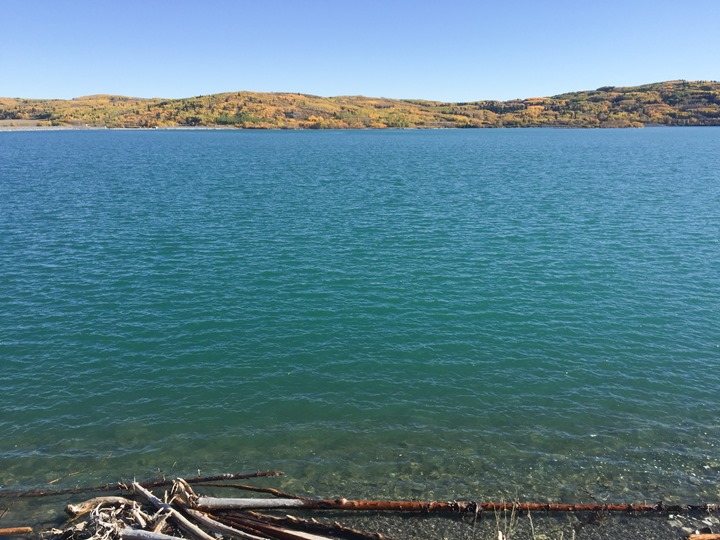 The Epix pegged the water temperature at 51.8°F, which is a brisk 11°C.
So I plopped on my wetsuit and headed on to the water.  I stood in the water near the desolate boat ramp for a while – happy that I had drank plenty of fluids beforehand (like any true triathlete).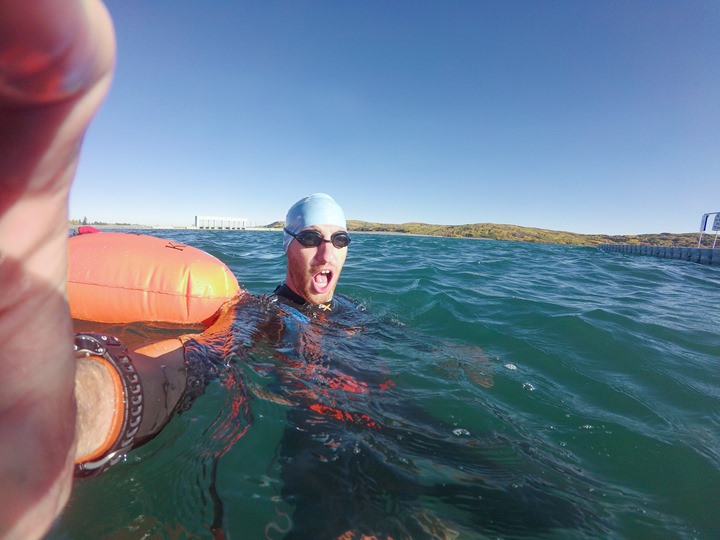 I didn't plan on a super-long swim.  I was really trying to get some initial openwater data with the HRM-TRI strap.  I'll have tons of opportunity next week for plenty of openwater swims in warmer waters, thus was just…well…testing the waters.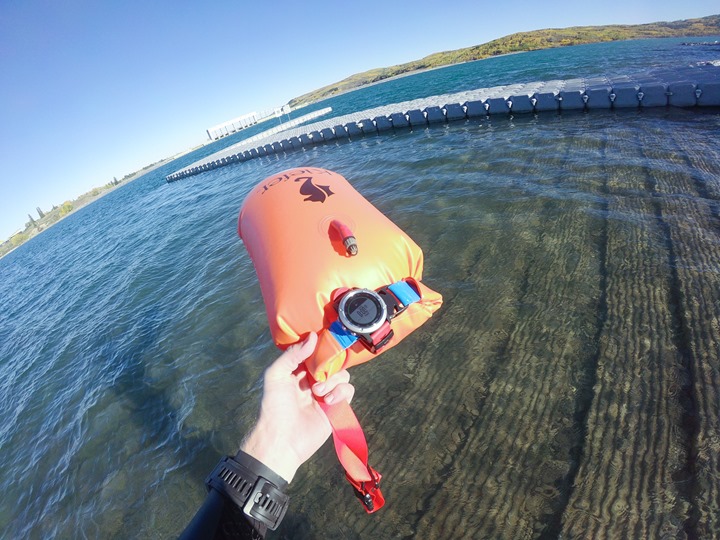 I swam across the lake to the other side, passing some sailboats along the way.  Then I angled out a bit to make another point on a triangle:
Finally, I worked my way back to the dock.  All in about 20 minutes long.  It really only took a minute or two of swimming (after standing for 10 minutes in the water) to get warmed up.  I could easily have swam longer, but wanted to be up in the mountains by dark.
After my swim, I played around on the dock for a few minutes…just cause I could: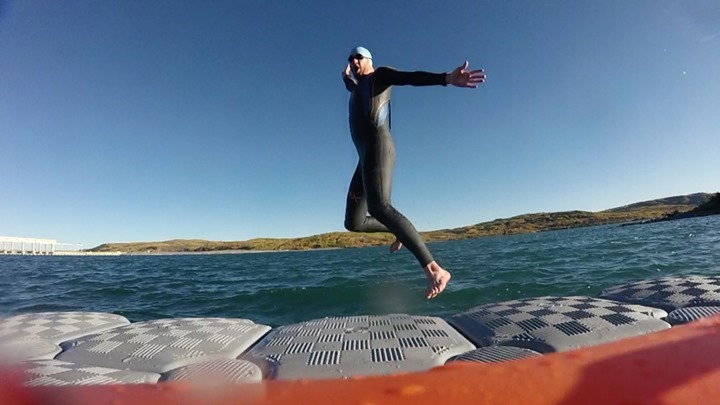 Here's the Epix & HRM-TRI strap concurrently.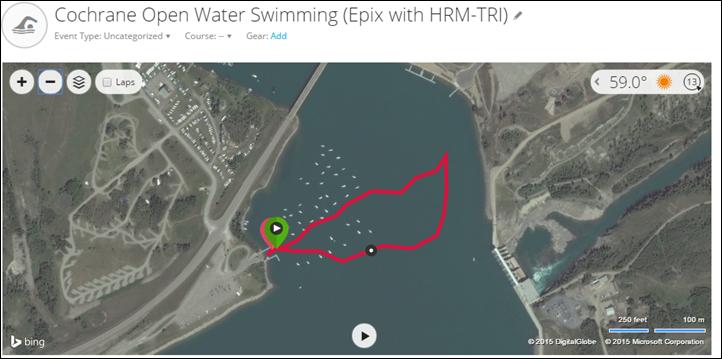 I also recorded it with the FR920XT & HRM-TRI:
And that's all in addition to the Fenix3 acting as the reference on the swim buoy: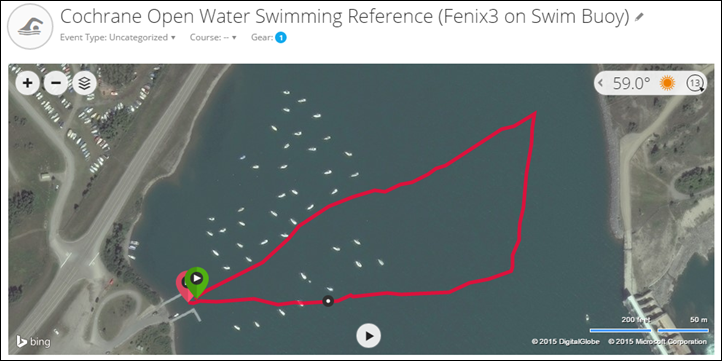 More on the swimming straps after next week.
Tuesday – Banff National Park Ride:
I headed out early Tuesday morning to meet up with the 4iiii engineering crew to go for a nice long ride.  There wasn't any particular testing purpose here, other than just going for a ride.  We cruised down a valley for a long while, mirroring the Trans Canada Highway, on rolling hills.
Eventually this would take us towards the famed Lake Louise and Lake Moraine.  We climbed up to Lake Moraine first, and stopped for a few minutes to get all assortment of photos.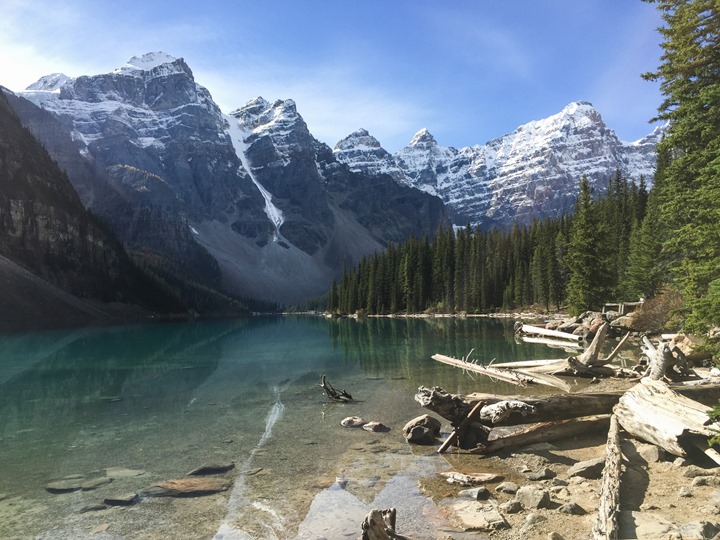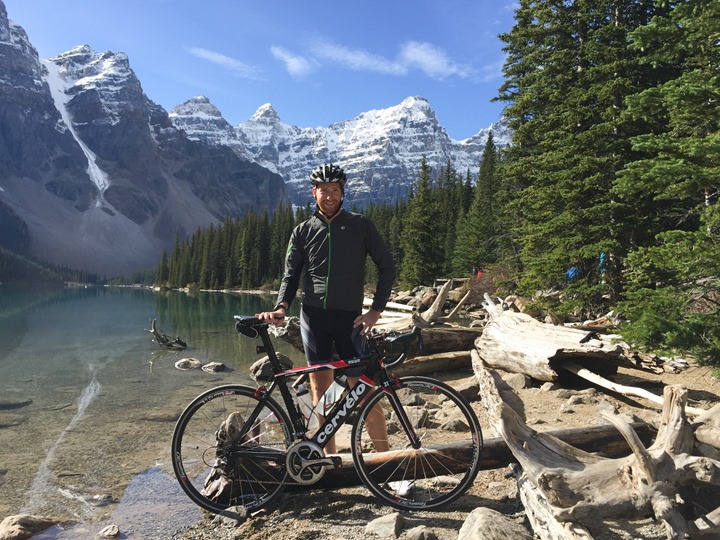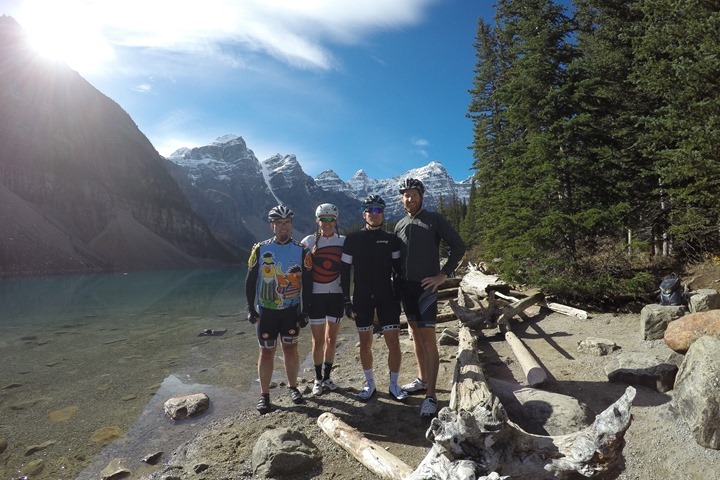 Then we backtracked down to Lake Louise, and again, got a few more photos.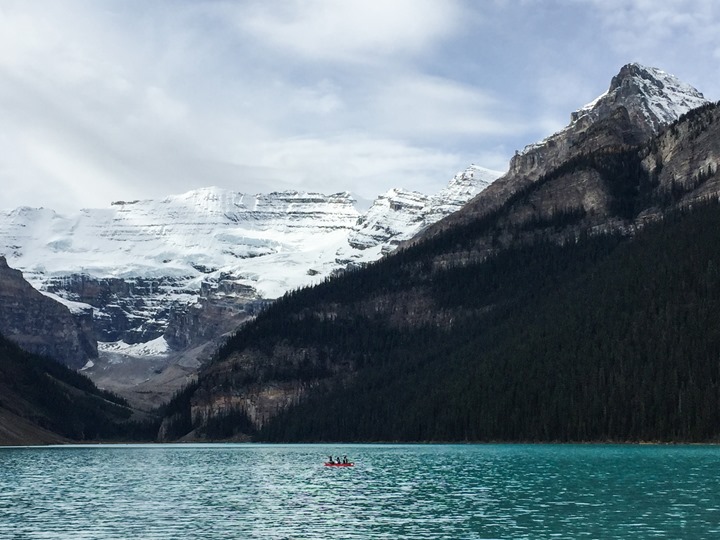 After that we may or may not have stopped for donuts.  Pics or it didn't happen.
Then from there it was back along the rolling Bow Valley Parkway towards the cars.  On the way back, I got myself one animal on my Canadian Animal Bingo card – a coyote: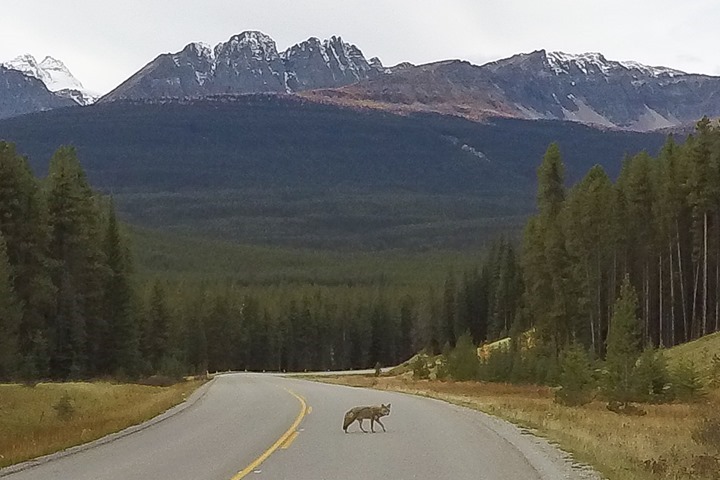 All in, the ride was some 55 miles (~88 kilometers), so not too shabby.  A little bit of elevation tossed in there of course, given we were in the mountains.  Thanks to the crew for the borrowed bike, as well as the great day to ride!
Wednesday – Mountain Riding & Running:
Just after lunch on Wednesday, I decided to just head out for a simple 40-45 minute run.  Nothing too fancy, nor with anyone else.  Just me and the mountains.
Armed with the TomTom Spark, Garmin Epix, and Forerunner 25, I worked my way down the road and eventually down to the river: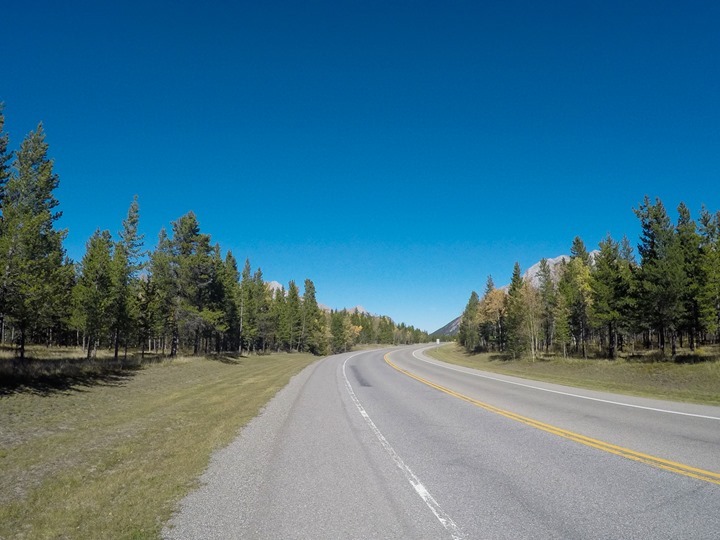 I then ran along the river a little bit before coming back up the beast of a hill on the running/cycling path that winds through the forest.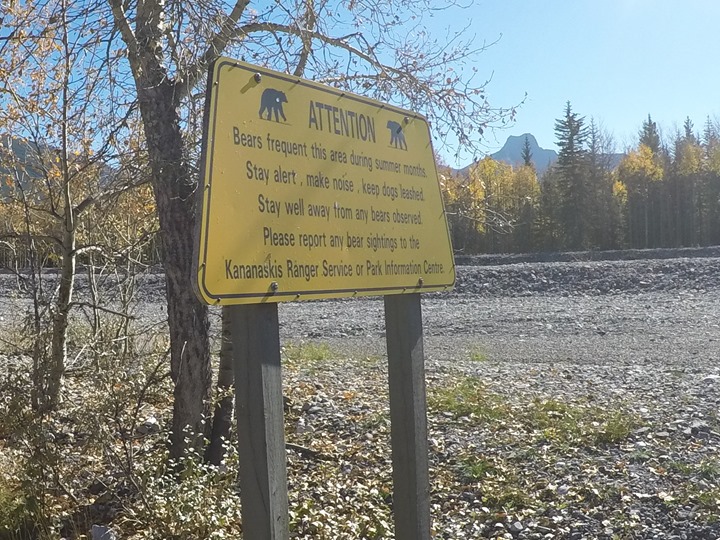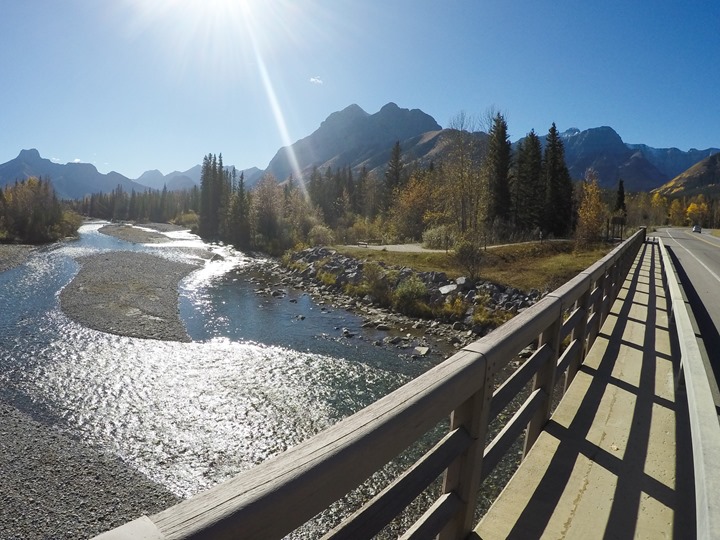 As is customary for me when running and riding around the area, I completed one loop of the scenic overlook trail before coming back to the hotel.
As I walked back into the hotel I checked in on how much it might cost to rent a mountain bike.  My thinking was perhaps later that afternoon or the next morning.
Turned out that Wednesday was their last day for rentals, before they sold off their rental fleet – so it was now or never!  Well, obviously, now it was.
I went inside and found a sucker to go with me, Chip from Wahoo Fitness.  We picked up our bikes about an hour later and headed out for a ride.  On past runs and rides of ours here, we've even seen a moose.  For this trip, we were aiming to upgrade to a bear.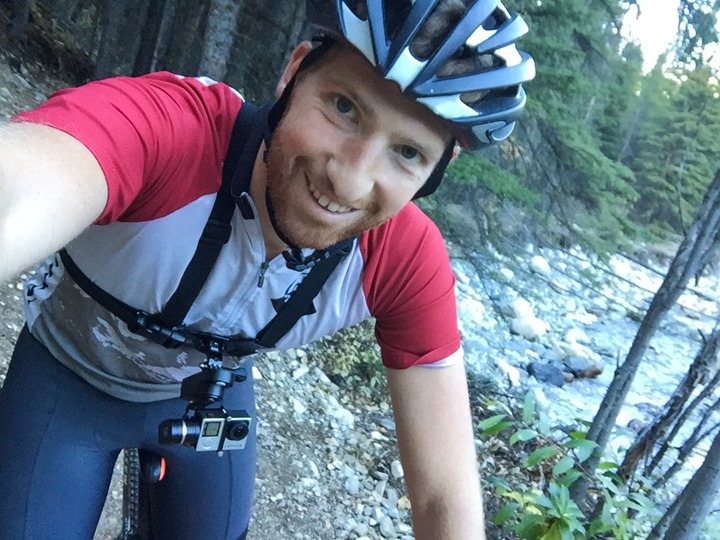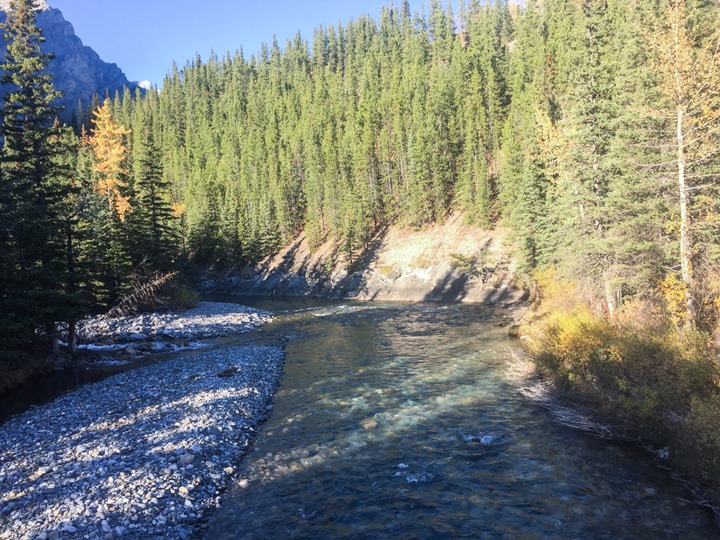 Unfortunately, no bears were in our deck of cards.  But we did have fun with the wearable gimbal a bit more.  Here's some clips during the ride:
As I had noticed while in Vegas, the wearable gimbal works fantastic while in a chest harness, but utterly sucks when attached to mountain bike bars (but is mostly OK when on road bike bars).  The sharp jolts on a mountain bike when attached to the handlebars are just too much for the gimbal to compensate for, and it basically gives up and falls out of alignment.
But when attached to either the GoPro or Garmin VIRB chest harness, your body absorbs the sharpest points of the shocks, and I never saw failures there.  Worked great!
We'd eventually come out on the roadway and take the highway back to the hotel.  It was somewhat downhill, so our speeds were nice and quick!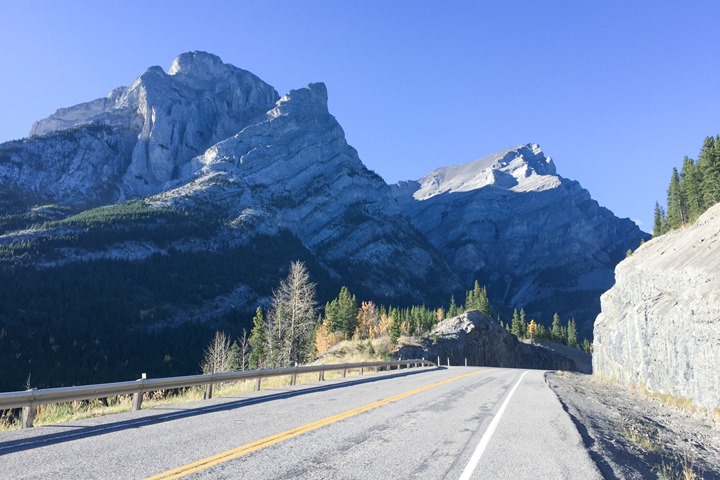 As we neared the hotel, we managed to spot a few deer on one of the cross country trails, though they don't come out well in the photos. No worries, still counts!
Thursday: The Trifecta
Somehow my days kept on getting busier.  On Thursday, immediately following my roundtable/panel discussion, I headed out for a short 5K run.  The route was an abbreviated version of what I ran the day before…just without the extra river portion along the flats.  I don't have much in the way of photos from this run, so here's one as we completed the scenic overlook portion of the loop back near the hotel: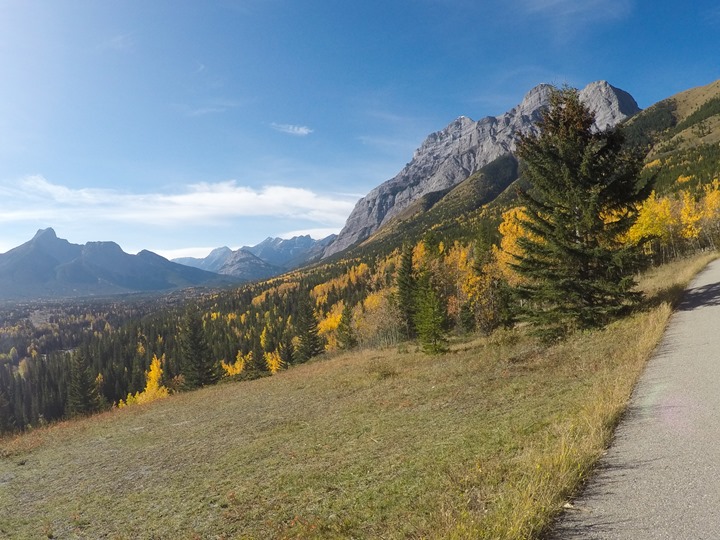 I then went back in to the conference area and grabbed lunch before delivering my presentation in the early afternoon.
After which, I stalked the Specialized guy to try and get a bit of ride time on their crazy Turbo Levo e-bike.  This was the one with the Connect IQ app for it.  At the same time, Mateo from Strava was also trying to swindle some time on the Specialized bike, so we decided to go splitsy's on it and headed outside.  He stole another bike and we'd just trade off on the bike.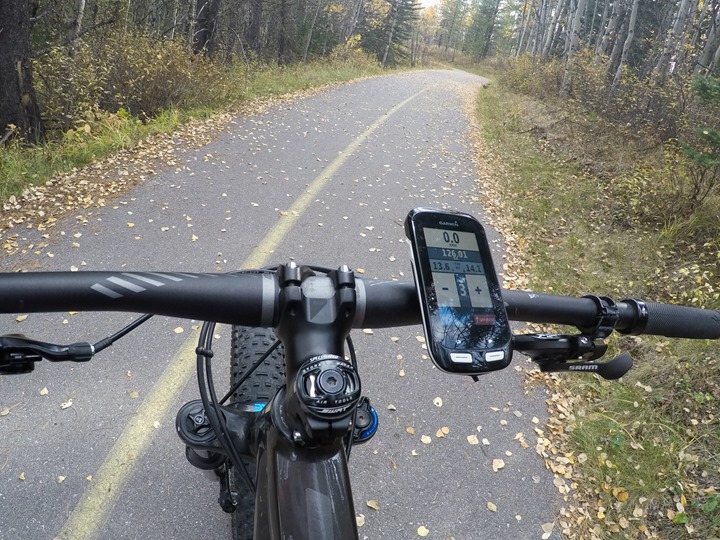 I got first dibs and it was certainly impressive.  It's motor was speed-capped at 20MPH, which is required per various US regulations for different categories.  It was definitely entertaining how easy it was to come back up the main hill to the hotel with it.  Here's a short video I shot of that:
We'd then take it off-road and climb up the mountain above the hotel into the woods.  About half-way through that we switched bikes and Mateo gave it a whirl.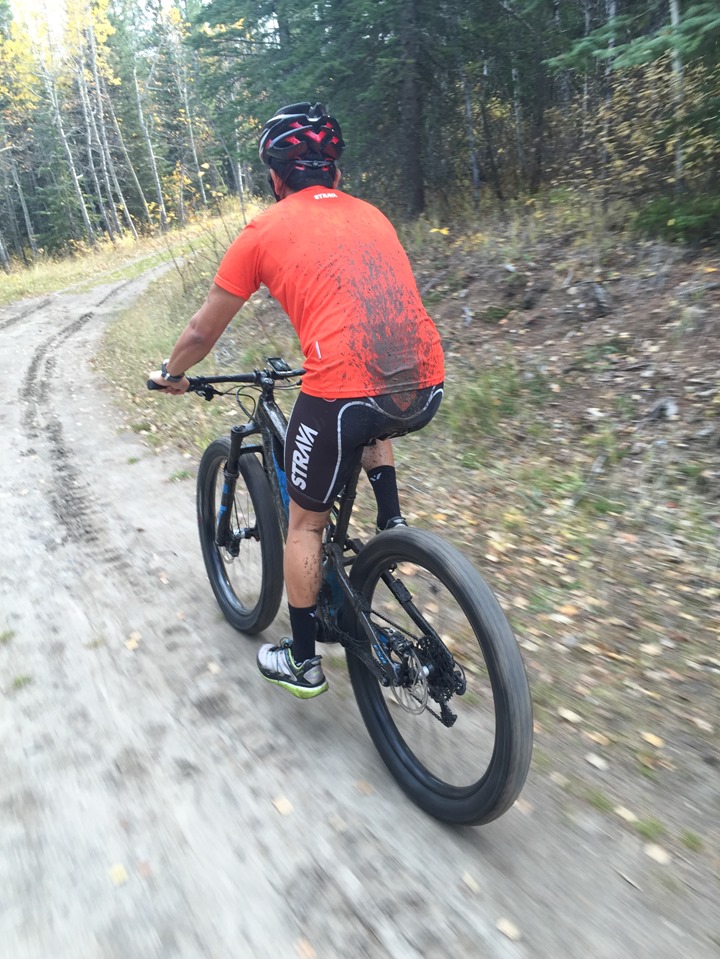 Things may or may not have gotten a bit dirty.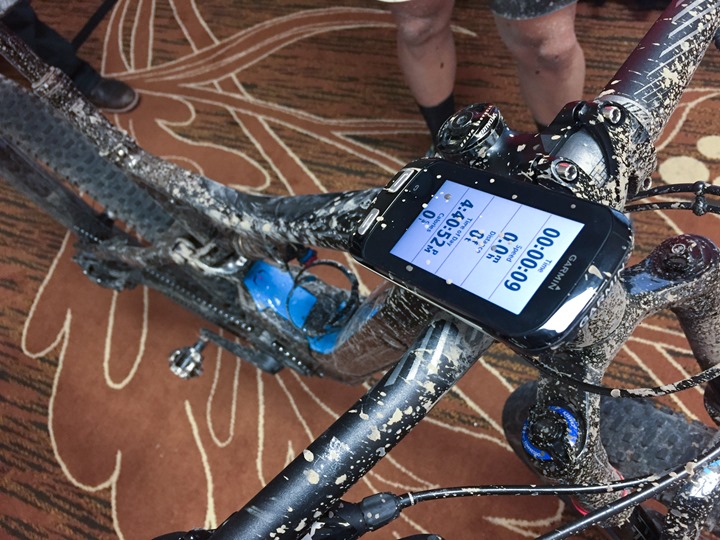 We arrived back just in time to see pretty much the entire contingent of attendees preparing to load the busses to another venue (for more riding).  Coming back from a ride covered in mud was sorta like when someone walks into the kitchen and you're eating straight from the ice cream tub.
No worries, we made a quick turn-around and soon found ourselves down at the Canmore Nordic Center, about 40 minutes away by car.  It's here they've got a slew of mountain bike trails, as well as cross-country skiing trails and quite a bit of infrastructure for biathlon.  It was originally constructed for the Olympics in 1988.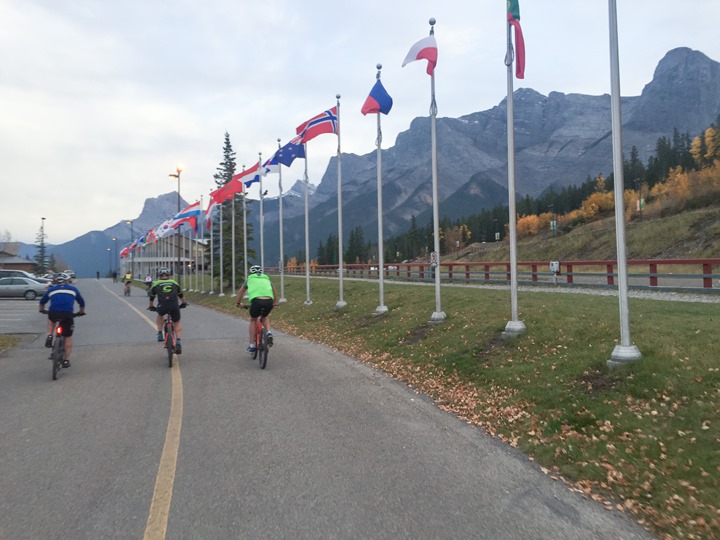 They had arranged for mountain bike rentals here, and soon we were out in the woods, climbing up the hills and gasping for air.  Being at 4,600ft (1,400m) of elevation didn't help any of these workouts.  Nor the fact that it was my 3rd workout of the day.  Or that the trail was actually called EKG: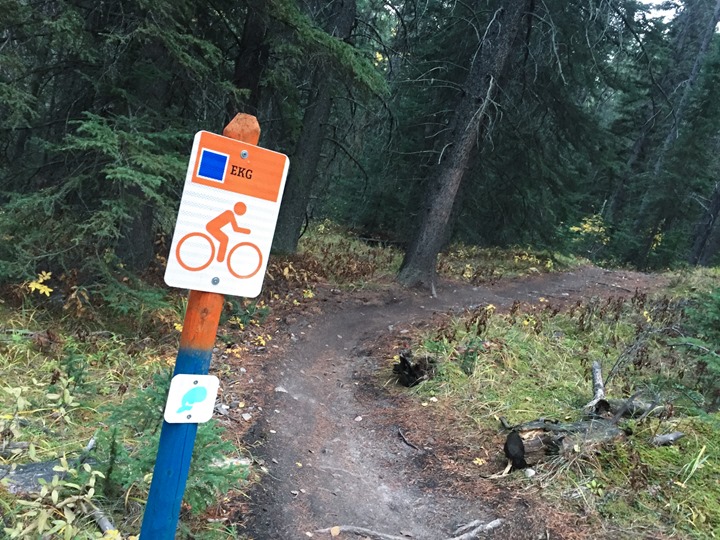 We travelled in a group of about 6-8 people – folks from Quarq, Stages, Garmin, Wahoo, Dynastream, Magura, Kinomap, and more being in my group.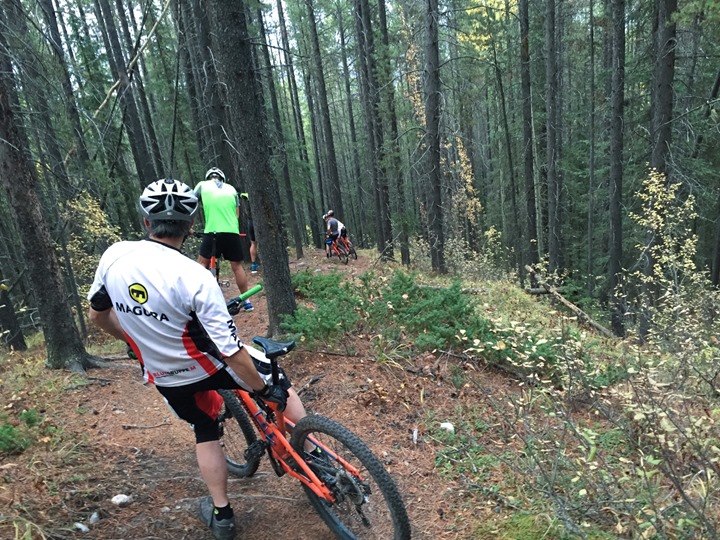 Here's a Hyperlapse video I put together of the entire ride, using a GoPro Hero4 Silver mounted to my chest harness and then run through the Hyperlapse app.  It's the first time I've tried the app.
Eventually we wrapped up at sunset and I took care of a few photos off to the side.  I love mountain locales for product review photos.
Friday – A Test Ride:
Much to basically everyone's chagrin, I'm all about squeezing every last second of time out of the day.  But in particular, days where I may have flights on the agenda.  On Friday my main limiter was sunlight.  I needed to get some product review shots, but really had to wait for the sunlight to be bright enough to get what I wanted.  So I wasted a bit of time in the duller light with the drone shooting a few things: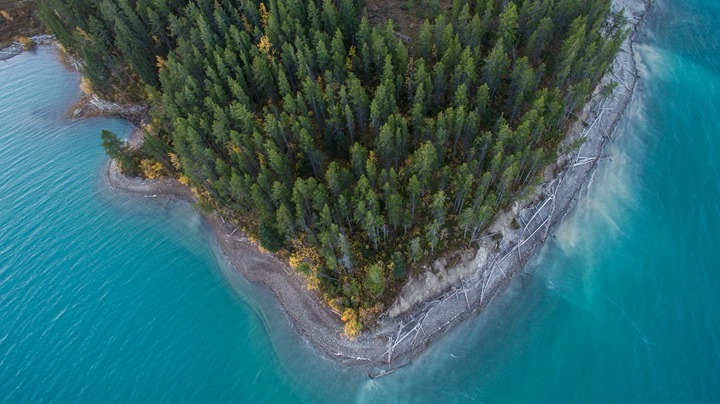 Once the sun broke over the mountains and illuminated the scenery I was able to get my shots done in a few minutes and head towards the airport.  But first I'd stop by the 4iiii offices in Cochrane to get in a short test ride.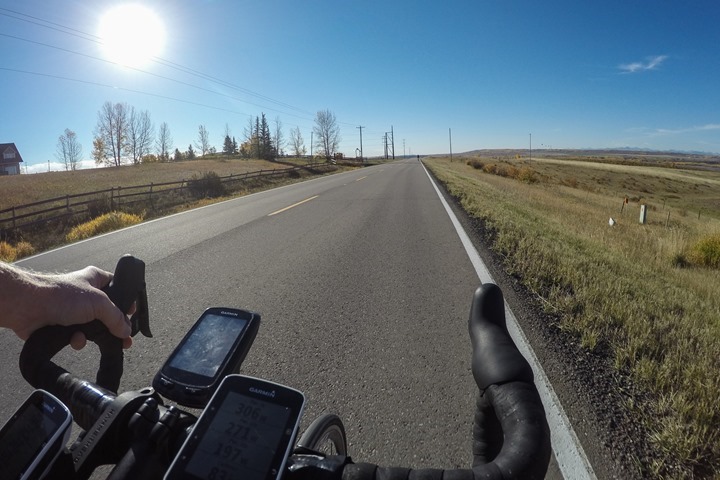 We had planned to ride about 45-60 minutes, but due to none of us apparently having coffee first – that got sliced down to 30 minutes while we troubleshot us collectively being brainpower limited caffeine challenged and pairing to the wrong device and not figuring out why it wasn't working right.
No worries, we still got in some riding – another beautiful day in the area.  A wee bit windy on the outbound (with a slight climb), but it made for tons of fun coming back into town.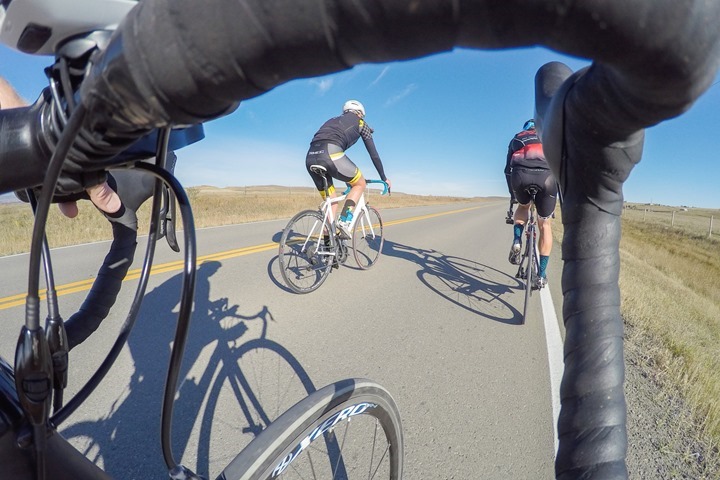 More details on what I was testing sometime later this week.
By time I got back, my schedule for the day was sorta blown.  I usually have things planned down to the minute, with a small buffer for issues – but this made things a wee bit tight. So there are no further pictures between leaving the bike and getting on the plane.  No worries…I always make it. 🙂
With that – I'm now on a flight from Chicago to Paris (wrapping up writing my slightly delayed Power Meter Guide), headed back for an insanely busy weekend with The Girl (it's the CupCakery's 3rd birthday, so we've got lots going on!).
Have a great weekend all – and thanks for reading!