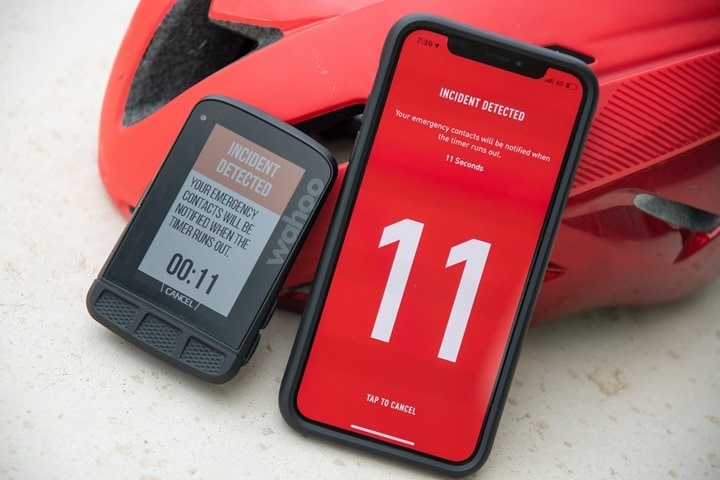 Wahoo and Specialized have announced a new integration that lets Wahoo users automatically start and stop the Specialized ANGi helmet live tracking and crash detection features, directly from their Wahoo ELEMNT/BOLT/ROAM computers. This integration (as you'll see), seems more of a first step of how the two companies can work together, rather than the end-state of the relationship.
As you may remember, Specialized acquired ICEdot a long while back (but only announced it a bit over a year ago), and then subsequently released it as ANGi, with options both built into Specialized helmets, as well as a secondary pod you could install on your own helmet. ANGi is essentially a gyro-accelerometer sensor in your helmet that's been tuned to detect bike crashes (and not have contact false-positives – in my testing over the last year+, it's done well at that). At release, Specialized included the first year of service, but then asked for an annual fee after that. Users told them to jump off a cliff. Receiving that feedback, Specialized then backtracked on the initial subscription fee. Now if you buy a helmet/sensor, you get the service for free. End of story.
Well, until today. The challenge with the Specialized ANGi implementation is that it was very app-driven. Which is fine if you're on Instagram, but less so when you just want to start riding. You had to remember to press start on the app each time, in addition to your normal bike computer tracking. Today, that somewhat goes away. Though, as you'll see – somewhat is the key phrase here. Let's get into it.
How it works:
So, in order for this adventure to work, you'll need exactly three things:
1) A Specialized ANGi sensor (helmet or standalone)
2) A Wahoo ELEMNT/BOLT/ROAM GPS bike computer
3) The Specialized Ride app installed on your phone
Oh, and all of those things updated to the latest versions of software and firmware as of today (January 20th, 2020). All of them will have quietly or not-so-quietly (cough, Wahoo) received updates in the last 48hrs or so.  So, for example, you may have to update your ANGi sensor:
And you'll definitely have to update your Wahoo bike computer. Plus the Specialized app has to be updated.  Next, you'll need to crack open the Specialized Ride app on your phone and select the new option to hook-up with your Wahoo ELEMNT:
This actually establishes a direct pairing between the Wahoo bike computer and the Specialized Ride app, via Bluetooth Smart.
And with that, you're basically done on setup. What you just did was, behind the scenes, created a middle-man connection between your helmet and the Wahoo ELEMNT/BOLT/ROAM, via your phone. To be super clear: The ANGi sensor does *not* talk directly to your Wahoo unit. Instead, it talks to the Specialized Ride app, which in turn talks to your Wahoo bike computer.
Ok, with that, let's go for a ride. The *most important* thing you need to do is ensure the Specialized Ride app is enabled and on, somewhere in the background of your phone. Without this, none of this will work (because, see previous paragraph). You can open it up and ensure it shows both little green checkboxes next to your helmet and Wahoo unit: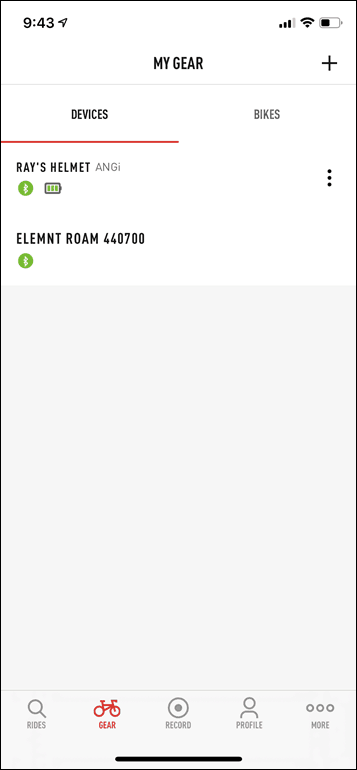 Forget to open the Specialized app? No worries, your Wahoo unit will remind you.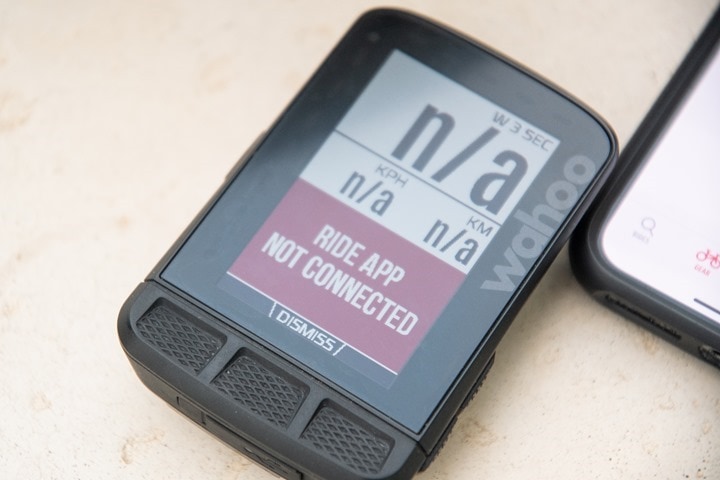 In fact, it actually pairs the sensor (well, technically the app) as a sensor. And you can actually see the three stages of progress below. The first one shows when no app is opened (so it can't see the app or sensor), the second shows once the app is connected, but not yet the ANGi sensor to the phone, and the third when both phone and sensor are connected:
Next, press start on your Wahoo bike computer. This will send a message to the Specialized Ride app telling it to start your tracking session. Behind the scenes this does a bunch of things:
A) Starts recording on your Wahoo ELEMNT/BOLT/ROAM like always
B) Starts the live tracking session via the Specialized Ride app, notifies your predefined contacts for normal tracking
C) Is on standby to notify emergency contacts in the event you crash
D) Puts the Specialized App into 'Ride' mode, showing you that it's monitoring via Wahoo
Note that location (GPS) services still comes from the phone, not the ELEMNT in this case. Meaning, it's still burning your battery on your phone and hasn't offloaded that piece to your bike computer.
In any case, a few seconds later you'll receive an activation notification on the Wahoo unit: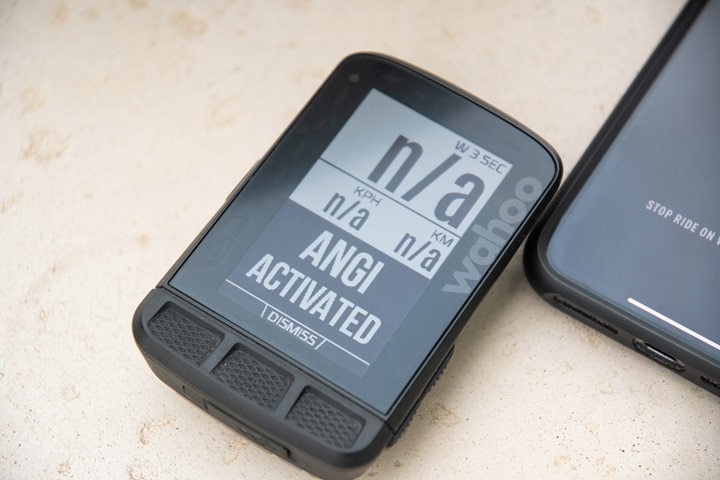 I'll note that I didn't always seem to receive this confirmation (such as if my phone wasn't open), and the timing of this was a bit funky. I think there's still some optimization work to be done here.
Meanwhile, on the Specialized app, you'll simply see a timer of your ride – indicating it's monitoring and connected – with the current ride time:
Next, you're riding along as normal. But perhaps you crash, or just employ a friend to whack your helmet really hard. This is where the whole integration shines best – as it allows you to cancel a notification prompt directly from the Wahoo unit: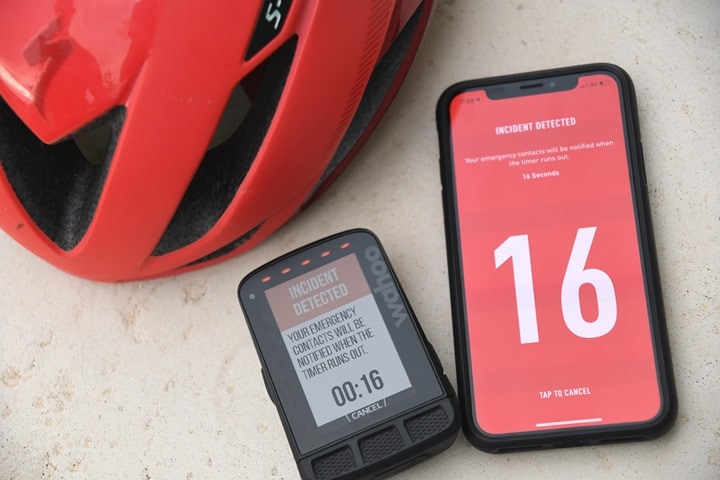 It'll count-down from 30, create a racket of sounds that sounds like R2D2 and C3PO are being kidnapped, allowing you to cancel at any time.  Oh wait, you wanted that hilarity in video format? No problem, here's some late night kitchen table antics:
And, in the event you press cancel, you'll see this: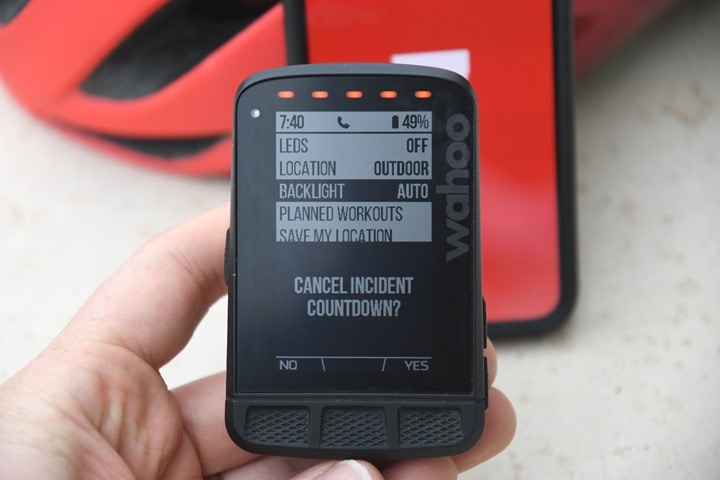 If you don't cancel, it'll notify your contacts and say as such on the screen. It's up to you to tell your friends you didn't actually crash but instead just dropped your helmet somehow. If you did crash though, it'll give your friends notifications of your location and all the usual ANGi goodness I've previously outlined.
Finally, at the end of the ride, it'll stop the ANGi tracking bit when you stop your Wahoo ride on your ELEMNT/BOLT/ROAM, so you basically don't have to think about it.  The only challenge I ran into though was a splitting of today's ride. About mid-way through the ride I opened up the Specialized app to grab a screen-shot, and it appeared to awaken from a paused state, stumbled over itself, and then resumed the tracking. But in doing so it split the tracking of the ride into two pieces. So my pre-defined contacts actually got two portions of the ride.
This didn't impact the Wahoo recording at all, but it's still not entirely ideal. I suspect they'll dig into this and let me know what's up in due course. But it's 2AM Specialized time, so…yeah.
Note on pricing, while Specialized only requires a one-time purchase of the pod in order to enable the free subscription, that pod isn't transferrable to other people. While that's probably a minor use case, it's something worthwhile noting.
Wrap-Up: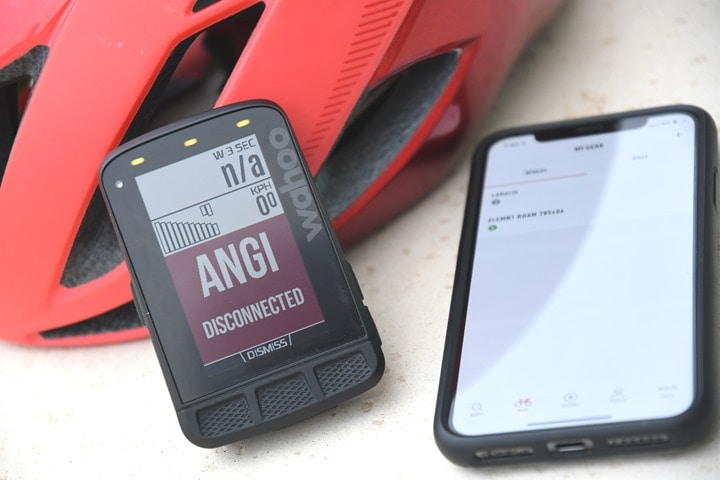 Overall, I like this integration. Or at least, I like where it's going. I think it's a very solid first step, but I'd like to see some of the moving parts removed. I think the ANGi crash detection sensor and platform is really strong. By moving the crash detection from the handlebars to your head, it minimizes the false-positives significantly (compared to the Garmin crash detection for example). Remember that for most sensors it's a combination of not just g-forces, but velocity as well. In the case of a bike computer acting as a crash detection device it looks for normal speed, followed by zero speed combined with a high g-force event. Whereas with a helmet, speed doesn't much matter because they assume any high-impact event to your head isn't ideal.
So, the sensor tech is good – but the achilleas heel of the Specialized solution has always been the software. While well done, it was just too many steps. And this seems to remove some of those steps (namely, opening the app and pressing start). However, I still think it's too many steps. Right now you've got duplicate Wahoo and Specialized Live Tracking now. It's pretty darn likely someone will have the Wahoo app open in the background (so that post-ride stuff syncs automatically in the event WiFi isn't nearby). I'd like to see Specialized just leverage that directly.
That'd also have the benefit of reducing battery burn waste on your phone, because the Specialized app is tracking via GPS the entire time there. The Wahoo device already does that with its own onboard GPS – so might as well use that for tracking (as Garmin does in their live tracking platform). Then behind the scenes Wahoo and Specialized could deal with any notifications. Again, just like the Strava Beacon and Garmin tracking integration works.
Like I said earlier on – good stuff, and a really good start. It'll benefit users today. I'm just looking forward to where this could go in a year.
With that – thanks for reading!