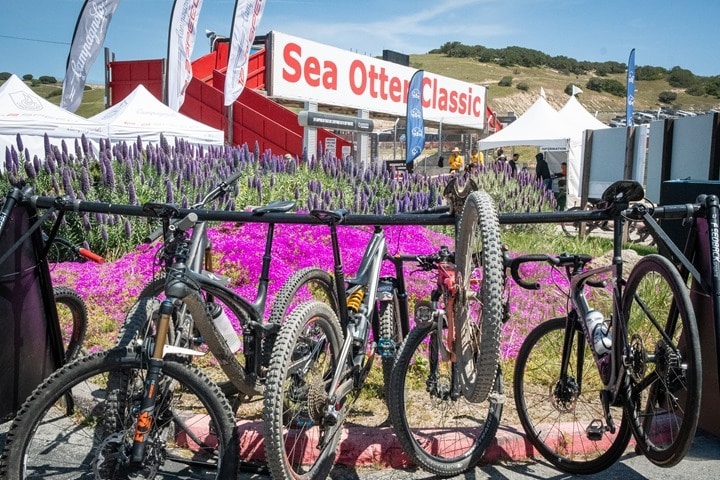 Last week was the annual Sea Otter Classic cycling festival. It's part trade show, part consumer show, and part bike racing scene. Also, there's free beer at sunset at the CLIF bar booth…and you get a free metal cup for drinking said beer. Just sayin'.
Though I suppose that's not sports tech. Which isn't to say there wasn't sports tech – there was a fair bit of it, but not as many announcements as years past. I think partially because the larger companies are realizing (duh) that they can command more attention at launches held on either side of Sea Otter. For a company like SRAM, Garmin, or Wahoo – there's really no need to announce at Sea Otter to get the media attention they want. So they'll find other dates instead. We saw SRAM do that with Force AXS two weeks ago.
So this year was a bit quieter in that respect. Still, here's a slew of items that were announced or, at a minimum, updated during the show. Though regrettably, none of which involved free beer.
4iiii Releases Theft Tracking Release: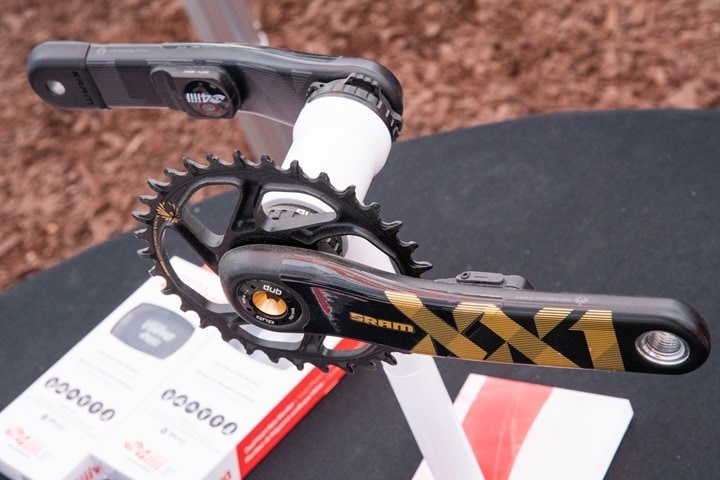 While 4iiii didn't have any totally new products at the show, they did formally announce that their power meter theft tracking solution was now available to 4iiii power meter owners. You'll remember I outlined this solution back at CES in January 2019, which effectively makes your 4iiii Precision power meter a beaconing node on the Chipolo network (one of a few networks, like Tile, that allows for finding your goods that are lost/stolen).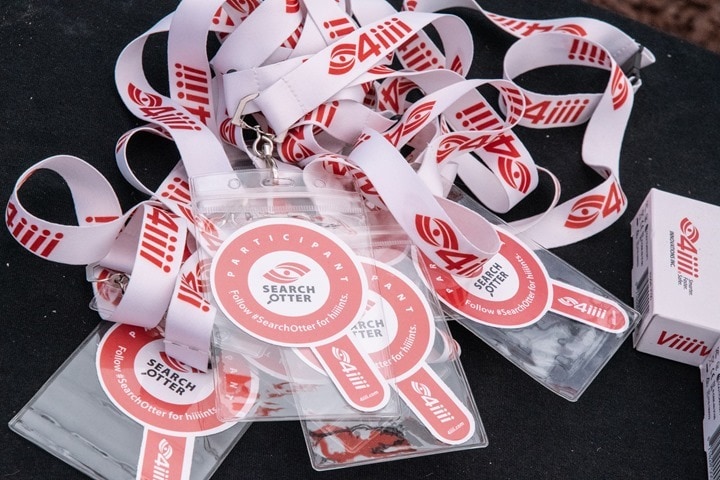 At Sea Otter they actually had a 'search and win' game where there were 4iiii power meters stashed on the grounds and you could go out and win one, with a few stashed each day. Apparently GPLama went in search of one, but made it about 90 feet before getting distracted by the CLIF bar stand. In unrelated news, CLIF reports a pallet of bars has gone missing.
While I haven't played with the tracking tech in real-life yet (and didn't have time for the Easter Egg hunt), I did bring home a complete Precision Pro dual unit with it enabled, which will be the first time I've tried that specific unit out on my own bike (I've ridden it on some test bikes here and there at events). So expect a full review of that power meter in the May timeframe, inclusive of the theft tracking tech.
Acer's Xplova NOZA trainer:
I'd never thought I'd be talking about a trainer from laptop company Acer, yet, here I am. Xplova is Acer's cycling focused brand, where I've touched on some of their products before – such as their head unit.  Back a few months ago the company quietly showed their Xplova NOZA direct drive trainer.  The trainer provides 18% grade resistance up to 2,500w and to a claimed accuracy level of +/- 2.5%. Additionally, the company notes a rather quiet decibel level of 58db, which would be on the 'almost silent' range of trainers.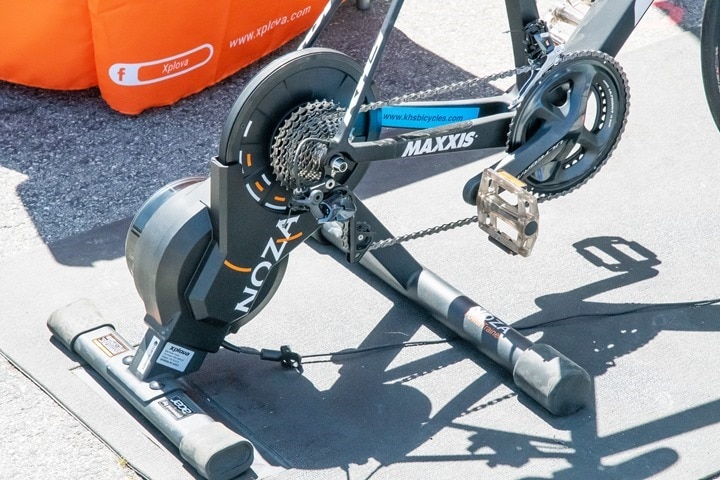 The trainer has all the usual protocol support, including ANT+ FE-C and Bluetooth Smart FTMS control – so it'll work with all your favorite apps like Zwift, Kinomap, Sufferfest, and TrainerRoad – among countless others.
Pricing-wise, the company has a retail price of $899 for the unit, however, if you placed an order at the show then the price was $699 (and other pre-orders have been at the $799 price point).  This is notable because it effectively establishes a bit lower floor for where Xplova could go with the pricing of the unit, as a way to compete against the branding from Wahoo, Tacx, Elite, and others (which is frankly the only way you can compete with well-established giants when your specs are otherwise identical).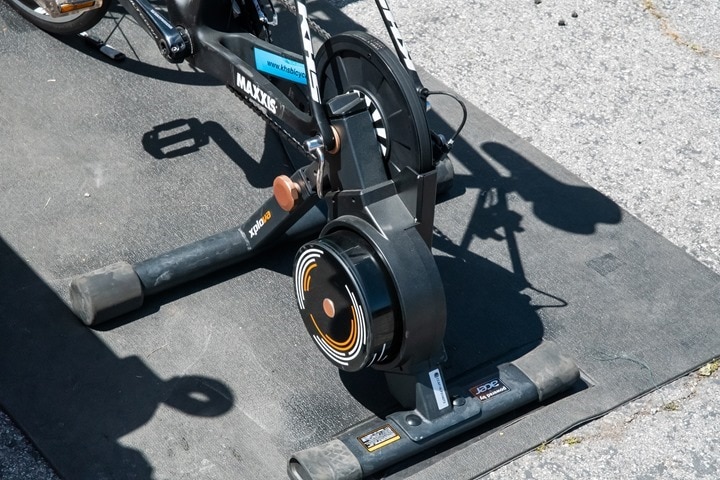 Of course, given this was an expo there wasn't really a way to test out things like accuracy, or dive deep into road feel. Still, I did do a few quick sprints on it, and the road feel wasn't bad. Certainly in-line or exceeding expectations for an $899 price point, and definitely above expectations for a $699 sale price point. The company says they're still in the pre-order phase, but are expecting to ship sometime this summer (probably July-ish). So stay tuned for that and a review once I've got a unit on my turf.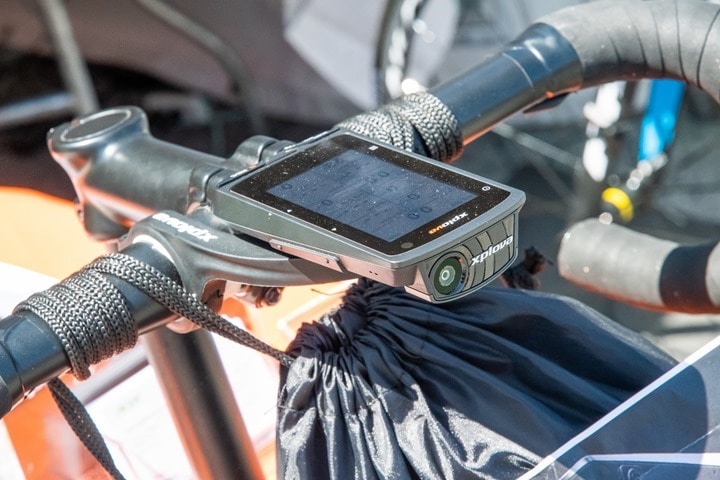 Finally, note that I did get a closer look at the newer Xplova X5 Evo, which is a color mapping touchscreen unit complete with a camera built into the front of it. I had previously reviewed (sorta) the prior generation unit with mixed feelings. It had a lot of potential, but fell apart at some of the execution bits. This new unit seems to take on those challenges with functions targeted specifically at addressing those concerns. While I didn't bring a unit home, the company says they're working to get one in my hands to poke at on an actual bike.
Like before, it's certainly not a Garmin killer, but it's also not a dud either. They've definitely made progress and have features that nobody else has (the camera stability looks much better now), which will undoubtedly appeal to people – and also be areas where their competitors could learn from as well. Anyway, more on that down the road.
BarFly's new mounts:
We've got a handful of new mounts from Barfly being launched here, starting with the new Race Mini ($50), which is an all-metal mount that's designed for smaller head units like an Edge 520 or Wahoo BOLT – but not compatible with the larger Edge 1030 units.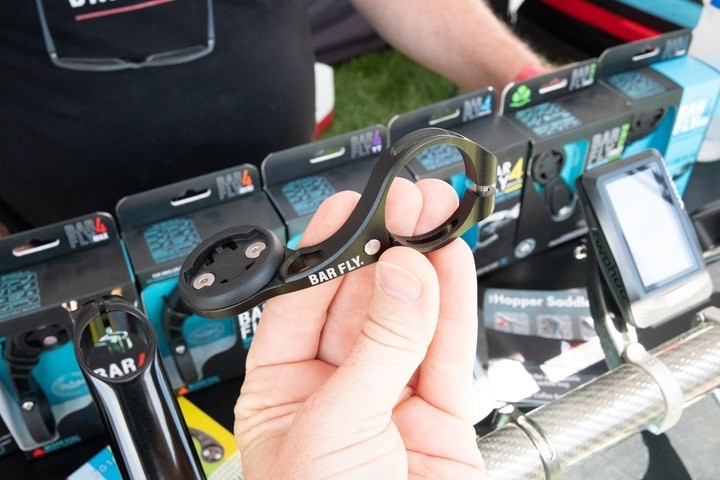 Like all Barfly mounts it comes with the massive boatload of compatible inserts, so it basically supports just about all the major (and minor) cycling head unit brands: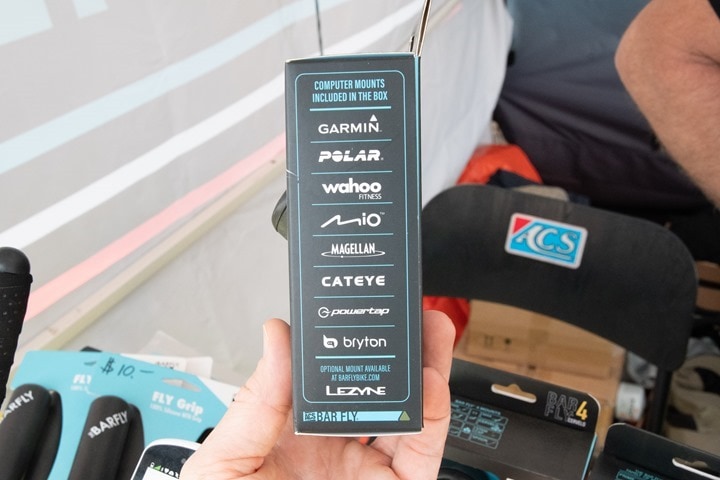 In addition, the company will be selling an all-metal GoPro underside attachment mount for $25 available next month. That piece attaches under your existing all-metal BarFly mount. To me, that's a wee bit steep for this particular price point, though I suppose depending on which head unit you have – you may not have a ton of choice.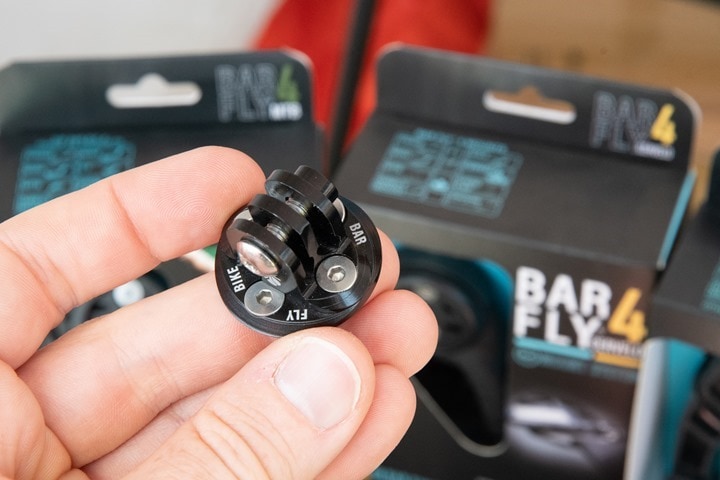 Next, there's an updated Race Spoon mount, available for $50 starting June. This unit is designed to mount under an EVO Stealth bar with inline holes, alongside other integrated handlebar systems. They noted that this all-metal mount (shown here prior to being painted black) will end up being a bit lighter than the previous generation Race Spoon.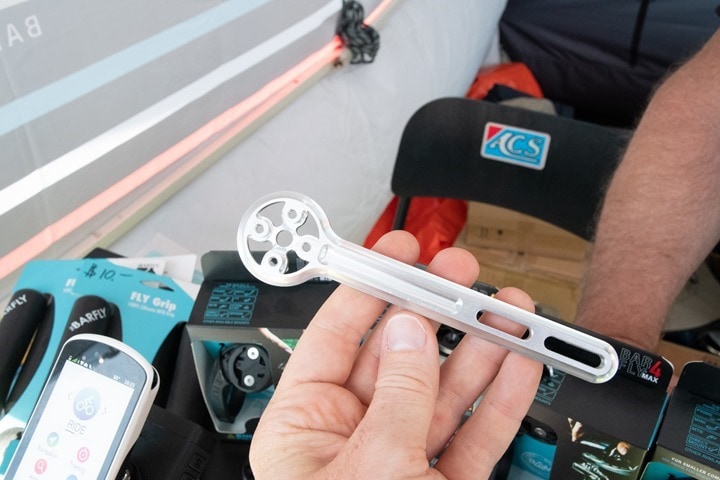 Finally, earlier this year the company announced the Barfly Race Direct, which is a Cervelo focused mount available for $50.
However, that mount isn't designed for heavy payloads, so the company doesn't recommend it if you plan to dual-stack a head unit and GoPro below it, since there's a chance it could snap and cause serious sadness.
Bryton's Rider 450: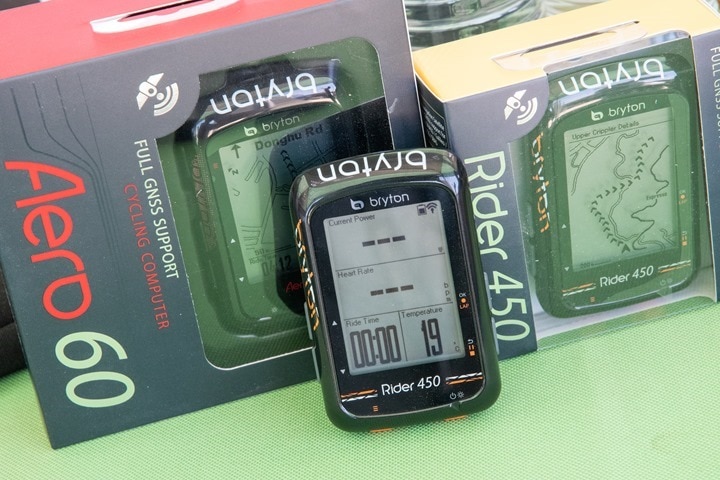 This wasn't launched at Sea Otter, but I did get to take one home. So thus, it's getting a brief mention. I got a hands-on look at the Rider 450 unit, which is their $200 cycling GPS with navigation. From a routing standpoint it's roughly equivalent to a Wahoo BOLT. In the sense that you'll get turn by turn directions, but only for routes loaded to it from a phone/site (versus maps on something like a Garmin/Sigma/Hammerhead that you can route to an address directly on the head unit, no phone involved).
Though unlike both Garmin/Wahoo, Bryton can set up multi-point routes on their apps (meaning, you can just tap-tap-tap your way to creating a route) and instantly sync the turn by turn directions to the device.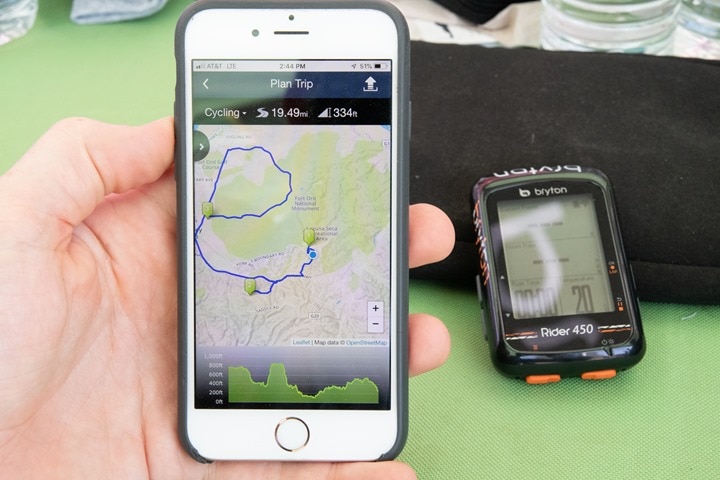 The Bryton Rider 450 is $200, which is cheaper than Wahoo's BOLT at $249 or the Edge 520 Plus at $279 (though again, that has a deeper mapset). Obviously, tons of differences between these units that I can't begin to touch on in this single post.
And I know many will appreciate that the Bryton can be configured on both mobile phone or the unit itself. Wahoo only allows on-phone configuration, while Garmin only allows on-unit configuration. A company that swings both ways understands both preferences.
Again, these are just two features that stood out to me from the list of things shown. As part of some sort of long post I'll dive into the nuances of things that inversely may not be there (or may not be as one hopes – just like any other head unit on the market).  It's been a while since I've done a Bryton review, mostly since there was low interest a few years back – and honestly I still don't hear much interest from folks. So consider this a tester.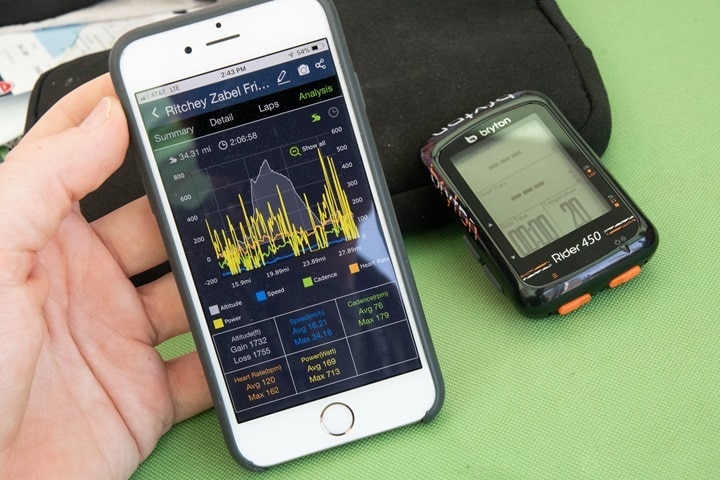 Note that there's technically both the Bryton Rider 450 and Aero 60. Functionally they're identical from a software standpoint. It's just that the aero unit has a different mounting system. Same unit, different mount. After taking one look at the mount though, I decided that I needed to preserve my handlebar dignity as best as possible, and just went regular Rider 450 which has a simple quarter-turn mounting system versus a pancake spatula sticking out the front of my bike. But more on my first ride later, probably next week once I finish unpacking my suitcase.
K-Edge's Integrated Handlebar Mounts: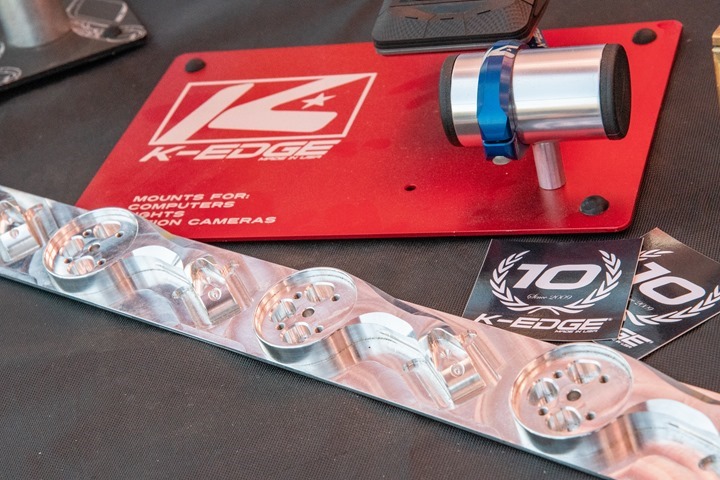 K-Edge was on hand celebrating their 10-year anniversary, and in doing so announced their new 'IHS Mount' (that's the exact name), which stands for Integrated Handlebar System, and does exactly as it implies – mounts (integrates) your device to handlebars that don't have typical round bars, by using the semi-standard dual-hole system under the front of the handlebars. Of note is that Canyon also just went back to this centered two-hole system for their handlebars/bikes going forward, making it easier to centerline mount items. Also, it has a center pivot point, allowing you to get the exact angle you want.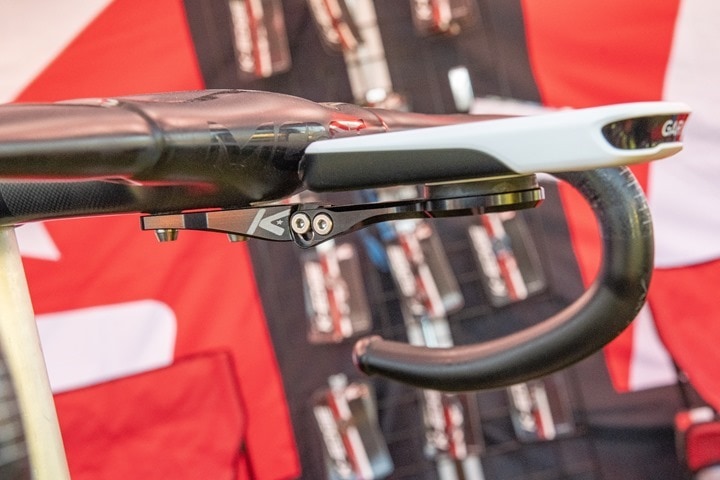 Like all K-Edge mounts, you can get it in the swappable insert system, such as swapping Garmin for Wahoo inserts.  Additionally, it's GoPro compatible. The IHS mount is $49 and will start shipping June 1st.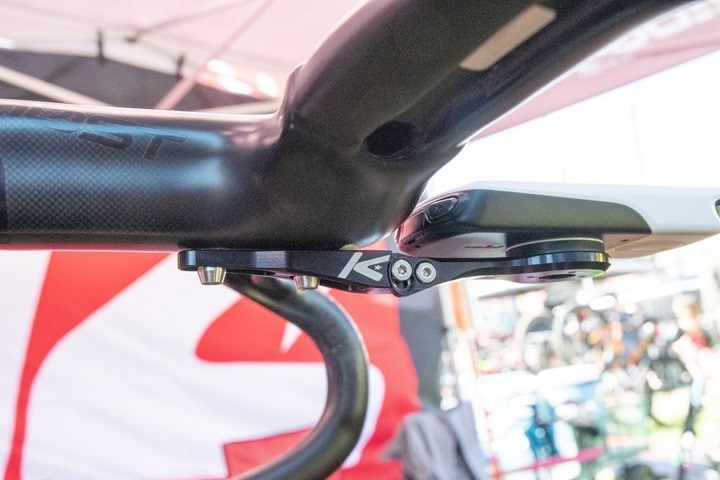 In addition, back this past winter the company started shipping their Di2 junction box holder, which is a tiny little metal sliver that slides into your stem/spacer stack but doesn't add any (meaningful) height. The design allows a tiny bit of flex in the junction box, and is now used by a bunch of pro teams that don't want to dork with the fit on their riders for other solutions. Best of all, it's only $14.99. I can't remember the last time I bought any sports tech accessory for that cheap. You can see it below in the packaging, as well as attached to bike pointing left.
And again, that bit is already shipping. Finally, in the random trivia department – the company is now used by 12 WorldTour Pro Cycling teams this year.
Stages Dash Updates: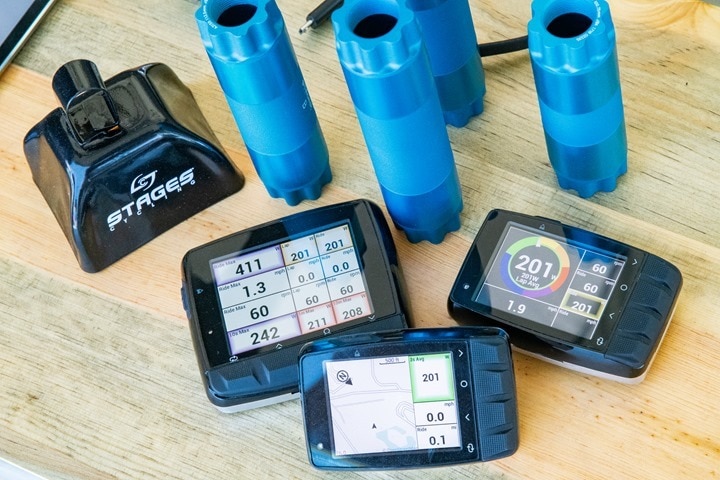 This is going to be the shortest update tidbit of all updates, and is merely to note that Stages is still chugging on getting their last-summer announced Stages Dash M50/L50/L10 units shipped. The company has been over the top honest and (daily/hourly) involved in the comments section of my previous January post on the units here, but the update for Sea Otter is simple: Hopefully next month.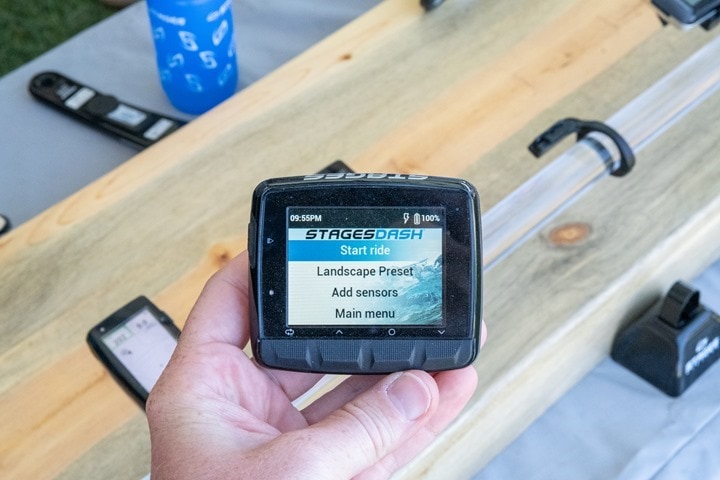 Granted, that's roughly been the message since…well…November. So we'll see. Still, they are looking nice, especially the brightness levels as before.
Wahoo Announces New Hardware: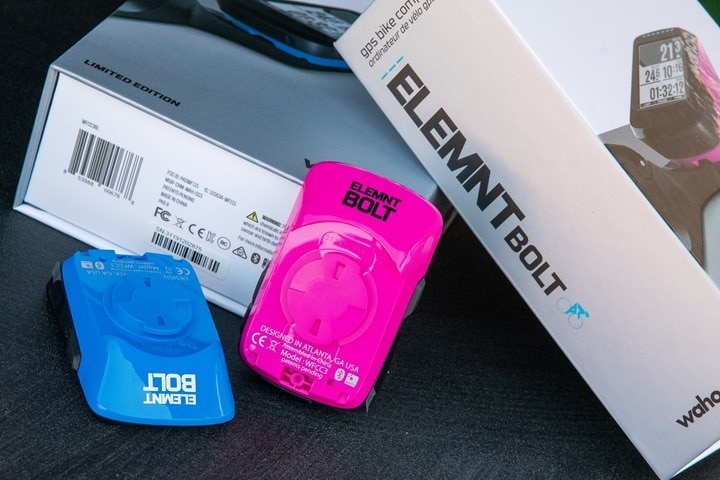 After much hype, Wahoo has announced two new pieces of hardware: Pink, and Blue.
While many people thought/hoped this would be new units, the reality turned out to be a bit more baby nursery themed. A topic we chatted about on the podcast yesterday.
Still, despite our collective objections (and apparently also extending to those on Twitter) to the way this was launched, the reality is that Wahoo's previous special edition colored units did sell very well (the red and yellow variants), and Wahoo says people had long been asking for these two colors as well. So this move does make complete sense, with a relatively low cost to the company.
Both are available today (select 'Limited Edition', then either Pink or Blue), for as long as the 'limited edition' timing lasts (no specific known end date/time).
—
With that – I've got a few other sideshow Sea Otter things I'll post about in the coming days, including my SRAM eTAP Force AXS hands-on post as well as a closer look into the TrainerRoad outside workout features. Thanks for reading!