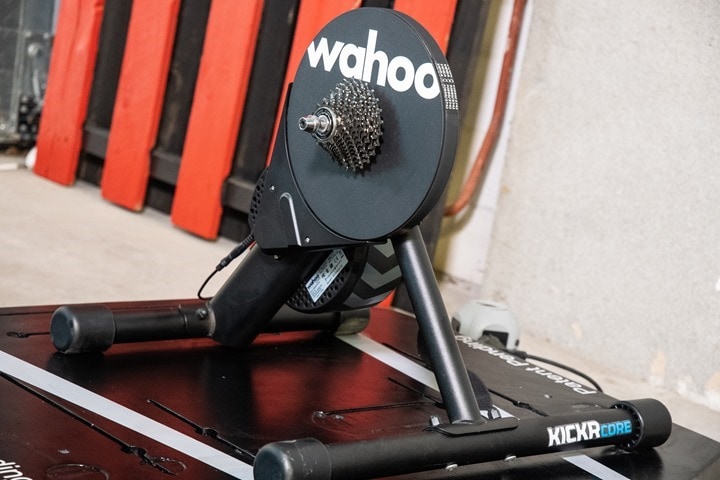 This past July at Eurobike, Wahoo announced their two latest trainers – the near-annual update of their mainstay, the Wahoo KICKR (2018 Edition), as well as a new lower priced trainer – the KICKR CORE. Wahoo has always had an even lower priced option, the KICKR SNAP, but that trainer isn't quite as powerful and requires your wheel be left on the bike. The KICKR CORE aimed to essentially sit in the middle-ground of those two trainers from a budget standpoint, as well as lower the price of Wahoo's direct drive trainer option.
Except, a funny thing happened – Wahoo probably just gutted sales of its higher end KICKR 2018 trainer. After all, they essentially just took an existing KICKR 2017 trainer (that almost everyone loved), made it silent, slapped less fancy legs on it, and called it the KICKR CORE for $300 less. Donezo.
But is it really that simple? Well, that's what I set to find out. It's been about a month and a half since I started riding the KICKR CORE as my main trainer, so I've got plenty of miles on it. Structured workouts, free-form Zwifting, and just dorking around. All on plenty of apps too – Zwift, Fulgaz, TrainerRoad, and more.  I've been capturing all that data and have it here for you to dig into.
First though, the usual note that a loaner unit was sent to me, which I'll shortly be packing up – along with the KICKR CLIMB and a few other gizmos from the summer Wahoo releases. I'll summon the DHL man and he'll hate me for the massive pile of heavy stuff. But ultimately, it'll go back to Wahoo and that's that.  Just the way I work. If you found this review useful – hit up the links at the bottom of the review – I appreciate it!
What's in the box:
First up is getting this thing out of the box and built. Unlike past KICKR series products, this does actually require some assembly. Also, it's in a really tall box compared to past KICKR products.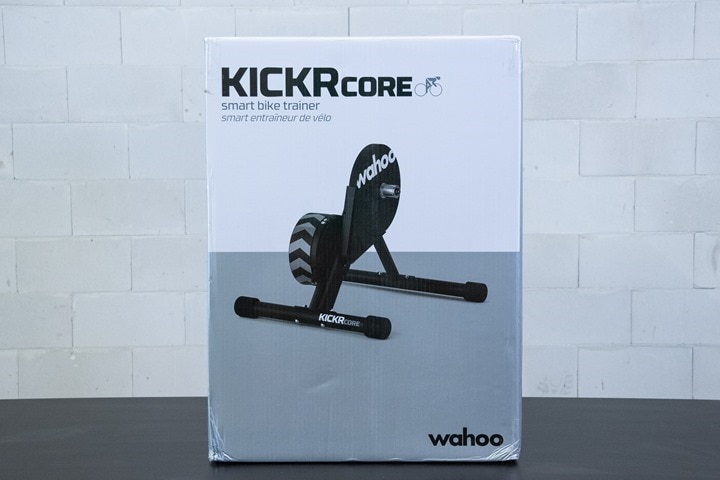 Now in my case, I did an entire unboxing video which I've yet to edit and publish, so I'm taking some screen captures from said video. Once you manage to get the inside of the box detached from the outer shell, you'll find the trainer sitting there. About 2 seconds later the power cords will fall from the foam and clunk down onto the trainer.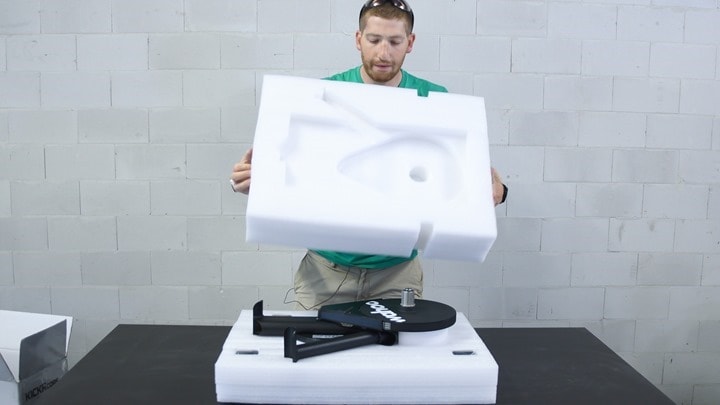 Meanwhile, if you get rid of the foam you'll find the two legs in there – each wrapped in plastic. You'll also find a small tool for attaching the legs and some bolts. Along with the quick release skewer and thru-axle adapters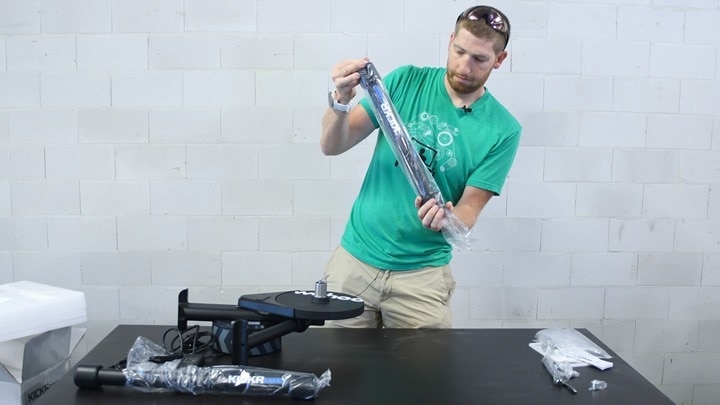 Here's both of those sets of small parts:
Back on the installation front, you'll study the manual 18 times over trying to figure out which leg is considered the front leg and which leg is considered the back leg. Eventually you'll give up on the manual and simply look at the front of the box and try and match the two together.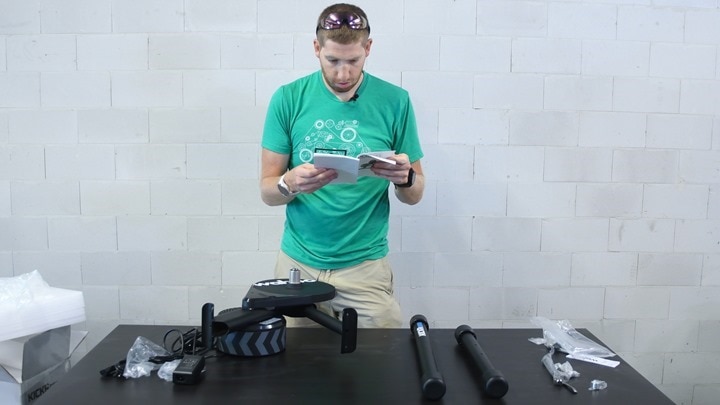 Then you can start building it. It's really just a case of attaching those two legs. You've essentially got a 25% chance of getting it right. That's because you could (try) attaching the leg to the wrong side. But you could also try attaching the leg in the wrong orientation on the right side. Again, just look at the outside of the box.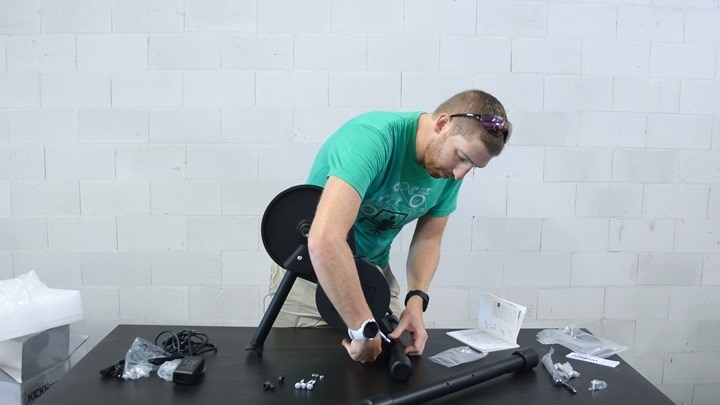 A few minutes later you'll be all set: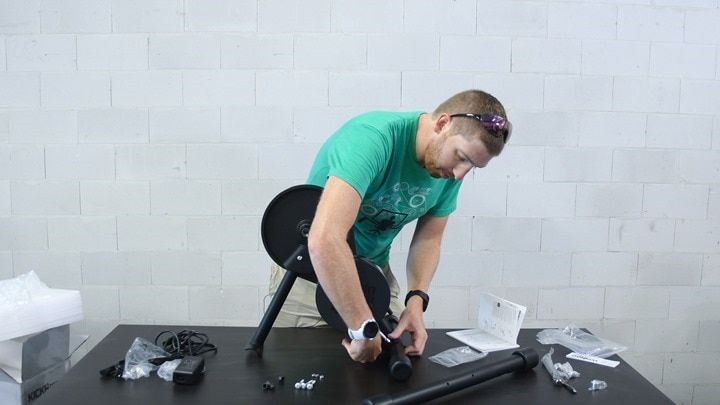 And you'll have your proud trainer looking back at you: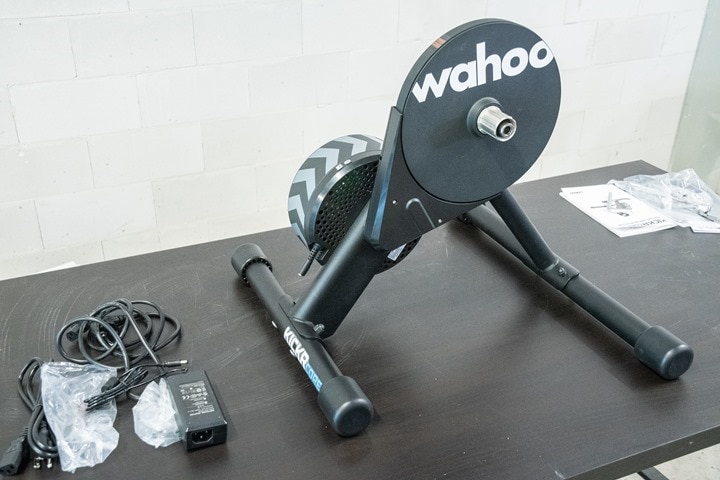 The power cords are off to the side. However, you'll notice you're missing a cassette on it. Fear not, we'll get to that in just a moment. After all, this is called the 'What's in the box'' section, not the 'Get it working' section.
The Basics: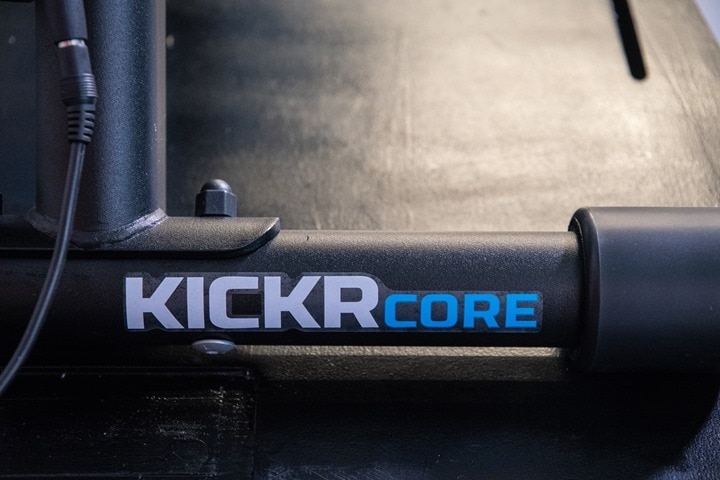 The basic concept of the KICKR CORE is to follow what both Tacx and Elite did with their respective $899 trainers in the last two years. Both were huge successes for them, and in doing so they took away sales from Wahoo's higher end and lower end units. Essentially, Wahoo had a gap in their lineup.
So to create the KICKR CORE they took what is essentially a 2017 KICKR, made it quiet, and gave it a different pair of legs. Roughly. It's not quite that simple, but in a lot of ways it sorta is.
But before we get too far, let's do a quick dive into the core (get it?) tech specs in a bulleted fashion:
– Direct drive trainer: This means you remove your rear wheel just like a regular KICKR
– Flywheel: It has a 12lb flywheel, which is slightly less than the 12.5lb KICKR 2017 flywheel and the 16lb KICKR 2018 flywheel
– Legs: The unit can't adjust height like a full KICKR can for different bike sizes, it is what it is
– Cassette: Unlike a regular KICKR, this unit doesn't include a cassette, which will set you back $50-$60, plus $10-$20 in tools to install
– Sound: This uses the new KICKR 2018's belt system, so it's silent as well – a huge difference to competitors
– Handle: This unit lacks a handle compared to newer KICKR units, still, it's not too bad to move around as I found out for taking photos
– Protocol Compatibility: ANT+ FE-C, ANT+ Power, Bluetooth Smart Trainer Control, Bluetooth Smart Power
– App Compatibility: Every app out there basically (Zwift, TrainerRoad, Rouvy, Road Grand Tours, SufferFest, Kinomap, etc…)
– Compatibility: 130/135 QR, 12×142 & 12×148 Thru-Axle
– Max Incline: 16% simulated grade
– Max Wattage: 1,800 watts resistance
– Stated Accuracy: +/- 2%
– Wahoo CLIMB Compatibility: Yes. Simply yes.
For comparison, here's the price points of Wahoo's trainer lineup (I dive into all the details in the comparison section down further below):
Wahoo KICKR 2018: $1,199 direct drive trainer with larger flywheel, includes cassette
Wahoo KICKR CORE: $899 direct drive trainer with medium flywheel, no cassette included
Wahoo KICKR SNAP 2017: $599 wheel-on trainer with good but not great road-feel
Oh, with that out of the way let's get into the details of setup and configuration…which won't take too long. Unlike similarly priced trainers from Tacx and Elite, there's virtually no assembly required here. Minus adding in the cassette – which is the same for all trainers at this price point (Wahoo's higher end full-KICKR includes a cassette).
You're looking at about $65 for a Shimano Ultegra 11-speed cassette. Of course, you can go SRAM if you have SRAM.  You will need a lockring tool though to install the cassette, and ideally a chain whip. Those will set you back about $10-$25 for the tools.  The process is super simple though and shouldn't take more than 5 minutes.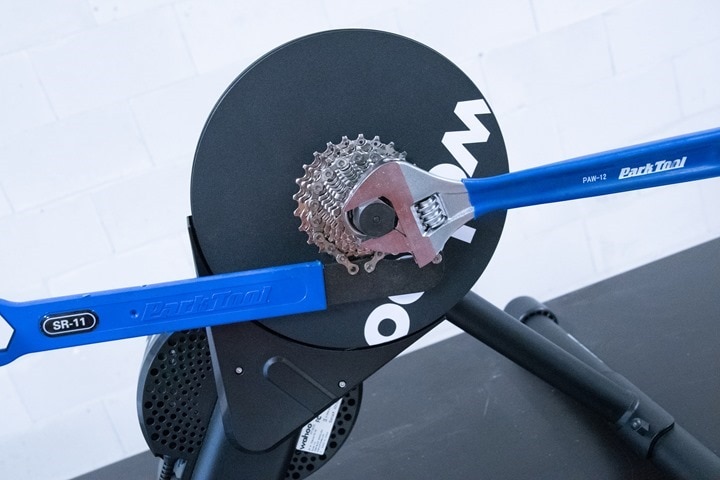 The legs fold-out in a manner fairly similar to that of the Gravat trainer.  It's a bit wonky to close when lifting it up, kinda like the Gravat, though it has slightly more (barely) protection than the Gravat for closing your fingers in there.  Either way, it's different than the full KICKR which allows you to adjust the height as well. Honestly, you won't notice. There are times I've gotten a new KICKR and totally forgot to change the height for weeks – didn't notice.
You'll then plug it in using the included 110-240v power block/plug.  This cable connects via a small flexible quick-disconnect option on the back of the trainer, in case you trip over the cable (it won't hurt anything then).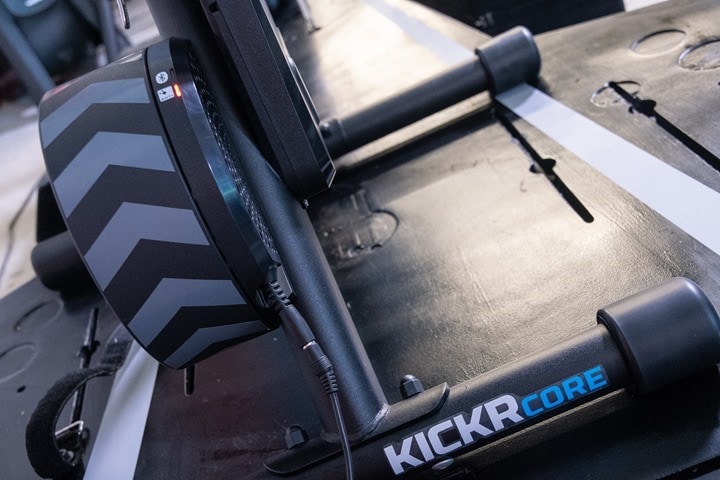 Once powered up you'll get status lights for power, as well as ANT+ & Bluetooth Smart control/connections on the back: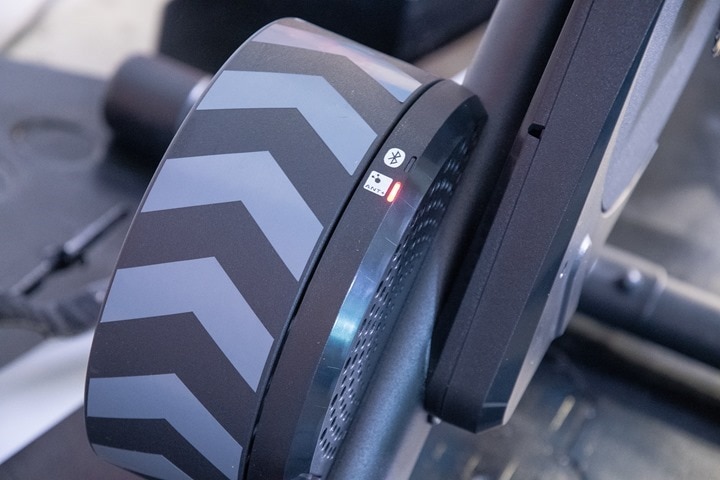 Being a direct-drive trainer, that means you'll remove your rear wheel and affix your bike to the trainer directly using the quick release (or thru-axle if your bike is of that variant):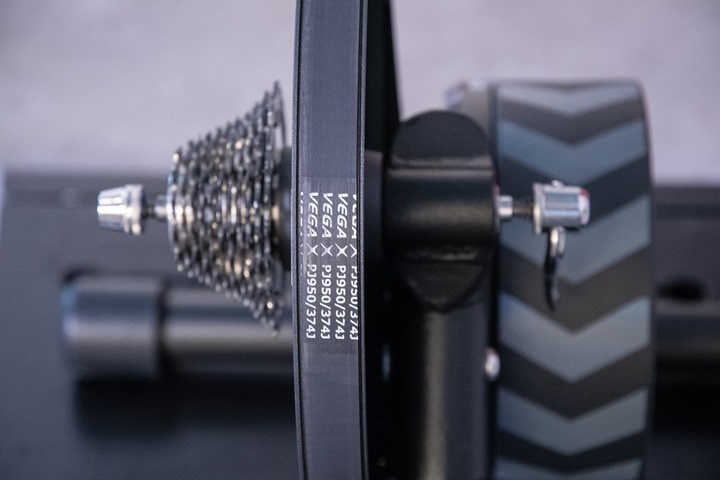 Of course, one of the biggest features of the KICKR CORE (as well as the new KICKR 2018) is the silence. Gone is the sound of the whining belt, and it's replaced with…well…nothing. Basically just your drivetrain. You can hear it here in this video I've shot:
This change in volume comes from a change to the belt itself, going to a v-shaped belt. Of course, you can't retrofit this back onto older trainers because the belt grooves would also be different on the parts under the covers as well.  A bit of a domino effect unfortunately.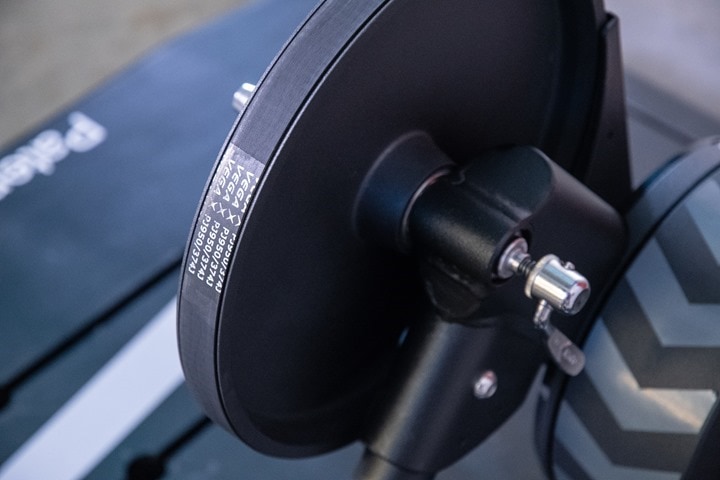 In the event you're connecting up a KICKR CLIMB, that's compatible too. Simply bring the CLIMB's little cabled remote down next to the KICKR and hold it down for pairing mode. Quick and simple.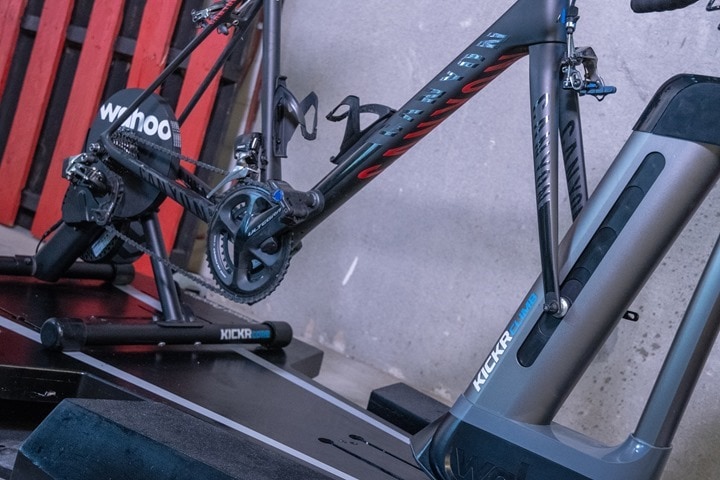 Do ensure that you set the wheel size on the combination using the Wahoo App, that way it knows how much it can descend properly.  It only takes a second to do:
Speaking of the Wahoo app, it's here that you can turn on or off a handful of settings.  One most notable setting I like to turn off is ERG mode smoothing.  While this sounds great (and pretty, and it is), it essentially falsifies data from an accuracy standpoint and makes everything look perfect.  So I always turn it off.  But for most people (that aren't doing accuracy testing), you can leave it on without any impact.
Given the KICKR CORE is a smart trainer, it'll change resistance automatically in a few different ways, primarily driven by different applications/methods.  But most of this all boils down to two core methods:
ERG Mode: Setting a specific power level – i.e. 225w.  In this mode, no matter what gearing you use, the trainer will simply stay at 225w (or whatever you set it to).
Simulation Mode: Simulating a specific outdoor grade – i.e. 5% incline.  In this mode, it's just like outdoors in that you can change your gearing to make it easier or harder.  Wattage is not hard-set, only incline levels.
There is also a level mode (set levels 1-20ish), but frankly you are never going to use this.  In the case of simulation (aka slope) mode, the KICKR CORE can simulate from 0% to 16% incline – which is pretty darn high. Sure, some trainers can go over 20%, but realistically, if you've ever tried riding up 16% inclines on a road bike, you'll either nearly fall over or just want to anyway.  Not to mention that by default Zwift halves the incline anyway (though, you can change that easily if you want).
The second mode the trainer has is ERG mode.  In that case, the company claims up to 1,800w of resistance at 40KPH. Although, realistically, you don't care about that. I can only barely break 1,000w for a second or two, and even most front of the non-pro pack cyclists aren't going to top 1,800w.  The pros would only be just a bit beyond that.  Said differently: Peak numbers don't matter.  Instead, what matters is actually a harder metric to make clear – which is the ability to simulate high grades and lower speeds (especially if you're a heavier cyclist).
And this is where the KICKR CORE has an advantage over the Elite Direto and Tacx Flux. First of all: being based on the 2017 full KICKR, it just doesn't have those issues. I did some steep incline testing and didn't see any issues.
Another area that does matter is whether there's a delay or not in changes to resistance, and with the KICKR CORE I test that in my 30×30 test down below in the power accuracy section. So check that out.

Next, a lot of folks will ask about road-like feel, and I always say pretty much the same thing:
When it comes to road-like feel, I put the KICKR CORE in roughly the same category as the other high-end trainers I mentioned.  Much of that is driven by the flywheel, and be it physical or virtual, flywheel sizes tend to be measured in weight.  This impacts inertia and how it feels – primarily when you accelerate or otherwise change acceleration (such as briefly coasting). It's got a 12lb/5.45kg flywheel, which is almost exactly the same as the KICKR 2017 (and all previous KICKR's), as well as the high-end Elite Drivo II.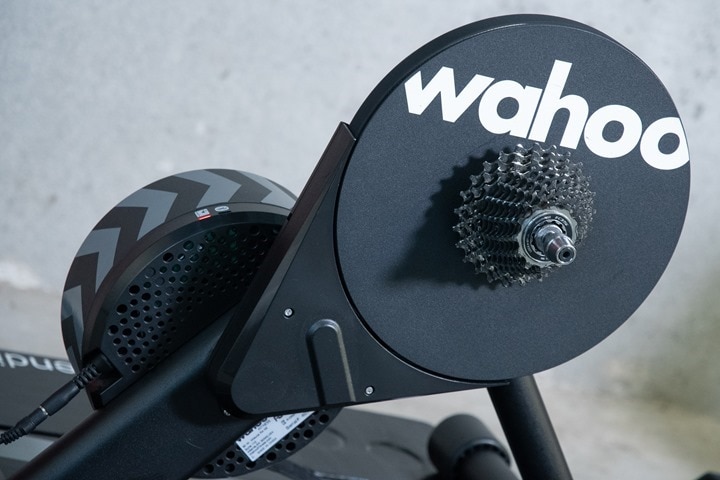 The exact flywheel weight isn't everything though, because companies can use differing methods to significantly enhance the effective flywheel weight (or simulated weight in other lingo).  For example, Elite's Drivo has two listed sizes, one is the actual flywheel size (6KG/13.2LBS), while the second is the replicated flywheel size.  This is because with its two-belt system, it actually doubles-down on that replicated feeling in the same way pulleys or levers make it easier to move a heavier load.  Other companies use similar methods, and it's not about smoke and mirrors, but rather very simple physics here.
Either way, for me personally, it's hard to separate the fact that I'm riding indoors from outdoors. It's still a trainer, and I'm still looking at a wall in front of me.  My brain can only turn off so much of that.  Overall I think the unit's got a pretty good road-like feel.  I'm not sure if it's the absolute best out there (trying to compare them all over time is near impossible), but it's pretty solid.  When it comes to that feel, I find the road-like feel of the KICKR CORE and the KICKR 2018 indistinguishable. That's despite the fact that the KICKR 2018 has a 16lb flywheel versus the 12lb one on the KICKR CORE. Others that have ridden both say the same – you just can't tell.
Finally, when it comes to calibration (roll-down) you can do so via both the Wahoo Fitness app or most 3rd party apps like Zwift or TrainerRoad.  You'll spin up to about 23MPH and then stop pedaling. The trainer will slowly coast down and it'll measure the time it takes to determine any required offset.
Generally speaking, you'll want to do this anytime there's significant temperature shifts, or if you move the trainer. I found that as long as things remained stable there was no impact on not doing so week to week.
App Compatibility: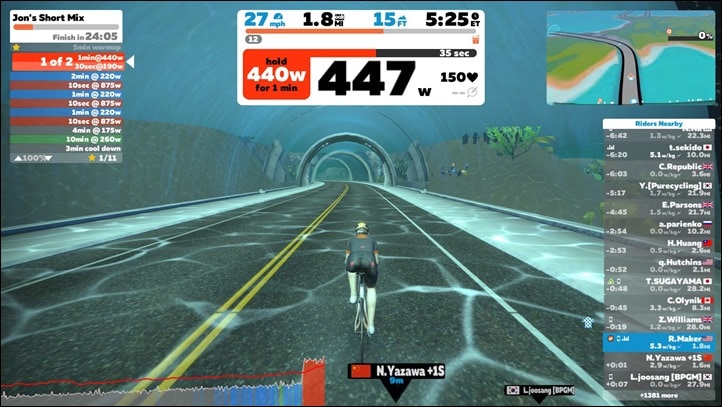 The Wahoo KICKR CORE follows the industry norms as you'd expect from most trainers these days.  As you probably know, apps like Zwift, TrainerRoad, SufferFest, Rouvy, Kinomap and many more all support most of these industry standards, making it easy to use whatever app you'd like.  If trainers or apps don't support these standards, then it makes it far more difficult for you as the end user. Given the KICKR CORE is essentially of the same firmware lineage as the full-blown KICKR trainers, it's no surprise everything here is as expected.
The KICKR CORE transmits data on both ANT+ & Bluetooth Smart as well, allowing interactive resistance control across both ANT+ & Bluetooth Smart.  By applying resistance control apps can simulate climbs as well as set specific wattage targets.
In any case, the Wahoo KICKR 2018 supports the following protocol transmission standards:
ANT+ FE-C Control: This is for controlling the trainer via ANT+ from apps and head units. Read tons about it here.
ANT+ Power Meter Profile: This broadcasts as a standard ANT+ power meter, with speed and cadence baked in as well.
ANT+ Legacy Wahoo Trainer Control: Some older apps might still use this to control the Wahoo KICKR CORE, it's what Wahoo first started out on, but today most apps would use the FE-C variant.
Bluetooth Smart Wahoo Trainer Control: This is Wahoo's private method of controlling trainers, inclusive of cadence/power data.
Bluetooth Smart Power Meter Profile: This broadcasts as a standard BLE power meter with speed as well, including cadence.
It DOES NOT, however, support these protocols (which trainers from Tacx, Magene, and Elite do support to varying degrees):
ANT+ Speed/Cadence Profile: This broadcasts your speed and cadence as a standard ANT+ Speed/Cadence combo sensor.  Wahoo doesn't do this for any trainers.
Bluetooth Smart Speed/Cadence Profile: This broadcasts your speed and cadence as a standard BLE combo Speed/Cadence sensor.  Wahoo doesn't do this for any trainers.
Bluetooth Smart FTMS: This follows the industry standard Bluetooth Smart FTMS control, which is basically the Bluetooth variant of ANT+ FE-C for controlling trainers.  Wahoo doesn't do this yet.
Note that after this review originally published, Wahoo released a firmware update to include cadence data within the existing ANT+ & Bluetooth Smart channels. That's ideal for Apple TV users (for Zwift or such), because they are limited to 2 concurrent Bluetooth Smart channels. So now within a single channel you get power/control/cadence, leaving you an extra channel for heart rate.
Finally, It's these same standards that also allow you to connect via head units too. For example the Wahoo ELEMNT/BOLT as well as Garmin Edge series support ANT+ FE-C for trainer control, so you can re-ride outdoor rides straight from your bike head unit to your trainer. For example, for my accuracy testing section, I recorded the data on a Garmin Edge 520 as well as the trainer apps.  From there I'm able to save the file and upload it to whatever platform I like.
For me, in my testing, I used Zwift and TrainerRoad as my two main apps (which are the two main apps I use personally).  In the case of Zwift, I used it in regular riding mode (non-workout mode) and workout mode, whereas in the case of TrainerRoad I used it in a structured workout mode.  I dig into the nuances of these both within the power accuracy section. Here you can see TrainerRoad paired as an ANT+ FE-C trainer with Windows: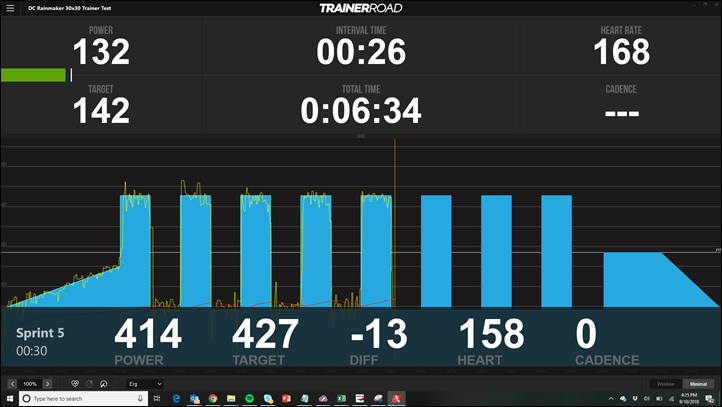 And one last time, here's said trainer in both Zwift and TrainerRoad, this time on my iPad via Bluetooth Smart:
All of this worked without issues for me.  Oh, and Apple TV worked too – where I actually spent the majority of my time with the trainer.  Again, this is really no surprise here.  The only issue is that Wahoo has yet to implement FTMS. While that annoys me from the 'Wahoo just can't follow standards' standpoint, practically speaking it has almost no impact on you. Because Wahoo is a giant in this space, all apps support their legacy/private Bluetooth Smart control protocol anyway.  I suspect we'll see Wahoo add it at some point, but I don't expect that point to be near-term.
Power Accuracy Analysis: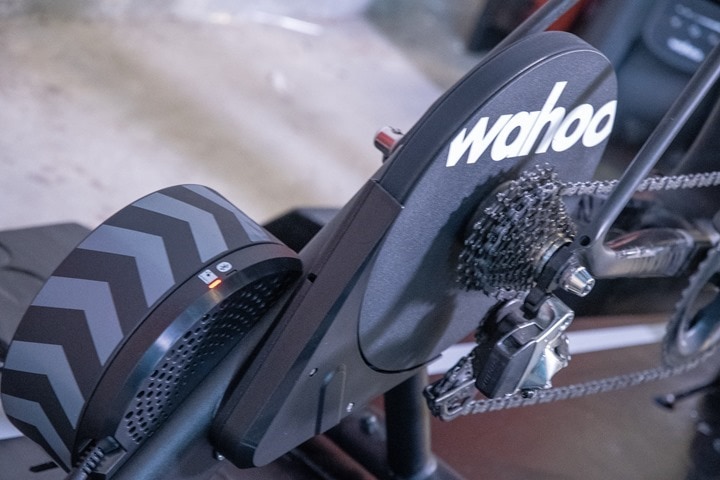 As usual, I put the trainer up against a number of power meters to see how well it handled everything from resistance control accuracy, to speed of change, to any other weird quirks along the way.
In my case I used three different bike setups, though the majority of time was spent on setups #1 and #2 below:
Canyon Bike Setup #1: Garmin Vector 3 (Dual), Stages R (Single), Avio Power Meter (Left-only)
Canyon Bike Setup #2: SRM EXAKT (Dual), Stages LR (Dual)
Canyon Bike Setup #3: PowerTap P1 (Dual), Stages LR (Dual)
This is all in addition to the trainer itself.  Note that because you remove the rear wheel I can't use something like a PowerTap hub to compare as well (which I would use in power meter testing normally).  Also, I did some brief testing with a pair of Favero Assioma pedals too – but I didn't collect a meaningful amount of data on that configuration.
In my case, I was looking to see how it reacted in two core apps: Zwift and TrainerRoad.  The actual apps don't typically much matter, but rather the use cases are different.  In Zwift you get variability by having the road incline change and by being able to instantly sprint.  This reaction time and accuracy are both tested here.  Whereas in TrainerRoad I'm looking at its ability to hold a specific wattage very precisely, and to then change wattages instantly in a repeatable way.  There's no better test of that than 30×30 repeats (30-seconds at a high resistance, followed by 30-seconds at an easy resistance).
There's two ways to look at this.  First is how quickly it responds to the commands of the application.  So for that, we need to actually look at the overlay from TrainerRoad showing when it sent the command followed by when the KICKR CORE achieved that level.  Here's the levels being sent by TrainerRoad (in this case via ANT+ FE-C on Windows) and how quickly the KICKR CORE responded to it:

In general this is pretty good. Not the best ever (an award Elite with their Drivo 1 still hold), but solid. You'll notice slight variations from interval to interval, which is mostly based on me getting into a better gear. In fact, TrainerRoad gives you a little warning before a workout that putting the bike into the small ring up front will produce better results for most trainers. And that's true. You can see the middle intervals were much more smooth than the first few, as I shifted for those. The last two I was just simply getting tired as this was the second workout in a row I had done.
But what about accuracy within that? After all – the above is just showing how quickly it responds, not actually whether or not it's accurate. For that, we'll compare it against the Stages LR and SRM EXAKT. Here's that data set:

As you can see, these are pretty darn close – at least to the Stages LR (which is the dual-sided Stages that's been proven pretty reliable compared to many other power meters I've tested). The SRM EXAKT seems oddly a bit low (usually if/when I see it err, it goes high).
Still, what you'll notice is that the power shifts from approximately 150w to 440w pretty equally among all three. There's no delay from the KICKR CORE (occasionally an issue on trainers), nor any weirdness coming back to the recovery bits. It really nails it in line with the power meters.  Again, the slight variability on the first couple were mostly me having it in too 'fast' a gear (which is why TrainerRoad recommends a smaller ring up front).
From a timing standpoint, it seemed to take about 2-4 seconds to stabilize between those two wattages, which is what I'd expect/want. If something only takes under a second to shift between those two it'll feel like hitting a brick wall.  Inversely, if something takes 8-10 seconds, that's a third of the interval itself.  But this timing was good:

And the power curve between the Stages LR and Wahoo KICKR CORE was very close as well:

Next, let's look at a structured workout over on Zwift. Like TrainerRoad, this too is in ERG mode. So same made on the CORE from a technology standpoint, but just different app. Also, in this case I changed it up and used Bluetooth Smart to control it from the Apple TV. The specific workout is called 'Jon's Mix' in Zwift, and it's what Zwift uses for development testing – and also what I tend to use as well as it's a great blend of differing wattages and responsiveness. Here's the set details:

As you can see, overall things are very close – at least for most of the steady-state sections.  The three big spikes you see in the middle there are supposed to be 800w efforts held for 10-seconds per the workout. I failed to achieve that, so I ended up around 700w.  I know full well I can't hold 800w for 10-seconds except on the bestest of awesome days. This was not one of those days.
To make it a bit easier to read I'll add a 5-second smoothing and zoom in for the first 9 minutes or so:

You can see that the Stages LR and CORE match very well, with the SRM pedals tracking a bit below it. The SRM briefly drops out at the 5-minute marker – that could just be some transient signal thing or a Garmin Edge 1030 thing or magic pickles. I have no idea, I'm not concerned with it for this particular chart (instead I'd be concerned that from one interval to the next a mere 30 seconds later the power is different on the SRM).

Oh, and here's the unsmoothed variant:

There's a couple of things of note in there. First is the part where I peak upwards of about 700w. For that, the KICKR CORE and Stages LR agree nicely. As I noted, I can't hold 800w steady for that long, but I can hold about 700w.  So the nearly 900w of the EXAKT simply isn't real.  So the unit does a nice job of responding to my attempt to hold that wattage.
However, one thing you'll notice across all three sets is that purple line as I spin back down. That's a tell-tale sign that I out-spun the trainer (it's also a tell-tale sign that my legs couldn't pull it off). This happens when you sprint really hard, and then soft-pedal briefly. Lots of trainers show this symptom, including Wahoo's own KICKR SNAP.  Though I don't typically see it on the full-sized KICKR models, nor on others of that price range.  In this case, it only lasts a few seconds – but it doesn't quite capture the recovery as accurately as it should.
Finally, the last third of the workout which is essentially two steady-state sections. Again you can see some transient droppages occurring here for both the SRM and Stages power meters for a second or two each. That's actually a first for me in the new DCR Cave, but I've also got a pretty funky temporary mobile hotspot and cellular signal thingy close by that may be impacting stuff.  Either way, doesn't matter here.  Instead, focus on the closeness of the Stages LR and KICKR CORE here.

Now one could make the argument that once you account for drivetrain losses that either the KICKR CORE should be about 1-2% lower or the Stages LR about 1-2% higher. And that's probably true. But, it would also be true within the accuracy ranges of both.  Note that the KICKR CORE had a calibration done prior to this workout after about 10 minutes of pedaling on it, and then the SRM and Stages both had zero offsets done too.
Next, let's go into regular Zwift mode for a non-ERG workout.  In other words, where the trainer is set on a specific grade (i.e. 4%) and then you change gears however you see fit to accomplish riding that profile.  Here's a look at a ride around Zwift's Innsbruck course (data files here):

In general, things look pretty darn close between the units for the vast majority of the workout. So let's zoom in on the two sprints in there. Note, I've smoothed the above at 3-seconds, but the below has zero seconds of smoothing on it (showing original data). Here's the first of those two sprints. This one is sorta a two-parter. I went up to about 700w, and then backed off slightly, and then went back up again.

You can see on the first sprint that the KICKR CORE seems to be the same as the others. The Stages LR undercuts slightly, but SRM and the CORE match.  However, on the second half of that, the KICKR CORE overshoots a fair bit – about 80w or so for one second, and then backs down to just barely 40w or so overages. It's super subtle, but is notable.
If we go to the next sprint at about the 28-minute marker, you can see this happen again – also looking at about a 75-80w gap. Once again, only for about 1 second before getting back a bit closer.  If I were to smooth this, it'd look like it was lasting slightly longer than it is.

I'm not the only one to see this – Shane Miller also noticed the same thing, but in his case he's able to output more power.  And the problem appears to happen the most at much higher outputs – like 1,000w+.  For me, I can't attain those wattages, so it's somewhat of a moot point.
In my case, if we look at the mean/max graph of this ride, it becomes more clear:

You can see the peak 1-second power here about 75w over the next nearest value from the SRM pedals.  Now differences at peak sprint power are normal amongst any power meter or trainer test – you'll usually see say 10-40w differences for 1-second recording. Some of that is really just timing aspects, in terms of transmission and head unit recording. Just the way it is.  But 100w? Well, that's a wee bit much.
For fun, here's another quick graph showing the same thing from another ride:

And zoomed into the sprint:
You can ignore the lower Stages LR value on the sprint, as I was using it in a single-sided Stages-R configuration for an unrelated test (though, it does show you the impact of left/right balance differences in sprints).  As you can see, the KICKR CORE rises about 60-80w above Vector 3. Also, secondary fun tidbit about those last two graphs: You can see the normal differences when it comes to recording the same source on two devices. One of the two upper CORE lines was recorded on an Edge 520, while the other by Zwift. Very similar, but not exactly the same.
Now whether this sprint overage is a big deal probably depends on a lot of factors. For most people (myself included), I just don't sprint enough and at high enough intensities for this to matter significantly. Especially as I am more of a triathlete than a roadie.  For example, a sprint at 600w just manifests itself as anything.  It takes about 700-800w for you to start seeing it.
Of course, some people may even like this 'feature' – it's free wattage.  Though, most days I try to at least pretend not to like it.  And then there's the simple reality that it's something Wahoo can probably fix in a firmware update. There's a long line of trainers that in early firmware versions will overshoot sprints. A really long line of trainers – even some of Wahoo's past trainers did initially. So put this in the camp of we'll see. And again, for me this doesn't show up in workout/ERG modes, only in non-workout modes for me.
(Note: All of the charts in these accuracy portions were created using the DCR Analyzer tool.  It allows you to compare power meters/trainers, heart rate, cadence, speed/pace, GPS tracks and plenty more. You can use it as well for your own gadget comparisons, more details here.)
Trainer Comparisons:
I've added the Wahoo KICKR CORE 2018 into the product comparison database.  This allows you to compare it against other trainers I've reviewed.  In a rare move for this section, I'm actually going to show two comparison tables. The first is Wahoo specific, showing you the differences between the three Wahoo price points (KICKR, KICKR CORE, KICKR SNAP), along with the 2017 KICKR (since that' basically what this trainer is).  Then after that I'll show you the differences for trainers in this price range from other companies.
Function/Feature

CycleOps Hammer
Elite Drivo II
Tacx NEO Smart
Wahoo Fitness KICKR CORE
Wahoo KICKR V4/2018
Copyright DC Rainmaker - Updated March 19th, 2023 @ 10:57 am New Window
Price for trainer
$1,199USD
$1,199
$1,369
$899
$1,198
Trainer Type
Direct Drive (no wheel)
Direct Drive (no wheel)
Direct Drive (no wheel)
Direct Drive (No Wheel)
Direct Drive (No Wheel)
Available today (for sale)
Yes
Yes
Yes
Yes
Yes
Availability regions
Global
Global
Global
Global
Global
Wired or Wireless data transmission/control
Wireless
Wireless
Wireless
Wireless
Wireless
Power cord required
Yes
Yes for broadcast, no for general use
No
Yes
Yes
Flywheel weight
20lb/9kg
13.2lbs/6kg
SIMULATED/VIRTUAL 125KG
12.0lbs/5.44kgs
16lbs/7.25kgs
Includes cassette
No
No
No
Yes (11 Speed SRAM/Shimano)

Resistance

CycleOps Hammer
Elite Drivo II
Tacx NEO Smart
Wahoo Fitness KICKR CORE
Wahoo KICKR V4/2018
Can electronically control resistance (i.e. 200w)
Yes
Yes
Yes
Yes
Yes
Includes motor to drive speed (simulate downhill)
No
No
Yes
No
No
Maximum wattage capability
2,000w
2,296w @ 40KPH / 3,600w @ 60KPH
2,200w @ 40KPH
1800w
2,200w @ 40KPH
Maximum simulated hill incline
20%
24%
25%
16%
20%

Features

CycleOps Hammer
Elite Drivo II
Tacx NEO Smart
Wahoo Fitness KICKR CORE
Wahoo KICKR V4/2018
Ability to update unit firmware
Yes
Yes
Yes
Yes
Yes
Measures/Estimates Left/Right Power
No
9EUR one-time fee
No
No
No
Whole-bike physical gradient simulation
No
No
With KICKR CLIMB accessory
With KICKR CLIMB accessory
Can directionally steer trainer (left/right)
No
No
With accessory
No
No
Can rock side to side (significantly)
No
No
No
No
Can simulate road patterns/shaking (i.e. cobblestones)
No
No
Yes
No
No

Accuracy

CycleOps Hammer
Elite Drivo II
Tacx NEO Smart
Wahoo Fitness KICKR CORE
Wahoo KICKR V4/2018
Includes temperature compensation
Yes
N/A
N/A
Yes
Yes
Support rolldown procedure (for wheel based)
Yes
Yes
N/A
Yes
Yes
Supported accuracy level
+/- 3%
+/- 0.5%
+/- 1%
+/- 2%
+/- 2%

Trainer Control

CycleOps Hammer
Elite Drivo II
Tacx NEO Smart
Wahoo Fitness KICKR CORE
Wahoo KICKR V4/2018
Allows 3rd party trainer control
Yes
Yes
Yes
Yes
Yes
Supports ANT+ FE-C (Trainer Control Standard)
Yes
Yes
Yes
YEs
YEs
Supports Bluetooth Smart FTMS (Trainer Control Standard)
Yes
Yes
Yes
YEs
No, but supports most apps
WiFi or Ethernet
No

Data Broadcast

CycleOps Hammer
Elite Drivo II
Tacx NEO Smart
Wahoo Fitness KICKR CORE
Wahoo KICKR V4/2018
Transmits power via ANT+
Yes
Yes
Yes
Yes
Yes
Transmits power via Bluetooth Smart
Yes
Yes
Yes
Yes
Yes
Supports Multiple Concurrent Bluetooth connections
No, just one
No, just one
No, just one
Yes, 3 Concurrent
Yes, 3 Concurrent
Transmits cadence data
Yes
Yes
Yes (with Sept 2019 firmware update)
Yes
Bridging or re-transmission
No

Purchase

CycleOps Hammer
Elite Drivo II
Tacx NEO Smart
Wahoo Fitness KICKR CORE
Wahoo KICKR V4/2018
Amazon
Link
Link
Link
Link
Backcountry.com
Link
Link
Link
Link
Link
Chain Reaction Cycles
Link
Link
Link
Link
Link
Competitive Cyclist
Link
Link
Link
Link
Link
REI
Link
Link
Link
Link
Link
Wiggle
Link
Link
Link
Link
Link

DCRainmaker

CycleOps Hammer
Elite Drivo II
Tacx NEO Smart
Wahoo Fitness KICKR CORE
Wahoo KICKR V4/2018
Review Link
Link
Link
Link
Link
Link
Next, here's a look at the competitors in this price point.  The KICKR CORE is at $899, which is at the same price point that the Elite Direto was at. It's currently down to $799, where it matches the Tacx Flux 1. Those are basically what you're competing against. Personally, I'd spend the extra $100 to get a silent trainer with a bigger flywheel (even ignoring the flywheel, I'd spend that for silence).  But one has to balance that with the fact that once you add in a fan, most of these trainers would produce the same 'training room' net sound anyway.
Again, you can mix and match the products in the comparison database as you see fit here.
Summary: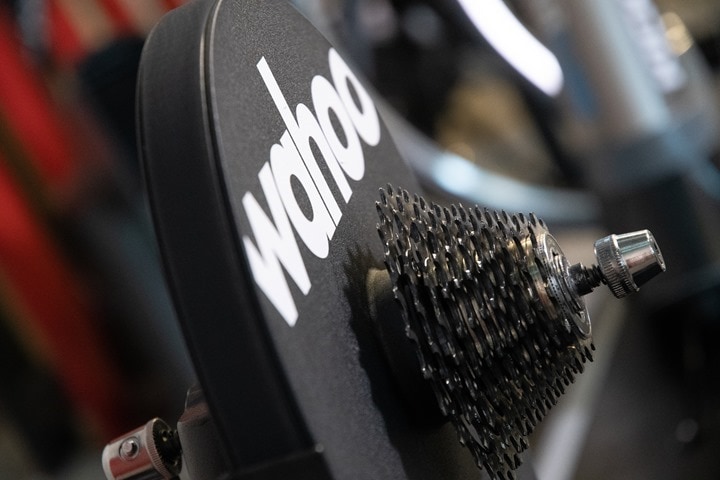 I suspect it won't take long for the KICKR CORE to become Wahoo's most popular trainer, and for largely good reason. You can save $300 with almost negligible 'loss' compared to the full KICKR 2018. Plus, you could 're-invest' that $300 into the cost of a KICKR CLIMB. At least, that's the proposition I'd make if I was trying to justify the purchase of both devices.
From an overall ease of use and durability standpoint, it's just like any other Wahoo product: It just works, and works well. It's clearly well built, just like the beastly KICKR was before it. Probably overbuilt really for the price point – but I suppose that's Wahoo's problem to own.
The only downside is the very slight over-shooting that both Shane Miller and I are seeing on some sprints (not all sprints in my case). For me and my power output, the impact is very minor (only a few dozen watts in the most extreme cases, at sprints of 800w).  Whereas for Shane he's a bit more of a powerful cyclist and can get upwards of 1,200+ watts, so the gap is slightly more for him.  Of course, some people might actually like this 'bug', which in software parlance would then be a 'design feature'.  I suspect Wahoo will be able to reign this in, as this type of overshooting on early firmware of trainers is actually fairly common (from many companies).  Either way, for my riding it doesn't bother me, and for most people I'd easily recommend this over the full KICKR based primarily on the cost savings.
With that – thanks for reading and feel free to drop any questions down below!
Update – Nov 2018: Some folks have reported having issues on the KICKR CORE. Specifically the stickers flying off, in some cases the unit not being silent, and related noise-type things. It sounds like Wahoo is going through some growing pains with the new manufacturing facilities for both the KICKR and KICKR CORE. Wahoo has been swapping out units (and stickers) for those that have had the issue. I suspect this is impacting between 3-8% of people, based on the unit volumes being shipped. But it's hard to guess. Wahoo has said they've increased QA at the manufacturing facility, but ultimately time will tell. Given Wahoo is quickly assisting those that have issues, I wouldn't make this a major driver in your purchasing decisions.

Found This Post Useful? Support The Site!
Hopefully you found this review useful. At the end of the day, I'm an athlete just like you looking for the most detail possible on a new purchase – so my review is written from the standpoint of how I used the device. The reviews generally take a lot of hours to put together, so it's a fair bit of work (and labor of love). As you probably noticed by looking below, I also take time to answer all the questions posted in the comments – and there's quite a bit of detail in there as well.
If you're shopping for the Wahoo Fitness KICKR CORE or any other accessory items, please consider using the affiliate links below! As an Amazon Associate I earn from qualifying purchases. It doesn't cost you anything extra, but your purchases help support this website a lot. Even more, if you use Backcountry.com or Competitive Cyclist with coupon code DCRAINMAKER, first time users save 15% on applicable products! Or, with TPC (The Pro's Closet), you'll save $40 on purchases over $200 with coupon code DCRAIN40!
Here's a few other variants or sibling products that are worth considering:
And finally, here's a handy list of trainer accessories that most folks getting a smart trainer for the first time might not have already:
And of course – you can always sign-up to be a DCR Supporter! That gets you an ad-free DCR, access to the DCR Quarantine Corner video series packed with behind the scenes tidbits...and it also makes you awesome. And being awesome is what it's all about!
Thanks for reading! And as always, feel free to post comments or questions in the comments section below, I'll be happy to try and answer them as quickly as possible. And lastly, if you felt this review was useful – I always appreciate feedback in the comments below. Thanks!