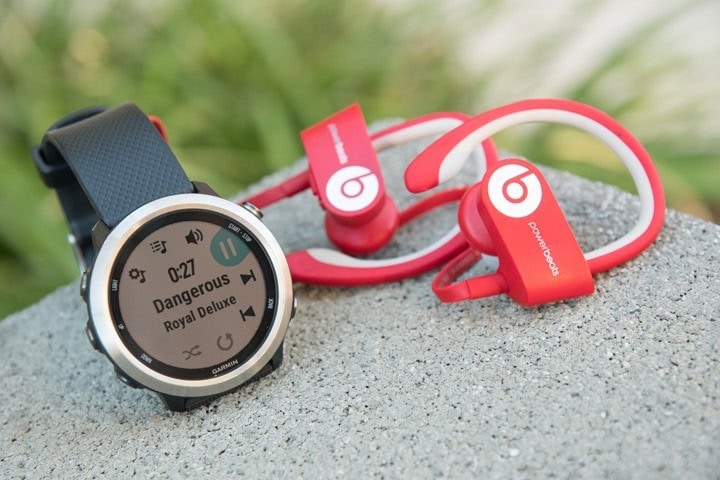 It's been almost two months since Garmin announced the FR645 and FR645 Music (aka FR645M), its first wearable with music onboard.  Past Garmin watches could control music on your phone, but none could have music loaded on it and play directly to headphones. Of course, such a feature is (or was) hardly unique to Garmin. Countless running watches have had it for a while. From TomTom to Timex, Apple To Fitbit, and many more.
In any event, now music is here.  But it's more than just music – after all, the FR645 comes in two variants, music and non-music.  At its core it's a running watch, with a swath of new features compared to Garmin's past running-specific watches.  Not to mention more unique functionality like contactless payments that Garmin only recently introduced last fall.
With Garmin now actively shipping the Forerunner 645 Music to customers, it's definitely in-depth review time. I've been using the watch since this past December, and it's been on my wrist virtually 24×7 (except the roughly once a week I'd charge it up). Runs, rides, swims, and all sorts of randomness in between. First in beta, and now with final software.
As always, I'll hand back this loaner/test unit to them and go out and get my own from regular retail channels. Feel free to hit up the links at the end of the review to help support the site if you found this interesting. With that, let's dive into it!
Weights & Sizes:
First, let's take a look at how it compares in size to the FR630 and FR935, both of which are pictured on either side of it below (Left to right: FR630, FR645, FR935). As you can see, it's the smallest: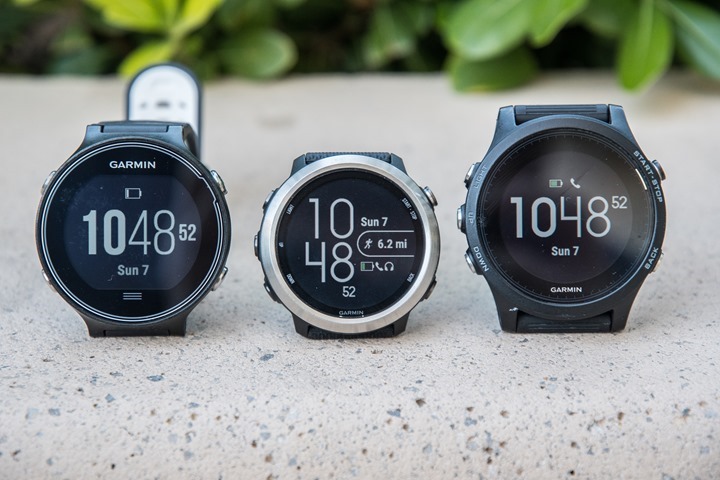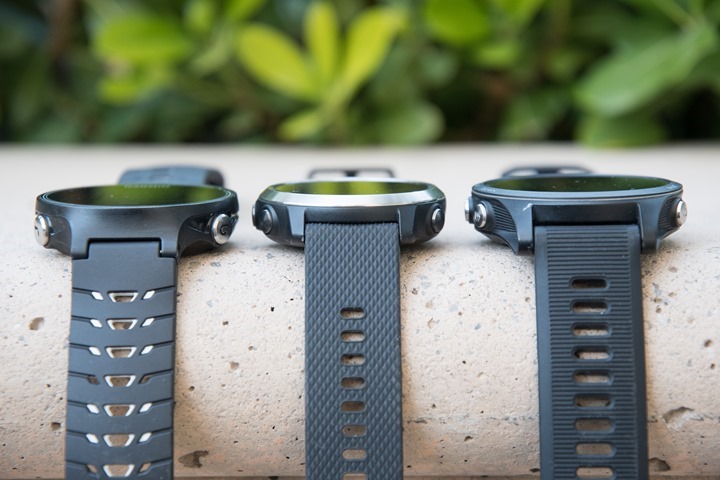 As you can see, the FR645 is smaller in width than the others, though about the same thickness.  I personally like a lightweight watch (compared to say, the heavier Fenix series), so my go-to watch is normally a FR935.  This feels on my wrist basically the same to that in terms of weight. So I'm happy there.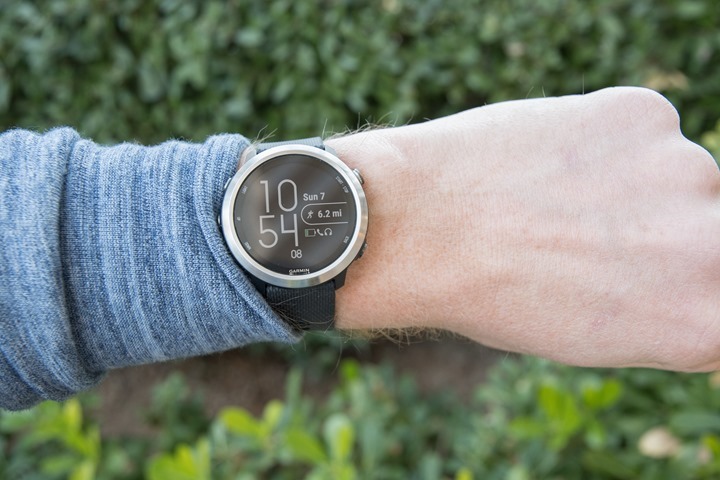 Also, as noted the bands are the same as the Vivoactive, which means they're standard quick release style 20mm watch bands.
In my case, Garmin thought it'd be funny to send me a watch with a pink band on it – called 'Cerise' by Garmin, which ironically enough, is simply French for 'Cherry'.  And I actually wore it around for about 10 days that way before I swapped it for the black band from my Vivoactive 3.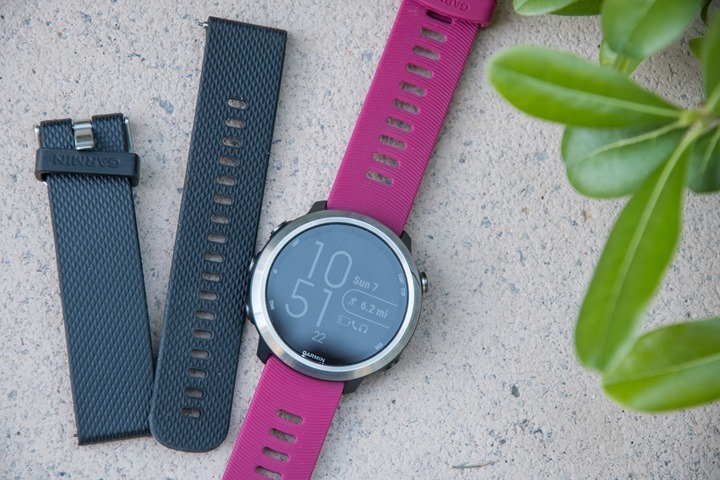 As for weight, the unit comes in at 42g: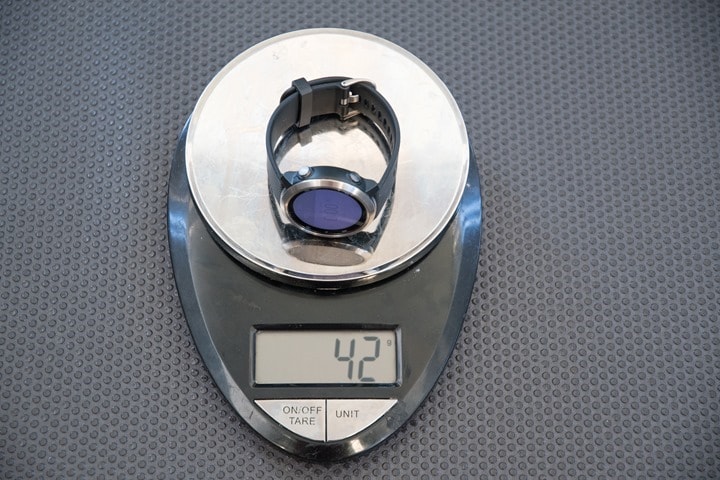 That stacks up as follows:
Garmin Vivoactive 3: 43g
Apple Watch 3 LTE 42mm Size: 63g
Fitbit Iconic: 43g
In case you're wondering why there's no unboxing section here, the reason is simple: I had the unit shipped to me sans-box. Just the charging cable and watch. I'll add an unboxing section in here once I get the box, probably in a week or two.  But I didn't want to hold up all the technical juiciness over some pretty cardboard, and of course safety manuals you'll never read.
The Basics: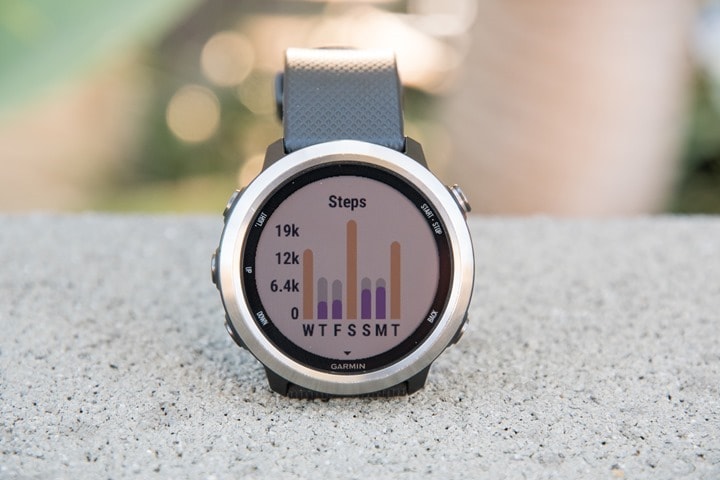 In most ways, if you're familiar with any Garmin watches made in the last 1-2 years, you won't find a lot of difference with the FR645.  Especially if you're familiar with the Fenix 5 or Forerunner 935, as the FR645 almost entirely mirrors those watches.  In fact, it's probably worth briefly pointing out the core new features found on the FR645 compared to both its predecessor (FR630) and its siblings (Fenix 5 series/FR935). Here's what's new:
– Added Music storage and playback via Bluetooth (first Garmin watch to do so)
– Added Garmin Pay (NFC contactless payments)
– Added Garmin's latest Elevate Optical HR sensor (same as FR935), for 1-second 24×7 HR recording
– Added Bluetooth Smart sensor support (like FR935, FR630 didn't)
– Added FirstBeat Training Status metrics – fitness load/recovery (FR935 has it, FR630 doesn't)
– Added Lactate Threshold tracking (FR935 has it, FR630 didn't)
– Added latest Garmin Connect IQ for apps (FR935 has it, FR630 stops at older version)
– Added indoor pool swimming (FR935 has it, FR630 didn't)
– Added Ski/Snowboard sports (FR935 has it, FR630 didn't)
– Added SUP/Row/Yoga/Elliptical/Stair Stepper/etc sports (FR935 has it, FR630 didn't)
– Added HRV Stress app (FR935 has it, FR630 didn't)
– Added Strava Live Segments (FR935 has it, FR630 didn't)
– Can respond to text messages from watch (only for Android users for now)
– Can follow courses (FR935 has it, FR630 didn't)
– Uses similar charging cable to FR630. Identical from exterior, but internally is different.
– Uses same new quick release bands as Vivoactive 3
Phew – got all that? If you're familiar with the FR935/Fenix5, then basically it can just be summed up as "Added music and Garmin Pay, took away multisport/openwater modes, and advanced navigation", roughly.
Still, starting at an even more basic level than all those features we've got the widgets/apps and watch faces. You can download more of these from Garmin's App Store, which has thousands of them. Here's a quick gallery I shot of some of the default widgets, which include things like your daily step totals, your current heart rate, and the weather. Most of these you can tap to get more information:
The watch face itself is customizable too – allowing you to change what information is on it, even if you don't want to go as far as downloading a 3rd party watch face (which still only takes a few seconds).
From an activity tracking standpoint the FR645 tracks steps, stairs, and sleep (as well as heart rate 24×7). You can see these steps in the gallery above, as well as the heart rate pieces. All of this data is then sent to Garmin Connect Mobile (the phone app), and onwards to Garmin Connect (the website). Here's a few random screenshots over the past few days:
When looking at accuracy of step data I find it basically in-line with other tracks that I've worn on those given days, plus or minus a few hundred steps.  If I look across the industry at activity/step tracking, no device is perfect. Every device has their quirk on a given activity or thing that it does funky (for example, one device may correctly not count steps while washing the dishes, while another doesn't do as well pushing a shopping cart).  My general attitude here is that as long as a given device isn't overshooting by thousands of steps, you should use these metrics as a general guideline for the day.
In other words – if your watch says you only walked 683 steps that day, you were likely a bit…lazy.  Whereas if it says you walked 15,382 steps that day…then kudos. I don't tend to fret too much if it was actually 15,029 or 15,683 – either way, lots of steps.  Trending is what you're going for with step counts.
As for sleep – things are generally pretty good here. The unit seems to nail my falling asleep and waking up points just about perfectly each night.
The only catch is it doesn't track naps at all – those just disappear into the ether. Not a huge deal for me personally since naps are fairly rare, but since I took one two days ago it happened to remind me to mention it.
Next, there's continual heart rate. The unit has Garmin's most recent ELEVATE optical HR sensor, which is now enabled for tracking at 1-second intervals, 24×7.  In my experience these 24×7 measurements are pretty accurate. Sometimes I'll wear a chest strap to compare the 24×7 measurements and the two are usually within a few beats of each other.  Note that I dive into the sport-specific optical HR measurement down below in far greater detail.
You can track your resting heart rate either on the watch or in the app.
As with the past though, I don't put a lot of stock in this number.  There's plenty of disagreement on what exactly resting HR is (in terms of how it's defined), but consistently Garmin overshoots my resting HR values.  I can sit down at my desk and get my HR down to 41bpm…but Garmin says my RHR value for the day is only 46 or 51 or something in that range.
Next, I should mention somewhere that the screen is not a touchscreen (thank you!). Instead, you'll use the 5 buttons on it to navigate your way around the interface.  If you want a touchscreen, the Vivoactive 3 has that (though, sans-music and other feature), but personally I just find a non-touch screen works better in most running situations, especially involving intervals or such.
From a backlight and visibility standpoint, I find the screen a bit more clear than the FR935 for some reason. It just feels sharper, which you can kinda see in the comparison section photos up above.  Similarly, I used the older FR630 on my run a few nights ago and forgot how poor that screen is compared to the FR645. Wow, totally different world.
Oh, and lastly, from a battery standpoint, Garmin states that the FR645 can last 14 hours in GPS mode, 5 hours with GPS+Music, and then up to 7 days days in standby mode.  Keep in mind that standby number is based on not using it in GPS mode.  In my real-life usage, I'm finding that I need to charge it roughly every 5-7 days, if I'm using it roughly once per day for an hour in GPS mode (some days less, some days more, but rough ballpark).
Sport Modes: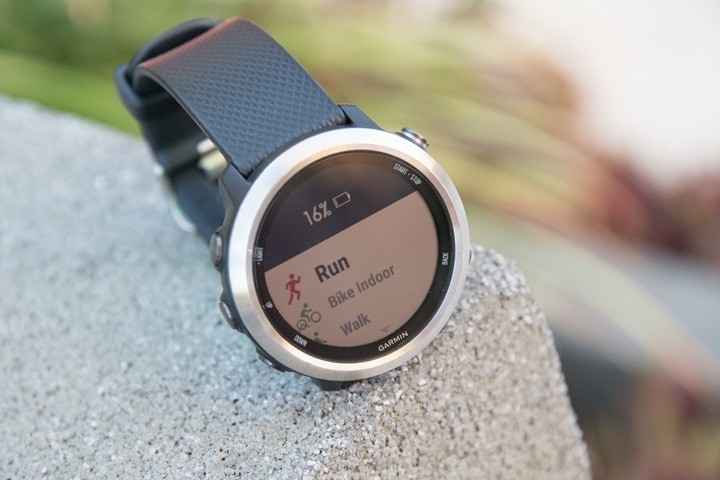 So ya wanna head out for a run do you? No problem, obviously this watch does that – it's officially a running watch after all.  But unlike past Garmin running-specific Forerunner watches, this also tracks indoor pool swimming, and heck even sports like skiing, snowboarding, stand-up paddle boarding, and rowing…among many others.  None of these are new though to folks coming from the multisport or Fenix lineups, or even some of the Vivoactive watches.  But all are new to Garmin's running-specific forerunner lineup.
Still, we'll start with running and go from there into a few of the other sports.  To enter the sport mode listing simply tap the upper right button, which opens the sport menu:
You'll see your favorites listed (which you can customize), as well as select lesser used sports.  Once a sport mode is selected it'll go off and find GPS (if applicable), as well as your heart rate.  It gives you small icons at the top for the status of that, plus any sensors connected.  Also, the GPS signal status is shown around the edge: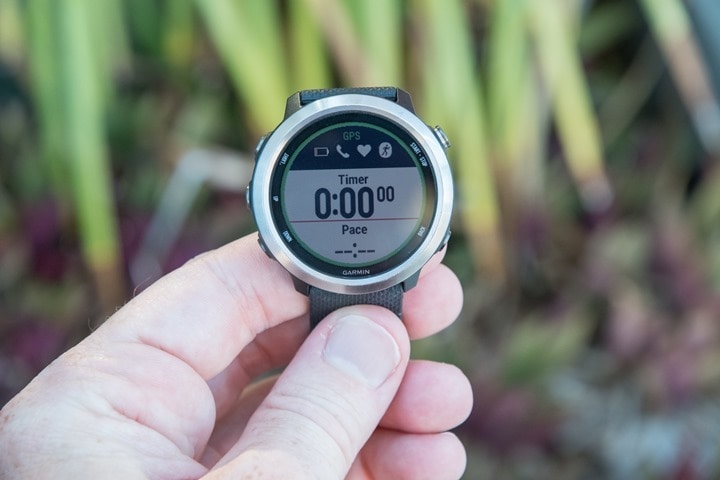 Once you press start you'll be in the recording mode, which means it's now tracking what you do. Within the FR645 you can have a boatload of custom data pages, as well as standardized data pages.  I say a boatload because I've added 6 custom pages now and I got bored of adding more pages. There doesn't appear to be a practical limit.  This is in addition to special pages like the map view, graph pages, running dynamics, music control, and heart rate zone page.  Within a given page you can customize up to four pieces of information.
Here's a small pile of what these look like to get some pretty data shown while running:
Note that pages like the Running Dynamics one do require you use a Running Dynamics capable sensor – such as the HRM-TRI or HRM-RUN, or the Garmin RD-POD.  These also work with 3rd party sensors that support the ANT+ RD Profile, but at present nobody has done so.
In addition to standard pages, you've also got functions that include auto lap (based on a pre-defined distance of your choosing), lap banner customization (to specify what info is shown when a lap is triggered), auto scroll (constantly changes your data pages while your run), auto pause (pauses the timer at a stop-light), and metronome (self-explanatory).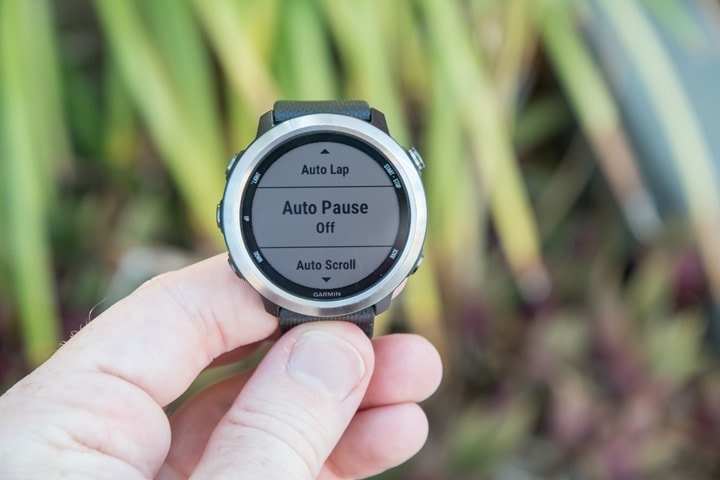 Then we get into the more training-specific features.  And it's some of the nuances here that differentiates between something like the Vivoactive 3 and the FR645.  For example, the FR645 includes the ability to download custom workouts you create from Garmin Connect.  Similarly, the FR645 allows you to do interval workouts on the watch itself (without downloads), as does the Vivoactive 3.  But in the case of the Vivoactive 3 you're restricted to a predefined set, versus on the FR645 the world is your oyster.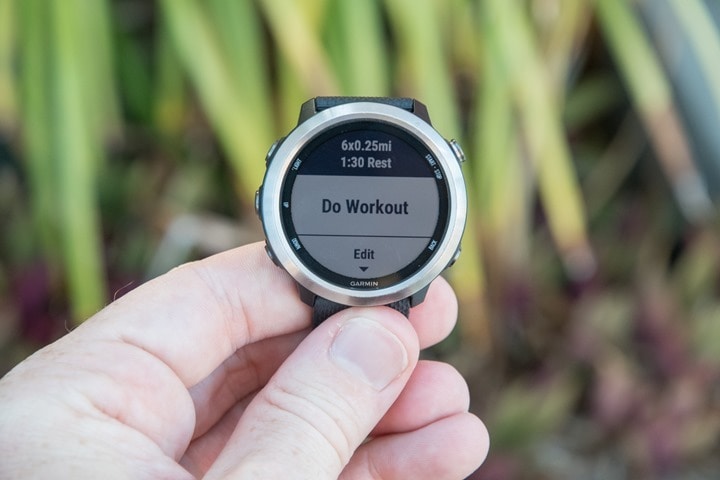 I did this for this mornings run, which automatically iterated me through each of the steps in the workout, giving me a countdown gauge as well.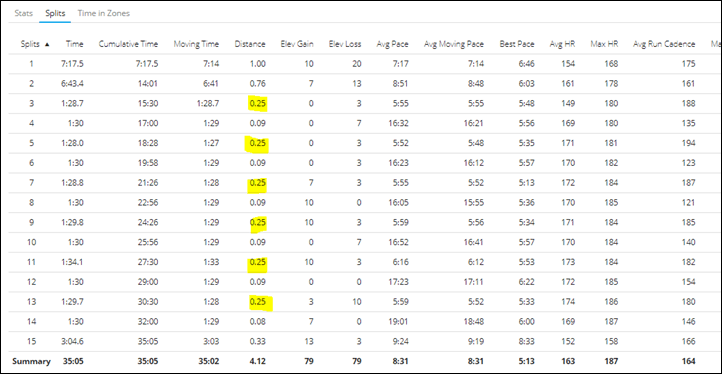 In addition, features like Lactate Threshold testing and paces are available on the FR645 but not the Vivoactive 3.  As with all the Running Dynamics pieces, only the higher end running watches have those.  Further, functions like racing a past activity or doing course following are both not available on the Vivoactive 3.  Note that the lactate threshold function (either the manual guided test or the automatic recognition) requires a chest strap, as that's currently the only way to get HRV/RR data while in a workout.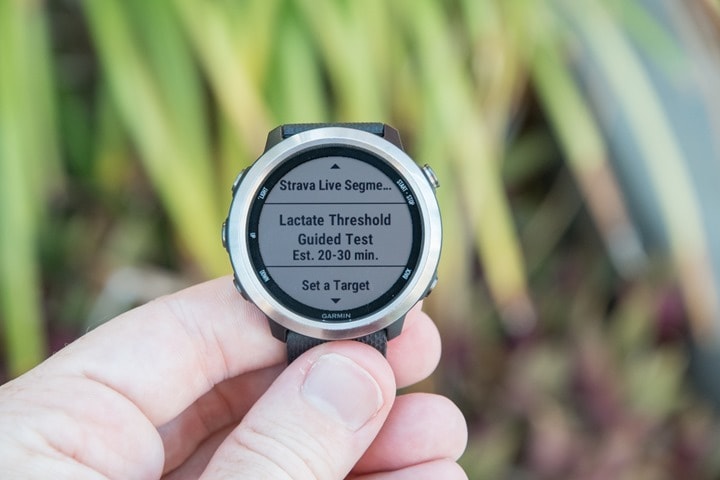 Speaking of navigation, the FR645 includes a dumbed down variant of what you see in the FR935 and Fenix 5.  But specifically it doesn't include all of the software functions such as POI's, bearings, headings, and so on.  Instead, you've got three basic pieces: Courses (following), Activities (re-trace a past one), or Saved Locations (Navigate to a location you've saved on the watch, from the watch):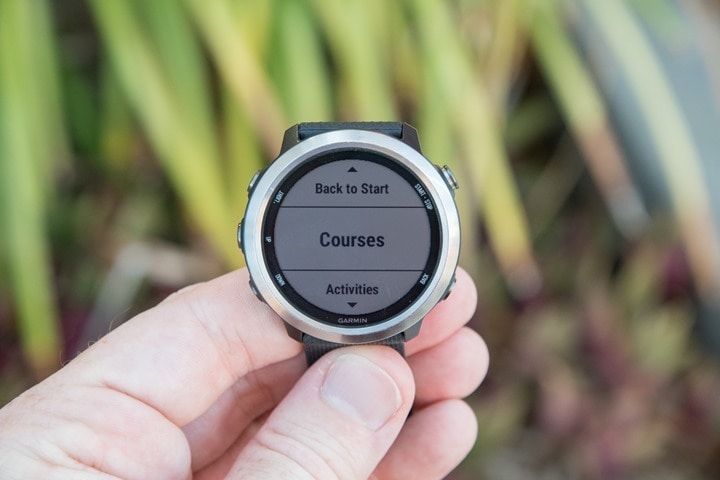 Also, note that the FR645 does not include any maps (nor any way to load them).  You can load apps though like DWMap, which can somewhat fill in that gap for you.  But it won't make your watch a Fenix 5X (which does have maps).  On a FR645 you simply get a breadcrumb trail style map, such as below: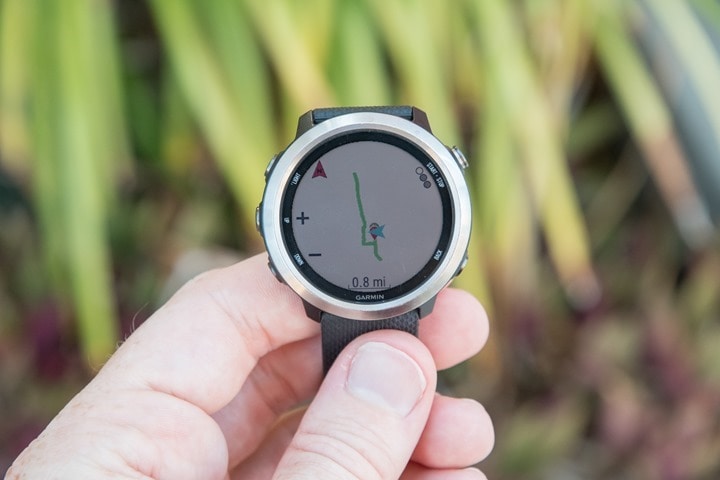 Circling back to that run we started a while back, once you've completed your run you'll go ahead and get summary information.  You can access all this info as well within the history page afterwards.
In addition, you'll get all of the new FirstBeat driven training load and recovery metrics.  These metrics were introduced on the Fenix 5 a year ago, and carried through to the FR935 and in lesser bits to other watches too.  All of that is identical here.
So for example, you can always check your Training Status from the dashboard widgets, which shows you where fitness and load is: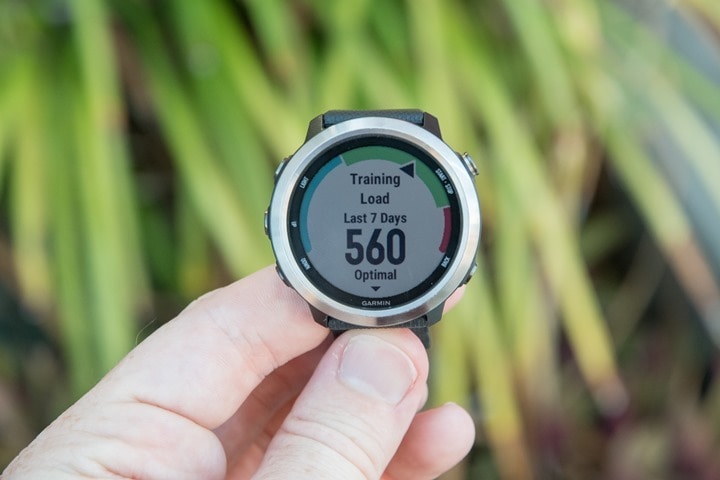 Note that I'm not going to re-write my deep-dive into those features in this review (since it'd be a duplicate), but check out this linked section of my Training Load section of my Fenix 5 review, where I go into detail on how it works, along with a bunch of behind the scenes insight from the FirstBeat folks.
It's here that you can get the detailed recovery hour metrics: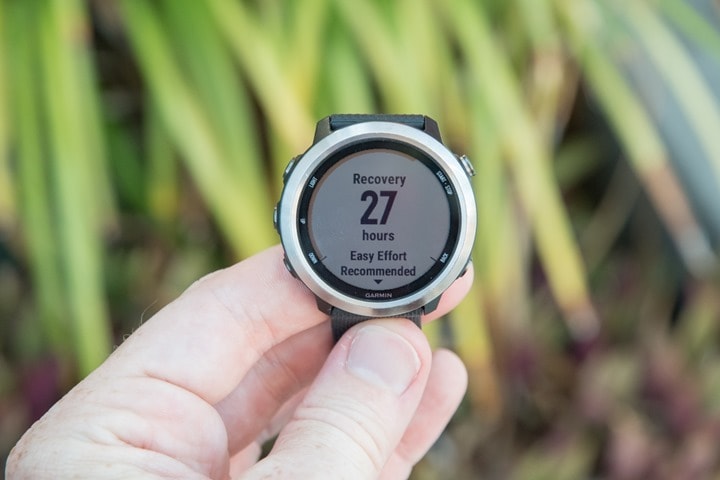 Same goes for current VO2Max and race prediction times.  Note that both of these are heavily biased towards having some solid interval workouts under your belt with the watch before they get accurate.  Also, FirstBeat and Garmin both recommend wearing the watch for at least a few weeks of running to get full data.  All-in FirstBeat will reach it's best predictions around training load at about four weeks in.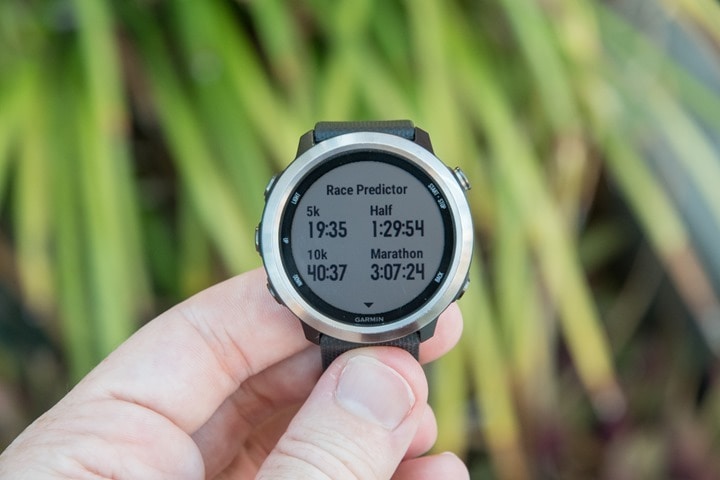 Do note one caveat here though: It won't account for cycling workouts in load.  That's because the algorithms there require a power meter, and the FR645 doesn't support power meters.  Adding injury to insult here, Garmin still doesn't yet cross-compute the FirstBeat data from multiple devices.  So even if you bought a brand new Edge 1030 for cycling, that training load/VO2Max data from that unit won't transfer behind the scenes to your FR645 to form one cohesive picture.
Garmin says they're working on it, and in fact just yesterday committed that this feature will roll out starting in April to devices that support these new metrics.  It's already being used/tested internally at Garmin. Specifically, the following units will cross-transfer the advanced data:
Edge 1030
Fenix 5/5S/5X
Forerunner 645/645 Music
Forerunner 935
Vívoactive 3
I've yet to see it in action, but from talking with them they're saying that the various FirstBeat driven metrics will then sync across the board between the supported devices listed above.  So if you go for a run with the FR645, it'll have the training load data from your Edge 1030 from the day prior accounted for.  As for why older devices aren't supported, it's simply that none of those older devices have these specific FirstBeat training load/recovery metrics (they do have variants of other metrics though). A simple way to remember which devices are compatible and which aren't is that it's basically devices made from 2017 onwards that support the new FirstBeat metrics that are generally only on higher end devices.
Finally, shifting to a few other sports briefly, first we've got swimming. Remember the FR645 only supports pool swimming and not openwater swimming.  For openwater swimming, you need a full Garmin multisport watch.  Within the pool mode though you'll go ahead and select the size of the pool: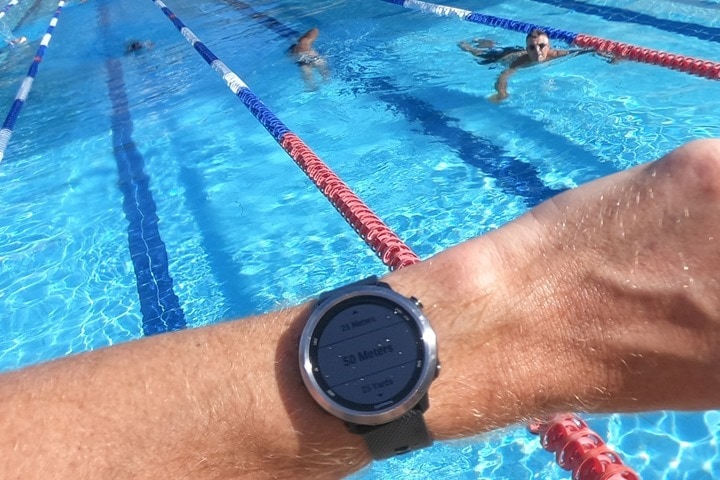 And then from there you're ready to roll.  Note that the unit will NOT download heart rate data from a Garmin HRM-TRI or HRM-SWIM strap though.  That too requires higher end units.  Also, it will not display/record workout HR data while swimming (like Garmin's other watches) from the optical HR sensor.  Given that other competitors like Suunto and Polar are doing this, it's probably time for Garmin to reevaluate their position here.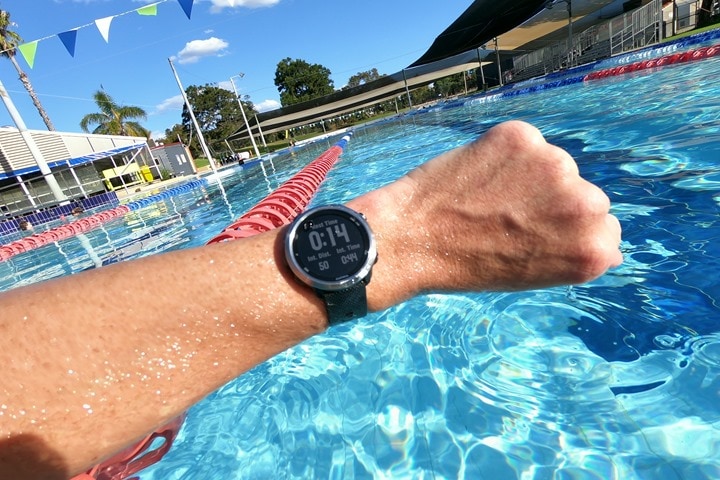 Once you're done with the workout you'll be able to upload all that goodness to Garmin Connect and look at your lengths/sets there: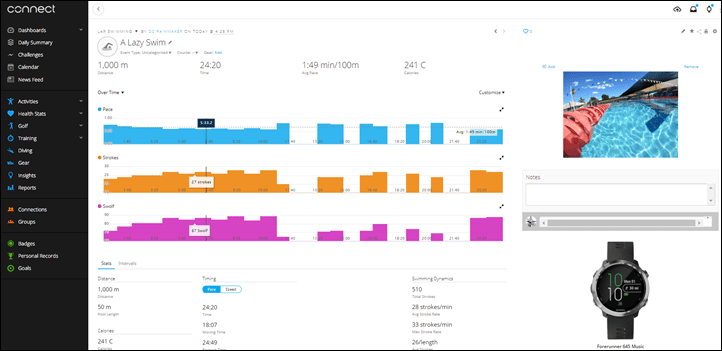 You can also change the tab to look at the specific intervals. Again note though that no heart rate is displayed here.
Switching gears again, if cycling you'll get basically the same metrics you would on most bike computers.  It can pair to ANT+ or Bluetooth Smart speed and cadence sensors (speed-only, cadence-only, and speed/cadence combo).  It will NOT connect to power meters of any type.  I've used it on some rides, and the FR645 works fine for accurately tracking all your core speed/distance/time stats (as seen in the GPS accuracy section down below), plus cadence if you connect that sensor.  But for me, I ride with a power meter, so it's not really the right device for me for that sport.
Finally, since I briefly touched on it a few paragraphs ago – the FR645 follows in the footsteps of the Fenix 5 and FR935 and basically all of the devices Garmin introduced from 2017 and beyond in that it supports both ANT+ & Bluetooth Smart sensors.  This includes the following sensor types:
– Heart Rate (ANT+ & Bluetooth Smart)
– Speed/Cadence (ANT+ & Bluetooth Smart)
– Running Footpod (ANT+ & Bluetooth Smart
– VIRB Action Camera (Garmin, via ANT+)
– Tempe temperature sensor (Garmin, via ANT+)
– Cycling Lights (Garmin/Cycliq/Bontrager/See.Sense, via ANT+)
– Radar (Garmin, via ANT+)
– RD Pod (Garmin, via ANT+)
– Muscle Oxygen (via ANT+)
– Extended Display (Garmin via Radar), via ANT+)
– Headphones (via Bluetooth)
One little bit of trivia there is for every category above where it says "(Garmin, via ANT+)", all of those are actually open standard sensor types, it's just that in most cases nobody else is using the ANT+ standard for that category.  For example, anyone can build a radar and use that and have it work with Garmin devices.  Same goes for the action cam control, which is actually just an open standard there.  We've seen some companies take advantage of that within the cycling lights realm, and perhaps soon some for the RD Pod (ANT+ RD Profile).
Of course, we don't see equivalent standards for many of those device types on Bluetooth Smart, hence why they aren't supported there.
If you're wondering what's missing from the above list compared to a multisport watch, it's basically just 'Power Meter', and in the case of cycling-specific units it's also 'Cycling Trainers'.  Thus as you can see, it's a pretty comprehensive list (including lots of cycling stuff) for what is otherwise 'just a running watch'. I suspect the goal of including things like lights and radar would be to attract commuter cyclists who might use those devices and not necessarily bother with a full cycling head unit each day.
Overall though, for me, it's worked well as a running watch, less so for cycling for the lack of the power meter piece.  Of course, be sure to dive into my accuracy sections down below for my full thoughts on that.
Music: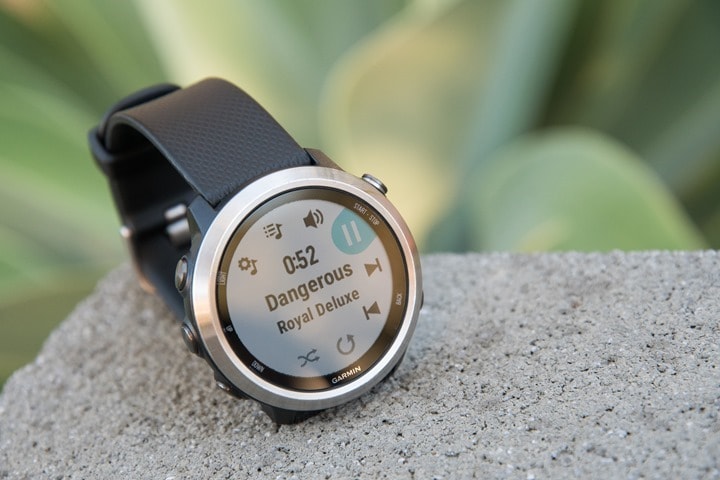 Next, let's dive into the feature that everyone wants to talk about – Music.  This being Garmin's first music-enabled watch device, there's lots of interest here.  Do remember that this section only applies to the 'Music' variant of the FR645 (aka 'FR645 Music', or 'FR645M'), it doesn't apply to the non-music variant of the FR645, as that lacks the hardware required to have music.  Which is a good point.  Some will ask whether Garmin will add music to XYZ previous watch.  The simple answer is almost all those watches lack two and a half core things: A) Storage for music, and B) The right Bluetooth hardware to handle music, and, to a lesser extent C) Battery planning to handle music, since it is a battery drain.
Which brings us to the FR645 Music, and it has those things.  It has about 3.5GB of storage for music.  Though technically, that's actually for music, your workouts, and any apps you have.  But realistically those non-music things only take up a few MB in total (.001 GB).  Technically the unit has 4GB, but half a gig is taken by the system.  Garmin estimates about 500 songs can be stored (Update note: However, that's non-iHeartRadio/Deezer songs, whereas for streaming services there's a limit of 250MB per Connect IQ apps, which both streaming platforms use, thus substantially reducing the amount of music you can sync via those apps).  When you plug your FR645 into your computer, you'll see how much music storage you have left using Garmin Express: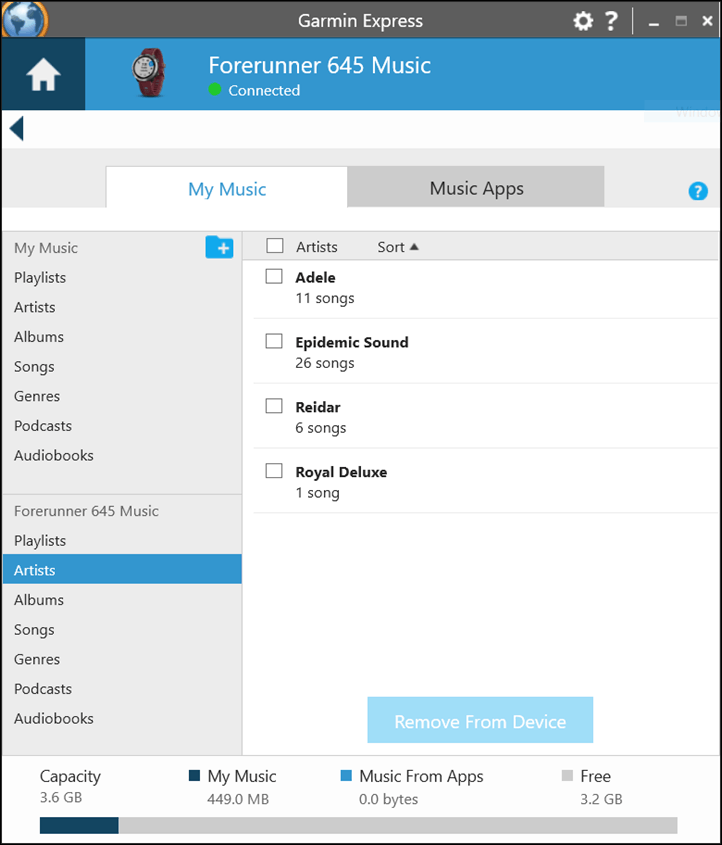 When it comes to transferring music to your device, it'll transfer via either WiFi or USB cable depending on what you're transferring.  For simple music you want to transfer that's not all tangled up in rights protection stuff (meaning, simple MP3's, Podcasts, etc…), you'll just use Garmin Express on your desktop (seen above).  You can see the different categories of music listed below. These are essentially just linked to different folders on your computer.  So you'd link the podcasts to the podcasts folder and so on.
This design does mean that for most non-streaming music, you'll have to update that via your computer.  That's a bit unfortunate for things like podcasts which could ostensibly be updated via WiFi as with the streaming services.  Garmin is saying though that longer term they'll look to find ways to make some of these non-streaming options (like podcasts) leverage WiFi directly – but as of today, it's all locally via cable.
Speaking of streaming services, Garmin is rolling out with iHeartRadio and Deezer.  iHeartRadio is largely focused on the US market, while Deezer is more popular in Europe.  To be even more clear: I've had zero success using iHeartRadio outside the US, no matter how much money you pay for a subscription.
What's actually really interesting is how these services appear within the watch once setup.  See, Garmin's gone with a 'Music Provider' model, meaning that providers like iHeartRadio and Deezer can plugin to the underlying music platform in the watch, as opposed to having totally separate/complex apps (such as most other watches).  For example, within the watch under providers you'll see I have iHeartRadio and my local music listed, both as sources for music.  Down the road that would also show Deezer, and perhaps further down the road other streaming/music platforms.
At present, with iHeartRadio the playlists are updated via WiFi, which is pretty cool.  So as long as you're near one of the WiFi networks you've configured in the watch for general use (I.e. uploading workouts), it'll upload that way.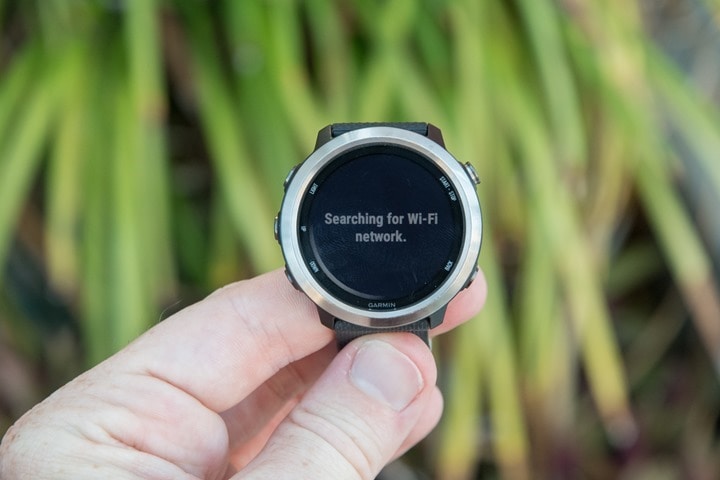 Since I haven't been to the US in the last two months, I haven't been able to double-check that everything is exactly the same as then, however, essentially with iHeartRadio it'll pull the updated music playlist via WiFi each time you connect the app or via music sources.  That in turn means it'll pull the actual songs as well.  While its doing this via WiFi it'll actually shows you how many songs are downloaded/remaining. It's kinda nice.  The downside? As of this writing Garmin is still about 1-2 weeks away from having iHeartRadio go-live on the Connect IQ app store.
As for Deezer? It's not available yet, and the timeframe for that is slated as late April or early May. Eeks.
But let's talk more generally about how music works.  To get music playing on the watch you'll first need to pair Bluetooth wireless headphones (or any Bluetooth device – even a car).  There's no music speaker on the watch itself, so it's gotta go out via Bluetooth.  To pair headphones, you'll go to the same place you'd pair sensors and such, and you'll see it listed there: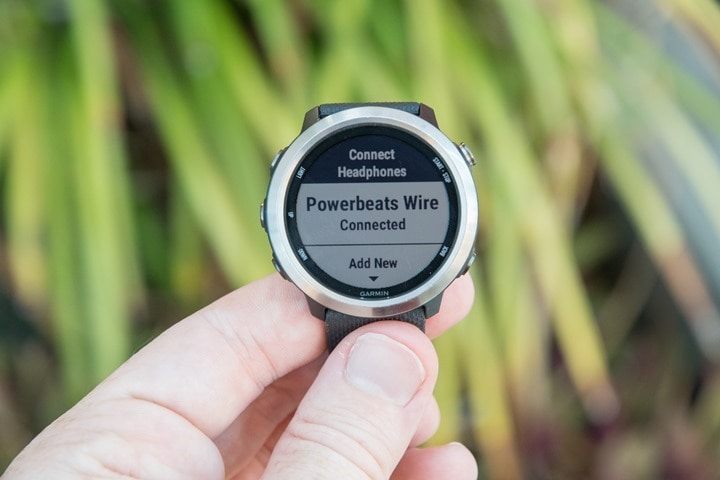 You'll enable pairing mode on your headphones and then a few seconds later the watch will find it:
You can have multiple headphones paired/saved, which is kinda cool (many watches don't support that).  For example, I've paired the Beat's PowerBeat's 2, the Fitbit Flyer headphones, an Amazon Basics speaker and some generic MPOW headphones (only $20!).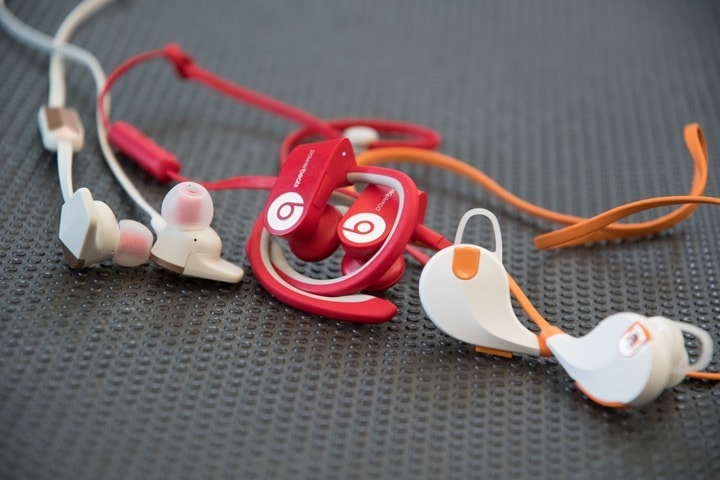 Garmin has a list of validated headphones, but that doesn't mean yours won't work if it's not on the list.  It's just simply ones they've validated/tested.  You'll notice Apple's AirPods aren't on there. It sounds like things are a bit rougher with compatibility there, which matches what a few people have seen in the Garmin Forums on that.
With headphones all saved, you'll wander back to the music widget.  This is accessible anytime by pressing the up/down buttons: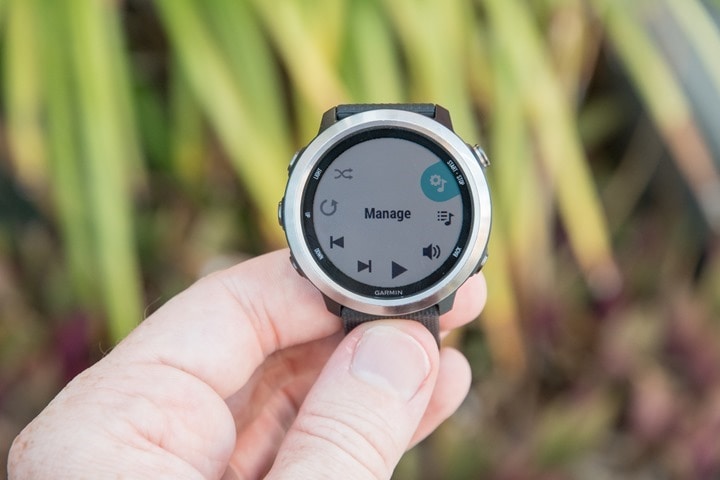 Next, you have 'Source', which selects from the music providers, or to simply control music on your phone instead.  Within a given source, you'll see playlists, artists, albums, songs, genres, podcasts, and audio books (depending on the source of course).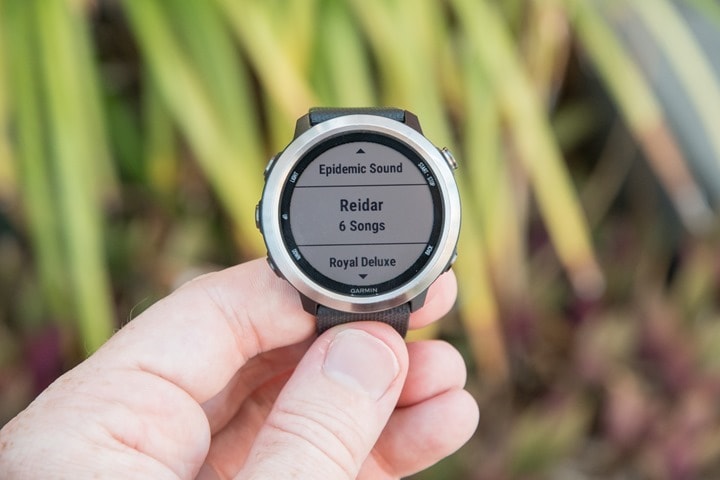 Back on the main controls page, you've got a volume icon to increase/decrease volume, as well as play/skip/back/repeat/shuffle buttons: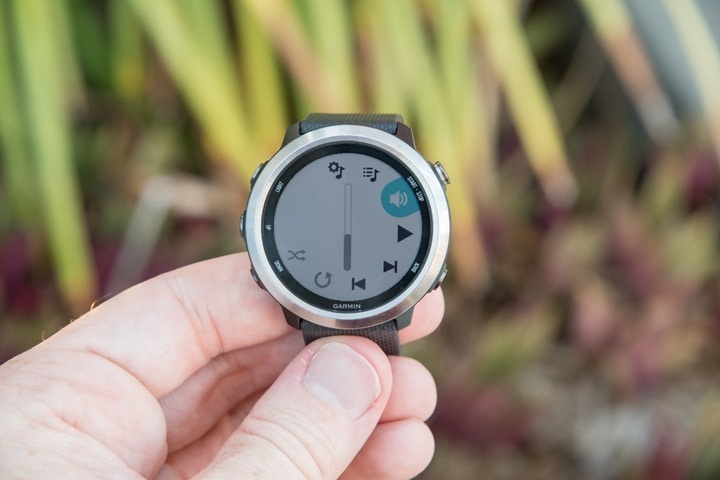 Once you've started playing a given playlist/source/album/whatever, it'll go to this main screen which shows the current song information – and will even show the album cover when available/transferred, which is kinda cool.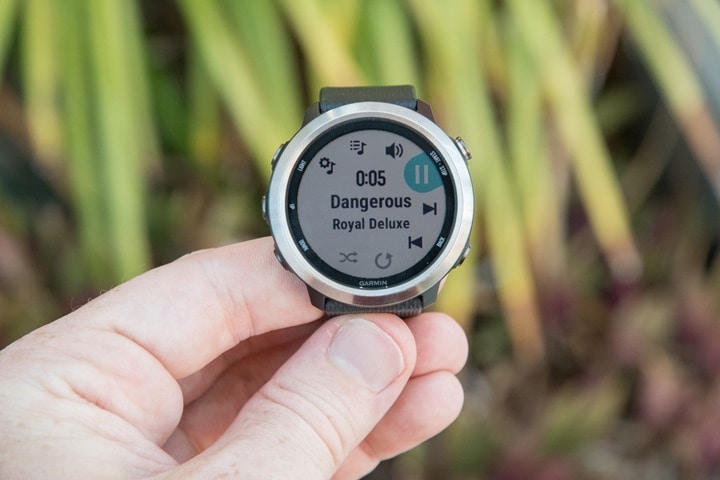 When in a workout, it all works almost identically, except that you can long-hold the lower left button to go directly to the detailed music control page.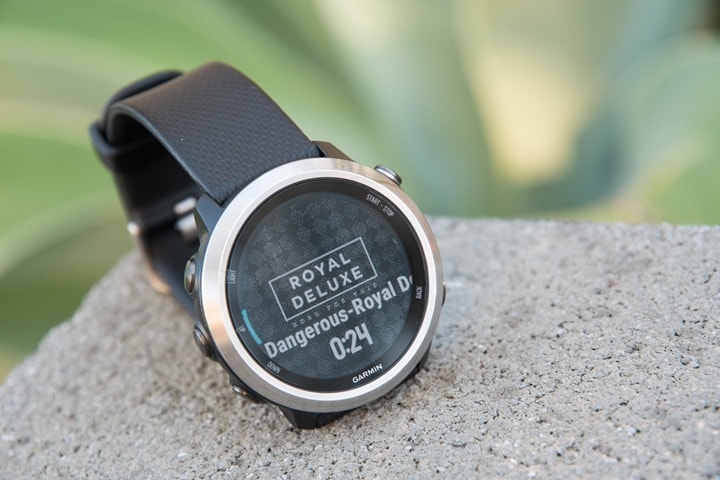 So how's connectivity and how well does it work?  Overall, pretty good.  I've been using it with the various headphones noted above, and things work well.  One catch, anytime you talk about headphones and watches (since the beginning of time) is that every headphone out there has one side that's considered the master/communications side (I.e. left or right).  In general, things work better when the watch is on the same side as that.
For example, on the Beats I've been using, that master side appears to be the left side.  For one run I was wearing the watch on my left wrist.  When I was running, I had no dropouts at all.  But, if I stopped running and walked (so my wrist went down to my waist), and then tilted my head to the right a bit – that tiny bit extra put it out of range and I'd get drops (remember, I'm fairly tall).  When I tried the watch on my right wrist instead, I got constant drop-outs.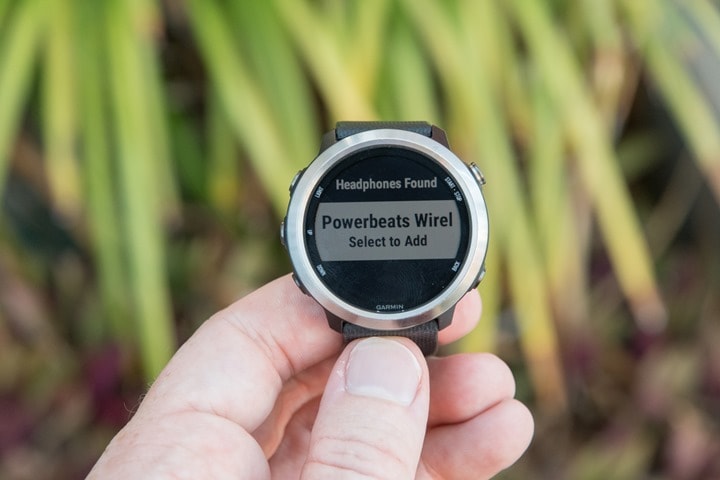 Again, anyone has used various headphones with watches knows that these sorts of quirks are 100% par for the course.  Some headphones are better than others, and Garmin's list shows which ones work best and in what configuration.  Other companies like TomTom, Polar, and more all have similar lists, and it's pretty easy to see the trends in them on which headphones have the best connectivity.  Obviously, that's also a balance on Garmin's side too in terms of power management.  This isn't a car or a plugged in stereo, thus, battery life power management is a balance in any wearable.
Oh, and last but not least, while in a workout, when you press the lap button (or if auto-lap is configured), then you'll get audio alerts for that lap.  The music will silence itself, and then a voice pipes in with the current lap time/pace/etc depending on how you have it configured.  Basically, just like every other music-running app/device has worked for years.
Finally, for those geeks in the house, when plugged into a computer, the unit shows up as a MTP device (Media Transfer Protocol), which is sorta a cross between a generic USB drive and one focused purely on music.  Though, you can force it to a straight USB drive via settings if you want.  Note that these settings are on the watch.  On a PC it shows up slightly more accessibly than on a Mac, but both ways it will appear just fine.
Technically, there's two 'portions' to how it appears.  The first is the music section/folder/drive/whatever (called Media), and the second is the typical Garmin one (called Primary).  The 'primary' one is where you'll find the workout files and such.  Again, a typical user probably doesn't care about this, but geeks like me might (ok, geeks definitely want to know this).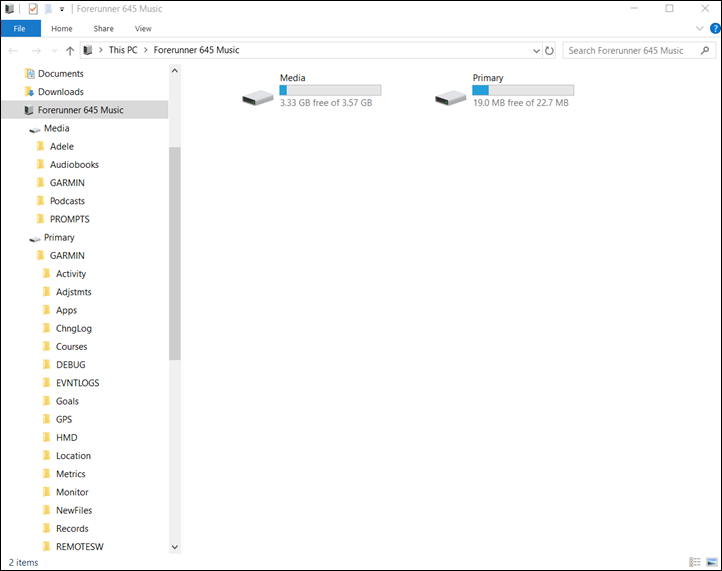 Another random geeky note – the cable for the FR645 Music is identical looking to that of the FR630.  Except internally it's not.  The older cable (for the FR30/35/230/235/630/735XT) they found was causing some issues when transferring music, and thus had to be redesigned for a higher current.  If you plug in the watch with an older cable it'll charge just fine, but it won't enumerate on your computer for transfers (of any type).  You'll get an error message on the watch.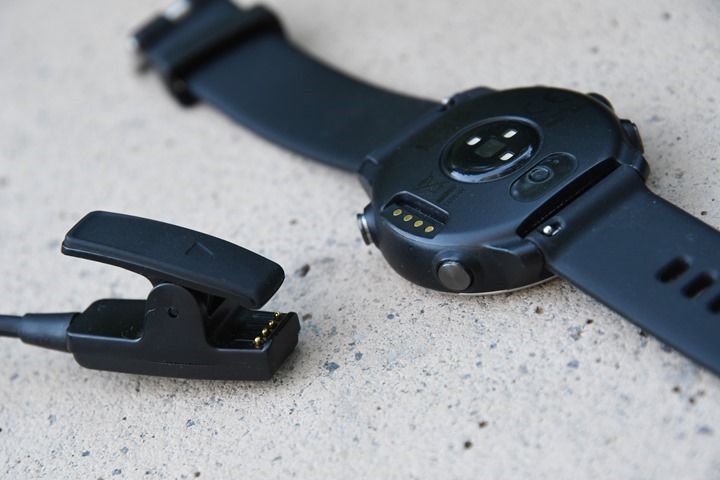 Just a minor heads up for those in a multi-cable family like myself that you might want to mark that one as the golden child (it officially will also has a '1A' marked on it). But I marked it for now with a simple zip-tie to spot easily from far away.
Phew – got all that?!? Good!
Overall – the music works well for me using mostly offline content (meaning, non-streaming services), simply because that's what I can actually use day to day.  When in the US I was using the iHeartRadio content and that also worked better than I expected it to once on my device.  It's just that I'm not really an iHeartRadio person (since I don't live in the US), and with Deezer not available yet, that's a sticking point.
Personally, I'm a Spotify person (or Amazon Music), neither of which are supported on the device. It doesn't sound like there's much near-term promise for Spotify, as they've rebuffed almost every company in the industry for wearables support.  Obviously, Garmin and Fitbit and others would likely love to have that solution on their units.  At least the good news is that if other companies come to the streaming table, the underlying music provider model Garmin has adapted makes it easy to roll out new entities. Now we've just gotta hope that happens.
Garmin Pay: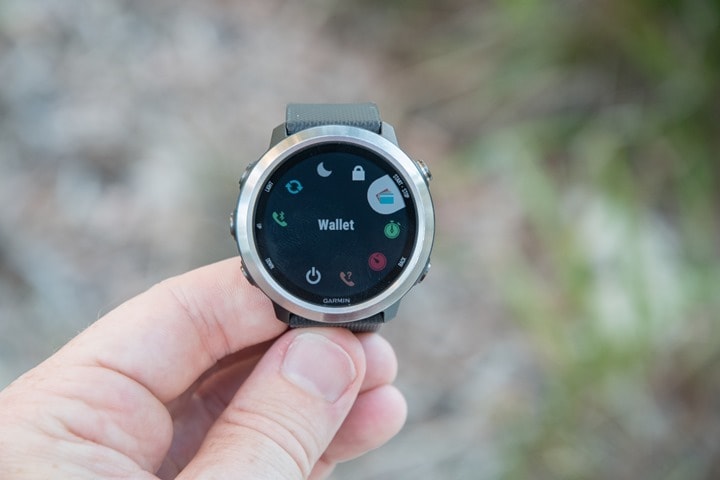 As of this writing, Garmin has not yet enabled Garmin Pay on the FR645. That date is currently set for March 19th, about two weeks from now.  I'll circle back and update this review with how it functions once they've released it.
Of course, I don't really expect it to be any different than the Vivoactive 3 that was released this past fall.  Everything I can see from toying with things on a beta build is identical to that of the Vivoactive 3.  You load your credit card via the Garmin Connect Mobile app onto the watch, it does some approval magic behind the scenes, and then you can use your watch to tap and pay for things without issue.
By and large it works great on the Vivoactive 3. And while I'd never say something 'will absolutely work the same' on a different product, I've got pretty high confidence you'll see virtually no difference here.
Of course, that's not really the issue with Garmin Pay.  Rather, the challenge is simply whether or not your bank is supported.  Certainly Garmin has added a pile of banks since last fall with the Vivoactive 3 launch, but they're still missing key banks, especially in the US with lacking Chase (who dominates the credit card industry).  Not to mention banks overseas.  Garmin is ultimately in the same position as Fitbit is right now, in that they have to individually negotiate and onboard every bank on the planet.  This took Apple years to do, and even then not every bank is supported.
Unfortunately the nature of how this portion of the industry works really does require each bank to be individually onboarded. There is no easy button, as they aren't just enabling all Visa or Mastercard cards in one easy shot.
In any case, if you want to see how it works on the Vivoactive 3 – hit up my video here on it.
GPS Accuracy: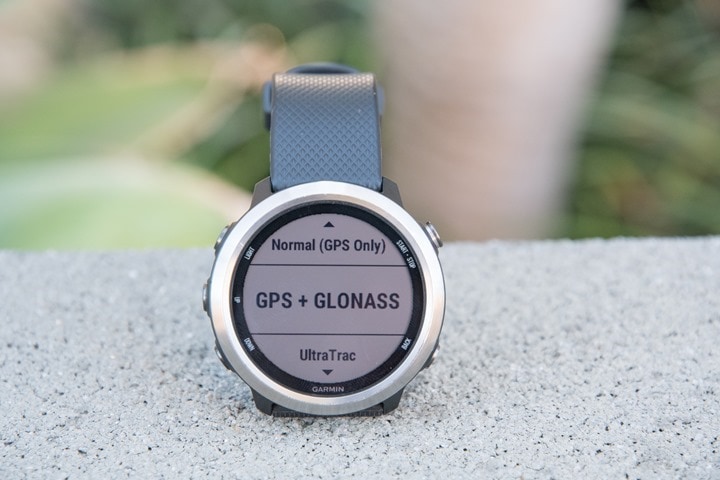 There's likely no topic that stirs as much discussion and passion as GPS accuracy.  A watch could fall apart and give you dire electrical shocks while doing so, but if it shows you on the wrong side of the road?  Oh hell no, bring on the fury of the internet!
GPS accuracy can be looked at in a number of different ways, but I prefer to look at it using a number of devices in real-world scenarios across a vast number of activities.  I use 2-6 other devices at once, trying to get a clear picture of how a given set of devices handles conditions on a certain day.  Conditions include everything from tree/building cover to weather.
Over the years I've continued to tweak my GPS testing methodology.  For example, I try to not place two units next to each other on my wrists, as that can impact signal. If I do so, I'll put a thin fabric spacer of about 1"/3cm between them (I didn't do that on any of my FR645 workouts).  But often I'll simply carry other units by the straps, or attach them to the shoulder straps of my hydration backpack.  Plus, wearing multiple watches on the same wrist is well known to impact optical HR accuracy.
Next, as noted, I use just my daily training routes.  Using a single route over and over again isn't really indicative of real-world conditions, it's just indicative of one trail.  The workouts you see here are just my normal daily workouts.
I've had quite a bit of variety of terrain within the time period FR645 testing.  This has included runs in: Paris, Amsterdam, Las Vegas, Adelaide, Perth, and plenty more.  Cities and countryside, trees and open-air. It's been everywhere!
First up we'll start with something relatively easy – a run that's mostly open-air with a bit of trees or small buildings nearby, but nothing complex. It's always a good starting point.  This beach and then river path is well travelled by runners in the area. Here's the GPS tracks comparing the Garmin FR645, Suunto Spartan Trainer, FR935, and FR630. This gives you a bit of perspective looking back at the FR645's older sibling, the FR630. Here's the DCR Analyzer file set if you want to poke around yourself.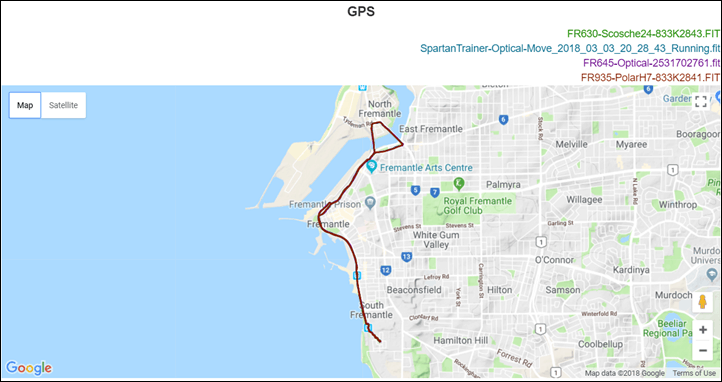 Of course, at this super high-level view you can only see that nobody went totally wonky, so let's dig in a bit closer and try and find some challenging spots.
The beginning/ending is actually kinda fun, as it's a small path that swerves back and forth for no apparent logical reason. In this case, you're seeing both the end and the start of the run shown, but as you can see, all of the units agree very nicely here. They're all within a meter of the path at worst, if not just straight on the path.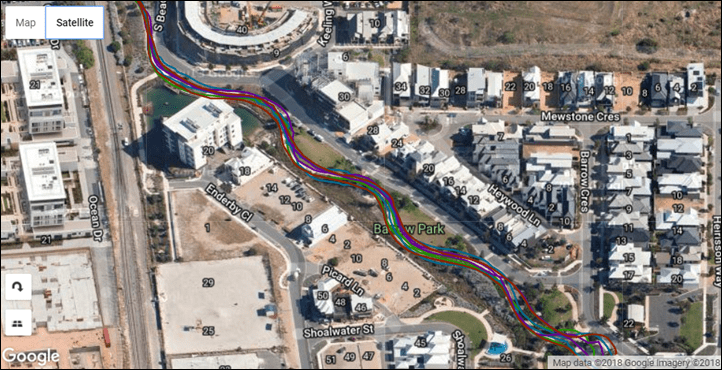 Next, for the following few miles, things look pretty solid. If I wanted to get all nitpicky I'd note that both the older FR630 and the Spartan Trainer on the outbound only seemed to be offset by about 2 meters, into the parking spaces. This only occurred in one direction, and on both those units only.  No idea why.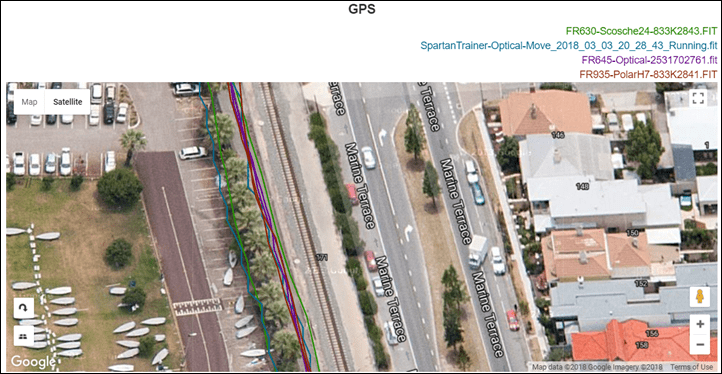 Next, at the turnaround point, you'll see that I follow the edge of a building. Only the FR645 nailed this corner properly, the rest seemed to go inside what I think is a pub. Fair enough, it was 9PM on a Saturday night.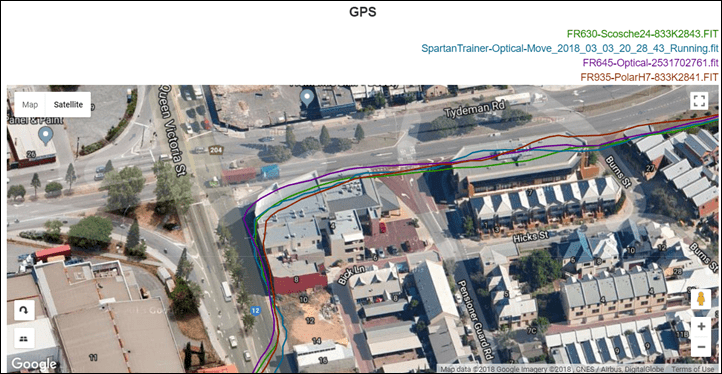 Of course, give some, take some.  A bit later on the way back the FR645 went bar hoping itself, while the other units were all roughly correct.  The impact on distance from this excursion is still pretty darn minor.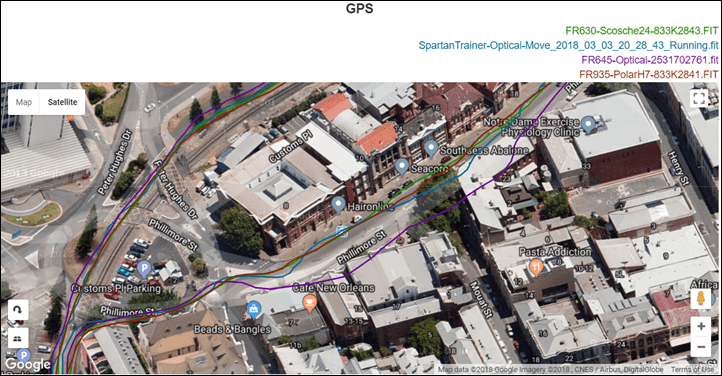 Finally, if we look at the total distance written to the files, you'll see that they're all within 100m of the FR645  (which sits precisely in the middle of them), on what is a 13KM run. That puts the total spread at basically 0.7%, which seems respectable enough to me (since we already evaluated the actual tracks separately).

Next, let's head into the bush on a bit of a run that has mixed tree cover and some open areas. Here's what it looks like: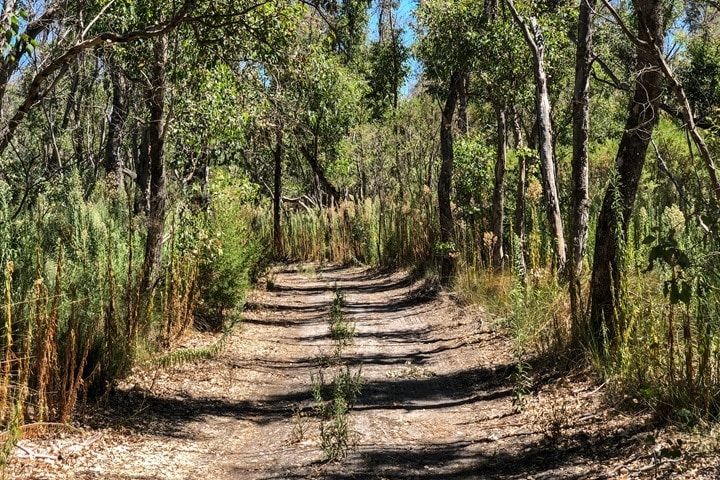 And here's the track files (FR645/Suunto Spartan Trainer/FR935), and here's the DCR Analyzer set.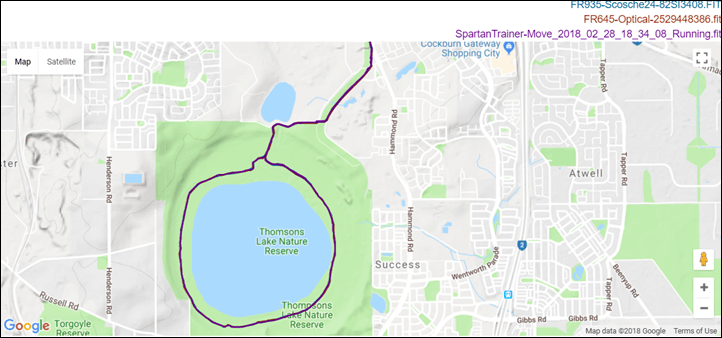 It kinda goes without saying that there's virtually perfect alignment between these units on this route. Somewhat impressive actually. Scrolling all the way around the entire lake, about the only point I can find a bit of disparity on is this little section here, with the FR935. But given I was hand-holding that next to a GoPro, it's entirely possible the unit was occasionally covered up there – blocking signal. And even then, the difference is very minor.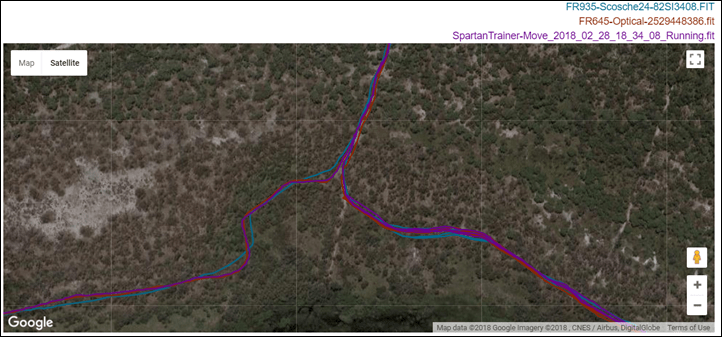 Looking at the rest of the track is kinda silly, since it's so identical to be a non-event. Now oddly, here's the distance totals:
It'd mildly interesting to see the FR935 at about a 200m loss compared to the other two, since it shows a virtually identical track and didn't have any other sensors (like a footpod) overriding distance.
Even if I go all the way back to January on GPS accuracy, I'm not seeing any appreciable difference here in GPS accuracy for running.  Also, in the HR section all of those sets (some of which are different from these here) all show essentially the same thing: It matches virtually perfectly with other units.
Switching gears for a moment, let's look at a ride – this one across half the city and back again with plenty of opportunity for challenging GPS moments. Here's the super-duper high level (and the DCR Analyzer Link):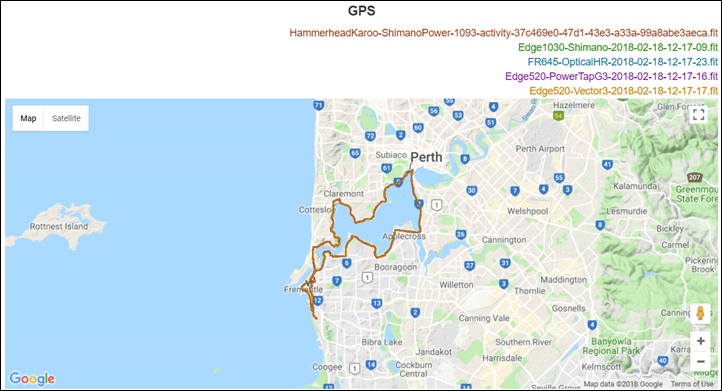 Now, before we get started, I want to point out one interesting tidbit.  About two miles into the ride I headed into a bike shop to get a part swapped out.  I did NOT stop any of the GPS units. It's a couple story concrete building, definitely not a little wooden shack. It's here that the FR645 plotted some rather excited GPS tracks. The other units were a bit more clustered.  Obviously, this isn't really something I can truly complain about – but I wanted to call it out in case folks were digging into the files and wondered what on earth exploded there.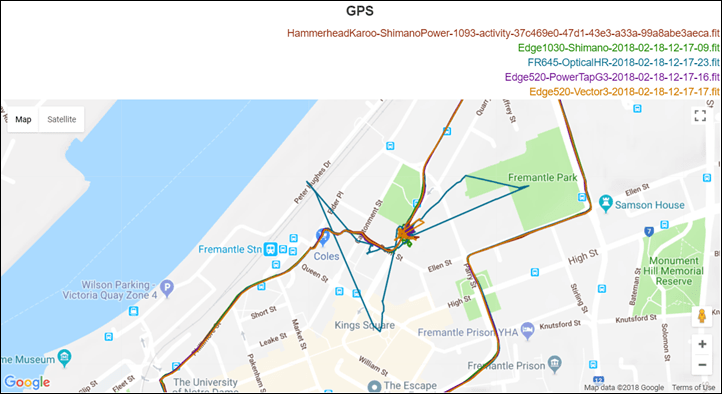 In any case, as soon as I went back outside the tracks were perfect virtually instantly.  You can see this intersection that I went in/out of at different points in the ride.  All the units were so tightly clustered together it's astounding. They're even showing me properly in the bike lane and all.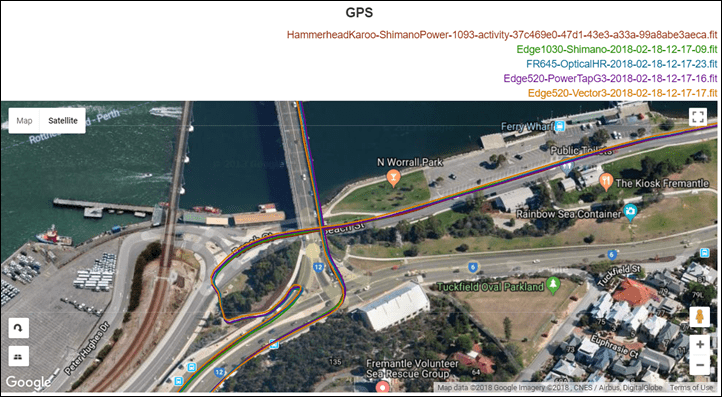 Next, I zoomed all the way around the river trying to find a spot where any of the GPS units disagreed, but frankly, that just never happened.  Even passing under an 8-lane highway at low-speeds, they all were clustered within a few meters of each other.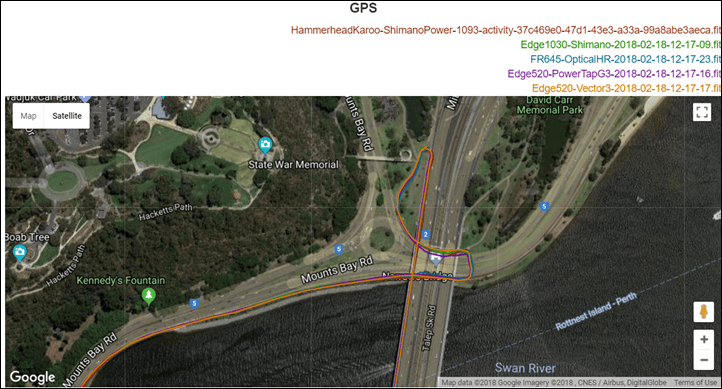 Basically, all the way around, it just looks like a nice little peloton of perfection riding together: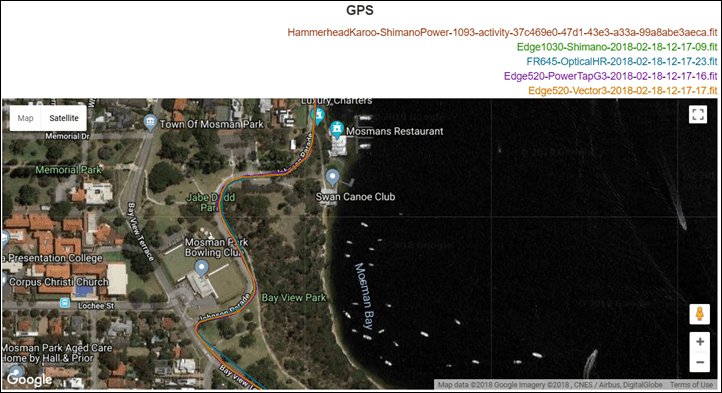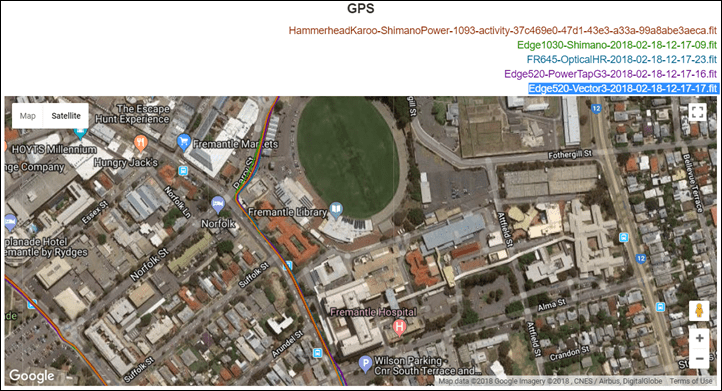 Ultimately, I'm not seeing any appreciable GPS accuracy issues (aside from me being stupid and leaving the watch running indoors), across either running or cycling (or hiking/walks), which are the main GPS-driven activities on the FR645.
(Note: All of the charts you see in this review are created using the DCR Analyzer.  You can also use it as well to create/share your own comparisons between multiple devices/sensors/etc, more information here.)
Heart Rate Accuracy: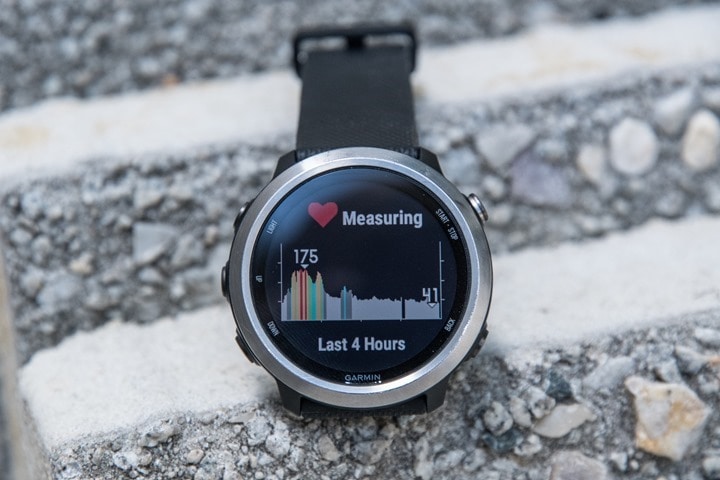 Next up we've got heart rate accuracy.  This roughly falls into two buckets: 24×7 HR, and workout HR.  As is usually the case with most devices these days, I see no tangible issues with 24×7 HR.  It works well across both normal daily routines as well as things like sleep.  Speaking of which, I talk about RHR values and 24×7 monitoring here and why it's interesting.
Before we move on to the test results, note that optical HR sensor accuracy is rather varied from individual to individual.  Aspects such as skin color, hair density, and position can impact accuracy.  Position, and how the band is worn, are *the most important* pieces.  A unit with an optical HR sensor should be snug.  It doesn't need to leave marks, but you shouldn't be able to slide a finger under the band (at least during workouts).  You can wear it a tiny bit looser the rest of the day.
Ok, so in my testing, I simply use the watch throughout my normal workouts.  Those workouts include a wide variety of intensities and conditions, making them great for accuracy testing.  I've got steady runs, interval workouts on both bike and running, as well as tempo runs and rides – and even running up and down a mountain.
For each test, I'm wearing additional devices, usually 3-4 in total, which capture data from other sensors.  Typically I'd wear a chest strap (usually the HRM-TRI or Wahoo TICKR X, but also the Polar H7), as well as another optical HR sensor watch on the other wrist (many models during this testing period including the Wahoo TICKR FIT, Polar OH-1, a prototype Scosche Rhythm 24, and Scosche Rhythm+).  Note that the numbers you see in the upper right corner are *not* the averages, but rather just the exact point my mouse is sitting over.  Note all this data is analyzed using the DCR Analyzer, details here.
Note that while I've been using the FR645 since December, I'm mostly going to use recent data in this review – since that's the firmware that it's currently on and the production firmware that real world people are using.
First up we've got my evening run from the other night, which is more of a steady-state run.  Still, it's always a good place to start before we get into more complex things. In this case I was comparing the following HR sensors: FR645 Optical, Polar H7 Chest Strap, Scosche Rhythm 24 (Prototype device), and Suunto Spartan Trainer Optical.  The DCR Analyzer set data is here.

What you see is that on the whole, things are virtually identical between them.  You do see a few weird moments here and there on the other sensors.  For example a couple of random bumps on the Suunto Trainer optical sensor.  And you see two brief moments where the Polar H7 has a small blip. I didn't do anything notably different at any point on this run, except the 26 minute marker where you see that dip and I took a photo standing on a bridge.

But otherwise, it's pretty darn consistent.  If we look at the very very start of the run, we see slightly different ramp rates, which is pretty common for any heart rate sensors to agree on dramatic shifts in heart rate. I'm actually surprised they were as close as they were during that ramp and that they all got to basically the same point within about 70 seconds (usually I see closer to 3-4 minutes).

All in all, nothing terribly exciting (good or bad) on that set. The FR645 performs exactly as it should.  All of my steady-state runs over the last nearly three months are pretty much just like this – non-events that just do what it should.
So let's kick it up a notch and get a bit more complex. This next run was relatively steady pacing on the outbound, but then on the return I decided to mix it up a bit with some fartlek's of sorts, which basically means variable distance/time intervals and variable pacing.
Here's the the overview of that magical run.  In this case I'm comparing the FR645 optical with the Wahoo TICKR-X chest strap, and the Scosche 24 optical HR sensor (prototype device). Here's the DCR Analyzer set.

As you can see, things got off to a pretty awesome start…with approximately none of them agreeing for the first 3 minutes, and in this case in a horribly bad way.  But the correct HR track is easy to spot – it's the FR645.

The reason we know this?  Well, it's unlikely I'm running at a 7:00/mile with a HR at 80bpm.  So that means the Scosche is out.  And then it's equally unlikely I'm peaking at 176BPM in the first four minutes at that pace.  Instead, you can see the gradual and correct HR plot of the FR645 as I built into things.
Next, for the following 20 minutes or so I was relatively constant in pace, and while we see some slight disagreement between the units (primarily from the Scosche), they're all within about a 3-5bpm spread (or less).  That dip there is where I stopped to take a photo at a lighthouse for about a minute.

After this point I start varying my pace/intensity as well as the durations, mostly aligned to random railroad crossings.  And this is where things start to get a wee bit messy. I'd say the prototype Scosche is the least certain as to what's going on here.  That leaves us with the TICKR-X and the FR645 optical to evaluate.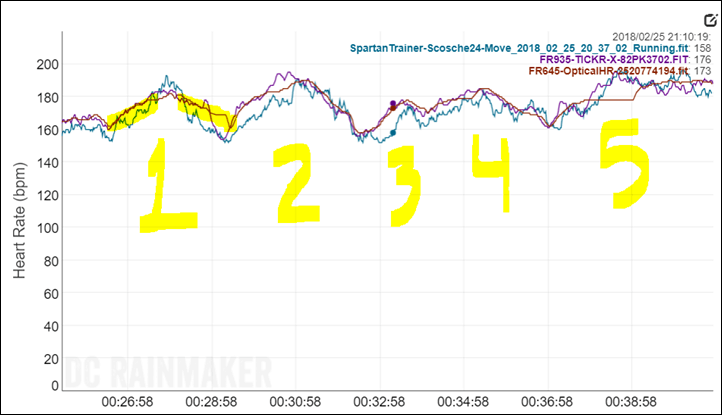 For the build portion of almost each 'interval', the FR645 actually nails it quite well.  But you'll see that on the first recovery portion, the FR645 lags a bit.  The second the FR645 is probably the most correct, as the TICKR-X incorrectly spikes.  Then the 3rd interval the TICKR-X and FR645 agree happily, even into the 4th interval as well.  But the 5th interval the FR645 seems to totally miss that I started running hard again.
Ultimately for that specific run it wasn't horrible, but just not perfect either.
Next, let's kick up the difficulty level one more time. We'll go to a run I just did this morning, a simple interval run (using the built-in interval feature no less). 6x400m, with 90-seconds rest.  Also, I did about a 12 minute warm-up, and then some cool-down as well.  In this case I was comparing against the prototype Scosche 24, the Polar H7, and Suunto Trainer optical and the FR645 optical. Here's the overview and the DCR Analyzer data sets.

Huh. Well then. So, skipping right to the meat of things – the first 13 minutes (warm-up + rest) were spot-on between all of them. Simple goodness.
But then the intervals got a bit messy, primarily from the FR645.  It actually did fairly well for the build portion of each interval (save the first one), but would totally lose the plot on the rest portion of each interval.  For this run I was just walking for the recovery portion, carrying no cameras.
There's honestly not much more to say here, the recovery completely misses the boat…every single time.

So this got me curious a bit – was this a one-off, or something more common.  So I dug back through my January files, and in most cases there it did fairly well on recovery.  I then went through February, and that too was fine.  In fact, here's a workout I did using the FR645 while pushing a stroller and running outside on Zwift (and filming all at once).  And the FR645 did great on those intervals. Analyzer here.

So I'm not entirely sure about this morning. One interesting thing that I did differently today was add in the RD-Pod. I note this because I actually haven't used that since January or so. But I remembered back to a beta issue I had seen where the RD pod was causing weird HR data.  When I removed the RD pod, that went away.
Why would that matter you ask? Well, the RD pod is used as a cadence source when connected, because in theory the cadence data from it is higher quality than wrist data (since it wouldn't be impacted by things like taking a drink of water or what-not).  But in looking at my cadence data from today's run, via the RD-Pod, it looks all dorky when I'm walking.  You can see how incredibly variable it is, compared to when I'm running it's rather clean. Makes me wonder if perhaps my RD pod is having issues in certain scenarios.

Now, this is just a wild-assed guess, and if it wasn't already super-hot outside and that I've got other things to do I might re-do the run without it.  But, it's a production product at this point so fair is fair.
Ok, switching gears a bit – let's look at cycling and the HR there. Historically speaking things aren't usually terribly awesome with the Garmin ELEVATE sensors and cycling, especially when variability is in question.
Below is a two hour ride with mostly consistent riding in the middle section, but a bit more variability towards the second half.  The first portion there with the yellow underline is where I was in the bike shop that I mentioned above.  So let's not give it too much grief there since I was actively trying to fix a bike with the mechanic.

Instead, let's focus on the rest of the ride. In this case I had apparently connected 3 other head units to the same heart rate strap…so we've only got one data point to compare against.

Still, what you see is that all the way up till about the 1hr 40min marker things are remarkably close.  There's one point where it briefly seems to lose the plot during recovery, but actually better overall than I expected.
After that point though there's a ton more variability and it just doesn't match at all – including one 200BPM spike that clearly isn't correct.  What you see in that last portion is what I typically see for wrist optical HR sensors while riding. It's where I was stopping and starting at various lights, and thus lots of stop and go.  Whereas when I was riding more steady-state, it's all good.
So what's my overall opinion on the FR645 optical HR sensor?  Well, obviously it's mixed.  As usual, it's not terribly awesome for cycling if you're doing any shifting in intensity or stops/starts.  When it comes to running though, for steady-state it's perfectly fine, no issues there.  But for intervals it seems a bit mixed.  You saw on that fartlek run that it was largely pretty good, minus a few quirks.  Whereas this morning it completely crapped itself on recovery.  It's unclear though if something large is at play with the RD-Pod, since my other interval runs were just fine.
I'm going to keep on chugging with it and report back in a month or so – but at this point I've got 3 months of good data, and none anywhere near what I saw on this single run this morning.  Sometimes it's just bad luck for a product when it comes to reviews and the timing of any given random workout.
(Note: All of the charts in these accuracy sections were created using the DCR Analyzer tool.  It allows you to compare power meters/trainers, heart rate, cadence, speed/pace, GPS tracks and plenty more. You can use it as well for your own gadget comparisons, more details here.)
Product Comparison:
You'll find the FR645 has been added to the product comparison database, which allows you to compare it to a boatload of other products I've reviewed.  For the moment, I've compared it to the Polar M600 (has music and running focused), the Apple Watch (has music and running features), and the FR935 (multisport, so you can see the differences – no music). Of course, you can make your own comparisons against any other watches here within the product comparison calculator.
And don't forget – you can make your own product comparison here within the product comparison charts!
Summary: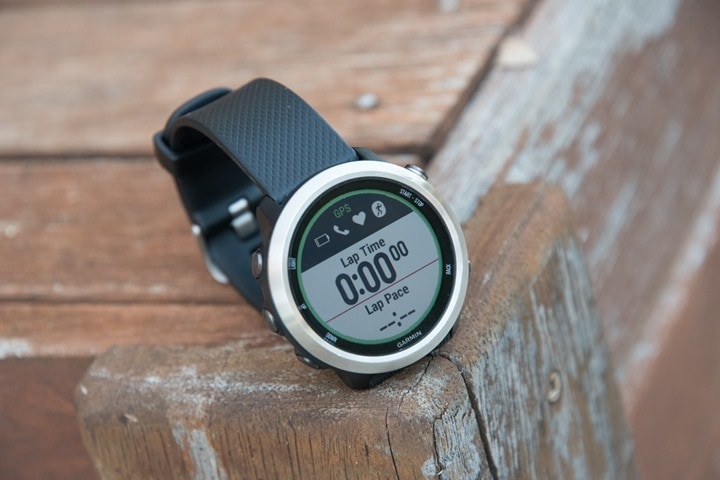 So what's the wrap-up on Garmin's first music enabled watch?
Honestly, it's probably too soon to tell.  Sure, from a pure non-music running standpoint it's more or less the same as the Garmin Forerunner 935 or Fenix 5 series. There's virtually no differences there.  So if you were looking for a cheaper FR935 for just running purposes (and the occasional pool swim), then this is probably your best bet since it's $100 less sans-music. Not to mention the upcoming integration of the FirstBeat driven metrics across Garmin's newer devices, will be appealing to those that want the advanced training and load status across both their cycling and running devices independently.  And of course, there's Connect IQ – which continues to grow and has boatloads of apps and watch faces that are very endurance sports focused (and even Uber). It won't have the more mainstream apps you'd find on an Apple Watch, but for the athlete it seems to do the trick.
Shifting focus, once you get into the music realm, the jury is somewhat out depending on how you typically listen to music.  For me personally, I'm more about streaming services.  And in Garmin's case, even once iHeartRadio comes online in the next week or two, that won't really solve my problem because it's not a platform I use and it's not a platform available to me outside the US.  Deezer might solve my problems (despite me not using it), but that's realistically probably two months away, assuming no further delays.  I also think that we're probably going to see a lot of folks realize just how finicky Bluetooth audio headphones are when connected to watches (as has been the case for years).  Garmin will likely catch some flak there, even when not entirely deserved (perhaps they should have followed Fitbit's lead in making their own headphones that were guaranteed to work).
Still, for a lot of people this watch will hit its mark, and especially do so over time as Garmin matures its music offerings.  It's finally getting the pieces in place for Garmin to eventually be able to compete in the core feature checklist of having music.  Undoubtedly we'll see them eventually bridge the music portion to other devices, it's most just a matter of when.
With that – thanks for reading!