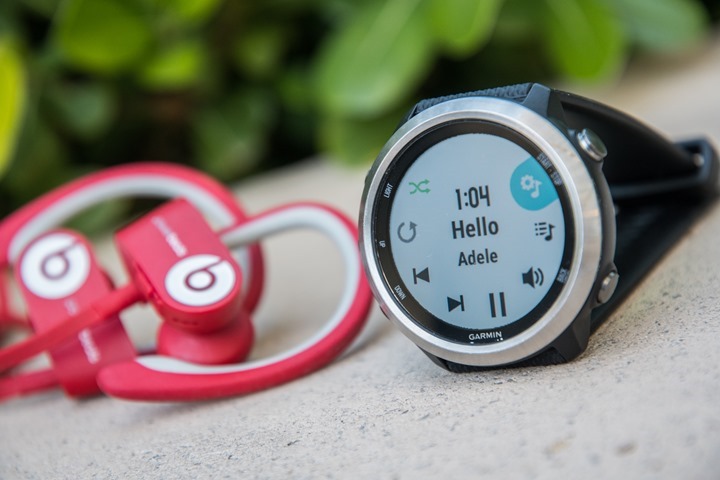 (Update – March 5th, 2018 – My Full FR645 Music In-Depth Review is now available, head over to the link to check it all out!)
Finally, Garmin now makes a wearable that plays music.
In some ways, that's sorta all you need to know.  But of course, I've got plenty more details to dive into than just that.  After all, the running focused unit doesn't just have music, but rather all the latest features and functions that Garmin's been adding lately – such as NFC contactless payments (Garmin Pay), latest Connect IQ app support, and finally in their high end dedicated running watch: A barometric altimeter (only the triathlon variants have had that till now).
I've been using a loaner beta device for almost a month now, through runs, rides, and more.  Since the software isn't quite final (though is close), I'll wait to do my full in-depth review till later in January when it starts shipping.  As such, again, this isn't a full review.  Things could get better or worse than current status, and some ancillary things I haven't been able to test yet on it.  Oh, and in case you're new around here – I send back all these loaner devices when done with them and go out and get my own devices through normal retail channels (in fact, I've got a pile of devices to give back to Garmin when I see them at CES this week).  Just the way I roll.
With that, let's dive right into it!
What's New Overview: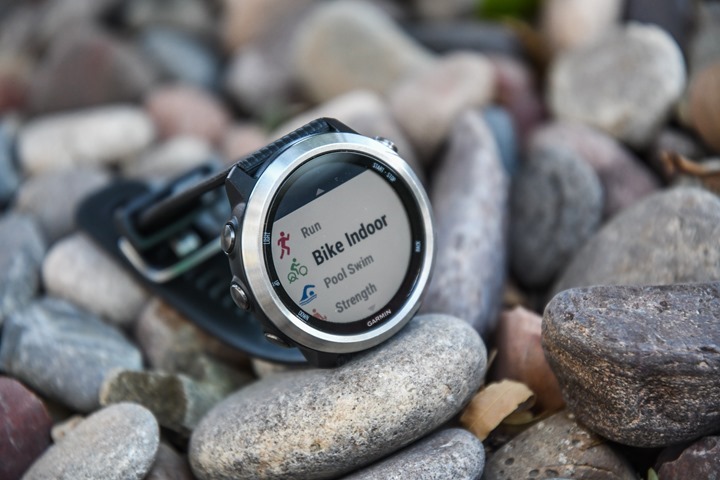 To get right into things, I've put together a bit of a video covering all of the new items in the FR645 Music, primarily compared to the existing Garmin running watches (I.e. FR630 and FR935).  I cover the music, Garmin Pay, the heart rate sensor, and so on.  It's all in here – watch and share!
Still, video aside, let's outline what's new in the watch down below in a bulleted list.  Those kinda lists are best.  Now there's two ways I could go about this.  I could compare it to its older sibling – the FR630, or, I could compare it to its half-sibling, the FR935.  The FR630 is a pure running watch, whereas the FR935 is a multisport watch that Garmin wanted runners to also gravitate to (as they dropped the 'XT' suffix off the end of it from previous multisport watches – ala FR310XT, 910XT, 920XT, etc…).  Thus, for below, I'm going to roughly do both.  Hang on!
Here's what's new:
– Added Music storage and playback via Bluetooth (first Garmin watch to do so)
– Added Garmin Pay (NFC contactless payments)
– Added Garmin's latest Elevate Optical HR sensor (same as FR935), for 1-second 24×7 HR recording
– Added Bluetooth Smart sensor support (like FR935, FR630 didn't)
– Added FirstBeat Training Status metrics – fitness load/recovery (FR935 has it, FR630 doesn't)
– Added Lactate Threshold tracking (FR935 has it, FR630 didn't)
– Added latest Garmin Connect IQ for apps (FR935 has it, FR630 stops at older version)
– Added indoor pool swimming (FR935 has it, FR630 didn't)
– Added Ski/Snowboard sports (FR935 has it, FR630 didn't)
– Added SUP/Row/Yoga/Elliptical/Stair Stepper/etc sports (FR935 has it, FR630 didn't)
– Added HRV Stress app (FR935 has it, FR630 didn't)
– Added Strava Live Segments (FR935 has it, FR630 didn't)
– Can respond to text messages from watch (only for Android users for now)
– Can follow courses (FR935 has it, FR630 didn't)
– Uses similar charging cable to FR630. Identical from exterior, but internally is different.
– Uses same new quick release bands as Vivoactive 3
Phew – got all that? If you're familiar with the FR935/Fenix5, then basically it can just be summed up as "Added music and Garmin Pay, took away multisport/openwater modes, and advanced navigation", roughly.
Before we dive into the music pieces, a few quick notes on size comparisons.  I've lined up the FR630, FR645 Music, and the FR935 for a quick catwalk (left to right: FR630-FR645-FR935):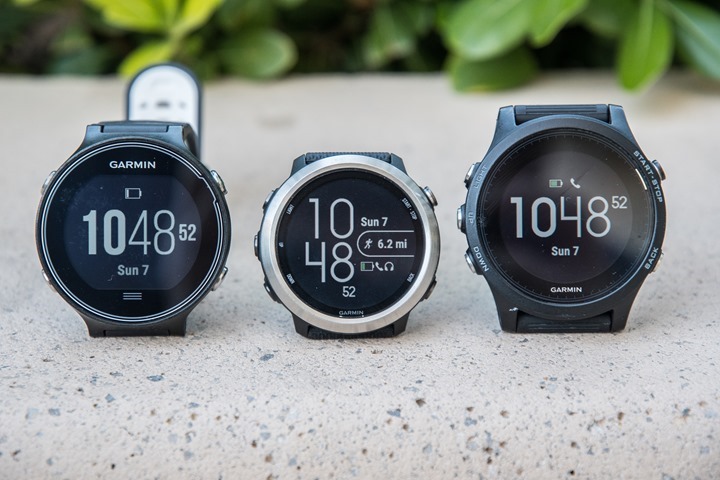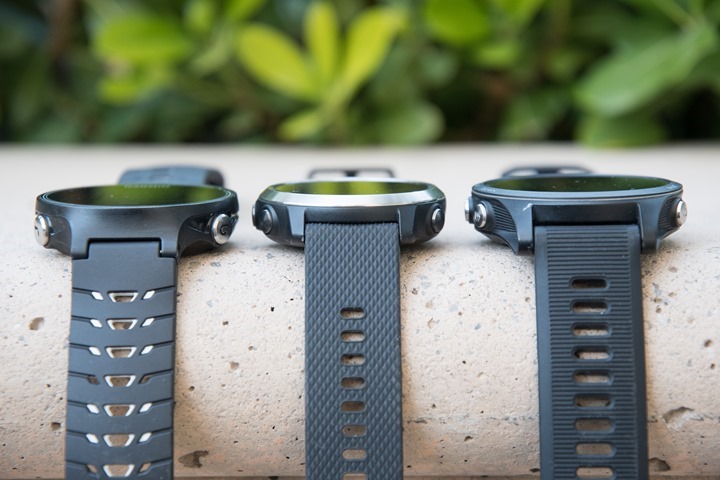 As you can see, the FR645 is smaller in width than the others, though about the same thickness.  I personally like a lightweight watch (compared to say, the heavier Fenix series), so my go-to watch is normally a FR935.  This feels on my wrist basically the same to that in terms of weight. So I'm happy there.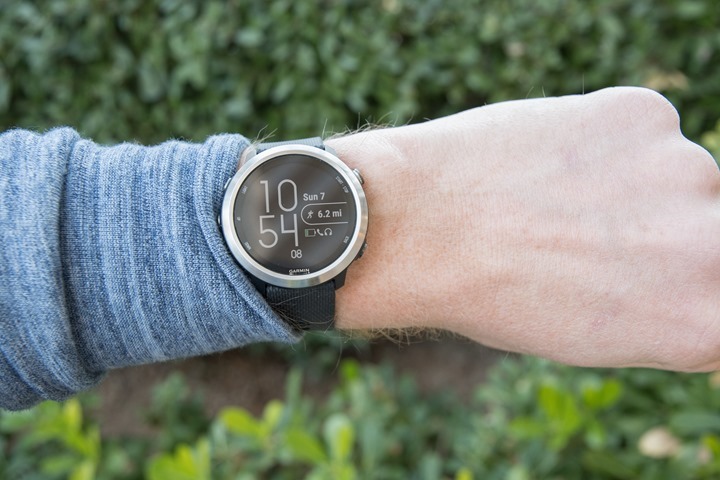 Also, as noted the bands are the same as the Vivoactive, which means they're standard quick release style 20mm watch bands.  In my case, Garmin thought it'd be funny to send me a watch with a pink band on it.  And I actually wore it around for about 10 days that way.  But a tall pasty looking male living in Paris with a bright pink wristband gets some odd looks, and then some odder questions/statements.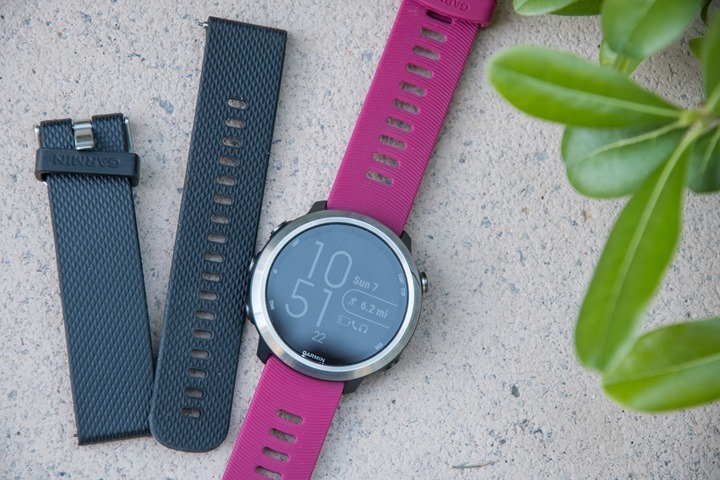 Sidebar tidbit: The pink band is technically called 'Cerise' by Garmin, which ironically enough, is simply French for 'Cherry'. Secondary tidbit, you know when you see on a trendy American restaurant menu that you have 'haricot vert', and it sounds all fancy?  That's simply translated as 'green beans', it doesn't denote any sort of cooking style or even that it's cooked at all (while technically most French green beans are a bit thinner, that's generally overlooked by most using the term).  I apologize for popping that fancy bubble.  Moving on…
So I actually swapped out my cherry for my Vivoactive 3 band, which is black.  The questions and looks went away.  And in that setting, it almost looks identical to the Vivoactive 3, save for the extra buttons on the FR645.  Speaking of which – the FR645 screen thankfully isn't touch screen.  I've never been a huge touch screen fan for sports watches, and I'm glad it's just buttons.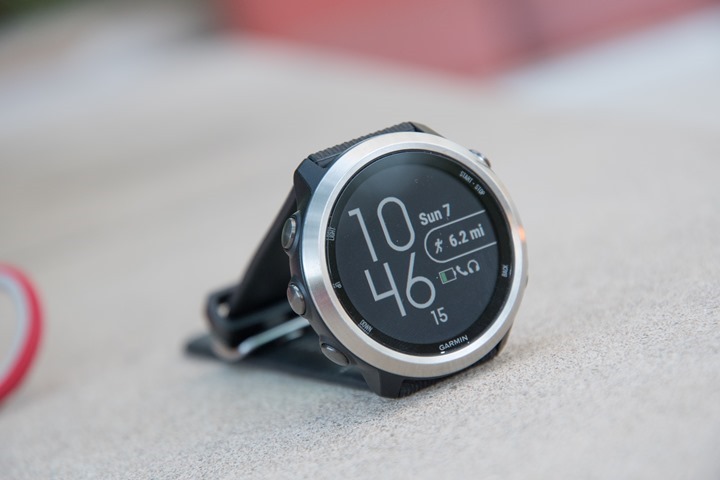 With the overview of what's new covered, let's jam right into the audio portions.
How Music Works: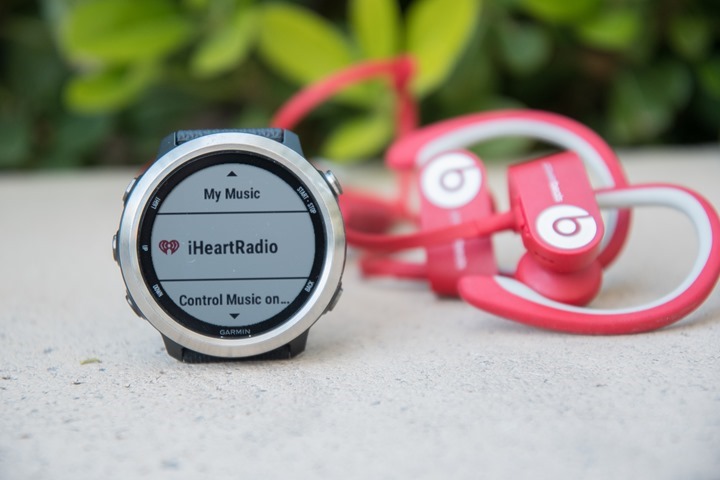 Most of you will be interested in the music pieces.  While certainly there's plenty I could talk about in the watch, the vast majority of the remaining features have been seen on existing Garmin watches.  I briefly cover some of the newerish features down in the next section, and in my full in-depth review I'll dive into all the common things more deeply.  But for now, let's talk music.
Note that this only applies to the 'Music' variant of the FR645 (aka 'FR645 Music', or 'FR645M'), it doesn't apply to the non-music variant of the FR645, as that lacks the hardware required to have music.  Which is a good point.  Some will ask whether Garmin will add music to XYZ previous watch.  The simple answer is almost all those watches lack two and a half core things: A) Storage for music, and B) The right Bluetooth hardware to handle music, and, to a lesser extent C) Battery planning to handle music, since it is a battery drain.
Which brings us to the FR645 Music, and it has those things.  It has about 3.5GB of storage for Music.  Though technically, that's actually for Music, your workouts, and any apps you have.  But realistically those non-Music things only take up a few MB in total (.001 GB).  Technically the unit has 4GB, but half a gig is taken by the system.  Garmin estimates about 500 songs can be stored.  When you plug your FR645 into your computer, you'll see how much music storage you have left using Garmin Express: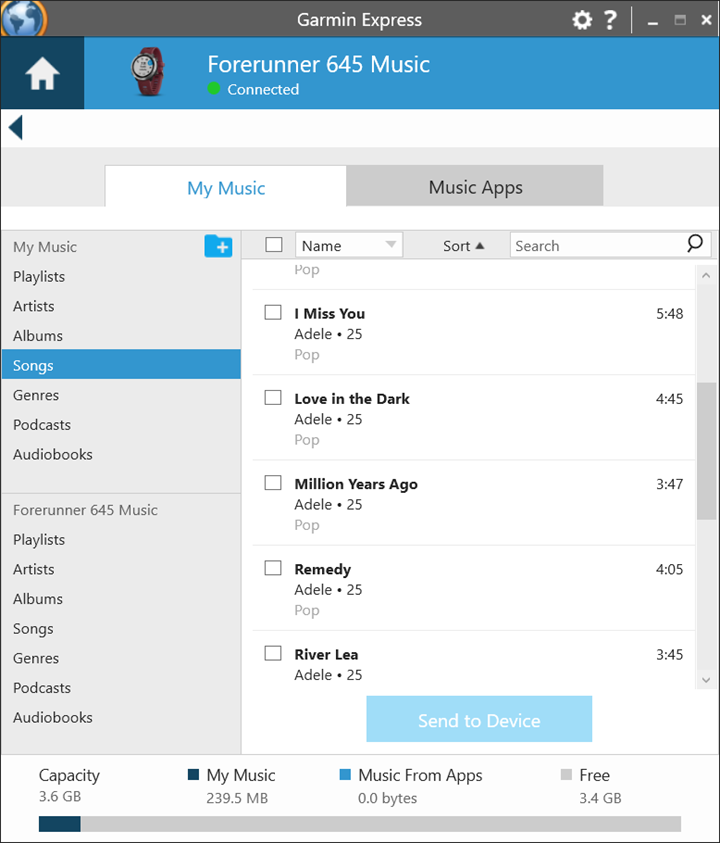 When it comes to transferring music to your device, it'll arrive in a few different ways.  For simple music you want to transfer that's not all tangled up in rights protection stuff (meaning, simple MP3's, Podcasts, etc…), you'll just use Garmin Express on your desktop.  You can see the different categories of music listed below. These are essentially just linked to different folders on your computer.  So you'd link the podcasts to the podcasts folder and so on.
This design does mean that for most non-streaming music, you'll have to update that via your computer.  That's a bit unfortunate for things like podcasts which could ostensibly be updated via WiFi as with the streaming services.  Garmin is saying though that longer term they'll look to find ways to make some of these non-streaming options (like podcasts) leverage WiFi directly.
Speaking of streaming services, Garmin is rolling out with iHeartRadio and Deezer.  iHeartRadio is largely focused on the US market, while Deezer is more popular in Europe.  What's actually really interesting is how these services appear within the watch once setup.  See, Garmin's gone with a 'Music Provider' model, meaning that providers like iHeartRadio and Deezer can plugin to the underlying music platform in the watch, as opposed to having totally separate/complex apps (such as most other watches).  For example, within the watch under providers you'll see I have iHeartRadio and my local music listed, both as sources for music.  Down the road that would also show Deezer, and perhaps further down the road other streaming/music platforms.
At present, with iHeartRadio the playlists are updated via WiFi, which is pretty cool.  So as long as you're near one of the WiFi networks you've configured in the watch for general use (I.e. uploading workouts), it'll upload that way.
But let's talk more generally about how music works first.  To get music playing on the watch you'll first need to pair Bluetooth wireless headphones (or any Bluetooth device – even a car).  There's no music speaker on the watch itself, so it's gotta go out via Bluetooth.  To pair headphones you'll go to the same place you'd pair sensors and such, and you'll see it listed there: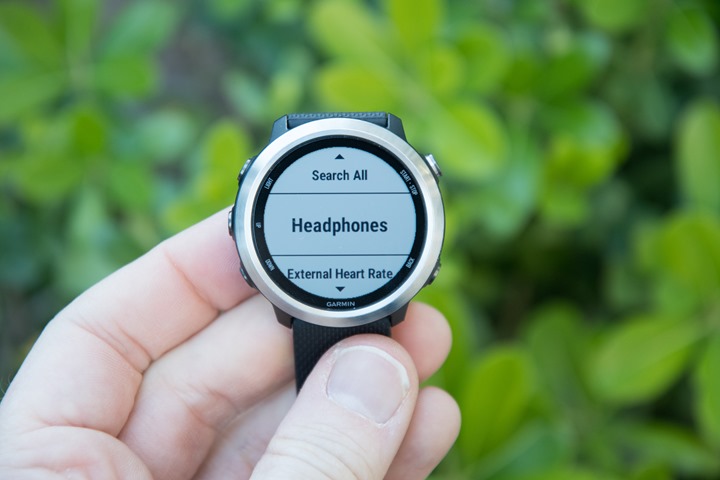 You'll enable pairing mode on your headphones and then a few seconds later the watch will find it: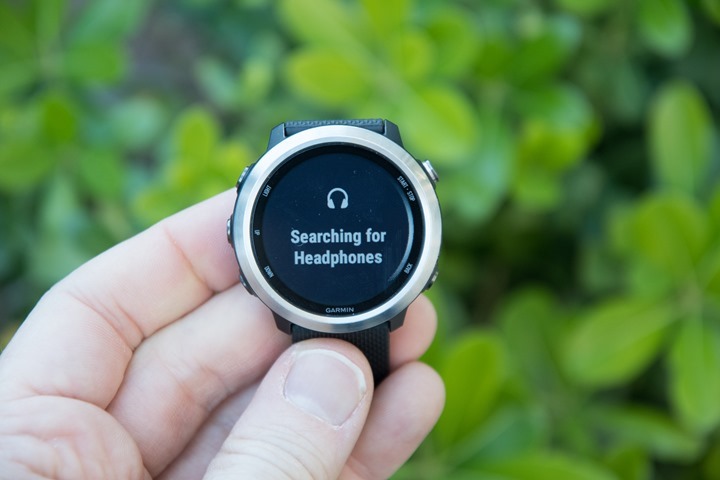 You can have multiple headphones paired/saved, which is kinda cool (many watches don't support that).  For example, I've paired the PowerBeat's, the Fitbit Flyer headphones, an Amazon speaker and some generic branded MPOW headphones.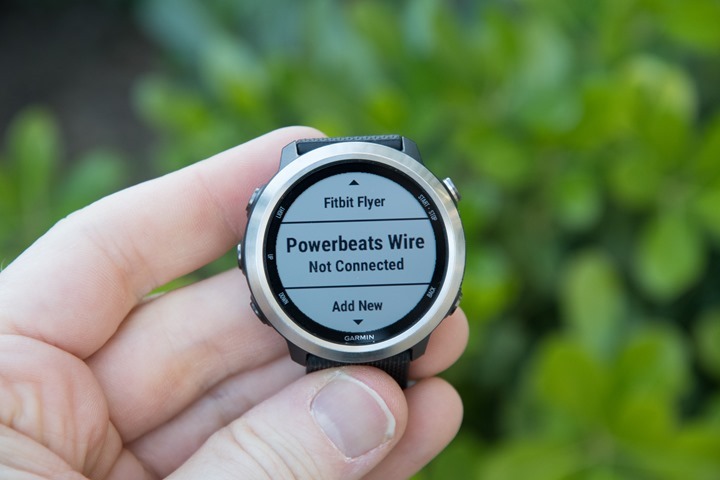 Garmin has a list of validated headphones, but that doesn't mean yours won't work if it's not on the list.  It's just simply ones they've validated/tested.
With headphones all saved, you'll wander back to the music widget.  This is accessible anytime by pressing the up/down buttons: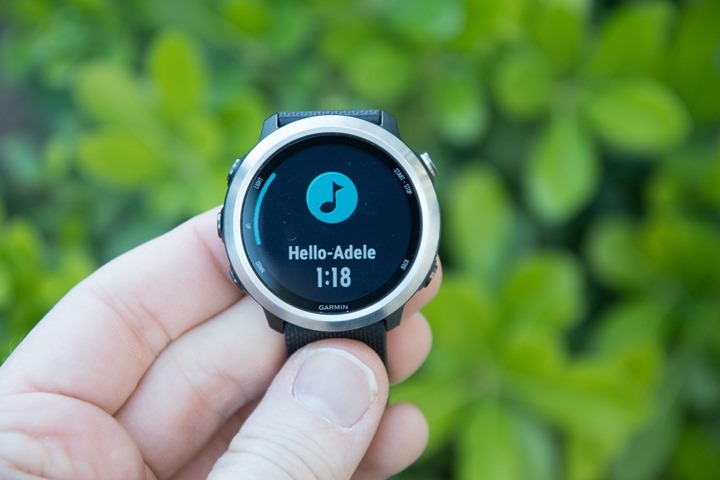 If in a workout, you can add the music page to your workout data pages just like you might add other data pages.
Once on the music page you'll see a bunch of options.  The first is 'manage', where you can configure music providers (I.e. iHeartRadio, Deezer, saved music, etc…) as well as manage your headphones.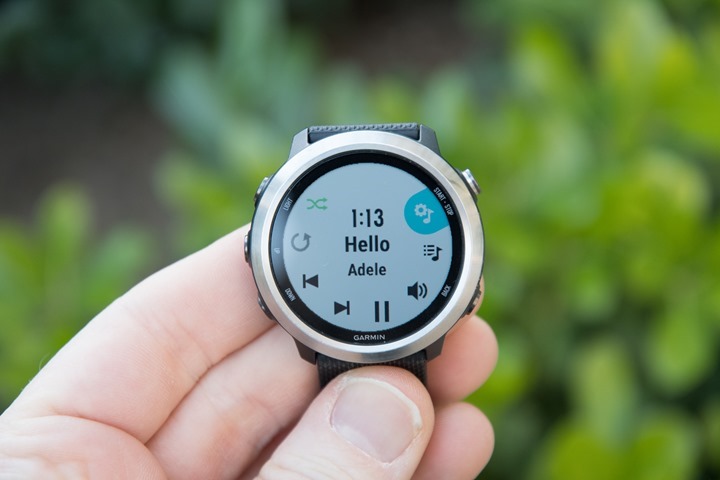 Next, you have 'Source', which selects from the music providers, or to simply control music on your phone instead.  Within a given source, you'll see playlists, artists, albums, songs, genres, podcasts, and audio books (depending on the source of course).
Back on the main controls page you've got a volume icon to increase/decrease volume, as well as play/skip/back/repeat/shuffle buttons: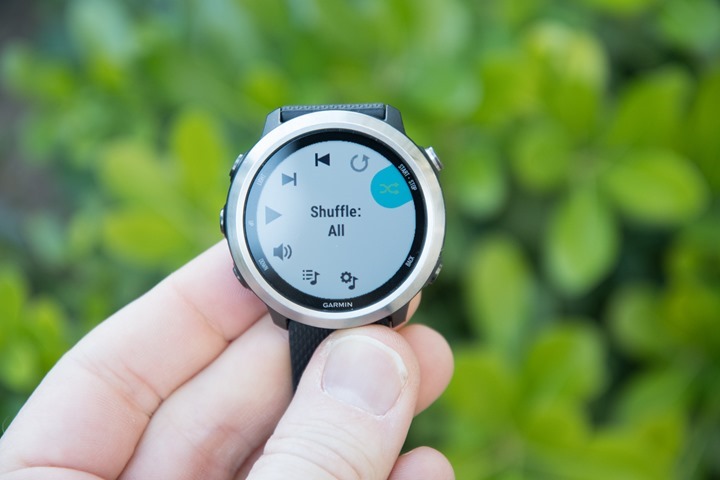 Once you've started playing a given playlist/source/album/whatever, it'll go to this main screen which shows the current song information: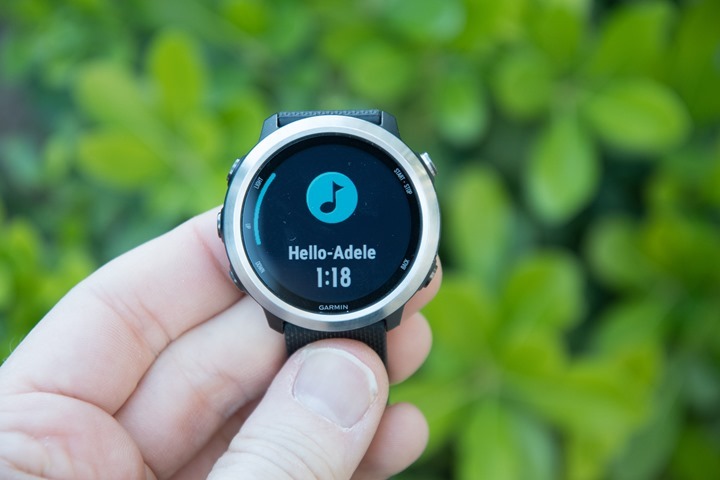 When in a workout, it all works almost identically, except that you can long-hold the lower left button to go directly to the detailed music control page.
So how's connectivity and how well does it work?  Overall, pretty good.  I've been using it with the various headphones noted above, and things work well.  One catch, anytime you talk about headphones and watches (since the beginning of time) is that every headphone out there has one side that's considered the master/communications side (I.e. left or right).  In general, things work better when the watch is on the same side as that.
For example, on the Beats I've been using, that master side appears to be the left side.  For one run I was wearing the watch on my left wrist.  When I was running, I had no dropouts at all.  But, if I stopped running and walked (so my wrist went down to my waist), and then tilted my head to the right a bit – that tiny bit extra put it out of range and I'd get drops (remember, I'm fairly tall).  When I tried the watch on my right wrist instead, I got constant drop-outs.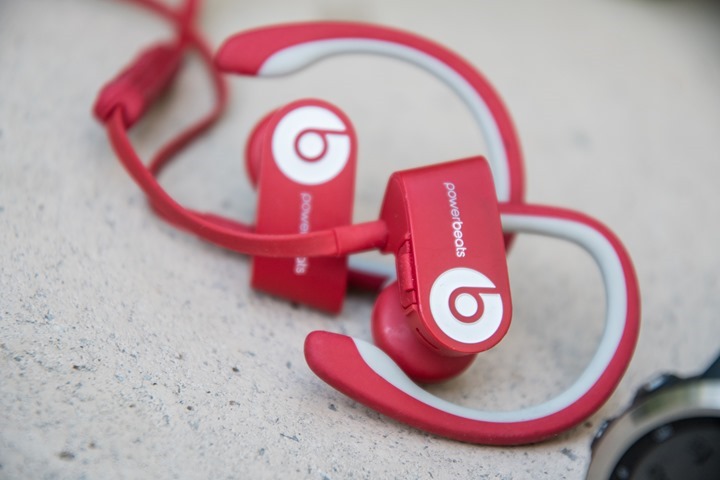 Again, anyone has used various headphone with watches knows that these sorts of quirks are 100% par for the course.  Some headphones are better than others, and Garmin's list shows which ones work best and in what configuration.  Other companies like TomTom, Polar, and more all have similar lists, and it's pretty easy to see the trends in them on which headphones have the best connectivity.  Obviously, that's also a balance on Garmin's side too in terms of power management.  This isn't a car or a plugged in stereo, thus, battery life power management is a balance in any wearable.
Oh, and last but not least, while in a workout, when you press the lap button (or if auto-lap is configured), then you'll get audio alerts for that lap.  The music will cut out, and then a voice pipes in with the current lap time/pace/etc depending on how you have it configured.  Basically, just like every other music-running app/device has worked for years.
Finally, for those geeks in the house, when plugged into a computer, the unit shows up as a MTP device (Media Transfer Protocol), which is sorta a cross between a generic USB drive and one focused purely on music.  Though, you can force it to a straight USB drive via settings if you want.
Technically, there's two 'portions' to how it appears.  The first is the music section/folder/drive/whatever (called Media), and the second is the typical Garmin one (called Primary).  The 'primary' one is where you'll find the workout files and such.  Again, a typical user probably doesn't care about this, but geeks like me might (ok, geeks definitely want to know this).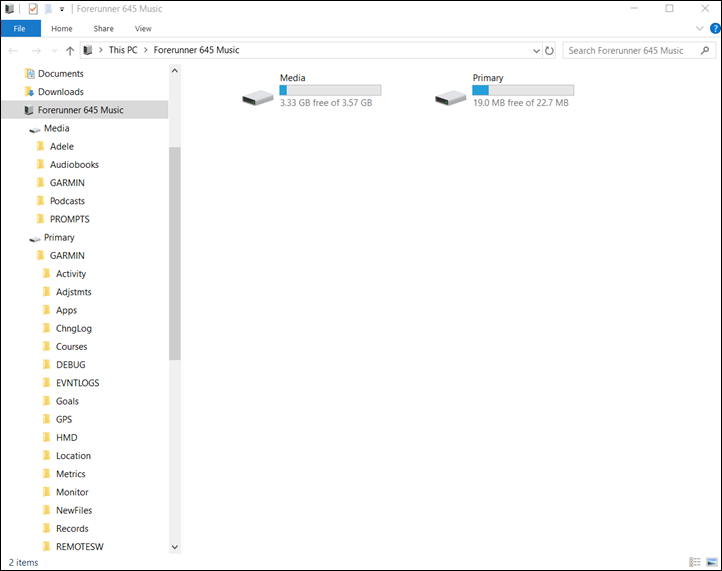 Another random geeky note – the cable for the FR645 Music is identical looking to that of the FR630.  Except internally it's not.  The older cable (for the FR30/35/230/235/630/735XT) they found was causing some issues when transferring music, and thus had to be redesigned for a higher current.  If you plug in the watch with an older cable it'll charge just fine, but it won't enumerate on your computer for transfers (of any type).  You'll get an error message on the watch.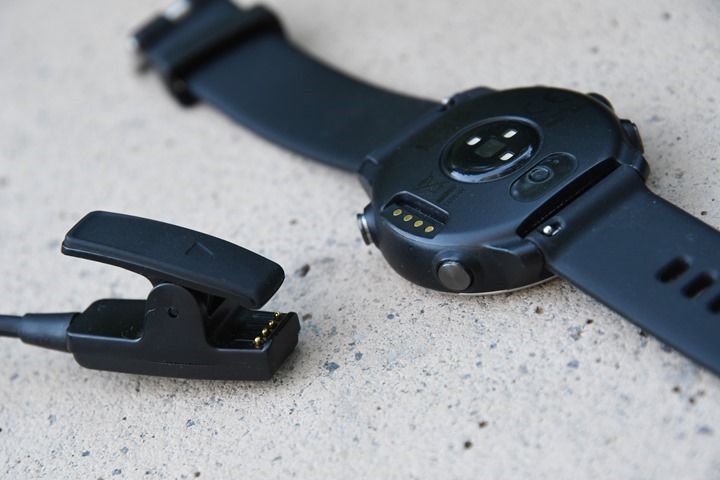 Just a minor heads up for those in a multi-cable family like myself that you might want to mark that one as the golden child (it officially will also have '1A' marked on it somewhere). But I marked it for now with a simple zip-tie.
Phew – got all that?!? Good!
If not, drop a question down in the comments and I'll be happy to try it out.  Note that at present the Deezer app isn't available to me to try, and the iHeartRadio app that I have is setup using a test account to a specific playlist, so I can't tweak much in it yet (since I'm not on Garmin's internal networks).  That'll likely change shortly though and I'll be able to dig into some of the specifics there more deeply.  Like I said, this isn't a review, just an overview.  Review later this month assuming they start shipping then.
A Sample Run:
Again, let me preface this section that the device I have is beta.  My understanding is the hardware is final, but the software is in progress.  Since originally receiving it I've had multiple updates, almost daily in the last week.  As with all beta device/updates (be it Garmin, Apple, or GoPro), things tend to shift rapidly.  Often it's a case of two steps forward, one step back.  Overall, things are pretty good, but there's still some quirks I'm seeing (as is common on every device I beta test).
I simply picked them because they're the two most recent runs, and thus have the most recent beta firmware.
The main run I've got is an interval run from Friday.  I started off with a simple build period, and then went into 5×3 minutes, with 90s rest.  This is a good time period to validate stability of the HR readings at both work and recovery.  At the end of the main set I did 4x30s sprints, again, as a good validation of how quickly the HR reacts.  First, we'll look at HR:

It's sometimes funny to me what fails and what works on any given run.  In the last week I've had runs where both the TICKR-X and Polar H7 straps have shown randomly weird things.  In this run, it was the TICKR-X's turn.  You can see that while it did better than the FR645 in the first 45 seconds, for the next 16 minutes or so, the FR645 and TICKR-FIT were properly aligned – while the TICKR-X chest strap took a vacation or something.  After that though, for the intervals, the three units captured the work portion of the intervals well, though, the FR645 didn't quite capture the recovery portion as well after #1 and #2.  Coming off of number #3/#4, it did fine.
On the 30-second sprints at the end, it was basically a crapshoot of which unit was least accurate on any given interval.  However, I will say that for the first time in a bunch of runs, the TICKR-FIT was the most accurate on the sprints.
You can see below that on some intervals the TICKR-X missed the boat, while in others the FR645 missed the boat.
Interestingly, I actually had much better luck two days prior with the FR645/TICKR-X on other short intervals…go figure.
Next, we'll look at the GPS portion of that run.  The area of Amsterdam I was staying in (like much of central Amsterdam) tops out at about 4-6 stories tall with mostly older buildings.  I started off along a canal with buildings directly next to me on one side.  After 2-3 minutes I was into the expansive Vondelpark.  This time of year most of the trees are bare, though certainly more than present with branches and such.  Here's the overview: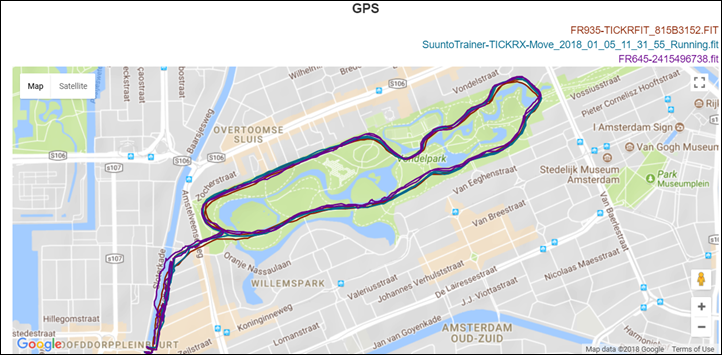 In looking at the track, you can see that it started off a bit wonky in the canal.  I had 'green' on the satellites for quite a while (since I was waiting for another watch to figure itself out).  So I'm surprised it showed wonky at the beginning.  I'd run this section half a dozen times in the previous week without issue on this watch or any other.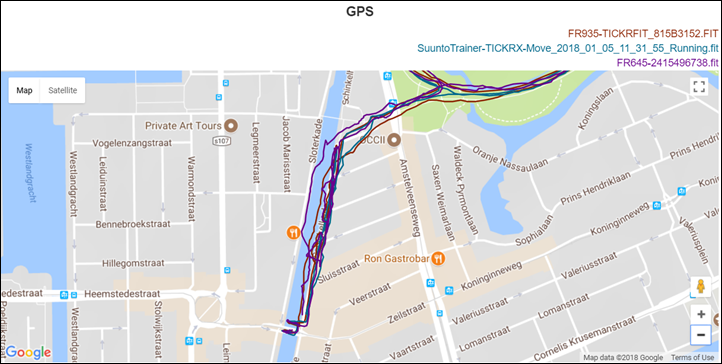 Once past that point, GPS was pretty good.  There's a little bit of offset in the park in one direction in one section (the bottom-middle of the image below), by about 5-10 meters.  It was consistently offset each loop in this same spot, though I'm not sure why as there's no change in trees.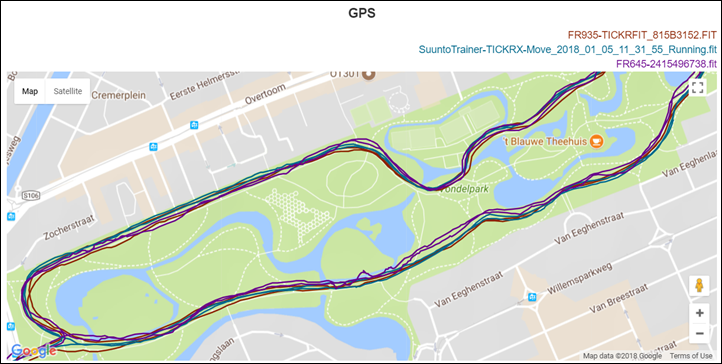 Otherwise, the track for that run looked pretty good.  For fun, here's a previous track from a few days prior.  You'll see the track looks better in the canal area, and I ran through other building areas without issue (in fact, the FR645 gave the best track).  HR on that workout was perfectly fine too.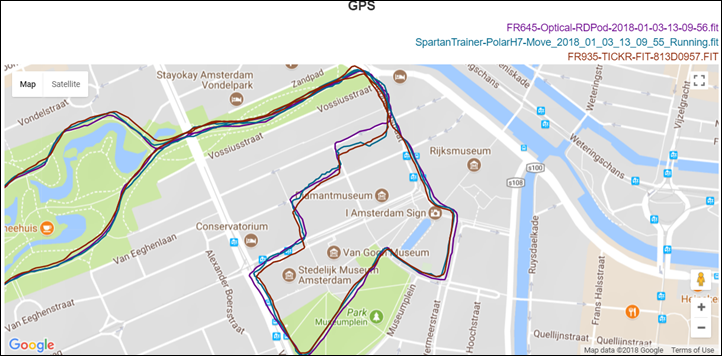 Both runs the temperature was in the 40-50°F (4-10°C) range. Overcast, though rather windy on the oldest of the two runs.
I'll add in more runs from Vegas over the course of the week. I had attempted a run yesterday morning, but alas, something went amiss and my different watches recorded from the wrong HR straps…so basically, I've got a pile of duplicate data. Sigh…
Note: I haven't tested 3rd party accessories.  Specifically Stryd or RunScribe on the FR645 yet for the very simple reason that when testing a beta device and not on Garmin's internal networks, I can't access any CIQ apps.  Once the device shows as a valid device on Garmin's production system, then I can add those apps and validate for any connectivity concerns. Usually that happens within 24-48 hours of announcement.  I tried using .PRG files as a workaround, but it didn't seem to work out, so, gotta wait for things to show up normally first. Sorry!
(Note: All of the charts in these accuracy sections were created using the DCR Analyzer tool.  It allows you to compare power meters/trainers, heart rate, cadence, speed/pace, GPS tracks and plenty more. You can use it as well for your own gadget comparisons, more details here.)
Product Comparisons: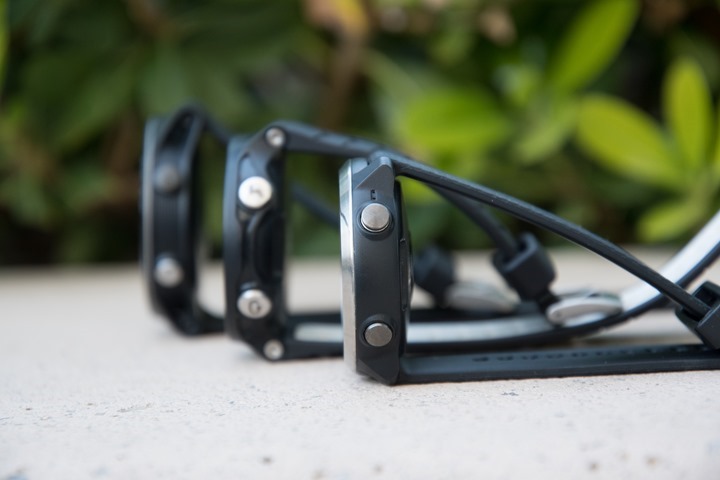 I've added the Garmin FR645 to the product comparison tool below.  I didn't bother adding the separate music/non-music variants, but just noted in the single line item where it mattered that one has music and one doesn't.  Comparing the FR645 to other models on the market is a bit tough since it's a high end running watch, and most of the music-laden running watches on the market are more mid-range (I.e. Apple Watch, Fitbit Ionic, Polar M600, Samsung Gear Sport, etc…).  This is really the first watch by a traditional sports company that's got music in it (since Polar/Suunto/Garmin have no other music capable watches, beyond the Polar M600).
In any case, you can mix and match and make your own comparison chart within the massive product comparison tool here, in case the quick four I've selected below isn't what you want.  Thus, I've picked the new Garmin Vivoactive 3 that came out a couple months ago, the Apple Watch Series 3, and the FR935 to compare against.  Again, it's not really a perfect lineup, but any more than 4 watches and things look all funky below.
Function/Feature

Garmin Forerunner 645/645 Music
Garmin Forerunner 935
Apple Watch Series 3
Garmin Vivoactive 3
Copyright DC Rainmaker - Updated September 12th, 2021 @ 3:29 pm New Window
Price
$399/$449 (with music)
$499
$169-$179
$129
Product Announcement Date
Jan 8th, 2018
Mar 29th, 2017
Sept 12th, 2017
Aug 31st, 2017
Actual Availability/Shipping Date
Late January 2018
Mar 29th, 2017
Sept 22nd, 2017
September 2017
GPS Recording Functionality
Yes
Yes
Yes
Yes
Data Transfer
USB/Bluetooth Smart/WiFi
USB/Bluetooth Smart/WiFi
Bluetooth Smart
USB, BLUETOOTH SMART
Waterproofing
Yes - 50m
Yes - 50m
50m
50 meters
Battery Life (GPS)
14hrs GPS/5hrs GPS-Music
Up to 24hrs in GPS-on, up to 50hrs in UltraTrac GPS
5hrs GPS on time (24-48hrs standby)
Up to 13 hours GPS
Recording Interval
1S or Smart
1S or Smart
Varies
1s or Smart Recording
Alerts
Vibrate/Sound/Visual
Vibrate/Sound/Visual
Vibration/Audio/Visual
Vibrate/Visual
Backlight Greatness
Great
Great
Great
Great
Ability to download custom apps to unit/device
Yes
Yes
Yes
Yes
Acts as daily activity monitor (steps, etc...)
YEs
Yes
Yes
Yes

Music

Garmin Forerunner 645/645 Music
Garmin Forerunner 935
Apple Watch Series 3
Garmin Vivoactive 3
Can control phone music
Yes (FR645 Music version)
YEs
Yes
Yes
Has music storage and playback
Yes (3.5GB)
No
Yes
No
Streaming Services
Spotify, Amazon Music, Deezer, iHeartRadio
No
Apple Music, Spotify (but not offline yet)

Payments

Garmin Forerunner 645/645 Music
Garmin Forerunner 935
Apple Watch Series 3
Garmin Vivoactive 3
Contactless-NFC Payments
Yes
No
Yes

Connectivity

Garmin Forerunner 645/645 Music
Garmin Forerunner 935
Apple Watch Series 3
Garmin Vivoactive 3
Bluetooth Smart to Phone Uploading
Yes
YEs
Yes
Yes
Phone Notifications to unit (i.e. texts/calls/etc...)
Yes
Yes
Yes
Yes
Live Tracking (streaming location to website)
Yes
Yes
With 3rd party apps
Yes
Group tracking
Yes
Yes
No
No
Emergency/SOS Message Notification (from watch to contacts)
No
No
Yes
No
Built-in cellular chip (no phone required)
No
No
Yes (with cellular version)
No

Cycling

Garmin Forerunner 645/645 Music
Garmin Forerunner 935
Apple Watch Series 3
Garmin Vivoactive 3
Designed for cycling
Yes
Yes
Yes
Yes
Power Meter Capable
No
YEs
No
With some Connect IQ apps
Power Meter Configuration/Calibration Options
N/A
Yes
N/A
N/A
Power Meter TSS/NP/IF
N/A
YEs
N/A
N/A
Speed/Cadence Sensor Capable
Yes
YEs
No
Yes
Strava segments live on device
Yes
Yes
No
No
Crash detection
No
No
No
No

Running

Garmin Forerunner 645/645 Music
Garmin Forerunner 935
Apple Watch Series 3
Garmin Vivoactive 3
Designed for running
Yes
Yes
Yes
Yes
Footpod Capable (For treadmills)
Yes
YEs
With 3rd party apps
Yes
Running Dynamics (vertical oscillation, ground contact time, etc...)
WITH RD POD, HRM-TRI OR HRM-RUN (NOT VIA OPTICAL HR)
WITH RD POD, HRM-TRI OR HRM-RUN (NOT VIA OPTICAL HR)
No
No
Running Power
Yes with RD-POD or 3rd party apps
WITH RD POD, HRM-TRI OR HRM-RUN (or 3rd party Stryd/RunScribe)
VO2Max Estimation
YEs
Yes
Yes
Yes
Race Predictor
Yes
Yes
No
No
Recovery Advisor
YEs
YEs
No
No
Run/Walk Mode
Yes
Yes
With 3rd party apps
Yes

Swimming

Garmin Forerunner 645/645 Music
Garmin Forerunner 935
Apple Watch Series 3
Garmin Vivoactive 3
Designed for swimming
Yes
YEs
Yes
Yes
Openwater swimming mode
No
Yes
YEs
No
Lap/Indoor Distance Tracking
Yes
Yes
Yes
Yes
Record HR underwater
No
WITH HRM-TRI/HRM-SWIM (Not with optical HR)
Yes
No
Openwater Metrics (Stroke/etc.)
No
Yes
Basic stroke type only
No
Indoor Metrics (Stroke/etc.)
Yes
Yes
Basic stroke type only
Yes
Indoor Drill Mode
Yes
Yes
No
No
Indoor auto-pause feature
No (it'll show rest time afterwards though)
No (it'll show rest time afterwards though)
Yes
No
Change pool size
YEs
YEs
Yes
Yes
Indoor Min/Max Pool Lengths
14M/15Y TO 150Y/M
14M/15Y TO 150Y/M
1y/m to 1,500y/m+
17M/18Y TO 150Y/M
Ability to customize data fields
YEs
Yes
Very limited
Yes
Captures per length data - indoors
Yes
Yes
Yes
Yes
Indoor Alerts
Yes
Yes
Yes (goals)
Yes

Triathlon

Garmin Forerunner 645/645 Music
Garmin Forerunner 935
Apple Watch Series 3
Garmin Vivoactive 3
Designed for triathlon
No
Yes
Not really
No
Multisport mode
No
Yes
Yes
No

Workouts

Garmin Forerunner 645/645 Music
Garmin Forerunner 935
Apple Watch Series 3
Garmin Vivoactive 3
Create/Follow custom workouts
Yes
Yes
With 3rd party apps
Yes
On-unit interval Feature
YEs
YEs
With 3rd party apps
Sorta (2 preloaded ones, but no customization)
Training Calendar Functionality
YEs
Yes
With 3rd party apps
Yes

Functions

Garmin Forerunner 645/645 Music
Garmin Forerunner 935
Apple Watch Series 3
Garmin Vivoactive 3
Auto Start/Stop
YEs
YEs
Yes
Yes
Virtual Partner Feature
YEs
YEs
No
No
Virtual Racer Feature
Yes
Yes
No
No
Records PR's - Personal Records (diff than history)
Yes
YEs
No
Yes
Tidal Tables (Tide Information)
No
No
No
No
Weather Display (live data)
Yes
Yes
Yes
Yes

Navigate

Garmin Forerunner 645/645 Music
Garmin Forerunner 935
Apple Watch Series 3
Garmin Vivoactive 3
Follow GPS Track (Courses/Waypoints)
Yes
Yes
With 3rd party apps
No (but some 3rd party apps can)
Markers/Waypoint Direction
Yes
YEs
With 3rd party apps
Yes (to pre-saved spots)
Routable/Visual Maps (like car GPS)
No
No
With 3rd party apps
No
Back to start
Yes
Yes
With 3rd party apps
YEs
Impromptu Round Trip Route Creation
No
No
With 3rd party apps
No
Download courses/routes from phone to unit
Yes
Yes
With 3rd party apps
NO

Sensors

Garmin Forerunner 645/645 Music
Garmin Forerunner 935
Apple Watch Series 3
Garmin Vivoactive 3
Altimeter Type
Barometric
Barometric
Barometric
Barometric
Compass Type
Magnetic
N/A
Magnetic
Optical Heart Rate Sensor internally
Yes
Yes
Yes
Yes
SpO2 (aka Pulse Oximetry)
No
No
Heart Rate Strap Compatible
Yes
Yes
Yes
Yes
ANT+ Heart Rate Strap Capable
YEs
Yes
No
YEs
ANT+ Speed/Cadence Capable
YEs
Yes
no
Yes
ANT+ Footpod Capable
YEs
Yes
No
Yes
ANT+ Power Meter Capable
No
Yes
No
No
ANT+ Lighting Control
Yes
Yes
No
Yes
ANT+ Bike Radar Integration
Yes
Yes
No
No
ANT+ Trainer Control (FE-C)
No
No
No
No
ANT+ Remote Control
No
No (can control VIRB though)
No
No (Yes for VIRB camera control)
ANT+ eBike Compatibility
No
No
No
No
ANT+ Gear Shifting (i.e. SRAM ETAP)
No
YEs
No
No
Shimano Di2 Shifting
No
YEs
No
No
Bluetooth Smart HR Strap Capable
Yes
Yes
Yes
YEs
Bluetooth Smart Speed/Cadence Capable
Yes
YEs
No
Yes
Bluetooth Smart Footpod Capable
Yes
YEs
No
Yes
Bluetooth Smart Power Meter Capable
NQo
YEs
No
No
Temp Recording (internal sensor)
Yes
YEs
No
No
Temp Recording (external sensor)
Yes
Yes
No
Yes

Software

Garmin Forerunner 645/645 Music
Garmin Forerunner 935
Apple Watch Series 3
Garmin Vivoactive 3
PC Application
PC/Mac
Garmin Express
None
Garmin Express
Web Application
Garmin Connect
Garmin Connect
None
Garmin Connect
Phone App
iOS/Android/Windows Phone
iOS/Android/Windows Phone
iOS only
iOS/Android/Windows
Ability to Export Settings
No
No
No
No

Purchase

Garmin Forerunner 645/645 Music
Garmin Forerunner 935
Apple Watch Series 3
Garmin Vivoactive 3
Amazon
Link
Link
Link
Link
Backcountry.com
Link
Competitive Cyclist
Link
REI
Link
Wiggle
Link
Link

DCRainmaker

Garmin Forerunner 645/645 Music
Garmin Forerunner 935
Apple Watch Series 3
Garmin Vivoactive 3
Review Link
Link
Link
Link
Link
Again, remember you can mix and match your own product comparison charts here to pick whatever products you'd like that I've previously reviewed.
Oh – and for lack of anywhere else to mention it – note that this is a bit stripped down from a Fenix 5.  For example, you don't have as many navigational options like you do there. Nor is there a multisport mode like on the multisport watches (FR935/Fenix5).  Also, there's no native openwater swimming mode either – just a pool mode. As well as no power meter support.  And also, no maps like there is on the Fenix 5X.  There are likely some other nuances and differences, but those are the biggies.
Wrap-Up: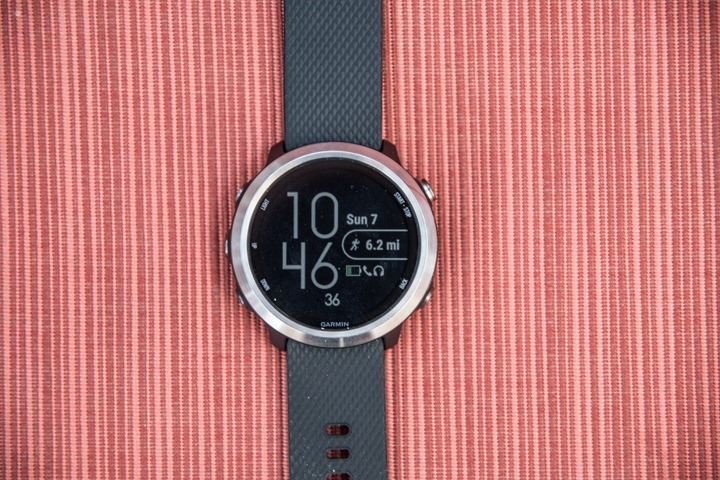 As I said in the beginning, this is not a review – for the very simple reason the product isn't done yet and I tend to like to wait until it's final (software/hardware) before releasing a review.  Still, I've got many hours of experience here to give the gist of things – it's been on my wrist virtually 24×7 since mid-December (save removing it for a couple videos I shot so you wouldn't know it was there!).
Overall, this is definitely the right step forward for Garmin.  And no doubt you're saying 'Finally!'.  Unlike contactless payments or optical HR sensors, I don't think we'll see music standard on every new Garmin watch for the near term, I think that baseline is probably another 12-18 months away (primarily because Android Wear was leading the charge in dropping the price points there, but new meaningful entrants there have mostly dried up as of late).
The music piece works well (note again that my time on the streaming pieces specifically has been super limited), and I'm interested in seeing where Garmin takes the music side of the platform going forward – perhaps making it a bit more cloud-centric as opposed to desktop-centric.  Though, Fitbit and others are really much the same here today unfortunately.  On the new running-specific portions, everything we've seen is pretty much stuff we've seen over the last 12 months with the Garmin Fenix 5/FR935/Vivoactive 3.  All of which have largely been well received.
Obviously, Garmin Pay will continue to be a slow boat for a while, mainly due to limited bank support (same as Fitbit too).  They say they've got a flotilla of banks lined up in 2018, including some major ones.  But like others in the space, it's just gonna be a waiting game till your bank shows up.
Will I use this as my primary running watch?  I don't know.  Long-time readers know I'm actually not a big running with music person, but that's largely because I was sick and tired of dealing with loading songs manually from a PC (so I ended up with the same songs every run for months).  With streaming platforms, things update automagically, so it makes it more appealing.  On the flip-side, as a multisport athlete, I want sports like openwater swimming and multisport mode, as well as power meter support (mainly the FR935).  So this watch doesn't quite fit me personally, but I'd have no issues recommending it to a runner that wants music.
With that – stay tuned for my full in-depth review once it starts shipping later this month, it'll no doubt be packed full of data and more opinions.
Thanks for reading!
Found This Post Useful? Support The Site!
Hopefully you found this review useful. At the end of the day, I'm an athlete just like you looking for the most detail possible on a new purchase – so my review is written from the standpoint of how I used the device. The reviews generally take a lot of hours to put together, so it's a fair bit of work (and labor of love). As you probably noticed by looking below, I also take time to answer all the questions posted in the comments – and there's quite a bit of detail in there as well.
If you're shopping for the Garmin Forerunner 645/645 Music or any other accessory items, please consider using the affiliate links below! As an Amazon Associate I earn from qualifying purchases. It doesn't cost you anything extra, but your purchases help support this website a lot. Even more, if you shop with TPC (The Pro's Closet), you'll save $40 on purchases over $200 with coupon code DCRAIN40! The Pro's Closet has been a long-time partner of the site here - including sponsoring videos like my cargo bike race, as well as just being an awesome Colorado-based company full of good humans. Check them out with the links below and the DCRAIN40 coupon!
And finally, here's a handy list of accessories that work well with this unit (and some that I showed in the review). Given the unit pairs with ANT+ & Bluetooth Smart sensors, you can use just about anything though.
And of course – you can always sign-up to be a DCR Supporter! That gets you an ad-free DCR, access to the DCR Quarantine Corner video series packed with behind the scenes tidbits...and it also makes you awesome. And being awesome is what it's all about!
Thanks for reading! And as always, feel free to post comments or questions in the comments section below, I'll be happy to try and answer them as quickly as possible. And lastly, if you felt this review was useful – I always appreciate feedback in the comments below. Thanks!