Got two and a half quick tech tidbits for you today, as I keep my head down focused on a flotilla of trainer posts for the next 48 hours. All trainers…all the time.  Until then, some non-trainer news that will definitely make runners happy!
Garmin FR645 gets Spotify: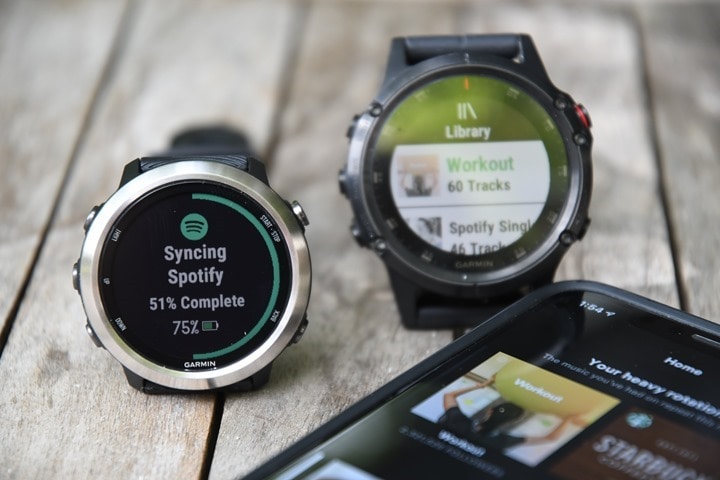 While everyone was excited about Spotify back on the Fenix 5 Plus series a few weeks back, many more of you are just as excited about getting it on the far less expensive Forerunner 645 Music that came out last January.  In the case of the Spotify update, there was really no surprise it was coming.
Garmin themselves in their original Spotify announcement used the plural variant of 'wearables' when they said to expect Spotify updates to their other music-enabled devices. Given they only have two other such devices (Vivoactive 3 Music and Forerunner 645 Music), process of elimination made this knowledge leap relatively easy.
In any event, as of this morning, you can now download the Spotify app for your Forerunner 645 Music via the Connect IQ App Store: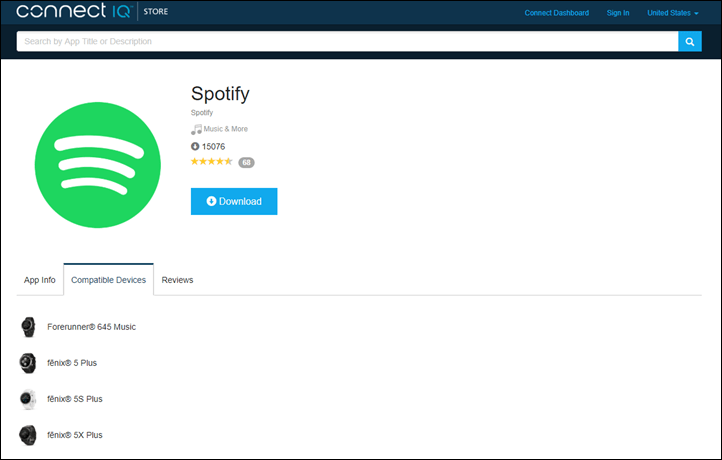 Once you've done that, it'll look like this: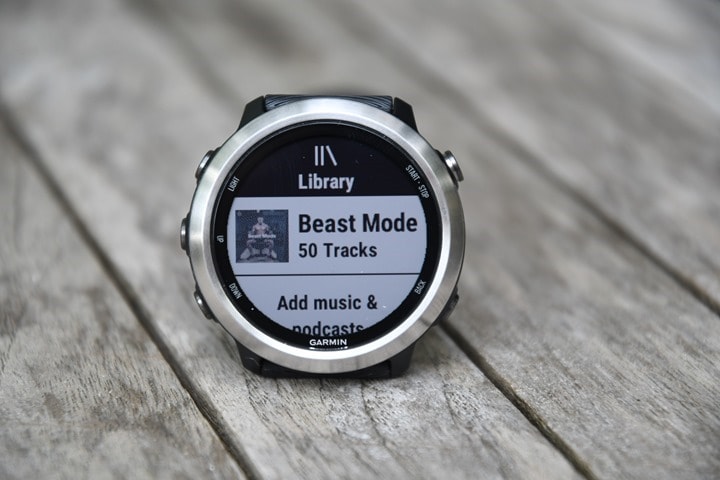 In case you're wondering how it all works, you can hit up my existing Garmin + Spotify video below. Sure, that featured the Fenix 5 Plus…though, eagle-eyed folks may have noticed a FR645 Music floating around in there. In fact, the apps are identical between the two watches. As is the updated interface. And the menus. It's all same-same.
I've been using both for a long-ass time now, and both work great. No issues when it comes to Spotify for me on either.
Now, I can already see the questions coming. So, I'll use my same magical knowledge leaping powers as before to answer them:
When will it come to the Vivoactive 3 Music?
Yes, but not too soonish. The Vivoactive 3 Music is actually a different menu interface, given the fact it lacks all the buttons of the Fenix 5 and Forerunner series, and is also a touch interface. So I wouldn't expect it this or next week, but I don't think you'll have to wait a crazy long time either. Again, Garmin has stated in their PR materials and to a big group of mainstream press in an event in NYC it's coming to all current music wearables. So eventually it will.
What about my [fill in the blank] Garmin watch?
No, unfortunately not. The challenge is that unless you have a Fenix 5 Plus, a Forerunner 645 Music, or a Vivoactive 3 Music, your Garmin watch simply wasn't designed for music. It doesn't have the storage capacity on it for music (most other Garmin devices would only have enough memory for a couple of songs), and likely doesn't have the right Bluetooth components either. It's a sad, but true story. On the bright side, I think it's pretty clear that all mid-range and higher Garmin wearables going forward will have music.
What about my Asia-Pacific (APAC) device?
Not yet. Like all other firmware updates, Garmin basically doesn't love you. In general, if you live in those regions and don't absolutely need those languages, I've long encouraged folks not to get the APAC variants of Garmin devices. Garmin takes forever to update them with new features/firmware updates. Sucks it does.
COROS SafeSound Smart Helmets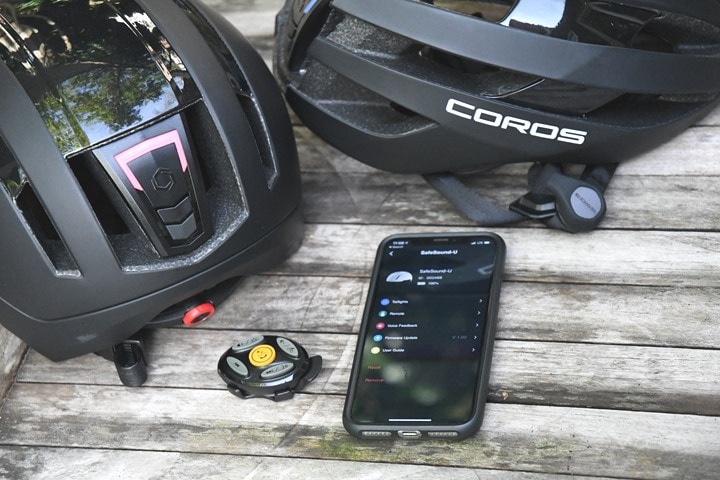 Today COROS announced two new helmets, following in their annual fall release of helmets. I currently use their two-year-old COROX LINX helmet I purchased way back when. But last year they announced their COROS OMNI helmets as well.
These new SafeSound helmets though come in road, mountain, and urban versions and essentially builds on the previous helmets in terms of audio quality (in particular, increasing volume a crapton and adding in secondary speakers). Like before though, these helmets have:
– Music via small pods, so it doesn't block the sound of cars, etc…
– Rear tail-light built into back of helmet
– Microphone in front of helmet, can act as a Bluetooth headset
– Smart handlebar remote included, as everyone likes pressing buttons
– Shaved 30g off of the previous helmets weight (total is now 300g to 340g depending on model/size)
I've reviewed the past helmets, and will likely do that as well at some point for the SafeSound units once I've had a bit more time on them. I've got both the road and urban variants, though, neither are in my favored orange color (they also have red and white). Shame.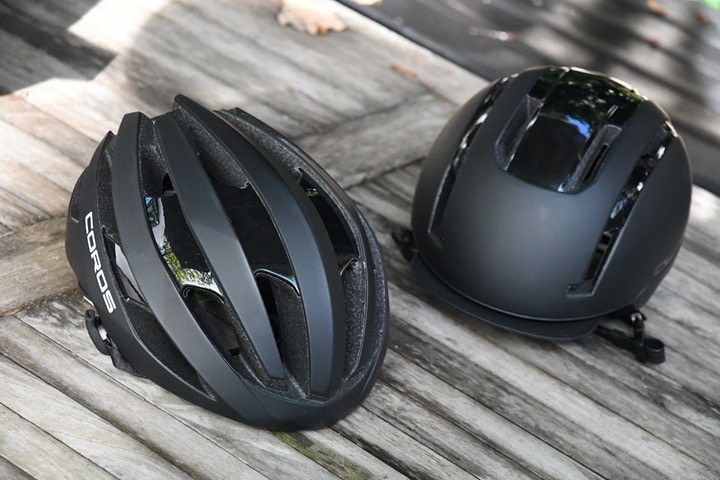 For those not familiar with the helmets, the audio comes out via these small pods on the side of the helmets that rest against your jawbone. [Updated] Previously this was with jawbone induction, but it's actually not here (despite looking almost identical to the prior one). Instead, it's purely a small speaker coming out the pipe-like portion, as well as a bit of sound leaking through the pod piece. In fact, initially when I tested I assumed it was the same as before because if I press the pods to my jawbone it makes the sound much clearer. But in this case that was pure chance.
However, you'll notice with the SafeSound models, it has what appears to be a small secondary output that pipes upwards towards your ear. It doesn't go into your ears (or at least, not mine or The Girl's), but rather sits on the edge like a speaker pipe of sorts.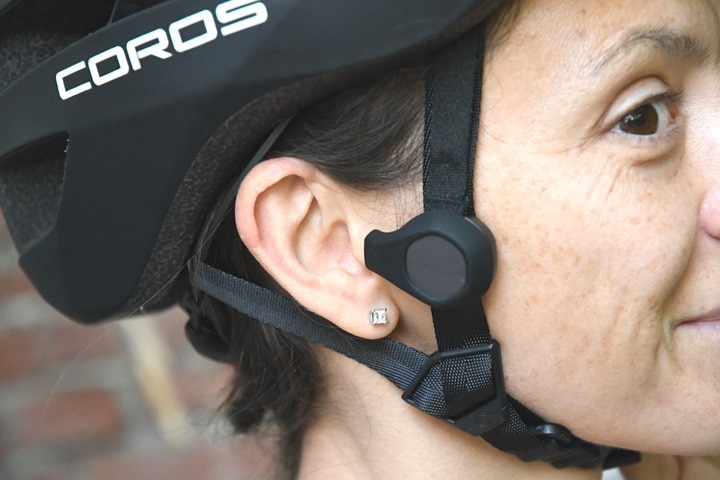 This clearly increased volume a crap-ton compared to my LINX helmet. It makes sense though, it's basically two speakers in one now. Also, the speaker pods are definitely smaller too.
Like before, you've got the COROS app to control pairings and other settings, including getting the remote all connected up (and even updating firmware).
Meanwhile, on the back is a new taillight, which is positioned a bit better/higher than previous ones. Though, it's only a flasher (always flashing, or off), so it can't be set to the always-on position unfortunately.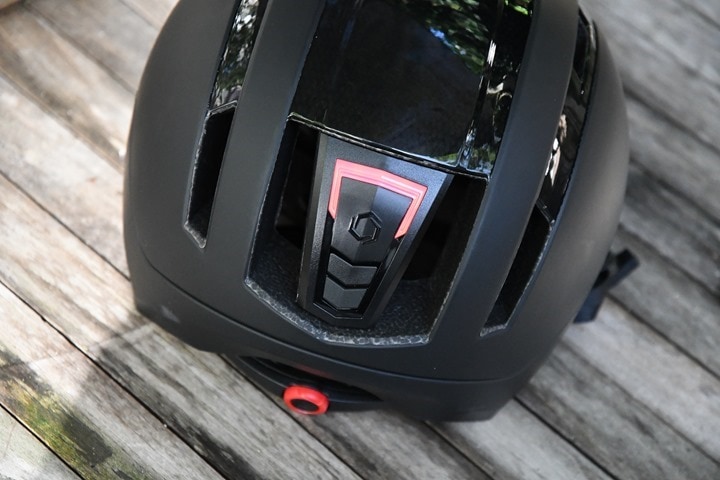 I haven't had time to put together a whole video on the audio quality yet of the SafeSound, including the speaker side.  Though, I was blown away with how good microphone quality sounded while riding with my LINX helmet (note: I don't recommend taking corporate conference calls mid-ride).  You can watch my older video on that below:
The road and urban units are set to start shipping today for $199, while those looking for the mountain bike version will have to wait about two weeks.
Note that neither includes MIPS technology, which is something that's certainly become more and more popular in recent years in helmets. Certainly the big (and solidly independent) study from Virginia Tech this past spring found that all its top performers were MIPS enabled. COROS was not included in that study, so we don't know one way or another on it. Though, I think it's fair to say that COROS probably needs to consider adding MIPS to their helmets if they want to stay in the performance end of the game. I know many riders (and cycling journalists/media) that flatly won't ride a non-MIPS helmet.
The Un-Tidbit: Apple Watch ECG: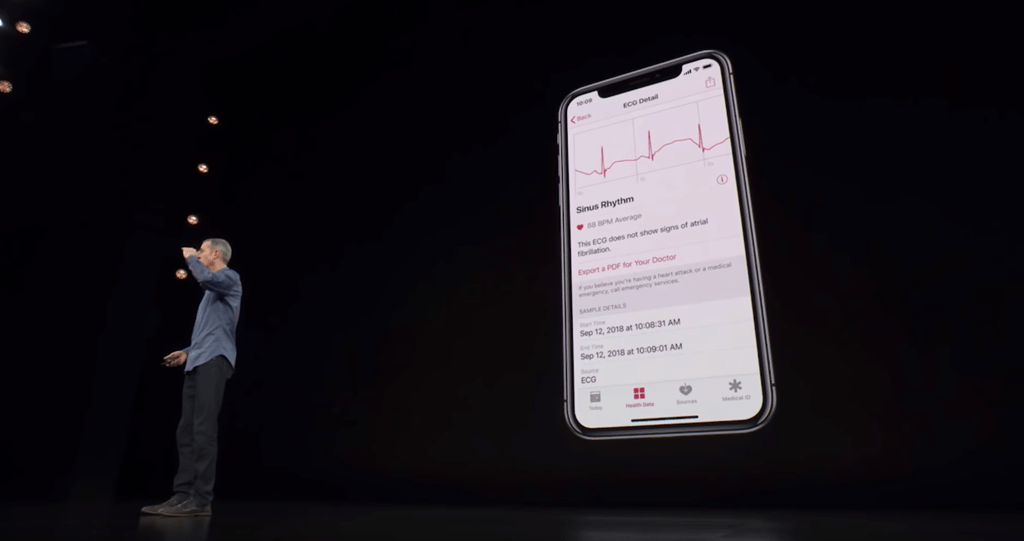 This tidbit was actually supposed to be part of today's tech tidbits, but ultimately something changed and there's no roll-out yet of the much anticipated ECG functionality to the Apple Watch Series 4.
Yesterday, as part of Apple's announcements, numerous press outlets indicated that the latest firmware of WatchOS would enable ECG for those approved countries (which, is just the US).  But despite that information, said firmware didn't actually include it, and media outlets everywhere had to issue 'updates' to the end of their pieces. This isn't super surprising since ECG wasn't actually included in any recent WatchOS 5.1 betas.
Thus, I've got nuttin' to show you.  More to come I suppose.
I'm actually slightly curious how specifically the feature is region-locked. Meaning, my Apple Watch I purchased in the Netherlands (which is not on the ECG feature availability list).  However, the specified region for my watch is United States. So, will it be a hardware lock (based on purchase place), or a software lock (based on region)?
Either way – if there happens to be a DCR Reader that's in Amsterdam and is a medical professional that has a legit ECG machine (and is a sports geek), might make for an interesting comparison between the two side by side.  Assuming my watch gets it.
Anyways – stay tuned!