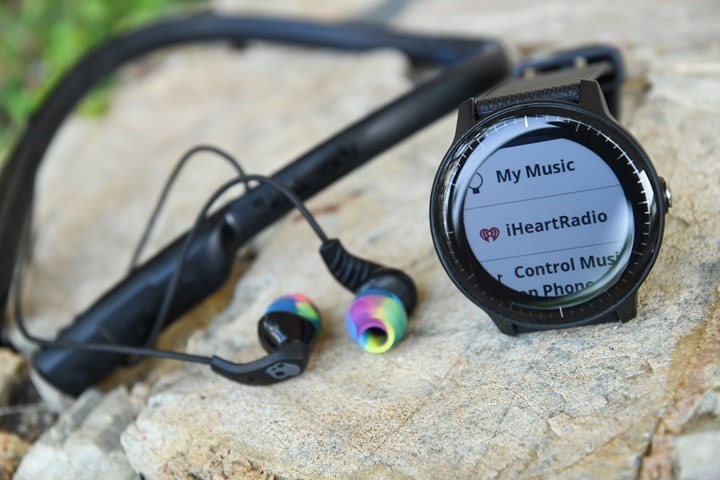 *** Heads up: The Garmin Vivoactive 4 In-Depth Review is up, check that out for the latest on the Vivoactive line up!****
Today Garmin announced the Vivoactive 3 Music, which makes it the second Garmin wearable they've added music playback functionality into, following the Forerunner 645 Music this past winter.  In the most simplistic sense, the Vivoactive 3 Music merely takes the Vivoactive 3 announced last August, and plops music storage into it. That includes the ability to transfer music like MP3 files and podcasts, as well as cache streaming services including iHeartRadio and Deezer.
For those not familiar with the existing Vivoactive 3, that's Garmin's all-around GPS tracking watch. It tracks running, cycling, gym workouts, golf, and indoor swimming – along with probably two dozen other sports.  It's aimed at competing with Fitbit's Ionic GPS watch, as well as giving the Apple Watch a run for its money (with both Fitbit and Garmin costing less than Apple).  It stops short though of being a full multisport watch for triathletes, nor does it have onboard maps. But it does match other competitors in terms of having contactless payments via NFC.
As with a few other Garmin announcements lately, the Vivoactive 3 Music starts shipping today (yes, really), and I've been testing a loaner device for a handful of runs and rides.  This post is sorta half-way between a full review and a typical hands-on post for me.  Given I've already got a huge in-depth review on the Vivoactive 3, I'm mostly focusing this piece on the music bits.  I may add in some of the more general (like activity tracking or such) non-music bits to this post over time, but everything is the same as the aforementioned/linked Vivoactive 3 In-Depth Review.
What's New: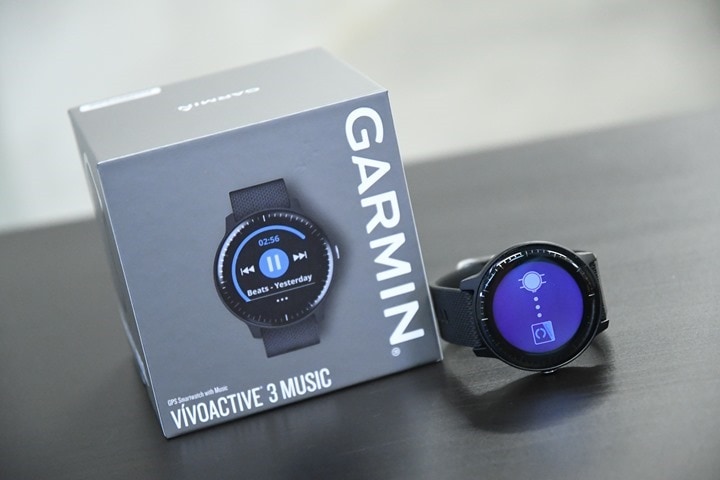 Keeping in mind that I already reviewed the existing Vivoactive 3 last fall (full in-depth review here), there's actually almost nothing new here beyond the added music functionality. And by 'almost', I mean, exactly nothing (besides music).  Technically, there's some new sleep analysis stuff that Garmin says is 'coming soon', but won't quite yet be ready for launch day (today).
That piece includes identification of sleep stages by leveraging heart rate variability (HRV) data from the optical HR sensor.  But that will be applicable to all Garmin wearables introduced since January 2017 that utilize the newer Garmin ELEVATE optical HR sensor, so it's not specific to the Vivoactive 3 Music.  I've got a separate post outlining those details once the feature goes live,
As a result, since this section would be pretty darn short, let's just do a quick recap of what's unique in the Vivoactive 3 itself.  If you're already familiar with that watch, skip on over to the next section for the music deets.  In the meantime, here's how it compares to the Vivoactive HR and Vivoactive devices of yesteryear:
– Round Watch Design: No longer a square, the Vivoactive 3 Music (like the Vivoactive 3) is all rounded
– From two buttons to one button: Removal of the two front-facing buttons, and now just a single side-facing button
– Garmin Pay added: Contactless payments that utilizes NFC so you can buy your coffee with just your wrist
– Structured workout support added: This allows you to download custom workouts and training plans/calendars to execute
– Pre-loaded workouts added: These are for run, cardio, strength, and bike workouts
– Automatic Rep Counting added: For strength workouts, this was seen previously on the Vivosmart 3 last spring.
– VO2Max Estimation Added: We've historically seen this on higher end watches, so this is new at this price point.
– Fitness Age Estimates added: Sorta like VO2Max, but designed to give you a more holistic number
– Stress Monitoring Added: This monitors stress throughout the day, seen on almost all Garmin wearables since early 2017
– Latest Garmin Elevate Optical HR sensor: The same more advanced HR sensor we've seen on the Fenix 5 and FR935 is here as well, bringing constant 24×7 HR recording
– Connects to Bluetooth Smart Sensors: It can connect to Bluetooth Smart HR Straps, Speed/Cadence Sensors (both individual and combo), and Footpods.
– Up to four data fields per page: This used to be three on the Vivoactive HR.
– Ability to calibrate treadmill distances: This was quietly introduced on the Fenix5/FR935 last year, and allows you to match indoor runs to what the treadmill says you did (after the workout).
Next, just for the purposes of covering all the bases, the unit does maintain and/or have the following popular features/functions.  Many of you may know these already, but in case you're wondering whether some of these are still there, or whether they are offered in the unit – I've got the most common ones here.
– Barometric altimeter included: Used for stair counting, but also workouts
– GPS with GLONASS for workouts: Also, this allows 1-second recording rate as is the trend on most units lately (it does not have Galileo support)
– Battery life: is 7 days in smartwatch mode, 5 hours in GPS mode with music, or 13 hours GPS without music
– Connect IQ for 3rd party apps and watch faces: Again, standard on virtually all Garmin units these days over $200
– Numerous sport modes: This isn't just a running watch, but has everything from cycling to yoga, pool swimming (not outdoor) to rowing.  You can customize these individually (plus Connect IQ apps gets you more sport modes).
– Waterproofed to 50 meters: Pretty much the norm these days
– Basic waypoint navigation: You can save waypoints and navigate to them, using the internal compass.
– Always on touchscreen display: Yup, the display is always on 100% of the time. There's also a bright backlight if you need it.
– Re-broadcasts optical HR: You can select to re-broadcast your heart rate from the optical HR sensor over ANT+
– Connects to ANT+ sensors: Specifically the ANT+ HR strap, ANT+ Speed/Cadence sensors, Footpods, and Tempe units (also connects to Bluetooth Smart sensors per the above).  It does NOT connect to power meters, but DOES connect to VIRB action cameras, ANT+ Cycling lights, and Garmin ANT+ Cycling Radar.
There are however three minor differences to the original Vivoactive 3:
– No ability to flip watch 180°: You can't make the button be on the left or right by flipping the watch user interface
– No side swipe interface points on side of watch: These allowed up/down movement through menus
– Very slight increase in thickness. Previous was 11.7mm, now it's 13.6mm, or 15% difference. But again, its 2mm. To put that in perspective though, it's only .4mm thicker than the Fitbit Ionic (which is 12.2mm). It's 1.2mm thicker than an Apple Watch which is 11.4mm.
Phew – got all that?  Good, then let's move onto the sound of music.
How Music Works: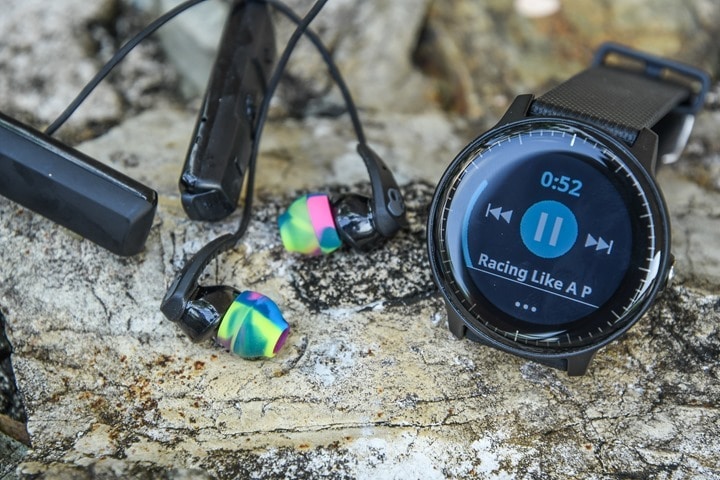 When it comes to music, the device is almost identical to that of the Garmin Forerunner 645 Music introduced this past winter at CES.  But, there are some minor differences in terms of navigating around the user interface, since this only has one button instead of multiple buttons. But, if you already know that watch and want the one-sentence short version of this watch, it's well…same-same.  For everyone else, you can continue on.
The most important thing to understand about the Vivoactive 3 Music is that it has different hardware than the Vivoactive 3 does, specifically, storage space for said music.  Meaning, this isn't something that Garmin can simply issue a software update for existing Vivoactive 3 owners. It requires more land to put that music on.  It may also have a different Bluetooth stack/chipset on it a well so it can properly connect to both Bluetooth headphones as well as Bluetooth sensors and your phone all concurrently, but whether that's different than the Vivoactive 3 isn't something I know.
The Vivoactive 3 has 3.5GB of usable storage space for music.  Though in reality that also includes any apps and workouts you have.  But the total storage space for apps and workouts for a month is less than a single song.  So realistically almost all of that is going to be music.  Though, as I outline in a bit, not all of that can be for streaming platforms. Only a smaller portion can be from iHeartRadio and Deezer.
When it comes to the types of music you can put on it, it's roughly in two major buckets:
Files you transfer: This includes all of the following supported file types MP3, M4A, AAC, ADTS, WAV, M3U, M3U8, WLP, ZPL, PLS
Streaming services: This includes iHeartRadio and Deezer (soon on Deezer, hopefully)
The key thing with the files that you transfer is they have to be unprotected.  So you can't move over protected music that's from another streaming service or isn't totally owned by you. Inversely, when dealing with the streaming services, it has to be one of the ones that Garmin has a partnership with. Meaning, no Spotify (not because Garmin doesn't want a partnership there mind you, but rather, Spotify hasn't wanted to play ball yet).
Let's start first with getting regular (non-streaming) music onto your Vivoactive 3 Music.  To do that you'll need a Mac or PC computer, and the included charging/sync cable.  At present, the music files have to be copied over from a computer, not a phone.  Whereas the streaming music services have to be copied over via WiFi (and not a computer). Tale of two paths and all.  In this case, it's Garmin Express that you're using to transfer music.
You can see above that I can add folders to the watch, which will import the songs into the library that I can select to sync over.  By default that includes the music folders on your computer, but you can select any folders you'd like. I'd caution though that loading the folders can sometimes take a hell of a long time, even for not all that many songs.
You can then select either entire albums, playlists, songs, etc… to sync over.  So you don't have to just pick individual songs, rather, you can mix and match from different music categories to sync.  Once you're done, just whack that 'Send to device' button.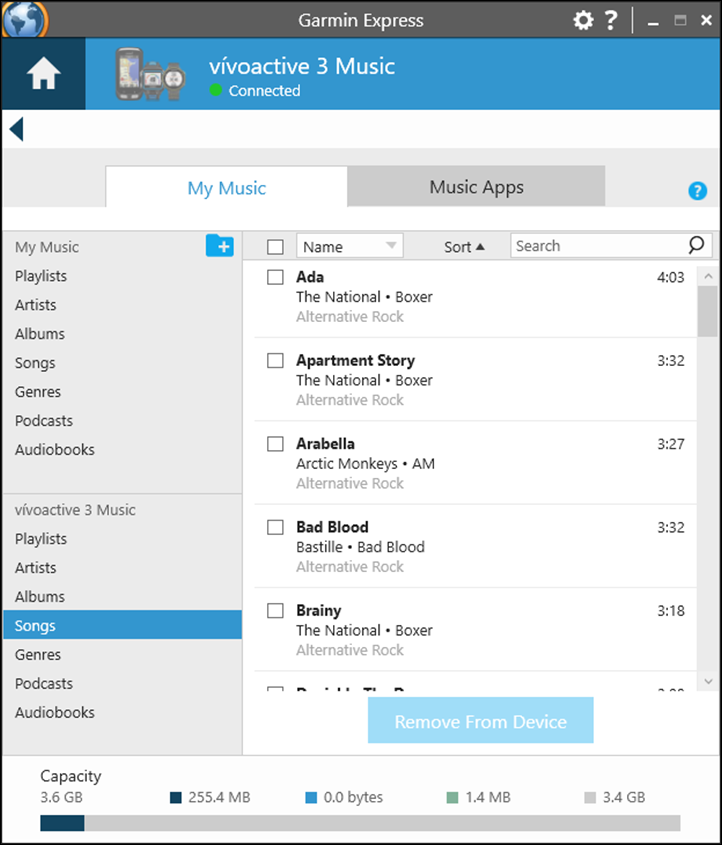 Syncing music is relatively quick since it's via USB.  In general, I find this solution faster and better than the Fitbit WiFi driven solution where you've gotta get both devices talking via WiFi.  While that's more 'techie' in nature, it's also more prone to errors and slowness.  Of course, ideally there would be a blend of the two.  For example, Garmin is unable to get podcasts directly pulled via WiFi.  So you have to sync that via USB still, which is kinda cumbersome if all you want is podcasts.
Now before we talk about the on-watch stuff, let's briefly chat streaming music.  Garmin supports both iHeartRadio and Deezer streaming services.  But there are two catches.  First is that with iHeartRadio it's basically US-only.  So if you're outside the US, you're out of luck.  Of course, that's where Deezer comes in, a far better international option.  Unfortunately, Garmin still hasn't released that app yet, despite hopes that it'd be done months ago.  it sounds like it's perhaps soon…but…that's also what was said months ago.
You'll activate the Vivoactive 3 Music to your iHeartRadio account much like you would Netflix to a new device, with an activation code that you enter in on the iHeartRadio site.  The way iHeartRadio works is that you need to specify/favorite playlists using the iHeartRadio site, which the Vivoactive 3 Music then allows you to select to sync from your device.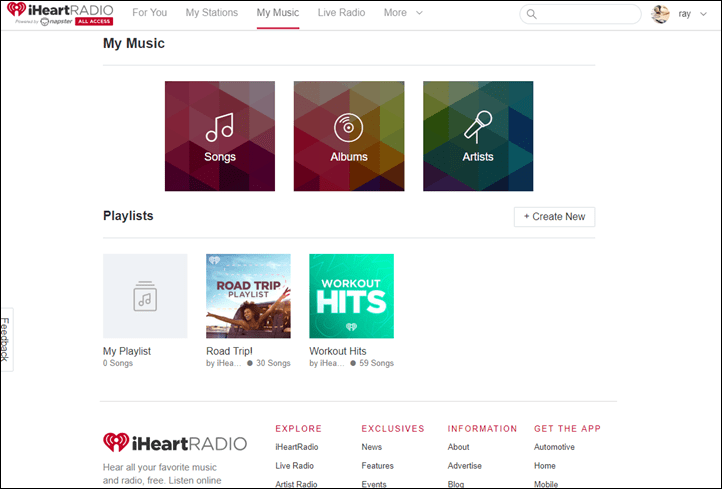 Once that's complete you'll go into your music providers on the watch and choose which playlists to sync and to sync them.  All of this is done via WiFi.  Note that hotel-style WiFi networks are not supported for this, because they require you to 'Agree' to something usually, which the watch can't do.  So you need a home or work WiFi network without any prompt system.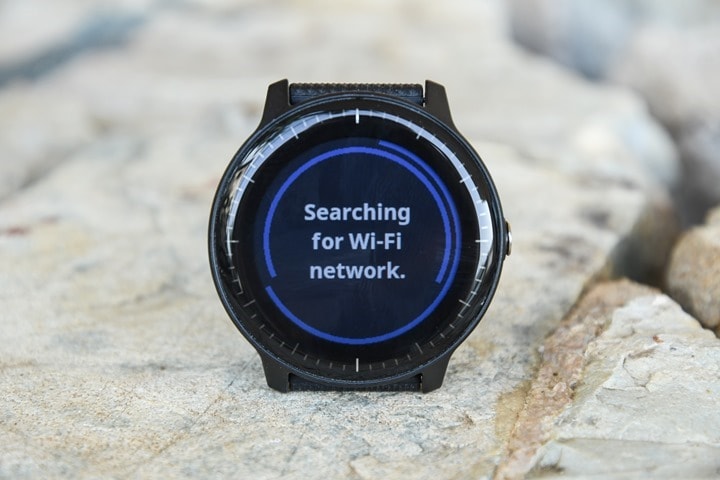 No matter the type of music though, the remainder of the watch interaction is the same.  So we'll dive into that now.  To access music, you can do so from the main widgets by simply swiping up/down with your finger until you get to the below page: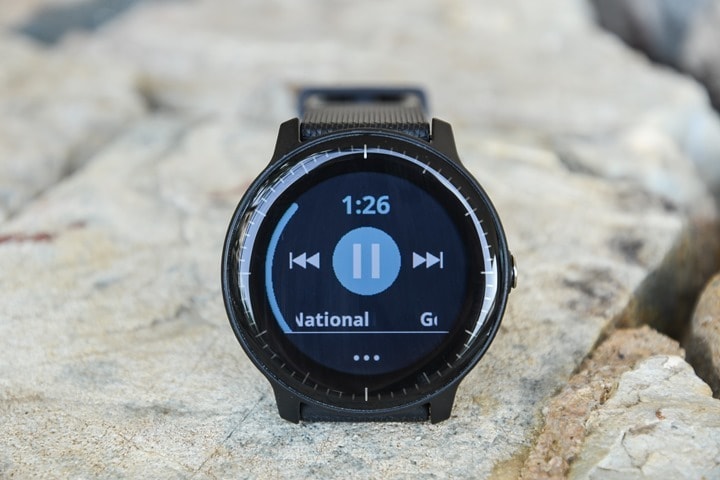 Alternatively, you can long-hold the button and then tap the music icon from the dashboard.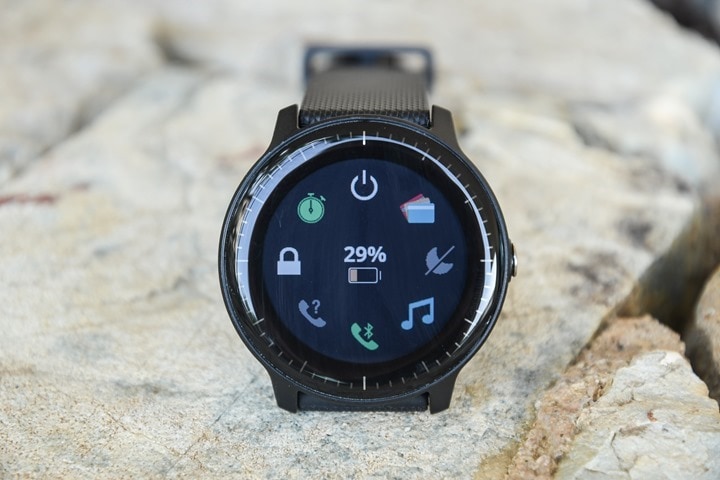 Once back at the music page you can play/pause/skip songs, as well as make other selections. It'll also list the artist and song name scrolling along the bottom.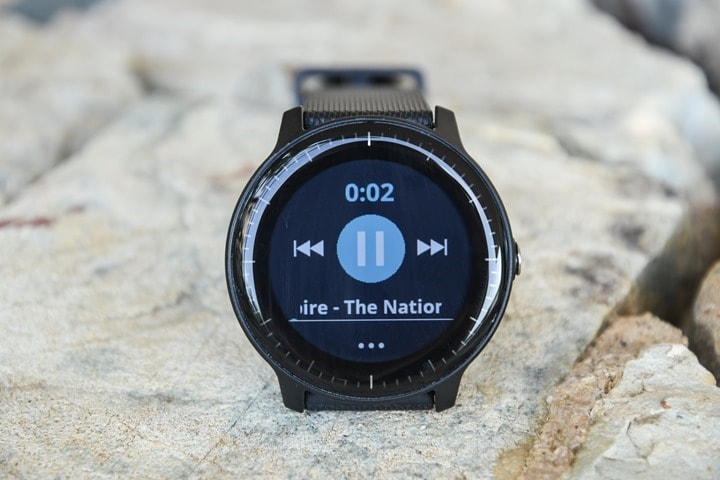 If you tap the three little dots at the bottom to access the additional options.  That brings you to where you can choose music to play, pair headphones, select from streaming services, as well as change the volume.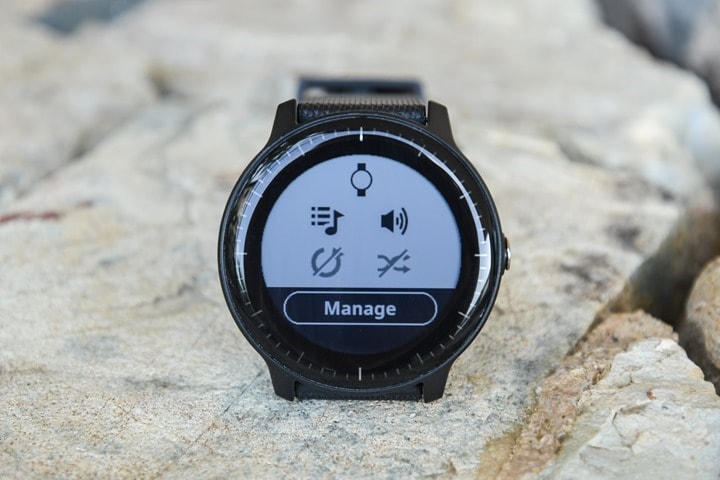 Selecting the top watch icon allows you to select and manage the music source. This could be streaming services like iHeartRadio, Deezer, or music you've transferred. You can also control music on your phone (pause/play/skip control).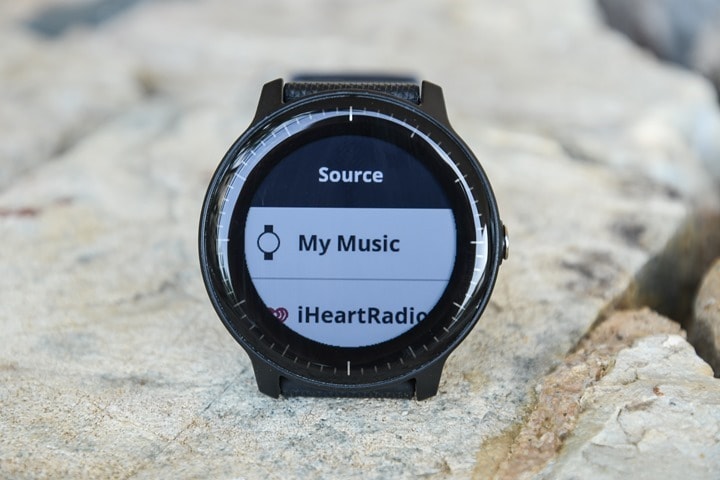 Back on the main music control page if you tap the icon with the list next to it, you can select which specific music you want. Such as playlists, artists, albums, songs, etc…
Next, you can control volume directly on the watch using the volume slider, or from the headphones themselves if your headphones support that.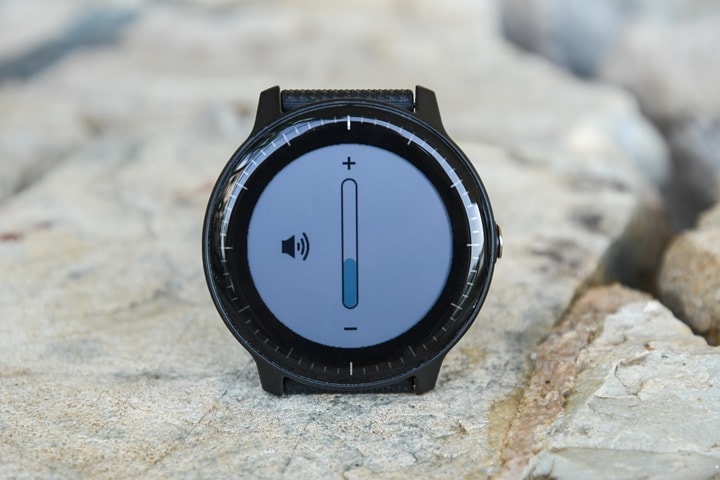 And finally, speaking of pairing of headphones, you'll do that through the headphones submenu.  This is where you'll pair up any Bluetooth audio device. That would normally be headphones, but can also be a Bluetooth speaker or even your car audio system. As long as it follows the standard, it'll pair up here.
And neatly, you can pair multiple audio devices here.  So that way if you have a variety of devices you listen to music on, it's easy to switch between them.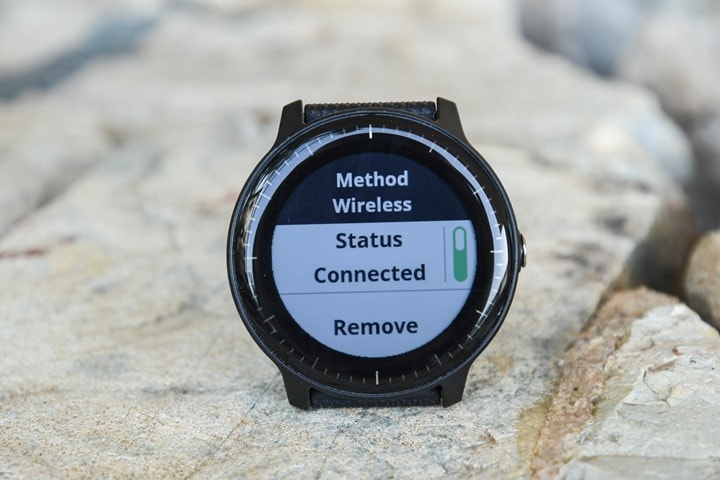 All of this works well enough, just as it did on the Forerunner 645.  I've mostly been using these Skullycandy headphones lately, and I haven't had any dropout issues there in my workouts, which is always something of concern.  I know that historically Garmin has had issues with Apple Airpods (as many other companies have had issues with compatibility with them), and I suspect that continues to be the case here too.  Most of the time connectivity/droppage issues are related to which side of the headphones the transmission portion is on.  You generally want to wear the watch on whichever wrist is that side.  So if the headphones have the receiver portion on the right side, you'd generally want to wear the watch on your right wrist.  Garmin's tested list is here, but keep in mind plenty other headphones do work just fine.
When it comes to messing with music mid-workout, you'd do that via the long-hold with the single right button.  This gets you to the widget menu where you can then tweak your music options.  At present I've seen no option for adding the music page directly to the workout pages, as you can with the Forerunner 645 Music.  That's a bit odd as it makes it a bit more cumbersome.  Hopefully that's an easy fix to add that data page though.
Finally, for those geeks in the house, when plugged into a computer, the unit shows up as a MTP device (Media Transfer Protocol), which is sorta a cross between a generic USB drive and one focused purely on music.  Though, you can force it to a straight USB drive via settings if you want.
When plugged in via MTP mode on a computer, it shows up as a MTP device, and you can navigate the file structure.  You'll find the typical 'Garmin' folder with things like your workout files if you want them, as well as app files, etc… Again, all geek-specific things.  Additionally, you'll see a 'Music' folder with your music listed.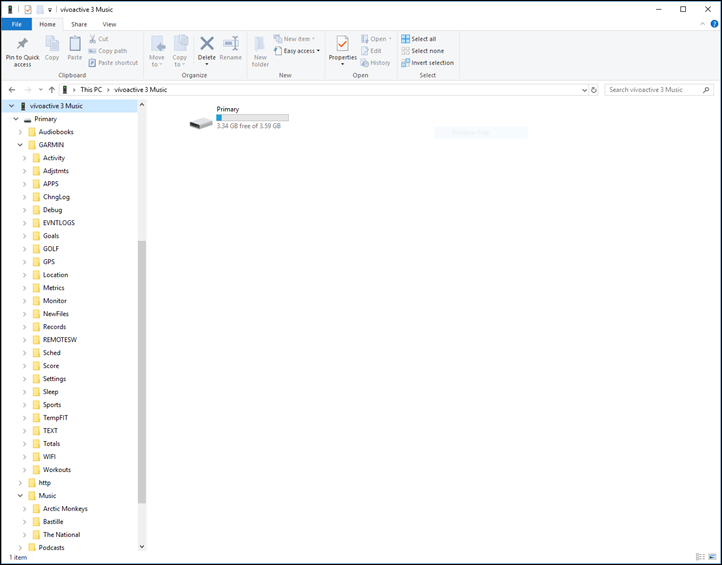 Finally, for lack of anywhere else to stick it – the Vivoactive 3 Music uses an identical cable to that of the Vivoactive 3, which is the same as the Garmin FR935 and Fenix 5 series, and a few other wearables Garmin has made since then.
Test Runs and Workouts: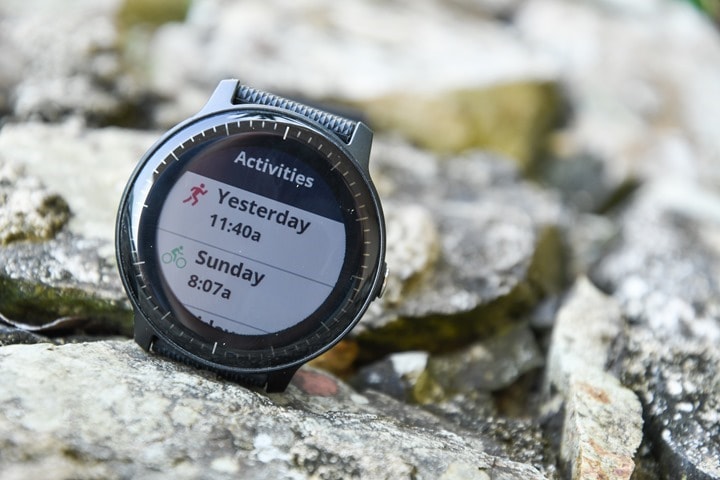 At this point I've got in 3-4 runs and a couple rides with the unit, across a range of different scenarios – including interval workouts.  So this section is mostly focused on the accuracy side of the house, both GPS and optical HR. I didn't expect to see much difference between the original Vivoactive 3 and the new Vivoactive 3 Music, but still, I figured I'd test anyway.
First up we've got a run in Amsterdam. Just a relatively simple steady-state run around Vondelpark and back. A bit of tree cover, some light buildings here and there, but nothing super challenging to start.  This is compared against a Suunto Spartan Trainer paired to a Scosche 24 HR sensor, and then a Garmin Forerunner 935 connected to a Wahoo TICKR-X heart rate sensor.  Basically, giving me two other GPS sources and two other heart rate sources.
Here's the HR data first (the full data set is here for those that want to look at it):

To begin with, the heart rate completely mismatched between the three devices the first two minutes. Sigh. But, in this case the Vivoactive 3 Music was actually the most correct out of the three there.  You can see the nice gradual build of that HR data, versus the implausible HR data from the other two.  It looks like at that 2-minute marker I hit a stop-light, which dropped my cadence to zero, which in turn let everyone figure themselves out from there on (when a sensor goes wrong, stopping for a few seconds usually fixes things). After that point there was another 6-7 minutes of slight confusion before everyone agreed for the remainder of the run.
As noted, from a HR standpoint, this wasn't a super demanding run, but the Vivoactive 3 did seem to come away with the best heart rate track of the three combinations
Shifting over to the GPS side of the run, here's how they compared:

Overall at a high level they look pretty good. As noted this route includes running in the park (I selected a trail alongside the main path that was directly under large tree-cover).  And then I made a detour through/under a large building to see how well the unit handled a tunnel scenario.  It's important that a unit properly recovers GPS when it loses it, rather than plotting some bad data.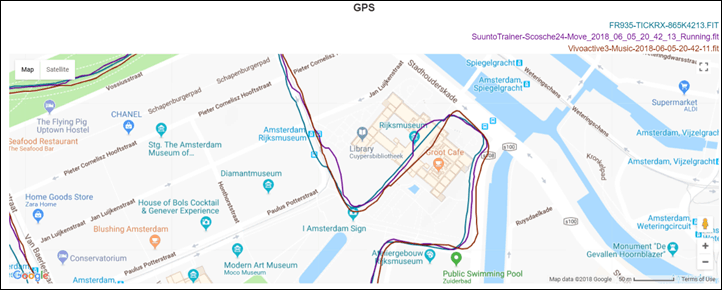 You can see in this case when I go through the Rijksmuseum, the Vivoactive 3 Music and FR935 nail the entry/exits properly. The Suunto Spartan Trainer adds a tiny bit of distance with a little bump in there. Nothing major, but not quite nailed either.
Meanwhile, in the park, the result is a bit mixed.  For my first pass through the park, there are notable offsets between the three units.  They track similarly, but are offset perhaps 5-10 meters.  In this case the Suunto is most correct, whereas the FR935 is too far north and the Vivoactive 3 Music a bit too far south.

However, on the way back through the park, you can see all three units have properly re-aligned themselves.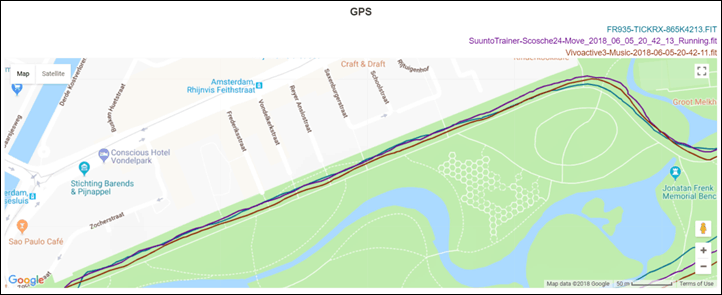 The remainder of the run nearer to buildings is perfectly fine, without anything worthy of mention in terms of oddities.
Overall looking at this particular run, I'd say things were about on-par with what I'd expect for most GPS devices – save the slight offset bit on the outbound through the park.
Next, let's take a look at an interval run.  This portion challenges the optical HR sensor more than the GPS, but it's still fun to look at both. In this case I had the same setup of units, but unfortunately the battery on the Scosche 24 was apparently dead and I didn't realize it, it died about 30 seconds into my run. I didn't really have time to stop and re-charge it.  So I've just got the TICKR-X HR chest strap and the Vivoactive 3 Music. Here's the data set:

These look close, but not quite perfectly aligned.  What's interesting though is that once again the optical HR sensor actually gets it more correct initially.  This is most obvious in the first few minutes, which the Vivoactive 3 Music properly nails.  In case you're wondering, I had actually wet the Wahoo chest strap before I went out, as is recommended, but there's still a little bit of a flat-lining thing going on there.  After that, it normalizes between them till the first few intervals.
Zooming in to look at the 4x800m intervals, here's what we've got:

You'll see that on the build for the first interval both are good there, they both ramp up correctly.  However, after the first interval is complete there's the recovery phase, and you'll notice the Vivoactive 3 is a bit slower here. Not massively so, as it almost catches back up after the 90-second recovery period.  It then nails the second build, but totally misses the 2nd recovery.  On the third interval though it's spot on.  The fourth interval is interesting – in this case the Vivoactive 3 Music nails the ramp (whereas the TICKR falters a bit), and then both come down reasonably close together into the recovery.  In this case, my recovery/rest periods were done via walking.
Looking at this interval, the lack of nailing the rest period isn't ideal, though it does properly nail the actual interval itself (which is the most important of the two).  As always, intervals with optical HR sensors tend to depend a fair bit on the person and the situation.  Given I was also pushing a stroller during these intervals (albeit with my other hand), it's still not too shabby.  If you looked at the total scorecard for the VA3 Music on this one, it essentially totally botched the recovery on one interval, but nailed the build/work portion on all of them.  And the two other recoveries weren't quite perfect but would probably be acceptable to most.
As for GPS?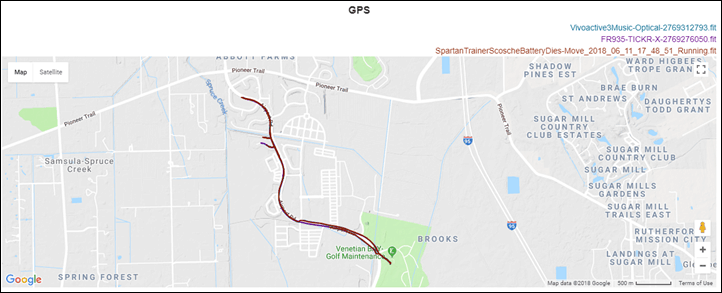 Blah, that's boring. All three units were virtually perfect with where I went, including both sides of the roads and the occasional trail wandering into the woods.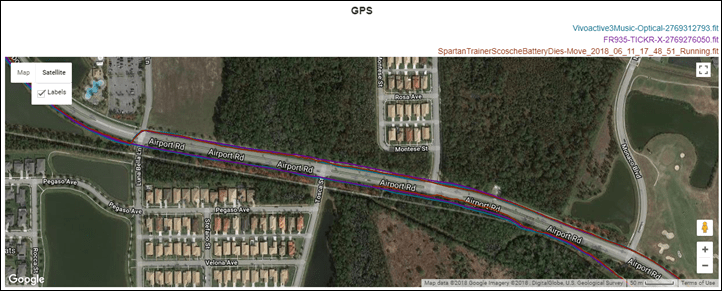 There's no real point in analyzing the GPS track on that route any further, it was fine (but if you want to, the link is included above).
Overall, I'm seeing mostly good results on GPS accuracy, and for running mostly good results there (probably some of the better optical HR results I've seen in a while).  Any differences on optical HR between the Vivoactive 3 review of past and this post is more likely to be attributed to 8 months worth of firmware updates to the platform than anything else.  After all, that's a key bit here. This isn't a brand new watch. It's the same GPS and optical HR performance of the original Vivoactive 3, just with a small bit of storage in there for music.
(Note: All of the charts in these accuracy portions were created using the DCR Analyzer tool.  It allows you to compare power meters/trainers, heart rate, cadence, speed/pace, GPS tracks and plenty more. You can use it as well for your own gadget comparisons, more details here.)
Product Comparisons:

I've added the Garmin Vivoactive 3 Music to the product comparison tool below, which means you can also make your own comparison charts as well.  In the case of the below I've compared it against the Fitbit Ionic (which has GPS), and the Fitbit Versa (which uses your phones GPS).  And, for the heck of it – the Garmin FR645 Music (which is a more advanced running watch).
In addition, the above/below photos show the size against some other competitors in this realm (I couldn't find my Fitbit Ionic at the time).  From left to right they are:
Suunto 3 Fitness, Fitbit Versa, Garmin FR645, Garmin Vivoactive 3, Garmin Vivoactive 3 Music, Samsung Gear Sport
You can also mix and match and make your own comparison chart within the massive product comparison tool here, in case the quick four I've selected below isn't what you want.
Function/Feature

Garmin Vivoactive 3 Music
Garmin Vivoactive 3
Fitbit Ionic
Fitbit Versa
Copyright DC Rainmaker - Updated May 11th, 2021 @ 5:43 am New Window
Price
$169
$129
$229
$149
Product Announcement Date
June 13th, 2018
Aug 31st, 2017
Aug 28th, 2017
March 2018
Actual Availability/Shipping Date
June 13th, 2018
September 2017
Oct 1st, 2017
April 2018
GPS Recording Functionality
Yes
Yes
Yes
via phone
Data Transfer
USB, BLUETOOTH SMART
USB, BLUETOOTH SMART
Bluetooth Smart
Bluetooth Smart
Waterproofing
50 meters
50 meters
50m
50m
Battery Life (GPS)
Up to 13 hours GPS
Up to 13 hours GPS
10 hours
N/A
Recording Interval
1s or Smart Recording
1s or Smart Recording
1-second
1-second
Alerts
Vibrate/Visual
Vibrate/Visual
Visual/Vibrate
Visual/Vibrate
Backlight Greatness
Great
Great
Great
Great
Ability to download custom apps to unit/device
Yes
Yes
Yes
Yes
Acts as daily activity monitor (steps, etc...)
Yes
Yes
Yes
Yes

Music

Garmin Vivoactive 3 Music
Garmin Vivoactive 3
Fitbit Ionic
Fitbit Versa
Can control phone music
Yes
Yes
Yes
Yes
Has music storage and playback
Yes
No
Yes
Yes
Streaming Services
Spotify, Amazon Music, Deezer, iHeartRadio
Pandora, Deezer
Pandora, Deezer

Payments

Garmin Vivoactive 3 Music
Garmin Vivoactive 3
Fitbit Ionic
Fitbit Versa
Contactless-NFC Payments
Yes
Yes
Yes (with certain editions)

Connectivity

Garmin Vivoactive 3 Music
Garmin Vivoactive 3
Fitbit Ionic
Fitbit Versa
Bluetooth Smart to Phone Uploading
Yes
Yes
Yes
Yes
Phone Notifications to unit (i.e. texts/calls/etc...)
Yes
Yes
Yes
Yes
Live Tracking (streaming location to website)
Yes
Yes
No
No
Group tracking
No
No
No
No
Emergency/SOS Message Notification (from watch to contacts)
No
No
No
No
Built-in cellular chip (no phone required)
No
No
No
No

Cycling

Garmin Vivoactive 3 Music
Garmin Vivoactive 3
Fitbit Ionic
Fitbit Versa
Designed for cycling
Yes
Yes
Yes
Yes
Power Meter Capable
With some Connect IQ apps
With some Connect IQ apps
No
No
Speed/Cadence Sensor Capable
Yes
Yes
No
No
Strava segments live on device
No
No
No
No
Crash detection
No
No
No
No

Running

Garmin Vivoactive 3 Music
Garmin Vivoactive 3
Fitbit Ionic
Fitbit Versa
Designed for running
Yes
Yes
Yes
Yes
Footpod Capable (For treadmills)
Yes
Yes
No (but has treadmill functionality)
No (but has treadmill functionality)
Running Dynamics (vertical oscillation, ground contact time, etc...)
No
No
No
No
Running Power
No
No
VO2Max Estimation
Yes
Yes
Yes via app
Yes, via app
Race Predictor
No
No
No
No
Recovery Advisor
No
No
No
No
Run/Walk Mode
Yes
Yes
No
No

Swimming

Garmin Vivoactive 3 Music
Garmin Vivoactive 3
Fitbit Ionic
Fitbit Versa
Designed for swimming
Yes
Yes
Yes
Yes
Openwater swimming mode
No
No
No
No
Lap/Indoor Distance Tracking
Yes
Yes
Yes
Yes
Record HR underwater
No
No
No
No
Openwater Metrics (Stroke/etc.)
No
No
No
No
Indoor Metrics (Stroke/etc.)
Yes
Yes
Yes
Yes
Indoor Drill Mode
No
No
No
No
Indoor auto-pause feature
No
No
No
No
Change pool size
Yes
Yes
Yes
Yes
Indoor Min/Max Pool Lengths
17M/18Y TO 150Y/M
17M/18Y TO 150Y/M
10m/y-100m/y
10m/y-100m/y
Ability to customize data fields
Yes
Yes
Yes
Yes
Captures per length data - indoors
Yes
Yes
Indoor Alerts
Yes
Yes
Yes (distance)
Yes (distance)

Triathlon

Garmin Vivoactive 3 Music
Garmin Vivoactive 3
Fitbit Ionic
Fitbit Versa
Designed for triathlon
No
No
No
No
Multisport mode
No
No
No
No

Workouts

Garmin Vivoactive 3 Music
Garmin Vivoactive 3
Fitbit Ionic
Fitbit Versa
Create/Follow custom workouts
Yes
Yes
No (Premium Coached only)
No (Premium Coached only)
On-unit interval Feature
Sorta (2 preloaded ones, but no customization)
Sorta (2 preloaded ones, but no customization)
No
No
Training Calendar Functionality
Yes
Yes
No
No

Functions

Garmin Vivoactive 3 Music
Garmin Vivoactive 3
Fitbit Ionic
Fitbit Versa
Auto Start/Stop
Yes
Yes
Yes
Yes
Virtual Partner Feature
No
No
No
No
Virtual Racer Feature
No
No
No
no
Records PR's - Personal Records (diff than history)
Yes
Yes
No
No
Tidal Tables (Tide Information)
No
No
No
No
Weather Display (live data)
Yes
Yes
Yes
Yes

Navigate

Garmin Vivoactive 3 Music
Garmin Vivoactive 3
Fitbit Ionic
Fitbit Versa
Follow GPS Track (Courses/Waypoints)
No (but some 3rd party apps can)
No (but some 3rd party apps can)
No
No
Markers/Waypoint Direction
Yes (to pre-saved spots)
Yes (to pre-saved spots)
No
No
Routable/Visual Maps (like car GPS)
No
No
No
No
Back to start
YEs
YEs
No
No
Impromptu Round Trip Route Creation
No
No
No
No
Download courses/routes from phone to unit
NO
NO
No
No

Sensors

Garmin Vivoactive 3 Music
Garmin Vivoactive 3
Fitbit Ionic
Fitbit Versa
Altimeter Type
Barometric
Barometric
Barometric
Barometric
Compass Type
Magnetic
Magnetic
N/A
N/A
Optical Heart Rate Sensor internally
Yes
Yes
Yes
Yes
SpO2 (aka Pulse Oximetry)
No
Heart Rate Strap Compatible
Yes
Yes
No
No
ANT+ Heart Rate Strap Capable
YEs
YEs
No
No
ANT+ Speed/Cadence Capable
Yes
Yes
No
No
ANT+ Footpod Capable
Yes
Yes
No
No
ANT+ Power Meter Capable
No
No
No
nO
ANT+ Lighting Control
Yes
Yes
No
nO
ANT+ Bike Radar Integration
No
No
No
No
ANT+ Trainer Control (FE-C)
No
No
No
No
ANT+ Remote Control
No (Yes for VIRB camera control)
No (Yes for VIRB camera control)
No
No
ANT+ eBike Compatibility
No
No
No
No
ANT+ Gear Shifting (i.e. SRAM ETAP)
No
No
No
No
Shimano Di2 Shifting
No
No
No
No
Bluetooth Smart HR Strap Capable
YEs
YEs
No
No
Bluetooth Smart Speed/Cadence Capable
Yes
Yes
No
No
Bluetooth Smart Footpod Capable
Yes
Yes
No
No
Bluetooth Smart Power Meter Capable
No
No
No
No
Temp Recording (internal sensor)
No
No
No
No
Temp Recording (external sensor)
Yes
Yes
No
no

Software

Garmin Vivoactive 3 Music
Garmin Vivoactive 3
Fitbit Ionic
Fitbit Versa
PC Application
Garmin Express
Garmin Express
PC/Mac
PC/Mac
Web Application
Garmin Connect
Garmin Connect
Yes
YEs
Phone App
iOS/Android/Windows
iOS/Android/Windows
iOS/Android/Windows
iOS/Android/Windows
Ability to Export Settings
No
No
No
No

Purchase

Garmin Vivoactive 3 Music
Garmin Vivoactive 3
Fitbit Ionic
Fitbit Versa
Amazon
Link
Link
Link
Link
Wiggle
Link

DCRainmaker

Garmin Vivoactive 3 Music
Garmin Vivoactive 3
Fitbit Ionic
Fitbit Versa
Review Link
Link
Link
Link
Link
Again, remember you can mix and match your own product comparison charts here to pick whatever products you'd like that I've previously reviewed.
Wrap-up: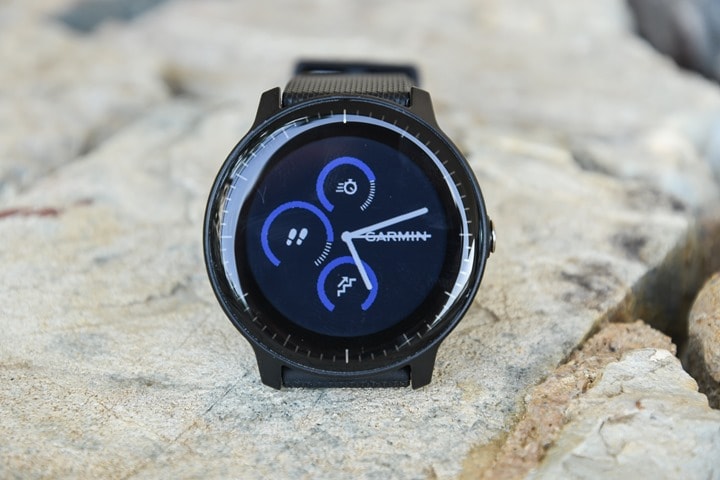 It was largely inevitable that the Vivoactive 3 would eventually get a music edition. After all, in order to compete in the mainstream realm against Fitbit and Apple with a mid-range sports watch, Garmin had to get music stashed in there.  What's probably most notable is really that the price point is largely remaining the same – $299.  Sure, the Vivoactive 3 (non-music) has dipped and is now in the $249 range, but Garmin isn't charging some crazy premium for music on this edition.
Garmin's long since argued that when selecting between something like a Fitbit and a Garmin watch, their own watches cater more towards the sports crowd than not.  And that's certainly true, you can easily see that within the sport modes that are offered and the depth of the data that comes from the watches.  When competing against Apple, both Fitbit and Garmin tout their battery life – putting them at roughly a week between charges versus a day or two.  Of course, neither company can compete against Apple in the depth of apps that the Apple Watch has.  But as has been proven, neither really has to.  Both companies are selling more smartwatches than ever before, despite the Apple Watch (with Garmin even recently overtaking Fitbit).
When it comes to the Vivoactive 3 Music, it's an all-arounder, and also an all-around safe bet.  I got the non-music variant for my Mom last fall, which she uses daily in a variety of sports. And my Dad even tested out this unit for the day this past week and is likely to pick it up as well.
The downsides are mostly few.  The first one I see is the bezel, not everyone will want a glossy black bezel. I prefer the look of the Vivoactive 3 bezel (non-music).  Second, it lacks some streaming services that folks might use. I'm a Spotify person primarily, with a massive Spotify library/playlist thing.  So as much as I might play with iHeartRadio for reviews, it's not really what I use day to day. That ball is squarely in Spotify's court to resolve, and the issue is the same whether I go to a Fitbit or Apple Watch – neither have Spotify.
But Spotify or shiny bezels aside, the Vivoactive series continues to be the best value watches that Garmin has made, with the widest range of features.  And the new Vivoactive 3 Music only serves to extend that, bridge the musical gap that so many have begged for, into a much lower price bracket.

Found This Post Useful? Support The Site!
Hopefully you found this review useful. At the end of the day, I'm an athlete just like you looking for the most detail possible on a new purchase – so my review is written from the standpoint of how I used the device. The reviews generally take a lot of hours to put together, so it's a fair bit of work (and labor of love). As you probably noticed by looking below, I also take time to answer all the questions posted in the comments – and there's quite a bit of detail in there as well.
If you're shopping for the Garmin Vivoactive 3 Music or any other accessory items, please consider using the affiliate links below! As an Amazon Associate I earn from qualifying purchases. It doesn't cost you anything extra, but your purchases help support this website a lot. Even more, if you shop with TPC (The Pro's Closet), you'll save $40 on purchases over $200 with coupon code DCRAIN40! The Pro's Closet has been a long-time partner of the site here - including sponsoring videos like my cargo bike race, as well as just being an awesome Colorado-based company full of good humans. Check them out with the links below and the DCRAIN40 coupon!
Here's a few other variants or sibling products that are worth considering:
And of course – you can always sign-up to be a DCR Supporter! That gets you an ad-free DCR, access to the DCR Quarantine Corner video series packed with behind the scenes tidbits...and it also makes you awesome. And being awesome is what it's all about!
Thanks for reading! And as always, feel free to post comments or questions in the comments section below, I'll be happy to try and answer them as quickly as possible. And lastly, if you felt this review was useful – I always appreciate feedback in the comments below. Thanks!