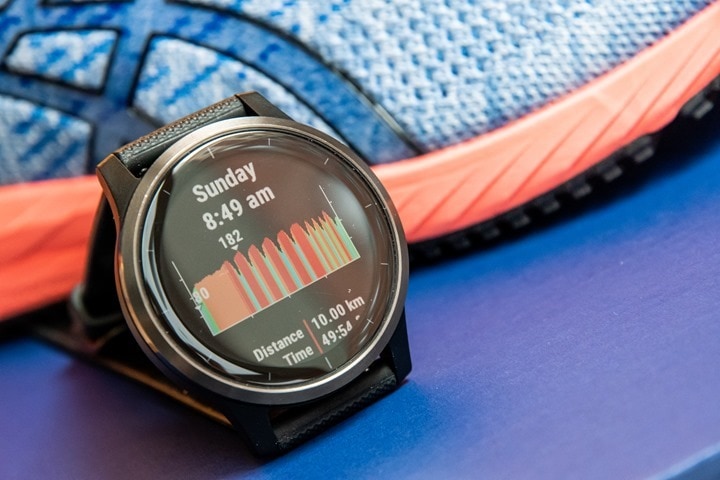 It's been about 5 months since Garmin first introduced the Vivoactive 4 series  (alongside the Garmin Venu). Both watches, screen aside, are nearly identical. And in that time Garmin has also introduced a number of themed Vivoactive 4 variants (such as ones from Star Wars, Avengers, and Captain Marvel). However, they've also quietly tweaked a number of features in the Vivoactive 4 – making it a bit more polished than it was on launch. Minor things you might not notice, like prettier end of workout screens with maps and HR charts.
The main appeal of the Vivoactive 4 was adding in a second button – making it easier to use for sport scenarios, but also a slew of more general fitness features. Aspects like structured yoga workouts. And unlike the Vivoactive 3/Vivoactive 3 Music, all editions of the Vivoactive 4 have music. There's just now a smaller one (Vivoactive 4s) and a bigger one (Vivoactive 4). Plus all those special edition ones.
Now, despite having used the Vivoactive 4 on and off since August, I hadn't quite got around to writing a review. You'll remember I published my Garmin Venu review in earlier December after a number of months. And then the day after that I switched over to the near-identical Vivoactive 4. And it's been on my left wrist since then. So, tons of usage, and tons of workouts in the bag. Thus, review time.
Note that while initially I was using a loaner media Vivoactive 4 from Garmin, that's long since gone back to them. Since then I've been using my own Vivoactive 4 that I went out and got myself. If you found this review useful, you can hit up the links at the end of the post like usual to support the site.
What's New: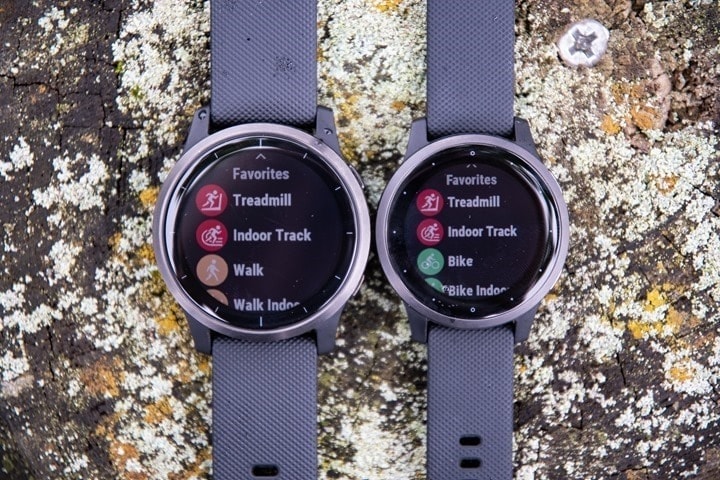 The Vivoactive 4 is, as one might assume, a progression of the Vivoactive lineup. However, it's worth noting that so is the Venu. The Vivoactive 4 and Venu share virtually every feature, with the only differentiating aspects of the Venu being those that are specifically display driven. So such things as higher quality animations and better quality watch faces on the Venu over the Vivoactive 4. In discussing the features with Garmin, there are no non-display associated features that are in Venu that aren't in Vivoactive 4, or vice versa.
The other thing to note is that previously there were separate editions of the Vivoactive lineup – one for music (e.g. Vivoactive 3 Music), and one for non-music (Vivoactive 3); now that's all under a single umbrella with music – whether you have Venu or Vivoactive 4. On the flip-side, you now have two different sized units, and things cost more. The pricing is as follows:
US Pricing:
Vivoactive 4/4S US Pricing: $349
Venu: $399
EU Pricing:
Vivoactive 4S: €279 & €299 depending on bezels/buttons
Vivoactive 4: €299 & €329 depending on bezels/buttons
Venu: €349 & €379 depending on bezels/buttons
Though, we've already seen cracks in that pricing. Back at Christmas things were down to $299USD, and even right now they're $25 off and Venu is $50 off. I suspect that'll become the new norm for most of 2020.
With that, let's talk all the new offerings in relation to the past model – the Vivoactive 3:
– Music now standard: Including Spotify, Amazon Music, and Deezer
– Vivoactive 4 is 45mm and includes a color touchscreen display
– Vivoactive 4S is 40mm and includes a color touchscreen display
– Added secondary button to side: Used for lap, back, menu access
– Added hydration tracking to manually track liquid intake with widget and app
– Added Estimated Sweat Loss post-workout
– Added Respiration Rate for all-day and sleep metrics (and certain workout types)
– Added Breathwork Exercises (way different than simple breathing stress features)
– Added Workout Animation functionality: For Strength, Cardio, Yoga, Pilates
– Added new Yoga and Pilates Built-in workouts: Includes step by step animations
– Added ability to design Yoga workouts in Garmin Connect: Complete with step by step pose animations
– Added ability to design Pilates workouts in Garmin Connect: Complete with step by step animations
– Added PulseOx for 24×7 blood oxygen tracking
– Revamped health stat widget akin to latest Fenix/Forerunner models
– Switched to Sony GPS chipset like remainder of Garmin 2019/2020 unit lineup
– Switched to Garmin Elevate V3 optical HR sensor
– Battery life at 8 days standby for the VA4 and 7 days for the VA4S, and 6 hours of GPS+Music
As you can see, the vast majority of new features on the watch are far less focused on the swim/bike/run athlete that's more common in Garmin's Forerunner and Fenix lineup, and instead focused on a bit more of the lifestyle athlete that may be more varied in their day to day activity – which to be fair, was always the strength/target of the Vivoactive lineup, as this is within that family.
Also, as noted there are two sizes of the Vivoactive 4 (the 4 and 4S), however, feature-wise they're identical.
Though battery-wise there are some differences:
Smartwatch mode (no GPS): 8 days for the VA4, 7 days for the VA4S
GPS time (no-music on): 18 hours for the VA4, 15 hours for the VA4S
Music + Animations in Strength Workout + Workout: 4.5 hours on the VA4, 3.5hrs on the VA4S
Finally, for those not familiar with the wider Vivo lineup, here's all the baseline features found on both the Venu & Vivoactive 4:
– GPS tracking of activities (no reliance on phone)
– Workout tracking of range of sports including running, cycling, pool swimming, skiing, golf, gym and many more (full list down below)
– Structured workout support via downloadable workouts
– Quick on the fly intervals
– Training calendar support
– Optical heart rate sensor in watch
– 24×7 tracking of steps, stairs, calories, and distance
– Smartphone notifications from iOS/Android
– Garmin Pay for contactless payments
Since release, virtually all of the new Vivoactive 4 & Venu health/fitness features have also worked their way into the Fenix 6 lineup, and some also the FR945 and FR245. As is common with the Garmin ecosystem, I would not expect any of these new features to make their way back to the Vivoactive 3. Of course, bits like the screen are hardware driven. I would, however, expect that the Venu and Vivoactive 4 will stay largely lock-step in their firmware updates/features.
Unboxing: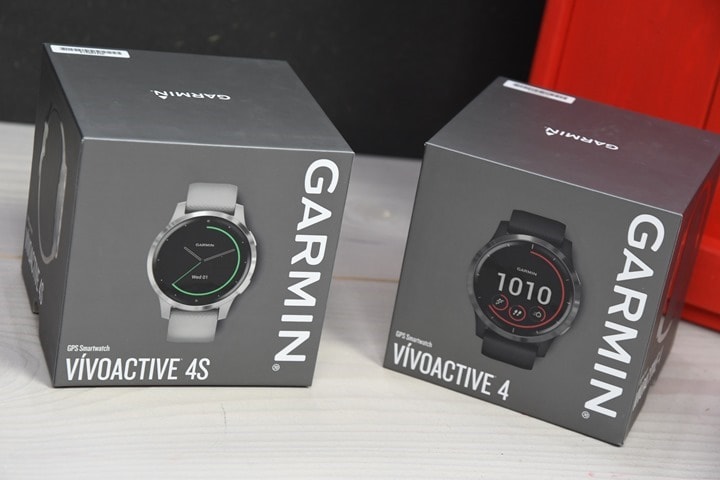 The Vivoactive 4 & 4S are identical from an unboxing standpoint. So I'll go through the parts of the Vivoactive 4 slowly, and then just dump a pile of photos from the Vivoactive 4S variant at the end. Seems fair, no?
The box from the Vivoactive 4 follows the same design as…well…basically every other Garmin box:
Crack it open and you'll find the Vivoactive 4 chilling inside looking up at you, hopeful of its life ahead. Of course, you'll likely beat the crap out of it with all that sportiness you're planning.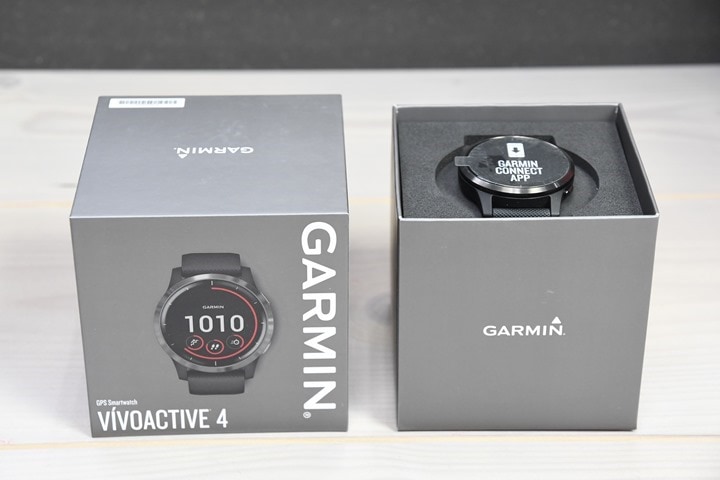 Inside the box you've got exactly four things:
1) The watch
2) The USB charging/sync cable
3) A paper quick start guide you'll ignore
4) A warranty card you'll also never read
See, here's the family photo: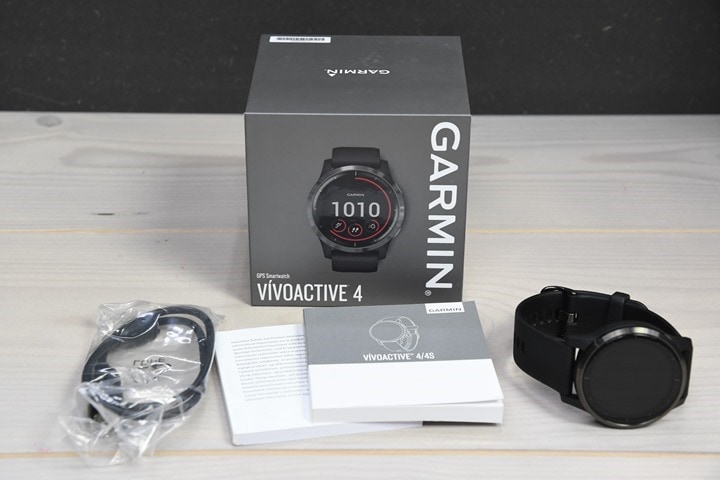 Here's the back of the Vivoactive 4. There's a small serial number sticker on it in this photo. It didn't last but a week or two.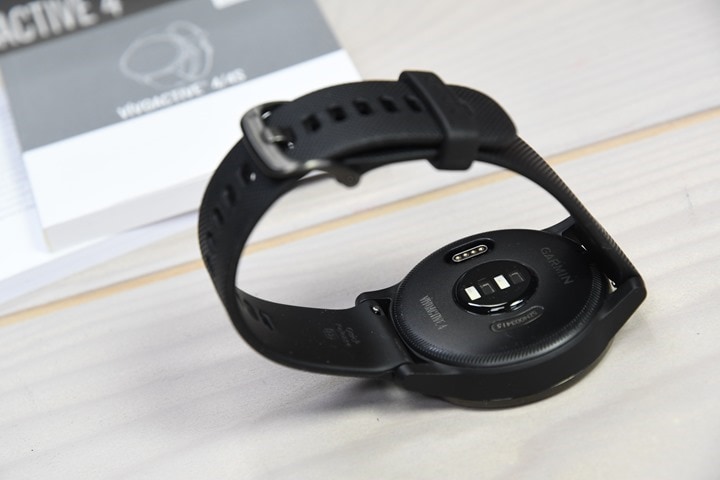 And here's the charging cable. It's the same charging cable used on the majority of Garmin wearables in the last few years.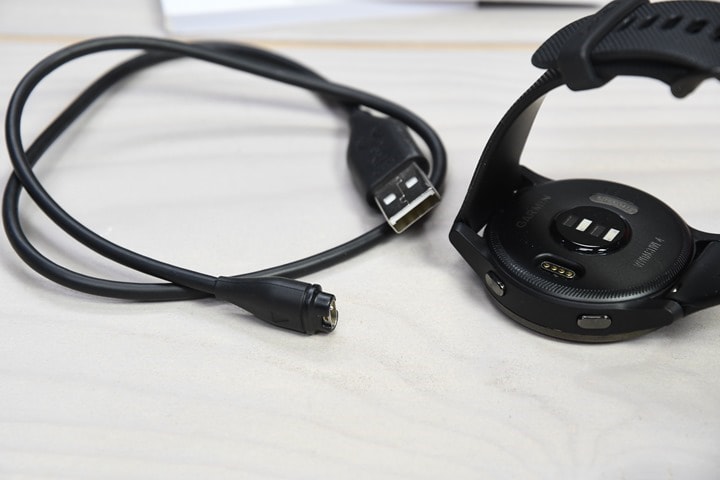 And finally, here's the weight of the watch. The Vivoactive 4 comes in at 51g: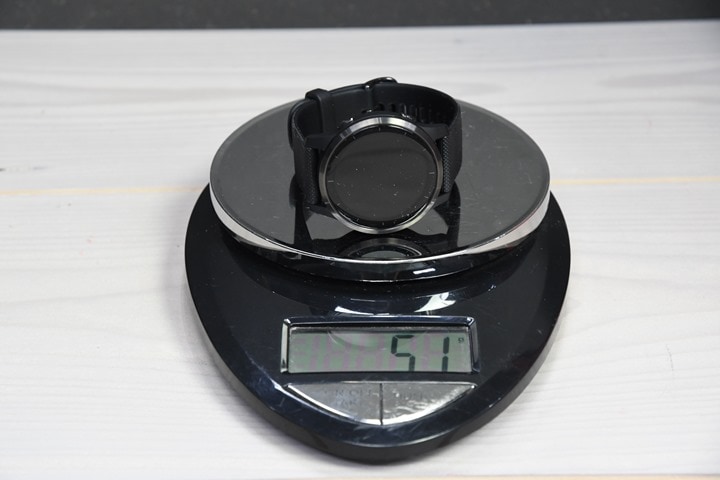 And here's the Vivoactive 4 and Vivoactive 4S side by side:
Oh, and a quick unboxing gallery of the Vivoactive 4S:
Got all that? Good, let's get to using it!
The Basics: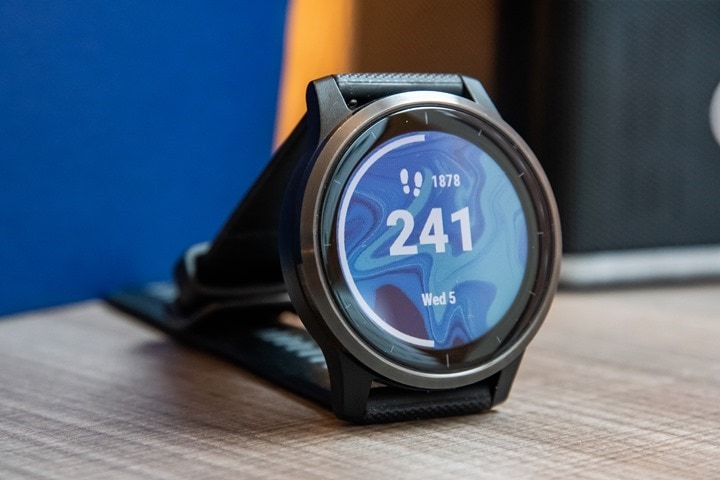 If you're looking for a complete user interface overview, simply hit the Play button below. I go through everything from the basics of activity tracking to guided yoga workouts to music and payments. Plus much more.
But, if videos aren't your thing – no worries, I've still got you covered. First up we'll start with the watch faces. Like all Garmin watches, you can customize these watch faces from a pile of pre-loaded ones, or you can download 3rd party ones, or make your own watch face (such as from a photo).
To download custom watch faces, simply download the Connect IQ app, which accesses the Connect IQ app store. That includes not just watch faces, but also apps and data fields for the Vivoactive 4:
The Vivoactive 4 is an always-on watch, meaning the display never turns off. While this is how every Garmin watch except the Venu works (and even that has an always-on option too), it's not as common within the more broad smartwatch world. So, I just wanted to point it out. Within this mode the battery life is claimed at "up to 8 days" for the Vivoactive 4, and 7 days for the Vivoactive 4s. I'd say things are roughly in that ballpark given I've got daily workout usage that would decrease that. Given it's winter and I'm doing less outdoor GPS activities and more indoor workouts, my battery life is slightly skewed, but I'm getting through the majority of the week on a single charge with daily ~1hr workouts, and about 1-2 of those are outdoors with GPS. I usually make it about 5, maybe 6 days, on a single charge.
Backlight settings will impact that, which are customizable within the settings menu. This includes things like raise to wake (to turn on the backlight). Though, the display is perfectly visible without a backlight in all conditions except a pitch-black room. Fwiw, the display's backlight is bright as heck, and I've used it almost every night to change an infant's diaper at 4AM in a lightless room. Welcome to my world.
Going back a bit to the basic interface – it's a touch screen, however with the Vivoactive 4 they've added a secondary button.  I find the two button shifts a huge upgrade. I was never a fan of the singular button design. But the two buttons are spot-on for their purpose, especially in sports (to have a dedicated lap vs start/stop button).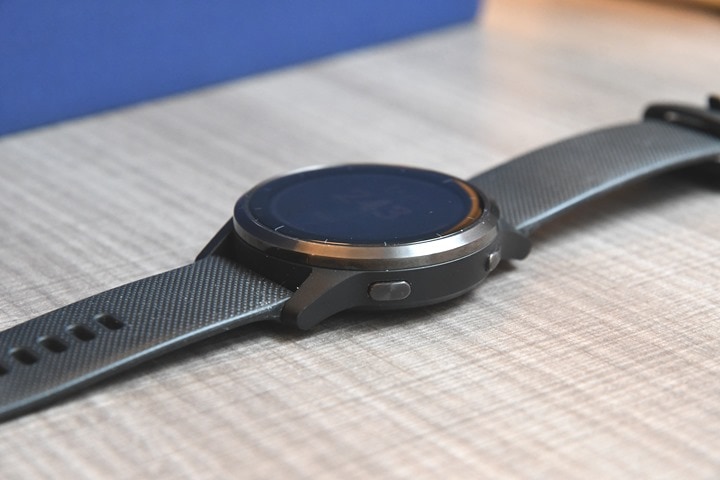 From the main watch face you can swipe up/down through what are known as widgets. These widgets display all sorts of health and fitness information (and you can download 3rd party ones too). They also provide quick access to apps like Spotify. For example here's the Garmin Health Stats one, which allows you to see things like heart rate, stress, body battery, and breathing rate in one quick glance:
Or the 'My Day' widget, which summarizes most of your basic fitness metrics: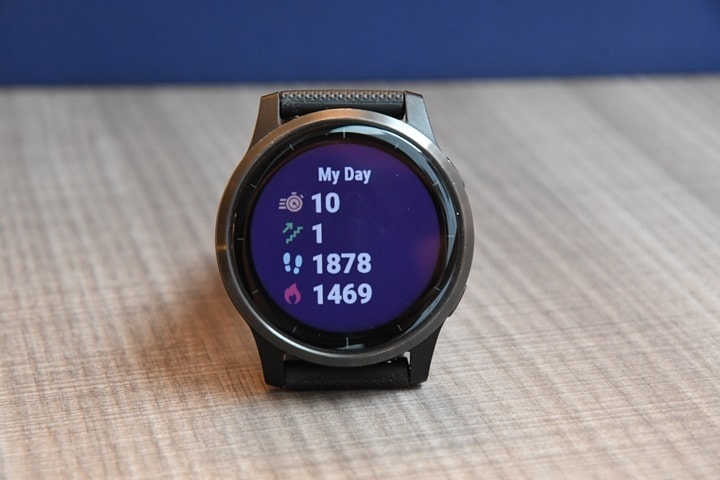 You can see how each of the statuses is further detailed once you tap on it:
Anyway, back to the basics and new features. There's the new hydration tracking functionality. The way this works is that you define three 'vessels' (or cups, as you see them), and each of these are basically custom containers. So Cup #1 could be an 18oz bottle, cup #2 could be an 8oz cup, and cup #3 could be whatever else you want. Anytime you tap on that cup it automatically adds the appropriate amount of tracked liquid. Presumably it's water, but perhaps you're going for an extensive bar hopping, it could just be beer.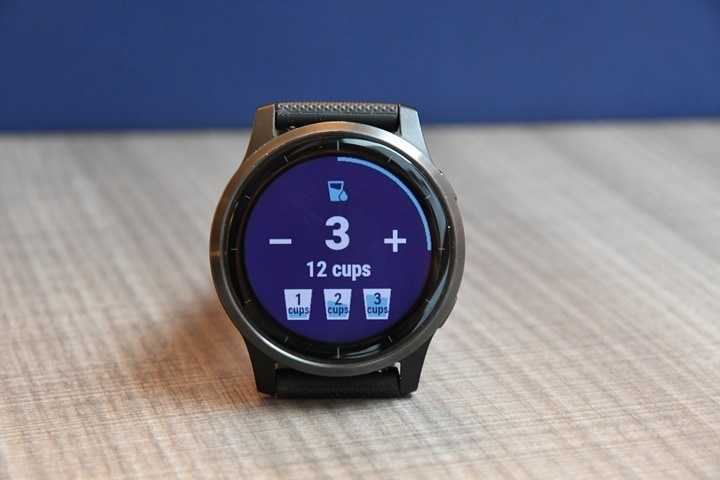 All of this can be customized to metric instead of cups, by the way. And you can add water within Garmin Connect Mobile and it should merge together (right now that's not working for me). The whole point of this is largely water tracking. For those trying to lose weight, one of the best ways to support that is drinking lots of water (for a variety of reasons that Google can help on). You'll see your goal progress (as defined in settings on the app) around the outside, and a little animation when you achieve it. If configured, the Vivoactive 4 will remind you every 2 hours (10AM, 12PM, 2PM, etc…) to log how much you've drank.
Garmin is approaching this feature much like the female menstrual tracking functionality they added this past spring in that it's technically a Connect IQ widget that's pre-loaded onto the Venu/Vivoactive 4 watches, but we've already seen it expand to other watches.
Next, there's the new breathwork features. Now, unlike typical "slowly breath in and out" features we've seen on various watches, this is at an entirely different level of breathwork, often called mindful breathing.
It's here you can choose a specific breathing technique: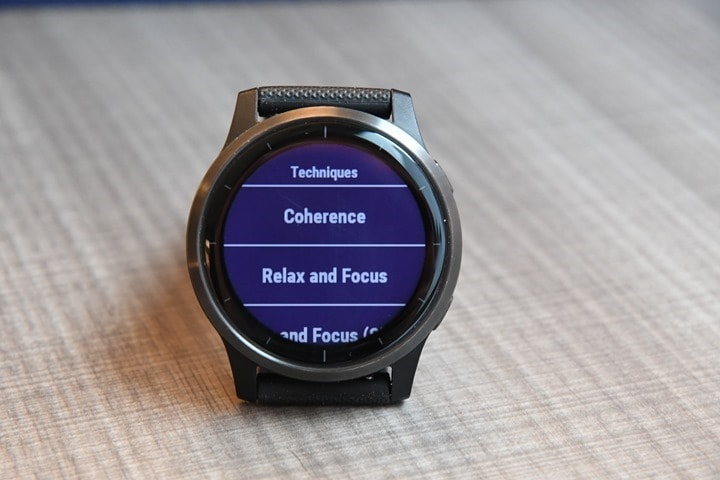 And then it'll guide you through it, with the count-down timer slowly moving in and out as the rings: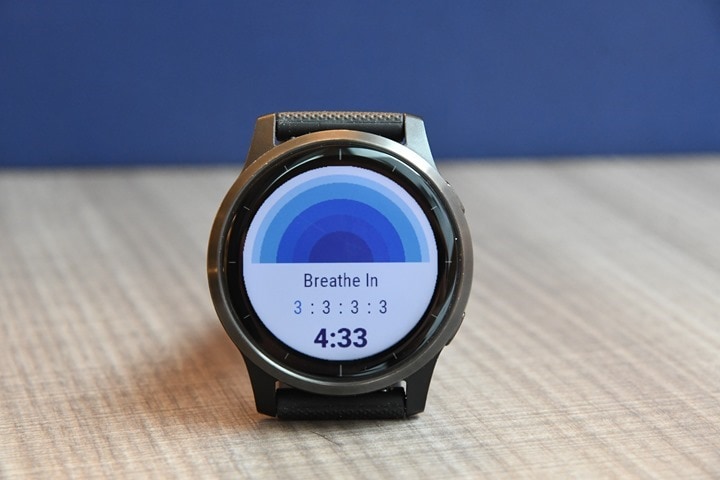 Now in certain activities you'll also get the new respiration rate data. The new respiration rate feature does not require a heart rate strap, and is working constantly behind the scenes within the optical HR sensor to measure respiration rate (basically, breathing rate). You can see it on a dedicated widget on the watch – inclusive of trending over the last 7 days: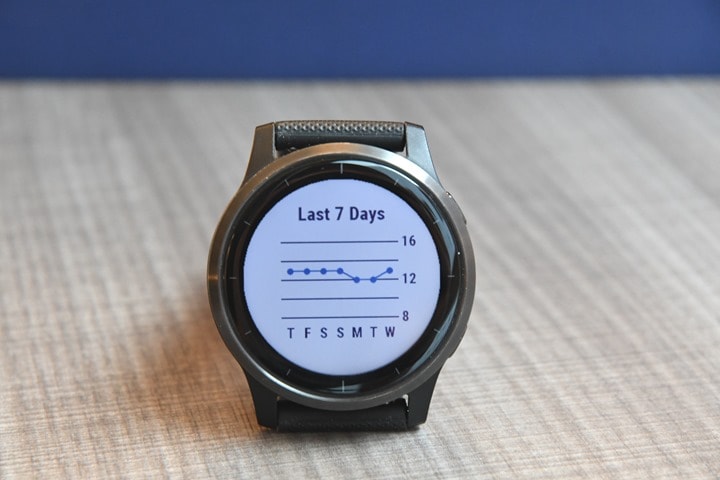 And here's the data from within Garmin Connect Mobile:
The Vivoactive 4 and Venu both have PulseOx measurement as well, joining the growing list of Garmin watches that have the capability. You can toggle it to automatically measure 24×7, just at sleep, or only on demand: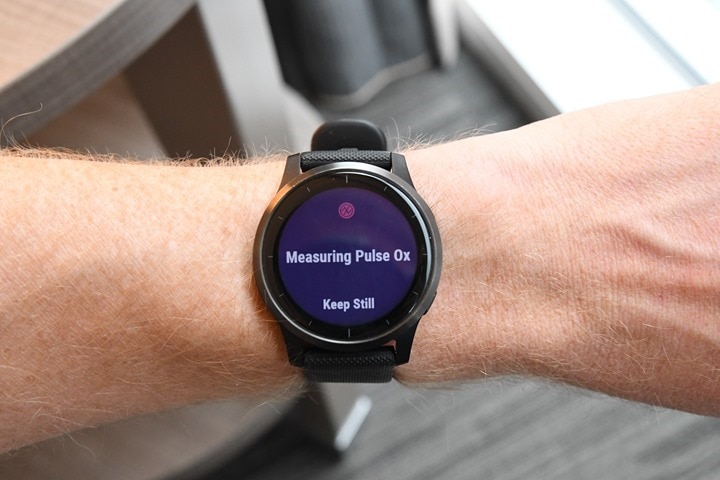 As with my past experiences with this, I'd take this with a grain of salt. However, if you do take measurements you should roughly follow exactly as would be done in a medical setting: Keeping it snug, while seated, and not moving. Also, keep in mind it's a battery blowtorch. If you turn it on, you'll significantly increase how often you have to re-charge the watch.
Next, there's sleep tracking. This works automatically behind the scenes on your watch. You won't see the data on the watch, but rather on Garmin Connect Mobile/Web. I find that it's generally pretty good for me, even despite having a newborn at home that has me up at all weird hours of the night. However, I do find that sometimes if I'm up at say 6AM, and then fall back asleep for another hour till 7AM, it won't always catch that last little bit if it's super short and the sleep quality isn't good. But, by and large, it's a perfectly fine yardstick for me.
Note that I don't have any way to judge the whole deep/light sleep bits. So I mostly ignore it. Just like Garmin totally ignores naps. It has no way to account for naps unfortunately – so these don't count anywhere. Also, those rare 10hr days were due to glorious jetlag of flying from Europe to Australia and back.
Beyond these features, you've got smart notifications just like on past Garmin watches. Note that the watch isn't just limited to text messages. You'll get anything you've configured on your smartphone for notifications. You can see a variety of notifications here as well as some YouTube ones: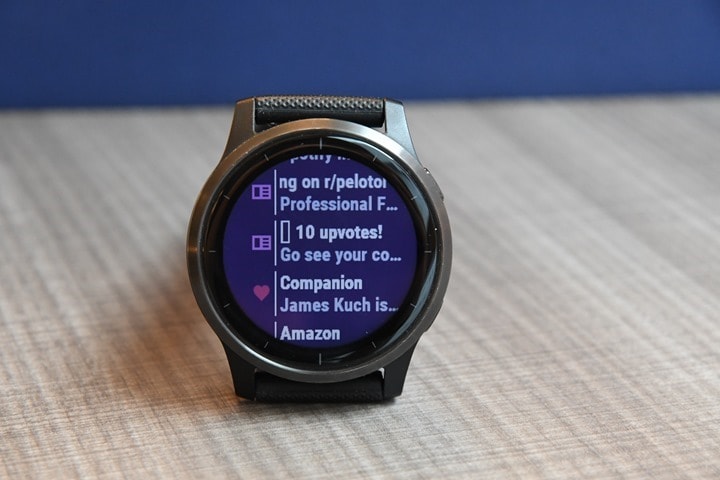 Finally, there's also calendar sync too – which automatically syncs to the watch from whatever calendars you've got set up. As does weather too. All of which are up in the widgets gallery a bit earlier.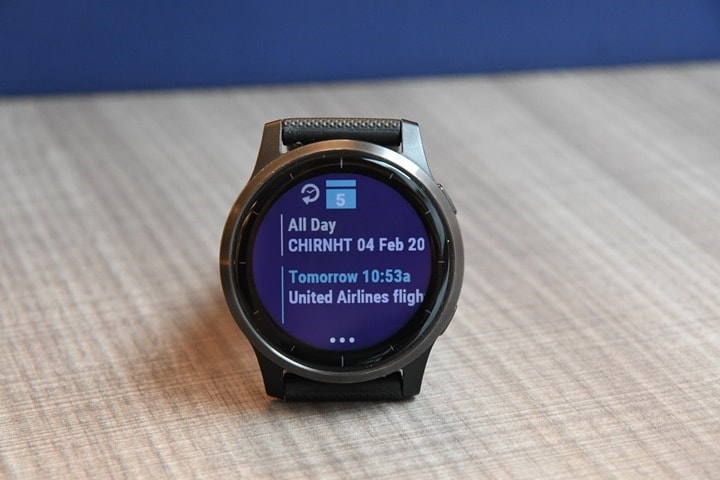 Oh, wait – one more thing – here's a huge gallery of many of the widgets. There are more than this, but this is what I have configured on my watch at the time:
Now that we've covered virtually all the basics, it's on to the sporting realm!
Sports Usage: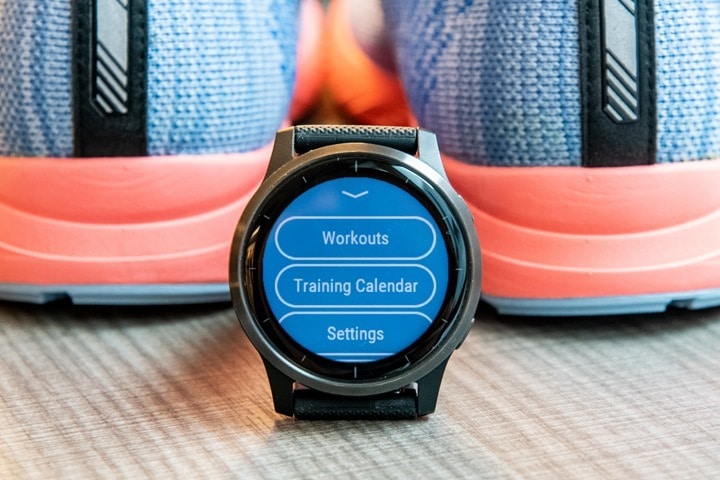 In the previous section I talked about many of the health features like hydration, breath work, and activity tracking, but for this section I'm going to slide into the sport elements, including bits like running and the new animations related to indoor workout types. I'll first cover these new features and then from there we'll look more closely at the sport modes for sports like running, including data field and settings configurations.
We'll start though with the new workout animations. This concept isn't new to the industry, in fact Fitbit did it years ago. The idea being to give you guidance on how to move your body into positions for certain workout types like strength, cardio, yoga, and Pilates. Since these types of workouts are most prone to being done incorrectly from a body form standpoint, the thinking is to show you exactly what you should be doing for each movement. Atop that, Garmin has included some 41 different structured workouts between those categories.
To begin on this journey, we'll dive into the sport menu. It's here that you can choose any sport, be it running or cycling, or in our case – Yoga: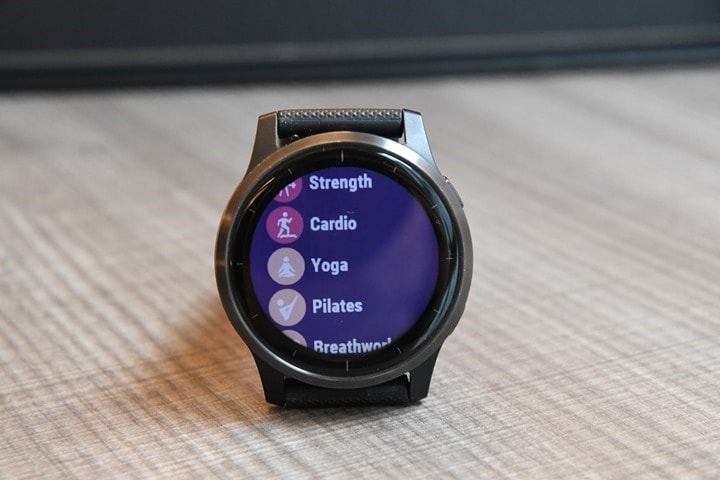 Next, we'll swipe up and choose 'Workouts'. This is where we can select from one of the pre-canned workout routines. Just like a guided workout at your local studio, minus all the bendy people around you.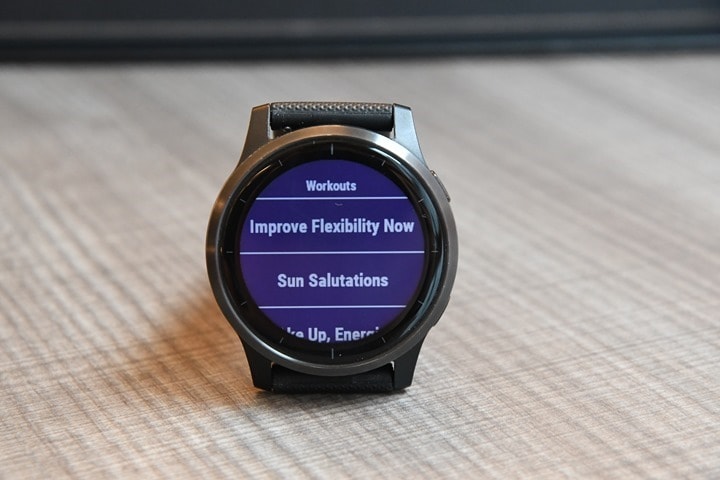 After you've selected one, it'll specify and show you how many steps it has. In this case our workout, 'Wake up, Energize', has 77 steps. Which sounds like a lot, but each time you do a pose that's considered a step, so is any rest period between them. As well as any repeats. It goes by faster than you think.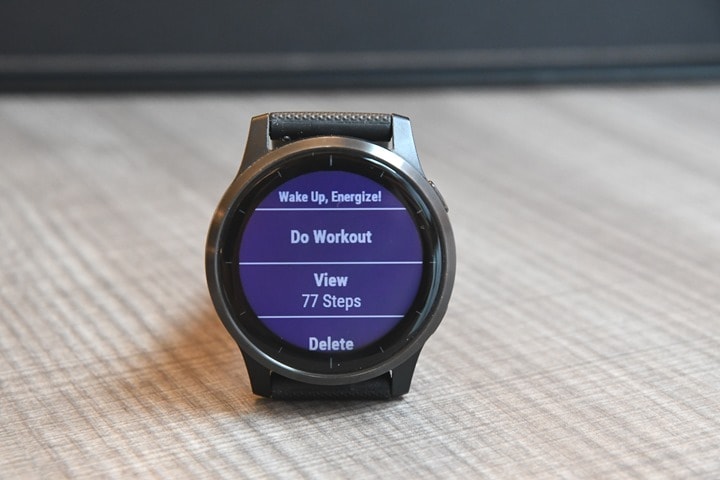 If we press to view one of the steps, we'll see the number of seconds listed next to each one. You can see how at this pace things would go pretty quickly.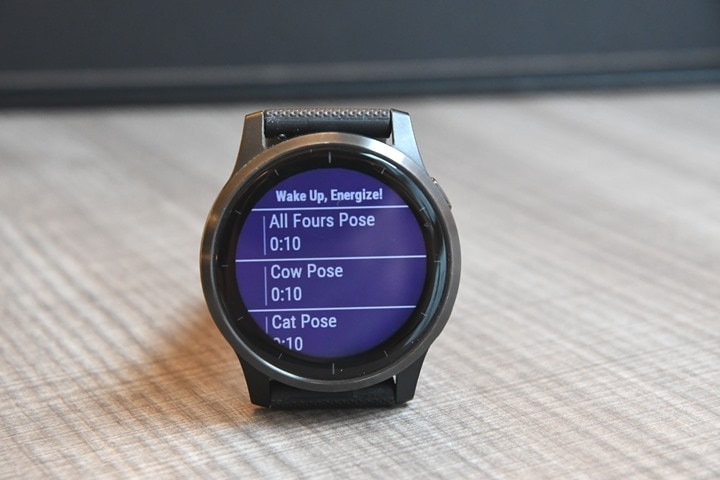 However, if you tap one of those steps you'll get a short animation showing you that specific pose: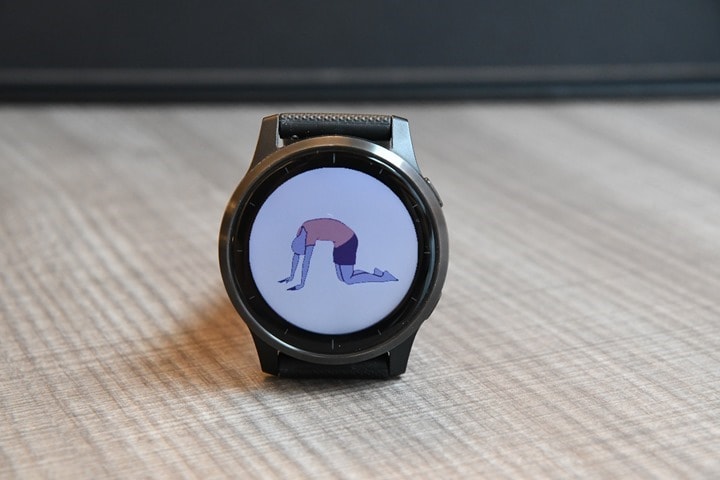 You can go through any of the steps if you want to ahead of time. Or you can just skip that and simply tap to start the workout. Which is what we'll do. It's at this point the timer starts, and it begins recording (including your heart rate behind the scenes). You'll see that it shows a green circle around the outer edge of the watch, acting as a timer that slowly closes as the time completes.
You can also swipe to the next screen to get a different style count-down timer clock. However, you're essentially along for a ride here. When the time for that pose is up, it'll vibrate your wrist and display the next pose/instructions.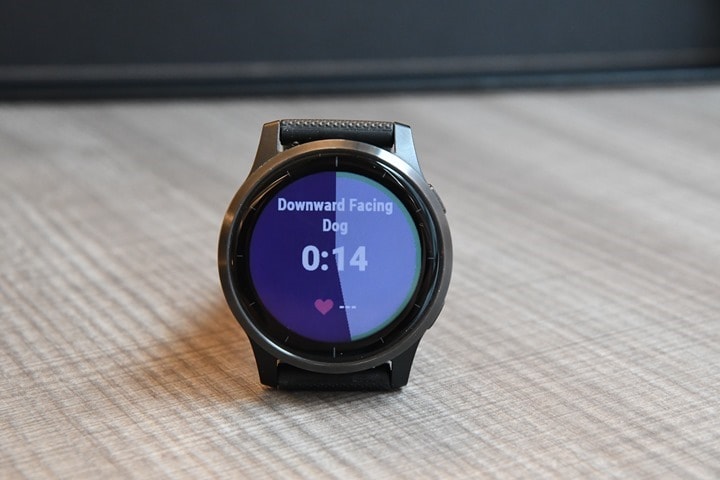 And finally, you can also display a normal data field layout, including your breathing rate and heart rate, as well as stress score.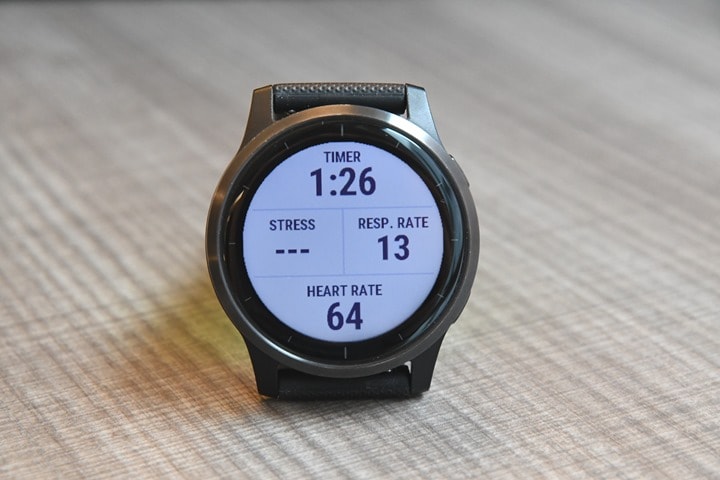 Both the stress and respiration rate data fields are new to Garmin with the Vivoactive 4/Venu lineup, and were specifically put in there for the Yoga activity. Of course, you can ignore this data during your session if you want. That's because all the data is recorded, so once you finish your workout it'll give you a workout summary that lists your poses, timings, and breathing rates.  Now the overall poses/animations concepts are essentially the same whether you're in yoga, Pilates, cardio, or strength. Obviously the specifics for each workout are different, but the way the Garmin unit works is the same. With strength training, you're also getting rep-specific information too.
However, where it really starts to get interesting is that you can create your own workout  from Garmin Connect/Garmin Connect Mobile:
Note though that you won't see any of the animations when you build your own workouts. So that's a bit of a bummer.
From here let's switch back to some traditional Garmin sport features. As you saw earlier, there are boatloads of sports to choose from. Even boat ones like rowing too. Many of these are customized to the specifics of the sport. For example, running is pretty straightforward, but something like downhill skiing/snowboarding will actually automatically count your runs and vertical, pausing correctly each time you take the lift back up.
To start a sport mode, from the main watch face you'll simply tap the upper right button. You can then customize your favorites here, so that the ones you use most often are at the top of the list. In our case, we're going to select Run by tapping it: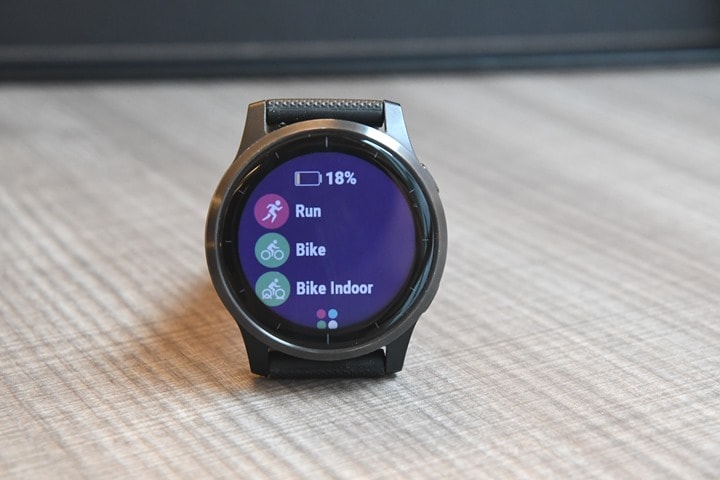 Depending on the sport mode, it'll start the GPS acquisition process. The GPS status is then shown at the top of the watch, and will go solid green once acquired. In most cases it'll just take a few seconds to find GPS. In fact it downloads GPS pre-cache data from your phone to find satellites faster. It'll also show any sensors you've got paired, as well as the status of the optical HR sensor: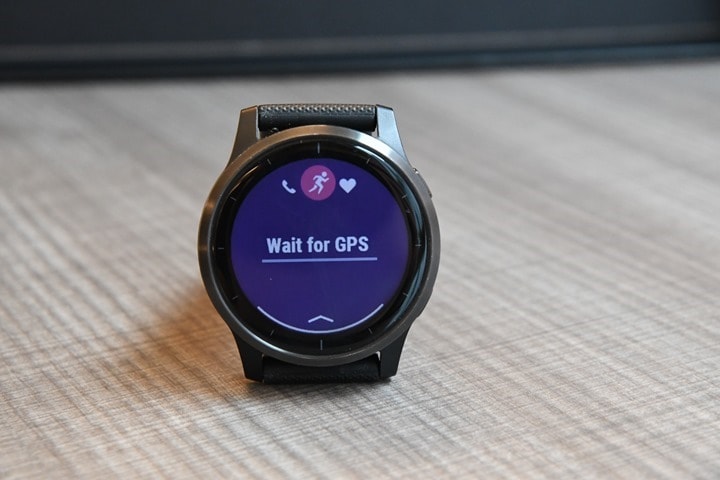 Oh, and sensor-wise it supports: heart rate, headphones, cycling speed/cadence, running footpod, Tempe (temperature sensor), ANT+ cycling lights, ANT+ cycling radar, as well as golfing club sensors. Note for most of those above it'll support both the Bluetooth Smart & ANT+ variants of them.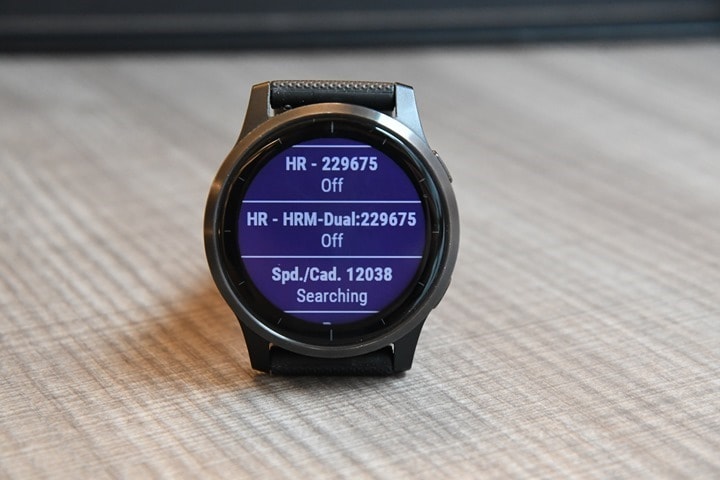 Back on the Run starting screen, you can swipe up from the bottom to go ahead and do a custom workout. These would be if you downloaded a workout from Garmin Connect or made one online or via the Garmin Connect Mobile smartphone app. In other words, if you made your own fancy interval workout, or have a training plan loaded (like a 5K/10K/etc plan, all of which Garmin has for free). Garmin also has pre-loaded a few individual workouts in here too.
You can customize any of your sport screens.  You can do so within the settings on the watch itself (still not on phone app). You get three customizable screens, each with up to 4 data fields on them. You'll also get a heart rate gauge screen too.
You can further configure bits like auto lap (distance based), auto pause, auto scroll, and the GPS type (GPS/GPS+GLONASS/GPS+GALILEO):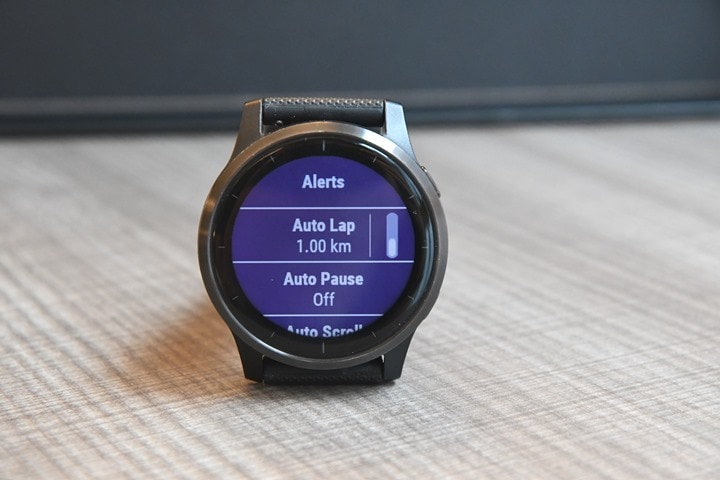 The Venu uses the same Sony chipset as every other Garmin watch released in 2019 (and every other watch released in the last year+ from Suunto, Polar, and COROS). We'll get to GPS accuracy later.
With all that set, we're ready to run. Simply press the upper right button again. Just pretty much like every other GPS watch out there it'll show your running stats in real-time, including your pace, distance, time, heart rate, and any other metrics you've added.
And here's the heart rate gauge page: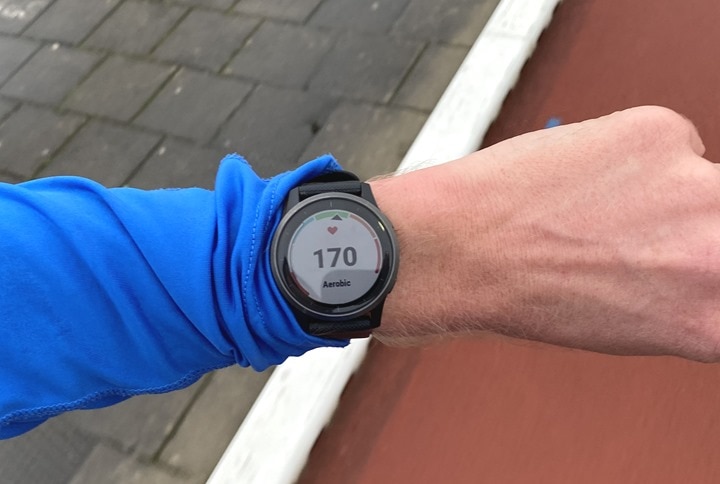 From a lap standpoint you've got both automatic laps (which you can define), or manual laps by pressing the lower right button to trigger a new lap. If you want to stop your workout (or start again), press the upper right button. Once you've paused the workout, then you're given the option to save or discard it.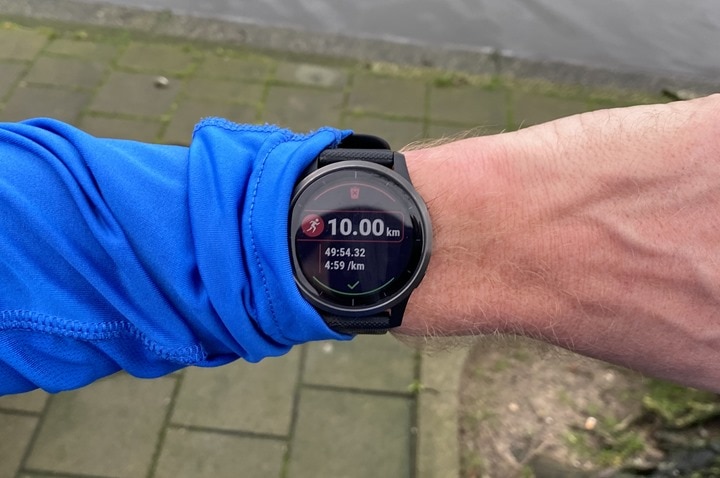 If you choose to save it, it'll show any PR's and VO2Max changes first: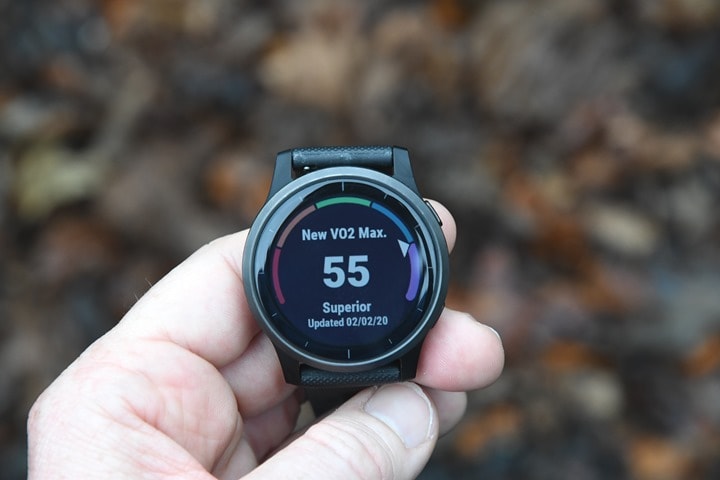 Then it'll show you the summary screen.  This screen has actually been updated considerably since the Vivoactive 4 launched. Now it shows both a breadcrumb outline of your run (like Garmin's higher-end Fenix 6 & Forerunner 945 watches), but also shows a nifty heart rate chart of your run:
After that, you'll also get run totals, lap splits, and time in zone.
Of course, all of this goodness is transmitted to Garmin Connect & Garmin Connect Mobile using WiFi or Bluetooth (depending on what's in range). Then in the smartphone app you can pull up any of the stats for that workout:
It's also on Garmin Connect online (website). Here's an example of one, but you can click on this link to see the full thing and zoom around and such yourself.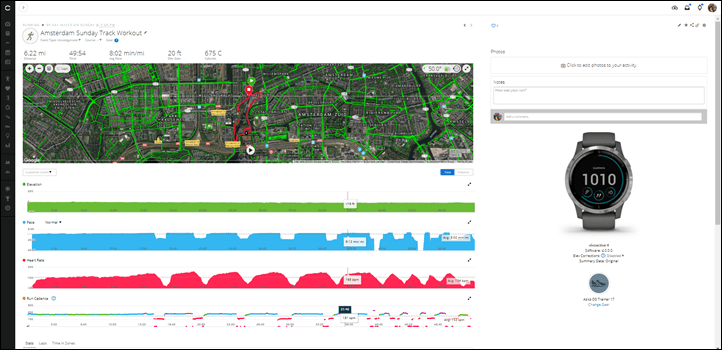 Atop that, if you've got an account on Strava, MyFitnessPal, TrainingPeaks, or a pile of other apps – it'll send the file immediately to them as well. It usually shows up within a few seconds of you finishing your activity. Here's a run on Strava from the Vivoactive 4: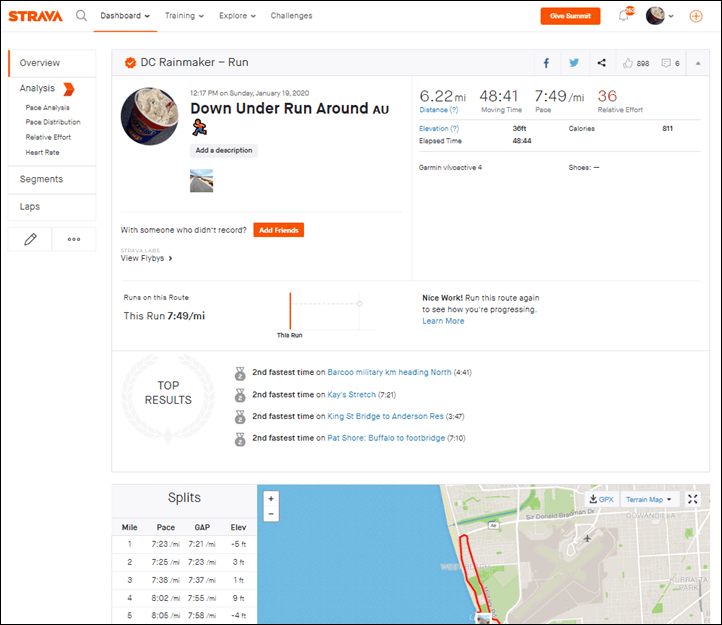 Last but not least, there's the newish Garmin Safety & Tracking features. These started rolling out last spring to Garmin watches, and are now baseline on most units including the Vivoactive 4 and Venu lineup. These are grouped into roughly two buckets:
– Incident Detection: If you crash your bike, or fall while running and walking (you can configure individually)
– Assistance Alerts: Will send an emergency alert to predefined contacts with your live GPS location
The assistance alerts are loosely based atop Garmin's LiveTracking features, which are also available as well (so you can share your live location with friends/family each time you start a workout). Again, the main goal of assistance alerts is if you're somewhere you feel unsafe and want to semi-discretely let someone know you may be in trouble – holding that upper right button for three seconds will start the alerting process. However, all of these require your cell phone to be within range (since it uses that for cellular connectivity).
For the crash/incident detection, I've not yet had it false-trigger on the Vivoactive 4. I have had it false-trigger on the Venu once (in 3-4 months) and a few other units prior to that. The algorithm is looking for a high-g impact event followed by no movement (I was waiting for friends to catch-up). Still, you can simply cancel it within 20 seconds. For safety assistance alerts, you've only got 5 seconds though (those require holding it for 3 seconds though). Given it's winter and I'm riding outdoors less, that's probably why I haven't seen much there.
So about now you may be wondering how the Venu/Vivoactive 4 differs from a sports standpoint compared to something like the Forerunner 245/245 Music. The main thing is around the physiological tracking – so bits like training load or recovery, which aren't tracked on the Vivoactive/Venu series. Additionally, there's also course following (so the ability to follow a specific route navigationally).
However, inversely, the Venu/Vivoactive 4 actually has a barometric altimeter, while the FR245 doesn't. A slightly odd quirk in Garmin's watch hierarchy. In addition, the FR245 doesn't have the advanced yoga, Pilates, or related animations either. In other words, it's still a bit of a confusing mess to figure out which watch has which features.
Music: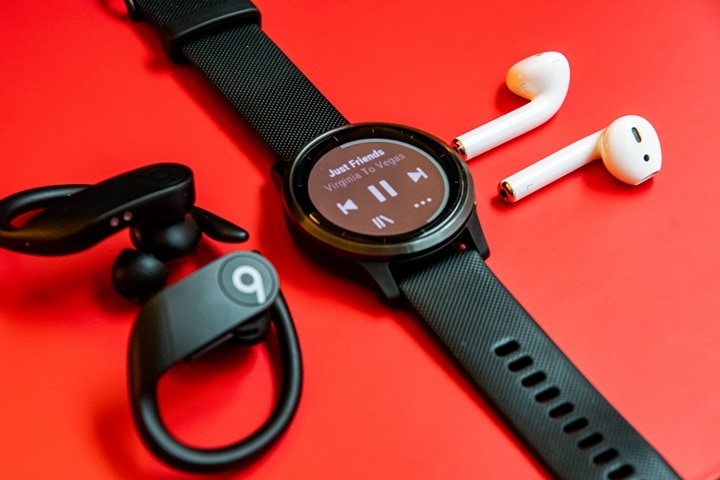 With all editions of the Vivoactive 4 containing music capabilities, that means you can pair it up to Bluetooth headphones (or even a Bluetooth speaker) and play back music or podcasts anywhere without a phone nearby. The Vivoactive 4 has 4GB of music storage on it (though slightly less usable space), and supports the following music streaming services for offline playback:
– Amazon Music
– Deezer
– Spotify
In addition, you can of course drag your own music files on there, as well as configure podcasts to download. Though, the podcasts bit is mostly a mess – since it requires you to connect to your computer. Instead, if you want podcasts, it's better to do so within Spotify – which is what I do.
Everything else works great though. The Vivoactive 4, like most other 2019 watches from Garmin, are just so much better at music than older Garmin watches. And this is primarily a function of learning from the earlier Garmin music watches in 2018 – such as the older Vivoactive 3 Music. A lot of that was around hardware and antenna designs, but also the admission/realization that a huge chunk of people are using less than optimally designed headphones that simply needed to be accommodated for.
I've largely used mine with the AirPods or PowerBeats Pro, and dropouts are virtually unheard of.  For example, during yesterday's track workout – not a single dropout with my PowerBeats Pro's. Happy days.
To demonstrate the music bits, I'm gonna show Spotify since that's what I use personally. But all the streaming services work pretty similarly within the Garmin framework (this is by design, and is why Garmin has more music streaming platforms on their wearables than anyone else – even Apple). First, you'll get your account authorized. This is basically pairing your watch to Spotify. It only takes a second. After which you'll be able to add new music from the watch. You'll see you can choose from playlists, albums, podcasts, and playlists that were made for you or predefined by Spotify (such as workouts):
Once you've selected something to download it'll ask to sync the music via WiFi. This takes a bit of battery, so it'll ask you to plug in your watch if under 50% battery. I keep wishing this threshold was lower, but it is what it is.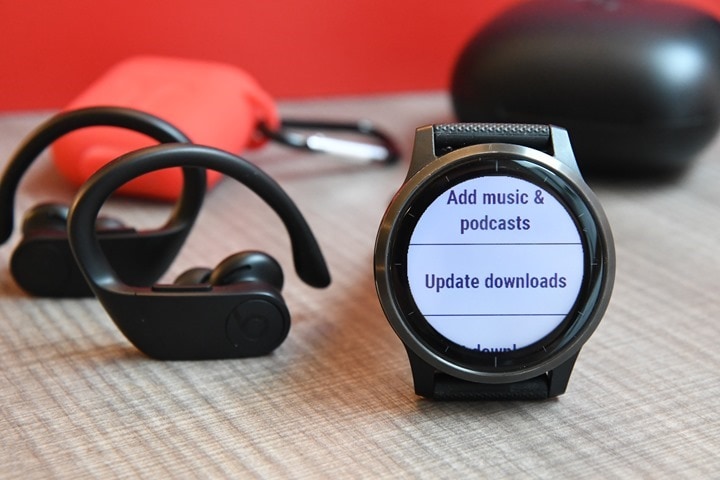 Typically speaking you're going to see download speeds at about 8-10 songs per minute. While not lightning fast, by the time you put on your running clothes or what-not, the watch is fully updated. And you certainly don't have to update all the time, or really much ever. Just when you want new songs.
After download the music is available for you to play back with headphones. You can connect just about any Bluetooth headphones. In my case I largely just used the Beats PowerBeats Pro: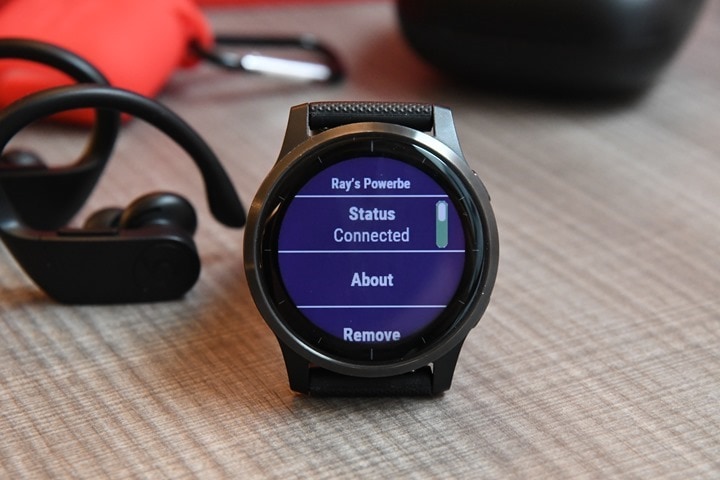 You can pair multiple pairs of headphones as well if you'd like, which is kinda handy.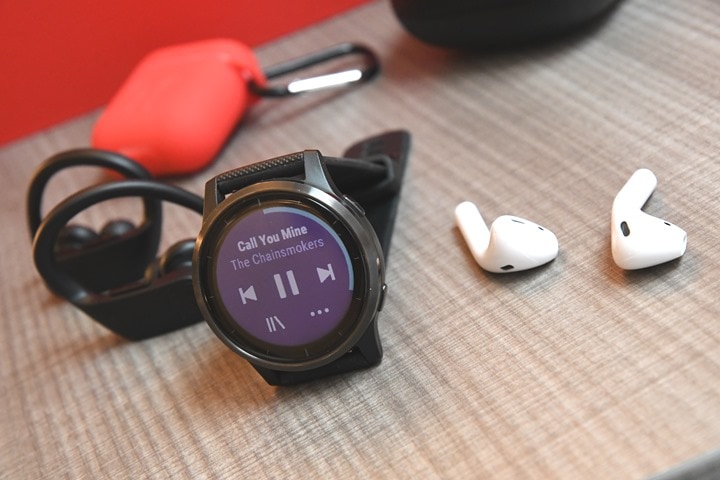 From there you've got simple music controls on the watch, as well as from certain headphones that use standardized controls like volume up/down or skip track. There's technically two ways to do this. The first is to simply swipe to the left mid-workout, which takes you into the more general widgets, which also has music. And the second (much longer) way is to long-hold the upper right button, getting you into the shortcuts menu and then accessing music there.
In any case, as noted I'm pretty happy with the music functionality on the Vivoactive 4 for my needs. No dropouts and access to Spotify, which is pretty much all I care about.
GPS Accuracy:
There's likely no topic that stirs as much discussion and passion as GPS accuracy.  A watch could fall apart and give you dire electrical shocks while doing so, but if it shows you on the wrong side of the road?  Oh hell no, bring on the fury of the internet!
GPS accuracy can be looked at in a number of different ways, but I prefer to look at it using a number of devices in real-world scenarios across a vast number of activities.  I use 2-6 other devices at once, trying to get a clear picture of how a given set of devices handles conditions on a certain day.  Conditions include everything from tree/building cover to weather.
Over the years, I've continued to tweak my GPS testing methodology.  For example, I try to not place two units next to each other on my wrists, as that can impact signal. If I do so, I'll put a thin fabric spacer of about 1"/3cm between them (I didn't do that on any of my Garmin Vivoactive 4 activities however, all workouts only had a single device per wrist).  But often I'll simply carry other units by the straps, or attach them to the shoulder straps of my hydration backpack.  Plus, wearing multiple watches on the same wrist is well known to impact optical HR accuracy.
Next, as noted, I use just my daily training routes.  Using a single route over and over again isn't really indicative of real-world conditions, it's just indicative of one trail.  The workouts you see here are just my normal daily workouts.
I've had quite a bit of variety of terrain within the time period of my Garmin Vivoactive 4 testing.  This has included runs in: Amsterdam (Netherlands), French/Italian/Swiss Alps, Australia, Singapore, and Las Vegas.  Cities and mountains, trees and open-air, plus waterways and seas. It's hit them all. For the most part though, I'm going to focus on the workouts in the last 4-5 weeks, since that's the most current firmware versions and best represents what people should expect today.
First up we'll start with something relatively easy, a run a few weeks ago in Adelaide, Australia. I say 'easy' because while there were some initial buildings, for the most part this route only had occasional trees and clear skies. The ending of the run did however have a tricky building section. Here's that data set, starting off at the super high overview level:

This comparison includes the Vivoactive 4 of course, but also the Polar Vantage V and Garmin FR945 for comparison. If we look at the start/ending points, you'll see the right side of the track is reasonably good (also, the FR945 I mis-pressed the start button, so it started a couple mins later when I noticed). However, upon the return on the left side you can see the Vivoactive 4 ended up in the drink. Not substantially off, but this was a tricky point next to the building, and it seems to be incorrectly offset about a dozen meters into the water briefly. Not the end of the world, but worth noting.
Mind you, the Polar Vantage V did nearly the same thing just seconds before. Albeit this time through some townhomes.

Looking at the left side (the return), you'll find the Vivoactive slightly offset from the path I was running on, just about 2-3 meters. Not massive of course, but notable.

For the most part, the run was perfectly fine. However, if we zoom all the way to the top of the run, you can see where the offset started, when I made the turn back towards the beginning. It's here that the unit offset itself for the remainder of the run by those few meters.

But overall, you can see this didn't appreciably change the distance much by itself. Compared to the Vantage V at 10.08km, it's pretty similar. Note again that I started the FR945 late, hence why it's a kilometer short.

Next, let's increment things again, to a track workout from this past Sunday. In this case a track workout in southern Amsterdam, but also inclusive of running to/from that location – which, turned out to be the most complex part of it. Ironic, given that track workouts are typically one of the most difficult things for a GPS watch to get right (due to the constant turning nature of it). Here's that data set at a high level: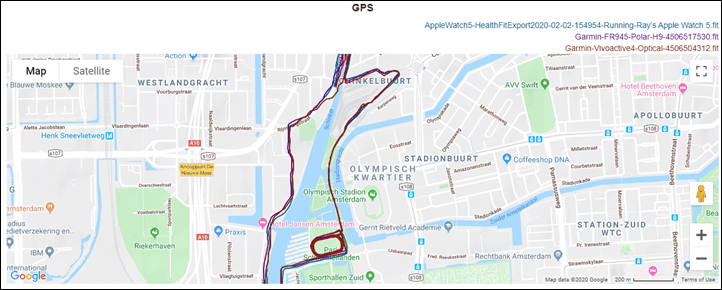 Let's work through this one starting at the track. That's usually where things go wrong. Here's all three watches overlaid atop the track:

A couple of things to note (if you click to expand), is where the lines aren't on the track. I basically followed the road in, yet the Vivoactive 4 and Garmin FR945 didn't. They decided to cross the drainage ditch. Amazingly, the Apple Watch Series 5 actually got this right – which…is…unusual.
To make it clearer, I've changed the Vivoactive 4 to yellow below, and then got rid of the rest of the watches: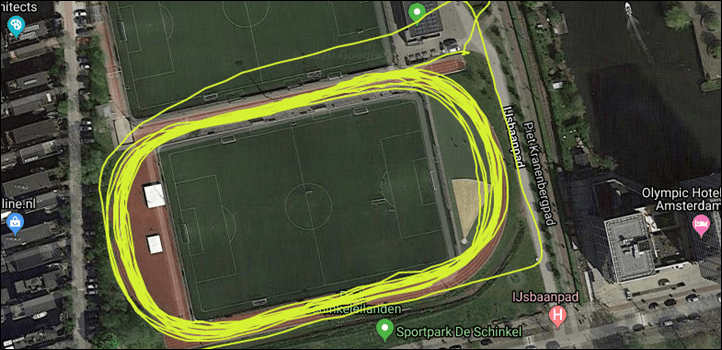 You can see quite clearly that it totally fumbled the ball coming in/out of the track. I entered/exited in the upper right corner precisely the same way each time, right onto the extended zone on the track. Whereas the Vivoactive 4 thought I was on the football field next door. You'll also see that accuracy-wise things are mostly within the track the entire time, but on the western edge, I often touched the trees. I was in Lane 1 the entire time however.
For comparison, here's what the Apple Watch Series 5 on the other wrist looked like: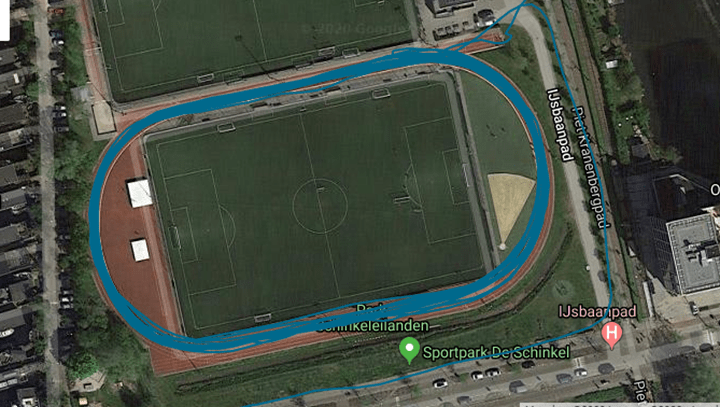 I'm pretty sure that makes that fairly clear.
Now, getting to/from the track varied. On the way in, things were kinda all over the map, with the Apple Watch mostly being the most correct.

Whereas on the way out, all three watches decided it was worth their while to stick together as a pack. The lines were spot-on there.

Now, let's talk about the start/ending of this route. It's a mess. And nobody is spared, but the Vivoactive 4 clearly takes the cake for the biggest mess. It's drunk, and out in the water. I changed it to pink here to make it easier to see than the yellow. Sorry for this color wheel confusion:

The FR945 and Apple Watch Series 5 mostly stuck together on the return. Whereas on the way out the FR945 was most correct and the Apple Watch Series 5 was off in the buildings.
At the end of the day, some of this meandering cost the Vivoactive 4 some distance:

But as always, using total distance in this scenario is a bit dangerous/messy, because something can undercut one area and overshoot another and be the same distance.
However, it's not all bad news. For example, take this run in Singapore a bit over a week ago. The Vivoactive 4 did perfectly fine there:

Even as I ran under the massive and sprawling building arches that extended over the running path for hundreds of meters, it nailed these sections perfectly:

And again, I'm under the arches of this building, and the Vivoactive 4 was spot-on:

All the units got slightly confused for a brief moment when I went entirely underground, but the Vivoactive 4 did just fine. And all units were spot-on perfect heading over the bridge:

And distance-wise, things were pretty similar too:

Finally, let's look at a cycling activity up in the woods. I typically don't see many issues on road bike riding, but it's always fun to check anyway. Here's that data set:

The 'city' portions of this were perfectly fine. So I'm going to ignore that. Instead, let's talk about the mountains. Here's the initial climb up. This was relatively slow, because, well, it's a steep climb. But, all the units were spot-on:

And once up in the mountains and staying on relative flats, things were good too. But instead, let's dig into the high-speed curving descents. These were at 30-40MPH and often were twisting. On a relatively tame section, things were pretty good:

However, there was one spot where the Vivoactive 4 missed the turn signal apparently, seen in purple below:

You will note however that the Polar Vantage V also skipped a turn or two there, just before the Vivoactive 4 did. But otherwise, beyond that one tiny spot, it was perfectly fine.

Distance-wise these are fairly similar, but there's no knowing exactly which one is correct:

So – what's the summary here?
Well, it's a mixed bag. For those wanting super high precision, the Vivoactive 4 doesn't seem to offer it. Sure, I've got some perfectly fine runs. But for every perfectly fine run, I've got a not-so-hot run to counter it. I could go one for one back and forth. Undoubtedly, no watch is perfect, but for whatever reason, I seemed to get better results out of the near-identical Garmin Venu than Vivoactive 4. Given we're over 5 months since the release of this watch, and all these samples are on the latest firmware, largely in the last two weeks – I'm less optimistic this is an easy fix for some of these issues.
Still, I suspect it may not matter to many people. Some of my GPS issues are me nit-picking. Which, is what I do. You can decide for yourself whether or not it meets your needs.
(Note: All of the charts in these accuracy sections were created using the DCR Analyzer tool.  It allows you to compare power meters/trainers, heart rate, cadence, speed/pace, GPS tracks and plenty more. You can use it as well for your own gadget comparisons, more details here.)
Heart Rate Accuracy: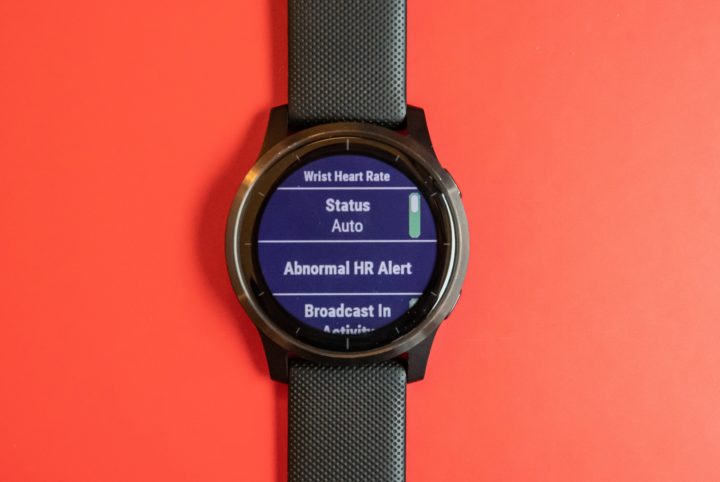 Next up we've got heart rate accuracy.  This roughly falls into two buckets: 24×7 HR, and workout HR.  As is usually the case with most devices these days, I see no tangible issues with 24×7 HR.  It works well across both normal daily routines as well as things like sleep.  Speaking of which, I talk about RHR values and 24×7 monitoring here and why it's interesting.
Before we move on to the test results, note that optical HR sensor accuracy is rather varied from individual to individual.  Aspects such as skin color, hair density, and position can impact accuracy.  Position, and how the band is worn, are *the most important* pieces.  A unit with an optical HR sensor should be snug.  It doesn't need to leave marks, but you shouldn't be able to slide a finger under the band (at least during workouts).  You can wear it a tiny bit looser the rest of the day.
Ok, so in my testing, I simply use the watch throughout my normal workouts.  Those workouts include a wide variety of intensities and conditions, making them great for accuracy testing.  I've got steady runs, interval workouts on both bike and running, as well as swimming – though, I didn't focus on optical HR accuracy there.
For each test, I'm wearing additional devices, usually 3-4 in total, which capture data from other sensors.  Typically I'd wear a chest strap (usually the Garmin HRM-DUAL or Wahoo TICKR X, but also recently the Polar H9) as well as another optical HR sensor watch on the other wrist (lately the Polar OH1 Plus, as well as the new Mio Pod). Note that the numbers you see in the upper right corner are *not* the averages, but rather just the exact point my mouse is sitting over.  Note all this data is analyzed using the DCR Analyzer, details here.
We're going to start with something simple here first – a relatively straightforward 5KM run with not a lot of variability. This is compared against an HRM-DUAL chest strap, a Polar OH1 optical HR sensor, and the Polar Vantage V optical sensor. Here's that data set:

As you can see above, for the most part it's pretty close. However, the first 4 minutes is accented with a number of offsets. Initially you've got a bit of a slower ramp from the Vivoactive 4. That's not unusual, and is really only lag of a few seconds. However around the 90-second marker we see some splitting again, going a bit lower, which is shown more dramatically at the 4-minute marker being about 10BPM low.

It however corrects itself and is perfectly fine the rest of the run.

And again, while I dislike averages, you can see that the earlier differences had negligible impact on the run averages (Note the FR945 is showing the HRM-DUAL chest strap data):

So let's make things more difficult. Straight up outdoor track intervals. No need to mess around here, let's go for broke. Here's that data set, compared against an Apple Watch Series 5 and Polar H9 chest strap:

This workout shows approximately a 14-minute warm-up/build, followed by 5x800m and then 4x200m intervals. The Vivoactive 4 is in purple, and as you can see, it's actually pretty darn good for the most part. Not perfect, but likely more than acceptable in most people's minds.
Let's look at the 800m intervals specifically more closely:

Here we see that while very close, there is a bit of separation between the Vivoactive 4 during the build and recovery of each hard effort. It's not much, and you'd likely never notice it out on a track without comparative data. Essentially, it's lagging by a couple of seconds. In the first interval it lagged by slightly more than I would accept, however for all the remaining intervals we're only talking a few seconds of difference. This is actually a pretty good result for Garmin's Elevate sensor. Also, we see that virtually all of the early Apple Watch Series 5 teething pains with their optical HR sensor are gone now.
Next there's the 200m intervals. Well, technically they were 30-second sprints. Either way, the pace for these is about 5:00/mile, so cookin' along. There's 90 seconds of recovery between each one. In this case you're mostly seeing the HR catch-up towards the end of each interval. That's just normal for how your body reacts to this. Still, what we see here is that the Vivoactive 4 did the first one fine (build), but then struggled on the 2nd one quit a bit. The third one also has significant lag, but the 4th interval is pretty much spot on.

It's almost as if the Vivoactive 4 was…err…warming-up. Still, in this scenario nobody is using heart rate to pace 30-second intervals. It's just not practical due to HR as an indicator lagging given the shortness of it. So this is more about post-run analytics.
Next, let's look at an indoor bike workout. I've done a lot of indoor bike workouts over the last two months. And the trend I see tends to be about 80% of the time aligned to this first result, and about 20% of the time aligned to the second result. Here's the first indoor bike example:

As you can see, the Vivoactive 4 is drunk. Yes, it's roughly on the same 'highway', but it's all over the place. Totally loses the plot. And for this workout I'm not doing anything crazy – I'm just pedaling. This is a pattern I've repeatedly seen with the Vivoactive 4 on indoor cycling workouts, and is honestly unlike anything I've seen from Garmin previously. To validate these I've even got two totally different units sourced on two totally different continents months apart – both show the same patterns.
However, about 20% of the time I get something like below, which is better but not great. This workout was separated just two days from the above workout and on the exact same watch. There's only the Polar H9 shown here as a secondary example, but that's good enough to see that it's better than above – though still wobbly:

And again, another indoor bike workout with a crapton of different sensors, and only the Vivoactive 4 was drunk:

So what about outside cycling? Glad you asked, here's that data set:

This was down in Australia on a 'fun' ride up into the hills/mountains and back again. You can see how the first 2/3rds has higher heart rates as we climb and pedal harder, then a short break at the top to check out the view, followed by lower heart rates as we descend. The purple of the Vivoactive 4 seems to stick out the most above, showing you where it's offset from others. But let's zoom in to a few of the climbing portions:

You can see above that, for the most part, the different sensors are fairly close. However, there are a few drops around the 1:02 marker where the Vivoactive 4 is considerably off-beat from the rest. That massive climb in HR to 185 or so is when the grade painfully goes to 20% (on a road bike). It sucked. I suspect those two dips are when I'm holding tighter on the handlebars and that causes strain for the optical HR sensor. Whereas other climbing portions are mostly fine, albeit still with some little spikes on the Vivoactive (drops more accurately):

As for descending, the Vivoactive 4 was a solid mess there. The Polar Vantage V was roughly in the ballpark with the Garmin HRM-DUAL and MioPod sensors, but the Vivoactive 4 basically flat-lined and gave up on life:

This isn't super unusual per se for wrist-based sensors during vibration-laden descents, but again, the Polar sensor here had no issues on my other wrist.
So ultimately, the Vivoactive 4 optical HR accuracy seems a bit mixed. On easier scenarios (which is any form of indoor cycling) it seems to fumble the most. Heck, even during some running warm-ups it fumbles a bit. Yet for harder scenarios like the 800m intervals, it actually does fairly well, which matches what I saw with other track workouts too. For outdoor cycling, it shows the occasional dips/spikes that we see indoors, albeit at less frequency. It did have trouble descending.
So again, like GPS, you'll have to decide whether it fits your requirements or not. If you're just looking for ballpark accuracy, for running it seemed mostly OK there. Whereas for cycling it struggled more than I typically see for Garmin's Elevate sensor.
Product Comparison:
I've added the Garmin Vivoactive 4 into the product comparison database, allowing you to compare it against other products that I've reviewed in the past.  For the purposes of below I've compared it against the Apple Watch Series 5, Fitbit Ionic, and Samsung Galaxy Active Watch 2 –  which are the ones most people will be comparing it against from a sports/fitness standpoint.
Note that with all these watches – but especially the Apple Watch, there are many cases below where "with 3rd party apps" can be used.  The same is largely true of Garmin, Samsung, and somewhat with Fitbit.  But the Apple Watch tends to offload more core fitness functionality to 3rd party apps than the others. I've tried to thread the needle of apps that I roughly know exist where I've listed that.  But it's not perfection in terms of knowing every app on earth.  Ultimately, I don't think any consumer does (or should). Plus, we've actually seen a pulling back of wearable apps from companies over the last year (basically, they stop updating them). Making it even harder to know an up to date app from a dysfunctional one dying on the vine.
Finally, I didn't add the Garmin Venu into this set, because honestly the features as seen below are identical between the Vivoactive & Venu, save the differences in battery life due to the differences in display. So, here's my two-second thoughts on the display differences:
The Garmin Venu display is by far the best display Garmin has made to date. It's not Apple Watch level display, but it looks really damn good. After three months of daily Garmin Venu wearing, I 'went down' to the Vivoactive 4 for these last few months. And I'll readily admit the first day it was like 'Ugh.' But after that first day, it became the new normal and didn't bother me. And in fact, without a Venu display side by side, it seems quite nice to me. Plus, I get more days battery out of it – which is handy.
Ok, onto the full chart:
Function/Feature

Apple Watch Series 5
Fitbit Ionic
Garmin Vivoactive 4
Samsung Galaxy Active
Copyright DC Rainmaker - Updated May 14th, 2023 @ 2:44 pm New Window
Price
$399/$499 (cellular)
$229
$299
$199
Product Announcement Date
Sept 10th, 2019
Aug 28th, 2017
Sept 5th, 2019
Feb 20th, 2019
Actual Availability/Shipping Date
Sept 20st, 2019
Oct 1st, 2017
Sept 5th, 2019
Mar 9th, 2019
GPS Recording Functionality
Yes
Yes
Yes
Yes
Data Transfer
Bluetooth Smart
Bluetooth Smart
USB, BLUETOOTH SMART, WiFi
Bluetooth Smart
Waterproofing
50m
50m
50 meters
50 meters
Battery Life (GPS)
6hrs GPS on time (18hrs standby)
10 hours
18 hours GPS
Undeclared (claims 45hrs non-GPS)
Recording Interval
Varies
1-second
1s or Smart Recording
1-second for GPS, 1-minute for HR
Alerts
Vibration/Audio/Visual
Visual/Vibrate
Vibrate/Visual
Vibrate/Visual
Backlight Greatness
Great
Great
Great
Great
Ability to download custom apps to unit/device
Yes
Yes
Yes
Yes
Acts as daily activity monitor (steps, etc...)
Yes
Yes
Yes
YEs

Music

Apple Watch Series 5
Fitbit Ionic
Garmin Vivoactive 4
Samsung Galaxy Active
Can control phone music
Yes
Yes
Yes
Yes
Has music storage and playback
Yes
Yes
Yes
Yes
Streaming Services
Apple Music
Pandora, Deezer
Spotify, Amazon Music, Deezer
Spotify

Payments

Apple Watch Series 5
Fitbit Ionic
Garmin Vivoactive 4
Samsung Galaxy Active
Contactless-NFC Payments
Yes
Yes
Yes
Yes (but only with Samsung phone)

Connectivity

Apple Watch Series 5
Fitbit Ionic
Garmin Vivoactive 4
Samsung Galaxy Active
Bluetooth Smart to Phone Uploading
Yes
Yes
Yes
Yes
Phone Notifications to unit (i.e. texts/calls/etc...)
Yes
Yes
Yes
Yes
Live Tracking (streaming location to website)
With 3rd party apps
No
Yes
No
Group tracking
No
No
No
No
Emergency/SOS Message Notification (from watch to contacts)
Yes
No
Yes
No
Built-in cellular chip (no phone required)
Yes (with cellular version)
No
No
No

Cycling

Apple Watch Series 5
Fitbit Ionic
Garmin Vivoactive 4
Samsung Galaxy Active
Designed for cycling
Yes
Yes
Yes
Yes
Power Meter Capable
No
No
With some Connect IQ apps
No
Speed/Cadence Sensor Capable
No
No
Yes
No
Strava segments live on device
No
No
No
No
Crash detection
Yes via 'Fall Detection'
No
Yes
No

Running

Apple Watch Series 5
Fitbit Ionic
Garmin Vivoactive 4
Samsung Galaxy Active
Designed for running
Yes
Yes
Yes
Yes
Footpod Capable (For treadmills)
With 3rd party apps
No (but has treadmill functionality)
Yes
With 3rd party apps
Running Dynamics (vertical oscillation, ground contact time, etc...)
No
No
No
No
Running Power
With 3rd party apps
No
No
No
VO2Max Estimation
Yes
Yes via app
Yes
No
Race Predictor
No
No
No
No
Recovery Advisor
No
No
No
No
Run/Walk Mode
With 3rd party apps
No
Yes
With 3rd party apps

Swimming

Apple Watch Series 5
Fitbit Ionic
Garmin Vivoactive 4
Samsung Galaxy Active
Designed for swimming
Yes
Yes
Yes
Yes
Openwater swimming mode
YEs
No
No
Yes
Lap/Indoor Distance Tracking
Yes
Yes
Yes
Yes
Record HR underwater
Yes
No
Yes
Yes
Openwater Metrics (Stroke/etc.)
Basic stroke type only
No
No
No
Indoor Metrics (Stroke/etc.)
Basic stroke type only
Yes
Yes
Yes
Indoor Drill Mode
No
No
No
No
Indoor auto-pause feature
Yes
No
No
No
Change pool size
Yes
Yes
Yes
Yes
Indoor Min/Max Pool Lengths
1y/m to 1,500y/m+
10m/y-100m/y
13M/15Y TO 150Y/M
Ability to customize data fields
Very limited
Yes
Yes
Captures per length data - indoors
Yes
Yes
Yes
Indoor Alerts
Yes (goals)
Yes (distance)
Yes
No

Triathlon

Apple Watch Series 5
Fitbit Ionic
Garmin Vivoactive 4
Samsung Galaxy Active
Designed for triathlon
Not really
No
No
No
Multisport mode
Yes
No
No
Sorta (can combine sports manually)

Workouts

Apple Watch Series 5
Fitbit Ionic
Garmin Vivoactive 4
Samsung Galaxy Active
Create/Follow custom workouts
With 3rd party apps
No (Premium Coached only)
Yes
No
On-unit interval Feature
With 3rd party apps
No
Sorta
No
Training Calendar Functionality
With 3rd party apps
No
Yes
No

Functions

Apple Watch Series 5
Fitbit Ionic
Garmin Vivoactive 4
Samsung Galaxy Active
Auto Start/Stop
Yes
Yes
Yes
Yes
Virtual Partner Feature
Sorta (Pacing feature)
No
No
Pace guidance only
Virtual Racer Feature
No
No
No
No
Records PR's - Personal Records (diff than history)
No
No
Yes
No
Tidal Tables (Tide Information)
No
No
No
No
Weather Display (live data)
Yes
Yes
Yes
Yes

Navigate

Apple Watch Series 5
Fitbit Ionic
Garmin Vivoactive 4
Samsung Galaxy Active
Follow GPS Track (Courses/Waypoints)
With 3rd party apps
No
No (but some 3rd party apps can)
No
Markers/Waypoint Direction
With 3rd party apps
No
No
No
Routable/Visual Maps (like car GPS)
With 3rd party apps
No
No
No
Back to start
With 3rd party apps
No
YEs
No
Impromptu Round Trip Route Creation
With 3rd party apps
No
No
No
Download courses/routes from phone to unit
With 3rd party apps
No
NO
3rd party apps

Sensors

Apple Watch Series 5
Fitbit Ionic
Garmin Vivoactive 4
Samsung Galaxy Active
Altimeter Type
Barometric
Barometric
Barometric
Barometric
Compass Type
Magnetic
N/A
Magnetic
N/A
Optical Heart Rate Sensor internally
Yes
Yes
Yes
Yes
SpO2 (aka Pulse Oximetry)
No
Yes
No
Heart Rate Strap Compatible
Yes
No
Yes
3rd Party Apps only
ANT+ Heart Rate Strap Capable
No
No
YEs
No
ANT+ Speed/Cadence Capable
no
No
Yes
No
ANT+ Footpod Capable
No
No
Yes
No
ANT+ Power Meter Capable
No
No
No
no
ANT+ Lighting Control
No
No
Yes
no
ANT+ Bike Radar Integration
No
No
Yes
No
ANT+ Trainer Control (FE-C)
No
No
No
No
ANT+ Remote Control
No
No
No (Yes for VIRB camera control)
No
ANT+ eBike Compatibility
No
No
No
No
ANT+ Gear Shifting (i.e. SRAM ETAP)
No
No
No
nO
Shimano Di2 Shifting
No
No
No
No
Bluetooth Smart HR Strap Capable
Yes
No
YEs
3rd party apps only
Bluetooth Smart Speed/Cadence Capable
No
No
Yes
No
Bluetooth Smart Footpod Capable
No
No
Yes
3rd party apps only
Bluetooth Smart Power Meter Capable
No
No
No
No
Temp Recording (internal sensor)
No
No
No
Yes
Temp Recording (external sensor)
No
No
Yes
No

Software

Apple Watch Series 5
Fitbit Ionic
Garmin Vivoactive 4
Samsung Galaxy Active
PC Application
None
PC/Mac
Garmin Express
No
Web Application
None
Yes
Garmin Connect
No
Phone App
iOS only
iOS/Android/Windows
iOS/Android/Windows
iOS/Android (iOS is limited though)
Ability to Export Settings
No
No
No
No

Purchase

Apple Watch Series 5
Fitbit Ionic
Garmin Vivoactive 4
Samsung Galaxy Active
Amazon
Link
Link
Link
Link
Backcountry.com
Link
Link
Link
Link
Chain Reaction Cycles
Link
Link
Link
Link
Competitive Cyclist
Link
Link
Link
Link
REI
Link
Link
Link
Link
Wiggle
Link
Link
Link
Link

DCRainmaker

Apple Watch Series 5
Fitbit Ionic
Garmin Vivoactive 4
Samsung Galaxy Active
Review Link
Link
Link
Link
Link
And again – don't forget you can make your own product comparison charts comparing any products using the product comparison database.
Summary: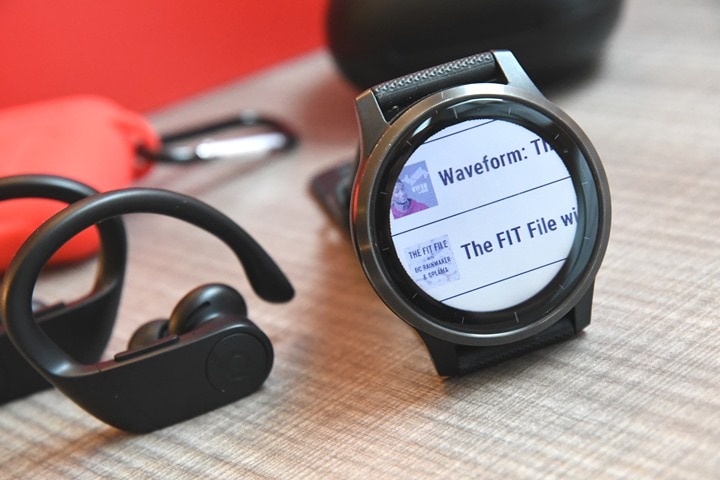 Overall the Vivoactive 4 is a solid upgrade over the Vivoactive 3, if for no other reason than the darn second button. Plus of course the music in all models and the other health bits. But really, that button. It might sound silly to those unfamiliar with sports watches, but the user interface is greatly improved when you've got two distinct and quick confirmation and back buttons. Many watches have this feature alongside their touch screens.
Now while the new health features are handy, I can't imagine they'll be a significant enough draw for existing Vivoactive 3 users. But if you've got an older Vivoactive, or perhaps are coming from a different watch – then they might just tip the scales. Or, perhaps it's Spotify and Amazon Music offline support. Or just being a sport-first watch.
However, within that context it's not perfect. I've found the optical HR accuracy a bit mixed. Oddly it seems to perform better in tougher conditions for me, but has oft struggled in easier conditions. For example, it handles indoor and outdoor running intervals breezily, yet fumbled over itself for relatively benign indoor spin/trainer workouts with minimal movement/intensity. For GPS, it was the same mixed bag as the heart rate was. Definitely not the best Garmin watch accuracy-wise I've seen in the last 12 months.
Lastly, is price. As I've said since the beginning – the Vivoactive 4 at $349 is overpriced compared to the competition (or even compared to Garmin), especially for less athletic focused folks where a $199 Apple Watch is probably a better all-round option. But I think Garmin sees that too. They dropped the price to $299 during the holidays, and it's back at that again right now. To me that's still a bit pricey but is a fair price and I suspect we'll see it stay there.
Finally, the Vivoactive 4 feels more polished than past Garmin Vivoactive attempts. It feels less plastic-looking, primarily due to bezel design. I've been surprised at how many asked what the watch is (since it has no branding on it), liking the looks of it. Between the apparent looks, and the actual underlying functionality – overall it's a solid option for a fitness/sport focused person.

Found This Post Useful? Support The Site!
Hopefully you found this review useful. At the end of the day, I'm an athlete just like you looking for the most detail possible on a new purchase – so my review is written from the standpoint of how I used the device. The reviews generally take a lot of hours to put together, so it's a fair bit of work (and labor of love). As you probably noticed by looking below, I also take time to answer all the questions posted in the comments – and there's quite a bit of detail in there as well.
If you're shopping for the Garmin Vivoactive 4 or any other accessory items, please consider using the affiliate links below! As an Amazon Associate I earn from qualifying purchases. It doesn't cost you anything extra, but your purchases help support this website a lot. Even more, if you use Backcountry.com or Competitive Cyclist with coupon code DCRAINMAKER, first time users save 15% on applicable products!
Here's a few other variants or sibling products that are worth considering:
And finally, here's a handy list of accessories that work well with this unit (and some that I showed in the review). Given the unit pairs with ANT+ & Bluetooth Smart sensors, you can use just about anything though.
And of course – you can always sign-up to be a DCR Supporter! That gets you an ad-free DCR, access to the DCR Quarantine Corner video series packed with behind the scenes tidbits...and it also makes you awesome. And being awesome is what it's all about!
Thanks for reading! And as always, feel free to post comments or questions in the comments section below, I'll be happy to try and answer them as quickly as possible. And lastly, if you felt this review was useful – I always appreciate feedback in the comments below. Thanks!