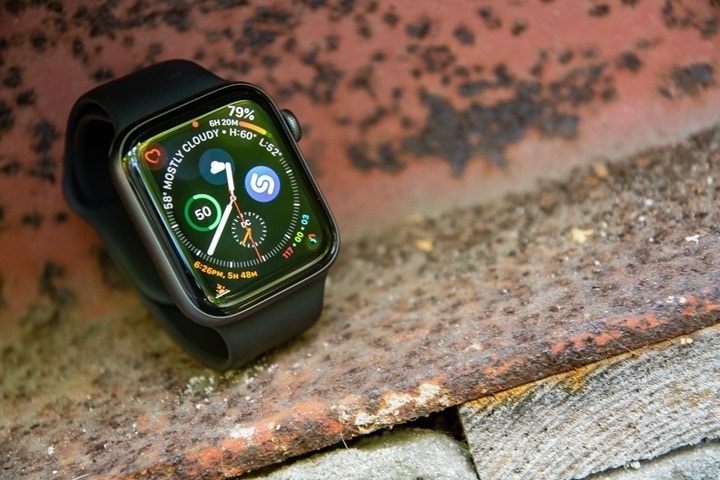 As has become clockwork each fall, Apple releases the latest generation of Apple Watch – and this fall was no different.  Sometimes those changes are significant from version to version, and other times they're more subdued.
Depending on your perspective – this could fall under either camp. From a purely fitness standpoint, there were minimal exterior and feature changes to the 4th generation unit itself. Instead, the biggest changes came in the form of a significantly increased display/screen size of the two models. As well as the yet-implemented ECG functionality that the company plans to release later this year. Beyond that, most of the changes over the past year have come to WatchOS itself and are applicable to all Apple Watches.
However, to assume there were no underlying fitness changes would be the biggest mistake you (or any sports tech company) could make.  The different visual look of the optical heart rate sensor on the bottom should be one indication things have changed.  And in fact, there were many tests over the last month that I've been wearing this where the Apple Watch trounced Garmin, Suunto, and Polar when it came to accuracy of not just heart rate readings – but GPS as well. Yet there's also moments that just make you shake your head at Apple.
So is this the best new fitness watch out there? Well, that's a complex question that frankly depends a lot on what you want out of a fitness watch. There is no black and white answer. Instead, I'll give you a couple thousand words and a hundred or so photographs to chew on.
Oh, and lastly, I bought this unit myself. As such, unlike media loaners I don't intend on returning it afterwards and will simply add it to my collection. With that, let's get cookin'.
Actually, wait…one last thing. As the title of this post implies, this is about sport and fitness. It's what I'm focused on here. There's a gazillion other reviews out there that test things like LTE connectivity and the nuances of Apple Music on the device. Instead, I'm hyper-focused on the sport/fitness experience here. Got it? Good.
Unboxing: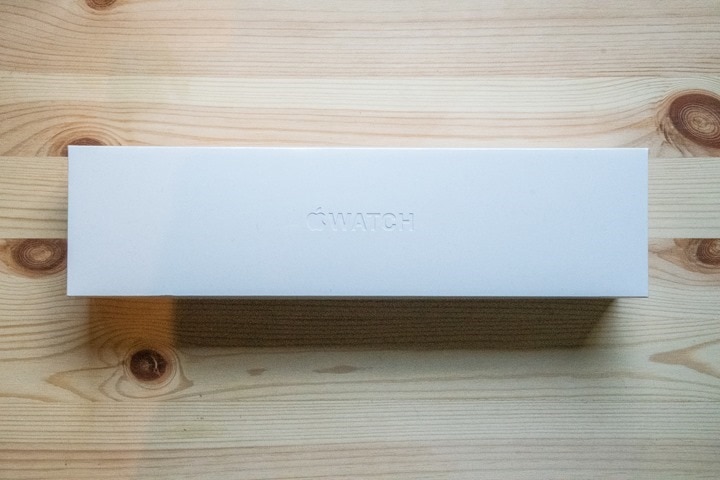 Not gonna lie – the Apple Watch Series 4 is without question the most beautiful sports wearable I've ever unboxed.
No, no, no…not the watch itself: But the actual unboxing experience. Seriously, it's stunningly well thought out.
At first glance, it looks like a box from every other year: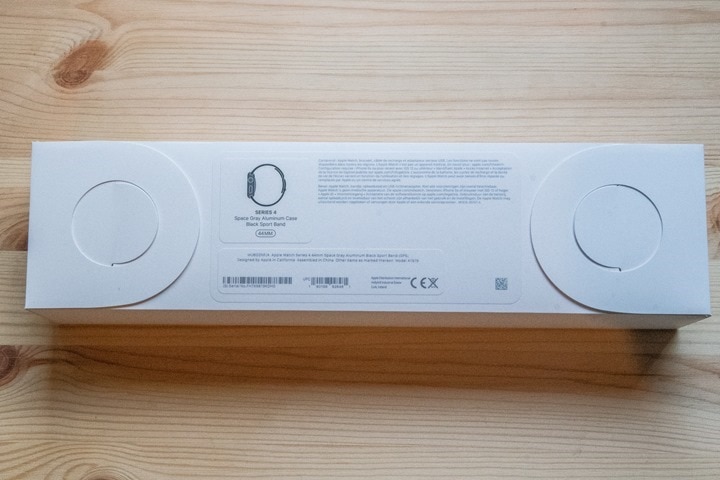 But once you crack it open it unfolds sorta like a flower, showing photos of the various Apple Watches. Sitting in the middle is the watch itself. Well, once you remove the cover of the inner Russian stacking doll:
Then you'll find the watch off to the side sitting in the protective cloth pouch that you'll never use again. Still, I suppose it's the thought that counts here: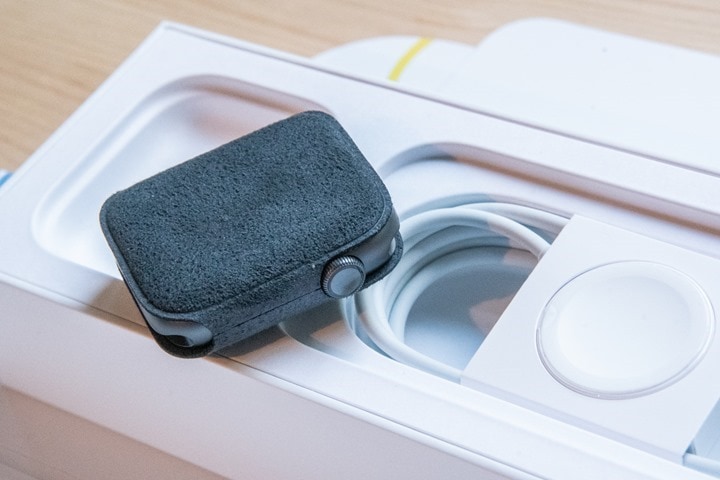 If you remove the paper to the right of it, you'll find the charger puck and wall cord: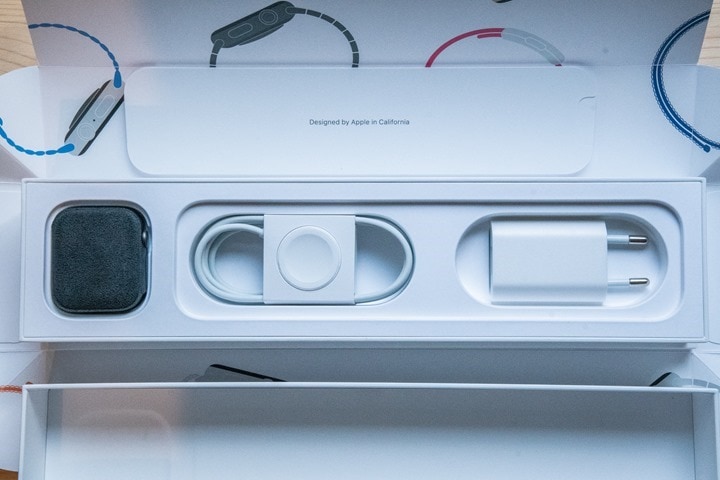 But what you may not realize is that this is actually just a level to lift up. Below it sits a secondary box with the watch bands:
That box includes the bands that you've selected as part of your watch. This is actually a brilliant industrial manufacturing element, since it means you can keep assembly the same for almost everything. But can rather just swap out the underlying box component based on demand.
Here's the straps. There's both a medium/large strap as well as a smaller strap in every box.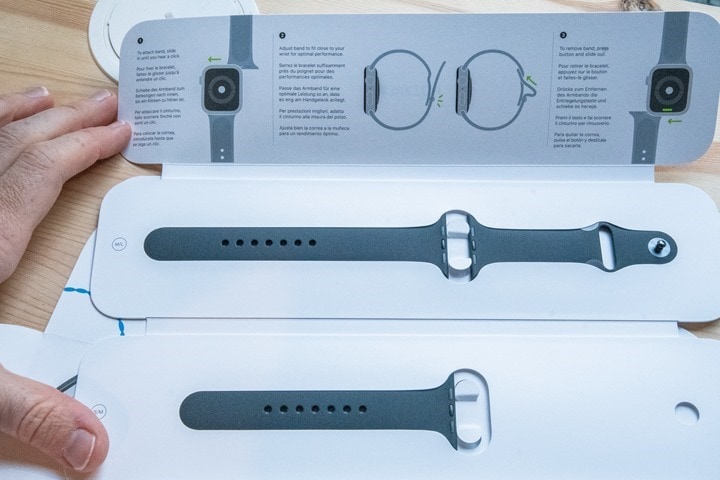 And here's all the parts in total: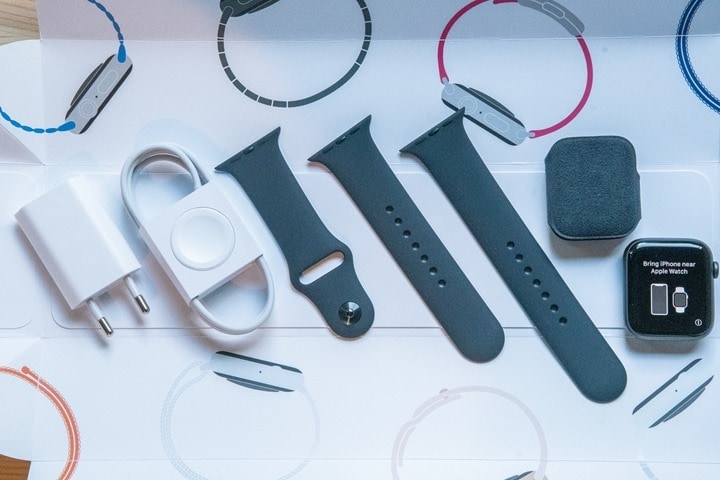 The watch pod sits inside that cloth cover thing: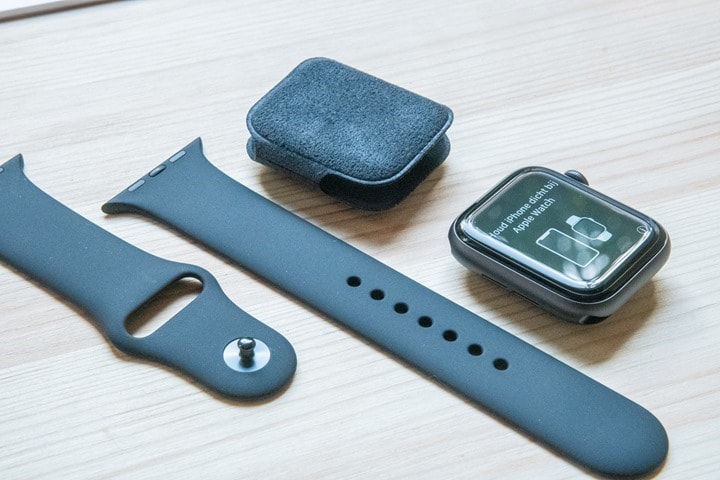 And a closer look at the charging puck/adapter. It's the same as before: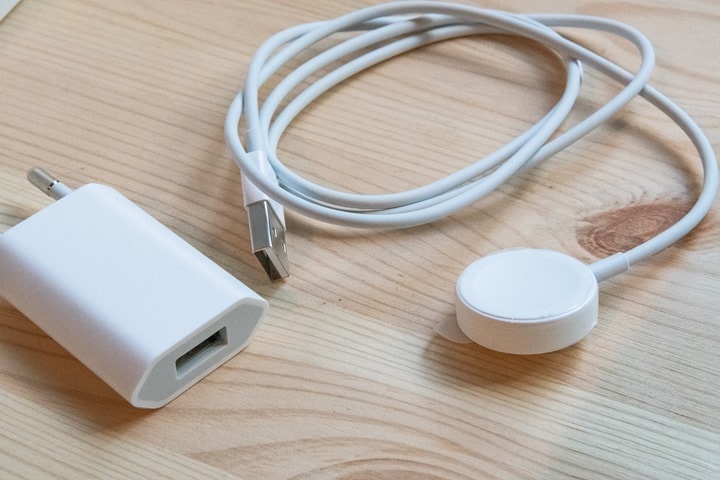 The straps slide into the side of the watch, just like in past years: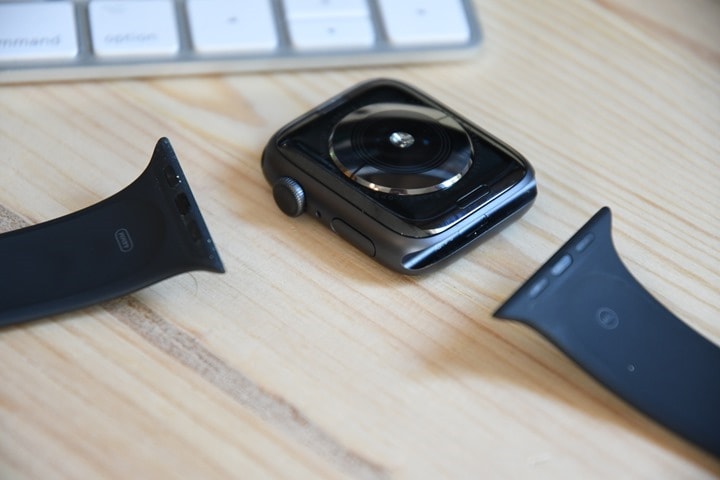 As you can see, this type of unboxing is unrivaled in the space. The closest that we've seen was the Withings Activité watches years ago (which to some degree Apple mimics here), and then to a lesser degree the Garmin Chronos watches. Still, the fact that Apple pays this much attention to even the least expensive of units is worthy of noting.
Oh, and in case it wasn't apparent, I bought the least expensive Apple Watch Series 4 variant at 44mm. Non-cellular edition, since the cellular version isn't available in the Netherlands.
The Basics: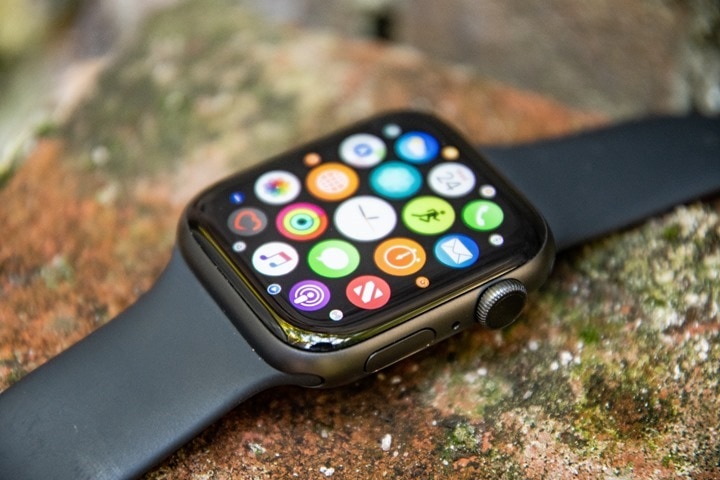 In most ways, the Apple Watch hasn't changed much over the years in terms of the base interface and how you interact with it. The unit still only has two physical buttons – one oblong one and then another rotating one (called the digital crown). Both can be pressed in to perform various functions and confirmations, but the digital crown can also be rotated and is often used to slide up and down lists of options, or zooming in and out.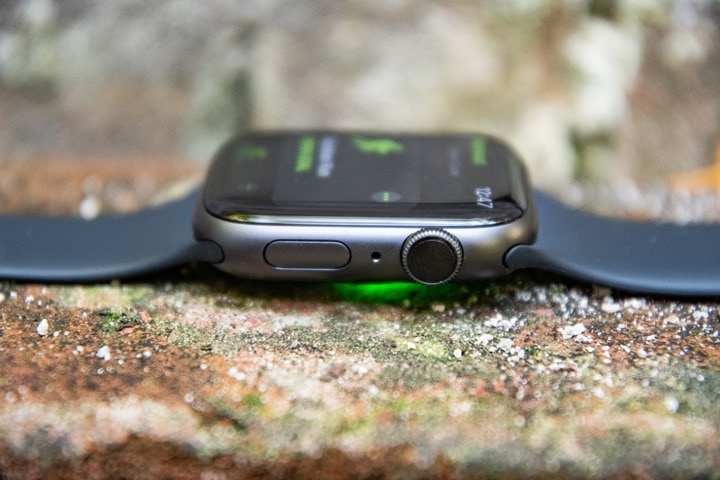 While Apple has a vast store for apps for the Apple Watch, there still is no store for watch faces for the Apple Watch, nor any method for external developers to customize these. Instead, the company gave us a new watch face this year packed with information. Like quinoa, you'll either love it or hate it. And in this case, like quinoa, it's grown on me. When I first saw it I dismissed it as an abomination of the post-Jobs Apple.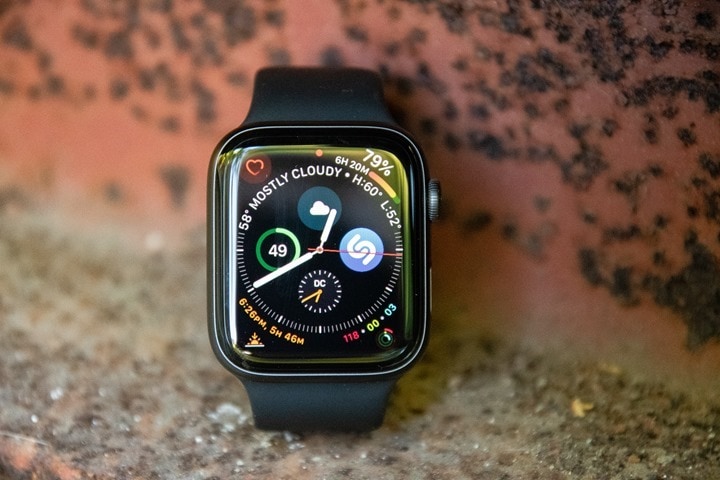 But in time I've actually come to appreciate details on it. Even if I have absolutely zero use whatsoever for 80% of the information on the screen. UV strength? Who are we kidding – I live in the Netherlands, it's cloudy almost every day.
You can customize these chunks of data however in the same place that you'd customize the watch faces you'd select.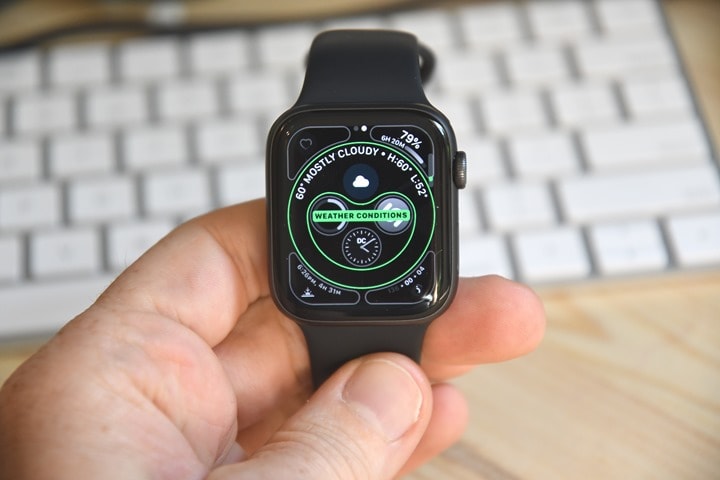 Watch faces aside, when it comes to installing apps, that'll happen through your iOS device. Note, I did say iOS device. There's no support for Android phones or the 7 remaining Windows Phone users. Unlike Android's Wear OS that can leverage iOS phones to pair to their watches, Apple doesn't see it that way. It's all Apple all the time here.
In any event, apps are pushed from your iOS device to the Apple Watch via the 'My Watch' section. Almost every app you have will have some form of Apple Watch companion app. Even if that companion app is mostly useless. The reason is that Apple pressures companies to develop companion apps in order to get higher rankings and 'featured' status in the Apple App store. That has the effect of making lots of watch apps that do really nothing more than display notifications from said apps.
You can enable or disable individual apps as you see fit from the above app on your phone. Additionally, you can use this same iOS app to configure the watch faces as well as other watch settings like how notifications are handled.
And it's really by digging into these settings that you start to see the most significant differences between the Apple Watch and most other fitness wearables.  For example, within the messages option, you can tweak and add custom messages that are one-tap replies. This isn't available on iOS for other smartwatches.
Of course, as much as one wants to blame that on the likes of Garmin, Fitbit, or others – that's directly the result of Apple's walled garden. See those other companies do have smart replies for some of their newer devices on Android phones. But not iOS. Apple blocks that from occurring using the native integrations, and only permits their own watches from leveraging/customizing that.
Whether or not you use the feature – it is something that sets Apple apart a bit. It's part of the greater attention to nuance that Apple has across the board with the Apple Watch that others don't. I often talk about notifications and how it holds notifications until you twist your wrist to display them. As opposed to most other wearables displaying them the moment they come in – showing your sexts to co-workers across the conference table.  Or, it could also be something less risqué – like, someone giving you props for a 3-minute ride on Zwift.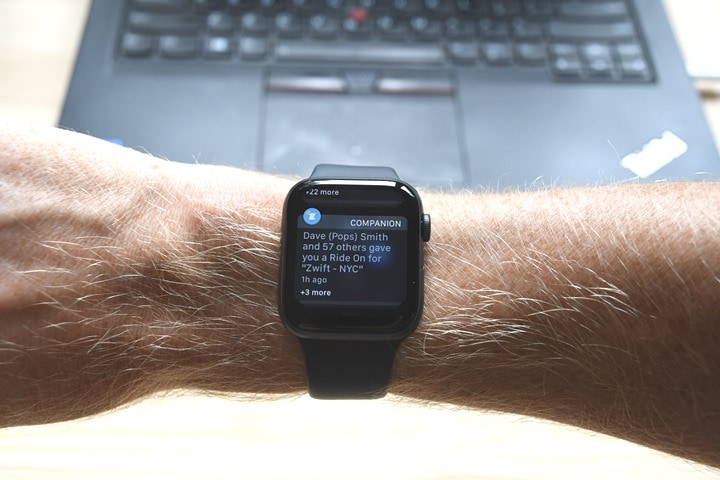 It's partially why there's no question in my mind that the Apple Watch is the best all-around smartwatch. I don't see any other watch that comes close to this repeated level of nuance. But that doesn't mean it's the best all-around fitness watch.
For example – it still doesn't have sleep tracking – a common feature on $50 activity trackers the world around. There are of course some 3rd party apps on the Apple Watch you can leverage, but they're generally kinda messy to use.
When it comes to daily activity tracking, the unit monitors steps and heart rate, as well as your standing time.  It doesn't consider flights of stairs one of the rings, but you can see it within the phone and watch activity apps.  You can configure some options for activity tracking within the Watch configuration app, but most activity tracking is done via the 'Activity' app on your phone (left – watch app, right, activity app):
These all mirror what you see on your watch itself, both in the Activity area as well as on most watch faces:
The ultimate goal on your Apple Watch is to 'close' the rings  Each ring represents a different daily goal to reach.  Pink/Red for Move goal, Green for Exercise Goal, and Blue for Standing goal.  Each goal differs, but if you complete all three goals you get…absolutely nothing.
The watch itself will remind you at ten minutes to the top of the hour I.e., 10:50AM) to complete your standing goal, if you haven't done so yet: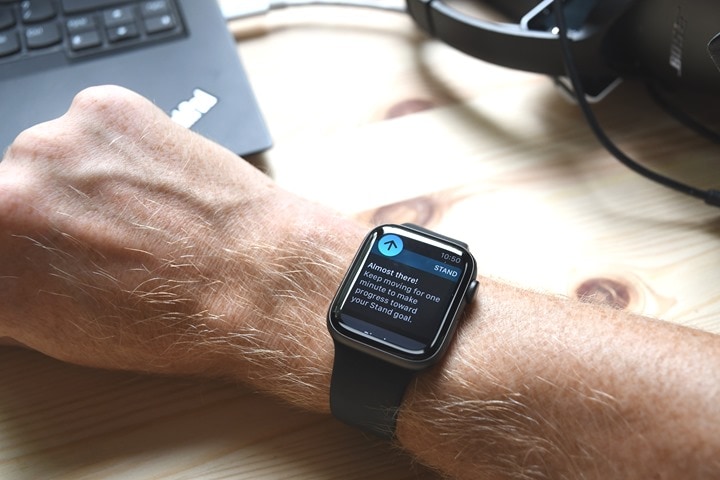 The more you wear your watch the more likely it is that you'll accumulate achievements. These achievements show up within the 'Activity' app on your phone, and are for all sorts of random goals like multipliers of your move goals or such:
It's also in this same general area that you can look at your history of the rings over time, and dig into any given day:
And further, it's where you'll be able to compete with others. Except, they don't really call it competing here – instead, it's just 'Sharing'. So you can invite other people and they can invite you. From there you can see how you did against them in terms of the activity rings or even workouts.
If you do want to legit compete against someone you can challenge them do a 7-day binge watching of Sex and the City. Or, just 7 days of ring closing. Your choice, though, the Apple Watch will only track one of them.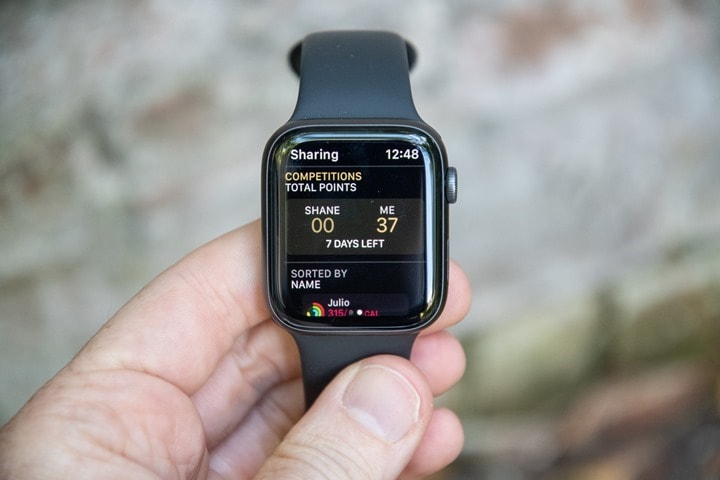 Most of this though is pretty basic compared to the likes of what Fitbit offers. Both in terms of competitions but also the general social elements. Everything within the Apple Watch social ecosystem feels very 'dark' and impersonal. Probably because that's exactly what the app is. Whereas with Fitbit, Garmin, and others – it's a very visual interaction with pictures of your friends and their accomplishments.  Below, Garmin to the left and Fitbit to the right.
Before we wrap up, for lack of anywhere else to put it – Apple matches what most other companies do around occasional reminders to breath. I mean, not like breathing to stay alive – but breathing to reduce stress.  It lets you follow a short routine on your watch and reminds you to get into the habit of doing it.
Finally, while Apple hasn't implemented the oft-talked about ECG feature yet, they have expanded the heart rate alerts over the past year from being just an elevated heart rate alert to also a minimum heart rate alert. Last year when I reviewed the Apple Watch Series 3 I'd often get false-positive alerts for the elevated HR (when it wasn't actually elevated).  But this year I've yet to get a single false-positive.
Of course, what most people are waiting for is Apple to release the ECG feature and the ability for them to also detect certain conditions such as an irregular rhythm, and present you with a notification. Additionally, the company plans to make it easy for folks to utilize the ECG function to get PDF outputs of the data to doctors and have the ECG functionality be approved by the FDA (Food and Drug Administration in the US) as a medical device.  Below, a snap from Apple's keynote about it.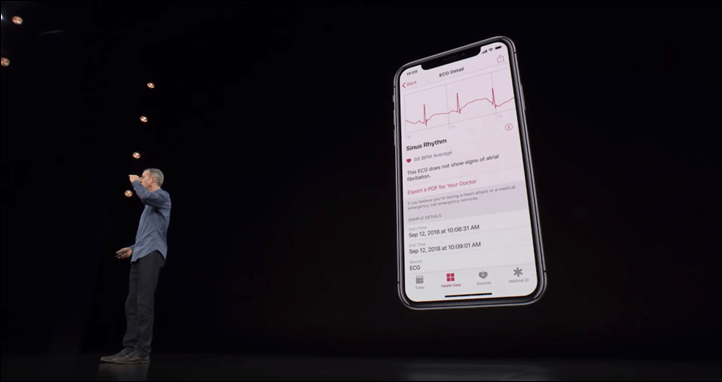 That gets way into the realm of Software as a Medical device, which is something I've talked a bit about in the past with other products and my recent keynote speech. However, since the functionality isn't there yet today, I can't test it. So I'll save that for a later date.  Note that I would suggest folks read this thread to understand a bit behind what Apple is doing from a doctor's perspective. I don't agree with everything there – but I think it's a good overall representation of what the tech is capable of.
Again, I'll touch on this in more depth once Apple releases the feature down the road.
Sports Usage: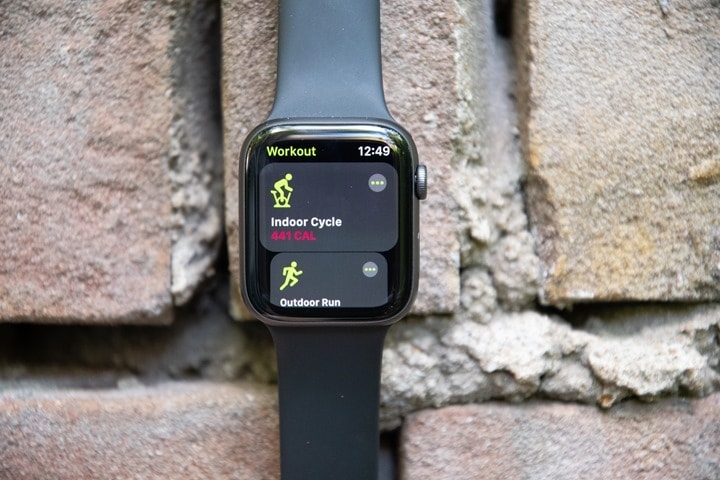 Unlike years past, Apple actually didn't announce much of anything in the way of new software functions or features that are workout-specific in the Apple Watch Series 4. Previously their announcement keynote events were full of sports and fitness highlights. This year? Shrug.
Which doesn't mean things weren't changing. Because during this same timeframe Apple also dropped Apple WatchOS 5, which updated the software on the Apple Watch across all variants. And even since last year there's been numerous small changes to that platform.
Still, let's start with the basics first – and that's getting the workout app opened.  While there are countless 3rd party sports/fitness apps, I'm going to focus on the core Apple ones for the moment (see my later section on the 3rd party apps).   The workout app is the yellowish-green one below: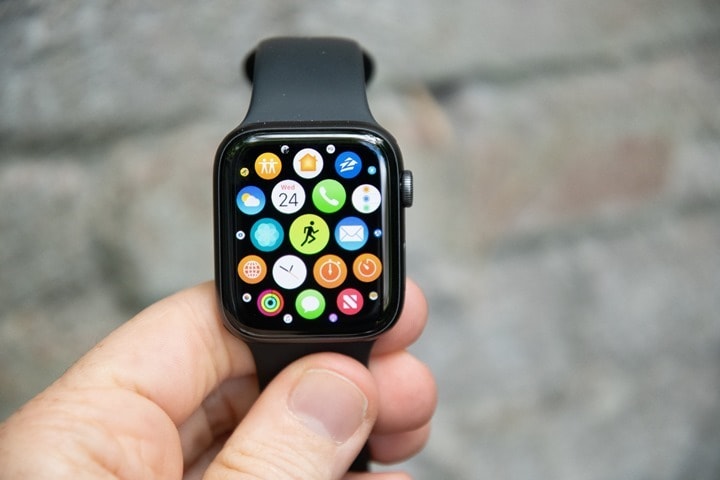 After which you'll see a list of sports you can choose from. If you tap on the three dots in the circle, it'll allow you to customize the goal of the workout. By default when it says 'Open Goal', it means you'll do the sport for as long as you want, or until you collapse (at which point it'll actually ask you after a bit of time if you want to pause your workout – no kidding).
In addition, it's here that for certain sports (like running), you can set a pace alert (new in Watch OS 5). You can even apply it to the rolling or average pace as well, which is a nice touch.
And for some sports – like HIIT workouts, it'll even give you a warning noting that workout type may result in sucky optical HR readings:
The complete list of sports are as follows: Outdoor Walk, Outdoor Run, Outdoor Cycle, Indoor Walk, Indoor Run, Indoor Cycle, Elliptical, Rower, Stair Stepper, High Intensity Interval Training, Hiking, Yoga, Pool Swim, Open Water Swim, and Other.
You can customize various settings via the Watch app on your phone.  These include Running Auto Pause, Power Save Mode (turns off optical HR), Start/End of Workout Reminders, as well as workout playlists.  I personally leave the power save mode and running pause off, since I want all the data!
Also, if your gym has gear that's compatible with Apple's GymKit functionality, then you can utilize that as well. No such gym that I belong to has that though unfortunately.
For each of the workout types, you can select the data fields you want displayed, as well as whether you want multiple metrics on a single screen or have them on a single page individually. Both are within the 'Workout view' option.  You can select up to 5 custom metrics to be included:
Over the last year within Watch OS 5 they've added the rolling pace option, which helps to stabilize slight fluctuations in GPS pace (or your pacing) by giving you the average of the last mile – constantly. This is something we saw many years ago on some early Timex GPS watches, but haven't seen any mainstream companies adopt yet (and that's a shame, since it's actually quite useful).
With all that stuff sorted as you prefer, back on your watch you'll go ahead and select a sport/config and then start the activity. It'll give you a three-second count-down timer.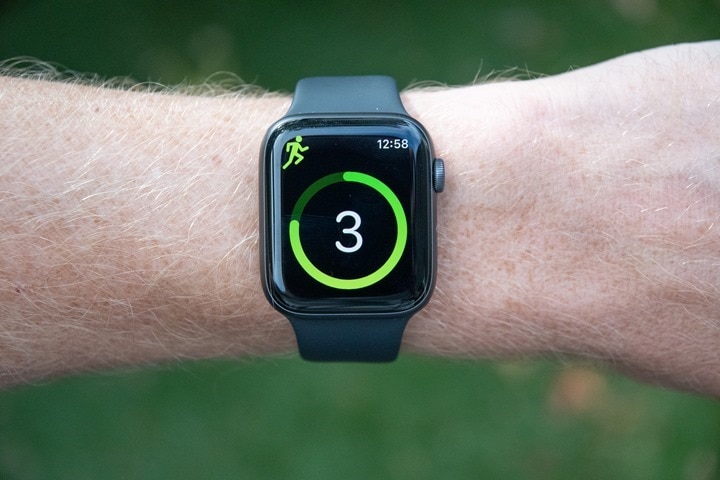 And it's during these three seconds that the most 'controversial' element of the Apple Watch comes to light. And by 'controversial' I mean that most tech reviewers skip right over it, but it's what fundamentally separates the Apple Watch from all other fitness wearables today. And unfortunately, not in a good way.
See, normally when you have a fitness GPS watch and go to the sport modes two distinct things happen:
1) GPS acquisition begins: It goes out and finds satellites. In most cases this only takes a few seconds with newer watches.  But it could take longer in tough locations like NYC. If your phone is nearby, however, Apple uses the phone's GPS instead. I will repeat: The Apple Watch will *always* use your phone's GPS instead of its GPS unless the phone isn't accessible.
2) Optical Heart Rate acquisition begins: While Apple is constantly monitoring your HR in a 24×7 mode, it's actually doing so with a different set of lower power sensors to save battery life. When you go into workout mode it switches things up and needs to reacquire the heart rate with sensors and algorithms more attuned to hard workout activities (this is actually normal for many wearables).
Both of those tasks take time. But Apple doesn't think time is sexy, so it just counts to three like a toddler and hopes for the best. After which off you go thinking that everything is ready. But in reality it almost never is.  So you get gaps of data instead.  You'll notice your heart rate isn't displayed initially: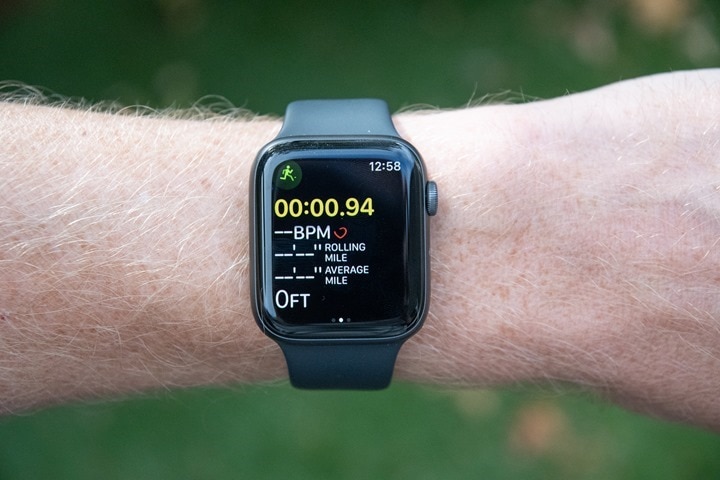 In fact, if you look at charts for the heart rate over the first 90 seconds, it's often missing entirely, or they'll substitute a fake value until they get HR lock. Here it is compared to a chest strap for the first 90 seconds of a workout: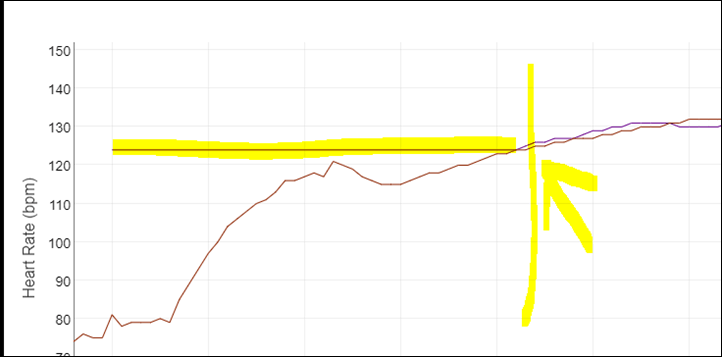 GPS can also be the same as well – often missing the first little bit of your workout until it finishes acquiring it, depending on the scenario. Note that distance isn't usually significantly impacted for running, since it'll use the accelerometer to estimate distance instead during that time period. For cycling though (without a phone on you), it'll be incorrect.
What's funny about this (and this was the same last year too) is that the act of not waiting actually increases the inaccuracy. It makes it harder for heart rate to acquire, and harder for GPS to acquire. In reality, if Apple were to just show GPS/HR status icons like every other watch – then you might wait a few more seconds but your data would be present and accurate.
Still, that's not sexy and polished like the Apple mantra.  And you think this focus on sexiness ends here? Nope, Apple actually fictionally smooths your corners in GPS tracks to make them look sweeping and majestical.  But only in their own app.  Check out these side by side GPS tracks between the Apple Watch and a Garmin and Suunto watch.  Note where I enter/exit the looped track, the Apple Watch makes sweeping curves (I didn't run that way). The Garmin and Suunto watches correctly show the actual track.
And again around these corners:
While certainly Apple has the Nike variant, it appears they've taken the co-branding a bit too far. The entire mantra of Apple's GPS accuracy in their app appears to be 'Just Swoosh it' when it comes to corners.
In any case, we'll talk more about accuracy in a moment (both heart rate and GPS).  In the meantime, back to our run. As you remember we were just starting it before I got sidetracked.  Once running (or riding or whatever) you'll see your stats displayed.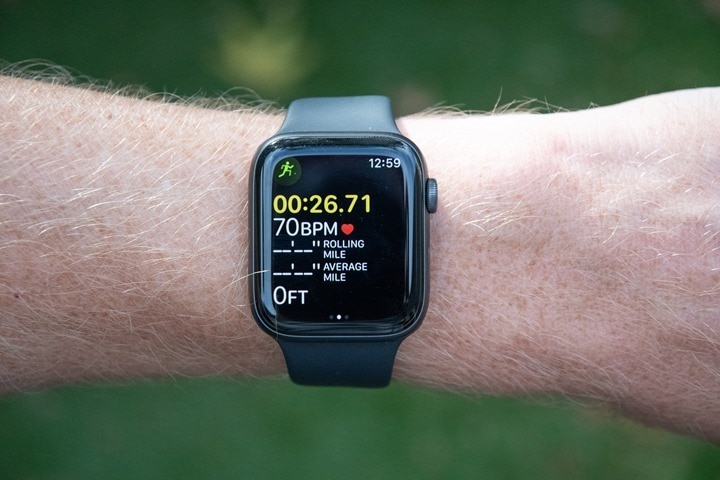 With the default app you don't really get a ton of stats.  If you want more stats you'll want to look at 3rd party apps like iSmoothRun for example.
Remember that the Apple Watch is *not* an always-on display. As such you won't see the data until you raise your wrist. In general this isn't an issue, as Apple's wrist-raising detection algorithms are very good.  But some people prefer the always-on aspect of other brands.
If you've enabled features like auto-lap, it'll trigger notifications every kilometer or mile.  Note that the Apple Watch can connect to 3rd party Bluetooth Smart heart rate straps, in the event you don't trust the optical HR sensor.  It cannot connect to ANT+ straps though.  Of course, many straps these days are dual ANT+/Bluetooth Smart, like the Wahoo TICKR series or 4iiiii Viiiiva.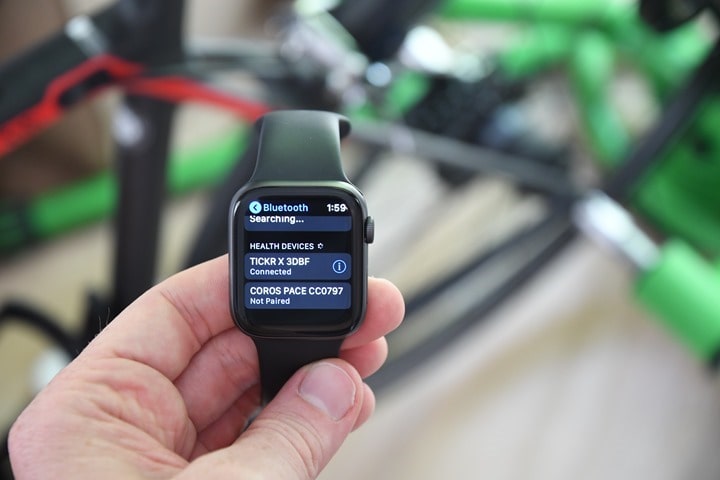 For sports like pool swimming, it'll ask you to confirm the pool-size. Pool swimming won't use GPS of course, but rather the accelerometer internally, so it needs to know the length of the pool to be able to determine the total distance.  And interestingly, over the past year Apple has added the option to do non-standard pool sizes, such as the semi-common 33 and 1/3rd meter pool size that you'll find in Europe in many places: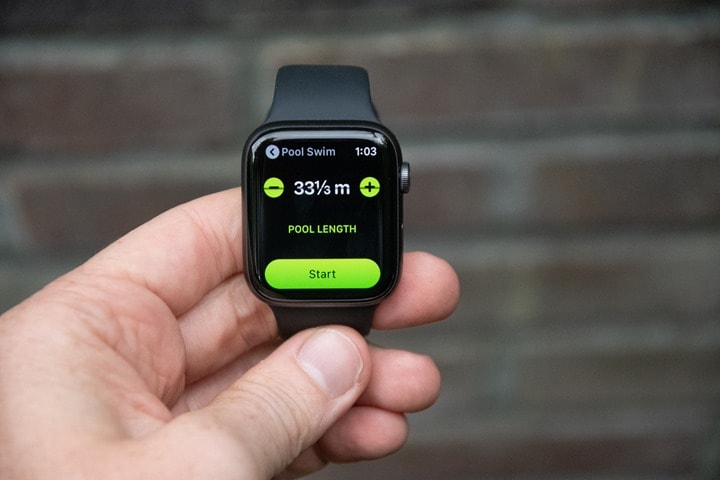 And for all swimming, including openwater swimming, it'll let you know that the touchscreen will be locked until you rotate the digital crown.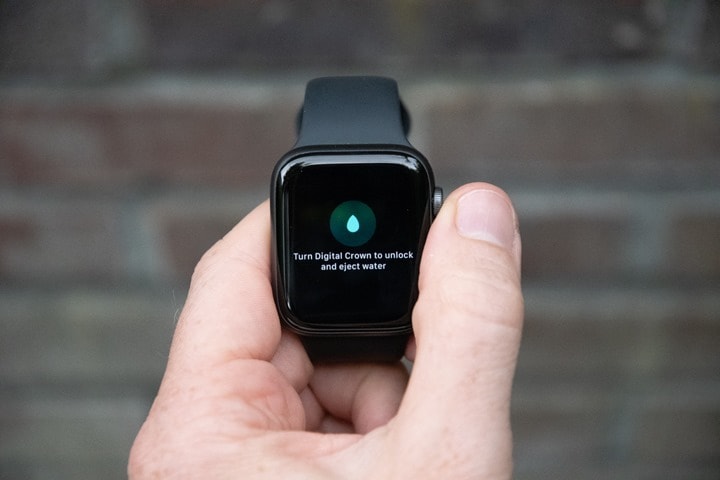 This actually serves two purposes. One, it keeps the touchscreen from dorking with your swim. But also it uses the speaker when you unlock it to eject out the water from the microphone hole. Apple had a little illustration in their keynote a few years ago showing it. It's kinda brilliant: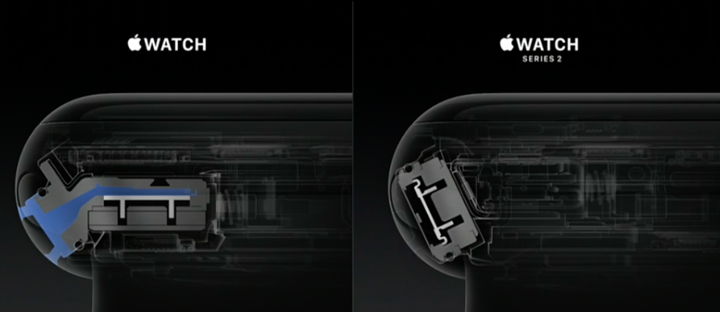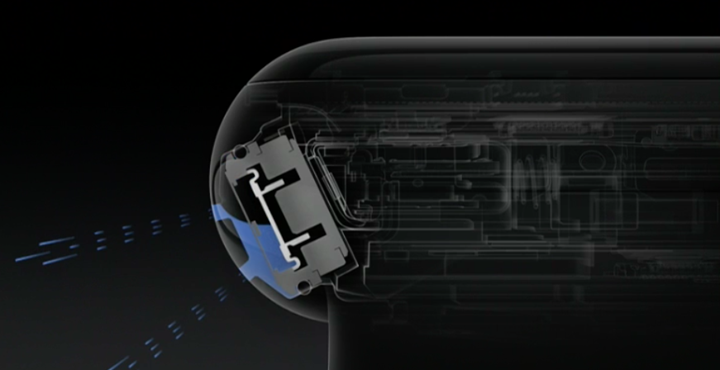 In case you're curious how the Apple Watch Series 4 handles in the water compared to other competitors, here's a complete video I put together on the topic:
Once you've completed your workout (no matter the type), you'll get a summary page that you can look at. And you can dive more deeply into certain areas like heart rate stats as well from the watch.
Additionally, if you switch back to the phone app you can get more stats, including splits and a map of your route:
As I've noted in the past – most of this information is fairly basic in comparison to what other companies provide in the space, especially sport-specific companies like Garmin, Suunto, and Polar.  You won't find things like advanced recovery metrics, or training load.  None of that makes it into the default Apple Watch experience.  Some 3rd party apps have more details, but again, not Apple themselves.
Of course – no part of any Apple product is designed to appeal to the niche. It's all about the mainstream. And metrics found in most sports watches (even ones that sell millions of units like the Garmin Fenix series) are simply deemed too specific for something that sells tens of millions of units.  Or at least, that's what Apple tells itself.  And I'm not entirely sure they're wrong.
Additionally, you won't find features like fancy interval training in the Apple Watch either.  And that's actually an area that I think Apple is missing out on. After all, some of the most popular apps for the Apple Watch are focused on structured training.  Still, Apple would likely contend that's why they have such a vibrant app store with so many options. And again, I'm also not sure they're wrong here either.
Finally, it's worth noting somewhere that within WatchOS 5 the company has added automatic workout recognition. For running, walking (indoor/outdoor), swimming (open/pool), rowing machine, and elliptical usage it'll automatically start an activity after three minutes of usage.  This basically matches what Fitbit, Garmin, and others have been doing for years.  Additionally, on the other end of things, when you complete a sport if you forget to stop it it'll pop-up a little reminder that suggests you stop it (but you can also dismiss that too).
GPS Accuracy: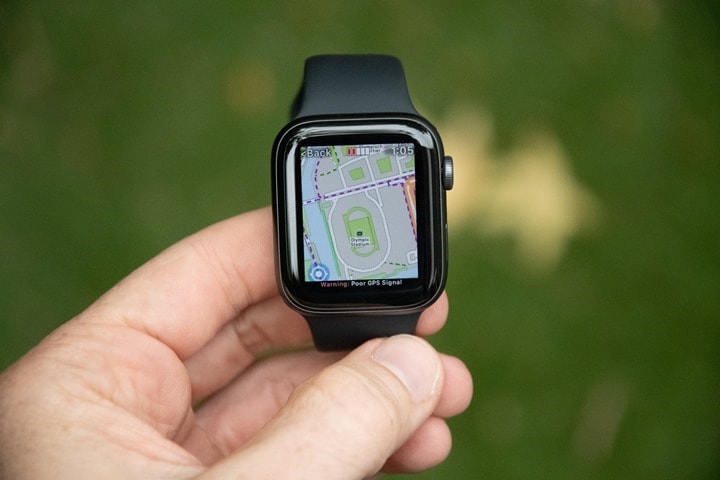 There's likely no topic that stirs as much discussion and passion as GPS accuracy.  A watch could fall apart and give you dire electrical shocks while doing so, but if it shows you on the wrong side of the road?  Oh hell no, bring on the fury of the internet!
GPS accuracy can be looked at in a number of different ways, but I prefer to look at it using a number of devices in real-world scenarios across a vast number of activities.  I use 2-6 other devices at once, trying to get a clear picture of how a given set of devices handles conditions on a certain day.  Conditions include everything from tree/building cover to weather.
Over the years, I've continued to tweak my GPS testing methodology.  For example, I try to not place two units next to each other on my wrists, as that can impact signal. If I do so, I'll put a thin fabric spacer of about 1"/3cm between them (I didn't do that on any of my Apple Watch Series 4 activities however, all workouts only had a single device per wrist).  But often I'll simply carry other units by the straps, or attach them to the shoulder straps of my hydration backpack.  Plus, wearing multiple watches on the same wrist is well known to impact optical HR accuracy.
Next, as noted, I use just my daily training routes.  Using a single route over and over again isn't really indicative of real-world conditions, it's just indicative of one trail.  The workouts you see here are just my normal daily workouts.
I've had quite a bit of variety of terrain within the time period of Apple Watch testing.  This has included runs in: Amsterdam, Banff mountains (Canada), and Cancun (Mexico).  Cities and mountains, trees and open-air, plus oceans. It's hit them all.
First up we'll start with something relatively easy, a run around Amsterdam. I say easy because for the most part there aren't any tall buildings along this specific path. In fact, much of it is in parks with only light tree cover.  Here it is at a high level compared against a Garmin Forerunner 935 and a Suunto Trainer Wrist HR.  The full sets/data files are here if you want to dive more deeply.
At a high level things mostly look OK, but I'm going to zoom into a few spots that are noteworthy.  Oh, and for all my runs I did NOT take a phone with me. So this is using the native GPS on the watch itself.
You can see in the park that the Apple Watch really nails the GPS track on that upper straight segment. That may sound like an easy test (and to some degree it is), but that it gets close to perfectly correct is worthwhile pointing out. The Suunto is off in the bushes, and the Garmin has a slight wobble to it.

Scrolling around much of the rest of the track, you'll note the Apple Watch easily handles this (as it should).

After a bit of time in the park I head out on the roads to get a bit of light buildings next to me. Nothing more than 3-5 stories tall.  Note as I approach the traffic circle/park, how the Apple Watch (in purple) starts to head into the buildings though, and then crosses the middle of the green space (I stayed on the road where the other tracks show me):

Here, I'll make this more clear:

It looks so…smooth? Curvy perhaps?
Yup, and that's the infamous Apple Watch GPS track sashay. In the vast majority of quick directional changes it'll overly smooth and even go off into the middle of nowhere. It's as if it's cornering itself around a race track and goes a bit wide initially to hit the inside corner at the turn.
But not always. For example, a few minutes later I do a loop around a small island, and it seems to get this correct:

My suspicion here is that the swooshing corners is directly related to either your speed or running cadence. In the case of this little island I had to slow down at each corner because the path was thin (and wet) and the corners all 90° or greater.  Whereas in other cases I didn't have to slow down, and that's where it starts doing wild things.
For example, a mere two minutes later I do a loop around the track, which it perfectly nails – even getting my lane correct. See, I was on the inside lane most of the loop around, except on the southern (bottom) side of the track where I went wide to give room to a few guys doing 100m sprints on the inside lane there.

But what happens when I exit the track? It craps itself.

Here, in non-satellite view. It swoops itself out of the track, which is very much not what I did. I ran on the track itself and then doubled-back up the starting area of the track, up the path, and then down the path. In the case of Apple, it just swung itself around like a ballroom dancer.

Earlier in the review I showed a few other snippets of this same action as well. Mind you, this isn't new to the Apple Watch Series 4. In fact, the Series 3 exhibited the exact same behavior.  Depending on the circumstances, this can impact actual distance recorded as well. Sometimes longer, sometimes shorter – just depends on how it swooshes.

In any event, let's look at another run, this time without the swooshes since there frankly weren't enough tight turns for Apple to get into its swooshing groove.  This one down in Cancun, Mexico and compared against the Garmin Instinct watch and the Suunto Trainer. Here's the data: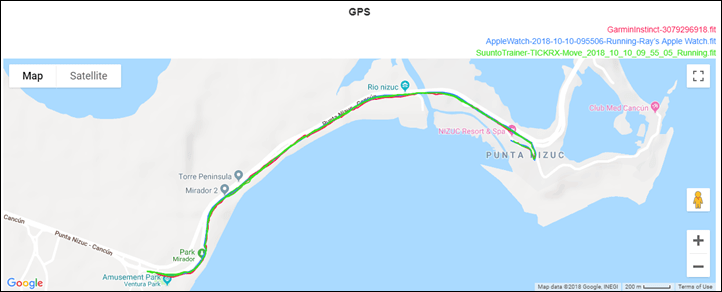 Pretty much anywhere I go on this map, things look pretty good for the Apple Watch, which again bests Garmin and Suunto across many sections here:


The one exception? A squiggly road, where you can see clearly the Apple Watch do it's swaying thing while the others more closely followed it (or attempted to). Once again showing it appears to be related to speed.

Next, we'll head up to the frigid north of Canada into the mountains and forests for a run under tall snow and ice covered trees with mountains/cliffs on all sides.  Here's the data sets.

The portion of the route above where the Suunto cuts across is a mistake that occurred when I slipped and fell on the ice and managed to stop the watch in the process for a minute or two.
As I head around the lollipop of a route, the Apple Watch easily sticks to the road like white on rice:

Both the Garmin and Suunto units fail to track as closely as the Apple Watch does.
The only point on the entire route where the Apple Watch was briefly off-course was in the lower image, to the middle-left, where it goes a bit south of the road for perhaps 100m in duration (but only about 10 meters offset). The other watches in this section are equally or more sucky.  Note the little squiggle that you see to the right side of the map was real, we went off the road to look at the elk.

Next, let's head over to openwater swimming. In this case I had a Polar Vantage V on one wrist, and the Apple Watch on another. The yellow line is the reference track using a GPS atop a swim buoy behind me (see this video for details, also embedded up earlier in the sports section).  Here's the data.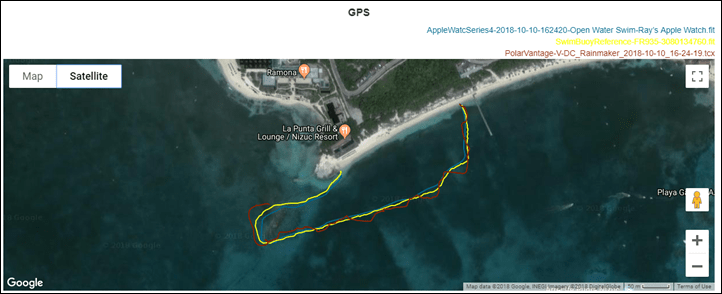 If we remove the turquois colored track on turquois water, here's what's left:

This swim track can easily be summed up in one sentence: The most accurate swim track of the week, compared to 14 different swim tracks. I compared it against the Garmin Fenix 5 Plus, Suunto 9, Polar Vantage V, Suunto Trainer, and COROS Pace – and it easily beat all of them.  Only the reference track was slightly better (because it was above water, hence the reference part).
I had shown this a bit in the past with other Apple Watch reviews, but I don't think people really understand it – Apple's killin' it here with accuracy in openwater swimming. Perhaps all of that swooshing smoothing pays off, but the track is very very close to reality.
It's time for Garmin, Suunto, and Polar to up their game. Which, if they read anything from this post, they should understand that. Swooshing aside (which is basically just over-eager software smoothing for aesthetic purposes), the Apple Watch is beating these companies at their own game when it comes to GPS accuracy.
Anyway, one more track, this time a cycling track. In this case I had my phone with me – which means it leverages the phone's GPS (even if you don't want it to).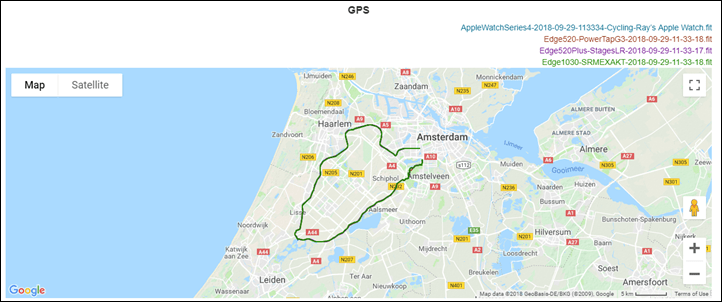 And honestly, it's pretty boring. There's nothing 'exciting' (read: bad) anywhere on it. It's perfectly on the roads at all times.


Well, actually, there was this one time where it swooshed its way around this corner, cutting it: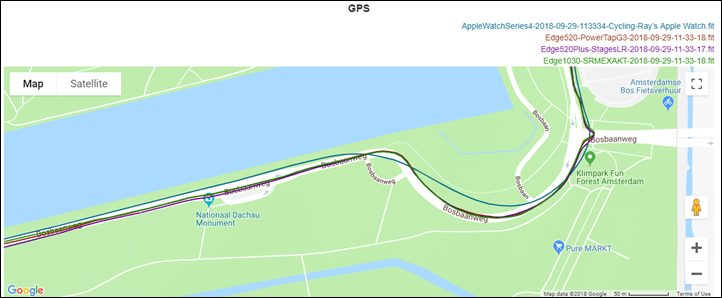 Phew, I was worried for a second that it had lost its swooshing mojo. Good to see it's back.
So where are we on GPS accuracy?
Well, like life – it's complicated.
On one hand, in most scenarios (hard or easy), the Apple Watch seems to outperform the best GPS devices out there today. It doesn't seem to matter on the sport, it's more stable in a large number of scenarios.
Yet on the other hand, this whole swooshing thing does legitimately take away from that. Whether or not you want your GPS to appear sexy, it's fundamentally incorrect. I don't typically run through buildings (only on Saturdays), nor off over rivers and lakes. And that reality can't be overlooked.
I'm not sure which evil is worst – swooshing corners at high speeds (Apple) or a bit of track wobble here and there (everyone else). If Apple simply didn't cut the corners all the time it'd easily win.  But given that it does (and it's seen on many people's Apple Watch tracks), then it's likely going to come down to some element of personal preference.
(Note: All of the charts in these accuracy sections were created using the DCR Analyzer tool.  It allows you to compare power meters/trainers, heart rate, cadence, speed/pace, GPS tracks and plenty more. You can use it as well for your own gadget comparisons, more details here.)
Heart Rate Accuracy: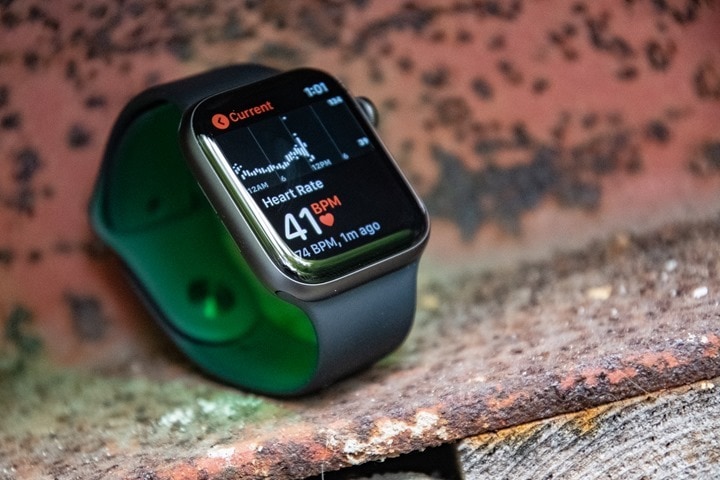 Next up we've got heart rate accuracy.  This roughly falls into two buckets: 24×7 HR, and workout HR.  As is usually the case with most devices these days, I see no tangible issues with 24×7 HR.  It works well across both normal daily routines as well as things like sleep.  Speaking of which, I talk about RHR values and 24×7 monitoring here and why it's interesting.
Before we move on to the test results, note that optical HR sensor accuracy is rather varied from individual to individual.  Aspects such as skin color, hair density, and position can impact accuracy.  Position, and how the band is worn, are *the most important* pieces.  A unit with an optical HR sensor should be snug.  It doesn't need to leave marks, but you shouldn't be able to slide a finger under the band (at least during workouts).  You can wear it a tiny bit looser the rest of the day.
Ok, so in my testing, I simply use the watch throughout my normal workouts.  Those workouts include a wide variety of intensities and conditions, making them great for accuracy testing.  I've got steady runs, interval workouts on both bike and running, as well as openwater swimming – though, I didn't focus on optical HR accuracy there.
For each test, I'm wearing additional devices, usually 3-4 in total, which capture data from other sensors.  Typically I'd wear a chest strap (usually the HRM-TRI or Wahoo TICKR X, but also the Polar H7), as well as another optical HR sensor watch on the other wrist (and usually also a Scosche Rhythm 24).  Note that the numbers you see in the upper right corner are *not* the averages, but rather just the exact point my mouse is sitting over.  Note all this data is analyzed using the DCR Analyzer, details here.
First up from a heart rate standpoint is a relatively simple run in Mexico. I say simple in that there wasn't any intervals or other complexities from a pace standpoint. Just straightforward slight ups and downs. It's compared against a Garmin Instinct GPS watch on the other wrist, and then a TICKR-X heart rate strap via a Suunto Trainer Wrist HR. Here's the data set:

The Suunto watch ran out of juice about a 1/3rd the way into the run, so we lost that comparison – but that's OK, it's pretty easy to see what happened.
But I want to start with the first 30 seconds though. Since that's actually the most interesting bit of this entire run. Those three dots are at the most important point.

Remember earlier in the review how I mentioned Apple doesn't perform a HR lock until after you press start? Well, that purple line is showing exactly that. It picks this random number (128bpm in this case) and records that until it has a good heart rate.  In my case, my actual heart rate is shown in red by the Garmin Instinct – a nice steady/slow climb.
But it's not until 24 seconds into the run that the Apple Watch locks the HR and starts climbing. Who knows what the Wahoo TICKR-X strap was doing the first 3 minutes of the run, so we'll ignore that.
The rest of the run things are perfectly fine and the different HR sensors match just fine within a second or two of each other:

So let's kick things up a notch and go for an interval run.  This one has intervals of 400m each, and then 90 seconds of recovery. Pretty straightforward set, here's the data from it.

At a high level, things look pretty good for the Apple Watch actually (in blue this time, barely visible directly matched to the other tracks). But let's take a closer look at the first 30 seconds again:

Once again you can see it spits out a 'fake' initial starting value of 112bpm while it decides what its starting value will be. Exactly 20 seconds later it determines its real value as 111bpm and then starts tracking (it still isn't correct for another 5-10 seconds).
You can see it meets the chest strap a few seconds later.  In case you're wondering why am I not critizing the green line (chest strap) in this case for having a gap? That's simply because it wasn't started for the first 8 or so seconds. Thus it doesn't write a value to the file and I can't display a value.  Just wanted to clear that up.
In any case, moving along to the important part – the intervals:

Just going to highlight some key takeaways here:
A) The chest strap was definitely struggling at the peaks of each interval, but that's fine for the purposes of showing you what's going on here. What's key is how perfect the Apple Watch is when it comes to nailing each one.
B) The Garmin Instinct fumbled a few times during the recovery phase of each interval (so the non-hard part), it was slightly delayed.  You can see my HR lowering slower than the others.
C) There's virtually not a single item to nitpick on this interval from the Apple Watch's optical HR sensor.
Seriously. It's about as perfect as you can get.
Next, let's leave warm weather behind and head back to the cold. Colder weather is tougher for optical HR sensors as it's harder to get readings until you warm up. Here's the HR data from that snowy/icy Canadian run I talked about earlier.

Again, looking at the first few minutes we see the usual pattern of the Apple Watch waiting until it acquires a HR:

Now, in this scenario the TICKR-X was smokin' something and started off at 170bpm – clearly incorrect for an easy run. The Garmin Instinct got the HR correct though from the beginning and shows a nice even ramp up.  But it's not until 63 seconds into the run that the Apple Watch manages to acquire my heart rate. Yikes.
At that point for the next 6 or so minutes there's some clear disagreement on what my HR is. It's fair to say it's not the TICKR-X's opinion of it. That's wonky. The Apple Watch and Garmin Instinct aren't actually that far apart for most of this, save about a 30 second period where they are about 15bpm apart. I don't know which is most correct during that period.

For the remainder of the run though, things were pretty close between the units. The chest strap had a bit of wobble. I think it's time to throw away that one, it's got something up. But, the general gist of the three is correct.

Finally, we'll wrap up with a look at an hour ride – about two hours long with a 15 or so minute stop for coffee in the middle.  This is compared against the TICKR chest strap (apparently my non-problematic one). Here's the data from that:

Like usual, it takes about half a minute for the Apple Watch to acquire HR after pressing start:

At which point, it honestly produces the best wrist-based optical HR sensor track I've ever seen during a bike ride.  Seriously, it's almost identical:
This level of accuracy during a ride easily puts Garmin to shame. In fact, if we add the Garmin Instinct's optical HR sensor data to this track, we see exactly that (the yellow section is the coffee break):

And yup, for now I'd pretty easily give Apple the award for the most accurate wrist-based optical HR sensor out there today. Perhaps that'll change with the Polar Vantage series in a few weeks, but for now – Apple's holding that title…and doing so pretty easily.
If they'd just address the lack of initial acquisition piece – that'd be able to put a cherry atop it all. For many people that first 30 or so seconds probably isn't as critical as the rest of the run.  I know I'd personally prefer a watch that screws up the first 30 seconds but gets the next hour or so right…versus one that screws up the entire run but gets the first 30 seconds of warm-up right.
Data and Apps: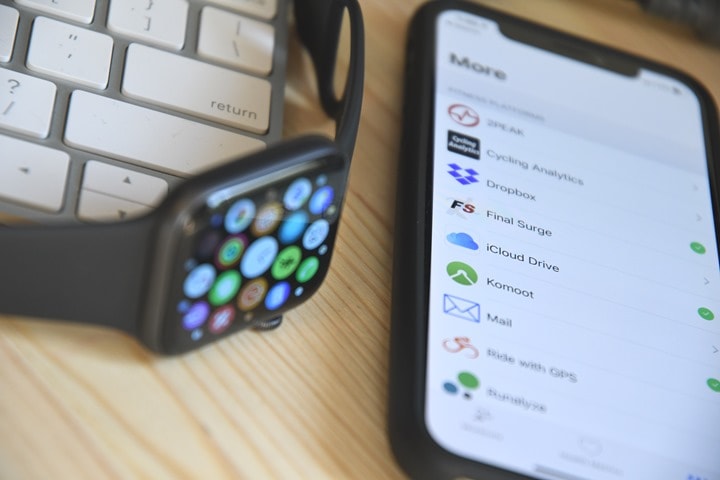 When it comes to apps, there's a crapton of them that you can choose for your Apple Watch. Virtually all of them being 3rd party. But not all of them actually run on the watch itself. In fact, my 'most favorite' app for the Apple Watch doesn't even run on the Apple Watch.  Instead, it runs on my phone. But it's the most important one I have.
See, despite the Apple Watch dumping all of your data into Apple Health, that doesn't actually make it terribly useful to use with 3rd party platforms. For example, there's inexplicably no native option to just connect your watch/phone to Strava and upload workouts from Apple Watch to Strava.
(Nitpickers corner: No, the Strava watch app actually doesn't upload non-Strava workouts to Strava.  Only workouts created within the Strava app are uploaded to Strava.)
All of the data goes into the massive repository that is Apple Health, which is accessible to apps (with your approval) via HealthKit. Note that this is kept entirely on your device. There is no cloud service or online platform for Apple Health data – a key differentiator (good and bad) from other companies' platforms.
For most data, you can view it directly in Apple Health, via the 'Health' App on your phone. Some of this data, like steps and stand hours, have nifty graphs:
But lots of the data is a bit more nuanced in nature and dumped into huge database tables, though, you can still view those too:
For me though, I ultimately want to take my Apple Watch workouts and push them to various platforms. For example, I want my runs to go to both Strava and Training Peaks. I use Strava for social sharing, whereas Training Peaks as my actual training log of record. If I just used the Strava Apple Watch app, then I couldn't get the data to Training Peaks.  So you can see why using the native app is more useful (or other 3rd party apps).
But in order to get that data to those platforms I have to use a 3rd party app – and without question my favorite is HealthFIT+.  This app simply takes your workout data and compiles it into an industry standard file format, then uploads it to 3rd party platforms automatically for you.  Specifically, these platforms. Additionally, you can control what platforms show up within the app too.
And here you can see some of my workouts within the app. I can tap on one or multiple workouts and manually share them to the services.
But what's really cool here is I don't even have to do anything if I want. It just does it automatically when I complete a workout using the default Apple Watch app. I'll get a notification a few seconds later on my phone that it's uploaded it to Strava, TrainingPeaks, and even Dropbox in my case.  Below it shows 'Sync 3 / 3', which means it synced that workout correctly to all three platforms I setup (Strava, TrainingPeaks, Dropbox).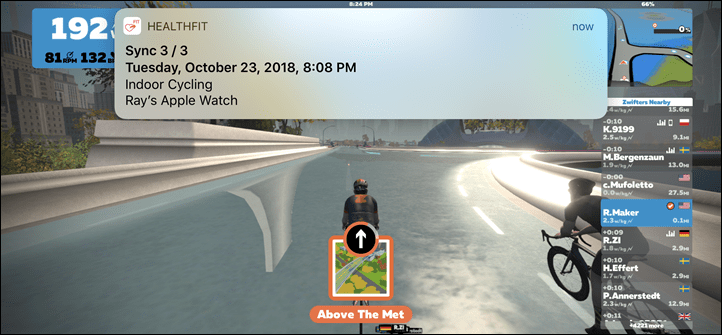 Totally awesome, and definitely worth the $2 fee.  In fact, it's via this app that I'm able to do all of the analysis you see in this post in terms of plotting the Apple Watch data against other watches.
(Note: I don't have any paid/whatever affiliation with any of the above/below apps. I paid my two bucks or what-not for all of them…and plenty more.)
Here's a quick look at a handful of apps that I've used that are useful from a sports/fitness standpoint:
WorkOutDoors: This is mapping/navigation focused and allows you to download a map segment to your Apple Watch for navigation.  You can import in tracks/routes and then follow those tracks against the map on your watch. Basically, it's like having a mini version of a Garmin Fenix 5 Plus (or 5X) series watch.  Cool stuff.
AutoSleep: I touched on this above a bit, but Apple itself doesn't have any sleep tracking.  So this app allows you to get sleep data on your Apple Watch. Unlike many apps – this requires zero end-user interaction. Some apps require you to 'start' and 'stop' your sleep, which I find silly and 1980's like. This just does it all in the background magically and then you use the iPhone app to view the data. Sweet!
RunGap: This app is somewhat like HealthFit+ above. It allows you to upload/export to various services as well. I haven't used this one as much merely since I've mostly just used HealthFit+. I'm kinda a 'if it works don't try and fix it' kinda guy. Though I know plenty of people use RunGap, here's a bit of a review from last year – but one from a source I trust that walks through the functions.
And finally, here's a few more that DCR Readers have suggested as their top favorites after I posed the question to Twitter. I've used some of these off and on over the years.
iSmoothRun: There's no app that has as many options for doing customized data pages, interval workouts and more. It's basically what the Apple Watch running experience should be.
StrongApp: This is mainly designed for gym workouts, letting you track and program reps and rest intervals.
RunGo: This blends together a bit of iSmoothRun with WorkOutdoors – letting you record runs but still getting turn by turn navigation for those runs.
Plus many more repeated my recommendations for HealthFit+, RunGap, and WorkOutdoors.
One general caveat when looking at apps is to ensure the app is able to function in a standalone non-phone connected manner. Some apps have features that only work when in connection with a phone nearby (such as connecting to power meter sensors), while other apps can be fully freestyle and go tetherless.
Product Comparison: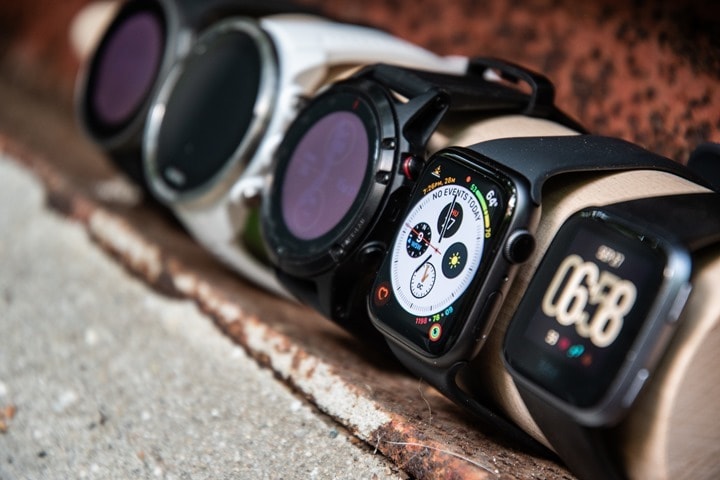 I've added the Apple Watch Series 4 into the product comparison database, allowing you to compare it against other products that I've reviewed in the past.
For the purposes of below I've compared it against the Fitbit Ionic and the Garmin Vivoactive 3 Music, which are the ones most people will be comparing it against from a sports/fitness standpoint.  Also note, with a unit like the Apple Watch specifically, there are many cases below where "with 3rd party apps" can be used.  The same is largely true of Garmin, and somewhat with Fitbit.  I've tried to thread the needle of apps that I roughly know exist where I've listed that.  But it's not a perfection in terms of knowing every app on earth.  Ultimately, I don't think any consumer does (or should).
Function/Feature

Apple Watch Series 4
Fitbit Ionic
Garmin Vivoactive 3 Music
Copyright DC Rainmaker - Updated January 30th, 2021 @ 3:23 pm New Window
Price
$399/$499 (cellular)
$229
$169
Product Announcement Date
Sept 12th, 2018
Aug 28th, 2017
June 13th, 2018
Actual Availability/Shipping Date
Sept 21st, 2018
Oct 1st, 2017
June 13th, 2018
GPS Recording Functionality
Yes
Yes
Yes
Data Transfer
Bluetooth Smart
Bluetooth Smart
USB, BLUETOOTH SMART
Waterproofing
50m
50m
50 meters
Battery Life (GPS)
6hrs GPS on time (24-48hrs standby)
10 hours
Up to 13 hours GPS
Recording Interval
Varies
1-second
1s or Smart Recording
Alerts
Vibration/Audio/Visual
Visual/Vibrate
Vibrate/Visual
Backlight Greatness
Great
Great
Great
Ability to download custom apps to unit/device
Yes
Yes
Yes
Acts as daily activity monitor (steps, etc...)
Yes
Yes
Yes

Music

Apple Watch Series 4
Fitbit Ionic
Garmin Vivoactive 3 Music
Can control phone music
Yes
Yes
Yes
Has music storage and playback
Yes
Yes
Yes
Streaming Services
Apple Music
Pandora, Deezer
Spotify, Amazon Music, Deezer, iHeartRadio

Payments

Apple Watch Series 4
Fitbit Ionic
Garmin Vivoactive 3 Music
Contactless-NFC Payments
Yes
Yes
Yes

Connectivity

Apple Watch Series 4
Fitbit Ionic
Garmin Vivoactive 3 Music
Bluetooth Smart to Phone Uploading
Yes
Yes
Yes
Phone Notifications to unit (i.e. texts/calls/etc...)
Yes
Yes
Yes
Live Tracking (streaming location to website)
With 3rd party apps
No
Yes
Group tracking
No
No
No
Emergency/SOS Message Notification (from watch to contacts)
Yes
No
No
Built-in cellular chip (no phone required)
Yes (with cellular version)
No
No

Cycling

Apple Watch Series 4
Fitbit Ionic
Garmin Vivoactive 3 Music
Designed for cycling
Yes
Yes
Yes
Power Meter Capable
No
No
With some Connect IQ apps
Speed/Cadence Sensor Capable
No
No
Yes
Strava segments live on device
No
No
No
Crash detection
Yes via 'Fall Detection'
No
No

Running

Apple Watch Series 4
Fitbit Ionic
Garmin Vivoactive 3 Music
Designed for running
Yes
Yes
Yes
Footpod Capable (For treadmills)
With 3rd party apps
No (but has treadmill functionality)
Yes
Running Dynamics (vertical oscillation, ground contact time, etc...)
No
No
No
Running Power
With 3rd party apps
No
No
VO2Max Estimation
Yes
Yes via app
Yes
Race Predictor
No
No
No
Recovery Advisor
No
No
No
Run/Walk Mode
With 3rd party apps
No
Yes

Swimming

Apple Watch Series 4
Fitbit Ionic
Garmin Vivoactive 3 Music
Designed for swimming
Yes
Yes
Yes
Openwater swimming mode
YEs
No
No
Lap/Indoor Distance Tracking
Yes
Yes
Yes
Record HR underwater
Yes
No
No
Openwater Metrics (Stroke/etc.)
Basic stroke type only
No
No
Indoor Metrics (Stroke/etc.)
Basic stroke type only
Yes
Yes
Indoor Drill Mode
No
No
No
Indoor auto-pause feature
Yes
No
No
Change pool size
Yes
Yes
Yes
Indoor Min/Max Pool Lengths
1y/m to 1,500y/m+
10m/y-100m/y
17M/18Y TO 150Y/M
Ability to customize data fields
Very limited
Yes
Yes
Captures per length data - indoors
Yes
Yes
Indoor Alerts
Yes (goals)
Yes (distance)
Yes

Triathlon

Apple Watch Series 4
Fitbit Ionic
Garmin Vivoactive 3 Music
Designed for triathlon
Not really
No
No
Multisport mode
Yes
No
No

Workouts

Apple Watch Series 4
Fitbit Ionic
Garmin Vivoactive 3 Music
Create/Follow custom workouts
With 3rd party apps
No (Premium Coached only)
Yes
On-unit interval Feature
With 3rd party apps
No
Sorta (2 preloaded ones, but no customization)
Training Calendar Functionality
With 3rd party apps
No
Yes

Functions

Apple Watch Series 4
Fitbit Ionic
Garmin Vivoactive 3 Music
Auto Start/Stop
Yes
Yes
Yes
Virtual Partner Feature
Sorta (Pacing feature)
No
No
Virtual Racer Feature
No
No
No
Records PR's - Personal Records (diff than history)
No
No
Yes
Tidal Tables (Tide Information)
No
No
No
Weather Display (live data)
Yes
Yes
Yes

Navigate

Apple Watch Series 4
Fitbit Ionic
Garmin Vivoactive 3 Music
Follow GPS Track (Courses/Waypoints)
With 3rd party apps
No
No (but some 3rd party apps can)
Markers/Waypoint Direction
With 3rd party apps
No
Yes (to pre-saved spots)
Routable/Visual Maps (like car GPS)
With 3rd party apps
No
No
Back to start
With 3rd party apps
No
YEs
Impromptu Round Trip Route Creation
With 3rd party apps
No
No
Download courses/routes from phone to unit
With 3rd party apps
No
NO

Sensors

Apple Watch Series 4
Fitbit Ionic
Garmin Vivoactive 3 Music
Altimeter Type
Barometric
Barometric
Barometric
Compass Type
N/A
N/A
Magnetic
Optical Heart Rate Sensor internally
Yes
Yes
Yes
SpO2 (aka Pulse Oximetry)
No
No
ECG Functionality
Yes
Heart Rate Strap Compatible
Yes
No
Yes
ANT+ Heart Rate Strap Capable
No
No
YEs
ANT+ Speed/Cadence Capable
no
No
Yes
ANT+ Footpod Capable
No
No
Yes
ANT+ Power Meter Capable
No
No
No
ANT+ Lighting Control
No
No
Yes
ANT+ Bike Radar Integration
No
No
No
ANT+ Trainer Control (FE-C)
No
No
No
ANT+ Remote Control
No
No
No (Yes for VIRB camera control)
ANT+ eBike Compatibility
No
No
No
ANT+ Gear Shifting (i.e. SRAM ETAP)
No
No
No
Shimano Di2 Shifting
No
No
No
Bluetooth Smart HR Strap Capable
Yes
No
YEs
Bluetooth Smart Speed/Cadence Capable
No
No
Yes
Bluetooth Smart Footpod Capable
No
No
Yes
Bluetooth Smart Power Meter Capable
No
No
No
Temp Recording (internal sensor)
No
No
No
Temp Recording (external sensor)
No
No
Yes

Software

Apple Watch Series 4
Fitbit Ionic
Garmin Vivoactive 3 Music
PC Application
None
PC/Mac
Garmin Express
Web Application
None
Yes
Garmin Connect
Phone App
iOS only
iOS/Android/Windows
iOS/Android/Windows
Ability to Export Settings
No
No
No

Purchase

Apple Watch Series 4
Fitbit Ionic
Garmin Vivoactive 3 Music
Amazon
Link
Link
Link
Wiggle
Link

DCRainmaker

Apple Watch Series 4
Fitbit Ionic
Garmin Vivoactive 3 Music
Review Link
Link
Link
Link
Again, remember you can make your own comparison charts here using the product comparison tool/database.
For lack of anywhere else to stick battery life and my experience – I'm getting pretty consistently two full days of usage, with about 1-2hrs of GPS usage in there in total. So if I wake up around 8AM and take it off the charger then, I'm getting a low-battery power reserve warning around 9-10PM the following day.  That's been pretty consistent for me this last month.
Oh – and in case you're wondering about the Nike+ Edition, there's only a handful of differences there to the regular non-Nike+ variants:
– Nike+ Edition has unique Nike+ watch faces
– Nike+ Edition has unique/exclusive watch bands
And…that's it. You can get the other Nike+ features using any Apple Watch, they aren't limited to the Nike+ Editions. You can also install/utilize the Nike+ app on any Apple Watch as well (just not the special watch faces).
Summary: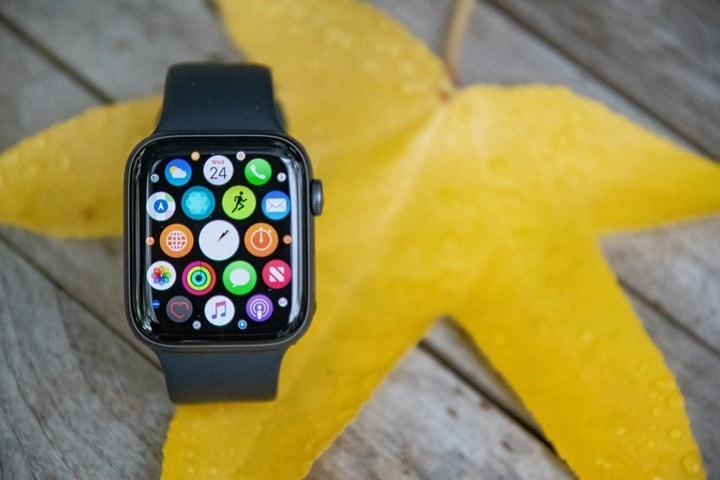 If one were to pull out a feature comparison of the Apple Watch Series 4 versus the Series 3, specific to sports and fitness, they'd likely just go 'shrug'. Ultimately, the differences just aren't there in the hardware side of things.
Instead, it's really more about small changes in software of WatchOS 5 compared to WatchOS 4, and virtually all of those things are applicable to most past Apple Watch units anyways.  The core hardware differences most visible on the Series 4 is the larger display and the different optical HR sensor. Plus, the yet to be implemented ECG feature.
But as I showed – under the covers there's actually some substantial differences in term of accuracy. The optical HR sensor (or perhaps the algorithms Apple is using) is different. And as a result, accuracy has improved – at least once you get past that first minute. And the GPS sensor (or again, algorithms) is also improved, in many cases producing better results than Garmin, Suunto, or Polar's latest wares.
Still, as capable as the Apple Watch has become – it's still a tough pitch for endurance athletes. Be it the more limited battery life than others, the not-always-on screen, or just the lack of a multitude of buttons; it's not likely to dominate the endurance market anytime soon. If one looks at Strava uploads for the Ironman World Championships a few weeks back as an example – not a single athlete (out of 2,500) uploaded a run or bike activity to Strava with an Apple Watch from the event (fun tidbit: a single person actually managed to use a Fitbit Ionic for the run/bike portions).
The Apple Watch has no doubt made gains when it comes to checking off aspects of the fitness market in the last few years, but I can't help but think that if Apple actually spent time on their native fitness app to make it more competitive with even Fitbit (let alone more full-featured rivals like Garmin, Suunto, or Polar), they'd be able to more cohesively compete with those wearables – especially given their accuracy seems to stop them in some areas today.
Which isn't to say Apple won't sell millions more units. Rather, to point out that merely selling millions more of something doesn't mean it's the defacto answer for everyone. Choice is good, and it's good to see Apple presenting a product that's finally able to compete in more areas of sport and fitness.
With that – thanks for reading.

Found This Post Useful? Support The Site!
Hopefully you found this review useful. At the end of the day, I'm an athlete just like you looking for the most detail possible on a new purchase – so my review is written from the standpoint of how I used the device. The reviews generally take a lot of hours to put together, so it's a fair bit of work (and labor of love). As you probably noticed by looking below, I also take time to answer all the questions posted in the comments – and there's quite a bit of detail in there as well.
If you're shopping for the Apple Watch Series 4 or any other accessory items, please consider using the affiliate links below! As an Amazon Associate I earn from qualifying purchases. It doesn't cost you anything extra, but your purchases help support this website a lot. Even more, if you shop with TPC (The Pro's Closet), you'll save $40 on purchases over $200 with coupon code DCRAIN40! The Pro's Closet has been a long-time partner of the site here - including sponsoring videos like my cargo bike race, as well as just being an awesome Colorado-based company full of good humans. Check them out with the links below and the DCRAIN40 coupon!
And of course – you can always sign-up to be a DCR Supporter! That gets you an ad-free DCR, access to the DCR Quarantine Corner video series packed with behind the scenes tidbits...and it also makes you awesome. And being awesome is what it's all about!
Thanks for reading! And as always, feel free to post comments or questions in the comments section below, I'll be happy to try and answer them as quickly as possible. And lastly, if you felt this review was useful – I always appreciate feedback in the comments below. Thanks!