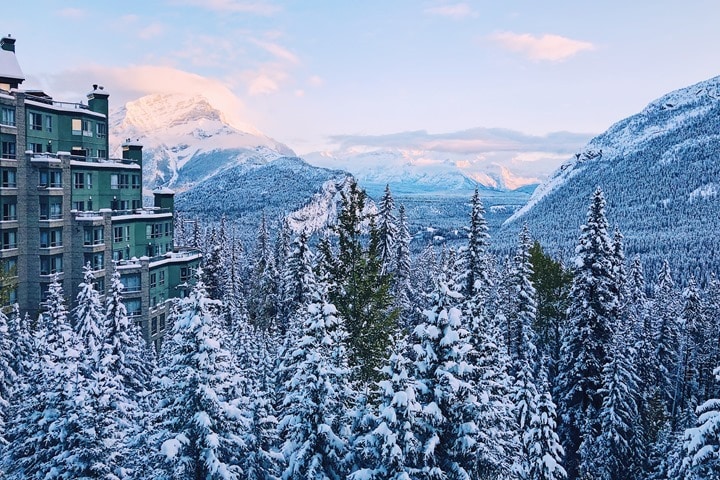 The above has been my playground…err..work spot, for the last week. Of course as you saw this weekend in my ANT+ Symposium post I've been up in Banff, Canada (within the province of Alberta) for the annual sports technology conference.
1) The ANT+ Symposium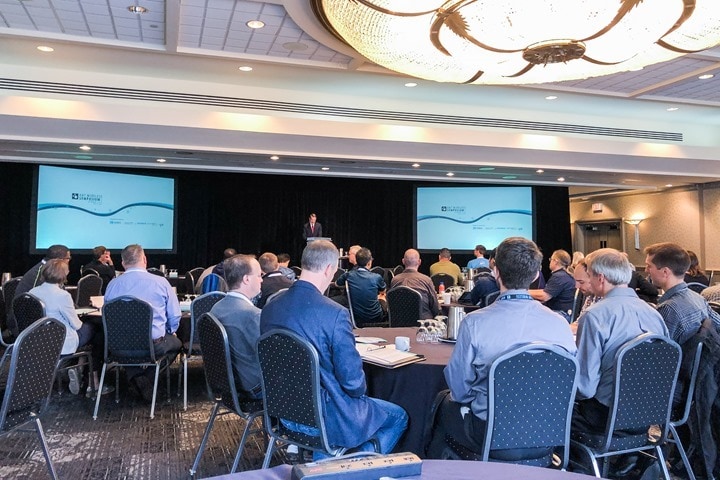 Certainly the main reason for me to fly to Canada wasn't to go elk watching, but rather to attend the ANT+ Symposium. Of course, I wrote all about that from a technical standpoint already in my previous post on Saturday.  This includes giving a keynote presentation on the state of sports technology in 2018, and a look ahead to the future of it.
But ultimately, the vast majority of my time at this conference is spent talking to others in the business. Be it out on the road or trails running or cycling, or as was the case this year with slightly less warm weather – inside at sidebar meetings.  For that, I don't have a ton of photos of all those things.  However, I did take like 238 photos of the snow over these days. Mostly because it snowed a crapton. Over a foot, or about 30cm. All snow, all the time.
But once it stopped snowing, it was pretty. And me and my iPhone made sure to capture it constantly.
2) Running with elk
Thursday evening as the Symposium wound down, Chip (Founder/CEO of Wahoo Fitness) and I went out for a run around…well…frozen trees. And frozen roads. And elk.  But mostly it was all about the frozen stuff.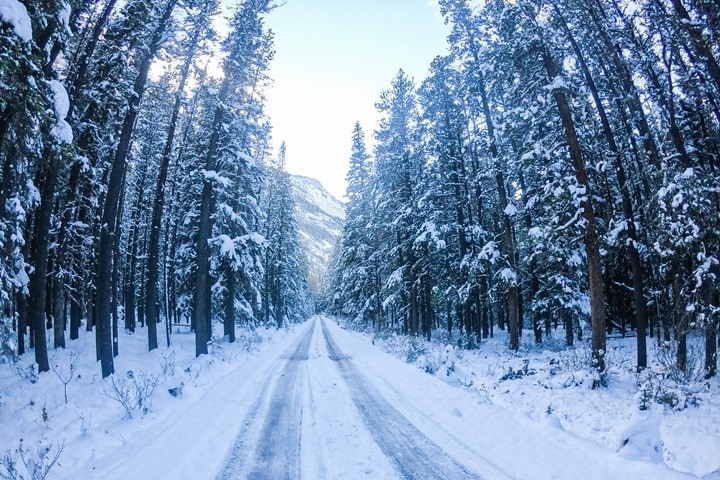 So frozen in fact that we resembled a bunch of bowling pins going down one hill with a bunch of black ice. Thankfully neither of us was injured in the two-person tumble, though I did manage to stop one of my watches during the fall and not realize it till a bit later. Sad data-comparison panda.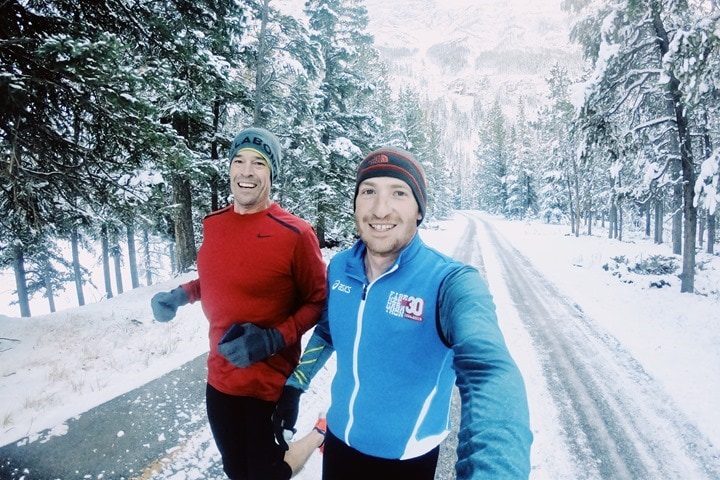 At both the end and beginning of the looped run we ran past a large heard of elk.  They seemed pretty content about life: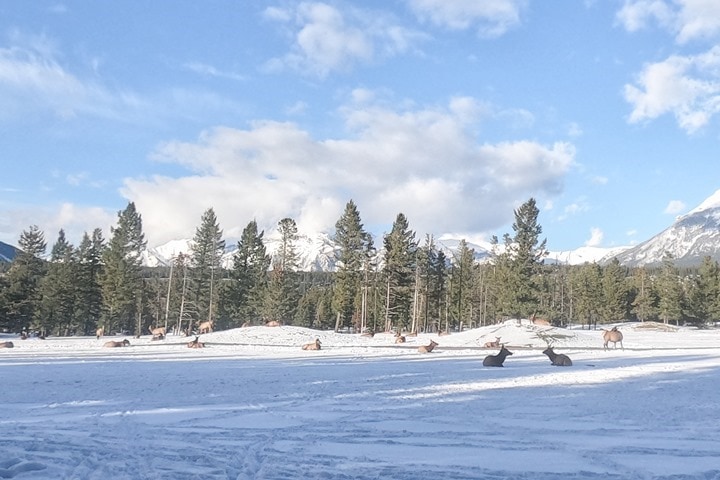 The run wasn't super long. It was just squeezed into a tiny slice of time between the end of my presentation and the final dinner of the symposium. Plus, the sun was setting and the last thing either of us wanted was to be in the frozen Canadian wilderness after dark. I've watched enough TV to know that nothing good comes of that.
3) Cold Weather Battery tests
I headed out of the park (since it's a no-fly zone) early one morning just at sunrise to purposefully freeze my ass off. Seriously, I was looking for the absolute coldest point of the week, and it's just after sunrise, as the air is still cooling before the sun heats it up. The coldest I could get was about 18°F (-8°C).  Not bad, but I'll take it.  And by take it, I mean: I really wish I hadn't decided to do this.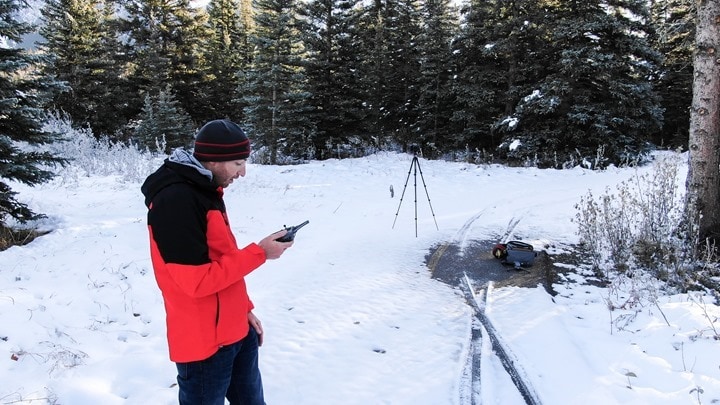 In this case, it was doing cold weather battery tests with the DJI Mavic 2 series drones. I had them with me to send back to DJI as I wrap up my review, so I figured why not put together a video on how well it handles cold weather. Specifically focused on battery longevity, and in turn, is there any difference between simply hovering for the duration of the battery vs flying constantly for the duration?
Now, I've been writing and photographing and videoing as fast as I can for the upcoming week – so I haven't had a chance to edit that video yet. So instead here's a few pretty morning photos I took. Actually, they're not photos but snaps from the 4K video of primarily the DJI Mavic 2 Zoom.
Pretty, huh?
Well, the video's a lot prettier to be honest, especially seeing the steam slowly rise off the river into the cold air.  More to come over on YouTube (and shortly here for the written review of it).
4) FAT Biking In Snow
While the Symposium officially wrapped up late Thursday night, I had a day to kill on Friday. My onward flight to meet The Girl wasn't till painfully early Saturday morning.  So after burning a bunch of drone batteries, I continued to freeze myself by going FAT biking with Jenelle from 4iiii (Grammar note: I've been informed that FAT must always be spelled in upper-case letters. It's not an industry standard thing, but a cool kids thing). She had bikes, and I…well, I didn't really have the right clothes for it. But I made do with plenty of random layers, some running gear, and lots of willpower.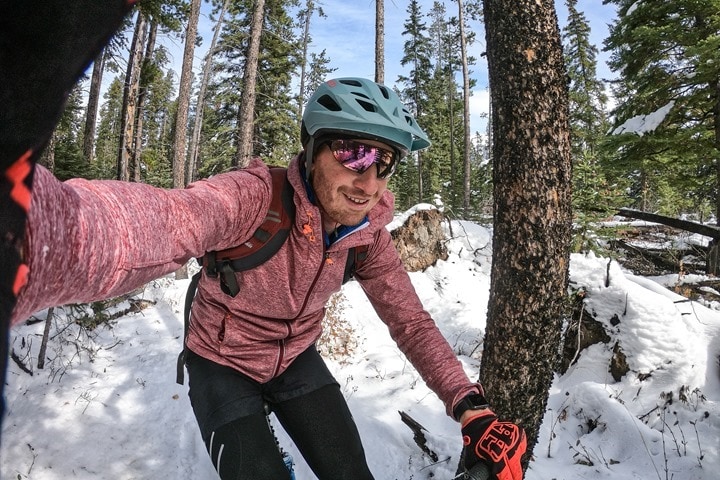 I've never been FAT biking before – but I'll tell ya now: It's a blast!
As she noted, it's somewhat like mountain biking used to be before it got so competitive (which, it is). This is partially because there's very little you can do to make FAT biking competitive.  You simply move too slow – especially uphill in the snow. In some ways, it's more about core stability and balance than pure leg power.  Obviously, there will always be someone that makes a competition out of everything, but this was legit fun without being overly competitive.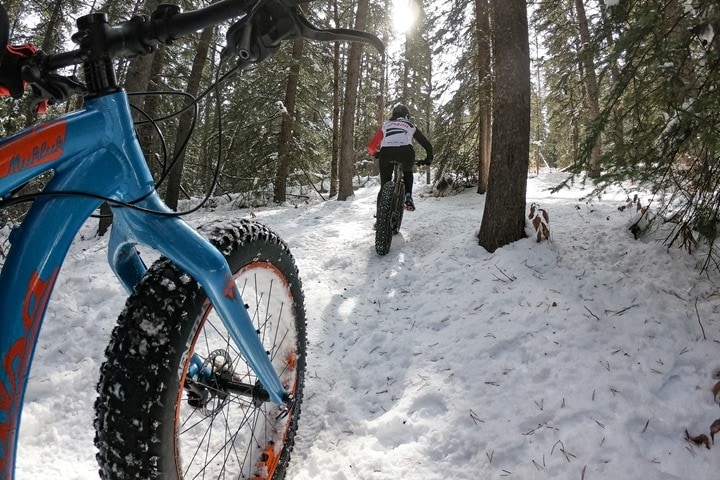 Also, I departed the bike a bunch. She was always ready with a camera to capture those moments. Obviously.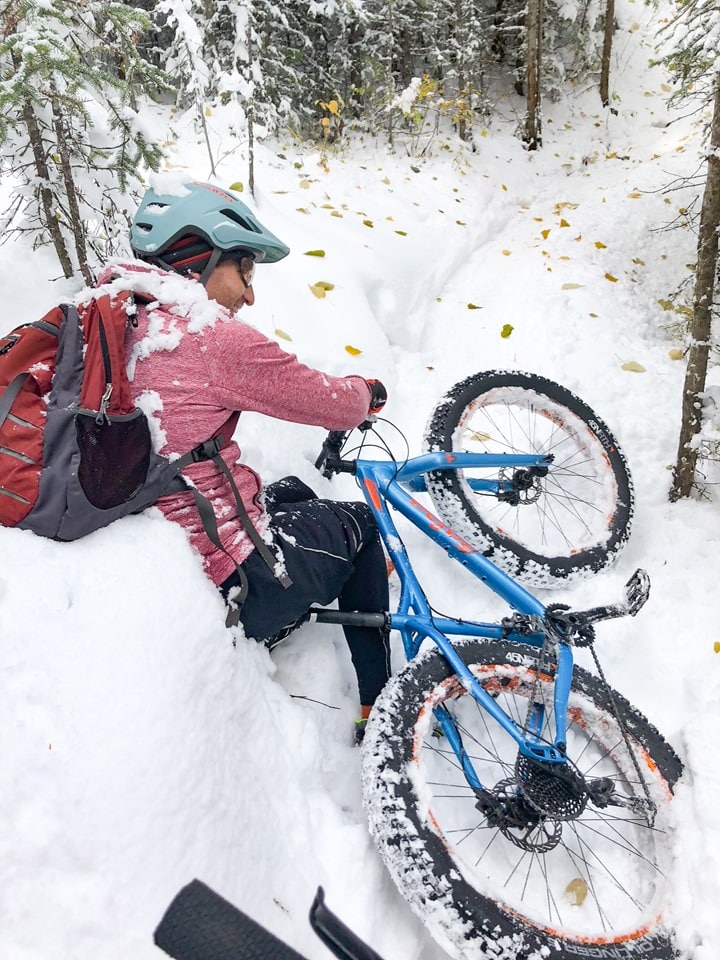 The weather was actually perfect though, since it was sunny out, and warmed up to about the freezing point.  We also lucked out with trails as well, in that the one we mainly followed had been lightly packed by a couple of riders before us.  Though, we saw no other cyclists this day.  Only a family of cross-country skiers.
I think The Girl would actually really enjoy FAT biking as well, so perhaps next time I'm up in Newfoundland visiting her family and there's snow I'll find some FAT bikes and we'll go out for a whirl.
5) Knocking out reviews
As I noted in my ANT+ Symposium related post, I didn't really do any product-specific photos/handovers at the Symposium this year. And honestly, that's actually kinda my preference. I much prefer having devices ahead of time rather than doing last minute announcement type things.  And frankly, virtually every company I interact with in the space understands that these days. A month ahead of announcement is the norm, so that's awesome.
However, that doesn't mean I always operate a month ahead. Nor does it mean products stop coming in. In fact, I had four different companies ship items to me in Canada while I was there. None were Canadian based, but it was the best possible spot for these companies to get products to me ahead of releases over the next few weeks and beyond.  Or, in some cases, my travel schedule these two weeks was more conducive to product usage or testing than back home in Amsterdam.
So after the FAT biking, I actually hung out at the lodge for a number of hours, working on reviews first on the laptop: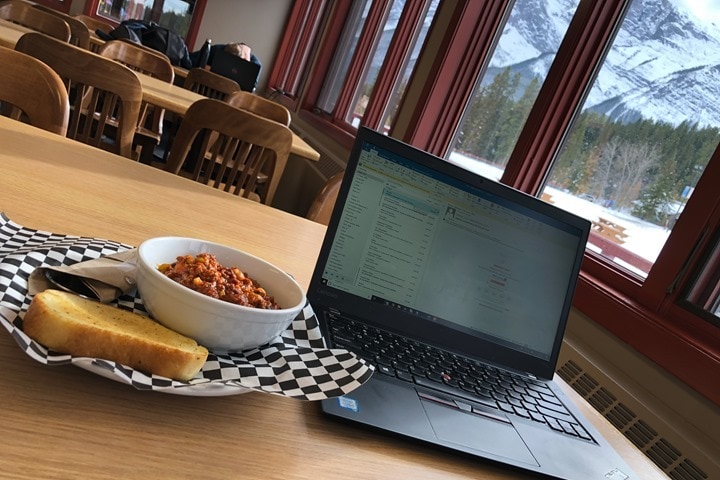 And then outside.  Of course, I can't show you what I was photographing and shooting video of yet. Some of it you'll see later this week on Thursday. But, the backdrop for my video was pretty: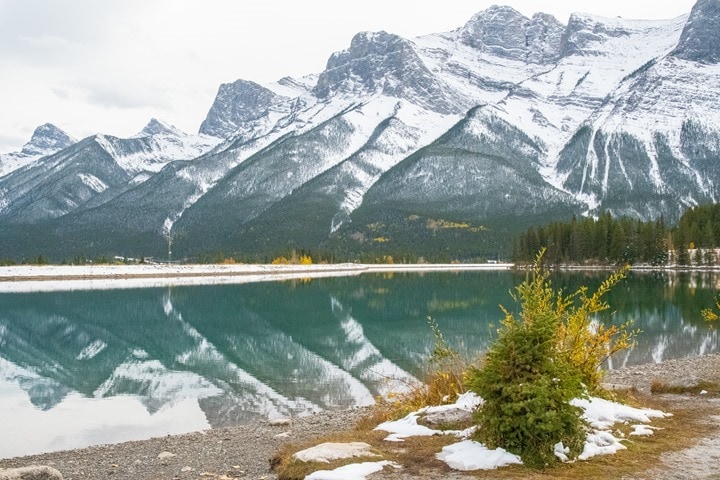 As I left the lodge early evening, these guys were chilling alongside the road. More elk. Because Canada.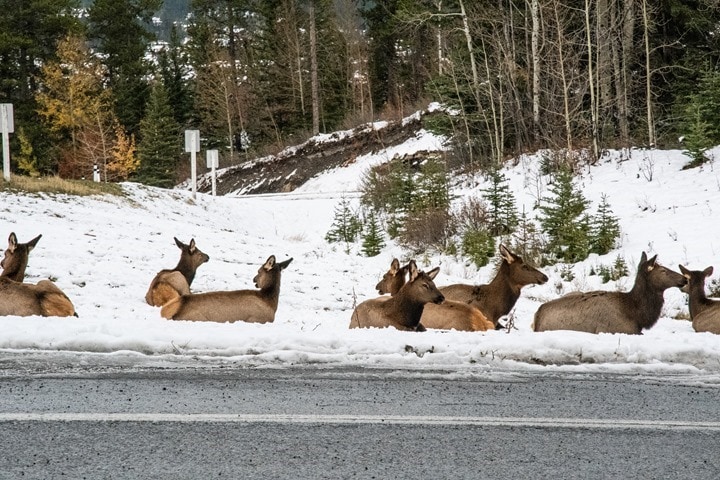 With that, I'm about an hour away from landing at my next (warmer) destination where I'll be meeting up with The Girl. Of course, regular Newsletter subscribers already know all about that.  For everyone else, you can stay tuned to either her Instagram page or my Strava account. Let's be honest, we all know I'm horrible at updating Instagram. Though, I did once last week and it turned out pretty good – I believe it might be one of my most-liked photos ever.
With that – have a great week ahead. I've got a solid line-up of posts ready for ya!