I've been relaxing up in Northeastern Canada since early last week, so here's what I've been up to!
1) Back in Newfoundland
After three flights following my brief stay in Oulu, Finland, I found myself landing in Newfoundland, Canada – The Girl's hometown.  Of course I've been here many times before, and thankfully most of those trips were during the summer months when the place isn't covered in snow with howling winds.
After getting a bit of sleep following the semi-convoluted flights from Finland, we set out the next morning to explore a bit of the Northern coastline for a few days.  I've explored other areas on previous trips, but not this particular section.  We first headed up to Trinity, to grab a bite and then drop in on a family friend that has a small boutique shop there.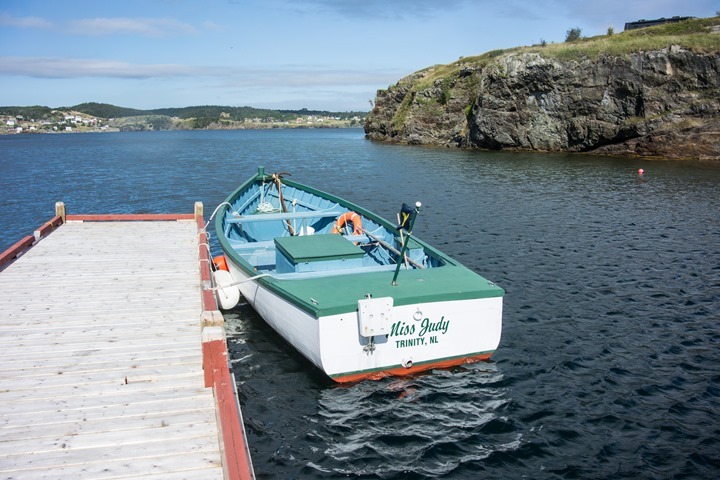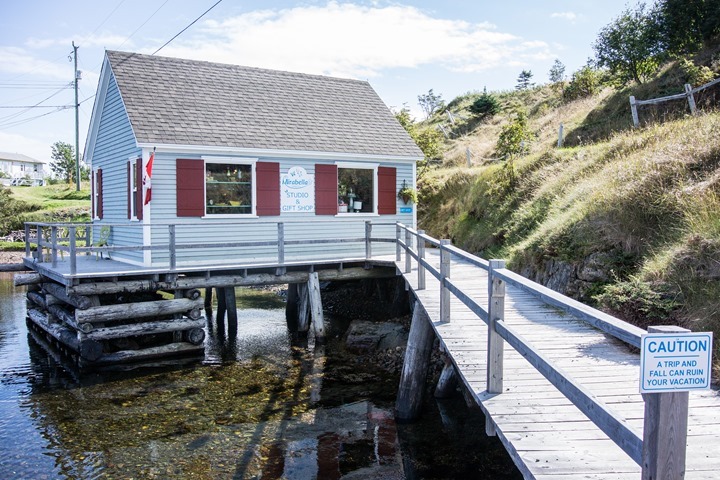 While they were catching up a bit, I played around on and around the docks with the jellyfish.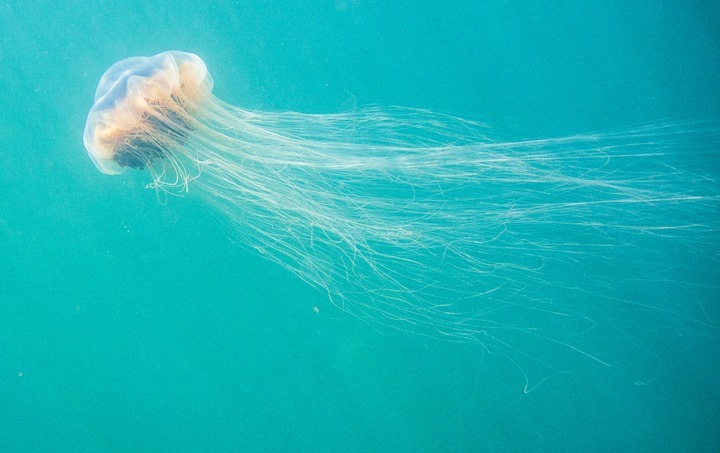 The waters of Newfoundland are covered in them.  If you picked any random Olympic sized swimming pool sized plot of water, you'd probably find a hundred or more of them in there.  Of course, they're relatively slow moving, so it's easy to avoid them if just wading.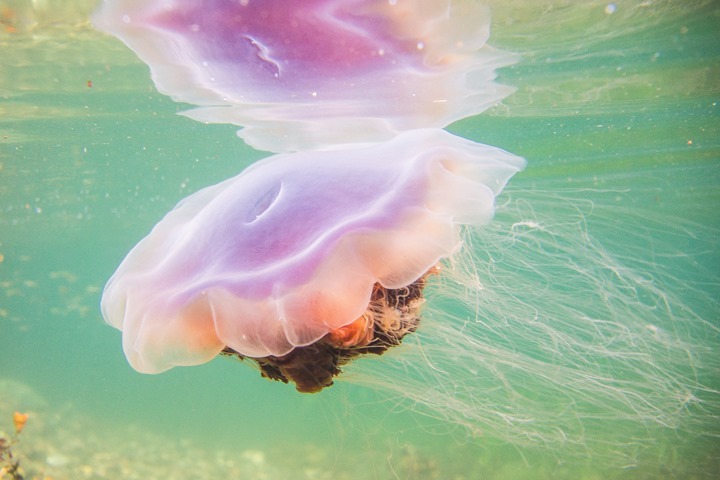 From there we headed up to check out the puffins, starting with the puffin lawn chairs: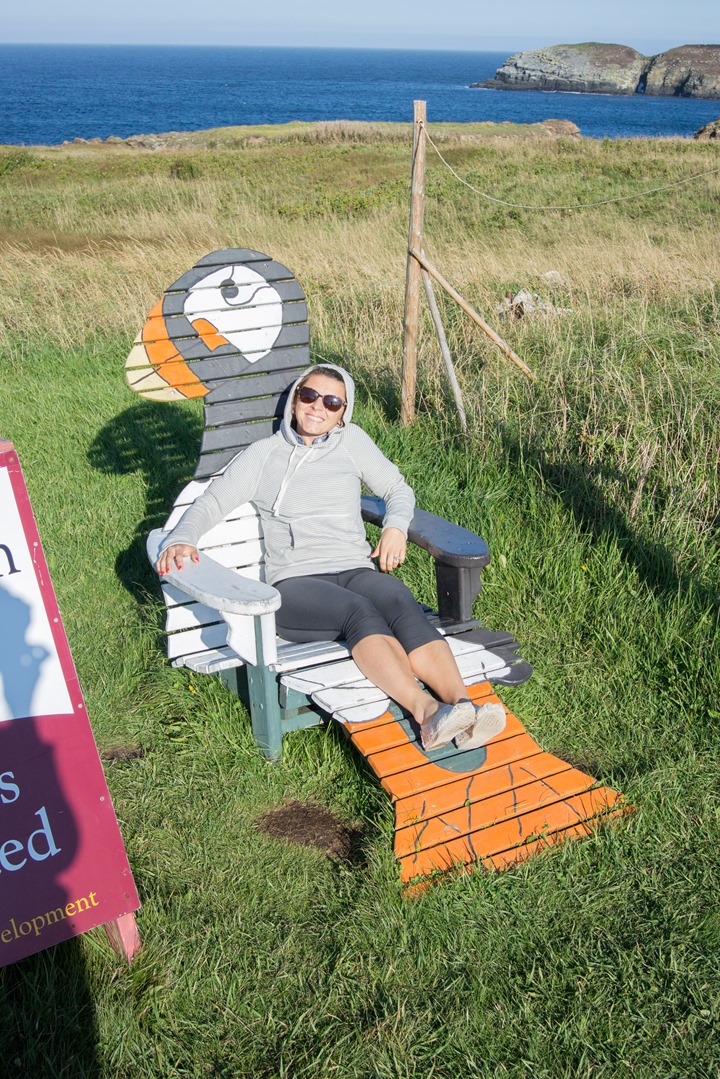 Though, the puffins were across a bit of a chasm, so you couldn't go and bother them (a good thing).  But easy enough to see.  Oh, and it was windy and kinda cold (the norm).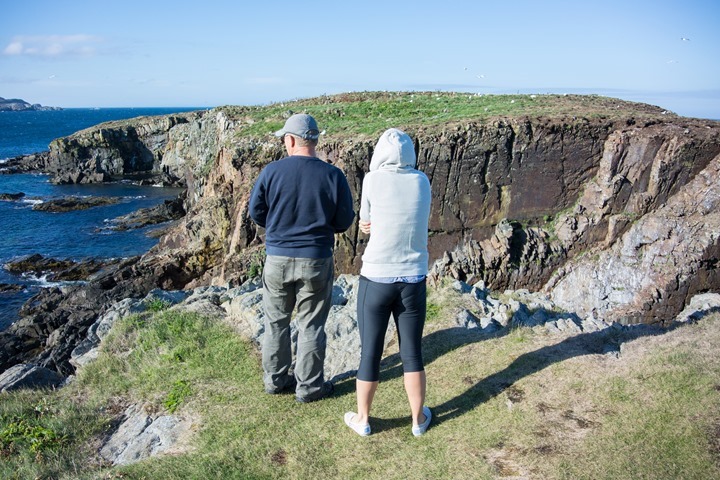 Over the course of the trip we simply stayed at a variety of bed and breakfast locations, usually on or right near the water.  Given Newfoundland is an island, it's not hard to find water.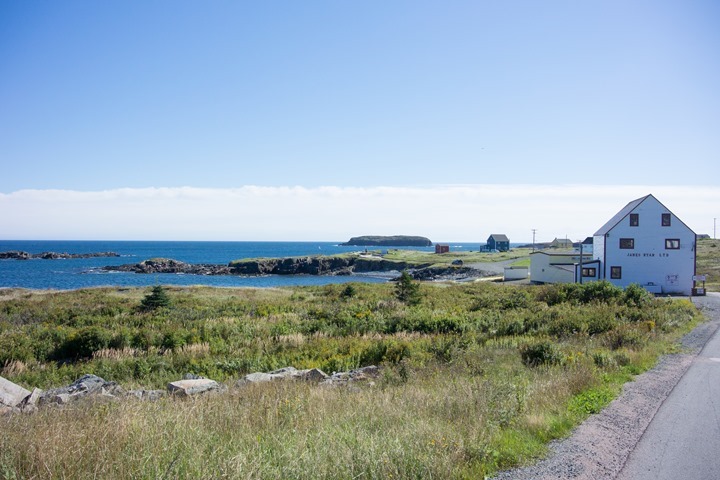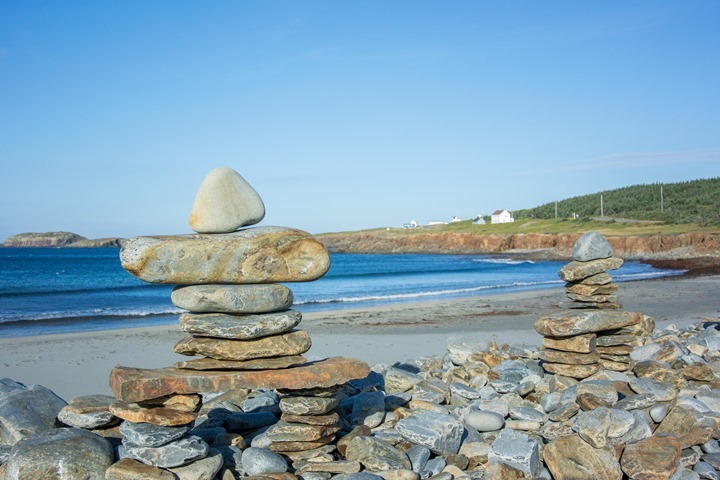 Below are a bunch of different tags I found washed up on the beach.  You can see cod and lobster in there, the most popular.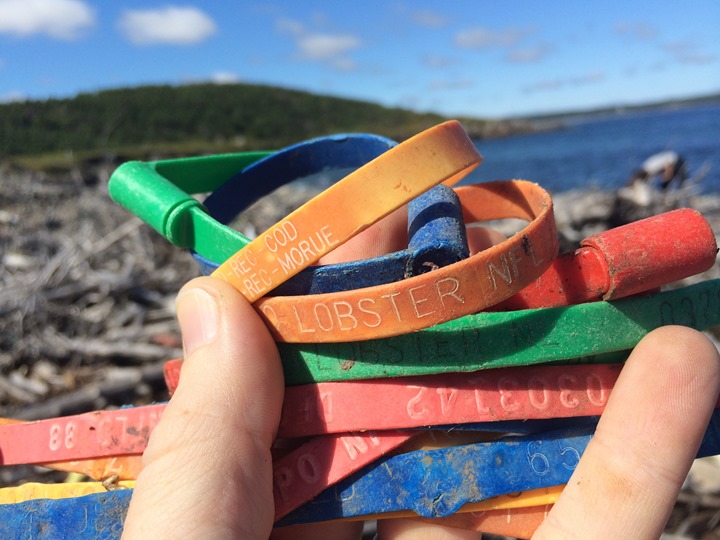 By lunchtime on the second day, we decided it was time for some food….so we went and gathered it.
2) Harvesting mussels…the cold way.
There are plenty of wild mussels in Newfoundland.  Here, it's relatively easy to get them – assuming you know where they are of course.
In our case we went up to a cove that The Girl's Dad had been to before, and sure enough, there were plenty there.  The only trick?  It wasn't low tide.
And that water?  It's definitely not warm ocean water.  It never is up here (icebergs floated by just a month ago in these coves).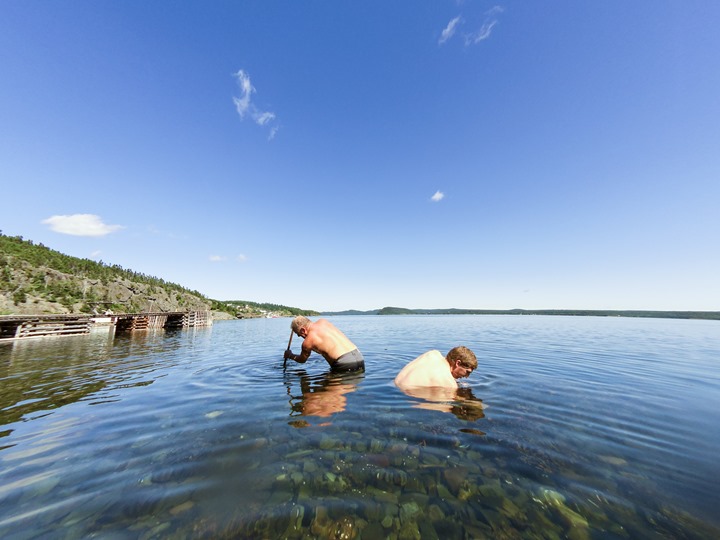 But on a nice sunny day, and for fresh mussels we sacrificed our warmth temporarily for great food.  Though, it would have been helpful had I remembered a swimsuit…or something to wear in the water on my feet.
Thankfully, at least for the feet I had brought a second pair of older shoes I've left there from previous trips.  Meanwhile, The Girl got the rake and the boots.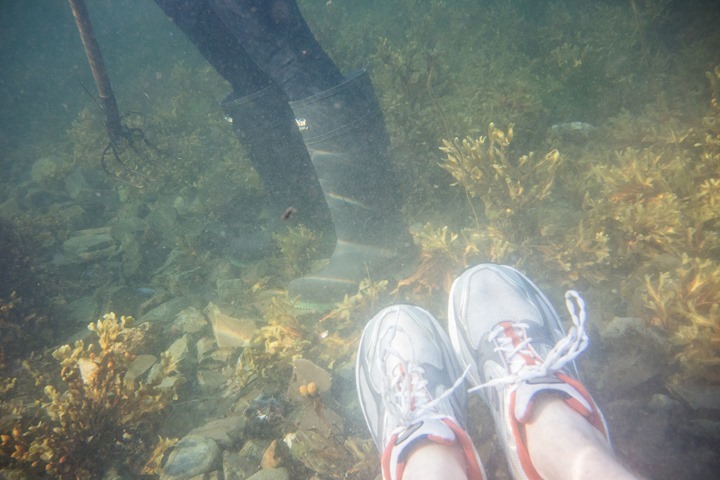 Waders would have been fine, except in order to get the mussels (since we only had one rake) you had to reach down and remove them from the rocks, so you were often dunking fully underwater quite a bit depending on the exact depth.
The other trick was of course those darn jellyfish, constantly floating by.  In any case, before long we had our first bucket of mussels – just enough for lunch.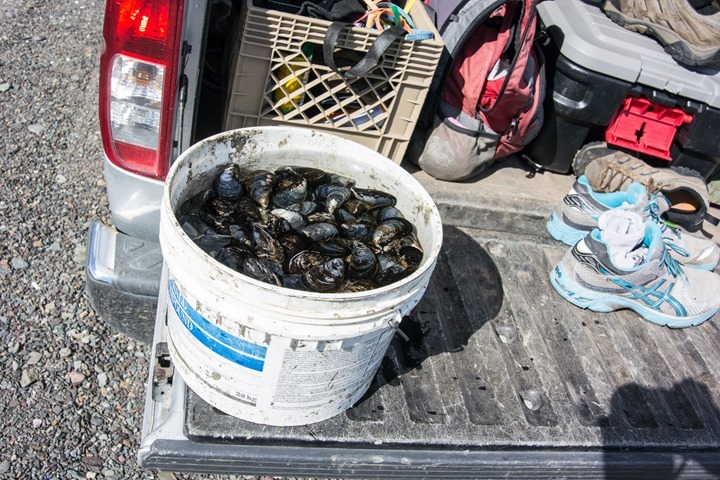 The Girl and I started cleaning the mussels, getting them ready: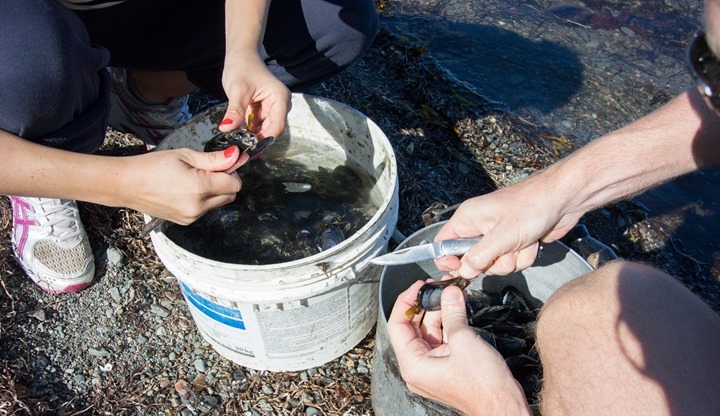 Meanwhile, The Girl's Dad started working on a bacon, chanterelle mushroom and cream sauce.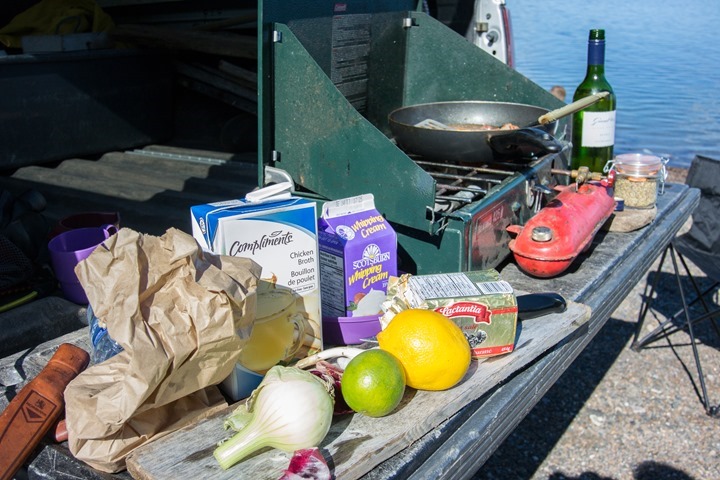 In case you're wondering, all of the vegetables (not the lemon/lime of course) were from their garden.  As fresh as you can get.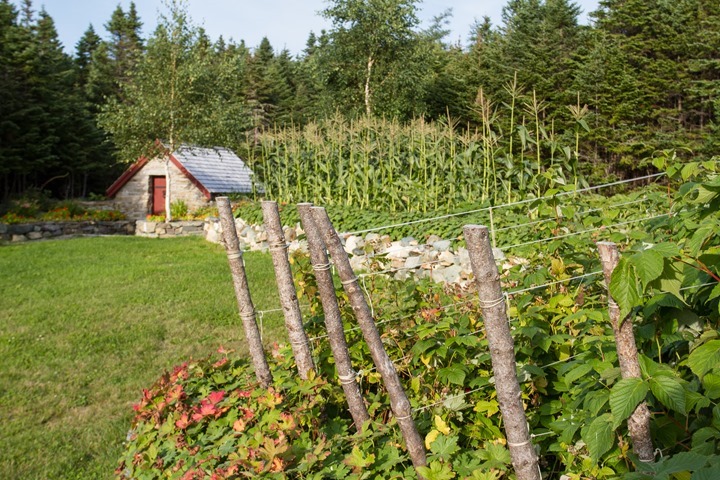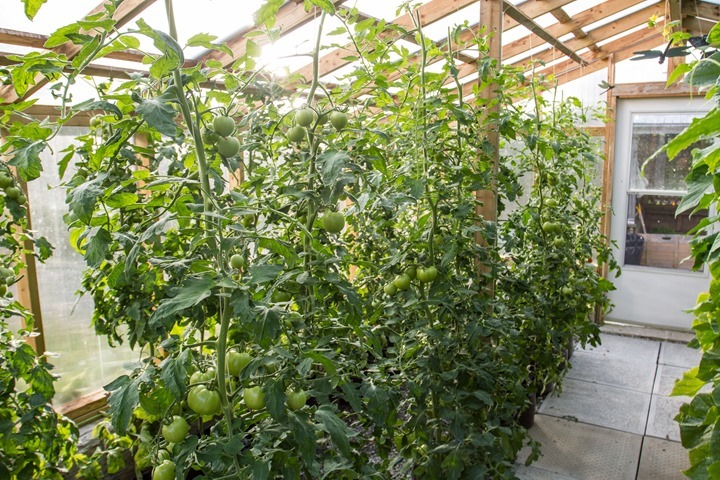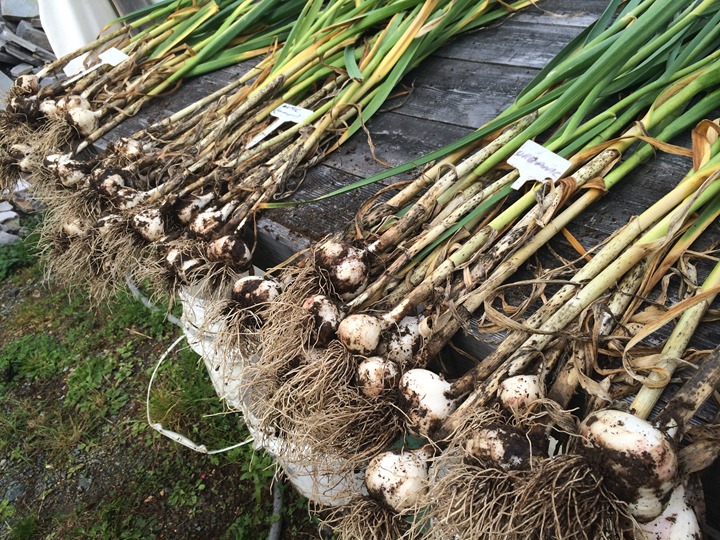 And the mushrooms?  Picked from the forest.  Here he is spooning the mushrooms and bacon with sauce over the first round of mussels.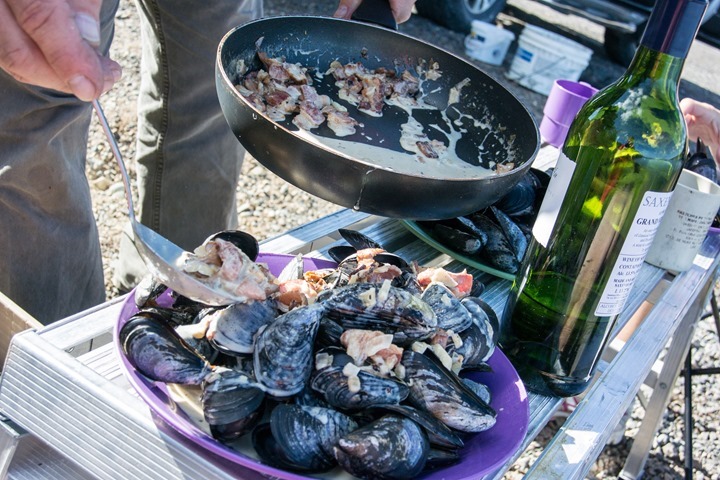 Pretty much the best way to tailgate, hanging out at the end of an isolated and deserted cove cooking up fresh mussels.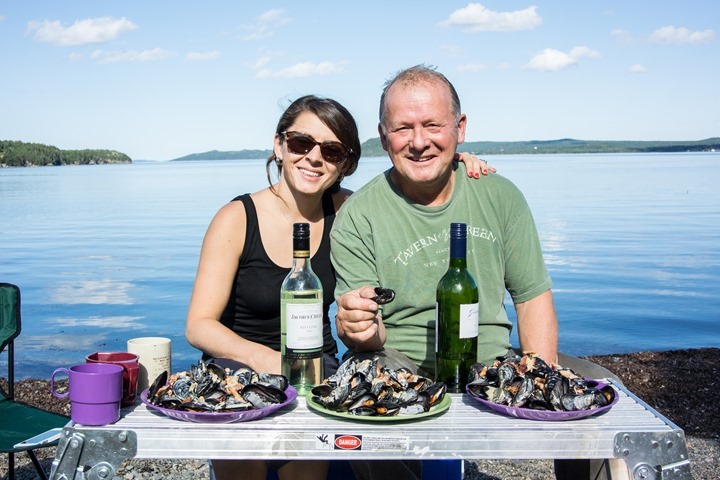 By the end, I was like this: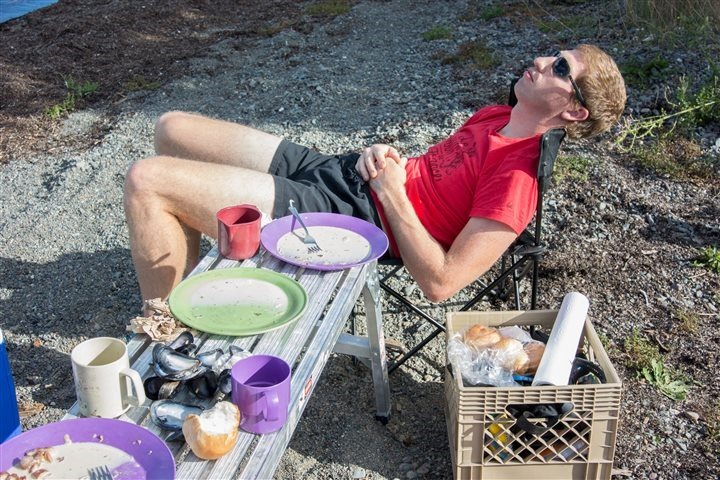 Of course, we needed more mussels for dinner that night.  So back out we went: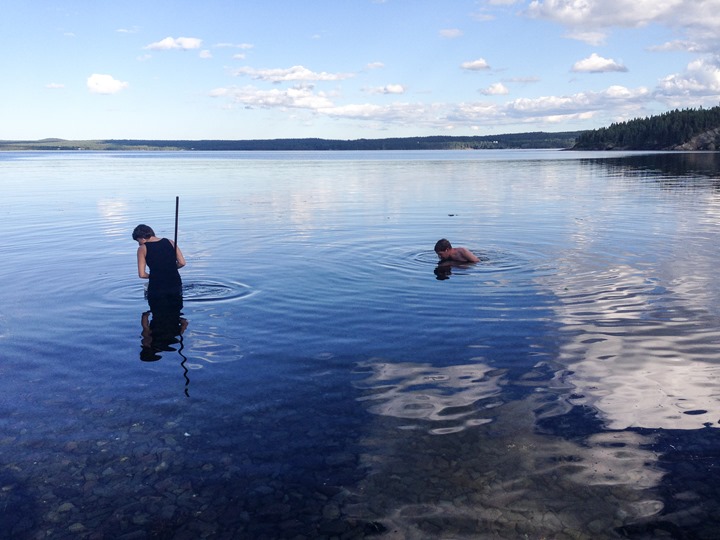 More cleaning…and more eating. This time by campfire: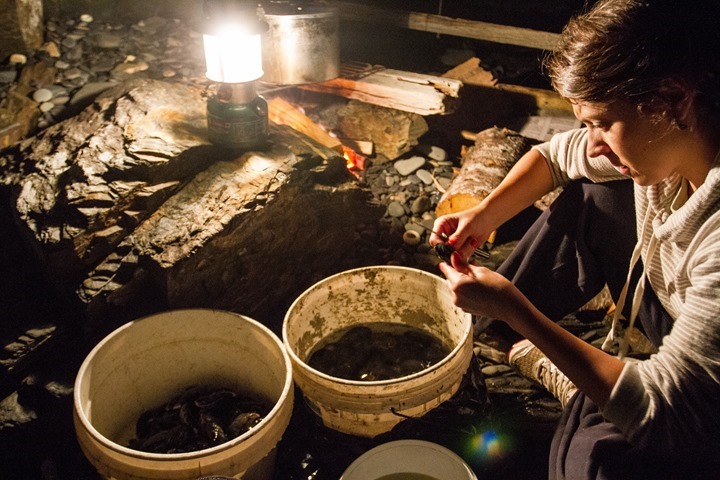 Finished off with roasting marshmallows of course!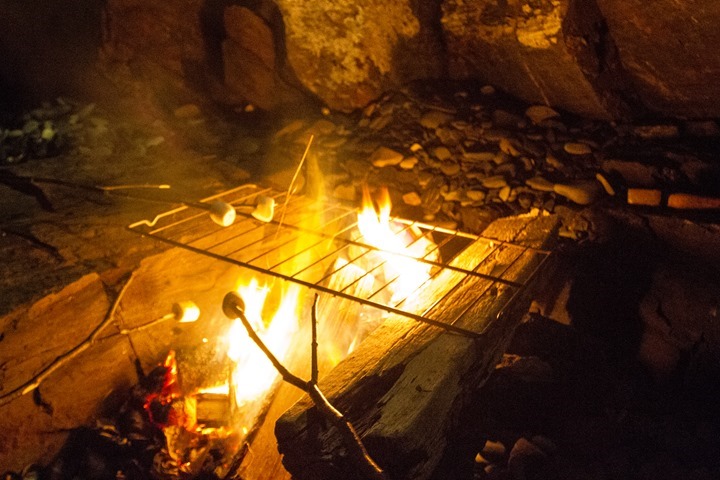 3) A
3
5 hour tour…on a boat
The next morning we caught up with another family friend and headed out for an island hopping adventure along the coast.  We first visited a few cabins of friends out on various islands, all of which were built by the owners via painstakingly bringing every item required out there one little boat ride at a time (or in the winter when the ice freezes over, via skidoo).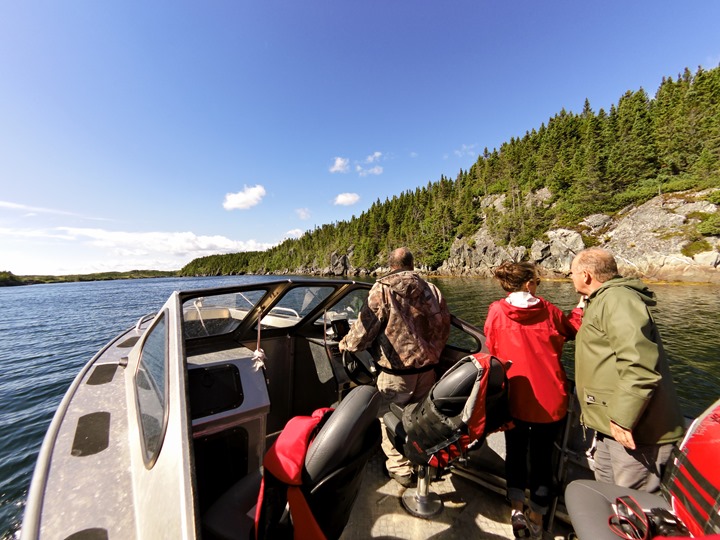 At one point we cut through some tiny channels in one island that were used by fisherman when the weather was bad, as they were well protected from the ocean brewing just beyond.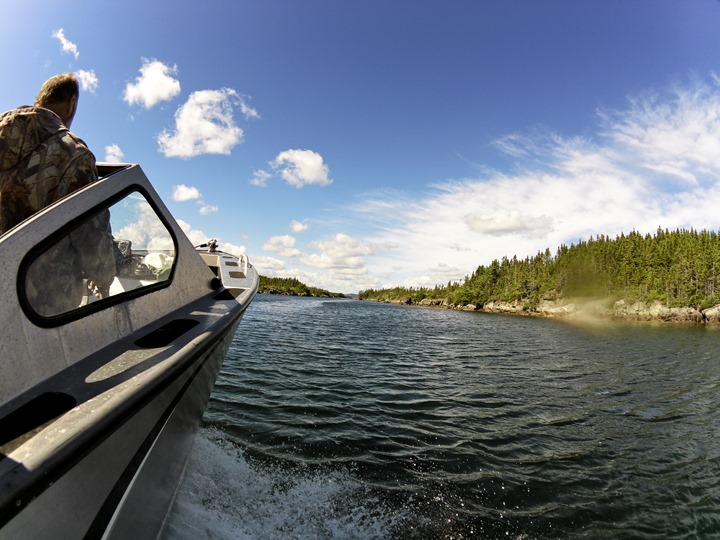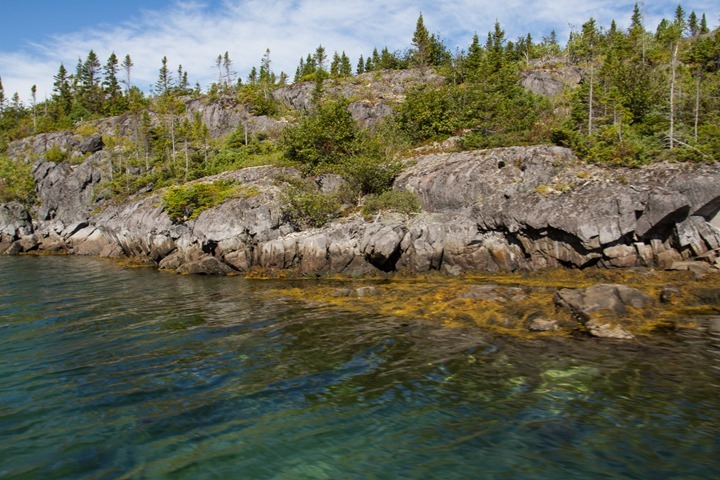 We stopped for lunch on the rocks of one little island (below).  All in all I think we stopped and got out at at 4-5 islands to check out various things.  And some islands didn't require stopping at all – as we often had Bald Eagles flying overhead and could just stop and watch from the water for a few moments.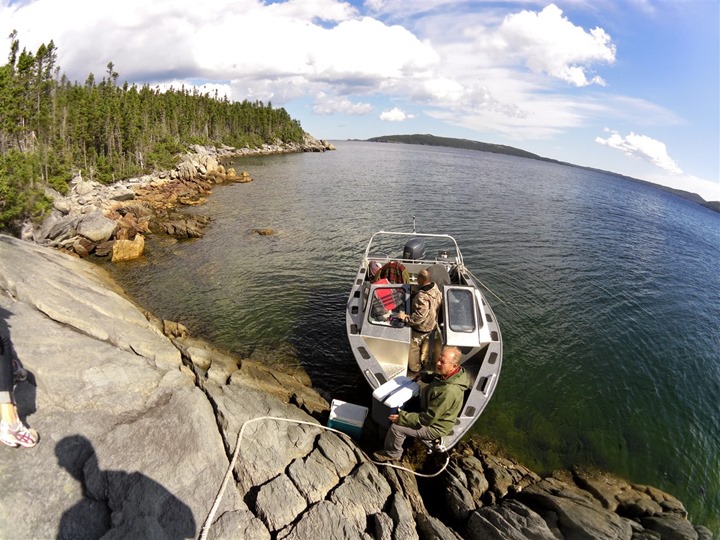 It was a great trip on an incredible day weather-wise, huge thanks to our friend Dwight for taking us out!
4) A short runaround
Less you think I didn't run at all, I did.  Just not a ton, but I did.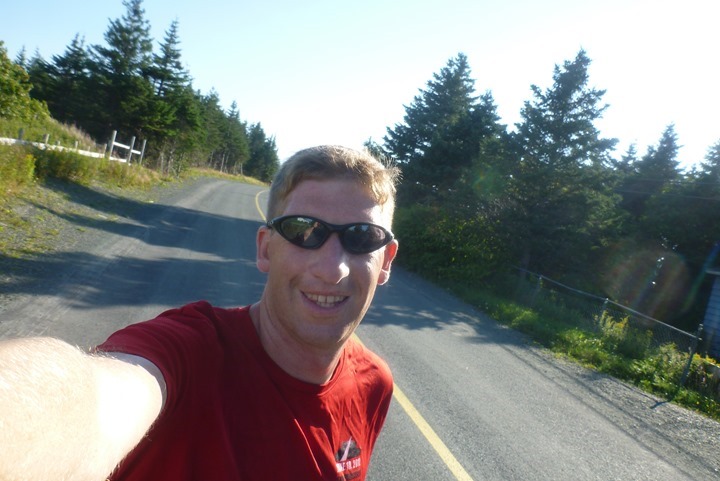 Was testing out various GPS watches, the usual I suppose.  It's gonna be a busy fall for reviews, that's for sure!
5) A few chilly lake swims
Over the course of my trip, I probably spent 3-4 hours submerged in cold water.  For better or worse, only about 20% of that was actually swimming for exercise.  The rest, standing around collecting food.
But being a endurance sports focused blog, I figured it'd be appropriate to note the swim pieces.  I went to a small pond a short 3-5 minute drive from the house.  I've swam here in the past, and thus know it tends to be a bit warmer than some of the bigger lakes/ponds nearby.  Plus, it's got a tiny beach to enter on.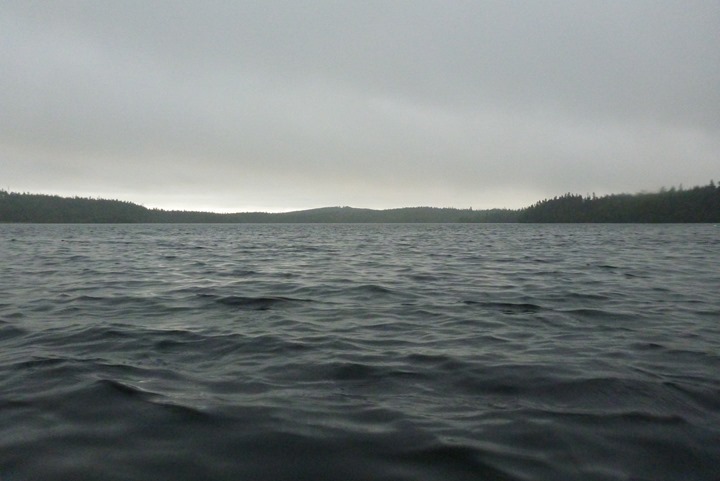 The first day I went it was raining lightly at the start of the swim, but otherwise I could see across the lake.  But by time I got in the water about 3 minutes later the fog had rolled in and gave me little visibility.  It was actually really impressive: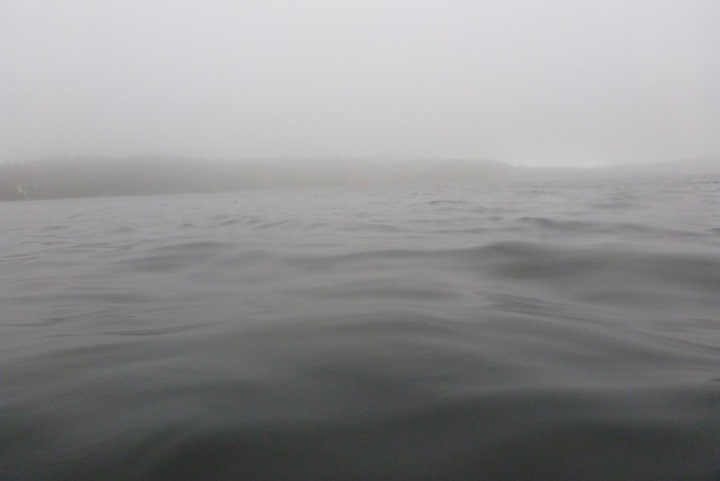 Nonetheless, I set out, and just edged along the shoreline within view of the trees, and for the most part in only about 3-4ft of water (a little over a meter), so I could usually stand up if I wanted.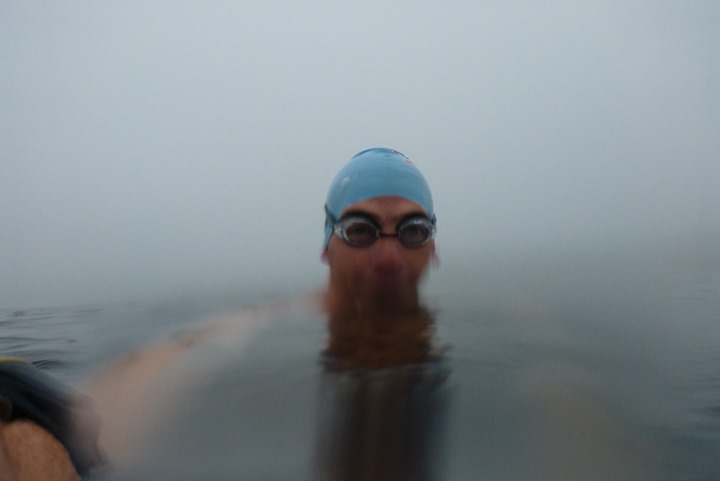 I then cut across the lake and then continued back down the other side.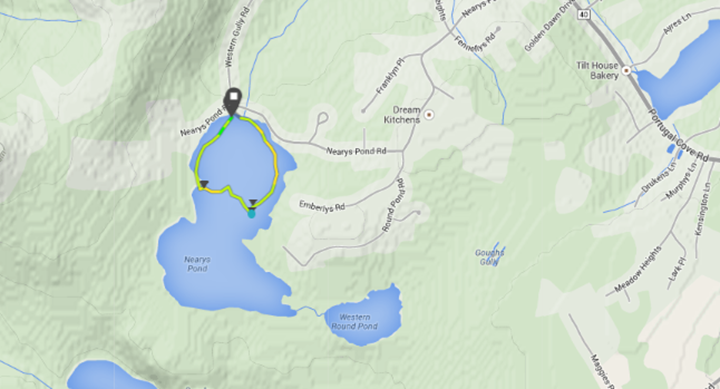 Of course, it was heavily foggy until the moment I got out of the water and then within 5 minutes it was clear again.  Go figure.  It wasn't a terribly fast swim.  I stopped a few places to take photos of the watches.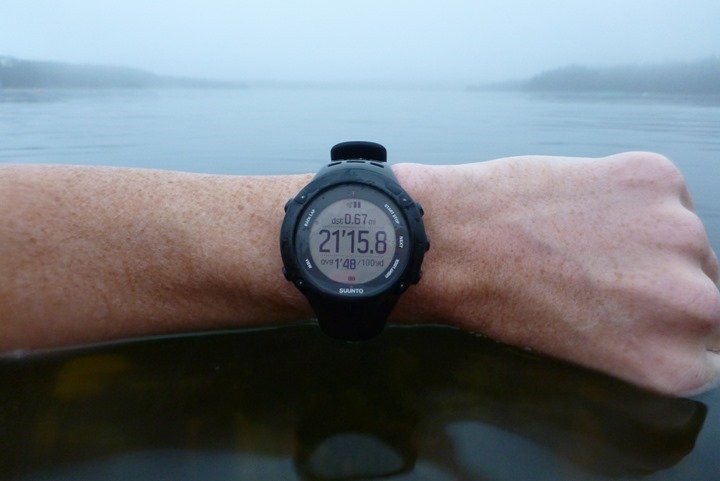 Then this morning (Monday) before my flight I headed out again.  I got up there around 6:55AM and dipped into the sorta chilly waters.  Though, with the water temps at about 62°F, it was actually warmer than the air temperature.  And to be fair, after 1-2 minutes I was good to go water-temperature wise.  This time, it was a relatively peaceful and sunny early morning swim: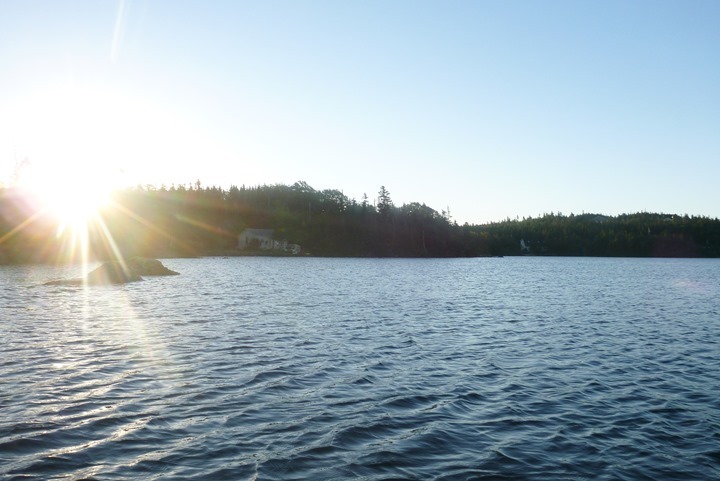 In fact, very much like most triathlons where the sun is right in your eyes on certain legs.  I swam a similar 20-minute or so loop as I did the first time.  Nothing fancy, nothing terribly fast, just a nice way to start the day and collect some data.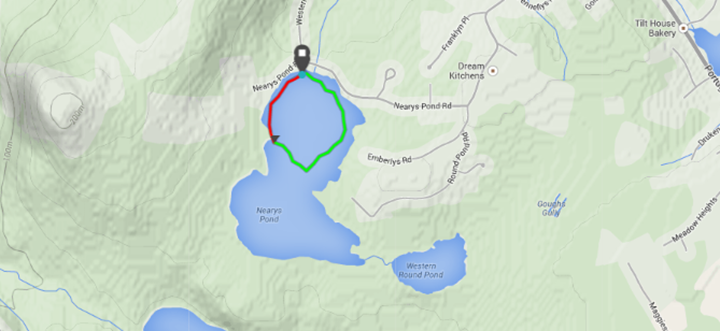 I think I'd swim this little loop every day if I could.  It's a perfect little triangle that's fun and without worry of motorboats, strange sea creatures or anything else.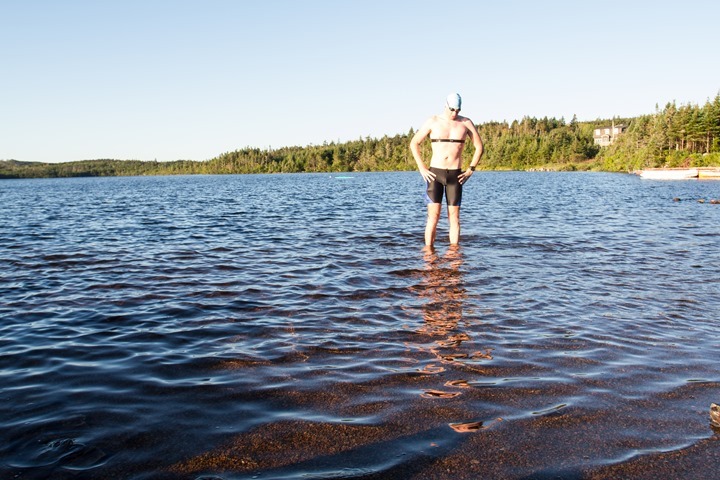 With that I soon found myself on a plane and jetting my way to Interbike in Las Vegas, leaving Newfoundland behind.
It's gonna be a busy week ahead. Dare I even say…epic?  Well, I suppose some testing I'm doing over the next 18 or so hours on a few unannounced products will determine whether it's epic awesome or epic…not so awesome.  Fun times  ahead!
Thanks for reading!