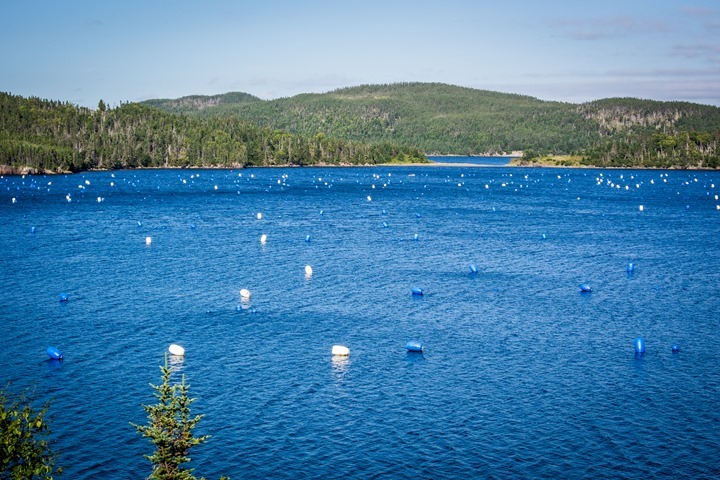 It's been a long time since the last 'Photo of the day' post, which have historically almost always been on Friday's.  But earlier this week when we turned the bend on a tiny coastal road in Northern Newfoundland, I knew I had a winner.
Spread out in front of us were thousands of buoys.  Even the most determined of openwater swimmers would stop and take pause at the best way to navigate the course.  Do you go blue's to white's, or blue's all first?  And are there numbers to follow, like one of those 'paint by number' pictures?  And what exactly would that swim GPS track file look like anyway?
All valid questions, and questions that I have no intention on finding the answers to.  On the bright side, this particular swim course comes with its own on-course aid station at every single buoy.  All the buoys are in fact part of a vast mussel farm spanning out over the entire cove.  So much so that they're even visible from space, as seen in the satellite photo: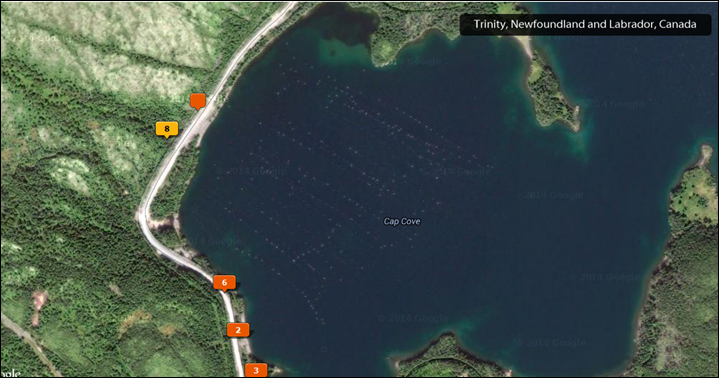 Thus the next time you complain about that swim course with the slightly out of place buoy – just remember this place…it could be much worse!
Have a great weekend all!