This Saturday was the 2nd Annual DCR Open House.  I announced it back in November, and was super-excited that so many folks made the trek to the DCR Cave in Paris, both from just across town as well as all around the world!
The day was divided up into a morning group run, and then the larger open house that evening.  Here's how the day went down!
The Morning Run:
We started off the morning with an optional run.  Everyone could sign-up for one of two running groups, one with me, and one with The Girl.  Same route – just slightly different paces.  We all met up at the Studio at around 9AM, just a bit after the sun rose.
From there we wandered across the street to get GPS signal and start our run.  Astoundingly – everyone got GPS signal super quick!  Thus, we grabbed a quick group photo: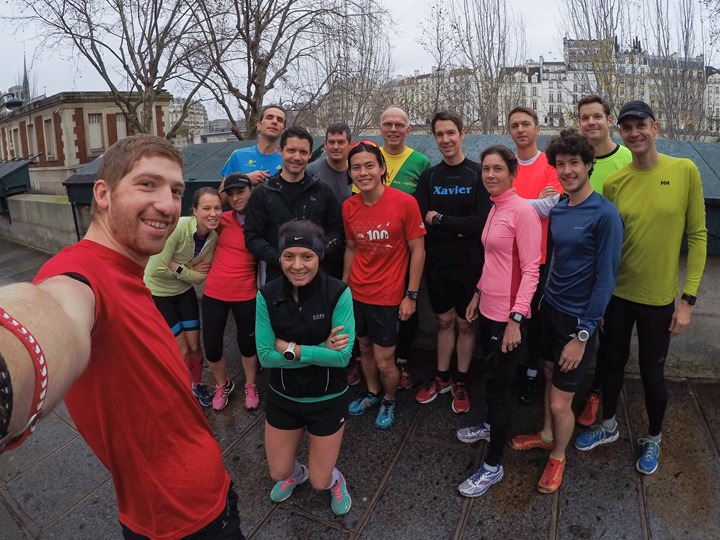 With that, the two groups took off!  I'll just blend the pictures together over the course of the route.  After running alongside the river for a bit, we crossed into and through the Louvre: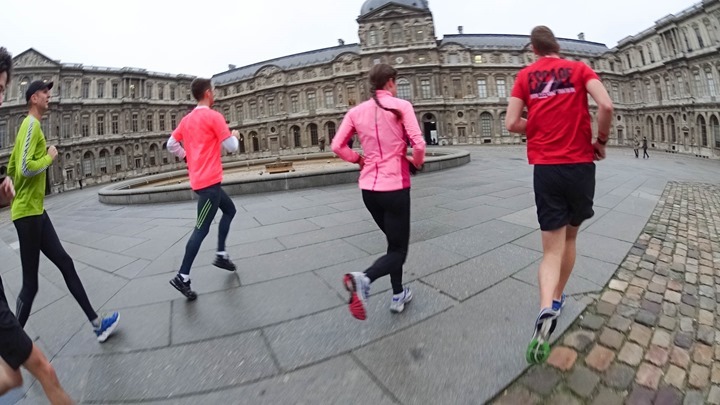 (For the photos with me in them, thanks to DCR reader 'Hollyoak94' for sharing the pics!)
The Girl's group took a quick photo-stop here in front: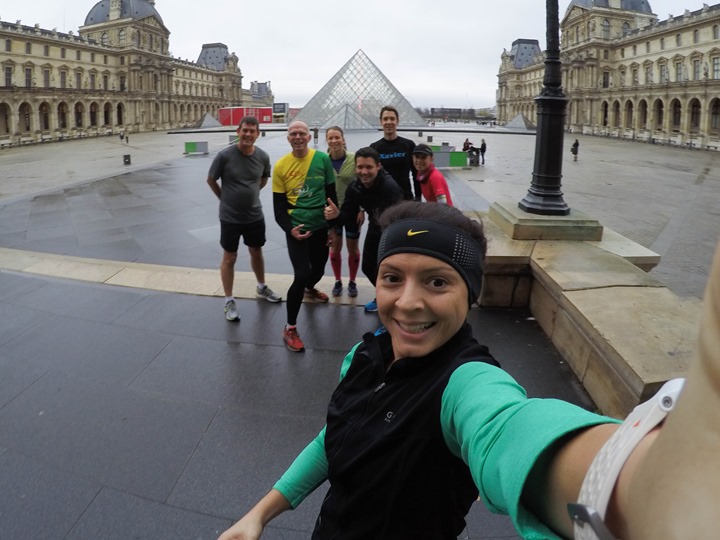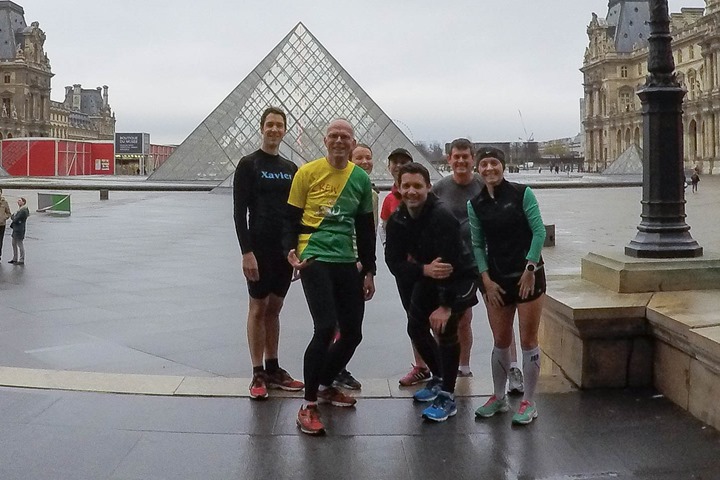 Then both groups ran through the Tuileries, directly towards Concorde.  You can see the Ferris Wheel off in the distance here.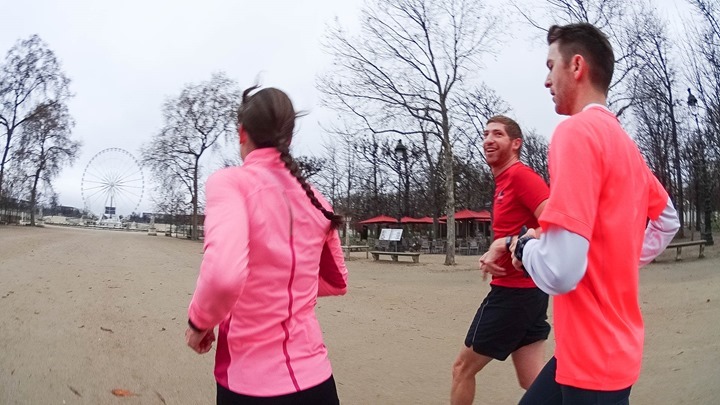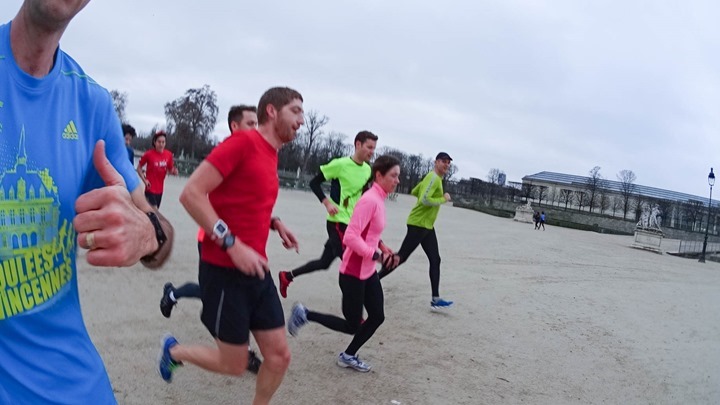 Here's The Girl's group after leaving the gardens and working their way around Concorde.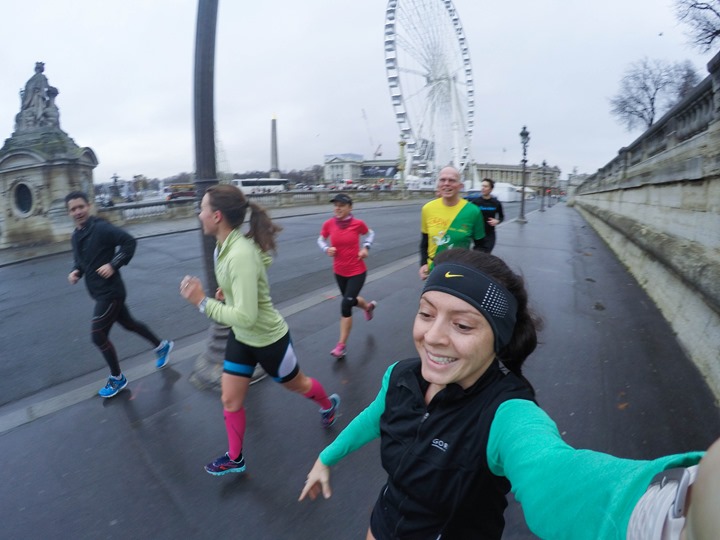 Then it was back along the river making our ways downstream towards the Eiffel Tower.  This time of morning it was nice and quiet, with virtually no tourists out and about – so no dodging of people required!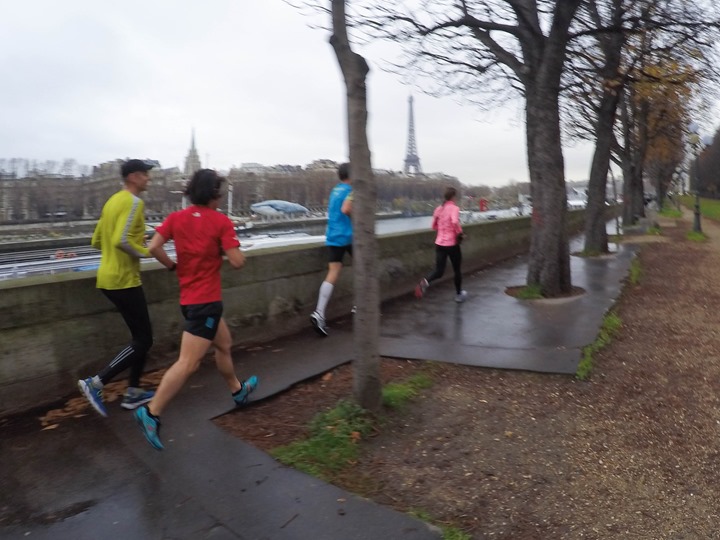 In case you were wondering – I wasn't the only one with multiple watches on their wrists this morning!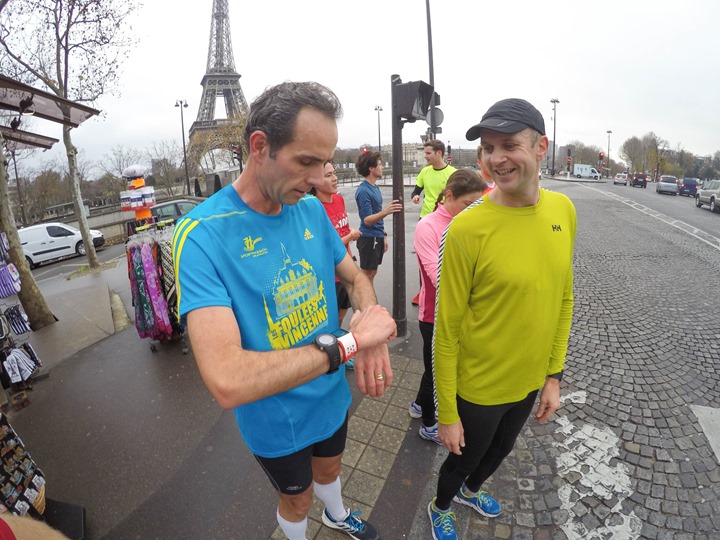 As for my own wrists, I was mostly testing out the Garmin Vivosmart HR optical HR sensor's accuracy: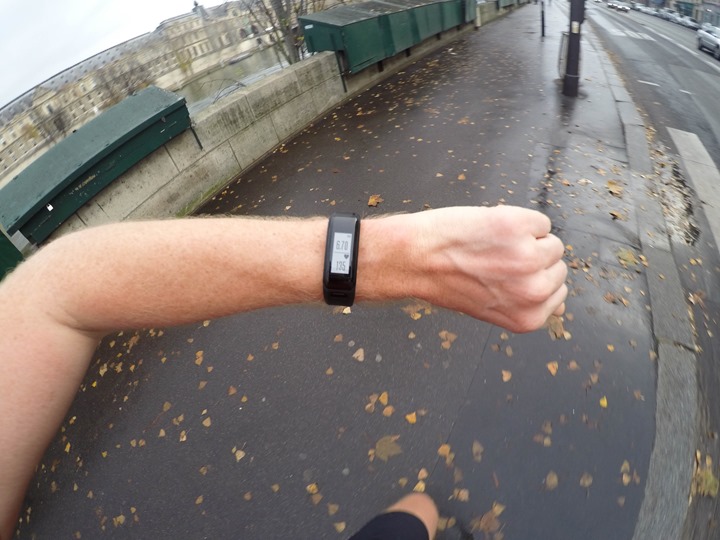 Here's how that turned out:

(Green is Vivosmart HR, Purple is Scosche, Red is HRM-TRI.  The three purple drops is simply a case of out of range transmission issues.  Overall, the Vivosmart HR did well during this run, though it seemed to get tripped up when I'd pause running.)
Once we reached the Eiffel Tower, my group climbed up to the top of Trocadéro to get a slightly better view.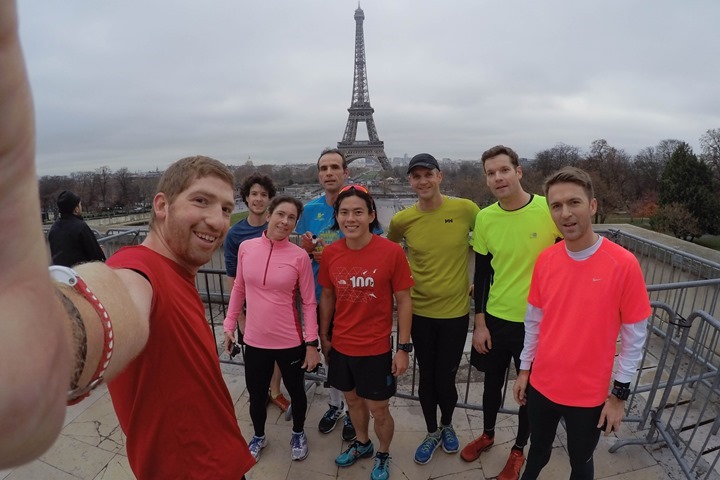 We then took our photo stop there for folks to get a few more photos: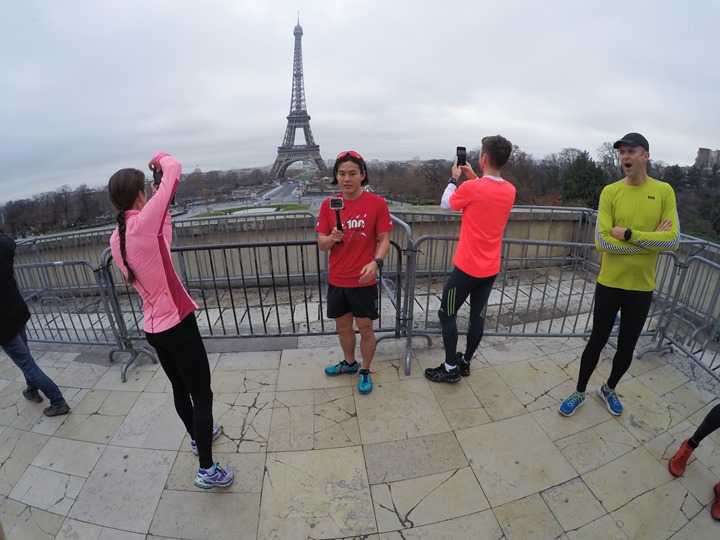 After that we headed back down Trocadéro, just in time to find The Girl taking an accidental burst selfie-shot of 30 photos.  You can watch the looping animated GIF here!  All of which ends with this:
We helped her out and got a combined group photo.  Complete luck that we managed to merge at this point: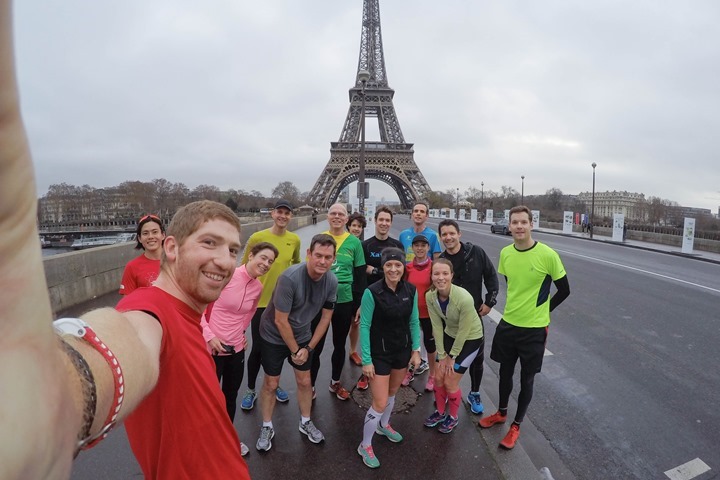 We all jumped back down along the river along Les Berges to cruise back towards the Notre Dame area.  As we did that, my group took part in the 100m sprint that's setup on the pedestrian area.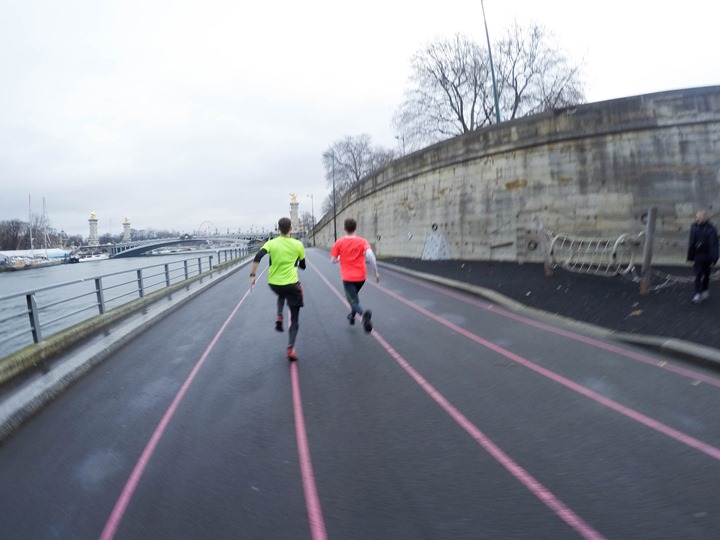 A short bit later both of our groups saw a peloton of sorts cruise past us in the bike lane.  We're not quite sure what they were for – perhaps a reader knows.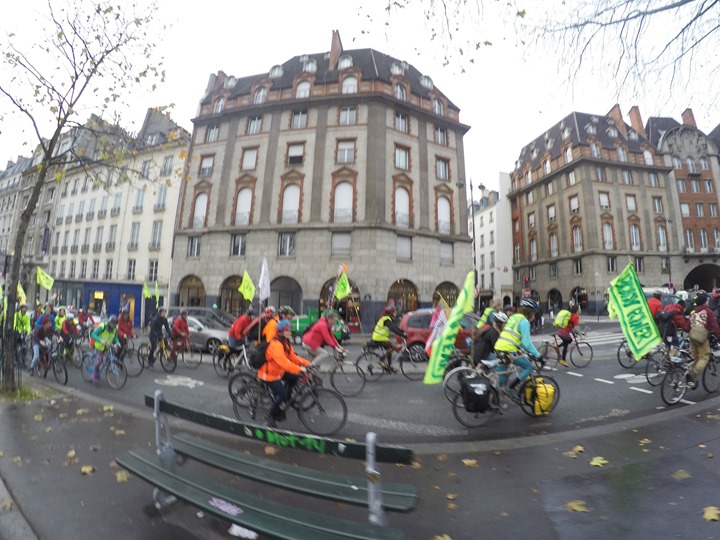 Next, as we neared Notre Dame we took two slightly different paths.  My group cut through the front and then the gardens of Notre Dame: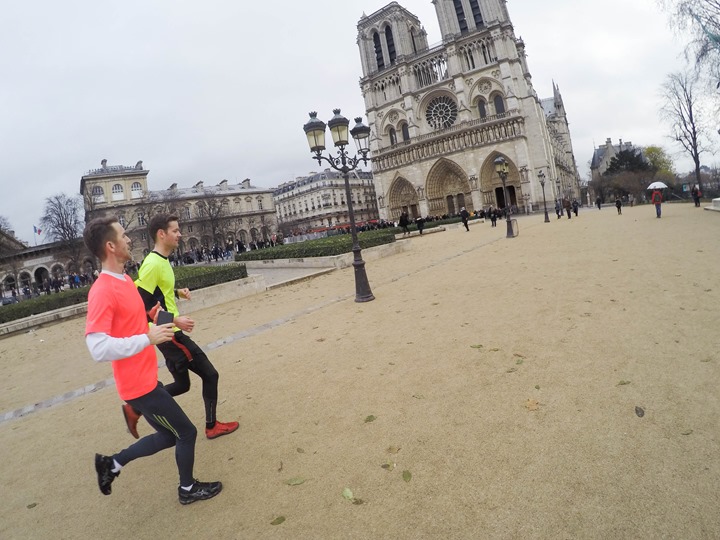 While The Girl's group went a block away and swung by the CupCakery: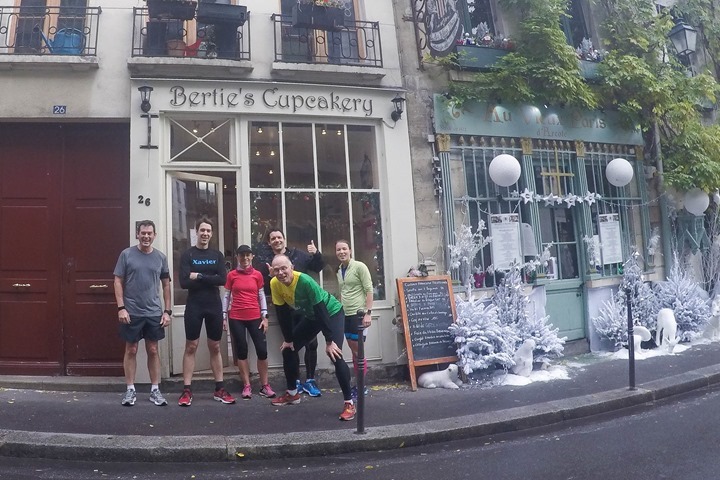 We then met back up at the Studio and got to enjoy some of The Girl's baked goods!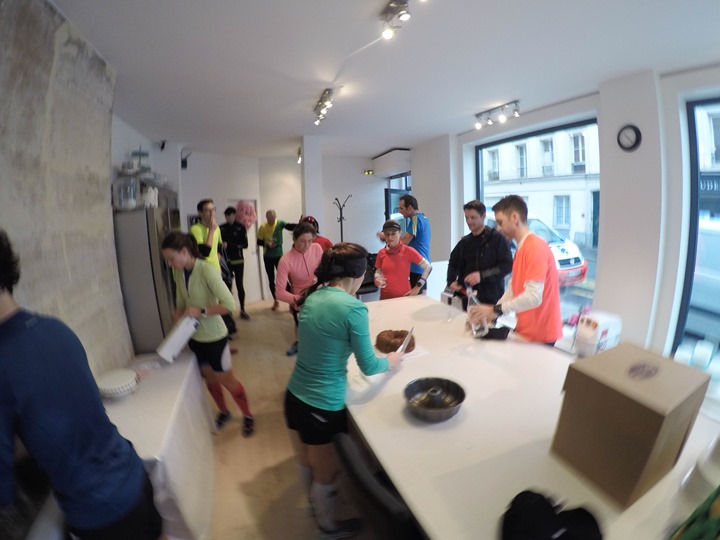 With that – the first ever DCR group run was in the history books!
The Open House:
Later on that night it was time to crack open the door to the DCR Cave for the full open house!  Just shy of 50 people came to the event over the course of the evening, which meant it was well beyond a packed house within the Cake Studio and Cave.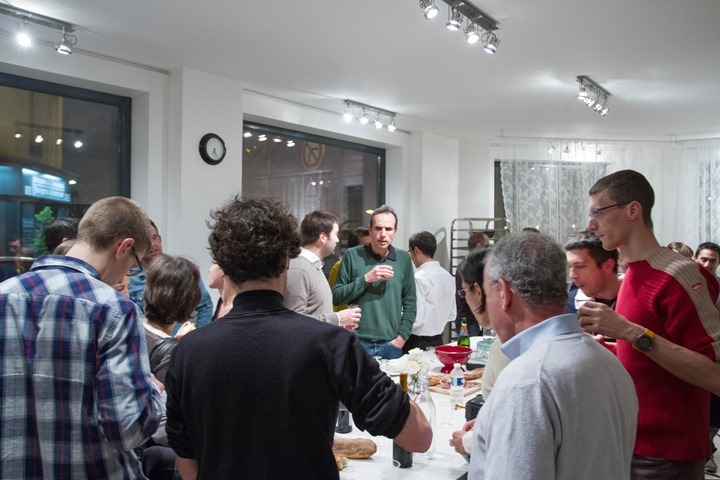 Seriously, we've never had anywhere near this many people in the place at one time.  Next year we'll actually have to clean our offices (to open up that door) to get extra space to allow more to spread out.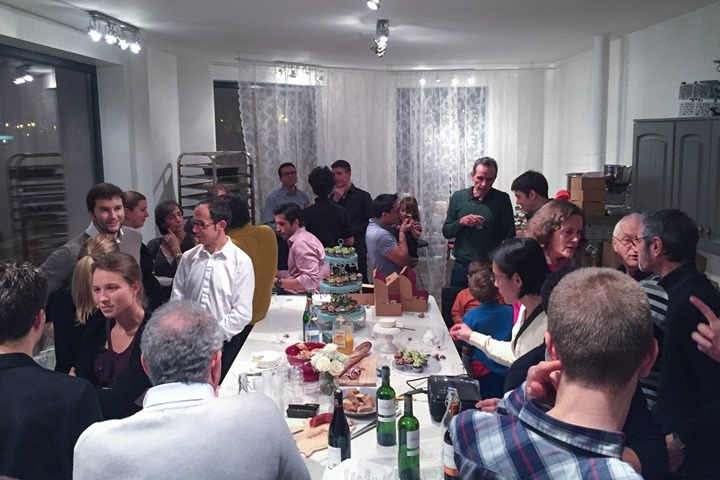 We had lots of cheeses, meats, wines, and baguettes – and we're happy to report our crowd did a good job of ensuring we didn't have many leftovers.  Especially on the cupcake front!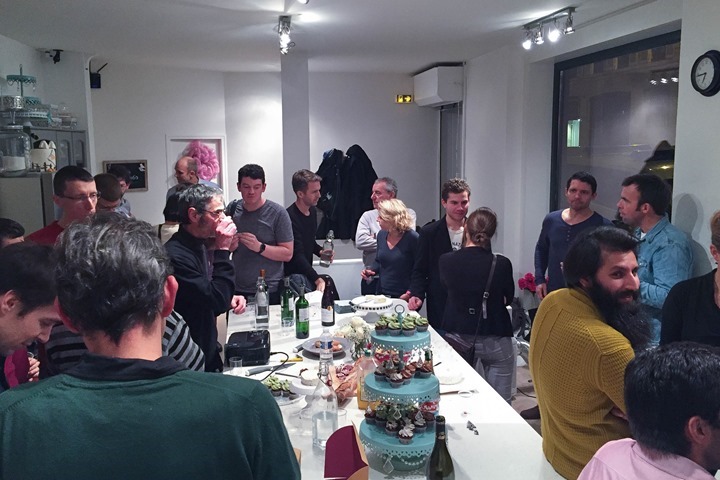 There were even a few kids that came too!
Two of them brought us drawings – one of me, and one of The Girl: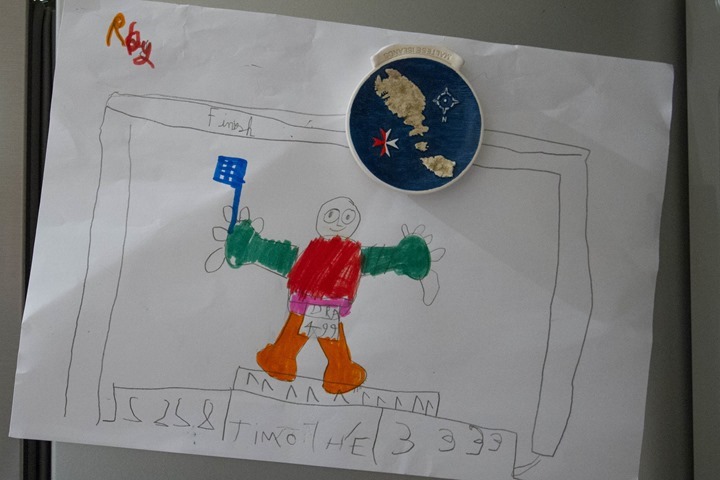 So we've proudly added them to our fridge in the studio!
We also had a little Christmas Tree setup, adorned with all sorts of nifty gadgets: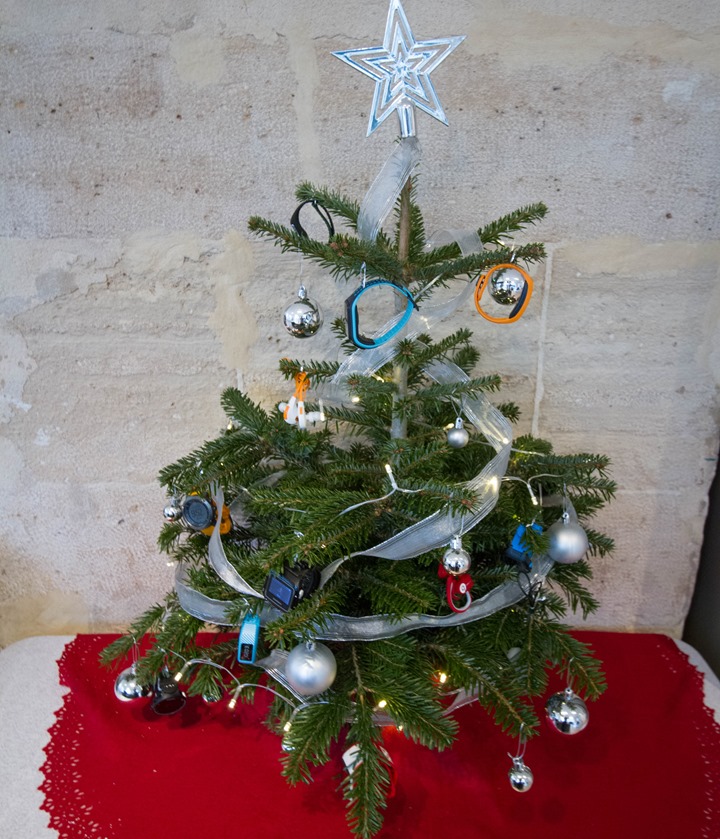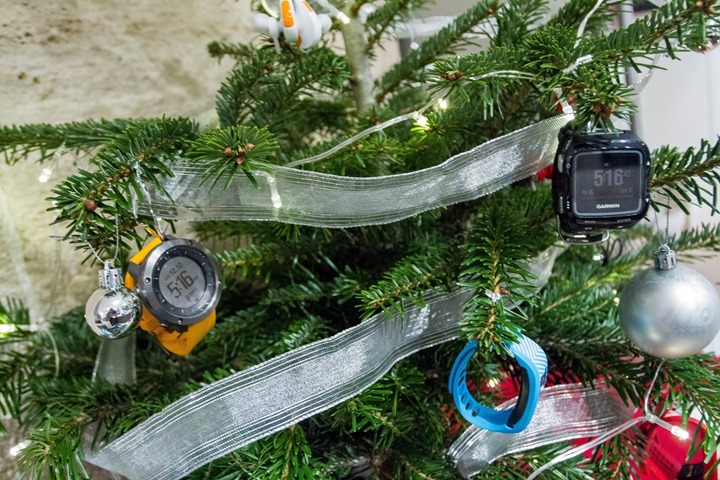 Later in the evening we held a bit of a giveaway contest, supported by Clever Training.  While we could have simply just given away all the goodness they sent over, we decided instead to make it a DCR Pop Quiz.  To see just how careful these readers were!  For those that want to take the test, here's a gallery of all the questions:
Congrats to Ben & Mary for both scoring the most points, in a tie (11 points).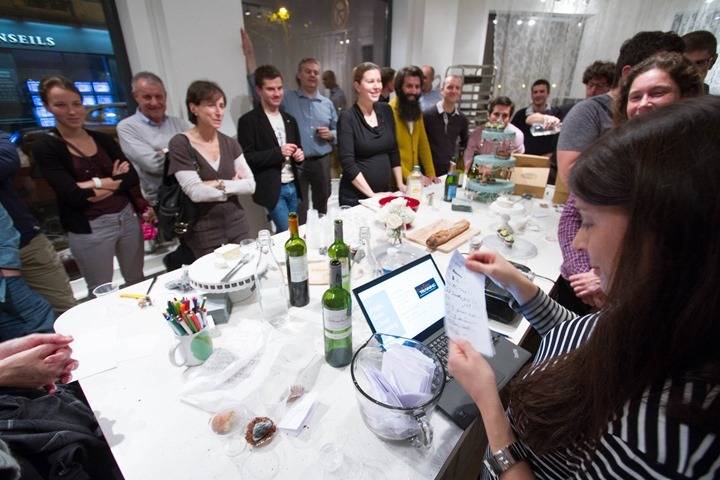 After the two main winners, The Girl drew names for the remainder of the prizes.  All in Clever Training and I gave away a bunch of shirts, towels, water bottles, bags, a couple of Vivofits, a Microsoft Band (2), and a sweet Thule bag.  Boom!
Of course, lots of folks checked out the cave as well.  Here's a few pics I took the next morning after folks left – of where it stands today:
Interestingly – I found the best screensaver ever for a cycling locale: Zwift!  You can simply put it in 'watch' mode, slap it up on a TV, and then it'll gracefully switch between real-life riders (somewhere in the world, live) with beautifully cinematic scenes for hours on end.  Loved it!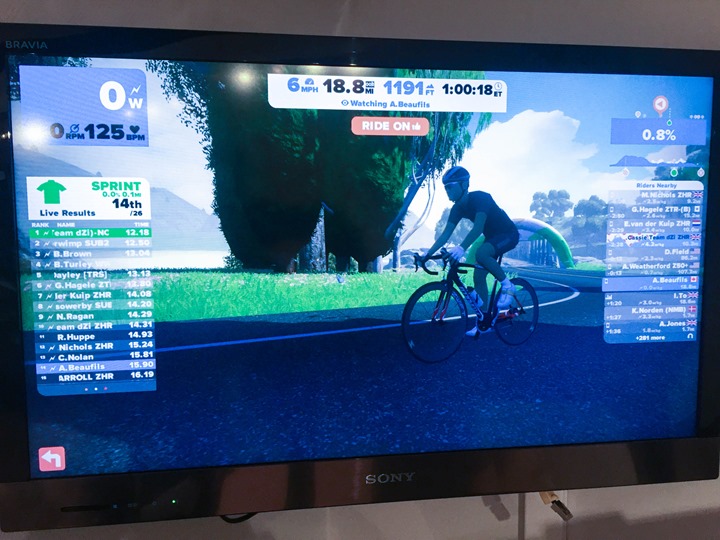 Once again – a huge thanks to everyone who came!  There were folks from all over Europe, and another that swung by for the morning run in between a flight from India to the US.  Crazy!
We're definitely looking forward to next year – and perhaps we'll do some sort of spring/summer event when things are a bit warmer as well.
For those that were there – feel free to post photos in the comments section, would love to see other's pictures!  And I'm sure other readers would as well.
Thanks for reading!