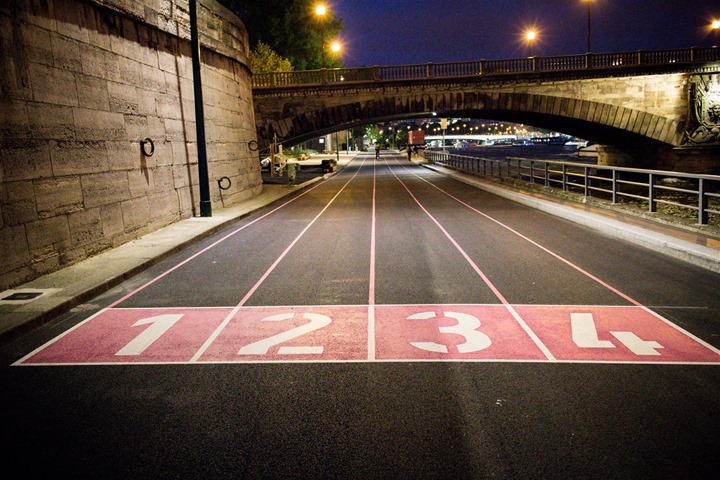 It's been a while since a photo of the day post.  But last night The Girl and I were out along the Seine enjoying a new 'park' that opened up this past weekend – the Berges des Seine.  It stretches 2.3KM (1.4 miles), replacing what used to be a road along the river.  Now it's filled with places to eat, relax and just enjoy the river.  Over the course of the winter since they closed the road I'd been enjoying using it for late night runs while it was still under construction.
With the opening last week, we got a chance last night to take a bit of a stroll and check it all out.  Above being a photo from about half-way down the park, a four-lane 100m sprint track.
Next to each 'feature' along the river, there are small plaques explaining a bit more about the item – be it art or an activity.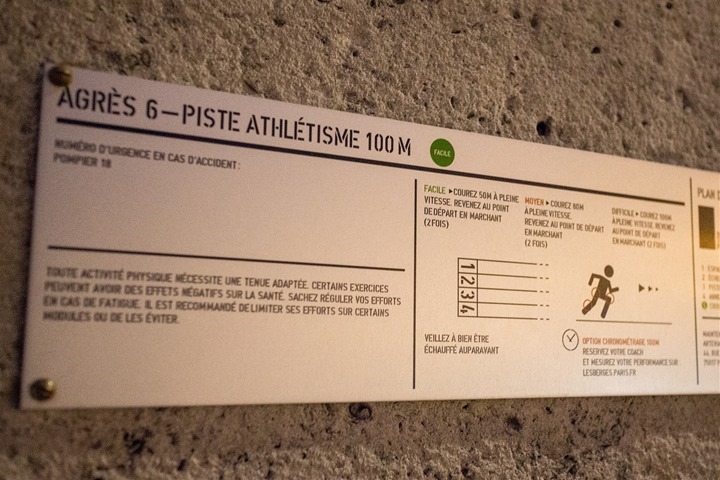 As we walked the length of the marked 100m section The Girl noted that it would likely be home to many entertaining late-night races, most fueled by alcohol.  And just as we neared the marked finish line, a pair of cyclists on Velib's (our big heavy bike-sharing program here) zoomed up it, with the winner raising his hands in victory as he crossed the line about a foot ahead of the other.
Fun times, warm summer nights in Paris.