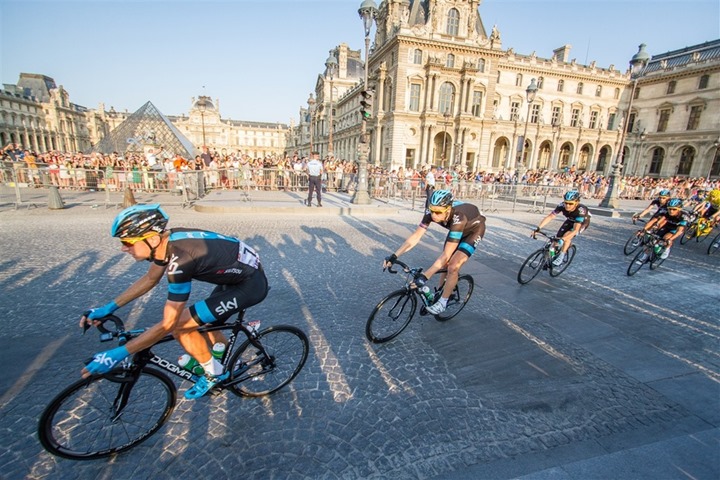 Today, another sports technology company joined in the roughly two week long fiesta of companies sponsoring pro cycling teams.  Wahoo's announcement this morning that they're sponsoring Team Sky, makes Sky the epicenter of connected sports technology sponsorships: Stages power meters, Wahoo KICKR's, and Training Peaks to round it up.  But, there are other notable deals out there as well that are worthy of mention for a variety of reasons.
Of course, much of the attention over the last seven days has been on the Stages relationship with Team Sky.  As you might figure, I've been flooded with questions on my thoughts about it.  Thus, I thought I'd round up all the major sports-technology focused announcements leading up to the Tour Down Under, and give a few thoughts on them.
Stages Power sponsoring Team Sky: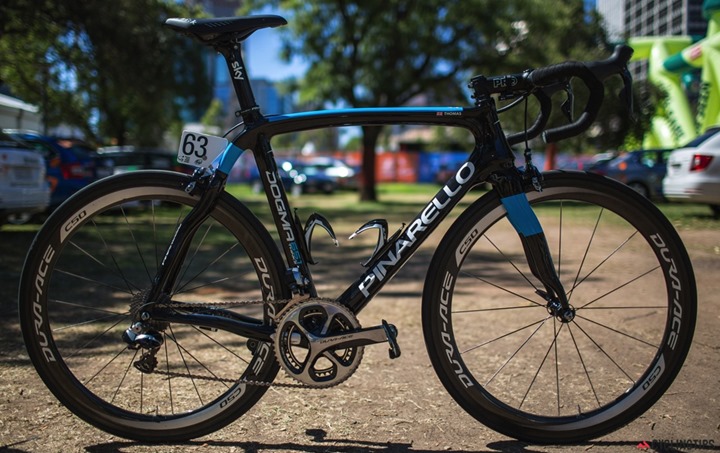 (Above image reproduced with permission from Cycling Tips)
The importance of last week's sponsorship with Team Sky by Stages Cycling cannot be overstated – not from a technical standpoint, but from a sales standpoint.  In having what is the most visible and elite Pro Cycling team out there displace 'the gold standard' power meter – SRM – for a power meter 1/4th the price, it sends a message that's hard for any other power meter company to argue.
But, it's probably first important to take a step back and acknowledge the basic principal of sponsorships: It's a business deal where one company pays another individual or entity for publicity reasons.  What that 'payment' is can vary.  For age group athletes it may be discounted or free gear.  For non-celebrity elite/pro athletes, it may be free gear and bonus checks tied to podium placements.  And for highly visible pro athletes and teams it's usually a straight annual check along with additional bonuses for certain achievements.  Kinda like a Strava KOM, except with cold hard cash.
Grand tour level Pro Cycling teams cost millions of dollars each year to fund and operate, this post does a great job at looking into that.  Each team has a multitude of sponsors, typically the biggest of which is the team name sponsor.  In Sky's case, that's simply Sky Sports (a UK TV entity).  Just like in Team Garmin Sharp's case, it's Garmin (GPS maker) & Sharp (consumer electronics company).  Under the covers, Team Garmin is really Slipstream sports, and based in Boulder, Colorado.
Beyond the initial sponsor, there are a hierarchy of sponsors.  Usually big name companies, including the bike brand.  Below, the lineup of companies off of Sky's site (not quite yet updated).  As you can see, it currently shows 'Elite' (trainers).  I suspect that'll probably change by the end of the day. [Update: After hearing from Elite, they'll continue to be a sponsor for water bottles and water bottle cages.]

With that in mind, you turn to Stages Cycling, and their $699 power meter.  When it was introduced a little over a year ago, it made quite the splash – primarily for its price.  After sorting out some initial technical teething pains, they've continued to find strong demand.  Placing an order today results in a waitlist spot, and they've since expanded into Europe and Australia/New Zealand.
Of course, as anyone who's looked at the Stages power meter knows, it has one significant limitation: It only measures a single leg: your left leg.  As such, if you're not balanced you'll see potential variation in that end power number.  In my Stages review I found that for me in the majority of my riding cases, it didn't impact me significantly.  However, there is still a dependence on equality of my legs at all power levels and situations.
Fast forward to this fall and I published my Garmin Vector review, which contained data from four concurrent power meters – Garmin Vector, PowerTap, SRAM Quarq ELSA, and the Stages Power Meter.  Within that, astute readers starting dissecting not just the Vector data, but the accompanying data.  As they were able to start plotting the Vector left/right data against the Stages data some interesting trends came out of that.
For example, as a triathlete I tend to be fairly steady state in my training.  I rarely go about my FTP level (about 315w) for any length of time.  I simply don't have any need to do a finish sprint in the cycling leg of a triathlon.  But, as you started looking at my data, people found that the further I went beyond FTP, the less balanced my legs became.  Thereby, the more impactful it could be in a Stages situation (in that case, under-reporting).  As more people have used Vector, they've started to find other trends.  Those trends vary by person, situation, and ride.  From fresh to fatigue, and from easy to hard.
But why is all this important?
Well, Team Sky has noted numerous times that they are a team of 'marginal gains'.  Meaning that they (by their own admission) focus on getting that last watt out of each effort as a means for reaching the pinnacle of the sport.  As such, switching to a power meter that factually doesn't potentially capture all power output (by Stages own admission) is certainly a head scratcher.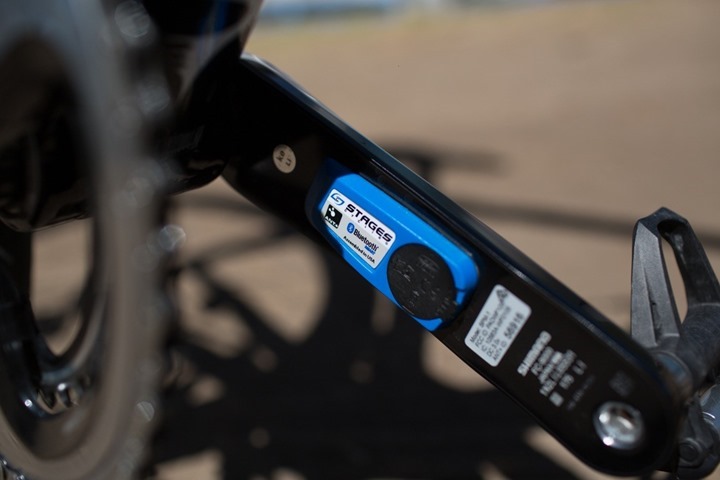 (Above image reproduced with permission from Cycling Tips)
Which, ultimately brings two potential reasons: First, Stages simply paid enough to Sky to solve the problem.  After all, almost every entity has 'a price'.  For Stages, that price would likely be the best ever marketing money they've spent.  If it were me in their shoes, I'd easily be able to justify an expense upwards of a million dollars to still have a positive return on investment (ROI).  One only need to look at the forum postings and new article comment postings since then, which all roughly echo "If it's good enough for Wiggins and Froome, it's good enough for me."  There's no real elevator-pitch length comeback that SRM has for that.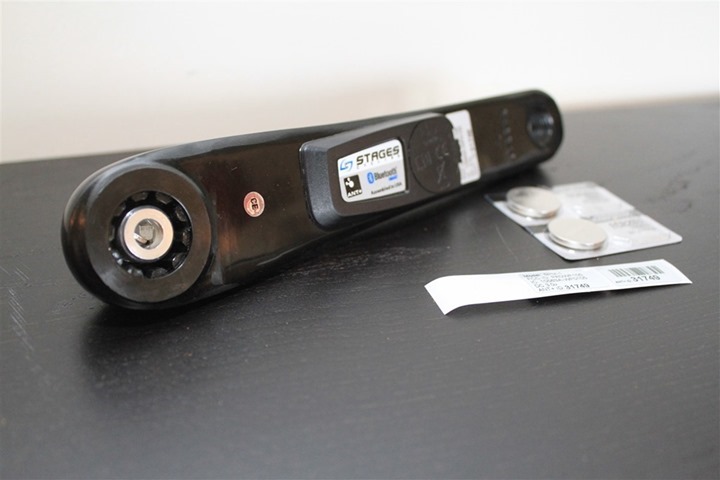 The second possibility is that Stages is working on a full left/right power meter, utilizing two pods.  This would be an interesting move for the company, which has stated multiple times in the past that while they have looked at that scenario, they found a number of technological and financial hurdles there.  From the standpoint of placing the pods on the secondary (right) crank arm, the issue is that frames vary significantly, and in that region there's potential issues with clearing the chain-rings, derailleur and chain.  An issue that their rival Garmin has seen with their Vector system not fitting on all bikes.  Further, Stages has noted in the past that the cost would still be a case, as the price for 'completing' the right side of the drive-train is higher, since that would involve attaching (permanently) the sensor pod to not only the crank arm, but also the spider.  Simply put, it's more expense.
This is all in line with Stages past comments in press situations where they've said they don't believe there's a need for another $1,500-$2,000 power meter.  Thus, I'm skeptical that they'd put forth a product in that price range.  Especially as more and more companies jump into the field (and do so at a higher price point).
However, if Stages were to come out with a product, they'd have to do so relatively quickly to take advantage of the visibility that Sky would bring.  The pinnacle event of the year is clearly the Tour de France.  But there's a multitude of spring events that are key headliners in the cycling world with immense visibility.  The challenge is that pro cycling teams generally dislike changing gear too far into the season, thus putting a potential new full left/right model of a unit on the team in say, June, seems highly unlikely.
Thus, either Stages plans release of a product in the timeframe of 'soon', or Stages simply paid money enough that Sky was willing to overlook their 'marginal gains' requirement.  It's as simple as that.
Now, I do want to point out one important thing: At the end of the day, this sponsorship will increase visibility of power meters within the sport.  And that, I believe is a good thing – regardless of which product a person ends up choosing.
Wahoo Fitness sponsoring Team Sky: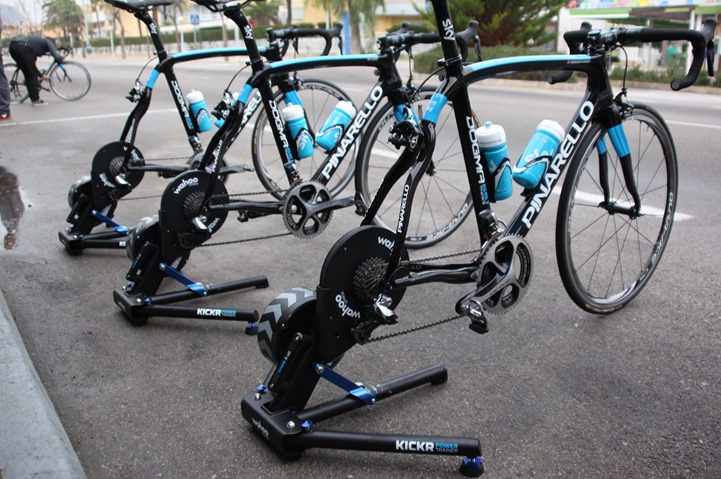 Next up, another Team Sky sponsorship deal – this one for trainers from Wahoo Fitness.  Wahoo will become the official sponsor of "turbo trainers" for the team.
As part of that, the Wahoo will be providing Wahoo KICKR's for each rider at home, as well as at the team training facility.  Additionally, the team will conduct all pre-race warm-up and warm-down workouts on the KICKR.  On a related note, some of you may remember from last year when the warm-up/warm-down procedure was posted here.
Wahoo will be replacing previous trainer company Elite, who sponsored the team last year.
From Wahoo's standpoint, I'd put this in the category of "a good deal", but not anywhere in the same league as Stage's "mind-bogglingly good deal".  At present, Wahoo is pretty much leading the scene from a hardware standpoint when it comes to the high end trainer market.  Their biggest competitor if you look at pro-level athletes is really CompuTrainer, mostly due to years of brand recognition – not because of technology innovation.  But the CompuTrainer is rarely seen outside of pro team buses, mostly due to the complexity in setting it up in such an environment (it's more often found in training facilities).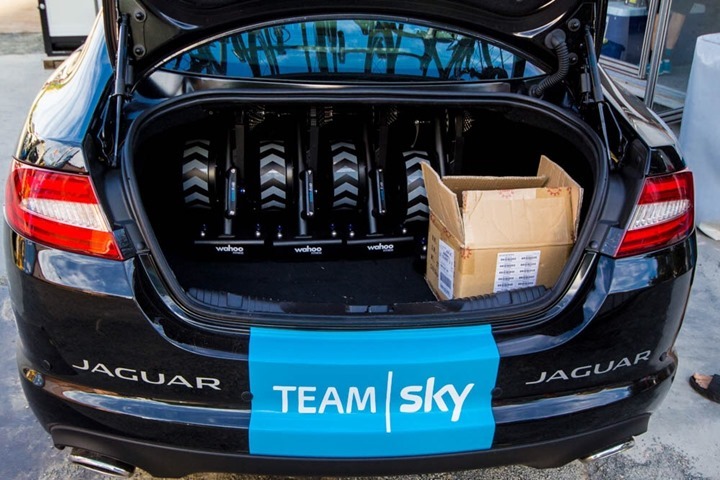 I was curious about Team Sky's plans for how they'll connect power to the trainers next to the team bus (as the KICKR requires a tiny bit of power to function).  The answer was pretty simplistic: A 12V battery akin to a motorcycle battery.  The setup allows them to make it fairly portable (at least as portable as a 45lb trainer is going to be).  Wahoo noted that they're going to tidy things up though and make this solution also consumer-available as well.
When it comes to head units, Team Sky posted to their Facebook page that they'll be using Garmin Edge 500's and 810's, which have been re-branded with the Stages logo: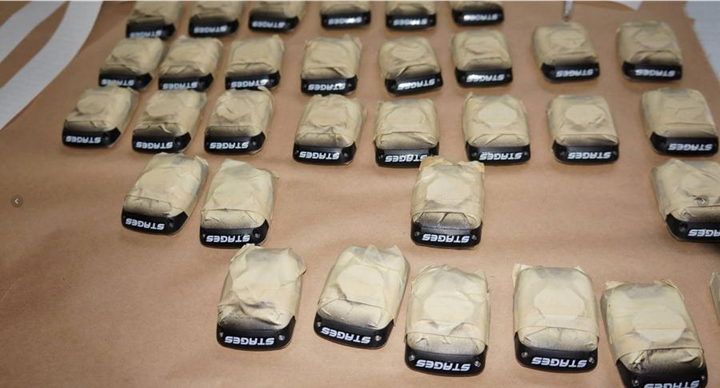 The Edge 500/810 works with the Wahoo KICKR today, reading in speed and power information.  In order to control the Wahoo KICKR though, they'll need a separate device – such as a phone or iPad.   Then again, we might just see a bit of a firmware update to said Edge units to allow them to control the KICKR via ANT+.  Sometimes ya never know what the winds of Olathe will bring.
CycleOps sponsoring Trek Factory Racing: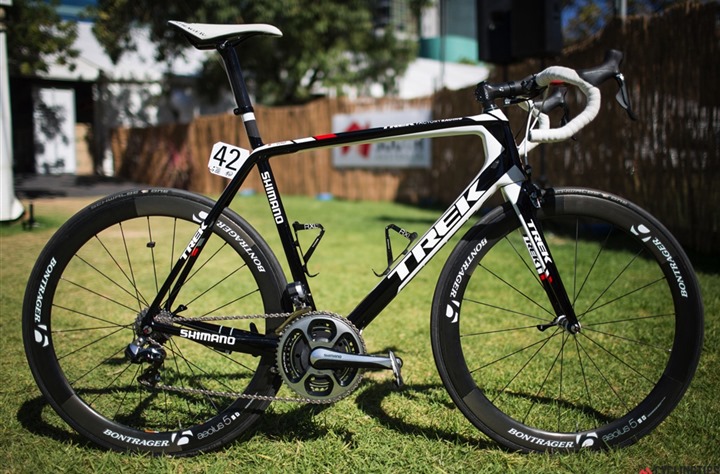 (Above image reproduced with permission from Cycling Tips)
Out of all the most obvious sponsorships out there, the CycleOps and Trek connection is likely driven through their Madison, Wisconsin shared roots.  You can see a bit of that Madison action from my tour into the Saris/CycleOps trainer factory back this fall.
While the sponsorship here is probably less groundbreaking than some of the others simply due to the products being used, it's definitely worthwhile noting.
For pre-race warm-up and cool-downs, the team will be using the CycleOps SuperMagneto Pro trainers.  In addition, certain "key members" of the team will also receive the new CycleOps Silencer and PowerBeam Pro trainers.  The PowerBeam Pro is CycleOp's high-end trainer that competes with the Wahoo KICKR.  Last year, Trek ran on TACX trainers.
In addition, the team will also be using the Virtual Training software suite to do ride-through's of upcoming events, using the virtual reality functionality.
Team Garmin & Garmin Vector: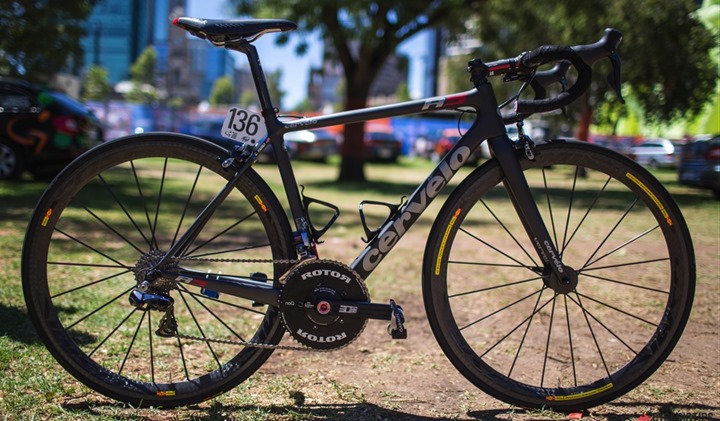 (Above image reproduced with permission from Cycling Tips)
Next, there's some minor (albeit expected) news coming out of the Team Garmin camp.  Namely that they've started to use Garmin's power meter – Vector – on the pro team bikes.  This was expected, as I noted way back in August when Garmin confirmed that the team would be using them from their December training camp onwards.  We've now seen a few races in the last week with various team members having them installed and using them now in races.  This is a shift from last year, when they just used empty pedal bodies with the Garmin branding on them (but no Vector pods).
Now, what's actually interesting here is that this will start to provide us (the geeky general public) with the first look at pro-level data with true left/right power numbers.  Up until this point, such data simply wasn't available since almost nobody in the pro peloton was using a left/right power meter and actually publishing said data.  There have been a few people running with the Polar/Look power system in the past, but I haven't seen considerable data come out of that.
Garmin has historically provided some random data sets and published them to their Garmin Connect platform.  Though, they haven't always put that all in one place, so it's kinda splattered about different accounts a fair bit.
Team Lampre Merida & ROTOR Power: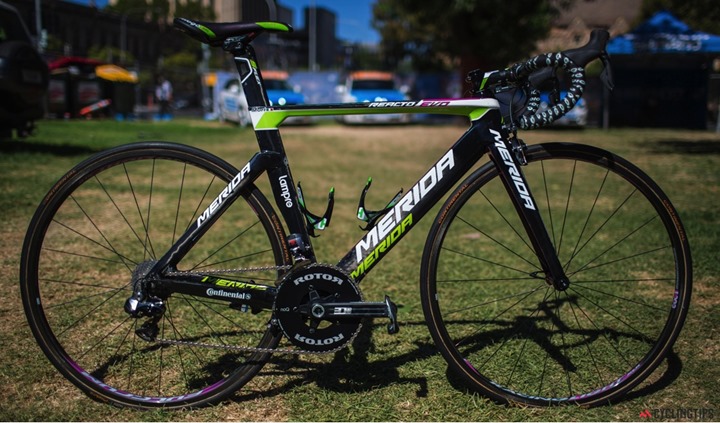 (Above image reproduced with permission from Cycling Tips)
Last but not least we have Team Lampre Merida announcing that ROTOR will be sponsoring them with the ROTOR Power System, which is ROTOR's full left/right capable power meter that came out last year.  This was announced the first week of January.  Previously, Team Lampre was sponsored by SRM for power meters.
In talking with ROTOR, the team will start phasing it in over the next month or so, as they move to some of their February training camps.  This explains why it's not quite fully visible yet on bikes within the Tour Down Under.
This will be interesting on the same level as the Garmin Vector data, as this data will also start to more clearly illuminate what the pro scene looks like from a left/right balance perspective.  This is because the ROTOR Power System independently measures both sides of the crank.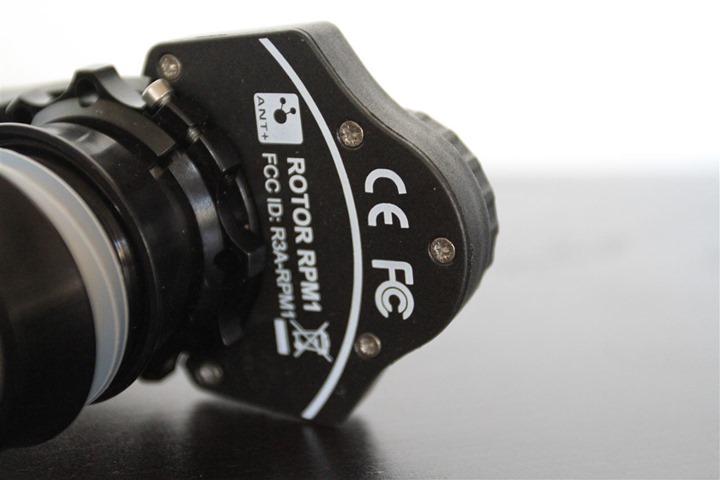 In talking with ROTOR, they are working with the various teams (above, and below) to get snippets of that data published.  The exact details of which platforms they'll upload to are being worked out.
Further, of note is that ROTOR is and will be equipping the following 2014 teams with ROTOR Power Systems: Jelly Belly Team within the US, Specialized Foundation Alberto Contador Junior & U23 teams, about half of the Caja Rural riders (individual deals), and then La Pomme Marseille (in France).  On the individual pro triathlete site you'll see Fred Van Lierde, Mary Beth Ellis, and a few others.
Power2Max Sponsoring Movistar: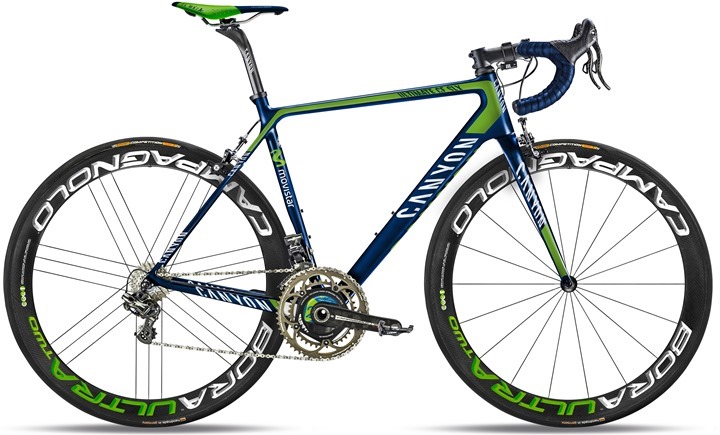 (Added January 22nd, 8AM CET)
Today, pro cycling team Movistar announced that they'll be using Power2Max Type S power meters for all their training and racing in 2014.  The units will be running a new Power2Max Type S variant that was developed for Campagnolo 11-speed cranks.  This new variant will be used by the team in both 135 and 100 BCD's.
Like a number of the other companies noted here, Power2Max has sponsored individual athletes with their power meter in the past but this is the first time the company has jumped over to sponsoring a full UCI pro team.  It's also a pretty significant jump in the spotlight by any standard, with Movistar consistently one of the top contenders on the world circuit.
Also like many of the other sponsorship changes, the change by Movistar will come at the expense of SRM, who previously sponsored the team in past seasons.
From Power2Max's standpoint, I would say that the sponsorship is definitely a worthwhile deal.  Though, at the same time – Power2Max already has a pretty good brand and stability reputation – so they weren't trying to 'convince' people at this point.  Instead, the move would likely be more about brand awareness.  The company doesn't have as great of market penetration as some of the other brands with wider distribution and marketing channels.
While the company did experience some earlier product teething issues, they were resolved about 15 months ago with the second generation units that included temperature compensation.  And from my testing as part of my in-depth review, these newer units have been very stable and reliable.  As we move later into the spring, expect to see a Type S review from me as well, updating what I last reviewed from them in the previous release.
Finally, some might see the shifts of all these teams away from SRM as a 'trend'.  Honestly, I don't see it that way.  I simply see it as a case where business entities are making business deals.  Given the size of SRM, they likely could not continue to sponsor as many pro teams if/when the price of sponsorship is raised based on additional companies making sponsorship offers.
—
With that, thanks for reading!