I got home around 11PM Friday night, from a week split between the UK and Finland.  Stepping off the plane from Finland was almost identical to stepping off the plane in the Caribbean.  While the temperature was only about 50*F in Paris, that would be approximately 50* more than it was in Finland.  As people hit the doorway and stepped onto the air stairs, almost everyone reveled in the warmth.
Both Saturday and Sunday I had runs planned (in said warmth), but before I headed out I did a bit of 'unboxing' of various products.  One such product was the Moxy Muscle Oxygen sensor, which I noted as part of my CES coverage.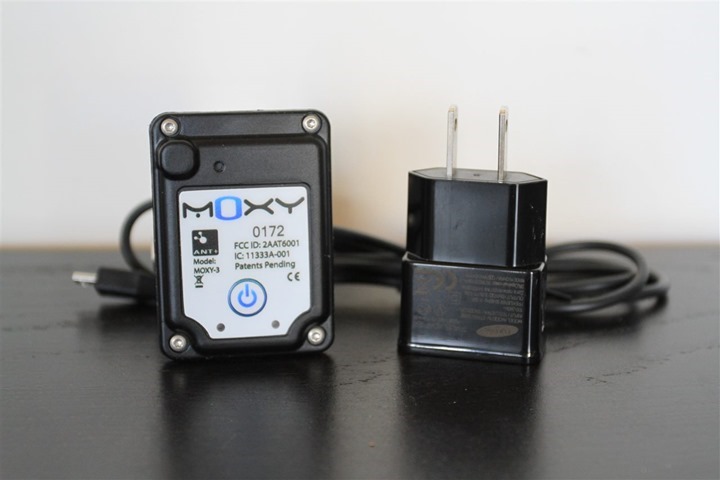 The MOXY unit has a set of lights and sensors on the back of it, which you place against your skin (such as your thigh).  The unit then emits near-infared light into the muscle, and can measure how much of the the hemoglobin inside each muscle is saturated with Oxygen.  This information can then be used to better monitor muscle usage and recovery.  It then transmits all this via ANT+ to various devices and applications.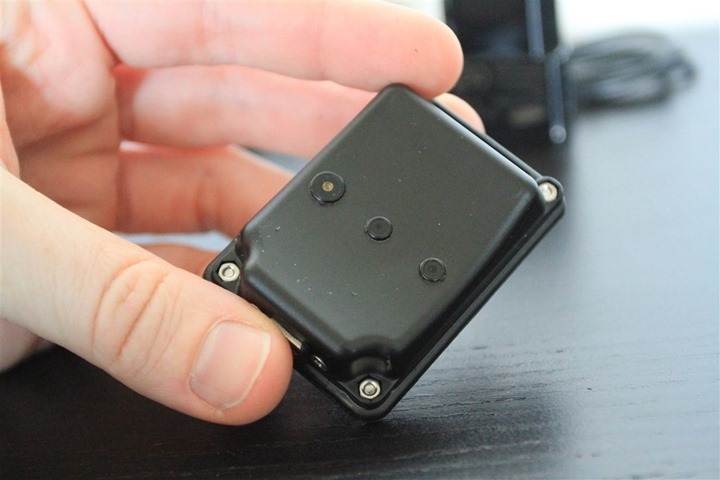 The unit has two methods of ANT+ transmission. Well, actually three.  But two core methods.  The first is to use the ANT+ Muscle Oxygen device profile, which is fairly new.  This is supported by a number of applications today, though mostly stationary focused (i.e. trainer apps).  The second core method is to 'fake' a different sensor type.  In this scenario it can work with just about any ANT+ device on the market, by simulating either an ANT+ heart rate monitor, or an ANT+ Speed/Cadence cycling sensor.
Below, I've taken my FR910XT and configured the Speed/Cadence sensor to use the Moxy for data.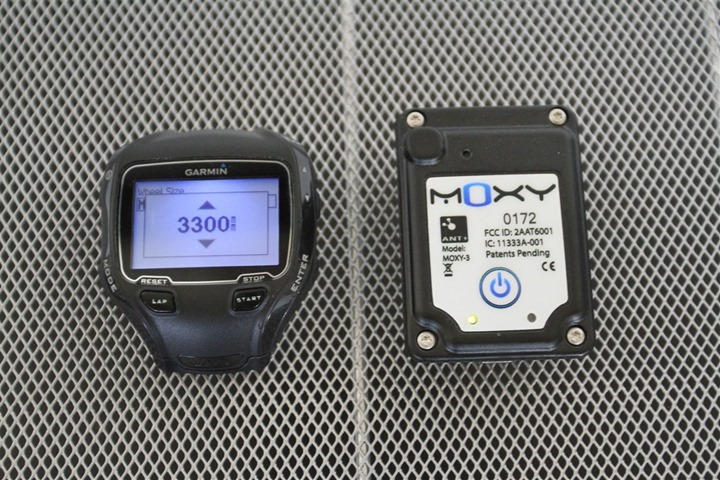 Now, the challenge here is that as-is you then 'lose' a channel of data from that device.  For example, if I am using running mode, I'd have to use the heart rate option, which means that I couldn't have HR data.  Within the cycling mode, it means that I'd lose speed/cadence data.
Ultimately, companies like Garmin could 'fix' this by adding support for the Muscle Oxygen profile to their devices.  I would think that adding it to Garmin's high-end devices, such as their Edge 810 or Garmin FR620 would make the most sense, since the cost of Moxy is high enough that those two markets align better.
Finally, it comes time to 'install' it on my leg.  First, I put it in the little pouch.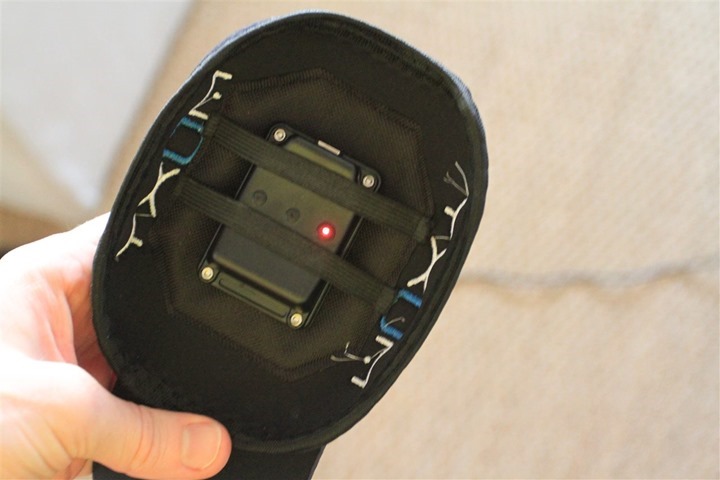 Now, ideally I'd have just taped it to my leg with recovery tape or the like.  But I didn't have any handy.  So I just stuck the whole thing straight on my leg: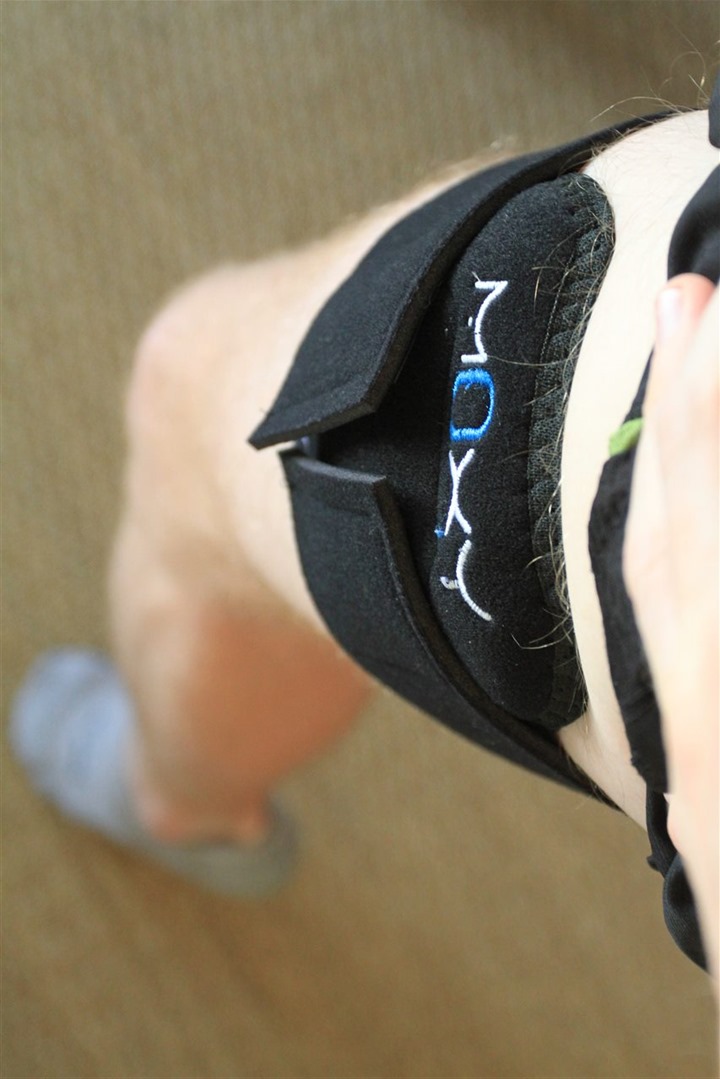 Then, I simply let my running shorts fall over it – making it completely invisible.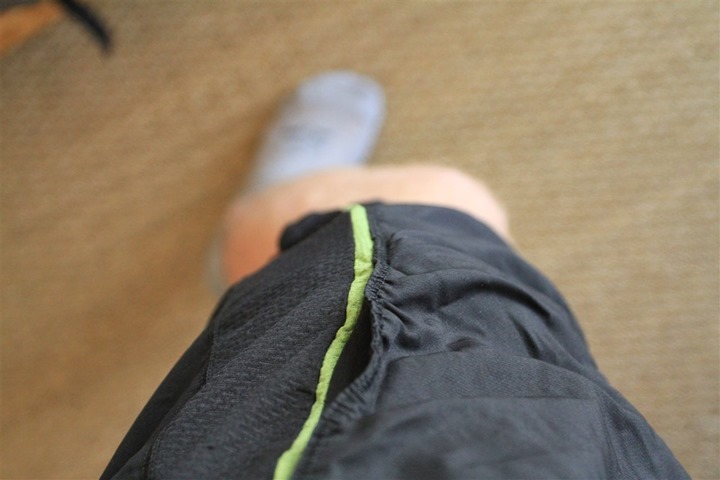 With that, I headed on out.  Well, actually, I headed on out twice.  Once for each day.  The first day I wasn't testing MOXY though, but rather, doing more tests with the Bia watch.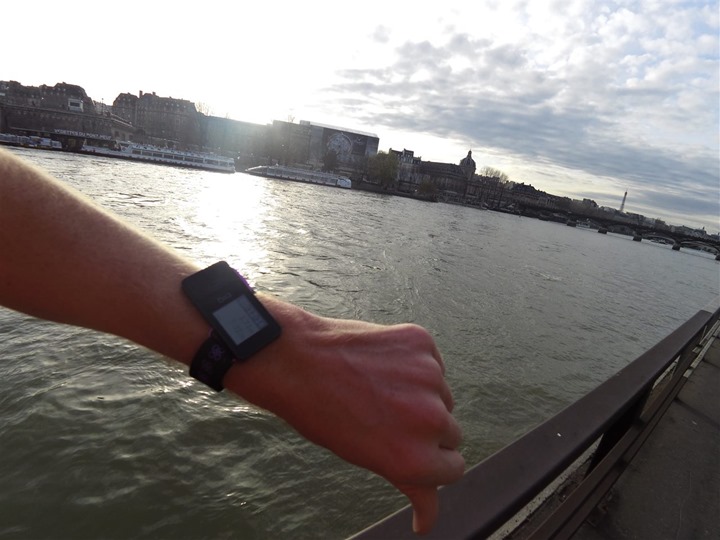 The weather was perfect out for running – definitely can't be beat!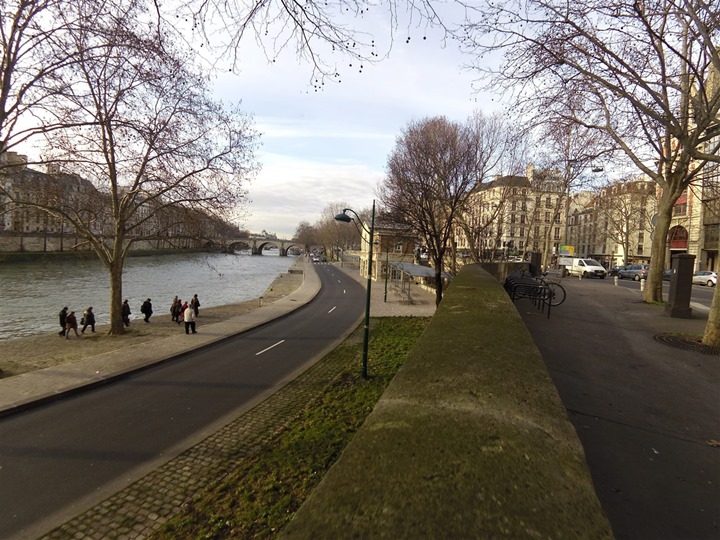 When I finished up my run, I noticed this Radio France truck parked outside the church (Notre Dame).  They often park along the side when they're going to broadcast big events.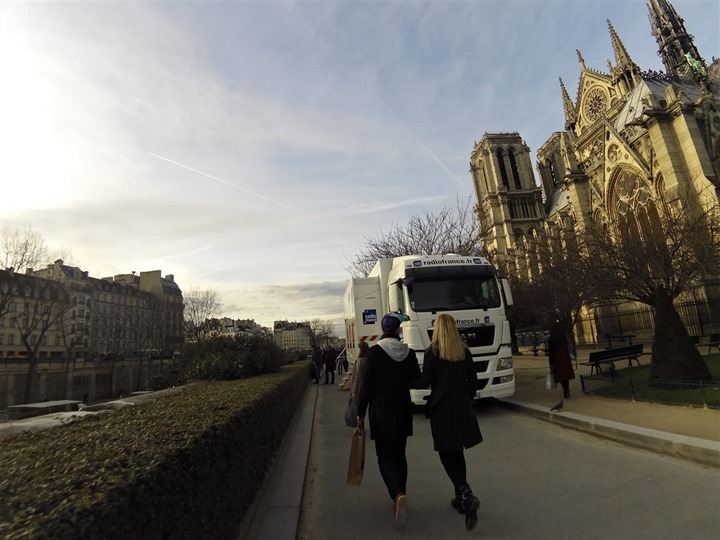 Which, seemed to initially be tied to the massive line of kids with signs headed into the church: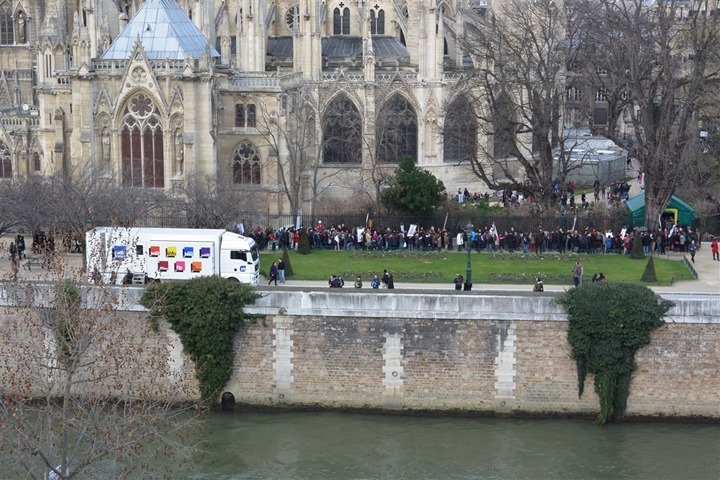 However, upon further investigation, it appears that it was just setting up and doing cabling for an event Wednesday night with the philharmonic orchestra.  Which, should be pretty cool.  I'm going to poke around at the site provided and see if I can get tickets.  Hopefully my flight returning to Paris Wednesday will land on time.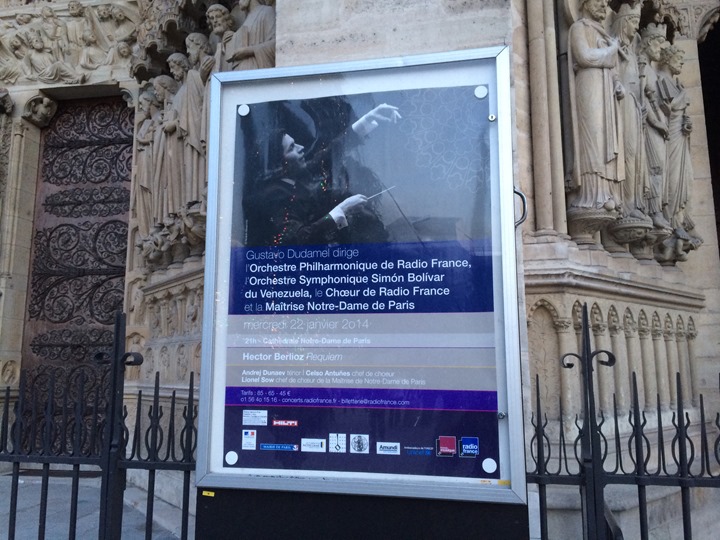 In any case, distraction complete….
My run on Saturday was just a quick and easy 40 minute run.  Fast forwarding to Sunday, it was a bit longer, about 11 miles or so.  It was a recovery week, thus being shorter than normal for a long run.  This was the run I was using Moxy on.
I headed back onto the closed roadway for a short bit as my starting point.  I've yet to figure out the pattern for when said road is open or closed during the winter.  During the summer it's clear-cut, but in the winter some transportation maintenance worker must have some complex chart that lists temperature, weather, moon phases and frites consumption in order to determine if they'll leave it open.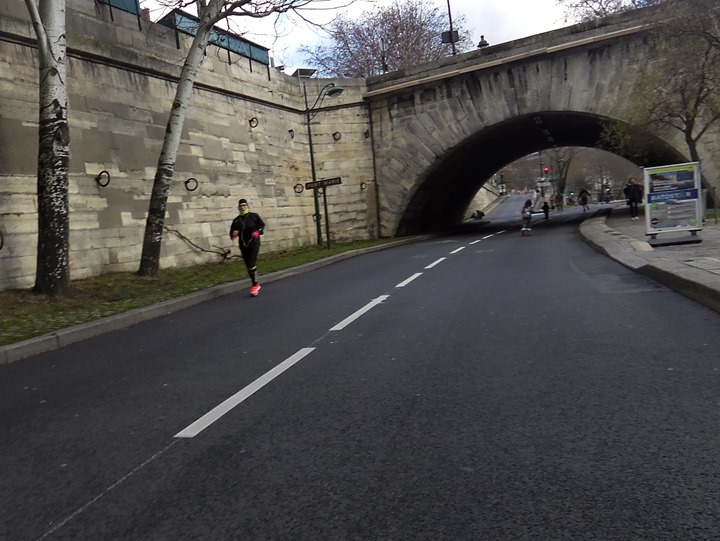 Speaking of things I don't understand: It's how much clothing the Parisians wear during running.
Take for example the individual above.  They were wearing long running tights, some sort of undershirt, a running coat, gloves, a tight-fitting scarf, and a hat.
Let me point out that it's 50ºF and mostly sunny.  That's 10ºC for you metric types.  Yet, this was completely normal.  Almost every person I saw had equal amounts of clothing on.  Holy cow!  I meanwhile, was in shorts and a t-shirt.  It was like early fall running weather, beautiful!
As I made my cut over into the Bastille area, I saw a bunch of police quickly cutting off traffic.  At first I figured there must be a protest around the corner (very common).  But in actuality, it was a massive roller-blading group coming down.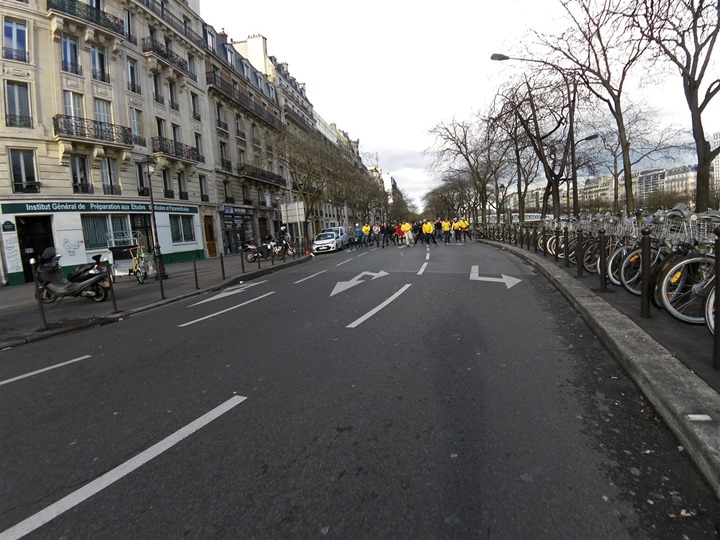 It stretched a good 800-1000m long, almost all the way down the canal.  I'm not quite clear who or what it was affiliated with, as typically the roller bladders have their roll around the city event on Friday evenings.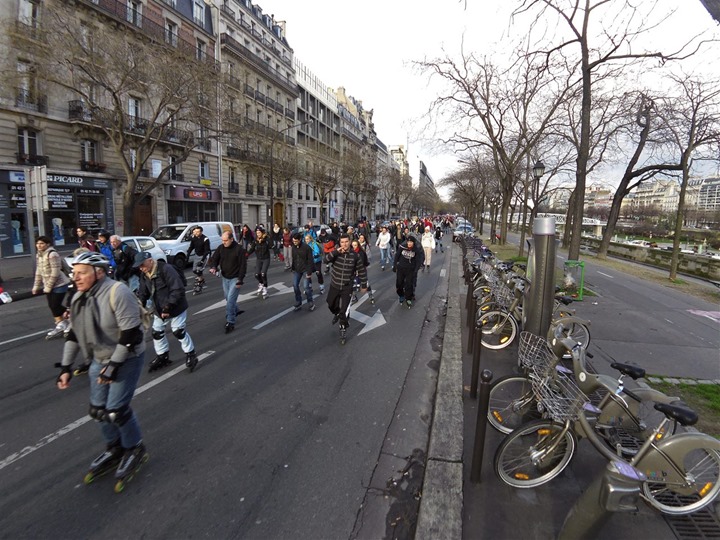 In any event, I kept on going, soon jumping up on the elevated trail system that gets me all the way to the park without having to deal with a single street intersection.  The whole stretch is roughly about 3.5 or so miles long, so about 6K in length.  You can see the street down to the right, and the elevated system to the left that I'm on.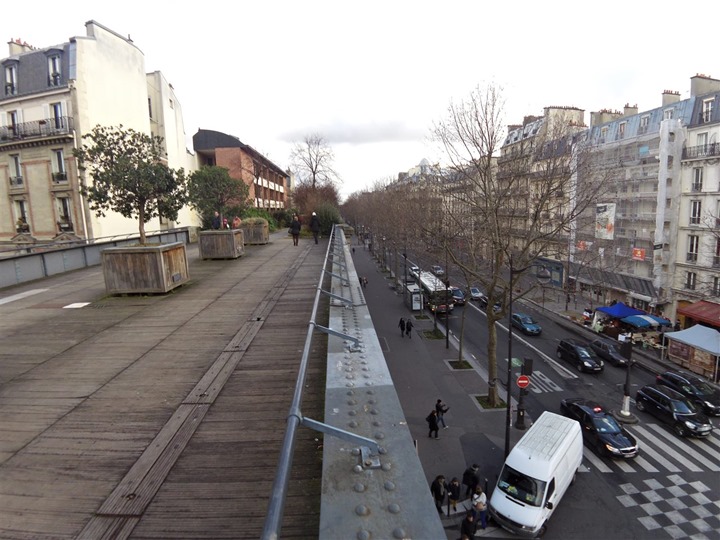 It even cuts through buildings, as seen straight ahead.  It also occasionally goes under buildings too.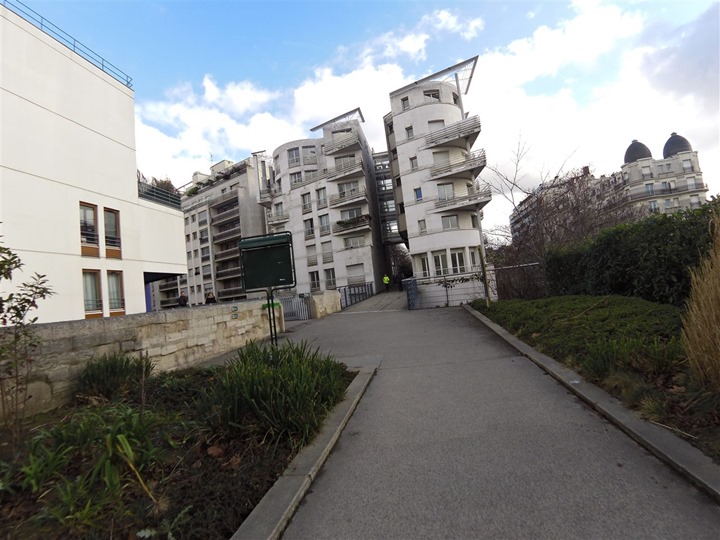 Back to Moxy, I had configured it on the FR910XT in cycling mode, and then just tossed that in my pocket as a secondary GPS unit.  It was configured against the speed (SMO2) and cadence (TBh) metrics, where speed is shown in the upper right hand corner.  Though, it ended up being a bit lower than I expected.  My HR is shown in the upper left, and time in the lower left.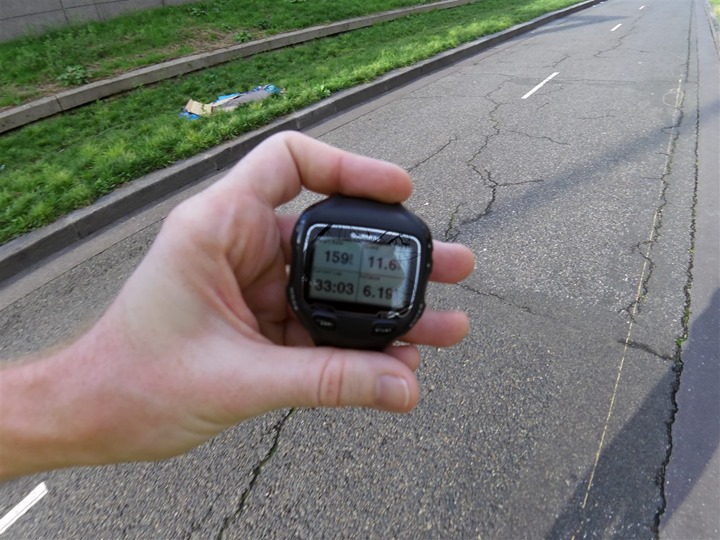 I meanwhile plunked my way around the park, making one massive loop.  Tons of people out, as one might expect.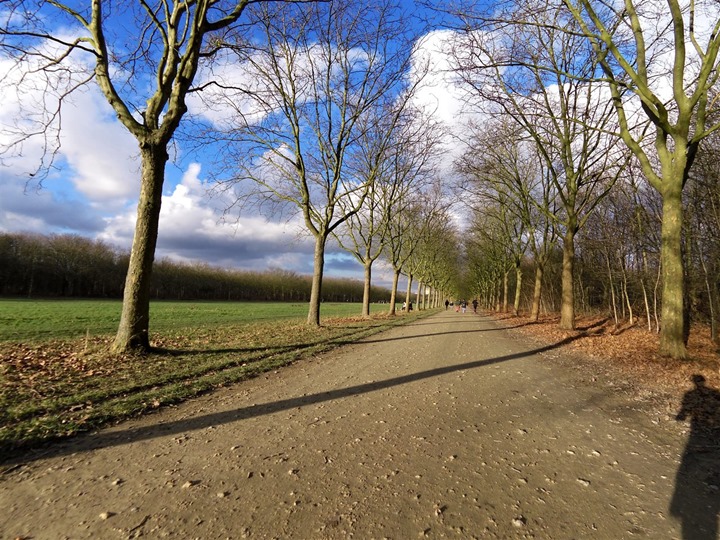 I'd eventually finish at the Château de Vincennes, which is on the most northern side of the park.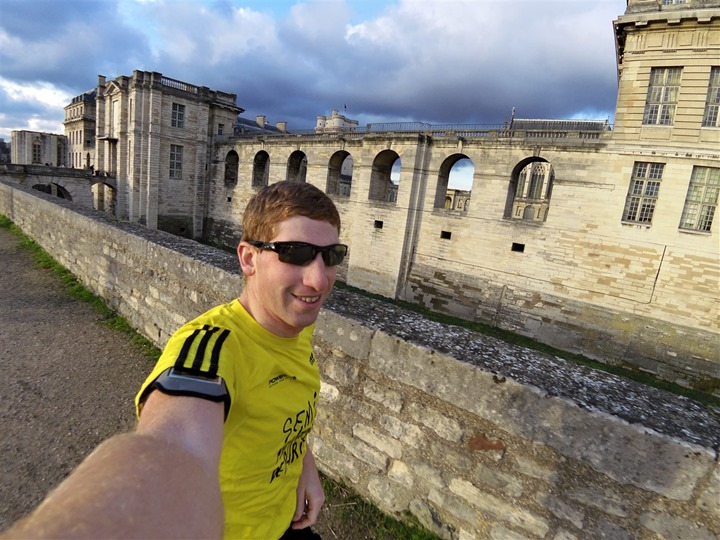 Below, my finishing shot:
From there I'd jump in the metro (subway) for a quick 10 minute ride home.  The best part is that it's the start of the line, so you don't have any problems finding a seat.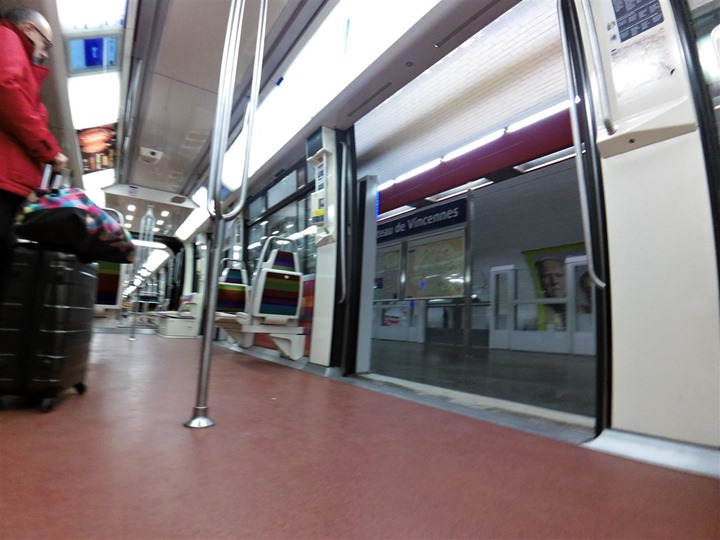 From a data standpoint, here's what things looked like on the Moxy side.  Below, my muscle oxygen level over the course of my run.  I haven't used it enough to understand why the first portion seems really jumpy, whereas the rest is fine.  The very end is jumpy because I was doing some short sprints.  But, that's sorta part of the fun of it – understanding how the data correlates and what to do with it.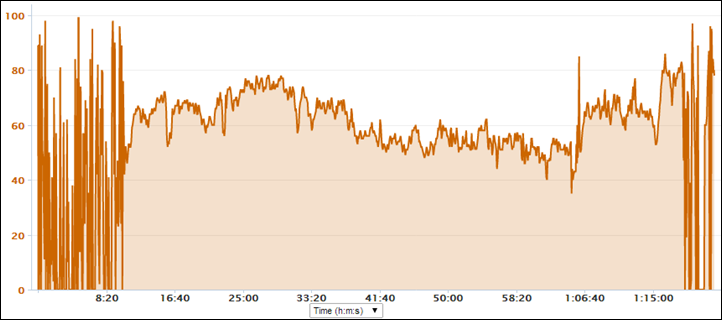 Finally, on two unrelated 'what I did this weekend' fronts.  First is that I deconstructed our Christmas tree.  Unfortunately, we've been travelling so much the last few weeks this was the first time I had a chance to do so.  So I spent considerable time taking everything off the tree and putting it in a giant pile on the right of the tree (which, I'll leave for The Girl to deal with).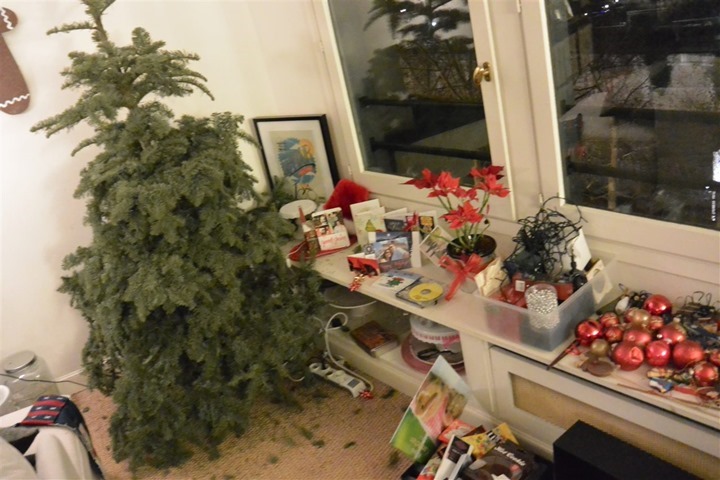 Then, I took said prickly tree out the house, down the stairs, wrestled to get it in the elevator, and then dumped it on the street.  Well, next to the place where we place garbage for pickup in the morning.
Of course, in doing so, I left a long trail of tree parts and needles.  I think it took over an hour to clean-up all these said needles, working backwards from the building front door through the hallway, to the elevator, up the elevator, and then up another flight of stairs, then into the house and ultimately near the window.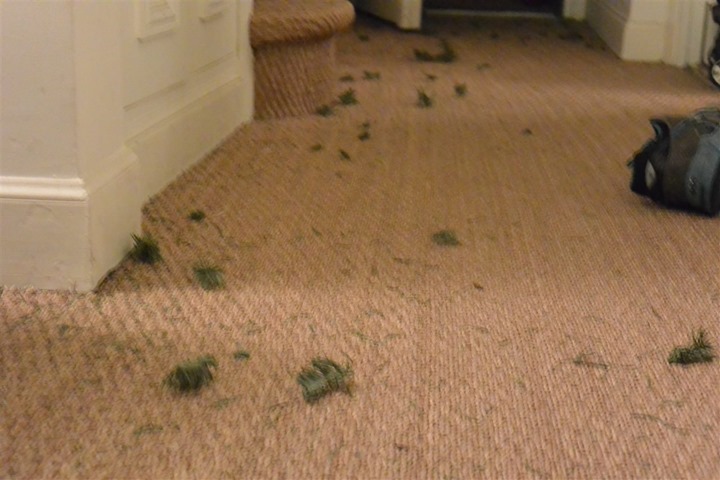 With annoying basket-weave style carpeting that our landlord has, the needles find a relatively permanent home that the vacuum struggles with.
Finally, to wrap things up, post-Sunday activities I headed out to the airport.
You may have remembered last week's news item about an Uber car (like a taxi service) in Paris getting attacked.  Well, that reminded me I wanted to sign-up for Uber.  As I'd never tried it before and all the cool kids say it's cool.  So I did.
And holy cow, pure awesome.  I was able to track the car from my phone as it came to my house to pick me up.  I actually timed it to the second from when I stepped out of the front door the car was pulling right up.
It was about $10 more than usual to the airport, but that might have been because of the traffic.  Kinda hard to say.  Loved that the app just charges my credit card behind the scenes.  Beautiful.
For those curious, I often take the RER to the airport, but if I'm running behind and it's not rush-hour, I'll do a cab to mitigate uncertainties with the RER B trains (so many stories…).  This would be one of those cases.
Finally, after a short 45 minute flight, I've arrived in Frankfurt.  I'm here for a few days for some meetings.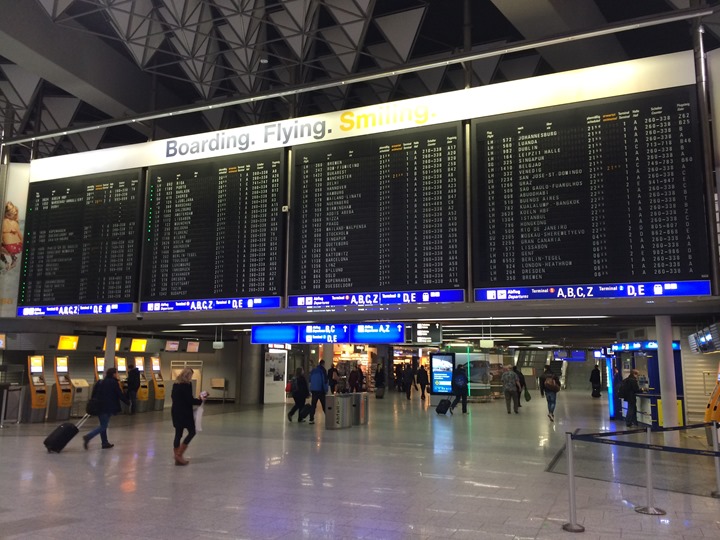 Not really the city, sorta half-way between the city and the airport.  Basically, the middle of nowhere.  No exciting ice-fisherman pics this week.  Just me, in a hotel room, with some hotel Haribo gummy bears watching the NFL playoffs.  Seahawks start in 8 minutes!  Sorry Patriots fans, didn't quite work out for ya there.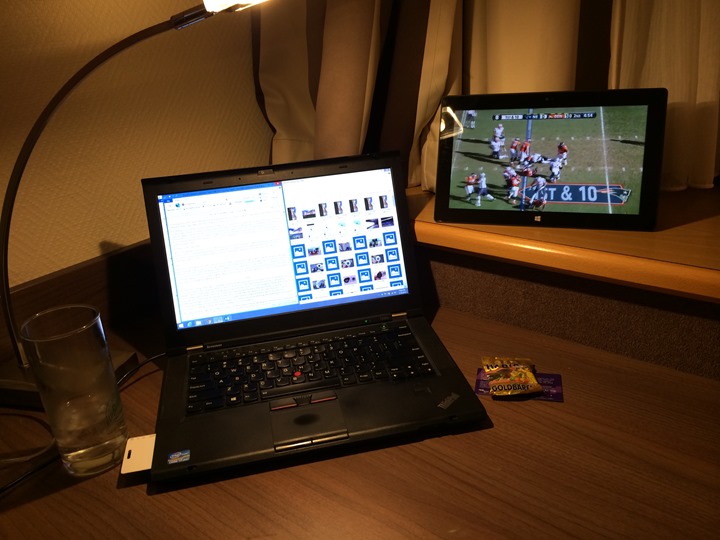 With that, thanks for reading!