The Week in Review is a collection of both all the goodness I've written during the past week around the internet, as well as a small pile of links I found interesting – generally endurance sports related. I've often wondered what to do with all of the coolness that people write, and while I share a lot of it on Twitter, Facebook, and Google Plus, this is a better forum for sending it on to y'all. Most times these different streams don't overlap, so be on the lookout at all these places for good stuff!
So with that, let's get into the action!
DCRainmaker.com posts this past week:
Here's all the goodness that ended up on the main page of DCRainmaker.com this past week.
Monday: Week in Review–January 13th, 2014
Thursday: A Frozen Sea Helsinki Finland Runaround
Friday: How to get and record cadence information on a spin or gym bike
Stuff that I found interesting around the interwebs:
Here's a not-so-small smattering of all the random things that I stumbled on while doing my civic duty to find the end of the Internet:
1) Cyclist gets pepper-sprayed, then sheriff threatens to charge cyclist: Yes. Seriously. Pretty incredible stuff. Definitely worth the read. In case you're curious, you can contact said Sheriff here…
2) Man crashes on bike, has erection for seven weeks: Left with no further comment…
3) Annual Kona bike split time stats plotted: An interesting little graph showing some very clear trends in bike splits at Kona over the last 25+ years.
4) A Google Fitness API?  Apparently, something might be in the works.  Would be interesting if Google gets 'back' into that business, especially after discarding their health platform semi-recently.
5) NCAA adds triathlon for DI/DII/DIII schools for August 2014:  However, it will only be available for women. Men's competition was unfortunately not included.
6) Matt Damon explains to Jay Leno how he broke collarbone while riding: I believe the segment may not be available in all countries, though, it is working for me.
7) Di2 Wireless Transmitter Spotted: This is a bit of progress from the Shimano SCIO head unit I showed back at Interbike.  Hopefully this technology keeps advancing forward in an open-protocol way.
8) NPD releases study on fitness device market, numbers don't actually add up: It's sorta funny, I started reading this story and noticed a lot of things don't add up.  First, it explicitly states that the numbers do included devices like sport watches and heart rate monitors (thus, a Garmin fitness GPS device).  It states said market is $330M a year, of which FitBit somehow contributes 68% of it.  Which, is sorta funny because if you look at Q1-Q3 cumulative earnings release, Garmin's Fitness division alone had revenue of $237M.  And that's ignoring Polar, Timex and Suunto – other massive players, and again, that's also ignoring the holiday season (enormous).  C'mon, this isn't that hard.
9) USAT is conducting entire USAT election again: Well, at least we can't blame Florida this time.
10) Does expensive athletic gear actually make us want to work out?  Pretty interesting article analyzing some of the fancier names in athletic gear and whether people perform better using said gear. (via: Wahoo Fitness Twitter)
Crowd Funded Projects of Athletic Note:
This is a bit of a new section. Most of this content used to be found within the main section, but I figured I'd just call it out up here and make it easy to find. I regularly sift through Kickstarter and Indiegogo (plus a few others on occasion) looking for sports projects. Note that as always with crowd funded projects, assume the project will be late and will under-deliver on features. Thus far, on the numerous products I've helped 'fund' (except a leather bike handle), that's been the case.
1upPOWERbahn Cycle Trainer: Interesting trainer, but I suspect there's a number of reasons why they are struggling on Kickstarter.  First is that it looks too home-made, especially for the price.  Second is that trying to sell a trainer on 'natural feel' via text is a tough marketing message.  It's really easy to do in person (see: LeMond Revolution Pro), but very tough when nobody's tried your product.  I do like that it has ANT+ and Bluetooth Smart, but for the price, I'd stick with other 'known good' trainers that provide the same and more API capabilities.

Wetsuit Remover: Hmm, I can't exactly see myself buying one, but perhaps someone has a use for this. (via Eli)
Sports Technology Software/Firmware Updates This Week:
Each week I quickly highlight some of the new firmware, app, software and website service updates that I see go out. If you're a sports technology company and release an update – shoot me a quick note (just one liners is perfect, or Tweet it at me is even better) and I'll make mention of it here. If I don't know about it, I won't be able to post about it. Sound good?
Site/Firmware Updates:
Adidas miCoach GPS firmware Update: More goodness from Adidas on plugging away at fixes with their GPS unit.  I continue to like the progress I'm seeing here.

Adidas miCoach BLE sensor updates: I just wanted to call this out up here, but Adidas has also added support for Bluetooth Smart footpods to all of their apps (iOS/Windows Phone).  Which is mostly notable because they become the first company to support Bluetooth Smart footpods on Windows Phone (they've previously supported Bluetooth Smart heart rate straps).

Garmin VIRB Edit update: Garmin released  major update to their VIRB app, at least in terms of customization.  Lots of cool stuff now, including ability to customize gauges and dashboards.  Plus, a few other new things. Very very cool.  Some good screenshot examples at that link.

Garmin FR110 & FR210 Firmware Updates: Looks like just a minor update to fix some sort of screen bug.

Garmin FR610 Firmware Update: Another minor update, this one for "improved battery capacity reporting"
iPhone Apps:
iPad Apps: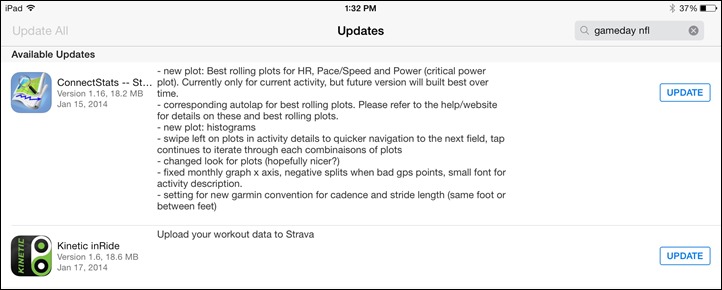 Android Apps:
Windows Phone Apps: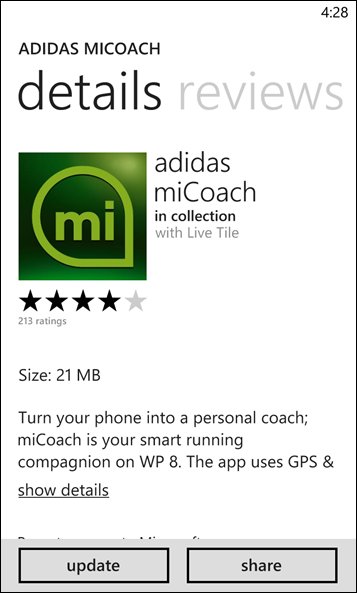 —
Thanks all folks, thanks for reading!