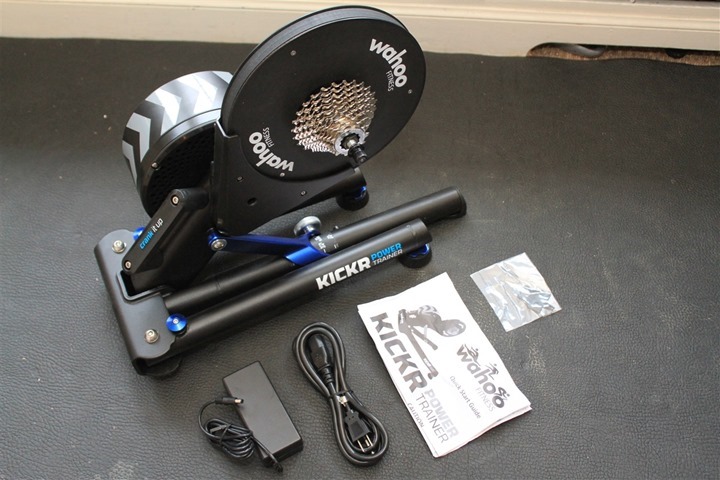 **Update: Get the latest information on the 2018 Wahoo KICKR Smart Trainer In-Depth Review**
Today, Wahoo Fitness announced pre-orders for the Wahoo KICKR trainer will begin on January 29th at 12PM Eastern.  This is obviously a fair bit behind the planned schedule of pre-orders in November. The first shipment was confirmed loaded onto the boat last Friday afternoon Taiwan-time.  From a timeline standpoint, the boat first motors across the ocean (which is occurring at the moment), then there is customs clearance in LA, then arrival into a distribution center, and then finally, shipment to your house.  It's that last part that's actually the quickest (UPS/FedEx/etc…).  Ultimately, they believe they can have units start hitting your house by March 4th.  They are filling and shipping multiple containers, with each one hosting about 200-300 units.
As previously announced way back in early fall, the units were set for $999US.  However, upon today's announcement the price has now increased to $1,099.  Clearly, this sucks for you and me as the consumer.  From a competitive standpoint however, I'm not sure it dramatically changes the landscape.  It does make the Tacx Bushido slightly more appealing (due to the larger price gap), but, the rest of the competitors right now are generally $100-500 above KICKR still.  Note that some retail outlets (I've heard from a handful of you) did start accepting pre-orders.  I've talked to both some of these retailers and Wahoo on this and have heard conflicting things.  It would be up to those retail outlets as to how to sort out any price discrepancy.
I recently posted a slew of unboxing photos to this post here, if you'd like to dig into that ahead of time.
(Note: What follows is not meant to be a review, but rather, just to help you decide whether or not you feel a KICKR pre-order makes sense for you)
Since then, I've been using it for some of my trainer workouts – getting the lay of the land.  At present, I don't plan on putting together a full review until a few more 3rd party applications are onboard with functional apps – likely towards the end of February.  Many of those developers all received KICKR units at the conclusion of CES 2013 earlier this month.  I have however tested it with Trainer Road, Kinomap, and the default Wahoo Fitness app along with the Wahoo Fitness Segments (Strava emulator) app.  The Segments app doesn't have a defined availability date as they are working out things with Strava still.
In my testing, I've found accuracy very solid across a few different power meters I've been testing lately.  Below is a graph put together, comparing accuracy of the KICKR with that of the Quarq Cinqo crank-based power meter from one of my recent trainer rides.  Note that this particular beta firmware version did not have temperature compensation factored into the ride mid-ride (I did it manually pre-ride).   This data was recorded via ANT+ (on an Edge 510 and Edge 810).  The below is smoothed at 10s.  They are showing measured watts by each power meter, not set-resistance levels.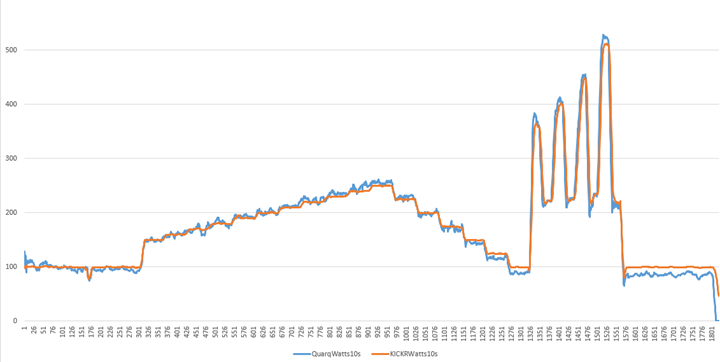 In the above, I was just doing some simple tests.  Set wattage levels (i.e. 100w) starting with a 5 minute warm-up, and then at 150w in 10w increments up to 250 and back down in 25w steps.  Then I did four 30-second sprints in 1% incline mode.  Following which, simply setting it for 100w as a cool-down for a few minutes.   Obviously, you can see some drift in the last few minutes.  It's unclear whether that's the result of the Quarq or KICKR drifting.  In this particular test I didn't do a post-test temp check on KICKR.  Pre-ride on KICKR I did a roll-down test and offset.  On the Quarq, pre-ride a manual calibration.  The dip you see at roughly 176s was simply the result of me hitting the wrong button and removing resistance accidently.
Again, I wouldn't overanalyze the above too much – it's just a beta firmware drop.  Like most beta firmware drops that I get, they usually come fast and frequent (sometimes daily), with iterations quickly to address any outstanding bugs.
Riding-wise (since a lot of folks ask), it…well..feels like a trainer.  No, it doesn't have the road smoothness of the LeMond Revolution, but it also has more finesse than the CompuTrainer when it comes to load application (i.e. how it feels when changing resistance).
From a parts standpoint, the thing is a beast.  I never had a chance to pick it up physically at previous shows – so it wasn't until I dragged one across the world did I realize how darn heavy it is.  But that heaviness comes from the materials used and the build.  There simply isn't plastic in any of the critical wear parts.  It's built a bit like a rock.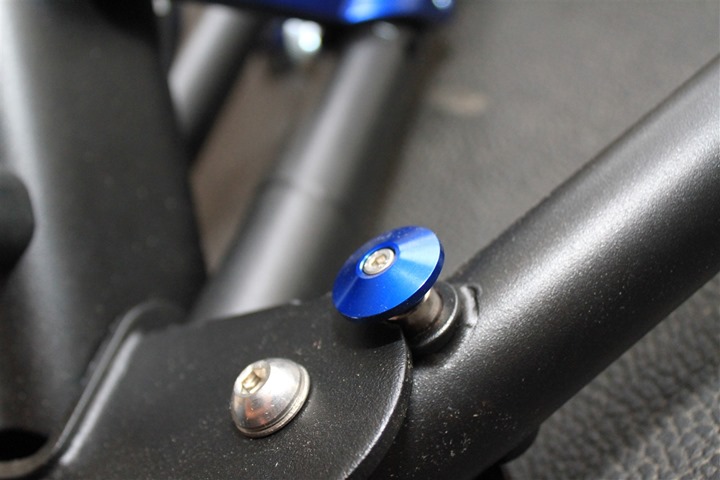 The unit weighed in at 46 pounds (about 21kg).  To put that in perspective, the CompuTrainer weighed in at 22 pounds, and the Tacx Genius at 25 pounds  (as per me weighing them all a moment ago).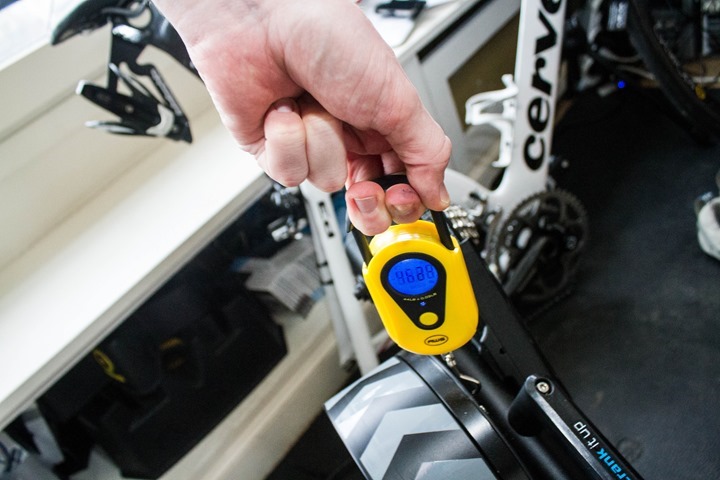 Connectivity-wise it's got both Bluetooth Smart as well as ANT+ in it.  But today, the ANT+ side can only be used to transmit the power to nearby ANT+ devices (such as your Edge 500) – but can't be used to control the unit.  The ability to control over ANT+ is coming, but it's not there yet today as the ANT+ device profile for that functionality isn't finalized yet.  All control happens via BT Smart.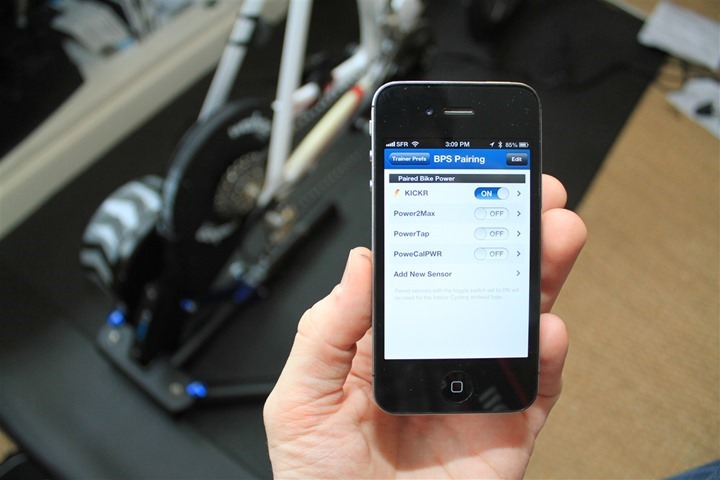 So what are the downsides?  Well, they're fairly few and far between from what I've seen thus far (aside from availability).  But most of them center around the application side.
First, you've gotta have a Bluetooth 4.0 capable device to control it without any 3rd party software.  That means an iPhone 4S or iPhone 5, or one of the later iPads (3rd/4th gen).  Within the 3rd party world, to control it you'd need either Trainer Road (on a Mac, PC drivers aren't yet there for the BLE side), or – upcoming Golden Cheetah.  The Golden Cheetah folks are working overtime to get the PC side down as quickly as possible – recognizing the gap there.
Second, there isn't a handlebar control unit for resistance. You've gotta use your phone to control resistance (or, a 3rd party app with a keyboard).  Over the last few weeks I've done workouts where things have gotten pretty sweaty.  For the most part, the phone responds to my sweatiness and does what I want (changing resistance), but I've definitely had a couple cases where my fingers were just too wet to get valid/accurate responses from the phone.  As noted, if you've got an app controlling resistance for you (say a course or workout), it's a bit of a moot point.  But if you're just controlling resistance manually you may want to invest in a simple cheap running armband for it, as it tends to ensure sweat doesn't actually get on the screen itself.
Lastly, as I previously noted around sound decibel levels, it's on par with other units.  You can see this in the video below I put together.  However, it does have a slightly higher pitched sound.  Very slightly.  It hasn't been bothersome to either me or The Girl (who's also used the trainer) – but it might be to some.  We're still able to watch TV just fine, so I suppose that's all that matters to me.  You can hear it below and decide for yourself.
Finally, there's virtually no support on the Android side today.  That will change – no doubt, as an app is already being worked on from Wahoo (I showed screenshots of it mid-way here in this post) – but if you don't have an iDevice, it's a bit limiting (unless you're using a 3rd party app, some of which are free of course).
Make sense?  Good.
You can always check out the trainer comparison table to look at all the features for trainers out there.
And my previous post from August has just about every other technical KICKR question answered on it – so also worth checking out too until a full review is posted.  But I'm always happy to answer questions here too.
—
Found this review useful? Or just wanna save a bundle? Here's how:
I've partnered with Clever Training to offer all DC Rainmaker readers exclusive benefits on all products purchased.  By joining the Clever Training VIP Program, you will earn 10% points on this item and 10% off (instantly) on thousands of other fitness products and accessories.  Points can be used on your very next purchase at Clever Training for anything site-wide.  You can read more about the details here.  By joining, you not only support the site (and all the work I do here) – but you also get to enjoy the significant partnership benefits that are just for DC Rainmaker readers.  And, since this item is more than $49, you get free 3-day (or less) US shipping as well.
Wahoo KICKR 2018
Wahoo CLIMB
Wahoo KICKR DESK
Wahoo Headwind Fan
For European/Australian/New Zealand readers, you can also pickup the unit via Wiggle at the links below, which helps support the site too! With Wiggle new customers get 10GBP (or equivalent in other currencies) off their first order for anything over 50GBP by using code [Currently Disabled] at check-out after clicking the links below.
Wahoo KICKR 2018 (EU/UK/AU/NZ – Wiggle)
Wahoo CLIMB (EU/UK/AU/NZ – Wiggle)
Wahoo KICKR DESK (EU/UK/AU/NZ – Wiggle)
Wahoo Headwind Fan (EU/UK/AU/NZ – Wiggle)
And finally, here's a handy list of accessories that most folks getting a trainer for the first time might not have already:
| | Product | Amazon | Note |
| --- | --- | --- | --- |
| | Apple TV 4K | Amazon | There's no better bang for your buck in getting Zwift (or FulGaz/etc) on your big screen TV than Apple TV - it's the primary way I Zwift. Even if you don't have a 4K TV, the 4K version has more powerful graphics than the base, worth the extra $30. |
| | Basic Trainer Mat | Amazon | This is a super basic trainer mat, which is exactly what you'll see me use. All it does is stop sweat for getting places it shouldn't (it also helps with vibrations too). |
| | Elago R1 Apple TV Remote Silicone Case with Strap | Amazon | I use Apple TV for Zwift the vast majority of the time, but also just for watching YouTube/Netflix/etc on the trainer. The Apple TV remote sucks though. This $8 case fixes that, it's a silicone strap that makes it easy to grab, but also has a strap to easily place on the edge of your handlebars. Boom! |
| | Front Wheel Riser Block | Amazon | Here's the thing, some people like front wheel blocks, some don't. I'm one of the ones that do. I like my front wheel to stay put and not aimlessly wiggle around. For $8, this solves that problem. Note some trainers do come with them. Also note, I use a riser block with *every* trainer. |
| | Honeywell HT-900 Fan | Amazon | I've got three of these $12 fans floating around the DCR Cave, and I frequently use them on rides. They work just fine. Sure, they're not as powerful as a Wahoo Headwind, but I could literally buy 20 of them for the same price. |
| | Indoor Cycle Trainer Desk (RAD/Lifeline/Vinsetto/Conquer/etc...) | Amazon | This desk is both a knock-off of the original KICKR Desk, but yet also better than it. First, it's got wheel locks (so the darn thing stays put), and second, it has two water bottle holders (also useful for putting other things like remotes). I've been using it as my main trainer desk for a long time now and love it. Cheaper is better apparently. Note: Branding varies by country, exact same desk. |
| | Lasko High Velocity Pro-Performance Fan (U15617) | Amazon | One of the most popular trainer fans out there, rivaling the Wahoo Headwind fan in strength but at a fraction of the price. It doesn't have smartphone/ANT+/Bluetooth integration, but it does have secondary outlets. I've been using it, and a similiar European version lately with great success (exact EU variant I use is automatically linked at left). |
| | Tacx Tablet Bike Mount | Amazon | I've had this for years, and use it in places where I don't have a big screen or desk, but just an iPad or tablet on my road bike bars. |
Additionally, you can also use Amazon to purchase the unit (though, no discount/points). Or, anything else you pickup on Amazon helps support the site as well (socks, laundry detergent, cowbells). If you're outside the US, I've got links to all of the major individual country Amazon stores on the sidebar towards the top.
Thanks for reading and supporting the site!