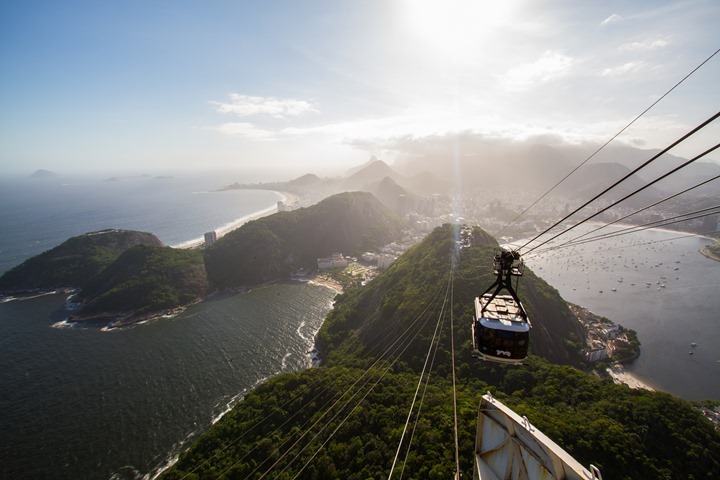 I arrived into Sao Paulo, Brazil early on Thursday morning, directly from Europe.  With meetings on Thursday and Friday taking up all daylight hours, I didn't see much of Sao Paulo by time I was back at the airport Friday evening.  I did however get to spend considerable time within the airport in Sao Paulo though, due to flight delays.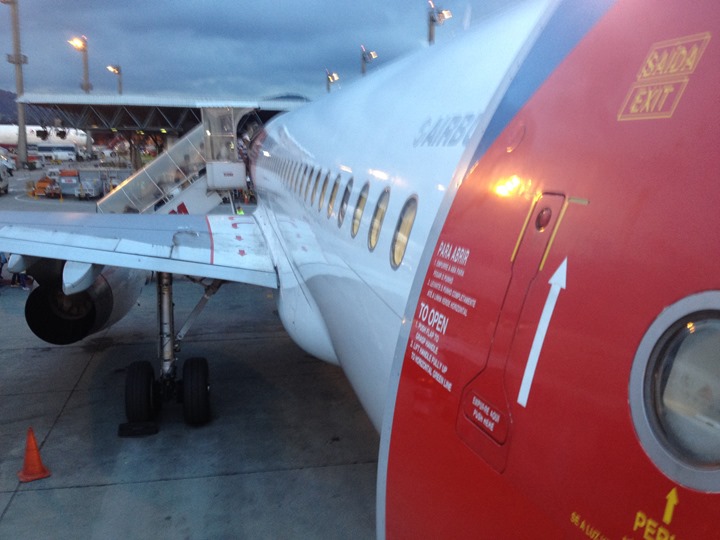 I'd arrive much later that night though into Rio de Janeiro, about a 40 minute flight from Sao Paulo.  With that, I was ready to enjoy the weekend before jumping back into work meetings on Monday.

I'd been to both Rio and Sao Paulo before, so I didn't really need to knock off a bunch of items from the tourist checklist.  Instead, I mostly just wandered around (I walked 15,000 steps on Saturday, excluding my run!).
I ran Saturday evening for about 50 minutes, enjoying running along the beach and watching sand soccer (football) games afterwards.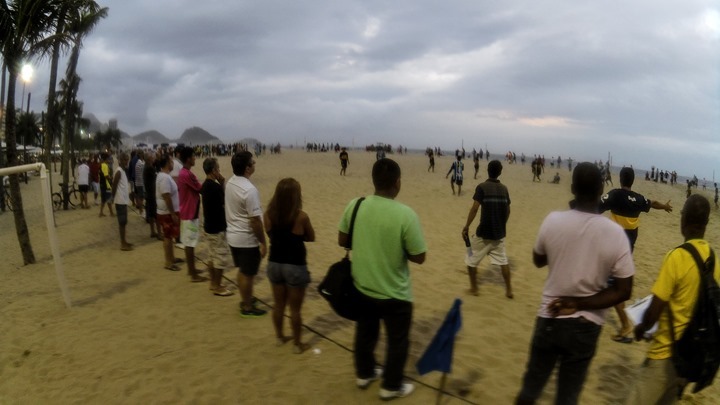 Sunday, I received an e-mail asking if I'd like to meet up for a run later that evening from a local.  After sharing the details of my interval workout and paces, I was happy to hear he was down for it.  So we met up at the hotel around 6:30PM and started from there.
At this point, the main street along the Copacabana was still closed to traffic – open for anyone to run, walk, bike or anything else non-car related along it.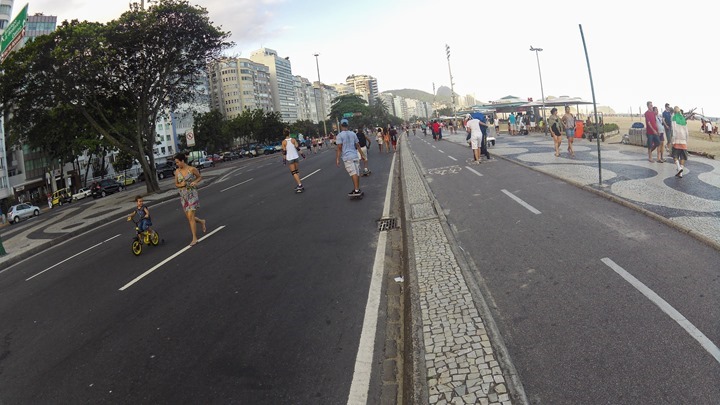 We then cut across a short bit of town to Ipanema, passing what is a common sight here – bikes with surfboards or stand-up paddle boards (not sure if there's a difference exactly, but this guy had a paddle).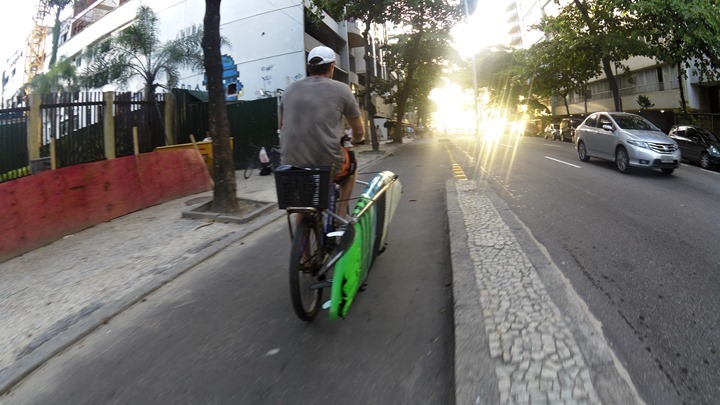 A couple minutes later we arrived on the boulevard overlooking Ipanema beach, also closed to traffic.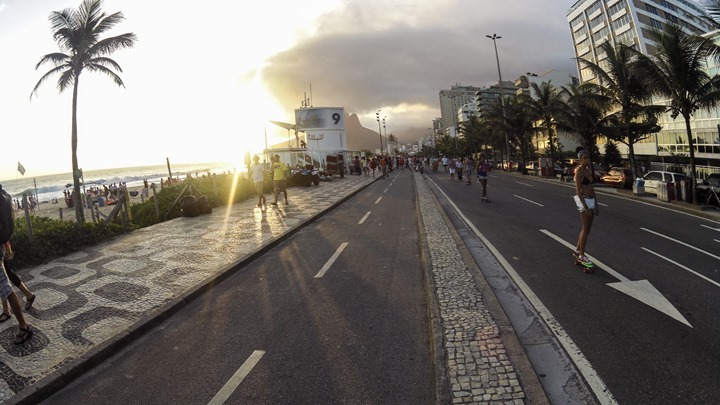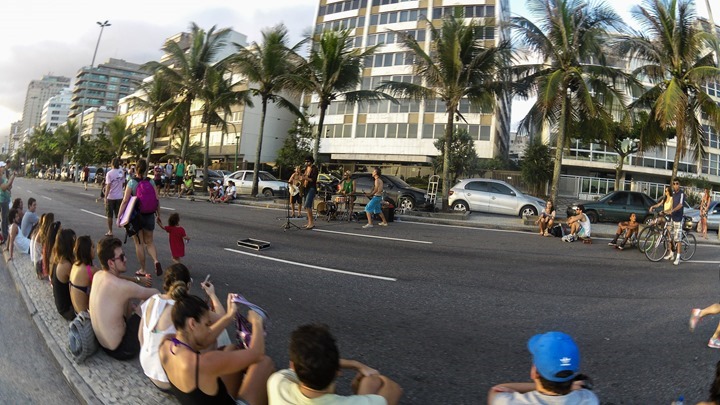 We then crossed another section of town for a few blocks and arrived at the lake, which contains a nice 7KM running and cycling loop around it.  Albeit, a very very packed loop.  Sometimes running alongside made more sense.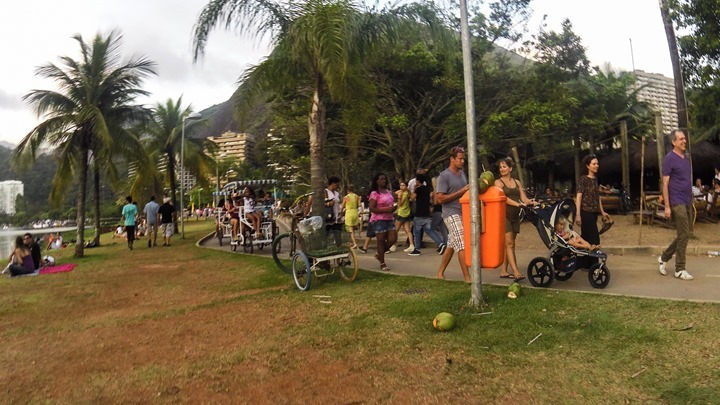 For context, here's the lake.  The first photo actually shows where I took pictures (over the course of the entire weekend), and my route started over on the beach to the right where it says '150'. The second screenshot is of our route.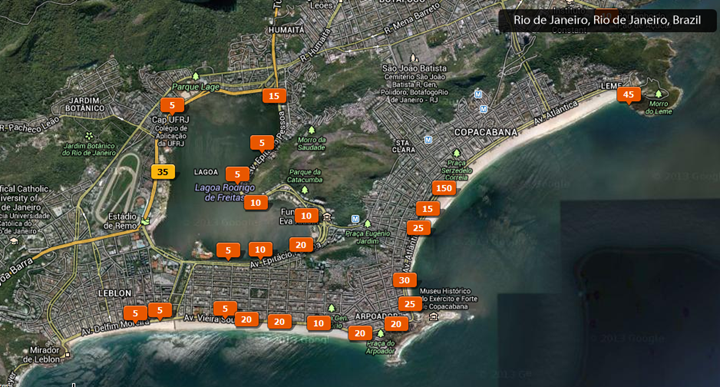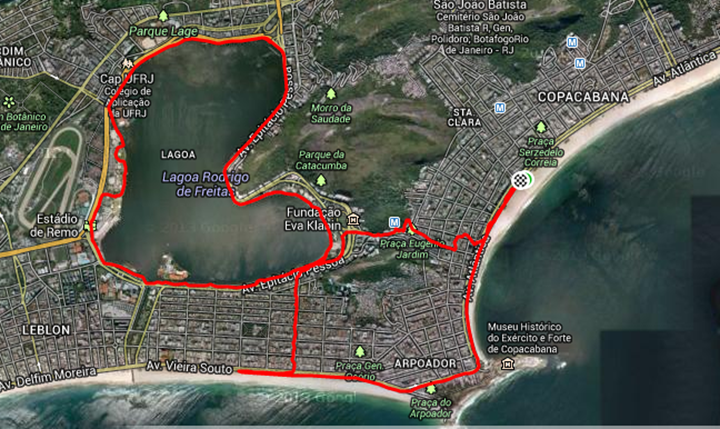 As sun set, off in the distance you could see the famous Christ the Redeemer Statue up on the hillside: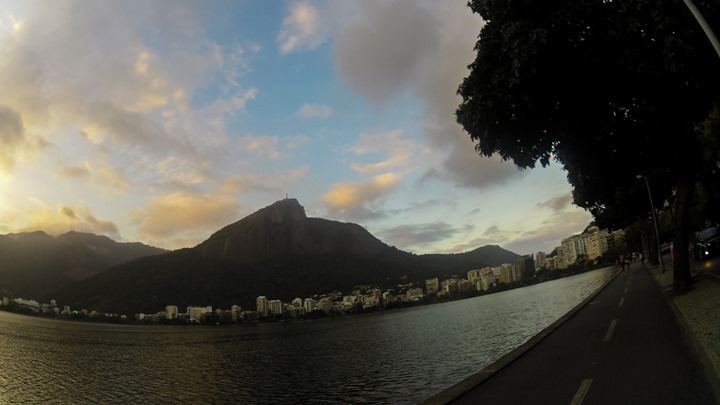 At one point a helicopter landed on a pad just beside us.  We had nice timing in that it was a rest interval.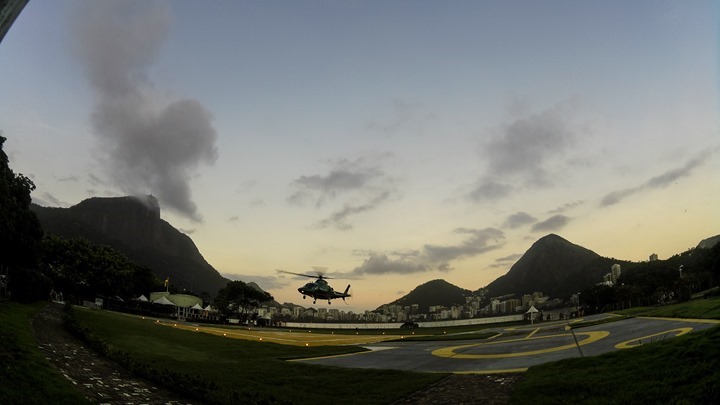 Speaking of which, I should probably point out the contents of the workout.  The workout started off with a 15-minute build and then jumped into 4 x 7.5 Minutes at a relatively hard heart rate.  My coach went with HR-controlled workouts for my time here in Rio because he knew that heat and humidity would be a factor, rather than trying to hold an unattainable pace with no acclimatization.
We also got lucky when we hit this crowd that it was a rest interval (2.5 minutes each).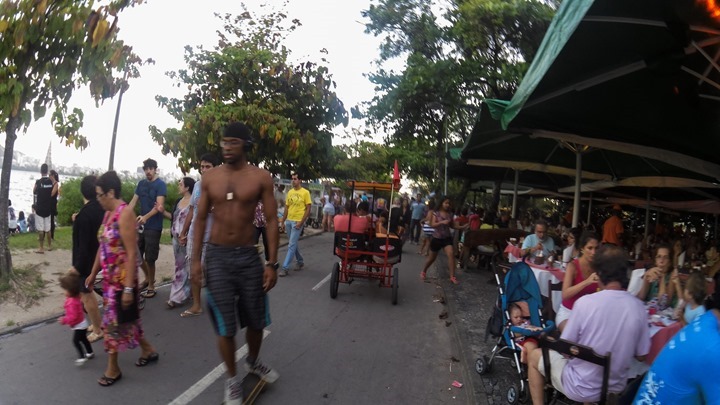 As we made our way around the lake, the gigantic Christmas Tree floating in the middle of it was eventually lit up: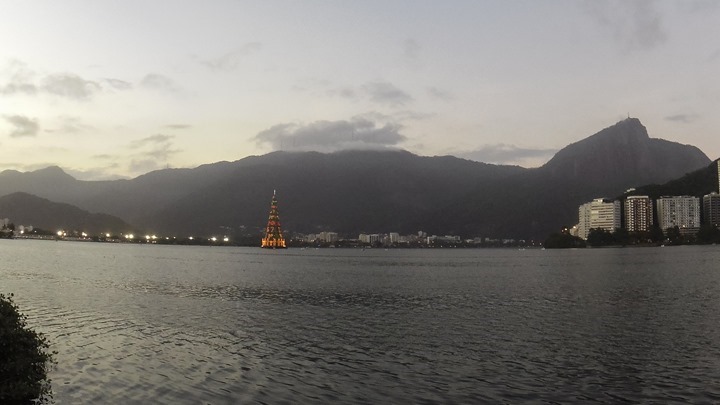 As we came to the conclusion of the lake loop we also wrapped up the workout with four finishing sprints of 30-seconds each.  After which, Nicolas headed on home, but not before we grabbed a shot together: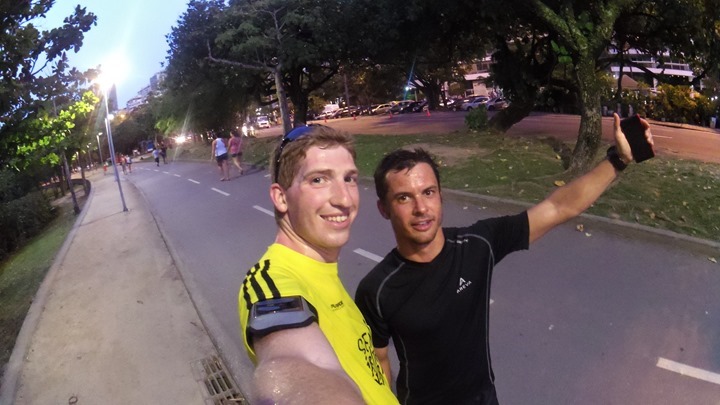 Don't worry, I'd meet up again later.
Meanwhile, I still had about a mile or so to run home.  Of which, approximately zero of my photos are usable.  Something about being dark out crossing the city.  Once I got back to the hotel and stopped though, I was able to get a good finishing shot: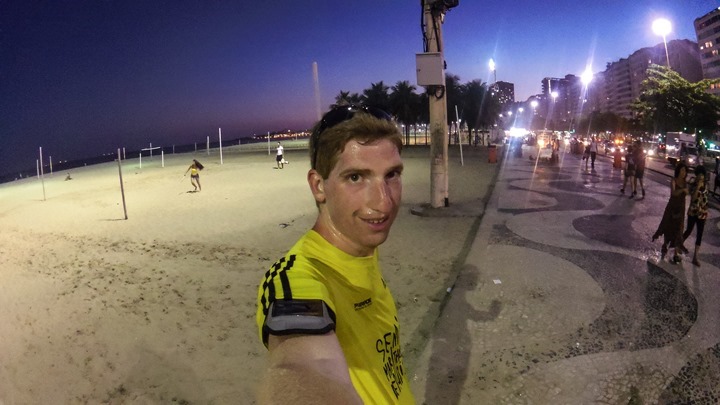 Post-cleanup I met up with Nicolas and his girlfriend; they cooked up a great dinner – thank you so much for that!
Now, less you think I didn't do anything touristy, I did.  Aside from wandering the beaches, I did take the tram up on top of Sugarloaf Mountain.  I'm a sucker for good viewpoints.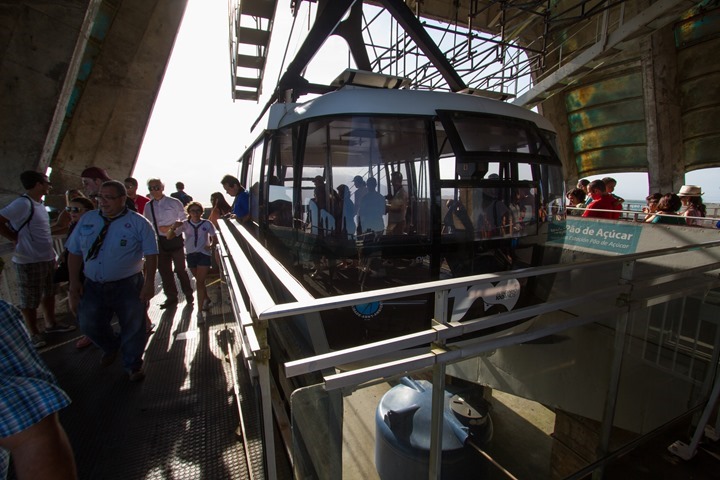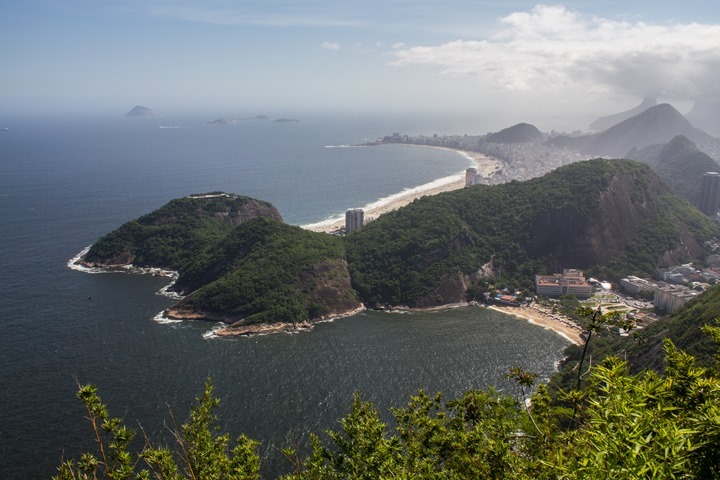 And, while up there two readers from Austria happened to notice me and say hello (I was busy eating cheese-ball-bread, which is pure-awesome).
Now, admittedly, my hotel window has pretty much one of the best views around.  Thus, I stuck the Virb there on time-lapse mode for 24 hours and let it do it's thing.  I've shortened it down to mostly just the daylight hours for the uploaded video.  Even better, if you watch closely in the lower left corner during the earlier portions of the day you'll see them setting up a bunch of aide stations for a running race this morning (actually, a couple of races by the looks of it).  You'll then see two groups of runners coming and going.
Enjoy!
With that, that's it for now from here.
Thanks for reading.