Toto, we're not in Kansas anymore.
After a 10 hour flight from London to South Africa, I found myself presenting and meeting 90 minutes later for nearly 9 hours.  By the time I finished up I was most definitely ready to run.  Except, in some places in the world you have to be a bit careful about that.  Though that's no different than other big cities.
Lacking a clear (and safe) running route at sunset, I simply hit up the hotel gym for a mixed set between the stationary bike and the treadmill.  I was excited that the stationary bike did include wattage.  Sometimes you luck out.  In case you're curious, I was streaming the Alpha optical HR watch to the Wahoo app via ANT+.  Simple and clean for a treadmill.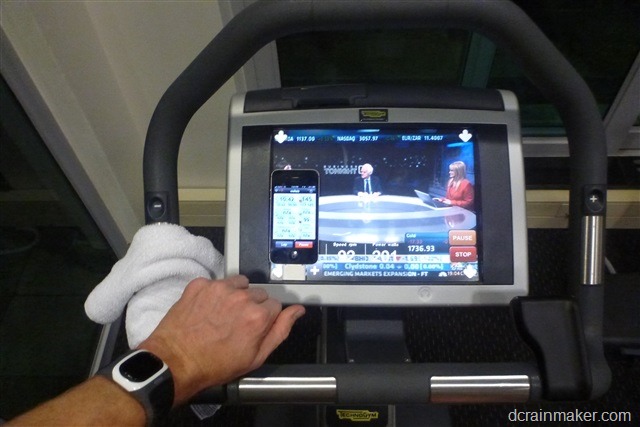 As enjoyable as the empty gym might have been, I really wanted to get out and run a bit.  So I devised a complex plan to determine a safe running route:
I tweeted asking for someone to run with me.
It was like an eHarmony.com moment, but for desperate lonely runners in Africa.  Sure enough, a handful of folks were available and responded.  And, they actually were still up for the run once I casually dropped the pre-6AM starting condition (see, I'm sneaky like that).
A flurry of e-mails later, and we were ready to meet at 5:45AM at my hotel.  Though, Wednesday morning at 5:45AM came a bit earlier than I anticipated.  Actually, I think earlier than all of us anticipated.
Luckily, a few of the guys knew the area and had put together a quick route for the morning that took us through some nice parks.  So after we collectively ensured we all had satellite coverage off we went.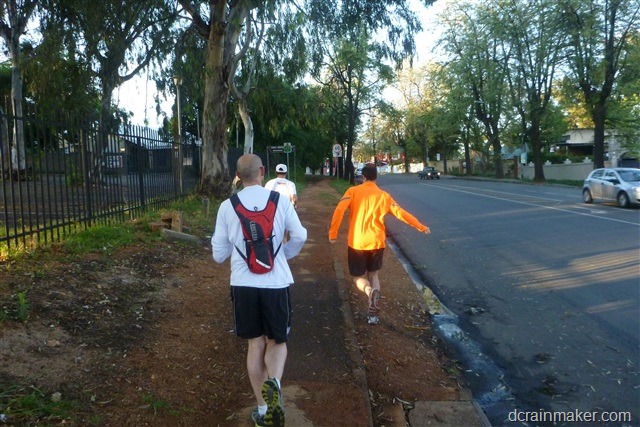 The sidewalks in this area of town were mixed between off-roading, mixed roading, and normal paved pieces of glory.
The real trick came from being aware of the gigantic potholes.  And by potholes, I mean places were manholes used to be present, but were removed to improve the economic situation of the person removing them.  Apparently metals are fairly valuable here.
One wrong step, and you're instantly a few feet shorter.  Thankfully, no wrong steps occurred today.
We wandered our way downhill towards the Zoo and Zoo Lake – which is a relatively calm and peaceful area to run.  Though, at no point in the run was there any non-calm or non-peaceful portion.  It was all quite normal.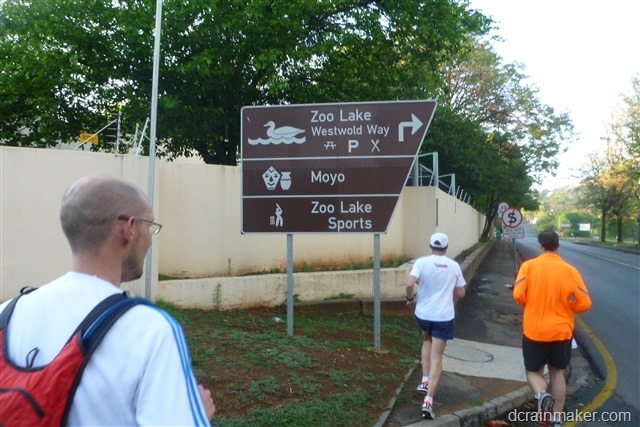 Along the way I was fairly surprised by the number of cyclists out there.  And not commuters actually, but roadies out for a workout of sorts.  The below was likely a commuter – but I saw at least a dozen folks during our run, often in pairs, out for an early morning workout.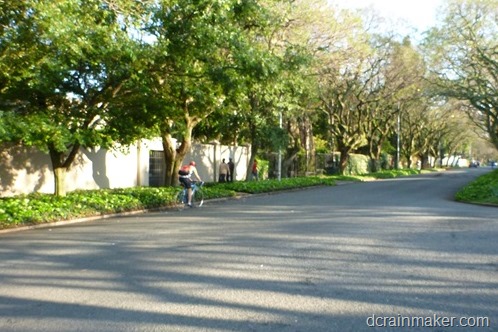 Once we arrived at the Zoo Lake park, it was quite nice actually.  Big vast green running space with a lake plopped into the center of it.  You can see it in below GPS track: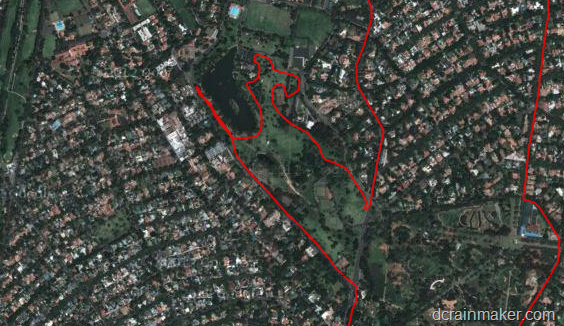 I learned from my hosts that international marathon runner Hendrick Ramaala uses the Zoo Lake park for virtually all of his training runs.  Apparently he'll do loops of the park in the morning, and then more loops at night.  Each loop is 3.5K long.  Sometimes folks (try to) join in behind him.
Inside the park, there was also a bit of a outdoor dining place.  Apparently, as part of his route, he always cuts through and across the middle of the restaurant on a specific path (mid-run).  You can see the path worn into the place as you wind through it (though not well in the photos below).
As we made our way around, we saw plenty of other runners.  The lake itself has an actual 1KM running path on its perimeter, though we were winding around off-road on the outer edge of the path.  Here's a random runner: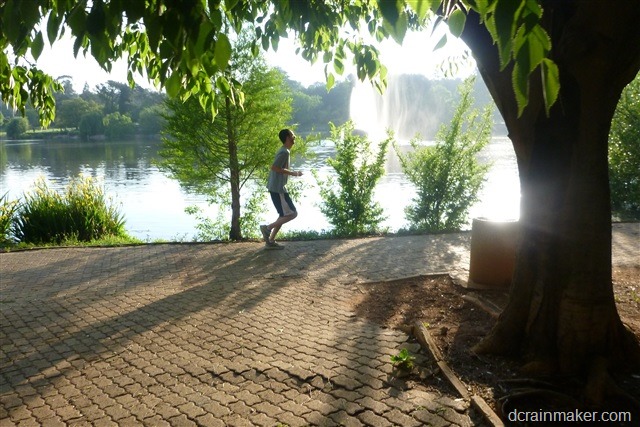 Of course, being Africa, we had to be wary of wild animals.  Obviously South Africa is full of them – lions, no tigers, no bears, but cheetahs.  No cheetahs in Kansas.
Here in the park, there were plenty of these animals lurking in the trees behind us…albeit, in a zoo.  Within our running path, we were mostly concerned with dodging oddly large birds.  I'm not quite clear how these birds got as big as they were, but they were substantial.  Like turkey dinner substantial.  Little mini chicks not included.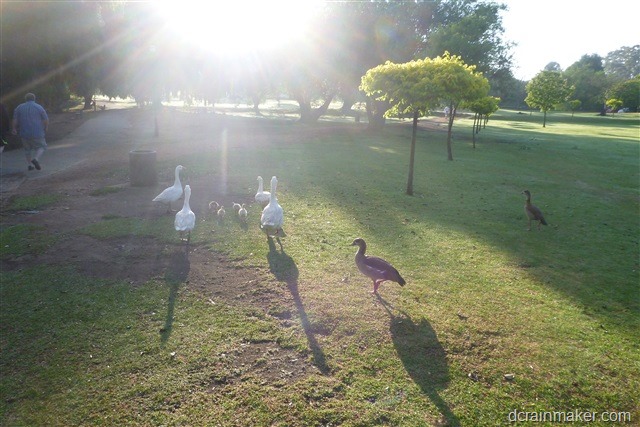 Next up was a pass by of the zoo.  When I arrived on Monday morning via taxi I drove past the zoo and even saw some Zebras – so I was optimistic I'd see some more animals.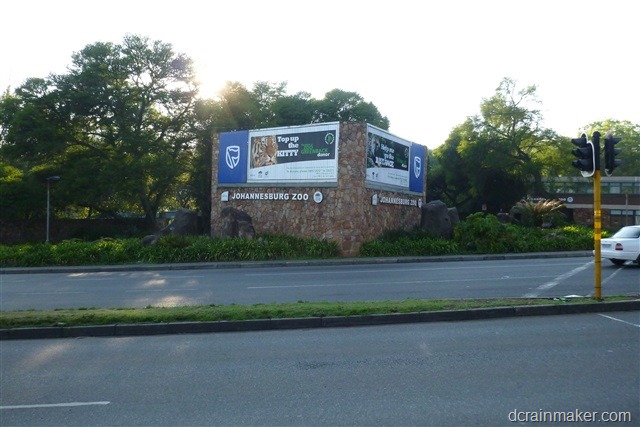 Regrettably, all must have been in hiding or something.  Perhaps they had a wild night on the town and were still hung-over.
Instead, the only thing I saw was a sign for a French language center.  Perhaps as a sign I need to practice my French.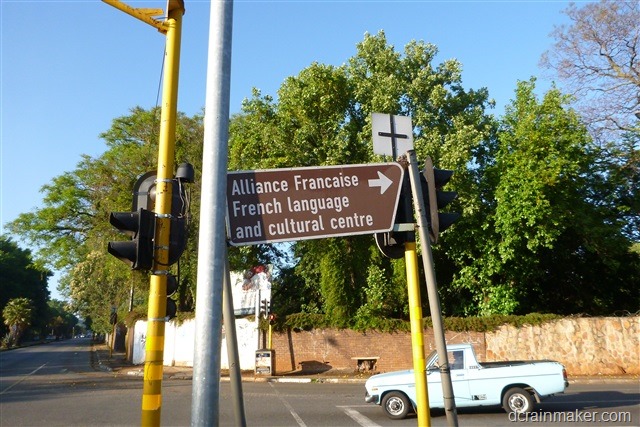 Continuing on we headed past the National Museum of Military history.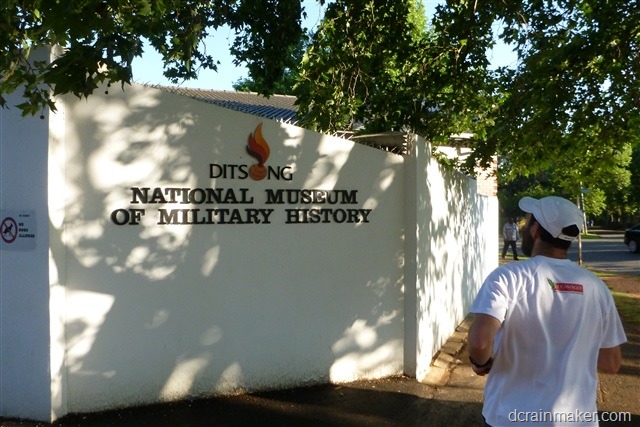 As we ran past the fence I could see all sorts of military stuff through the cranks in the rock fence.  Like a little flashing picture show between the cracks at pace.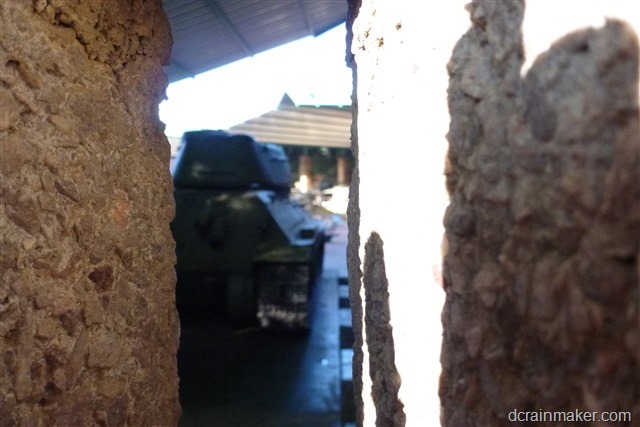 Holding my camera up above the fence I spotted an entire plane back there!  You could launch a small invasion with all the stuff behind those walls.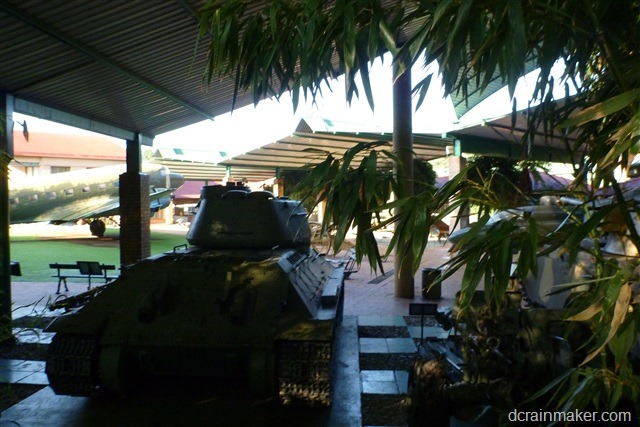 With our militia ambitions behind us, we took a turn towards home (the hotel) up a fairly nice fancy street – complete with little lollipop trees.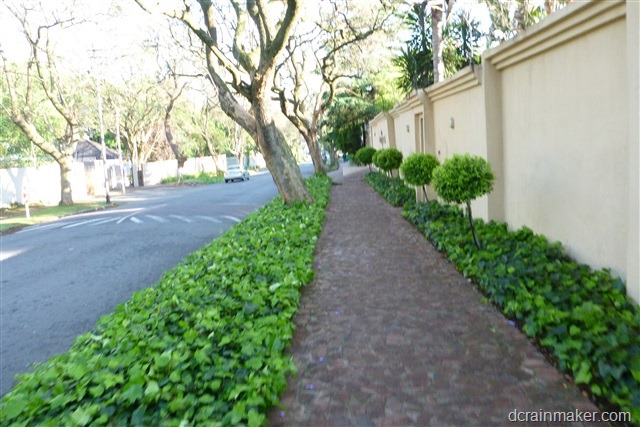 All in our run lasted about an hour and covered some good ground.  It was great chatting with the guys and hearing about their upcoming race plans.  From Ironman's to fast 10K's – and everything in between.  Cool stuff.
This is to the best of my knowledge the first DCR-specific group run/bike I've done.  I've occasionally met up with a single person during my travels – but not a group of folks.
Thanks to Fabian, Caspar, and Jacov for the run – I appreciate it!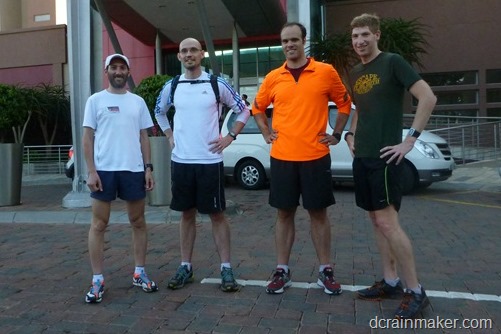 With that, I'm back on the plane currently over the border of Angola and the Democratic Republic of Congo, en route to London.  Then it's back home to Paris, where I'll be for a short 24 hour stint.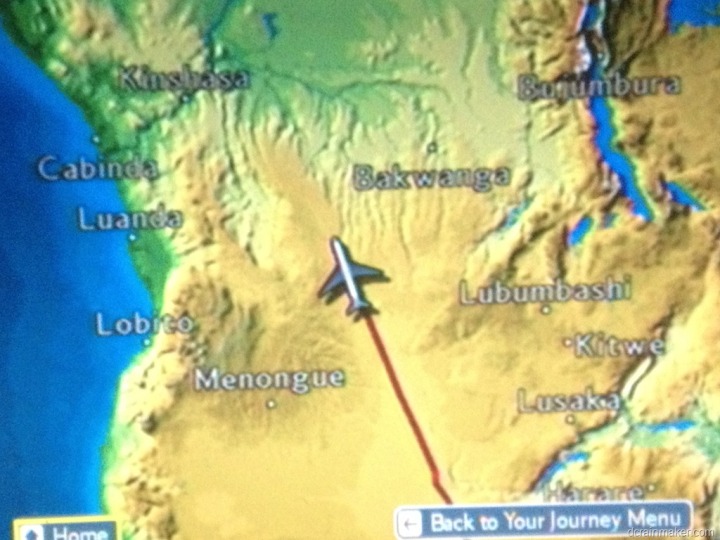 Next up – Barcelona… Thanks for reading!