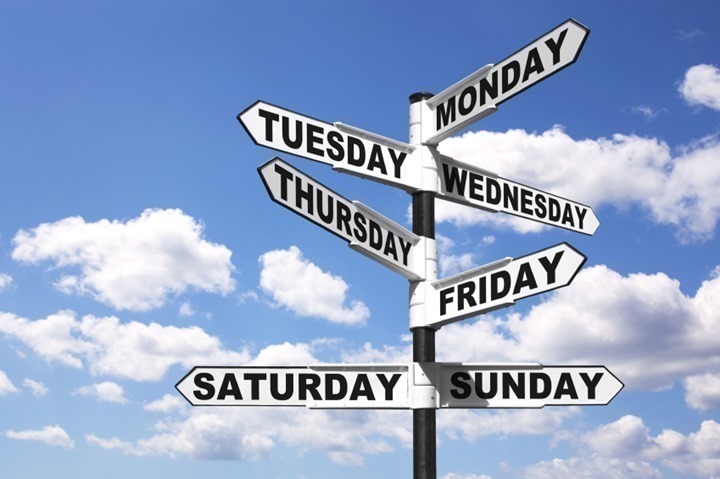 The Week in Review is a collection of both all the goodness I've written during the past week around the internet, as well as a small pile of links I found interesting – generally endurance sports related. I've often wondered what to do with all of the coolness that people write, and while I share a lot of it on Twitter, Facebook, and Google Plus, this is a better forum for sending it on to y'all. Most times these different streams don't overlap, so be on the lookout at all these places for good stuff!
So with that, let's get into the action!
DCRainmaker.com posts this past week:
Here's all the goodness that ended up on the main page of DCRainmaker.com this past week.
Monday: A weekend skiing in Switzerland and running at home
Tuesday: Polar Loop In-Depth Review
Wednesday: Week in Review–December 4th, 2013
Thursday: Florence Marathon Race Report: Perhaps not my cup of 'THE'
Friday: Huge Garmin Fenix Firmware Update: The Beginning of GPS Fitness Watches Becoming True Smart Watches
eBay DCR Gadget Collections!
I know many of you shop via eBay instead of traditional retail channels.  So I've collaborated with eBay this holiday season to put together collections related to sports gadgets.  I linked to a few collections earlier back in October, but here's a pile more:
Running GPS Units: Budget
Running GPS Units: Mid-Range
Running GPS Units: High End
Cycling GPS Computers
Hiking, Mountain, and Geocaching GPS Units
Indoor Cycling Trainers
Swimming Gadgets
Triathlon Gadgets
Activity Monitors
Connected Weight Scales
Enjoy!
Stuff that I found interesting around the interwebs:
Here's a not-so-small smattering of all the random things that I stumbled on while doing my civic duty to find the end of the Internet:
1) Must Watch: BASE Jumper Slams into Cliff After Pulling Chute, Captures the Whole Fall on Camera: Well, that's gonna leave (left) a mark.
2) New Bluetooth 4.1 Specification released: This is pretty substantial, lots of interesting scenarios here. Notably, this line: "With this new capability, a single device acts as both a Bluetooth Smart peripheral and a Bluetooth Smart Ready hub at the same time. For example, a smart watch acts as a hub gathering information from a Bluetooth Smart heart rate monitor while simultaneously acting as a peripheral to a smartphone — displaying new message notifications from the phone."  Translation: Now a single sensor can connect to multiple devices.
3) Profiles of 10 adventure sports photographers: Pretty cool post with some great sports photographer bios and then further links to look at more photos.  Warning: You may burn a lot of time…
4) The Smart Bra: Pretty interesting research & development stuff, aimed at predicting responses to emotional states – such as eating a cookie.  Full paper here.  (via Eli)
5) A study on how high school runners change training patterns once in college: Cool to see the exact breakouts on the survey answers.
6) A look at transporting an NFL team: A neat behind the scenes on what happens week after week for the Denver Broncos.
7) Adidas worked on next World Cup soccer ball for over 2 years: This, is only of note mostly because I happened to see a giant variation of it yesterday in Sao Paulo, below… (via Sport Tech News)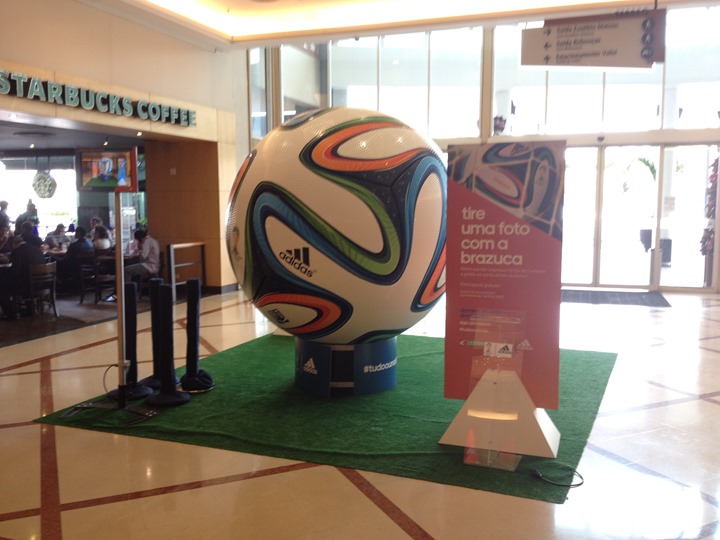 8) For the Pro Cycling followers: If you're looking for a pretty detailed (and more brutal) analysis of the recent ownership changes in Team Saxobank, you'll find no better article than this. (via Neal Rogers)
9) New open-platform action camera: In looking at it, I'm not so certain this will take off, especially at that price point.  Still, always good to have more players in the space.
10) Olympic Torch Bearer Catches Fire: It's one thing to bring the torch home with you, it's another to try and take the fire home too.  Small video clip at the site too.
Crowd Funded Projects of Athletic Note:
This is a bit of a new section. Most of this content used to be found within the main section, but I figured I'd just call it out up here and make it easy to find. I regularly sift through Kickstarter and Indiegogo (plus a few others on occasion) looking for sports projects. Note that as always with crowd funded projects, assume the project will be late and will under-deliver on features. Thus far, on the numerous products I've helped 'fund' (except a leather bike handle), that's been the case.
Skulpt Aim: Device to Measure Muscle Fitness with One Touch: Not so much for the endurance folks, but in the same circles as many here.
360º for GoPro, DSLR, Video and Compact cameras: Seems awfully pricey to me, especially given CES is 4 weeks away and we know stuff will be announced there in the 360* space…
Sports Technology Software/Firmware Updates This Week:
Each week I quickly highlight some of the new firmware, app, software and website service updates that I see go out. If you're a sports technology company and release an update – shoot me a quick note (just one liners is perfect, or Tweet it at me is even better) and I'll make mention of it here. If I don't know about it, I won't be able to post about it. Sound good?
Site/Firmware Updates:
Garmin Fenix & Garmin Tactix (beta): Well, I think I covered this pretty well above in the full-on post.

Garmin Fenix & Garmin Tactix (non-beta): This is mostly just bug fixes and does not include the new beta features.

Adidas Smart Run GPS: This update released on Monday was primarily focused on battery life enhancements, plus a few other items.

PeriPedal Trainer Software Update: A fairly big update including ANT+ PowerBeam Pro support added as well as support for Bluetooth Smart heart rate monitors.

TrainingPeaks device agent: Some minor updates, including changes to FR910XT swimming mode support.
iPhone Apps:
iPad Apps: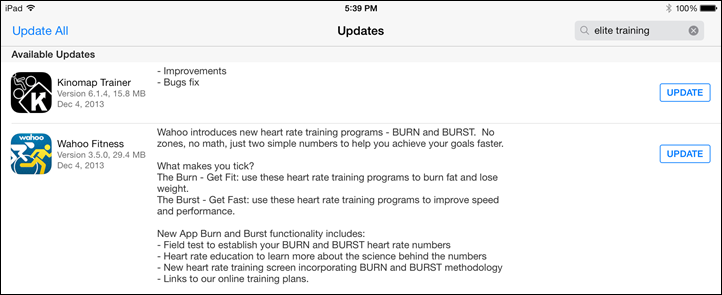 Android Apps:
Windows Phone Apps:
No sports-related Windows Phone app updates on my phone since Wednesday.
—
Thanks for reading all!