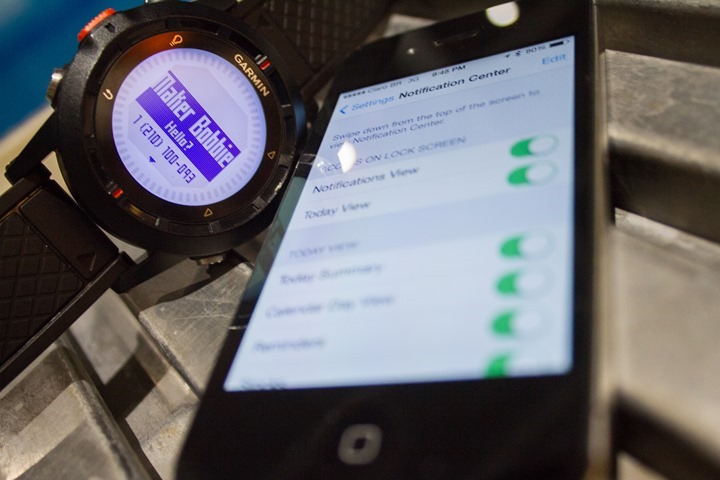 Yesterday, Garmin quietly rolled out a 'beta' update to their Fenix & Tactix lineup, which are their watches previously/primarily aimed at ultra-runners and those wanting hiking/navigational capabilities.  For Garmin, firmware updates – let alone beta ones, rarely have massive new features.  Those new features tend to be reserved for new products, ultimately trying to get you to lay out cash for a new device.
In this case though, Garmin made four significant changes to the 1.5 year old product that quite frankly I'm surprised weren't a new product.  Here they are (they apply to both Fenix and Tactix):
Added iOS notifications to the watch: Now you get text messages, tweets, and anything else you'd like.  As long as an app notifies, the watch notifies you…instantly.

Added footpod-less treadmill mode: The unit will automatically calibrate from GPS runs, and displays pace/indoors on a treadmill…without a footpod.

Added custom workout creation/download support: This was always a big gap in the lineup, but this basically puts it in line with all of Garmin's running watches

Added interval workout support: This allows the creation of interval workouts from the watch
Oh, and they added an update to the ski mode that they released last year.
So why is this significant?  Well, the first one is the most important – because it now represents the very first fitness watch currently on the market to display notifications.  Yes, seriously, a 1.5 year old watch is the first watch to do so.  Go figure.
Ironically, the only other watch that had semi-similar functionality was the Motorola Motoactv, which has been discontinued for quite some time now.  Proving again how far ahead of the times it was.
I've commented in the past that despite fitness watches gaining connectivity to the phone, they haven't really bridged into the smart phone world yet from a complete integration standpoint.  The closest we've seen recently was the Magellan Echo (and its cousin the Wahoo Fitness RFLKT).
But neither of those displayed notifications from apps using the iOS notification center.  No text messages or the like.  And, if you looked at non-fitness watches like the Pebble, they did display notifications, but didn't really do the fitness world justice (read: they sucked for fitness).
Notifications & Alerts:
Let's just dive into it.  First, you'll pair up the Fenix to your iPhone 4s or newer phone, just like most standard Bluetooth devices: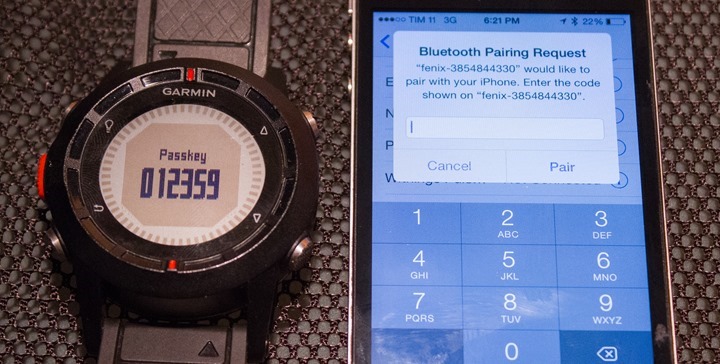 Once that's done, on the Fenix, you'll get a choice for how and when notifications should be displayed: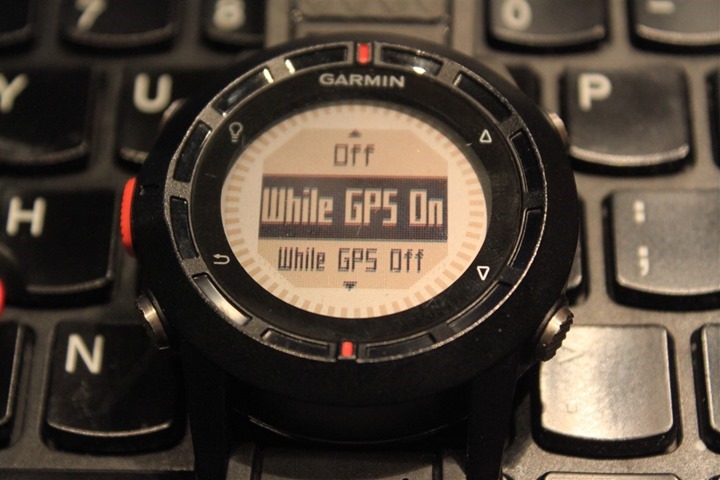 You can specify: Always On, While GPS On, While GPS Off, and simply Off.
Now, the next message you'll receive is rather important (and a bit of a bummer): If you enable notifications, then by default, you disable ANT+ support. This is due to the fact that the Fenix unit's chipset for communications only allows one of the two protocols to operate at once.  This is similar to how the Motorola Motoactv worked.  It's a physical limitation, not a software one.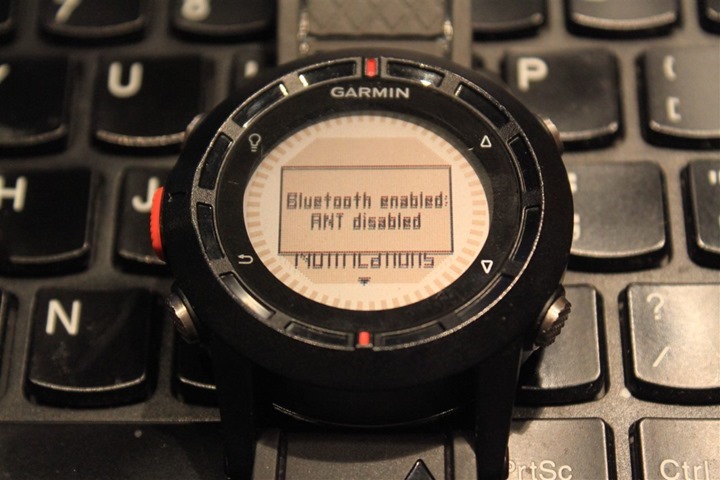 With that, you're good to go.  If you had your phone nearby, the phone will automatically send any application notifications to your Fenix.  Below, you can see the example of an incoming text message, and how it could be used: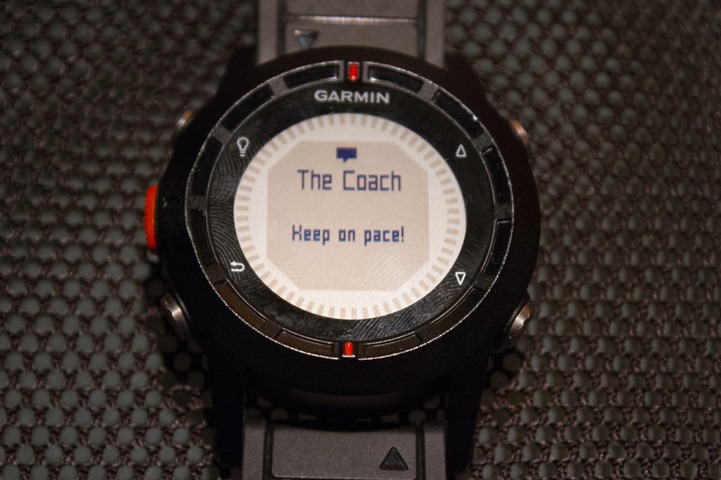 The case goes for incoming calls as well, which display the caller ID field, as well as the phone number.  Really cool stuff.
In playing with it this evening, the notifications popped up nearly instantly.  They came in for phone calls, texts, PayPal notifications, you name it.  If the app leveraged the notification center, they showed up.
So what about Android support?  In talking today with the Fenix team, it's not on the immediate radar.  The challenge is that today on Android there really isn't the same simplicity to implement that there is on iOS7.  They noted they'd have to basically go model to model to get it working, even with the improvements made on Android KitKat 4.4, it lacks the ability to push notifications over Bluetooth Smart uniformly across all devices (handset).
Of course, the bigger question I had was when is this coming to the Garmin FR220/FR620, given the chipset(s) there certainly appear to support both concurrent ANT+ and Bluetooth Smart (since you can do live tracking with ANT+ data).  When asked, I received a variant of 'no comment' noting that they are different platforms (hardware and software) with different challenges.  Which, is likely true.  Though, the Garmin Approach S4 (a golfing watch built on the same hardware as the FR620) does Bluetooth Smart notifications.  Thus, I think the answer is probably fairly clear…
[Update: I've been told by the Fenix team that while the Approach S4 physically looks like the FR620, internally it's an entirely different beast and is much more similar internally to the Garmin Fenix discussed here, fwiw.]
Treadmill without a footpod mode:
Next, we've got ability to get pace and distance from the treadmill, without a footpod.  This isn't new to Garmin products, we saw it introduced on the Garmin FR220/FR620.  And, previous to Garmin products, we saw it on the TomTom Runner as well as a few lesser known non-GPS units.
To start, you'll need to wander outside and do a run with the GPS enabled.  When you do this, the Fenix will create a calibration table based on multiple paces.  They recommended to run approximately a mile (though more is fine), and to vary the paces that you'd normally run (meaning, go fast/slow/medium/etc…).
Each time you run with the GPS outdoors, the Fenix will update the calibration table in case you go to the treadmill next.
Meanwhile, when you do head indoors, you just set the Fenix to Indoor Mode, like you would have with a footpod (except, you don't need one now).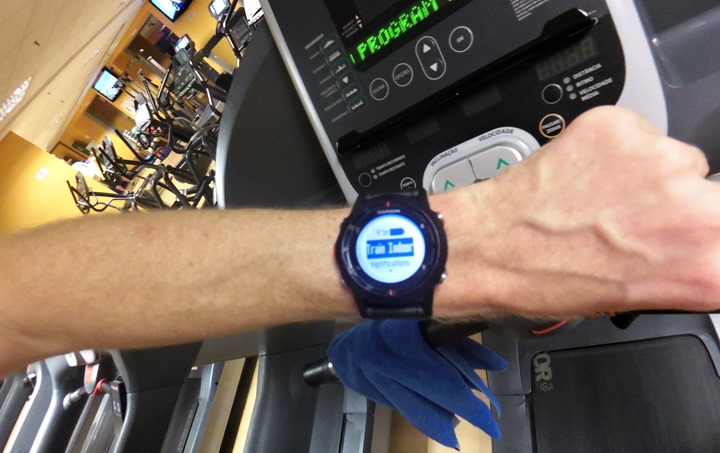 With that, you start running.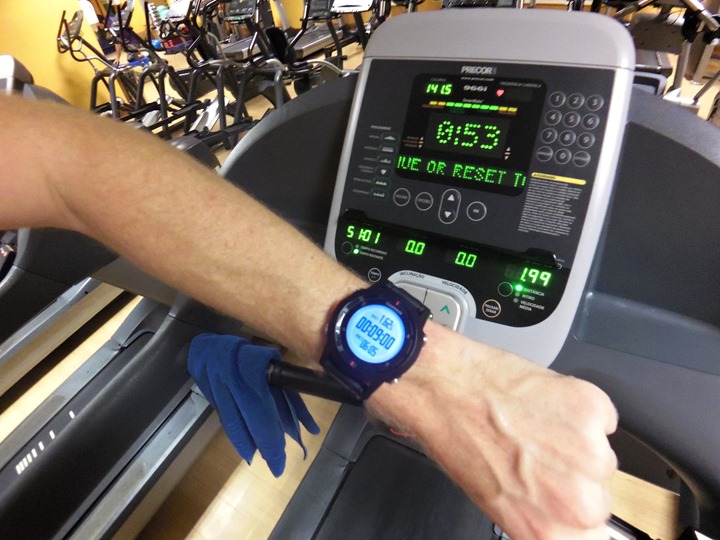 For fun, I tried a nice little pyramid of paces to see how it would handle.  Here's the result: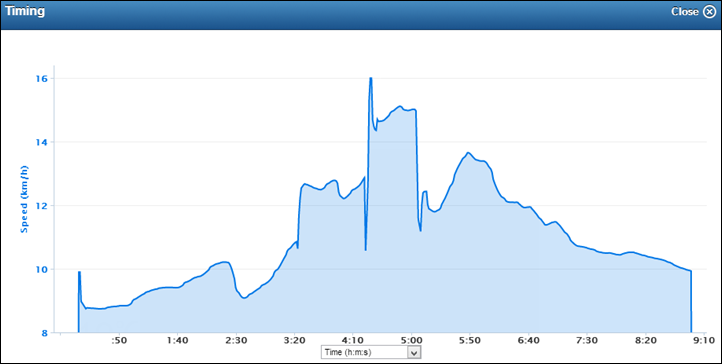 So…hmm…
What's interesting here is that it seems as though I might take a bit of time to 'warm-up' to whatever my normal arm-swing motion is.  In this up and down pyramid, my paces on the metric-driven Brazilian treadmill were set as follows:
00:00-1:00: 10KM/HR
1:00-2:00: 12KM/HR
2:00-3:00: 14KM/HR
3:00-4:00: 16KM/HR
4:00-5:00: 18KM/HR
5:00-6:00: 16KM/HR
6:00-7:00: 14KM/HR
7:00-8:00: 12KM/HR
8:00-9:00: 10KM/HR
For the 'going up' part of the pyramid, things reported rather slow and clearly off compared to actual paces.  On the way back down, things were at least a bit more uniform, but off at the higher speeds.  It did seem to get the last minute right however.  Hopefully, given it's still beta, they'll be able to work out the kinks.
Now, to be fair, no watch seems to be able to track me indoors from arm motion.  Be it the TomTom Runner or Multisport, the Garmin FR220, or the FR620.  Perhaps I'm just not designed right.
Obviously, this is only a 9-minute quick test, so I'd be interested in seeing how it shakes out longer term for others (since this is also only just a test of me, 100% dependent on my arm-swing motion).
Workout & Interval Support:
Last but not least, comes the addition of custom workout downloads from Garmin Connect, as well as creation of intervals on the unit itself.
For workouts, you'll simply create them in Garmin Connect first: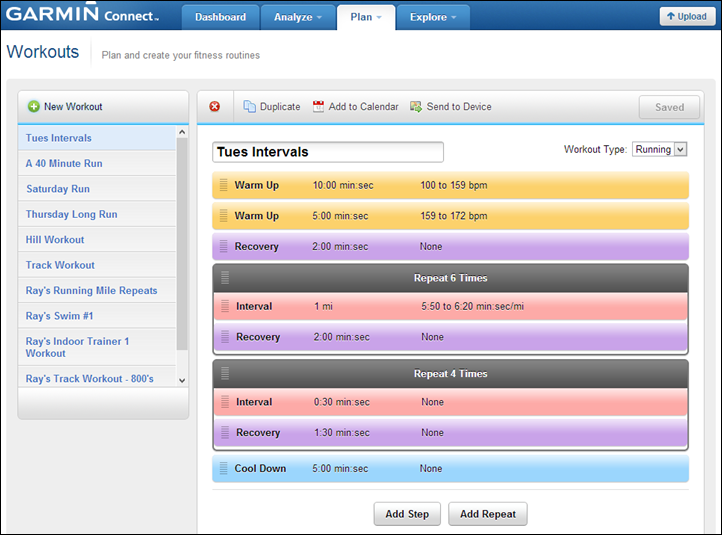 And then use the 'Send to' option to send it to the Fenix: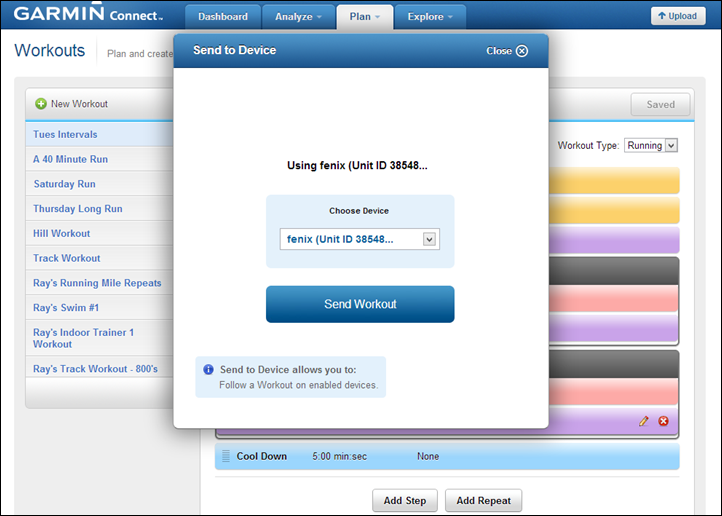 On the Fenix, you'll see the new option there after adding the 'Workout' page via the System settings.  Within that you have two options.  The first is to create an interval workout on the watch itself: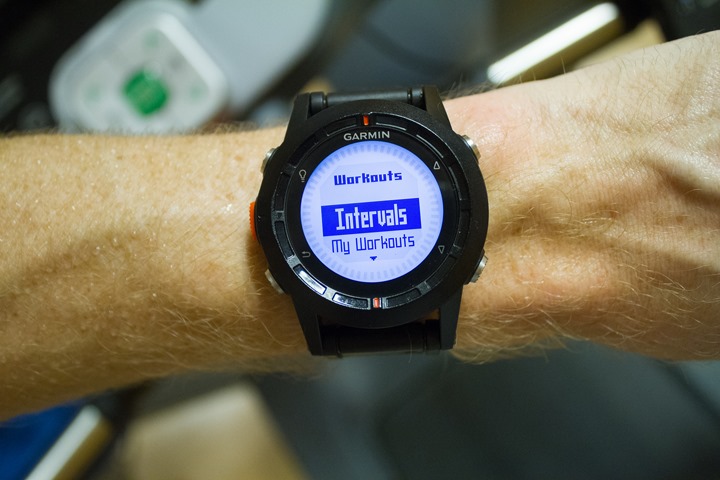 In this case you specify to enable a warm-up and cool-down (controlled via lap button), and then you can create the work and rest intervals using either time or distance (or manual):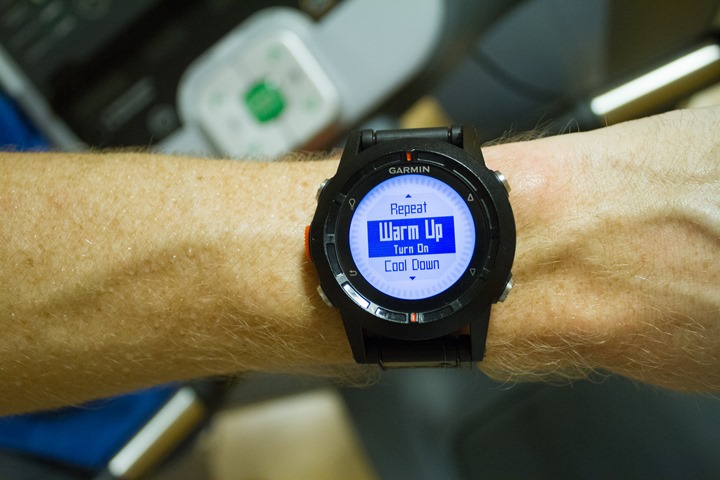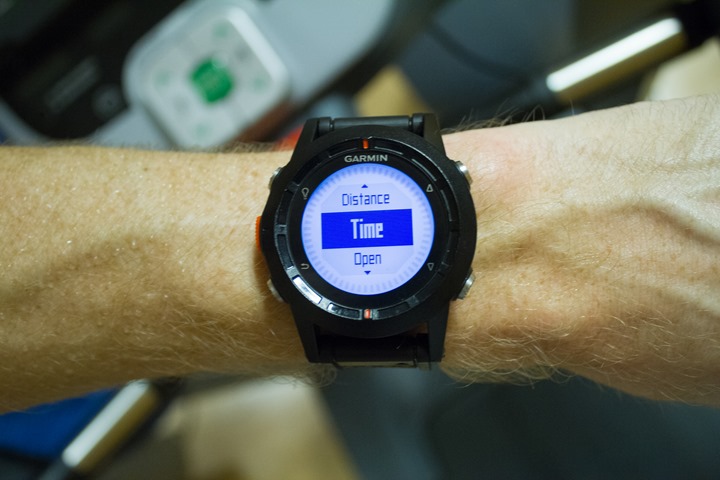 Note that in the default interval mode, there are no targets however.  Meaning, you aren't setting a target pace of 7:00/mile, it's simply a time or distance counter.  You can specify targets however within the custom workout section below.
At this point you can start the workout and it'll guide you through the interval structure.
The second option within the workout menu is to pull up your custom workout downloaded from Garmin Connect.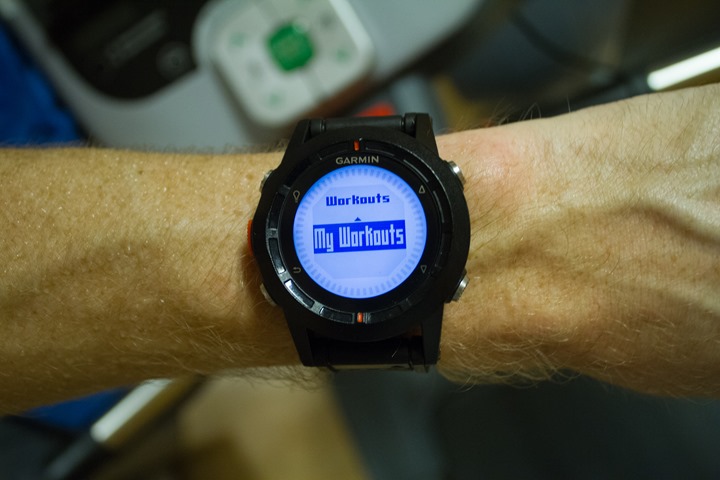 Within this you can view the workout segments.  Then, as you start the segments, it'll notify you for each section what the goals are for the next section (i.e. a HR zones).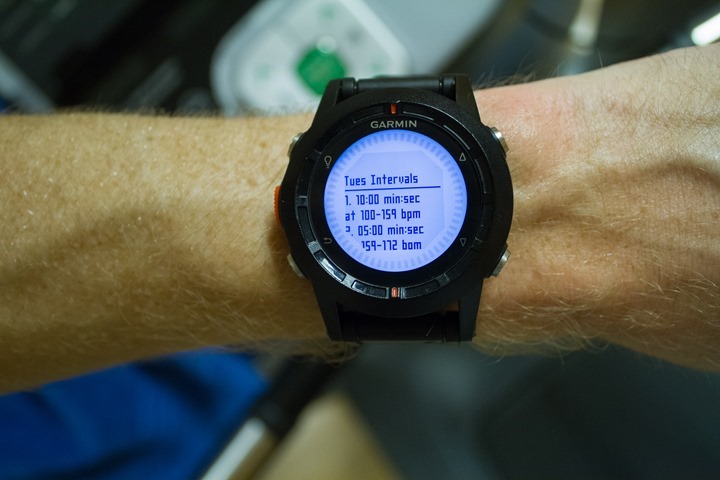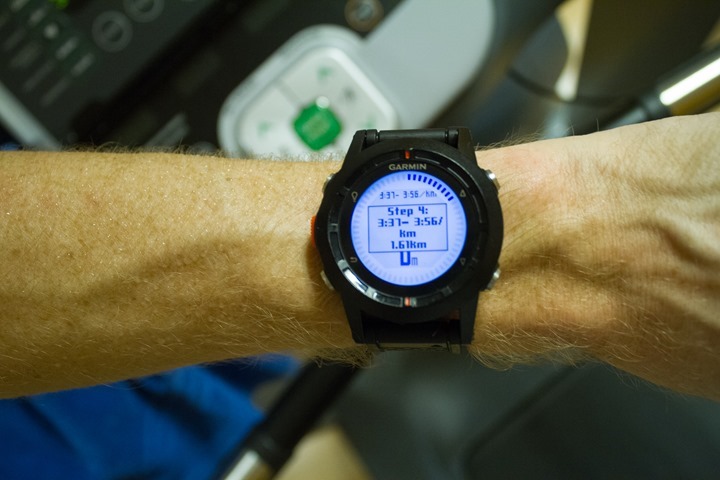 I didn't have time to run through a full workout, so there may be some caveats in there, but it certainly seems like a good go at things.
Wrap-Up:
I suspect (hope) this is just the beginning for this type of connectivity.  I would love to see companies in this space enable two scenarios.  First is adding notifications to watches and other devices, like what is now present on the Fenix.  Second, I'd like to see (in the case of Garmin) some sort of system whereby users who are watching Live Tracking as found on the Garmin FR220/FR620 and Edge 510/810 can send messages via that app structure to the devices.  Simply notifications through the iOS center like any other.
This could be controlled through some sort of pre-authorization gate.  Meaning that in the case of me tweeting out the live tracking link to 20,000 people, I may not want all of them sending me messages mid-run.  But perhaps a method to allow a smaller subset of authorized users in the same method that I pre-authorize e-mail addresses within the app today for being sent a live tracking link.
In any case, the changes made on the Fenix/Tactix really change the dynamic of watches in the space.  I look forward to others following suit.
Thanks for reading!
(Note: Because it's a beta update, you won't see it in the regular updater, you'll need to just go directly to this link to grab it.)
Update: Per popular request, I've written up a quick section on selecting between the top two running watches.
Tough Choices: FR620 or Fenix?
Well, it's a bit of a complex question.  The short answer, is that for me, and the running I do, I'll take the FR620.  But, let me explain some of my thinking.  First, let's look at the major advantages of both units over the other.  Note, there's a lot more tiny differences, but these are the biggies.
Fenix over FR620:
– Barometric altimeter, significant battery (up to 55hrs of GPS-on time)
– Notifications from iOS devices (text messages, call notifications, any app that notifies, etc…)
– A ton of hiking/mountain functionality
– Full-on navigation support, waypoints, etc…
– Support for ANT+ bike speed/cadence sensor, cycling mode, also ANT+ Tempe & Chirp sensors
– Misc Non-Running Features: Sunrise/Sunset, Hunting/Fishing Modes, Jumpmaster, etc…
– More hardened feel/look
FR620 over Fenix:
– More data fields per data page (but Fenix has more data pages)
– Running Dynamics functionality
– VO2Max, Recovery Advisor and Race Estimator functionality
– Uploads via WiFi and your phone for completed activities
– Firmware updates via phone and WiFi
– Custom workout creation wirelessly via phone
– Smaller, far lighter, and I prefer the screen on the FR620 for running
Again, not exhaustive, but those are the big ticket items in my mind.
Now, here's the simple version: If you're a road runner primarily, I continue to say go with the FR620.  If you're a mountain/trail/hiking type person, then go with the Fenix because of the barometric altimeter and navigational functions.  The addition of the workout and interval functionality to the Fenix makes it so that people in that second category have less hard decisions to make.
For me, while the text message functionality is really cool, it's not worth it over the smaller form factor of the FR620.  And I think, again for me, I prefer the smaller form factor as the biggest deciding factor.
If I were in Vegas, I'd wager that we'll eventually see iOS notifications on the FR620, and perhaps the FR220.  I truly don't know anything here inside-information wise.  I'm just taking a guess on things and platform capabilities.
Anyway…just my two cents.