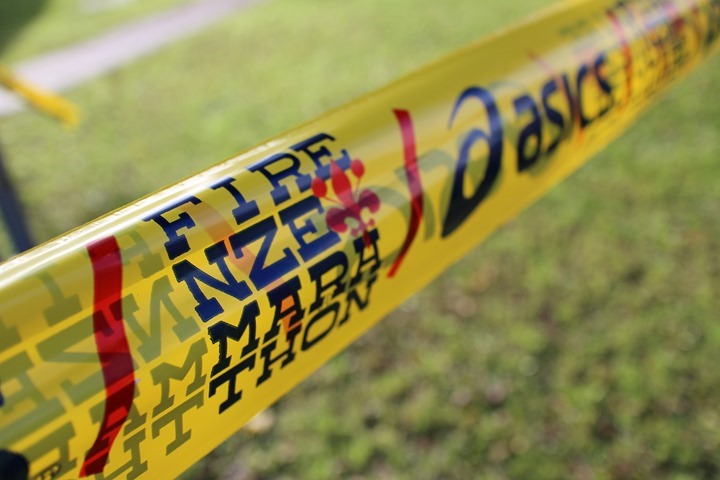 I wasn't exactly ignoring writing this race report.  Not entirely anyway.  It's of course a bit hard to ignore such a downer of a race result, as well as to ignore the 18.4 requests per day via three social media networks plus e-mail and post comments for said race report.  It's more simply that I wasn't really sure (nor am entirely sure as I start writing this) what to write.  Plus, in my choice between writing up a product review (or three), going skiing, or writing about said non-awesome race – it's natural to choose the others.
As anyone can imagine, it's a lot easier to write a race report about a race that went well.  Heck, even about a race that went spectacularly bad is relatively easy to write about.  It's much harder to conjure up a race report about a race that just sorta went thunk.  Or thump.  Or any other adjective that you can fill in where there was no single defining explosive moment of success or failure.
In many ways, the race started out pretty much just like any other.  Our hotel was very nearby the start line, making for an easy walk over to the starting area.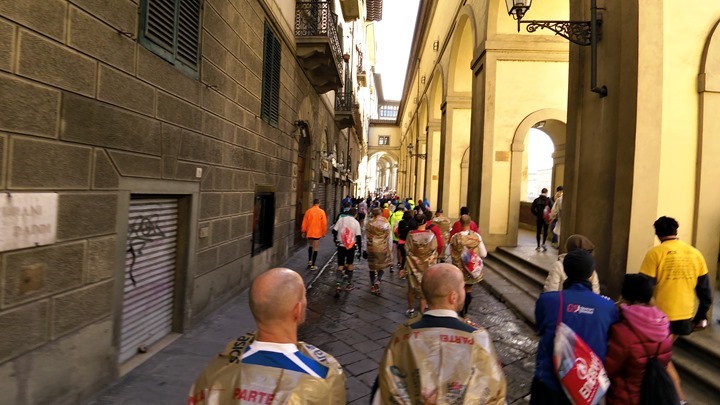 I had timed it such that I'd pretty much get bearings straight and then drop my stuff with The Girl, and then go out for a warm-up run. My warm-up was about a mile or so, pretty much the norm.  Starting off easy, and gradually building a bit.
Here's us, and my awesome 6 Euro sweatshirt that The Girl managed to swindle from a tourist shop.  We had forgotten some sort of throw-away clothing, and so she convinced the shop owner to sell her something that nobody was buying, perhaps with a rip or tear or something.  Apparently that product was an XL purple sweatshirt.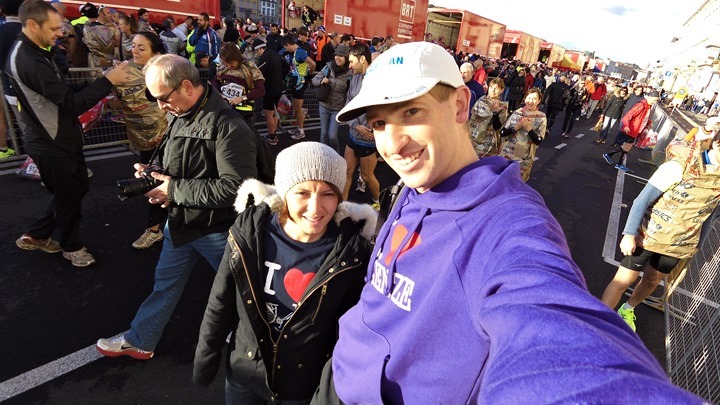 I got back to the starting corral area to find my place.  As it seems to be the general pattern for all of the European running races I've run, the starting corrals are quite simply a mind-boggling display of logistical failure.  I can't say that's the case in other countries, just the run-specific races I've done in France and now Italy.  Over-engineered is probably the term I'd use.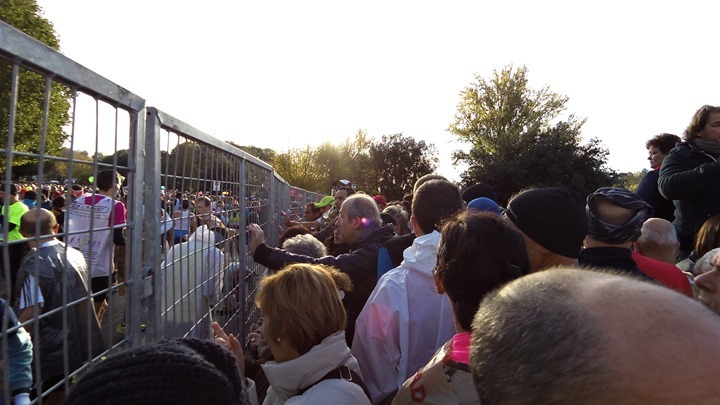 The corral was neither large enough to fit all the participants in of that established time slot, nor was the single door big enough to let them in anyway.  Neither was the sidewalk area next to the corral large enough to get people to said small door and small corral.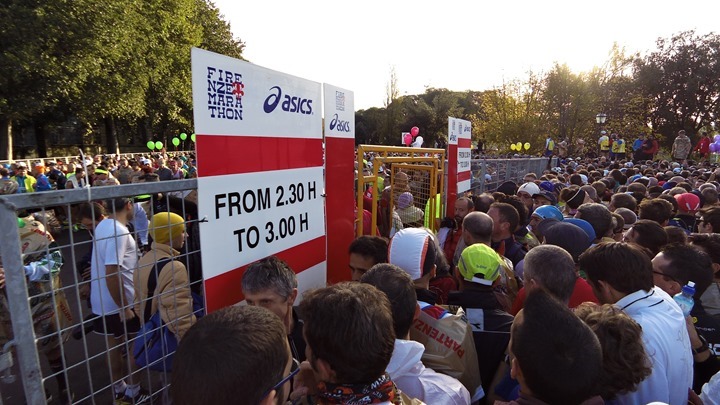 Nonetheless, because there were two differing starting times published I choose the earlier just to be safe.  Obviously, it was actually the later time, affording me the extra time to hang out with 10,000 or so of my friends.  Interestingly enough, a blog reader was next to me.  Many more would say 'Hi' on or along the course, which I always appreciate!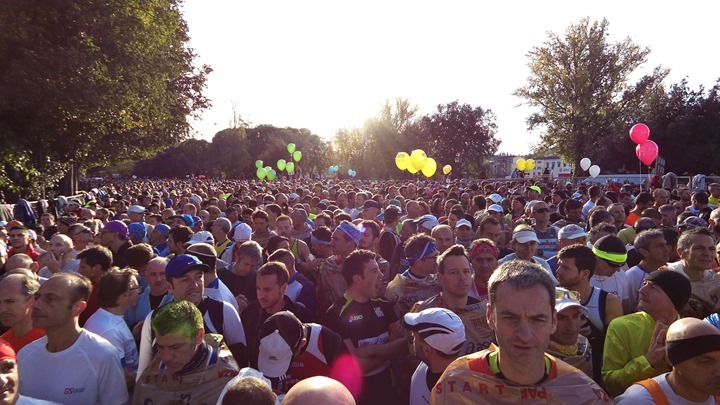 Soon the wheelchair athletes went out, and then the pros, and then the festivus for the rest of us.  The initial post-start line area was a bit too slim for this particular arrangement of runners (lacking any flow control), so the first quarter mile or so I was going a fair bit slower than planned – perhaps around 7:30-8:30/mile (4:40-5:18/km).  I eventually broke free a bit, and got back onto pace at 6:45/mile (4:12/km), though I subconsciously overcompensated a bit to try and even it out.
At this point, I simply ran.  I had configured my watch with a display page to simply display my lap pace as a single whole-screen value.  That's all.  It would auto-lap every mile.  Heart rate and all that other jazz would be recorded, but it wasn't on my main screen (on the FR620).  Quite frankly, I didn't want to see it.  And my race plan was pretty straight forward: Maintain 6:45/mile (4:12/km).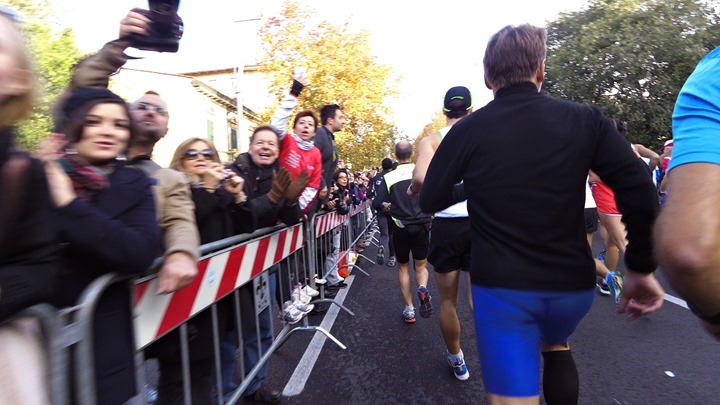 I also had the Adidas GPS watch on the other arm, basically just in a data recording mode.  I wasn't using it from a race standpoint.  After a mile or so, things emptied out, and I was moving along.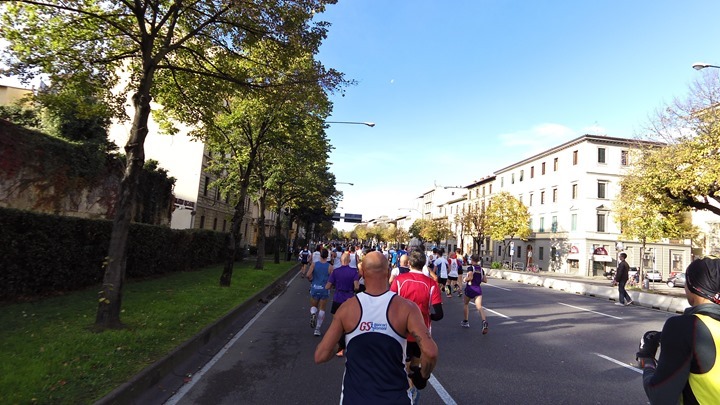 Onwards I ran.  The first 10 miles or so were pretty non-descript from an abnormality standpoint.  Most of my splits were between 6:40 and 6:45/mile (4:09-4:12/km).  Pretty much according to plan.  While a bit warm for me (it was sunny, unfortunately), I was more or less fine.  I was fairly impressed with how crazy-perfect the accuracy I was seeing on the FR620 was to the split mile markers.  The race had mile markers every 5 miles, and kilometer markers every kilometer.  For at least the first half or so, those markers were sometimes lining up within a mind-boggling couple of meters of the sign.  I'm usually pretty good at running the perfect line in races, but this was taking the cake.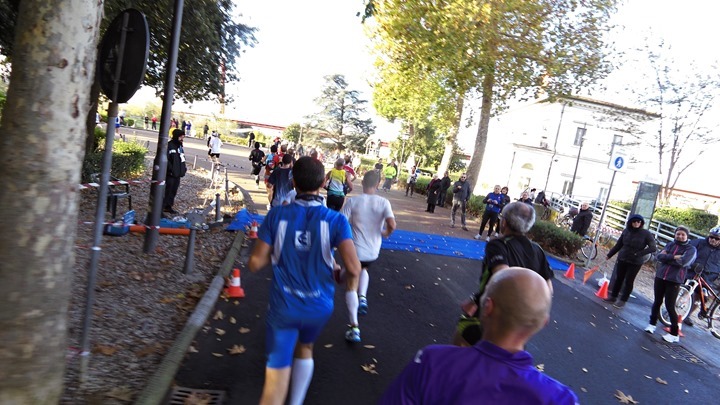 The Florence (Firenze in Italian) course is about as flat as you can possible get.  The only elevation gain/loss is an underpass and an overpass.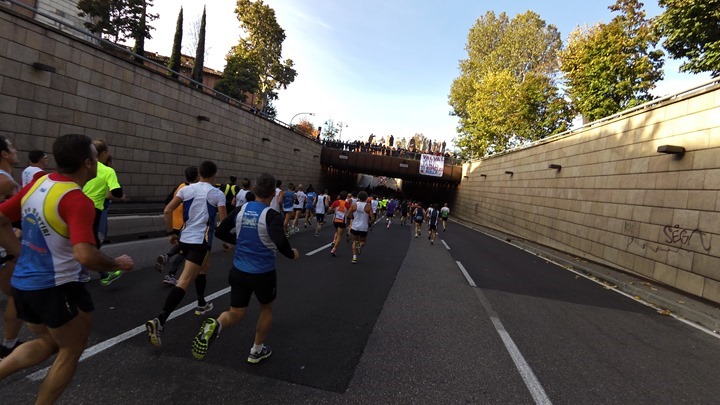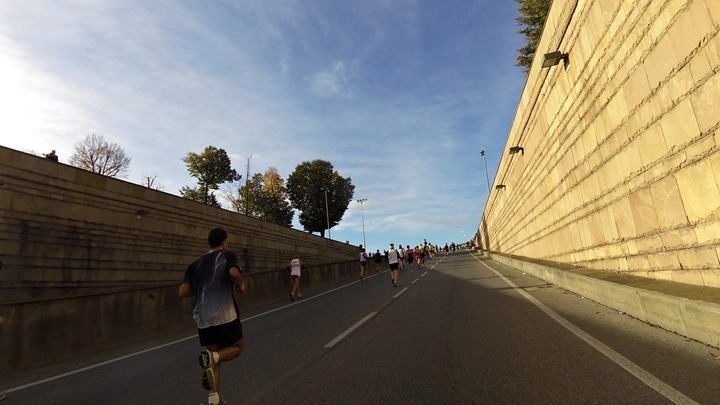 Where it lacks elevation variance, it makes up for it in turns.  I've joked that I think the Florence Marathon route was actually designed by a toddler with a crayon: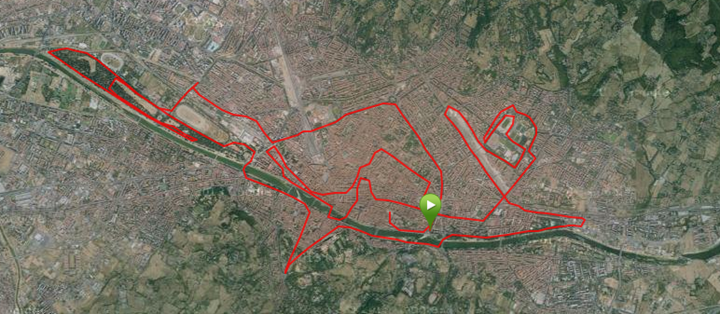 Like most marathon routes in major cities, you have certain components that are highly memorable in nature – monuments, etc… But, large swaths are like most places and simply areas where the city permits races to be held without much interference.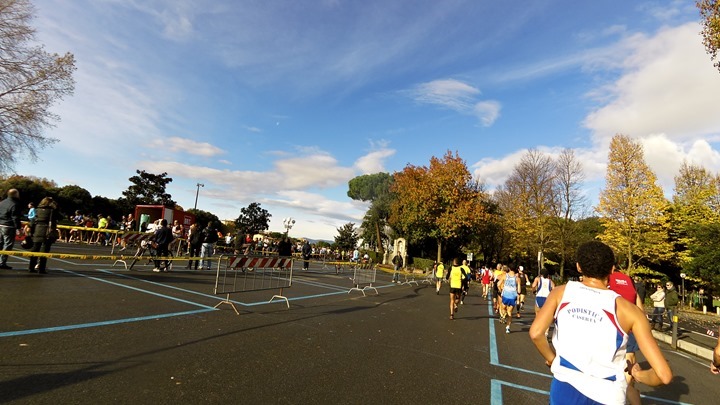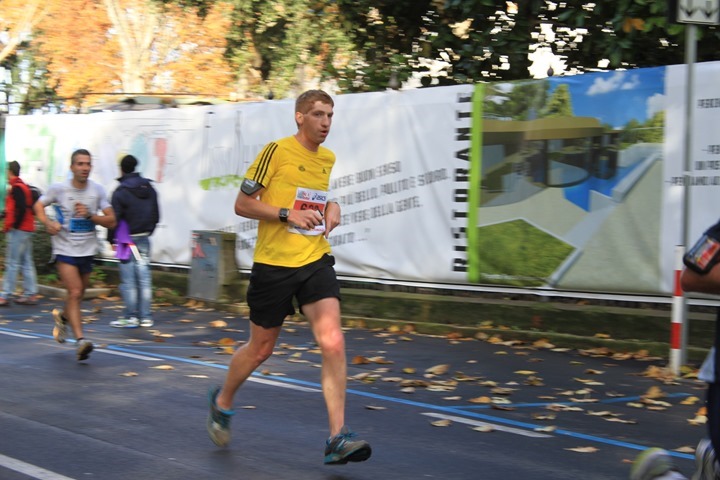 (Photo taken by the awesomeness that is The Girl)
As I exited one of these such places around the 11ish or so mile marker, I accidentally caught a glance of the Adidas watch showing my heart rate.  It was high.  Rather high.  Way higher than it should have been.
In training recently, I was generally running upwards of 20 miles at race pace, or a blended pace with my HR usually in the 165-170bpm range.  At this point, I noticed it already at the 172-174bpm range.  At mile 11.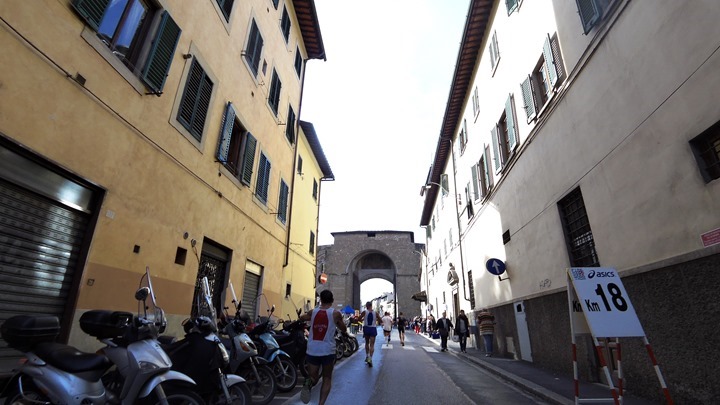 From a perceived effort standpoint, I had noticed in the last mile or so that things seemed a bit harder.  I just sorta wrote it off to a false flat (unlikely), or wind, or anxiety or whatever.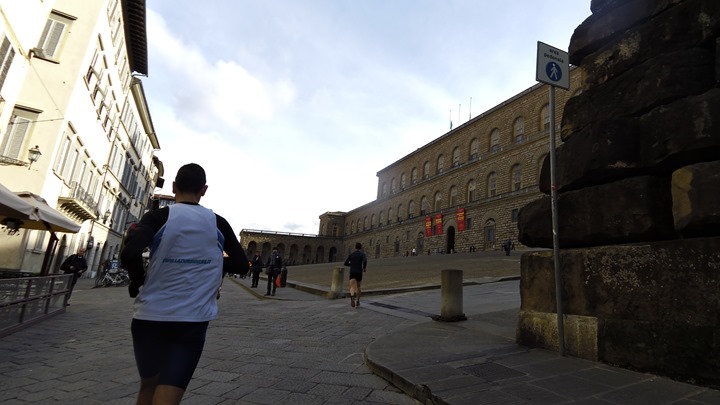 As I made my way back into the city center and crossed over the river, the route went up a slight incline.  You wouldn't otherwise notice it walking along, but if you looked far enough ahead, you could see it.  At this point, things ventured into the 'not so awesome' category.  I held pace a bit, though then remembered that was likely crossing beyond my HR caps.
Oh, and I saw this little kid…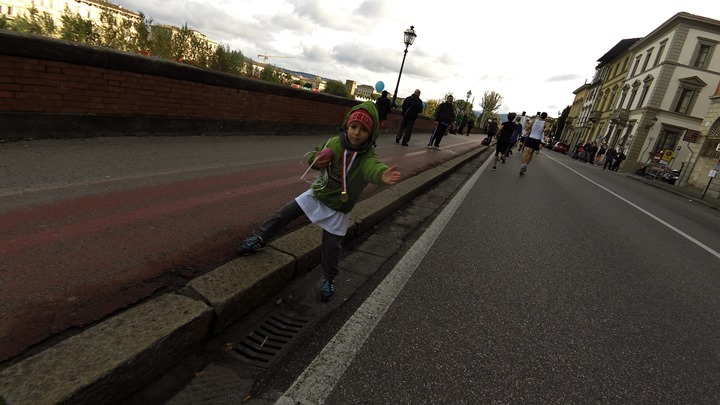 ..and gave him a high-five: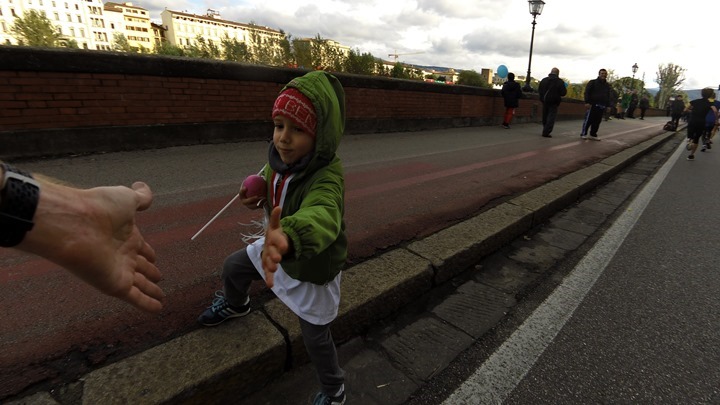 (For those curious, all these shots were from the VIRB camera, in burst mode, which takes 5 photos in quick succession with a simple button press, then it goes back to standby a minute later.)
At some point around then, my brain started realizing that there was still a lot of miles to go – some 14+ miles.  It started thinking to itself, "There's no way I can maintain this effort level for that period of time.".
I was also thirsty.  Most European races I've been in have water every 5K (3 miles).  While I had gotten some water in at each of the previous stops, I probably didn't have enough.  Nonetheless, being only 12-ish miles into the race, I doubted lack of water was really a problem with any noticeable impact.  Proper hydration takes days, and I'd been really good about getting water in over the past week.
Nutrition-wise, I was rocking as well.  I was taking a gel packet every 5K (roughly every 20 minutes, stashed in Spibelt's).  No issues there.
I crossed back over the bridge and headed towards the half-marathon point.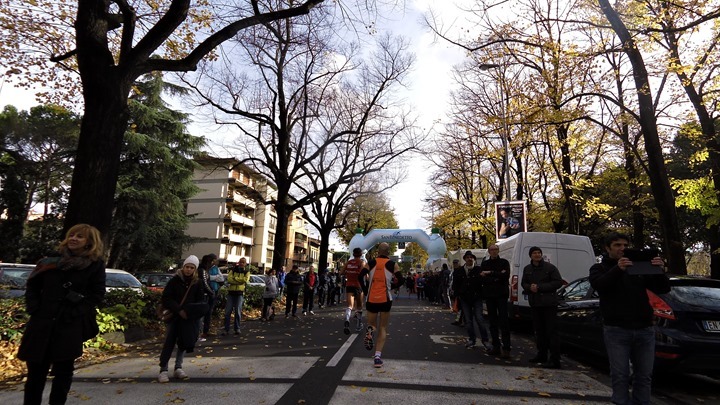 As I approached it though, I already knew I was done for.  I probably knew that back around mile 12 to be honest.  Once my mind starts ticking out remaining miles, it's in trouble.  There's not much I can do there.  It just does it.
My legs felt fine (they almost always do).
My aerobic system felt stressed, probably more than it should have been, but not horribly.  I chalked it up to anxiety.
Ultimately though, mentally, I just faltered.  Failed really.
Any endurance athlete will tell you it's almost always a mental game.  At least if you've trained right.
My pace was slowing, without much control on my part, to maintain a similar sustained effort.  It would slip to about 7:15/mile, and then I'd soon see around 7:30/mile or so.
In my case, shortly after the 13.1 banners there was an aide station.  I got water there.  And walked a bit.  I suppose at least I had company: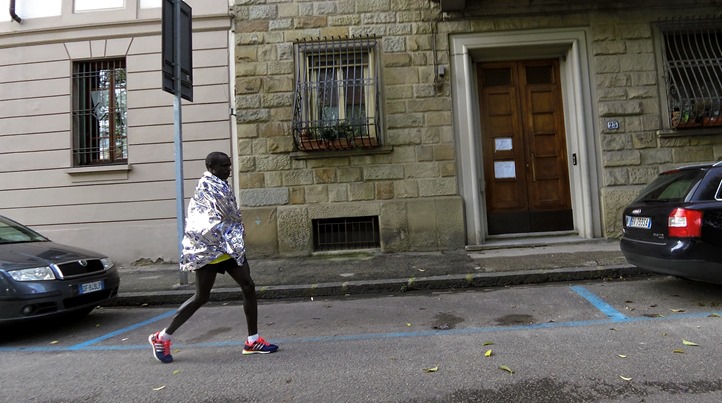 Ultimately, I'd do the walk/run thing for another 7 or so miles.  I drank an astounding amount of water over the course of the next few aide stations.  A full bottle per aid station (12-16oz I believe).
I also drank tea.  Hot tea.  Actually, hot and really damn awesome sweet tea.  It was brilliant.  Oh, and it was spelled 'THE'.  Italian of course.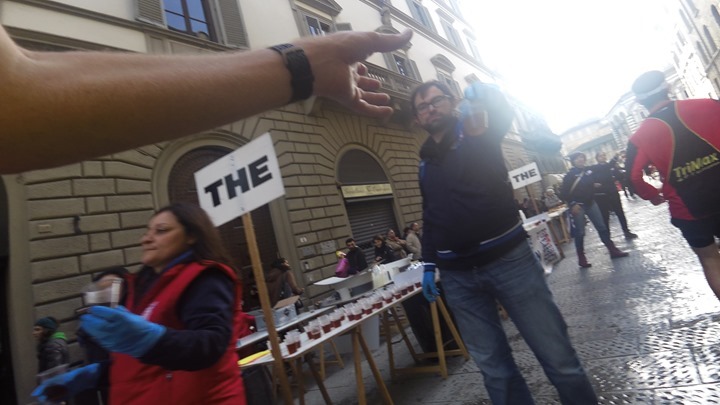 This gradually made me feel better.  But that was likely just as much simply because I wasn't really running all that hard anymore.  A trot really.
Also of note, they had biscotti.  Because, well, of course they'd have biscotti: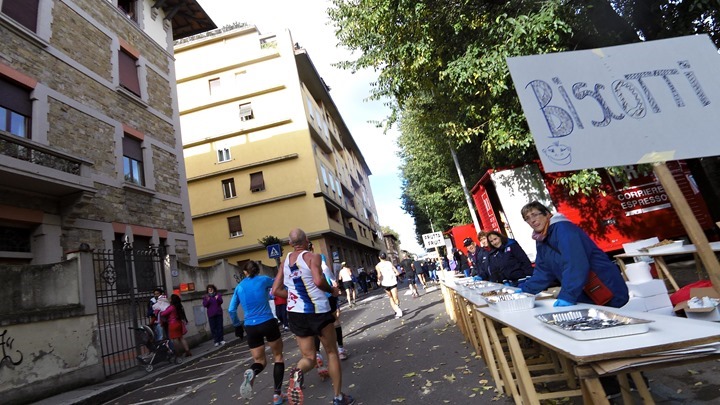 Ultimately, there would be four big walking gaps in my race:
Fast forwarding a ways till around the 19-20ish mile marker, I got back on it and just ran.  At this point, I pretty much ran the rest of the way.  Nothing according to plan.  Just moving along at roughly 7:30ish/mile (4:40/km).
(Yes, I do realize that for many, that pace would be awesome.  The best day ever perhaps.  That's not lost on me.  But, at the end of the day, that's not the pace I trained for, or am capable of.)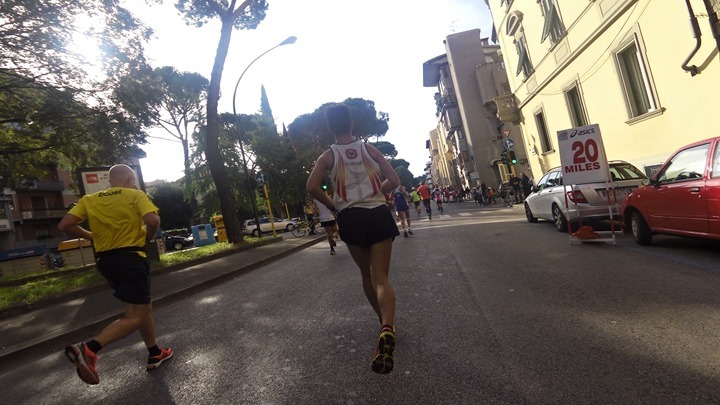 This was for the most part the most scenic portions of the course.  Lots of things to see and plenty of spectators: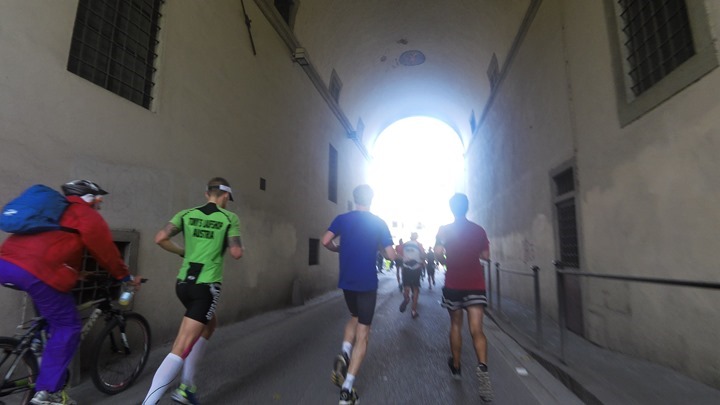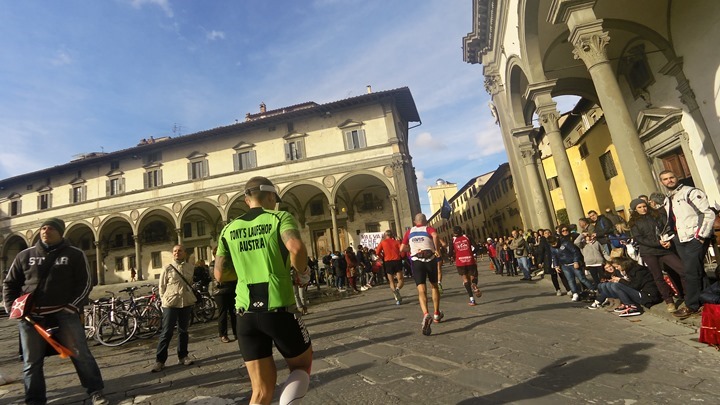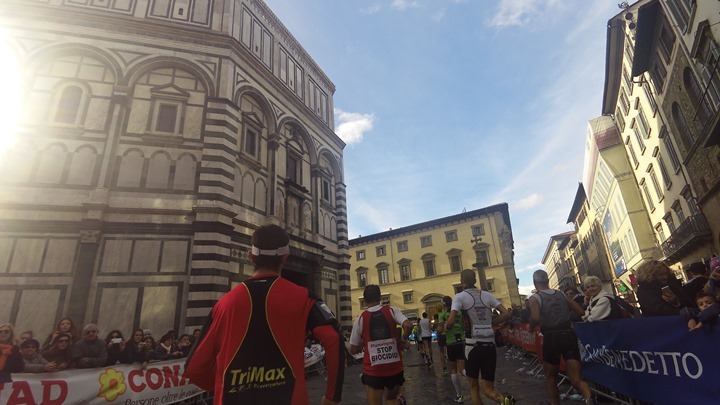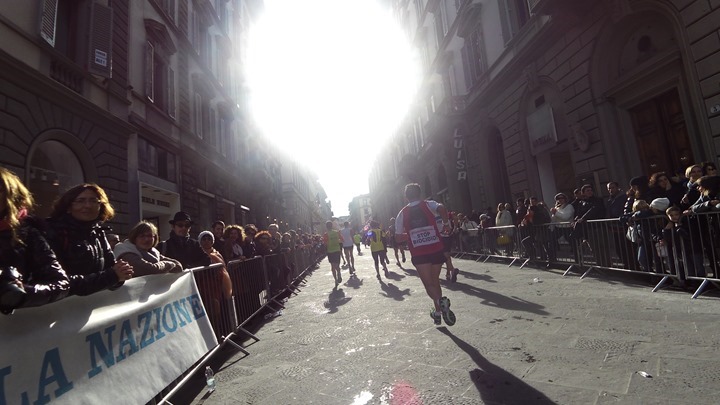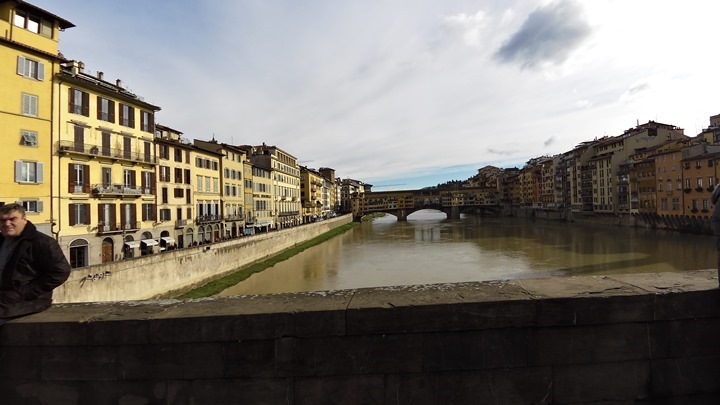 I found it interesting that starting around mile 23-24ish, there were paramedics stationed frequently along the course.  At one point as frequently as every couple hundred meters.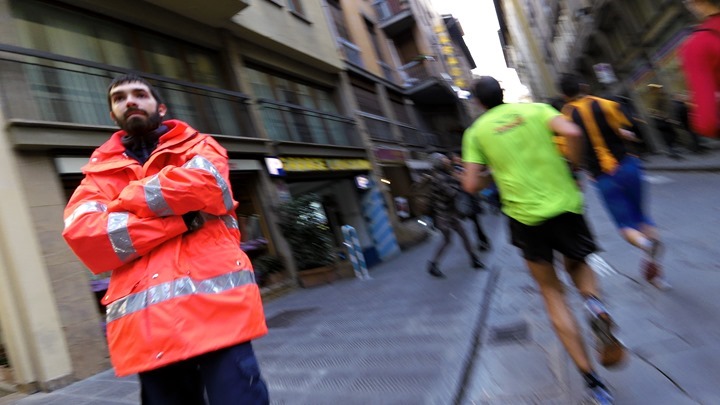 Along the way, I'd see The Girl as well a few times.  She being as awesome as ever, running around the course, cheering me on as best she could given she knew just as well as I that it wasn't going according to plan.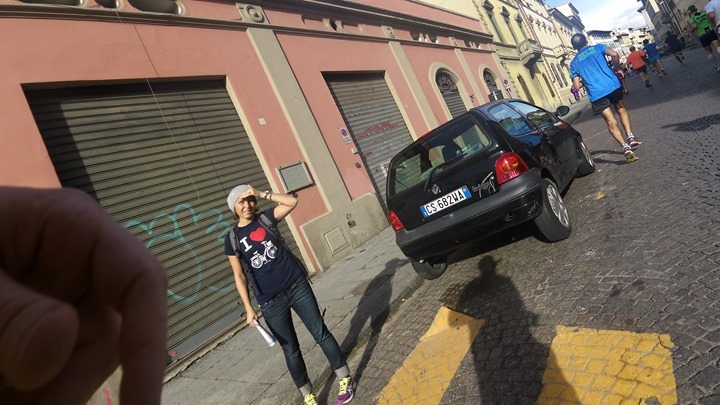 I'd round back through more scenic/touristy areas with more impressive monuments and sites: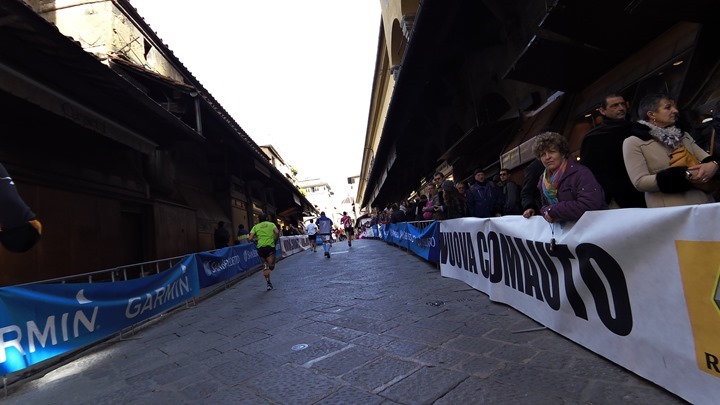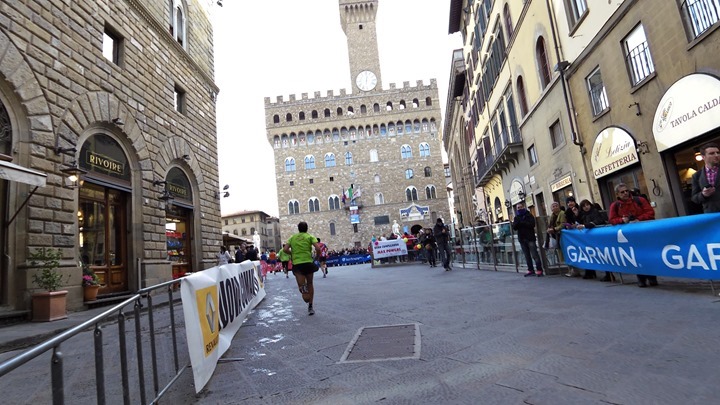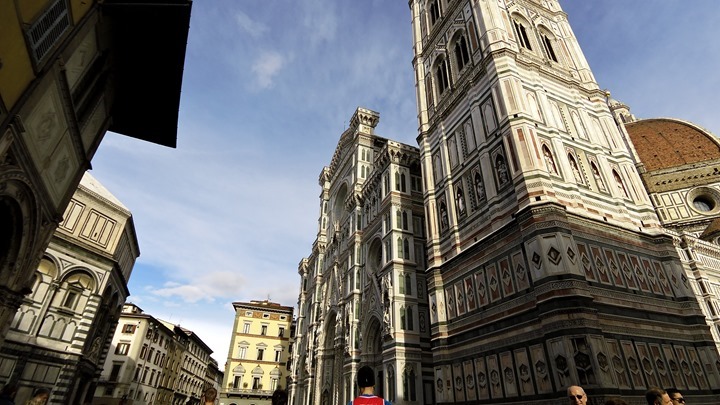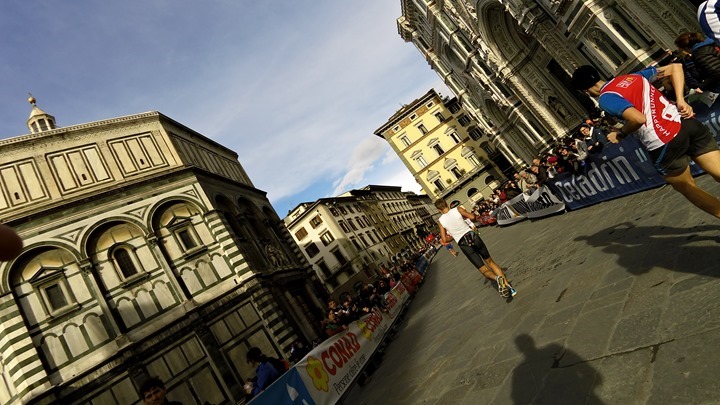 As I clicked off mile 25, my brain was still upset about running another mile.  My legs were fine, but my brain had been done many miles ago.  Mentally, it was probably one of my longest miles.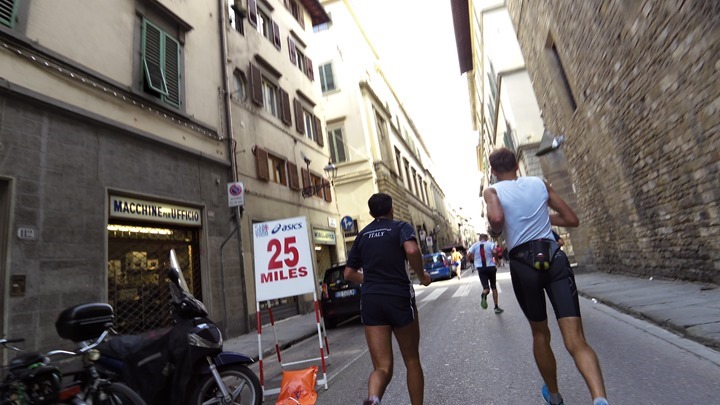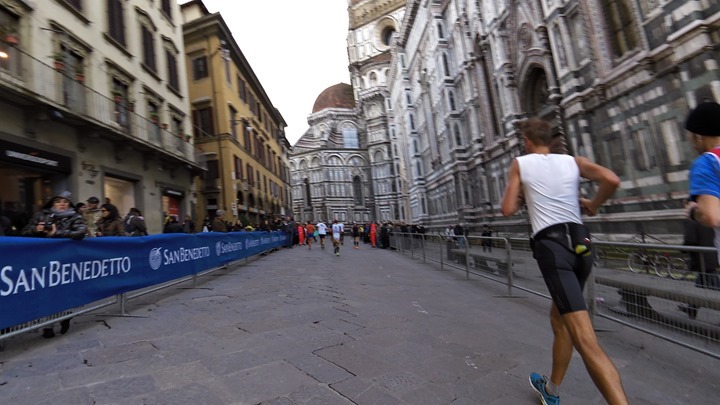 While that may sound normal, for me it's not.  I often joke that I love the last mile.  And in fact, I even love the last 6.2 miles (10K).  Once I get to mile 20, it's just cruise on time.  I don't know why, it's just a mental thing that somehow works for me.  You can somewhat even see that here too.
But mentally, not this time.
I rounded the final bend into the finish line, in what seemed like the longest few hundred meters ever: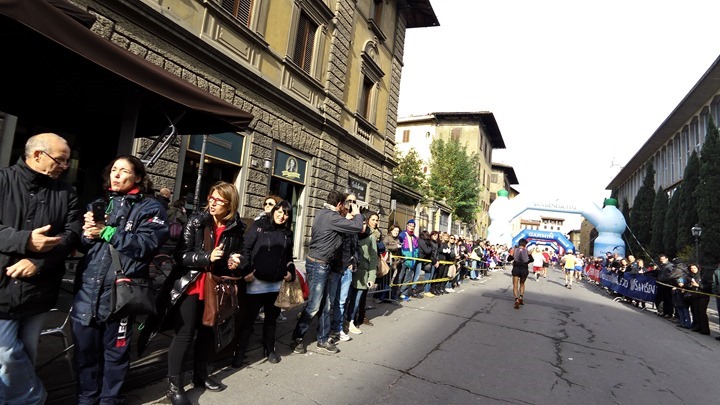 I'd finish in 3:17, far from the plan of roughly 2:56-2:57 (which would have been about 2-3 minutes slower than my current marathon PR of 2:54).
Once done, they had medals and food.  And more of that great tea.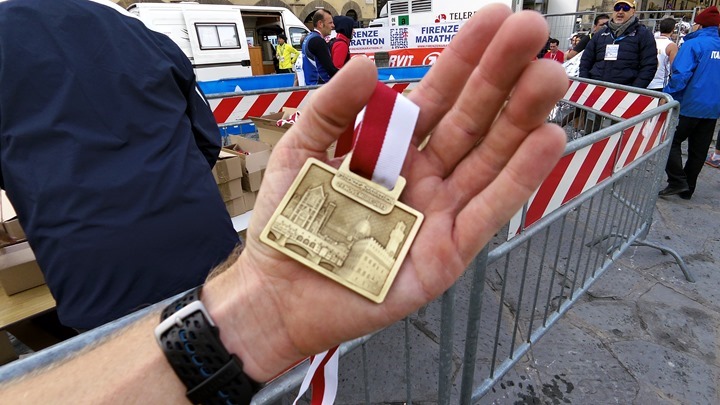 Tea should be mandatory at marathons, it's brilliant.  As an aside, the race volunteers and people were great, and the course is definitely one to consider if you're looking for a European fall marathon.  No problems recommending it.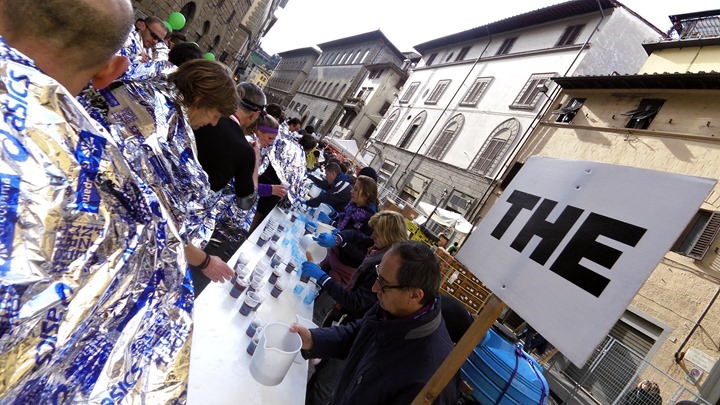 And with that, I met up with The Girl and wandered on back to the hotel.  Not my day.
Perhaps there will be another day.  I'm sure.  It wasn't a case of being tired (I was surprisingly well rested the week going into it, with minimal travel).  It definitely wasn't a case of under-training, or going out too hard, or improper pace goals.  Nope, all of that I could have executed perfectly fine.  In training, I largely do it week in and week out.
So much so in fact that if you look at most of my training runs, I would actually have finished at a faster time, with less effort, than in this race.  Go figure.
It doesn't have to do with running with two GPS watches or a camera, again, things I do every training run.  In fact, for me, the camera often offers a distraction from the suckiness of the situation.
Ultimately, it just comes down to races psyching me out sometimes.  I don't know why.  They just do.  At least long painful ones where I can count a lot of miles left.  At paces I'm uncertain I can run, even if training proves I can run them.  If you had told me to go out and run a 3:05 marathon pacing someone, I'd honestly just shrug and do it.  Wouldn't concern me at all.  Yes, targeting a 2:57 and failing back to a 3:17 was 'difficult'.  While I realize there are differences between 3:05 and 2:57, it's a mental difference for me.  Training-wise I can do either, I know that.  Execution wise…not as much.
Someday I'll figure out a solution.
With that, thanks for reading.  And for those following along online during the race – thanks for watching and the messages of support!